Our chickpea burger recipe has chickpeas patties stacked upon layers of green lettuce, tomatoes, red onions, a mayo-ketchup sauce, and buttery buns—offering multi-flavors and satisfying bites.
Starting a new plant-based diet doesn't mean giving up the love for juicy and tasty burgers. This recipe is so easy and versatile that you can even take a step further and make it vegan by swapping out some ingredients.
Let's meet in the kitchen!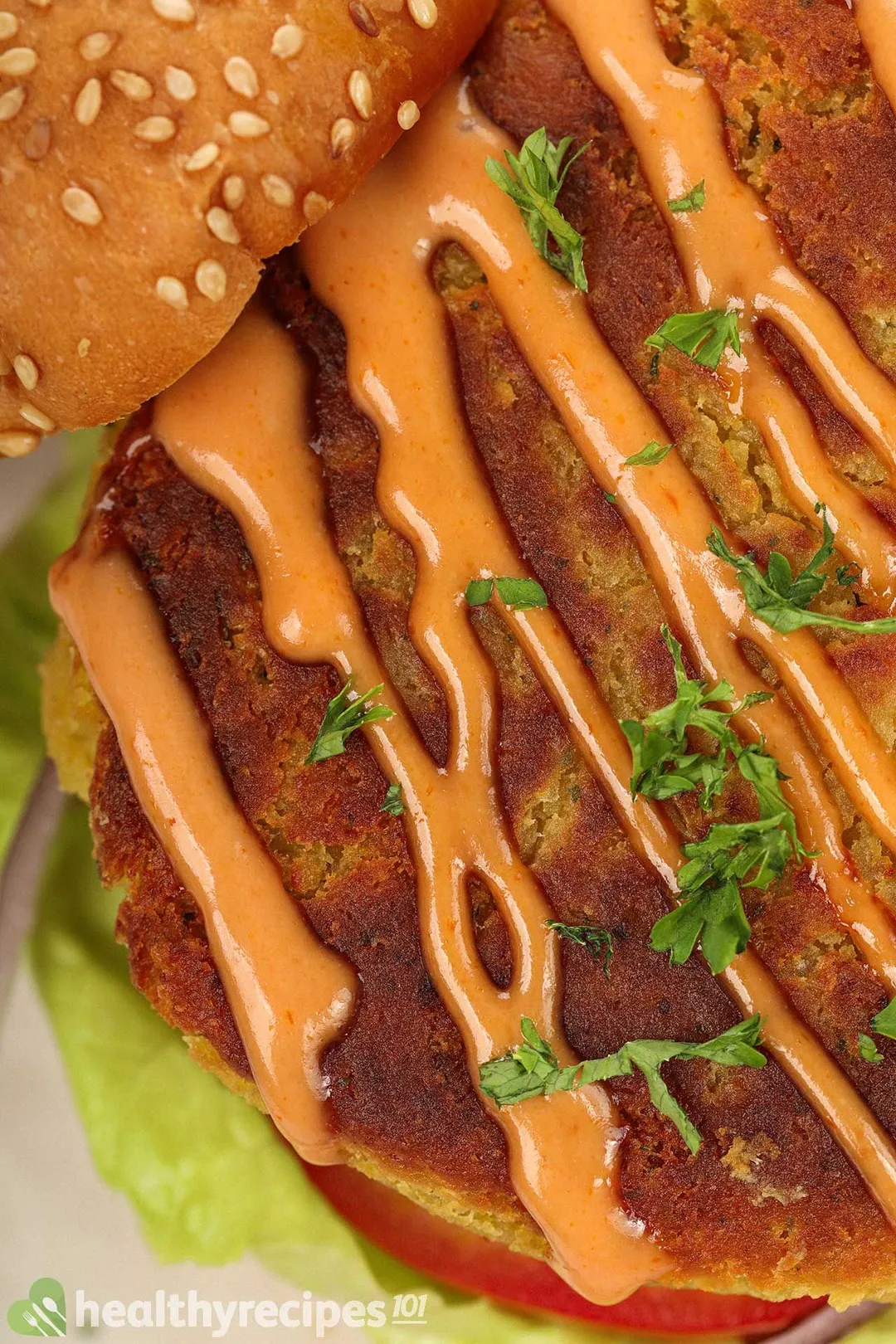 Ingredients for Chickpea Burger 
For those who have never made hamburgers at home, rest assured that our recipe is beginner-friendly. Everything you need to make this chickpea burger is easily accessible online or at the grocery stores.
1. For the Buns
The best buns for burgers should be soft, fluffy, and not crumbly. With that in mind, we choose to make this recipe with toasted sesame buns.
If you want to keep things simple, please feel free to go for the classic white buns or Brioche buns. The former has a light texture and delicate taste, whereas the latter is slightly airier and richer. Other varieties to consider are pretzel buns (sweet and chewy), potato buns (buttery and dense), and kaiser rolls (nutty and bulky).
2. For the Patty
Chickpeas: No need for hours of soaking and boiling, canned chickpeas only requires a quick rinse under cold running water, and they are good to go.
Aromatics: We elevate the natural flavor of chickpeas with the sweetness of the yellow onion, the sharpness of fresh garlic, and the citrusy undertones of cilantro.
Breadcrumbs, flour, and eggs: They help bind all the ingredients together, making your patty easier to shape and preventing crumbly ones. If you want to mix up the chickpea patty, replace breadcrumbs with rolled oats, quick oats, or desiccated coconut.
Lime juice: Its acidity helps accentuate the flavor of other plant-based components. Besides, you can add some lime zest to the chickpea mixture for a more zingy aftertaste.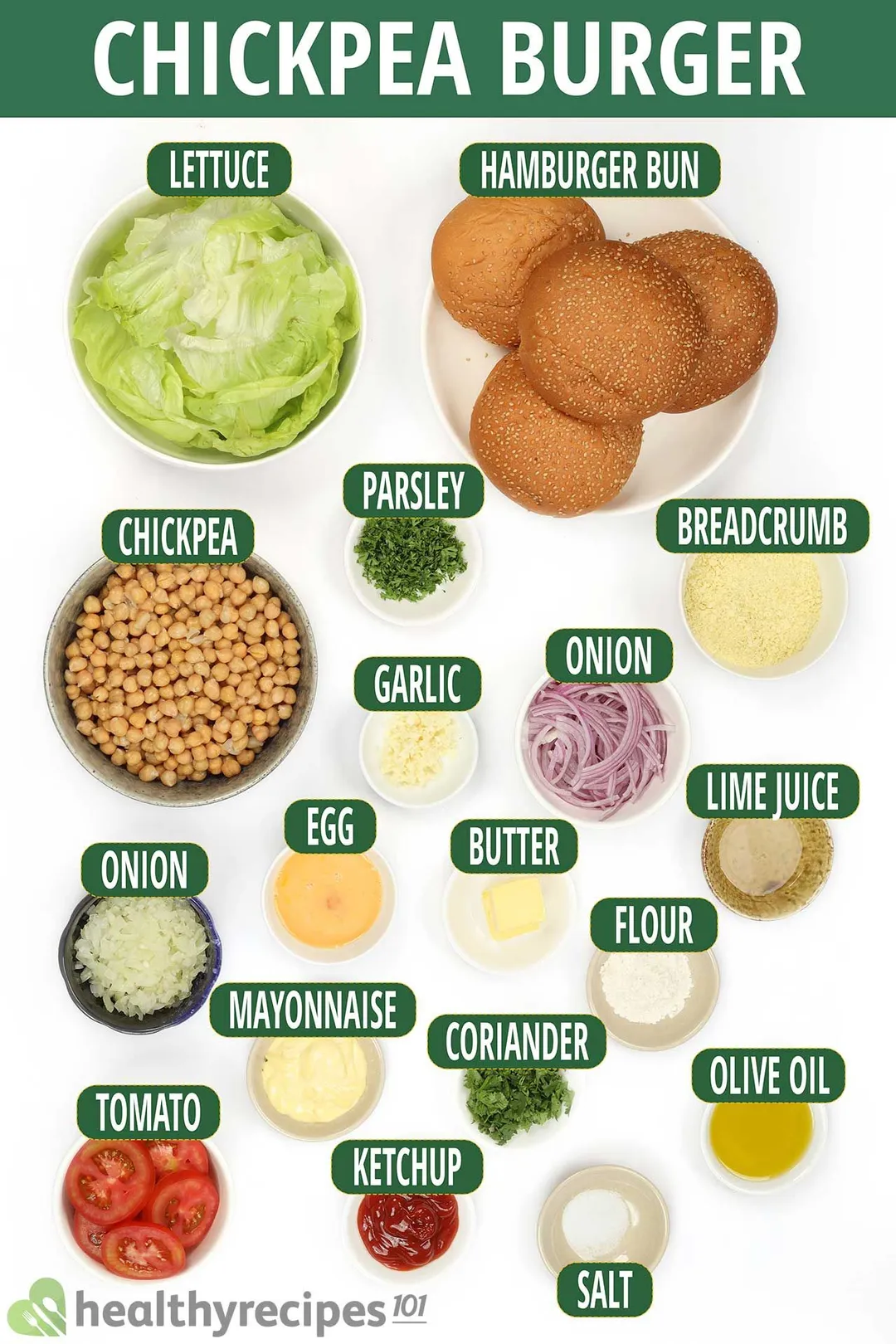 3. For the Vegetables
Fresh veggies are what give this burger the exciting color, flavor, and texture contrast. We opt for the classic mix of green lettuce, ripe tomatoes, and sliced red onions, but if you have your favorites, stick with them.
4. For the Sauce
You can never go wrong with a mayo-ketchup sauce on burgers—it's simple to make and goes well with various flavors.
Instead of using the regular mayonnaise, we opt for the Japanese kind. Japanese mayo is made only from egg yolks combined with apple cider/rice vinegar, which contributes to its unique characteristics: a custard-like texture and a delicately sweet and tangy flavor.
Is Chickpea Burger Healthy?
Unlike burgers sold at fast-food chains, ours packs with nutrients essential to your body—protein, fiber, vitamins, and minerals.
Instead of using ground beef, we use plant-based ingredients to make our patties. Each serving yields 474 calories with a reasonable amount of added sodium and saturated fat, at around 603 mg and 5.3 g, respectively.
In this recipe, chickpeas serve as the meat alternative and provide the patty with a great amount of protein and minerals, while garlic, onions, and colander offer more micronutrients. 
As for the toppings, we stick to the classic yet terrific veggie trio: green lettuce, fresh tomatoes, and red onions. These powerhouse greens are an impressive source of dietary fiber and antioxidants your body needs to strengthen the immune system.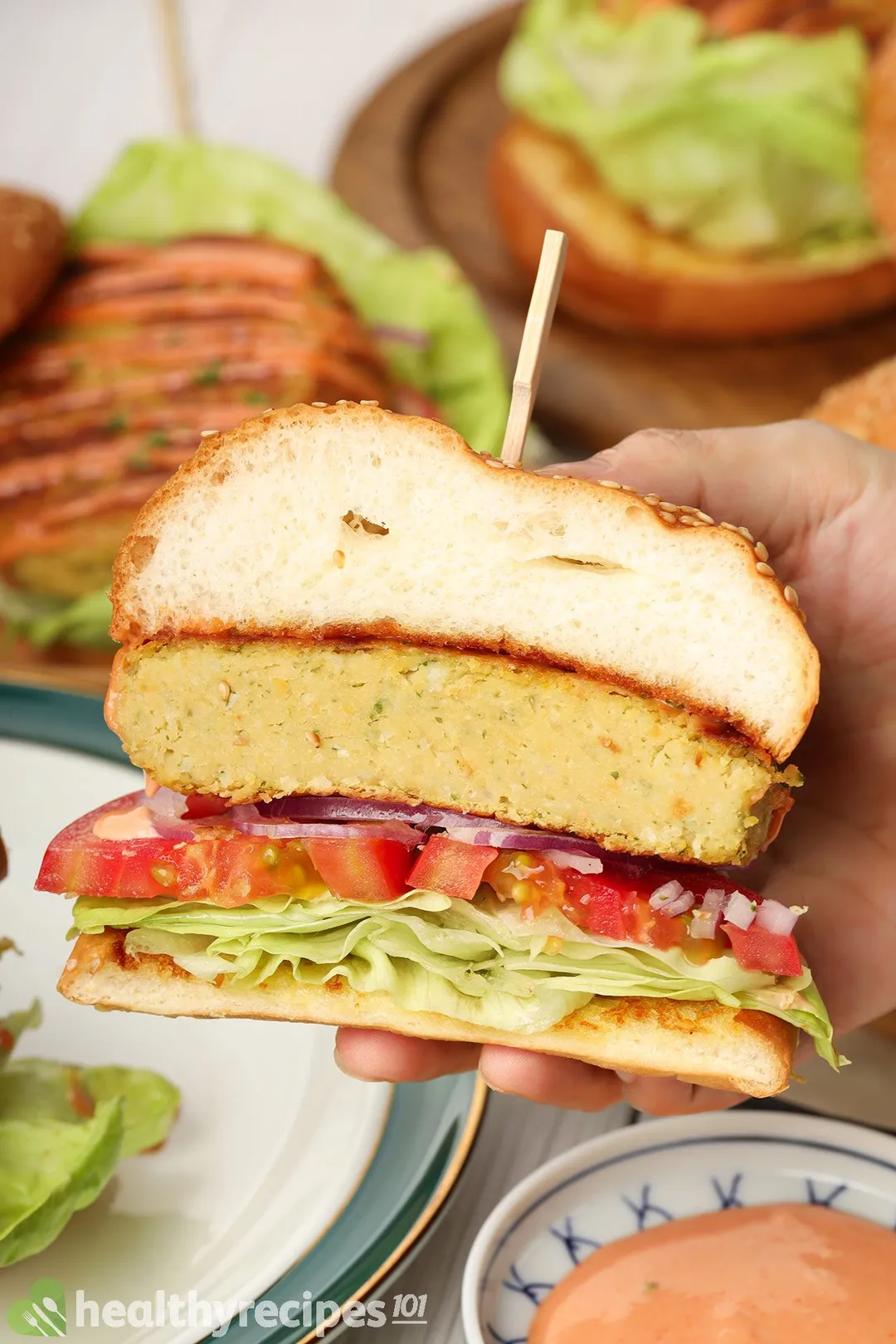 For more healthy, tasty ways to indulge in burgers, check out our Chicken Burger Recipe, Canned Salmon Burger Recipe, Sea Bass Burger Recipe, and Shrimp Burger Recipe.
How to Store and Reheat
This chickpea burger dish is one of our go-to meal-prep recipes. You can prepare the chickpea patties beforehand, store them in a freezer-friendly, airtight container, and refrigerate them for 3-4 days or freeze them for up to 3 months.
If you end up with some leftover burgers from last night, wrap them in parchment paper, store them in the fridge, and enjoy them the next day for breakfast or lunch.
To reheat the chickpea patties, let them come to room temperature, transfer them onto a microwave-safe plate, and microwave them for 1-2 minutes or until warm. Burger buns that haven't been frozen can also be warmed in the microwave for less than 10 seconds—make sure you cover them with a damp paper towel.
When all the ingredients are ready, reassemble your burgers and enjoy!
What to Serve With Chickpea Burger
Chickpea Burger
Our chickpea burger recipe has chickpeas patties stacked upon layers of green lettuce, tomatoes, red onions, a mayo-ketchup sauce, and buttery buns—offering multi-flavors and satisfying bites.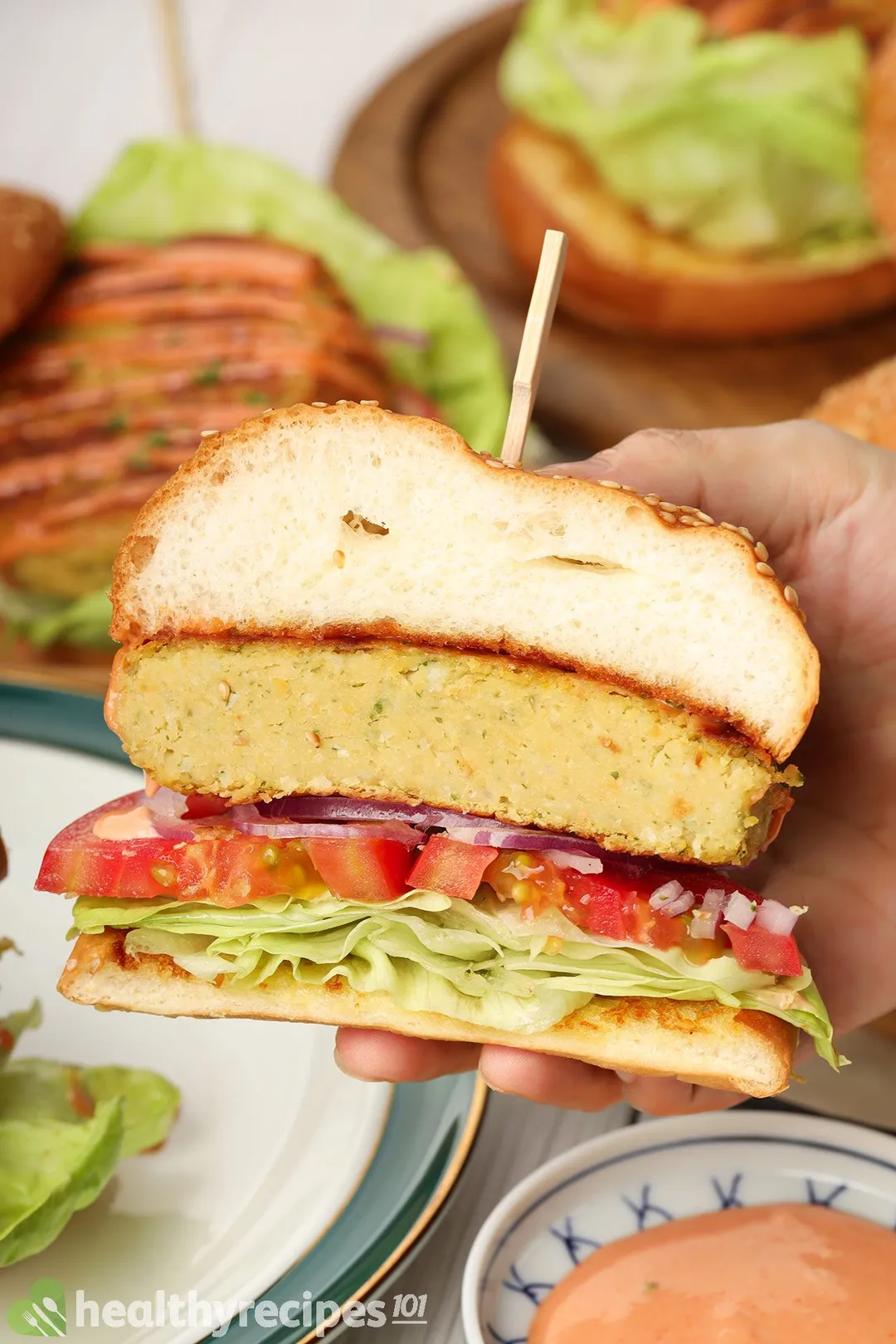 cook TIME

13 mins

prep TIME

7 mins

total TIME

20 mins
COURSE

Main Dish

CUISINE

American, Global

SERVINGS

CALORIES

475 kcal
INGREDIENTS
1/4 cup

coriander

(chopped)

1/2 cup

plain panko breadcrumbs

2 tbsp

Japanese mayonnaise
INSTRUCTIONS
Prep:
1
Slice off the stem of the tomatoes then cut them crosswise into 1/4-inch slices.
2
Remove the root of the green lettuce and separate the leaves from the bulb. Rinse the leaves under running water, then pat them dry with a paper towel.
3
Halve the onion lengthwise and peel away the skin. Trim one end and lay the halved onion face down. Make vertical slices, 1/8 inch apart, such that you cut towards the root; leave about 1/8 inch at the end so the root stays intact. Turn the half 90 degrees and grip the root. Slice the onion horizontally, again leaving 1/8 inch at the end to keep the root intact. Slice the onion into small, even cubes. Discard the root.
4
Halve the red onion lengthwise and remove the root and head. Grip the half by the side and make 1/8-inch slices across the half.
5
Finely chop the coriander.
6
Finely chop the fresh parsley.
Cook:
1
Blend the patty ingredients: In a food processor, add 18 oz canned chickpeas, 2 oz diced onion, 1 tbsp minced garlic, 1/4 cup chopped coriander, 1/2 cup plain panko breadcrumbs, 1 medium egg, 1 tbsp all-purpose flour, 1 tbsp lime juice, and 1/4 tsp salt. Blend until well combined and smooth.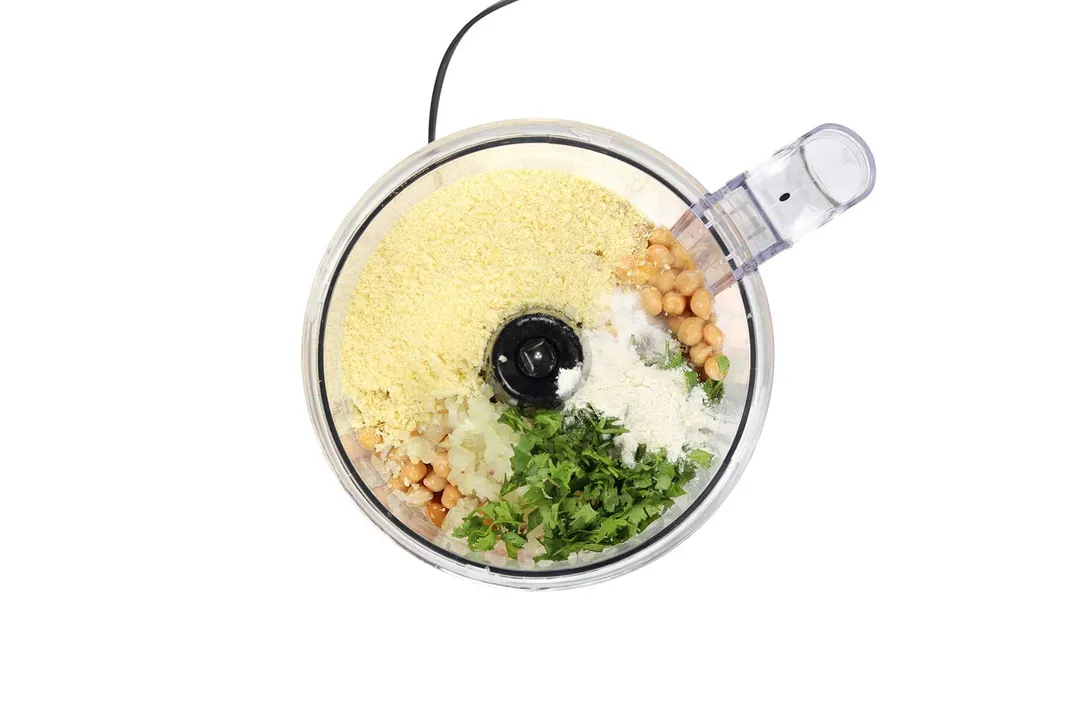 2
Make the sauce: In a small mixing bowl, add 2 tbsp Japanese mayonnaise and 2 tbsp Heinz ketchup. Whisk well.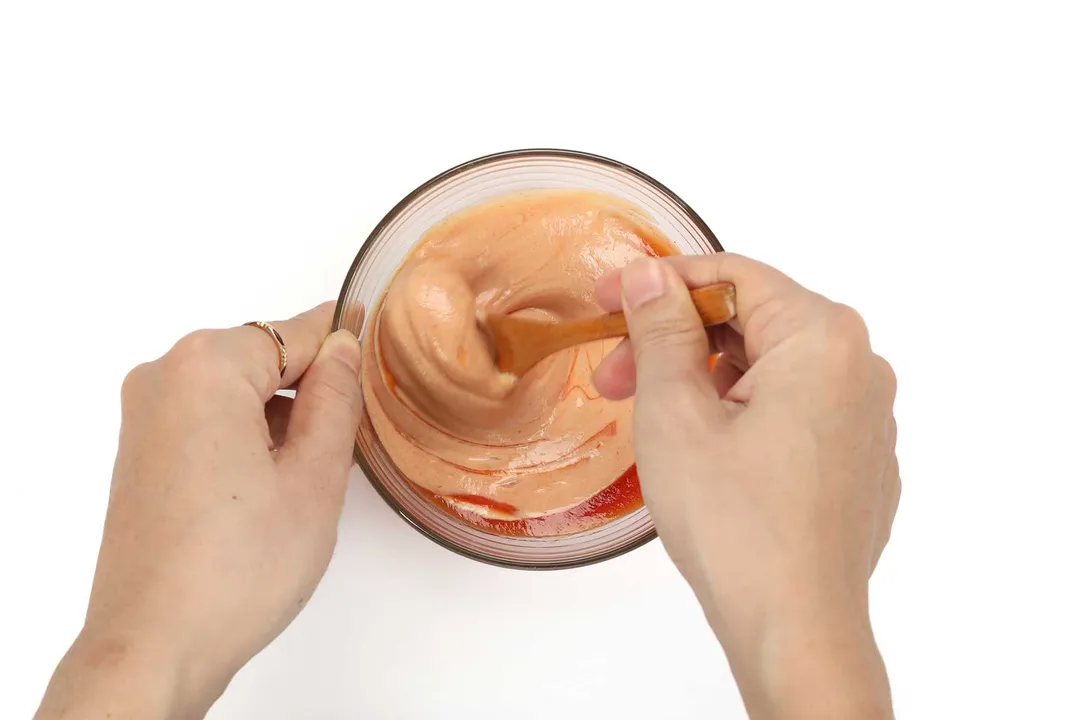 3
Butter the buns: Halve each burger bun, then butter both sides evenly.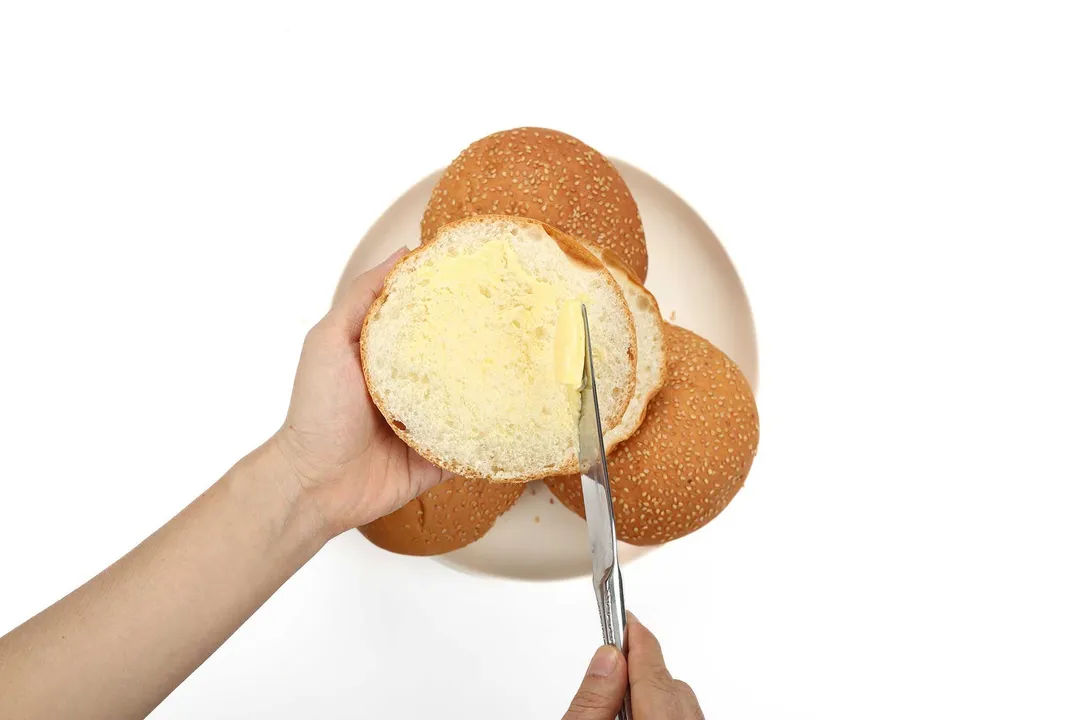 4
Toast the buns: Place the halved buns cut-side down on a medium-heat pan. Pan-sear them for 2 minutes, then remove them from the heat.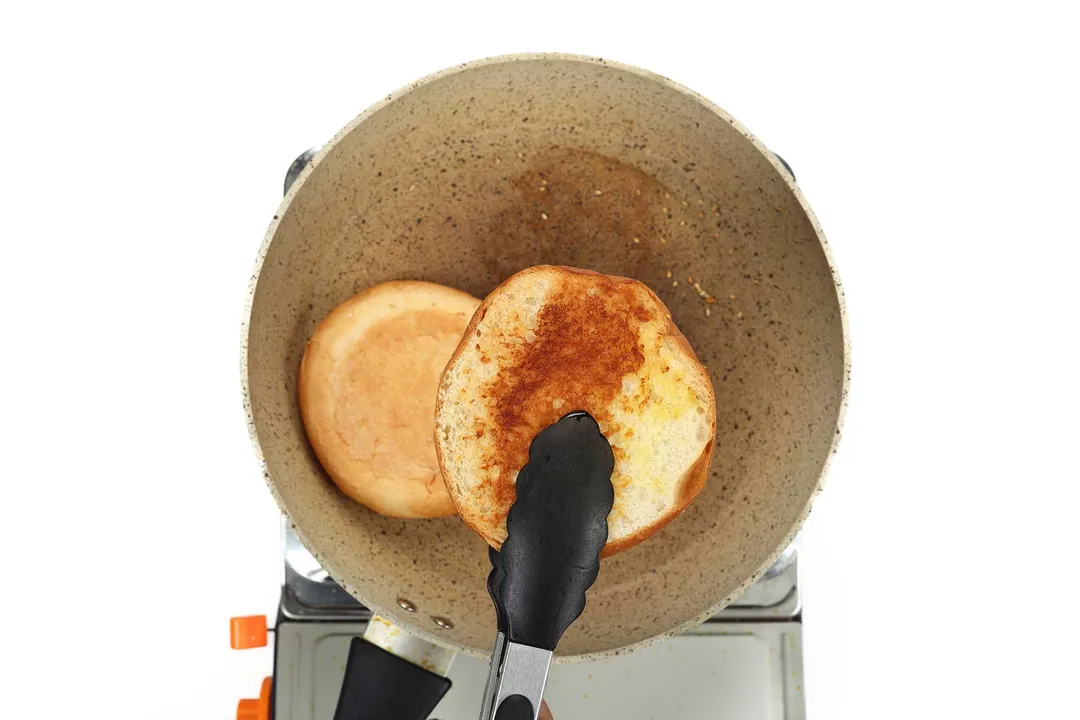 5
Shape the chickpea patties: Divide the chickpea mixture into four equal portions and shape them into 1/2-inch thick patties.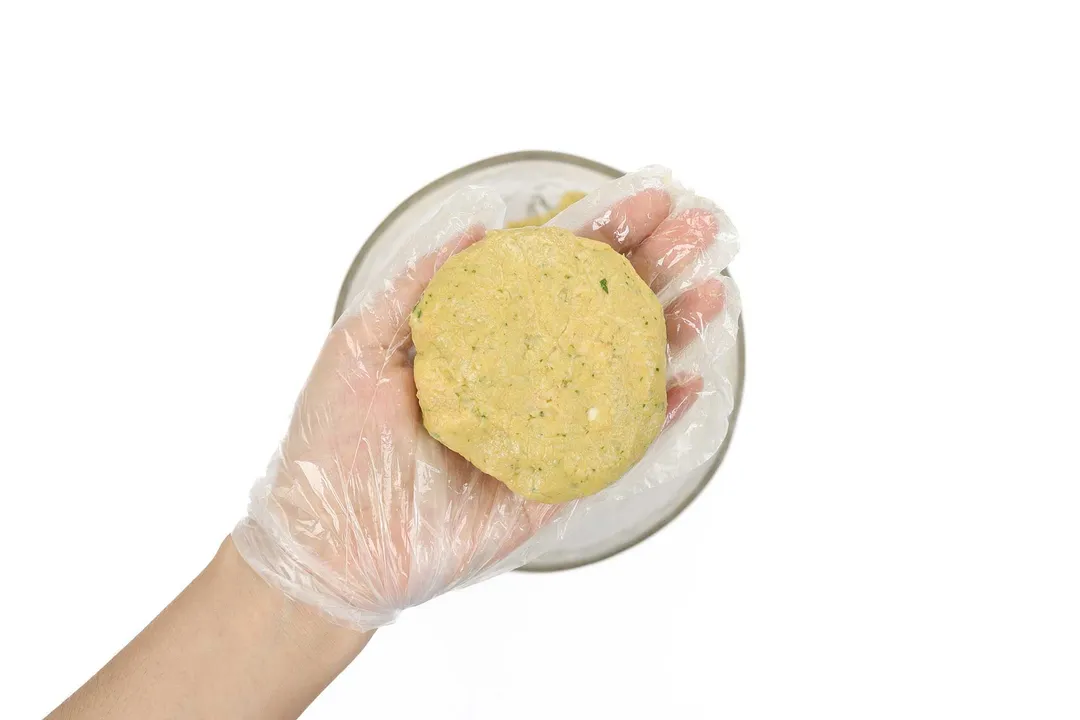 6
Pan-sear the chickpea patties: Place a large non-stick pan over medium heat and add 2 tbsp olive oil. When the oil is hot, add the chickpea patties. Pan-sear each side for 5 minutes (10 minutes in total). Remove them from the heat and set them aside to cool.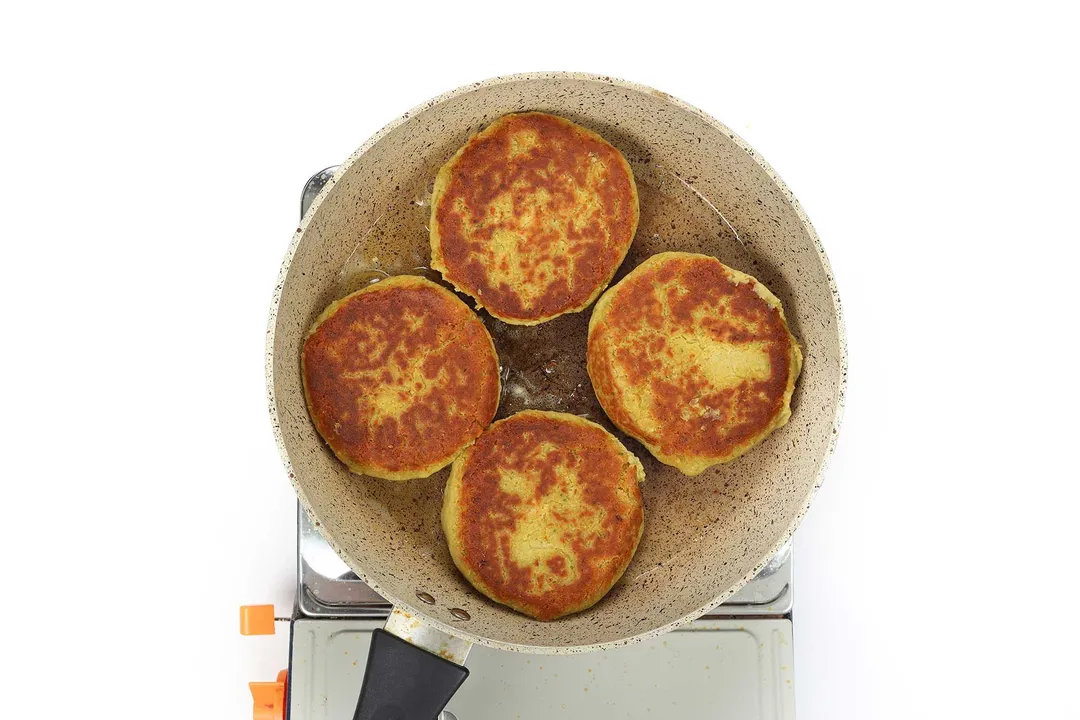 7
Assemble the chickpea burgers: Layer the green lettuce, sliced tomato, sliced red onions, and chickpea patties on the burger buns. Add the mayo-ketchup sauce and enjoy!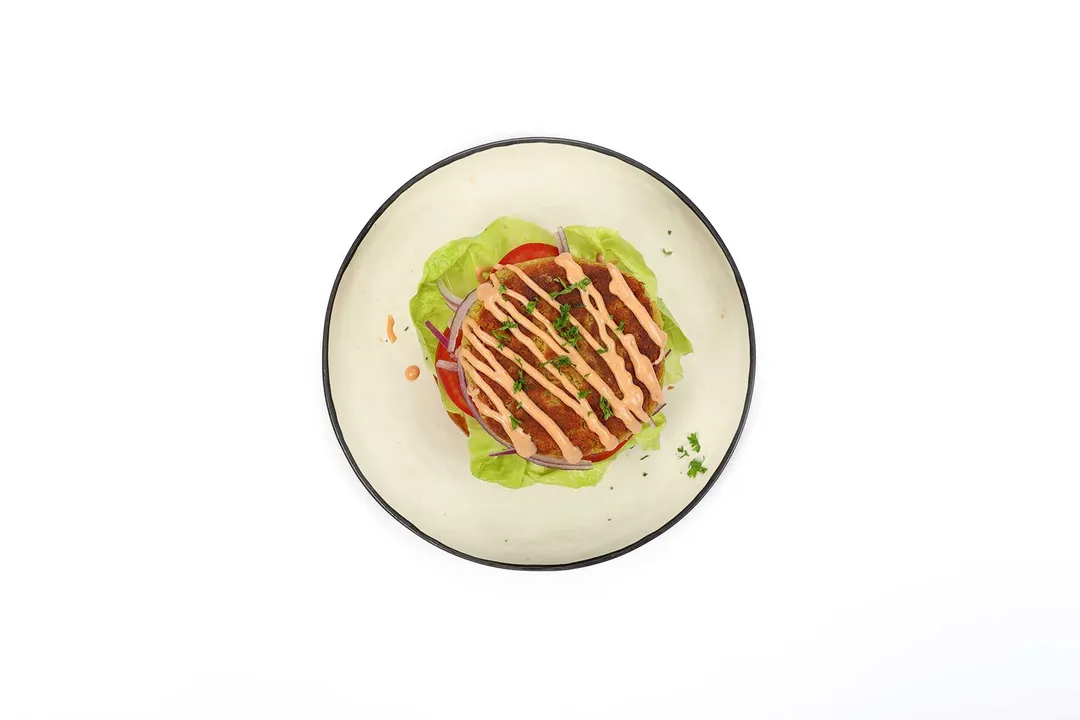 NUTRITION
Nutrition Facts
Chickpea Burger
Amount Per Serving (1 serving)
Calories 475
Calories from Fat 189
% Daily Value*
* Percent Daily Values are based on a 2000 calorie diet.
Keywords: chickpea burger, chickpea burger recipe, how to make chickpea burger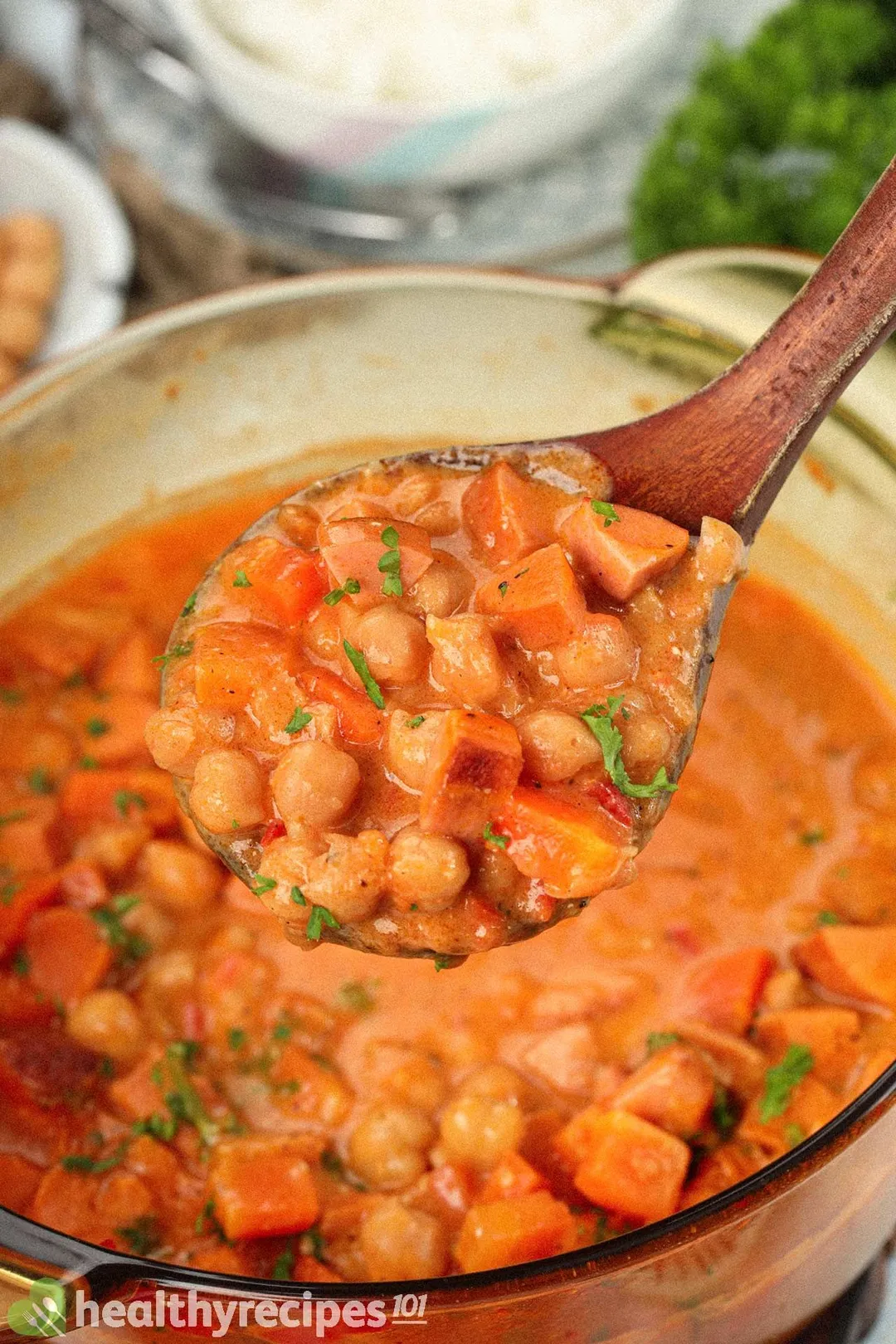 Previous Recipe
Chickpea Stew
Chickpea Stew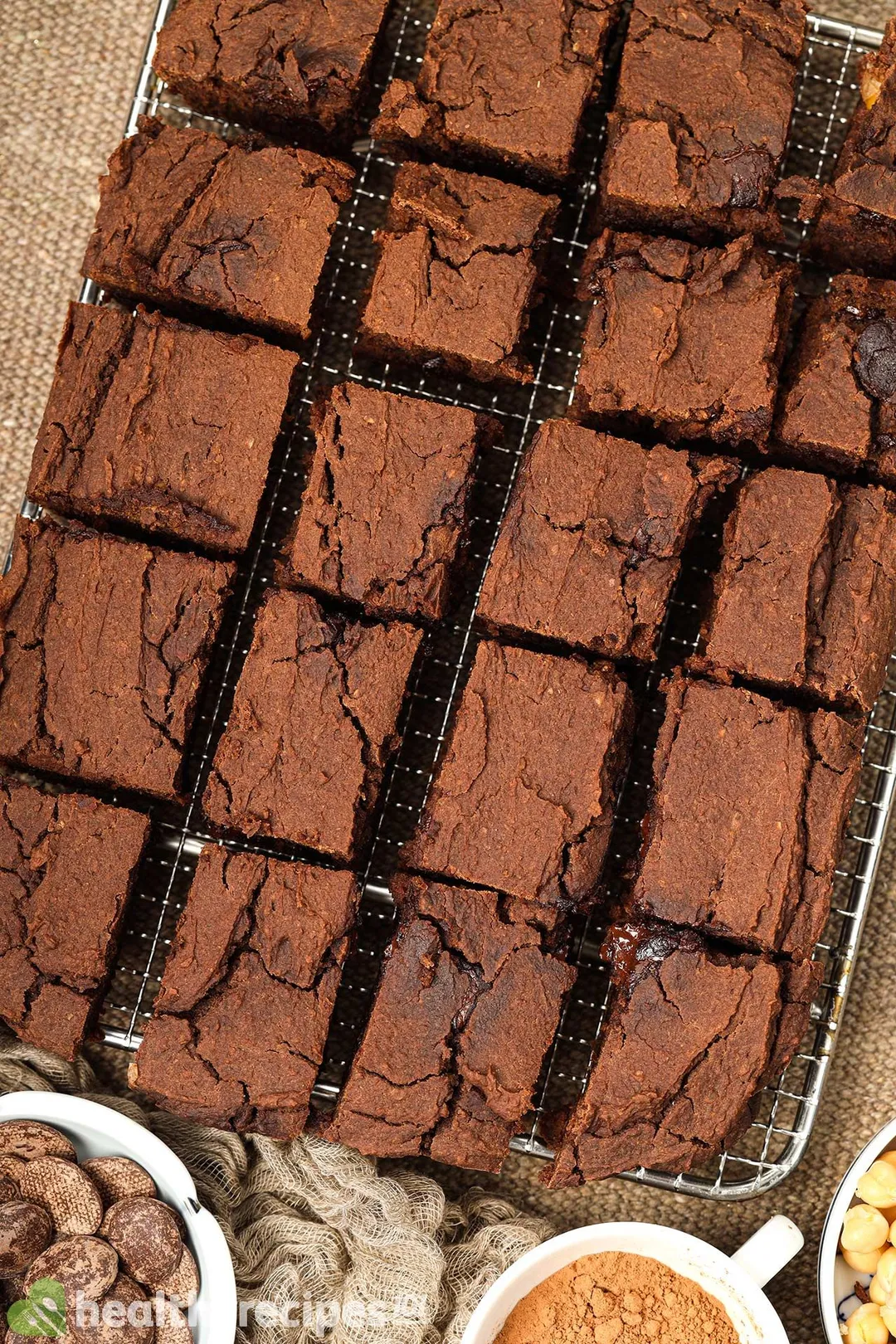 Next Recipe
Chickpea Brownies
Chickpea Brownies
Head Chef, Culinary Consultant
Tuyet Pham is an award-winning Saigonese chef who believes that joy is the secret ingredient to delicious food. At Healthy Recipes 101, Tuyet personally tests and simplifies every recipe, ensuring maximum flavor with minimal effort. With a background at prestigious French restaurants P'TI Saigon and Le Corto, Tuyet knows how to make every dish exceptional.
Writer, Author
Luna Regina is an accomplished writer and author who dedicates her career to empowering home cooks and making cooking effortless for everyone. She is the founder of HealthyKitchen101.com and HealthyRecipes101.com, where she works with her team to develop easy, nutritious recipes and help aspiring cooks choose the right kitchen appliances.
Satisfying and flavorful chickpea burger - plant-based perfection!