Our canned salmon burger recipe offers a healthy way to enjoy a burger without compromising its classic goodness. It features tender salmon patties, fresh veggies, and an unbelievably delicious sauce, all jammed between buns that have been air-fried for extra sturdiness. 
Since the burger is homemade, you can ensure everything is fresh, well-prepared, and properly adjusted. This enhances its flavors and transforms this guilty pleasure of a fast food into a main dish that's entirely appropriate to indulge in. 
Is Canned Salmon Burger Healthy?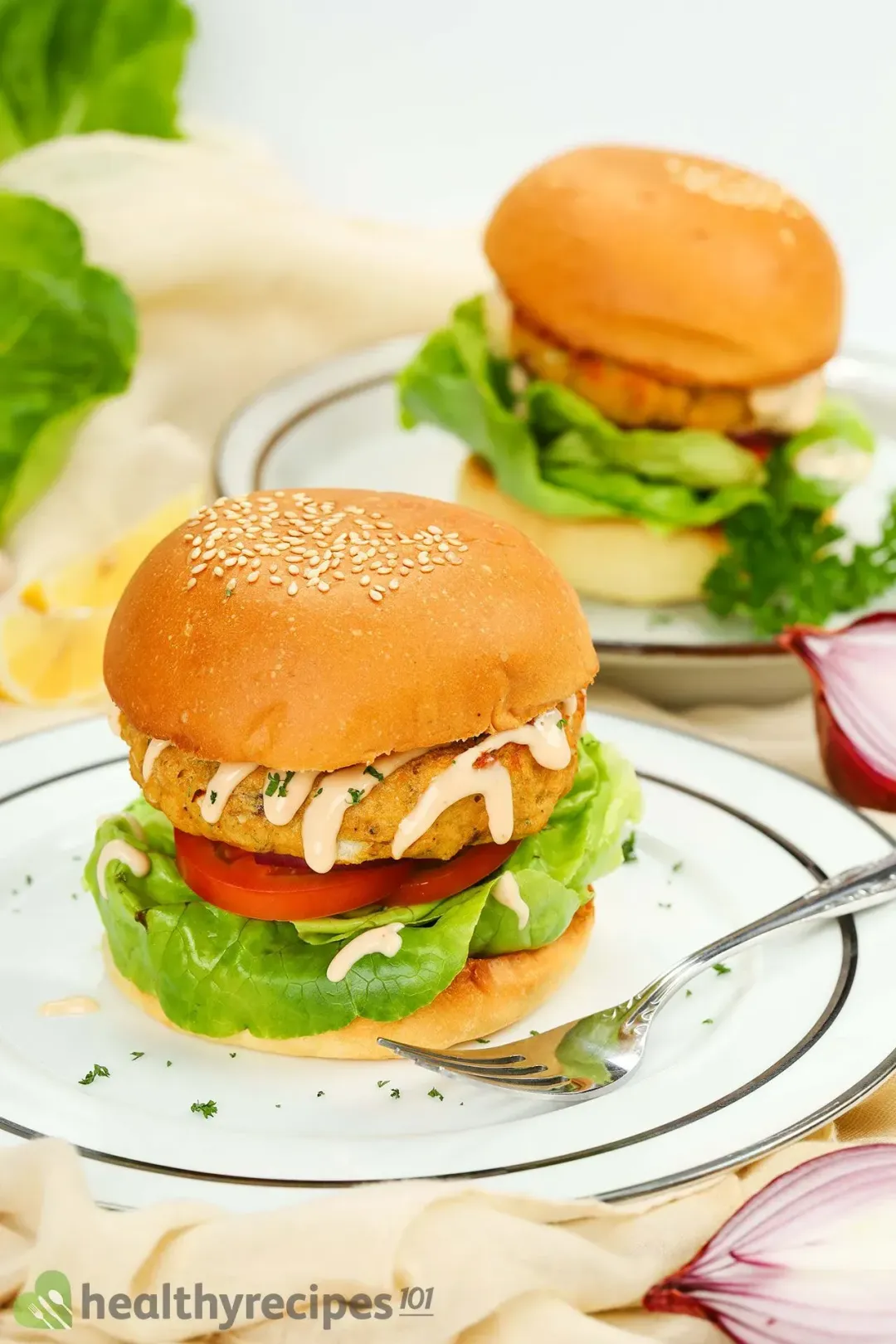 Burgers have a bad reputation for being an unhealthy, high-calorie fast food. While this may be true, you can minimize the negative factors by opting for nutritious ingredients while limiting those with fat and sodium.
As you can tell from the name, our recipe uses canned salmon as the main ingredient. Salmon, in general, is a well-known source of omega-3 fatty acids – essential fats that may help reduce the risk of heart disease and lower blood pressure. This is true even with canned salmon, which also supplies a decent amount of vitamin D. 
Regular burgers are deemed unhealthy partially because they use excessive oil when frying the meat. Keeping this in mind, we air-fried the salmon patties instead, limiting this dish's oil usage to just one tablespoon of olive oil.
Additionally, this burger contains veggies like lettuce, onion, and tomatoes, which could have various health benefits. If you're concerned about the overall nutritional value, don't be because each serving contains the following amounts:
452 calories
6.4 g saturated fat
587.7 mg sodium
The calories are kept under 750 kcal, while the saturated fat and sodium respectively amount to 28% and 26% of the daily intake limit. This strictly follows the standards set by our healthy-eating guidelines.
Ingredients for Canned Salmon Burger
This burger's list of ingredients is relatively long, but it's nothing you can't find either readily available in the kitchen or at the local grocery store.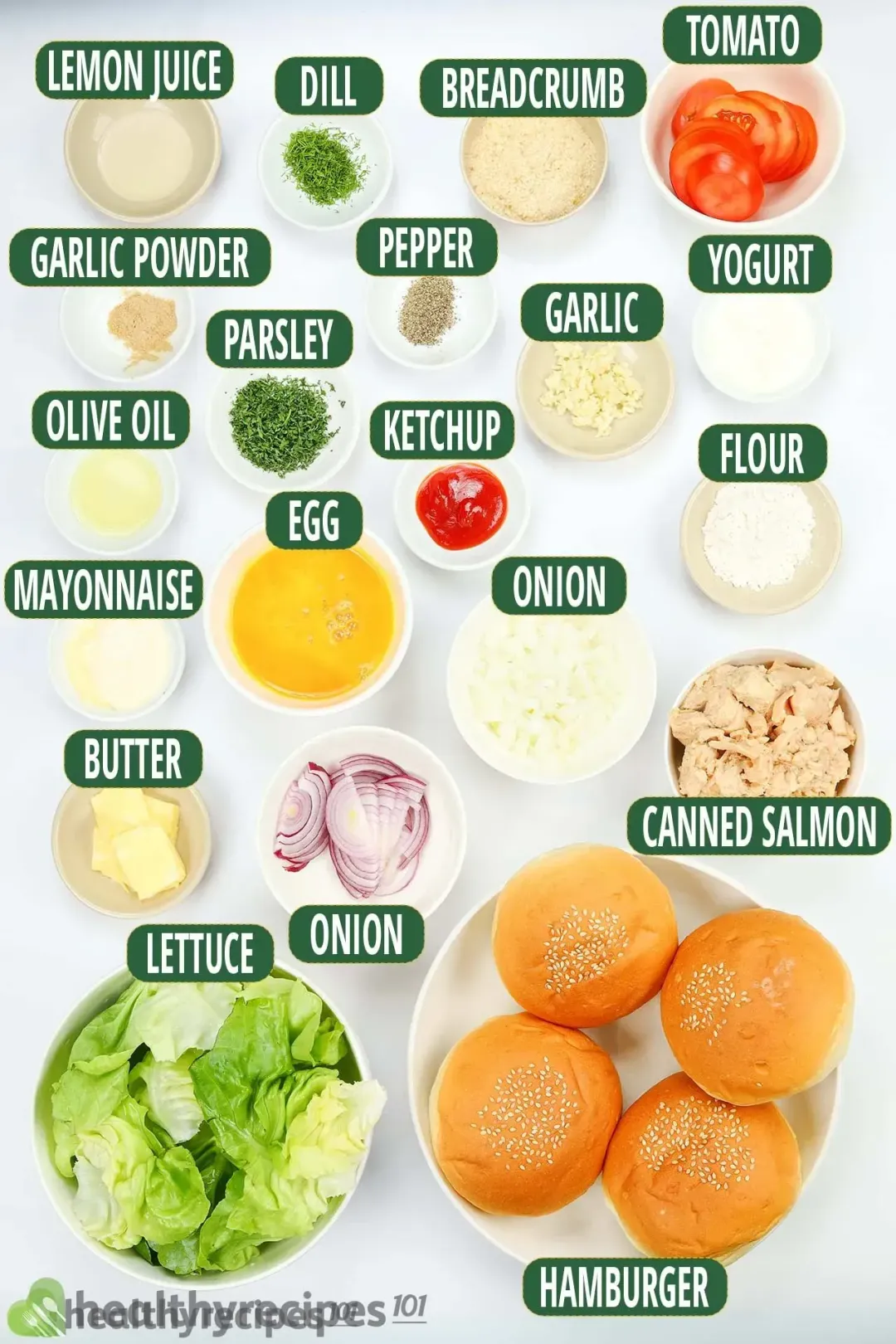 1. For the Patties
We went with canned pink salmon for the patties because it helps to save time and effort. Its taste is nearly identical to the fresh variety, only lighter and less fishy. Make sure you drain it well before use to avoid making the patty soggy. 
The eggs act as a binder to tie the salmon with the chopped veggies, thus making it easier to mold the patties and keep them from disintegrating during the cooking process.
The crumbs not only give the patties an exciting crispiness but also retain moisture, giving them an even juicier and more tender interior.
We wanted our patties to be consistent and not fall apart with every bite, so we also added a small amount of flour to absorb the excess moisture and further solidify the mixture. 
Vegetables and Seasonings
Since salmon is relatively mild, we used garlic, onion, dill, pepper, parsley, and garlic powder to add a little texture as well as kick the flavors up a notch. 
2. For the Sauce
Greek Yogurt and Kewpie Mayonnaise
Mayo and Greek yogurt's smooth textures help to set the base for a thick and creamy sauce. Yogurt also has a tangy undertone that enhances the canned salmon's mildly sweet and savory taste. 
Although a simple ingredient, ketchup has become a burger staple because it complements it so well. We used Heinz ketchup, but you can go with your favorite variety or add mustard to sharpen the flavor.  
3. For the Burger
We went with the usual burger staples, such as red onion, lettuce, and tomato. Each veggie adds a different layer of flavor that together balance out the patties' sweet-and-savory taste. 
Store-bought buns should do the trick for this recipe. Look for soft ones that still have structure so they don't get soggy from the filling. 
4. Is Canned Salmon Cooked?
Canned salmon is cleaned and cooked before it's canned, so you can drain it and then eat it raw if you like. However, we recommend you briefly heat it first for better taste and to kill any potential bacteria.
What to Serve With Canned Salmon Burger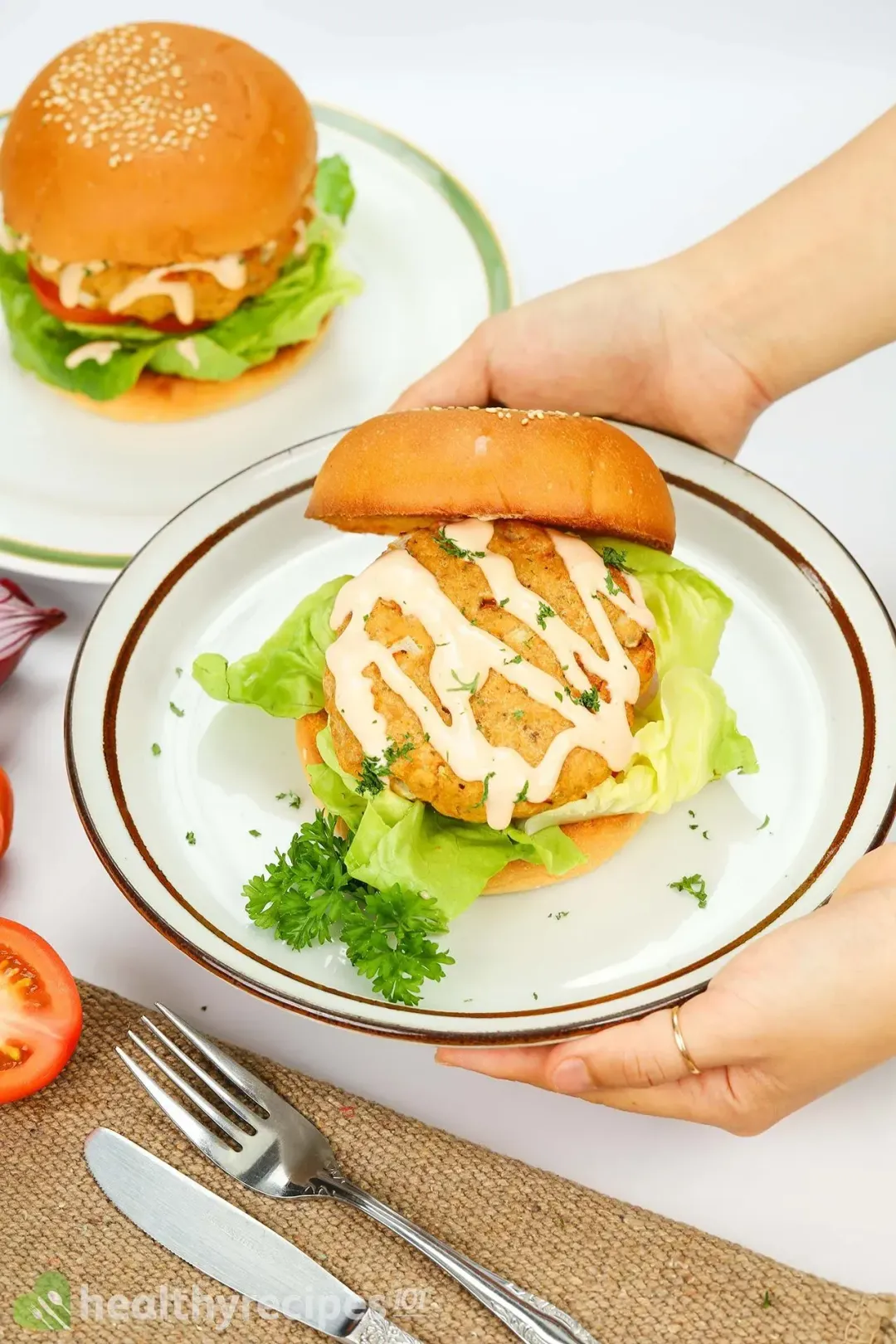 This salmon burger makes a fantastic and filling main dish, so you don't need a side dish that's too complicated. A simple coleslaw should do the trick, but you can also check out the following recipes:
How to Store and Reheat
Storing and reheating burgers require a few extra steps due to the several different ingredients. Here are the specifics on how to handle the leftovers for this one:
This burger tastes best when eaten within the day. If you have any leftovers from your meal, wrap them up or store them in a container and leave it in the fridge. 
Reheat the patties in the oven at 350°F for approximately 10 minutes in a dish loosely covered with foil, or pan-fry it on a skillet. Pat the excess moisture from the veggies with paper towels and use new buns if possible. If not, you can quickly air fry it to make it less soggy.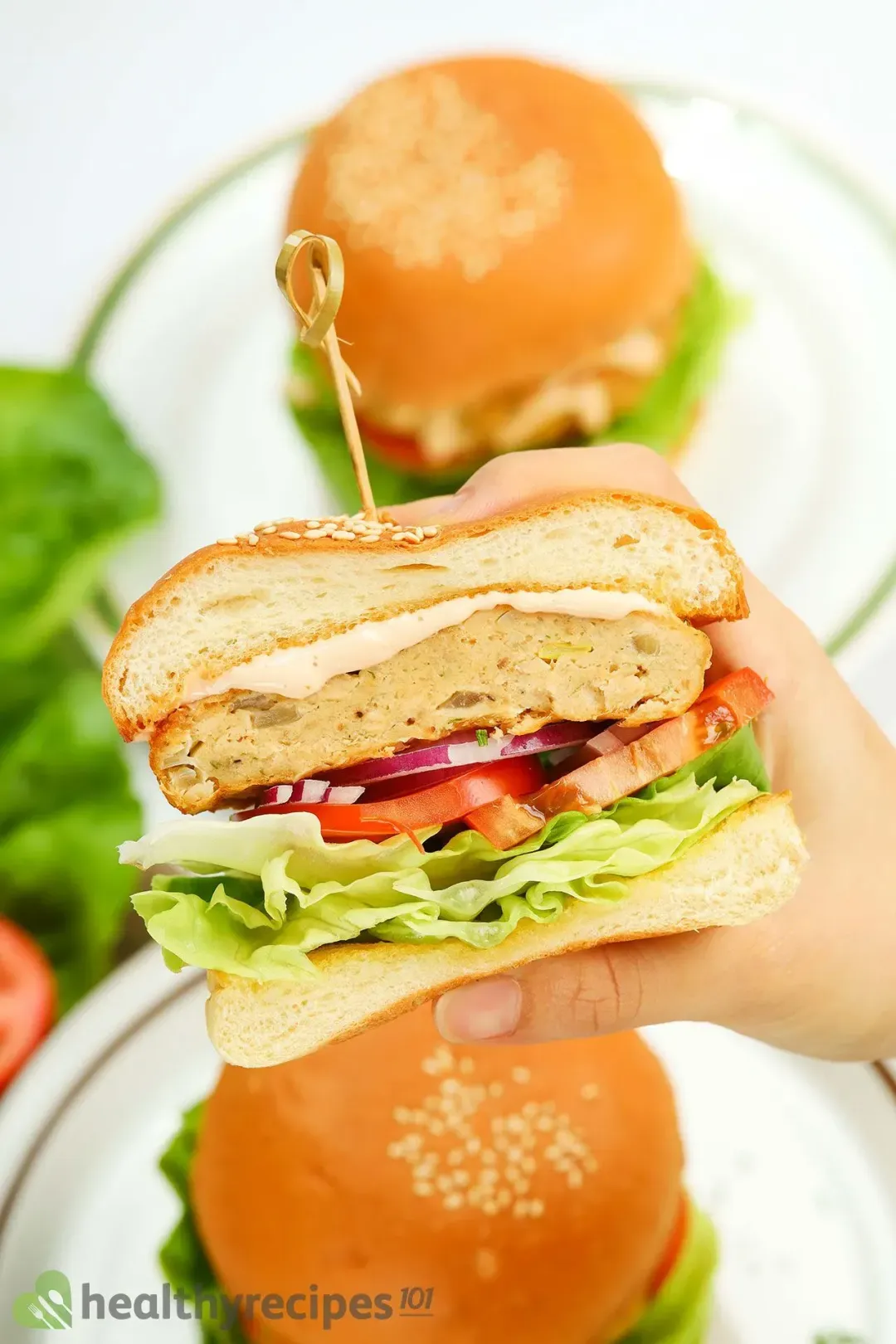 What Else to Do With Canned Salmon
Leftover canned goods can be troublesome since you can't just put a cling wrap on them and pretend it's never been opened, can you? Well, there are a few dishes you can make with leftover canned salmon.
For starters, check out this salad recipe of ours, and replace the raw fish with the canned fish. You can skip the cooking step altogether and move straight away to the mixing part.
Or, you can have tacos, for tomorrow that is, since you've already had burgers for today. It will come together rather quickly with the salmon, veggies, and some pre-made taco shells.
If you enjoy sandwiches or burgers that feature salmon as the main protein, we think you'll find salmon burger recipes a delight.
How to Make Canned Salmon Burger
Our canned salmon burger recipe offers a healthy way to enjoy a burger without compromising any of its classic goodness. It still has the same divine flavors and diverse textures but is made with ingredients that allow guilt-free enjoyment.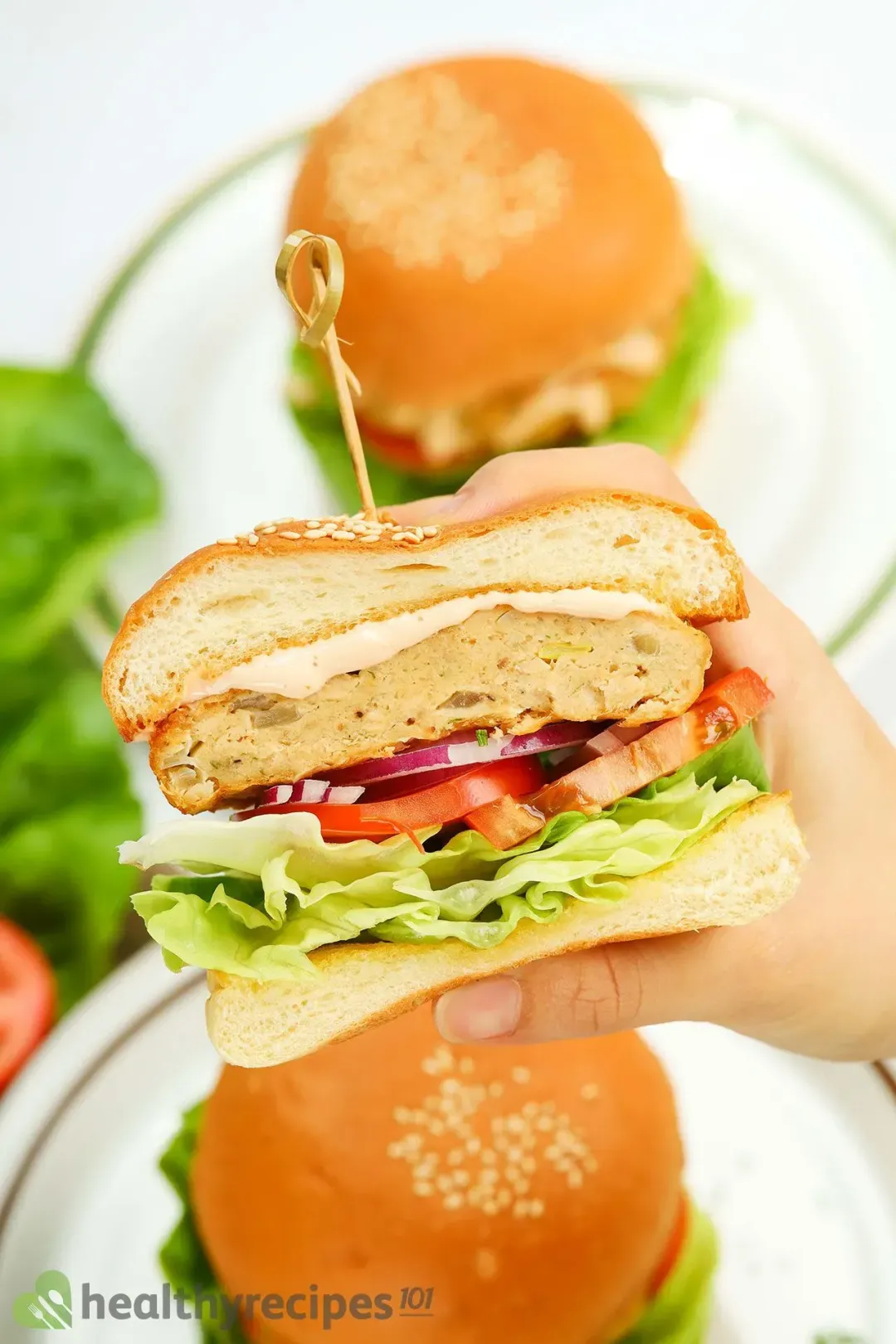 cook TIME

20 mins

prep TIME

10 mins

total TIME

30 mins
COURSE

Main Course

CUISINE

American

SERVINGS

CALORIES

452 kcal
INGREDIENTS
10 oz

canned pink salmon

(drained)

1 oz

red onion

(half ring sliced)

1/3 cup

plain panko breadcrumbs

2 tbsp

plain Greek yogurt

3 tbsp

Japanese Mayonnaise
INSTRUCTIONS
Preparation
1
Mince the Garlic: Trim off the ends, lay the cloves under the middle part of a chef's knife's flat side and press down to crush; the peel should come off as you do so.
2
Dice the Onion: Slice the onion in half and leave the roots on for the entire process. Lay the half horizontally flat on the chopping board, point the knife toward the root, and thinly slice the onion. Next, push the knife into the onion crosswise and slice through it. Then grip the onion with your non-dominant hand and cut the slices into tiny cubes with downward motions.
3
Slice the Red Onion: Trim off the root, then cut off a thin slice at the side so you can lay the onion flat on the chopping board. Next, crosswise cut the onion into thin slices, stack a few up, and continue cutting them into halves.
4
Slice the Tomatoes: Lay the tomato on its side, cut off the top, then slice crosswise at 1/2 inch intervals.
5
Chop the Dill: Remove the leaves from the stem, gather them into a small pile, pinch your fingers to hold them together, and begin to chop. Chop over the pile once or twice until the pieces are fine.
6
Prepare the Lettuce: Trim off the hard end, and discard the outer leaves and any that may be wilted. Use a sharp chef's knife and slice through the center to cut it into halves, then again into quarters. Crush the quarter down with your palm to separate the leaves, then cut it into pieces approximately the same size as the buns.
7
Drain the Salmon: Close the lid almost all the way and leave a small space for the water to run out. Hold the can over a sink or a bowl and tilt it to pour out the liquid.
Cook
1
Make the Pattie Mixture: In a large bowl, add 10 oz canned pink salmon, 2 medium eggs, 1/3 cup plain panko breadcrumbs, 2 tbsp all-purpose flour, 1/2 tbsp lemon juice, 1 tbsp garlic, 2 oz onion, 1/2 tsp garlic powder, 1 tsp dill, and 1/2 tsp pepper. Use a large spoon to mix everything together.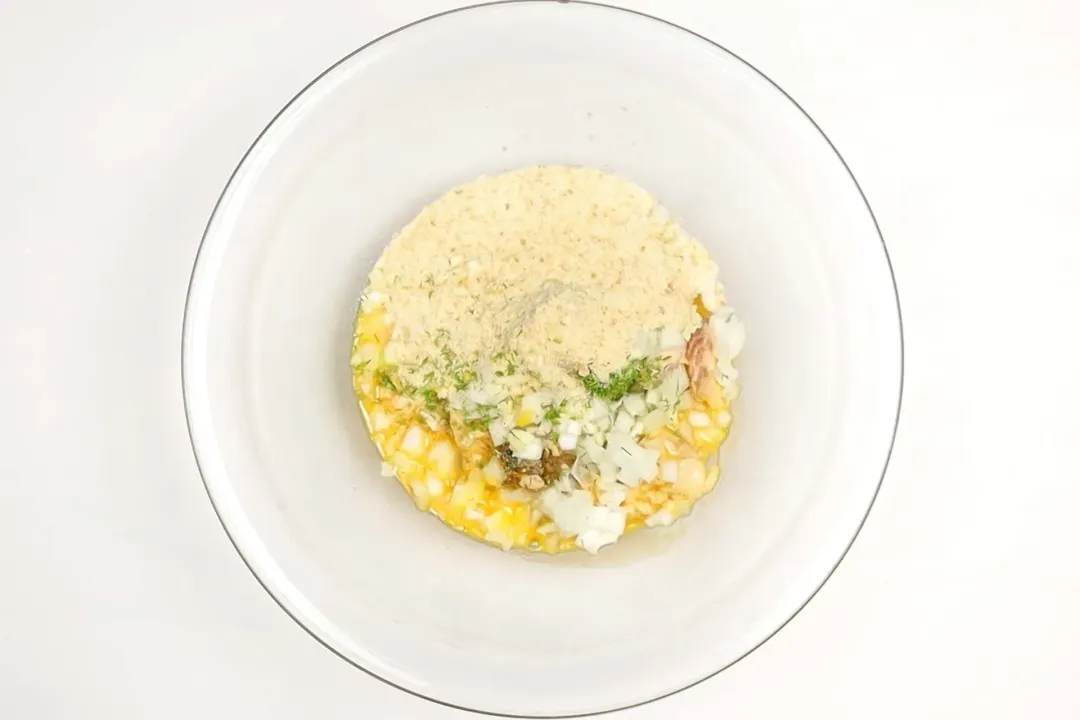 2
Divide and Shape the Patties: Divide the mixture into 4 equal parts, scoop each part into your palm, use a spoon to press it down lightly and your fingers to mold the edges, or use a large cookie cutter.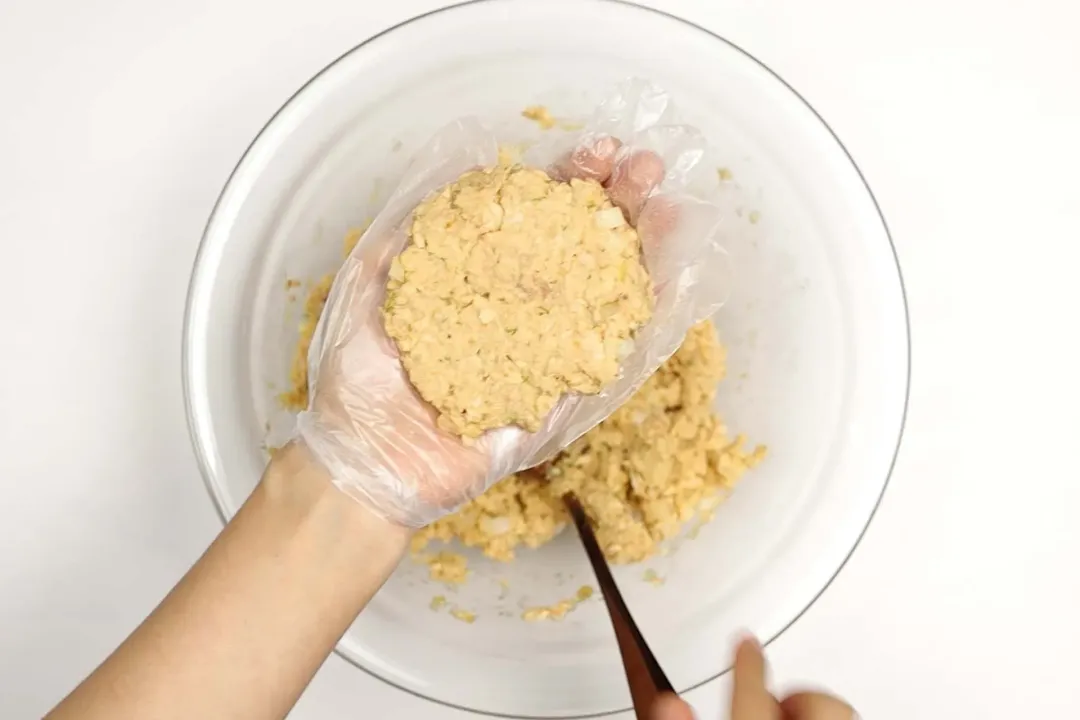 3
Air-fry the Patties: Put the patties into the air fryer, spread 1 tbsp olive oil over them, then air fry at 360°F for 15 minutes.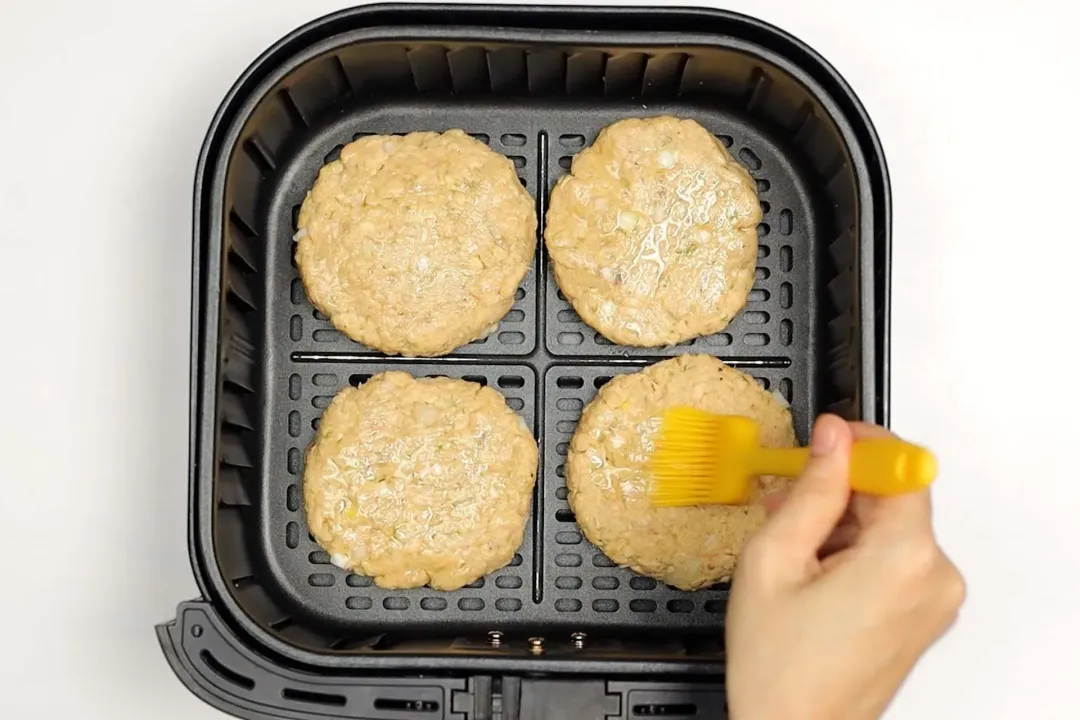 4
Make the Sauce: In the meantime, add 2 tbsp plain Greek yogurt, 3 tbsp mayonnaise, and 1 tbsp Heinz ketchup into a small bowl. Gently mix until the sauce has a smooth consistency.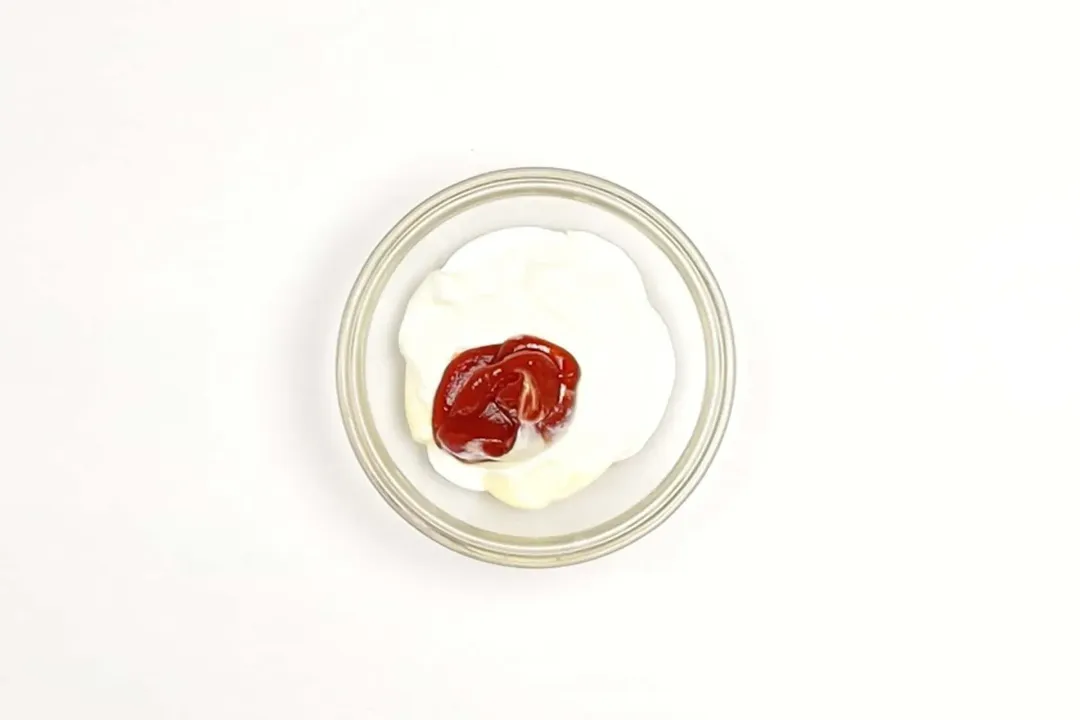 5
Air-fry the Buns: Slice the buns in half and spread 2 tbsp unsalted butter on the inner surfaces, then air fry them at 360°F for 3 minutes.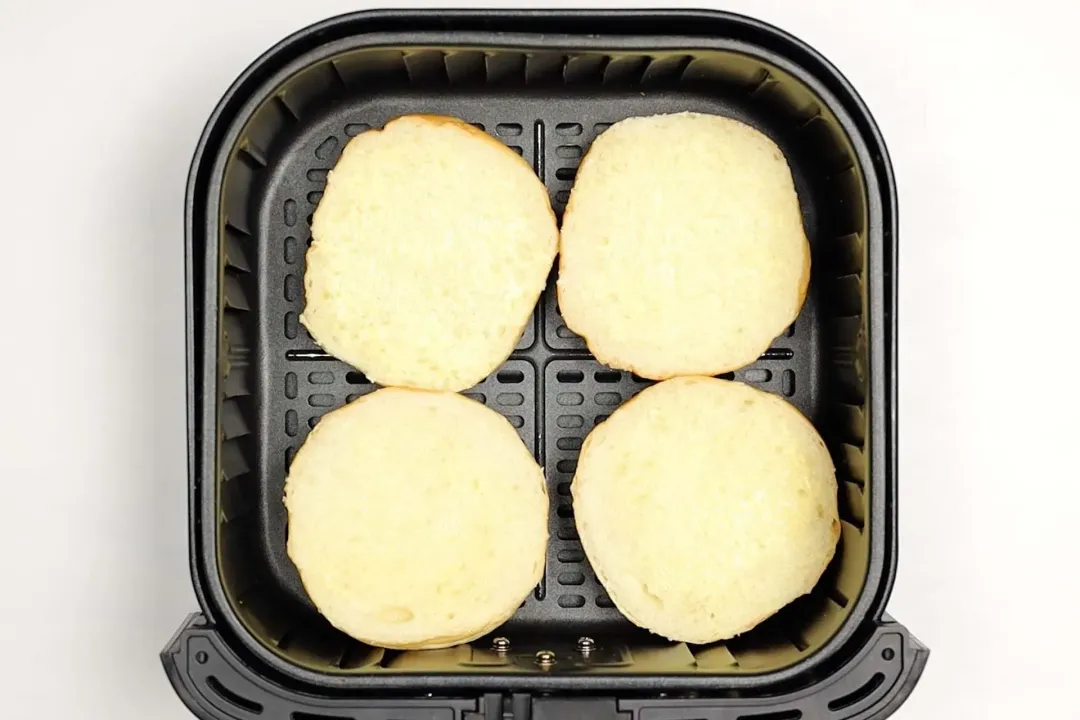 6
Assemble the Burgers: Stack a lettuce leaf, 2 or 3 slices of onion and tomato, and 1 salmon pattie inside a sliced bun to make 1 burger. Drizzle the sauce on the pattie and sprinkle some parsley, then serve.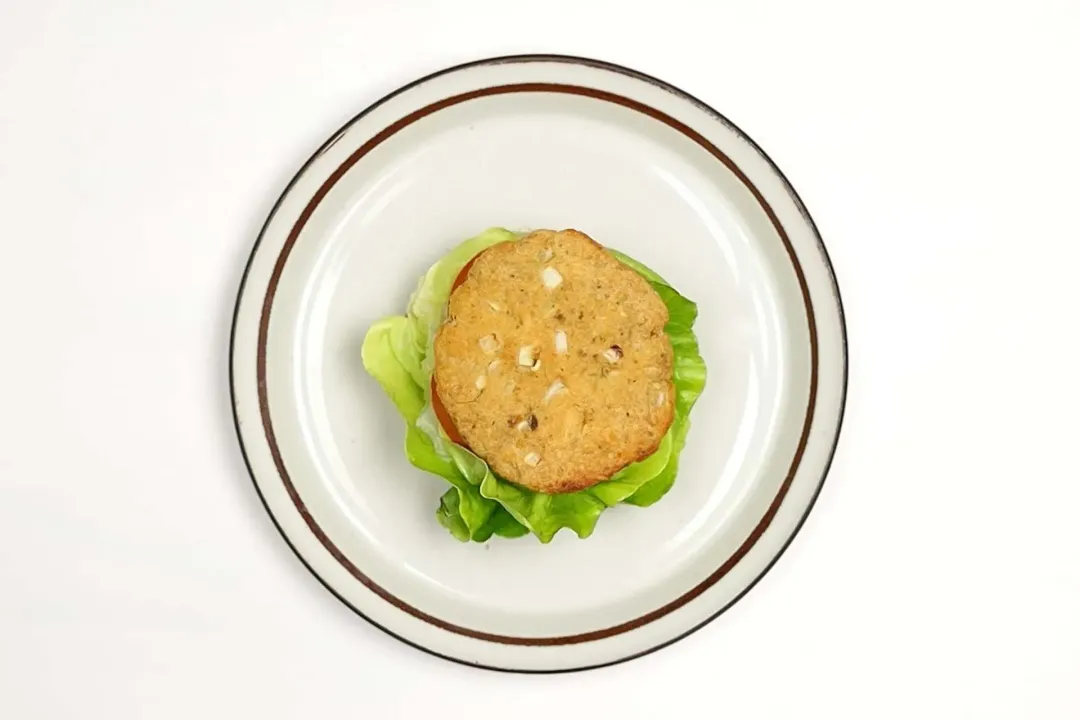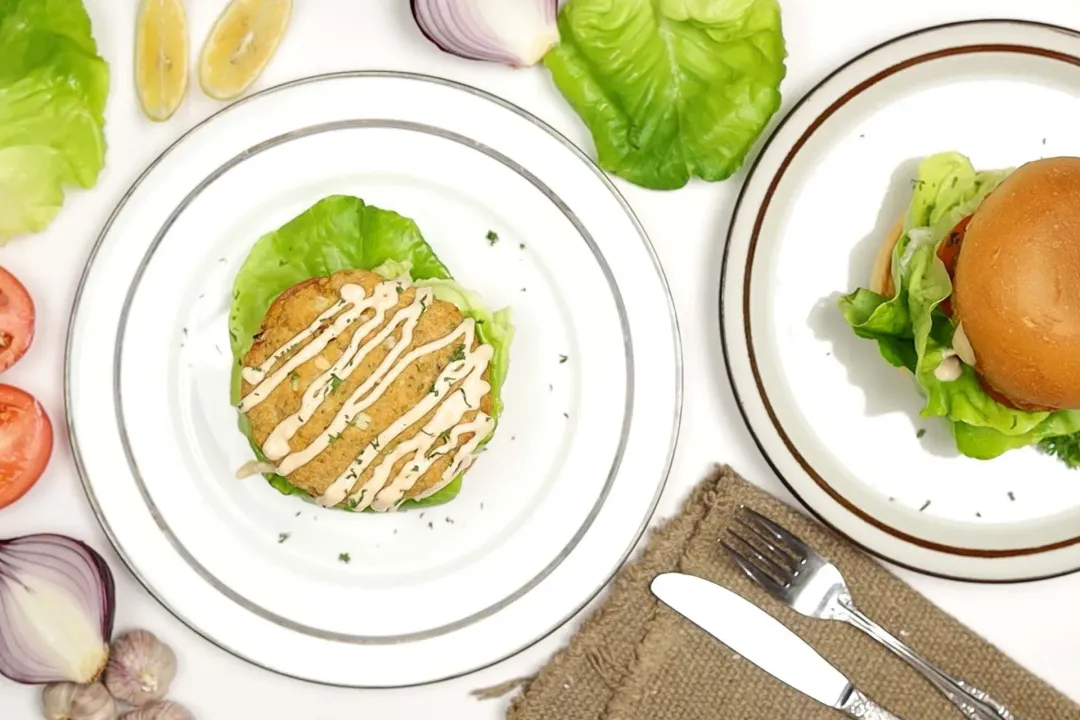 NUTRITION
Nutrition Facts
How to Make Canned Salmon Burger
Amount Per Serving (1 serving)
Calories 452
Calories from Fat 198
% Daily Value*
* Percent Daily Values are based on a 2000 calorie diet.
Keywords: canned salmon burger, canned salmon burger recipe, how to make canned salmon burger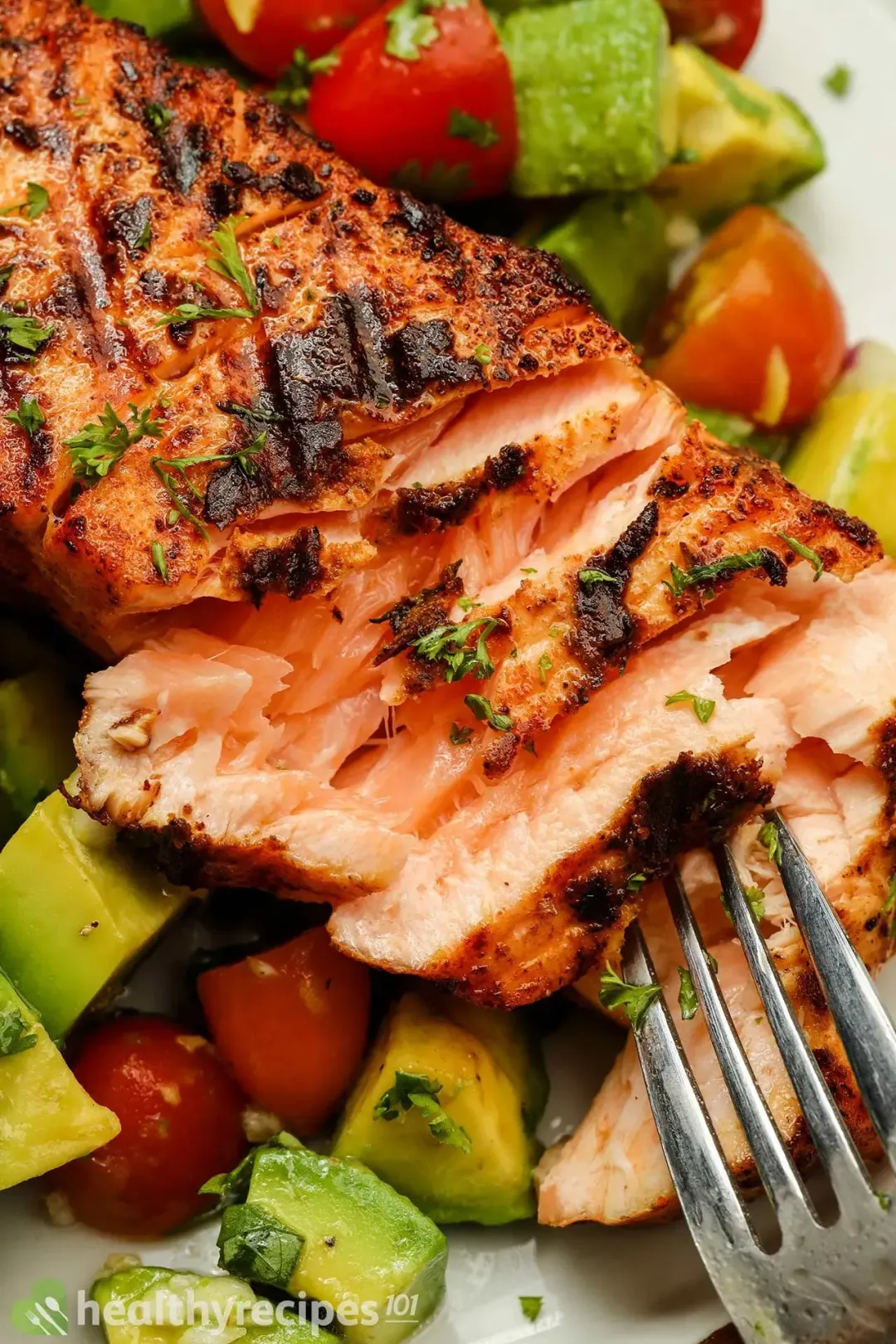 Previous Recipe
Salmon Avocado
Salmon Avocado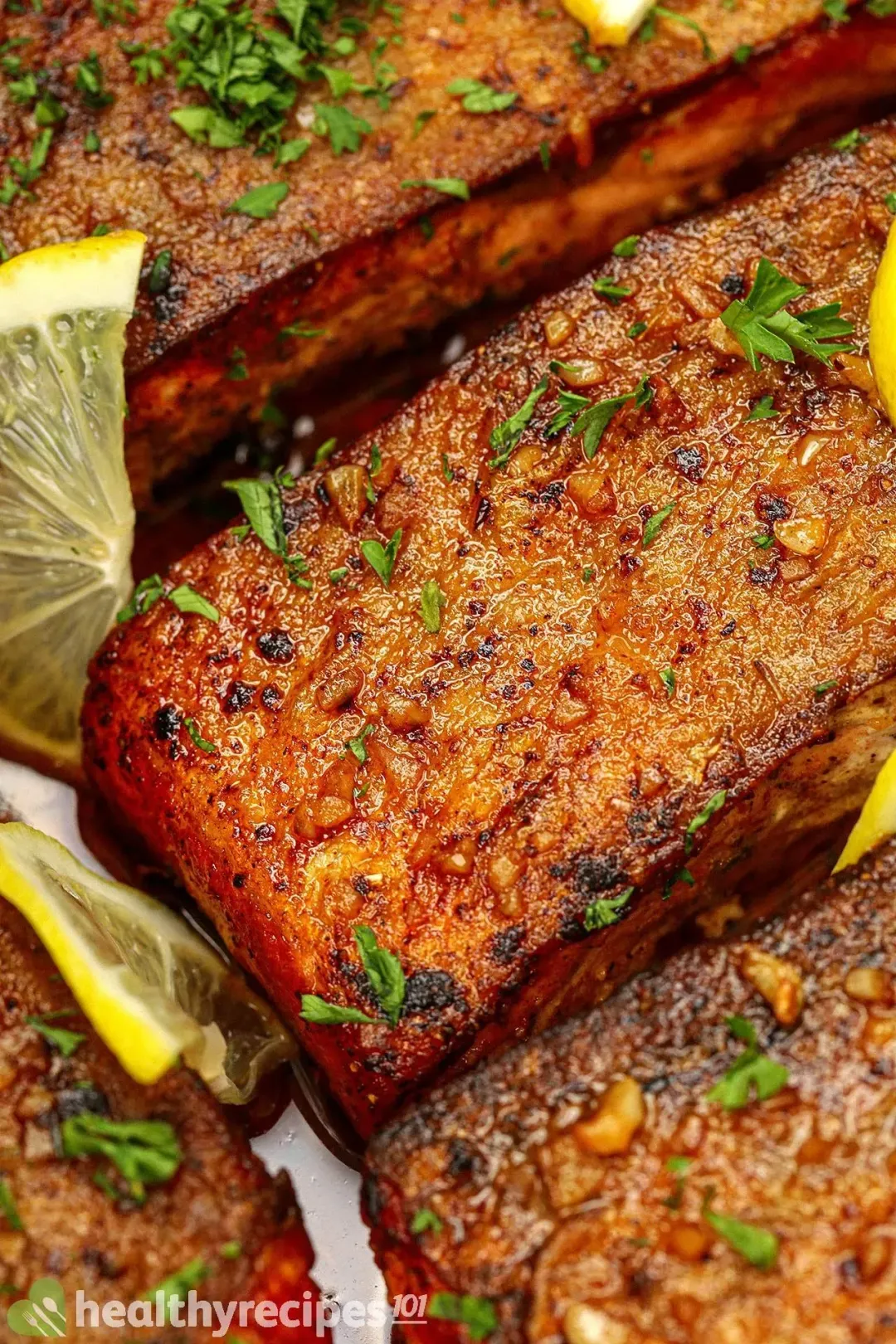 Cajun Salmon
Head Chef, Culinary Consultant
Tuyet Pham is an award-winning Saigonese chef who believes that joy is the secret ingredient to delicious food. At Healthy Recipes 101, Tuyet personally tests and simplifies every recipe, ensuring maximum flavor with minimal effort. With a background at prestigious French restaurants P'TI Saigon and Le Corto, Tuyet knows how to make every dish exceptional.
Writer, Author
Luna Regina is an accomplished writer and author who dedicates her career to empowering home cooks and making cooking effortless for everyone. She is the founder of HealthyKitchen101.com and HealthyRecipes101.com, where she works with her team to develop easy, nutritious recipes and help aspiring cooks choose the right kitchen appliances.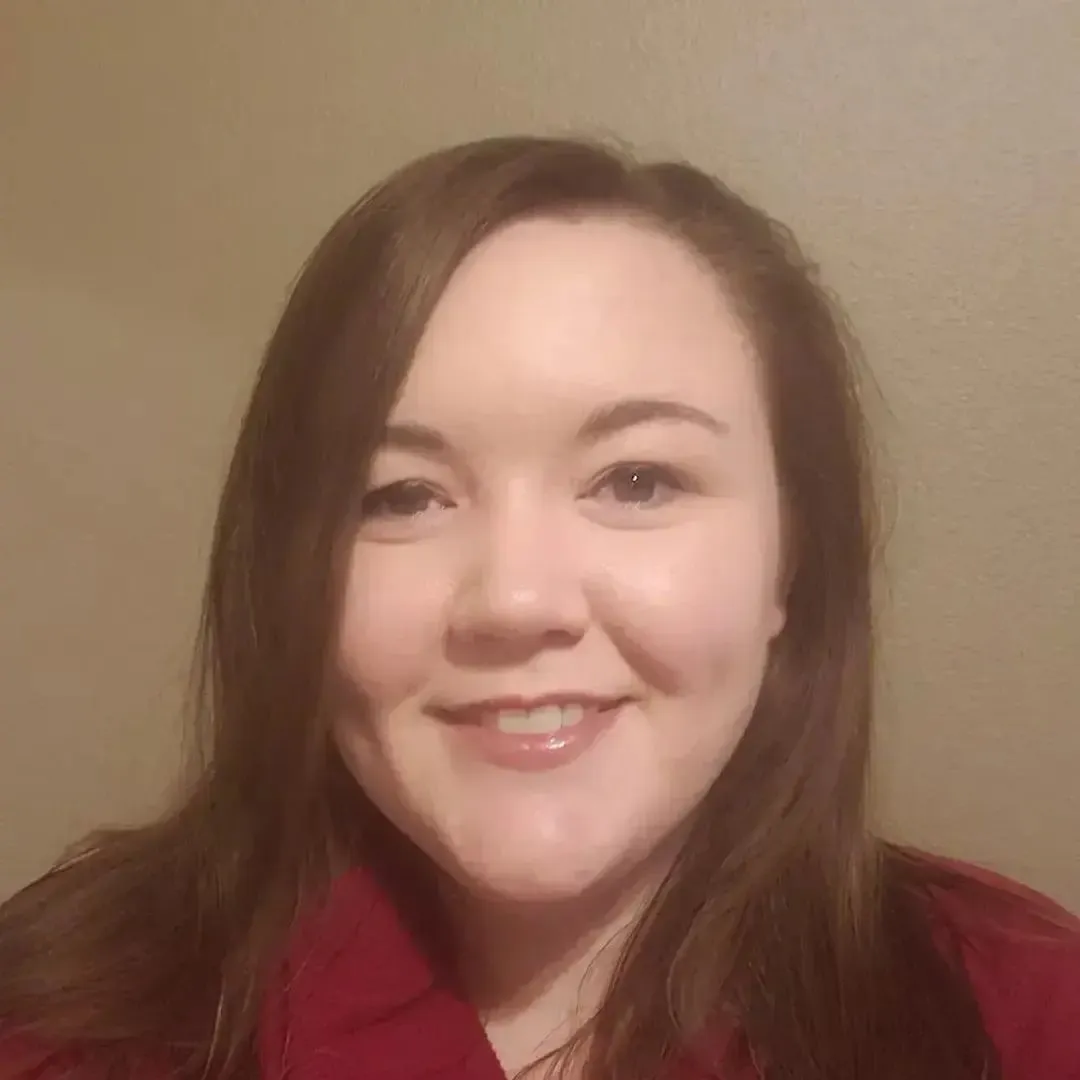 Nutrition Reviewer
SaVanna Shoemaker is a registered dietitian and freelance health and wellness writer. She's passionate about whole food-based eating and holistic nutrition, and uses her platform to help people embrace real food and reduce their sugar and processed food intake. Her work has appeared on Healthline, Greatist, Livestrong, Verywell Health, and more. In her free time, she enjoys gardening, reading, cooking, and weight lifting.
Canned Salmon burger has become one of our family's top favorite dishes! It took little time plus effort, yet every bite was during pleasurable - especially when served with fresh veggies on side as suggested! Thanks!

Husband and kids loved it.