With National Tempura Day (January 7) around the corner, our tempura recipe provides fail-proof instructions to guide you through the making of this delicacy.
Tempura is no stranger to Japanese food lovers. It's basically fried foods, but more delicious as they are coated in a crisp, yet light coating that's intricate and flavorful.
Anything can be turned into tempura, from meat, fish, shrimp to even vegetables of all sorts. Do it right, and you'll have tasty food to serve at parties or over hot rice at a cheap price.
So, click that button above to get to the detailed instructions of our tempura recipe. Or, give our article a quick read to learn more about this sophisticated staple.
What Is Tempura?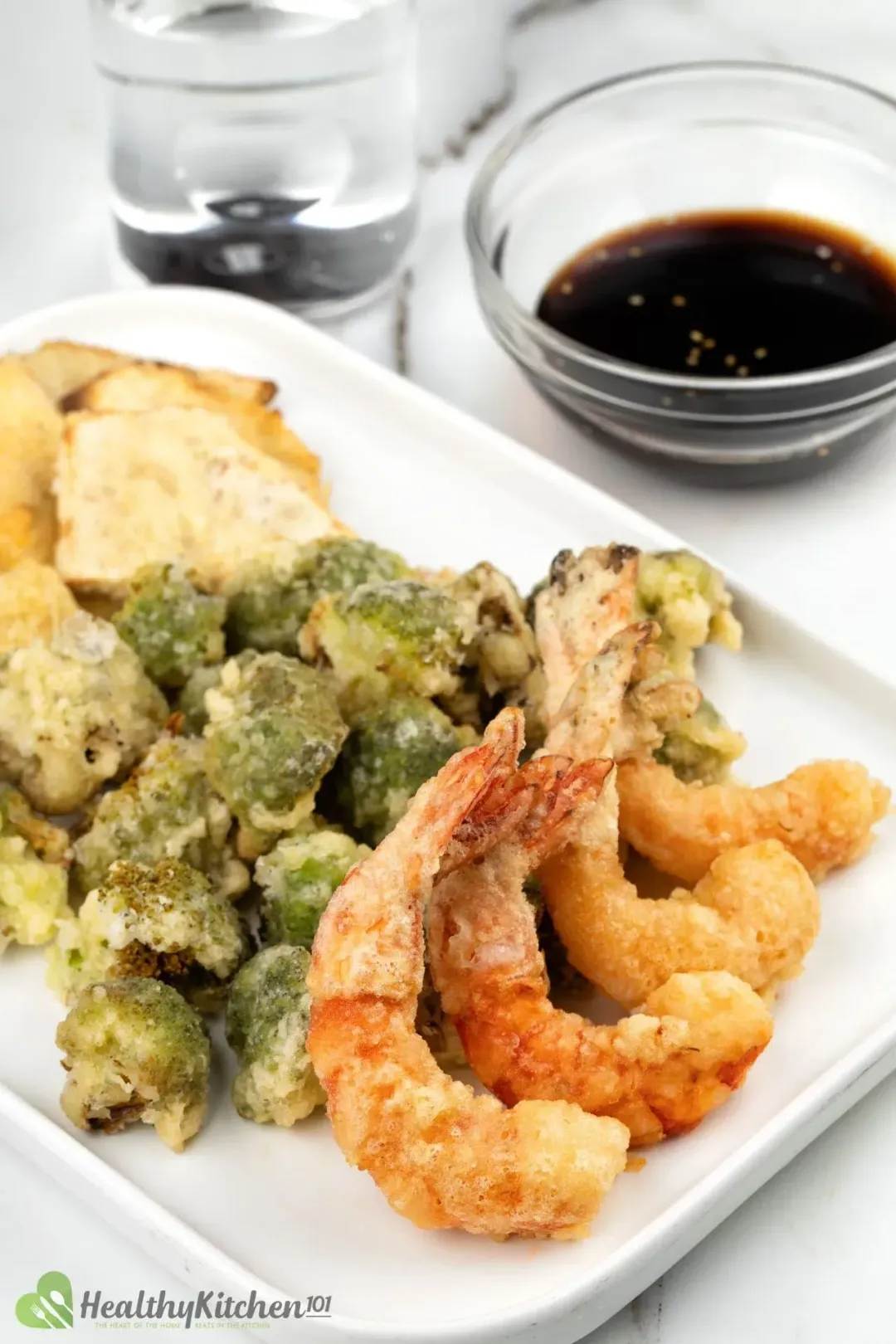 Tempura is salmon, shrimp, asparagus, taro, sweet potato, okra, carrot, etc. in a light batter coating and fried to perfection. Yes, almost any food can be turned into tempura!
The most popular tempura is shrimp (shelled, vein removed) and vegetables, which can include taro, zucchini, eggplant, sweet potato and shiso leaf, among others. Shiso is a kind of edible leaf, and when deep-fried, it's amazingly crisp.
The secret to tempura's crispness lies in the thin, cold batter. We'll show you how to make the batter as well as tips to fry tempura perfectly.
Tempura Ingredients
But first, let's look at the ingredients for a tempura recipe. Ours is only one basic choice among many possibilities but in our experience, this recipe provides consistently yummy results!
1. Shrimp
Frozen shrimp is easier to get, but for the best result, fresh shrimp is our go-to. We want the interior below the crisp coat to be juicy and plump, not dry and potentially starchy, which sometimes happens with frozen seafood.
While you're looking for shrimp, keep in mind that the bigger they are, the better. Although it's the batter that decides the deliciousness of this dish, it just feels more satisfying to bite into a large shrimp.
After getting your fresh shrimp, make sure to carefully prepare them before frying. Here's what you have to do:
Twist the head to remove (or save for making stock).
Cut the vein using a toothpick and remove the vein.
Strip off the shell and make incisions widthwise on the shrimp's tummy to prevent it from curling as they fry.
If you're unsure of how to prep shrimp, check out our shrimp cake recipe for a full, detailed instruction.
2. Zucchini
Have you ever tried zucchini fries and decided it's the best snack made with zucchini? Zucchini tempura will make you think again with its light, airy crust and juicy interior.
Because zucchini has a pliable texture, we didn't slice it like other pieces. We cut and shaped the zucchini so the pieces resemble little paper fans, which blooms beautifully when fried.
To cut the zucchini, first trim off both ends and cut the fruit into 3-inch segments.
Lay the segments upright and slice them into three, lengthwise. Discard/save the middle part for other dishes.
Lay a side piece on its flat side, create 5-6 slits from one end to the middle of the piece.
Gently separate the "fingers and arrange it on one another so the piece resembles a paper fan. Play around with it a little, but be careful not to tear it.
3. Shiso leaves
Eating deep-fried leaves may seem strange, but this is what makes the tempura experience whole. Shiso, or "perilla leaves", is an herb with aroma resembling a cinnamon-cloves crossover, bringing plenty to the table.
Plus, considering that no other pieces possess a bright green, shiso leaves also make for a great embellishment.
To present the beautiful green, careful not to dip the whole leaf in the batter. With your hands grab the leaf by its stem, lay it onto the batter, and slowly place it batter-side-down into the oil.
4. Taro
When it comes to foods to make into tempura, the greater the variety, the better. Shrimp provides the protein and broccoli— the green, so it's only natural to get a bit of starch by adding taro into the mix.
Health-wise, taro is a better alternative to its cousins: potato and yam. It holds its shape well even when cooked, and it has more fiber, which is better for the digestive system.
Simply get a medium taro, peel the skin, wash it well, then cut it into thin slices. We want to make bite-sized pieces, so cut the slices in half if they seem too large.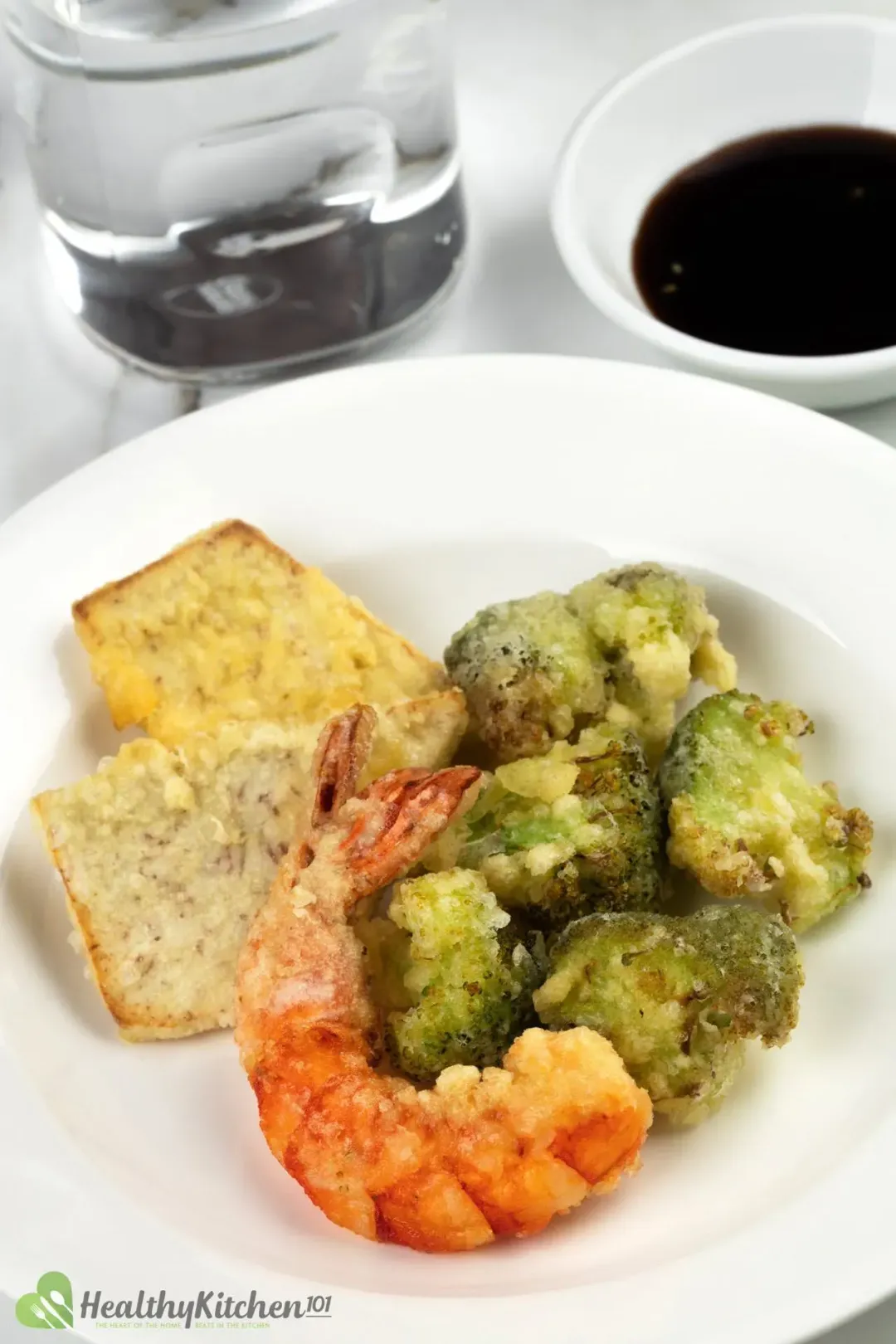 How to Make Tempura Batter— A Fail-Proof One
Unlike conventional deep-fried foods, making tempura batter can be intimidating. Sometimes it doesn't stick to your food; sometimes it sticks too much, and when it sticks, it can turn out dense, the opposite of the light, delicate coating we're going for.
Don't worry, we've got you.
To start off, a typical tempura batter has egg, water, and flour. Let's very carefully go through each ingredient.
1. Flour
After several attempts, we found that plain all-purpose flour wasn't the secret to the coating's crispness, tasty appeal. A few things needed to be added to plain flour to get the desired effect.
First, cornstarch. With a high starch content and no gluten, cornstarch makes the fried batter crispy and not chewy, as using pure all-purpose flour may.
Second (and finally!), baking powder is an important yet often overlooked ingredient. When the batter touches hot oil, baking powder makes the batter expand, which makes it extra crispy.
Some tempura recipes season the flour with plain salt and pepper, but it's not necessary to do so. Tempura will be served with a dipping sauce, and it's so tasty that the batter doesn't need to be flavored at all.
That's it for the dry ingredients. Let's move on to water, the trickiest one.
2. Water
No fried food recipe calls for water except for tempura, and that's because tempura batter is really thin. And, it has to be cold, ice-cold water.
If you're going for cool water from your water filter or fridge, don't, because that won't work. We were skeptical about this, tried using cool water, and found the tempura soggy after minutes of frying.
The science behind this is that ice-cold water prevents oil from leaking into the food, hence keeping it crisp for longer. To be honest, it doesn't sound so legit to the ears, but it worked; seeing is believing, after all!
3. Egg
We were shocked to discover that egg is… optional…in this recipe. Plus, recipes that used eggs called for only 1 egg and a large bowl of water, to the point where the egg didn't matter much.
We thought that the yolk would make the tempura beautifully golden, but all of the batches looked similar, with or without egg.
We did notice that by adding egg and insufficient water, the batter became chewier. We think this may be because of the additional protein.
As a result, we decided to go with a non-egg batter. It costs less, money-wise as well as effort-wise.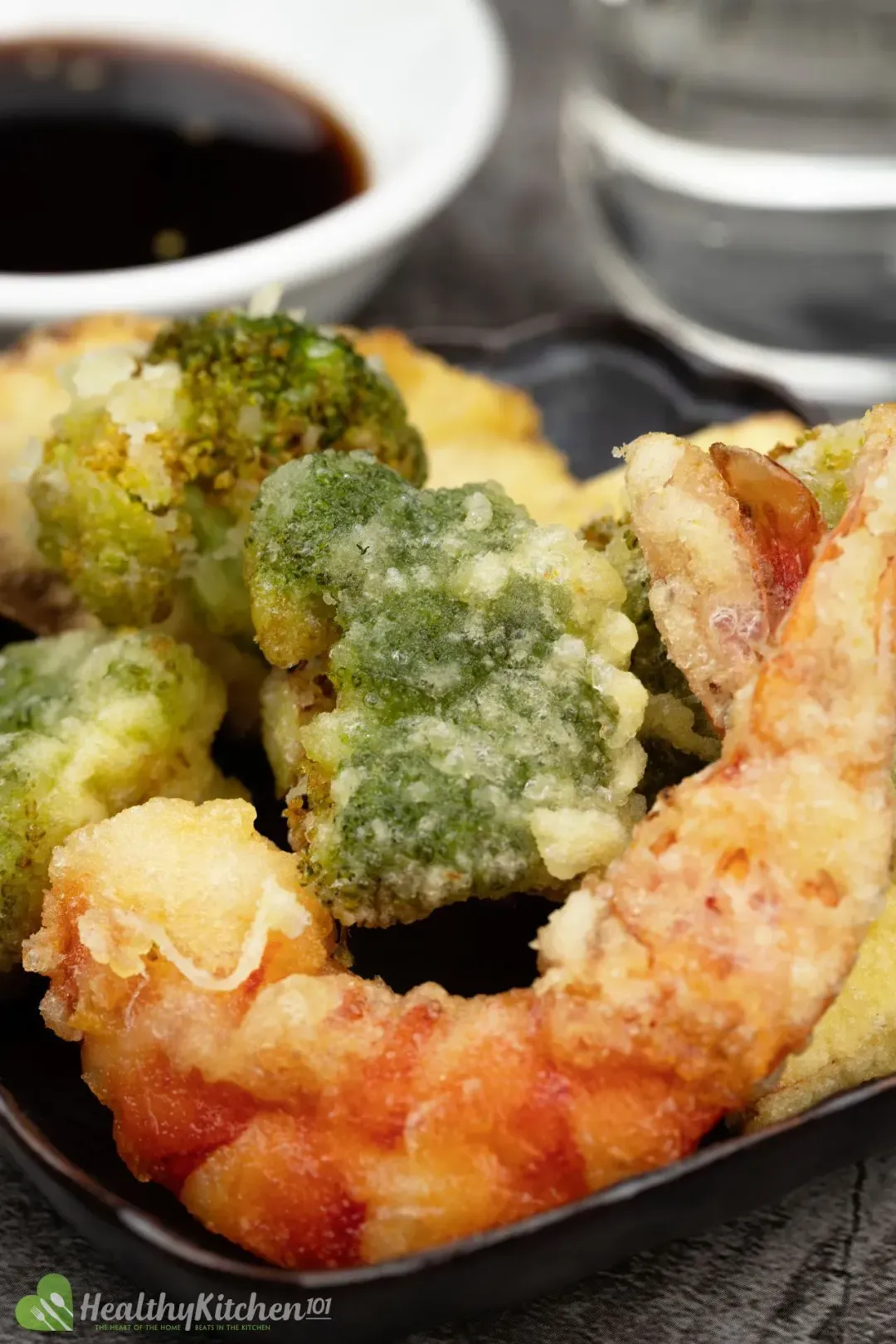 How to Fry, Flick, and Drag
This title may confuse you with the flicking, but yes, that's what you'll be doing— flicking batter.
1. Get Your Station Ready
Start by heating a pot of oil over low heat. You want to do this first, because you'll need the oil hot and nearby as you coat the first piece of food.
As you turn the heat on and to a low setting, gather round your shrimp and vegetables, and the batter bowl. Whisk ingredients for the batter in the bowl, and place the bowl in an ice bath.
The ice bath may seem too much, but it's there to keep the batter cold as you fry. It's not just a suggestion, but rather, the key to your success.
After whisking, use a pair of chopsticks to drip several drops of batter into the oil. If it floats, get ready to fry, but if not, sit back and wait.
2. Start Frying
Dip the vegetables in batter first, one piece at a time, and gently submerge it into the oil, to avoid splashing hot oil. Since the batter is cold, fry 3-4 pieces at once; this will maintain the oil temperature.
We understand if you'll lose patience and try to crowd the pot, but it's not the way to go. Any more than that and the oil temperature may drop suddenly, causing your vegetables to cook slowly, be greasy, and not crisp.
While they're frying, dip your finger in the cold batter and flick it onto the oil. Aim for the frying vegetable pieces to create beautiful flakes; it is these flakes which makes tempura look and taste unique.
If you miss the vegetable pieces, don't panic. Using the chopsticks, drag the pieces to catch the "flakes" and stick them together.
For the shrimp, you need to fry them a little differently. Dip a shrimp in the batter and as you drop it into the oil, swirl it around vigorously.
Doing this drags the outer batter, which will harden quickly in the hot oil and form beautiful flakes. The flakes make the shrimp crispy and, of course, look presentable.
When the pieces are golden, use a slotted spoon to scoop them up and remove the drifting flakes. We don't want to burn these flakes, because it causes the oil to take on a burned flavour. Plus, they're fun to nibble on!
Tempura Sauce— Tentsuyu
The sauce is really easy to make. Simply simmer in a saucepan: mirin, soy sauce, sugar, oyster sauce, and water (to thin it out a bit).
Unlike your typical dipping sauce, tentsuyu's consistency is quite thin but packs flavors. Your tempura only needs a thin layer of sauce, but trust me, this is all you will need.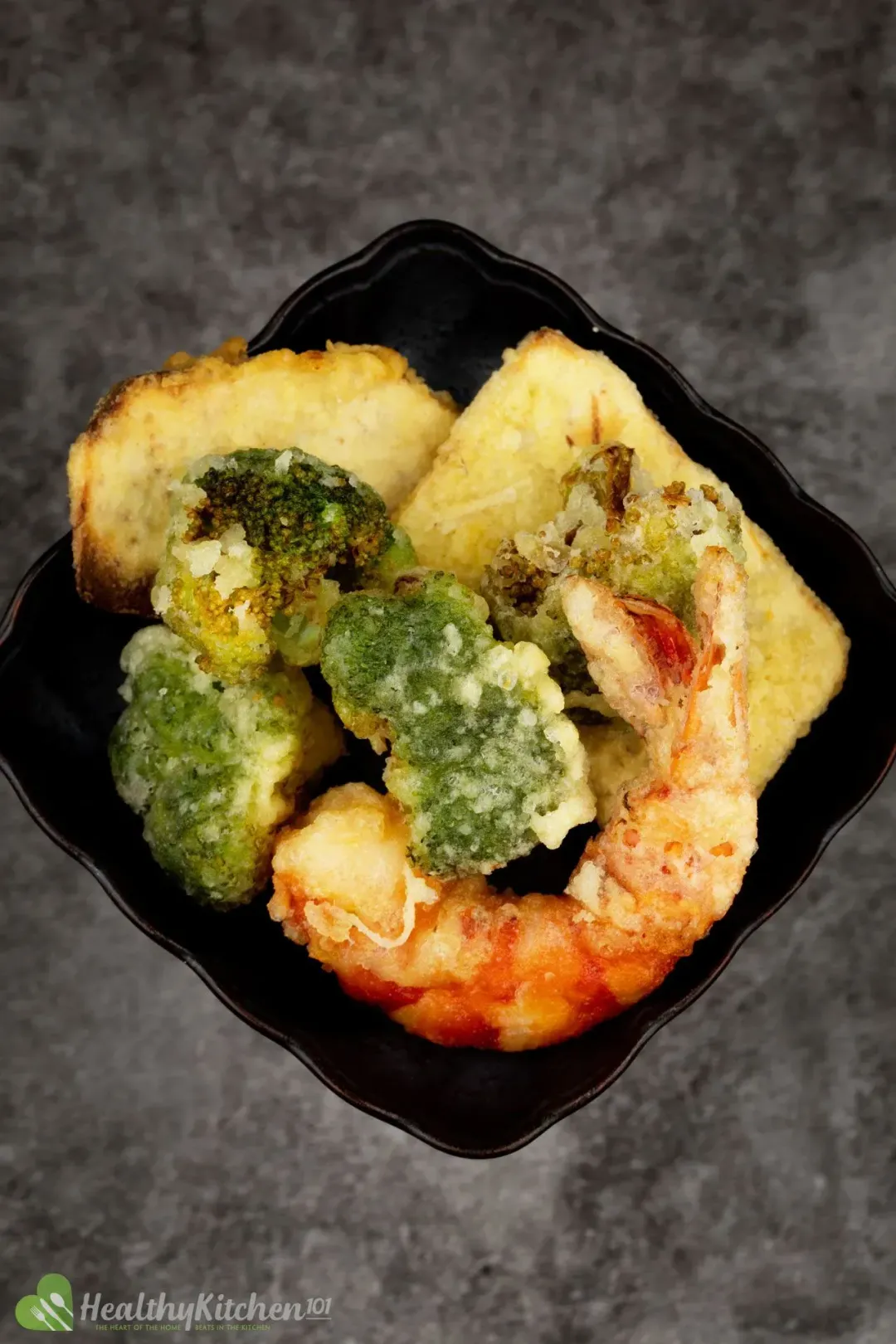 What Else Goes Well With Shrimp Tempura?
To make shrimp tempura less overwhelming, a variety of veggies are often added. What we went for is the basic combination, but you can substitute/add other things to the collection:
1. Sweet Potato
Like taro, sweet potatoes will make a tasty piece of tempura without a doubt. It has a sweeter note and a starchier texture, perfect if potato fries are your favorite.
2. Cauliflower
Cauliflower would be a good addition to shrimp tempura. It bears florets, which soak up the batter and turn beautiful when fried.
3. Green Beans
With a crunchy texture, green beans add a refreshing touch to the bunch of fried foods. You can also meet your daily fiber intake more quickly with it.
4. Asparagus
If you're a fan of baked asparagus, you have to try tempura asparagus. It's so satisfying to find a tender shoot of young asparagus hidden within the crisp, light crust.
Be sure to cut off the base of the spears; that part is too fibrous for this delicacy.
5. Eggplant
Eggplant and zucchini make juicy bites of tempura and they don't even have to be peeled. Don't be surprised if the bowl runs out of eggplant tempura first, because that's what tends to happen!
Tempura Recipes to Try
1. Salmon Tempura
To me, salmon is the most delicate seafood. It's super tender compared to other types of sushi fish, and salmon tempura is much better than shrimp tempura, even.
2. Chicken Tempura
Chicken tempura is a less popular version of "karaage", a type of deep-fried chicken. However, chicken tempura has a lighter coating, which makes it more unique and unquestionably suitable to serve over cooked rice.
3. Vegetable Tempura
While other meaty tempura makes for a good meal served with warm rice, vegetable tempura can also be a tasty finger food. Who said vegans can't get to enjoy tasty foods?
More Quick, Easy Shrimp Recipes to Try
If you're interested in shrimp, these four healthy and delicious shrimp meals may also tickle your fancy:
Tempura
Without further ado, let's get straight to this tempura recipe. It's a tasty, light, crisp staple of Japanese cuisine.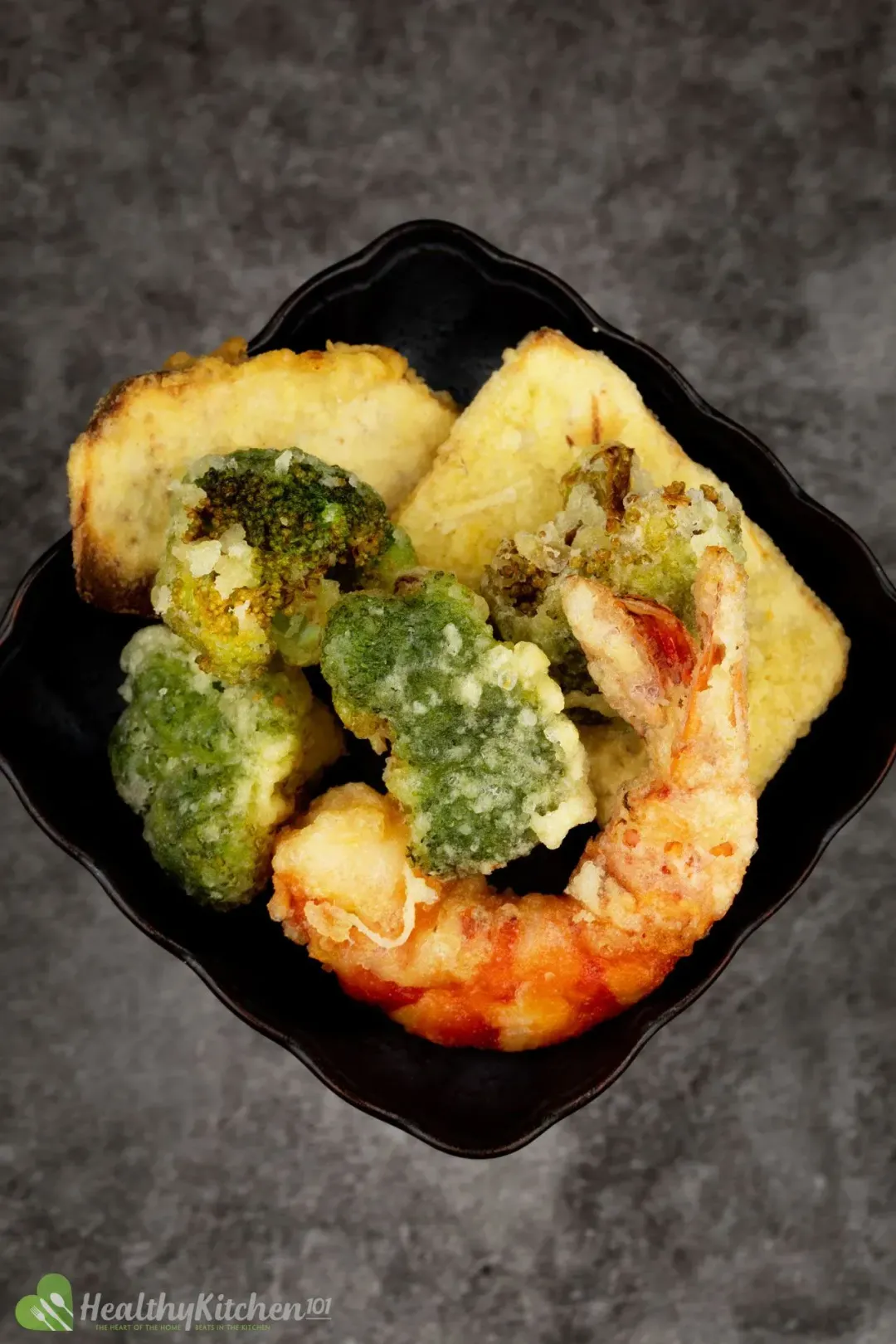 cook TIME

5 mins

prep TIME

10 mins

total TIME

15 mins
COURSE

Side Dish

CUISINE

Japanese

SERVINGS

CALORIES

162 kcal
INGREDIENTS
Tempura

9.5 oz

raw shrimp

((should yield 4 oz shelled))

2 oz

zucchini

(cut into fans)

1/2 cup

all-purpose flour

3 cups

ice water

(in a large bowl)

Tentsuyu Sauce (*)

2 tsp

reduced sodium soy sauce
INSTRUCTIONS
1
Heat the oil: heat a pot of 2 cups canola oil over medium-low heat. We want to fry tempura low and slow.
2
Make the batter: in a bowl, whisk together 1/2 cup flour, 1/4 cup cornstarch, 1/4 tsp baking powder, and 3 cups ice-cold water. Place the batter bowl into an ice bath to keep it cold during the frying process.
3
Fry: gather the 9.5 oz shrimp and veggies (2 oz taro, 2 oz lotus root, 2 oz zucchini and 4 shiso leaves) in a large bowl next to the ice bath. Dip a pair of chopsticks into the batter and drip 1-2 drops into the oil. If it floats right back, it's ready for frying; if it does not, be patient and wait. Dip the veggie pieces into the batter and gently slip them into the oil. Fry 3-4 pieces at a time.
4
Make flakes: dip the tip of your fingers in the batter, aim at the veggie pieces and flick the batter to create beautiful flakes. If you don't want to dirty your hands, gently drop 6-7 drops of batter into the oil using a spoon or a pair of chopsticks. Take it out when it's golden, and repeat until everything's deep-fried.
5
Make the sauce: in a saucepan, simmer 2 tsp soy sauce, 1 tbsp mirin, 2 tbsp water, 1 1/2 tsp sugar, and 2 tsp oyster sauce over medium heat for 3 minutes. You can stop when it reaches your desired consistency.
6
Serve: in a basket with a bowl of dipping sauce next to it or over a big bowl of hot rice, with the sauce drizzled on top.
(*) Only part of these ingredients will end up in the final product and we have calculated nutritional values based on that amount. The whole amount is needed for making the sauce and frying, but what actually ends up being consumed is half the amount of sauce, very little oil (less than 1/4 tsp per serving), and 75% of the batter.
NUTRITION
Nutrition Facts
Tempura
Amount Per Serving (1 serving)
Calories 162
% Daily Value*
* Percent Daily Values are based on a 2000 calorie diet.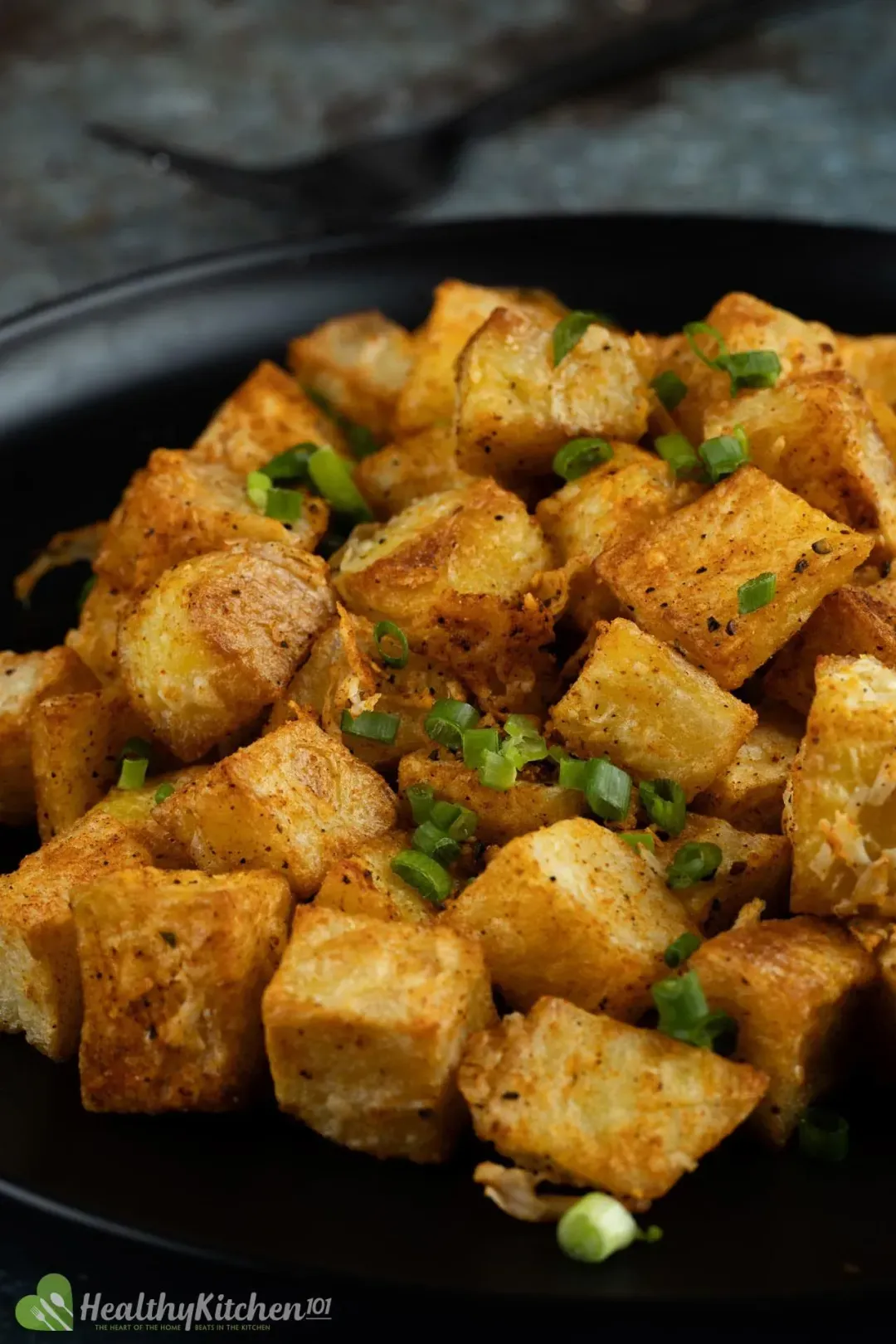 Previous Recipe
Home Fries
Home Fries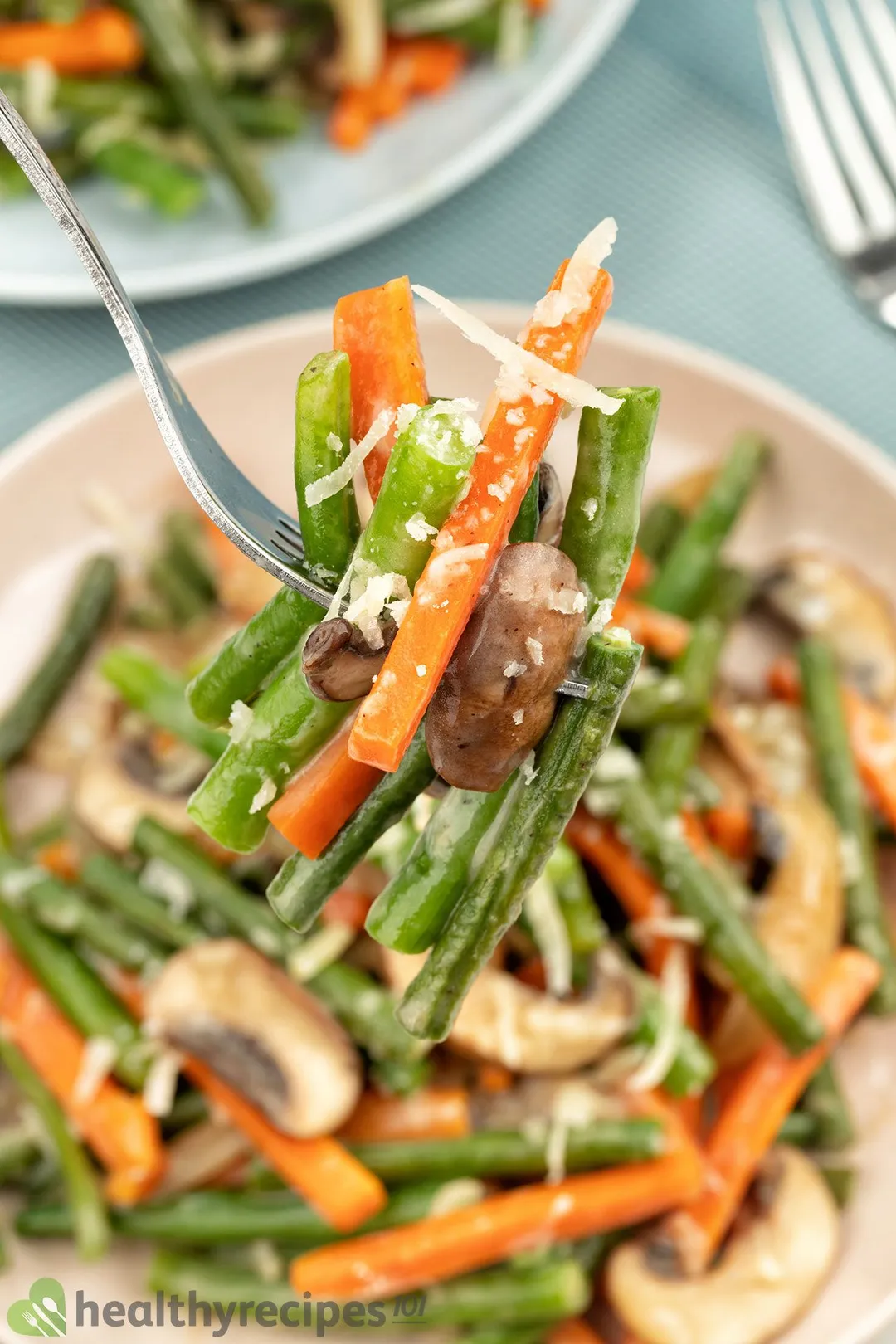 Next Recipe
Sautéed Green Beans
Sautéed Green Beans
Head Chef, Culinary Consultant
Tuyet Pham is an award-winning Saigonese chef who believes that joy is the secret ingredient to delicious food. At Healthy Recipes 101, Tuyet personally tests and simplifies every recipe, ensuring maximum flavor with minimal effort. With a background at prestigious French restaurants P'TI Saigon and Le Corto, Tuyet knows how to make every dish exceptional.
Writer, Author
Luna Regina is an accomplished writer and author who dedicates her career to empowering home cooks and making cooking effortless for everyone. She is the founder of HealthyKitchen101.com and HealthyRecipes101.com, where she works with her team to develop easy, nutritious recipes and help aspiring cooks choose the right kitchen appliances.
Nutrition Reviewer
Lizzie Streit is a Minneapolis-based dietitian and founder of It's a Veg World After All. She completed her MS in Human Nutrition from Drexel University, and is an expert in culinary nutrition, recipe development, and nutrition communications. Lizzie's philosophy is centered around making nutrition recommendations, and especially the advice to eat more vegetables, approachable and realistic. She is excited to be working with the team at Healthy Recipes 101 to ensure that their recipes are both nutritious and delicious.
Tempura was light yet tasty, crispy coating made it enjoyable to eat!