With this breakfast burrito recipe, you can make a warm, healthy, and hefty breakfast to fill your stomach and fuel your body for the day ahead. What we love about this recipe is that it's the perfect activity to do with your loved ones on weekend mornings.
Before we start, let's learn a bit more about burritos.
What Is a Breakfast Burrito?
A burrito is a type of Mexican wrap. It consists of various savory fillings wrapped inside a large tortilla sheet.
Burrito fillings vary depending on the chef, but they're often wholesome as they include protein, starch, fiber, and fresh vegetables. The most common fillings are cooked meat, beans, rice, cheese, pico de gallo, and guacamole.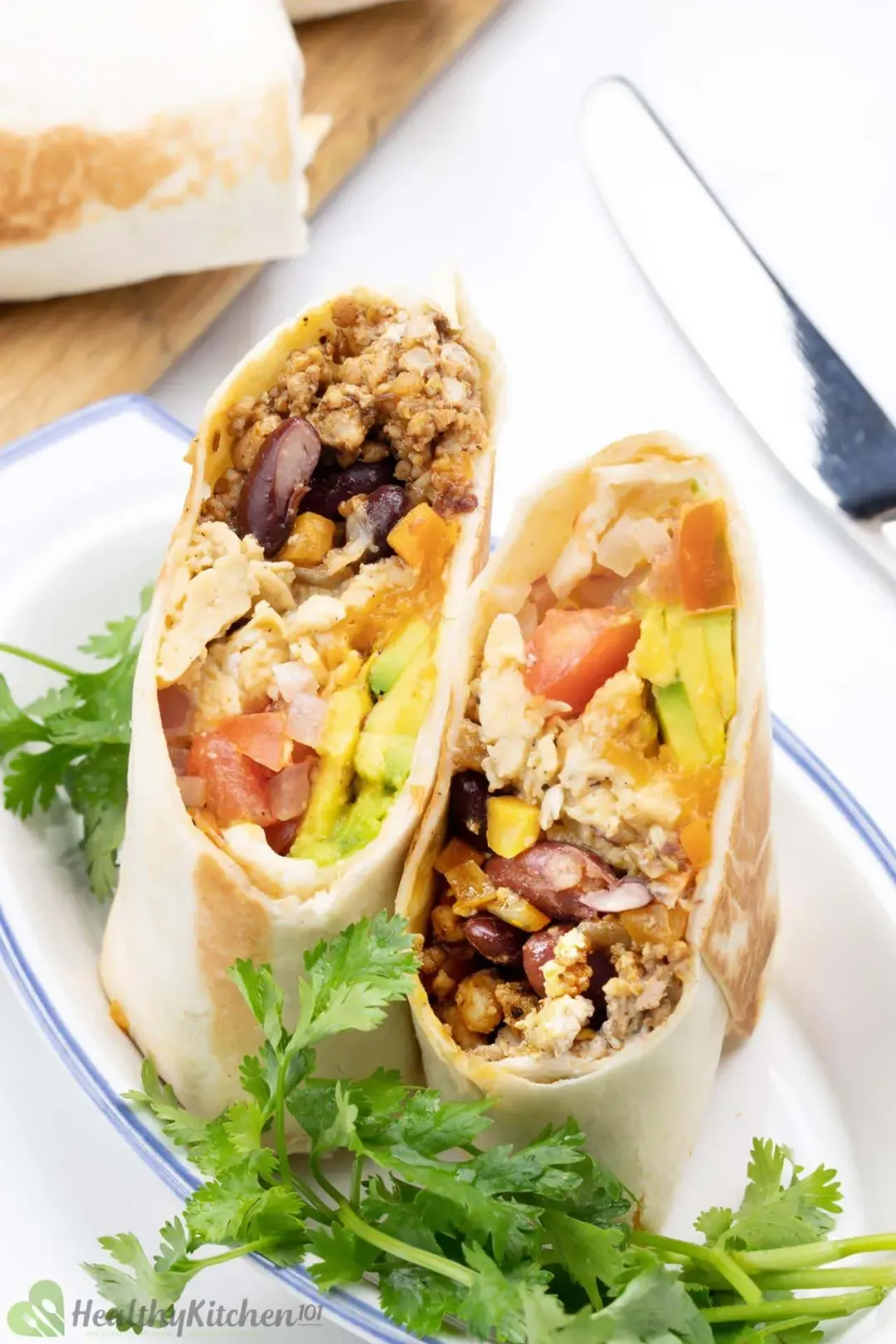 Breakfast burritos are an American take on this classic Mexican wrap. This particular type of burrito often includes scrambled eggs— a popular and beloved breakfast item, along with traditional burrito fillings.
Are Breakfast Burritos Healthy?
As mentioned, burritos can be a nutritious food that contains protein, starch, fiber, and fresh vegetables. However, since burritos are packed with fillings, sometimes they may be too high in calories, saturated fat, and sodium.
Fortunately, these breakfast burritos adhere to our healthy eating guidelines. We try hard to make sure all the nutritional values of the dishes we create stay within recommended limits.
These burritos have about 7.7g of saturated fat and 553mg of sodium.
1. Calories
Our breakfast burritos contain only 471 calories per serving. Serving size is one burrito weighing about 8.5 oz.
2. Carbs
There are 36g of total carbs in one of our breakfast burritos. This includes about 5g of dietary fiber per serving.
Breakfast Burrito Ingredients
Here are the main ingredients in our breakfast burrito recipe:
The wrap: flour tortilla.
Main protein: sautéed ground pork and fluffy scrambled eggs. If you want more tips on how to make creamy, custardy eggs, check out our classic scrambled eggs recipe.
Fruits and vegetables: red onions, yellow onions, tomatoes, carrots, and avocados.
Starch: beans. Beans are also a great source of protein and fiber— they can make you feel full.
Dairy: cheese and yogurt.
Fat: olive oil.
Seasonings: a variety, but more on that later.
By listing the main ingredients into groups, you get the basic idea of what makes up a breakfast burrito recipe. If you want to customize the recipe, just make sure whatever you're switching in or out covers those groups.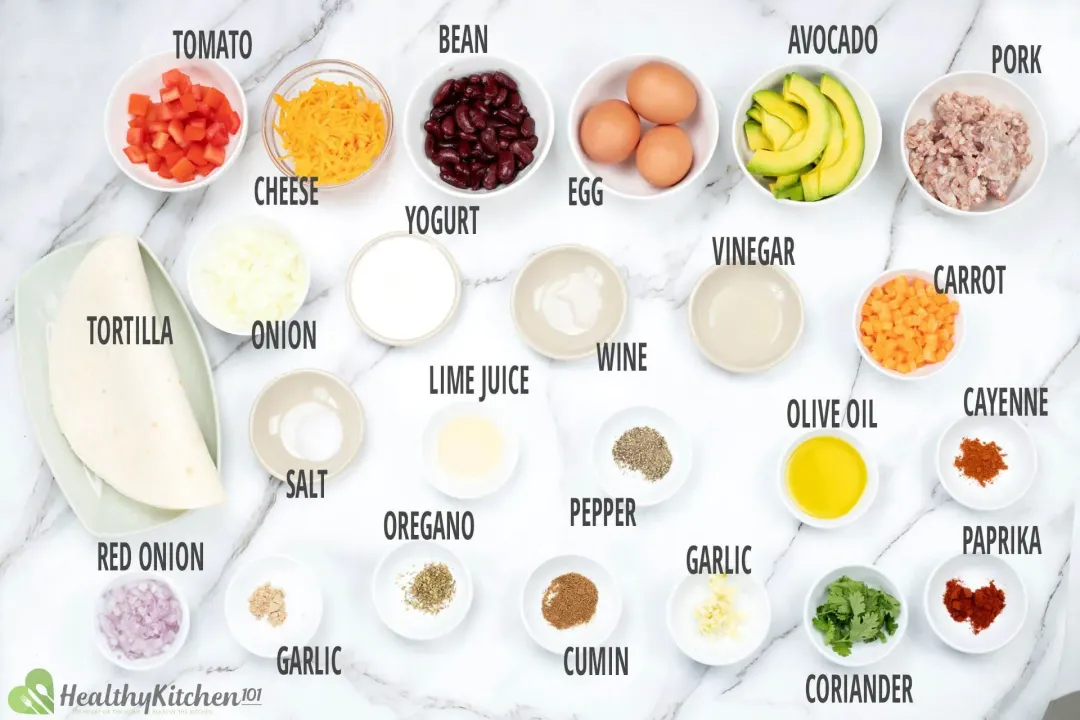 Here are some examples:
1. Beans
For today's recipe, we use canned red kidney beans, but you can use whatever type of beans you want. Black, pinto, and cannellini beans are also a great fit for your burrito.
We recommend using unsalted canned beans (you'll add seasoning later); rinse and drain well before you use them. Or, you can use refried beans instead of canned beans.
Refried beans are basically cooked and mashed beans. They have a creamy, buttery texture that goes well with many Mexican-inspired dishes.
2. Cheese
We use cheddar cheese, but you can opt for other varieties. Any soft, melty, or mild-flavored cheese would be a perfect fit for our burritos.
If you don't know what type of cheese to look for, we recommend cheddar, Monterey Jack, queso fresco, oaxaca, or manchego.
3. Burrito Seasoning
Besides salt and black pepper, here are a few other spices and flavorings you can use in your breakfast burrito recipe:
Herbs: cilantro, garlic, and dried oregano.
Spices: ground cumin, paprika, garlic powder, and cayenne pepper.
Condiments: white wine and white vinegar.
These spices and seasonings work well for pork and also chicken and beef.
How to Make Breakfast Burrito
Here's a brief summary of our breakfast burrito recipe: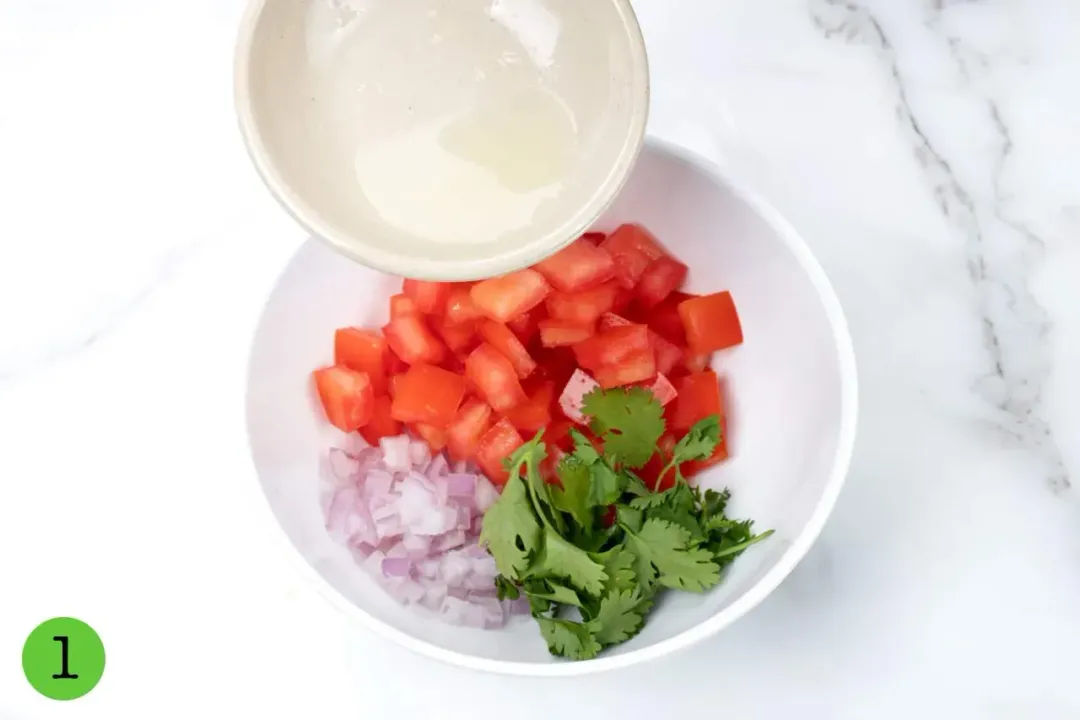 Make the salsa.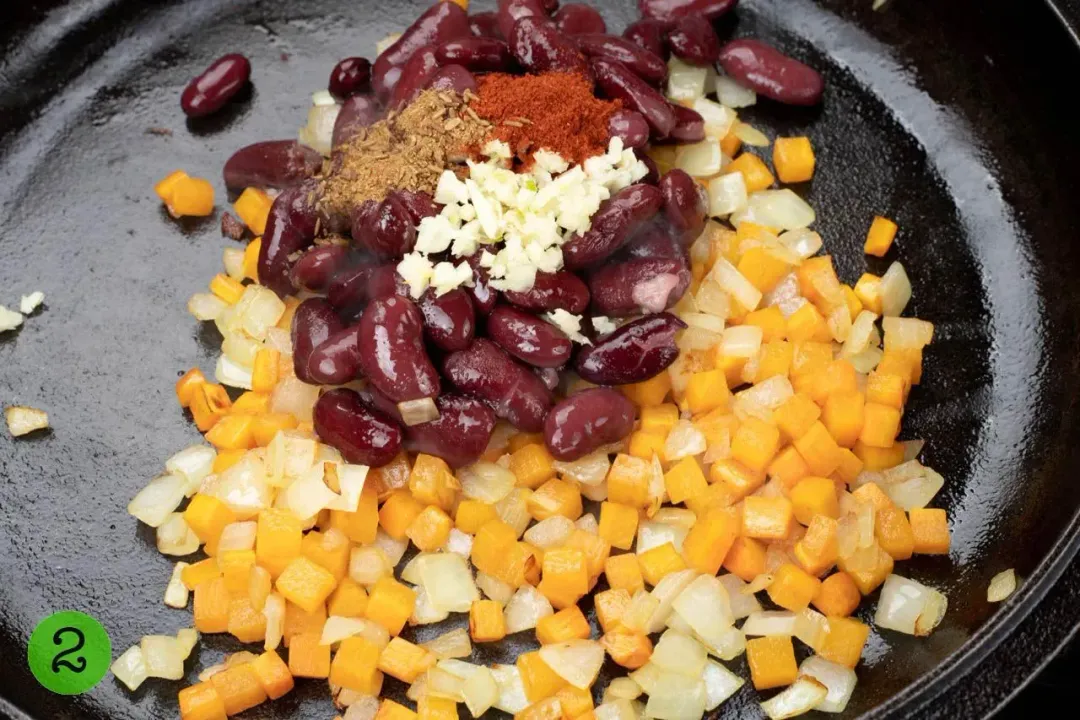 Cook the vegetables.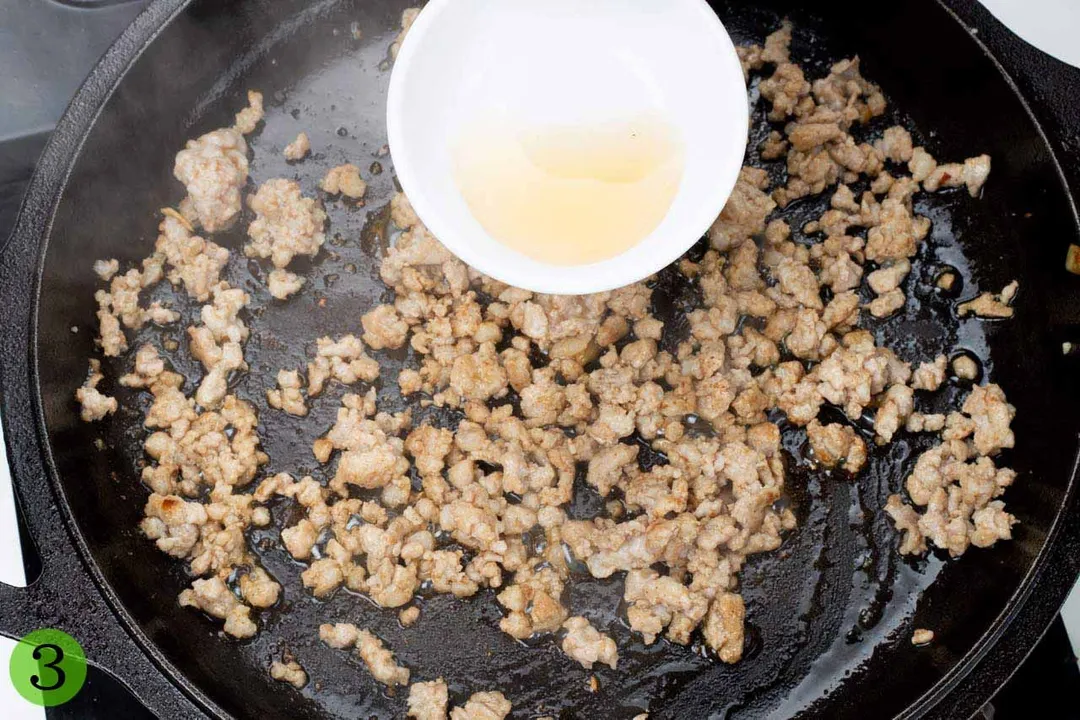 Sauté the meat.
Season the meat.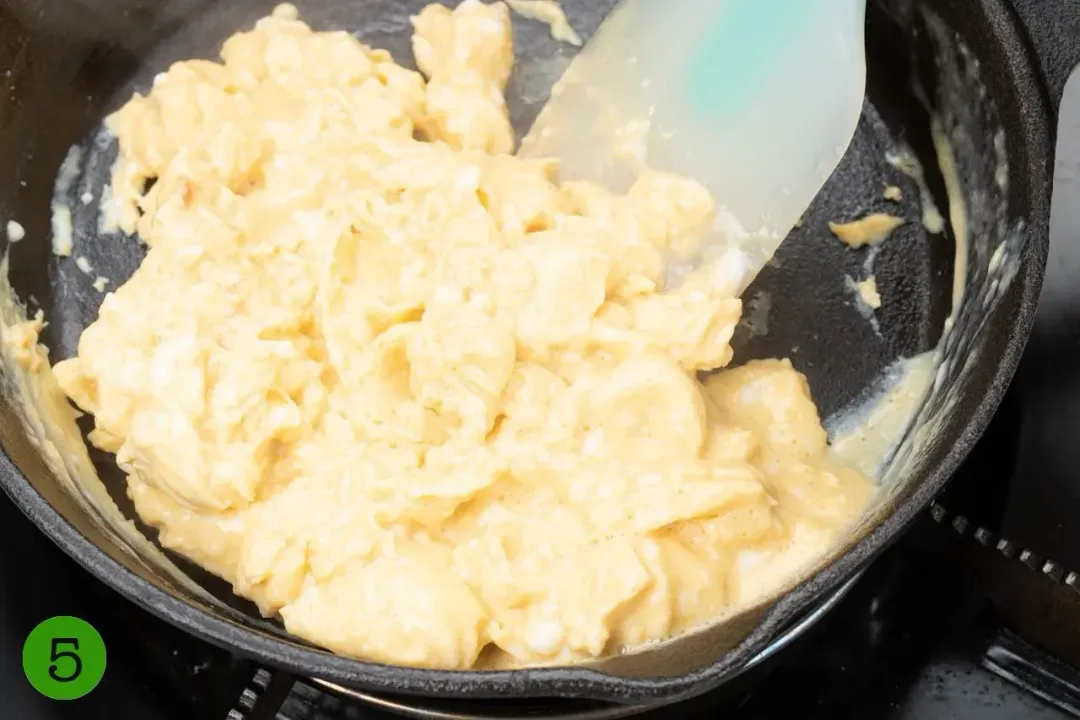 Scramble the eggs.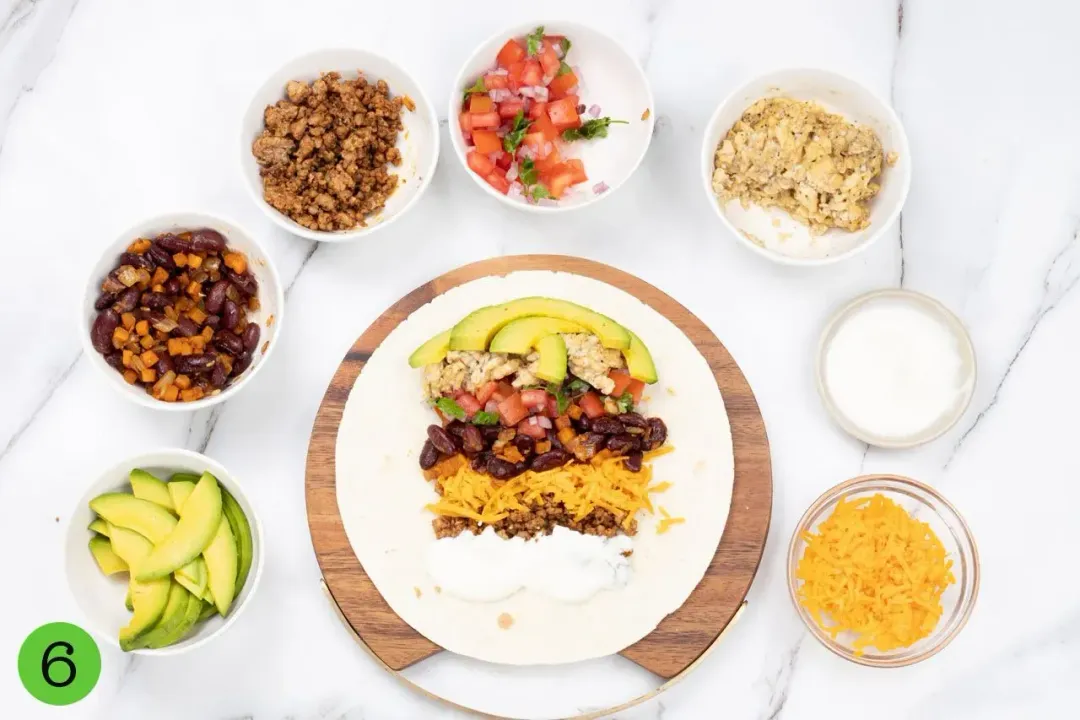 Set up a workstation.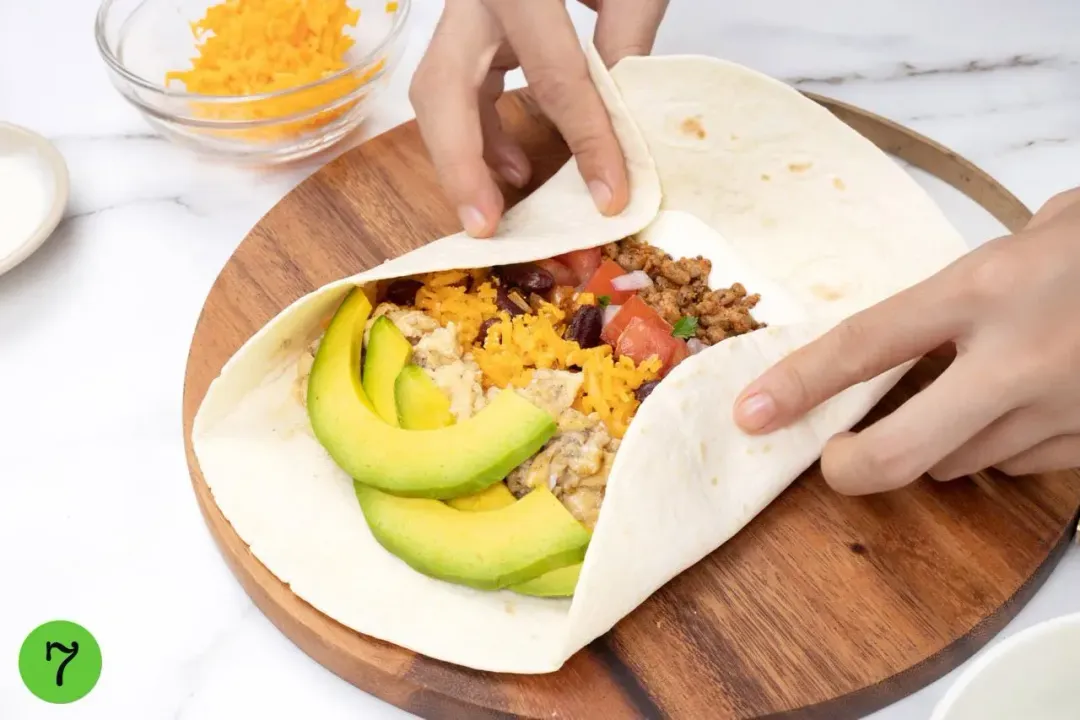 Wrap the burritos.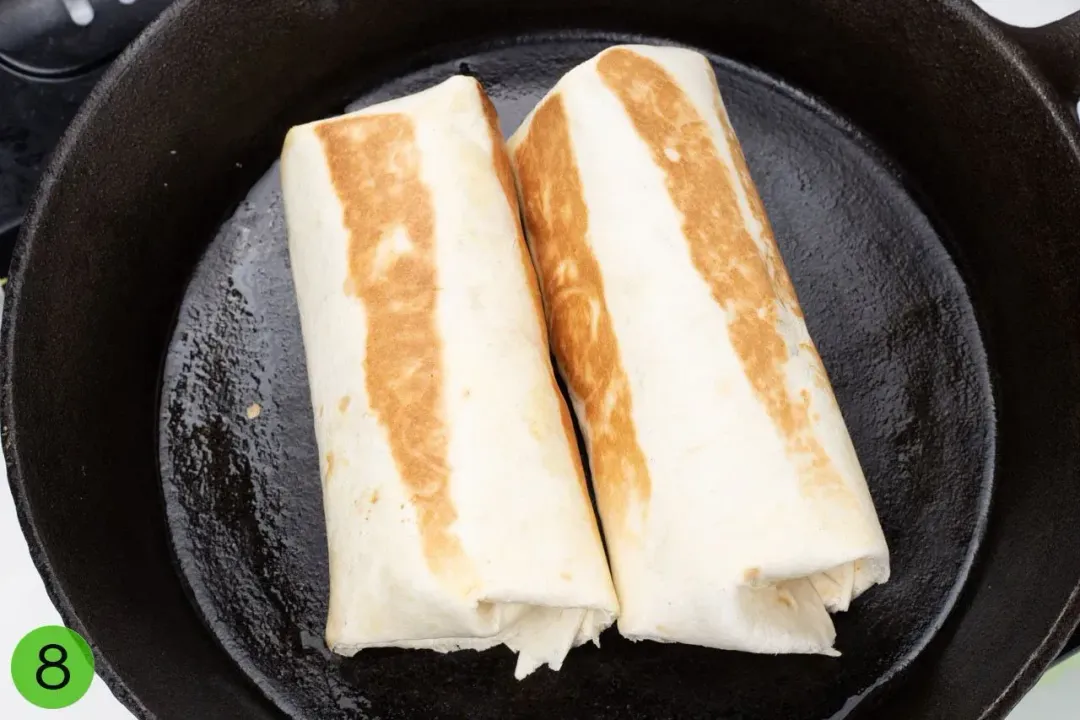 Toast the burritos.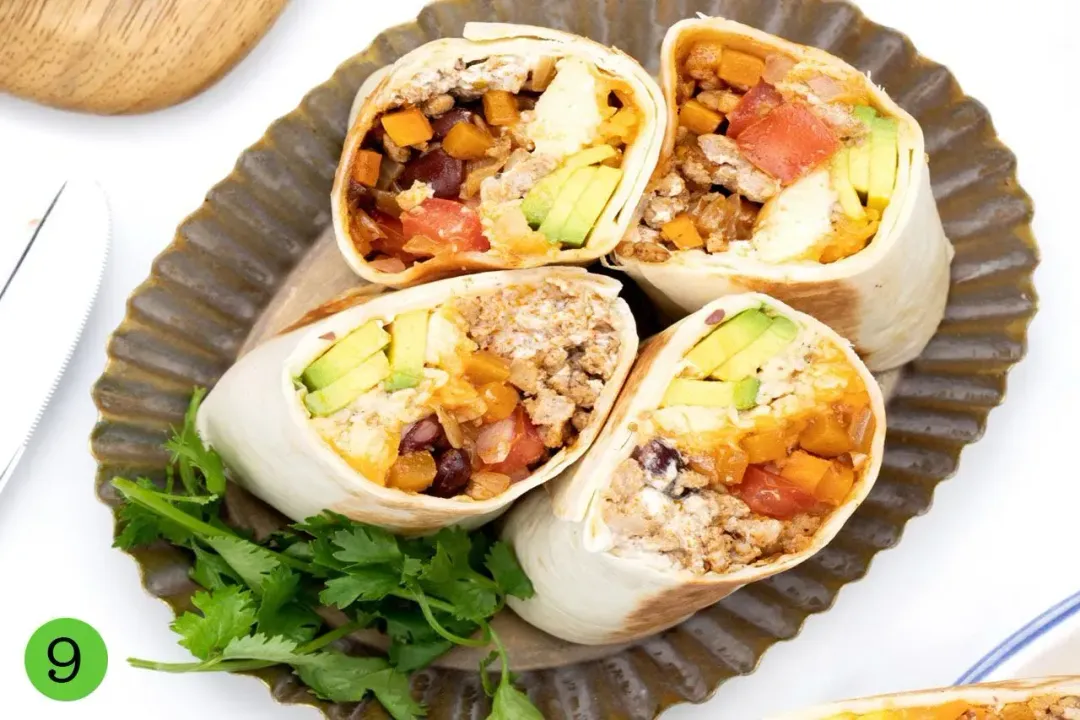 Serve
Full measurements and detailed instructions are available below. Let's just take a quick look at the best way to fold your burritos.
How to Fold a Burrito
Folding a burrito may seem tricky, but it's actually quite simple. All you need to do is be extra careful:
Divide the fillings into four equal portions. Put the fillings in the center, slightly off to the bottom of the tortilla sheet. Pat down so the fillings lay flat.
Fold the sides towards the center.
While still holding the sides, tuck your thumbs underneath the tortilla sheet to lift the bottom of the sheet up.
Start rolling the burrito from the bottom to the top. Don't wrap it too tightly or you risk ripping the tortilla.
Once finished, place the burrito on a plate, seam-side down, to prevent it from unfolding itself.
What Else Goes Well with a Breakfast Burrito?
We've already talked about cheese and beans. Here are some other common ingredients you may find in a breakfast burrito:
1. Chicken
You can customize our breakfast burrito recipe and replace ground pork with chicken. You can choose either ground chicken or boneless skinless chicken breasts— both will fit with your burrito perfectly.
Cooking the chicken is simple: all you need is a simple seasoning blend and to sear the chicken until cooked through.
2. Beef
Ground beef is a great alternative to pork, too. It even takes less time to cook compared to chicken and pork.
We recommend using 85% or more lean ground beef to avoid consuming too much saturated fat.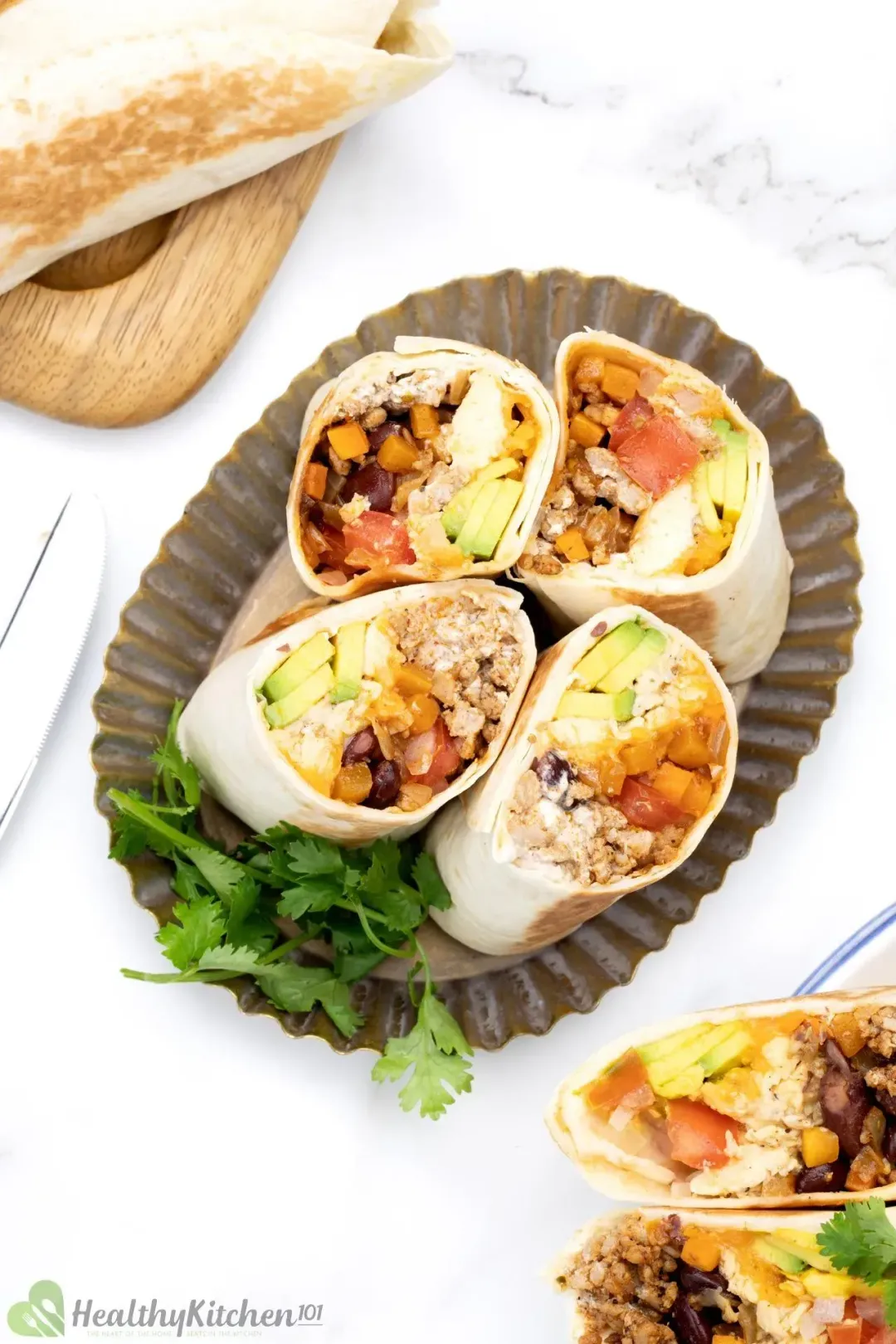 3. Shrimp
Besides poultry and livestock meat, you can add seafood to your breakfast burrito. And shrimp is the best seafood for today's recipe.
Simply peel the shells, remove the veins, and sear until cooked on both sides.
4. Sausage
Instead of ground pork, you can use either breakfast or Italian sausage. Since sausage is already well-seasoned, it'll add smokiness, savoriness, and many more flavors to your burrito.
To cook the sausage, simply remove it from the casing and sear until fully cooked.
5. Bacon
Bacon can be a great addition to almost any food, and a breakfast burrito is no exception.
You can sear it for a few minutes and then it's ready to be wrapped inside the burrito. Or, baking it in the oven until crispy can render the fat and give more texture to your burrito, too.
Although sausage and bacon are indisputably delicious, they're often high in saturated fat and sodium. You may want to check your nutrition calculation when adding them to your breakfast burrito recipe.
6. Egg-Normous Burrito
Inspiration can come from anywhere, and the Egg-normous burrito is a type of breakfast burrito made famous by the fast food chain Burger King. It consists of bacon, sausage, hash browns, scrambled eggs, various types of cheese and condiments wrapped inside a tortilla.
If you're trying to replicate this at home, remember to check the nutritional values when you're building the recipe. This is to ensure that you don't eat too many calories, or too much saturated fat and sodium.
Meal Plan with Breakfast Burritos
Today we're serving our breakfast burrito with a glass of carrot orange ginger juice. A burrito packed with fiber and protein and a glass of refreshing juice will help keep you feeling full for longer.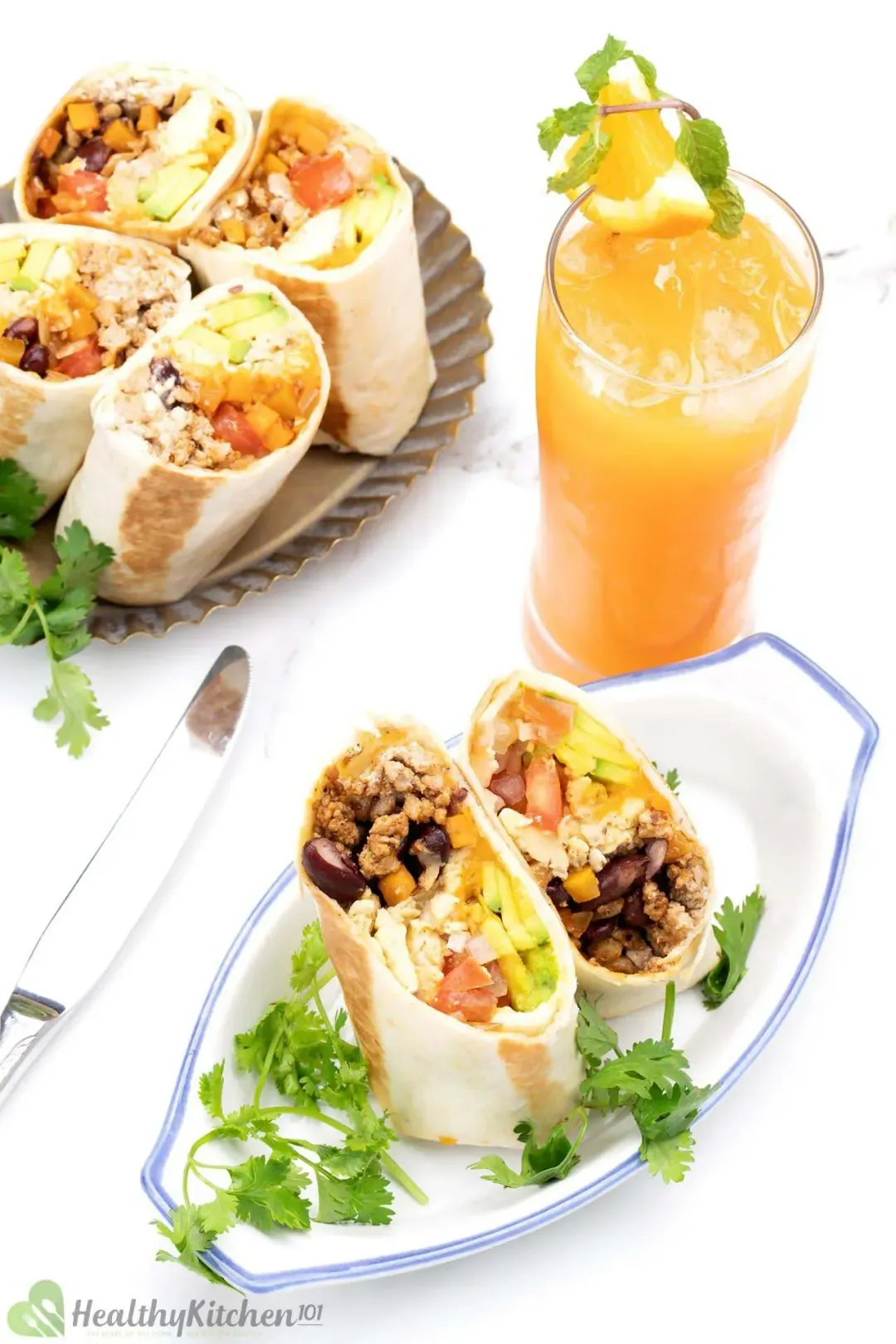 The nutrition facts for this meal combination are as follows:
Meal Prep with Frozen Breakfast Burritos
Breakfast burritos can be made ahead of time and stored in the freezer. They make a delicious, easy make-ahead meal for those who are busy in the morning.
However, here are a couple of things to keep in mind when making frozen burritos ahead of time:
Leave out the fresh ingredients: raw avocado, onions, and tomatoes should not be put in a frozen burrito. When you thaw the burrito, these no-longer-fresh ingredients will become mushy, soggy, and unappetizing, so have them on the side instead.
Wrap individual burritos in parchment paper and put into a ziploc bag: this will keep them from getting freezer burn and will allow you to take one burrito out at a time and thaw with ease.
Frozen burritos can last up to one month in the freezer.
You can stockpile a dozen burritos and they'll be ready to be reheated whenever you're hungry. If you want some tips on reheating a delicious burrito, we will show you how in the reheating instructions below.
How Long Does It Last in the Fridge?
Depending on the ingredients, burritos can last up to 3 to 5 days in the fridge. But as our breakfast burritos contain fresh avocado, onions, and tomatoes, they won't last as long.
Burritos with raw, fresh ingredients can only stay good for about 24 hours in the fridge. However, we recommend eating it all up within 12 hours to enjoy the best quality taste and texture possible.
How to Reheat a Breakfast Burrito
To reheat a burrito, wrap it in a piece of parchment paper and put it in the microwave. Your burrito should be nice and warm after a couple of minutes.
A frozen burrito needs to be thawed before reheating. It can thaw slowly in the fridge overnight or defrost within a few minutes in the microwave as well.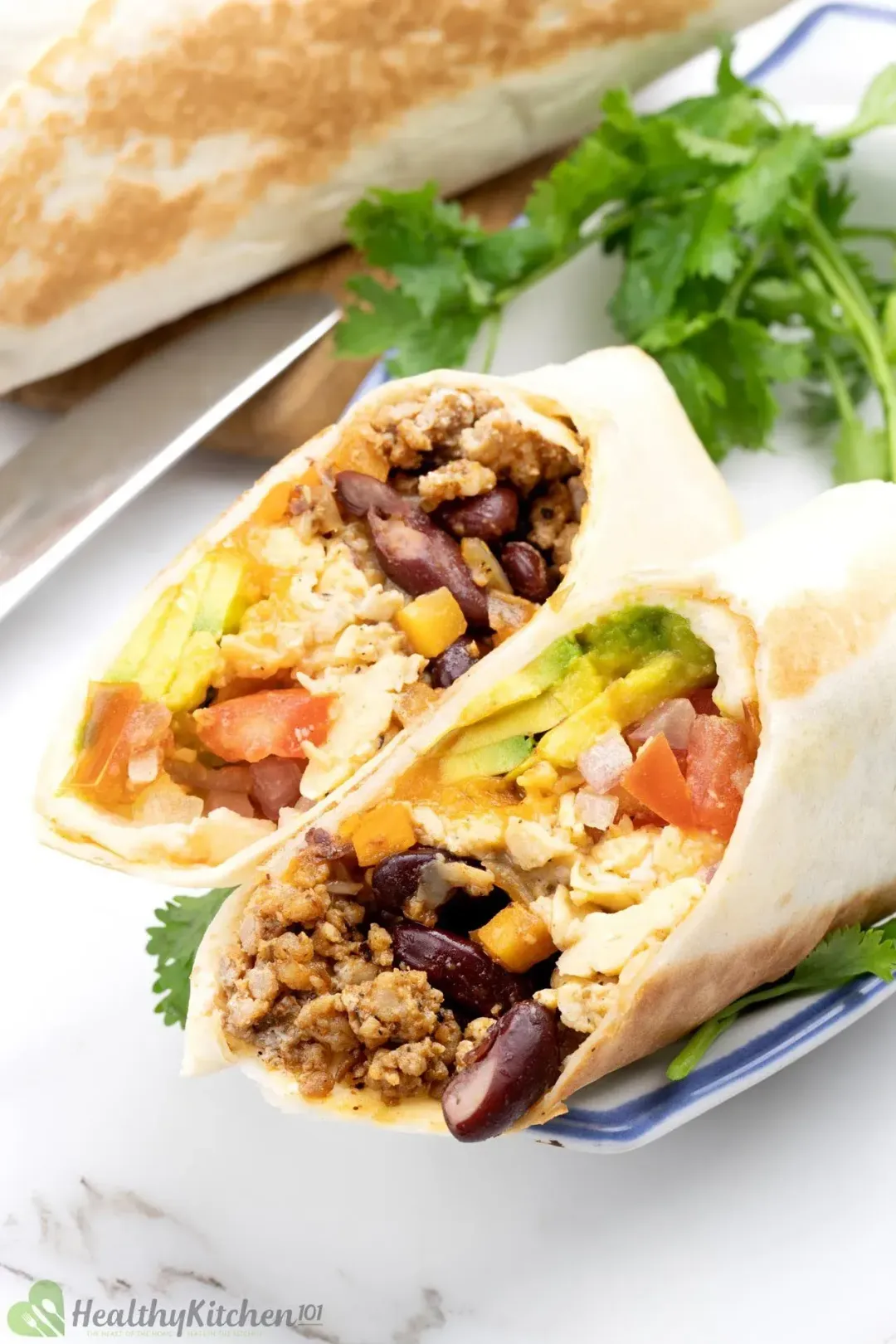 Recipes Similar to This Breakfast Burrito
Breakfast Burrito
This healthy breakfast burrito recipe is delicious, easy, healthy, and on top of all of that, can be made ahead of time. You can now have a fulfilling breakfast in the morning without going through a mad rush.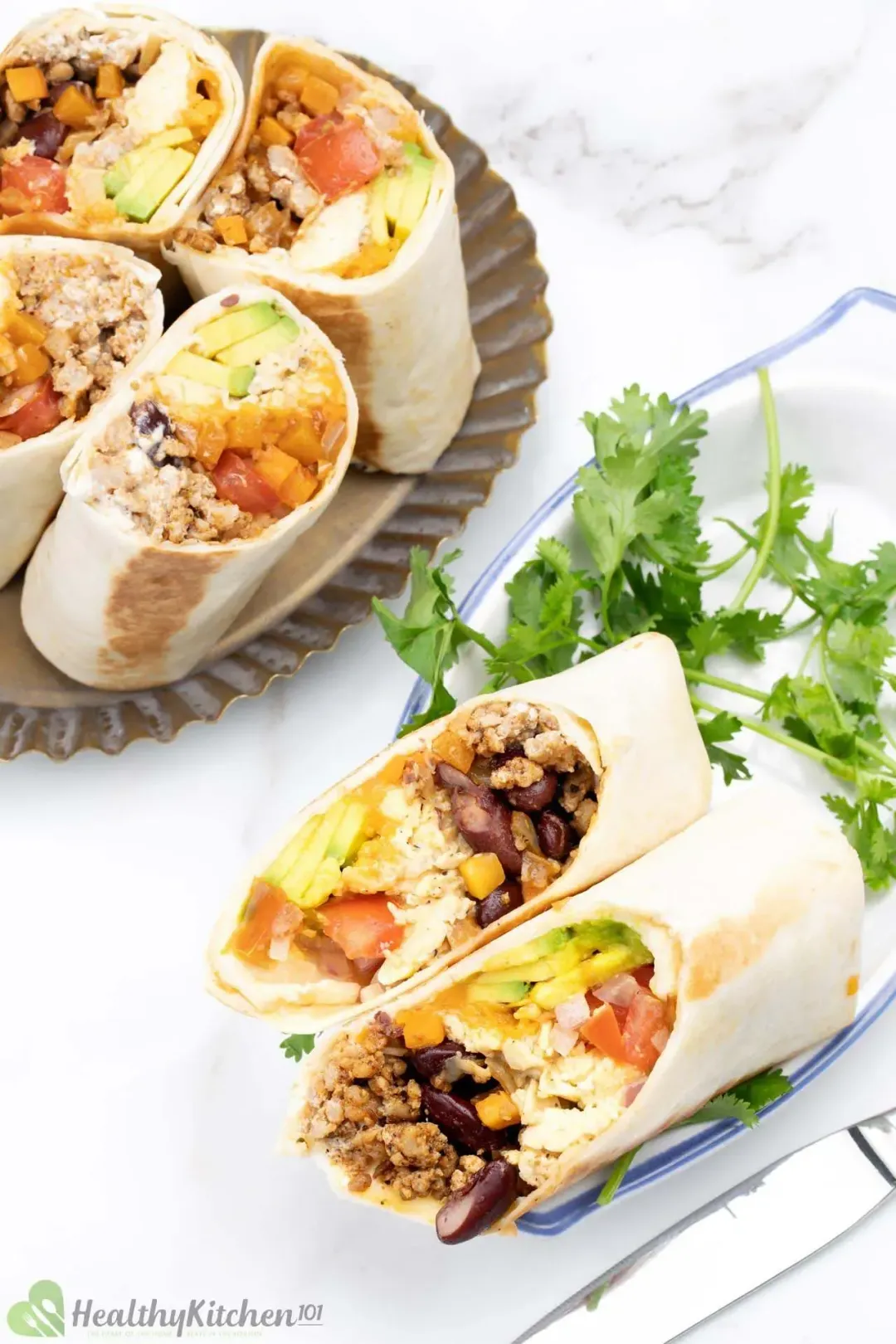 cook TIME

40 mins

prep TIME

5 mins

total TIME

45 mins
COURSE

Breakfast, Main Course

CUISINE

Mexican, Tex-Mex

SERVINGS

CALORIES

471 kcal
INGREDIENTS
4 oz

85% lean ground pork

1 oz

red onion

(finely diced)

3 oz

tomatoes

(deseeded and diced)

1 tbsp

cilantro

(freshly chopped)

1 1/2 tbsp

olive oil

(divided)

2 oz

carrots

(finely chopped)

3.6 oz

unsalted red kidney beans

(rinsed and drained)

1 tsp

garlic

(minced, divided)

1/2 tsp

ground cumin

(divided)

1/2 tsp

paprika

(divided)

1/2 tsp

black pepper

(divided)

4 oz

avocado

(flesh only, sliced)

2.4 oz

cheddar cheese

(shredded, about ½ cup)

4 tbsp

plain Greek yogurt

4

flour tortillas

(10-inch)
INSTRUCTIONS
1
Make the salsa: in a mixing bowl, add 1 oz red onion, 3 oz tomatoes, 1/2 tbsp lime juice, and 1 tbsp cilantro. Mix well and set aside.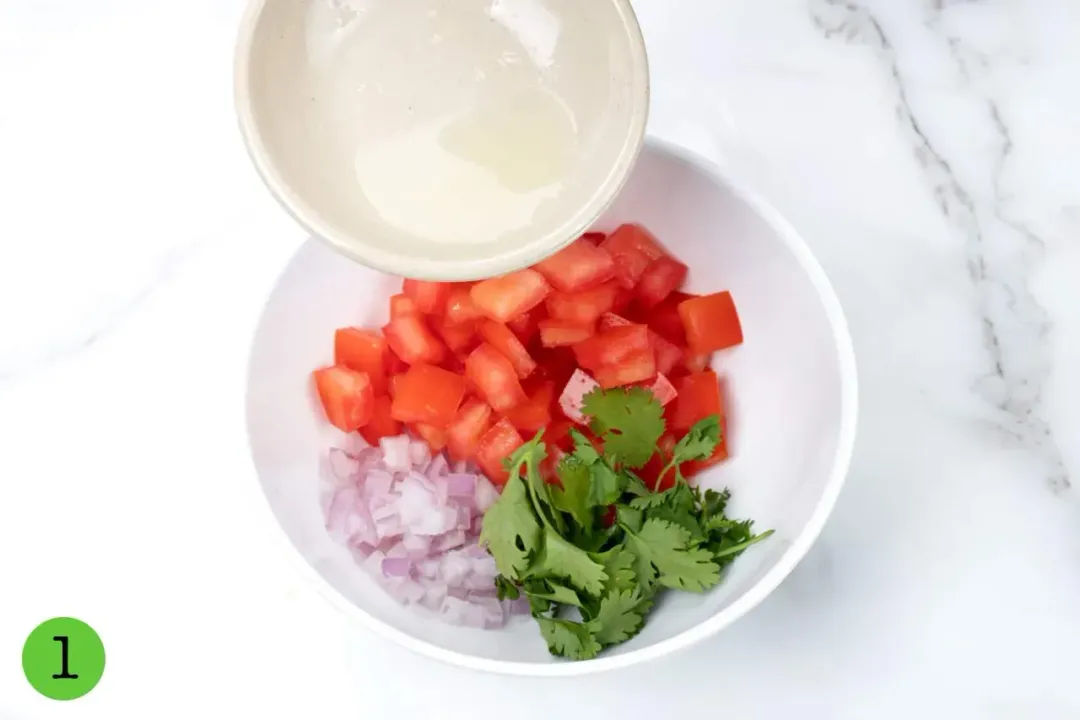 2
Cook the vegetables: in a skillet set over medium heat, add 1/2 tbsp olive oil, 2 oz carrots, and 2 oz onions. Cook for 6 minutes. Add 3.6 oz unsalted red kidney beans, 1/2 tsp minced garlic, 1/4 tsp ground cumin, and 1/4 tsp paprika. Cook for another 2 minutes over medium heat. Turn off the heat, transfer to a plate/bowl, and set aside.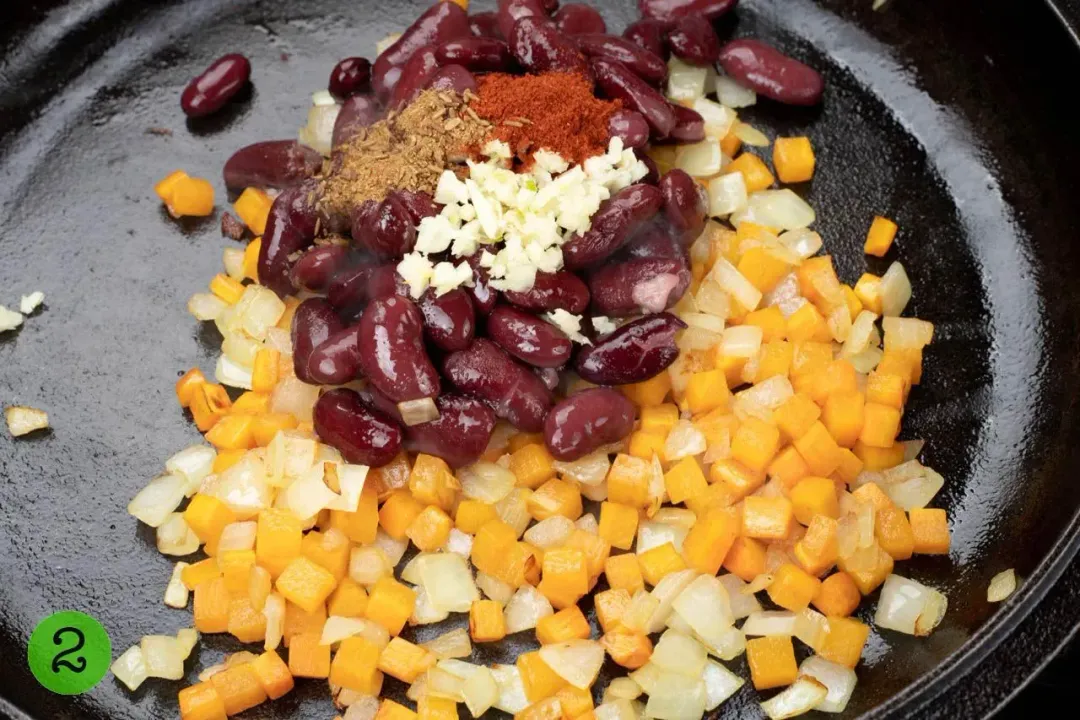 3
Sauté the meat: in the same skillet, add 1/2 tbsp olive oil and 4 oz 85% lean ground pork. Cook for 6 minutes over medium-high heat, stirring occasionally. Add 1/2 tbsp white wine and 1/4 tsp white vinegar to deglaze the skillet. Scrape the meat off the bottom of the pan. Cook for 2 minutes on high heat or until the liquid evaporates.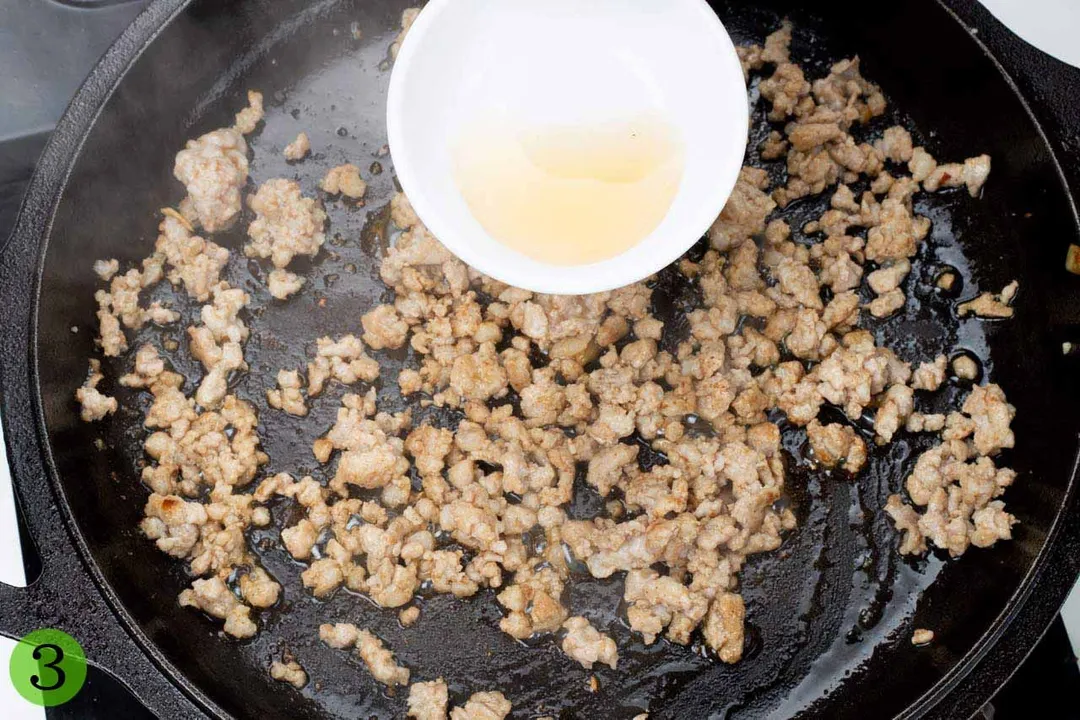 4
Season the meat: add 1/2 tsp minced garlic, 1/4 tsp ground cumin, 1/4 tsp paprika, 1/4 tsp garlic powder, 1/4 tsp oregano, 1/4 tsp cayenne pepper, 1/8 tsp salt, and 1/4 tsp black pepper. Stir well for 1 minute. Turn off the heat and transfer the meat to a bowl. Set aside.
5
Scramble the eggs: in a clean pan, heat 1/2 tbsp olive oil over low heat. Meanwhile, whisk 3 medium eggs in a bowl. Add eggs to the pan. Use a spatula to stir gently. Cook for 4 minutes or until the eggs are barely set. Turn off the heat. Season with 1/8 tsp salt and 1/4 tsp black pepper. Stir again to distribute the seasonings evenly. Transfer to a plate and set aside.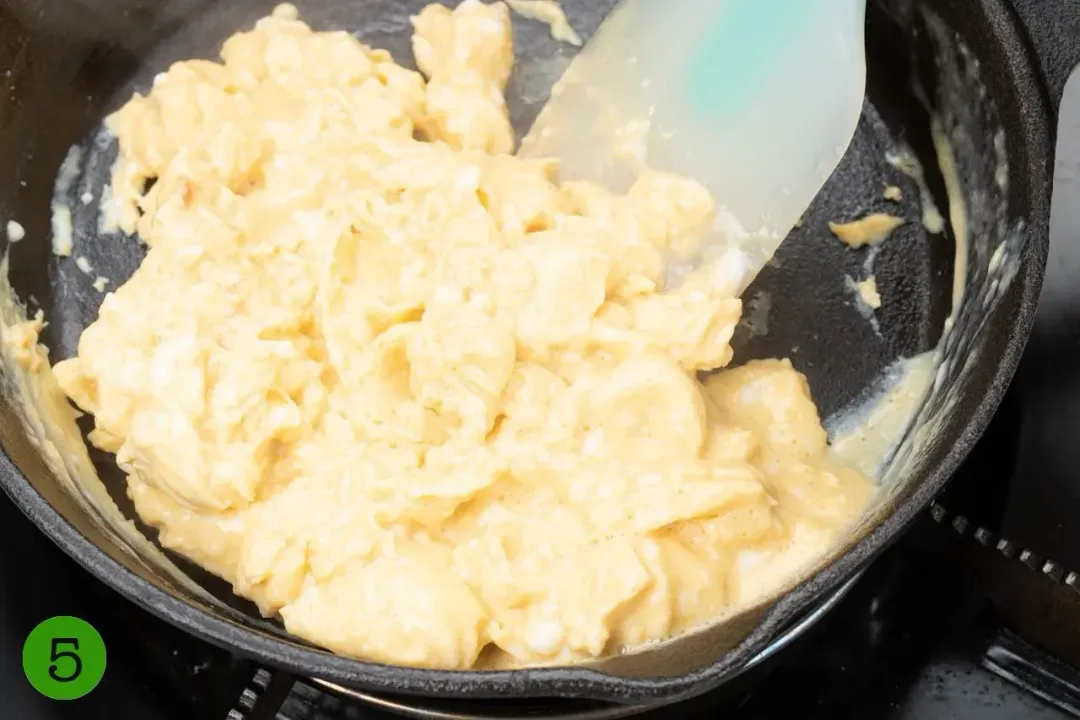 6
Set up a workstation: place a cutting board on the counter. Place the salsa, cooked vegetables, meat, scrambled eggs, sliced 4 oz avocado, 2.4 oz cheddar cheese, 4 tbsp plain Greek yogurt, and 4 flour tortillas around your cutting board. Divide each filling into 4 parts.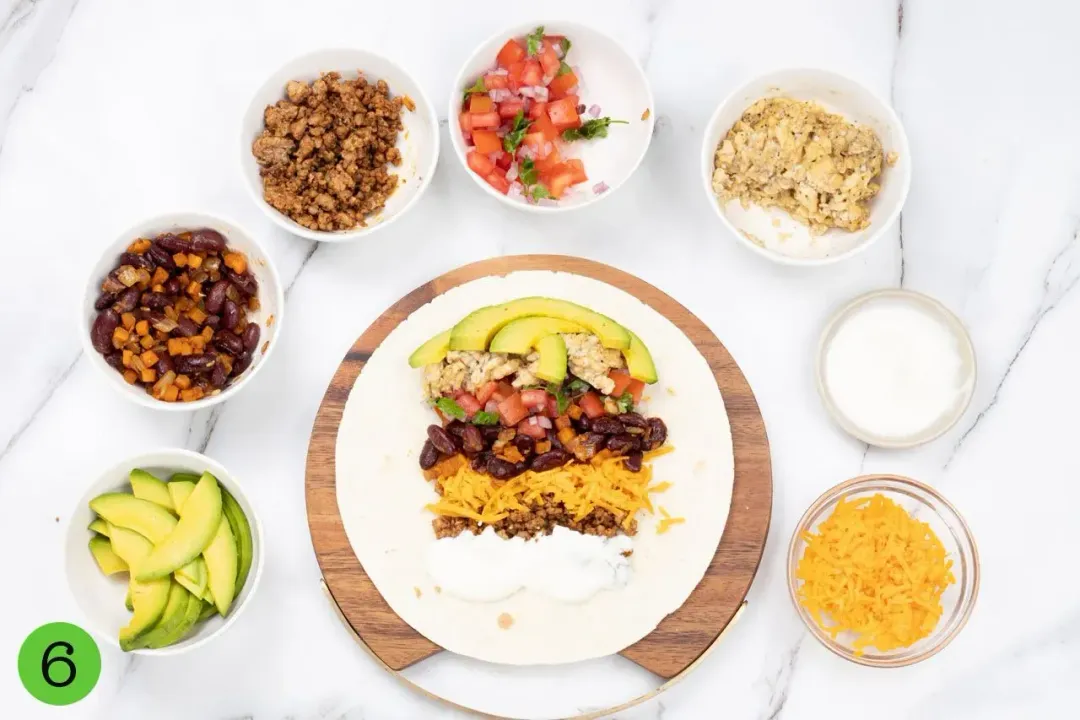 7
Wrap the burritos: put a tortilla sheet on the cutting board. Take 1 part of each filling and put it in the middle of the tortilla. Fold the two sides of the tortilla towards the middle. While still holding the sides, slide your thumbs under the bottom of the tortilla and fold it up. Roll it away from you, tucking the ingredients in fairly tight (but not too tight). Set aside and repeat with the remaining tortillas.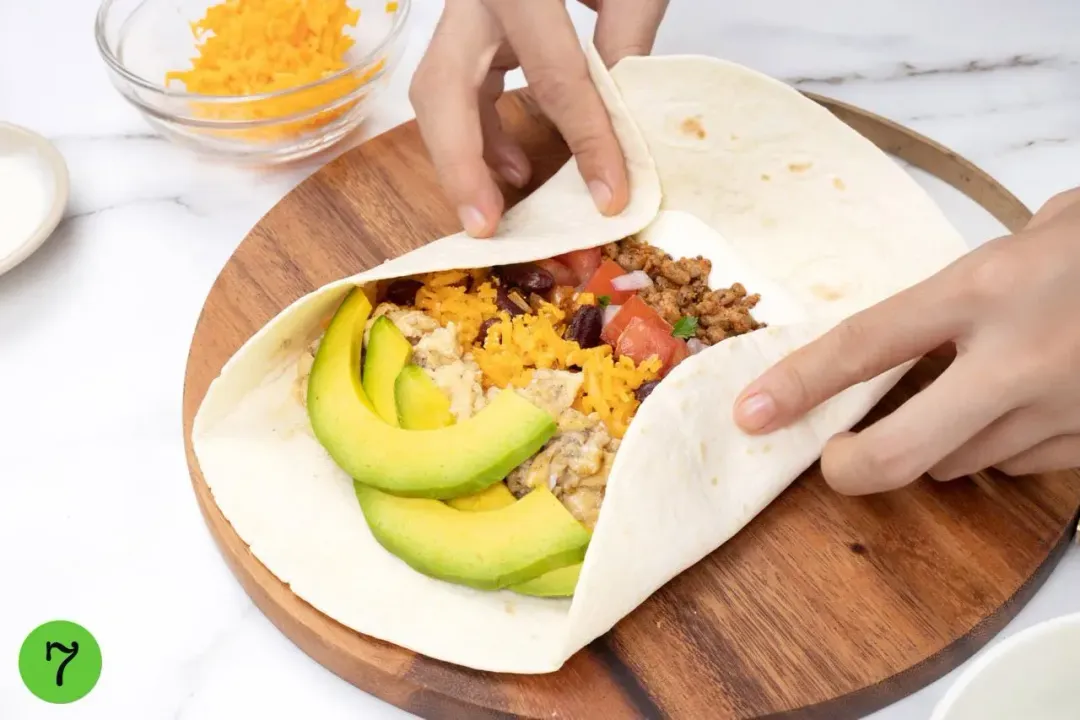 8
Toast the burritos: put a burrito in a clean, dry pan, seam-side down. Turn the heat up to medium and toast for 2 minutes per side or until golden brown. Repeat with the remaining burritos.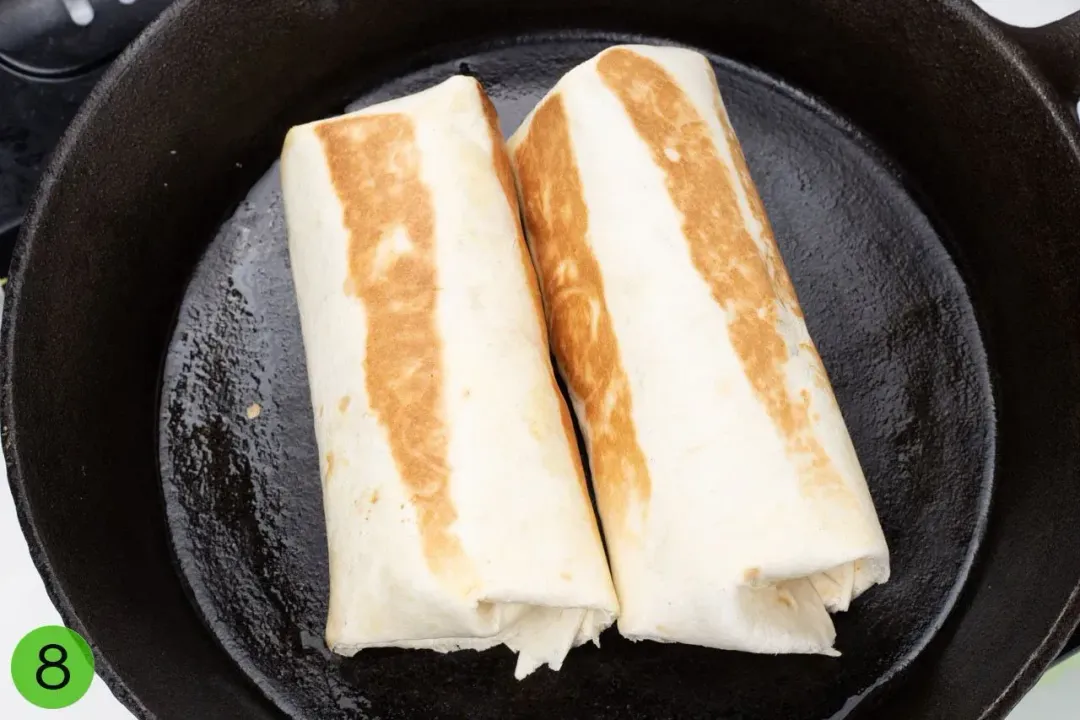 9
Serve: cut the burritos in half at an angle for better presentation. Transfer to a serving platter and serve warm.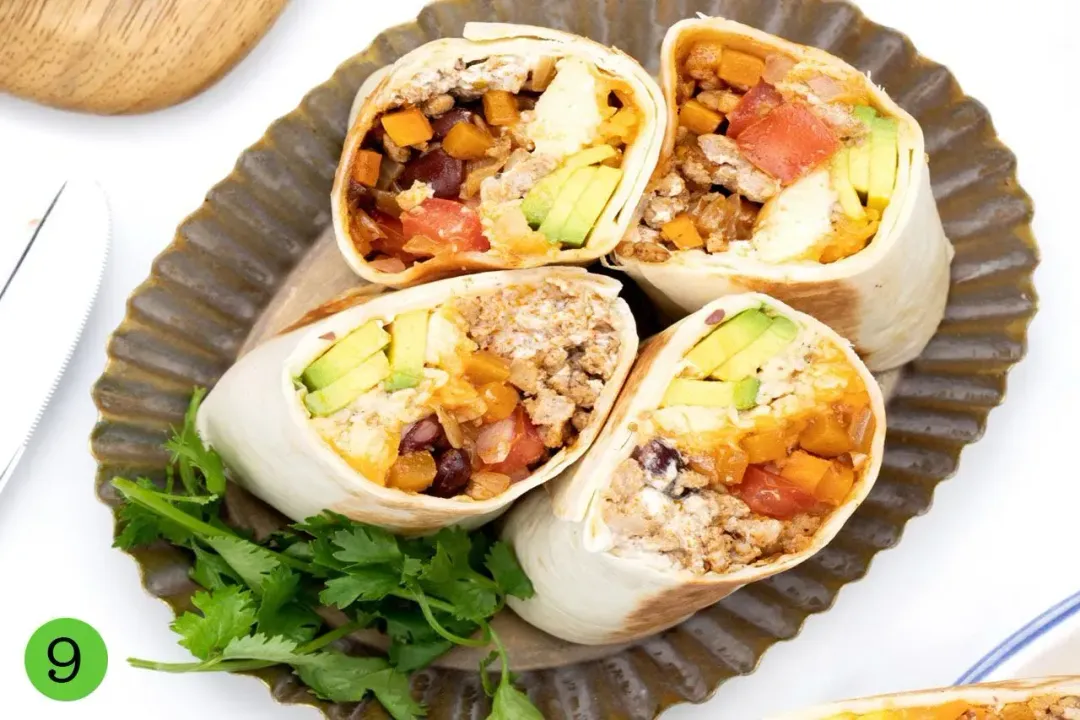 NUTRITION
Nutrition Facts
Breakfast Burrito
Amount Per Serving (1 serving)
Calories 471
Calories from Fat 252
% Daily Value*
* Percent Daily Values are based on a 2000 calorie diet.
Keywords: breakfast burrito, burrito, Burrito recipe, homemade Burrito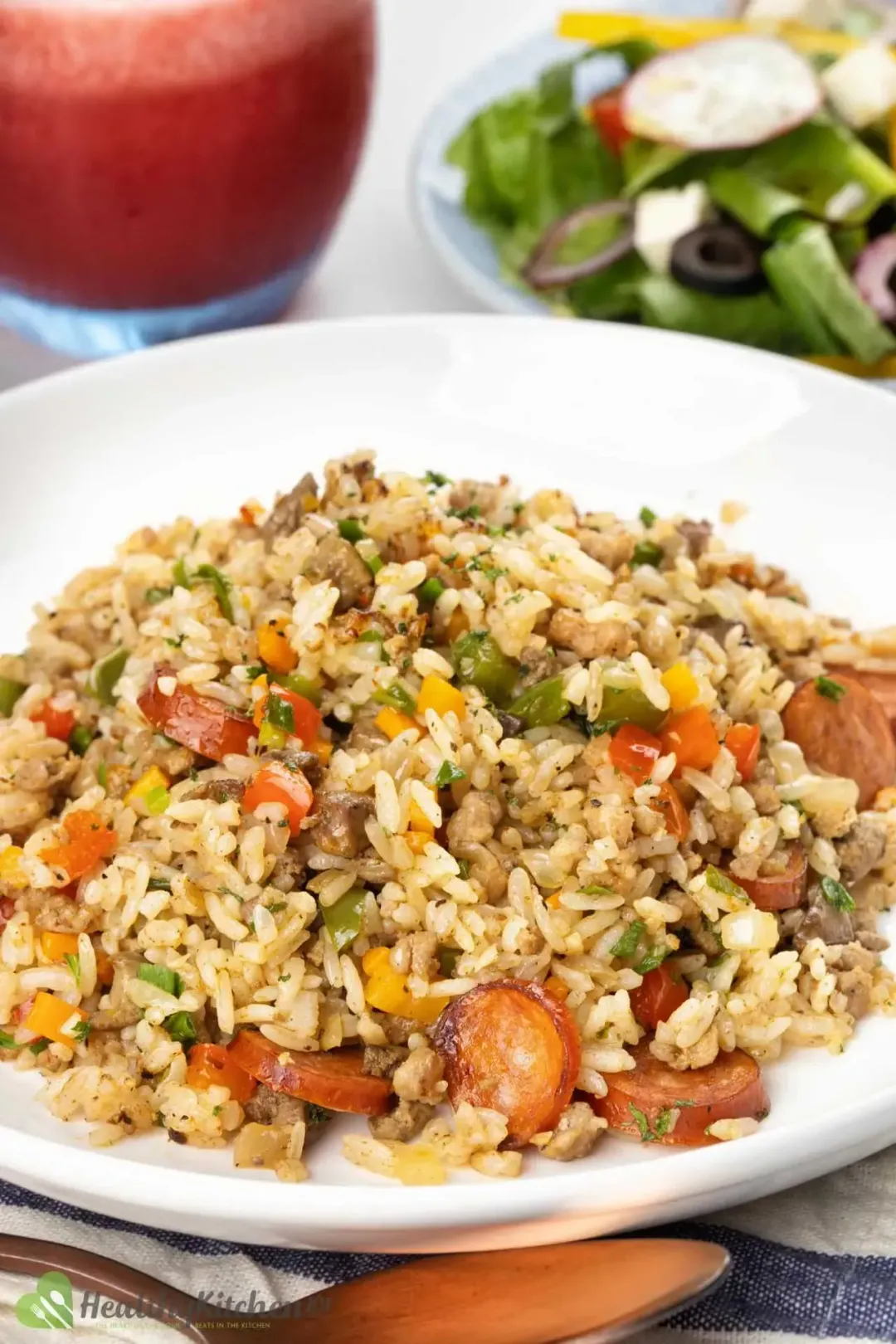 Previous Recipe
Cajun Dirty Rice
Cajun Dirty Rice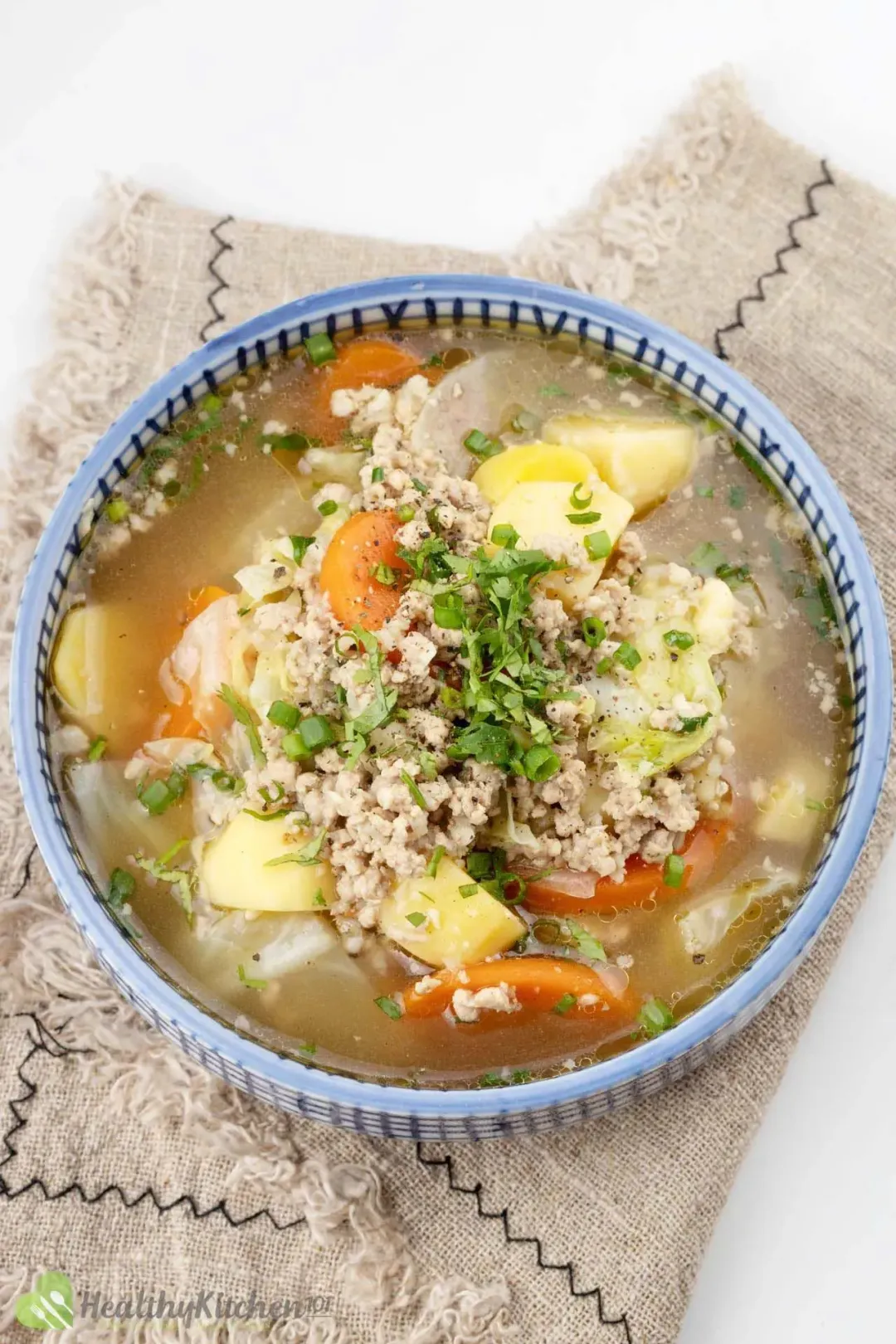 Next Recipe
Cabbage Potato Soup
Cabbage Potato Soup
Head Chef, Culinary Consultant
Tuyet Pham is an award-winning Saigonese chef who believes that joy is the secret ingredient to delicious food. At Healthy Recipes 101, Tuyet personally tests and simplifies every recipe, ensuring maximum flavor with minimal effort. With a background at prestigious French restaurants P'TI Saigon and Le Corto, Tuyet knows how to make every dish exceptional.
Writer, Author
Luna Regina is an accomplished writer and author who dedicates her career to empowering home cooks and making cooking effortless for everyone. She is the founder of HealthyKitchen101.com and HealthyRecipes101.com, where she works with her team to develop easy, nutritious recipes and help aspiring cooks choose the right kitchen appliances.
Nutrition Reviewer
Lizzie Streit is a Minneapolis-based dietitian and founder of It's a Veg World After All. She completed her MS in Human Nutrition from Drexel University, and is an expert in culinary nutrition, recipe development, and nutrition communications. Lizzie's philosophy is centered around making nutrition recommendations, and especially the advice to eat more vegetables, approachable and realistic. She is excited to be working with the team at Healthy Recipes 101 to ensure that their recipes are both nutritious and delicious.
Really nice delightful! Breakfast burritos were incredible to eat and easy to make.

I made just a few changes, came out great!