If you find yourself fancying an Indian meal with lots of aromatic spices, try this Chicken Korma recipe. It's not only tasty, but is also easy to prep with no stress.
What Is Korma?
Korma is a dish that has its roots in North India. The term "korma" translates to "braising", which is the traditional method used to make this recipe.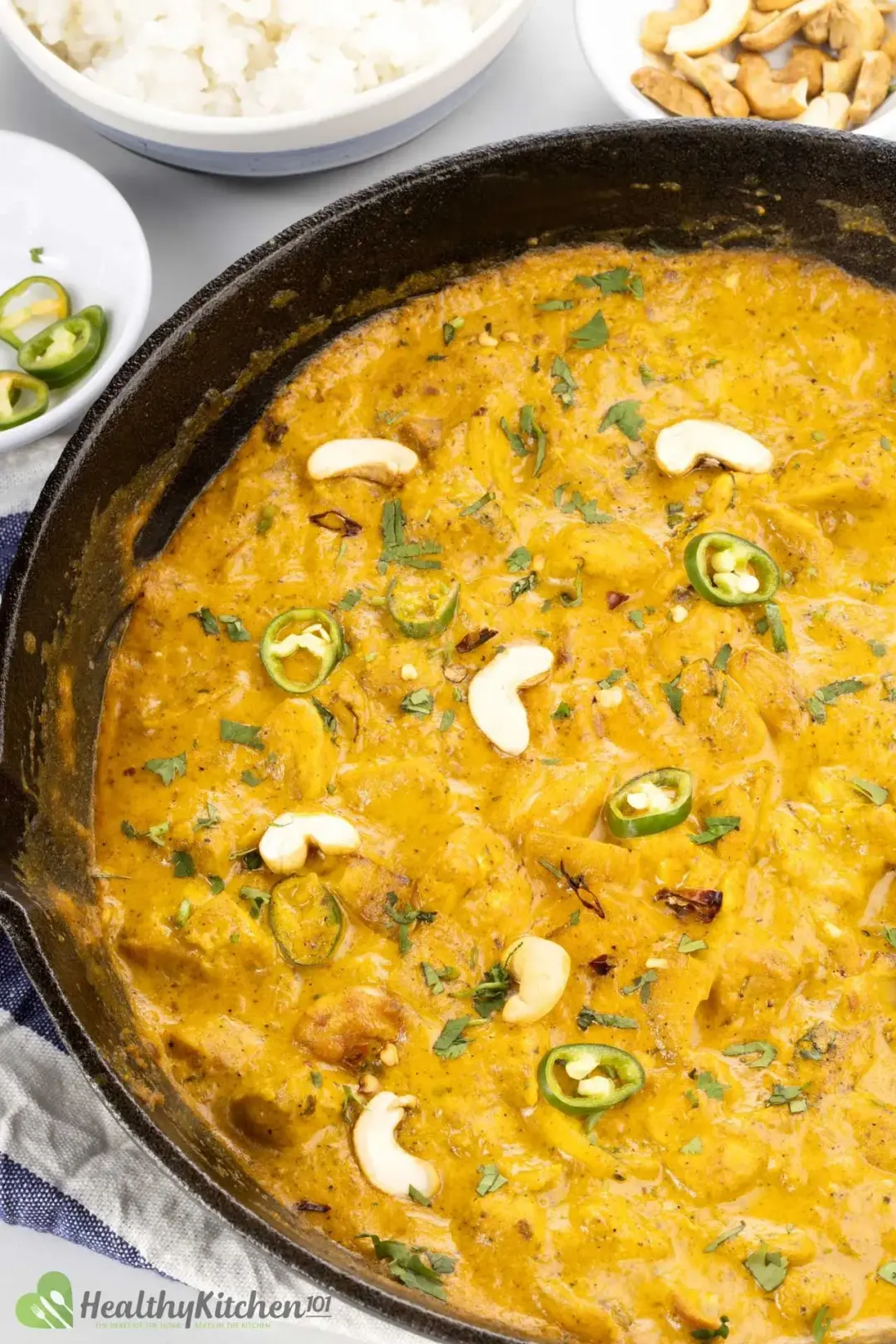 It's very much an incredibly easy and delicious dish, especially when served with freshly chopped chilies and steamed rice.
To make a korma dish, you submerge the meat/vegetables in a thick Korma sauce. Then, sear the meat/vegetables in a pan, add the marinade, and simmer.
The Korma sauce is also fascinating, with fresh aromatic spices blended along with almonds and tomato paste. Then, Greek yogurt is added, to make the sauce creamy, tangy, and help tenderize the meat.
Additionally, other kinds of nuts are great to add if you're aiming for a bit more nuttiness. We added cashews, and it was amazing.
Is Chicken Korma Curry?
Korma is among the most popular types of curries you will probably find at Indian restaurants. Others include Dhansak, Tikka Masala, Saag, Jalfrezi, and Vindaloo.
When it comes to curry, people expect it to give off a strong aroma, and it does. The spice mix in the Korma sauce includes powerful, intense spices, like garam masala, cardamom, and curry powder.
But don't let that discourage you. The spices are in moderate amounts, which can be really compelling.
Is Chicken Korma Spicy?
Curries are known to be intensely hot, but this is gross generalization. There are both spicy and mild kinds, and korma falls into the latter category.
If you prefer your chicken korma spicy, you can always add chili later, dried or fresh.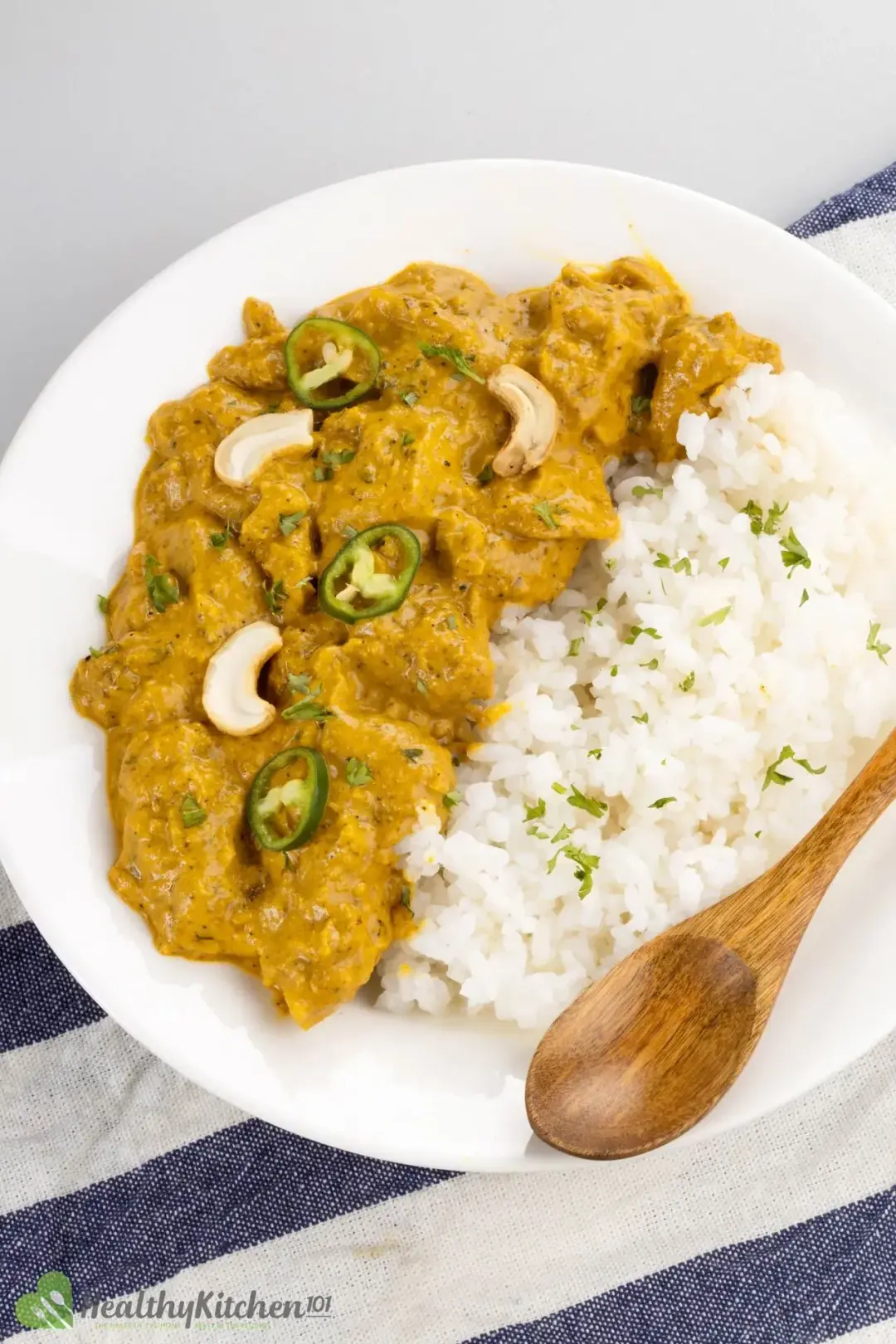 What Goes with Chicken Korma
1. Basmati Rice
This type of rice originated in southern Asia, and it's often used in Indian cuisine. The rice grain is long, narrow, firm, and has a distinct aroma that complements Indian spices.
If you can't get basmati rice, any kind of rice will do as well. We're using short-grain rice in this recipe, and it still turned out amazing.
2. Naan Bread
Not necessarily served with rice, chicken korma sauce goes really well with the traditional naan bread. It's a leavened flatbread, similar to pita bread, but is much richer in flavor.
3. Coconut Milk
Coconut milk is a dairy-free, lactose-free alternative to enrich curries. It makes a less-tangy, thinner sauce with a slight undertaste of coconut, but is still as creamy.
4. Mushrooms
As a versatile vegetable, mushrooms add an interesting texture to curries, giving them a unique flavor profile. Also, they add small amounts of crucial vitamins and minerals.
If you want to include mushrooms, make sure to saute them until golden brown before cooking with the chicken.
Vegetables for Korma
Vegetable korma is a great vegan alternative to the curry. It will often include carrots, potatoes, cauliflower, and peas.
Although our chicken korma recipe doesn't call for vegetables, it really welcomes said vegetables. They make great additions of texture, flavor, and nutrients.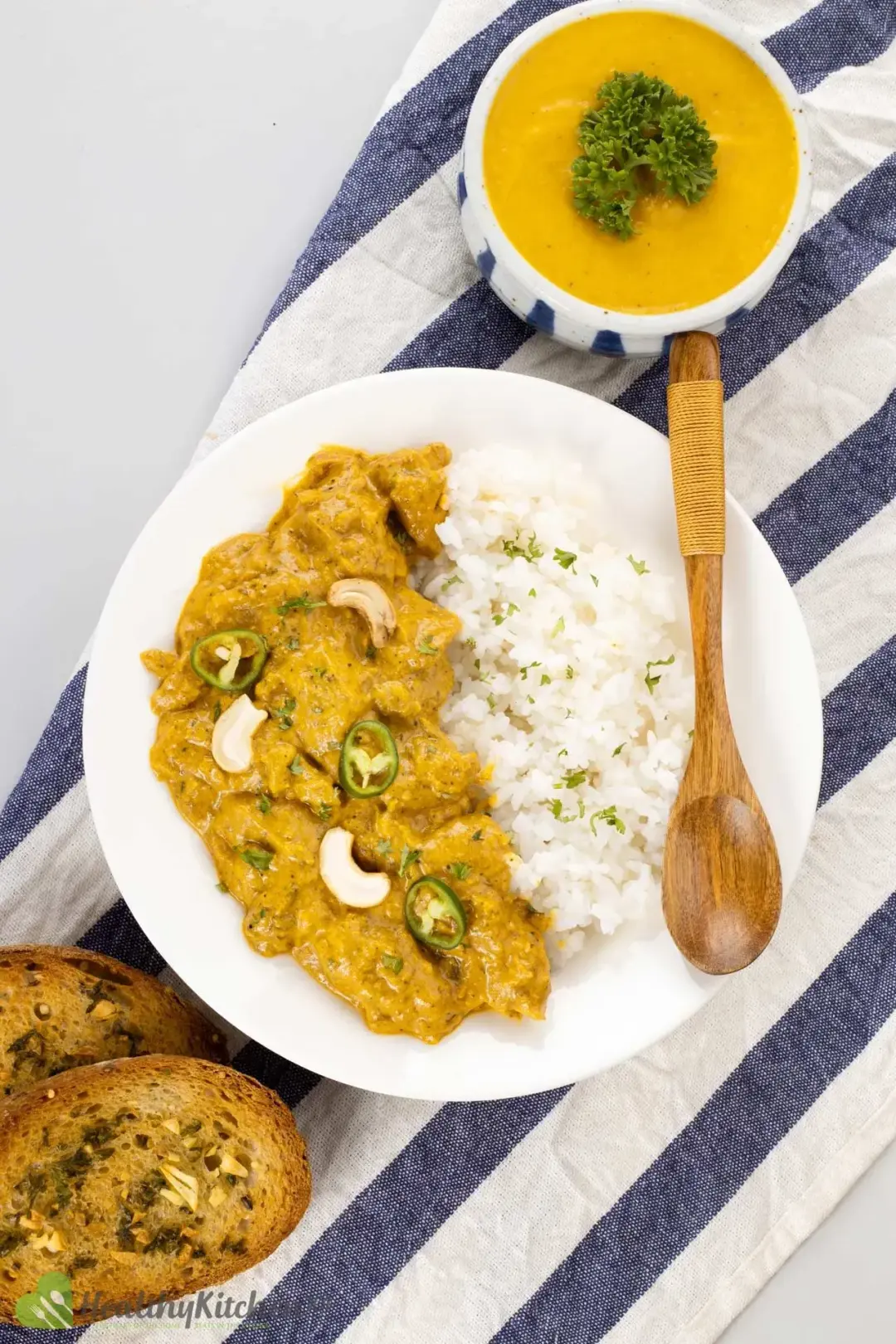 Chicken Korma vs Butter Chicken
Having similar ingredients and visuals, the two are often mistaken as variations of one dish. These curries may come from the same cuisine but they don't share the same spirit.
For starters, korma often calls for mutton, and butter chicken's core has always been chicken. Both use tomato in the sauce, but the tanginess in korma is expected to be much lighter than butter chicken.
While we cook chicken korma using a pan, butter chicken is ideally cooked in a clay pot, or "tandoor". Chicken korma is slightly seared before being simmered with the sauce, which gives it more character.
And to top it off, korma sauce is richer, thanks to the blended nuts and added yogurt. These are also used in butter chicken but in a smaller amount.
Is This Chicken Korma Recipe Healthy?
Yes, it is. Its calories, saturated fat, and sodium are all kept within the limits, complying with our healthy eating guidelines approved by nutritionists.
Apart from that, the ingredients in this chicken korma recipe are all considered healthy.
Take almonds for instance. This nutritious nut is high in healthy fats, loaded with antioxidants, and can help control blood pressure.
Greek yogurt is one of the most recommended types of dairy. Besides being packed with protein and calcium like other types of dairy, it also contains probiotics that promote gut health.
And last but not least, for the main source of protein, we're using skinless, boneless chicken thighs. They are about 20% protein in mass and give lots of flavors.
You can use chicken breast for more protein, but we can't assure you that it's still as tasty.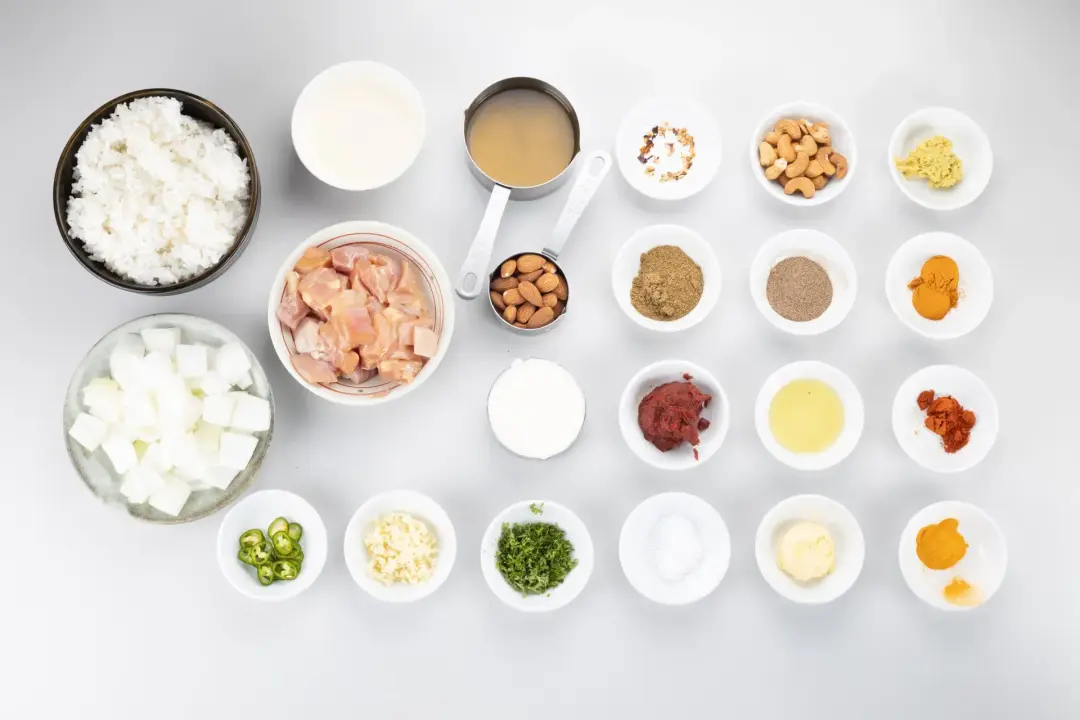 How to Make Chicken Korma
Step 1: Make the marinade
Put all marinade ingredients in a food processor. Turn on at high speed to puree them until completely smooth.
Step 2: Marinate
In a large bowl, mix the marinade with the chicken and refrigerate for at least 30 minutes, covered with cling film.
Step 3: Caramelize the onions
Preheat a large skillet over medium-high heat. Add canola oil and butter, and stir until the butter melts. Sauteé the chopped onions for 4 minutes until caramelized.
Step 4: Sear the chicken
Add the chicken thigh to the skillet and cook for 5 minutes.
Step 5: Add the stock
Pour in the chicken stock and scrape the bottom of the skillet to get all of the flavors fused into the sauce. Cook for 2 minutes.
Step 6: Add the dairy
Pour in heavy cream and keep stirring for another minute so the chicken absorbs the juice perfectly. Turn off the heat.
Serve with hot cooked rice.
Tips for Making Chicken Korma
If 5 minutes have passed and the thighs aren't getting any charred marks, cook them for another 1-2 minutes. We found that using a cast-iron skillet helps.
To cook short-grained rice, place one part water, one part rice into a rice cooker, and hit the button. Or, double the water and simmer the rice over medium heat in a pot for 20 minutes.
If you're cooking basmati rice, boil a pot of 4-5 parts of water. Add canola oil, place the rice in, and cook for around 6-7 minutes.
Then, take some of the rice out using a fork. Press the rice against your fingers to look for that 90% cooked texture, which is tender but not too mushy.
Drain the rice and run it under cold water and you have a delicious batch of basmati rice.
Calories in This Chicken Korma Recipe
Each serving of our chicken korma recipe is 511 calories. More than 60% of the calories come from lean proteins and healthy fats from yogurt, olive oil, almonds, and cashews.
To meet the 750-calorie meal, chicken korma needs to be paired with a side with around 250 calories. Here's what we have to recommend:
What to Serve with Chicken Korma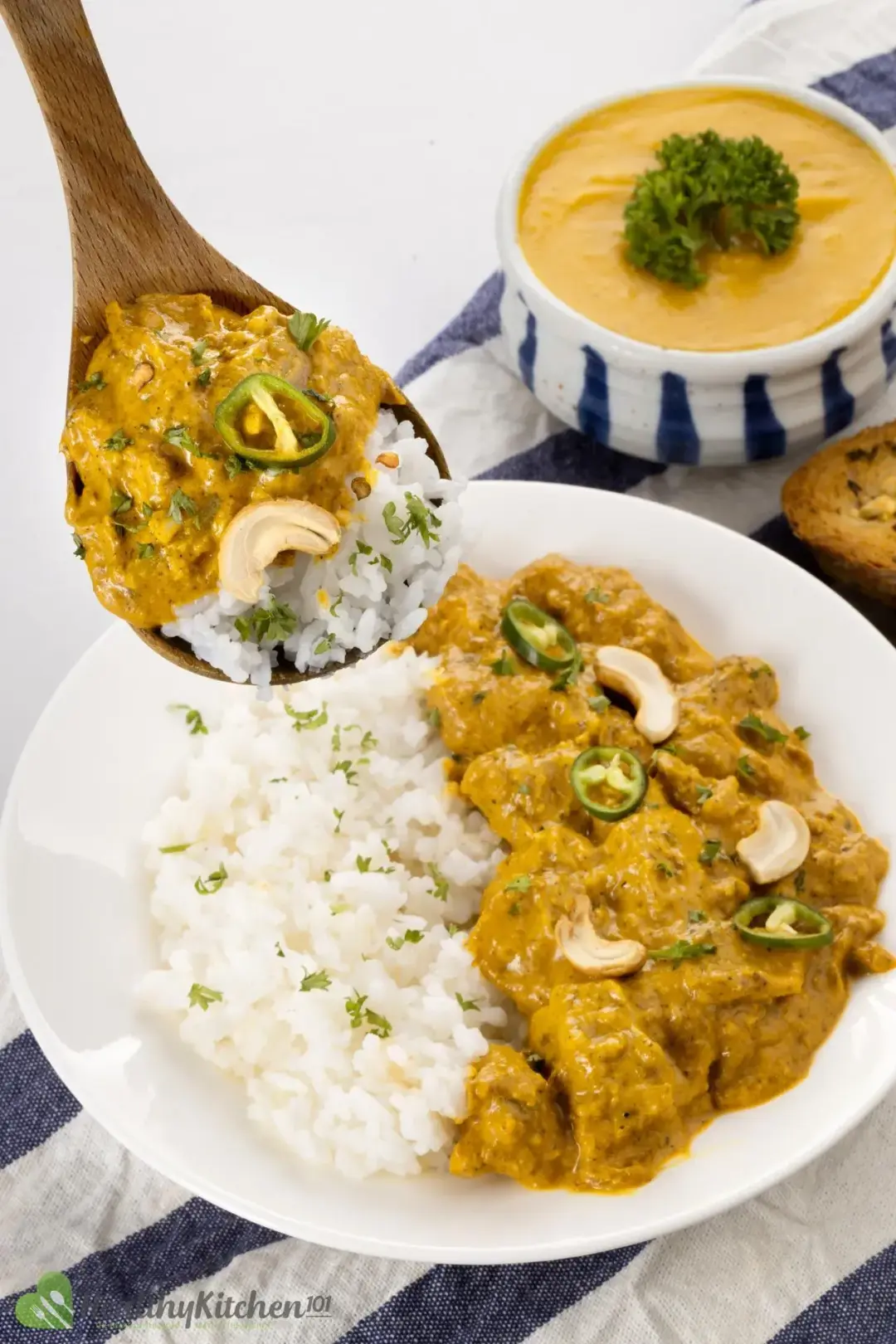 After having such an aromatic dish with all of the herbs and spices, we thought of something soothing— pumpkin soup. They are both creamy, but the soup really mellows out the fierce fragrance of chicken korma.
How Long Does Chicken Korma Last in the Fridge?
Chicken korma can last for up to 2 days in the refrigerator, in an airtight container or covered with cling film.
To keep cooked chicken korma for longer, you can divide it into Ziploc bags and toss them in the freezer. These will last for about 1 month.
If you fancy this dish, you may also love our top 20 chicken thigh recipes or best 50 chicken roundup. To include more chicken dishes in your daily meal plans, this roundup may give you several ideas.
Similarly Tasty Rice & Chicken Recipes
If you're interested in this chicken korma, these four healthy and delicious chicken and rice recipes may also tickle your fancy: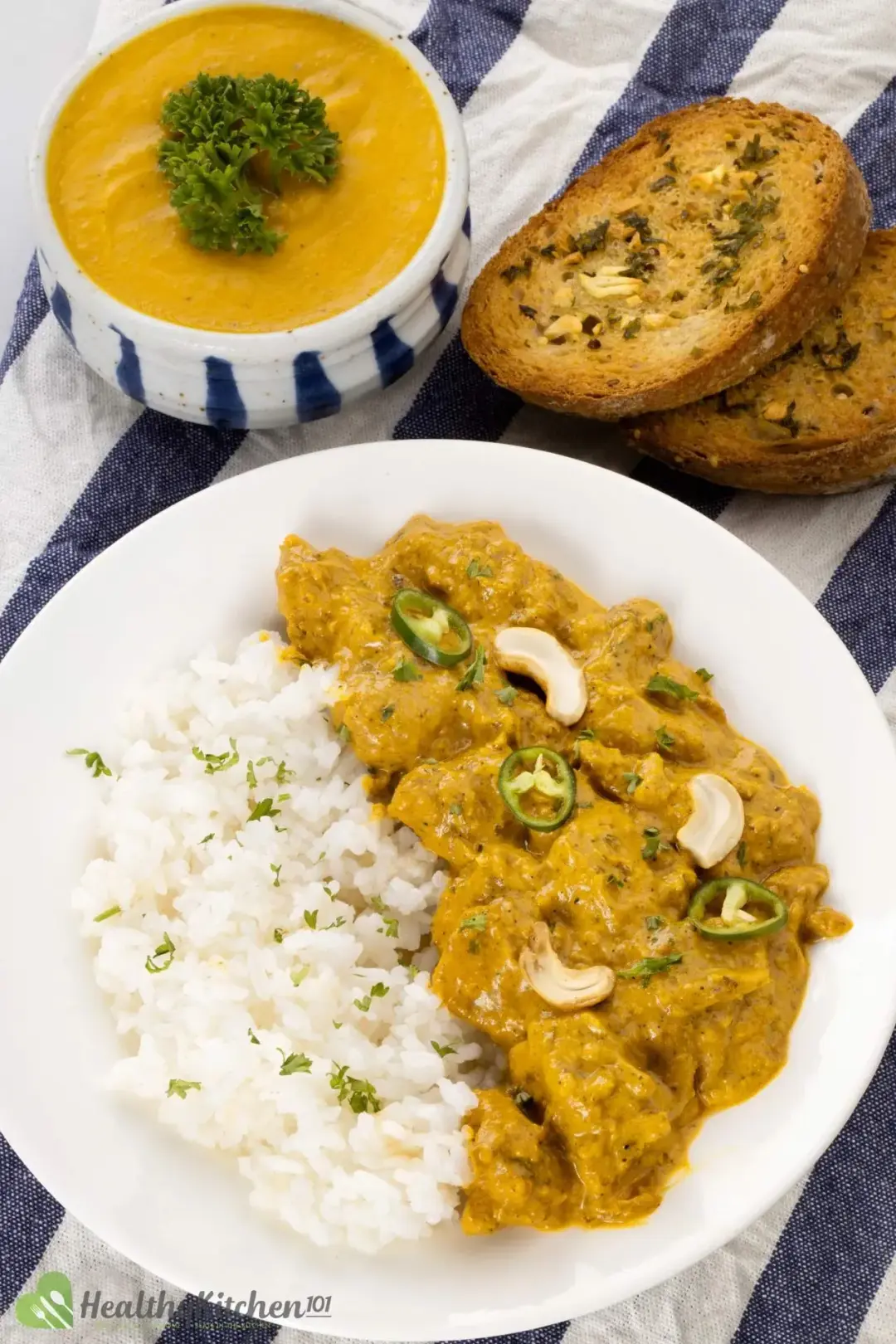 Chicken Korma Recipe
So here it is, the healthiest chicken korma recipe we have ever made. It is served with rice, so take out your trusty rice cooker and start cooking!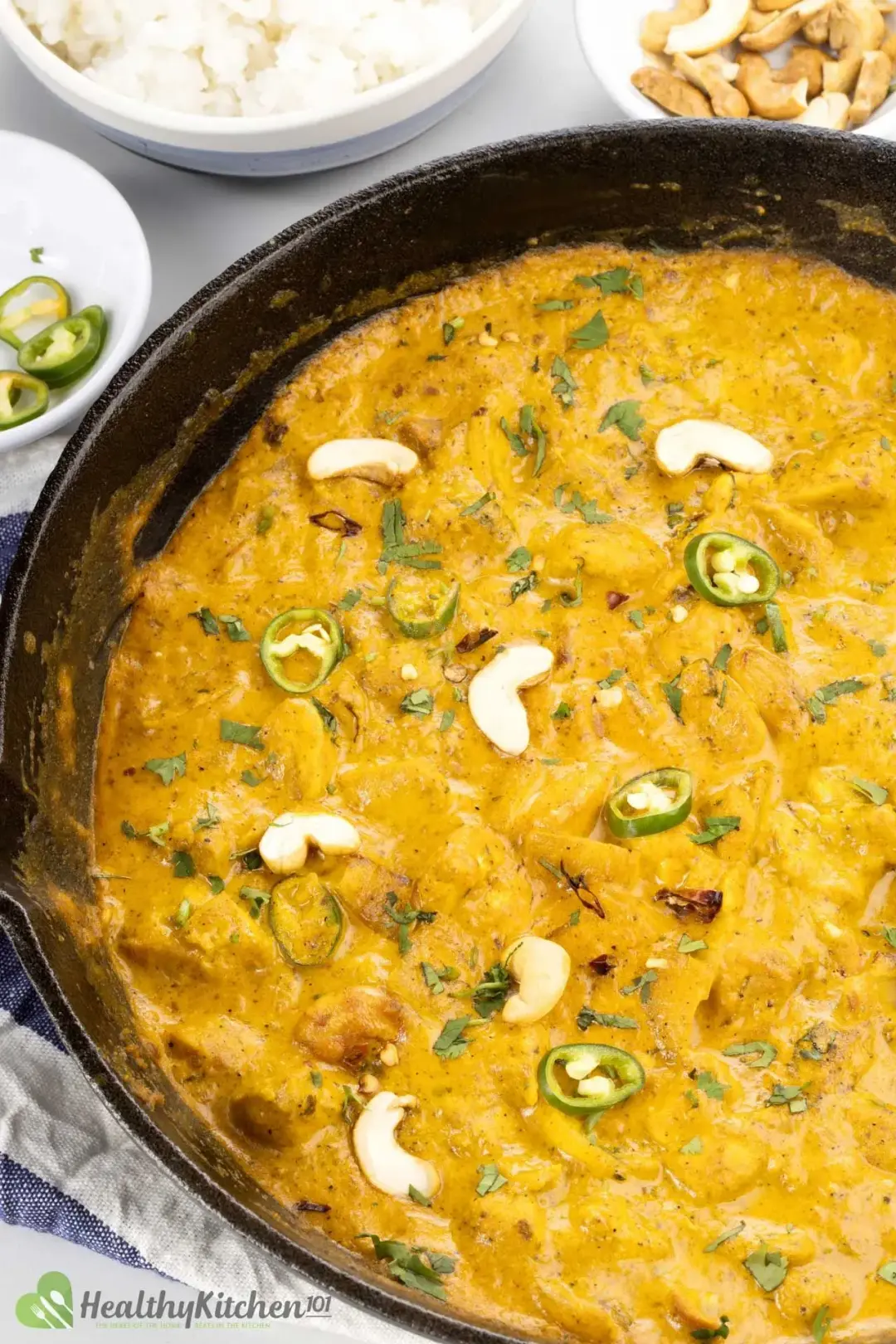 cook TIME

15 mins

prep TIME

15 mins

total TIME

1 hr

INACTIVE TIME

30 mins
COURSE

Main Course

CUISINE

Asian, Indian

SERVINGS

servings

CALORIES

511 kcal
INGREDIENTS
8 oz

skinless boneless chicken thighs (medium, cut into 1-inch chunks)

1 tbsp

olive oil

1 tbsp

unsalted butter (diced)

5.3 oz

yellow onions

3 tbsp

heavy cream

0.5 cup

unsalted chicken broth

16 oz

cooked short-grain rice

2 tbsp

Hunt's tomato paste

1 tbsp

freshly grated ginger

3 tsp

garlic

1 tbsp

garam masala

0.8 tsp

salt

0.5 tsp

turmeric

2 oz

almonds

0.5 tsp

paprika

1 tsp

ground cardamom

2 tsp

curry powder

0.5 cup

plain Greek yogurt

1 oz

cashews

0.3 tsp

red pepper flakes

0.3 tsp

parsley (minced)

1

jalapeño (sliced)
INSTRUCTIONS
1
Put tomato paste, grated ginger, garlic, garam masala, salt, turmeric, almonds, paprika, ground cardamom, curry powder into a food processor, turn on at high speed to puree them until completely smooth.
2
In a large bowl, place the chicken, the mixture we just blended, and Greek yogurt. Mix well, cover with cling film, and refrigerate for at least 30 minutes.
3
Preheat a large skillet over medium-high heat. Add olive oil and butter, and stir until the butter melts. Sauteé the chopped onions for 4 minutes until caramelized.
4
Add the chicken thigh to the skillet and cook for 5 minutes.
5
Pour in the chicken stock and scrape the bottom of the skillet to get all of the flavors fused into the sauce. Cook for 2 minutes.
6
Pour in heavy cream and keep stirring for another minute so the chicken absorbs the juice perfectly. Turn off the heat.
7
Serve with hot cooked rice. Sprinkle with crushed cashews, red pepper flakes, parsley, and sliced jalapeño.
NUTRITION
Nutrition Facts
Chicken Korma Recipe
Amount Per Serving (1 serving)
Calories 511
Calories from FDA
% Daily Value*
* Percent Daily Values are based on a 2000 calorie diet.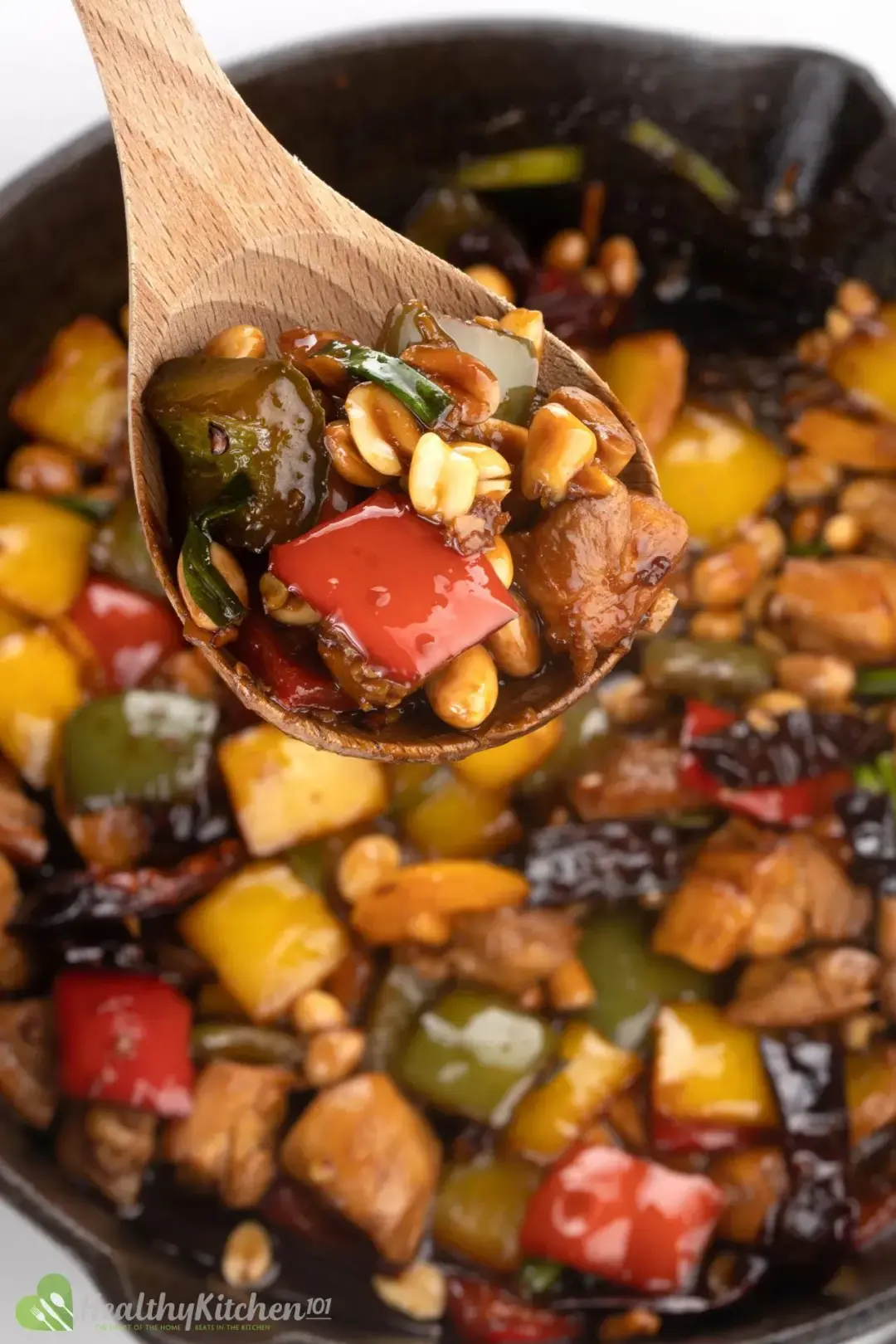 Previous Recipe
Kung Pao Chicken
Kung Pao Chicken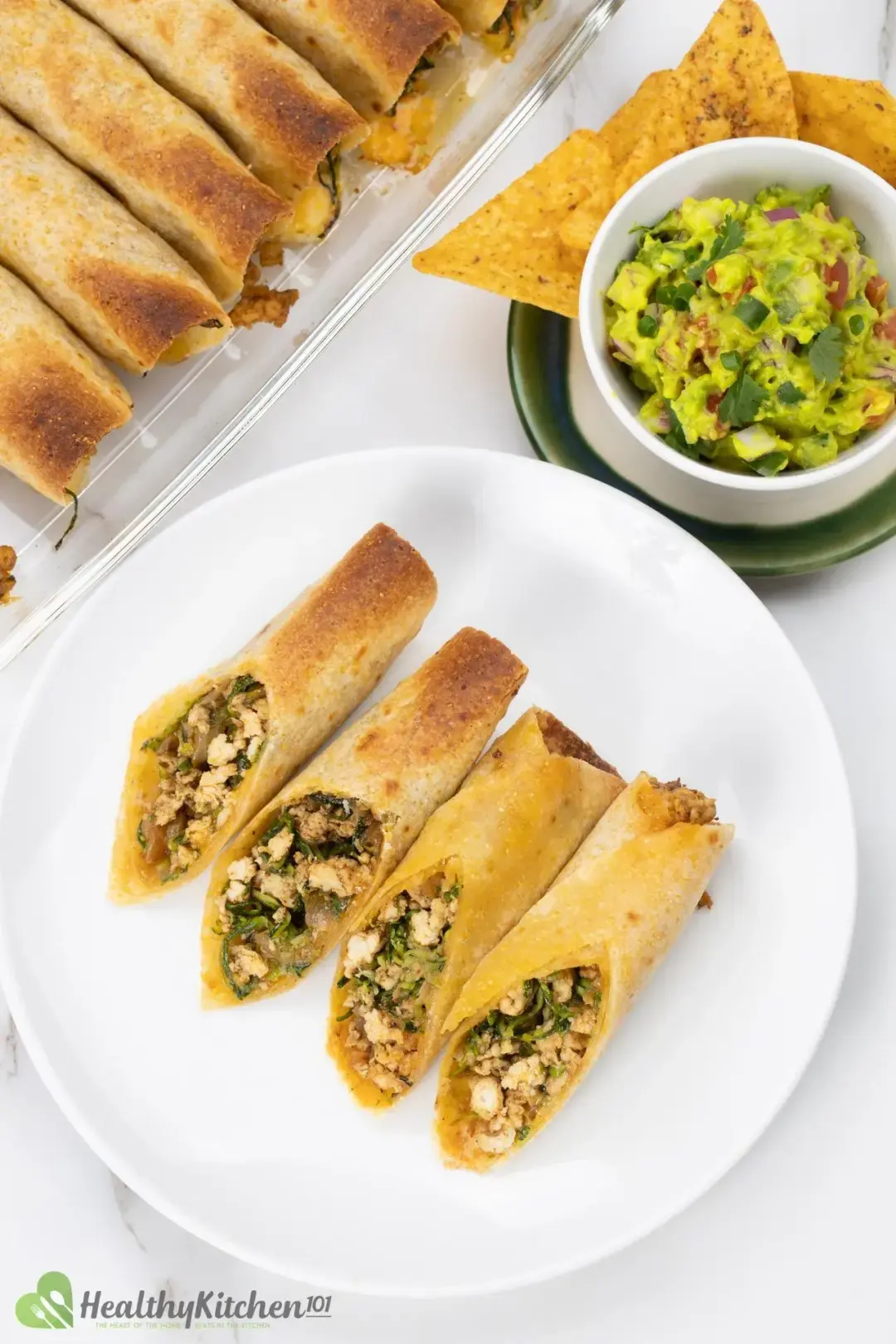 Next Recipe
Baked Chicken Taquitos
Baked Chicken Taquitos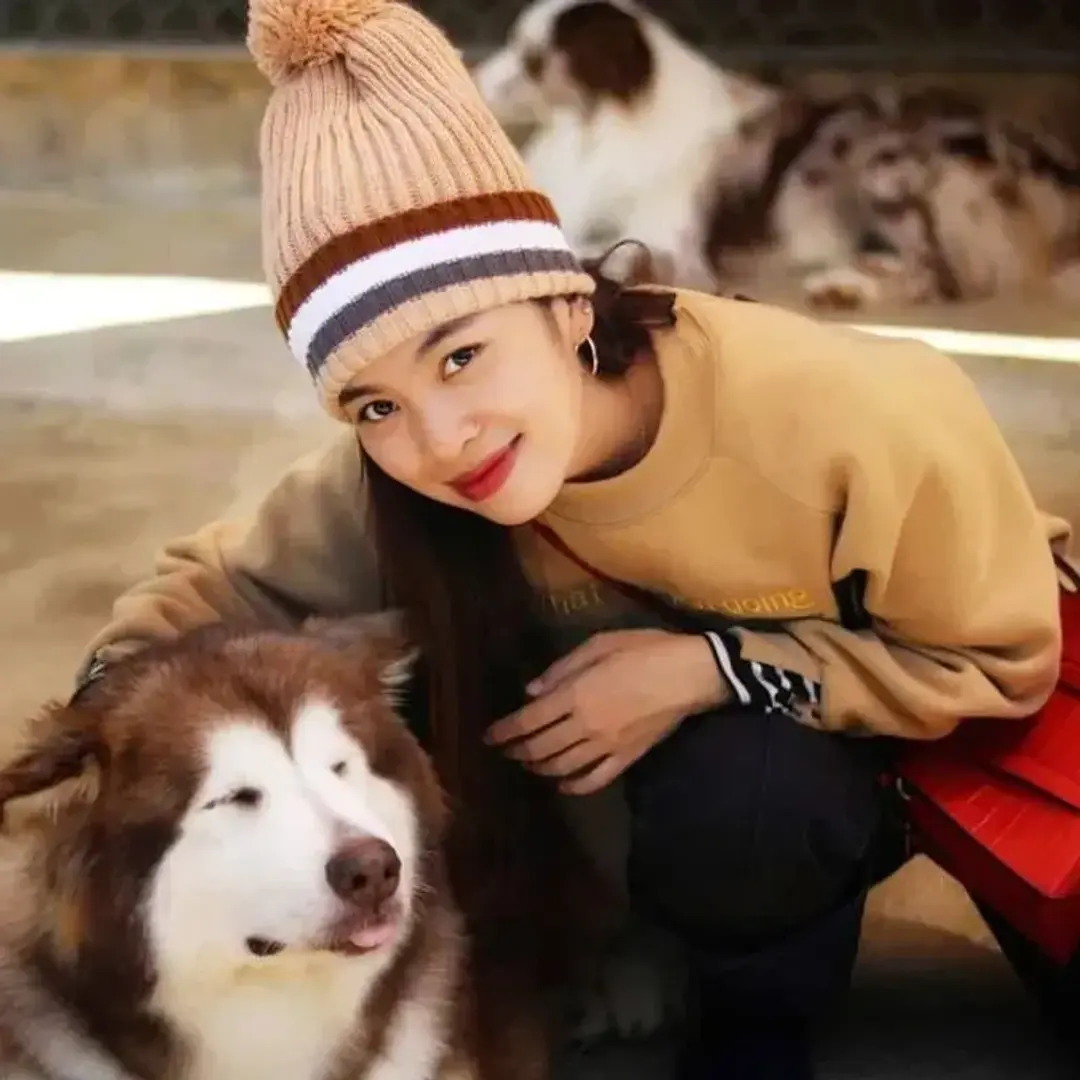 Chef, Culinary Consultant
Tuyet Pham is an award-winning Saigonese chef who believes that joy is the secret ingredient to delicious food. At Healthy Recipes 101, Tuyet personally tests and simplifies every recipe, ensuring maximum flavor with minimal effort. With a background at prestigious French restaurants P'TI Saigon and Le Corto, Tuyet knows how to make every dish exceptional.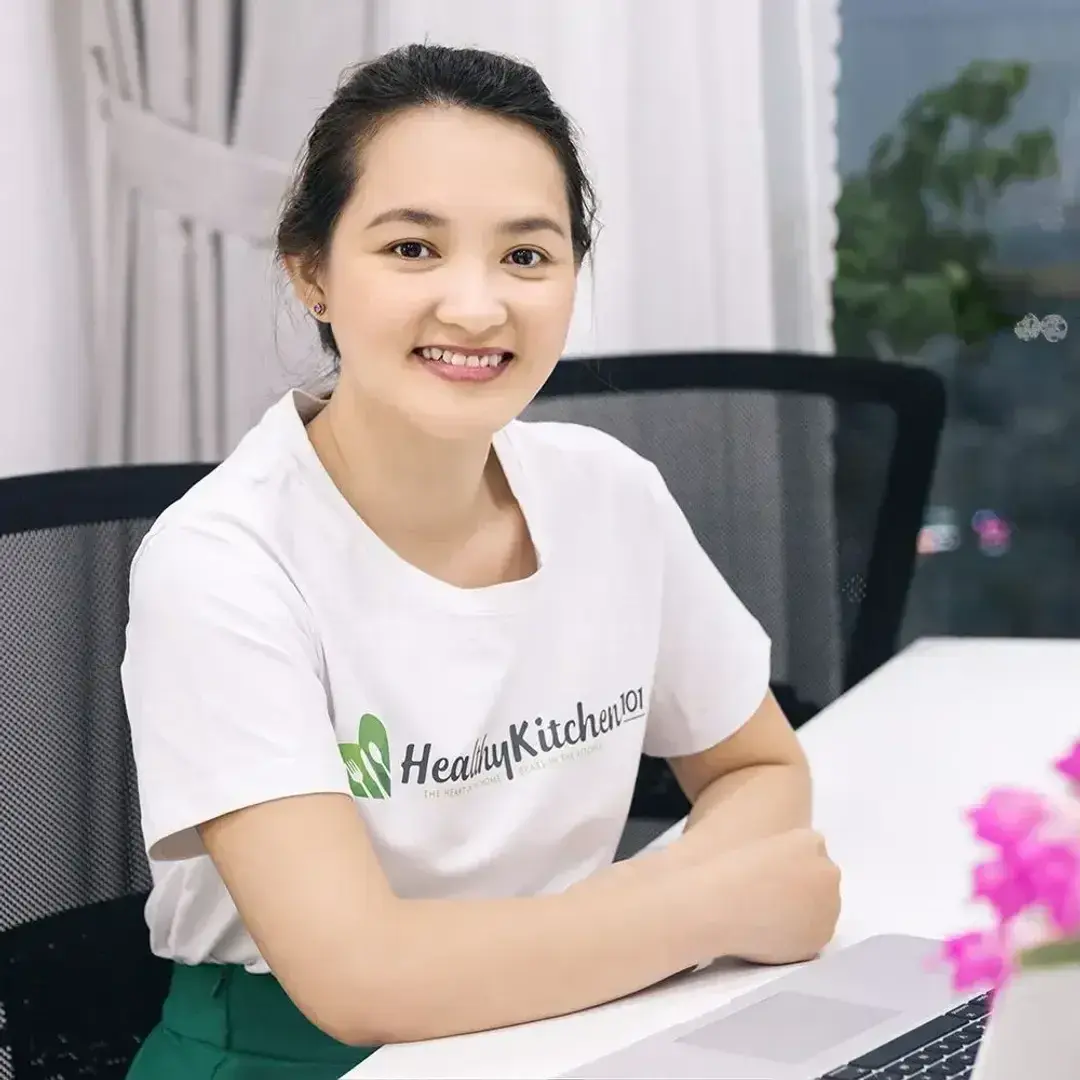 Writer, Author
Luna Regina is an accomplished writer and author who dedicates her career to empowering home cooks and making cooking effortless for everyone. She is the founder of HealthyKitchen101.com and HealthyRecipes101.com, where she works with her team to develop easy, nutritious recipes and help aspiring cooks choose the right kitchen appliances.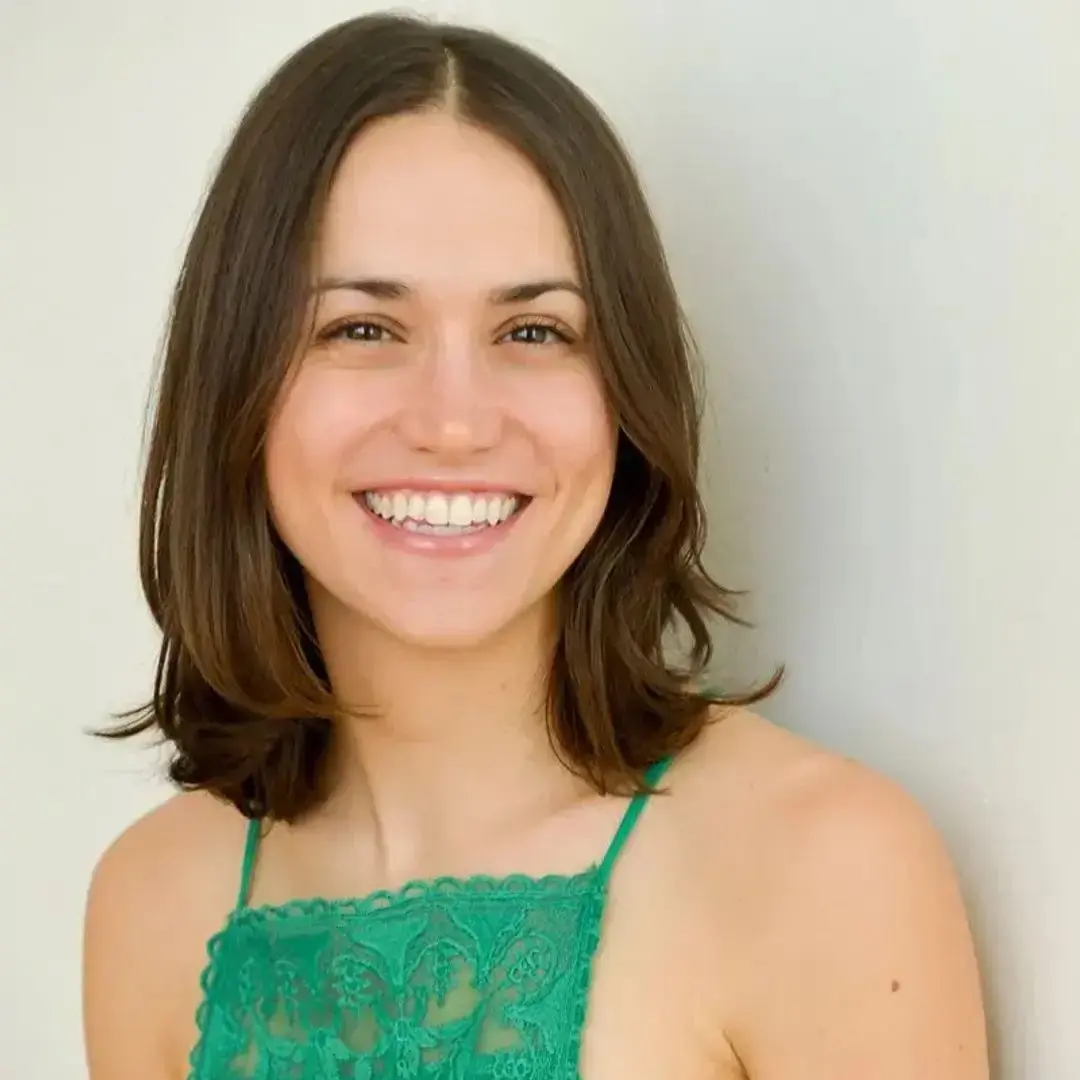 Nutrition Reviewer
Lizzie is a Minneapolis-based dietitian and founder of It's a Veg World After All. She completed her MS in Human Nutrition from Drexel University, and is an expert in culinary nutrition, recipe development, and nutrition communications.
Comments/ Reviews