This healthy Instant Pot barbacoa recipe may not be authentic, but it can still deliver the Mexican soul and leaves you amazed. It's also our top pick for National Brisket Day (May 28) as it naturally "beefs up" any menu with a juicy brisket filling. Before we start cooking, let's learn some interesting facts about this dish.
What Is Barbacoa?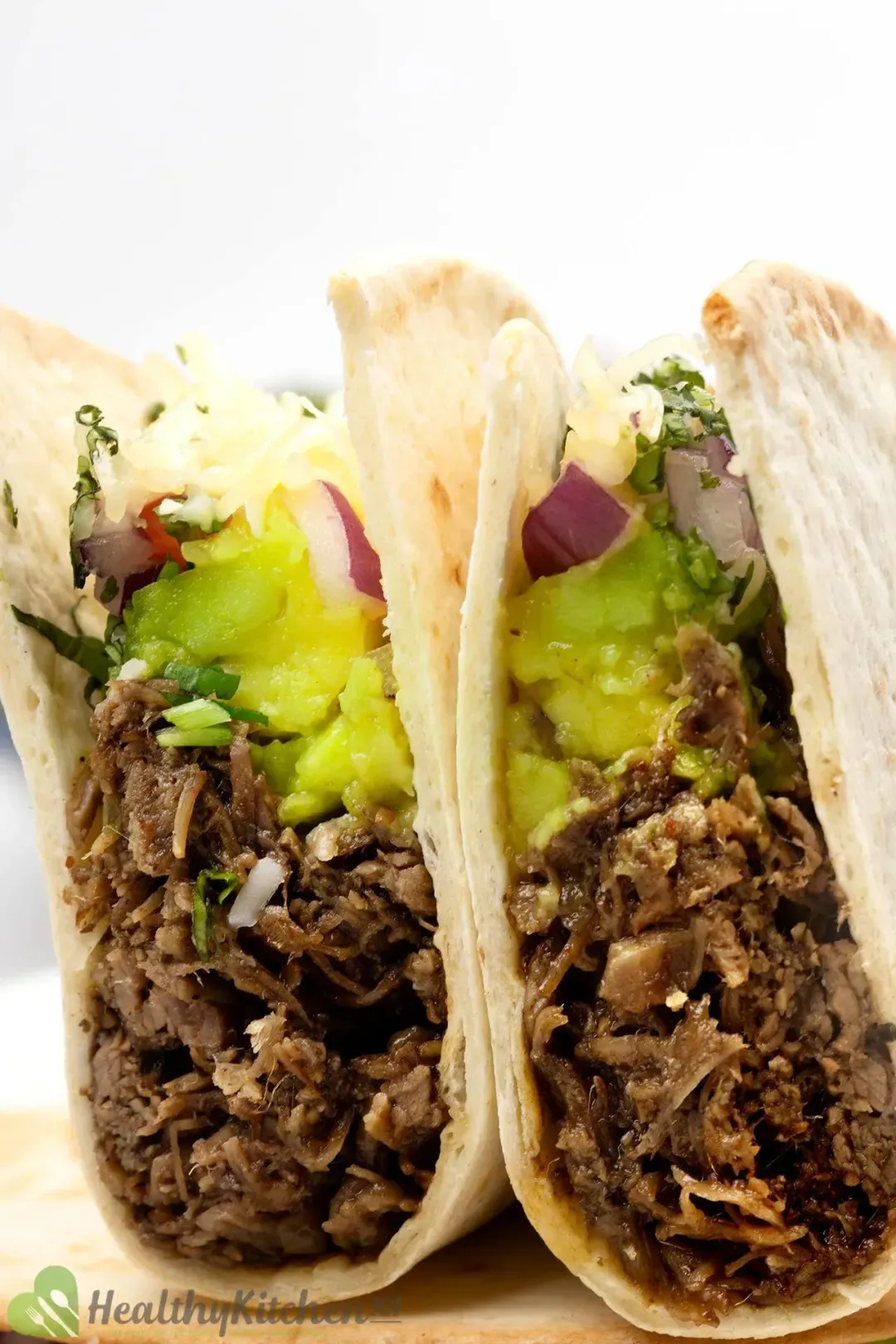 "Barbacoa" refers to the cooking method that is popular in Mexico and Central America areas. It involves slow-cooking cattle meat over an open fire or in a hole dug in the ground covered with leaves.
Barbacoa can be known as a type of barbecue. In modern cuisine, barbacoa simplifies by cooking the meat until tender in a pressure or slow cooker.
Is Barbacoa Healthy?
Yes, our recipe is healthy. Here's why:
This barbacoa recipe does not contain any added sugar. It does have 3g of sugar, but that's mainly the natural sugar in the vegetables.
Don't worry. Only 3g of natural sugar won't cause a rise in your blood sugar level.
This recipe also adheres to our healthy eating guidelines and contains just enough calories, saturated fat, and sodium.
It's important to keep track of your calorie intake because you only need enough calories to keep your body functioning. If you over-consume calories, those excess energy will be stored in your body as fat— making you gain weight.
In terms of saturated fat, moderated consumption is highly recommended as it can increase the cholesterol levels in your body. To limit saturated fat intake, we keep the consumption of red meat and cheese to a minimum in today's recipe.
In addition, we recommend monitoring your sodium intake so as not to increase your blood pressure and affect your health.
Barbacoa vs Carnitas: What Are the Differences?
Both carnitas and barbacoa involve slow-cooking, but there are huge differences between them.
Barbacoa is often made with red meat such as beef, lamb, or goat. Whereas carnitas is solely made from cuts of pork that have lots of fat marbling.
Unlike barbacoa, traditional carnitas require you to cook pork slowly in lard until tender. However, modern carnitas recipes allow you to cook the pork in a slow-cooker without having to submerge it in lard.
After being cooked to tender, the final step in cooking carnitas is fry it until crispy. Once finished, the crispy pork is either shredded or roughly chopped into "carnitas", meaning "small pieces of meat".
What Is Barbacoa Meat?
If you don't know what type of meat to cook barbacoa, we have a few suggestions: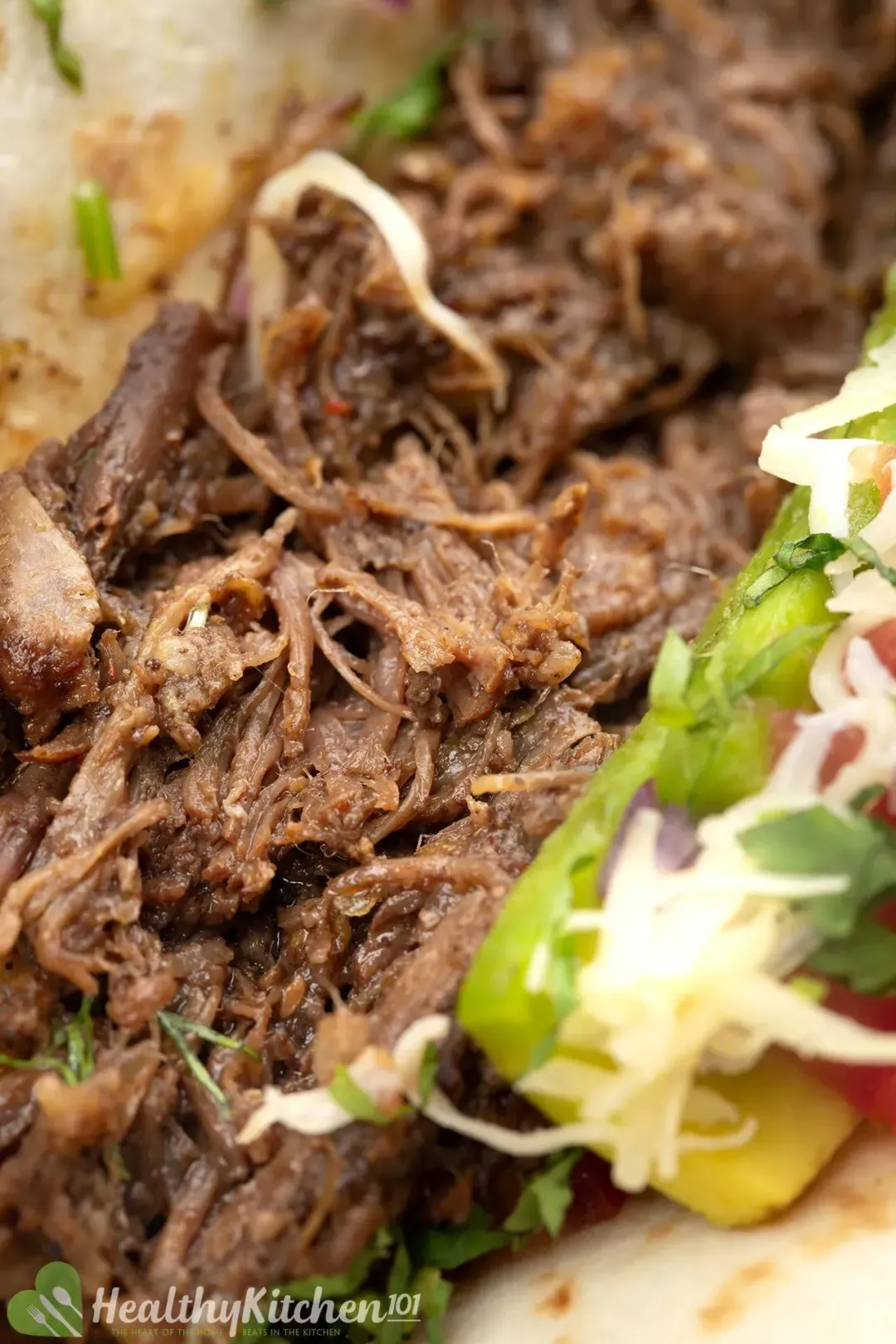 1. Beef and Lamb
These are the most common types of red meat you'll likely find in a barbacoa recipe.
If you don't know which cut of meat to choose, just kindly ask your butcher. Tell them that you're going to pressure cook the meat and that you want lean cuts.
That being said, in our opinion, chuck, skirt, or brisket would be the best cuts of red meat for barbacoa.
2. Pork
Although pork is not a common ingredient in barbacoa recipes, it fits the flavor profile just as well. The best cuts of pork for this recipe are spare ribs, belly, and loin.
3. Chicken
Poultry meat may be traditional in a barbacoa recipe, but you can use it if you want. It is your recipe afterall.
In our opinion, boneless skinless chicken breast is the best fit for barbacoa. Each chicken breast is thick and lean— it would be easier to shred afterwards.
4. Goat Meat
Unlike poultry, goat meat is considered a traditional ingredient in many barbacoa recipes. Many variations of the recipe require specifically the meat from the goat's head and cheeks.
If you can find goat meat, we highly recommend giving it a try and mimic the taste of authentic barbacoa.
Ingredients for Barbacoa
Here are the main ingredients for our beef barbacoa recipe:
Main protein: beef brisket. Trim as much of the fat off as possible.
Liquid: unsalted chicken broth, apple cider vinegar, orange juice, and water. These liquids help cook the meat evenly.
And seasonings.
Barbacoa with Tacos
You can serve with rice, or you can make it into tacos. All you need to do is put the barbacoa meat in a tortilla and you'll have a simple taco.
You can also take it to another level by adding pico de gallo, fresh cilantro, avocado, cheese, etc.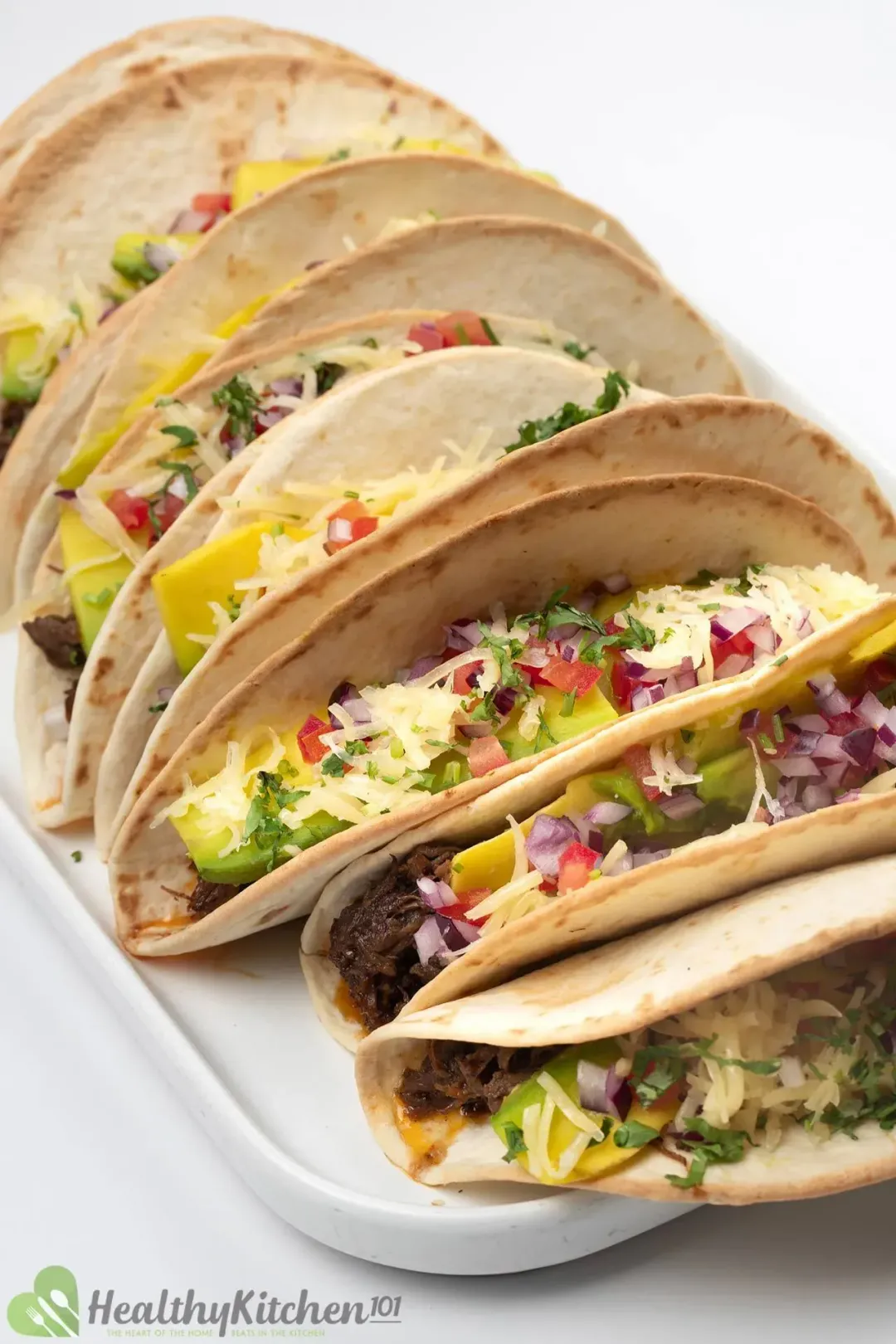 Be creative and make your own recipe based on ours. Let us know in the comment section if you make any tweaks to this recipe.
For today's recipe, here are the ingredients we use to garnish our barbacoa tacos:
Flour tortillas
Fresh avocado
Fresh tomatoes
Grated cheddar cheese
And freshly chopped cilantro
1. Barbacoa Seasonings
Here are the main seasonings and herbs for our barbacoa recipe:
Red onions
Minced garlic
Chili powder
Ground cumin
Ground cloves
Cayenne pepper
Dried oregano
Dried bay leaves
Salt and freshly ground black pepper
You can customize the recipe to your preference or use whatever seasonings you have on hand.
2. Barbacoa Sauce
Notice all the aforementioned liquid ingredients. They will help cook the meat evenly and will later become the sauce to dress the meat.
After the meat is cooked and tender, reduce the remaining liquid in the pot to concentrate the flavors. Mix this liquid in with the shredded meat to keep the meat from drying.
Meal Plan with Barbacoa
Although our recipe does contain vegetables, it doesn't supply you with enough fiber. We recommend pairing today's barbacoa tacos with a side of broccoli salad.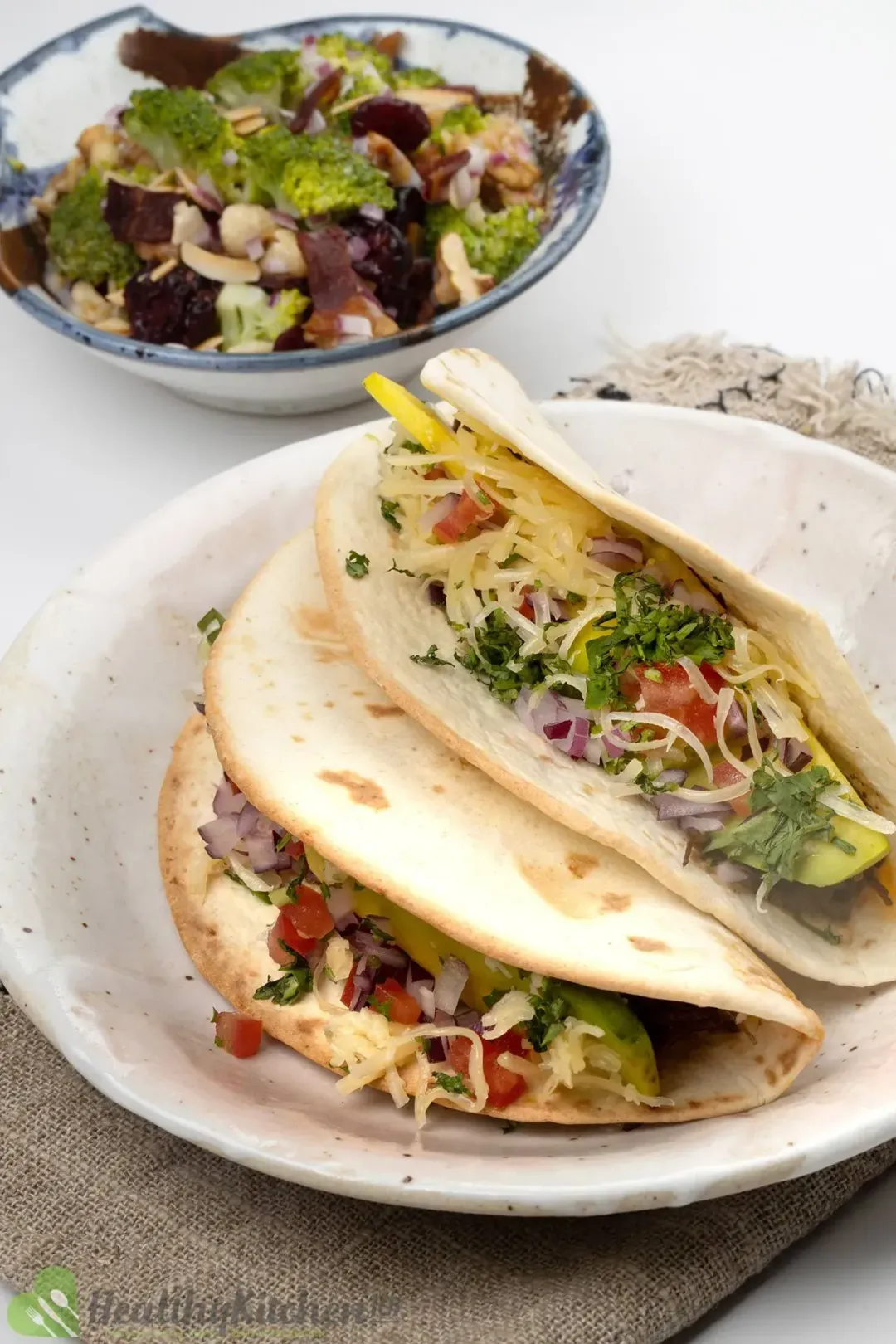 This salad contains almost 4g of fiber and 10g of protein per serving. This means the salad helps you stay full for a longer period of time.
It also contains lots of vital nutrients such as vitamin C, B2, and B9.
The nutrition facts of this meal combination are as follows:
Can You Freeze Barbacoa?
Yes, you can. Barbacoa freezes well and can last for a month in the freezer.
You can cook up a big batch of barbacoa, divide it into serving portions, and freeze them in individual containers. We recommend using freezer-safe, microwave-safe ziploc bags as they are airtight and can prevent freezer burn.
By freezing small portions of barbacoa, you can defrost them easier and faster for a quick meal too. Simply take a bag out and put it in the microwave to thaw and reheat in minutes.
How Long Does Barbacoa Last?
Barbacoa can last up to a week in the fridge if you store it properly.
If you're serving barbacoa with fresh toppings like tomatoes and onions, we recommend storing the ingredients in separate containers. Storing cooked meat and raw, fresh vegetables separately can help keep them fresh for longer.
We also recommend letting the barbacoa meat come to room temperature before refrigerating it.
When you put warm food in an airtight container, it releases steam and the moisture is trapped inside the container. This creates an ideal environment for bacteria to grow and spoil food faster.
Now that you know how to store barbacoa, let's learn how to make it.
Love This Recipe? There's More!
Here are some tasty, easy meals with tortilla that we just couldn't help but fall in love with:
Barbacoa
This healthy barbacoa recipe doesn't require much effort to make. All you need is a few ingredients and the Instant Pot will do all the work for you.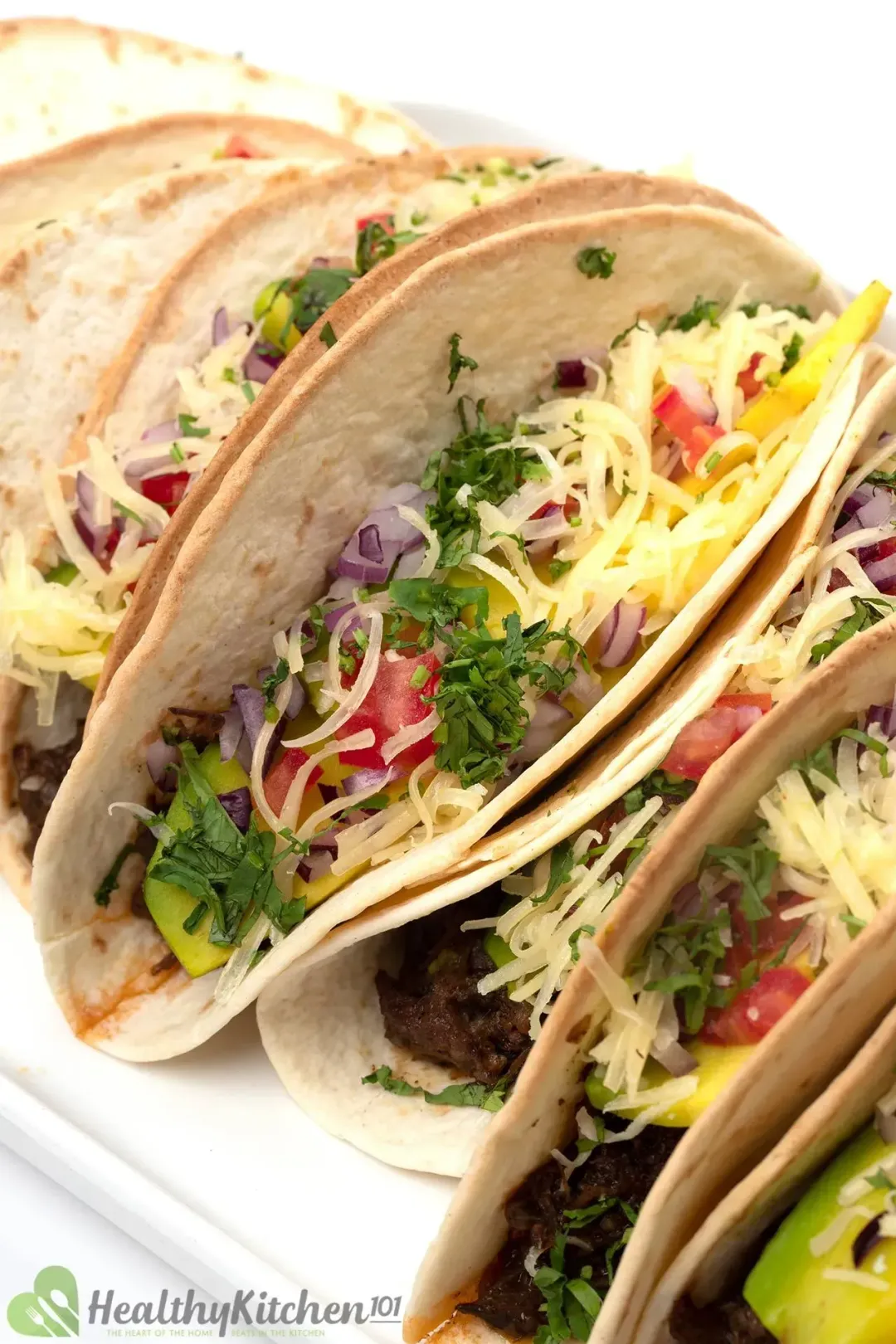 cook TIME

1 hr

prep TIME

5 mins

total TIME

1 hr 5 mins
COURSE

Dinner, Lunch, Main Course

CUISINE

Mexican

SERVINGS

CALORIES

503 kcal
INGREDIENTS
16 oz

beef brisket

(trim off fat, cut into 1.5-inch cubes)

5 oz

red onions

(divided into 4 oz and 1 oz)

1/4 cup

unsalted chicken broth

1 tbsp

apple cider vinegar

6 oz

avocado

(flesh only, sliced)

1 oz

tomato

(deseeded and diced)

1 oz

cheddar cheese

(grated)

1/2 tsp

ground black pepper

2 tbsp

cilantro

(chopped)
INSTRUCTIONS
1
Sauté the meat: turn your Instant Pot on sauté setting. Heat up 1 1/2 tbsp olive oil in the pot. Add 16 oz beef brisket and sear for 5 minutes. Then flip and cook for another 3 minutes or until lightly browned on both sides. Transfer to a plate and set aside.
2
Sauté the onions and spices: add 4 oz red onions, 2 tsp minced garlic, 1 tsp chili powder, 1/2 tsp ground black pepper, 1 1/2 tsp ground cumin, 1/2 tsp ground cloves, 1/4 tsp cayenne pepper, 1 1/2 dried oregano, and 1/4 tsp salt to the pot. Stir constantly for 1 minute.
3
Put the meat back in the pot: stir to coat the seasonings on the meat. Add 3 dried bay leaves to the meat.
4
Add liquid and deglaze the pot: add 1/4 cup unsalted chicken broth, 1 tbsp apple cider vinegar, 1/4 cup orange juice, and 1/2 cup water. Scrape off any bit of meat that sticks to the bottom of the pot.
5
Pressure cook: put the lid on and seal the steam valve. Switch to the high pressure setting and set the timer for 45 minutes. When the timer beeps, carefully open the valve and release the steam. (We recommend using a long wooden spoon to turn the valve, standing away from the pot.)
6
Shred the meat: remove the brisket from the pot and into a large bowl. Switch the pot to sauté setting and let it cook for 5 minutes to reduce the sauce. In the meantime, use a pair of forks and shred the meat. Then put the meat back into the pot and stir well so that the sauce clings onto the meat. Turn off the Instant Pot.
7
Serve: divide the meat into 8 equal portions. Divide 6 oz avocado, 1 oz diced tomatoes, 1 oz cheddar cheese, 2 tbsp chopped cilantro, and the remaining 1 oz red onions into 8 equal portions to use for garnish. Put one portion of the meat in a tortilla and garnish with the garnish. Serve immediately.
NUTRITION
Nutrition Facts
Barbacoa
Amount Per Serving (1 serving)
Calories 503
Calories from Fat 243
% Daily Value*
* Percent Daily Values are based on a 2000 calorie diet.
Keywords: Barbacoa, Barbacoa Recipe, How to make barbacoa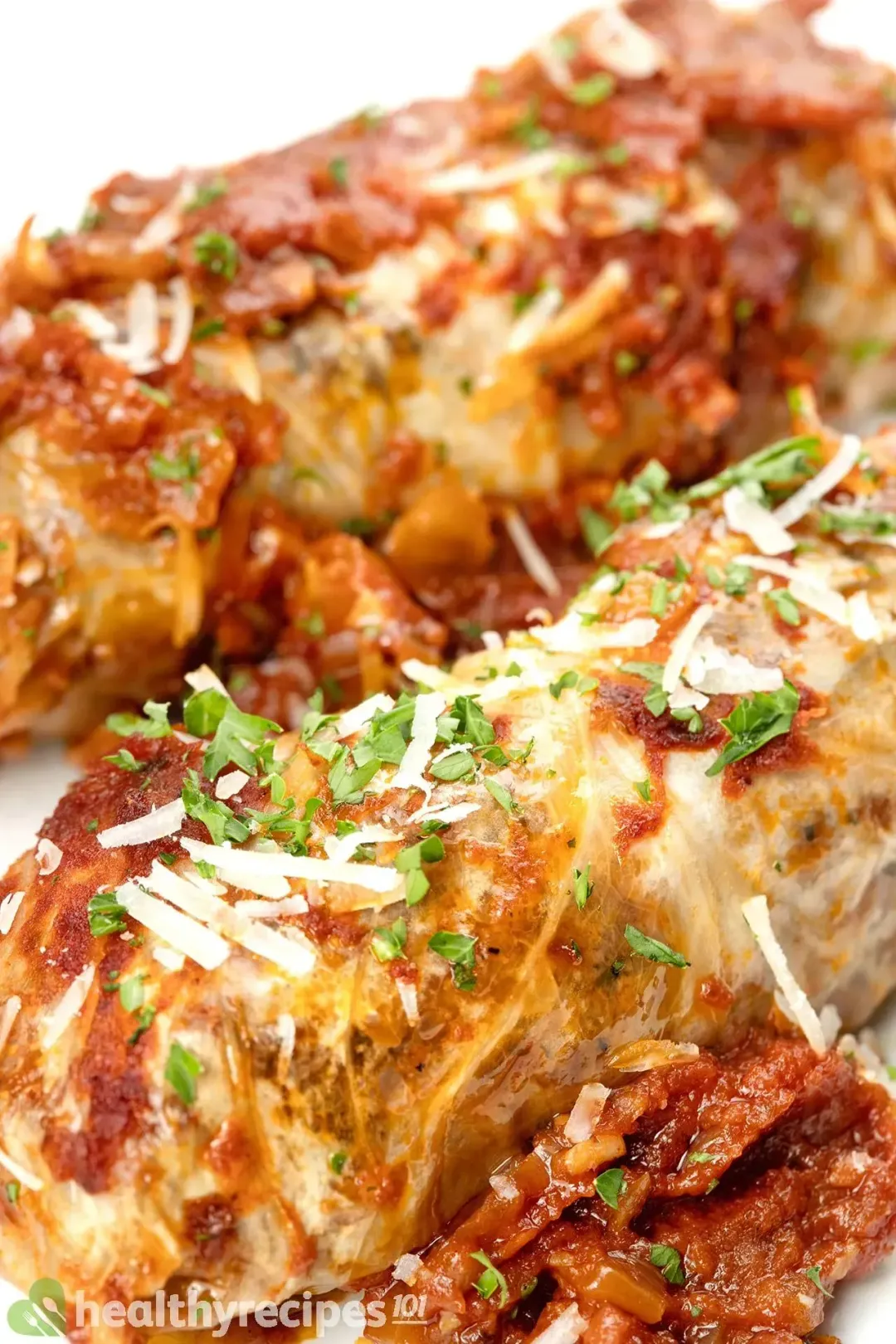 Previous Recipe
Cabbage Rolls
Cabbage Rolls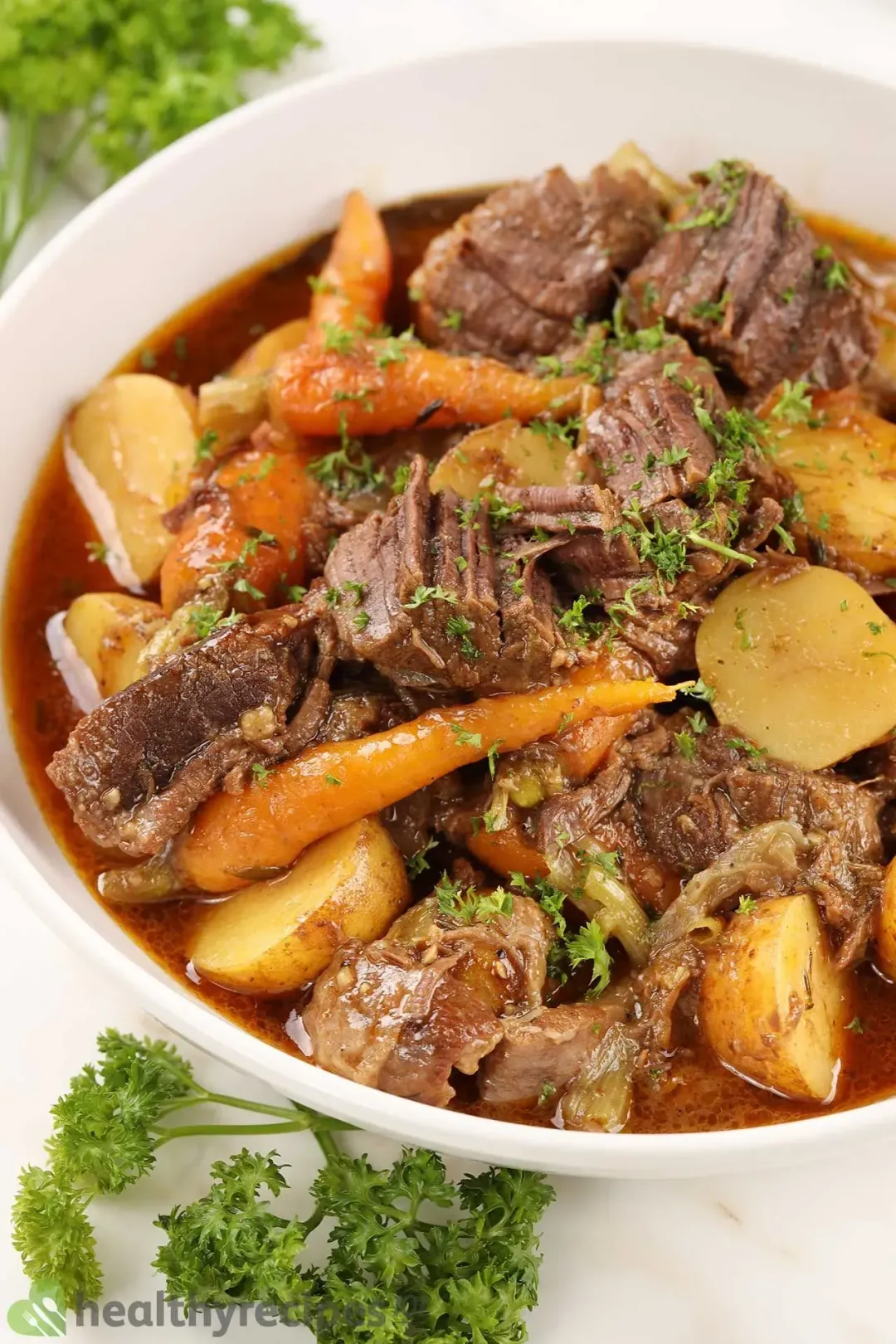 Next Recipe
Instant Pot Pot Roast
Instant Pot Pot Roast
Head Chef, Culinary Consultant
Tuyet Pham is an award-winning Saigonese chef who believes that joy is the secret ingredient to delicious food. At Healthy Recipes 101, Tuyet personally tests and simplifies every recipe, ensuring maximum flavor with minimal effort. With a background at prestigious French restaurants P'TI Saigon and Le Corto, Tuyet knows how to make every dish exceptional.
Writer, Author
Luna Regina is an accomplished writer and author who dedicates her career to empowering home cooks and making cooking effortless for everyone. She is the founder of HealthyKitchen101.com and HealthyRecipes101.com, where she works with her team to develop easy, nutritious recipes and help aspiring cooks choose the right kitchen appliances.
Nutrition Reviewer
Lizzie Streit is a Minneapolis-based dietitian and founder of It's a Veg World After All. She completed her MS in Human Nutrition from Drexel University, and is an expert in culinary nutrition, recipe development, and nutrition communications. Lizzie's philosophy is centered around making nutrition recommendations, and especially the advice to eat more vegetables, approachable and realistic. She is excited to be working with the team at Healthy Recipes 101 to ensure that their recipes are both nutritious and delicious.
Instant Pot barbacoa is a flavorful beef dish that's easy to make.