This shrimp scampi recipe makes one of the easiest and quickest meals ever. The recipe is so straightforward that even an amateur cook could make it with ease.
Although it takes just a few minutes to prepare, it will make you feel like you're eating out.
Now get all the ingredients ready, put on your apron — it's time to make this to-die-for shrimp scampi!
What is Shrimp Scampi?
The term "scampi" means a type of edible lobster found in the North-Eastern Atlantic Ocean. In bygone days, this type of lobster was favored by the Italians.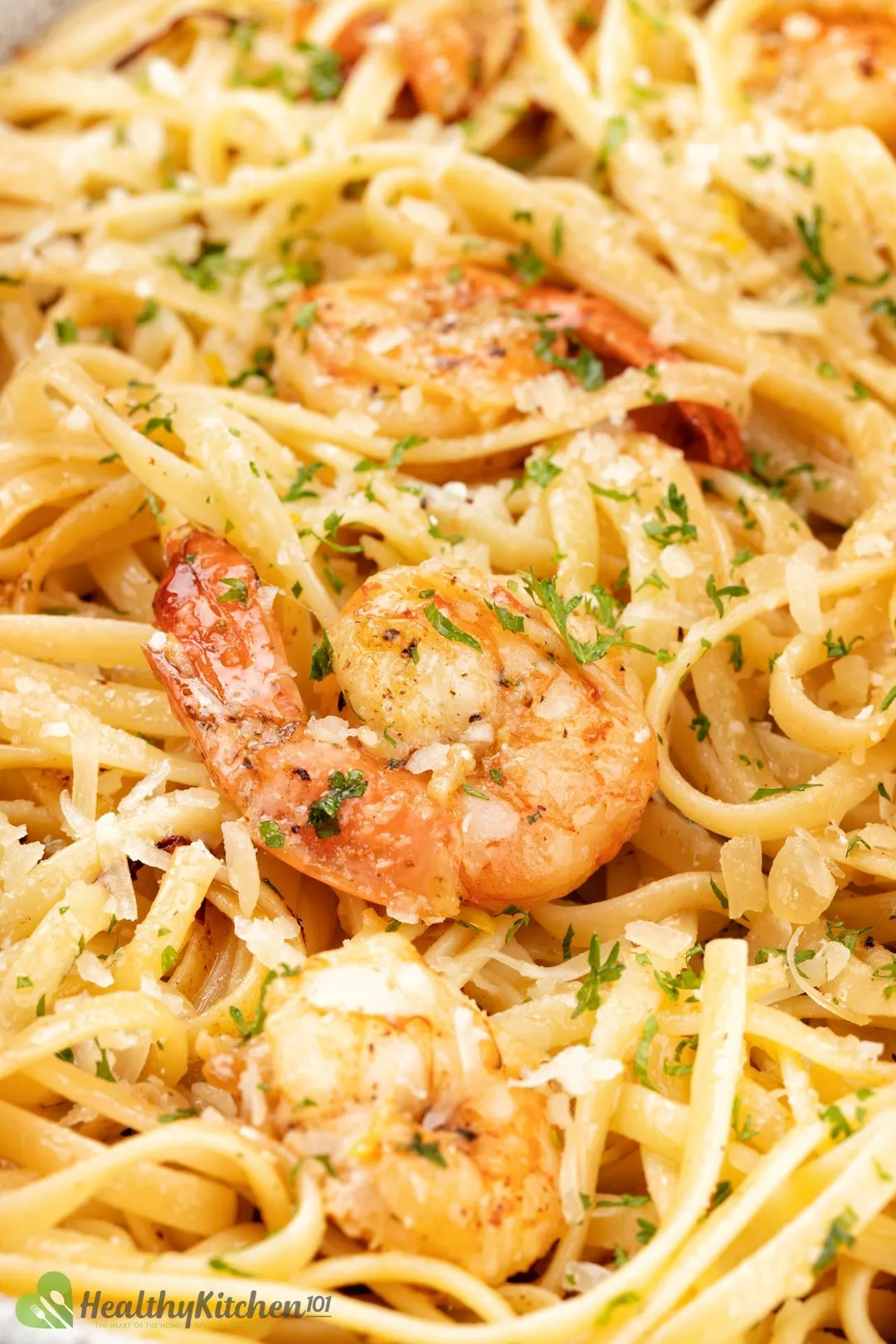 Since butter and wine are crucial parts of their cuisine, the dish "scampi" was born. It's a remarkable dish made by cooking the lobster with butter, white wine, and aromatic garlic.
Unfortunately, when the Italians first moved to America, they realized that their favorite lobster was hard to find. As a solution, they tried to cook regular shrimp in the same way, and the result was just as satisfying.
Thus, the name of the dish changed to "shrimp scampi".
Now "shrimp scampi" isn't only famous for the scampi itself. It's widely known as regular shrimp cooked and coated in a rich, delicate sauce of garlic, butter, and white wine.
We made this dish over the stovetop, but you can also make it using the Instant Pot with this Instant Pot Shrimp Scampi Recipe.
Is Shrimp Scampi Healthy?
First off, our shrimp scampi recipe has a nutritional profile that fits the healthy eating guidelines given by the USDA:
Calories: the dish yields around 508 calories each serving. According to our guidelines, men (18-45) should consume 2700 calories per day and women of the same age should consume 2100.
Saturated fat: as a controversial type of fat, saturated fat should be moderately consumed. Each serving of our dish has 5 grams of saturated fat, within what we recommend per meal— 4-11 grams.
Sodium: the USDA recommends individuals (18-45) should consume less than 2300 milligrams of sodium per day. This recipe only has 522 milligrams of sodium each serving, less than 30% the recommended amount.
Apart from that, shrimp is also among the healthy foods:
We have a lot of other healthy shrimp recipes for you to check out too, including shrimp salad. It's vitamin-packed with creamy avocados, crisp lettuce, cucumber, and tomatoes.
How Many Calories are in Shrimp Scampi?
Our shrimp scampi recipe gives 441 calories per serving. To turn it into a full meal, you'll need around another 300 calories.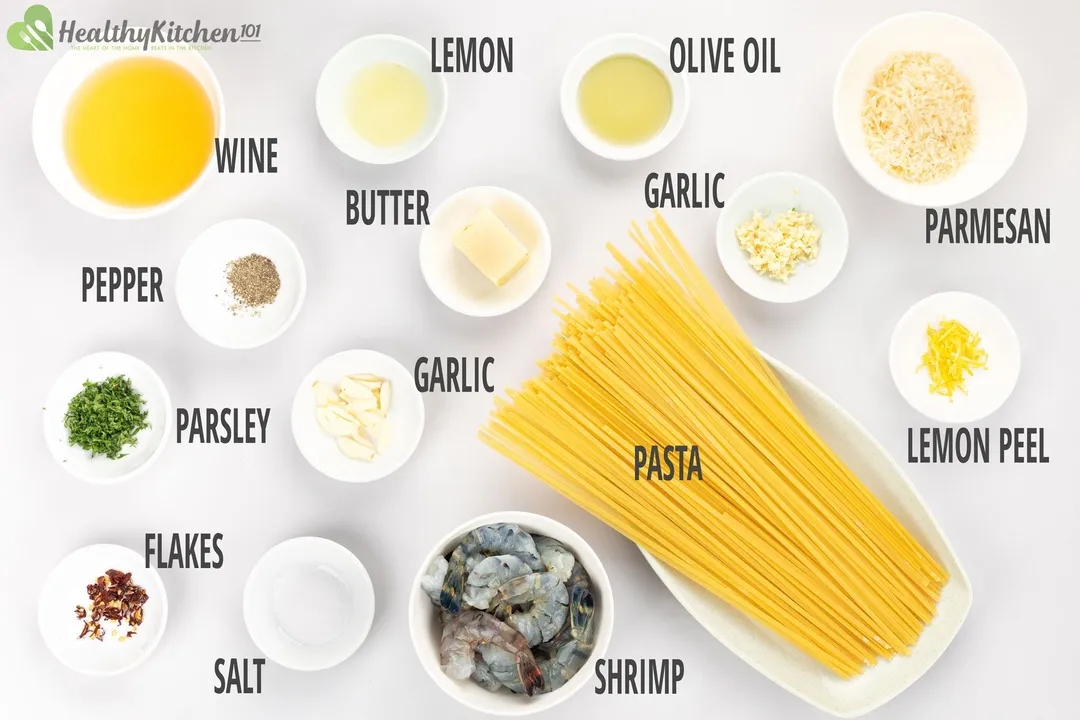 Check out our pairing recommendation below. Hint: it's a French side and a refreshing glass of juice.
Choosing the Pasta
You can make shrimp scampi with whatever pasta you like, but the most common pasta called for is linguine. It's similar to vermicelli or fettuccine, but there is a slight difference if you look closely at the strands.
Instead of entirely flat, Linguine is thick in the middle and flattens out towards the edge. It's less round than spaghetti, elliptical you might say.
In this recipe, we used fettuccine because it's the one we had on hand. As they're all pasta, using one kind or another does not affect the dish's overall taste.
You can use linguine if that's what you prefer. Cook the noodles as the instructions say, then proceed to step 2 in our instruction.
How to Make Shrimp Scampi
Here is our summary for shrimp scampi:
Tips for Making This Dish
1. Can You Use Frozen Shrimp?
Frozen shrimp are no doubt convenient and probably the only option there is for most people. It's fine to use frozen shrimp in this recipe.
However, using fresh ingredients is the best way to have good food. Try fresh shrimp if you have the chance, and you'll see the indescribable difference.
2. Thickening the Scampi Sauce
Most shrimp scampi recipes don't call for a thickening agent. This is because white wine evaporates pretty quickly, and usually, what's left is thick enough to coat the shrimp.
However, if you're using chicken stock, the sauce can get kind of watery. To fix this, you could try using corn starch.
Mix one tablespoon of cold water and one teaspoon of cornstarch, then dump it into your cooking shrimp. Stir it for a bit on low heat, and the buttery sauce will thicken.
There's also another option, but only if you're cooking pasta. Save some of the pasta water, and put one teaspoon of it into your shrimp to get a similar effect.
3. Should I Cook Shrimp Scampi Recipe with Wine?
Seafood, in general, is preferably cooked with white wine. The alcoholic beverage not only eliminates the strong odor of seafood, but it also adds an exceptional flavor.
If you want to make a child-friendly version of shrimp scampi, using chicken stock instead is also a great option. Although not as fragrant as white wine, chicken stock can add depth of flavor to your shrimp.
Some recipes we found call for apple cider vinegar as a substitute for white wine. Technically, vinegar can also remove the shrimp's strong smell and add a mildly sweet aroma.
Just remember it's strong in flavor, so don't add too much.
Still, we decided to keep things traditional because we prefer white wine or chicken stock.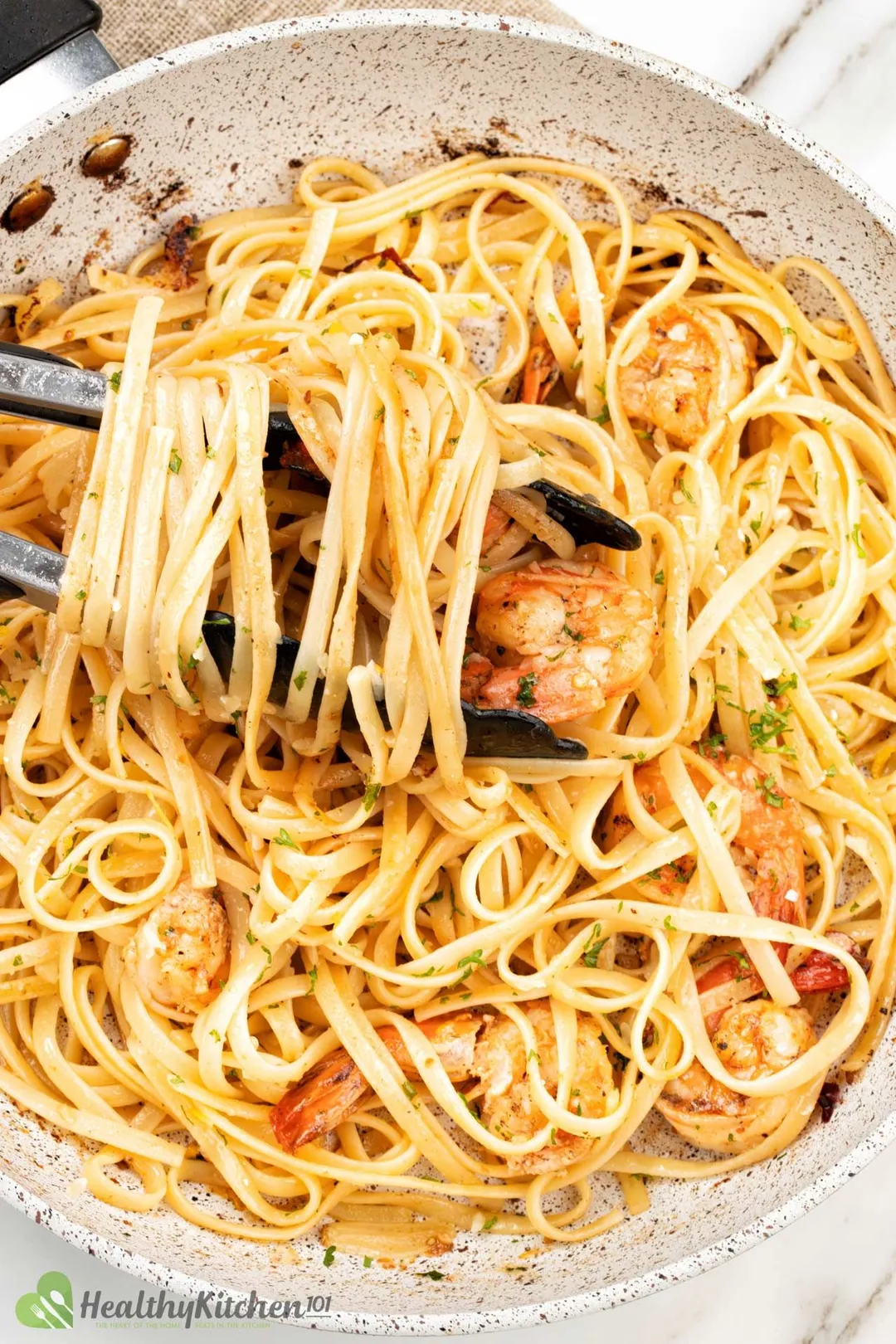 4. Can I Freeze Shrimp Scampi?
Yes, you can. Cooked shrimp can be frozen for up to 3 months in a clean, air-tight container.
If you're following our shrimp scampi recipe, skip step 1 and proceed to cook the shrimp with wine. Then, pour the shrimp and the sauce into a container, leave to cool, seal, and place in the freezer.
5. How to Reheat Frozen Shrimp Scampi?
You can reheat the frozen shrimp scampi in a microwave. Or, allow the container to thaw enough to get the shrimp and sauce out, then reheat everything in a skillet.
Remember to turn the heat to low, or the liquid will evaporate off and your dish will burn. Also, keep an eye on the skillet.
After reheating the shrimp, proceed to cook sliced garlic in it and add cooked pasta in, along with other ingredients.
What Goes with Shrimp Scampi?
1. Linguine
As mentioned before, you can use any long-stranded pasta of choice. It can be linguine, fettuccine, vermicelli, or even spaghetti.
2. Rice
The buttery, garlicky sauce of shrimp scampi goes phenomenally well with rice. It can be any kind of rice, up to you and your preference.
For optimum health, we suggest brown rice. It is packed with B vitamins and many minerals in vast amounts.
You can use a rice cooker to cook the rice while making the sauce. Or, simmer your rice in a pot with one part rice, two parts water for 30 minutes on low heat.
3. Tomatoes
Adding fresh tomatoes to your shrimp scampi skillet gives it a bit of tanginess and freshness. Either diced tomatoes or halved cherry tomatoes work just fine.
In terms of nutrients, tomatoes are rich in vitamin C, an antioxidant that boosts your immune system.
To include tomatoes in this shrimp scampi recipe, cut your tomatoes and add them while you cook the shrimp. You can mash them or leave them whole, depending on your preference.
4. Broccoli
Besides tender texture and bundles of fiber, broccoli also gives you lots of vitamins and very few calories.
What to Serve with This Dish
The 441 calories alone won't keep your stomach full for long. We thought a salad and drink were the best companions for this shrimp scampi recipe.
1. Nicoise Salad Recipe
This salad incorporates fresh, organic produce grown around the Nice area in the South of France, hence the name. Specifically, it has crisp green beans, cucumber, tender boiled eggs, and umami tuna, all tossed in a pungent, tangy vinaigrette.
What's also good about this salad is, you can also make it ahead of time.
2. Watermelon Cucumber Juice Recipe
A glass of fresh juice to cleanse your palate is never extra. With just two ingredients, plus lemon juice and spearmint for fragrance, the juice tastes extremely fresh and pleasing.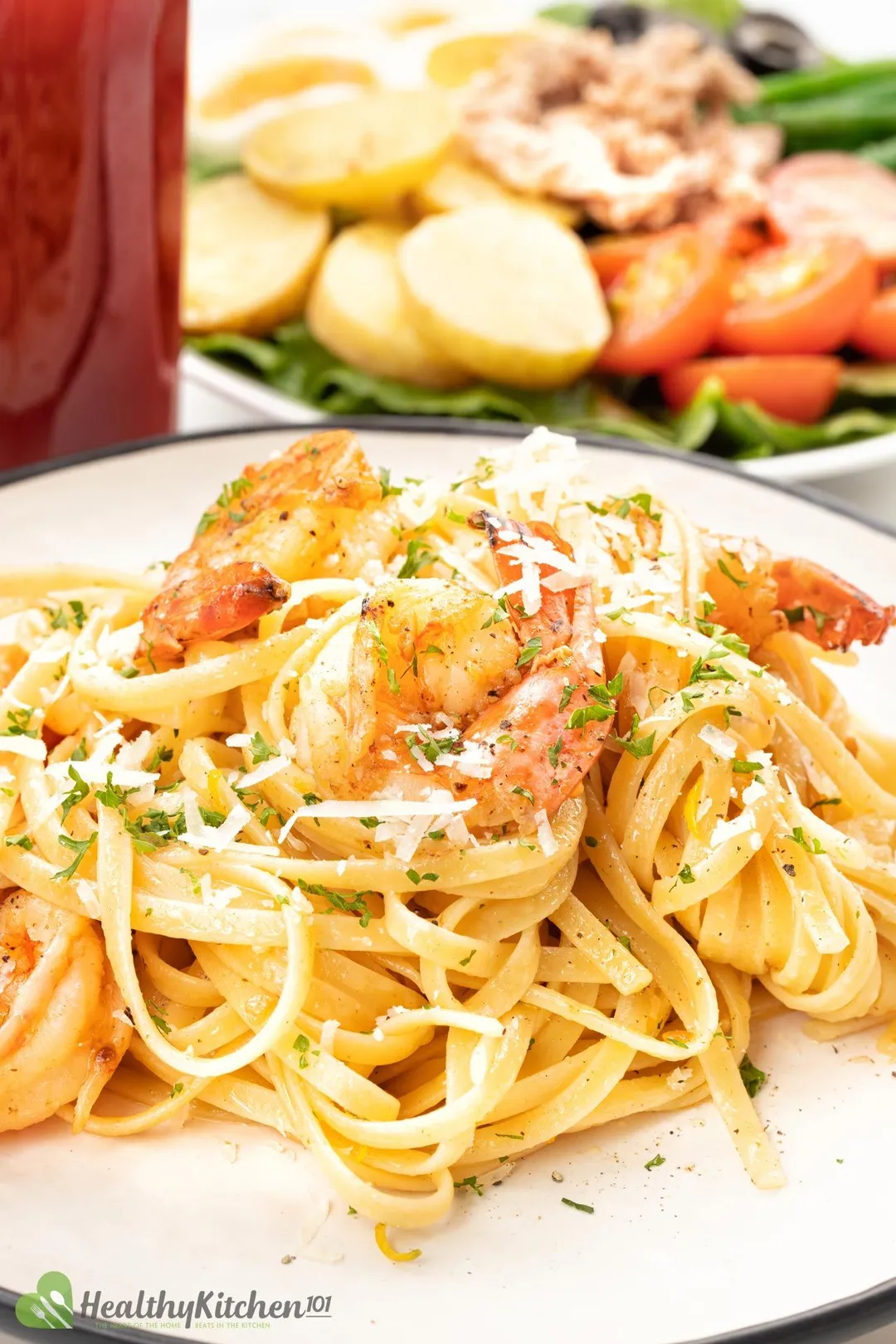 Want More Shrimp Recipes? Check Out These Ones!
Healthy Shrimp Scampi
This healthy shrimp scampi recipe makes one of the most delicious Italian dishes that are fantastic for any time of the year. Not just because it's quick and easy to make, but it's also absolutely delicious.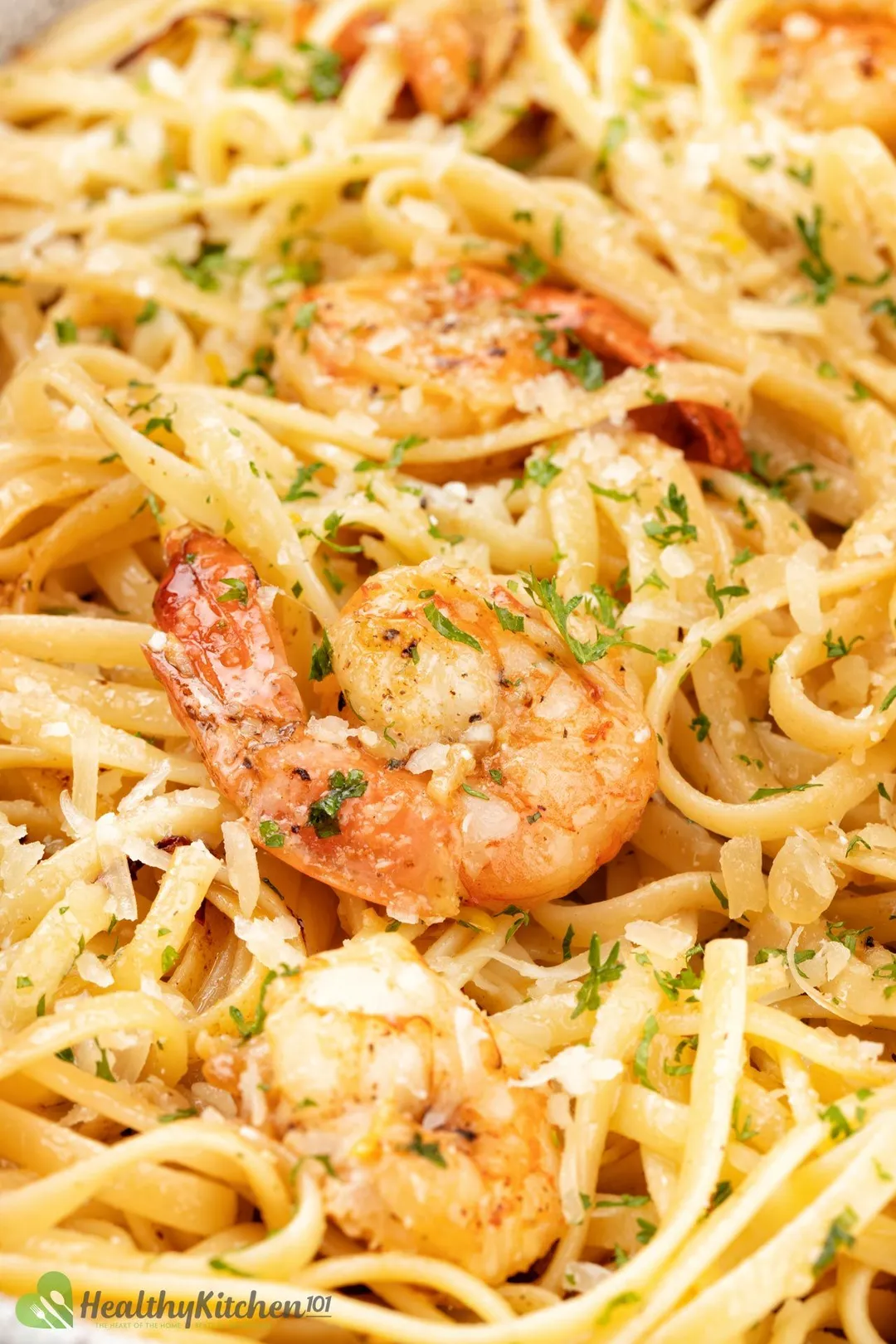 cook TIME

20 mins

prep TIME

10 mins

total TIME

30 mins
COURSE

Main Course

CUISINE

American, Italian

SERVINGS

CALORIES

441 kcal
INGREDIENTS
1 lb

raw shrimp

(6.7 oz shrimp with shells removed)

8 oz

fettuccine pasta

(uncooked)

4 tbsp

grated parmesan cheese

2 tbsp

garlic

(half minced, half sliced)

1/4 tsp

ground black pepper

(divided)

1/2 tsp

red pepper flakes

1/2 tbsp

lemon peel

(grated)

1/2 tbsp

parsley

(minced)
INSTRUCTIONS
1
Boil 8 oz pasta, following the instruction on the package. Ours says 10 minutes.
2
While it's cooking, remove the shrimp shells and butterfly them if you're using fresh shrimp. If you use shelled shrimp, marinate the shrimp with 1 tbsp minced garlic, 1/4 tsp kosher salt and 1/8 tsp ground black pepper (half the kosher salt and black pepper mixture) for 10 minutes.
3
Preheat the pan on medium heat. Add 2 tbsp butter and when it's melted, sear the shrimp, 3 minutes on the first side. Flip the shrimps and add 1/2 cup wine. Cook for another 3 minutes and take the shrimps out with a tong.
4
Don't clean the pan! Add 1 tbsp oil, 1 tbsp sliced garlic and fry on low heat for 2 minutes (or until the garlic is slightly golden).
5
Add pasta, the rest of the salt and pepper (1/4 tsp kosher salt and 1/8 tsp ground black pepper), give it a mix.
6
Add shrimps, 1 tbsp lemon juice, 1/2 tsp red pepper flakes, 1/2 tbsp lemon peel, 1/2 tbsp parsley, 4 tbsp parmesan and mix. Turn off the stove.
NUTRITION
Nutrition Facts
Healthy Shrimp Scampi
Amount Per Serving (1 serving)
Calories 441
Calories from Fat 108
% Daily Value*
* Percent Daily Values are based on a 2000 calorie diet.
Keywords: easy shrimp scampi, scampi, scampi sauce, shrimp scampi, shrimp scampi recipe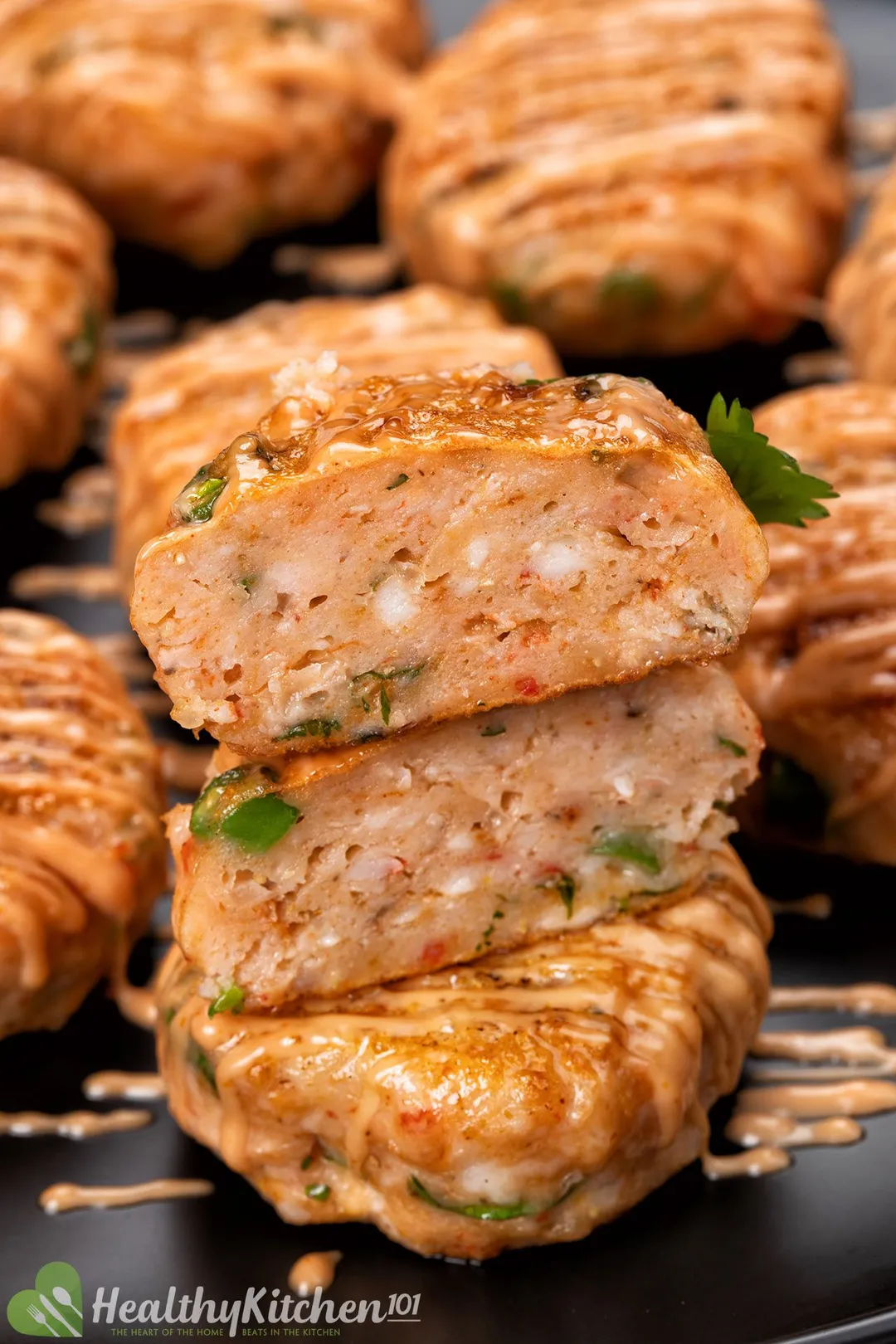 Shrimp Cakes
Head Chef, Culinary Consultant
Tuyet Pham is an award-winning Saigonese chef who believes that joy is the secret ingredient to delicious food. At Healthy Recipes 101, Tuyet personally tests and simplifies every recipe, ensuring maximum flavor with minimal effort. With a background at prestigious French restaurants P'TI Saigon and Le Corto, Tuyet knows how to make every dish exceptional.
Writer, Author
Luna Regina is an accomplished writer and author who dedicates her career to empowering home cooks and making cooking effortless for everyone. She is the founder of HealthyKitchen101.com and HealthyRecipes101.com, where she works with her team to develop easy, nutritious recipes and help aspiring cooks choose the right kitchen appliances.
Nutrition Reviewer
Lizzie Streit is a Minneapolis-based dietitian and founder of It's a Veg World After All. She completed her MS in Human Nutrition from Drexel University, and is an expert in culinary nutrition, recipe development, and nutrition communications. Lizzie's philosophy is centered around making nutrition recommendations, and especially the advice to eat more vegetables, approachable and realistic. She is excited to be working with the team at Healthy Recipes 101 to ensure that their recipes are both nutritious and delicious.
Made it, simple, fast! Absolutely delicious!

A mouthwatering shrimp recipe. Loved it!