Our cucumber smoothie recipe is a combination of multiple fruits with different flavors and textures to create a refreshing and satisfying drink.
Benefits of Cucumber Smoothie
Since cucumbers contain large amounts of water, the main effect of this cucumber smoothie is that it may help keep you hydrated.
Secondly, although it can only provide a small amount, this smoothie contains some key nutrients such as riboflavin and vitamin K.
In addition, this smoothie contains no added sugar because the red apples we added are naturally sweet. That means a minimal calorie count per serving even though it seems so satisfying and sugary.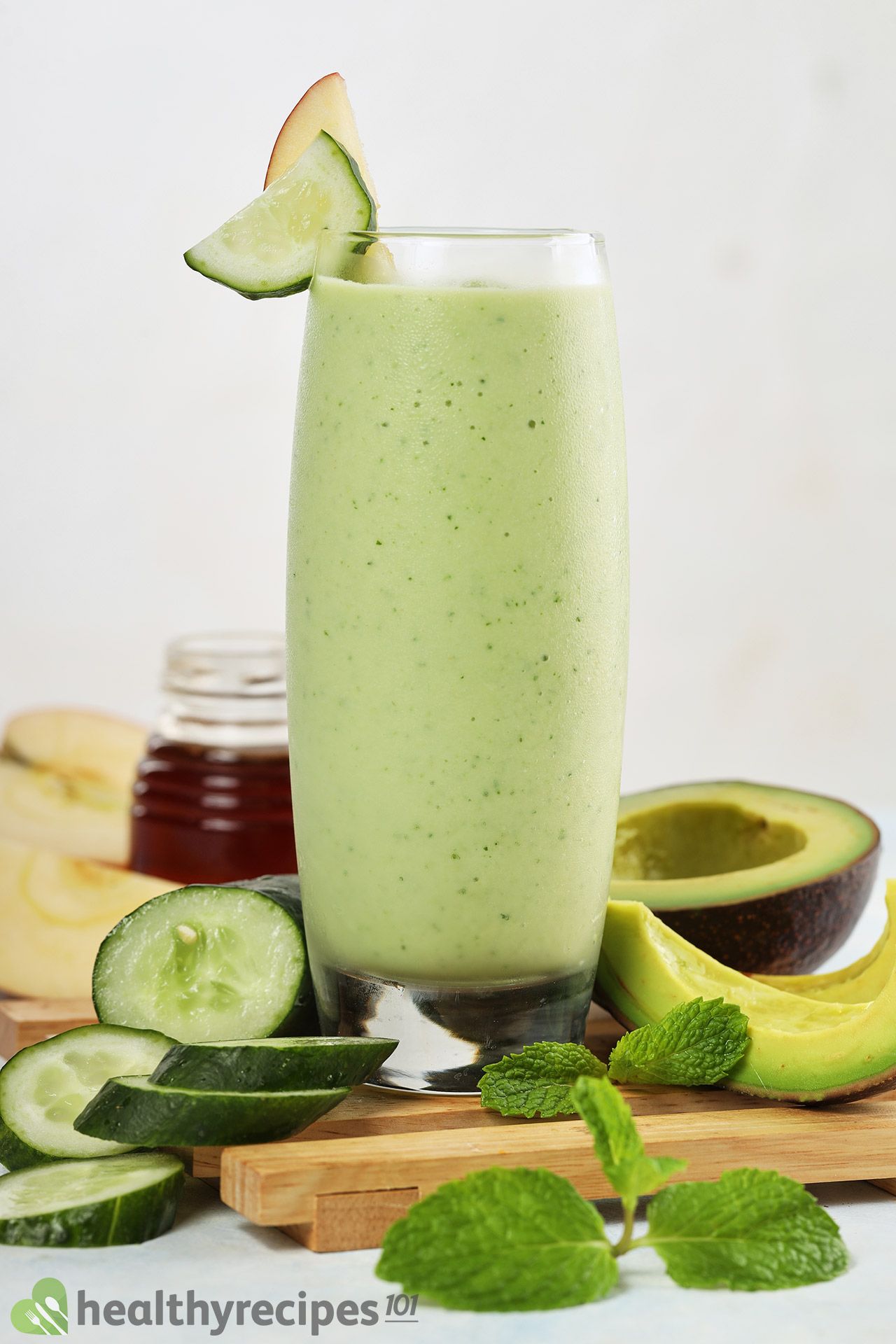 Ingredients for Cucumber Smoothie
Today's cucumber smoothie recipe requires these following ingredients:
Cucumbers: You can use any type of cucumber for this recipe, be they regular, mini, or English cucumber styles.
Avocado: You will need a ripe avocado to make smoothies.
Apples: We generally use gala or fuji apples, but any sweet, red apples will do.
Milk: We use whole milk, but you can replace it with nut milk or other plant-based milk if you wish.
Mint: As always, we love garnishing our drinks with spearmint. If you have other types of mint, such as peppermint or chocolate mint, you can use them as well.
And ice.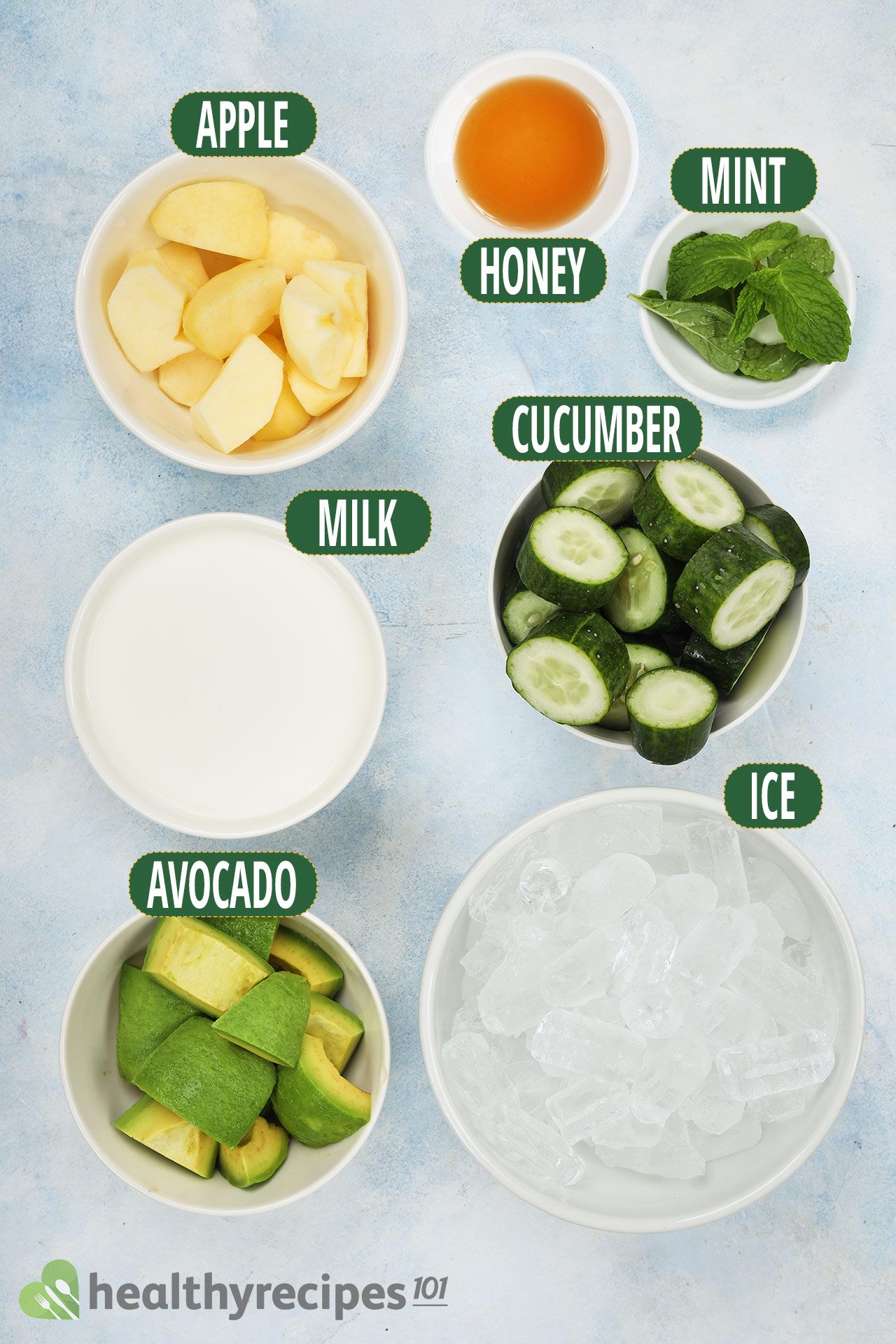 1. Do You Peel Cucumber before Blending?
No, we don't. Cucumber skin is thin, edible, and blends well into the smoothie so there's no need to peel it off beforehand.
By the same token, you don't need to remove cucumber seeds either.
2. Can You Use Frozen Cucumbers for Smoothies?
Yes, you can.
Freezing cucumbers is a great way to preserve them and frozen cucumbers are excellent for smoothies. If you want to freeze cucumbers, we suggest preparing them as follows:
Cut cucumbers into slices.
Put them on a baking tray (or something similar that can fit your freezer) in one single layer. Avoid overlapping the pieces.
Put the tray into the freezer for three to four hours or until frozen solid.
At this point you can proceed to either use these frozen cucumbers for your cucumber smoothie recipe or transfer them to a Ziploc bag and put them back in the freezer to save for another day.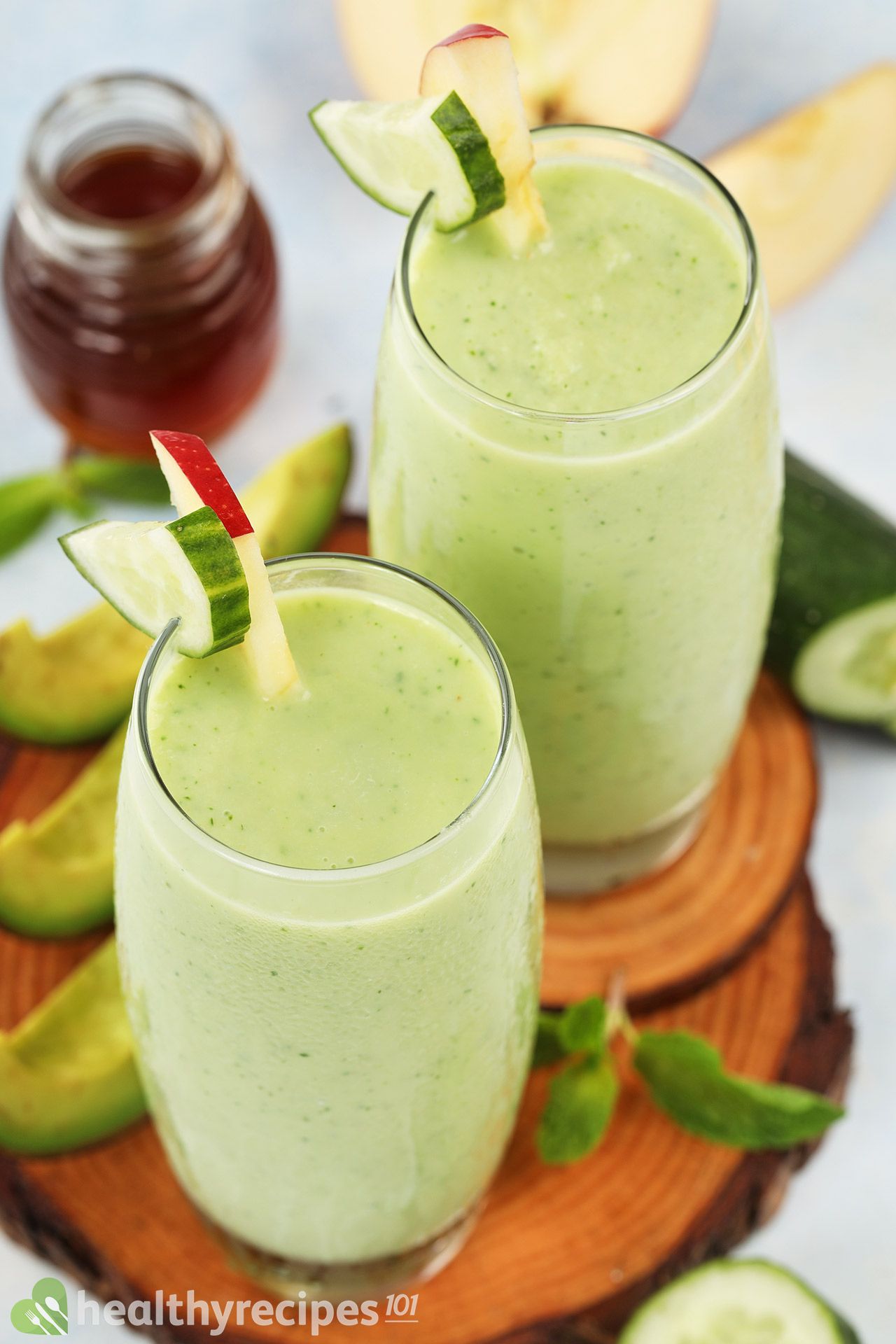 How to Make a Cucumber Smoothie
The most laborious task in today's cucumber smoothie recipe is to prepare the fruits and herbs.
First, rinse the cucumbers, apples, and mint under running water. This step is to get rid of any dirt. After that, pat them dry with a kitchen towel and set aside.
Cut your cucumbers into slices — about ½-inch thick — so that they can blend more easily. Put them in a bowl and move on to the next ingredient — apples.
Using a peeler, remove the skins from the apples. Cut them in half, remove the cores, and continue to cut each half into chunks. Put them in another bowl and set aside.
To prep the avocado, cut the fruit in half lengthwise, remove the pit, and scoop out the flesh. Now, it is ready for your smoothie.
Measure the remaining ingredients and put them all into the blender: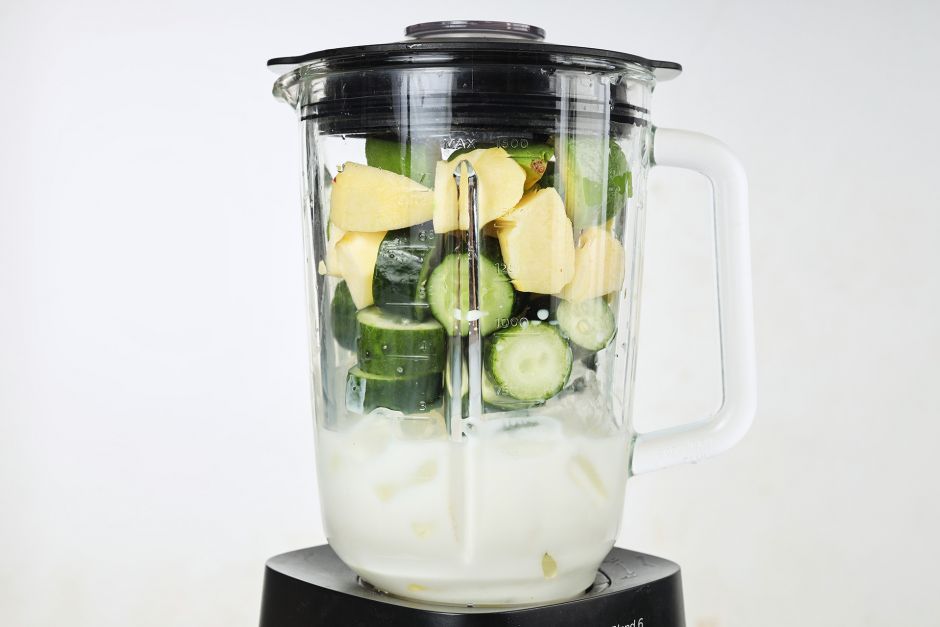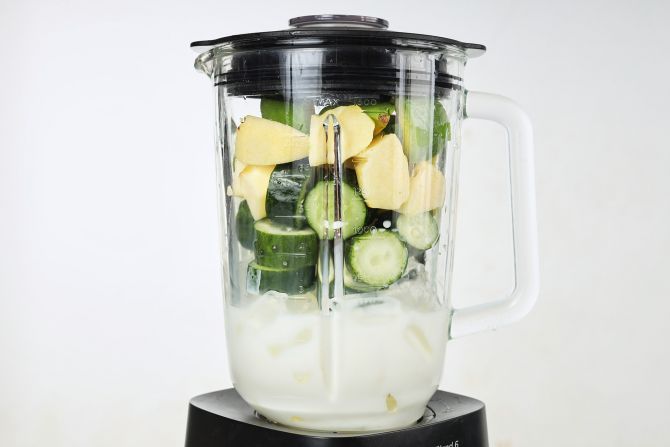 Blend all the ingredients.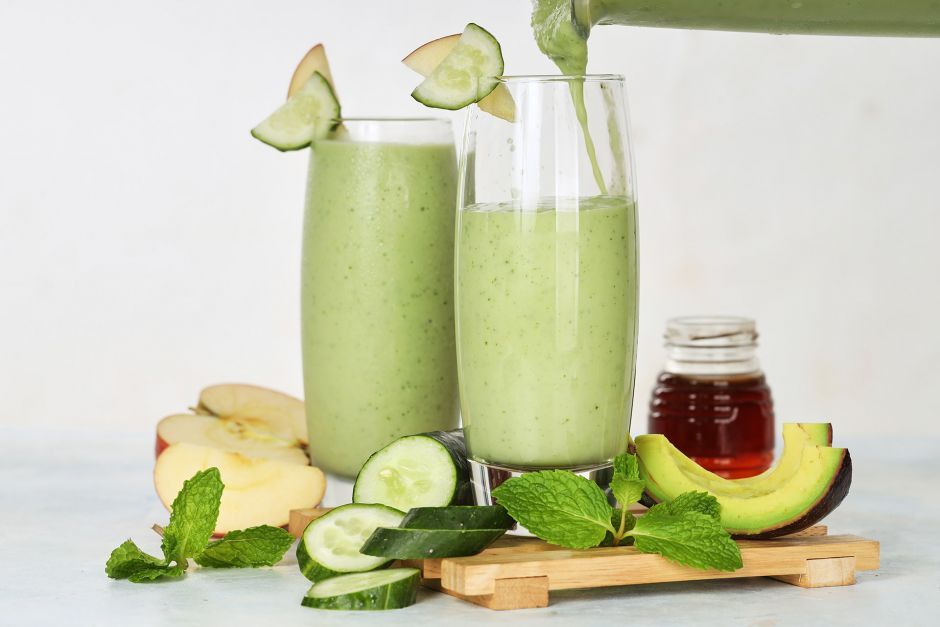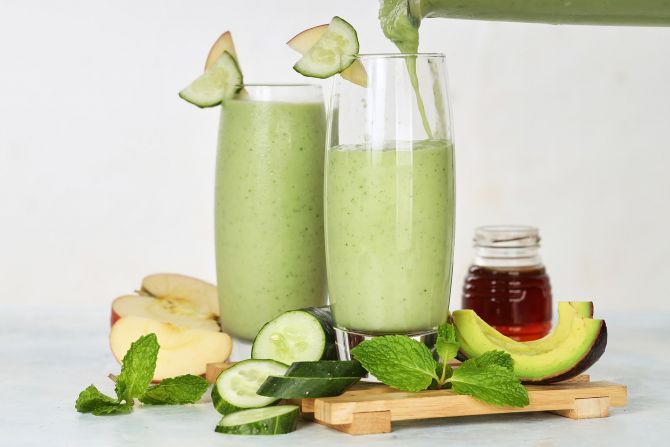 Garnish and serve.
What Goes Well with Cucumber in a Smoothie
As you already know by now, we incorporate apples and avocado into our cucumber smoothie recipe. They're some of our favorites, but there are other delicious and nutritious ingredients you can try:
Pineapple: This exotic-looking fruit is relatively high in fiber and water. It's also sweet and sour at the same time. Alongside the cucumber, you will have a refreshing tropical drink to indulge.
Spinach: Although you can't pack much of this leafy greens into a single smoothie, it can still give you a boost in minerals. It's also a great way to sneak more fiber into your diet because you can barely taste the spinach.
Watermelon: Since both watermelon and cucumber have a high water content, you will have a particularly hydrating smoothie to quench your thirst. And again, you don't even need to add sugar or honey because watermelon is already satisfyingly sweet.
Strawberries: Blending cucumber with strawberries will give you a refreshing and light smoothie. If the strawberries aren't sweet enough, you can add some honey to adjust the flavor to your taste. Or, add watermelon for a very fruity summer drink!
Blueberries: Unlike strawberries, blueberries aren't tart at all. We reckon a cucumber blueberry smoothie will taste mildly sweet and light.
Coconut: Coconut water is a great sweetener and contains some electrolytes that may help keep your body hydrated. Coconut milk also makes a nice dairy substitute. Meanwhile, coconut cream and flesh are rich — excellent options for thickening your smoothie.
Kale: Kale and cucumber may sound like a boring combination, but it's packed with important micronutrients that your body needs. If you're concerned about the flavor, add coconut water to make this smoothie more palatable.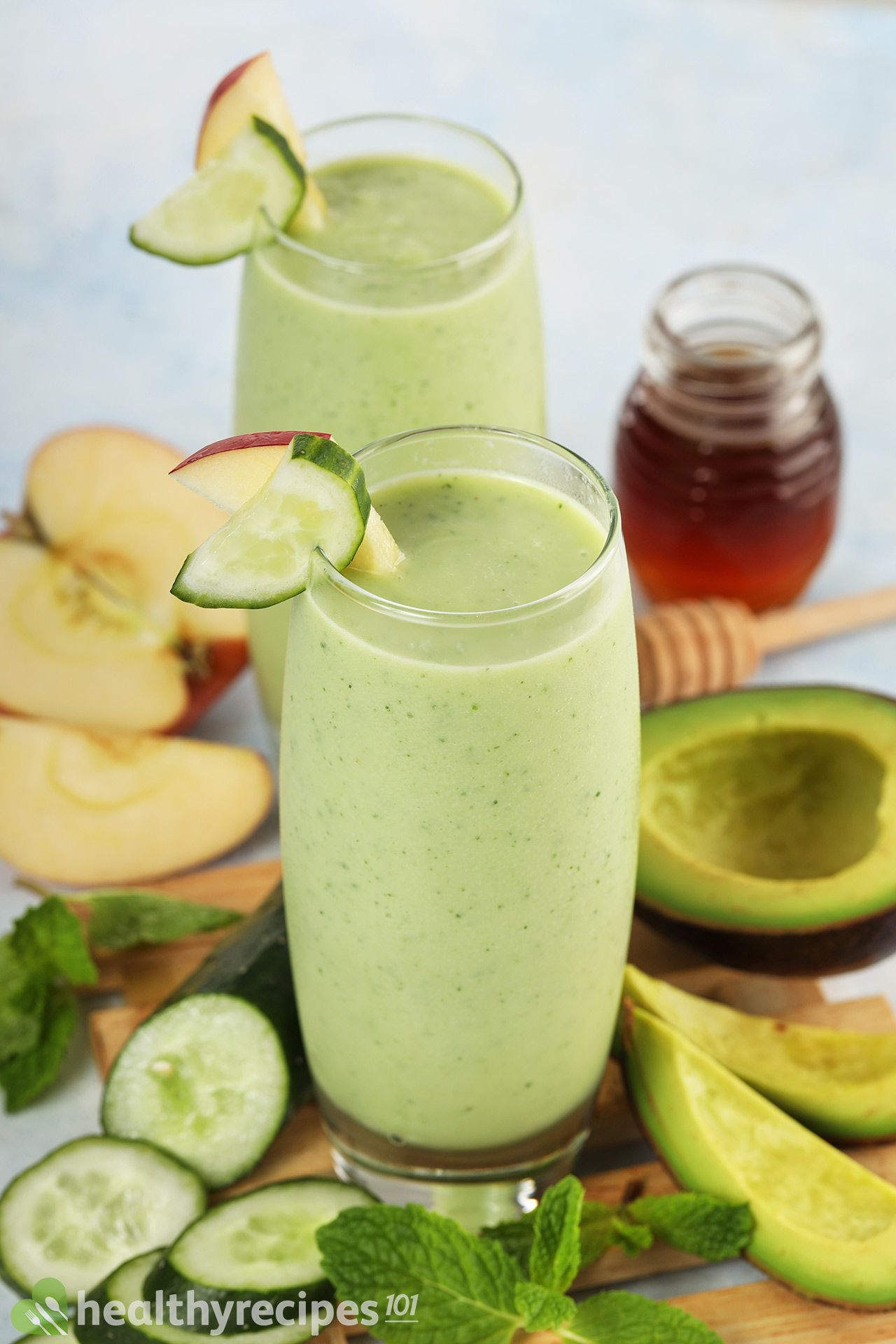 Among these ingredients, blueberries and spinach happen to be among the main ingredients in one of our favorite healthy green smoothie recipe. That smoothie also contains mangoes and bananas, giving you a satisfying tropical taste in every sip.
Storing and Freezing Leftover Cucumber Smoothie
When making smoothies, you want to be wary of dairy ingredients such as whole milk or Greek yogurt. They tend to go bad very quickly and will affect the quality of your smoothie as well.
Because our cucumber smoothie recipe does contain whole milk, it's best to consume it within 24 hours.
If you don't plan to drink it right away or end up with leftovers, though, you can refrigerate it. Remove your smoothie mix from the blender, transfer it to an airtight container, and store it in the fridge immediately.
Don't worry if some of the ingredients appear to separate. That is just the fiber and pulp settling at the bottom of the drink. This situation will occur with most fresh fruit beverages. Just stir or shake it up and it's good to drink.
Keeping the smoothie in the freezer can expand its shelf life to two weeks or even a month.
We recommend enjoying it as a fruity ice cream instead of thawing it back to liquid form. Once defrosted, the quality may not be as pleasant as before.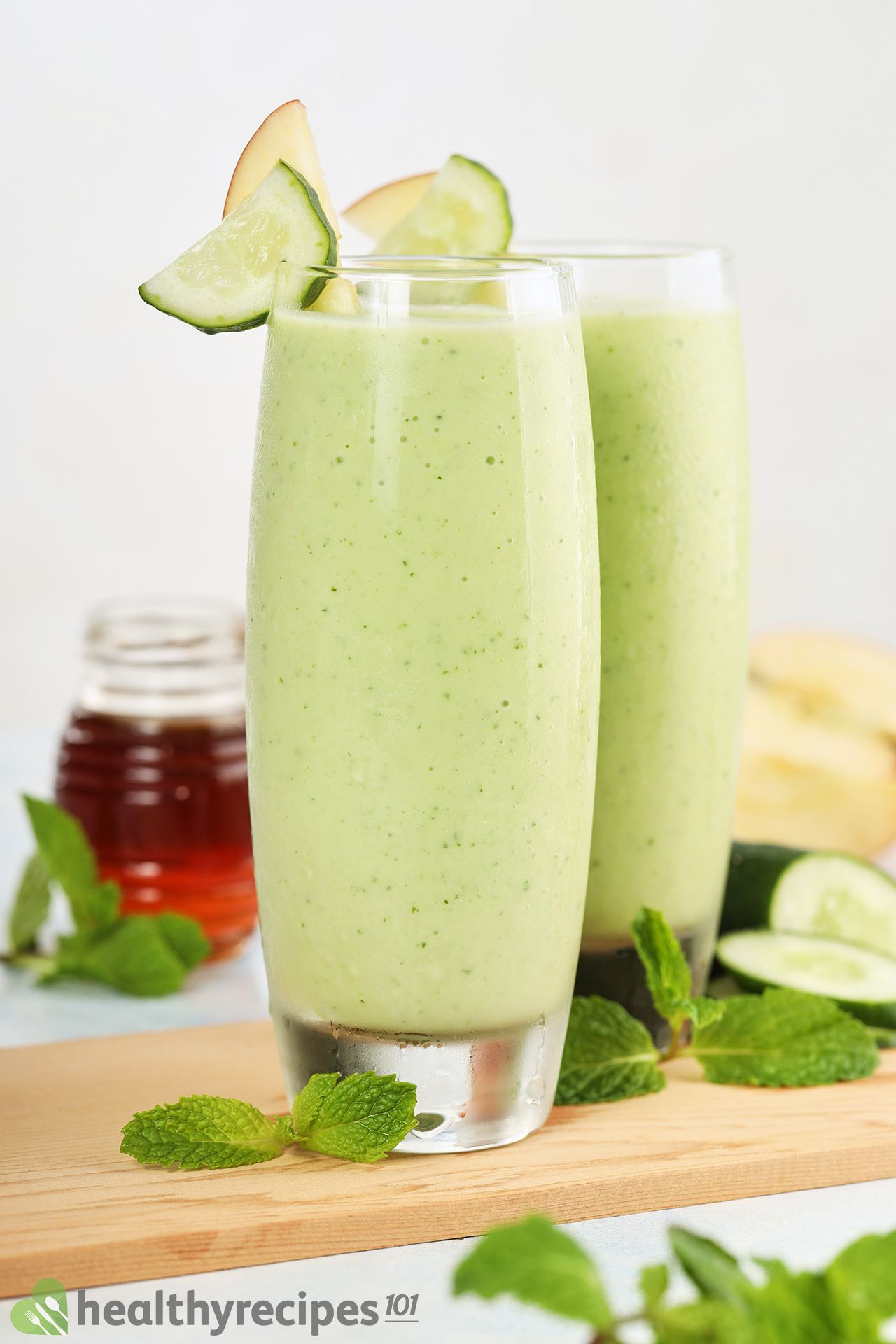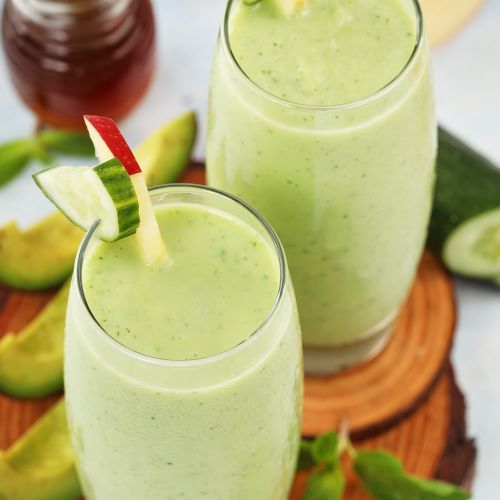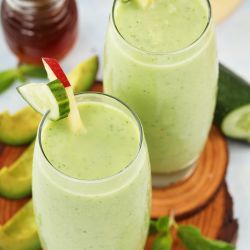 Cucumber Smoothie Recipe
Don't let the name deceive you; this cucumber smoothie recipe contains more than just bland old boring cucumber. Let's begin.
Ingredients
8

oz

cucumber

cut into thick slices

6

oz

avocado

peeled, pit removed, cut into chunks

4

oz

red apples

skin and core removed, cut into chunks

1

cup

whole milk

8

mint leaves

divided

2

cups

ice
Instructions
Blend all the ingredients: In a blender, combine 8 oz cucumber, 6 oz avocado, 4 oz red apples, 1 cup whole milk, 4 mint leaves and 2 cups ice. Blend until smooth.

Garnish and serve: Pour the drink into four serving glasses and garnish with the remaining 4 mint leaves. Enjoy your fresh smoothie.
Nutrition
Nutrition Facts
Cucumber Smoothie Recipe
Amount Per Serving (1 serving)
Calories 130
Calories from Fat 81
% Daily Value*
Fat 9g14%
Cholesterol 7mg2%
Sodium 35mg2%
Potassium 432mg12%
Carbohydrates 13g4%
Protein 3g6%
Vitamin A 262IU5%
Vitamin C 7mg8%
Calcium 100mg10%
Iron 1mg6%
* Percent Daily Values are based on a 2000 calorie diet.