From desserts, jams, and toasts to salads and various savory dishes, there's hardly any limit to what you can make with berries. Now, with these berry smoothie recipes, you can explore yet another easy way to obtain all the nutrients and flavors that these summer fruits have to offer.
Keep reading to check out the recipes as well as learn some of the fundamentals of making these smoothies.
20 Delicious and Easy Berry Smoothie Recipes to Try
1. Triple Berry Smoothie
This smoothie is a summer melody strung together by beautiful sweet-tart, floral notes of strawberries, blueberries, and blackberries. These fruits barely require any preparation, so you can easily throw them into a blender along with a few other ingredients and whirl away. Five minutes and there you have it, a refreshing, delicious, and creamy treat to enjoy for breakfast or anytime you're in need of a quick pick-me-up.
Go to Recipe
2. Berry Banana Smoothie
Strawberries and blueberries dance to the sweet, tropical tunes of bananas in this deliciously creamy smoothie. It also includes a few dollops of Greek yogurt, which add a decent amount of probiotics as well as a lovely tangy undertone. Every sip is a summer dream come true with this smoothie, and we wouldn't have it any other way.
Go to Recipe
3. Pomegranate Berry Smoothie
Pomegranate, banana, strawberries, and blueberries—what a splendid combo for a delectably sweet smoothie. It tastes just as vibrant as it looks, if not more. Packed with fiber, antioxidants, and vitamins, it makes an excellent companion for breakfast, post-workout, or even in between meals when you just want something light but still flavorful.
Go to Recipe
4. Mango Berry Smoothie
Here's another way to bring a tropical twist to your berry smoothie—with delicious, vibrant slices of ripe mangoes. You won't believe just how gorgeous the flavors turn out to be, with vividly sweet, subtly tart, and delicately floral notes all tied together by the creamy, tangy Greek yogurt. It's a fantastic choice for those hot summer days, when you just need something quick and easy but also cool enough to chase away the heat.
Go to Recipe
5. Hawaiian Berry Smoothie
Have you ever tried layering smoothies? If not, check out this easy-peasy, 10-minute recipe to learn how to do it. The purple layer is a sweet-tart, creamy blend of frozen berries, banana, milk, and yogurt. Meanwhile, the vibrant yellow one is chock full of tropical goodness from bananas, mangoes, pineapples, and orange juice. Together, they create an exotic-looking drink that tastes like something from a sunny tropical paradise. And, despite the appearance, it's not at all difficult to make. So if you've got a fun get-together coming up, or are just simply in the mood for some light experimenting, this layered smoothie is perfect.
Go to Recipe
6. Strawberry Kiwi Smoothie
Strawberries, kiwi, and orange juice come together for a vibrant smoothie with a frosty consistency of a slushie. Cooling and unbelievably nourishing, it makes a perfect summer drink. Whenever you're in need of something that's instantly refreshing and packed with vividly sweet and subtly sour flavors, whip up this six-ingredient beverage and feel all your worries melt away with each sip.
Go to Recipe
7. Spinach Berry Smoothie
Whether you're a fan of spinach or not, rest assured that this smoothie is enjoyable either way. The leafy greens' grassy taste is still slightly detectable through the layers of fruity sweetness, but it's much more pleasant and palatable. Who says green smoothies are difficult to drink? This delightful beverage aims to prove the opposite.
Go to Recipe
8. Avocado Berry Smoothie
Avocado, blueberries, and strawberries may not be on the top of your smoothie combo list, but let this recipe change your mind. The avocado's nutty notes and subtle sweetness are a surprisingly beautiful match for the berries' woody, tart taste. The Greek yogurt brings them together in a harmoniously tangy and creamy twist, making this smoothie impossible to turn down. No matter the occasion, you can always count on this beverage to delight and captivate your taste buds.
Go to Recipe
9. Beet and Berry Smoothie
This stunning smoothie pulls you in with its gorgeous, vibrant color and keeps you hooked with its irresistible array of flavors. The beet's rich, earthly sweetness melds right into the banana's tropical notes and the berries' tart delight. These ingredients are also incredibly nutrient-dense, so with each sip, you'll be nourishing your body AND pampering your taste buds. Cheers to the marvelous wonders of smoothies!
Go to Recipe
10. Frozen Fruit Smoothie
Blueberries, strawberries, blackberries, and mangoes make a magical concoction that will enchant your taste buds from the very first sip. Made with frozen fruits, this smoothie is extra creamy and lusciously smooth. It's the perfect summer drink, a feel-good food that won't take any effort to make, so feel free to whip up a few glasses at any given moment to celebrate the tantalizing beauty of summer harvests.
Go to Recipe
11. Blood Orange Berry Smoothie
Berries and citrus is another sensational combination that we think is worth checking out. When the blood orange's zesty zing meets the berries' sweet-tart taste and melds into a beautiful medley of flavors, your taste buds will be singing with joy. It's delightful and calming, yet also strangely exciting. You can even turn this smoothie into a smoothie bowl by adding various toppings like nuts, seeds, dried fruits, coconut flakes, etc. to casually enjoy as a light snack between meals.
Go to Recipe
12. Berry Almond Butter Smoothie
Indulge in a delightful blend of fruity sweetness and nutty richness with this berry almond butter smoothie. 
Let's start with the star ingredient: mixed berries. Whether it's strawberries, blueberries, raspberries, blackberries, or any other combination, these summer fruits bring a burst of natural sweetness and chock full of antioxidants. Then, the almond butter joins the party with its creamy texture and rich, nutty taste that brings so much depth to the drink. With dates, cinnamon, and vanilla in the mix, you'll also be tasting subtle caramel, floral, and mildly spicy notes that make each sip a fun, flavorful adventure.
Go to Recipe
13. Mango Raspberry Smoothie
Known for their juicy sweetness and tropical aroma, mangoes bring a burst of vibrancy that intertwines beautifully with the raspberries' sweet-tart notes and floral undertone. Both of these ingredients are packed with antioxidants, fiber, and essential vitamins, making this smoothie a nutritional powerhouse that will keep you nourished from the inside out.
Go to Recipe
14. Pineapple Blueberry Smoothie
Grab your blender and treat yourself to the ultimate tropical indulgence with our pineapple blueberry smoothie. This vitamin C-rich smoothie is a harmonious mixture of bright, tropical tanginess and summery sweetness that will leave you feeling revitalized and satisfied. It takes barely 10 minutes to make and will likely be devoured just as fast—a perfect choice for busy mornings or breezy snacks to keep yourself energized throughout the day.
Go to Recipe
15. Gingery Mango & Berry Smoothie
If you're in the mood for something with a bit more flavor intensity than what we've introduced so far, give this recipe a try. This colorful, eye-catching smoothie is a blend of mangoes, mixed berries, ginger, coconut milk, lime juice, fresh ginger, and a dash of cayenne pepper. It's still utterly refreshing, creamy, and fruity, but with a subtle hint of zest and spice that completely liven up the taste buds.
Go to Recipe
16. Mango Goji Berry Sunrise Smoothie
This visually stunning smoothie is made from mangoes, bananas, raspberries, strawberries, ginger, beet, and goji berries—a sweet, slightly sour berry variety that's native to China. The mixture creates a vibrant and lively taste that promises to knock your socks off from the very first sip. If you're in the mood for something a little experimental but still somewhat familiar, consider trying this recipe out.
Go to Recipe
17. Chocolate Strawberry Smoothie
Chocolate and strawberry is a classic culinary love story that we'll never get sick of telling. With this smoothie, this match made in heaven creates a decadent, richly sweet, and irresistibly creamy beverage that makes each sip feel almost like a bite into an indulgent dessert. Except, of course, it's a bit healthier, so it's a perfect choice for those looking to curb their sweet tooth but don't want to over-indulge.
Go to Recipe
18. Blueberry Orange Smoothie
What do you get when you combine blueberries, orange juice, Greek yogurt, ice, and a dash of honey? This spectacular beverage that's packed with great nutrients (especially vitamins) and offers delightful, day-brightening flavors.
This six-ingredient smoothie takes less than 10 minutes to come together. The citrus zest and berries' sweet, woody taste make it feel like you're sipping on sunshine, and in our opinion, that's never a bad thing.
Go to Recipe
19. Triple Berry Smoothie Bowl
Take your love for smoothies to the next level with this satisfying bowl of mixed berries, avocado, and zucchini smoothie. It's topped with shredded coconut and fresh berries, but of course, you can add anything else that you prefer. Nuts, seeds, and dried fruits are some marvelous options for a breakfast or brunch treat that will undoubtedly make your day.
Go to Recipe
20. Acai Bowl
Another berry variety you should definitely try out if you like berries is acai berry. Like most berries, it also offers a mingling of sweet and tart flavors, but with dark, chocolatey notes that make it utterly captivating.
Since acai berries aren't always readily available, you can use store-bought purées, powder, or jams to make this recipe. It will still intertwine flawlessly with the fresh berries and bananas and give you a delectably appetizing treat that tastes like heaven.
Go to Recipe
Why You Should Try These Berry Smoothie Recipes
They're quick and easy: Smoothies are as simple as they come. All you need to do is gather and blend the ingredients until they reach a desired consistency. With berries especially, you'll save more time and effort since they don't require much preparation.
They're more than just a beverage: With their sweet-tart taste and frothy texture, berry smoothies are undoubtedly wonderful thirst-quenching beverages. However, they also make great on-the-go breakfasts and snacks for those busy days when you just need something quick but still nourishing.
They're pretty healthy: Loaded with antioxidants and vitamins, berries come with potential health benefits like lowering the risk of diabetes and heart attack, aiding in weight management, and many more. Combined with other healthful ingredients, these smoothies can be a fun and easy way to obtain essential nutrients.
The Best Berries for Smoothies
Whether you're making a mixed berries smoothie or any other kind, these berries are foolproof choices to go for each time.
Blueberries: With a delicate sweet-tart taste, blueberries offer a versatility that works especially well in smoothies. You can combine them with different ingredients and create myriad exquisite flavors, leaving no room for repetition or boredom.
Raspberries: These berries bring more than just their vibrant red hue to the smoothies. Their distinct tart taste and floral notes set a flavor base that immediately transforms any ingredient they're paired with. Bananas and mangoes are our go-to choices, but chocolate is also a superb combination.
Strawberries: An all-time classic, strawberries and their familiar sweetness bring a comforting sensation that never fails to hit the spot. We recommend using ripe ones for vibrant flavors and vivid aromas that will make your drink all the more enticing.
Blackberries: Succulent and bursting with marvelously sweet-tart flavors, blackberries bring a unique twist to any smoothie they're added to. You can use them as the main ingredient for your drink or pair them with other fruits and herbs for a more diverse taste.
Other Berries: Since the berry family is extensive, there are quite a few varieties you can branch out to beyond the usual favorites. If you're in the mood to experiment, consider mulberries, boysenberries, acai berries, and cranberries.
What Goes Well With Berries In a Smoothie?
There's a wide selection of ingredients to mix and match when making berry smoothies since these fruits are so versatile. Here are a few categories to try out:
Where do we even start or end with this category? The choices are endless! 
Go with bananas, mangoes, or pineapples if you want a bright tropical flair. Apples, peaches, kiwis, and cherries are excellent for those who love a subtle tartness in their drinks. You can also use avocados to thicken the texture and add a nutty undertone.
Yogurt is a common choice since it offers great nutrients as well as adds to the luscious texture. You can also use various milk types like almond, coconut, oat, etc.
If you like your smoothie rich both in texture and flavor and don't mind the fat content, heavy cream, whipped cream, or cream cheese are fantastic choices.
When it comes to smoothies, your choices can be quite unlimited. Add some fresh mint or basil leaves to give your drink an herbaceous undertone. Sneak in a few greens you'd typically deem hard to eat, like kale or spinach, and let the remaining ingredients mask their strong taste.
Peanut butter is also fantastic for thickening the texture and lacing the drink with a fun, nutty twist. If you want something energizing, consider chia seeds or protein powder.
FAQ
Can I use frozen berries for smoothies?
Yes, you can. In fact, it's encouraged since frozen fruits tend to create a thicker and frothier consistency.
Are smoothies better with milk or yogurt?
There's really no solid answer to this since it all comes down to your personal preference. Milk gives a mildly sweet taste but a slightly liquidy consistency that might require extra ice to thicken. Meanwhile, yogurt has a tangy touch that calls for an additional sweetener (if sweet flavors are your thing). It does, however, offer a much thicker texture.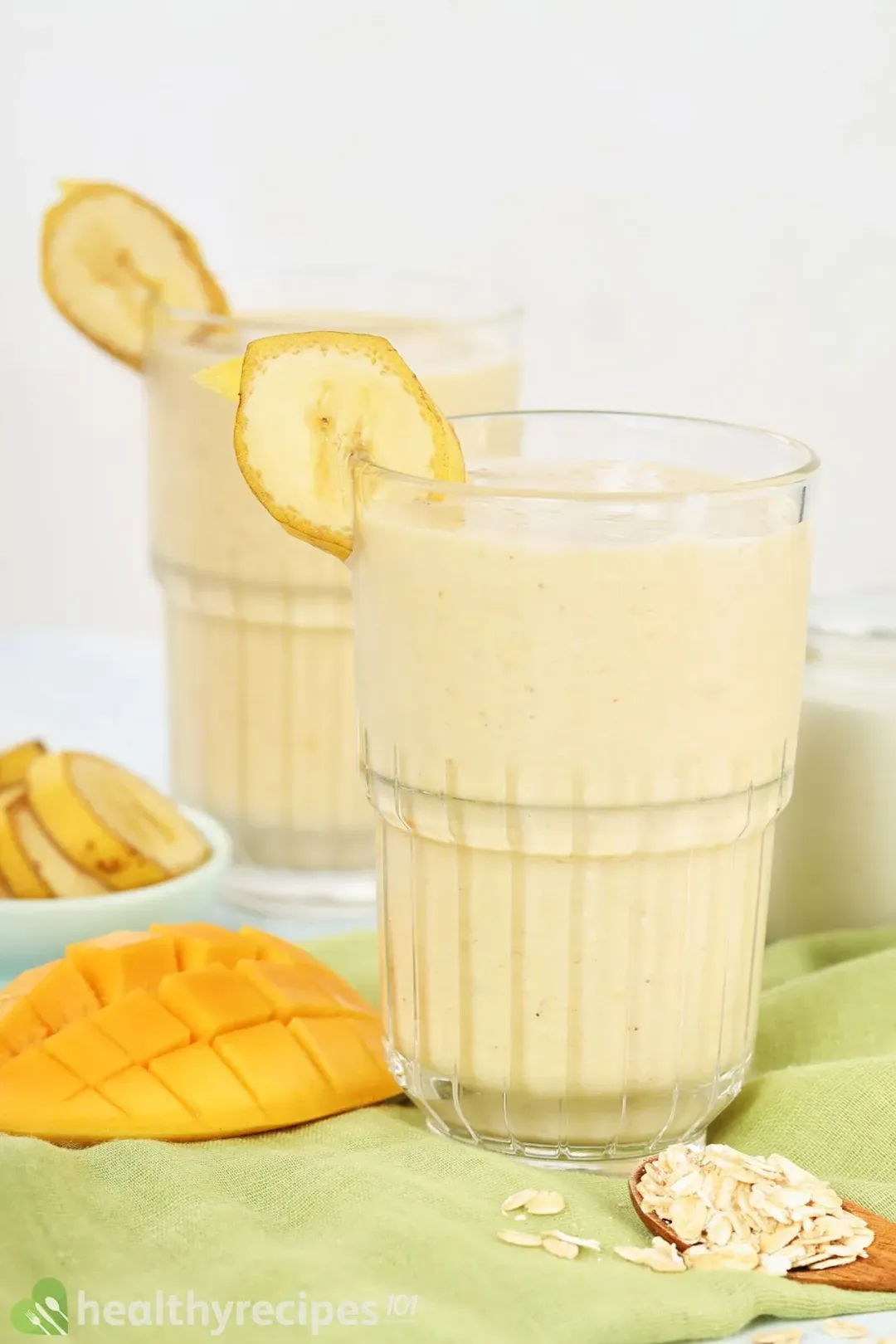 Previous Recipe
Oatmeal Smoothie Recipes
Oatmeal Smoothie Recipes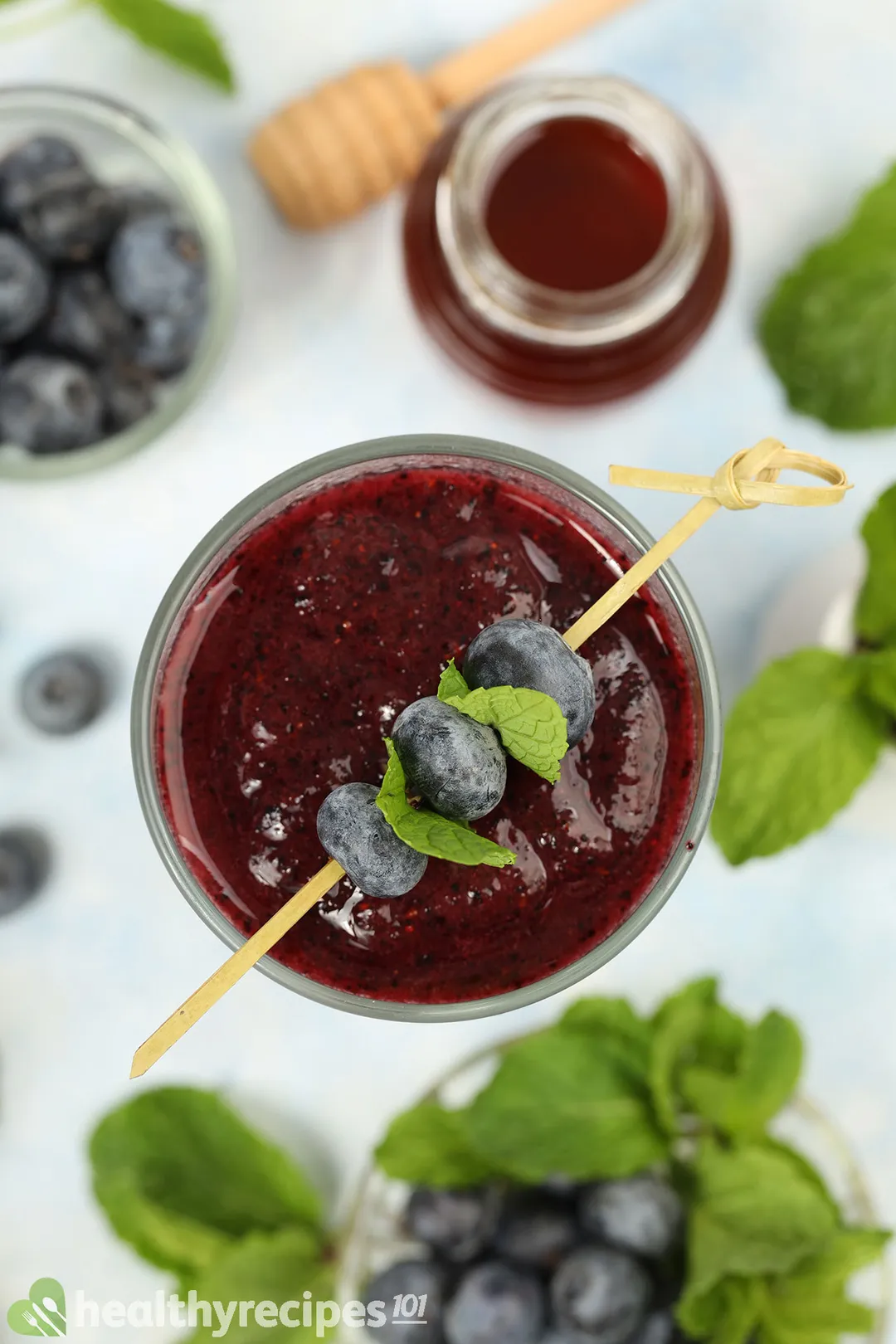 Next Recipe
Blueberry Smoothie Recipes
Blueberry Smoothie Recipes
Writer, Author
Luna Regina is an accomplished writer and author who dedicates her career to empowering home cooks and making cooking effortless for everyone. She is the founder of HealthyKitchen101.com and HealthyRecipes101.com, where she works with her team to develop easy, nutritious recipes and help aspiring cooks choose the right kitchen appliances.
Comments/ Reviews