With this list of the best oatmeal smoothie recipes, you can now create tasty and nutritious drinks that will have you looking forward to breakfast every morning!
Oatmeal smoothies are a great way to start the day and provide your body with healthy nutrients. They're loaded with fiber, which helps keep you full for hours after drinking. Adding oatmeal to your smoothie also makes it naturally sweet without any added sugars or artificial sweeteners.
Enough talking, let's get blending!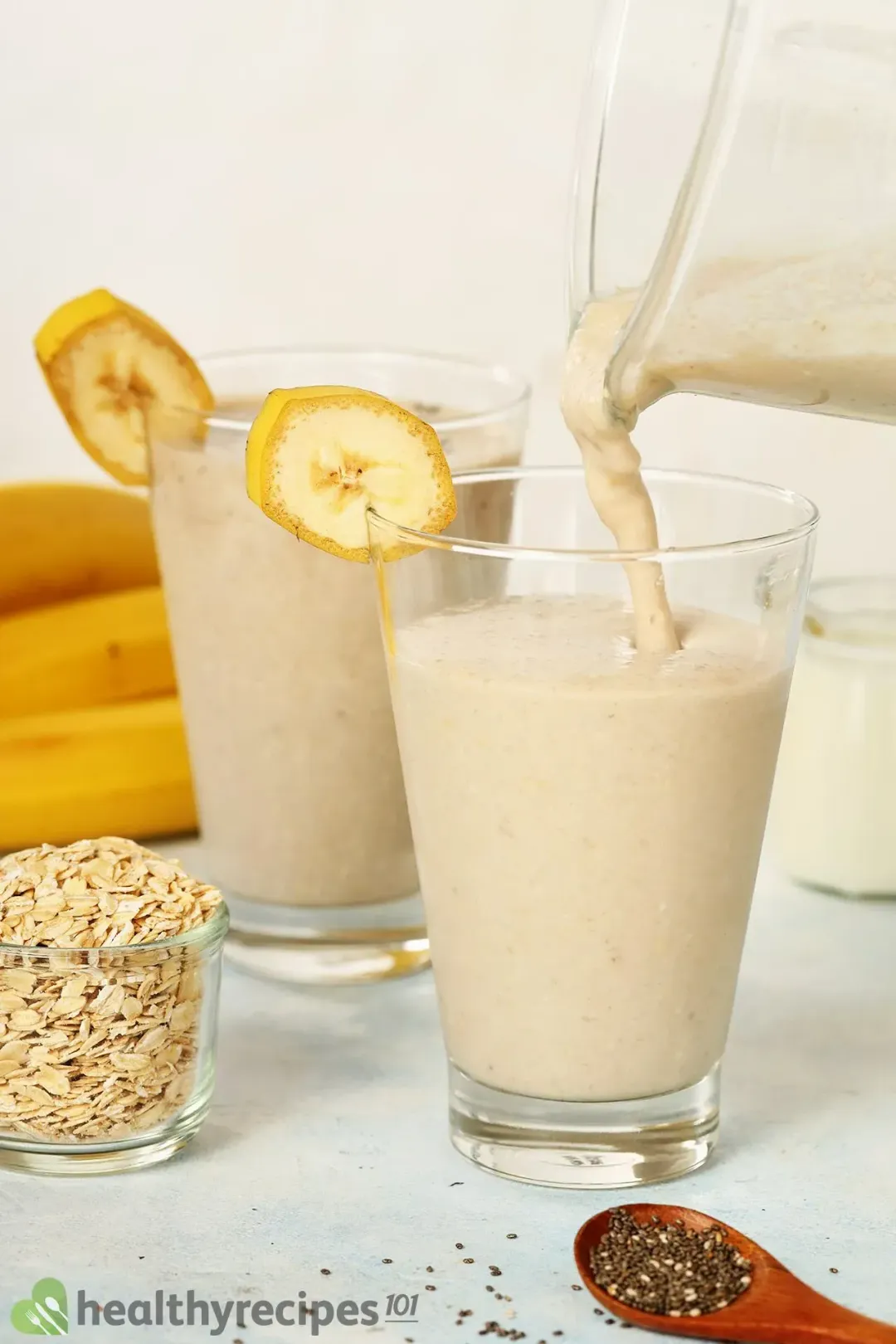 Reasons to Love Oatmeal in Your Smoothies
Oatmeal provides many health benefits:
Oatmeal smoothies are a great way to get your daily servings of whole grains while also incorporating healthy proteins and nutrients. It's a great source of dietary fiber and omega-3 fatty acids, which helps aid digestion, reduce inflammation, and improve heart health.
The complex carbohydrates found in oats provide longer-lasting energy to get you through the day. It's also rich in iron, magnesium and B vitamins, which are necessary for maintaining healthy skin and hair.
Oatmeal tastes great in smoothies:
Adding oatmeal to your smoothie will make it even creamier, thicker, and more satisfying, a sure hit with the entire family. 
Oatmeal smoothies are quick and easy to make:
An oatmeal smoothie is an easy and delicious way to start off your day, especially when you're looking for something quick and nutritious. With just a few simple ingredients, you can make a rich, comforting morning beverage that will give you an energy boost for a productive day.
10 Nutritious and Tasty Drinks with Oatmeal
1. Oatmeal Smoothie
This oatmeal smoothie recipe is a nutrient-dense on-the-go breakfast.
Oats are a healthy food high in resistant starch, which functions as a prebiotic (food for your healthy gut bacteria) from fermented fiber and gives you zero calories. For this smoothie, we blend it into a powder, to give you something fulfilling and nutritious, yet very low in calories.
Go to Recipe
2. Banana Oatmeal Smoothie
Made with easy-to-find ingredients like bananas, oats, and yogurt, our banana oatmeal smoothie recipe could be your new favorite fuel drink. It's delicious, with a cozy flavor, a creamy texture, and a hint of cinnamon. Our banana oatmeal smoothie is a yummy way to nourish your body.
Go to Recipe
3. Peanut Butter Oatmeal Smoothie
This peanut butter oatmeal smoothie recipe takes your favorite breakfast ingredients to a whole new level.
Cooked oats and bananas are a phenomenal pairing. You'll appreciate each spoonful more than the last, and it all comes with potent health benefits. With some peanut butter added to the mix, this breakfast bowl becomes the ultimate healthy treat that makes us drool with anticipation.
Go to Recipe
4. Apple Cinnamon Smoothie
Apple Cinnamon Smoothie is what any breakfast complement should be: refreshing, nutritious, and convenient. Excellent to jump-start your day.
This smoothie makes a delicious drink from simple ingredients. We especially love that it tastes similar to an apple pie.
Go to Recipe
5. Blueberry Banana Smoothie
Thick, creamy, and incredibly delicious, this Blueberry Banana Smoothie is perfect for mornings! This simple smoothie is bursting with fruity flavors, has no added sugars, and packs powerful antioxidants from blueberries. It's sweet, tasty, and so healthy.
Go to Recipe
6. Mango Avocado Smoothie
This Mango Avocado Smoothie recipe is dairy-free with avocado, almond milk and oats for added creaminess. It's made without banana and sweetened with frozen mango and maple syrup. It's thick and filling, so it's perfect for breakfast or a mid-morning snack!
Go to Recipe
7. Chocolate Brownie Oatmeal Smoothie
This oatmeal smoothie is thick, creamy, and packed with healthy and wholesome ingredients! Ready in seconds, it's perfect for a fast and delicious breakfast.
Go to Recipe
8. Mixed Berry Oatmeal Smoothie with Chia Seeds
Try a delicious mixed berry oatmeal smoothie recipe! With a blend of frozen berries, oats, yogurt, and almond milk, it's a healthy and tasty breakfast option. You can make it ahead if you like.
Go to Recipe
9. Strawberry Oatmeal Smoothie
This Strawberry Oatmeal Smoothie is a perfect morning treat. It's sweet, creamy, and filled with fruity freshness. Packed with essential nutrients and immune-boosting vitamin C, and made without added sugars, it's an ideal combination of delicious and healthy.
Go to Recipe
10. Apple Oat Smoothie
This Apple Oat Smoothie is a great way to start the day! Fruity, nutty, and with a sprinkle of cinnamon, this healthy oat-filled beverage is the perfect breakfast in a cup.
Go to Recipe
What Goes Well With Oatmeal in A Smoothie
1. Fruits:
These fruits can either be used fresh or frozen for a thicker consistency  in oatmeal smoothies:
Banana: Bananas are a particularly good match for oatmeal smoothies because they provide plenty of texture and natural sweetness. They also add a creamy consistency, making the drink extra thick and filling.
Apple: Apples pair nicely with oatmeal in a smoothie because they are tart enough to balance out the sweetness of other fruits, yet not too acidic to distract from the oat-y flavor. Apples are also full of fiber—perfect for keeping you full longer.
Berries: Berries like strawberries, blueberries, raspberries, and blackberries all taste and look great when combined with oatmeal in a smoothie. Not only do these sweet fruits add flavor and color, but they contain beneficial vitamins and minerals as well.
Mangos and peaches: The natural sweetness and tropical flavors from these fruits make the smoothies even more enjoyable and tasty.
Pineapples: Their incredibly fruity and vibrant taste makes smoothies more enticing to enjoy. Pineapples also contain high amounts of soluble fiber and vitamins, which are beneficial for nourishing gut health and supporting digestion.
2. Seeds:
Adding seeds to oatmeal smoothies is a great way to pack in even more nutrition. Some of the best seeds (and nuts) to incorporate into a smoothie are:
Chia seeds: Chia is a great source of plant-based protein and fiber, as well as some essential minerals. They also contain antioxidants that can help protect against diseases associated with aging.
Flax seeds: Flax seed is high in dietary fiber and Omega-3 fatty acids, both of which are essential for optimal health. They also lignans that help support healthy hormone balance.
Pumpkin seeds: Pumpkin seeds are rich in antioxidants just like chia and flax but they also contain important vitamins and minerals such as zinc and iron. One scoop of pumpkin seed powder can provide a good amount of B vitamins that your body needs.
Sunflower seeds: Sunflower seeds are a good source of vitamin E,  which is important for your skin health. They're also high in magnesium, which helps improve energy levels and sleep quality, and provide some heart-healthy monounsaturated fats as well.
3. Nuts:
Nuts are superfoods that can enhance both the flavor and nutrition profile of oatmeal smoothies significantly.
Walnuts: Walnuts provide a great crunchy texture when blended into an oatmeal smoothie. They're packed with omega-3 fatty acids and antioxidants, which can help reduce inflammation throughout our bodies.
Almonds: Almonds are an excellent source of dietary fiber, protein and vitamin E that add a nutty flavor to oatmeal smoothies.
Cashews: Cashews add a sweet dairy-free creaminess to smoothies and their flavor also pairs perfectly with oatmeal. They offer a great source of heart-healthy fats and plant protein.
4. Dairy and other liquids:
Almond milk: Almond milk is a popular dairy alternative and a great addition to oatmeal smoothies because it adds an extra layer of creamy, nutty flavor with essential vitamins and minerals. They provide beneficial monounsaturated fats that protect against heart disease by lowering cholesterol levels in the blood.
Greek Yogurt: Greek yogurt is an excellent source of protein and helps give the oatmeal smoothie a thick, creamy texture. It also adds beneficial probiotics to the drink, which can help support digestive health.
Honey: Honey is a great choice for adding natural sweetness to any oatmeal smoothie without raising blood sugar levels or increasing calorie intake drastically. Additionally, honey contains trace amounts of amino acids, vitamins, and minerals that can provide additional nutritional benefits to your drinks.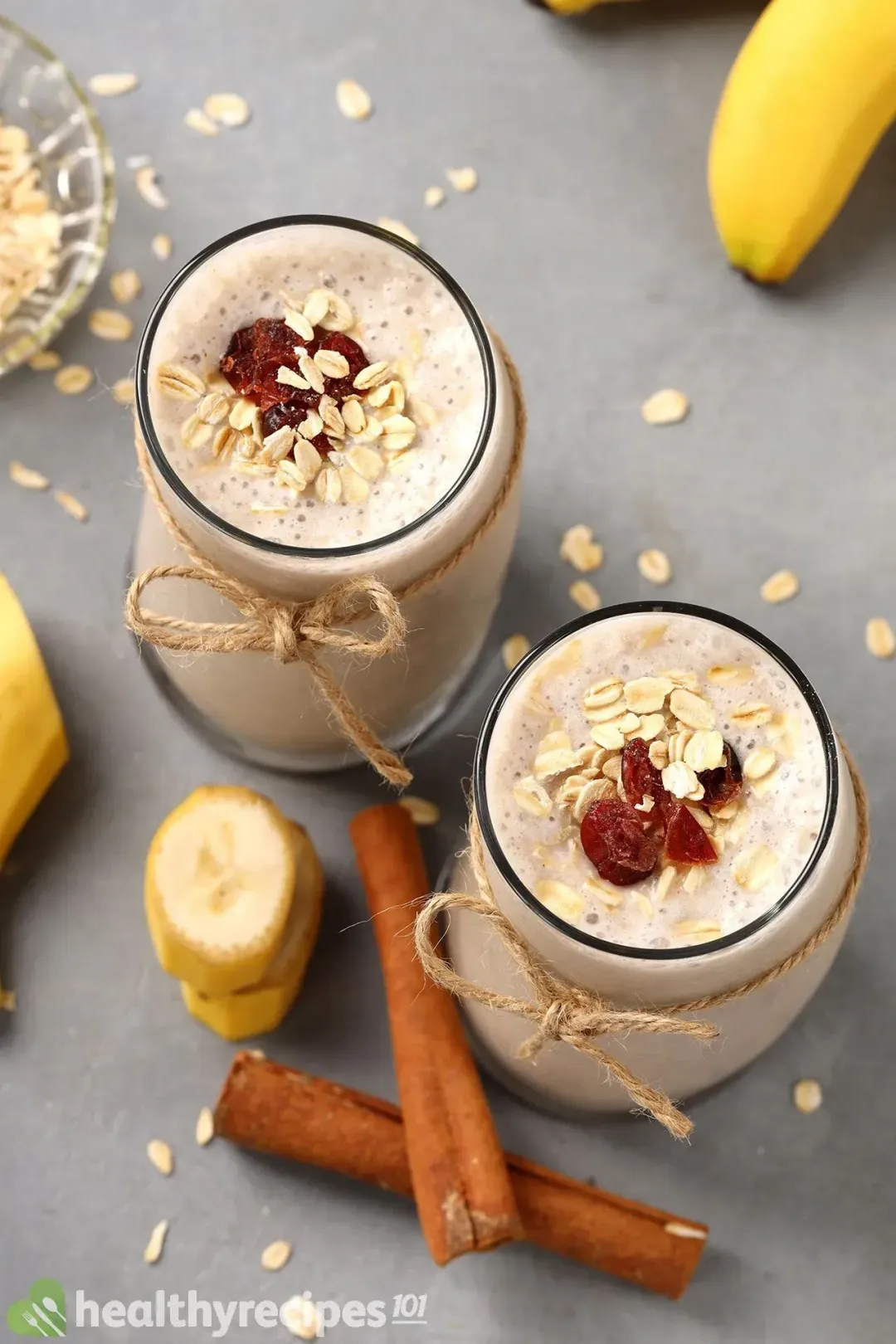 Types of Oatmeal You Can Use in Smoothies
Your personal taste, nutritional goals, and the amount of time you have available to make a smoothie will determine just what kind of oats to use. The choices are listed as follows:
Steel-cut oats: Coarsely-ground oats with a chewy bite and nutty flavor. These oats are filling and provide slow-burn energy. 
Rolled oats: Also known as old-fashioned oats. They're lightly steamed and rolled into thin flakes, hence less chewy than steel-cut oats but still provide plenty of fiber.
Instant oatmeal: Those who need their smoothies done quickly should opt for instant oatmeal. Nowadays, every grocery shop carries instant oatmeal in both plain and fruit-flavored varieties; however, some of them may also include added sugars, so take that into account when opting for instant oats.
Gluten-free oatmeal: Available in all the same forms as regular oatmeal, gluten-free oat options provide health benefits without triggering gluten sensitivities.
Raw oats: These oats retain more minerals due to minimal processing — which also means, for optimal nutrients, they will require extra time to prepare before being added to beverages.
FAQ
1. Is Oatmeal Smoothie Alone Enough for Breakfast? 
A single cup of oatmeal smoothie alone is hardly fulfilling enough to serve as a complete breakfast, since it doesn't provide an adequate amount of proteins, carbohydrates, and fats. It is advised to add more protein, dairy, fruits, nuts, or vegetables along with the oatmeal smoothie for a nutritious and well-balanced breakfast.
2. Is It Ok to Drink Oatmeal Smoothie Every Day?
It is generally safe to enjoy an oatmeal smoothie every day. Drinking oatmeal smoothies is a great way to provide your body with vital nutrients including fiber, omega-3 fatty acids, plant protein, and antioxidants.
However, if you are going to do so, it is important to keep your overall diet in mind. Make sure that the smoothie doesn't contain excessive amounts of artificial sweeteners that may cause weight gain.
If you're watching your sugar or calorie intake or have a preexisting health condition, it's best to consult with your nutritionist or doctor before having an oatmeal smoothie every day.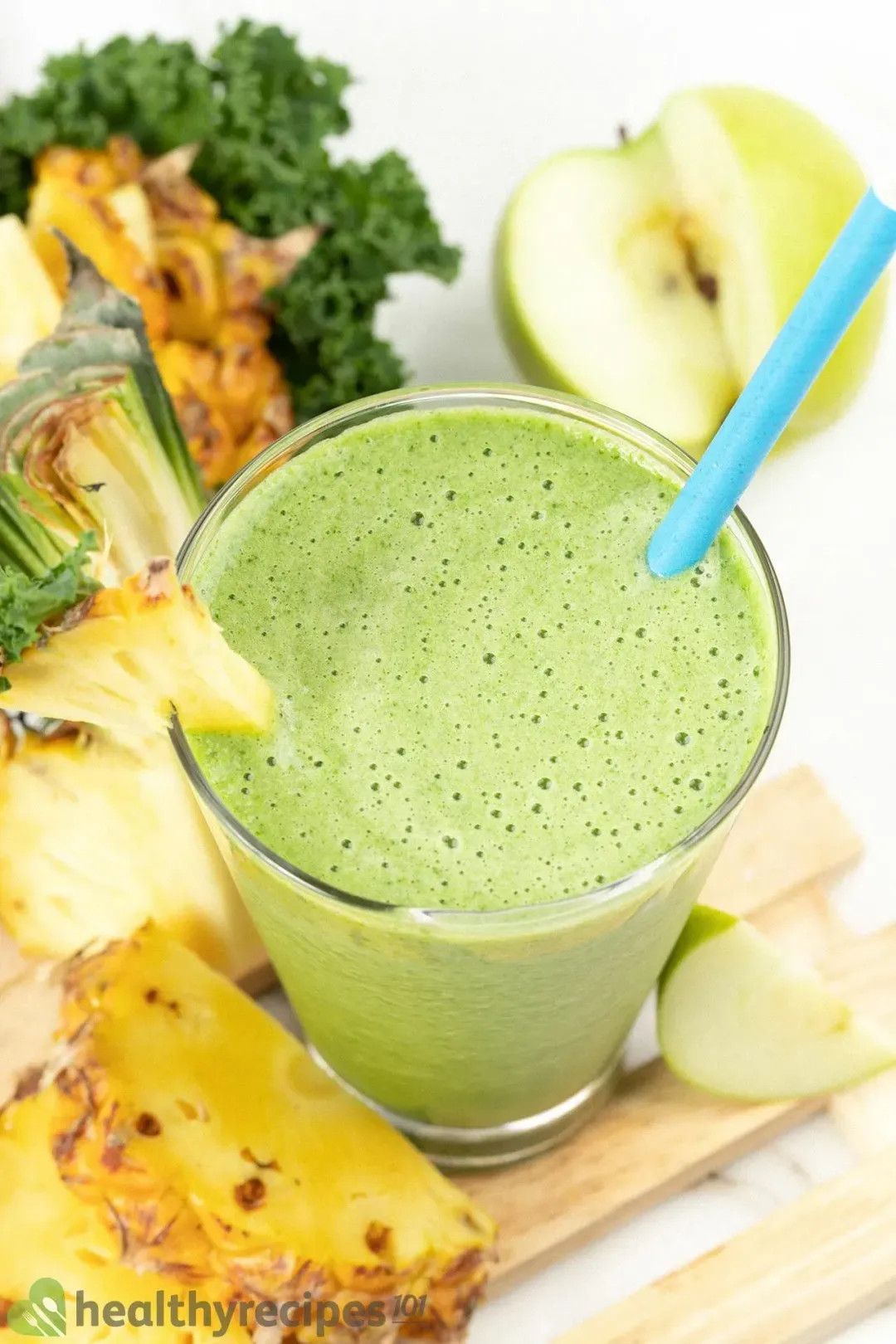 Previous Recipe
Detox Smoothie Recipes
Detox Smoothie Recipes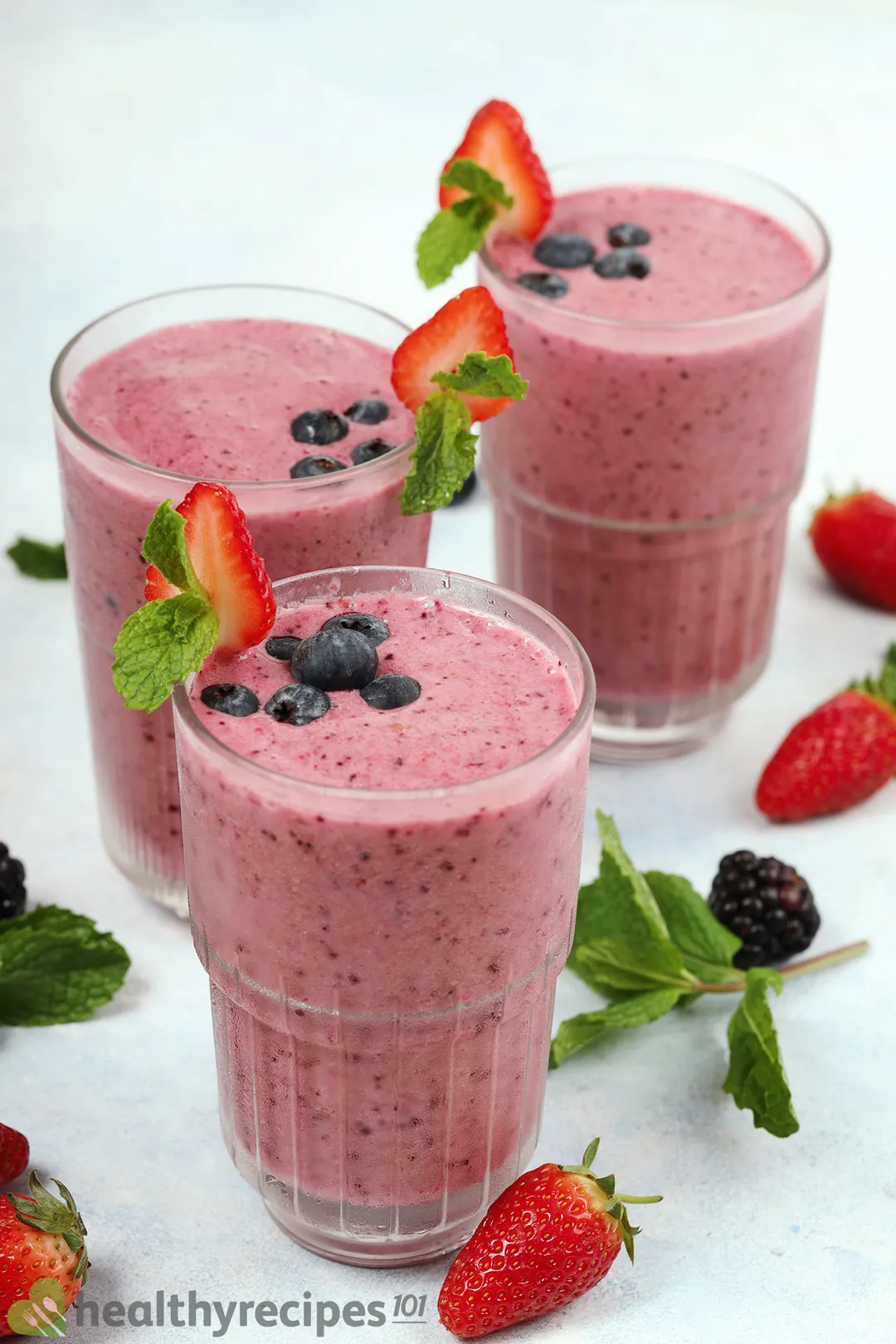 Next Recipe
Berry Smoothie Recipes
Berry Smoothie Recipes
Head Chef, Culinary Consultant
Tuyet Pham is an award-winning Saigonese chef who believes that joy is the secret ingredient to delicious food. At Healthy Recipes 101, Tuyet personally tests and simplifies every recipe, ensuring maximum flavor with minimal effort. With a background at prestigious French restaurants P'TI Saigon and Le Corto, Tuyet knows how to make every dish exceptional.
Writer, Author
Luna Regina is an accomplished writer and author who dedicates her career to empowering home cooks and making cooking effortless for everyone. She is the founder of HealthyKitchen101.com and HealthyRecipes101.com, where she works with her team to develop easy, nutritious recipes and help aspiring cooks choose the right kitchen appliances.
Comments/ Reviews