Today's spinach smoothie recipes are sure to have something for everyone and please every appetite. Whether you're looking for a morning boost, or just trying to explore some new creative and tasty smoothie ideas, we've got them all covered for you!
Packed with nutrients and delicious flavors, these spinach smoothies are fascinating treats to fit any occasion. Let's get blending!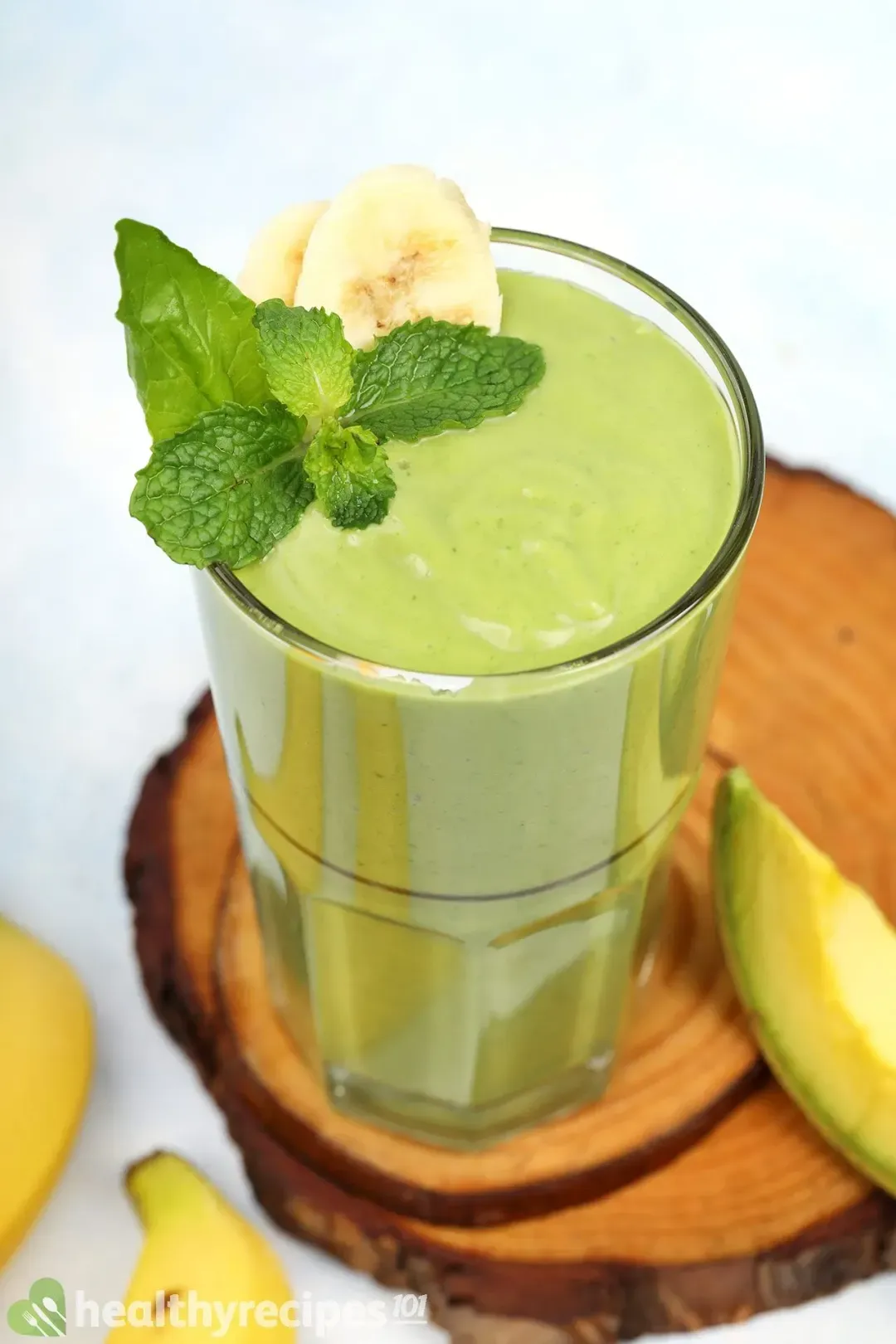 Reasons to Love Spinach Smoothies
Spinach is a nutrition powerhouse: This veggie provides vitamins A, C, E, and K, as well as other essential nutrients like magnesium, iron, folate, and dietary fiber. These nutrients help improve overall health yet most people don't get enough of them in their regular diets. Hence, blending spinach into a smoothie is a quick and easy way to increase your daily nutrient intake. Spinach is also high in antioxidants, which help fight against free radicals, thus reducing the risk of cancer and other diseases. Additionally, the dietary fiber found in spinach helps keep your digestive system running smoothly and speeds up weight loss efforts.
Spinach smoothies are a great energy boost to tackle the day ahead, either as a snack or a light meal replacement.
Spinach smoothies are plainly delicious: Not all spinach drinks are boring and bitter! With some clever ingredients like bananas, honey, and yogurt you can make your green beverage more enjoyable while still getting all the nutritional benefits that come with it.
Nutritious & Delicious Green Smoothie Ideas with Spinach
1. Spinach Smoothie
Discover how to create an irresistibly tasty and nutritious spinach smoothie with our easy-to-follow recipe.
This vibrant, green, and refreshing drink is packed with vitamins and minerals, perfect for kick-starting your day or enjoying as a guilt-free snack. Give it a try now and experience the incredible taste and health benefits for yourself!
Go to Recipe
2. Green Apple Smoothie
Green apple smoothie recipe creates a sweet, tart drink with a distinct green apple flavor. This smoothie is chock-full of taste and nutrition, perfect for anyone trying to start a healthy diet or simply add extra nutrients to their daily intake.
Go to Recipe
3. Healthy Green Smoothie
Our green smoothie recipe is easy, healthy, beginner-friendly, and a fantastic way to sneak that daily dose of greens into your diet.
Vegetables are so nutritious and delicious, but we understand how they might not be everyone's favorite food group. We, especially the chefs, wanted to put together something quick, easy, and tasty to make consuming greens a pleasant experience for everybody, so we came up with this smoothie.
Go to Recipe
4. Strawberry Spinach Banana Smoothie
This strawberry spinach banana smoothie recipe combines ingredients that you may already have in your fridge to create a quick drink.
Go to Recipe
5. Spinach Banana Smoothie
Whenever you're craving something fresh and nutritious, it's time to make our spinach banana smoothie recipe.
Packed with fresh fruits, vegetables, and dairy, the drink is creamy and subtly sweet with added honey for a lip-smacking blend. This vibrant smoothie is perfect for a decent breakfast or to quickly charge you up after a workout.
Go to Recipe
6. Spinach Fruit Smoothie
Our spinach fruit smoothie recipe is not made with any fancy ingredients, only takes 10 minutes to prepare, and works great as a quick nutrition-packed breakfast or snack.
Make this simple spinach smoothie for an instant energy boost. Each serving is a nutrient-dense blend of protein, fiber, vitamins, and minerals, thanks to the variety of fruits and veg.
Go to Recipe
7. Kale Spinach Smoothie
Our kale spinach smoothie recipe is loaded with nutritious and delicious ingredients thanks to leafy greens and bananas. The smoothie is thick, creamy, and sweet and your kids won't even know there are green vegetables in the drink.
Go to Recipe
8. Mango Avocado Smoothie
This mango avocado smoothie recipe is an easy and lip-smacking way to incorporate more fruits into your diet. The drink is refreshing, nutritious, and features the goodness of tropical fruits.
Go to Recipe
9. Spinach Green Smoothie
Our spinach green smoothie recipe introduces a tasty drink that is also packed with vitamins, minerals, and fiber. It's an excellent way to add extra fruits and greens to your diet.
Go to Recipe
10. Blueberry Spinach Smoothie
This blueberry spinach smoothie recipe is a combination of flavor and nutrition. The drink features tart blueberries, creamy protein-rich Greek yogurt, sweet bananas, and a handful of spinach for added nutrients.
It's the ideal treat or quick breakfast drink when you want something delicious and healthy.
Go to Recipe
11. Pineapple Green Smoothie
Green smoothies are a great way to consume more veggies, especially if you're not exactly the biggest herbivore. Ours is a delicious combination of pineapples, bananas, kale, spinach, and orange juice, giving you loads of vitamins and minerals in various amounts.
Go to Recipe
12. Apple Spinach Smoothie
This apple spinach smoothie recipe makes a nutritious, tasty blend from simple ingredients. It's one of the best ways to load up on nutrients.
Go to Recipe
13. Spinach Berry Smoothie
Our spinach berry smoothie recipe is a simple, delicious way to eat lots of nutrients in one go. Spinach, strawberries, blueberries, and bananas all get blended with Greek yogurt for a rich treat.
Go to Recipe
14. Sour Apple Smoothie
Discover the invigorating taste of our Sour Apple Smoothie recipe! This nutritious blend combines tart green apples, spinach, citrusy lemon, and natural sweeteners to create a balanced, flavorful drink perfect for a quick breakfast or midday pick-me-up.
Go to Recipe
15. Banana Pineapple Smoothie
Our banana pineapple smoothie recipe is the perfect blend of healthful, delicious ingredients.
If you run out of smoothie ideas, try this delicious mixture of four types of fruits, spinach, and Greek yogurt. Such diversity lends the drink an abundance of flavor, making the journey to a healthy diet considerably easier.
Go to Recipe
16. Pineapple Kiwi Smoothie
Pineapple kiwi smoothie recipe is a simple, refreshing beverage that will quench your thirst while also providing your body with vitamins and minerals.
Go to Recipe
17. Kiwi Smoothie
With our kiwi smoothie recipe, you can make a simple and healthy smoothie using very few ingredients, most of which you may already have in your kitchen.
Go to Recipe
18. Spinach and Apple Detox Smoothie
Ready to feel new and fresh? Enjoy a delicious twist of sweet nutrition with this Spinach and Apple Detox Smoothie! This easy smoothie recipe is the perfect combination of green goodness that will give you an energy boost while helping you stay healthy!
Go to Recipe
19. Kiwi Pineapple Spinach Smoothie
Breakfast on the go has never tasted so dreamy! A Kiwi Pineapple Spinach Smoothie that's ready in minutes and tastes like a rich, creamy dessert. Bursting at the seams with fresh vitamins and nutrients, you'll make this one a regular addition to your breakfast, lunch or snacking routine. Blended with smooth avocado and sweetened naturally with banana, kids love this smoothie recipe, too!
Go to Recipe
20. Pear, Vanilla, Avocado & Spinach Smoothie
Discover a rejuvenating way to kickstart your week with this delicious and healthy Pear, Vanilla, Avocado & Spinach smoothie recipe. This easy-to-follow guide offers step-by-step instructions and nutritional information to detox and nourish your body. Ideal for Monday mornings or any time you need a boost of vitamins and energy.
Go to Recipe
What Goes Well with Spinach in Smoothies?
Spinach smoothies provide room for creative mix-and-match. Listed below are some of our favorite spinach smoothie ingredients:
1. Fruits
Avocado: Avocado is a good addition to any smoothie as it gives the smoothie a creamy texture. It's also packed with healthy fats and vitamins.
Banana: Bananas are great in spinach smoothies as they help balance out the strong earthiness of spinach while adding some sweetness and creaminess to your drink. Bananas are also high in potassium and vitamin C, making them an excellent choice for a health-boosting drink.
Orange: Oranges provide vitamin C, fiber, and natural sugar needed for your body's functions. Plus, this citrusy fruit adds a nice tangy taste to the drink.
Pineapple: Adds texture and citrusy flavor and provides a rich source of essential nutrients.
Mango: Besides being a powerhouse of antioxidants, mangos make spinach smoothies tastier by adding extra tropical flavors. 
Kiwi: Contributes a unique tangy flavor to balance out the grassy taste of spinach and creates a more palatable flavor profile for picky eaters
2. Other vegetables:
Adding a variety of vegetables to spinach smoothies is recommended if you want to maximize their nutrition and taste. Depending on the desired texture, some ingredients to consider adding are cucumber, celery, cauliflower, kale, chard, green bell peppers, etc.
These vegetables offer a broad range of nutrients such as potassium, folate, fiber, and antioxidants while creating interesting flavor combinations with a slightly bitter and grassy undertone. Combining these veggies with spinach in smoothies brings along many health benefits:assisting digestion, boosting immunity, and improving skin health.
3. Liquids:
Some liquids that go well with spinach in smoothies are:
Water: Help thin out the smoothie and make it easier to drink.
Milk: Adds creaminess and helps tone down the bitterness from the spinach. Non-dairy milk like almond milk, coconut milk, or cashew milk can also be used as a replacement for cow milk. They add extra nuttiness and a hint of sweetness that contrast with the slightly bitter taste of spinach.
Greek yogurt: Adding Greek yogurt not only gives your smoothie a dose of protein but also makes it thicker and much more fulfilling. The probiotics present in yogurt also aid with digestion, making it a smart choice for optimal gut health.
Fruit juice (such as orange juice): If you don't have fresh oranges, orange juice can be used as a substitute to balance the spinach's flavor by adding extra sourness and sweetness. Make sure you go with a freshl- squeezed juice or organic store-bought variety with no added sugars or preservatives.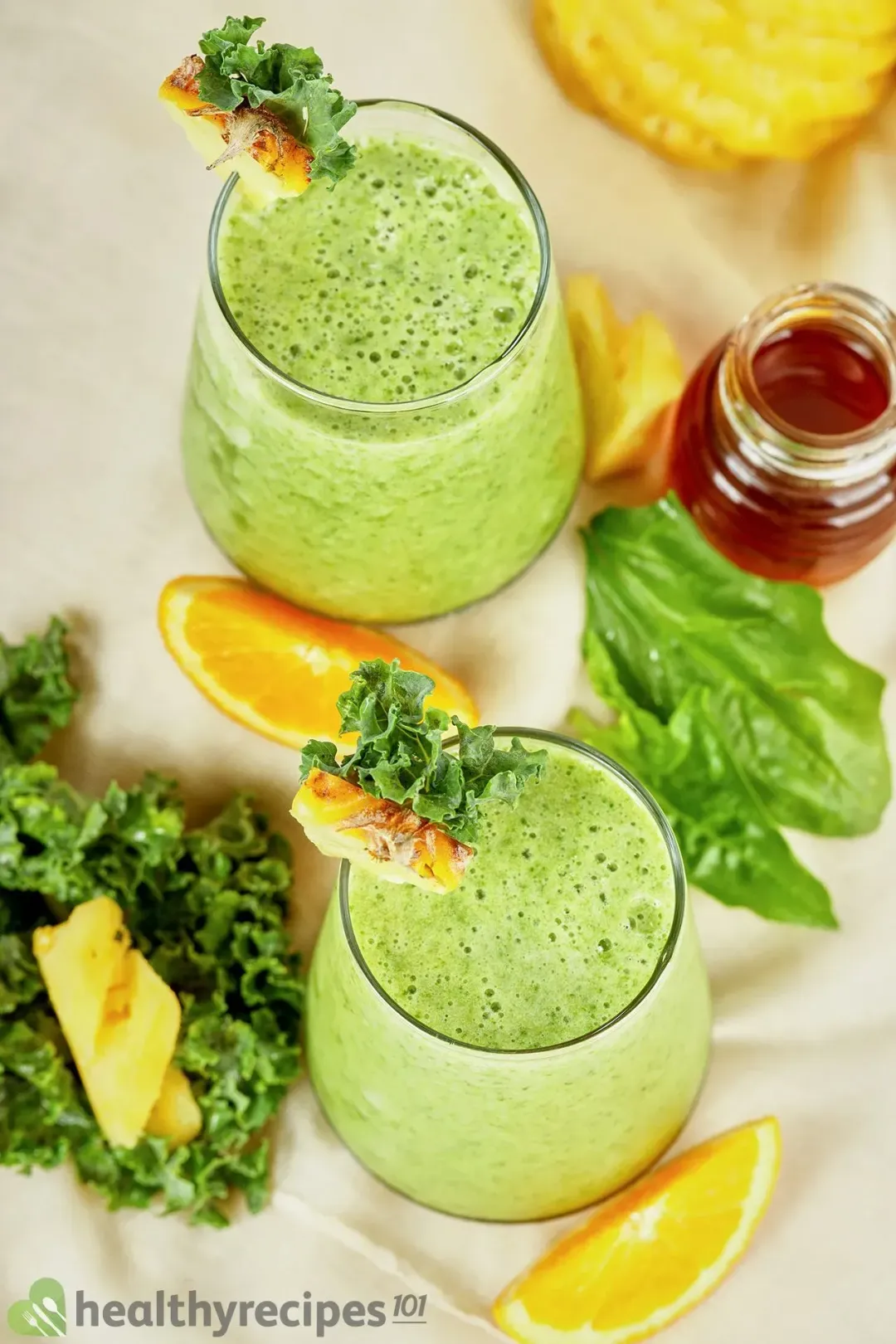 FAQ
1. How to Tell If Spinach Is Bad?
You can quickly determine if spinach has passed its peak with your senses. Pay close attention to the following traits:
Check the package for an expiration date and discard it if it's past its use-by date.
Look for any signs of deterioration in the spinach leaves, such as wilting, yellowing, or sliminess. These are indicators that spinach is no longer safe to eat.
Check the inside of the leaves to see if there are tinier bugs crawling among them. These signify that the leaves have gone bad and should be thrown out right away.
If your spinach has an unpleasant odor, it is advisable to toss it away.
2. Is It Ok to Drink Spinach Smoothies Every Day?
Yes, you can drink spinach smoothies every day.
However, for a balanced diet, it's important to opt for a diverse combination of fruits and vegetables in your smoothies. Additionally, if you have a history of food allergies, it's best to speak with your doctor if you're unsure about the ingredients  in your smoothies.
3. What Should Not Be Mixed With Spinach in A Smoothie?
The following food combinations are not recommended with spinach as they can bring negative effects on your health:
Spinach and raw eggs: This combination can increase the risk of salmonella.
Spinach and liver: This combination can be toxic as together they can cause an excessive rise in iron levels in your body.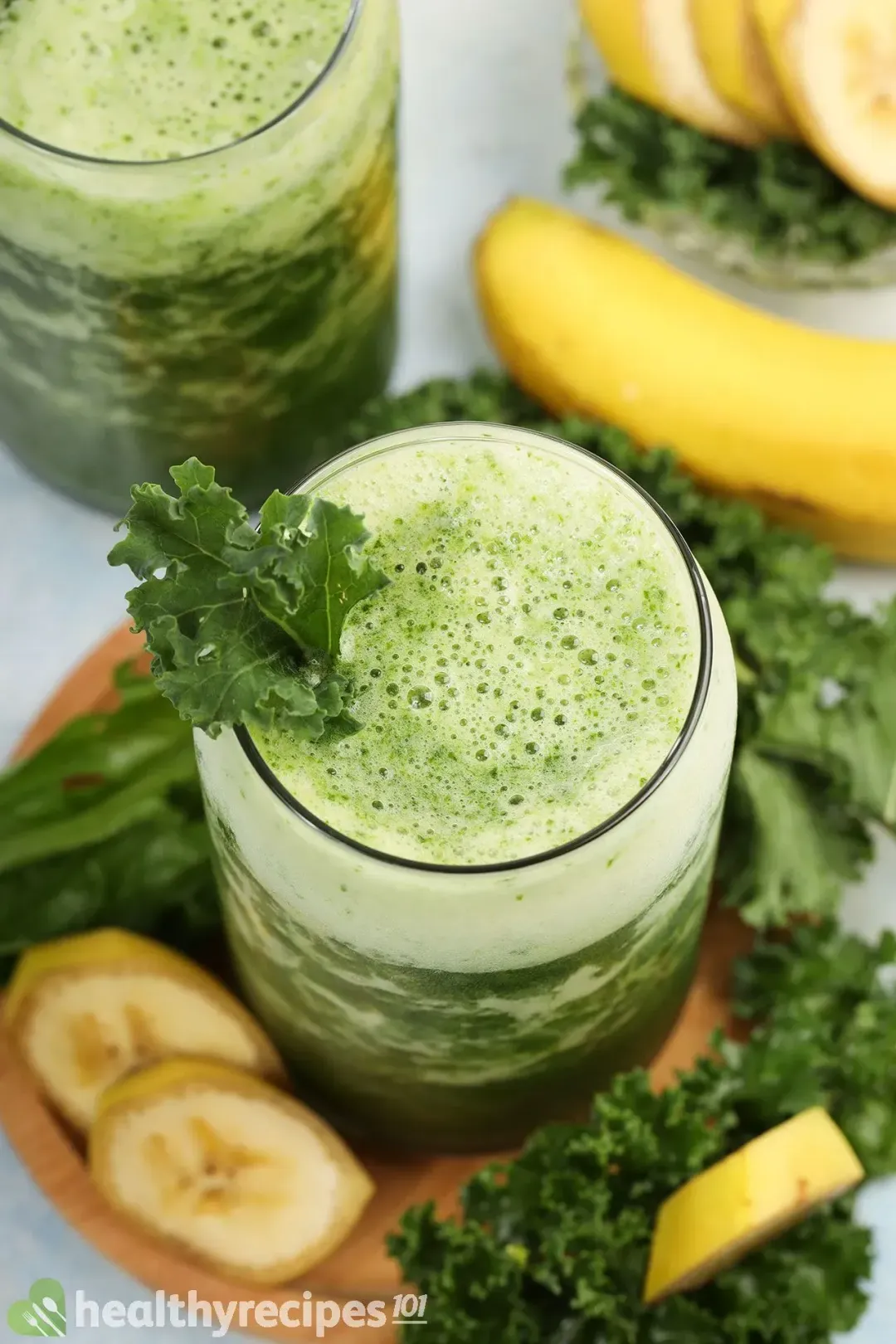 Previous Recipe
Green Smoothie Recipes
Green Smoothie Recipes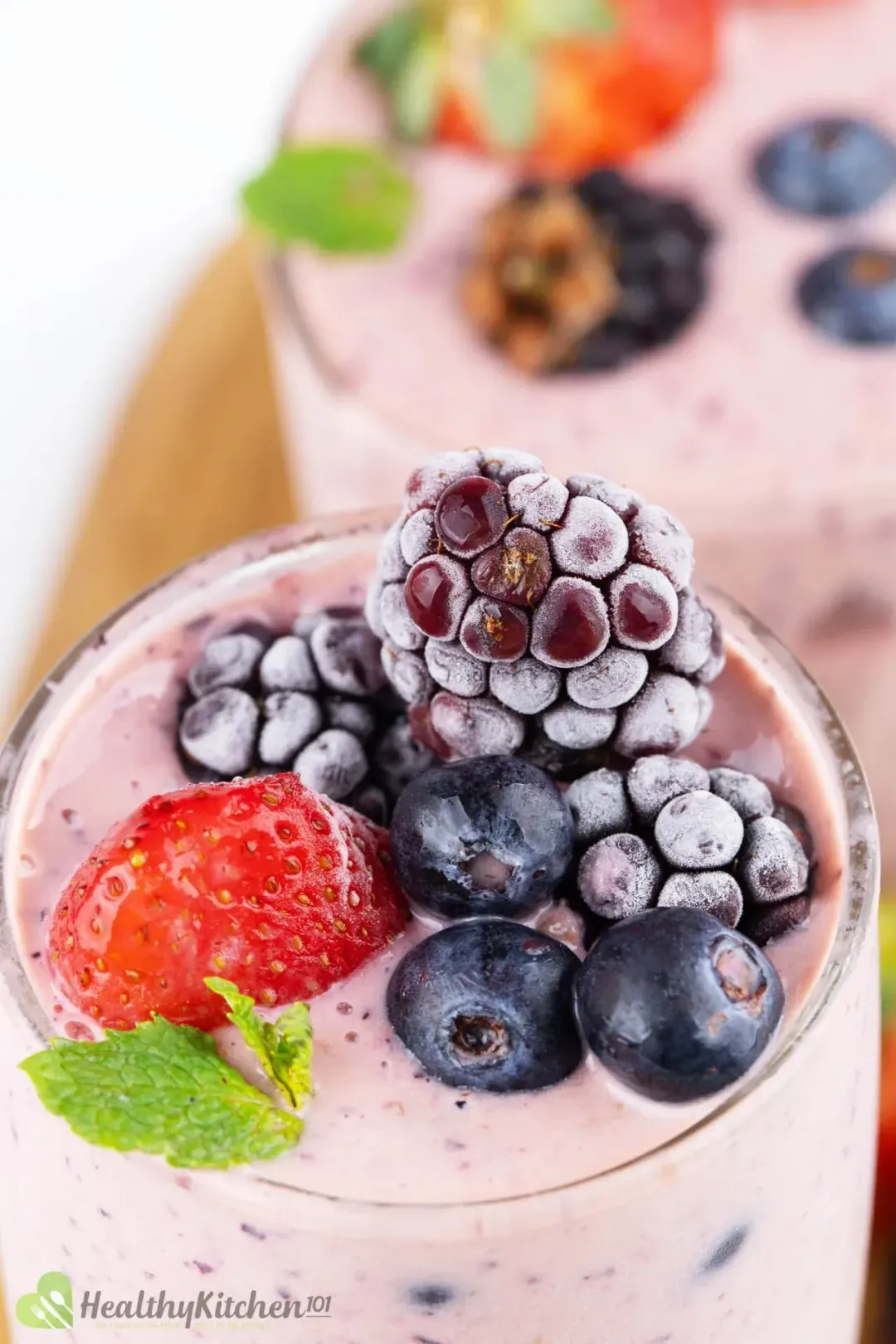 Next Recipe
Fruit Smoothie Recipes
Fruit Smoothie Recipes
Writer, Author
Luna Regina is an accomplished writer and author who dedicates her career to empowering home cooks and making cooking effortless for everyone. She is the founder of HealthyKitchen101.com and HealthyRecipes101.com, where she works with her team to develop easy, nutritious recipes and help aspiring cooks choose the right kitchen appliances.
Comments/ Reviews