Welcome to our collection of green smoothie recipes! Whether you're trying to start your day on the right foot or have a quick pick-me-up in the middle of the afternoon, these delicious and healthy smoothies are sure to satisfy you.
Our collection covers all types of leafy greens and fruits, from staple ingredients like kale and spinach to superfoods like chia seeds and wheatgrass. They're inexpensive options that are packed full of vitamins and minerals and will keep your body feeling its best during busy days.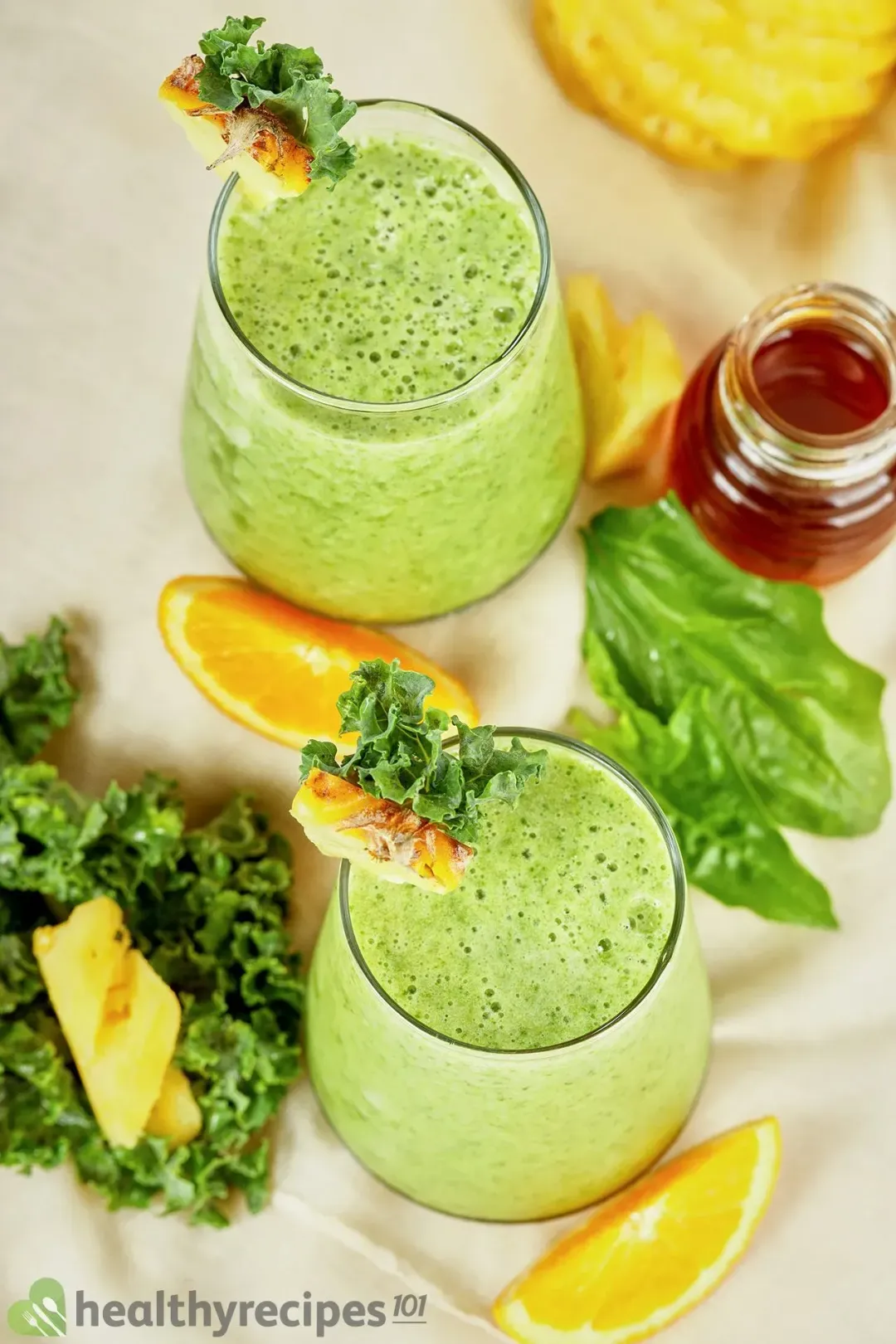 Reasons to Love Green Smoothies
Green smoothies are a nutrient-rich powerhouse: They're jam-packed with essential vitamins, minerals, and antioxidants that provide the body with an influx of health benefits.
They help you reach your daily vegetable quota: It can be tricky to force yourself on salads — not to mention all the effort you'll have to spend to make it more flavorful. Adding them to a smoothie, however, is a super simple and delicious way to hit that goal.
Vegetables are easy on the digestive system: Blending up leafy greens makes it easier for the body to absorb their nutrients.
You don't have to worry about prep time or clean up: Smoothies are super quick and easy to whip up – no chopping or cooking required! Just toss everything in the blender and give them a whiz. The cleaning up is also just as simple.
25 Ultimate Green Smoothie Recipes You'll Actually Enjoy
1. Healthy Green Smoothie
This healthy green smoothie recipe is easy to do, and is a great way to sneak veggies into your diet without you noticing it. It's perfect for both kids and adults who dislike vegetables! And those who want a nutrition boost but have limited time.
Go to Recipe
2. Spinach Banana Smoothie
Whenever you're craving something fresh and nutritious, it's time to make our spinach banana smoothie recipe.
Packed with fresh fruits, vegetables, and dairy, the drink is creamy and subtly sweet with added honey for a lip-smacking blend. This vibrant smoothie is perfect for a decent breakfast or to quickly charge you up after a workout.
Go to Recipe
3. Kale Banana Smoothie
Think you don't like green smoothies? Our kale banana smoothie recipe will change your mind! Simply combine the green veggies, banana, and a few other ingredients in a blender and blend until you get a smooth consistency.
Grab a straw and enjoy this drink's surprising flavor. The combination of fruits and kale in this recipe is a lip-smacking way to get your daily dose of plant-based energy.
Go to Recipe
4. Spinach Fruit Smoothie
Our spinach fruit smoothie recipe is not made with any fancy ingredients, only takes 10 minutes to prepare, and works great as a quick nutrition-packed breakfast or snack.
Make this simple spinach smoothie for an instant energy boost. Each serving is a nutrient-dense blend of protein, fiber, vitamins, and minerals, thanks to the variety of fruits and veg.
Go to Recipe
5. Kale Spinach Smoothie
Our kale spinach smoothie recipe requires five ingredients and takes less than 10 minutes to make a delicious and healthy smoothie at home.
Go to Recipe
6. Spinach Green Smoothie
Our spinach green smoothie recipe makes a healthy treat packed with fresh fruit and leafy greens. A nutrient-rich blend in every sip!
Go to Recipe
7. Cucumber Pineapple Smoothie
Try our cucumber pineapple smoothie recipe to add a low-calorie, tasty, nutritious drink to your repertoire. It may become your new favorite!
Go to Recipe
8. Apple Spinach Smoothie
This apple spinach smoothie recipe makes a nutritious, tasty blend from simple ingredients. It's one of the best ways to load up on nutrients.
Go to Recipe
9. Pineapple Green Smoothie
This pineapple green smoothie recipe is an easy way to include more vegetables into your diet. It masks the taste of greens with delicious fruits.
Go to Recipe
10. Kale Apple Smoothie
Our kale apple smoothie recipe offers you an amazing and healthy drink that can be made in the blink of an eye using a few simple ingredients.
Go to Recipe
11. Cucumber Smoothie
Our cucumber smoothie recipe is a combination of multiple fruits with different flavors and textures to create a refreshing and satisfying drink.
Go to Recipe
12. Spinach Berry Smoothie
Our spinach berry smoothie recipe is a simple, delicious way to eat lots of nutrients in one go. Spinach, strawberries, blueberries, and bananas all get blended with Greek yogurt for a rich treat.
Go to Recipe
13. Sour Apple Smoothie
This easy sour apple smoothie recipe is among our favorite healthy recipes at the moment as it is simple to make and tastes absolutely delicious.
Go to Recipe
14. Pineapple Kale Smoothie
Quench your thirst and nourish your body with our Pineapple Kale Smoothie recipe! This wholesome blend combines the tropical flavors of pineapple with the nutritious goodness of kale, resulting in a refreshing and satisfying drink.
Go to Recipe
15. Pineapple Kiwi Smoothie
Pineapple kiwi smoothie recipe is a simple, refreshing beverage that will quench your thirst while also providing your body with vitamins and minerals.
Go to Recipe
16. Mango Spinach Smoothie
Mango spinach smoothie recipe is a must-try if you're a fan of nutritious and healthy drinks.
This smoothie is a combination of a sweet and slightly tangy tropical fruit and mild, vibrant greens. With a touch of yogurt, milk, and honey, you'll have a delightfully sweet drink that can be served as a quick, low-calorie breakfast or dessert.
Go to Recipe
17. Kiwi Smoothie
You only have to use seven simple ingredients to make this kiwi smoothie recipe. Check your fridge and see if you have everything you need.
Go to Recipe
18. Apple Kiwi Kale Smoothie
Discover a refreshing and nutritious drink with our Apple Kiwi Kale Smoothie recipe. This delicious green smoothie packs a powerful punch of vitamins, antioxidants, and fiber from fresh kale, apples, and kiwi. The perfect blend for a quick breakfast or an energizing afternoon pick-me-up.
Go to Recipe
19. Strawberry Spinach Banana Smoothie
This strawberry spinach banana smoothie recipe is dedicated to everyone who loves making their own healthy drinks. In this recipe, we'll show you how to make this simple-yet-delicious drink using only nine ingredients.
Go to Recipe
20. Green Mojito Smoothie
For the love of traditional mojitos, we decided to combine a few delectable ingredients into a refreshing green mojito smoothie. The drink is packed with fruits and vegetables, bringing a wealth of minty and citrusy freshness.
It is a healthy, reviving drink with all of the delicious flavors of a mojito cocktail, minus the sugar and alcohol.
Go to Recipe
21. Green Apple Smoothie
Our green apple smoothie recipe creates a sweet, tart drink with a distinct green apple flavor. This smoothie is chock-full of taste and nutrition, perfect for anyone trying to start a healthy diet or simply add extra nutrients to their daily intake.
Go to Recipe
22. Spinach Smoothie
This spinach smoothie recipe is among our favorite healthy recipes at the moment because it is simple to make and tastes absolutely delicious.
Don't let the green color deceive you — this drink tastes nothing like what its name suggests.
Go to Recipe
23. Apple Cucumber Smoothie
Both tasty and hydrating, this apple cucumber smoothie is perfect as a healthy breakfast juice or snack. Simple to make with minimal ingredients, it's packed with vitamins and minerals and so delicious!
Go to Recipe
24. Cucumber Mint Pineapple Smoothie
Sweet, tart, and fresh flavours collide in this refreshing healthy smoothie recipe. Pineapple, cucumber, and mint (plus more) blend together to make a quick breakfast or snack with no added sugar.
Go to Recipe
25. Spinach Cucumber Smoothie
This spinach cucumber smoothie is rich in vitamins, antioxidants, and fiber. If you are looking for the best detox drink or simply want to live healthier then this is it! It's also dairy-free.
Go to Recipe
What to Put in A Green Smoothie?
There are countless ways to combine ingredients for a green smoothie.
Most commonly, you'll get your hands on some of the items listed below, so let's discover their flavor. Feel free to experiment with different types and combinations of fruits and vegetables to find what works best for you and tastes delicious.
1. Vegetables:
Kale: for a somewhat bitter and earthy taste.
Spinach: mild flavor.
Celery: slightly sweet and salty with a crunchy texture.
Cucumber: cooling, refreshing, watery, and since it's very bland in taste, cucumber is mostly used to tone down other tangy or robust elements in your drink.
Bell peppers: slightly sweet and tinged with bitterness.
Cabbage and lettuce: mildly sweet and earthy with slightly peppery notes.
2. Fruits:
Apple – mildly sweet and tart.
Mango: brightly sweet and juicy — perfect for a tropical and summer vibe.
Pineapple: intensely sweet-tart and mildly sour (depending on the variety you get). 
Avocado: buttery, rich, and creamy texture with a nutty flavor.
Banana: super sweet and creamy. Bananas and avocados are usually the best choices to lend your drinks a thick or slushy body.
Berries (strawberries, raspberries): naturally sweet, slightly tart, and very juicy.
Citrus (oranges, lemons, limes): bright and acidic — they're the best to counter the creamy or overly sweet items.
3. Seeds and nuts:
To increase the satiety of your smoothie, incorporate healthy fats from nuts and seeds like almonds, cashews, walnuts, macadamia nuts, hemp seeds, chia seeds, flaxseeds, etc.
Not only can these ingredients add a mild, nutty flavor, but they can also add some extra crunch or act as a thickening agent (in case things get too watery).
4. Liquid:
Other than cow's milk, many types of non-dairy milk can be used to make green smoothies. Some of the most popular options include almond milk, oat milk, coconut milk, soy milk, and hemp milk.
For extra protein, you can also try adding Greek yogurt to your green smoothie to turn it into a nutritious post-workout treat.
5. Sweeteners:
If you don't like it overly sweet, try switching out sugar for other sweeteners like honey and maple syrup for a milder taste. A few drops of vanilla extract can also add an extra flavor boost and a sweet aroma for your drink.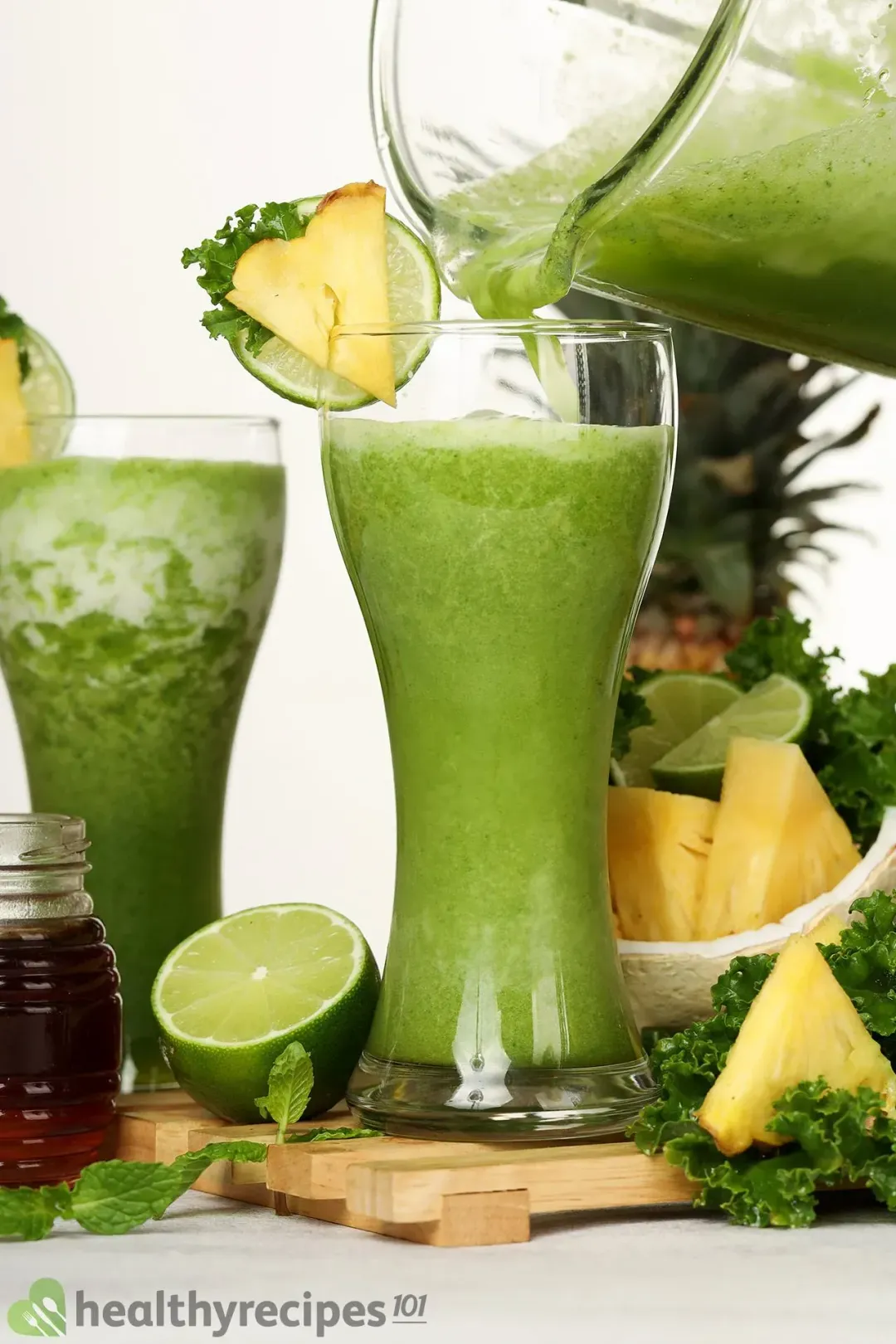 FAQ 
1. Can I Drink A Green Smoothie for Breakfast? 
Yes, you can. Green smoothies can provide an energy boost and great sources of fiber, protein, antioxidants, and healthy fats to kick-start your day. A light meal and a green smoothie can make a nutritious breakfast to keep you full and energized for several hours until lunch.
2. Can You Drink Green Smoothies Every Day?
Yes, you can drink green smoothies every day. 
Green smoothies are packed full of nutrients, vitamins, and minerals that your body needs. They also contain a lot of antioxidants and fiber, both important for digestion and overall health. They're also quick and easy to make at home, making it convenient to incorporate them into your daily diet.
In short, green smoothies are safe to consume on a daily basis, as long as their ingredients are varied and balanced. However, it's important to keep in mind that you should still be eating a well-rounded diet with whole foods to receive a full range of nutrients from the major food groups that are required for optimal health.
3. What Vegetables Are Not Good for Smoothies?
Some of the vegetables that are not recommended for smoothies are cauliflower, eggplant, mushrooms, onions, turnips, and artichokes. These vegetables tend to be too fibrous or have a strong flavor which can make them difficult to blend and overpower the other flavors in a smoothie.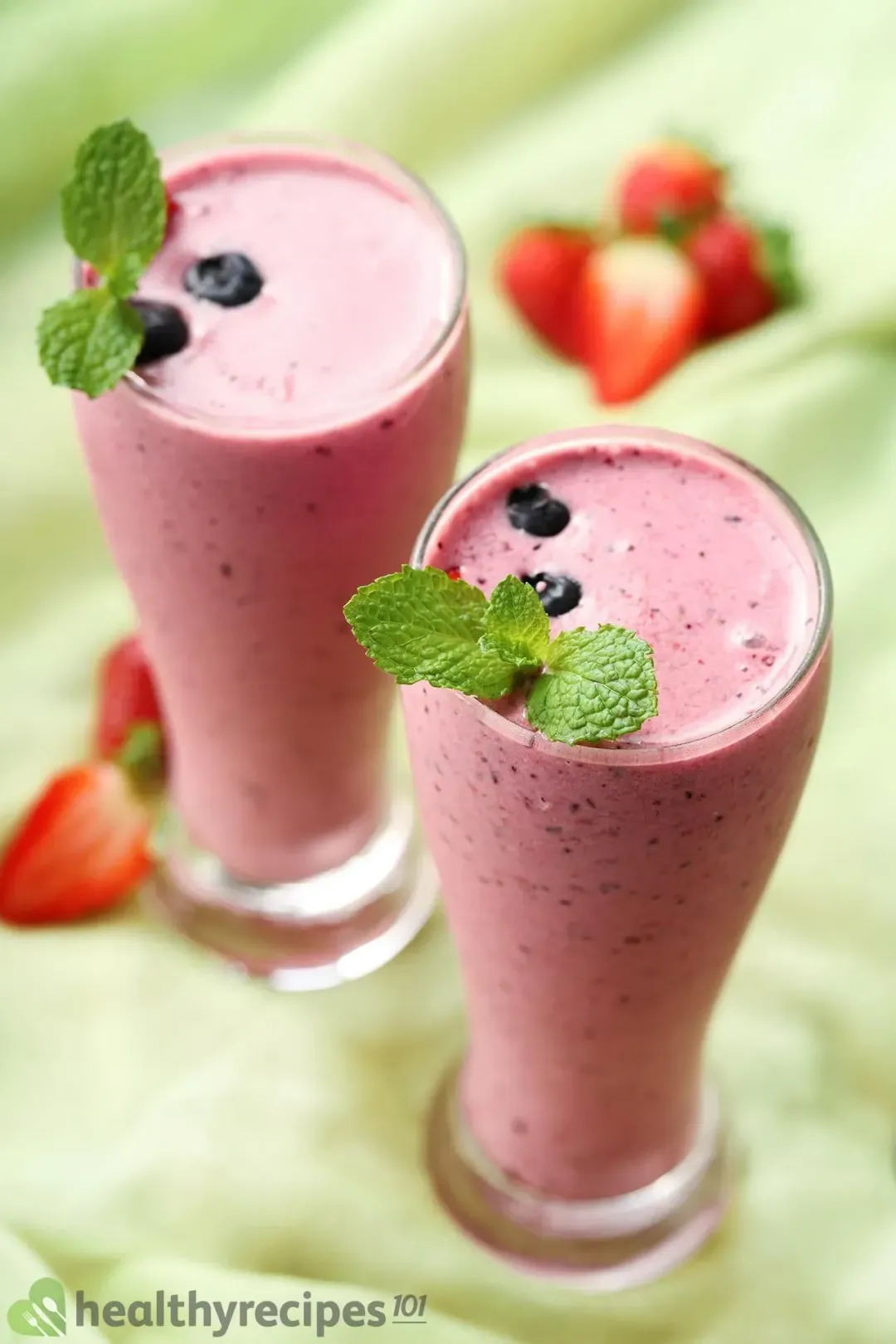 Previous Recipe
Strawberry Smoothie Recipes
Strawberry Smoothie Recipes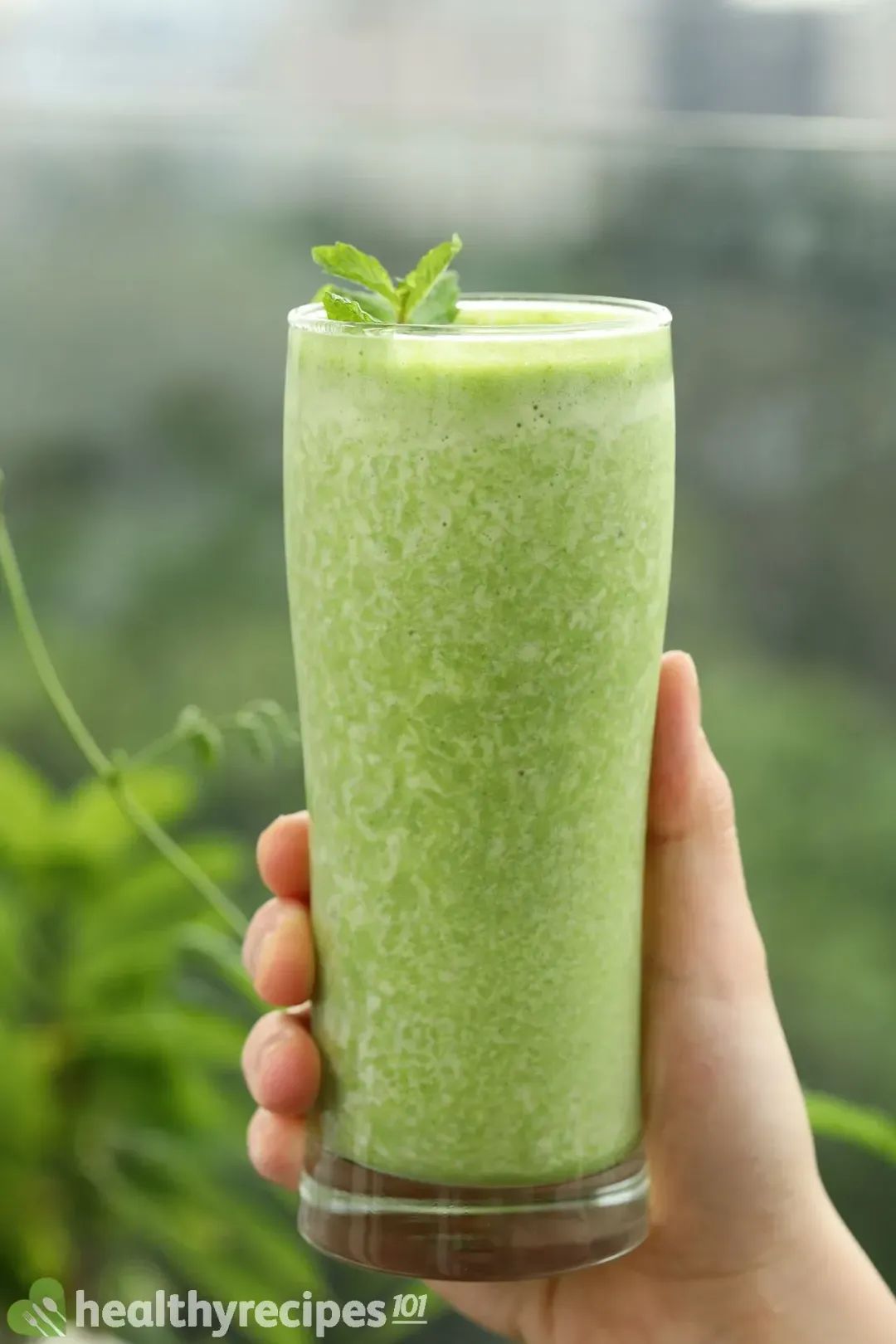 Next Recipe
Spinach Smoothie Recipes
Spinach Smoothie Recipes
Writer, Author
Luna Regina is an accomplished writer and author who dedicates her career to empowering home cooks and making cooking effortless for everyone. She is the founder of HealthyKitchen101.com and HealthyRecipes101.com, where she works with her team to develop easy, nutritious recipes and help aspiring cooks choose the right kitchen appliances.
Comments/ Reviews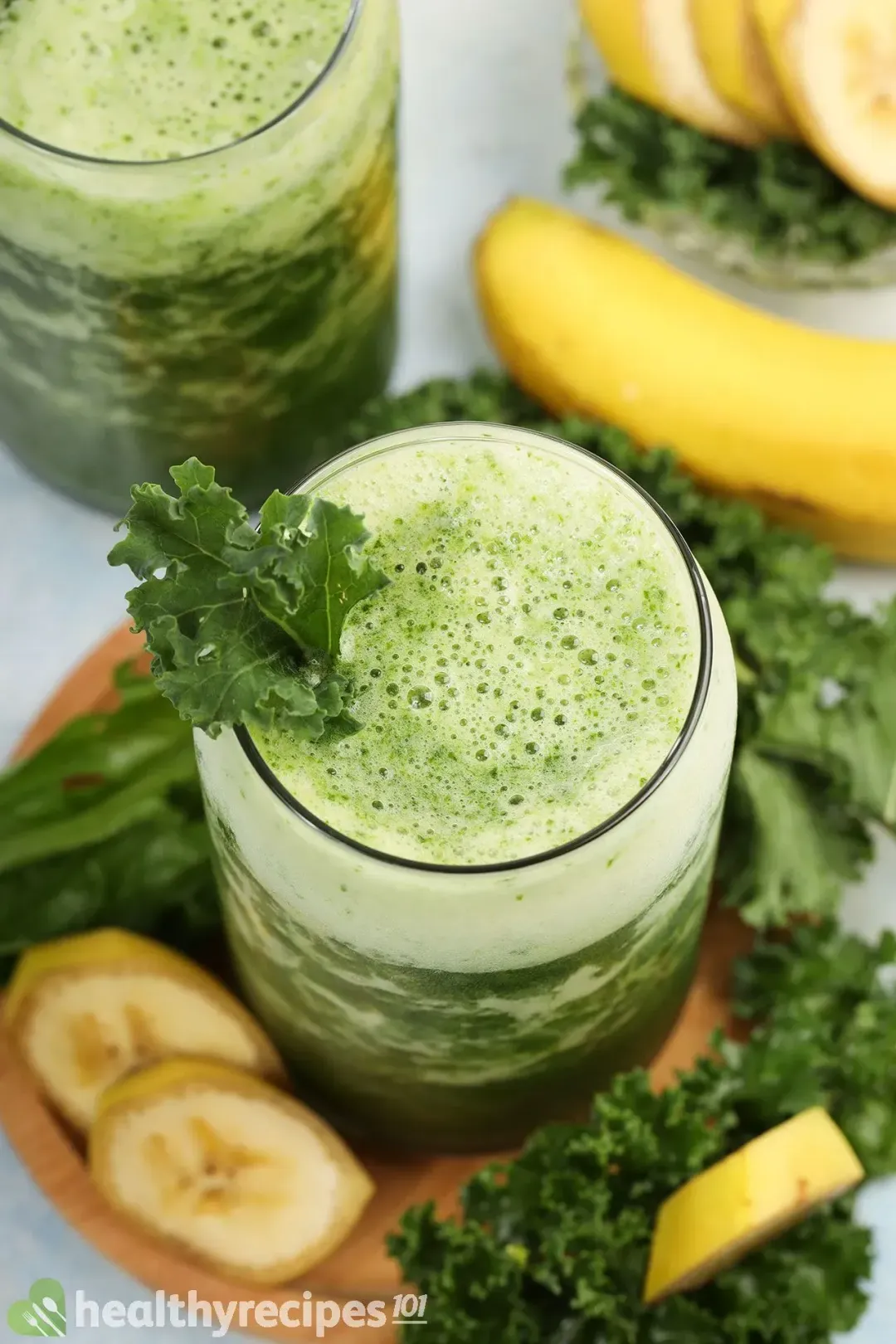 Green smoothie, a healthy and refreshing choice!