This collection of strawberry smoothie recipes is the perfect place to find some healthy and delicious snack options, especially for the sweet-toothers who are watching their weight.
Each of these smoothie recipes will satisfy your cravings while giving your body vitamins and minerals . Let's enjoy the natural and delicious taste of fresh strawberries blended with other healthy ingredients, free from added sugars and chemicals!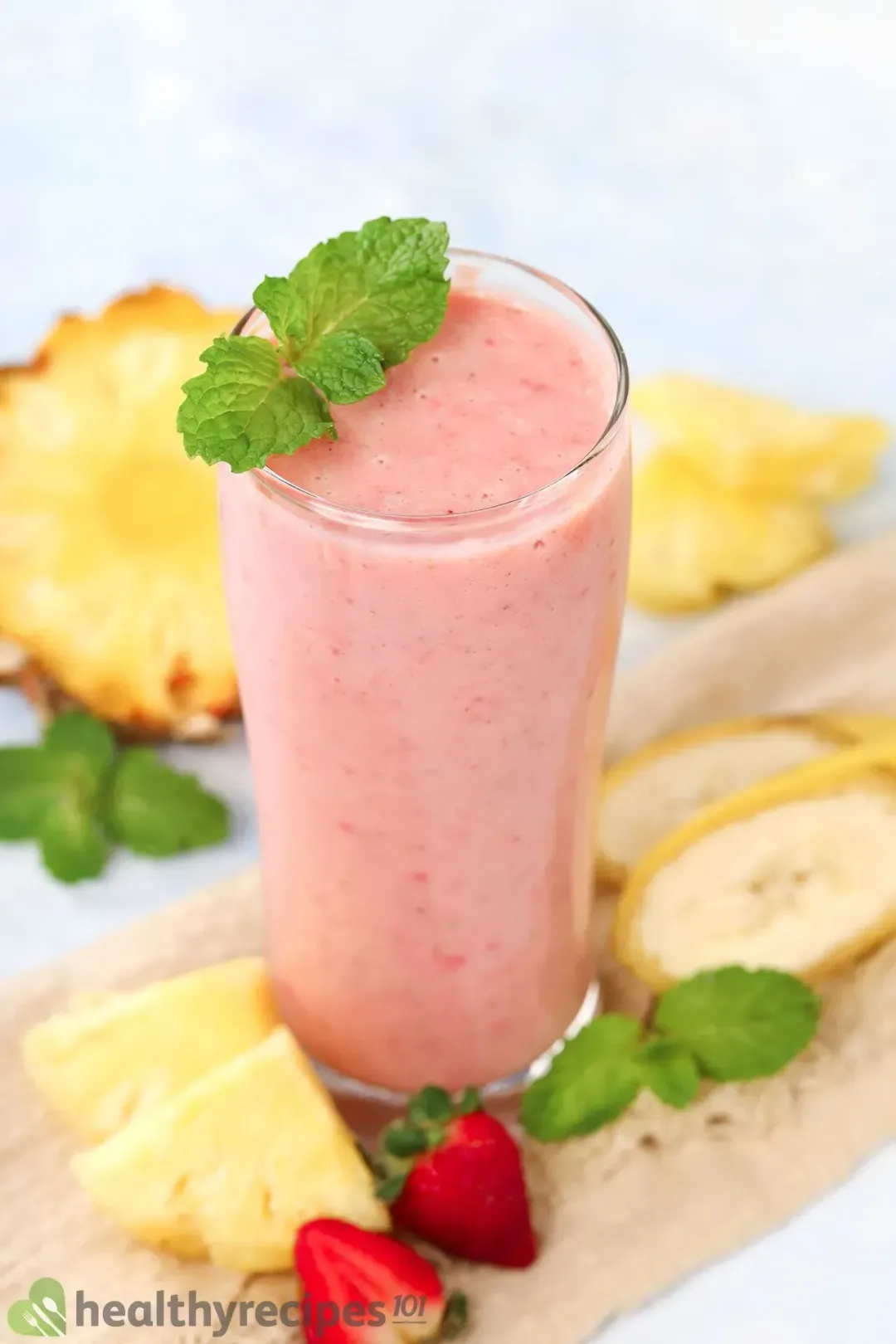 Reasons to Love Strawberry in Your Smoothies
Strawberry smoothies are packed with essential vitamins and antioxidants. Strawberries contain a good portion of vitamin C, folate, potassium, and fiber which help support digestion and weight management. Drinking smoothies can help you reach your suggested daily fiber intake more easily without having to consume large amounts of food at once.
Strawberry smoothies are hands down delicious! They can be enjoyed every day, at any time of the year.
They're versatile! You can make them thick or thin, add other fruits for different flavors, or top them off with some yogurt or cream for added texture and creaminess — the possibilities are endless! 
They offer a great way to get your daily servings of fruits and veggies while keeping you feeling full longer.
Finally, it's super economical and easy to make homemade strawberry smoothies — all you need is a blender and your desired ingredients.
Easy and Delicious Strawberry Smoothie Recipes
1. Strawberry Banana Smoothie
This strawberry banana smoothie recipe will give you a simplistic energy boost on the go.
Either as an easy drink to complement breakfasts or a tasty pick-me-up after workouts, this smoothie can be everything you want. It's wholesome and refreshing, definitely a classic to get you hooked.
Go to Recipe
2. Spinach Fruit Smoothie
Our spinach fruit smoothie recipe is not made with any fancy ingredients, only takes 10 minutes to prepare, and works great as a quick nutrition-packed breakfast or snack.
Make this simple spinach smoothie for an instant energy boost. Each serving is a nutrient-dense blend of protein, fiber, vitamins, and minerals, thanks to the variety of fruits and veg.
Go to Recipe
3. Strawberry Kiwi Smoothie
This strawberry kiwi smoothie recipe combines two great fruits to make a tangy, sweet slushie that freshens up your summertime. We add some orange juice for extra vitamin C and mint leaves to enhance the cooling effect.
Go to Recipe
4. Chocolate Strawberry Smoothie
Our chocolate strawberry smoothie recipe is a healthy formula for a delicious treat. It's a fine blend of strawberries, chocolate, bananas, Greek yogurt, and ice.
Go to Recipe
5. Strawberry Peanut Butter Smoothie
This strawberry peanut butter smoothie recipe is a harmonious blend of sweet fruits, rich peanut butter, chewy dried berries, and crunchy toasted peanuts. We include some Greek yogurt to enhance the smoothie's thickness.
Go to Recipe
6. Strawberry Smoothie with Yogurt
Our strawberry smoothie with yogurt recipe is the combination of 7 simple ingredients that are available in your fridge and pantry.
This smoothie is dedicated to everyone who loves making their own healthy drinks at home.
Go to Recipe
7. Berry Banana Smoothie
This easy berry banana smoothie recipe creates a delicious, healthy beverage with only a few ingredients. Simply throw everything into the blender, and a delicious smoothie will be ready in the blink of an eye.
Go to Recipe
8. Strawberry and Grape Smoothie
This grape smoothie recipe takes just minutes to make and turns out a delicious fruit sensation. Being plump, juicy, crisp, and addictively sweet, grapes are the kind of fruit that people prefer to eat as a snack rather than make treats out of. But once frozen, grapes will taste even better blended into a smoothie, especially when accompanied by the right 'friends'. Today's grape smoothie turns frozen grapes and strawberries, along with Greek yogurt, into a thick and fresh summer treat.
Go to Recipe
9. Berry Banana Smoothie
Our spinach berry smoothie recipe is a simple, delicious way to eat lots of nutrients in one go. Spinach, strawberries, blueberries, and bananas all get blended with Greek yogurt for a rich treat.
Go to Recipe
10. Strawberry Orange Smoothie
Strawberry orange smoothie recipe is a tropical combination of strawberries and oranges. The fruits blend into a gorgeous peachy drink with a delightful sweet-tart flavor. Besides, the beverage is packed with vitamins and minerals, making it a healthy choice for those long summer days.
Go to Recipe
11. Strawberry Pineapple Smoothie
Our easy strawberry pineapple smoothie recipe is a delicious way to perk up your morning. 
Strawberry, sweet pineapple, and yogurt give this fruit smoothie a flavor reminiscent of a strawberry milkshake, but much healthier. It is the ideal beverage if you're in the mood for something with a tropical flavor.
Go to Recipe
12. Triple Berry Smoothie
Triple berry smoothie recipe introduces a delectable blend of fruit and milk that the whole family will adore. This delightful fruit smoothie is sweet and creamy, making it perfect for breakfast or a snack.
This triple berry smoothie will leave you feeling fantastic all day long. Plus, the drink is rich in fiber, protein, antioxidants, and omega-3 fatty acids.
Go to Recipe
13. Pineapple Mango Strawberry Smoothie
Our pineapple strawberry mango smoothie recipe is a delightful drink for when you are pressed for time but still want to nourish your body. This smoothie is creamy, reviving, and always hits the spot on a hot summer day.
Go to Recipe
14. Strawberry Shortcake Protein Smoothie
This Strawberry Shortcake Protein Smoothie is boasting with fiber, nutrients and flavor! This smoothie has all the flavors of the classic strawberry treat!
Go to Recipe
15. Strawberry Coconut Milk Shake
This strawberry coconut milk shake is a dairy free DREAM! Essentially a vegan strawberry milkshake made without ice cream – it is thick, creamy, and made with only 5 simple ingredients! A healthy plant based frozen treat that is made for warm summer days!
Go to Recipe
16. Strawberry Blueberry Smoothie
If you like a refreshing, fruity smoothie that's high in antioxidants and short on ingredients, then our strawberry blueberry smoothie recipe could be just what you're looking for. This delicious smoothie is sweet, tart, and creamy, with a hint of honey for complexity.
It's an excellent addition to your breakfast or a quick energy boost after a workout.
Go to Recipe
17. Strawberry Ginger Smoothie
This Strawberry Ginger Smoothie is creamy, sweet, and bursting with fruity flavors. It's refreshing and delicious, so healthy - packed with nutrients and immune-boosting Vitamin C. It's easy to make and has no added sugars. Perfect healthy breakfast smoothie!
Go to Recipe
18. Strawberry Watermelon Smoothie
Nothing can be more refreshing than a fresh strawberry watermelon smoothie on a hot summer day! This smoothie is so healthy as it's packed with vitamins and antioxidants. Great for kids and adults. I love summer fruit. Strawberries and watermelons have always been on the top my fav fruit list, and I impatiently wait every year for the summer to begin just to be able to enjoy these 2 fruits!
Go to Recipe
19. Strawberry Chia Seed Smoothie
Start the day off right with this creamy strawberry chia seed smoothie! This smoothie is packed with antioxidants, fiber, and great flavor! You won't be disappointed when you add in the chia seeds for a little extra texture and fun. Blend up this creamy strawberry chia seed smoothie today!
Go to Recipe
20. Strawberry Peach Smoothie
I absolutely love summer because of all the fresh fruits available. This combination of strawberries and peaches is just perfect. They are so juicy and sweet together. If you have never tried this flavor combo before, I highly recommend it.
Go to Recipe
What Goes Well With Strawberries in A Smoothie?
1. Fruits:
Some of the most common pairings for strawberries in a smoothie typically include:
Bananas: Adding a banana to your smoothie gives it flavor, nutrition, and thickness. Bananas can help strengthen bones as well as boost your immune system due to their rich source of electrolytes, Vitamin B6, Vitamin C, magnesium, and potassium levels. Moreover, they're also a wonderful natural sweetener and contribute greatly to the thick consistency of smoothies.
Pineapples: Add acidity to the smoothie and help balance the flavors.
Other berries (such as raspberries and blueberries): Provide a tart complexity to the fruit mixture with a mild sweetness, and extra nutrients such as antioxidants and dietary fiber.
Mangos: This delicious tropical fruit adds a pleasant touch of sweet-sour taste to your smoothie while providing plenty of beta-carotene, fiber, vitamin A, and vitamin C as well as antioxidants, which may help protect against certain diseases such as cancer or diabetes.
Avocado: Full of healthy fats that promote cardiovascular health, avocados are a great way to thicken up your smoothie while providing energy-boosting benefits that keep you going throughout the day!
All of these fruits have sweet, energizing qualities that go well with strawberry flavor. They also provide additional vitamins and minerals to the smoothie.
2. Vegetables:
Some great vegetables to add to a strawberry smoothie are:
Carrots: Contain beta-carotene which helps with your eye health. Their orange color also contrasts beautifully with the strawberries' pink hue.
Spinach: Offers iron and potassium.
Beets: Provide an earthy flavor and are full of antioxidants and nutrients such as magnesium, calcium, vitamin C, and folate.
3. Nuts and seeds:
Adding seeds and nuts to smoothies is a great way to increase their nutritional value. Here are some of the best seeds and nuts to mix into smoothies:
Almonds: Contain monounsaturated fats that can help support heart health as well as magnesium, vitamin B2 (riboflavin), phosphorus, copper, manganese, and vitamin E. 
Walnuts: Are packed with omega-3 fatty acids and several important vitamins, minerals, and antioxidants — including vitamin E and selenium — which can protect against oxidative damage caused by free radicals.
Chia seeds: An excellent source of both omega-3 fatty acids and fiber. They can help improve digestion and reduce inflammation.
Flaxseeds: Contain both soluble and insoluble fiber, which can help promote healthy digestion. They also contain antioxidants that can reduce inflammation in the body.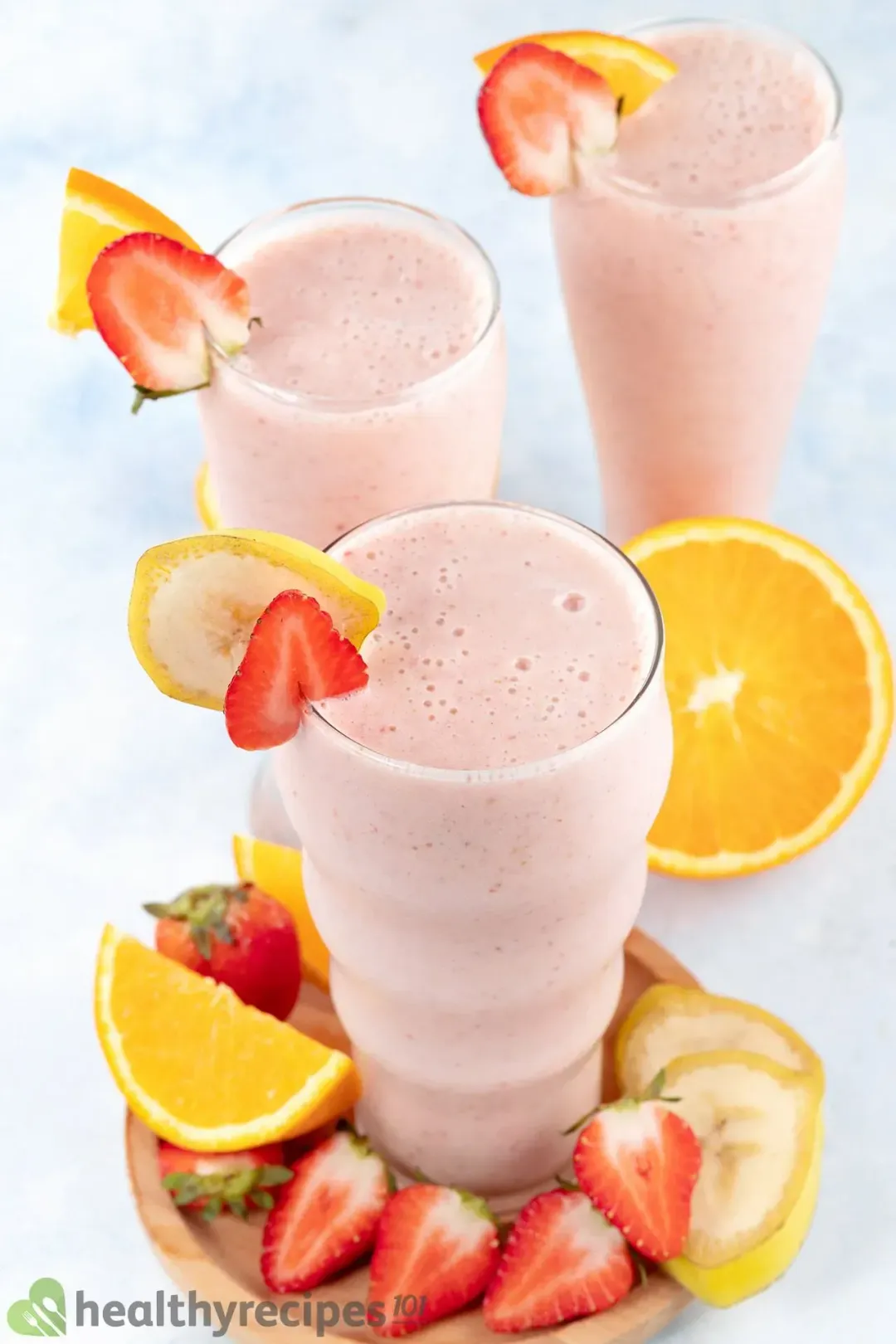 FAQ
1. Can I Use Frozen Strawberries for Smoothies?
Yes, totally! Frozen strawberries can be a lovely addition to smoothies. They will also provide a thicker and cooler consistency than fresh strawberries.
2. How to Choose a Liquid for Your Smoothie
Milk, nut milk (like almond milk or oat milk), and coconut milk are great options as they provide calcium, vitamins, and minerals. Additionally, consider homemade green juice or unsweetened fruit juice, which both offer natural sugars and essential vitamins.
It's best to choose a liquid that is low in calories and packed with nutrition. Also, if possible, opt for fresh juices over store-bought ones to ensure that you receive the full nutritional advantages of the produce without the extra amounts of added sugar or preservatives.
How to Store A Smoothie
Storing a smoothie is easy — it only requires a few simple steps to make sure it stays fresh. 
Once you've finished blending the smoothie, pour it into an airtight container or a cup with a lid. A glass jar or bottle works well if you plan to store it overnight or longer.
Make sure your smoothie is tightly sealed before putting it in the refrigerator to prevent air from getting in and fostering the growth of bacteria. Smoothies should only be kept for a maximum of 1 week before being consumed.
If you put your smoothies in the freezer, be prepared for some pressure from the expansion of frozen ingredients in the smoothie. Leave a little gap at the top of the container so that air can expand there without pushing the lid off.
Another way to make the most of any leftover portions is to pour them into ice cube trays and freeze them for future use, maybe in another delicious drink.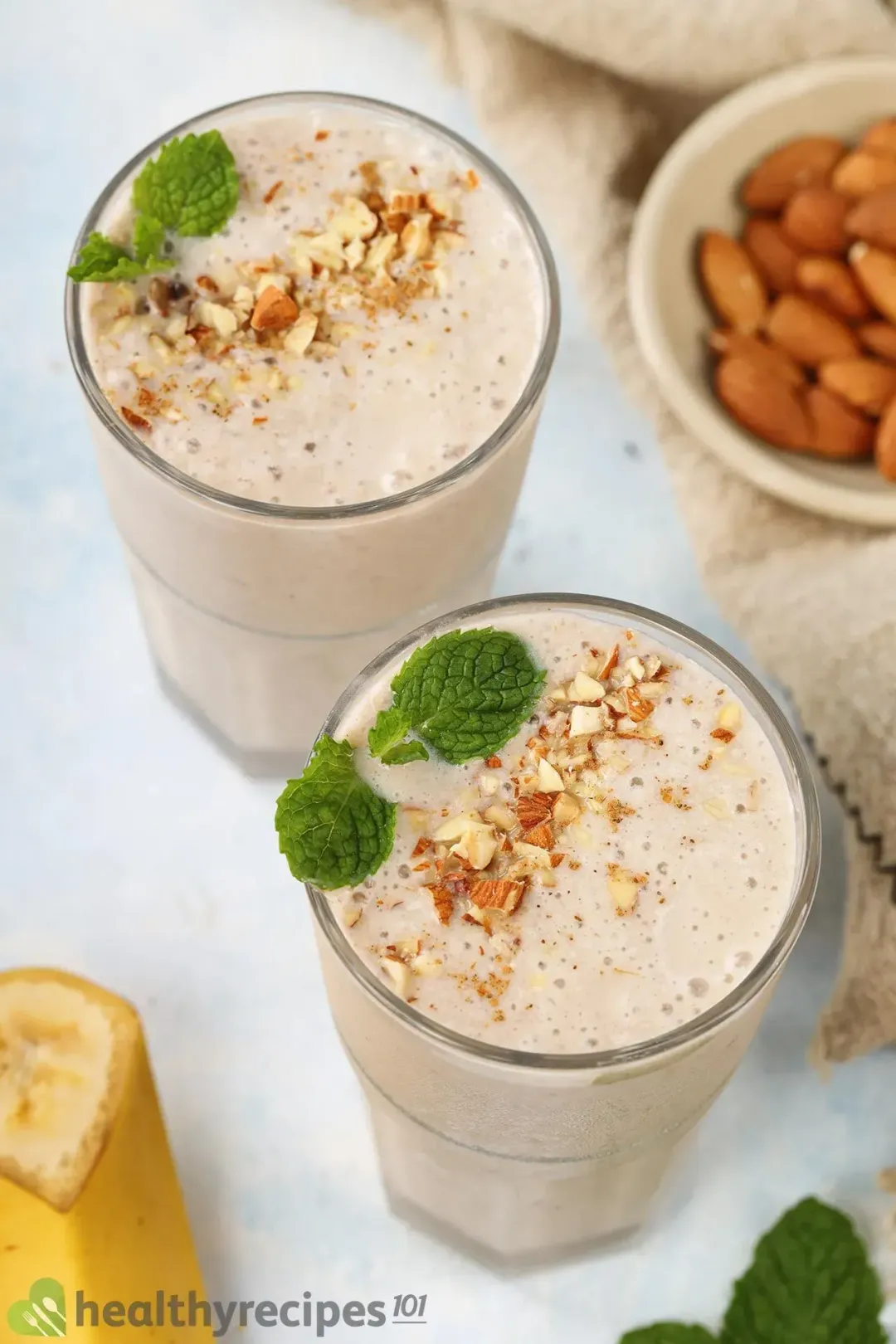 Previous Recipe
Banana Smoothie Recipes
Banana Smoothie Recipes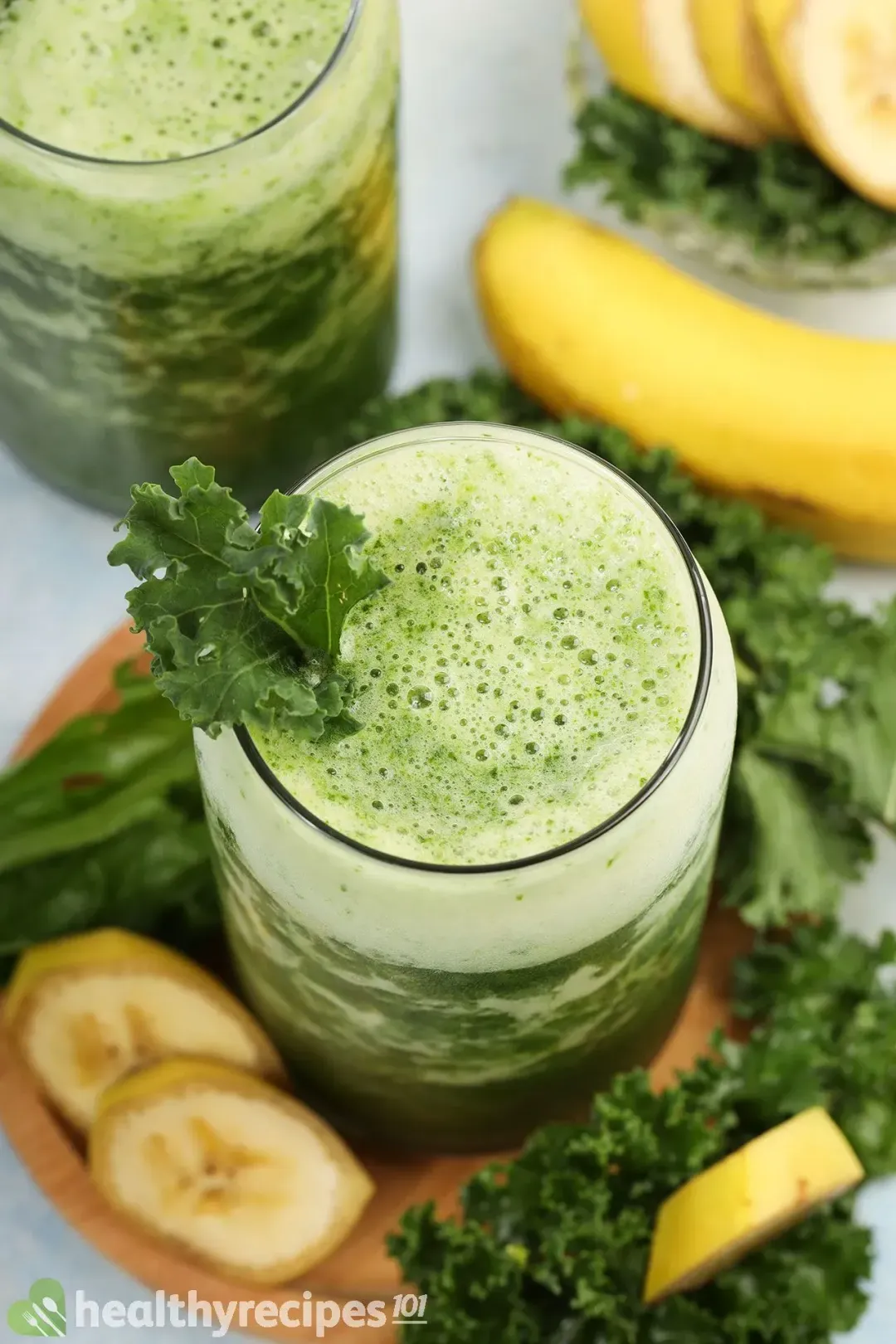 Next Recipe
Green Smoothie Recipes
Green Smoothie Recipes
Writer, Author
Luna Regina is an accomplished writer and author who dedicates her career to empowering home cooks and making cooking effortless for everyone. She is the founder of HealthyKitchen101.com and HealthyRecipes101.com, where she works with her team to develop easy, nutritious recipes and help aspiring cooks choose the right kitchen appliances.
Comments/ Reviews