Whether it's a quick breakfast, a light meal, or a thirst-quenching beverage, these blueberry smoothie recipes never fail to deliver. With healthy ingredients, gorgeous flavors, and easy steps, they check all the right boxes for a daily drink. Keep reading to find out all the different ways to whip up a refreshing drink that will keep you satiated and nourished.
Why You Should Try Blueberry Smoothies
They're quick and effortless: Making smoothies is rarely a chore. All you need to do is gather and blend the ingredients until smooth. It's even faster with blueberries since they don't require any preparation.
They're perfect for breakfast and snacks: Blueberry smoothies make not only a fantastic thirst-quenching beverage but also an adequate breakfast or light snack. You can add nuts, seeds, yogurt, and protein powder to make a nutrient-packed glass and start the day fully energized.
They're versatile: When it comes to blueberry smoothies, there's no need to worry about repetition. You can easily switch things up and use different fruits, vegetables, dairy products, seeds, nuts, etc. to make drinks with familiar yet diverse flavors.
Check Out Our Top 20 Favorite Blueberry Smoothie Recipes
1. Blueberry Smoothie
Five simple ingredients and five minutes are all you'll need to make this antioxidant-packed smoothie. Plus, with the addition of oats and chia seeds, it also provides you with a decent amount of fiber and proteins. Each sip is a frosty, refreshing burst of sweet-tart goodness that revitalizes you from the very first taste.
Go to Recipe
2. Pineapple Blueberry Smoothie
Get ready to transport your taste buds to a tropical paradise with our Pineapple Blueberry Smoothie! This vibrant smoothie combines the sweetness of pineapple with the tanginess of blueberries for a delightful flavor combination that will leave you craving more. It's the perfect way to enjoy a taste of the tropics while nourishing your body with essential vitamins, minerals, and antioxidants.
Go to Recipe
3. Blueberry Banana Smoothie
When it comes to smoothies, banana is everybody's friend, and that includes blueberry. This fruit's bright, candy-like sweetness is gorgeously complementary to the berry's sweet-tart taste. Throw some milk into the mix and you've got a creamy, satiating beverage that's impossible to turn down. This recipe also includes a scoop of vanilla ice cream, and let us tell you something, the soft, decadent way it melts into the smoothie is something on the cusp of heaven.
Go to Recipe
4. Blueberry and Almond Butter Smoothie
Nutty and sweet with a deliciously creamy texture, this almond butter blueberry smoothie is a fantastic choice whenever you need a quick pick-me-up. You can sprinkle in some seeds, oats, nuts, granola, or even dried berries to make it more filling for a satisfying light meal.
Go to Recipe
5. Peanut Butter Blueberry Smoothie
Blending crushed, toasted peanuts and peanut butter with blueberries, bananas, and milk gives you a sweet-tart drink with a light, nutty aroma. It's wholesome and decadent at the same time, like a nostalgic childhood dessert that you couldn't seem to get enough of.
Go to Recipe
6. Lemon Blueberry Smoothie
This blueberry-banana smoothie gets a burst of brightness from the lemon juice and lemon zest that makes every sip feel like you're sippin on sunshine. Each sip brings a moment of pure bliss, as the tartness of the lemon harmonizes with the natural sweetness of the blueberries, creating a tantalizing melody of taste.
Go to Recipe
7. Blueberry Avocado Smoothie
The beauty of smoothies is they offer so much freedom for experimentation. This blueberry avocado is a perfect example. Who knew the avocado's subtly nutty taste can be so complementary to the blueberry's sweet-tart taste? The mixture creates a divine flavor combination that fills your taste buds with a world of excitement.
Go to Recipe
8. Mango Blueberry Smoothie
The mango blueberry smoothie is a tropical paradise captured in a glass, a harmonious blend of vibrant flavors and luscious textures. As you take your first sip, the sweet and juicy mango takes center stage, enveloping your taste buds with its tropical essence. The burst of tangy blueberries adds a delightful twist, infusing the smoothie with a refreshing zing. This smoothie is a testament to the beauty of nature's bounty, a refreshing and rejuvenating treat that brings a taste of paradise to your day.
Go to Recipe
9. Strawberry Blueberry Smoothie
This smoothie is a true celebration of summer's harvests, a refreshing and nourishing treat that brings a burst of fruity heaven to your day. It's brightly sweet and subtly tart, with creamy, tangy notes of Greek yogurt to harmonize everything together. Make a glass and feel the season's goodness melt right onto your taste buds.
Go to Recipe
10. Blueberry Orange Smoothie
Feel like experimenting with something new but still a bit familiar? This blueberry orange smoothie is just the stuff to go with. The citrus brightness is a perfect contrast to the berry's delicate sweetness. Tied together by Greek yogurt and honey, the flavors are a harmonious, balanced blend that makes each sip feel like something straight out of heaven.
Go to Recipe
11. ⁠Blueberry Spirulina Smoothie
Blue spirulina is a type of nutrient-dense algae that gives this smoothie its gorgeous blue hue. It usually comes in powder form and is very mild-flavored, so you won't have to worry too much about any strange taste in your smoothie. With blueberries, bananas, and pineapples as the main ingredients, what you'll be tasting instead, is a beautiful blend of sweet and vibrant flavors. Use frozen fruits to achieve the most creamy, velvety smooth texture!
Go to Recipe
12. Blueberry Spinach Smoothie
Don't like eating leafy greens? Blend them with fruits instead!
This recipe is for those of you who want to obtain all the essential nutrients that leafy greens like spinach or kale provide but can't stand their vegetal scent. And if you happen to like leafy greens, all the better! This smoothie's dominant flavor is the sweet, woodsy berry taste and a hint of bananas with some grassy, earthy notes peeking through in the back. The combination sounds a bit mismatched, but knock it 'til you've tried it. You'll be pleasantly surprised.
Go to Recipe
13. Berry Banana Smoothie
Blueberries, strawberries, bananas, honey, milk, and yogurt come together in this gorgeous, magical beverage. It's decadently sweet, like an indulgent dessert, but still offers all the nutrients you need to keep your body nourished. Every sip brings unadulterated joy that makes you feel utterly invigorated and refreshed.
Go to Recipe
14. Zucchini Blueberry Smoothie
This smoothie is loaded with zucchini, celery, spinach, blueberries, and bananas. The balanced amount of fruits and veggies gives it a harmonious blend of softly sweet and delicately grassy flavors. It sounds like such an odd combo at first, but one sip and you'll adore just how well everything comes together.
Go to Recipe
15. Blueberry Kale Smoothie
Here's another green blueberry smoothie for you to try out. The kale's vegetal, grassy taste is largely masked by sweet banana and tart blueberries in this recipe. There's also some freshly grated ginger, so you'll also detect a subtle hint of spice that kicks the flavors up a notch. It's surprisingly refreshing and enjoyable—a perfect quick nutrient boost for those busy mornings.
Go to Recipe
16. Triple Berry Smoothie
This one's for the berry lovers who can't ever seem to get enough of these summer fruits' goodness. Strawberries, blueberries, and blackberries are blended with honey, milk, and ice to make a berry-licious beverage that promises a wonder of flavors. Its sweetness is almost candylike, with subtle tart, woody, and floral notes dancing all throughout the gorgeous medley. We truly can't think of a better way to celebrate your summer days than with a glass of this joyful smoothie.
Go to Recipe
17. Chocolate Blueberry Smoothie
Got a sweet tooth but don't want to over-indulge? Whip up a glass of this chocolate blueberry smoothie instead. It's made from blueberries, bananas, almond milk, maple syrup, vanilla, and cocoa powder. This combination makes each sip feel like a bite into a decadent, fruity dessert filled with chocolatey goodness. Although, of course, with this delicious smoothie, you'll also be benefited from a good amount of fiber, vitamins, and antioxidants—it's the best of both worlds!
Go to Recipe
18. Coconut Blueberry Smoothie Bowl
Even though smoothie itself already makes a pretty sufficient light snack/breakfast, you can always amp it up a bit for a more satisfying taste. This is where smoothie bowls come in. With this recipe, the blueberry-banana-kale combo gets a protein boost from chia seeds and hemp seeds. Topped with shredded coconut, fresh blueberries, chia seeds, and granola, it makes a filling, healthy, and delicious breakfast that will help you start your day energized and fully nourished.
Go to Recipe
19. Blueberry Sunshine Smoothie Bowl
Packed with blueberries, green apples, bananas, orange juice, and yogurt, this blueberry smoothie bowl is a nutritious way to add a whole lot of flavors to your day. The topping choices are practically endless and can be adjusted depending on your preference. Go with granola, shredded coconut, and dried fruits if you like a little bit of crunchiness to contrast the smoothie's smoothness, seeds for an extra protein boost, or nut butter if you like to bring in an exciting layer of nutty flavor.
Go to Recipe
20. Blueberry Mint Smoothie Bowl
Blueberry and mint, now that's a combo that embodies the refreshing essence of summertime. This smoothie blends these two main ingredients with oats, bananas, milk, and vanilla to create a delicious, toothsome smoothie. Top it with your favorite toppings—whatever it may be, fruits, nuts, seeds, cereals—and have an amazing time with every flavorful scoop.
Go to Recipe
What Do Blueberries Taste Like?
As part of the berries family, blueberries have that signature sweet-tart flavor. Their sweetness leans toward the delicate side and you can usually taste a touch of acidity as you bite into the fruit.
When blended into a smoothie, blueberries' sweetness takes a front seat while the tart taste turns into a pleasant undertone. Depending on the specific ingredients it's paired with, this fruit could also be mixed with some additional nutty, earthy, or creamy notes.
What Goes Well With Blueberries In a Smoothie
When it comes to blueberry smoothies, there's never a dull moment. Thanks to its pleasant sweet-tart taste, blueberry makes a perfect match with a lot of different ingredients. Here are some that would work in smoothies:
The list stretches on and on with this category. You can add banana, peach, pomegranate, avocado, pineapple, other berries, lemon, melon, kiwi, mango, etc. into your blueberry smoothies for a swirl of delectable, fruity flavors.
Leafy greens like kale and spinach are very common choices for blueberry smoothies. Beyond that, you can also go for carrots, broccoli, cauliflower, zucchini, celery, or Swiss chard. The combinations may sound a bit odd at first, but give it a try and you'll be amazed by how well the flavors go together.
For seeds, chia seeds and flaxseeds are many's go-to's for blueberry smoothies. As for nuts, there is a whole lot to choose from. Almonds, pecans, walnuts, hazelnuts, pine nuts, and peanuts are all great for adding a subtle nutty undertone.
For those who love a chocolatey undertone in their blueberry smoothies, cocoa powder or cacao nibs are excellent choices.
Ground cinnamon or ground turmeric can also be added for a little bit of warmth.
Some ingredients not only add flavor but also help to thicken the smoothie's consistency: oats, cream cheese, almond butter, peanut butter, Greek yogurt, etc.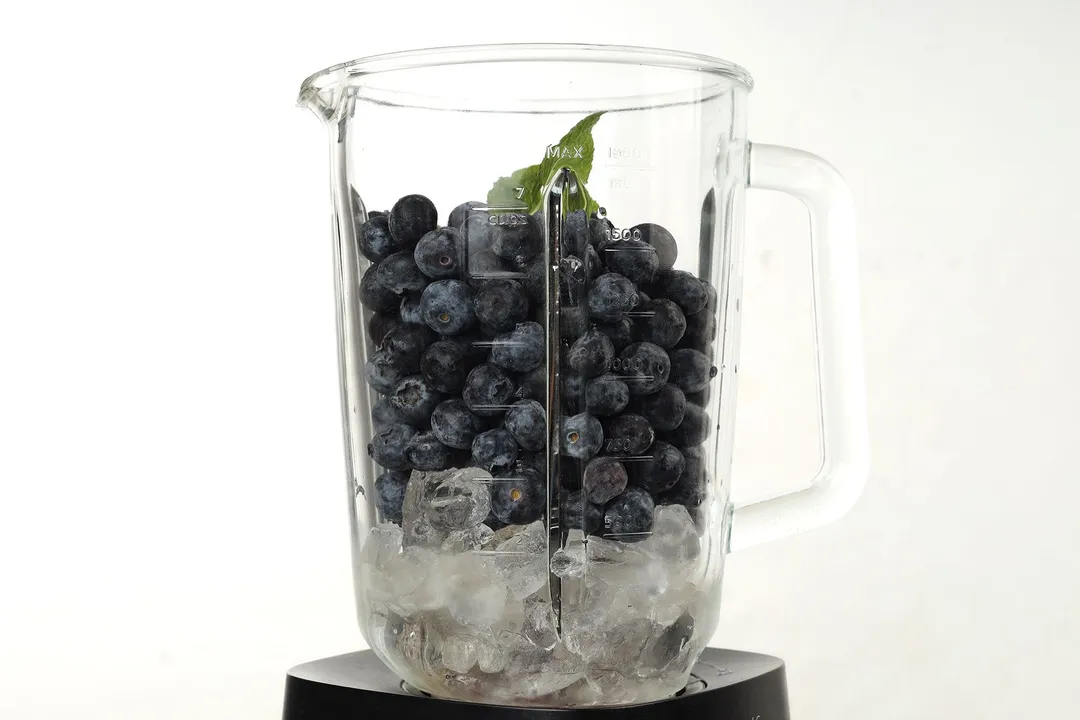 How to Tell If Blueberries Are Bad
With smoothies, frozen blueberries are preferable since they could give a thicker and more frothy texture. That being said, fresh ones are also perfectly acceptable. Either way, they should still be edible. Check some of the following signs to see if they've gone bad or not:
Fresh blueberries are often quite plump but still soft enough to gently squeeze. Mushy ones are not necessarily spoiled. More often than not, they're overripe. This means they can be quite sour and too soft to make good smoothies and might work better as jam.
Blueberries' exteriors are often the most obvious indicators of their freshness. Fresh ones often have smooth and dark blue/purple skin, while ones that are going bad tend to discolor, shrivel up, and have small blemishes or bruises. In some cases, there may even be white or green mold spots. 
Spoiled blueberries can taste unpleasantly bitter or sour. You may also detect a faint vinegary scent that's quite distinctive of rotten fruit.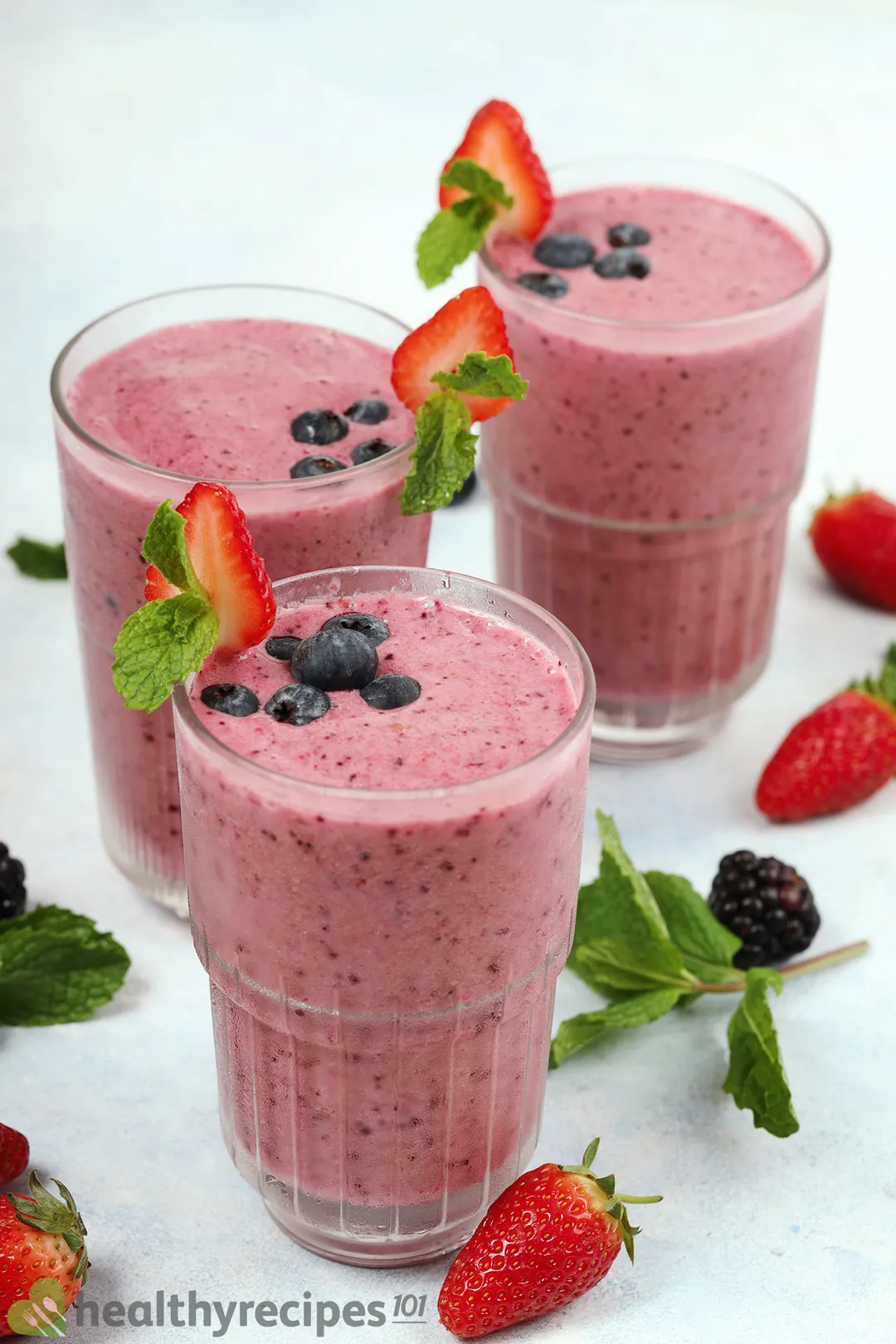 Previous Recipe
Berry Smoothie Recipes
Berry Smoothie Recipes
Writer, Author
Luna Regina is an accomplished writer and author who dedicates her career to empowering home cooks and making cooking effortless for everyone. She is the founder of HealthyKitchen101.com and HealthyRecipes101.com, where she works with her team to develop easy, nutritious recipes and help aspiring cooks choose the right kitchen appliances.
Comments/ Reviews