This list of the best detox smoothie recipes will help you find the perfect combination of flavors and nutrients to suit your health needs.
Packed with fiber, vitamins, and minerals, a detox smoothie can support your body's detoxification process as well as nourish other organs for an overall good health.
What Is A Detox Smoothie?
A detox smoothie is a blended drink made with healthy, natural ingredients. Drinking it can improve your overall health and revitalize your spirit. These ingredients provide vitamins, minerals, and antioxidants needed for good health. Some detox smoothies contain herbal teas or other herbal extracts to further support the detoxification process.
Although detox smoothies are sometimes promoted as a "quick health fix," we think it's important to highlight the fact that your body is already capable of detoxing naturally. So simply put, when it comes to "detoxification", nothing beats a balanced diet and a healthy lifestyle.
While regular consumption of detox smoothies can bring many health benefits, such as supporting the digestive system, regulating blood sugar levels, and aiding weight management, these drinks are absolutely not miracle cures to ailments. You should consume them only in moderation and if necessary, with guidance from a health professional.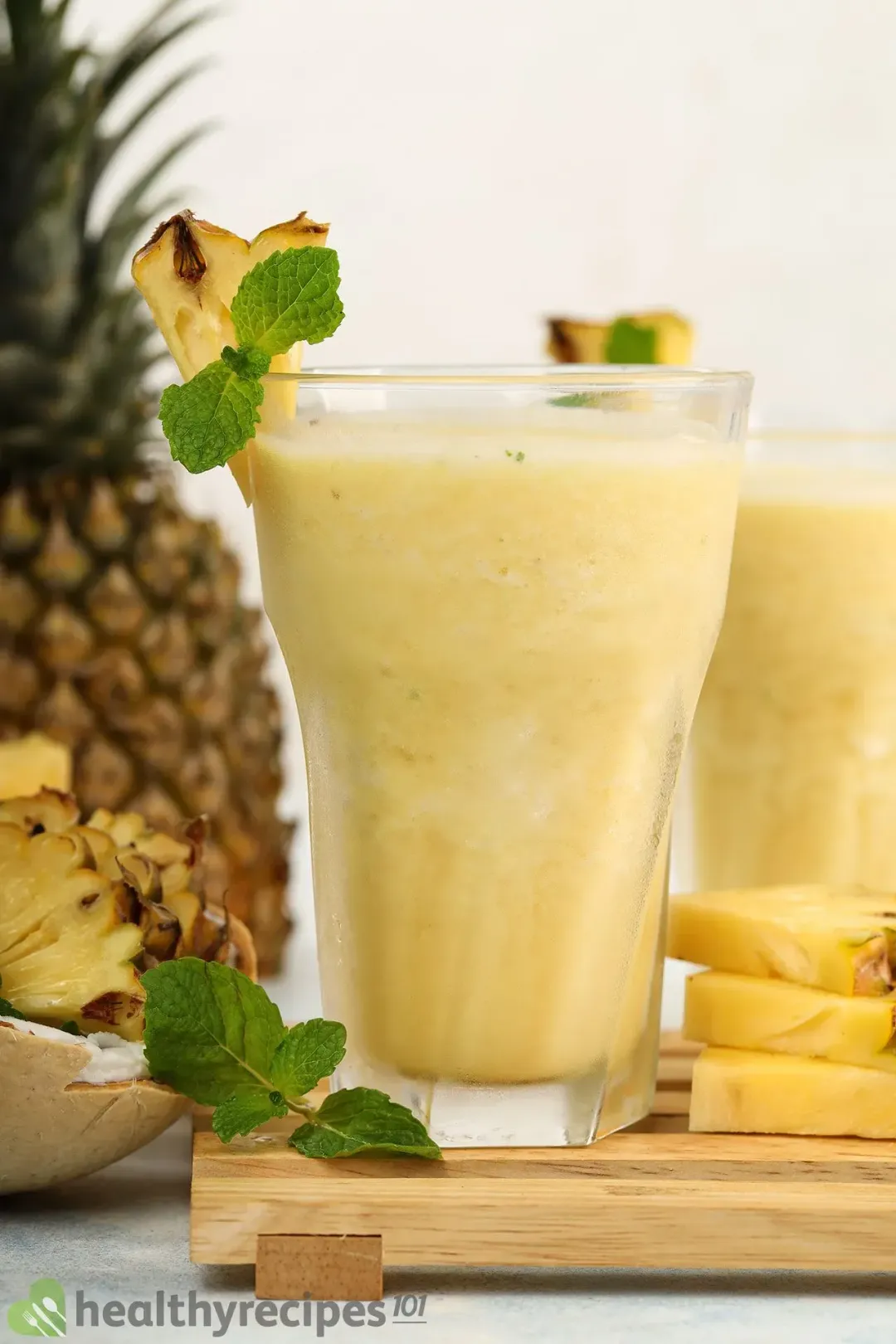 What Does A Detox Smoothie Contain?
A detox smoothie typically contains a mix of fruits, vegetables, and other healthy ingredients that support the body's natural detoxification system.
Some common fruits in a detox smoothie include:
Berries (such as strawberries, blueberries, and blackberries): Being naturally high in antioxidants and vitamin C, berries help boost your immune system and protect your cells against toxins. They're also packed with fiber that aids digestion and maintains a healthy weight.
Avocados: Avocados are a great source of healthy fats, protein, and fiber. These healthy fats help the body absorb more vitamins and minerals from other ingredients in the smoothie, adding to its detoxifying capabilities.
Vegetables: A variety of veggies, such as spinach kale, romaine lettuce, cucumber, etc., are loaded with fiber—which aid digestion—and other essential vitamins and minerals. Leafy greens, in particular, make surprisingly delicious smoothies. Check out our collection of Green Smoothie Recipes for ideas and ways to incorporate more leafy greens into your diet.
Ginger root or turmeric: They're both great additions to any detox smoothie due to their potent anti-inflammatory properties, which can help reduce inflammation caused by an excess buildup of bad toxins present in our bodies due to poor eating habits and environmental pollution.
Chia seeds: Chia seeds are rich in fiber and can help bind toxins together for excretion or removal from the body through stool or urine.
Coconut water: Coconut water is full of electrolytes and has hydrating properties. It also helps balance your pH levels which aid in maintaining the proper function of various organs, including the kidneys and the liver—two important detoxifiers in the body.
Note that while most detox smoothies do include plenty of fresh fruit, vegetables, and other whole foods, some recipes could also include processed ingredients for extra flavors or convenience. So, be sure to read the ingredient list of every recipe and check if it's aligned with your diet, nutrition needs, and goals.
25 Best Detox Smoothie Recipes
1. Healthy Green Smoothie
Our green smoothie recipe is easy, healthy, beginner-friendly, and a fantastic way to sneak that daily dose of greens into your diet.
Vegetables are so nutritious and delicious, but we understand how they might not be everyone's favorite food group. We, especially the chefs, wanted to put together something quick, easy, and tasty to make consuming greens a pleasant experience for everybody, so we came up with this smoothie.
Go to Recipe
2. Strawberry Blueberry Smoothie
If you like a refreshing, fruity smoothie that's high in antioxidants and short on ingredients, then our strawberry blueberry smoothie recipe could be just what you're looking for. This delicious smoothie is sweet, tart, and creamy, with a hint of honey for complexity.
It's an excellent addition to your breakfast or a quick energy boost after a workout.
Go to Recipe
3. Apple Cucumber Smoothie
Both tasty and hydrating, this apple cucumber smoothie is perfect as a healthy breakfast juice or snack. Simple to make with minimal ingredients, it's packed with vitamins and minerals and so delicious!
Go to Recipe
4. Spinach Banana Smoothie
Whenever you're craving something fresh and nutritious, it's time to make our spinach banana smoothie recipe.
Packed with fresh fruits, vegetables, and dairy, the drink is creamy and subtly sweet with added honey for a lip-smacking blend. This vibrant smoothie is perfect for a decent breakfast or to quickly charge you up after a workout.
Go to Recipe
5. Blueberry Banana Smoothie
This blueberry banana smoothie recipe will have you looking forward to hot summer days and tasty desserts. It's a versatile drink you can have as an appetizer or a calorie-filler.
More importantly, it balances nourishment and taste. The drink provides eye and heart-health benefits delivered with aromatic flavors.
Go to Recipe
6. Pineapple Ginger Smoothie
This pineapple ginger smoothie recipe is an awesome combination. It's super fresh and with a lingering warmth that is sure to grow on you.
Go to Recipe
7. Strawberry Orange Smoothie
Strawberry orange smoothie recipe is a tropical combination of strawberries and oranges. The fruits blend into a gorgeous peachy drink with a delightful sweet-tart flavor. Besides, the beverage is packed with vitamins and minerals, making it a healthy choice for those long summer days.
Go to Recipe
8. Orange Pineapple Smoothie
Our Orange Pineapple Smoothie is an excellent summer accessory that will cool you instantly, and it doesn't hurt that they resemble golden-hued alps!
Go to Recipe
9.  Cucumber Smoothie
Don't let the name deceive you; this cucumber smoothie recipe contains more than just bland old boring cucumber. Our smoothie recipe is a combination of multiple fruits with different flavors and textures to create a refreshing and satisfying drink.
Go to Recipe
10. Pineapple Green Smoothie
Our Pineapple Green Smoothie is a great way to rack up leafy green vitamins and minerals daily in just seven minutes. This smoothie is an easy way to include more vegetables into your diet. It masks the taste of greens with delicious fruits.
Go to Recipe
11. Cucumber Pineapple Smoothie
This cucumber pineapple smoothie recipe makes a refreshing, delicious drink out of simple ingredients. Cucumber, pineapple, coconut water, lime juice, mint leaves, sugar, and ice all come together for the perfect blend.
Go to Recipe
12. Kale Spinach Smoothie
Our kale spinach smoothie recipe is loaded with nutritious and delicious ingredients thanks to leafy greens and bananas. The smoothie is thick, creamy, and sweet and your kids won't even know there are green vegetables in the drink.
Go to Recipe
13. Spinach Green Smoothie
Our spinach green smoothie recipe introduces a tasty drink that is also packed with vitamins, minerals, and fiber. It's an excellent way to add extra fruits and greens to your diet.
Go to Recipe
14. Pineapple Kale Smoothie
Packed with vital nutrients, this recipe combines the sweetness of pineapple with the green goodness of kale. The pineapple's tanginess cuts through the bitterness of kale, resulting in a flavorful and nutrient-rich concoction.
It's quick, simple, and requires a handful of ingredients to serve as a great post-workout snack or a refreshing start to your day.
Go to Recipe
15. Kiwi Smoothie
With our kiwi smoothie recipe, you can make a simple and healthy smoothie using very few ingredients, most of which you may already have in your kitchen.
Go to Recipe
16. Mango Spinach Smoothie
Mango spinach smoothie recipe is a must-try if you're a fan of nutritious and healthy drinks.
This smoothie is a combination of a sweet and slightly tangy tropical fruit and mild, vibrant greens. With a touch of yogurt, milk, and honey, you'll have a delightfully sweet drink that can be served as a quick, low-calorie breakfast or dessert.
Go to Recipe
17. Apple Kiwi Kale Smoothie
Simple to make and absolutely delicious, this easy apple kiwi kale smoothie is currently among our favorite healthy recipes. Our smoothie recipe is a delicious combination of fruits and vegetables, for a refreshingly enjoyable drink. Let's check it out.
Go to Recipe
18. Strawberry Spinach Banana Smoothie
This delightful concoction blends the sweetness of juicy strawberries with the nutrient-rich goodness of spinach and bananas. Our recipe prioritizes creating a balance of flavours with a burst of health benefits. Perfect for breakfast or a midday snack, it's a simple way to incorporate healthy eating into your daily routine!
Go to Recipe
19. Green Apple Smoothie
Our green apple smoothie recipe creates a sweet, tart drink with a distinct green apple flavor. This smoothie is chock-full of taste and nutrition, perfect for anyone trying to start a healthy diet or simply add extra nutrients to their daily intake.
Go to Recipe
20. Triple Berry Smoothie
Triple berry smoothie recipe introduces a delectable blend of fruit and milk that the whole family will adore. This delightful fruit smoothie is sweet and creamy, making it perfect for breakfast or a snack.
This triple berry smoothie will leave you feeling fantastic all day long. Plus, the drink is rich in fiber, protein, antioxidants, and omega-3 fatty acids.
Go to Recipe
21. Carrot Smoothie
Carrot smoothie recipe is another tasty way to get a healthy dose of veggies and fruits. The vibrant puree is full of tropical flavors from orange pineapple. This carrot smoothie is a great idea for a wonderful make-ahead snack or healthy post-workout drink.
Go to Recipe
22. Healthy Watermelon Smoothie
Watermelon smoothie recipe presents you with an indispensable drink for outdoor family reunions, pool parties, and National Watermelon Day (August 3).
Nothing tastes more like summer than a freshly blended smoothie. This watermelon smoothie will get you through the hot season joyfully and refreshingly.
Go to Recipe
23. Blueberry Smoothie
You can jazz your mornings up by incorporating a blueberry smoothie recipe as part of your breakfast, turning it from bland to appealing.
Go to Recipe
Benefits of Detox Smoothies
Improved digestion: Detox smoothies contain a lot of fiber because they are primarily made of fruits and vegetables, which substantially aids digestion.
Weight loss: Detox smoothies are suitable for those on a diet because they are low in calories, rich with nutrients and fiber that will keep you full longer, which could reduce your cravings for unhealthy snacks.
Immune booster: Detox smoothies can boost your immunity by supplying vital nutrients like vitamin C, zinc, and selenium, which keep you healthy during cold and flu season and when your body is under stress.
Mental clarity: Some of the natural ingredients in detox smoothies, such as leafy greens, walnuts, and berries, are rich in vitamin K, folate, and beta-carotene, which help enhance brain activity and promote mental clarity.
When Should You Drink A Detox Smoothie?
A detox smoothie is typically consumed in the morning, as it gives you a healthy dose of vitamins and minerals while starting your day off right. Generally, consuming a detox smoothie on a daily basis can help sustainably boost energy levels, reduce inflammation, and improve concentration.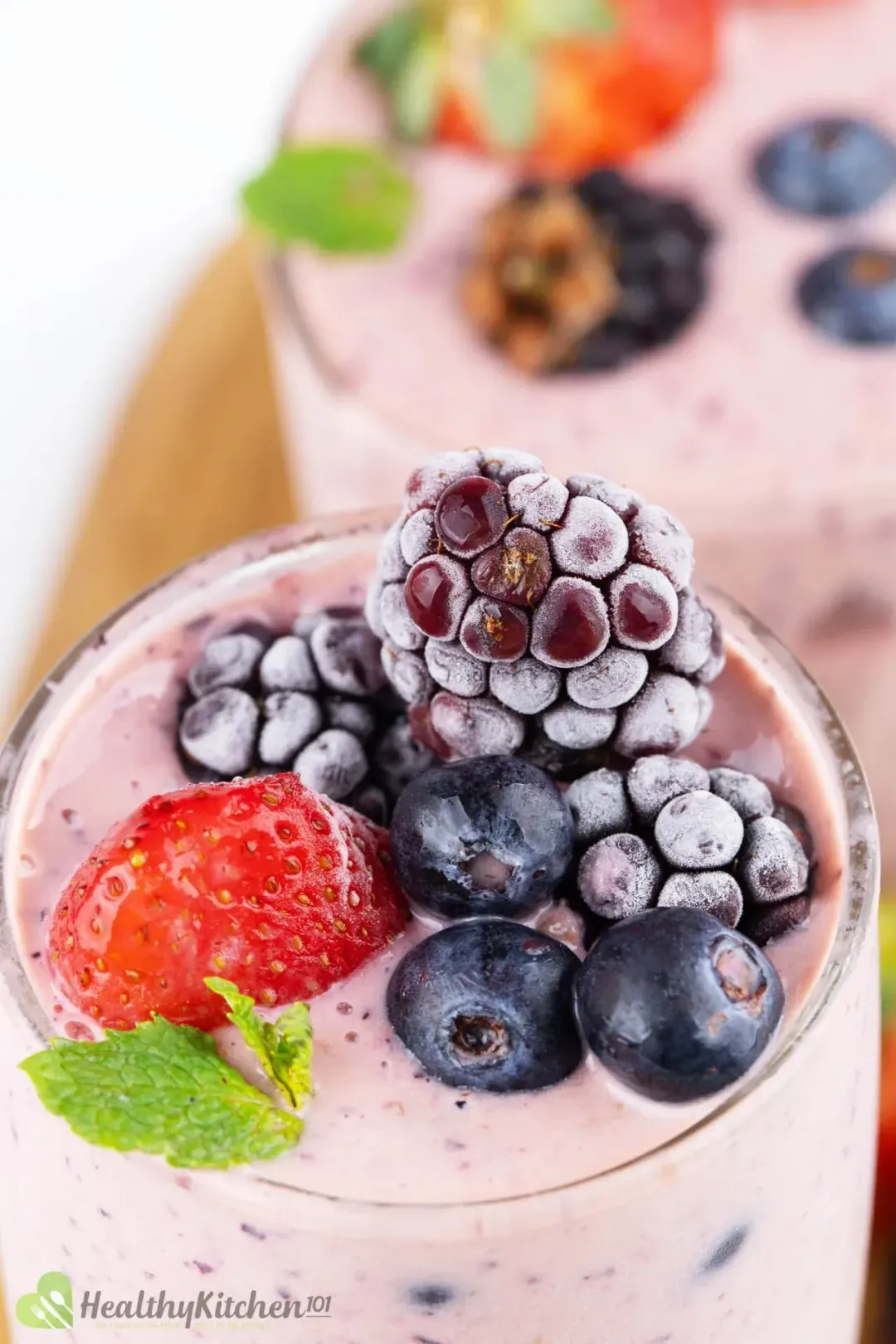 Previous Recipe
Fruit Smoothie Recipes
Fruit Smoothie Recipes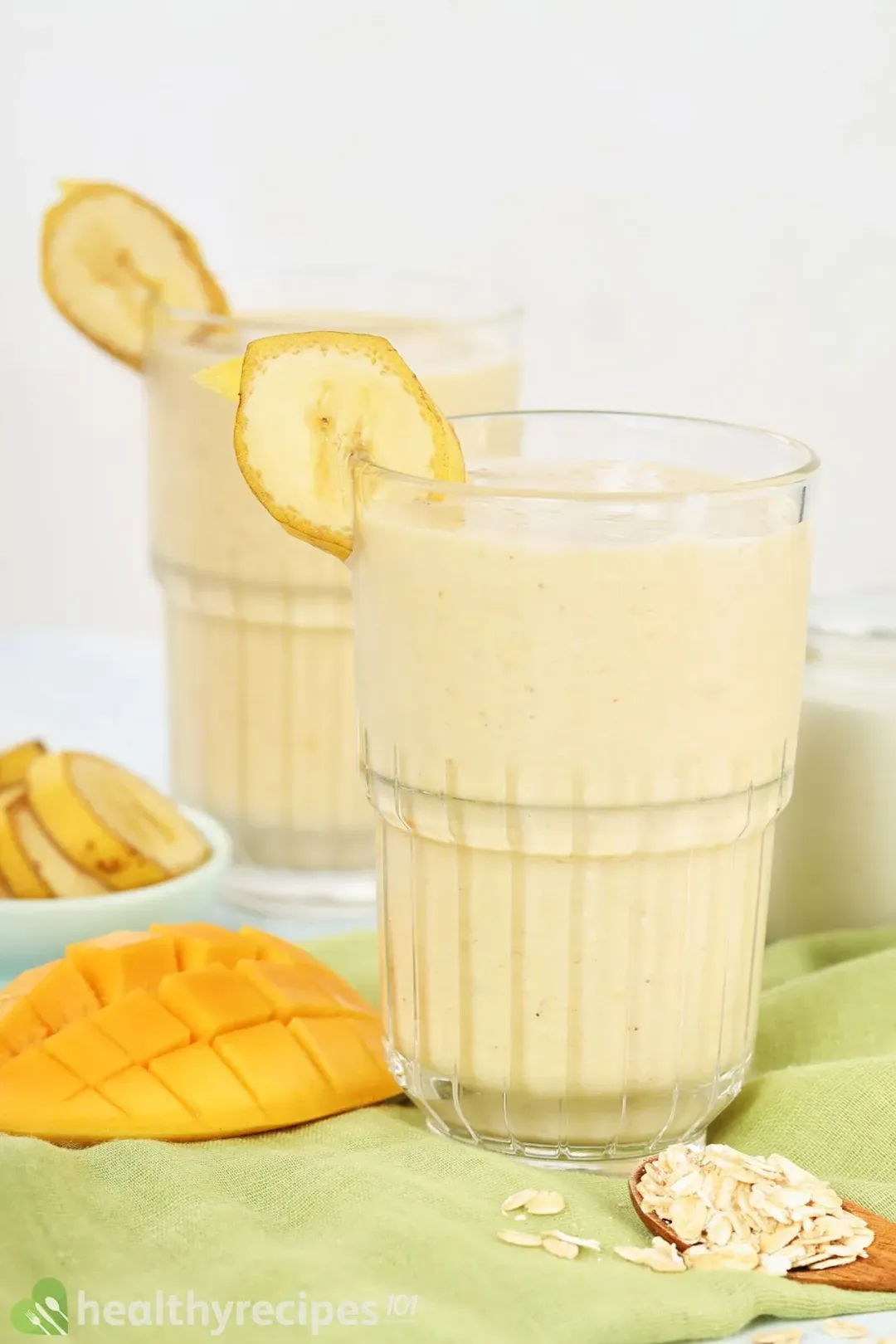 Next Recipe
Oatmeal Smoothie Recipes
Oatmeal Smoothie Recipes
Writer, Author
Luna Regina is an accomplished writer and author who dedicates her career to empowering home cooks and making cooking effortless for everyone. She is the founder of HealthyKitchen101.com and HealthyRecipes101.com, where she works with her team to develop easy, nutritious recipes and help aspiring cooks choose the right kitchen appliances.
Comments/ Reviews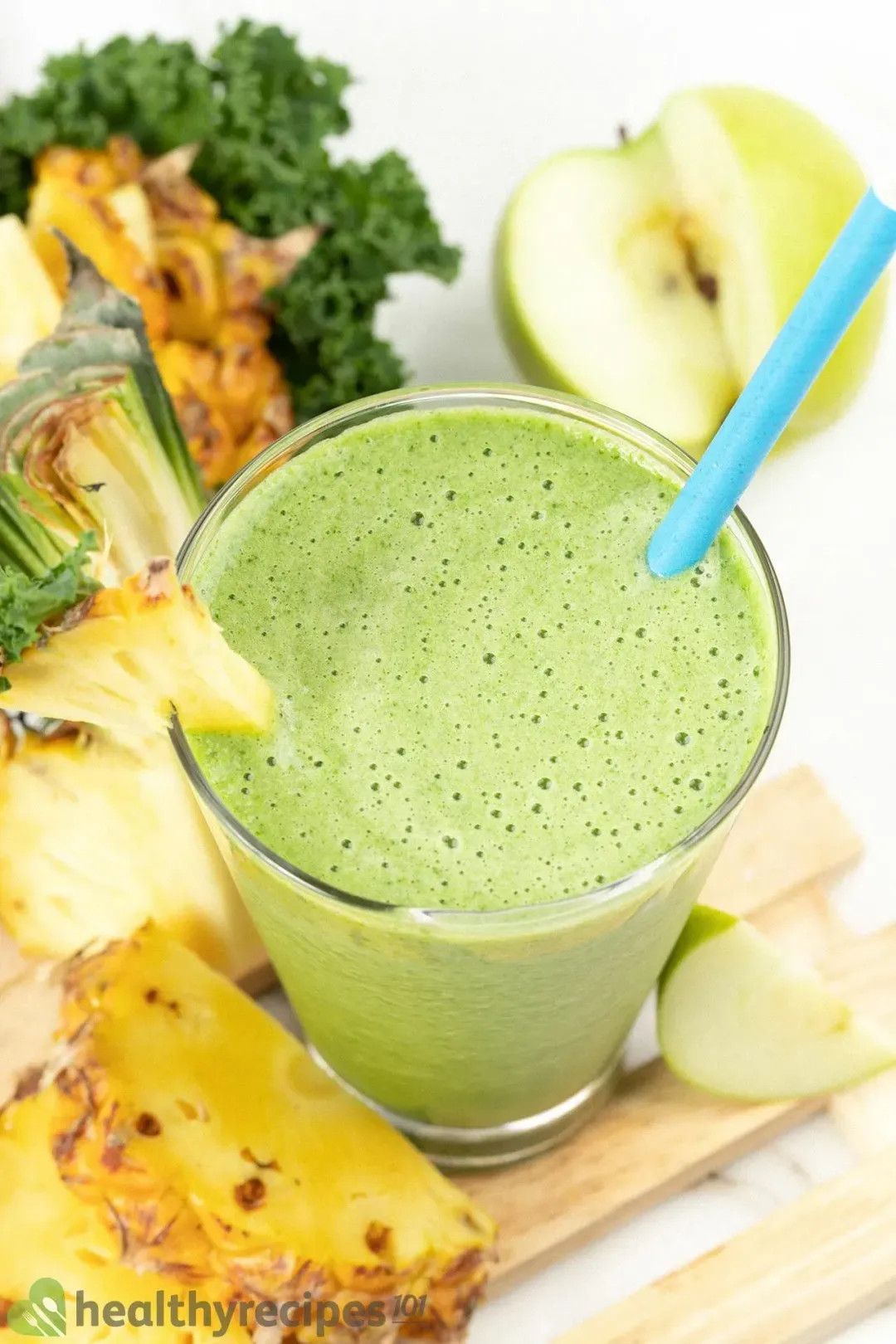 Detoxify with healthy smoothie recipes!