Today's delightfully delicious fruit smoothie recipes will provide a great way to get your daily dose of healthy goodness. Whether you're looking for a quick on-the-go breakfast or a nutritious afternoon snack, these fruity drinks in this collection are sure to please.
Reasons to Love Fruit Smoothie
Fruit smoothies provide lots of vitamins and minerals. These beverages taste incredible even without the addition of sweeteners because most of the ingredients are naturally sweet. 
Their high fiber content also helps promote digestive health and keeps you feeling full for longer. They can make wonderful post-workout beverages to get you hydrated and replenish your energy immediately.
They're easy to make and convenient to carry with you on the go.
They're made mostly from budget-friendly and readily available ingredients.
Last but not least, fruit smoothies give you endless freedom to get inventive and experiment with various flavor combinations.You can replace out-of-season ingredients with your favorite ones too!
Delicious and Healthy Fruit Smoothie Recipes
1. Simple Banana Smoothie
This simple banana smoothie recipe requires more than just banana and ice, but everything it calls for is most likely already in your pantry. The result is a thick, luscious smoothie with amazing flavors and a wondrous aroma.
Go to Recipe
2. Frozen Fruit Smoothie
We can't imagine a more fun and convenient way to experience summer or National Frozen Food Day (March 6) than with a refreshing, healthy frozen fruit smoothie recipe. It's the ultimate summer accessory that's icy, slushy, and fun to try out.
Go to Recipe
3. Strawberry Smoothie with Yogurt
This smoothie is a perfect blend of fresh strawberries and creamy yogurt that's not only enjoyable but also packed with vitamins. Easy to make, and makes for a healthy snack or breakfast option.
Go to Recipe
4. Triple Berry Smoothie
Triple berry smoothie recipe introduces a delectable blend of fruit and milk that the whole family will adore. This delightful fruit smoothie is sweet and creamy, making it perfect for breakfast or a snack.
This smoothie will leave you feeling fantastic all day long. Plus, the drink is rich in fiber, protein, antioxidants, and omega-3 fatty acids.
Go to Recipe
5. Kiwi Smoothie
With our kiwi smoothie recipe, you can make a simple and healthy smoothie using very few ingredients, most of which you may already have in your kitchen.
Go to Recipe
6. Tropical Smoothie
This healthy tropical smoothie recipe makes yummy, summery glasses of fruit-packed smoothie. And, it only takes like 5 minutes.
Go to Recipe
7. Watermelon Smoothie
Watermelon smoothie recipe presents you with an indispensable drink for outdoor family reunions, pool parties, and National Watermelon Day (August 3).
Nothing tastes more like summer than a freshly blended smoothie. This watermelon smoothie will get you through the hot season joyfully and refreshingly.
Go to Recipe
8. Mango Smoothie
This mango smoothie recipe makes a creamy, nutritious blend with added apple and spinach. It's a pleasant summer drink and an excellent replacement for higher calorie beverages with low nutrient profiles.
The real bonus is that it's easy to prepare. It only takes a few minutes and can be incorporated with little effort as a regular breakfast smoothie.
Go to Recipe
9. Blueberry Smoothie
You can jazz your mornings up by incorporating a blueberry smoothie recipe as part of your breakfast, turning it from bland to appealing.
And with frozen blueberries available year-round, this smoothie will give you something to look forward to having every week.
Go to Recipe
10. Avocado Smoothie
Sometimes great recipes don't need to be complicated, and this avocado smoothie recipe is a perfect example. Calling for only five ingredients and a blender, the smoothie delivers an amazing creamy consistency and tastes just like vanilla ice cream.
Add-ins like bananas or spinach are also a great way to incorporate more veggies and fruits into your daily diet.
Go to Recipe
11. Apple Smoothie
This easy apple smoothie recipe introduces a simple blend of 6 fresh ingredients in a cozy and irresistibly tasty smoothie.
Our 10-minute apple smoothie is loaded with natural sweetness from apples and honey, a pleasant warmth from cinnamon, and extra creaminess from milk. It's kid-friendly, family-friendly, and is a total delight to enjoy on fall days.
Go to Recipe
12. Peach Smoothie
Get through your summer with this healthy peach smoothie recipe. It'll help you stay nourished and hydrated while making up for any lost nutrition, especially during busy days. It'll also take you through National Eat a Peach Day (August 22) — that's if you fancy drinking your fruit.
Go to Recipe
13. Orange Smoothie
Our orange smoothie recipe is a breeze to make and promises a delicious vitamin boost.
While juicing is a much quicker way to get the nutrients from an orange, it also discards one of the key nutrients fiber. Blending the fruit, however, preserves more of the nutrients and delivers them to you in the most delicious way possible.
Go to Recipe
14. Papaya Smoothie
Our papaya smoothie recipe introduces a great, yet simple way to enjoy this fruit.
Considered exotic in America, papaya is quite popular among its native countries as a sweet, juicy-tender fruit. It is often chilled, prepped, and sold by street vendors in bags (sometimes skewers) as a rehydrating snack for pedestrians.
Go to Recipe
15. Grape Smoothie
This grape smoothie recipe takes just minutes to make and turns out a delicious fruit sensation.
Being plump, juicy, crisp, and addictively sweet, grapes are the kind of fruit that people prefer to eat as a snack rather than make treats out of.
Go to Recipe
16. Cantaloupe Smoothie
Our cantaloupe smoothie recipe offers you a fresh beverage that provides a variety of vitamins and minerals, helps you fight off the heat of summer, and keeps you hydrated.
Cantaloupe is a type of melon with a thick rind and sweet, juicy, orange flesh on the inside. Compared to other melons, cantaloupe's exterior is not as thick as watermelon's, and the texture and flavor of the flesh are similar to honeydew.
Go to Recipe
17. Sour Apple Smoothie
This easy sour apple smoothie recipe is among our favorite healthy recipes at the moment as it is simple to make and tastes absolutely delicious.
Go to Recipe
18. Simple Dragon Fruit Smoothie
This simple dragon fruit smoothie recipe will be one of the easiest and tastiest drinks you'll ever make at home.
If you have never tasted this exotic-looking tropical fruit before, allow us to help you imagine what it looks and tastes like.
Go to Recipe
19. Strawberry Kiwi Smoothie
This strawberry kiwi smoothie recipe combines two great fruits to make a tangy, sweet slushie that freshens up your summertime. We add some orange juice for extra vitamin C and mint leaves to enhance the cooling effect.
Go to Recipe
20. Apple Orange Smoothie
Dive into a world of deliciousness with our Apple Orange Smoothie recipe, a fine blend of nutritious fruits with a refreshing twist.
This smoothie is a perfect amalgamation of zesty oranges and crisp apples, blended to perfection. It's not just sumptuously refreshing but also packed with essential vitamins and minerals that boost your overall health.
Go to Recipe
21. Apple Banana Smoothie
With simple fruits you may already have in your kitchen, our apple banana smoothie recipe makes a nutritious drink that's ready in just minutes.
Go to Recipe
22. Orange Pineapple Smoothie
This delightful and easy-to-make smoothie recipe combines the citrusy tang of oranges with the tropical sweetness of pineapples. Also packed with yogurt and honey for creaminess and sweetness, this smoothie is both nutritious and delicious. It's an ideal energy booster for breakfast or a refreshing drink for hot afternoons.
Go to Recipe
23. Watermelon Mojito Smoothie
On a hot summer day, this watermelon mojito smoothie recipe will be the perfect choice to make whenever you feel like chilling out. It's hydrating, refreshing, and simple to prepare!
Go to Recipe
24. Pineapple Kiwi Smoothie
Pineapple kiwi smoothie recipe is a simple, refreshing beverage that will quench your thirst while also providing your body with vitamins and minerals.
Go to Recipe
25. Strawberry Orange Smoothie
Strawberry orange smoothie recipe is a tropical combination of strawberries and oranges. The fruits blend into a gorgeous peachy drink with a delightful sweet-tart flavor. Besides, the beverage is packed with vitamins and minerals, making it a healthy choice for those long summer days.
Go to Recipe
26. Papaya Pineapple Smoothie
This papaya pineapple smoothie recipe introduces a vibrant drink that is perfect to serve on warm days. 
The tangy, crisp pineapple and sweet, soft papaya may sound like a conflict, but the combination goes beyond deliciousness. The drink is packed with tropical fruits and is irresistibly refreshing when served chilled.
Go to Recipe
27. Avocado Banana Smoothie
Our avocado banana smoothie recipe transforms these awesome fruits into a nutritious drink. The ingredients are nothing but basic and require just 10 minutes of prepping, measuring, and blending.
Go to Recipe
28. Blueberry Banana Smoothie
This blueberry banana smoothie recipe will have you looking forward to hot summer days and tasty desserts. It's a versatile drink you can have as an appetizer or a calorie-filler.
More importantly, it balances nourishment and taste. The drink provides eye and heart-health benefits delivered with aromatic flavors.
Go to Recipe
29. Strawberry Banana Smoothie
This strawberry banana smoothie recipe will give you a simplistic energy boost on the go.
Either as an easy drink to complement breakfasts or a tasty pick-me-up after workouts, this smoothie can be everything you want. It's wholesome and refreshing, definitely a classic to get you hooked.
Go to Recipe
30. Mango Avocado Smoothie
This mango avocado smoothie recipe is an easy and lip-smacking way to incorporate more fruits into your diet. The drink is refreshing, nutritious, and features the goodness of tropical fruits.
Go to Recipe
What Are the Best Fruits for Smoothies?
When it comes to fruit smoothies, there is plenty of room for creative ideas. Here are some of our favorites:
Strawberries: Strawberries add a sweet-tart flavor to smoothies that are hard to beat. Containing 2 grams of fiber per 100 grams serving, strawberries are also a rich source of vitamins C & B6, folate, and antioxidants.
Raspberries: Raspberries are naturally rich in antioxidants and vitamins such as E, K, and beta carotene as well as folate, magnesium, and copper. Similar to strawberries, the tartness of raspberries adds a delicious kick to smoothies while their small size allows them to blend easily and seamlessly 
Blueberries: Blueberries are an excellent source of vitamin C, K, manganese, dietary fiber, and other antioxidants, which are known to help reduce inflammation. Their natural sweetness makes them an ideal way to boost the flavor of any smoothie blend.
Banana: Bananas add a sweet, creamy texture to smoothies and make them extra silky. They also provide an excellent amount of potassium, vitamin B6, vitamin C, and dietary fiber. 
Pineapples, mangos, and kiwis: These are the most commonly used tropical fruits in smoothies. They add a subtle sweetness and sourness that works great with other fruits, creating a luscious smoothie with diverse flavors. They have many nutrients to offer: vitamin C for strengthening the immune system, vitamin A with anti-inflammatory properties, and thiamin for metabolism support.
Citrus fruits such as oranges, lemons, limes, grapefruit, mandarins, and tangerines: These sour-sweet fruits can provide extra layers of flavor to your drinks, especially when combined with milk, yogurt, and other sweet fruits.
What Is the Best Liquid to Put in A Fruit Smoothie?
The best liquids to put in a fruit smoothie include water, whole milk, nut milks, low-fat yogurt, and plain Greek yogurt.
Water: Water is the most basic ingredient for any smoothie or shakes as it is essential for proper hydration and also helps attain right consistency for a smoothie. 
Milk: Either cow milk or nut milk (like almond milk or coconut milk) can be used in fruit smoothies. They provide an earthy flavor and a creamy texture to your smoothie. Milk also contains healthy fats and protein which are crucial for your body functions. 
Yogurt: Though full-fat Greek yogurt can be used in a fruit smoothie, low-fat plain yogurt offers a better blend of protein, calcium, and other essential nutrients. It can help make the smoothie thicker and creamier as well.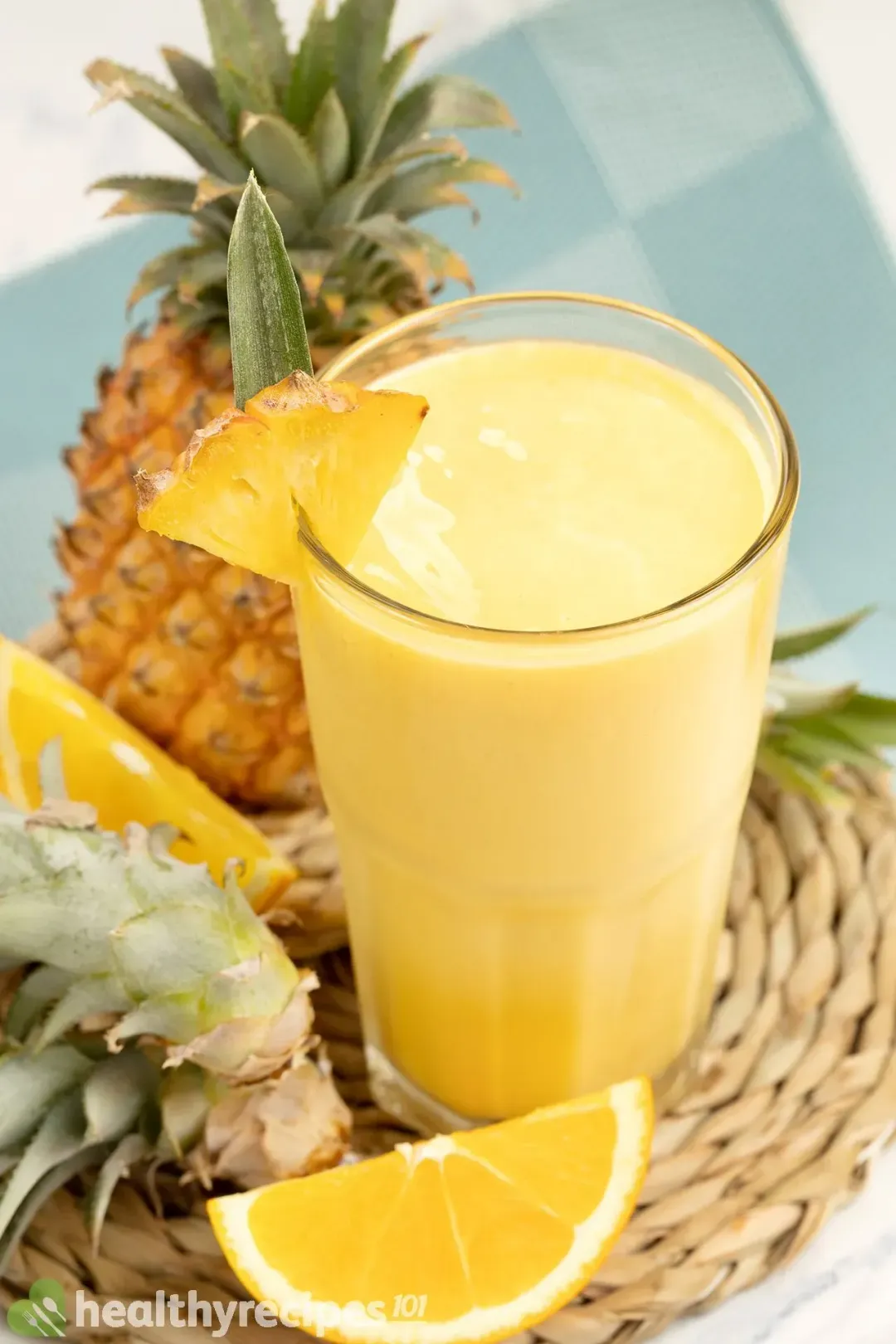 FAQ
1. Can I Drink A Fruit Smoothie Every Day?
Yes, you can drink a fruit smoothie every day.
However, it is important to keep in mind that too much of anything can be bad for you, so moderate consumption is the best. Absorbing large amounts of sugar and calories from fruit smoothies can lead to excess weight gain and may have adverse effects on your health long-term.
Do not make smoothies the only major source of nutrients in your diet and  ensure that they are made with nutritious ingredients like fruits, leafy greens, proteins, and healthy fats.
2. Can You Put Frozen Fruit Straight Into A Smoothie?
Yes, you can. It is actually advisable to use frozen fruit in smoothies because it makes them thicker and creamier. Make sure to take the fruit out of any packaging it came in before adding it to the smoothie.
3. Which Fruits Should Not Be Mixed Together in a Smoothie?
There's no ideal formula for a perfect fruit combination to blend in a smoothie. Flavor-wise, we believe that it entirely depends on a person's preferences and whether they've had a fruit allergy or not.
Health-wise, we advise paying attention to the serving size's total calorie count and sugar content. When you include too many sweet fruits in one drink, you may easily go overboard with the sugar level.
Additionally, there are some fruit combinations that may take a toll on your digestive system. Fruits that have high levels of sugar or acidity can cause indigestion, cramping, or bloating. Dietary fiber-rich fruits are difficult to digest, hence might put extra stress on your stomach.
The reaction varies for different people: Some may not be able to handle a particular mixture, while others may not be bothered at all. So, it's challenging to come to a conclusion. If you have concerns about a certain food group after having a bad experience with it in the past, it is recommended to speak with a health professional before introducing it to your diet.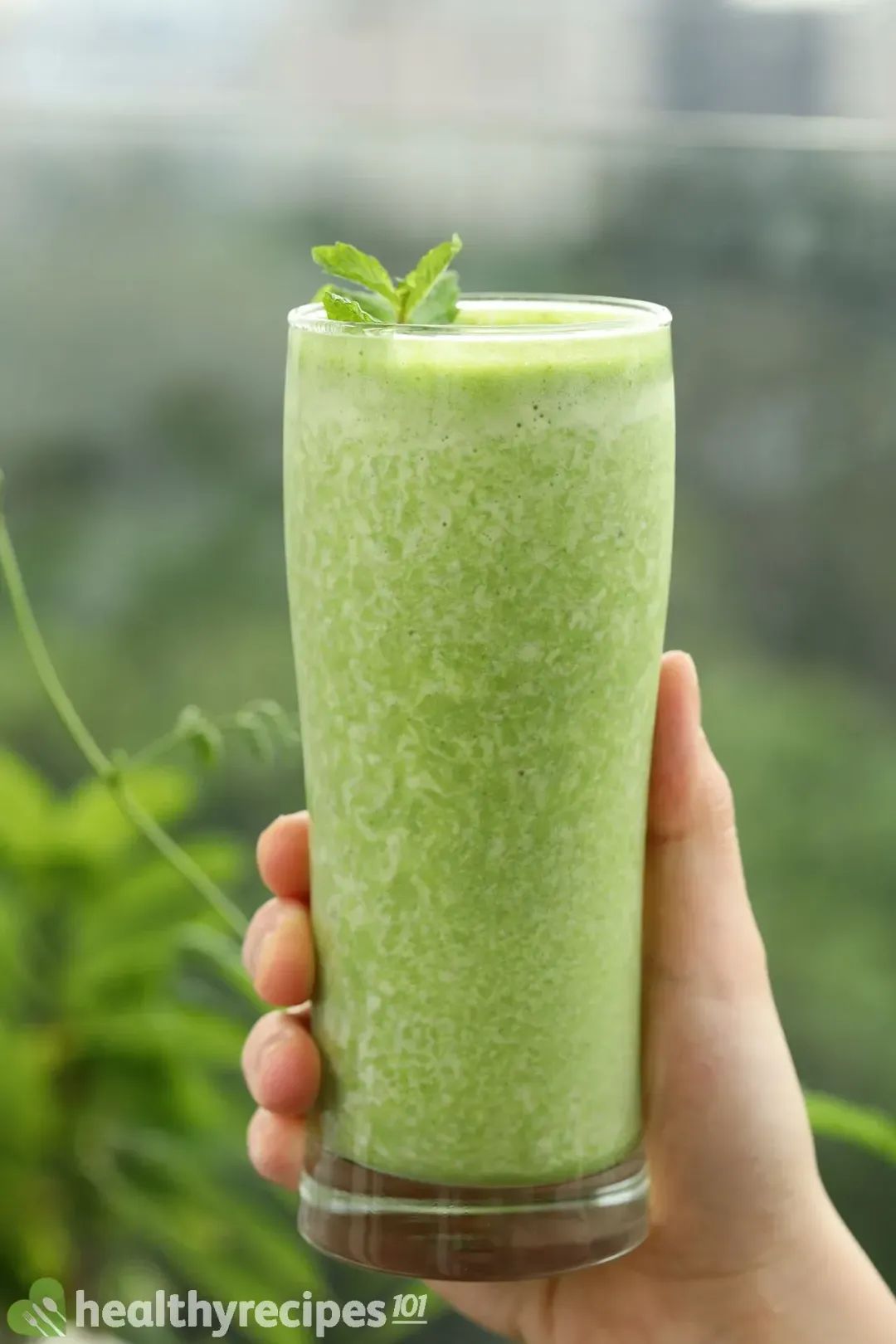 Previous Recipe
Spinach Smoothie Recipes
Spinach Smoothie Recipes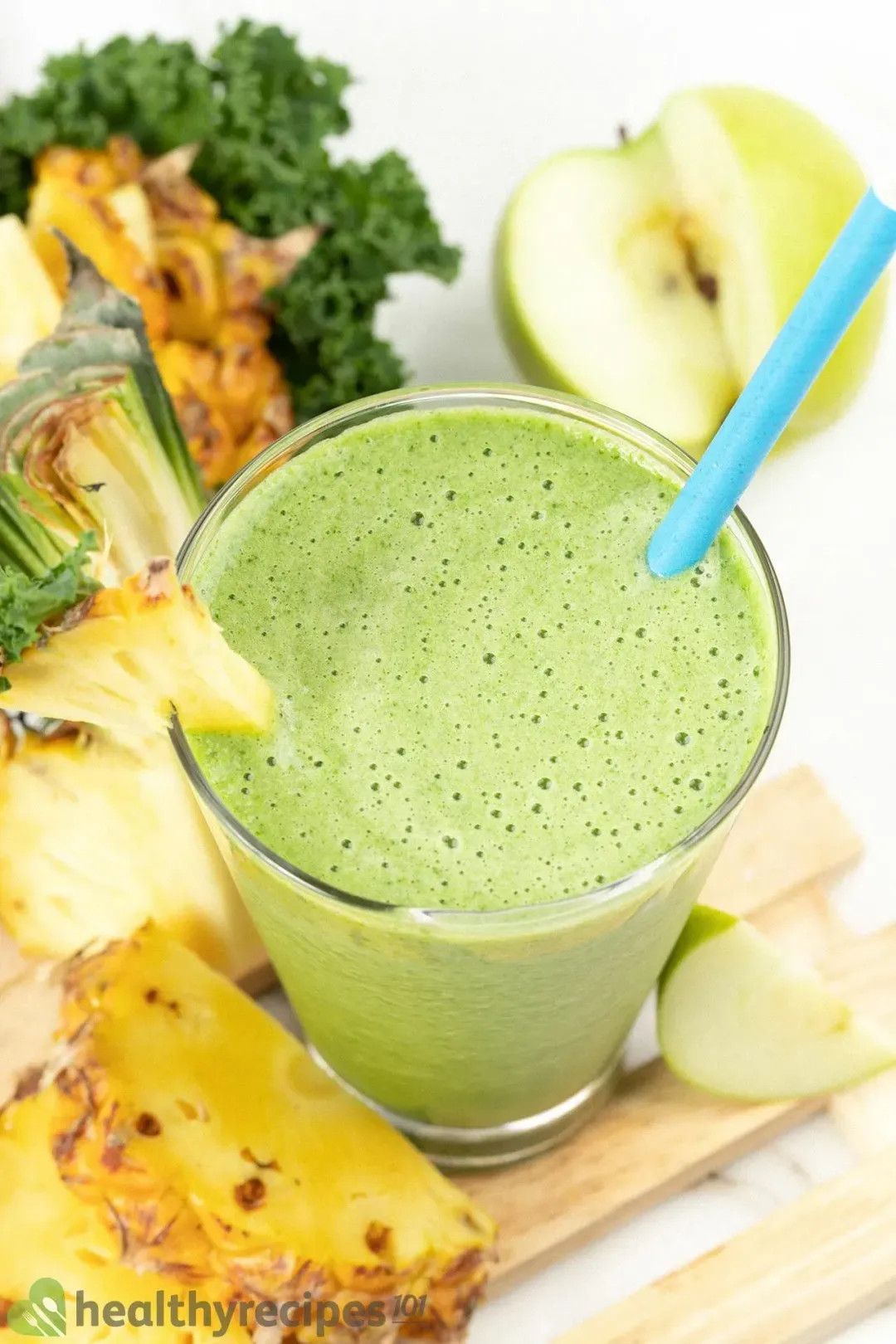 Next Recipe
Detox Smoothie Recipes
Detox Smoothie Recipes
Writer, Author
Luna Regina is an accomplished writer and author who dedicates her career to empowering home cooks and making cooking effortless for everyone. She is the founder of HealthyKitchen101.com and HealthyRecipes101.com, where she works with her team to develop easy, nutritious recipes and help aspiring cooks choose the right kitchen appliances.
Comments/ Reviews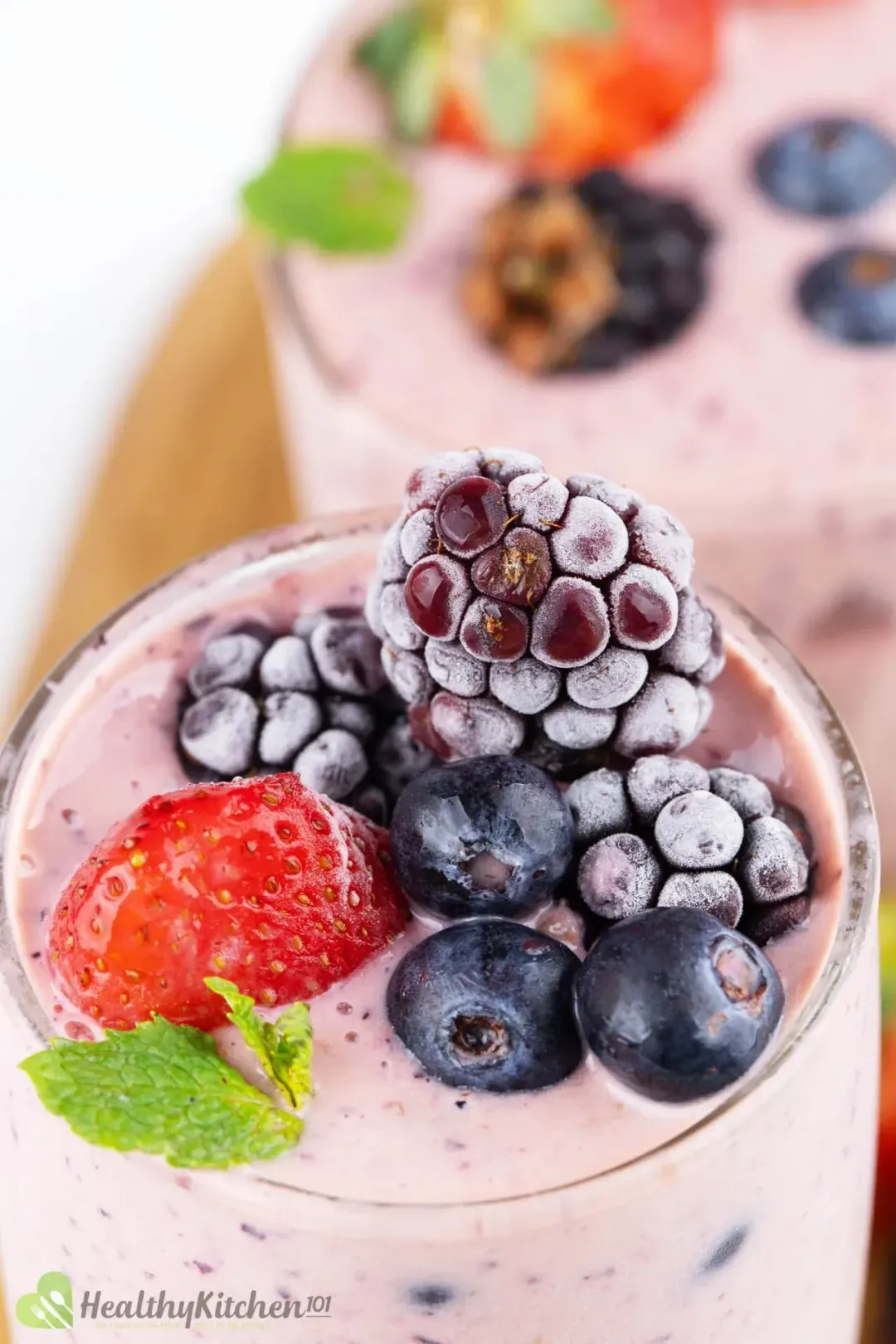 Refreshing and fruity smoothie recipes!