This deviled eggs recipe makes a tasty side dish or finger food for National Deviled Egg Day (November 2) or any party.
Why Are They Called Deviled Eggs?
Deviled eggs are halved hard-boiled eggs, with a yolk-based filling piped directly onto each half. They date all the way back to ancient Rome and have no relation to the evil one.
Besides its common definition, "devil" is a culinary term often used in the 1700s. It means to highly season something with hot, pungent seasonings, like paprika or mustard.
With that said, "deviled egg" means a highly-seasoned egg, which is what the dish is all about. The most classic filling includes hard-boiled yolk, mayonnaise, other dairy products, paprika, mustard, and bacon, exactly what we are using today.
What Are Avocado Deviled Eggs?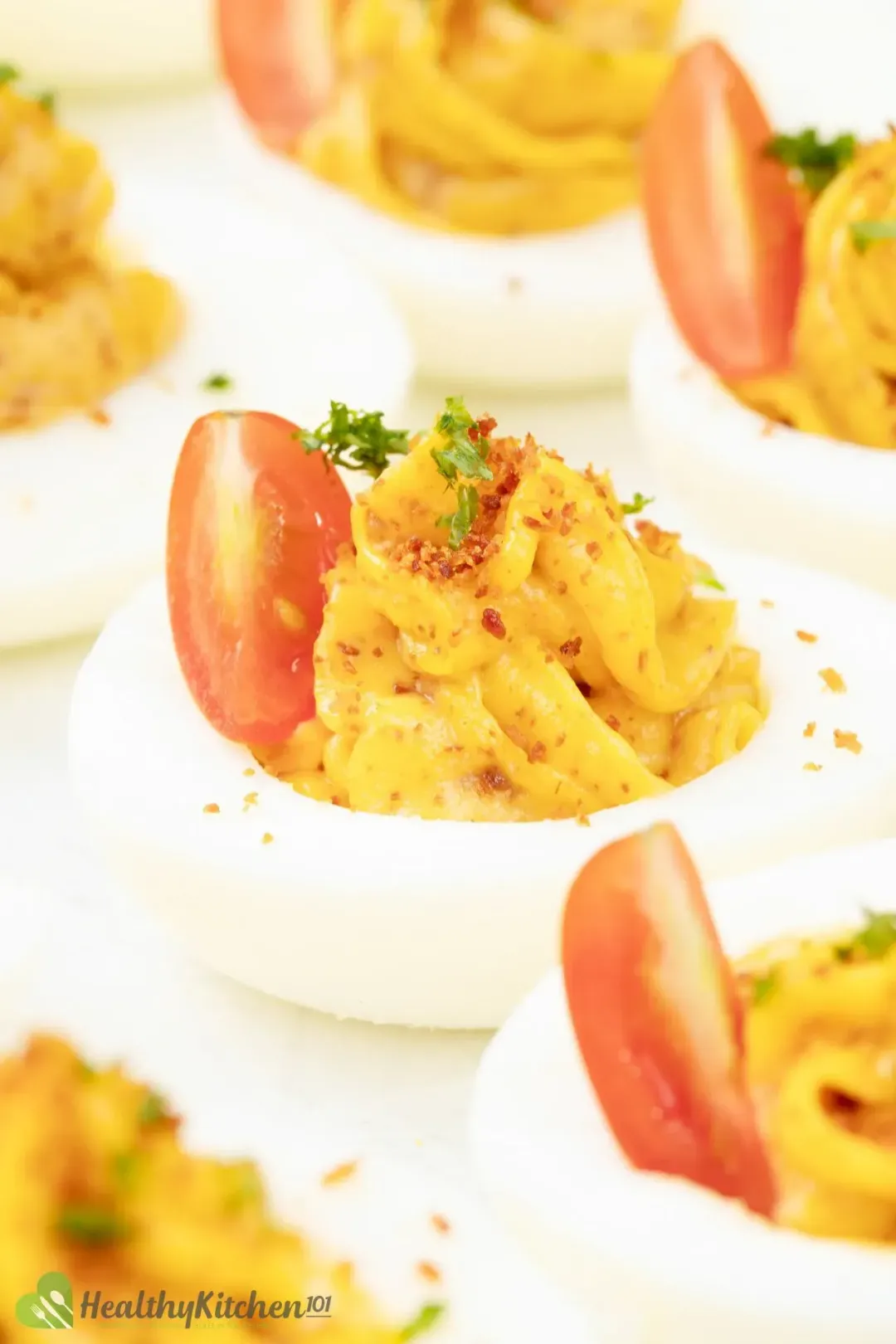 These are a tasty variation of the original version, with a rich, creamy, tangy twist added to the filling. What's even better is that the creaminess comes not from dairy or mayonnaise, but lactose-free avocado packed with healthy fats.
To make avocado deviled eggs, you only need ingredients you would normally use to make guacamole— avocado, lime, cilantro, cayenne. Skip the dairy products and mayonnaise in this recipe, and get a healthier side, suitable for almost anyone.
One thing to note though is that avocados can change color once exposed to the air. So these should be eaten as soon as possible.
If you want to refrigerate avocado deviled eggs, place them on a tray and cover with cling wrap. Then, press the wrap onto the filling to make sure very little air touches your avocado filling.
Are Deviled Eggs Healthy?
Apart from being one of the simplest foods to cook, deviled eggs are among the healthiest appetizers/side dishes.
To begin with, this deviled eggs recipe complies with our healthy eating guidelines, inspired by the USDA's latest dietary guidelines. It has moderate amounts of calories (below 250), saturated fat (below 4g), and sodium (no more than 300mg).
1. Calories
Each serving of the dish has 3 bite-sized filled egg halves. Each half yields around 50 calories, which brings the total amount of calories per serving to about 150.
Although this amount may seem a lot, it comes mainly from proteins and healthy unsaturated fats. Comparing deviled eggs to deep-fried finger foods, we can see how these are a lot healthier.
2. Carbs
This recipe includes a teeny weeny amount of carb, which makes the dish low-carb, keto-friendly, and gluten-free.
3. Vitamins
Besides protein, egg yolks are known to hold a notable amount of vitamins A and D.
Vitamin A, or beta-carotene, has been an active contributor to healthy eyes. It is also among the top antioxidants, which enhance the performance of our immune system overall.
Vitamin D, unlike other vitamins, is not obtained via food but instead, composed in the body with exposure to sunlight. Egg is among the rare food sources of vitamin D, which helps strengthen bones, support the nervous system, and more.
How Long Do You Boil Eggs for Deviled Eggs?
You might have heard of different ways to boil eggs, and wonder which one is the best. In this section, we propose two classic ways to boil eggs, which can make soft-boiled or hard-boiled.
1. Boil Eggs Starting from Room-temp Water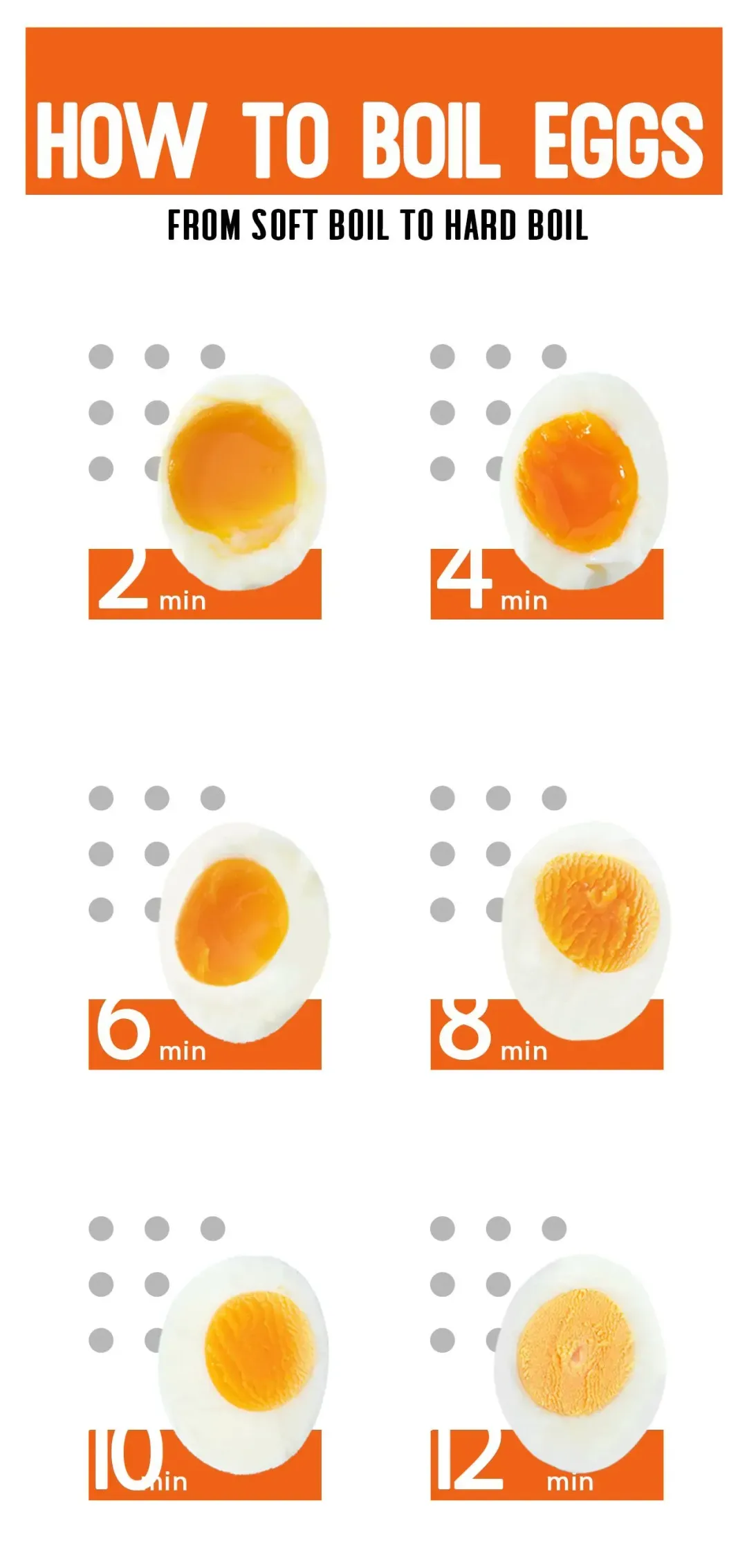 Fill your pot halfway with tap water, place the eggs in, bring it to a boil and start the timer. How long you boil them affects how they turn out::
2 minutes: runny yolks and just-set whites.
4 minutes: slightly creamy.
6 minutes: gooey, creamy, velvety.
8 minutes: hard, yet a bit creamy.
10 minutes: firmly hard.
12 minutes: super firm and hard.
By using this method, you could cook your egg in an electric kettle and save the spot on your stove. This is why it has been my favorite go-to when it comes to boiling eggs.
2. Boil Eggs in Boiling Water
Instead of placing your eggs in at the beginning, add them when the water is boiling and start the timer. You should get a similar result to the above method, but it will be 2 minutes longer.
For instance, to get hard-boiled for this recipe, wait for 10 minutes instead of 8. Or wait for 8 minutes to get a soft-boiled with gooey, creamy, velvety yolk.
For more detailed instructions, check out our article on the best way to hard boil eggs, while this egg curry recipe for rice introduces another way to use them.
Tips for Making Deviled Eggs Recipe
1. Don't Overcook
First, the eggs should be cooked just right. We do not want a soft, runny yolk or rubbery egg, or even worse, a yolk with a green ring.
Follow our instructions on how to boil eggs, and you will always end up with perfectly cooked eggs.
2. Peel Eggs Easier
To peel eggs easier, after shocking them in an ice bath, crack around the entire egg. This loosens the shell from the white, and the entire shell will come off in a few pieces.
3. Cut Eggs with a Thread
And, did you know that other than a knife, you can use thread to cut eggs? It makes cleaner cuts and saves you a knife to wash afterwards:
Hold one end of a thread in one hand, between your index finger and middle finger.
Place one egg in the palm of that hand, over the thread.
Take the other end of the thread with your right hand, and pull it upwards for a vertical incision.
What Goes with This Deviled Eggs Recipe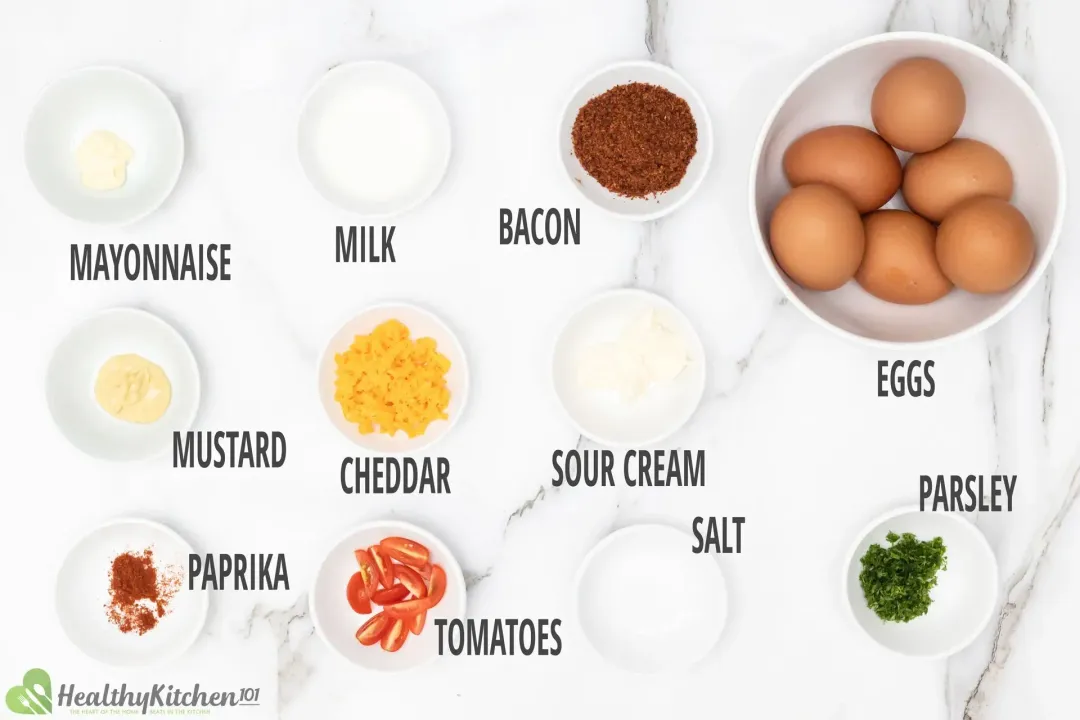 1. Mustard
Deviled eggs are no longer "deviled" without mustard because this pungent condiment is the main seasoning of the yolk. It is lightly sweet, could be spicy depending on which kind of mustard, and versatile enough to go with almost anything (see our healthy egg salad recipe).
There are many varieties of mustard, and you can choose whatever you have on hand. We are using Dijon in this recipe because that's what we like.
2. Bacon
Bacon is an excellent accessory, even when making scotch eggs. These crisp strips of pork leave a touch of sweetness and saltiness, and add crunchy, chewy bites to your creamy filling.
 In this recipe, place one strip of bacon on a heated skillet, and cook both sides until golden. Save the fat for another recipe, crush that strip into smaller pieces, and mix them with the filling.
3. Greek Yogurt
Instead of sour cream, Greek yogurt can be added as a creamier, tangier alternative (with less saturated fat and more protein!)You can even skip the mayonnaise and only use Greek yogurt. Without the contentious cholesterol, it can be considered a healthier option (of course, our recipe is already healthy).
4. Cream Cheese
Having a similar texture, the two actually differ a lot, in the way they are made and their nutritional content.
Sour cream is made by collecting the cream layer when making skimmed milk and then fermenting this cream. The fermentation process gives it a thicker body and a signature sour taste.
Cream cheese, on the other hand, is simply a type of fresh cheese that does not require aging. Cheesemakers first add lactic acid culture to a pool of cream, collect the curds, then process them to make cheese.
Both have a similar sour taste, so you can use either. But keep in mind that sour cream is lower in fat.
5. Horseradish
Adding horseradish to deviled eggs might sound strange, but horseradish deviled eggs is an actual variation of the classic. The combo of horseradish, dill, and dry mustard makes for a fragrant, fresh, and pungent filling.
With fewer ingredients, this variation calls for eggs, horseradish, dill, mayonnaise, ground mustard, salt, and pepper to taste. It makes for a delicious vegetarian treat.
For more delicious eggs recipes, check out our easy and healthy eggs roundup.
Can You Freeze Deviled Eggs?
Freezing egg, in general, is a complex matter and Healthline has made a detailed article on that.
For those who are feeling too lazy to read through the original article, here are a few key takeaways:
Raw eggs should never be frozen in-shell, to avoid cracking and contamination.
Hard-boiled or soft-boiled eggs should not be frozen. The whites do not thaw well.
Raw whites, raw yolk, raw whisked egg, and eggs cooked in dishes like casseroles freeze well.
With that said, you should not freeze deviled eggs. They are a type of boiled egg, and freezing will affect how they taste.
How Long Do Deviled Eggs Last in the Fridge?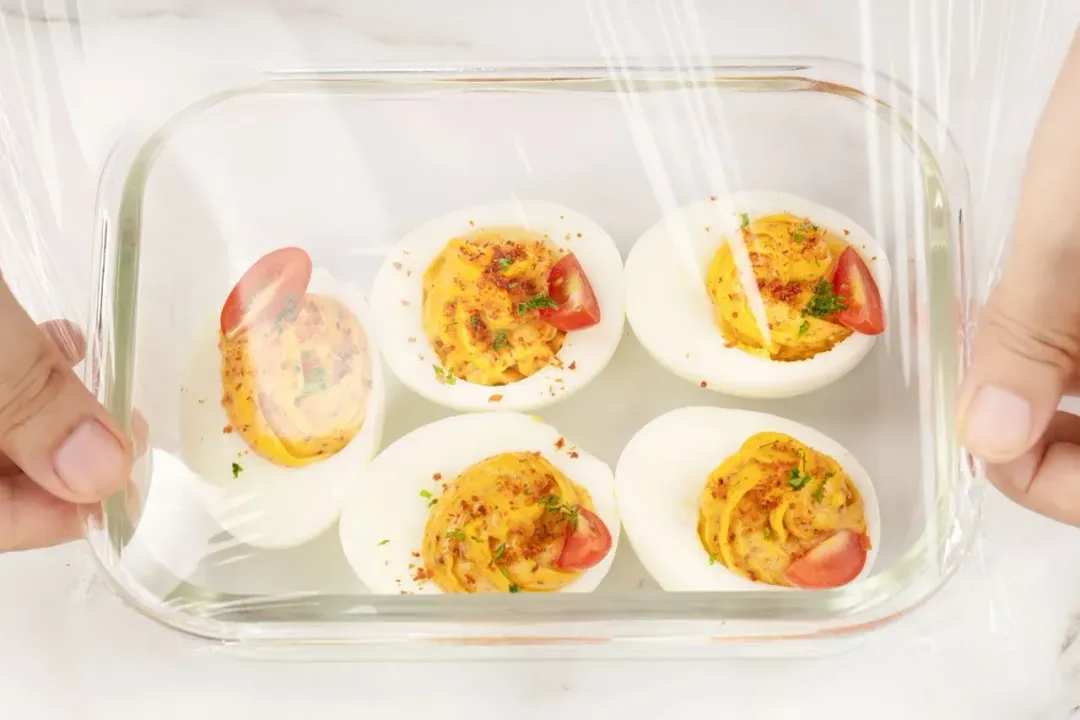 On the other hand, refrigerated eggs can last for up to 7 days. Make sure to cover them well and pop them into the fridge within 2 hours after cooking.
For the best taste, deviled eggs need to be sitting in the fridge for at least an hour. If you don't need to serve a whole batch, take out what you need and leave the rest in there.
Delicious Egg Side Dishes You'll Love
Healthy Deviled Eggs
Let's dive into this simple deviled eggs recipe. They look really fancy and delicious, but in reality, take very little time.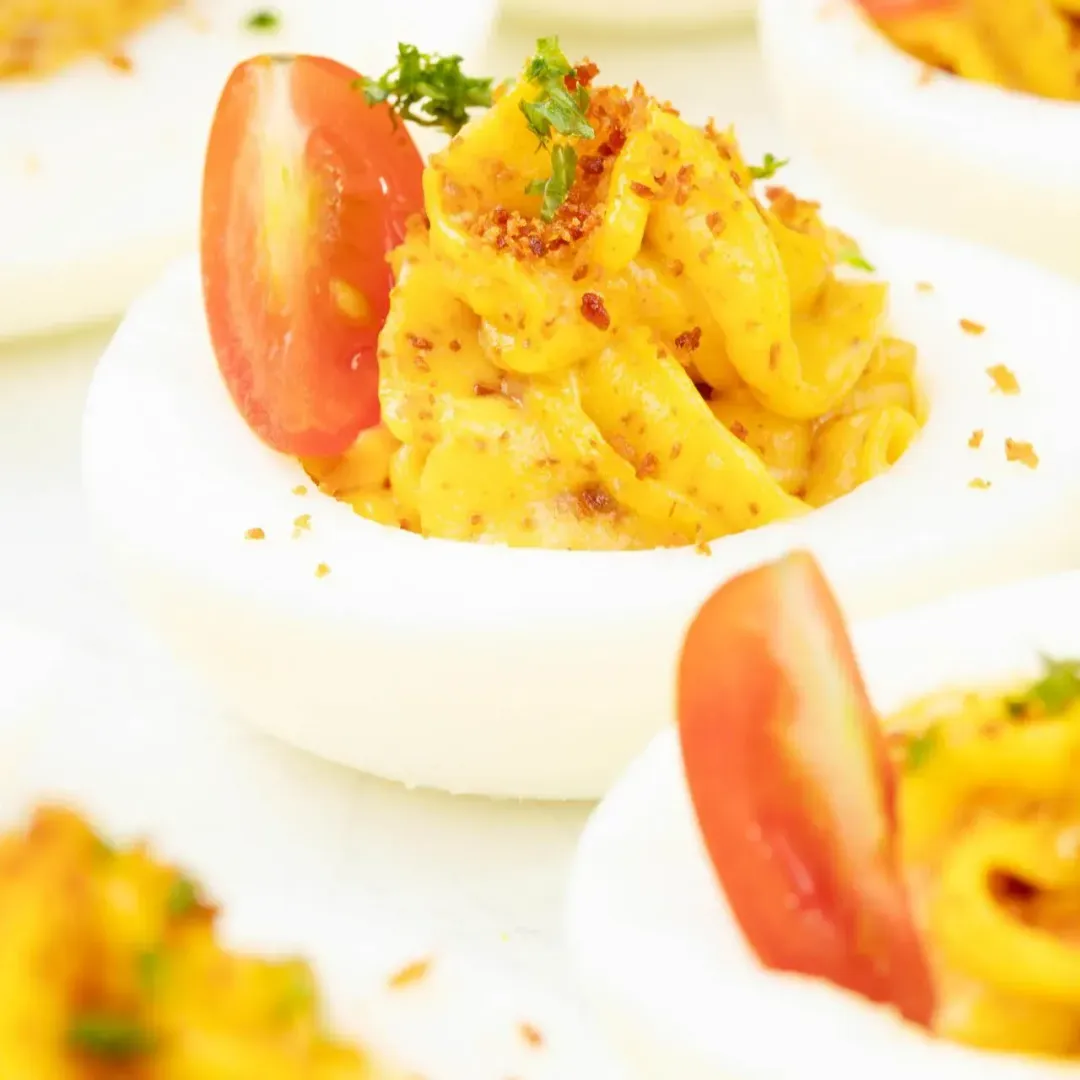 cook TIME

10 mins

prep TIME

10 mins

total TIME

20 mins
COURSE

Side Dish

CUISINE

American

SERVINGS

CALORIES

143 kcal
INGREDIENTS
1/2 tsp

Japanese mayonnaise

1 tsp

traditional Dijon mustard

0.5 oz

cheddar

(shredded)

1 oz

cherry tomato

(quartered)
INSTRUCTIONS
1
Place the eggs in boiling water and wait for about 10 minutes. If you boil them using room-temp water, wait for the water to boil and set the timer to 8 minutes.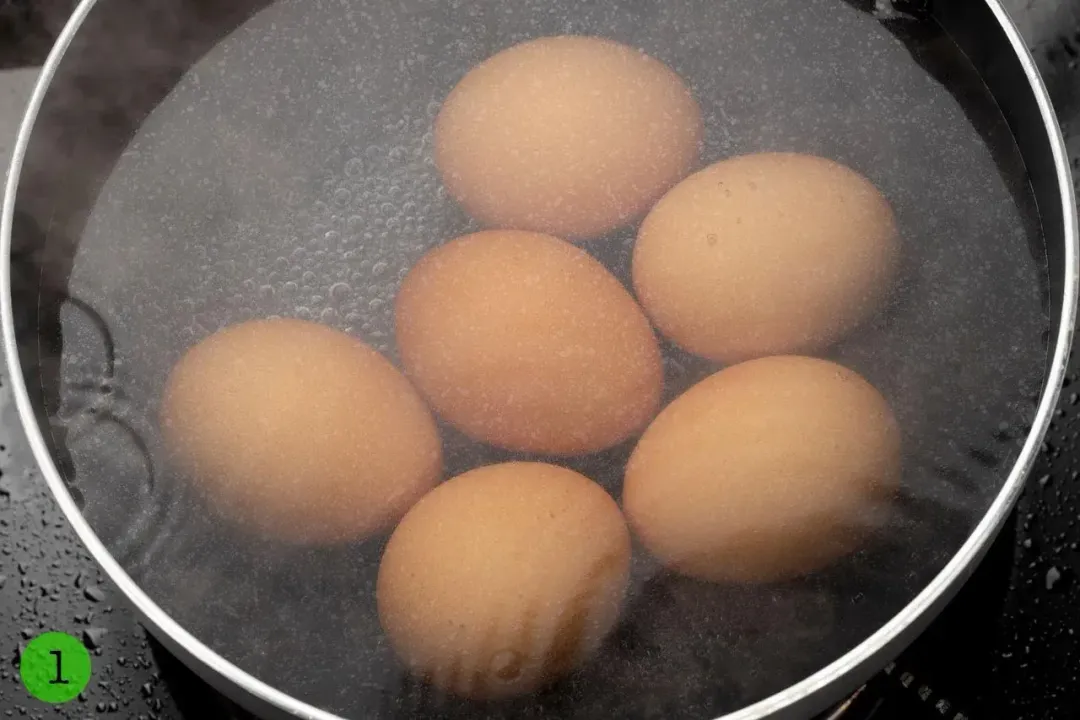 2
Shock the eggs in an ice bath. Peel, halve, collect the yolk in a large bowl and place the whites in another bowl.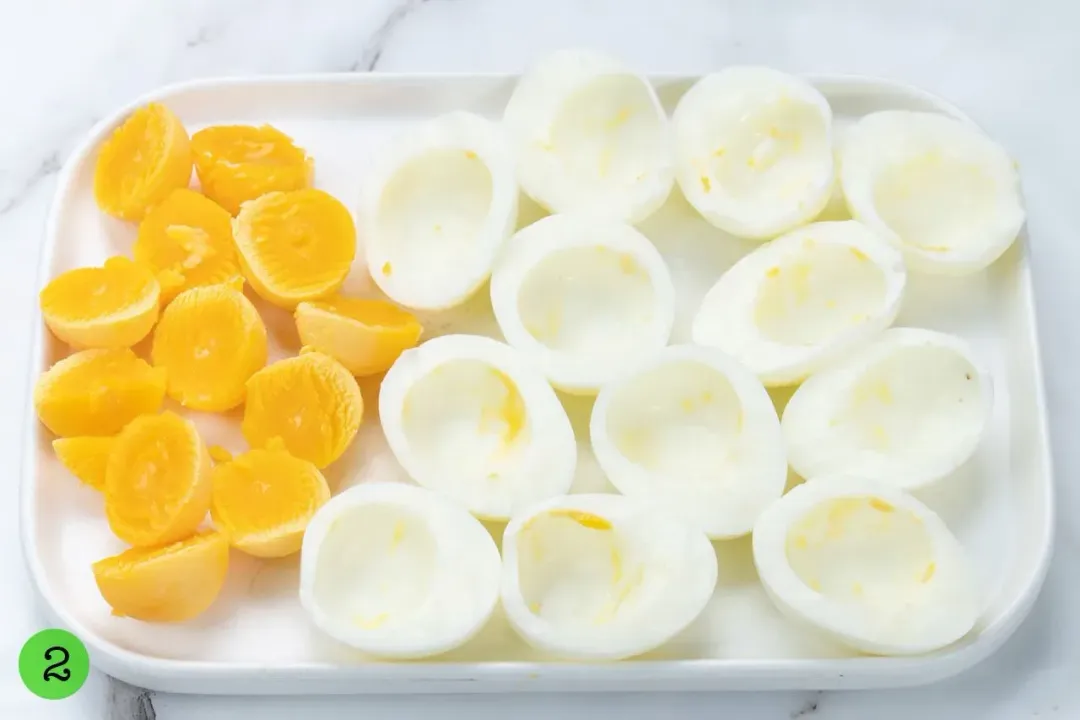 3
In a food processor, add the cooked yolk and mayonnaise, sour cream, milk, mustard, salt, half of the paprika, cheddar, and bacon crumbles. Blend until smooth.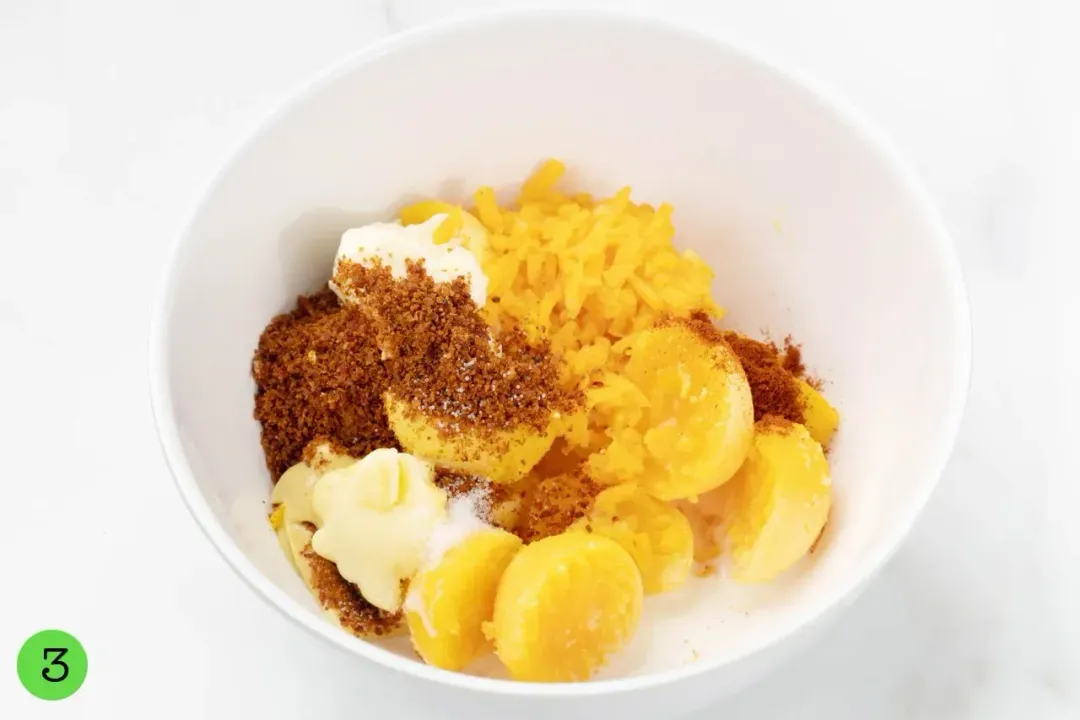 4
Place the filling into a piping bag carefully, and pipe it onto each egg half.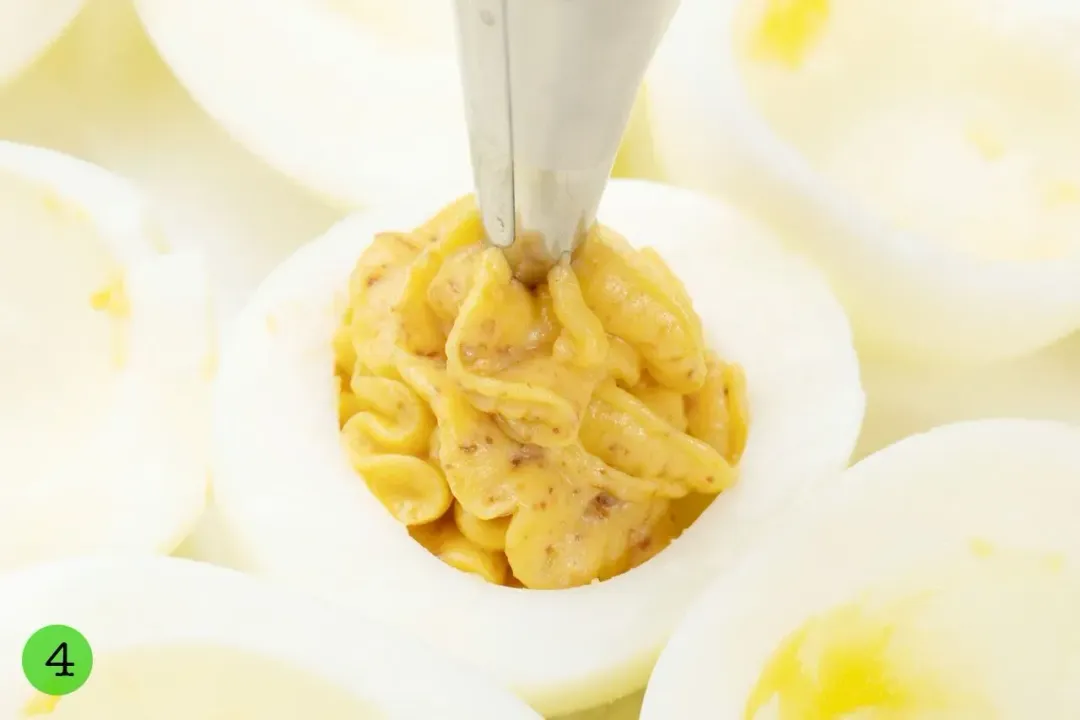 5
Serve with quartered cherry tomatoes. Garnish with minced parsley and paprika.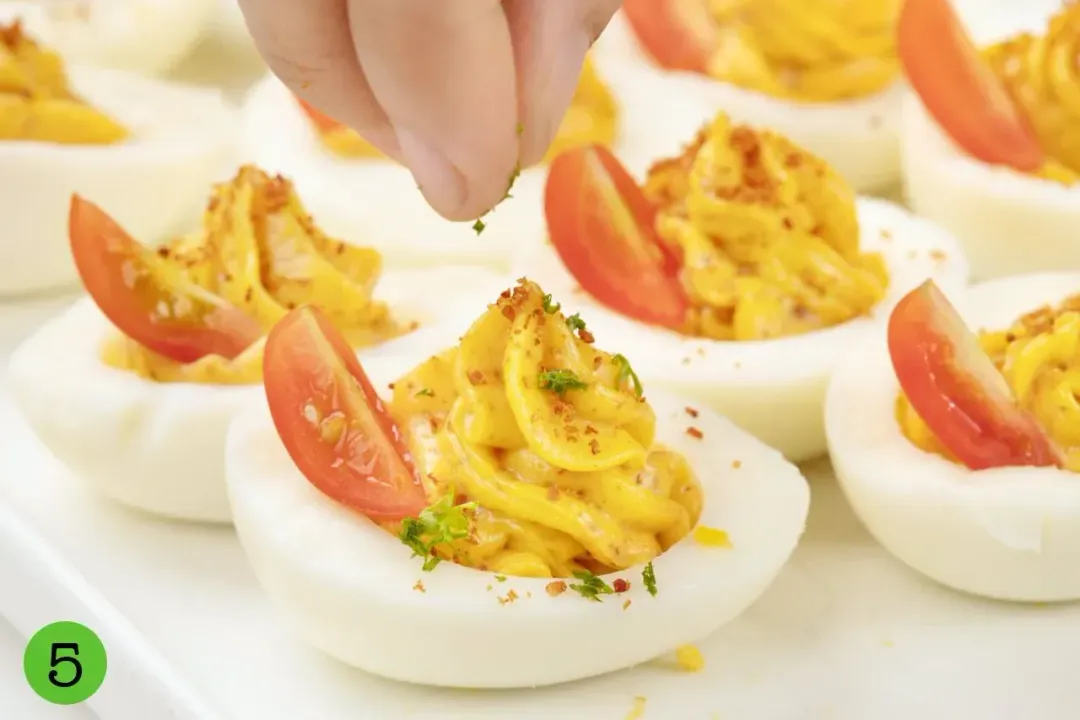 NUTRITION
Nutrition Facts
Healthy Deviled Eggs
Amount Per Serving (1 serving)
Calories 143
Calories from Fat 90
% Daily Value*
* Percent Daily Values are based on a 2000 calorie diet.
Keywords: Deviled Eggs Recipe, Healthy Deviled Eggs Recipe, How to make Deviled Eggs Recipe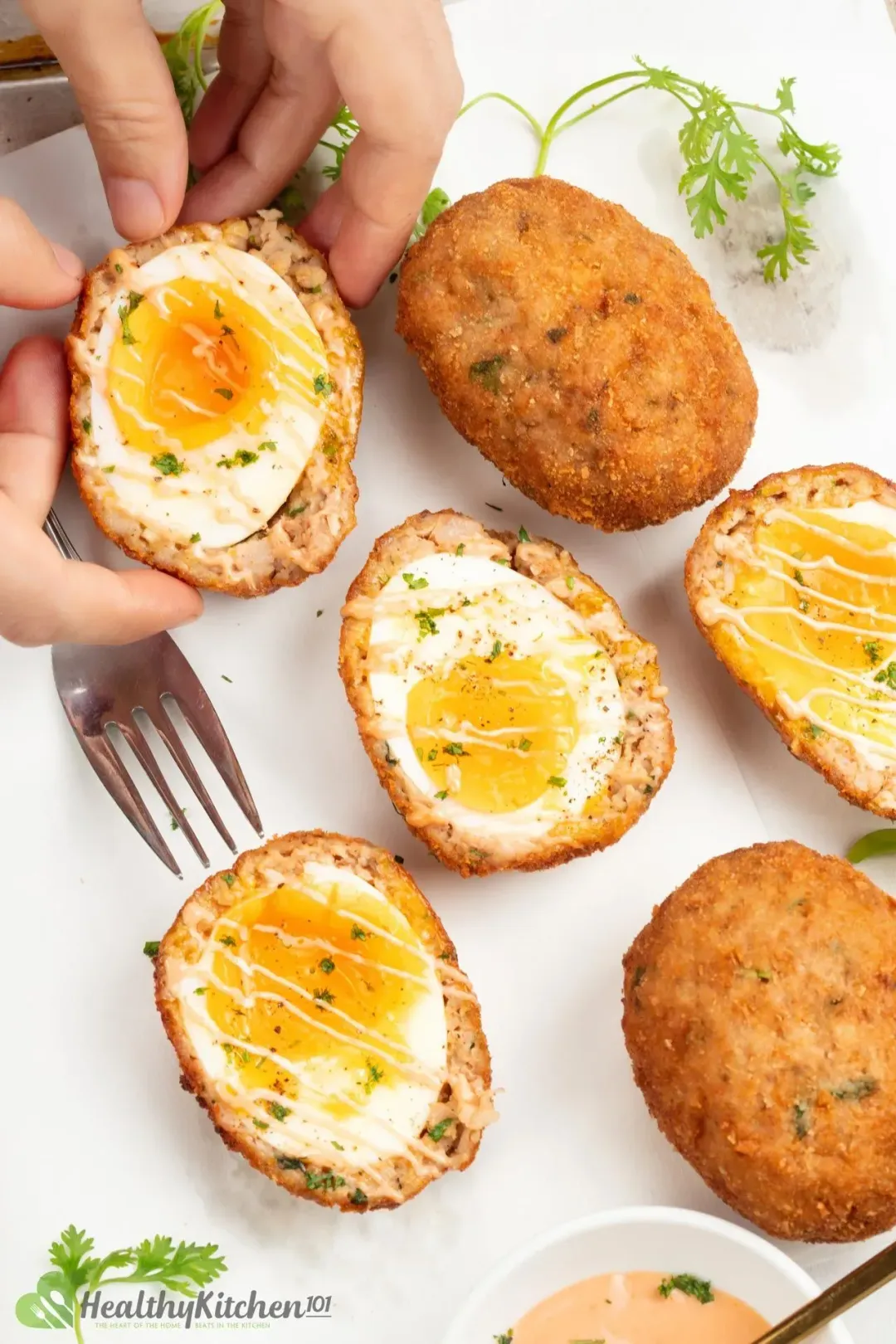 Previous Recipe
Scotch Egg
Scotch Egg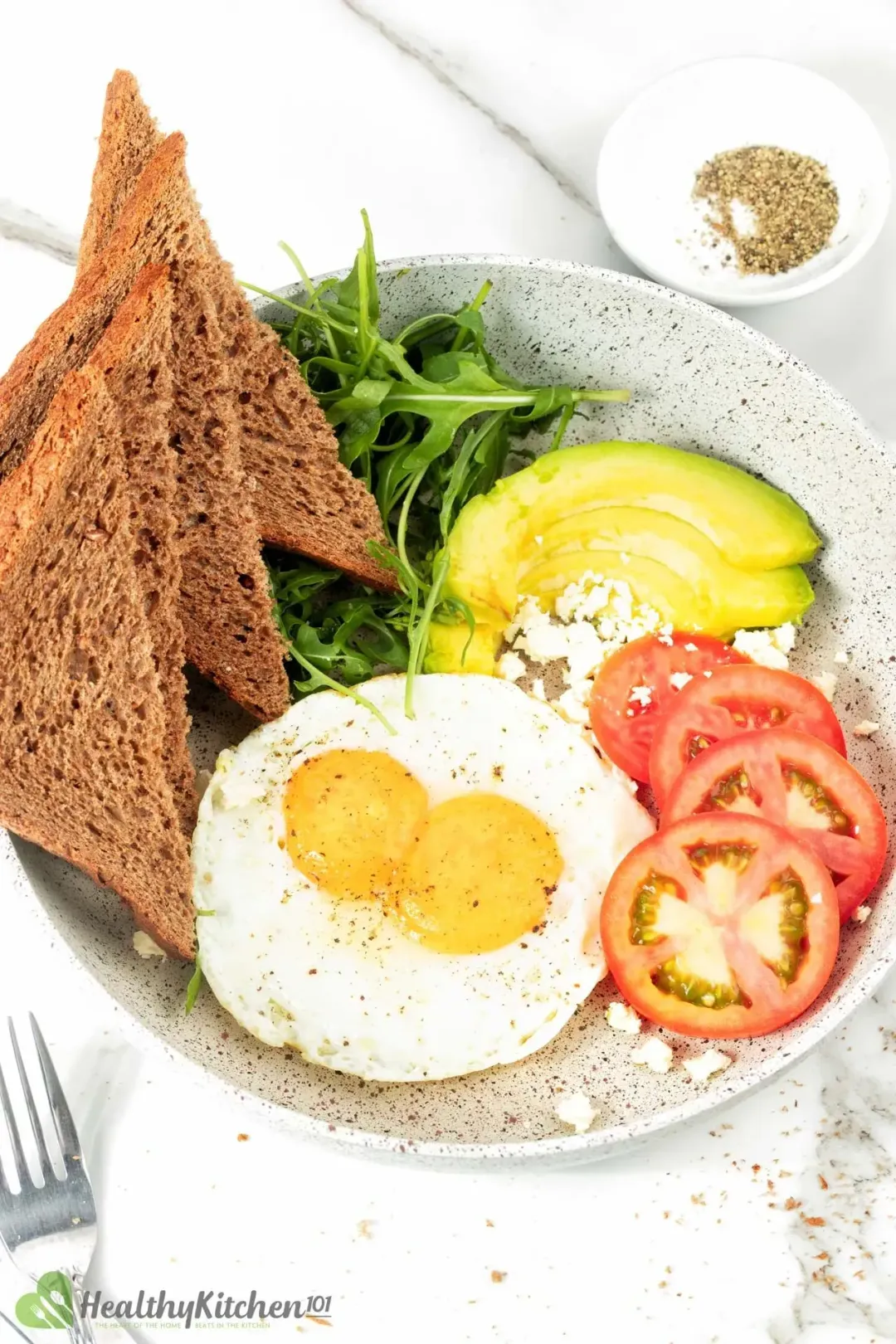 Next Recipe
Sunny Side Up Eggs
Sunny Side Up Eggs
Head Chef, Culinary Consultant
Tuyet Pham is an award-winning Saigonese chef who believes that joy is the secret ingredient to delicious food. At Healthy Recipes 101, Tuyet personally tests and simplifies every recipe, ensuring maximum flavor with minimal effort. With a background at prestigious French restaurants P'TI Saigon and Le Corto, Tuyet knows how to make every dish exceptional.
Writer, Author
Luna Regina is an accomplished writer and author who dedicates her career to empowering home cooks and making cooking effortless for everyone. She is the founder of HealthyKitchen101.com and HealthyRecipes101.com, where she works with her team to develop easy, nutritious recipes and help aspiring cooks choose the right kitchen appliances.
Nutrition Reviewer
Lizzie Streit is a Minneapolis-based dietitian and founder of It's a Veg World After All. She completed her MS in Human Nutrition from Drexel University, and is an expert in culinary nutrition, recipe development, and nutrition communications. Lizzie's philosophy is centered around making nutrition recommendations, and especially the advice to eat more vegetables, approachable and realistic. She is excited to be working with the team at Healthy Recipes 101 to ensure that their recipes are both nutritious and delicious.
These deviled eggs are a classic appetizer that never goes out of style.