When you think about any egg drop soup recipe, you probably think of something hot and comforting, enough to warm your chilled self on a winter's day. But don't limit yourself to cold days, you can definitely enjoy this healthy soup during any season.
This soup is amazingly tasty. The chicken broth itself is flavorful with delicate sweetness coming from corn and shiitake mushrooms, then there's the added warmth of spice from sesame and soy sauce.
It's light on calories but full of fiber and protein and umami-rich, which makes egg drop soup a great way to start your meal.
What Is Egg Drop Soup?
So, what is egg drop soup? It is a typical Chinese soup made of chicken broth, beaten egg, and several interchangeable ingredients that can be added depending on your preference, such as seafood, vegetables, or meat. 
There are other variations of egg drop soup in many countries, such as tourin from France, or haferflockensuppe from Germany.
In essence, egg drop soup is a simple dish that can be perfect for a busy dinner.
Is Egg Drop Soup Healthy?
Low in fat and sodium, this egg drop soup recipe contains vitamins A and C, and minerals that offer some great health benefits.
Thanks to carrots, this soup has a significant amount of vitamin A (18 percent of the daily recommended intake). This powerful antioxidant helps support your immune system, bone health, and eyesight.
Shrimp is famous for its calcium profile and some impressive health benefits. Calcium is a key element in growing new bones, keeping your bones strong, and maintaining your muscle function.
See our perfect holiday appetizer, a combination of sweet, salty, and sour-tasting eggs, and this traditional method of making eggs for more healthy options.
Egg Drop Soup Ingredients
This staple Chinese soup is light, savory, and simple enough to serve as a warming dish for a family dinner. Consisting of three main elements: chicken broth, eggs, and cornstarch, it doesn't take much time to combine the soup for a wonderful meal.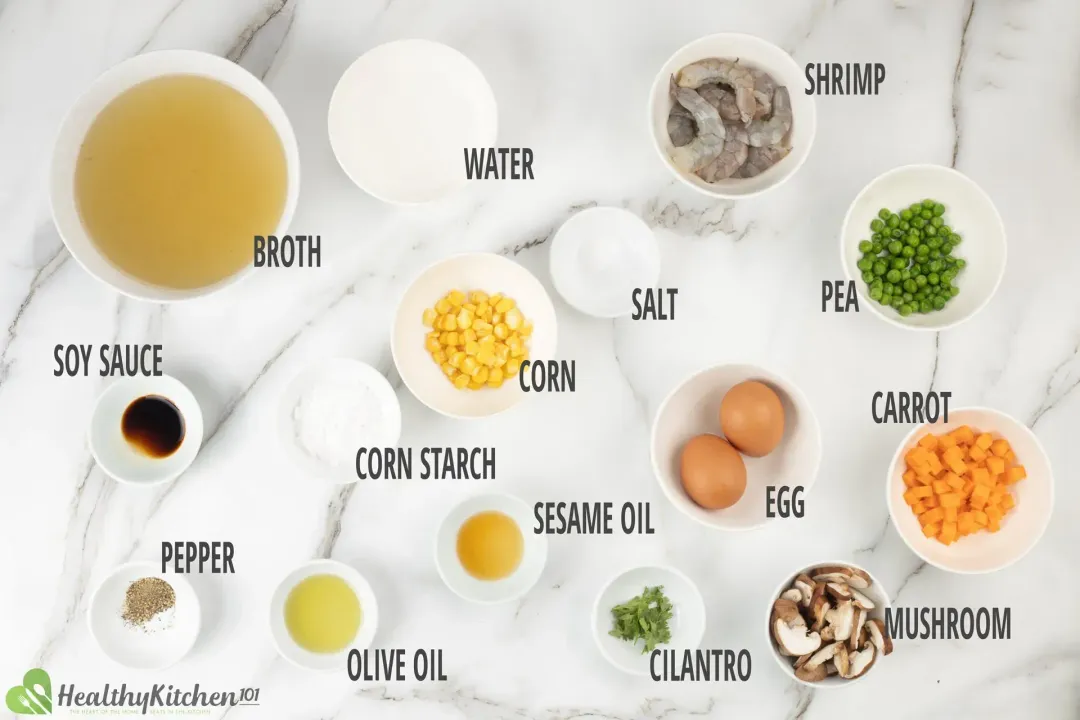 Egg drop soup is the definition of hearty simplicity. Our recipe calls for:
Shrimp
Chicken broth
Shiitake mushrooms
Corn
Carrot
Peas
Eggs
Cornstarch
When it comes to egg drop soup recipes, if you master the base, you can add whatever your heart desires and always have it turn out well. Check out one of our perfect breakfast options to see this tactic.
What Goes with Egg Drop Soup
What makes this egg drop soup recipe so popular all across the world is that it's so simple to make. With a chicken broth base, you can go out of your comfort zone and combine infinite other ingredients into the soup.
1. Corn
Corn is a popular add-in to egg drop soup recipes for many reasons. Its vibrant yellow color makes the soup look more attractive while the crunchy texture offers a more diverse mouthfeel for the eater.
2. Cabbage
There is a whole universe of vegetables that can be combined with this recipe. Cabbage is a great choice since it not only brings out a naturally sweet taste but also improves the fiber content of your soup bowl.
3. Mushrooms
The soup can be enhanced by mushrooms, especially shiitake mushrooms. Not only packed with protein, mushrooms also offer a unique hearty taste and meaty texture that many people love.
4. Tofu
Tofu can be a healthier choice for your soup. Besides, it can replace any protein ingredients to turn the soup into a vegetarian-friendly version.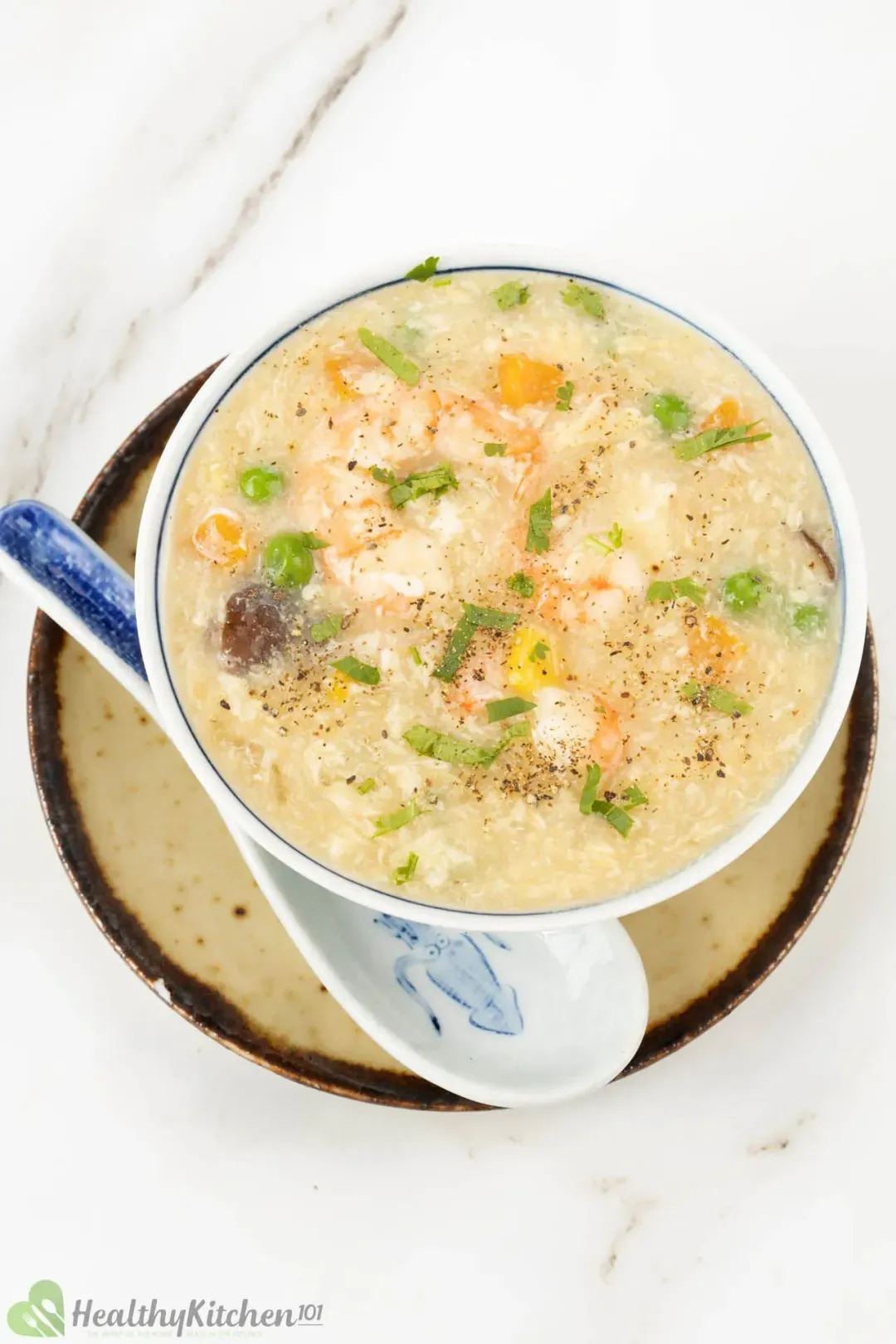 Egg Drop Soup Nutrition
1. Calories
One serving of our egg drop soup recipe contains 179 calories and 1.4 grams of saturated fat. We recommend serving this soup as a side and combining it with a healthy main dish to make up 750 calories for lunch or dinner.
2. Carbs
There are 10.2 grams of carbohydrates in one serving of this soup recipe. This number takes about 4 percent of the recommended amount of daily carb intake. 
3. Protein
Egg drop soup is a protein-packed dish that everyone will love to have. A small bowl contains 18.9 grams of protein, which accounts for 38 percent of the total recommended protein for a day.
4. Sodium
Being so tasty and hearty you might think this dish would have a lot of salt, but this egg drop soup recipe is quite low in sodium, only about 320 milligrams per serving.
How Do You Make Flavorful Soup?
Use good-quality broth: some store-bought products deliver high sodium, so our advice is to look for low-sodium or unsalted broth. Or you can make your own, and freeze it until you're ready to use it. 
Sweat vegetables: simmering the vegetables over low heat allows them to steam in their own juices. This is a simple way to achieve a deeper savory flavor for the whole soup. 
Season with soy sauce: soy sauce is rich in umami savory flavors. Adding it will turn even a plain soup into something moreish. 
Add fresh herbs: adding fresh herbs like cilantro, basil, and parsley after your soup is cooked gives another level of flavor and helps marry the dish together. 
Be creative: Like many soups, this luscious liquid is quite versatile. To boost the fiber content you can add other vegetables like bok choy or asparagus; they pair nicely with egg drop soup flavor.
You can also use crab meat instead of shrimp in this recipe. For a vegetarian version, tofu is a great idea. Think about what you like and add extra ingredients to suit your taste buds.
How Long Does Egg Drop Soup Last?
This egg drop soup can be kept in the fridge for about 3 days. And it's easy to do.
Simply let the soup cool completely at room temperature. Then put it in an airtight container and place it in the refrigerator.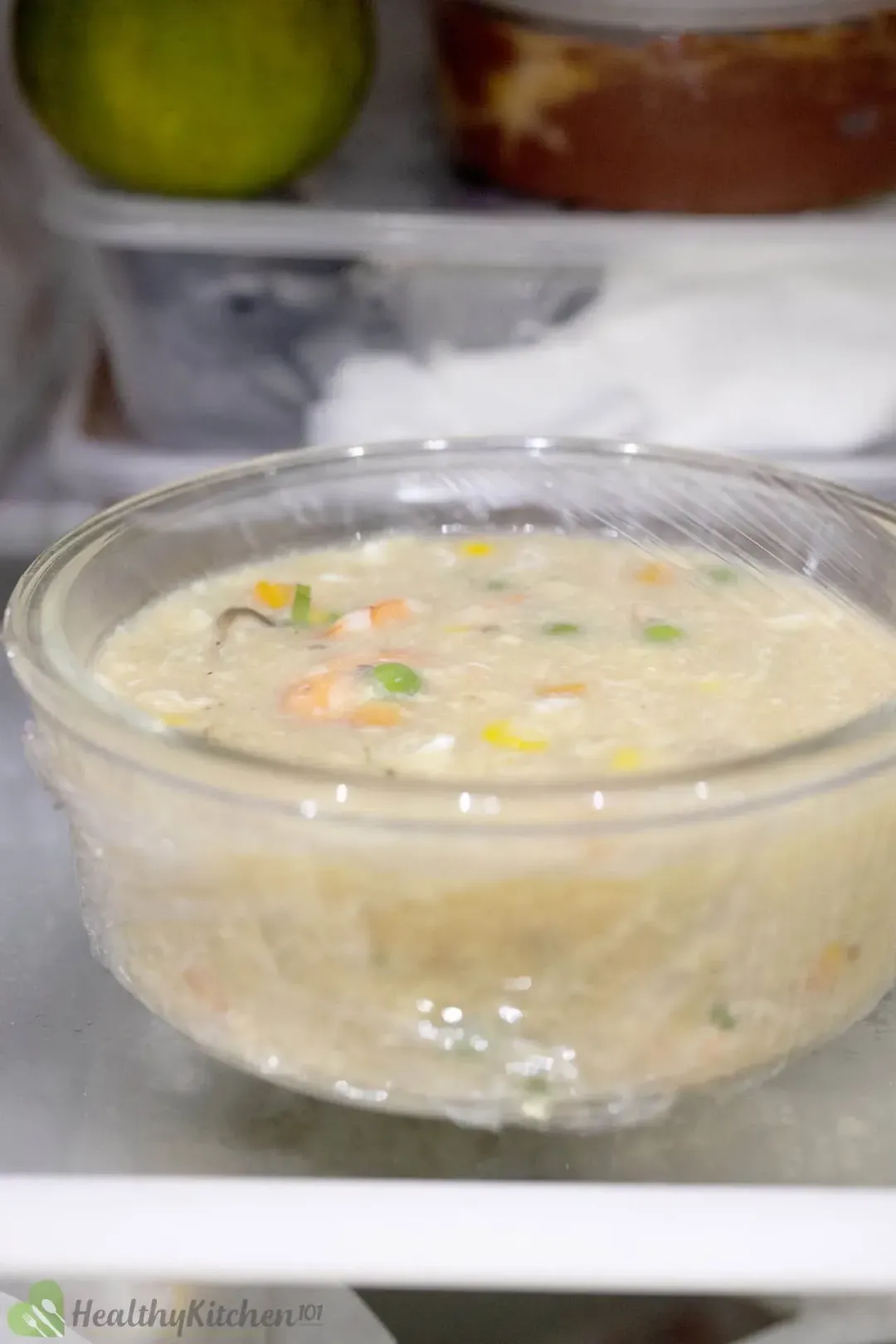 Can You Freeze Egg Drop Soup?
Yes, you can. Freezing soup is simple and you can make it ahead of time for a busy night.
Eggs can become rubbery after being frozen, so you should freeze the broth without adding them in. When reheating the soup base, add them in fresh before serving. 
This simple trick helps you avoid unpleasant texture while still preserving the delicious flavor of the soup.
If you would like to see more healthy eggs options, see our collection of 40+ eggs recipes.
What to Serve With Egg Drop Soup
This egg drop soup is so versatile, so you can have it as an appetizer for lunch or dinner at home. There are some great Asian options you can choose to pair with it:
Sweet and sour chicken
Chicken teriyaki
Kung pao chicken
If you are looking for some healthy and comforting soup ideas, our cabbage soup and Shrimp Soup are another great options.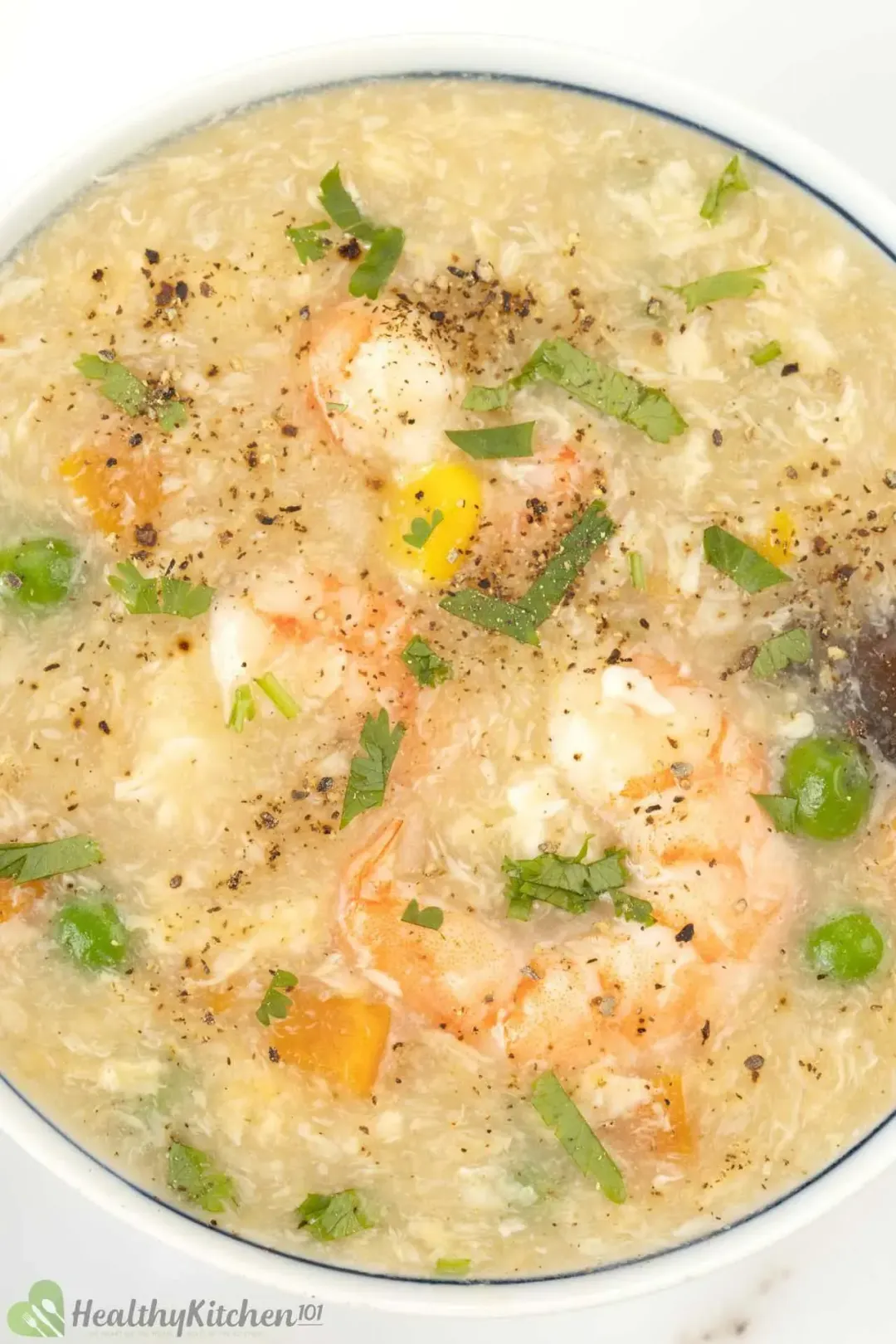 More Delicious Egg Dishes to Try
Egg Drop Soup
With a small soup pot and minimal ingredients, this egg drop soup recipe can be whipped up in 20 minutes. The key to making the soup more flavorful is to bring the soup to a boil and add a teaspoon of both sesame oil and soy sauce. The result is a glorious comforting soup with a silky texture and tasty egg bites.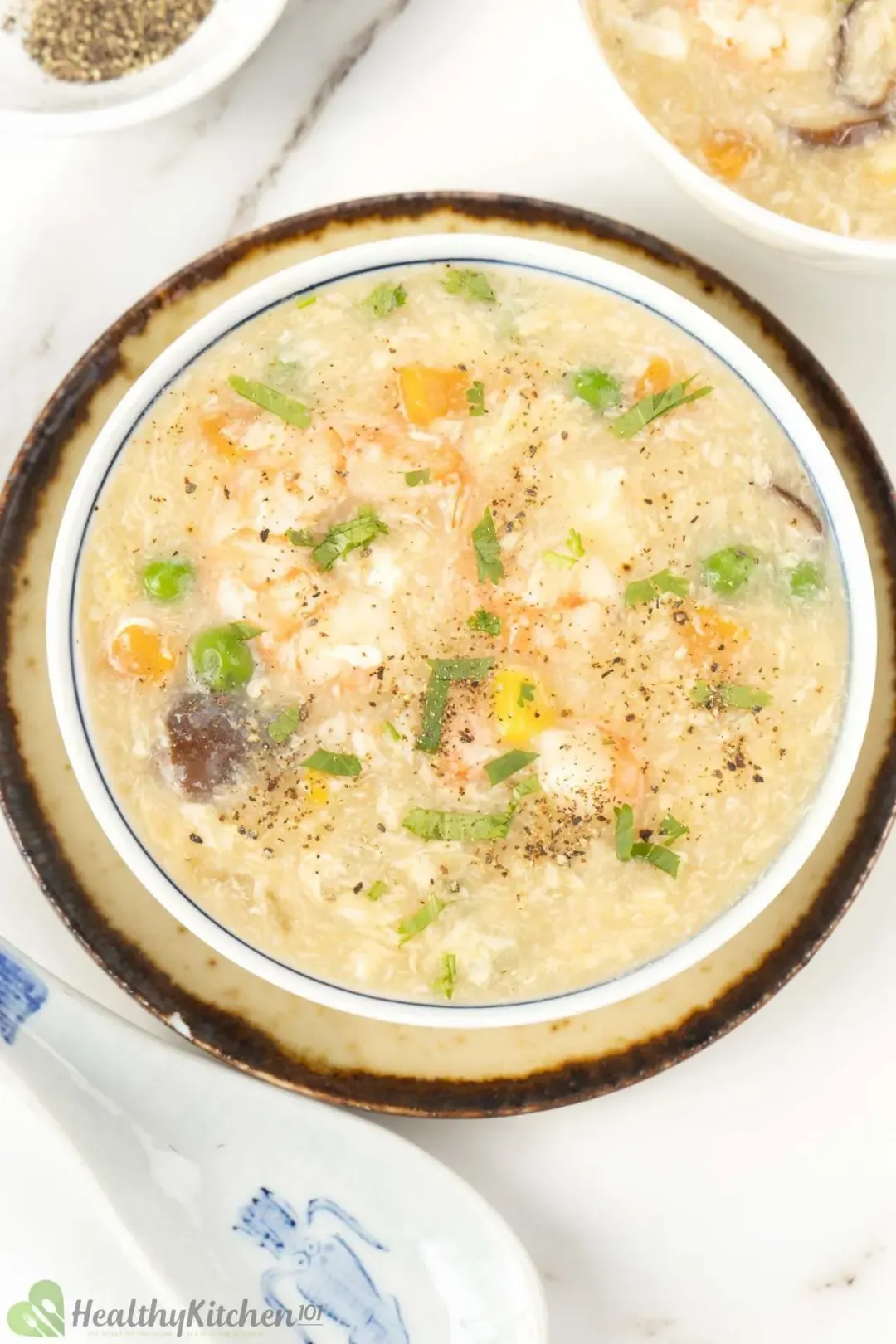 cook TIME

10 mins

prep TIME

10 mins

total TIME

20 mins
COURSE

Appetizer, Side Dish, Soup

CUISINE

Chinese

SERVINGS

CALORIES

179 kcal
INGREDIENTS
1/2 tsp

less sodium soy sauce

1 oz

shiitake mushroom

(sliced)

2 cups

unsalted chicken broth
INSTRUCTIONS
2
Heat olive oil in a soup pot. Stir-fry carrot, corn, peas, and mushrooms over medium-low heat for 3 minutes.
3
Add in chicken broth, shrimp, and salt. Cook over high heat and bring to a boil. Then reduce the heat to simmer.
4
Combine cornstarch and water in a small bowl. Whisk until cornstarch is completely dissolved. Swirl into the soup and mix well with a spatula.
5
To add eggs, drizzle the beaten egg mixture slowly into the soup while stirring with a whisk.
6
Drizzle in sesame oil and soy sauce. Turn off the heat.
7
Garnish with ground pepper and cilantro leaves. Serve immediately.
NUTRITION
Nutrition Facts
Egg Drop Soup
Amount Per Serving (1 serving)
Calories 179
Calories from Fat 63
% Daily Value*
* Percent Daily Values are based on a 2000 calorie diet.
Head Chef, Culinary Consultant
Tuyet Pham is an award-winning Saigonese chef who believes that joy is the secret ingredient to delicious food. At Healthy Recipes 101, Tuyet personally tests and simplifies every recipe, ensuring maximum flavor with minimal effort. With a background at prestigious French restaurants P'TI Saigon and Le Corto, Tuyet knows how to make every dish exceptional.
Writer, Author
Luna Regina is an accomplished writer and author who dedicates her career to empowering home cooks and making cooking effortless for everyone. She is the founder of HealthyKitchen101.com and HealthyRecipes101.com, where she works with her team to develop easy, nutritious recipes and help aspiring cooks choose the right kitchen appliances.
Nutrition Reviewer
Lizzie Streit is a Minneapolis-based dietitian and founder of It's a Veg World After All. She completed her MS in Human Nutrition from Drexel University, and is an expert in culinary nutrition, recipe development, and nutrition communications. Lizzie's philosophy is centered around making nutrition recommendations, and especially the advice to eat more vegetables, approachable and realistic. She is excited to be working with the team at Healthy Recipes 101 to ensure that their recipes are both nutritious and delicious.
I don't think I can make this dish any better. Can you show me how to turn this into a main dish?