Our quiche recipe makes a satisfying dish: flaky pie crust with a rich filling that's customizable to your likings. And unlike most recipes, this one has the approval of our nutritionist.
We make our pastry from scratch because it is both healthier and tastier that way. It does need to be chilled for at least 2 hours before rolling, but the extra time is totally worth it.
With that said, let's get into making quiche.
What Is Quiche?
Quiche is a savory pie with a flaky, buttery crust and an egg-based filling. You can add many things to the filling besides eggs and dairy, including meat and vegetables.
Frittata vs Quiche – The Difference
Frittata is an Italian egg delicacy, meaning "fried". To make a frittata, eggs are cooked with meat/vegetables in a cast iron skillet.
When the frittata is done, it's taken out of the pan and plated on a large dish.
In fact, we have a frittata recipe with tomatoes and veggies for the filling. You can have a look to compare the two.
Quiche, on the other hand, comes in a pastry shell instead of being served plain like frittata. Also, it is often cooked in a baking dish rather than a cast iron skillet.
Sometimes, quiche is cooked without the pastry shell and we call that a crustless quiche, which is mistaken for frittata. However, since frittata contains very little to no dairy at all, it's denser than quiche and this is the key difference between the two.
Is Quiche Healthy?
Quiche may not be the first thing that comes to mind when you think of healthy foods, but our recipe is specially formulated to be healthy.
You may have heard of "quiche Lorraine", a classic quiche loaded with bacon. There's also the popular ham and cheese variety, also super satisfying and tasty.
These, however, are the ones we're trying to avoid. Bacon and ham are loaded with saturated fat and sodium, two nutrients we want to limit.
Our recipe keeps these levels in check with a few tweaks to the classic:
The crust is homemade, so we can have full control of how much butter goes in.
The egg filling is lighter on eggs and dairy.
Bacon and ham are off the table. Instead, it's tender chicken thighs, creamy potatoes, and super savory mushrooms.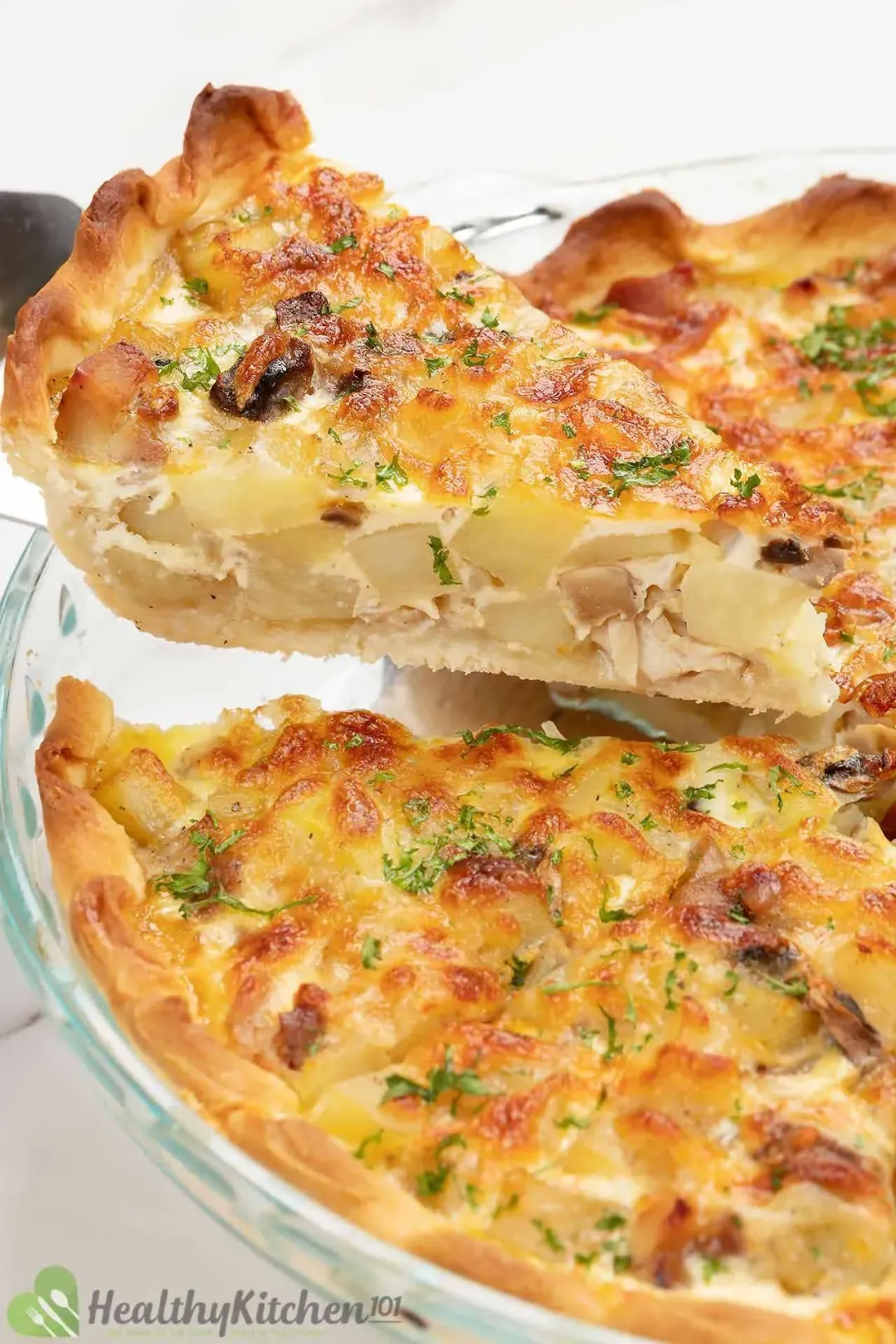 Quiche Ingredients
Let's take a closer look at the components of this quiche recipe:
1. Pie Crust
We wanted the classic pie crust that's flaky and buttery, but the store-bought dough we found contained too much fat (not to mention other added ingredients). As a result, we recreated the crust with half butter, half shortening— an alternative grease with less saturated fat.
The most important thing to remember is that the butter, shortening and water you use need to be cold. you can store them in the fridge or briefly in the freezer prior to making your pastry.
All you need to do then is add the ingredients for the crust to a food processor and blitz until small crumbs form. Then mix and knead them a little bit to bring them together and you have a perfect dough ready for refrigeration.
2. Eggs and Milk
These hold the filling together and it's important to keep the egg-milk ratio at around 1 egg : ½ cup milk. More liquid than that and your egg might not be able to set.
You'll notice that the ratio in our quiche recipe is 1.5 eggs : ¼ cup milk. This makes it a little denser (both in texture and nutrition!).
We've also added 1 tablespoon of cream to the mixture to increase the richness and creaminess.
3. Mushrooms, Potatoes, and Chicken
Our filling of choice is a combination of tender potato bites, chewy mushrooms, and golden chunks of chicken thigh. This filling takes around 10 minutes to cook, and is completely delicious.
Of course, you can add other things to the quiche filling to make it even healthier. We'll share a few suggestions later.
How Long to Cook Quiche
Cooking time depends very much on the oven. Actual oven temperature can vary between models, depending on age and quality.
Ours was cooked until the top was golden brown, and it took 30 minutes in a 375°F oven. If your quiche is still runny and not completely set after 30 minutes, leave it in there for up to 15 minutes longer.
Check on it after 10 minutes; you don't want to end up with an overbaked crust or dry filling.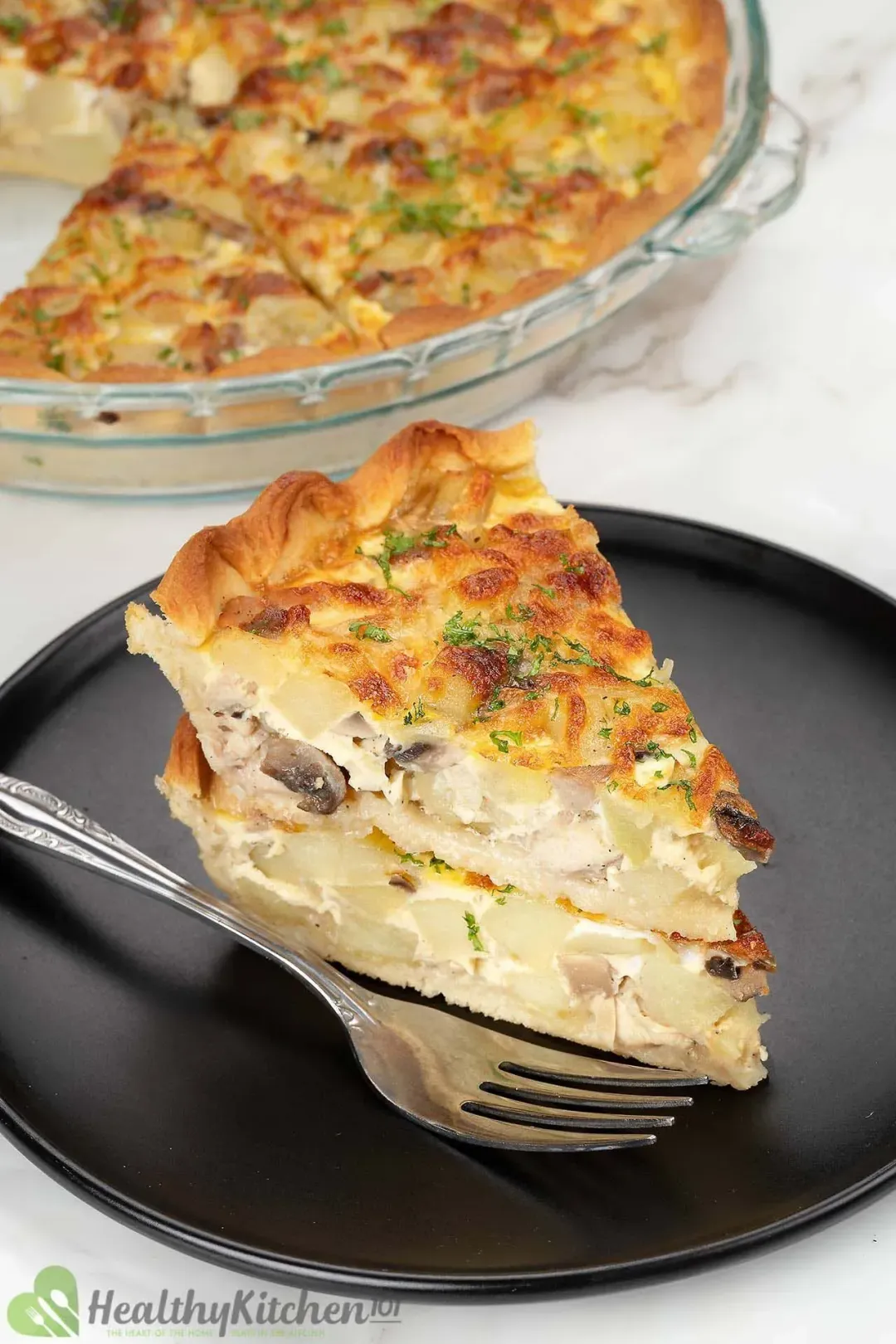 What Else Goes With Quiche?
1. Spinach
Quiche can always benefit from veggies, and spinach seems to be the perfect veg for this quiche.
You can boil spinach or just give it a quick blanch, then squeeze out the moisture. Add it to the filling and enjoy added flavor and micronutrients.
2. Broccoli
We really don't get the hate directed at broccoli. It tastes amazing if you cook and season it properly.
To add broccoli to the quiche, first cook it in the pan along with the chicken, then potatoes and mushrooms. The little flowers of the florets will soak up all of the flavors nicely.
3. Zucchini
There's one version of quiche that includes only zucchini and tomato, and has an amazing flavor profile. It's slightly sour, with a hint of sweetness, super tender, and extra juicy thanks to the zucchini.
Going for this take on quiche, you can keep the chicken and mushrooms, and leave the potatoes out. Zucchini and tomatoes don't need to be cooked prior to baking, so you'll only need to cook the mushrooms and chicken.
To prep the zucchini and tomatoes you'll need to use a mandoline to slice them thinly. After adding the egg mixture and chicken to the crust, arrange the zucchini and tomatoes on the surface.
You can use as much zucchini and tomatoes as you like but be mindful that they do release juice during baking. To us, around half a zucchini and one tomato does the job.
4. Crab
Crab quiche is a super fancy take on this classic delicacy.
If you have crabs on hand, add about 1.5 cups of crab meat to the egg mixture. Season it with cayenne, salt, pepper, and add chopped chives and dill for aroma.
Transfer the mixture to the crust and it's ready for baking. You can also add spinach because a little bit of green is always welcome and gives variety visually too.
Can You Freeze Quiche?
Quiche won't go bad if you freeze it, but it won't taste as good as freshly baked. If you intend to freeze quiche for later serving, we have a better option for you down below.
How Long Does Quiche Last?
You can bake quiche the night before then reheat it the next morning. The crust will still be flaky, and the filling will taste almost the same (sometimes it has even improved with time to sit together).
Quiche can last for 4-5 days in the fridge. Make sure to let it cool completely and cover it with cling wrap/put it in an airtight container before refrigerating.
Can You Make Quiche Ahead of Time?
There's nothing like freshly baked quiche, but if you are looking to have it for breakfast, there are steps you can take to make that more convenient. To help timewise you could do the following the day before:
Prep and cook the filling
Mix and chill the dough for at least 2 hours
Roll the dough out and place it into a baking dish
Refrigerate both crust and filling
When you wake up, take the components out of the fridge. Add the filling to the crust, pour in the egg mixture, and it's ready for baking.
While it's baking, do whatever you normally would— brush your teeth, take a quick shower, etc. When you're done, you should have a scrumptious, hot breakfast waiting for you.
What to Serve with Quiche
Quiche is brilliant on its own but could do with added calories for a fuller meal.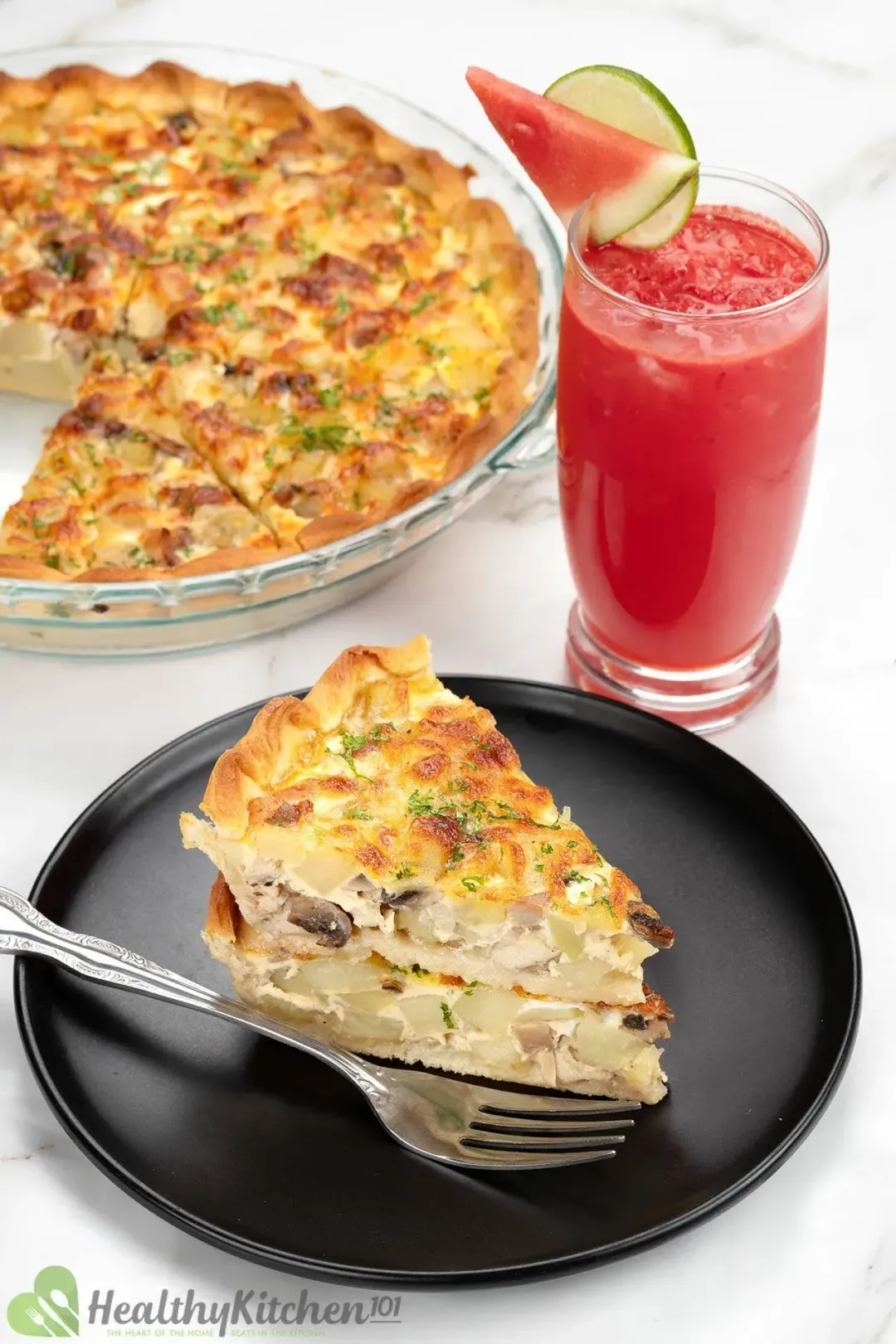 Strawberry Banana Smoothie
First thing in the morning is not when you want to be making full meals (that's why we make it ahead of time). So, to have a healthy and quick 600-calorie breakfast, we suggest adding a strawberry banana smoothie.
Quiche
This quiche recipe is quick (if you don't count the 2 hours of dough chilling time) and really simple. Try it today for a wholesome meal!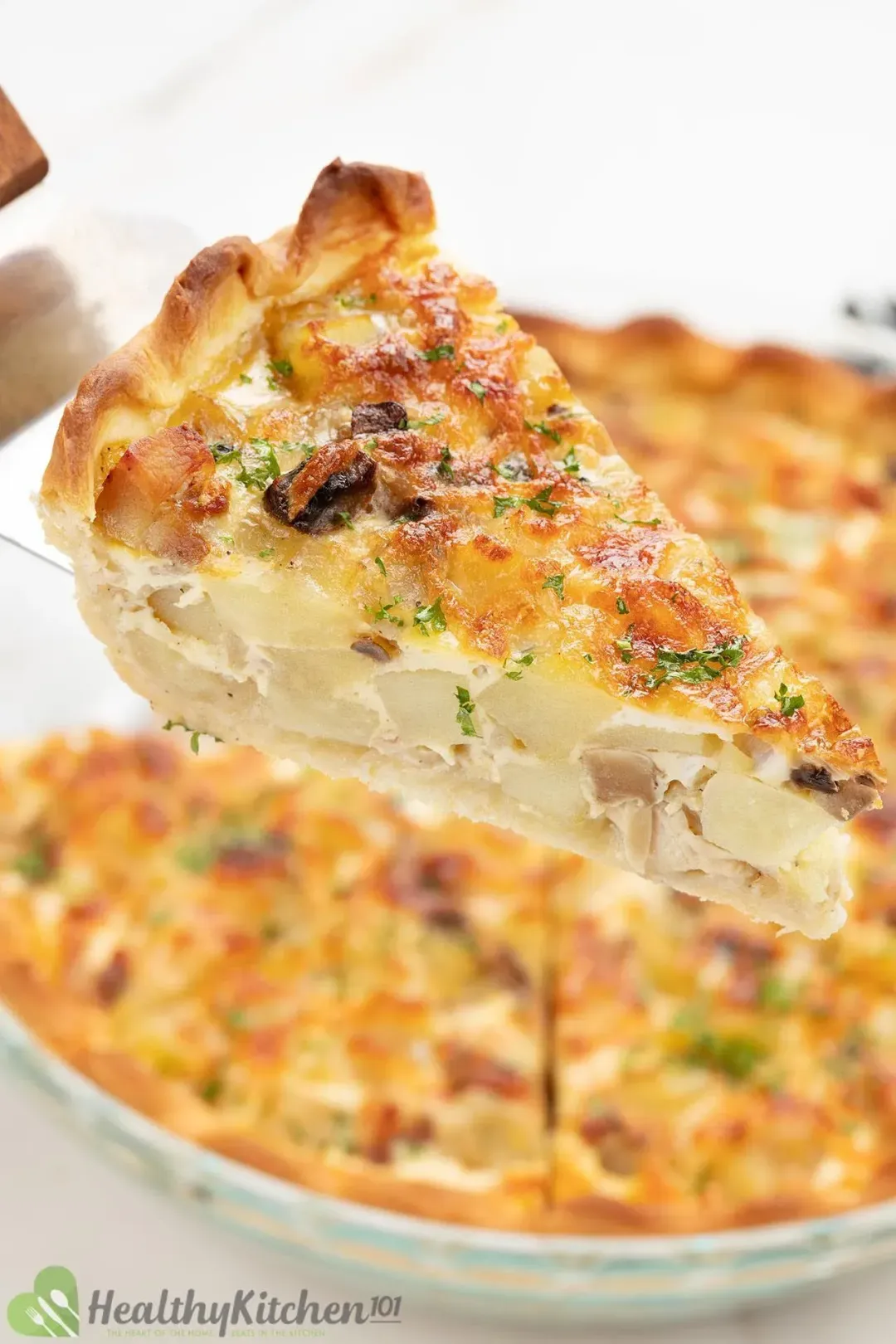 cook TIME

40 mins

prep TIME

20 mins

total TIME

3 hr

INACTIVE TIME

2 hr
COURSE

Breakfast, Main Course

CUISINE

American, French, German

SERVINGS

CALORIES

512 kcal
INGREDIENTS
Crust:

2 tbsp

vegetable shortening

Filling:

18 oz

skinless boneless chicken thighs

(chopped into small pieces)

3 oz

white mushrooms

(cut into chunks)

0.75 oz

mozzarella cheese
INSTRUCTIONS
1
Blend 1 cup flour, 1/8 tsp salt, 1/2 tbsp chilled butter, and 2 tbsp shortening in a food processor. Gradually add 6 tbsp ice-cold water to it while blitzing until crumbs form.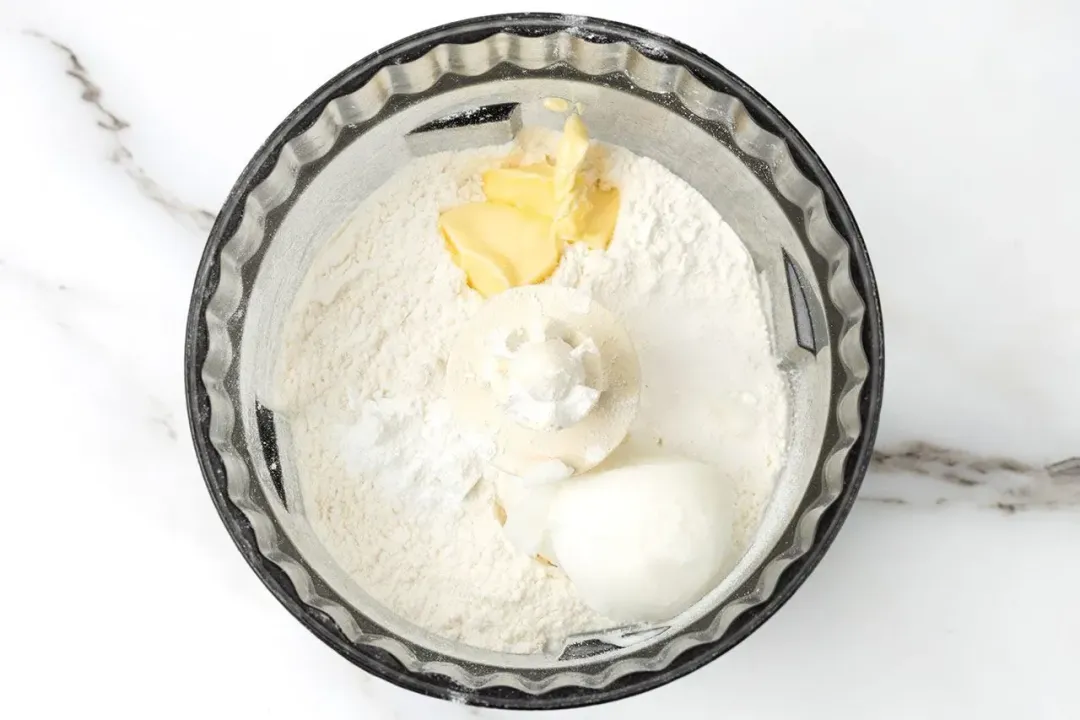 2
Turn it out onto a lightly floured work surface. Quickly shape the dough into a disk, and wrap it with plastic wrap. Refrigerate it for at least 2 hours.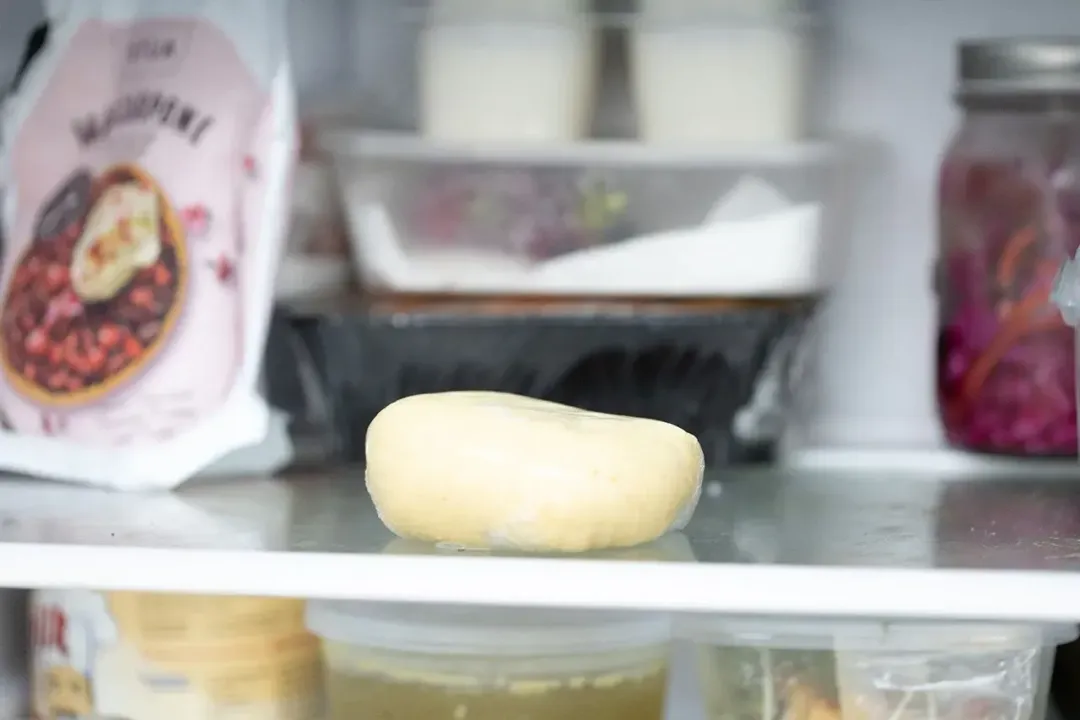 3
Preheat the oven to 375°F.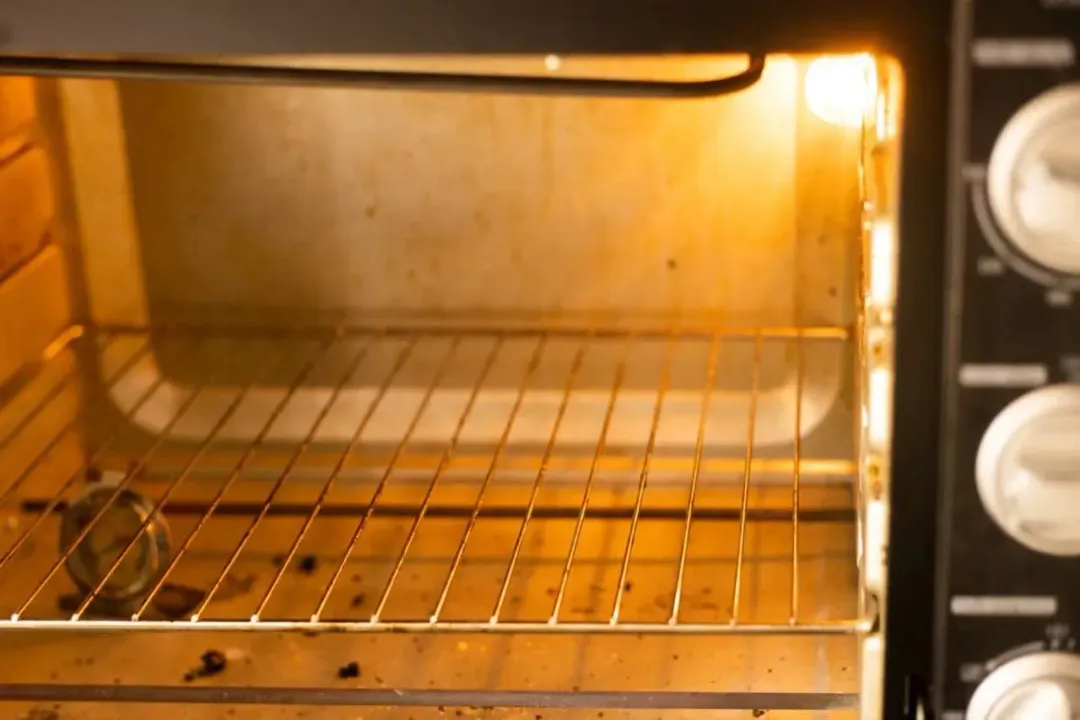 4
In a pan, cook 1.5 oz onion and 1 tbsp garlic with 1 tsp olive oil for 1 minute over medium heat.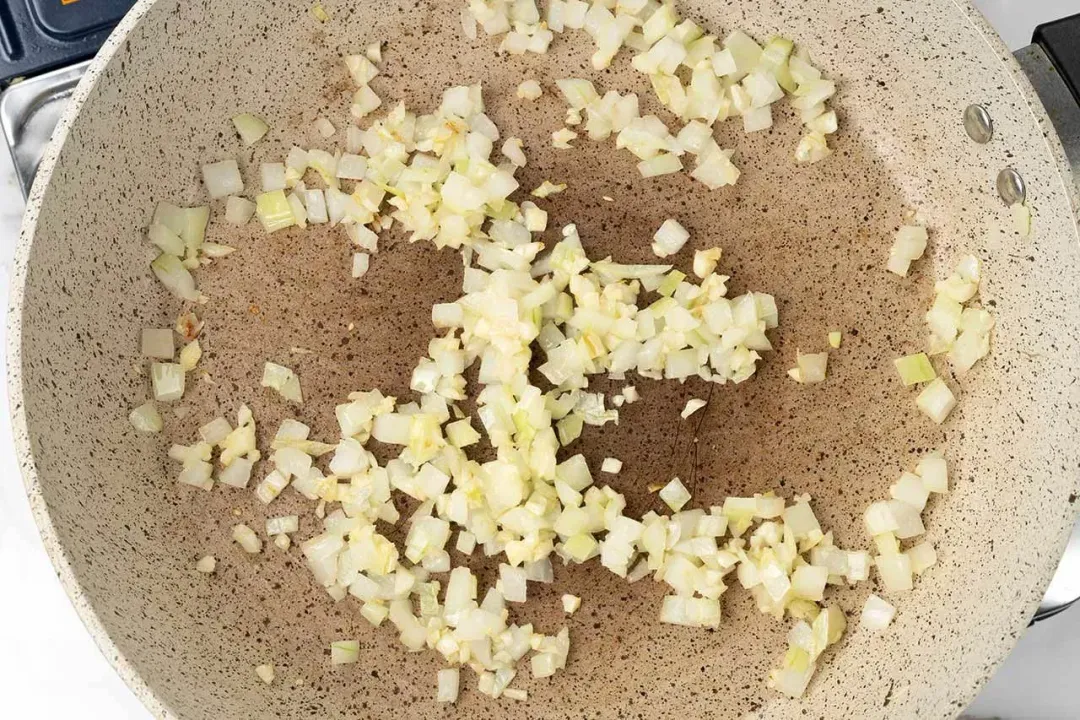 5
Add 18 oz chicken and cook for another 2 minutes. Stir occasionally.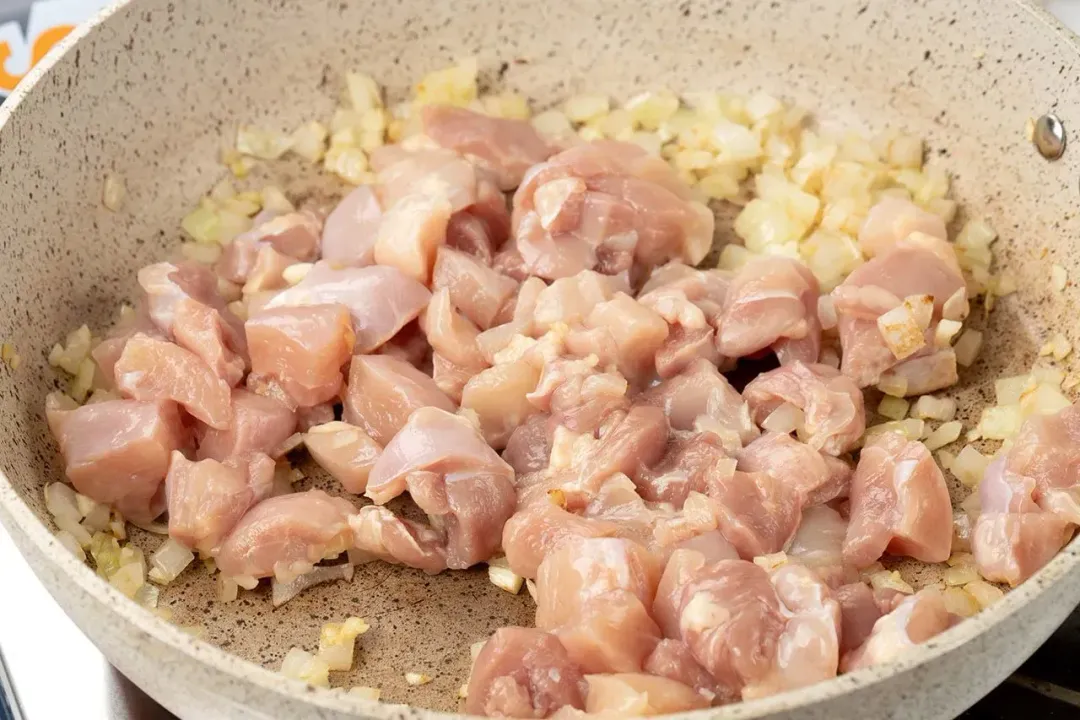 6
Add 15 oz potatoes, 3 oz mushrooms, the amount of 1/4 tsp salt, 1/2 tsp pepper, and 1/4 tsp thyme. Stir well and allow to cook for another 10 minutes.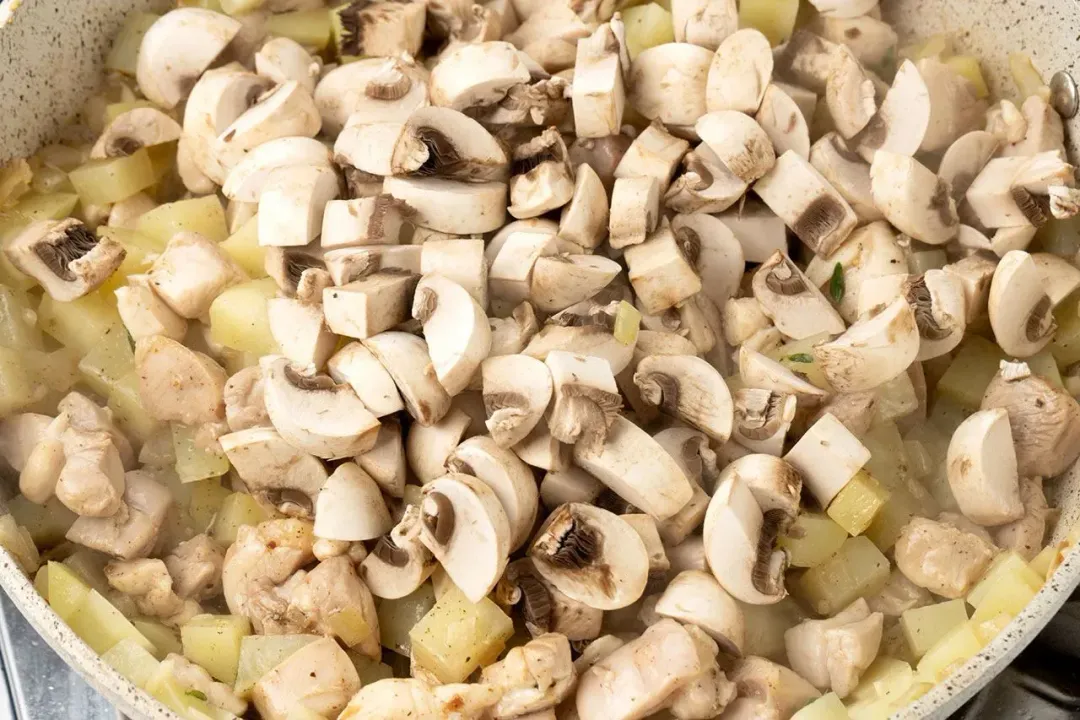 7
Whisk 2.5 eggs, 1/3 cup milk, 1 tbsp cream, and the remaining 1/4 tsp salt in a bowl.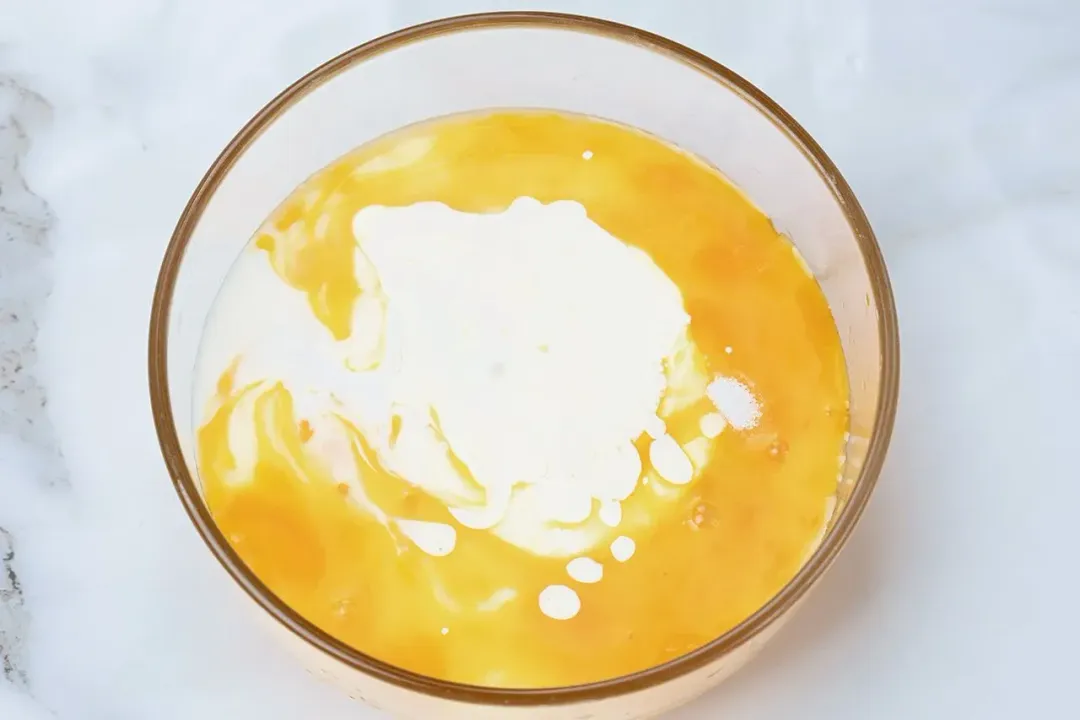 8
Unwrap the dough, and roll it out thinly on a work surface. It can stick to your rolling pin, so be sure to flour your work surface and the rolling pin.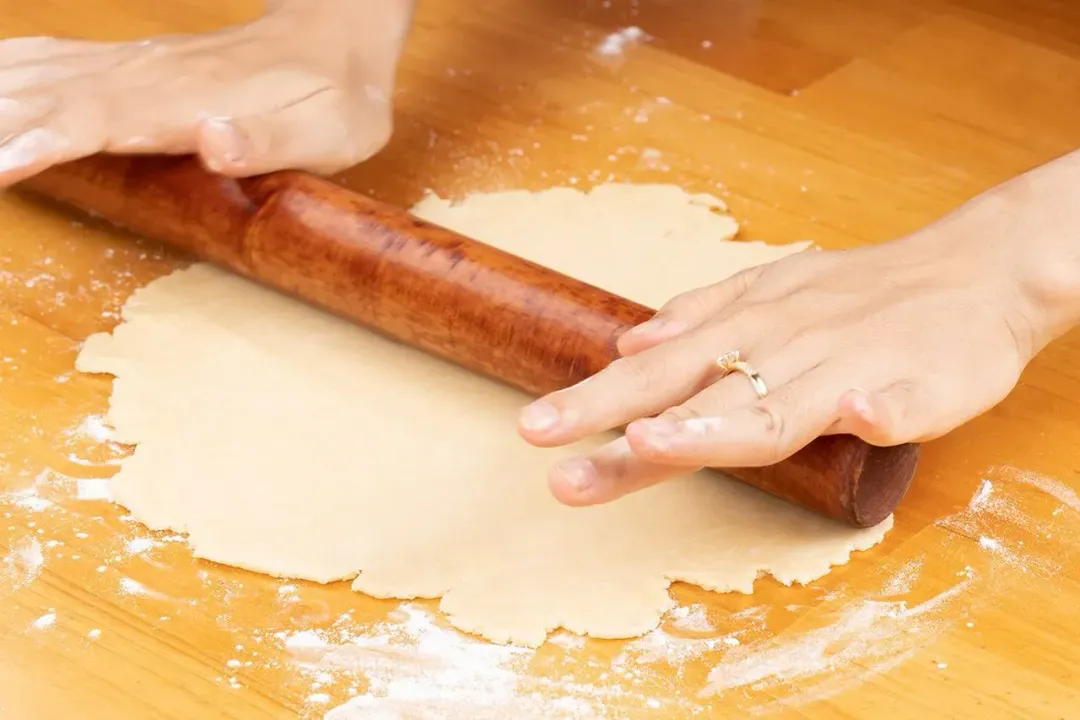 9
Gently roll the dough sheet around the rolling pin, then lift it from the work surface. Unroll the pastry over a round baking dish, very carefully. Gently press the pastry on the sides of the dish to form the crust.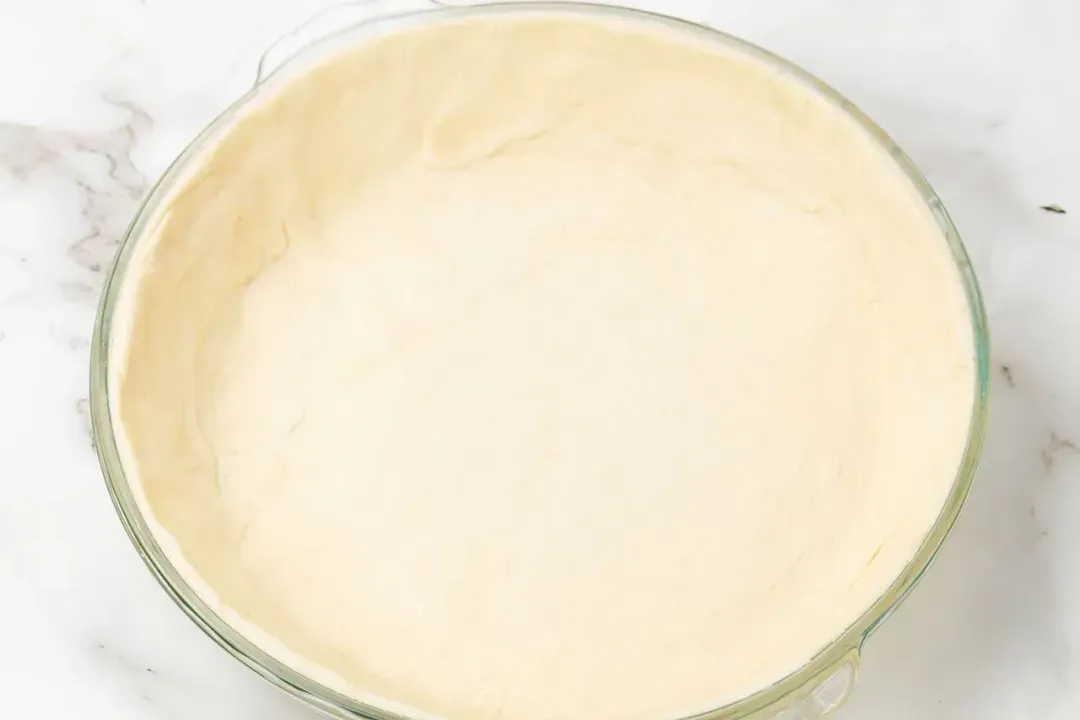 10
Transfer the cooked filling into the crust. Slowly pour the egg-milk mixture on the filling and swirl it around using a spatula.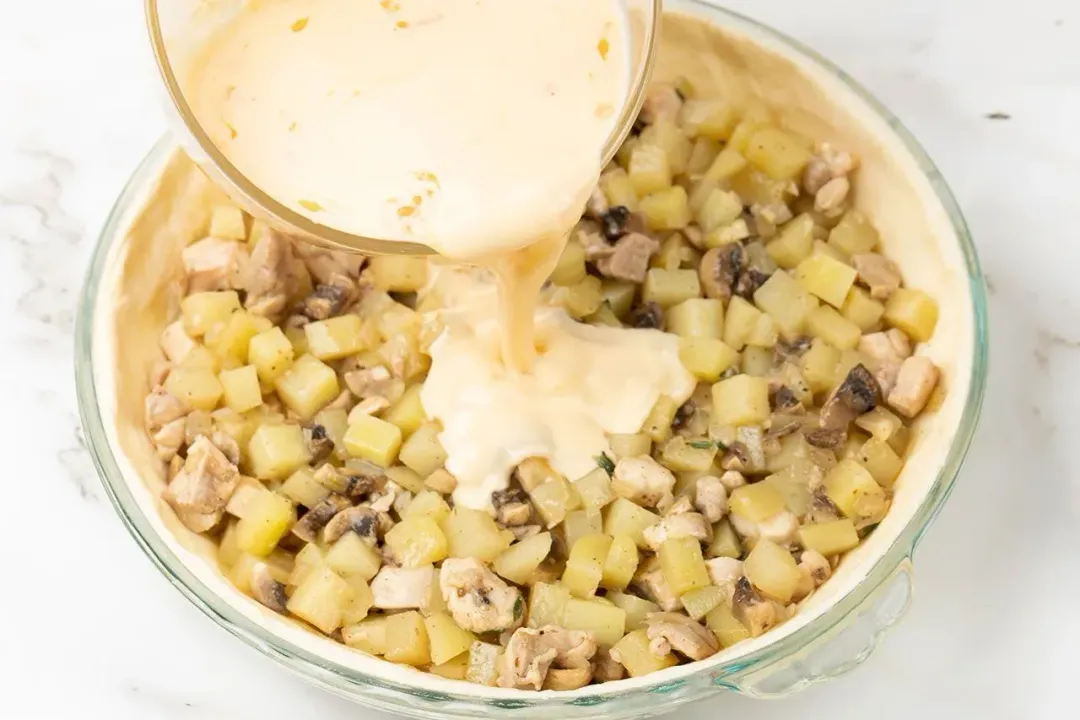 11
Bake at 375°F for 30 minutes or until the top is golden. Check every once in a while.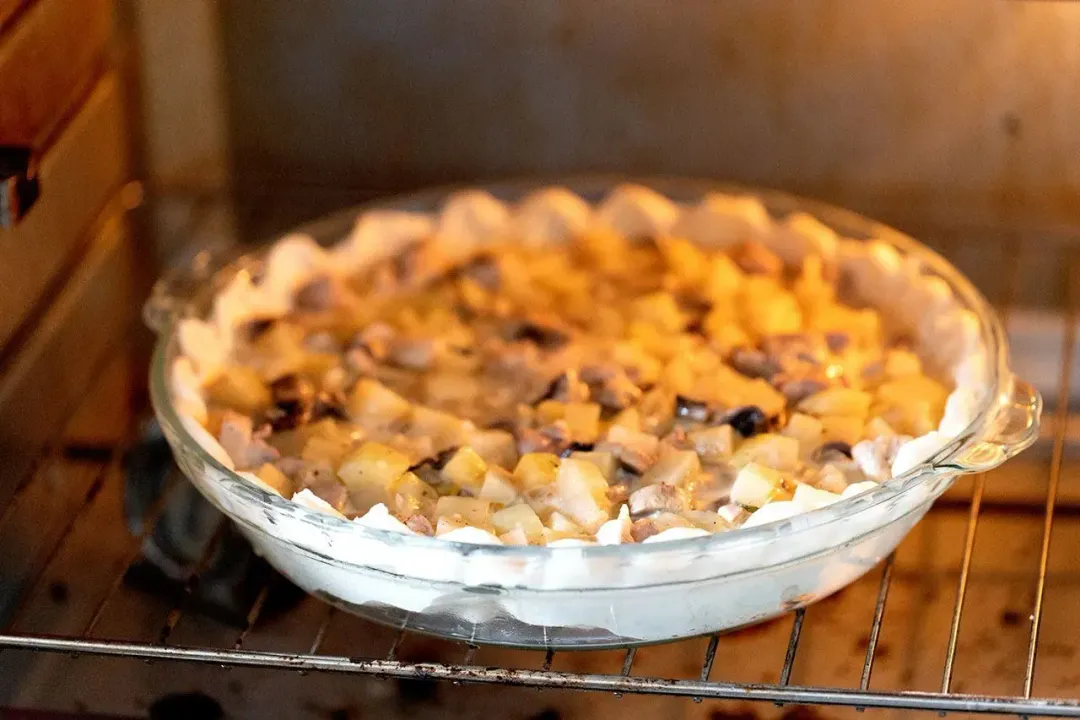 12
Sprinkle 0.75 oz cheese on top of the quiche and bake for another 5 minutes.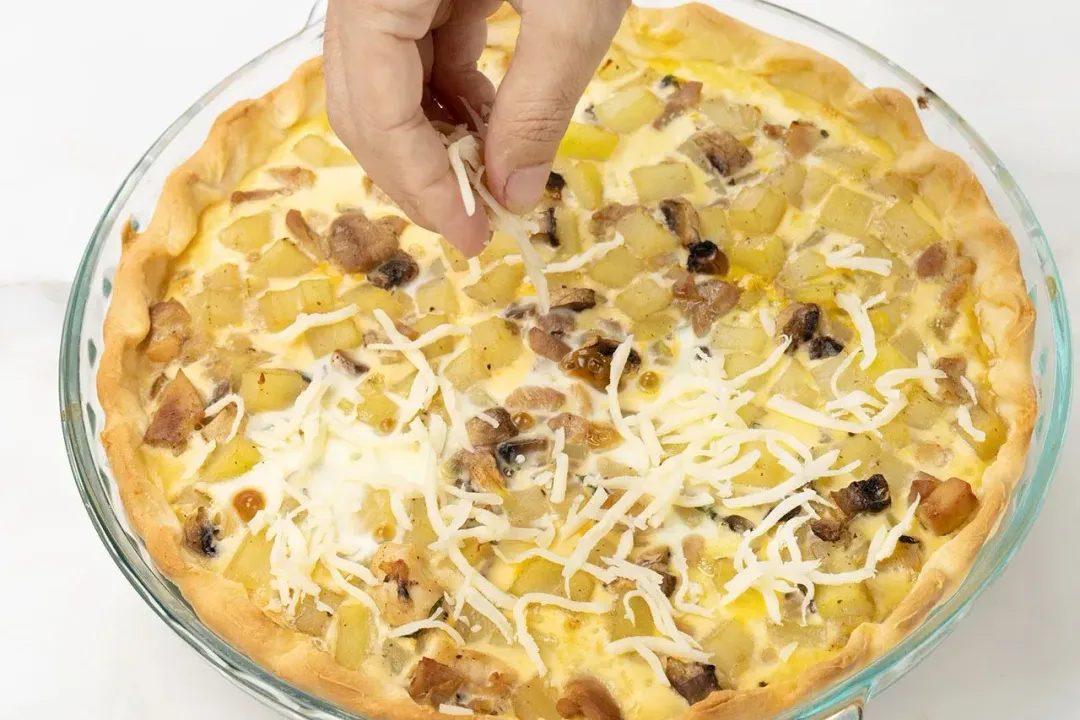 13
Sprinkle 1 tbsp parsley on top and serve.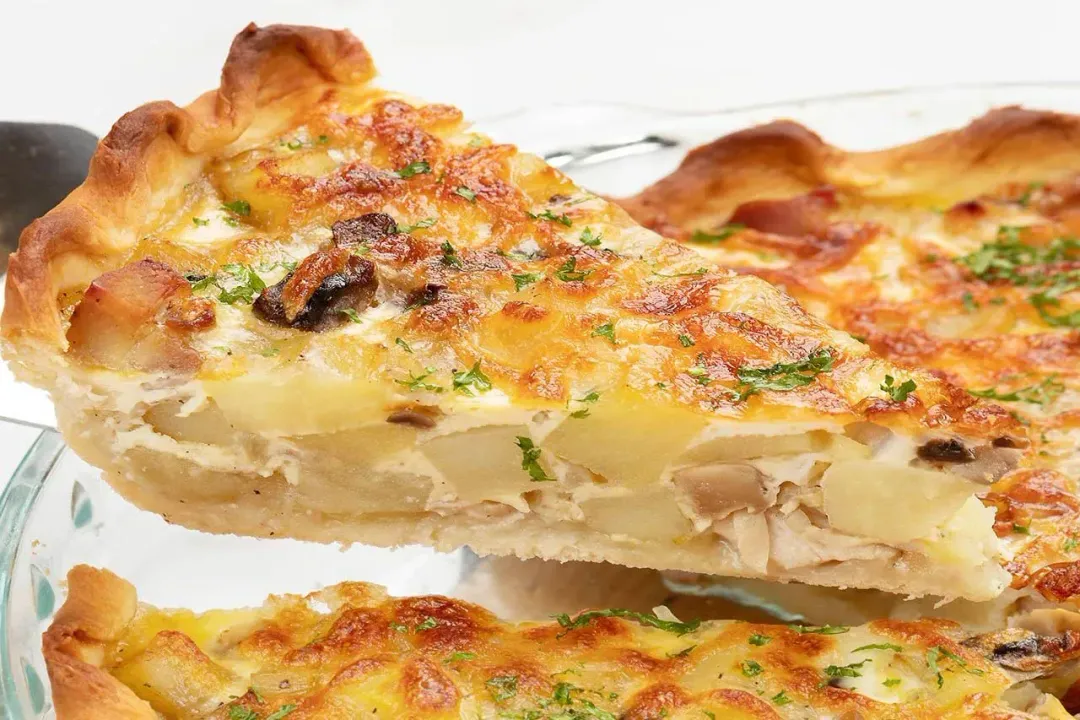 NUTRITION
Nutrition Facts
Quiche
Amount Per Serving (1 serving)
Calories 512
Calories from Fat 180
% Daily Value*
* Percent Daily Values are based on a 2000 calorie diet.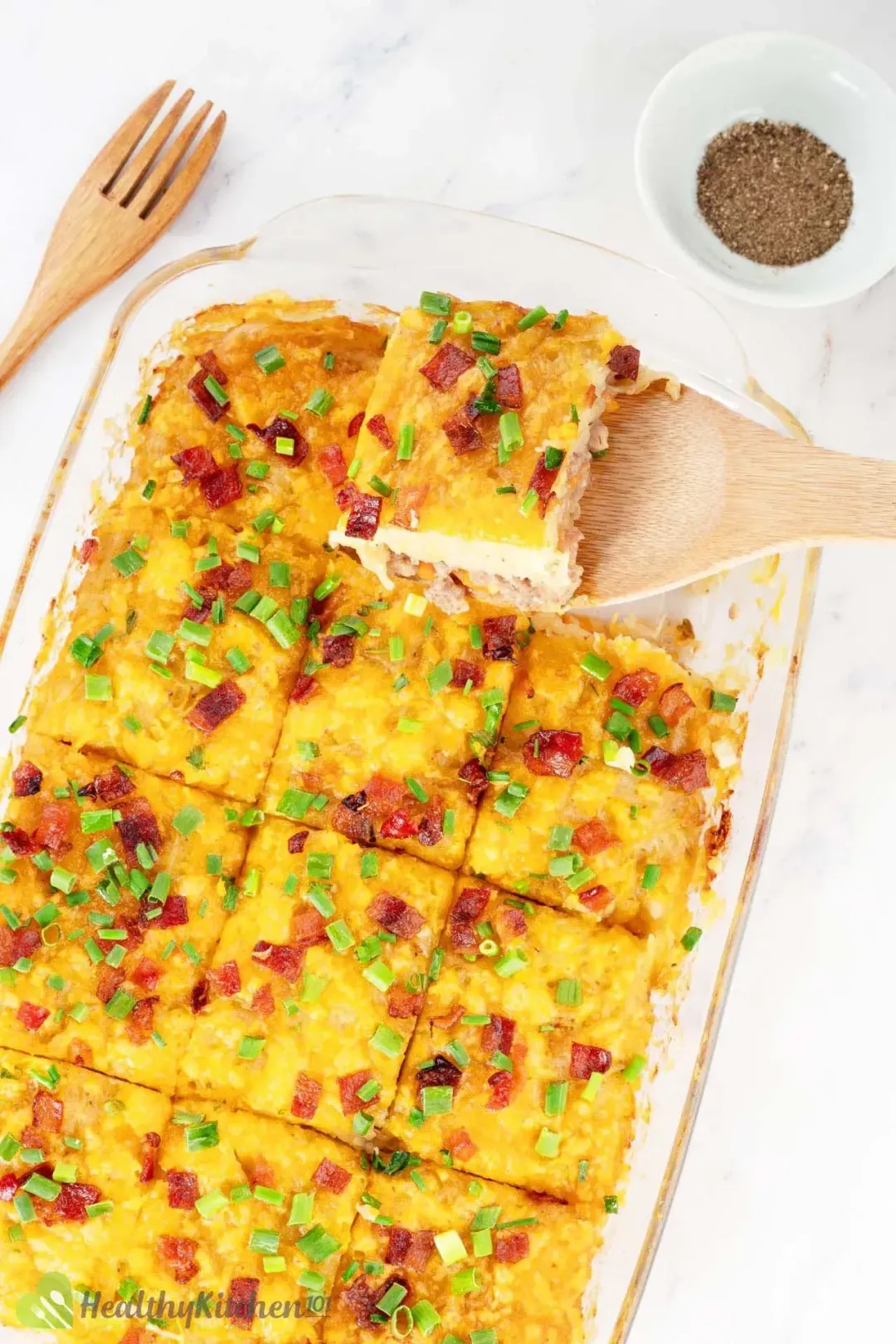 Previous Recipe
Cheesy Hashbrown Breakfast Casserole
Cheesy Hashbrown Breakfast Casserole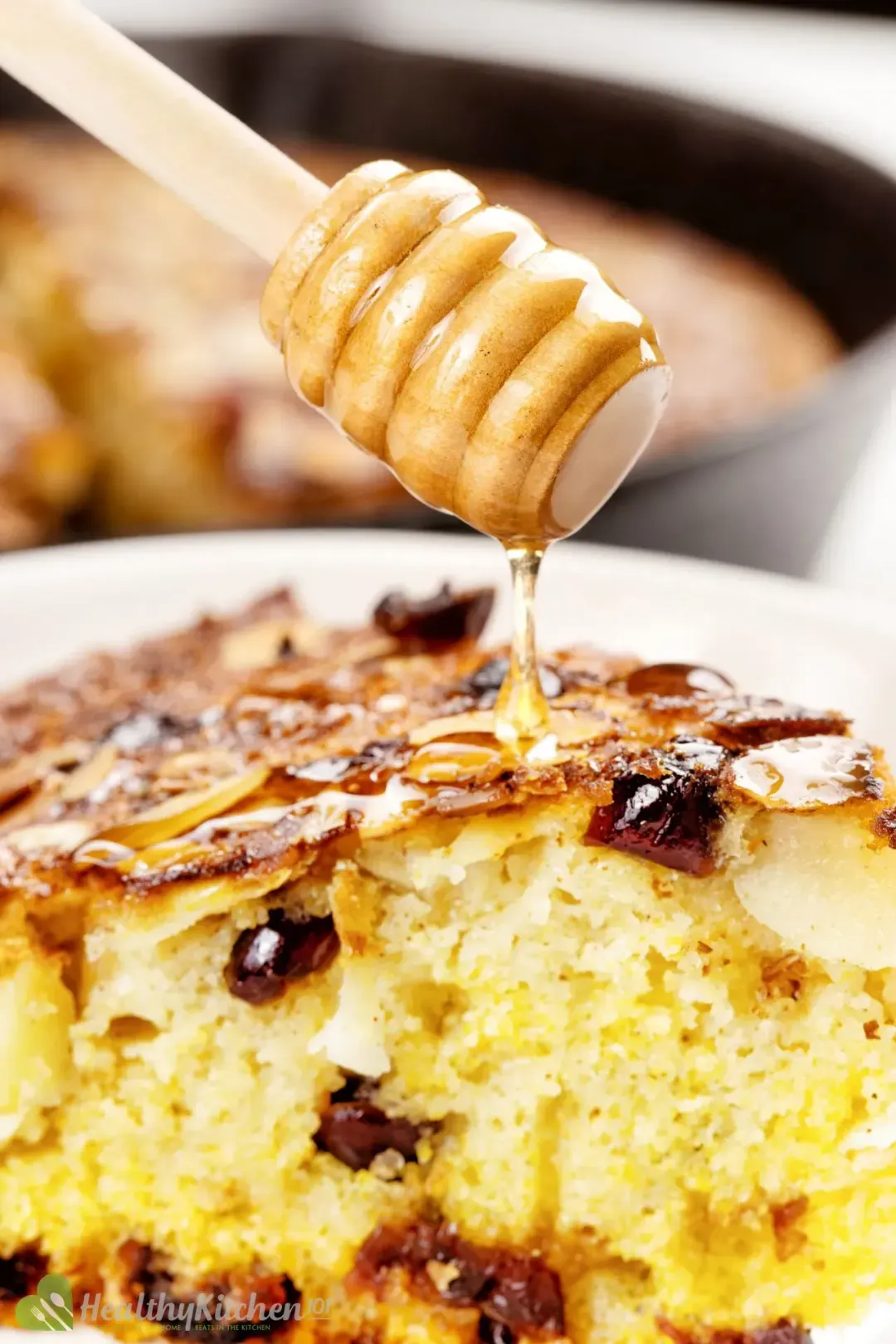 Next Recipe
Southern Cornbread
Southern Cornbread
Head Chef, Culinary Consultant
Tuyet Pham is an award-winning Saigonese chef who believes that joy is the secret ingredient to delicious food. At Healthy Recipes 101, Tuyet personally tests and simplifies every recipe, ensuring maximum flavor with minimal effort. With a background at prestigious French restaurants P'TI Saigon and Le Corto, Tuyet knows how to make every dish exceptional.
Writer, Author
Luna Regina is an accomplished writer and author who dedicates her career to empowering home cooks and making cooking effortless for everyone. She is the founder of HealthyKitchen101.com and HealthyRecipes101.com, where she works with her team to develop easy, nutritious recipes and help aspiring cooks choose the right kitchen appliances.
Nutrition Reviewer
Lizzie Streit is a Minneapolis-based dietitian and founder of It's a Veg World After All. She completed her MS in Human Nutrition from Drexel University, and is an expert in culinary nutrition, recipe development, and nutrition communications. Lizzie's philosophy is centered around making nutrition recommendations, and especially the advice to eat more vegetables, approachable and realistic. She is excited to be working with the team at Healthy Recipes 101 to ensure that their recipes are both nutritious and delicious.
Perfectly cooked quiche - colorful and nutritious!