What can be more comforting than potatoes and cheese? This cheesy hashbrown breakfast casserole recipe takes comfort food to a whole new level.
Loaded with tender beef, creamy potatoes, rich sour cream, and crispy bacon, all baked to golden brown perfection. The sour cream keeps the dish light but luscious, while the beef provides an interesting savory element.
And don't forget the little touch of cheese adds a proper richness. This simple yet decadent dish gives your taste buds a real treat.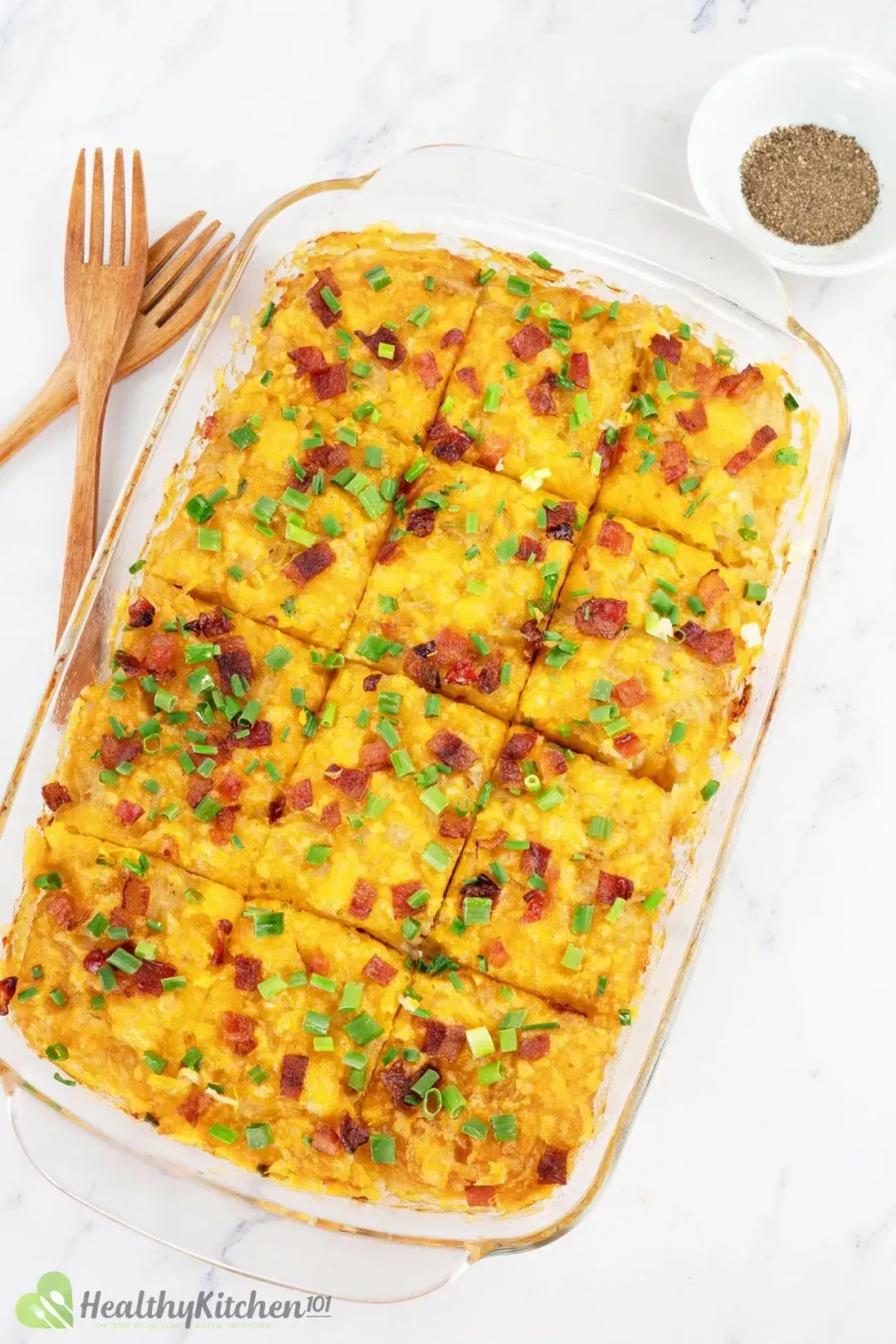 We love that this recipe calls for simple ingredients you might already have in your kitchen. You can even make it ahead of time, store it in the fridge, and pop it in the oven whenever you fancy it (or are in need of comfort food!)
This dish is a proven crowd pleaser and versatile side which you can serve for weekday meals, barbecue gatherings and holidays.
What Is Cheesy Hashbrown Breakfast Casserole?
A typical casserole consists of potatoes, onion, cream-based soup, butter, cheese, and a topping of corn flakes or potato chips. This ultimate comfort food is rich, savory, and perfect for feeding a crowd.
It's a widespread tradition to serve it at gatherings after funerals, earning it another name: "Funeral Potatoes".
Many people enjoy having this casserole at Easter as well. It pairs well with ham, turkey or any types of protein you decide to serve.
While most of us serve this dish for special gatherings like Easter or Christmas, you can add in bacon, chicken, beef or cubed ham to make it a complete meal for any day.
Is Cheesy Hashbrown Breakfast Casserole Healthy?
Looking for a healthy breakfast dish that's both quick and delicious can be a challenge, but our casserole recipe is here to fit the bill.
Potatoes are a powerhouse of nutrition including many vitamins and minerals. A medium potato (about 200 grams) contains:
Calories: 164 Protein: 4.37 grams Carb: 37.3 grams Fiber: 4.47 grams Vitamin C: 42 milligrams Potassium: 905 milligrams Manganese: 0.326 milligrams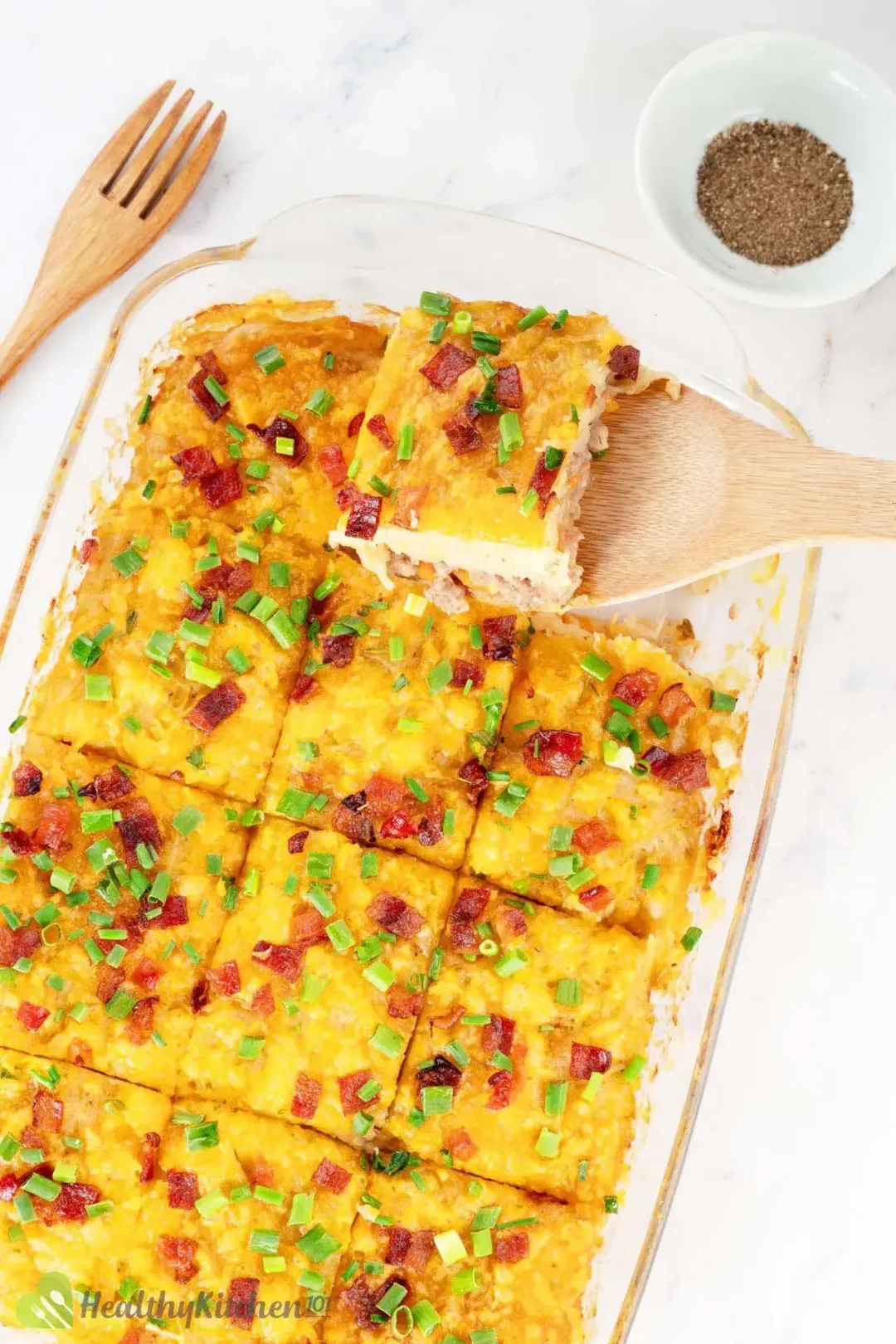 Besides being a popular and delicious vegetable, potatoes offer some great health benefits. A proper intake of potatoes can help improve blood sugar control, digestive health, and heart health.
To sum up, potatoes are a great ingredient to add in your daily diet. And who can say no to crunchy pan-fried potatoes or filling hashbrown casserole?
Tips for A Delicious Cheesy Hashbrown Breakfast Casserole Recipe
Cheesy hashbrown breakfast casserole is one of the easiest (and tastiest) recipes of breakfast potatoes that you can make at home. However, to make your casserole crispy and creamy, we rely on some key tips.
The type of potato you use has a great impact on the finished flavor and texture. New potatoes turn creamy and starchy when cooked, but are not a good choice for a crispy crust.
We recommend the regular russet potato, which develops a crispy crust that stays crunchy after baking.
Another tip is the type of soup that you use.
Some people prefer chicken or mushroom soup while we suggest sour cream which has a tangy flavor backed by a rich creaminess, making a great creamy base for this recipe.
It is also better for you with a single ingredient rather than the many (and not all great) that come in creamed soups.
And don't spare the cheese!
Cheesy hashbrown breakfast casserole is obviously great on its own, but it can turn dry and crumbly if left sitting for too long. Cheese not only adds richness and extra flavor to the topping, but also helps retain the ideal moisture for the bottom layer.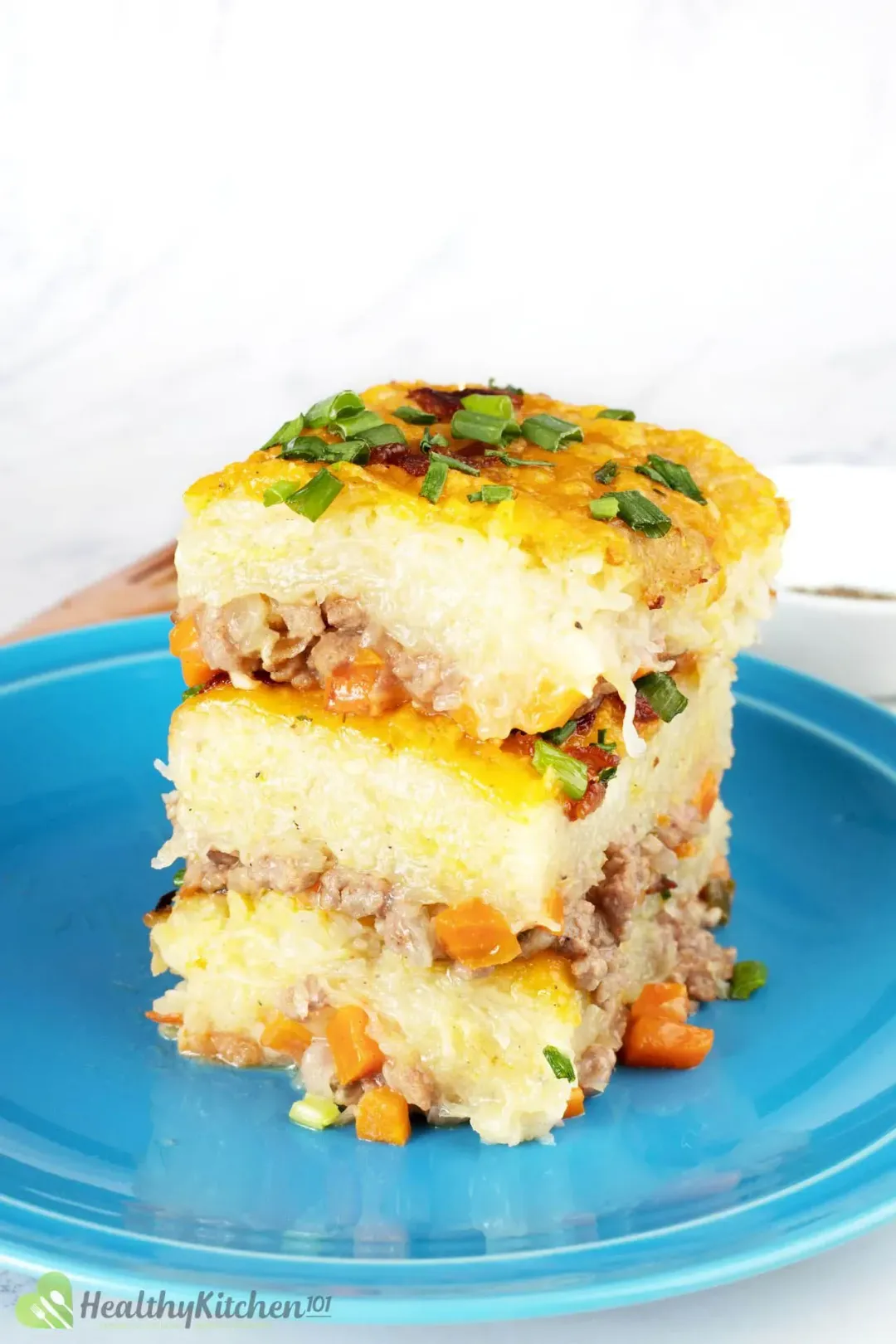 What Goes with Cheesy Hashbrown Casserole?
You don't need to go out for a cheesy hashbrown casserole recipe! It can be done in minutes, using simple available ingredients, and tastes amazing.
There are many versions of the dish and you can add in any additions you like for an interesting twist. They will turn out delicious any which way.
1. Corn Flakes
Corn flakes mixed with butter is one of the most popular toppings for your casserole. You can also use crackers or bread crumbles for the same crunchy surface result.
2. Sour Cream
There are hasbrown casserole recipes with fresh cheese, but we think sour cream is a better option. Sour cream adds a touch of creaminess and tang to the dish.
3. Ground Beef
You can make this recipe with almost any protein, but ground beef is our favorite. 
4. Cream Cheese
If you are looking for new variations for cheese, you can try switching it up with cream cheese. It is a nice way to alter the taste without changing the recipe and cooking method too much.
5. Ham
You can use any type of meat for this recipe, but if you are craving a stronger taste, try ham. It gives the dish an interesting smoky flavor that everyone will love.
6. Cream of Chicken Soup
Cream of chicken soup is essential in many recipes, including hashbrown casserole. It becomes a unifying element that brings together the perfect balance of cheese, sauce, meat, and potatoes.
7. Cream of Mushroom Soup
If you want to make casserole vegetarian-friendly, switch out the cream of chicken soup and use cream of mushroom soup instead. The result will be the same: a creamy and filling dish.
8. Sausage
Cut sausages into small pieces before layering them over the potatoes. This helps the sausage to be in every bite of the casserole.
Frozen Hashbrowns
We make this recipe from scratch, but we do know that sometimes you may not have enough time to wash, peel, and shred potatoes. Frozen hashbrowns eliminate all of those steps.
To use frozen hashbrowns to make the casserole, you should thaw them before baking to avoid excess water. Then cook them as you would regular hashbrowns.
Another way is to thaw them in the microwave, then squeeze the excess moisture to get your desired texture.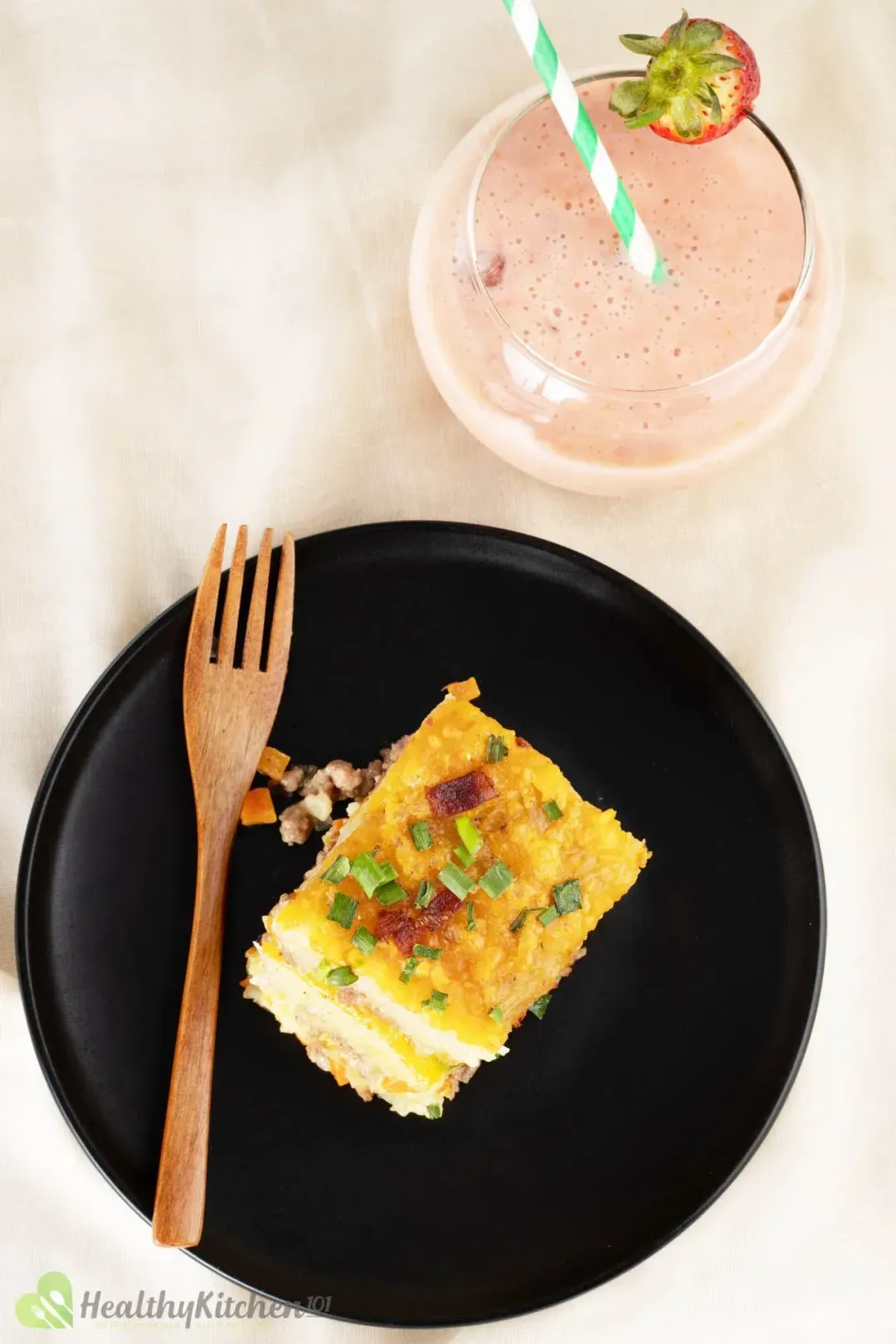 How Many Calories in Cheesy Hashbrown Breakfast Casserole?
Walking the line between breakfast and side dish, this casserole is truly a comfort dish. Tender shredded potatoes are mixed in with creamy sauce, and hearty beef, and all is covered under a golden crust of cheese.
Each serving of this tasty cheesy hashbrown breakfast casserole contains 386 calories.
If you are searching for some healthy casserole recipes, our chicken and rice casserole recipe is another great option.
Other Casserole Dishes We Think You'll Love
When it comes to casseroles, the possibilities for experimentation are endless. Here are a few we've made over the years that we absolutely adore:
Cheesy Hashbrown Breakfast Casserole
Loaded with creamy cheese and all the goodness from meat and potatoes, this cheesy hashbrown breakfast casserole recipe is so delicious. It's also easy to make, so you won't have to visit any restaurants for this dish. Serve it with fried eggs for a nutritious breakfast, or with vegetables for a quick weekday dinner.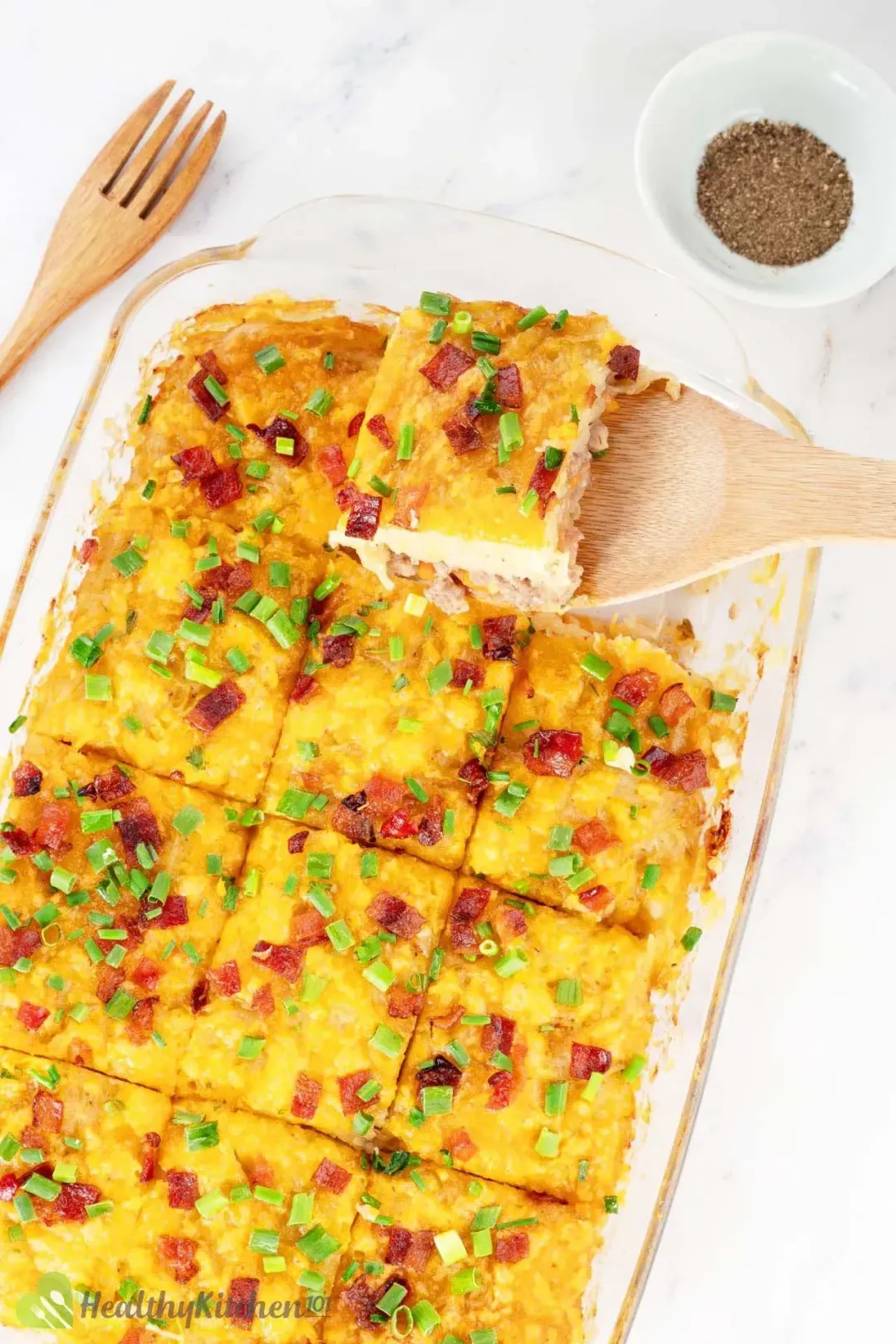 cook TIME

1 hr

prep TIME

10 mins

total TIME

1 hr 10 mins
COURSE

Breakfast, Dinner, Lunch, Main Course

CUISINE

American

SERVINGS

CALORIES

386 kcal
INGREDIENTS
1/2 cup

unsalted chicken broth
INSTRUCTIONS
1
Use a fork to pierce the skin of each potato in several places. Place 36 oz potatoes on a foil in the middle rack. Bake the potatoes in the oven at 450°F in 30 minutes.
2
Let the potatoes cool down a little bit before peeling them. Then shred the potatoes and put them in a large bowl.
3
In a non-stick pan, melt butter over medium heat. Add 6 oz onion, 2 tsp garlic and 0.5 oz ham, and stir fry them in about 3 minutes or until golden brown.
4
Add 2 tbsp flour to the pan, stir frequently until well combined. Then pour 1/2 cup chicken broth into the pan and reduce the heat.
5
Add in 1/2 tbsp heavy cream, 1 1/4 cup milk, 0.5 oz of cheddar cheese, 1/8 tsp nutmeg, 1/2 tsp salt, and 1/8 tsp pepper. Bring the sauce over high heat until the boil. Remove the pan from heat.
6
Preheat the oven to 400°F.
7
In the shredded potatoes, pour the bechamel sauce over. Gently mix potatoes with the sauce.
8
Use 1/2 tbsp olive oil to grease a baking dish. Transfer the hash brown mixture to the baking dish.
9
Sprinkle the remaining 2 oz cheddar, 0.5 oz bacon, and 1/2 tbsp parsley. Place the baking dish on the lower rack and bake for 15 minutes or until the cheese is melted.
10
Garnish with 1/2 tbsp parsley. Serve hot.
If you want to make this ahead of time and freeze your casserole, simply bake the casserole and let it cool completely. Then, wrap the dish carefully in aluminum foil or plastic wrap. The dish can be frozen for up to 2 months.
NUTRITION
Nutrition Facts
Cheesy Hashbrown Breakfast Casserole
Amount Per Serving (1 serving)
Calories 386
Calories from Fat 126
% Daily Value*
* Percent Daily Values are based on a 2000 calorie diet.
Keywords: Hashbrown Casserole, Hashbrown Casserole Recipe, How To Make Hashbrown Casserole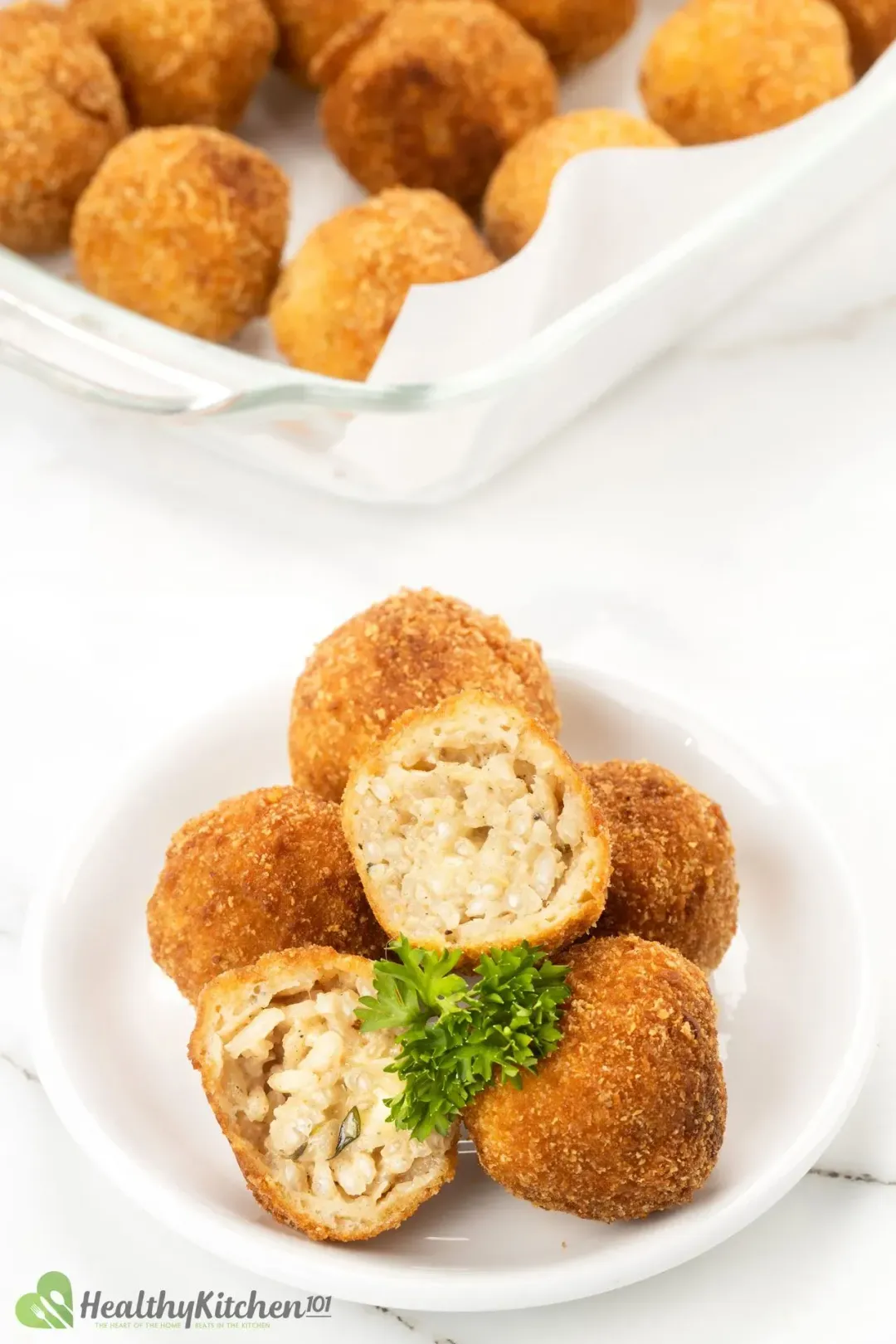 Previous Recipe
Arancini (Rice Balls)
Arancini (Rice Balls)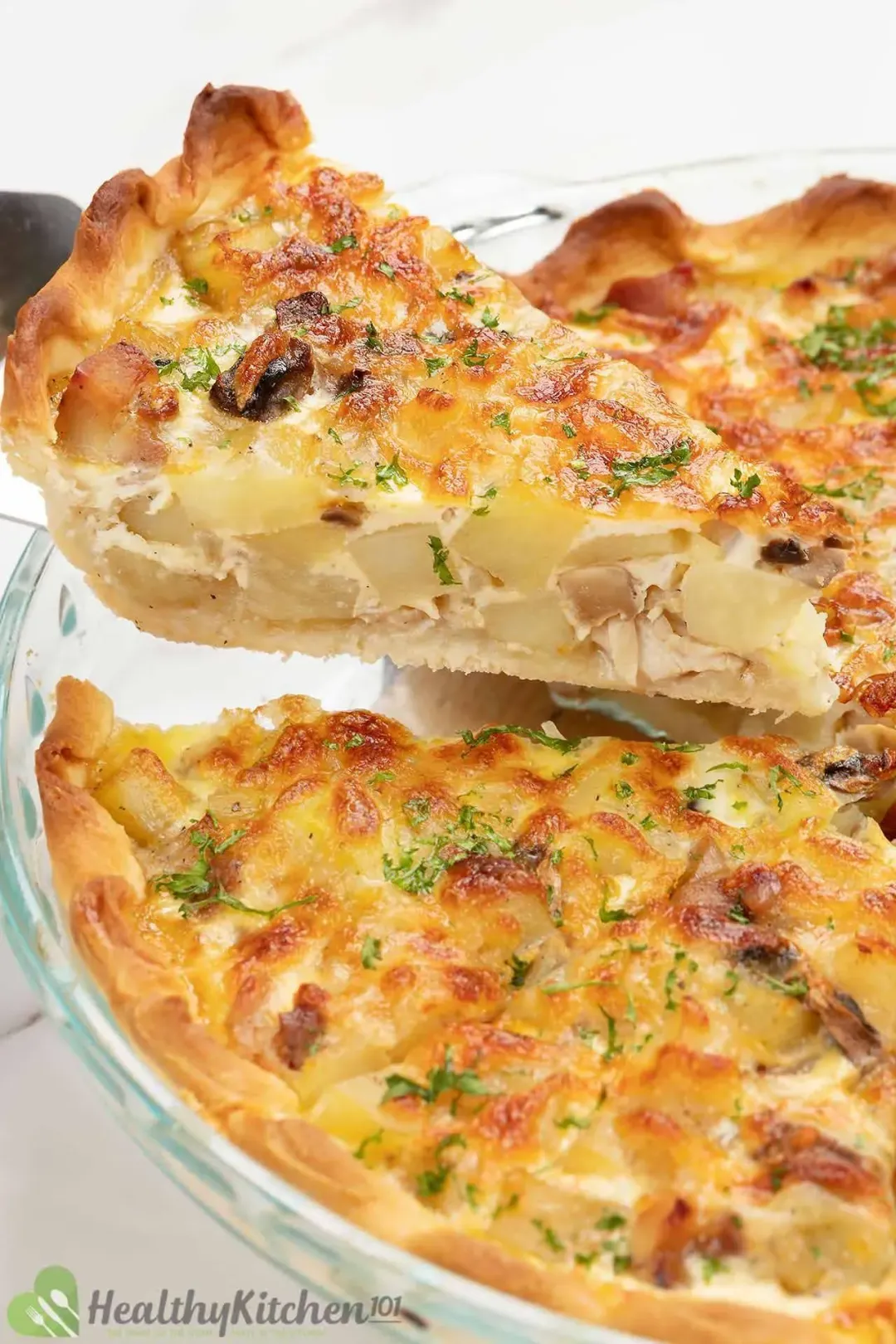 Next Recipe
Easy Baked Quiche
Easy Baked Quiche
Head Chef, Culinary Consultant
Tuyet Pham is an award-winning Saigonese chef who believes that joy is the secret ingredient to delicious food. At Healthy Recipes 101, Tuyet personally tests and simplifies every recipe, ensuring maximum flavor with minimal effort. With a background at prestigious French restaurants P'TI Saigon and Le Corto, Tuyet knows how to make every dish exceptional.
Writer, Author
Luna Regina is an accomplished writer and author who dedicates her career to empowering home cooks and making cooking effortless for everyone. She is the founder of HealthyKitchen101.com and HealthyRecipes101.com, where she works with her team to develop easy, nutritious recipes and help aspiring cooks choose the right kitchen appliances.
Nutrition Reviewer
Lizzie Streit is a Minneapolis-based dietitian and founder of It's a Veg World After All. She completed her MS in Human Nutrition from Drexel University, and is an expert in culinary nutrition, recipe development, and nutrition communications. Lizzie's philosophy is centered around making nutrition recommendations, and especially the advice to eat more vegetables, approachable and realistic. She is excited to be working with the team at Healthy Recipes 101 to ensure that their recipes are both nutritious and delicious.
I made this recipe for my family last week, and everyone just love it. Great job Luna.