Today's mango banana smoothie recipe makes a simple, delicious, and healthy tropical smoothie.
Is This Mango Banana Smoothie Healthy?
Yes, our mango banana smoothie recipe is healthy. Here's why:
Mango is low in calories but high in nutrients, including vitamin C, which helps with immunity, iron absorption, and cell growth and repair.
It is also a good source of folate, numerous B vitamins, and vitamins A, C, K, and E — all of which help the body to function optimally.
Moreover, as long as fresh mango is consumed in moderation, it almost certainly aids in the prevention of diabetes. Bear in mind that fresh mango contains significantly less sugar per serving than dried mango.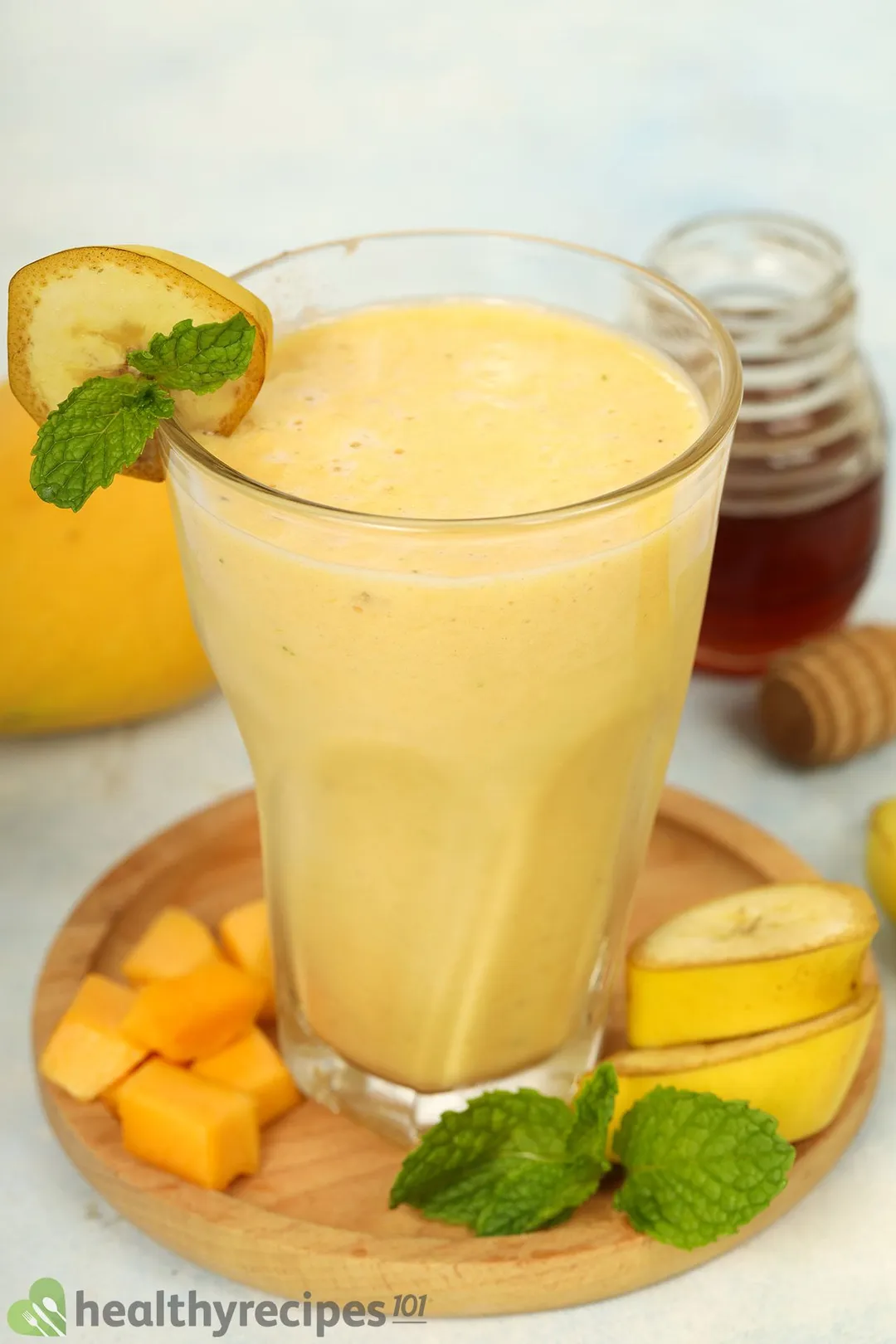 Additionally, the natural sweetness of ripe mangoes and bananas negates the need for an excessive amount of sweetener. Finally, we use only 1 tablespoon of honey for the entire recipe, which results in 4 smoothie servings.
18 grams of sugar are contained in a tablespoon of honey. This means that each serving contains a maximum of 4.5 g of added sugar.
Here are other healthy mango smoothies that we'd also recommend you check out: Mango Spinach Smoothie, Mango Papaya Smoothie, and Mango Avocado Smoothie.
Ingredients for Mango Banana Smoothie
Today's mango banana smoothie recipe includes the following ingredients:
Mangoes: You can use any variety of mangoes as long as they're ripe and sweet.
Bananas: As with mangoes, it's best to use ripe bananas for your smoothies as they are sweet and can intensify the flavors of your smoothie.
Dairy: We add whole milk and Greek yogurt to this mango banana smoothie. These ingredients help blend the smoothie more easily as they 'carry' the ingredients inside the blender. They also add a richness to this fruity drink, enhancing its flavor profile.
Honey: As mentioned, we add 1 tablespoon of honey to the recipe.
Mint: We used spearmint but alternatively you can go with either peppermint or chocolate mint if you have them on hand.
Ice: This is the magic ingredient that makes a smoothie thick and smooth.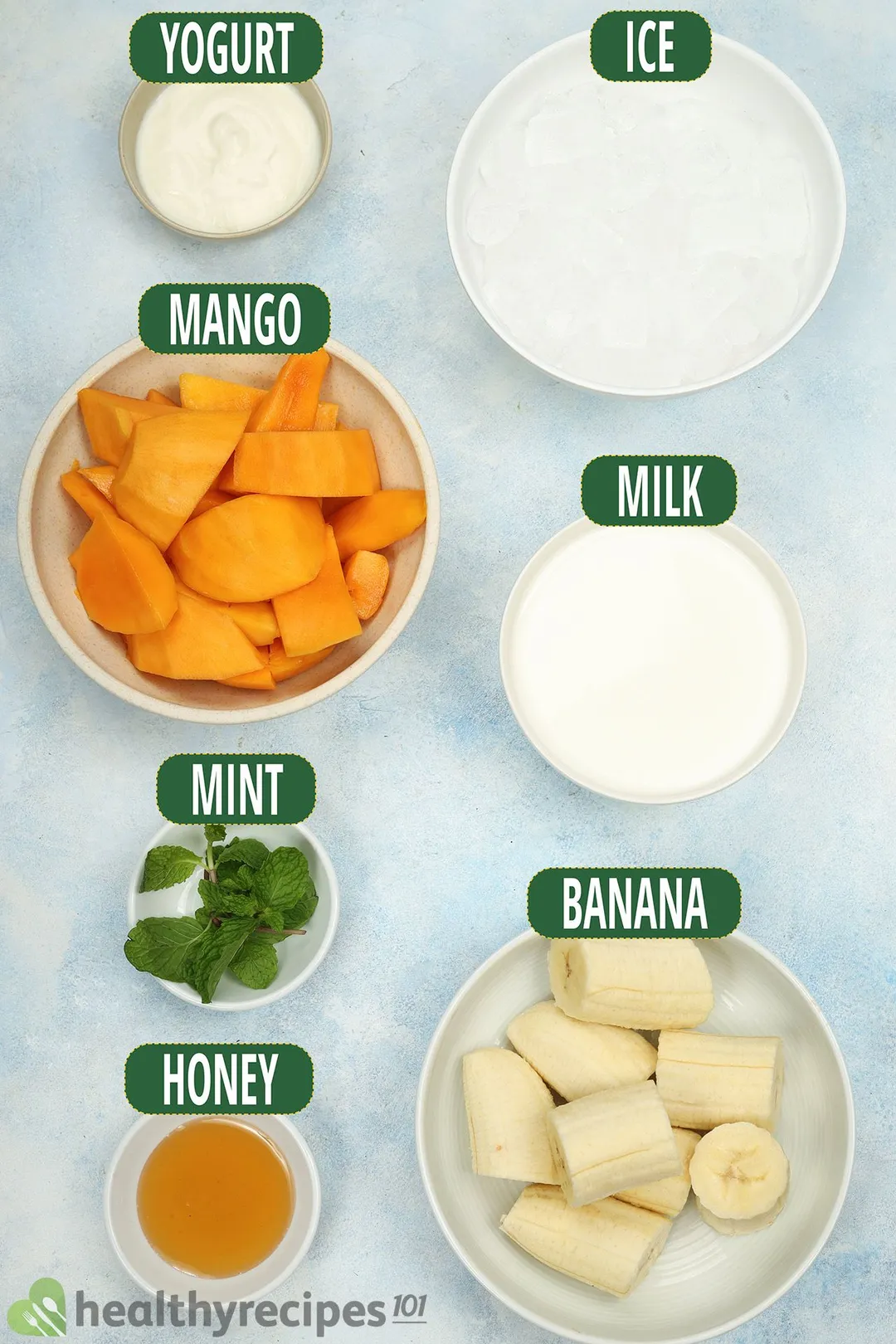 Is Mango Skin Edible?
Yes, the soft mango skin is safe to eat. However, we wouldn't recommend doing so with the skin of other tropical fruits such as kiwis as it can lead to possible stomach irritation.
How to Tell If Mangoes Are Bad
Mangoes, like any other perishable fruit, have a short shelf life. How long they keep in your kitchen is determined by their ripeness.
Unripe mangoes take between 1 and 7 days to ripen, depending on the type of fruit and its stage of development. If the mango is ripe, it can spoil in about 2 to 3 days if you leave it over the counter.
The temperature of the surrounding environment contributes largely to your fruit's shelf life. So, wait for your mango to ripen and place it in the refrigerator to keep it fresh for longer.
If you're afraid you have left the fruit for too long, here are some telltale signs that your mango may be spoiled:
The texture of a bad mango is extremely soft and mushy, and the exterior has large dark spots or bruises on the skin.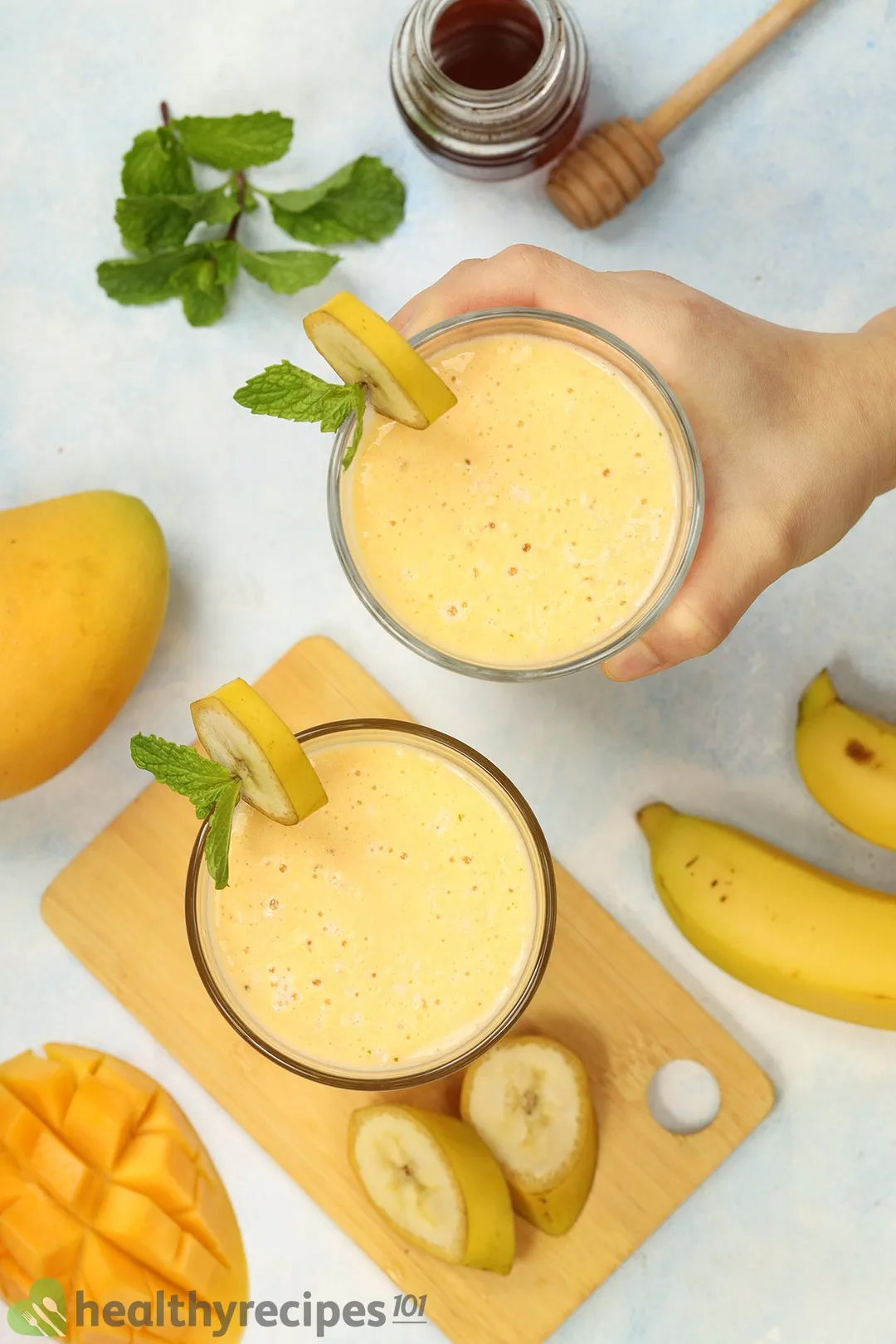 Apart from that, it may ooze, emit a sour or alcoholic odor, and show signs of mold growth. If any of these symptoms occur, it is time to discard the mango.
When evaluating a fruit's ripeness, the first thing to consider is how it feels in your hand. If it feels okay and firm to touch but has some bruises, do not be alarmed; it may still be safe to eat.
Additionally, ripe mangoes frequently develop wrinkles on their skin. This happens when they become too ripe but don't worry, they should still be safe to use in smoothie recipes.
Pay attention, however, to the scale of the wrinkles: if they cover a large portion of the fruit, the mango is likely to spoil pretty quickly. Most often, this appears simultaneously with large bruises on the skin.
If they have developed large black spots that extend deep into the body surface mold, or liquid has begun to ooze from the bruised damaged skin it's definitely time for the trashcan.
How Long Does Mango Banana Smoothie Last?
Our mango banana smoothie recipe contains dairy ingredients and fresh raw fruits. These are all highly perishable products that tend to go bad rather quickly, especially when they are blended and exposed to oxygen.
If you have leftover smoothie, place it in the fridge right away. The longer you leave it out on the counter at room temperature, the faster it spoils.
We recommend storing the smoothie in either an airtight container or a bottle/jar with a tight-fitting lid to minimize oxidation and keep it fresh as long as possible.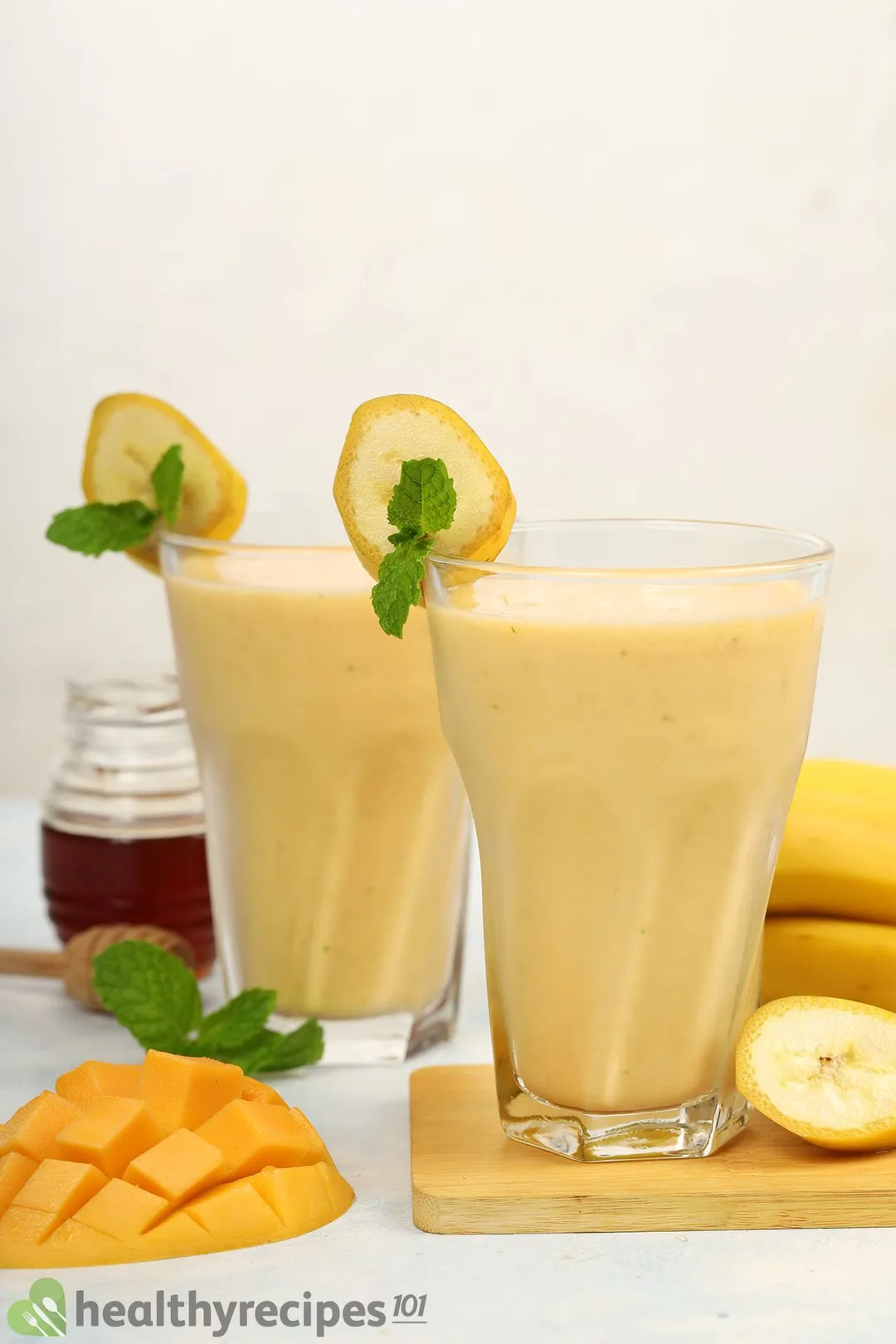 That being said, frozen smoothies can last for about a month in the freezer. You can even freeze your smoothie in popsicle molds to make some icy cold fruity and sweet treats!
Mango Banana Smoothie Recipe
Today's mango banana smoothie recipe takes seven ingredients to make. Head to your pantry to see if you have everything you need for this recipe.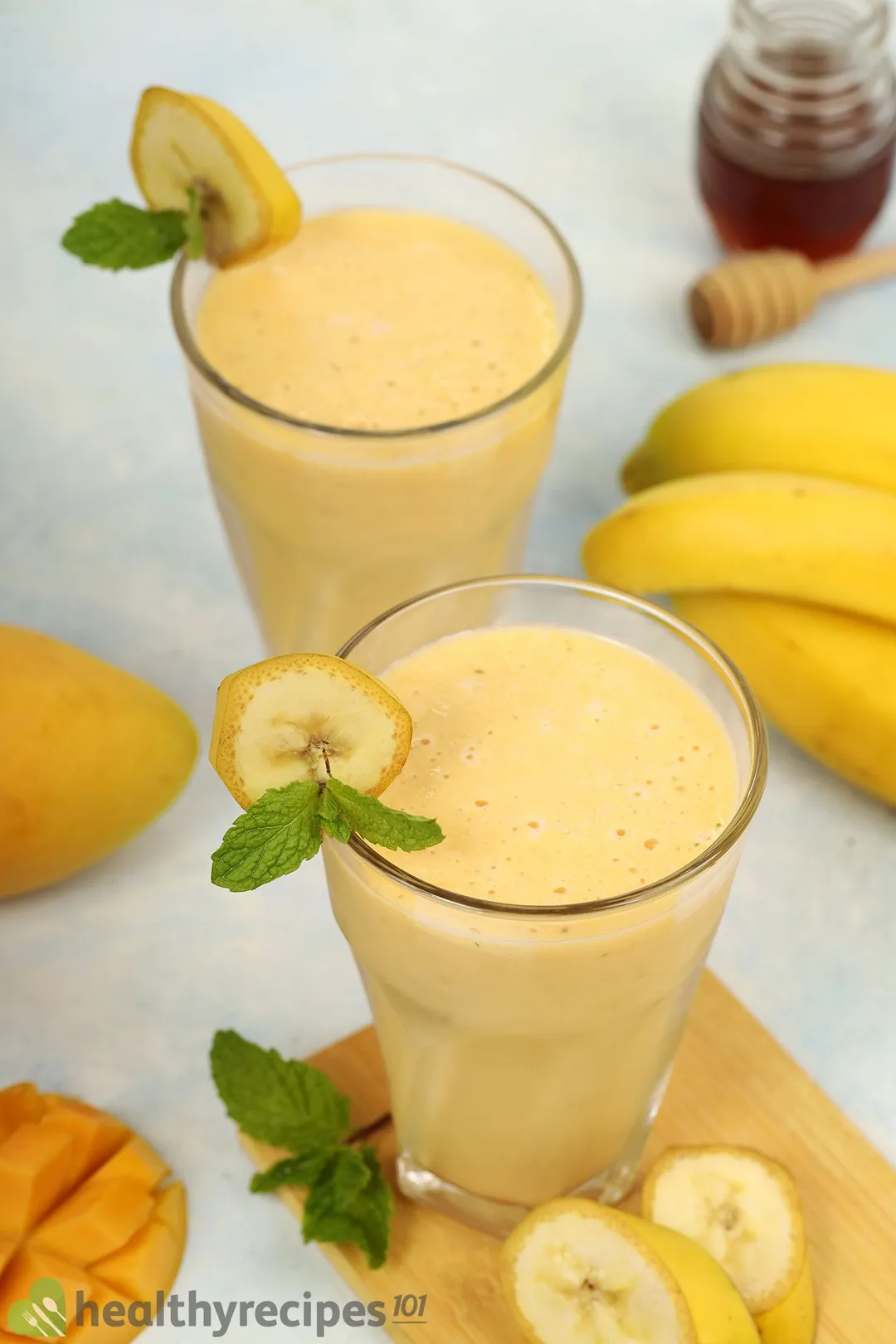 prep TIME

10 mins

total TIME

10 mins
COURSE

Beverage

CUISINE

American

SERVINGS

CALORIES

181 kcal
INGREDIENTS
12 oz

mangoes

(peeled, pit removed, cut into chunks)

10 oz

bananas

(peeled and cut into chunks)
INSTRUCTIONS
1
In a blender, combine 2 cups ice, 12 oz mangoes, 10 oz bananas, 1/4 cup Greek yogurt, 1 cup whole milk, 1 tbsp honey, 4 mint leaves.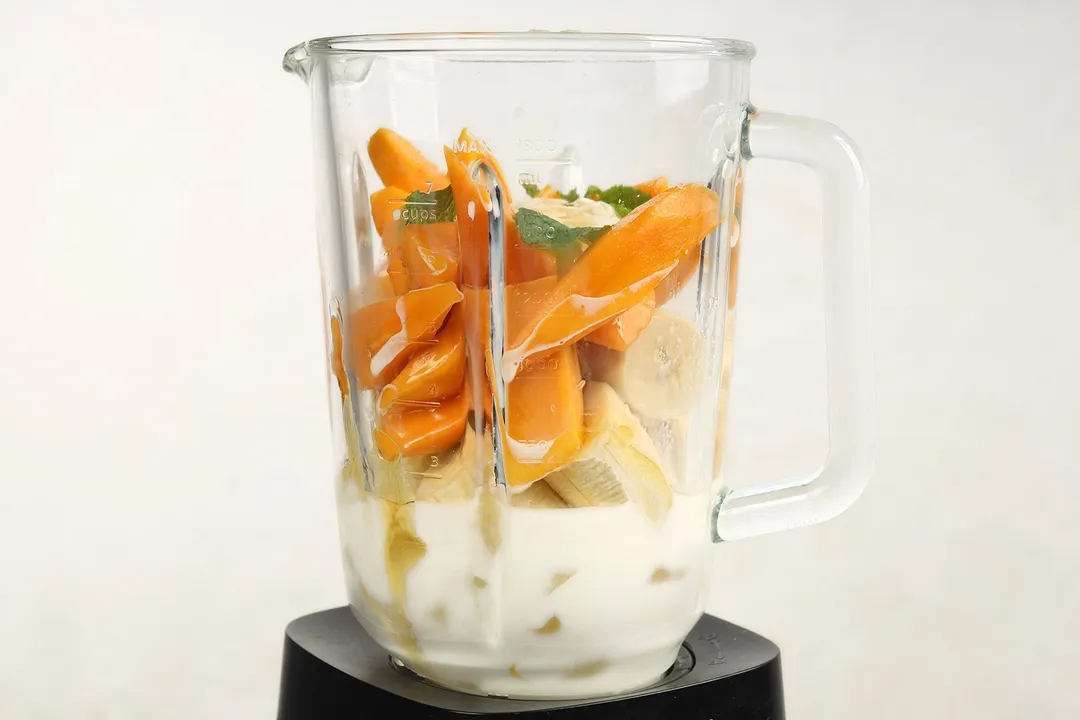 2
Blend in 20 - 30 seconds until completely smooth.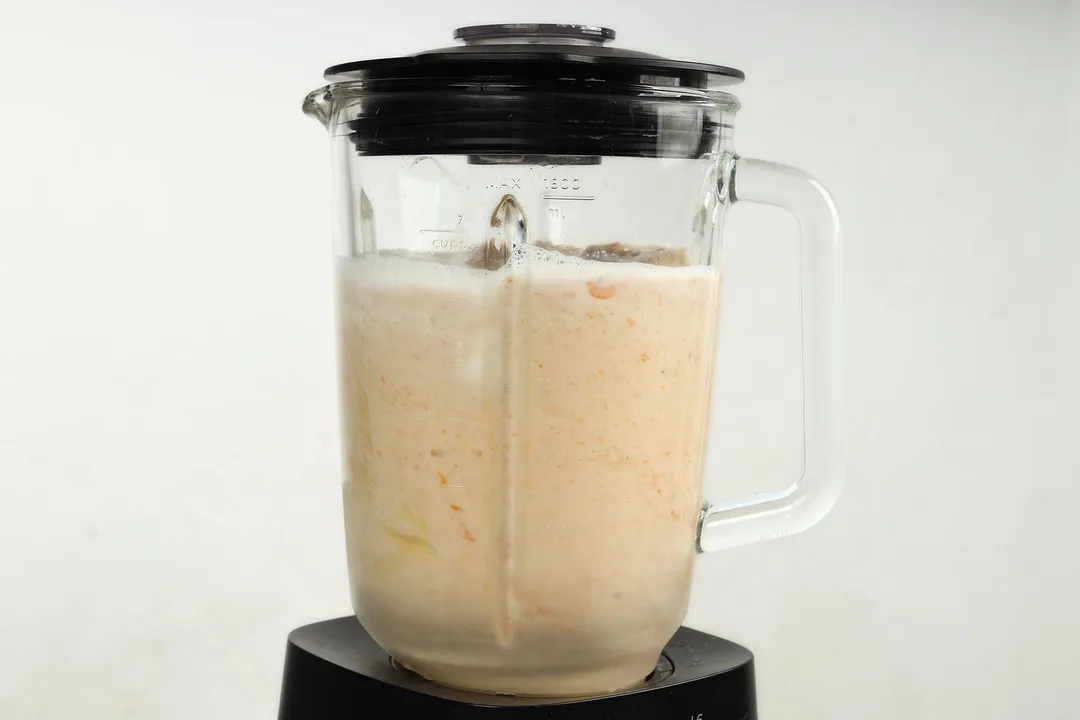 3
Divide the smoothie into four glasses.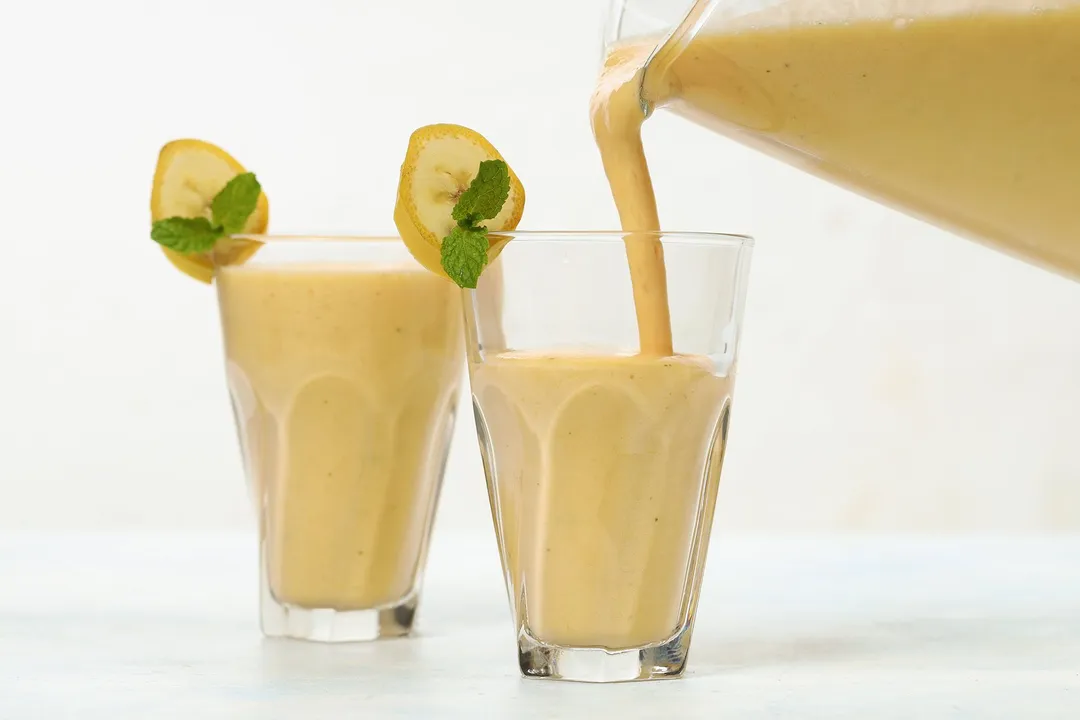 4
Top with the remaining mint leaves on each glass, and serve.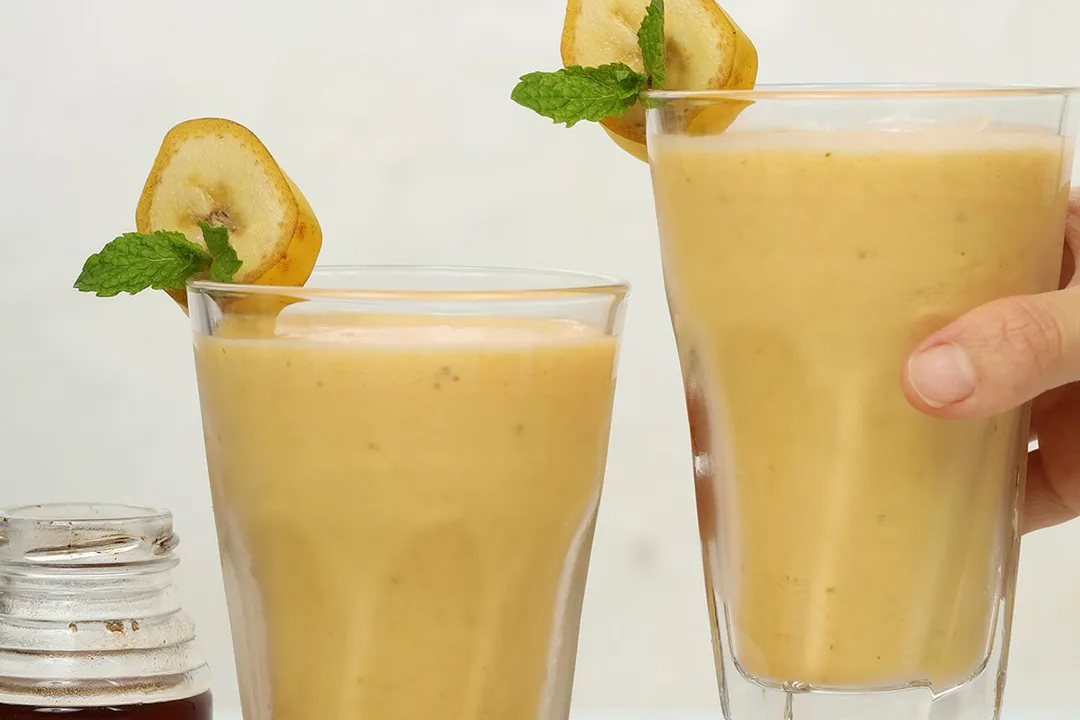 NUTRITION
Nutrition Facts
Mango Banana Smoothie Recipe
Amount Per Serving (1 serving)
Calories 181
Calories from FDA
% Daily Value*
* Percent Daily Values are based on a 2000 calorie diet.
Keywords: mango banana smoothie, mango banana smoothie recipe, how to make mango banana smoothie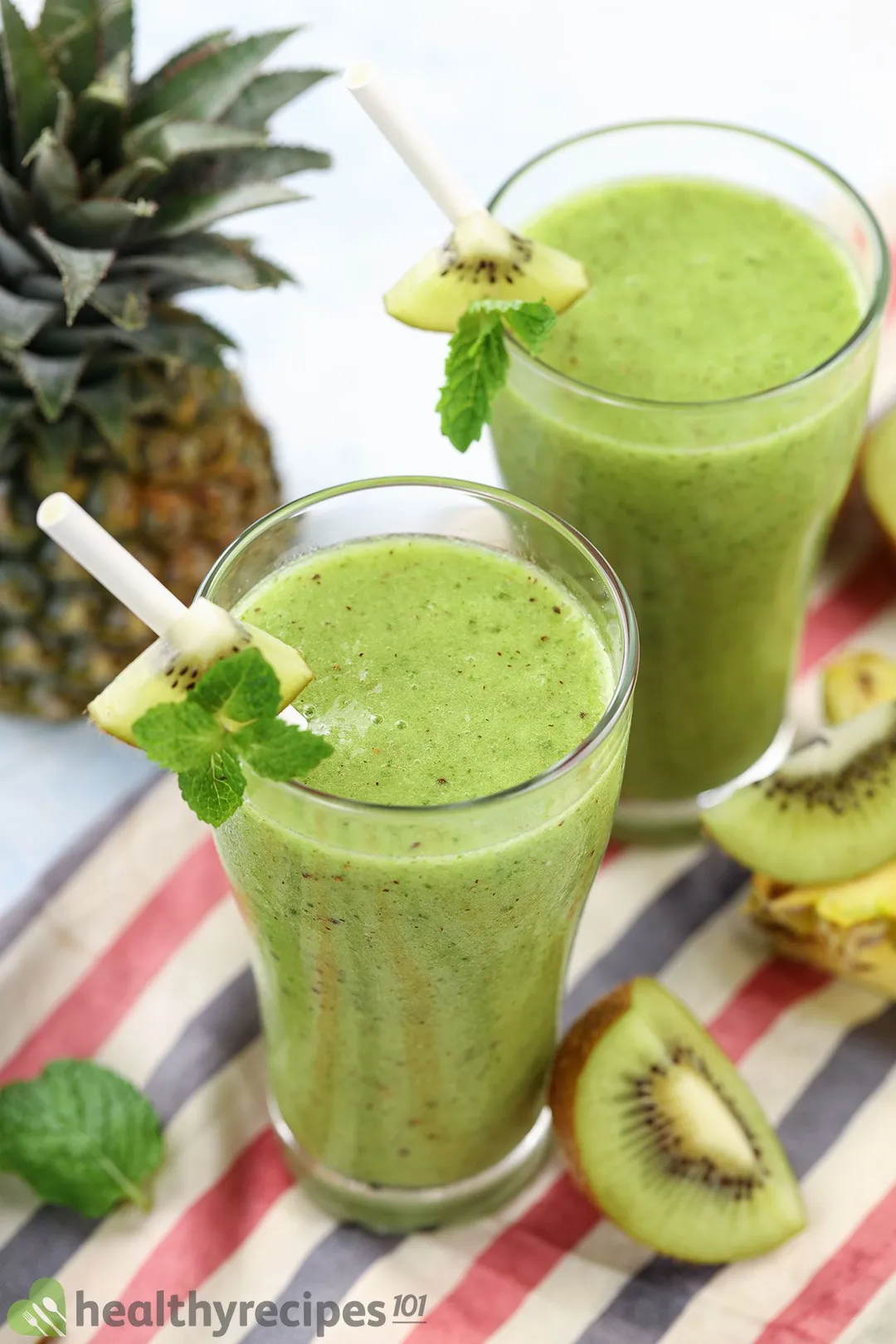 Previous Recipe
Pineapple Kiwi Smoothie
Pineapple Kiwi Smoothie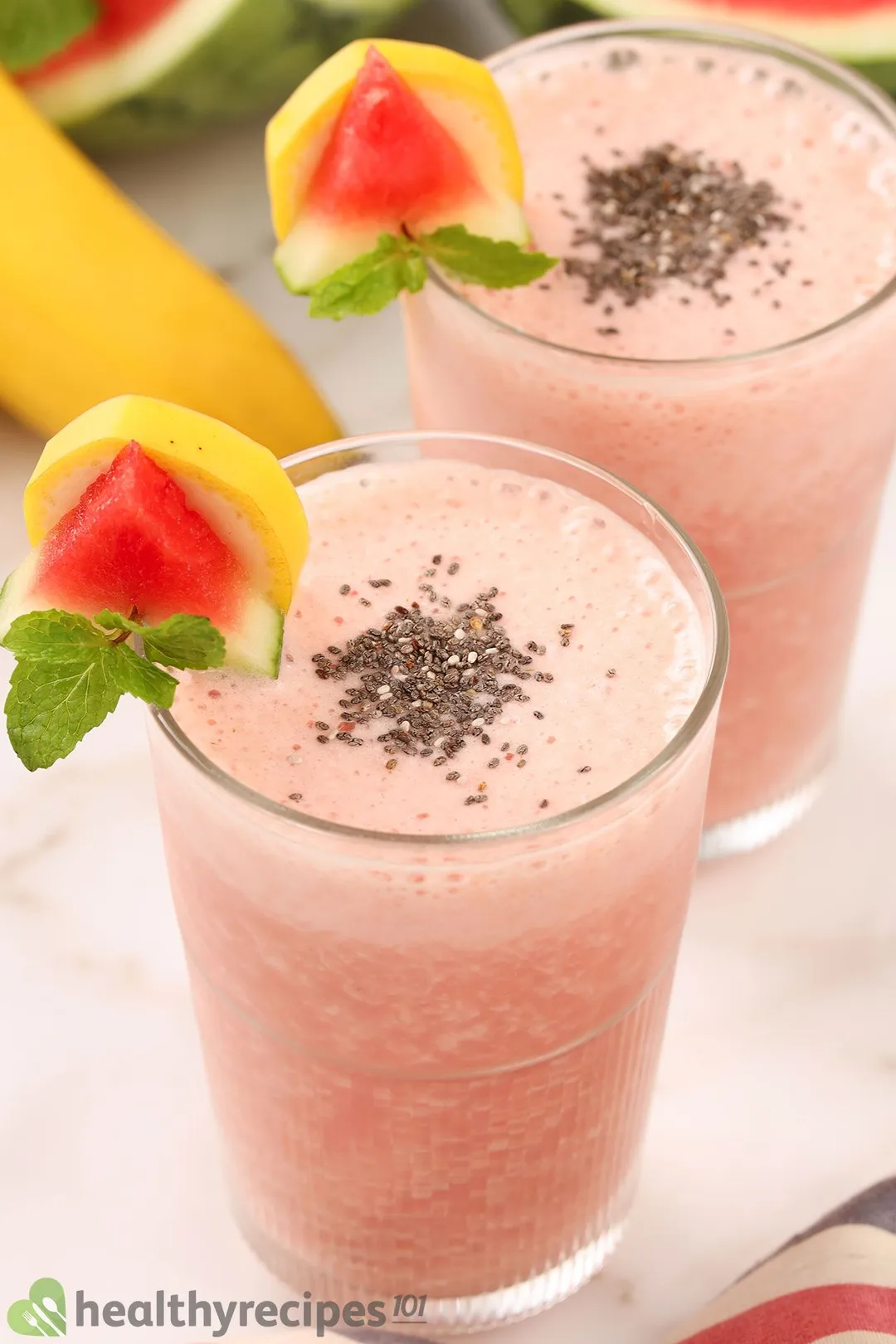 Next Recipe
Watermelon Banana Smoothie
Watermelon Banana Smoothie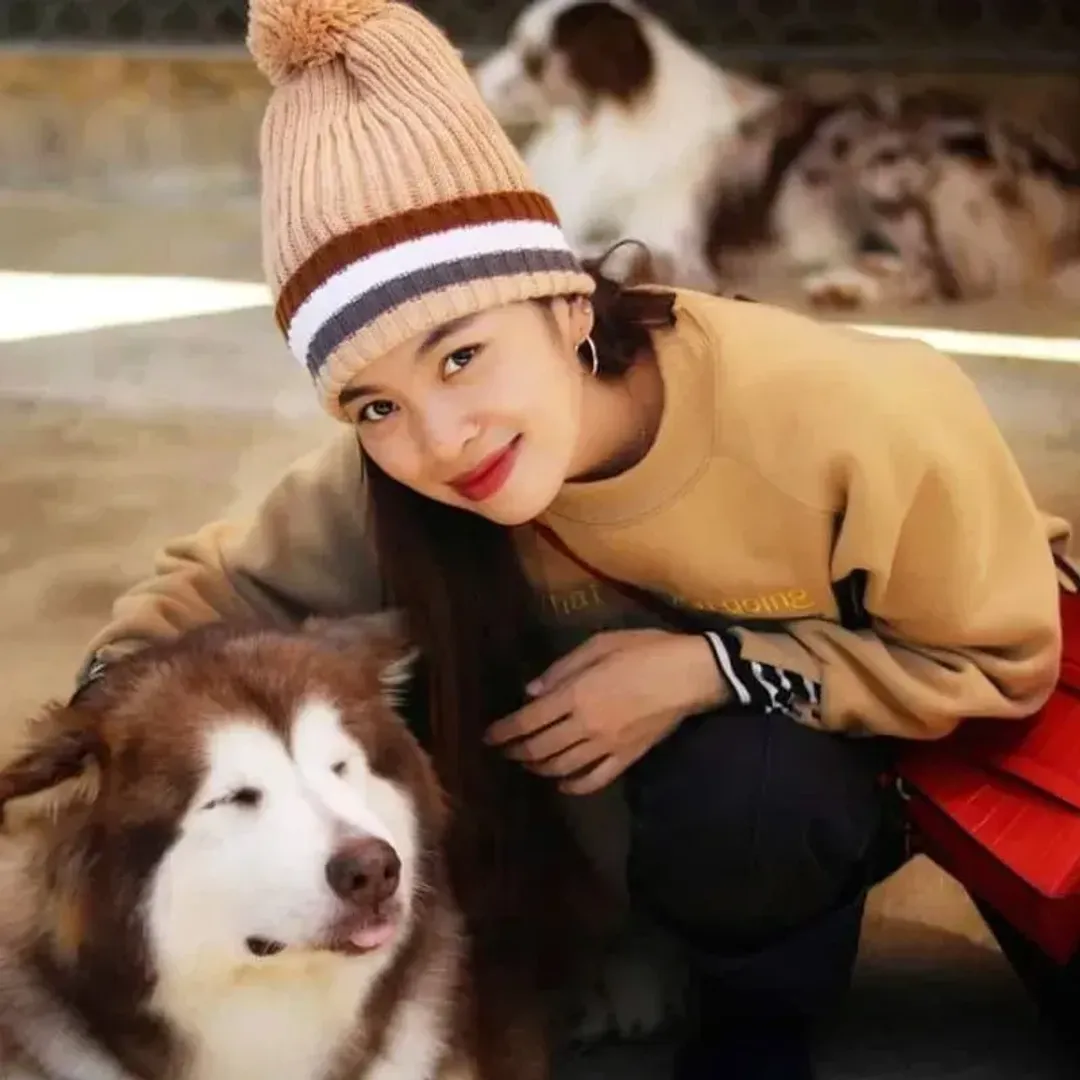 Chef, Culinary Consultant
Tuyet Pham is an award-winning Saigonese chef who believes that joy is the secret ingredient to delicious food. At Healthy Recipes 101, Tuyet personally tests and simplifies every recipe, ensuring maximum flavor with minimal effort. With a background at prestigious French restaurants P'TI Saigon and Le Corto, Tuyet knows how to make every dish exceptional.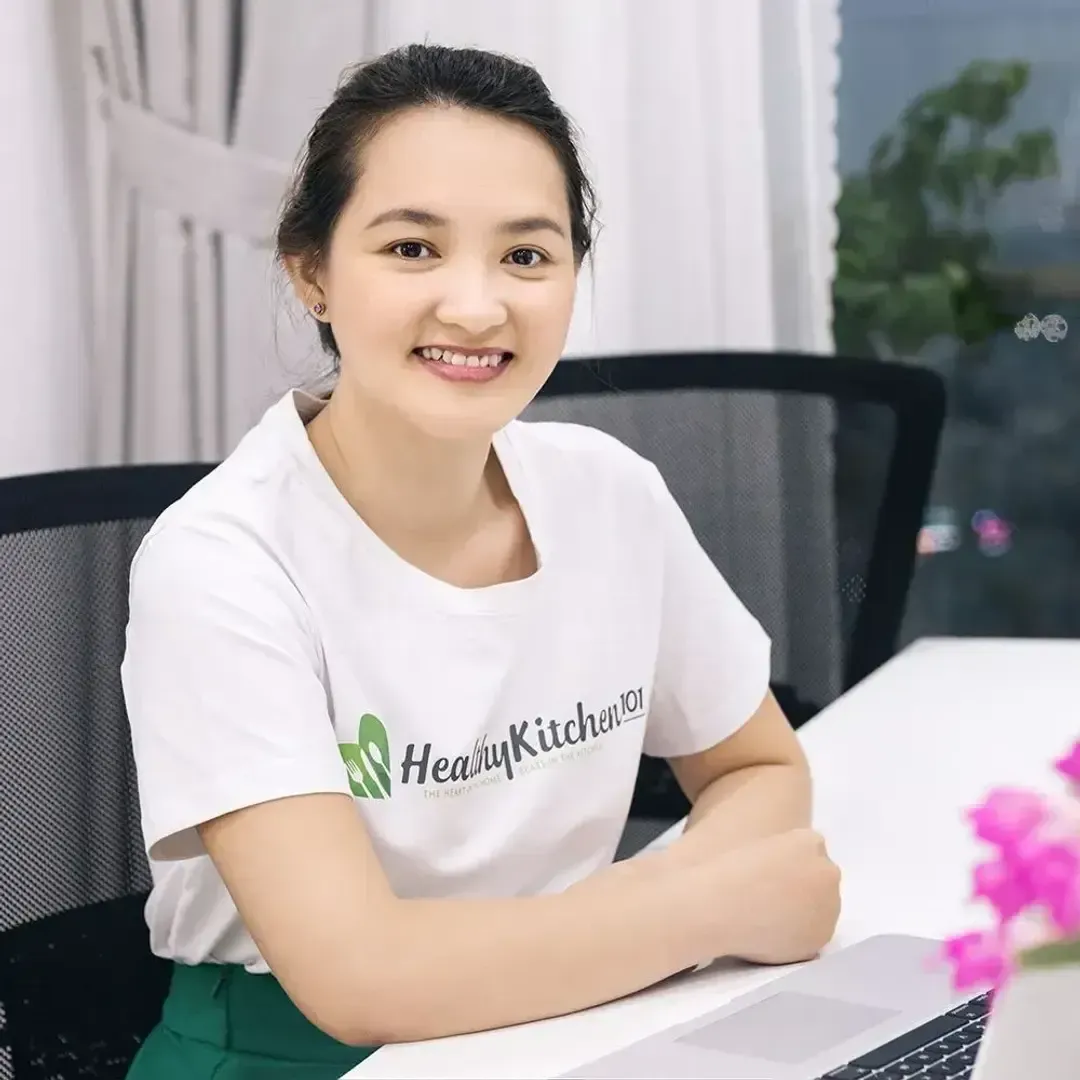 Writer, Author
Luna Regina is an accomplished writer and author who dedicates her career to empowering home cooks and making cooking effortless for everyone. She is the founder of HealthyKitchen101.com and HealthyRecipes101.com, where she works with her team to develop easy, nutritious recipes and help aspiring cooks choose the right kitchen appliances.
Comments/ Reviews