Today's peanut butter banana smoothie recipe is a straightforward guide to creating a delicious, sweet, yet nutritious beverage.
Is Peanut Butter Banana Smoothie Healthy?
Yes, our recipe for peanut butter banana smoothie is healthy. The following are a few reasons why:
Thanks to the natural sweetness of bananas, we can avoid using added sugar in this recipe.
Bananas and peanut butter are the primary components in this dish.
While bananas and peanut butter are low in fat and calories, they are not. Fortunately, because peanut butter is dense and has a strong aroma, we didn't need to use much.
Apart from being low in calories and fat, bananas are packed with essential nutrients and may help with weight reduction, digestion, and cardiovascular health.
Bananas are high in soluble fiber. During digestion, soluble fiber dissolves in liquid and forms a gel. Additionally, it contributes to bananas' sponge-like texture.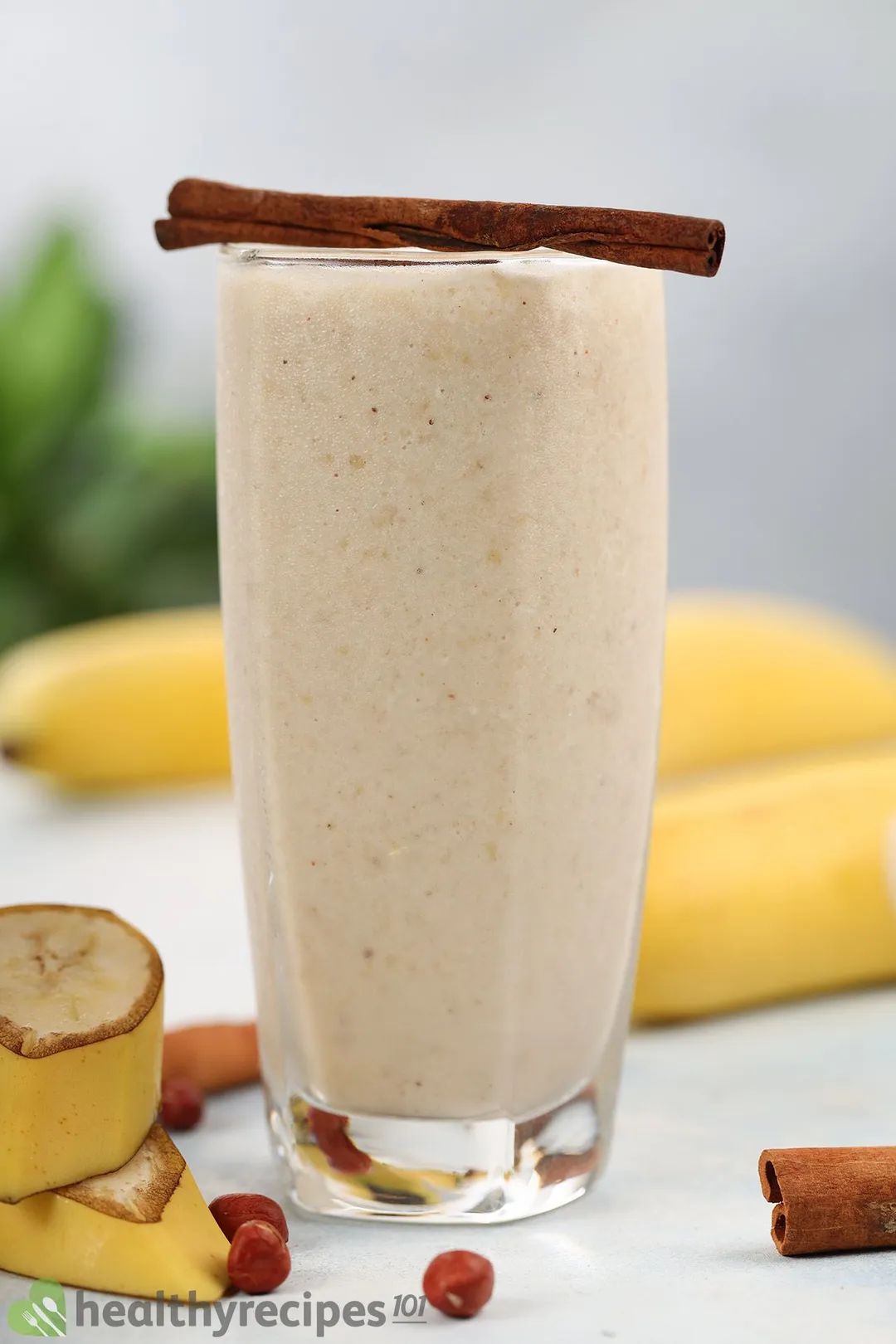 Additionally, unripe bananas contain resistant starch, a type of carbohydrate that your body cannot process.
These two types of fiber may work in tandem to assist maintain a healthy blood sugar level following meals. Additionally, they may assist in appetite management by delaying your stomach's emptying.
This implies that, despite its higher carbohydrate content, bananas do not cause substantial increases in blood sugar in otherwise healthy individuals. While diabetics can have bananas, it is not recommended to take a large amount at one sitting.
Fiber consumption has been linked to a number of health benefits, including improved digestion. Around 3 grams of fiber are included in a medium-sized banana.
Resistant starch is a kind of fiber found in unripe bananas. Prebiotics bypass digestion and end up in the large intestine, where they nourish the good bacteria in your stomach.
Ingredients for Peanut Butter Banana Smoothie
Here are the ingredients you're going to need for this peanut butter banana smoothie: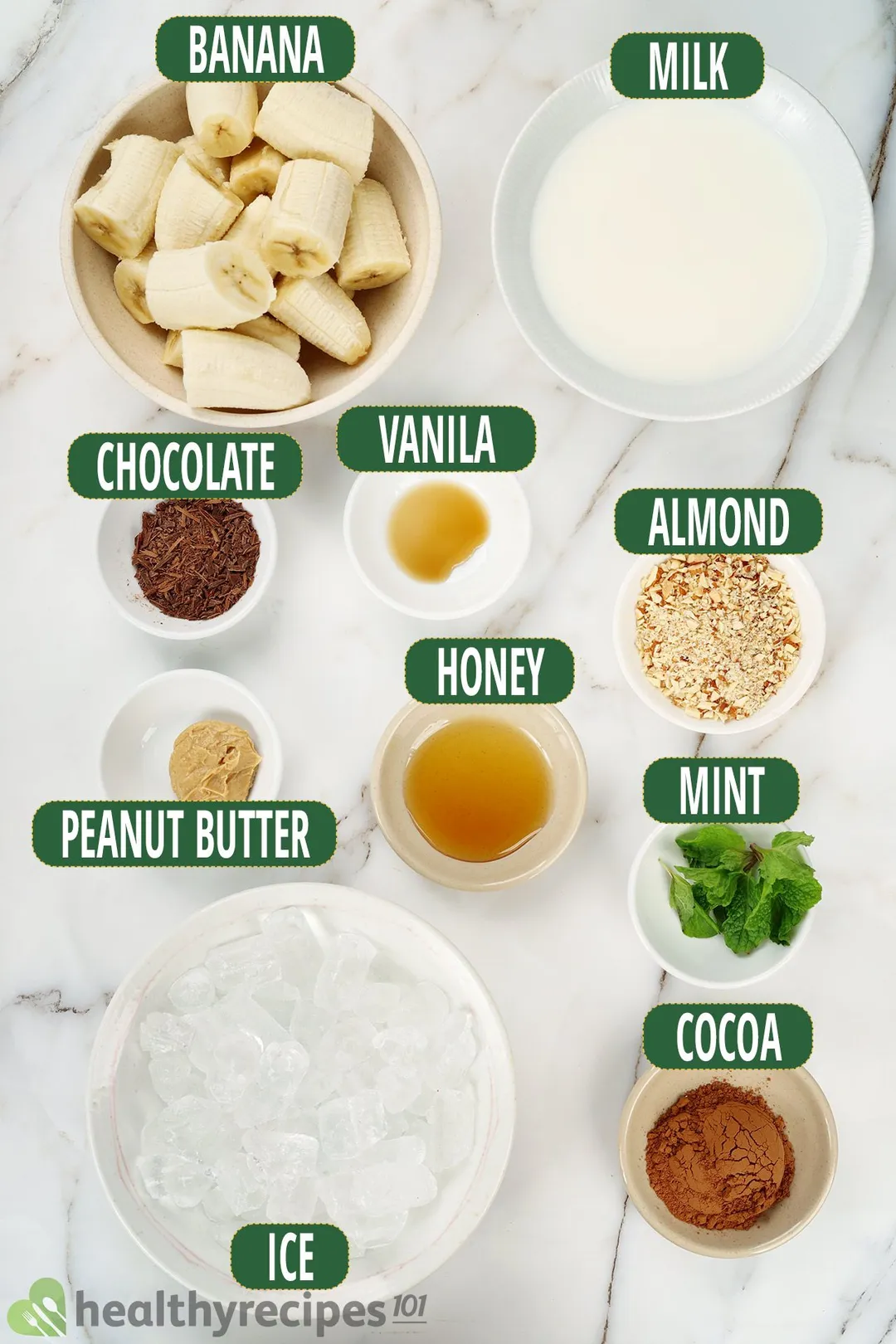 Bananas: As always, we recommend using ripe bananas for all smoothie recipes.
Peanut butter: We used unsalted, smooth peanut butter for our smoothie. If you like to add a bit of fun texture, crunchy peanut butter would be a better option.
Dairy: We added whole milk and Greek yogurt to give the smoothie a decadent, almost milkshake-like flavor.
Cinnamon powder: This warm spice pairs perfectly with desserts, as well as smoothies. It adds a touch of subtle woody, sweet scent that simply fits with the peanut butter and bananas.
And ice.
How Long Does Peanut Butter Last?
In comparison to other spreads, peanut butter has a rather lengthy shelf life.
This is because peanut butter contains a high fat level and a low moisture content, which creates an unfavorable environment for germs to flourish.
There are several more critical aspects that might affect the shelf life of peanut butter.
To begin, the manner in which it is created has a substantial impact on its shelf life.
To aid in shelf life extension, the majority of commercial peanut butters contain stabilizers such as hydrogenated vegetable oils or palm oil, as well as preservatives such as sodium benzoate.
Stabilizers assist prevent oil separation and enhance the texture and appearance, while preservatives, such as sodium benzoate, aid in the fight against microbial development.
Commercial peanut butters, due to the use of stabilizers and preservatives, may last 6–24 months in the pantry if left unopened, or 2–3 months if opened. Placing it in the refrigerator will increase its shelf life.
The expiry dates — sometimes known as best-by dates — of the majority of packaged peanut butters are displayed on the container, indicating how long the product will remain fresh.
However, these labels are not mandatory and do not guarantee the safety of the product. This indicates that your peanut butter may be okay to consume after its best-by date.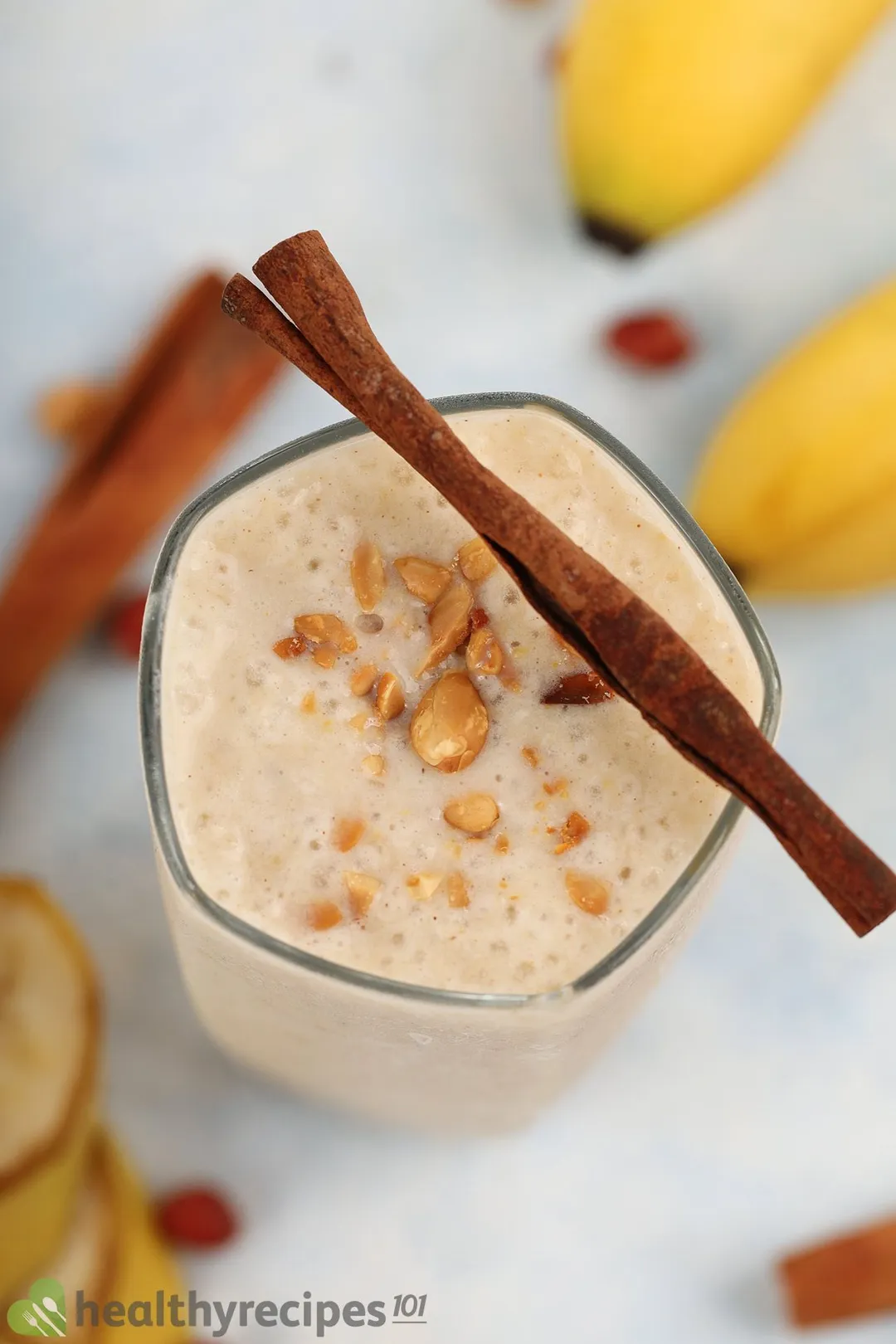 How to Tell if Peanut Butter Is Bad
The best indicators of rancid peanut butter are sight and smell.
While fresh peanut butter is inherently creamy and smooth, bad peanut butter can have a hard, dry feel. Additionally, it may seem dark brown in comparison to its normal light tan tint.
Additionally, if the fragrance becomes more harsh, soapy, or unpleasant, it has most certainly gone bad.
Additionally, if your peanut butter has a somewhat sour flavor rather than a nutty one, it may have gone rancid.
Bear in mind that oil separation is common with natural peanut butters due to the lack of stabilizers. This is not an indication that the peanut butter has spoiled.
While determining if powdered peanut butter has gone rancid might be more challenging, changes in scent, texture, and taste are all excellent clues.
To prolong the life of your peanut butter, it's critical to store it properly.
Although it does not need to be refrigerated, cold temperatures prolong its shelf life. If you do not wish to refrigerate your peanut butter, store it in a cold, dark location, such as the pantry.
Additionally, it is critical to always firmly shut the jar of peanut butter. Allowing peanut butter to sit in the air for an extended period of time may lead it to get rancid more quickly.
Additionally, while using peanut butter, be careful to use clean utensils. Through cross-contamination, used or dirty utensils can introduce undesired microorganisms, resulting in deterioration.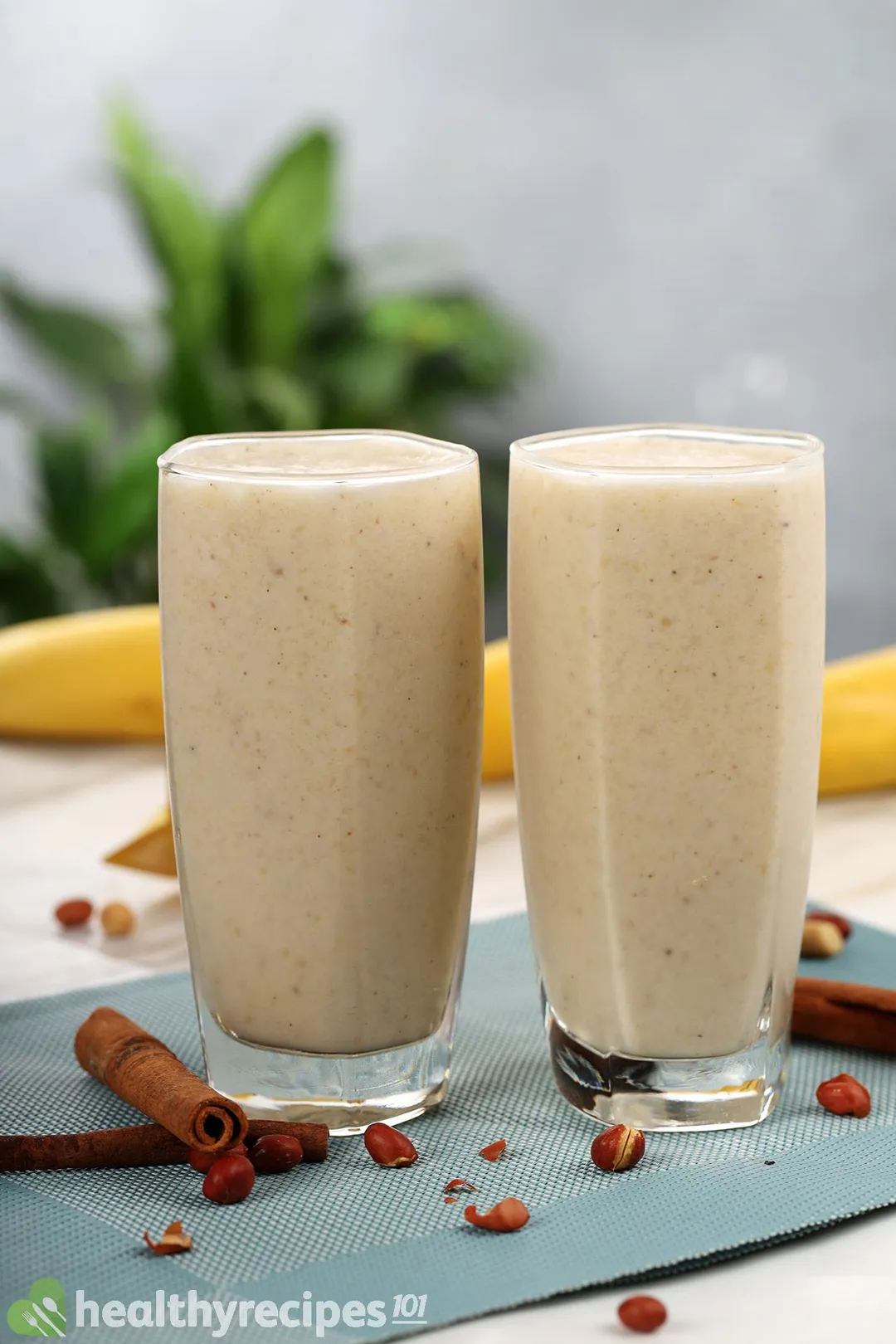 How Long Does Peanut Butter Banana Smoothie Last?
Because our peanut butter banana smoothie recipe contains dairy ingredients, such as Greek yogurt and whole milk, it can only stay good a day in the refrigerator.
We recommend storing your smoothie in an airtight container, such as a mason jar or bottle with a tight-fitting lid.
Additionally, it is important to completely fill the container to the brim to eliminate trapped air. As oxygen oxidizes the components in your smoothie, it will deteriorate and lose nutritious value more quickly.
Be sure to refrigerate the drink as soon as possible and that the container's lid is securely fastened.
Can You Freeze This Peanut Butter Banana Smoothie?
Yes, you can!
What we love about freezing smoothies is that they can stay good for a month or so in the freezer. And, you don't even need to defrost the frozen smoothies afterwards because you can enjoy a delicious smoothie ice cream right out of the freezer.
Want more peanut butter smoothies? We've got you covered. Give our Peanut Butter Blueberry Smoothie and Apple Peanut Butter Smoothie if you like something with a sweet-tart and fruity undertone, or try this Peanut Butter Oatmeal Smoothie for a quick, on-the-go breakfast.
Peanut Butter Banana Smoothie Recipe
You only need 6 basic ingredients for this peanut butter banana smoothie recipe. Let's grab them and make this delicious drink.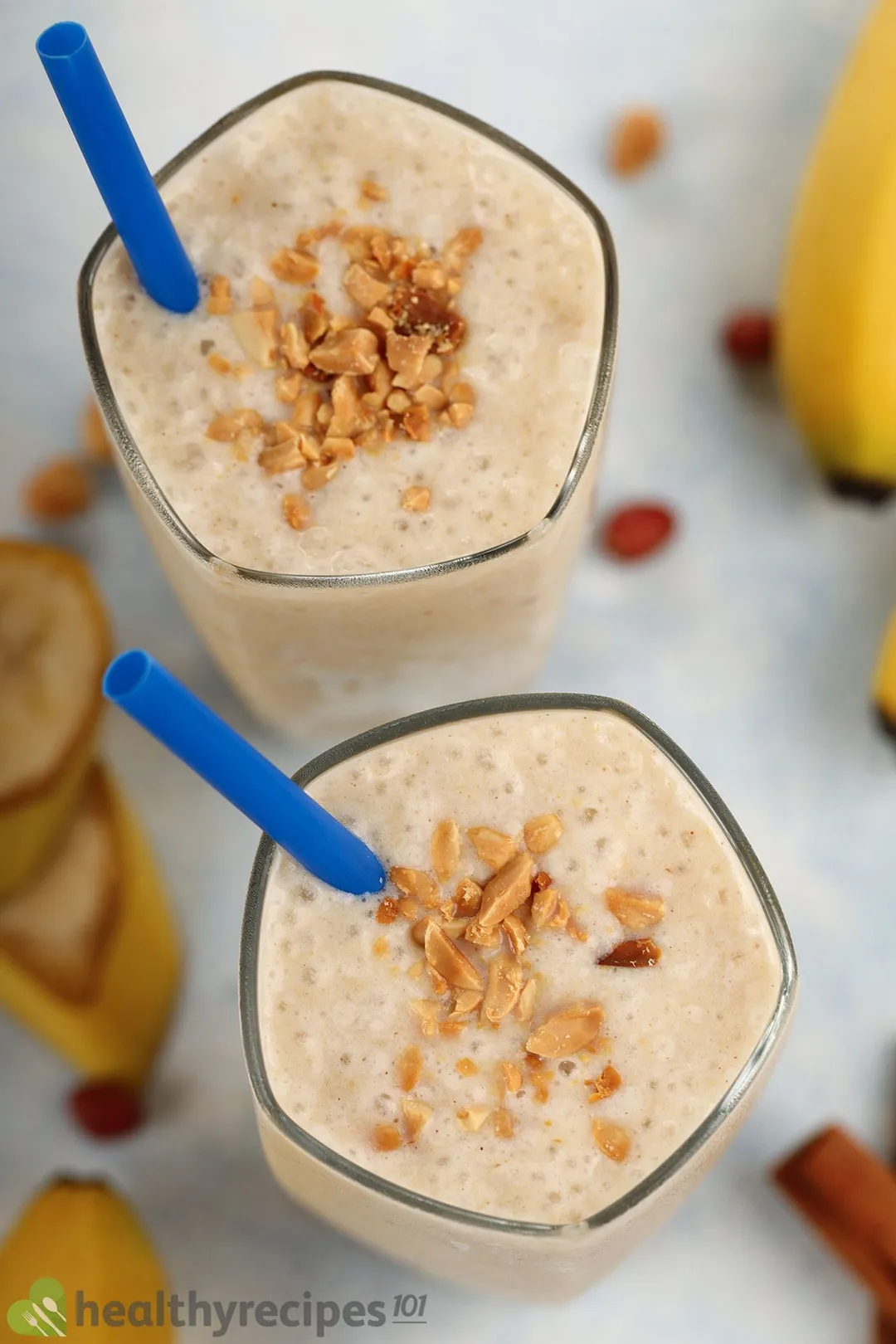 prep TIME

10 mins

total TIME

10 mins
COURSE

Beverage

CUISINE

American

SERVINGS

CALORIES

184 kcal
INGREDIENTS
2 tbsp

peanut butter

(unsalted smooth)

14 oz

banana

(peeled and cut into thirds)
INSTRUCTIONS
1
Combine all the ingredients in a blender: 2 cups ice, 2 tbsp peanut butter, 14 oz banana, 1 cup milk, 1/4 cup yogurt and 1/4 tsp cinnamon powder.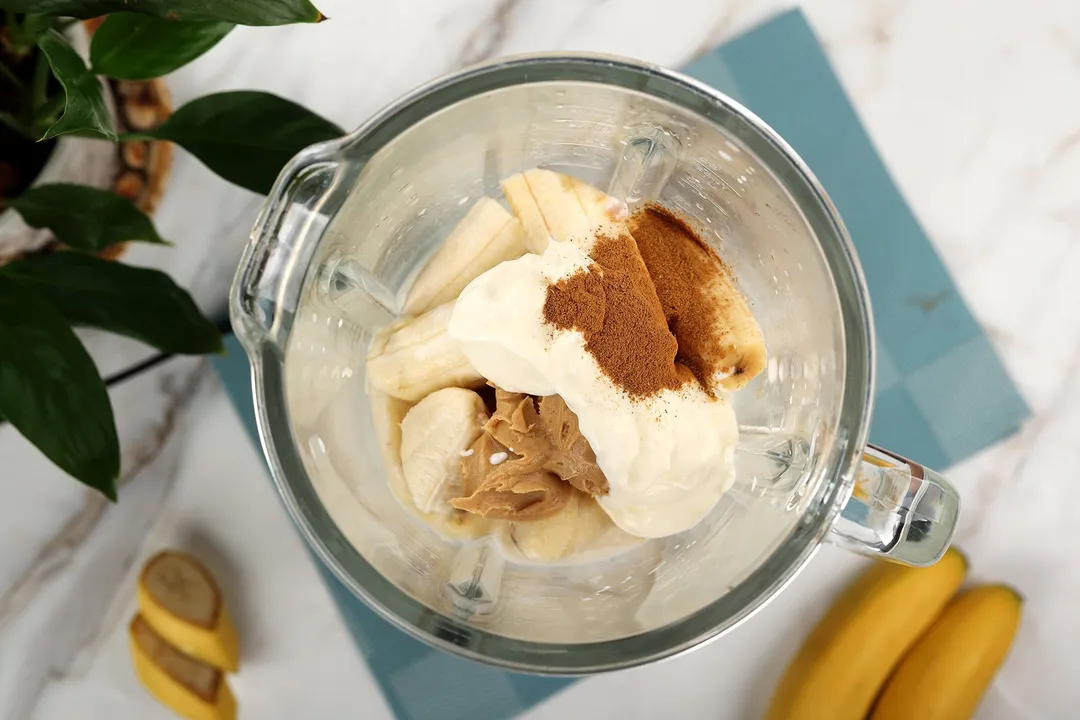 2
Blend at high power mode in 20 - 30 seconds until smooth and creamy.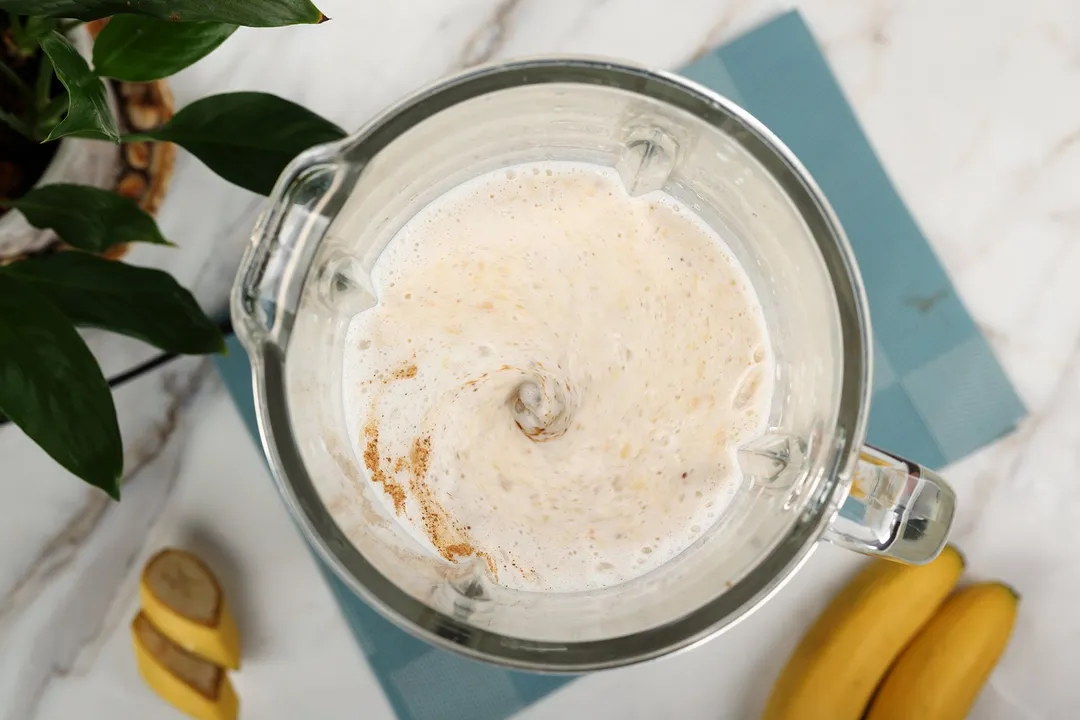 3
Pour the smoothie into 4 glasses.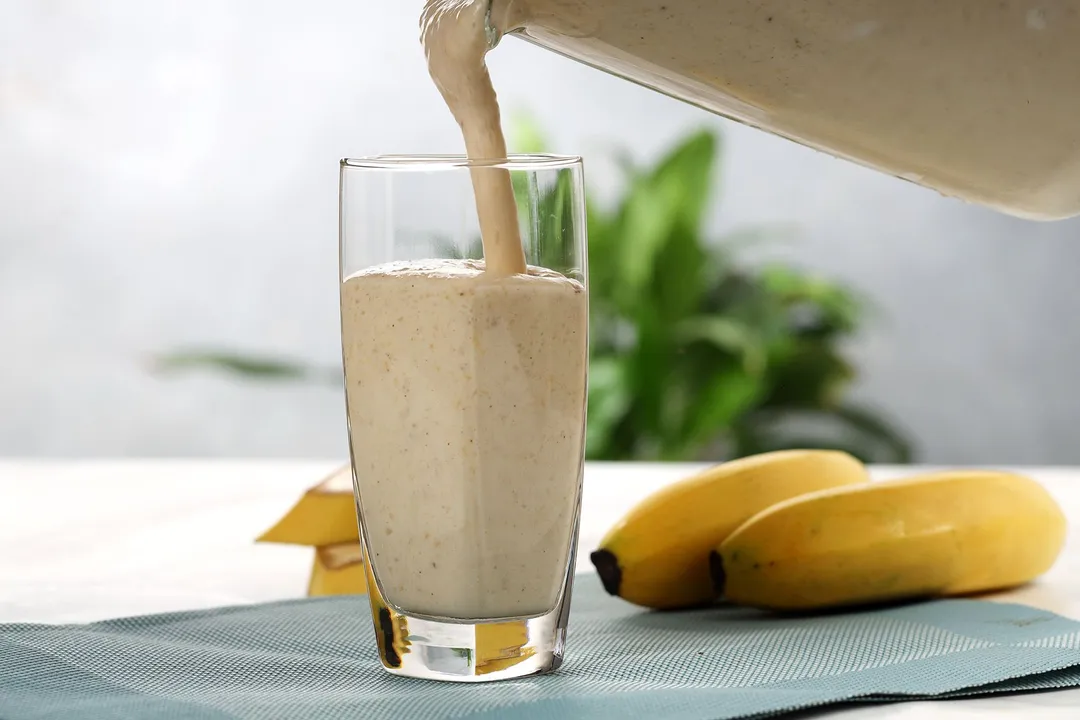 4
Garnish them with crushed peanuts and enjoy.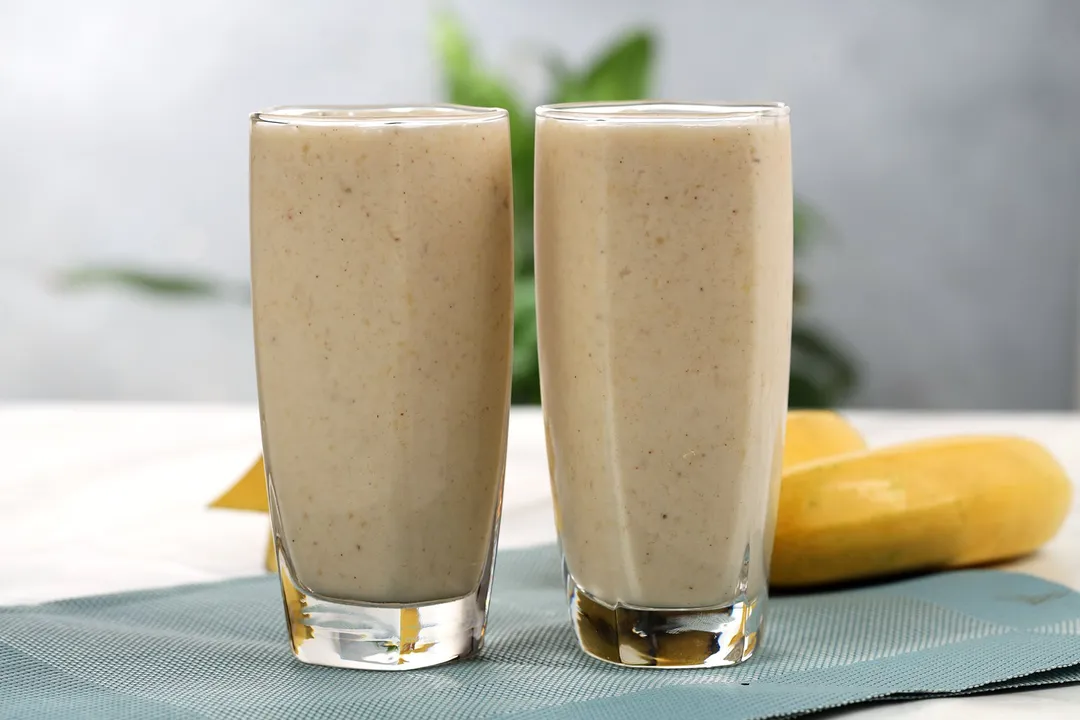 NUTRITION
Nutrition Facts
Peanut Butter Banana Smoothie Recipe
Amount Per Serving (1 serving)
Calories 184
Calories from FDA
% Daily Value*
* Percent Daily Values are based on a 2000 calorie diet.
Keywords: peanut butter banana smoothie, peanut butter banana smoothie recipe, how to make peanut butter banana smoothie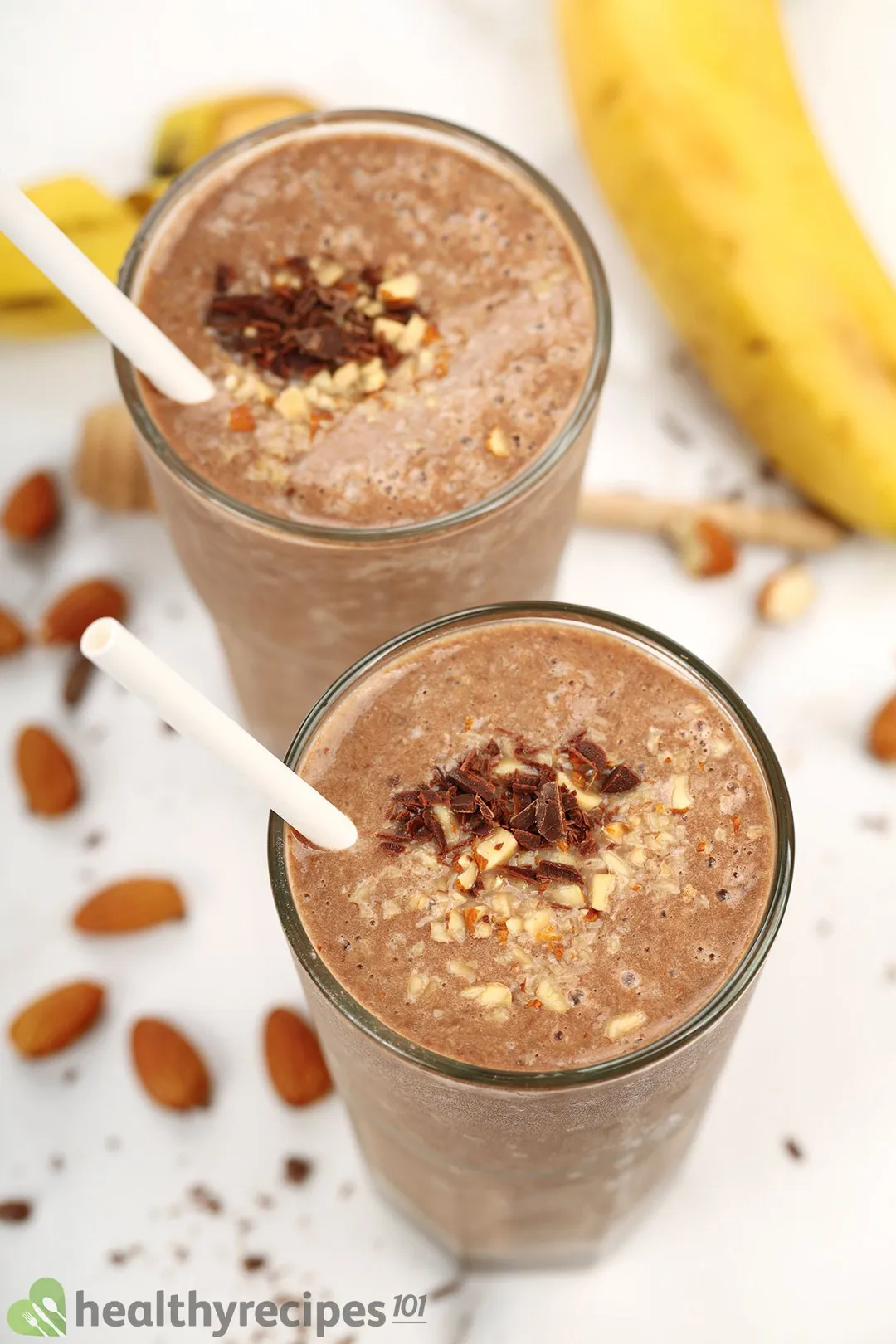 Previous Recipe
Chocolate Peanut Butter Banana Smoothie
Chocolate Peanut Butter Banana Smoothie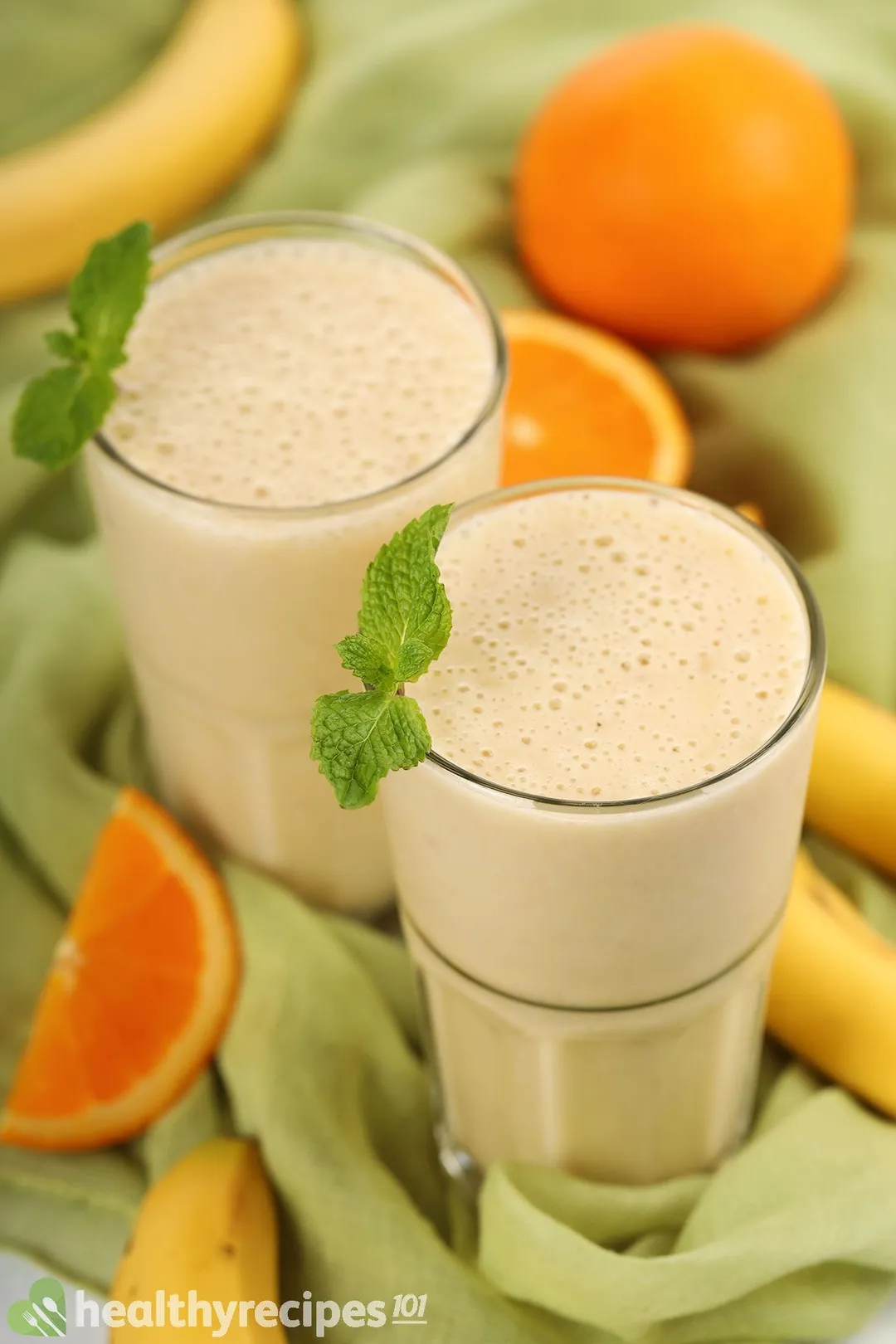 Next Recipe
Orange Banana Smoothie
Orange Banana Smoothie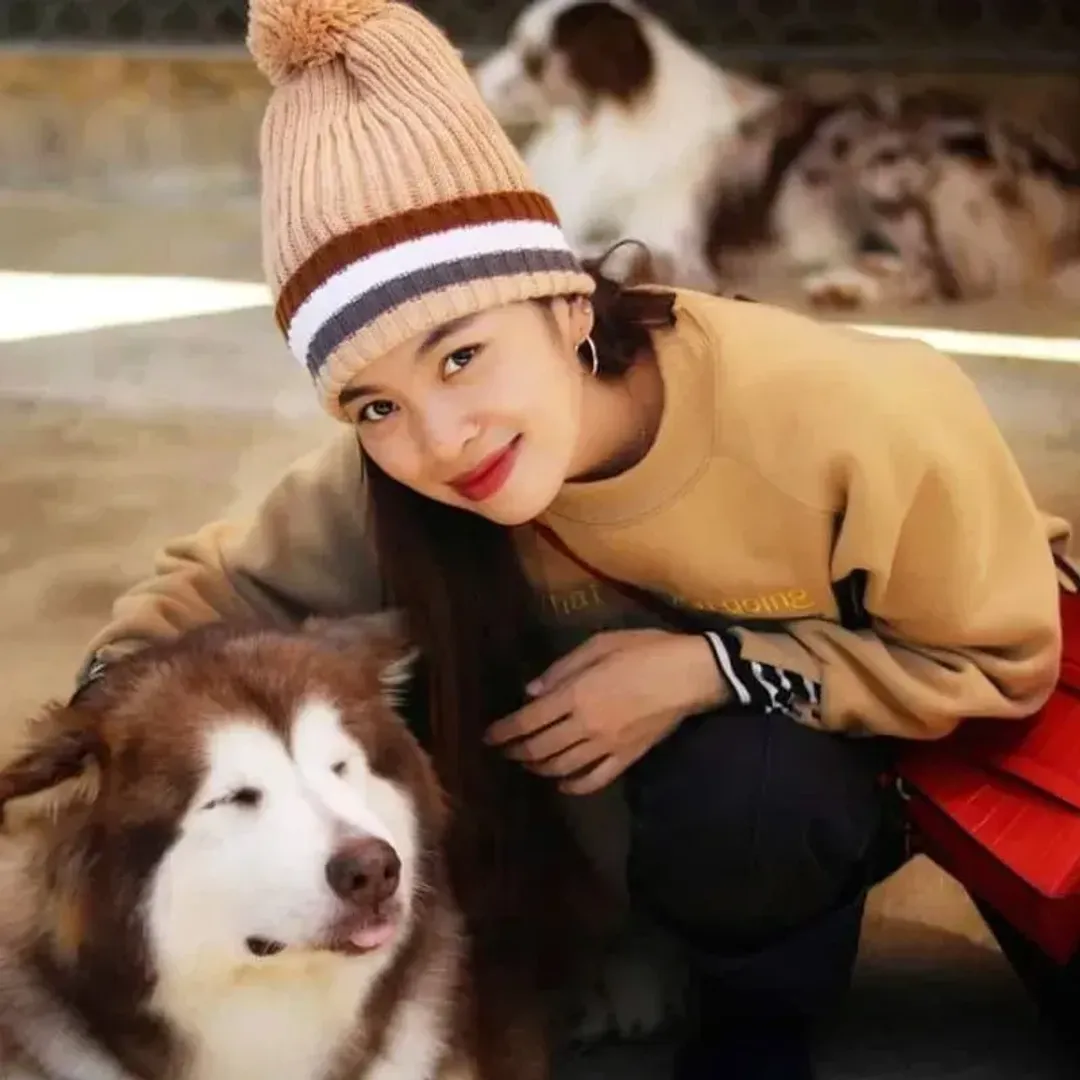 Chef, Culinary Consultant
Tuyet Pham is an award-winning Saigonese chef who believes that joy is the secret ingredient to delicious food. At Healthy Recipes 101, Tuyet personally tests and simplifies every recipe, ensuring maximum flavor with minimal effort. With a background at prestigious French restaurants P'TI Saigon and Le Corto, Tuyet knows how to make every dish exceptional.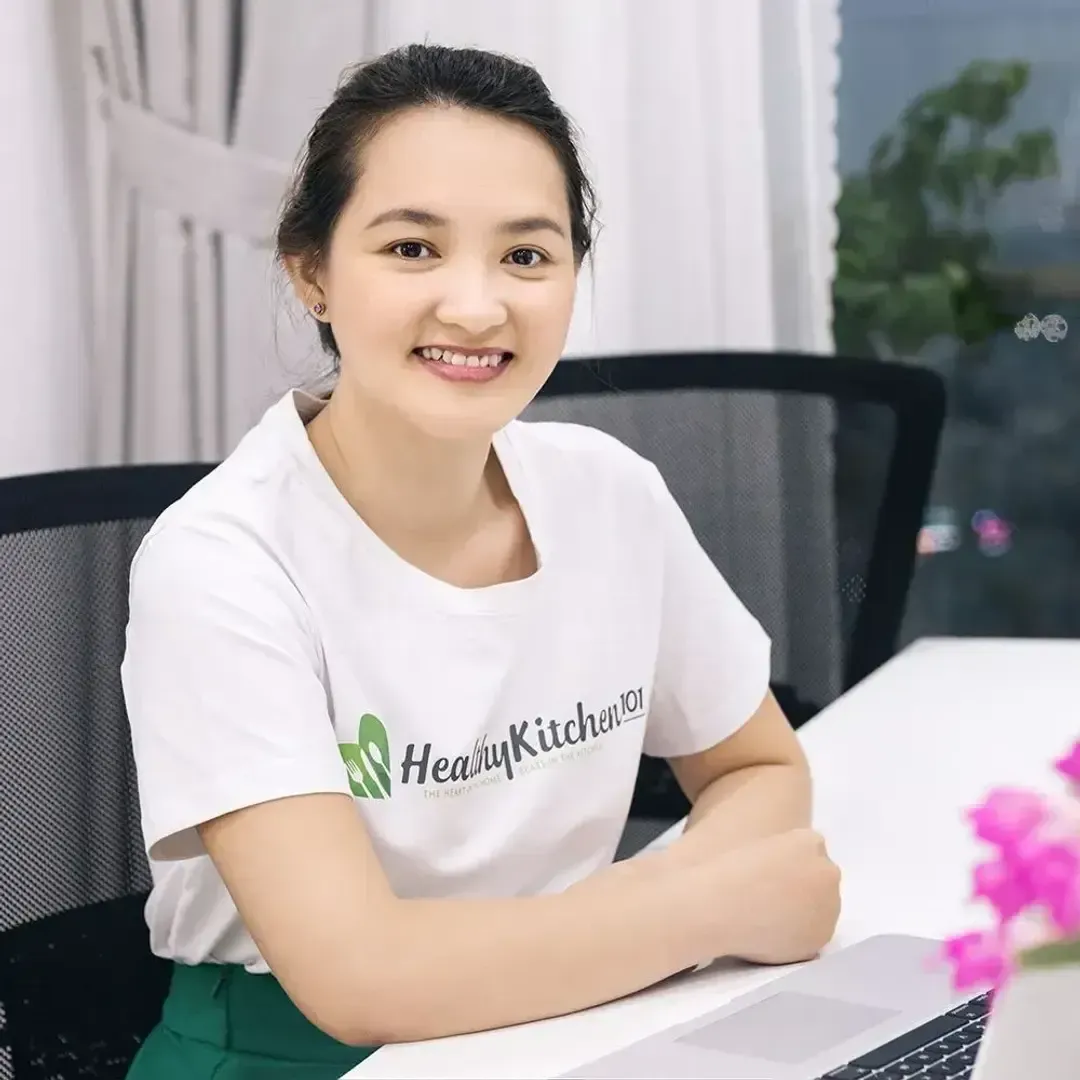 Writer, Author
Luna Regina is an accomplished writer and author who dedicates her career to empowering home cooks and making cooking effortless for everyone. She is the founder of HealthyKitchen101.com and HealthyRecipes101.com, where she works with her team to develop easy, nutritious recipes and help aspiring cooks choose the right kitchen appliances.
Comments/ Reviews