Our strawberry avocado smoothie recipe is a convenient, delicious way to enjoy both of these fruits in one gorgeous drink.
Strawberries and avocados are packed with nutrients and have complementing flavors. Avocados make an excellent creamy base while strawberries provide a natural sweetness and mild tanginess.
Enriched with Greek yogurt, our smoothie gains a silky texture and for a refreshing cooling sensation, it's then blended with ice and mint leaves.
If you've never tried this combo or managed to find a good recipe, ours is the perfect one to try.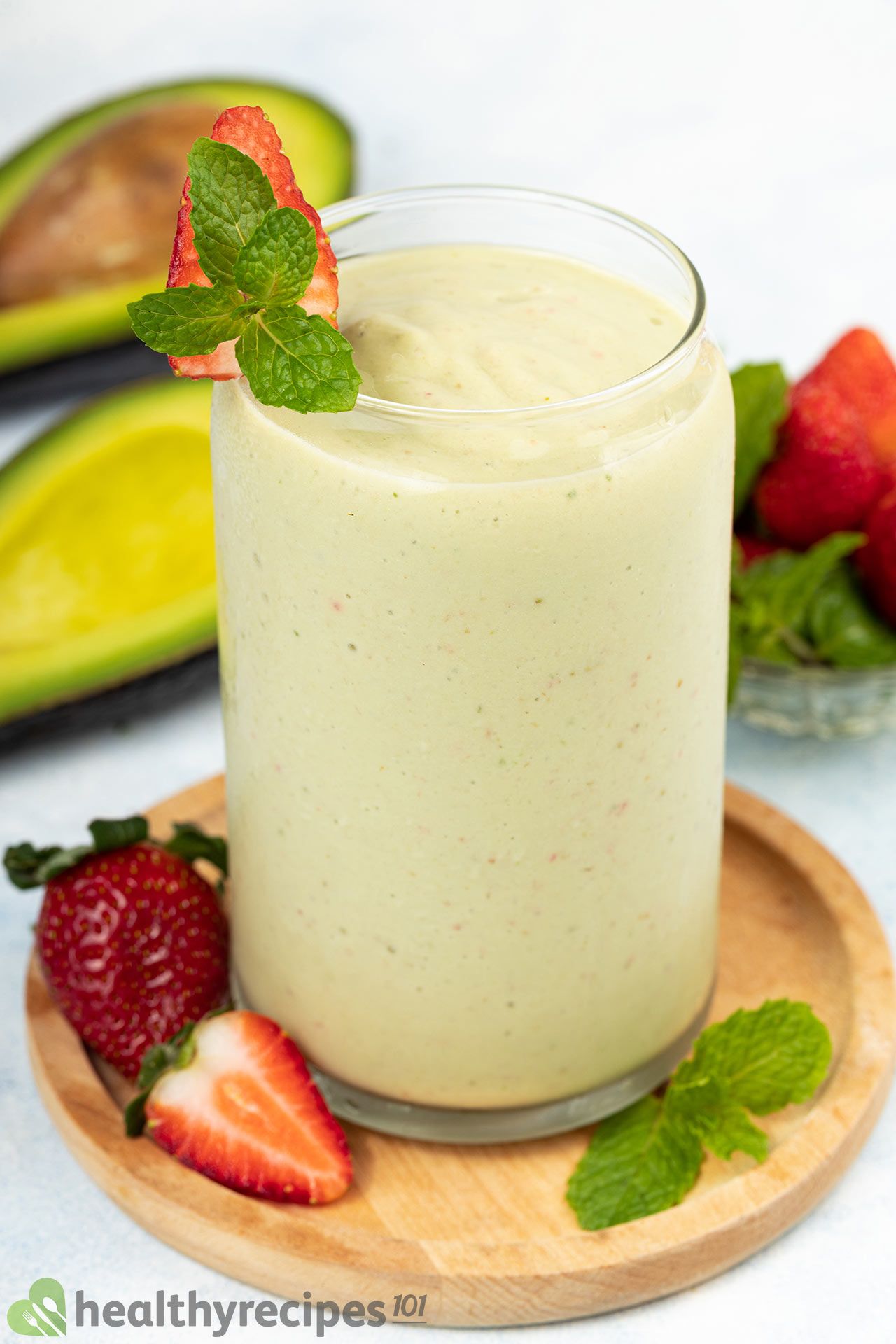 Is Strawberry Avocado Smoothie Healthy?
This smoothie combines the health benefits of many ingredients.
To begin, strawberries and avocados provide us with a good deal of vitamin C, E, K, B vitamins, and minerals like manganese, folate, potassium, etc. Avocados alone contain fiber and healthy monounsaturated fats — both are beneficial to our bodies.
Our smoothie also has Greek yogurt and milk. Besides the usual minerals dairies contain, Greek yogurt is also denser in protein compared to other types of yogurt.
The last thing we're concerned about is added sugar, which we have kept to a healthy level in this recipe — nearly 9 g per serving. This equates to 18% of the USDA's recommended upper limit for a 2000-calorie diet.
If you prefer, you can leave the sweetener out. Or conversely, if you want the smoothie sweeter, be sure to keep your daily intake of added sugar below 10% of the day's total calories.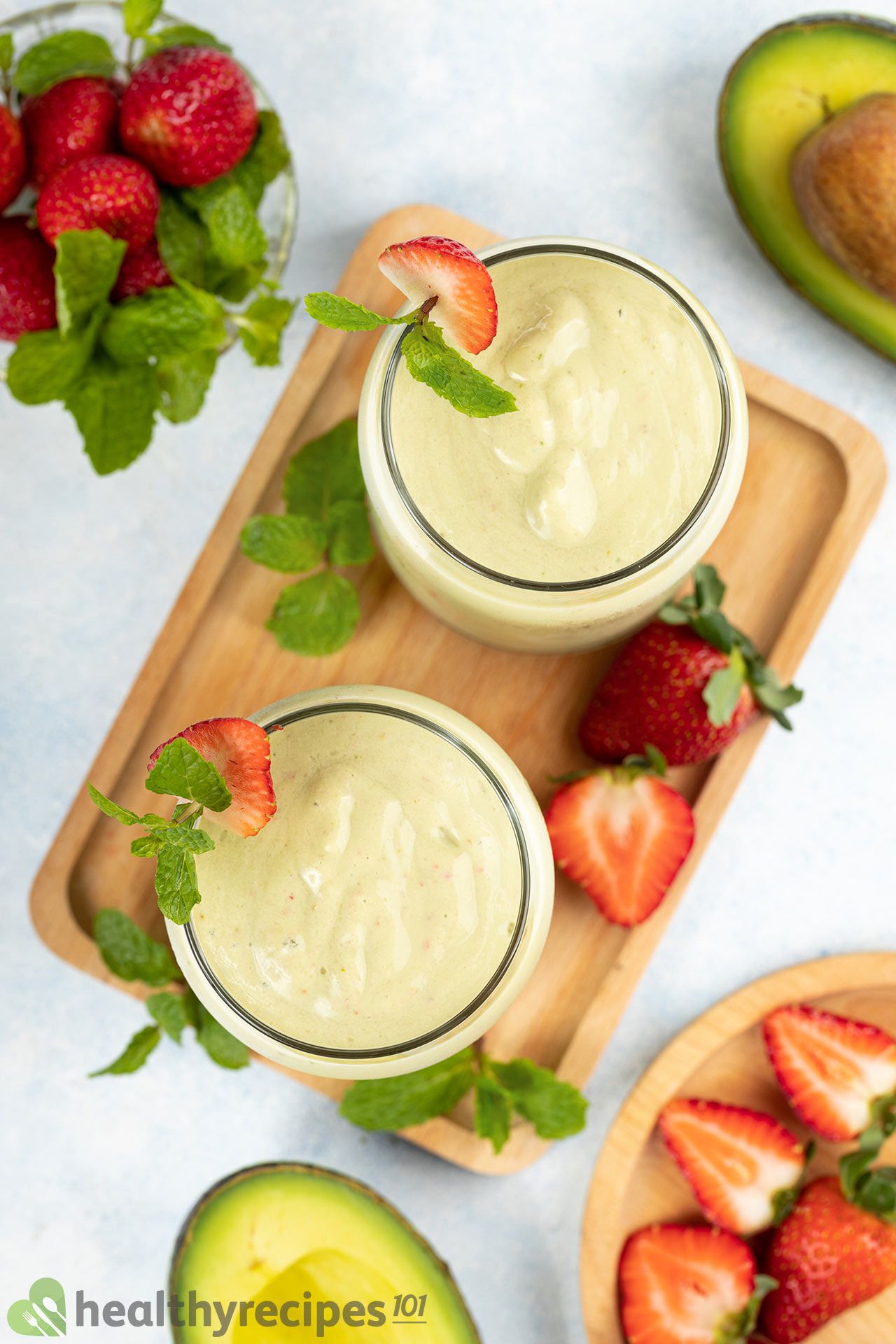 Ingredients For Strawberry Avocado Smoothie
For this strawberry avocado smoothie recipe, you'll need strawberries, avocados, honey, milk, Greek yogurt, ice, and mint leaves.
We're going for a creamy smoothie with sweet, mildly tart undertones so it's crucial that you choose ripe fruits.
Ripe avocados have a purple skin and give a little when squeezed. Avocados that are browned a little inside also make a great smoothie.
Ripe strawberries have a bright red body and a bright green crown. Their size is irrelevant.
For ice, your smoothie will turn out silky smooth and free of chunks using soft ice, such as ice nuggets. If all you have is hard ice, remember to break it into finer pieces before blending.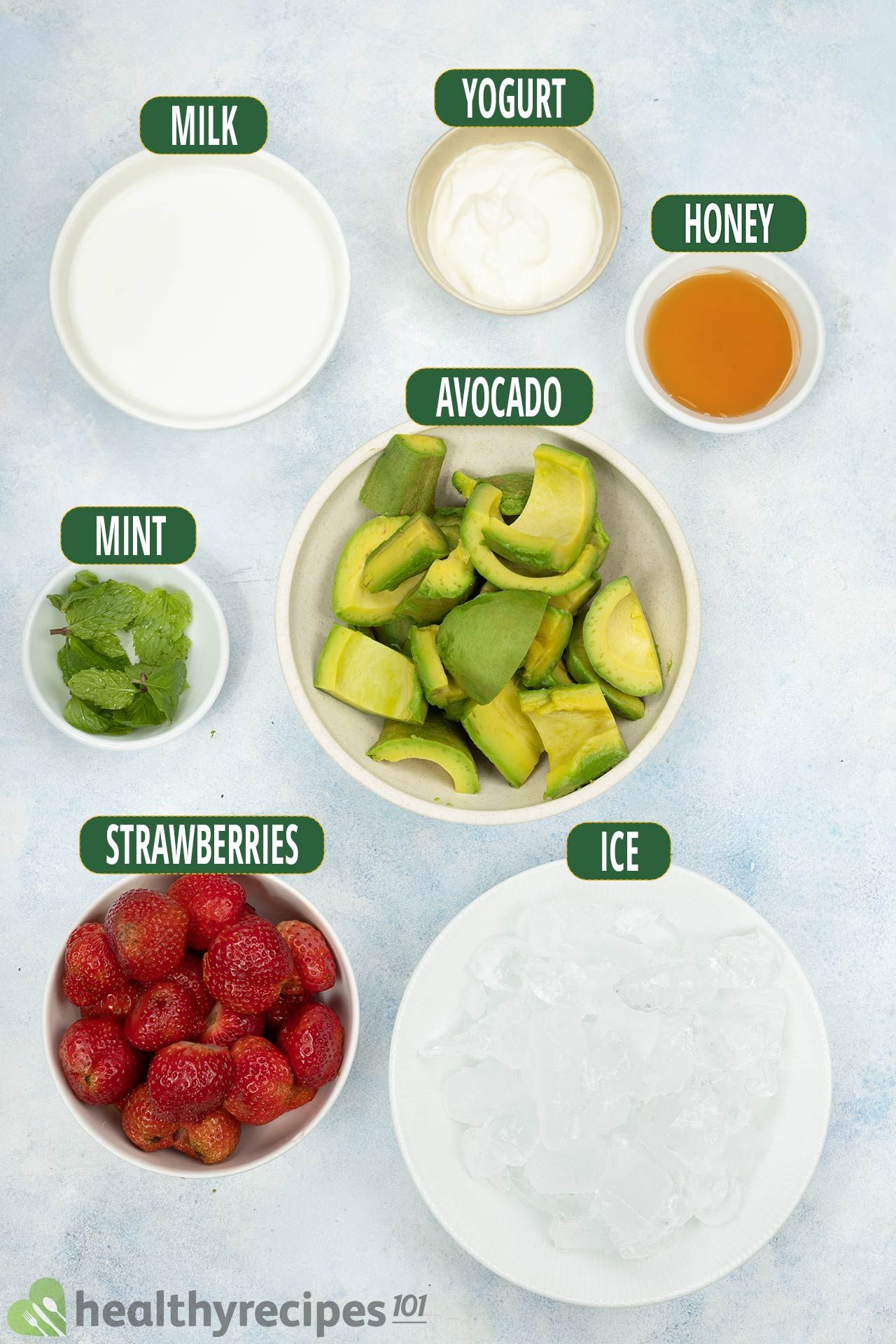 1. What Can I Substitute For Milk?
We suggest plant-based alternatives, such as soy milk, coconut milk, and almond milk, etc. They're nutritious, often lactose-free, and some have a delightfully fragrant aroma.
2. Can I Use Frozen Strawberries, Avocados?
Yes, you can, and they will make for a thicker, ice cream-consistency smoothie that you can scoop with a spoon. Using half the amount of ice will result in a much more concentrated flavor.
How To Make Strawberry Avocado Smoothie
Once you've collected the ingredients, place them all in the blender and blend until smooth.
Pro-Tip: Start with the ice so it gets blended first and your smoothie will come together more quickly.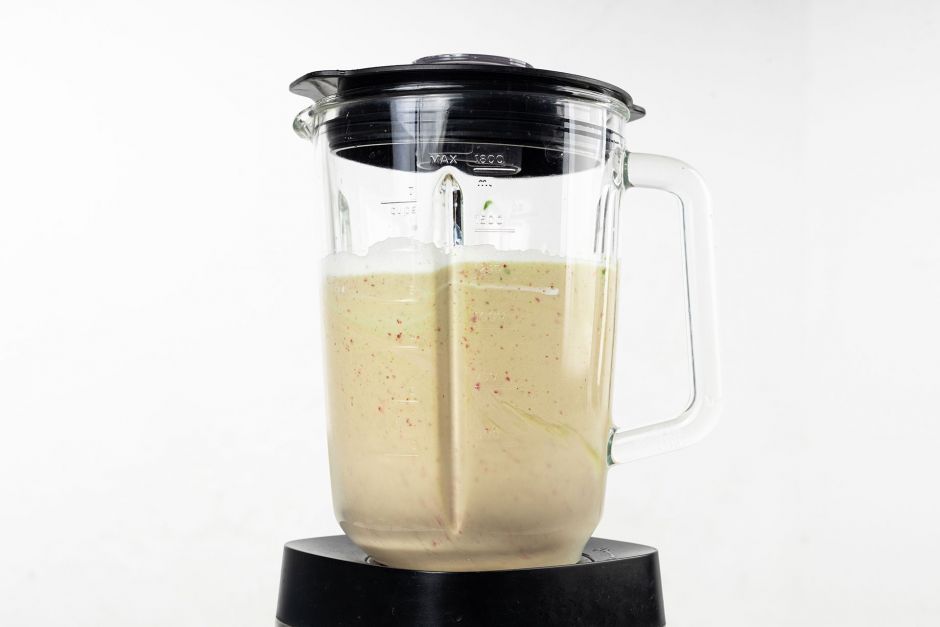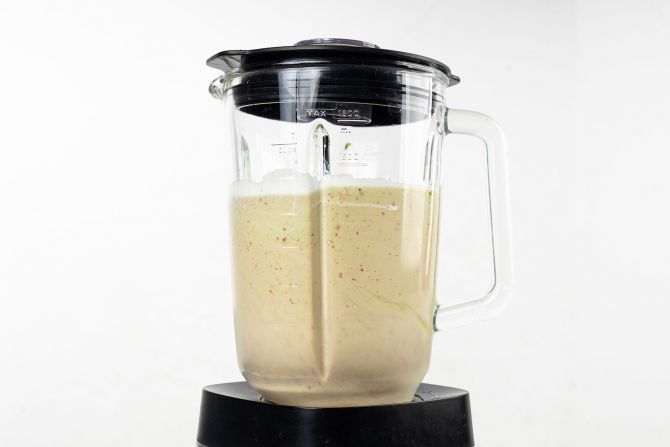 Blend ingredients.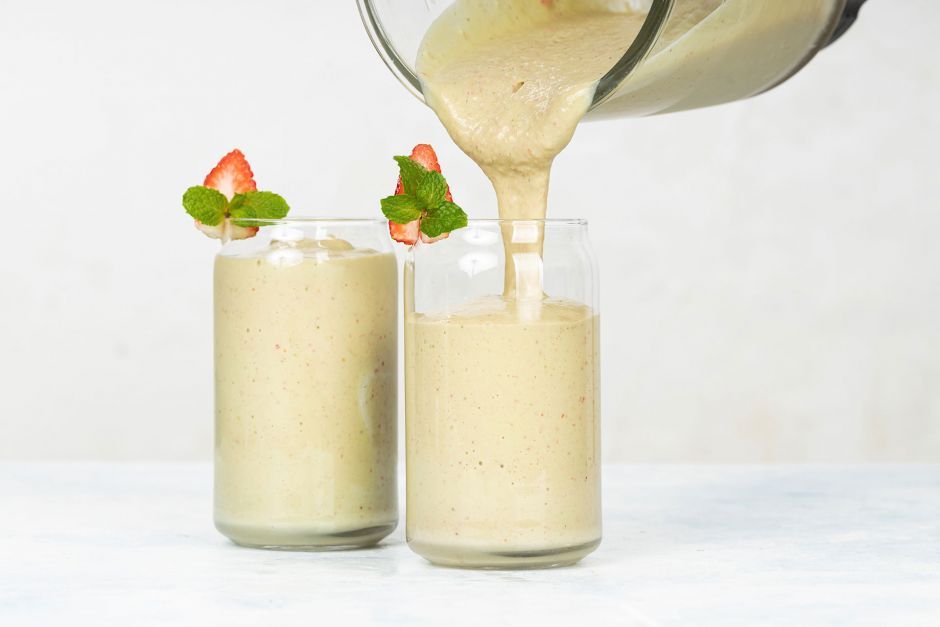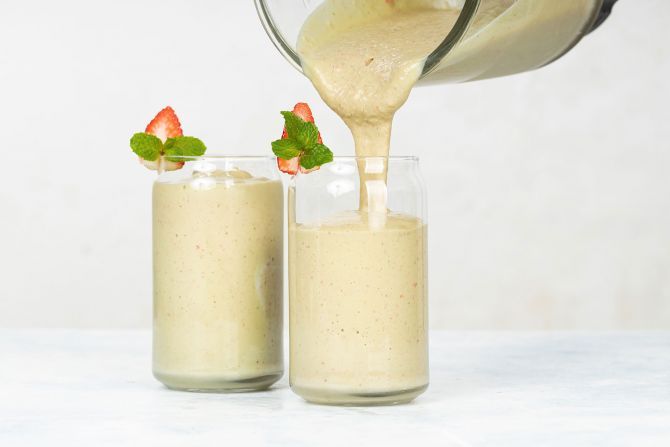 Garnish and Pour into glasses.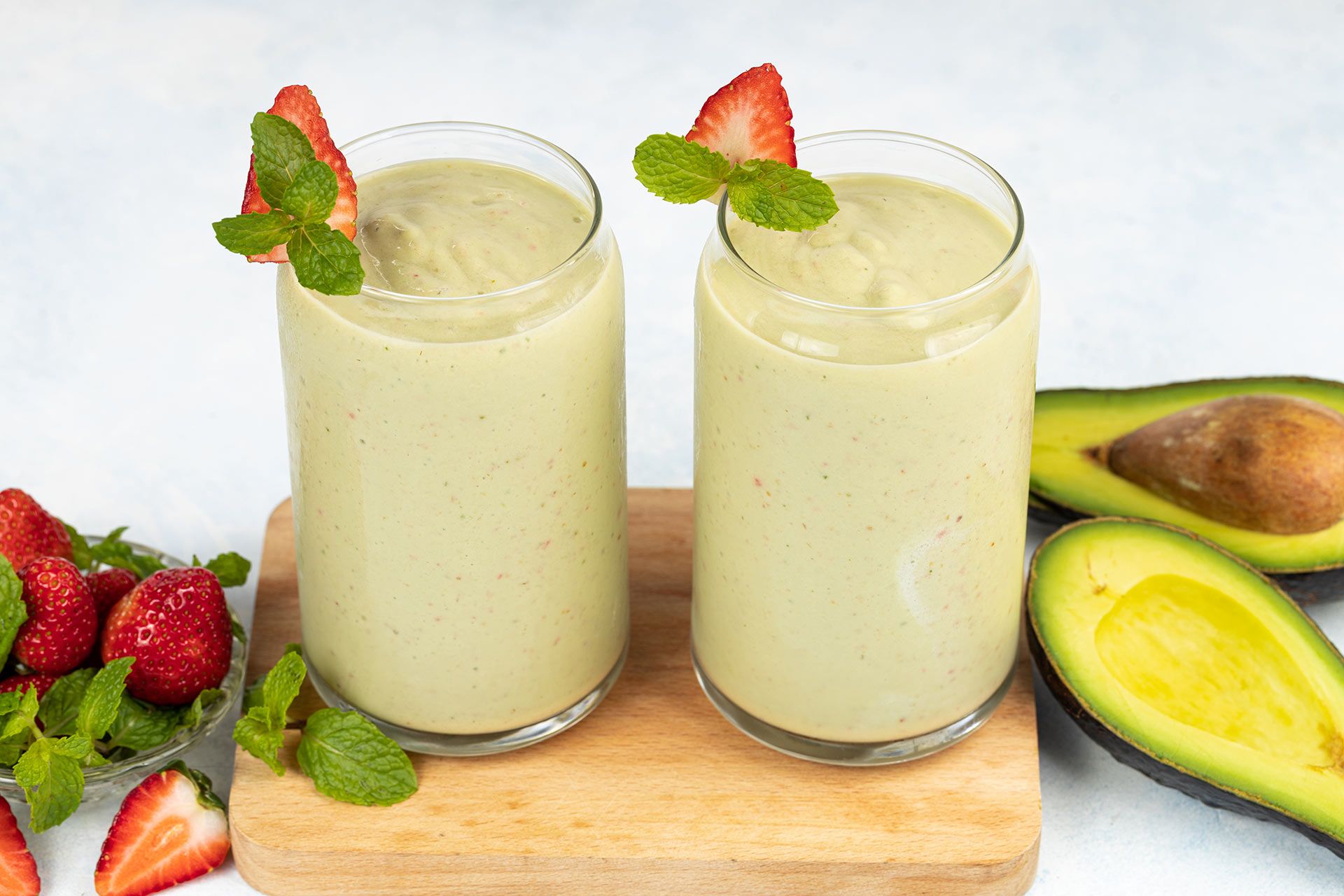 Serve immediately.
How Long Does Strawberry Avocado Smoothie Last?
Any avocado smoothie turns brown when exposed to air — this is a natural chemical reaction. Brown-tinged avocado smoothies don't mean that they're going bad or rancid. In fact, they still retain many of their original properties.
The smoothie should be consumed within 2 hours, however. If you want to keep it from turning brown, seal it in an airtight container and place it in the fridge as soon as possible.
To properly store an avocado smoothie, seal in an airtight container and place it in the fridge as soon as possible. Refrigerated avocado smoothies will last for up to 1 – 2 days and up to 3 – 4 months in the freezer.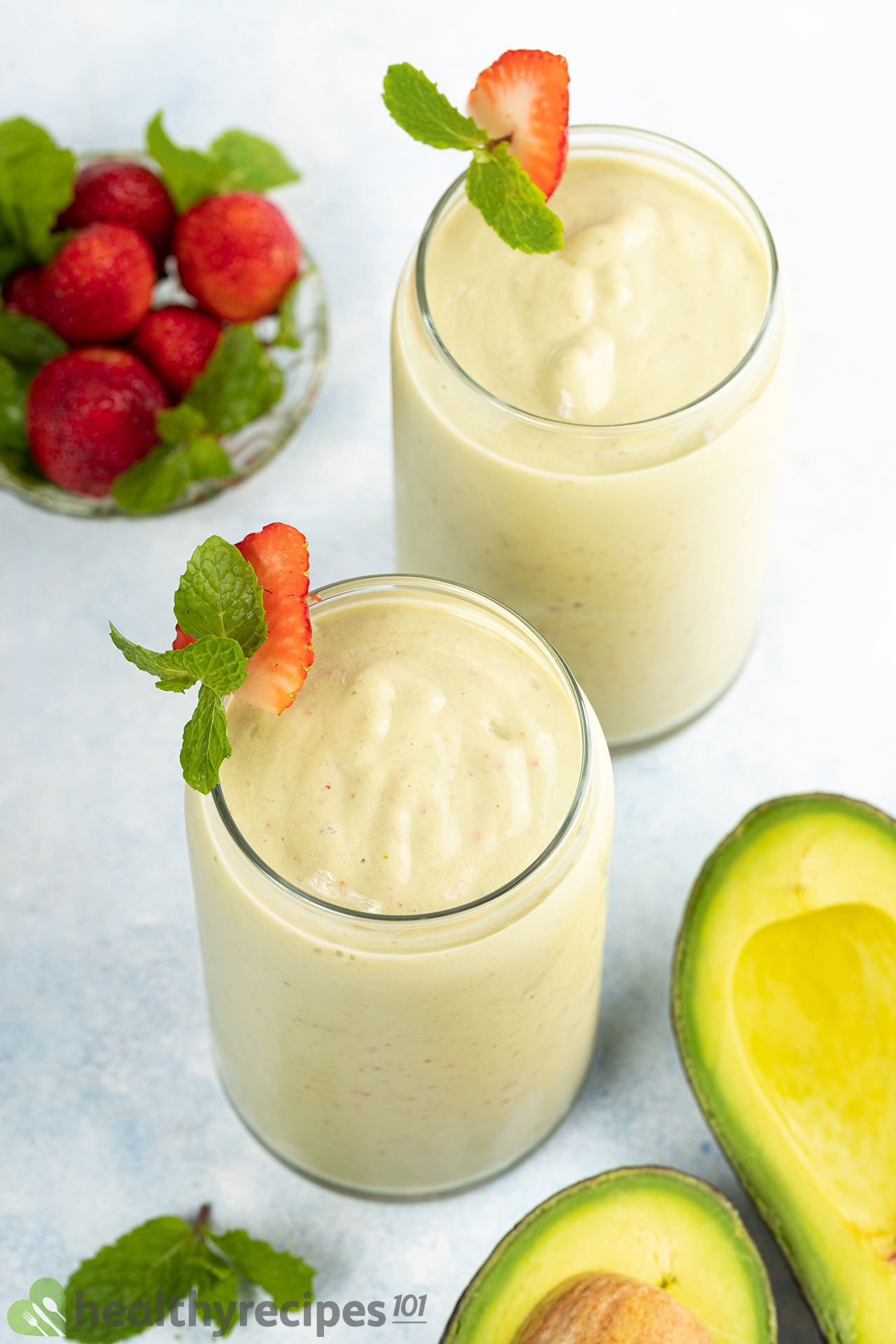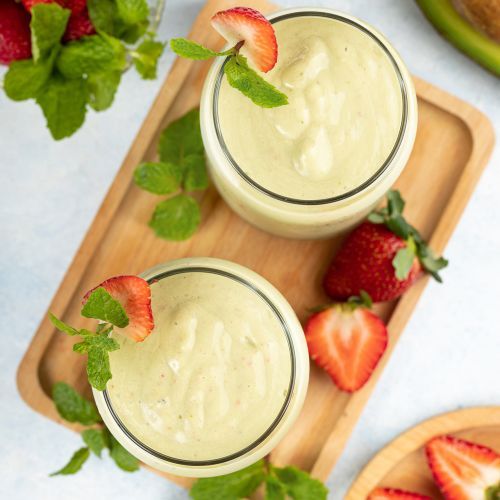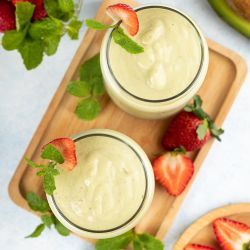 Strawberry Avocado Smoothie Recipe
If you've never tried this combo or found a good recipe for it, our strawberry avocado smoothie recipe is the perfect answer.
Ingredients
8

oz

strawberry

hulled

10

oz

avocado

skin and pit removed

2

cups

ice

1

cup

whole milk

1/4

cup

plain Greek yogurt

2

tbsp

honey

8

leaves

mint
Instructions
Place all ingredients in a blender, starting with the ice. Cover and blend until smooth.

Garnish with fresh mint leaves and pour into glasses..
Nutrition
Nutrition Facts
Strawberry Avocado Smoothie Recipe
Amount Per Serving (1 serving)
Calories 220
Calories from Fat 126
% Daily Value*
Fat 14g22%
Cholesterol 10mg3%
Sodium 45mg2%
Potassium 572mg16%
Carbohydrates 23g8%
Protein 4g8%
Vitamin A 115IU2%
Vitamin C 40mg48%
Calcium 98mg10%
Iron 1mg6%
* Percent Daily Values are based on a 2000 calorie diet.