This apple cinnamon smoothie recipe makes a delicious drink from simple ingredients. We especially love that it tastes similar to an apple pie.
Is Cinnamon Good in Smoothies?
Cinnamon is used in pies and desserts in general, so we see no reason to not add it to smoothies too. This apple smoothie, for instance, smells phenomenal with just a pinch, kind of like an apple pie.
Besides apples, cinnamon also goes well with pears, oranges, peaches, dates, and berries.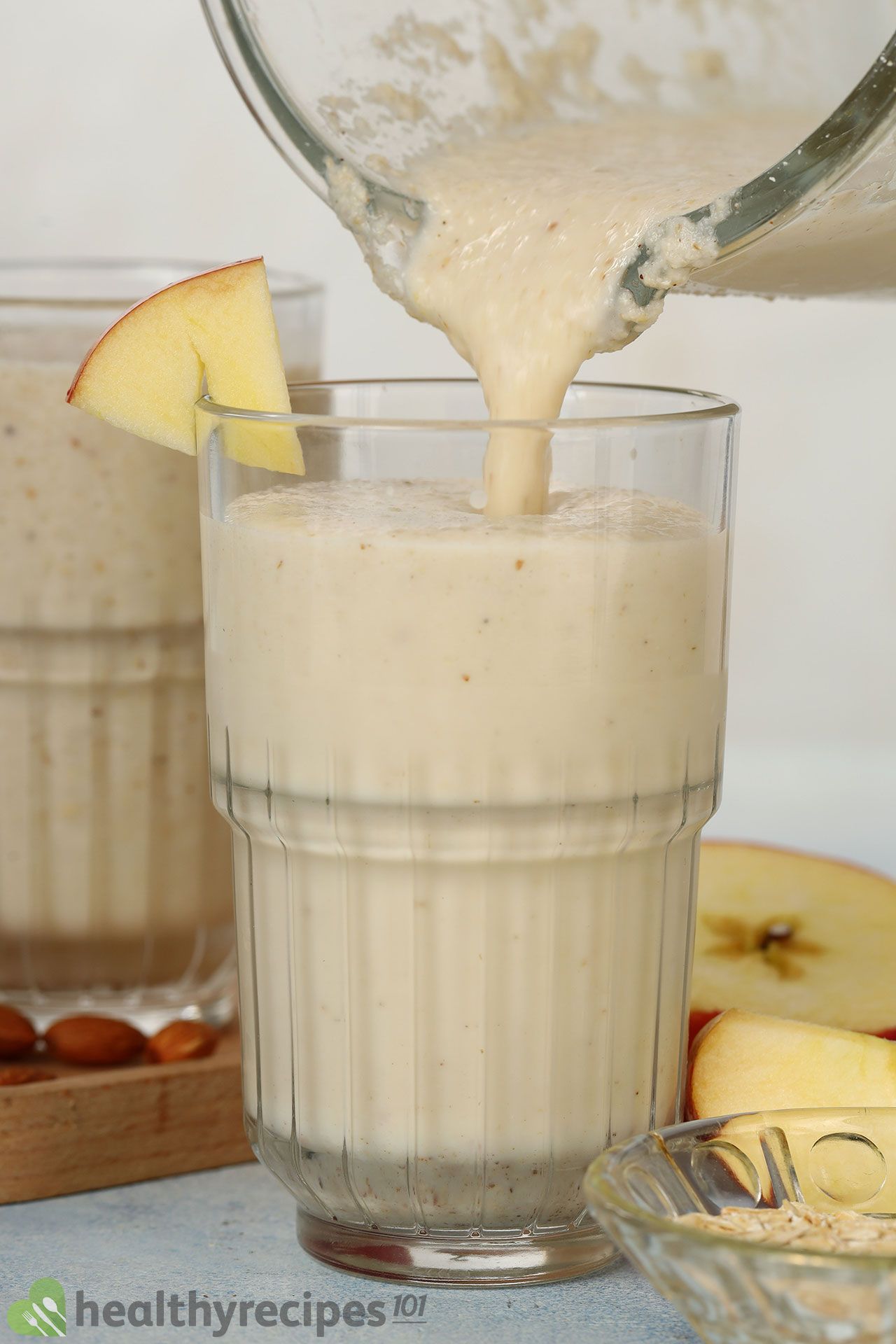 Is This Apple Cinnamon Smoothie Healthy?
Yes, our apple cinnamon smoothie is a blend of healthful ingredients.
For starters, apples have plenty of micronutrients such as vitamins C, E, B1, B6, copper, potassium, and many more. And though they only give you a little fiber, it's still beneficial for your gut health.
This smoothie also contains almonds, oats, and milk, which come with their own variety of nutrients. Almonds alone yield a significant amount of vitamin E and healthy monounsaturated fats.
In terms of sweetener, we're using only 2 tbsp of honey — the equivalent of 34 g added sugar. Each serving contains about 8.5 g, or 17% of the USDA's recommended upper limit (50 g) for a 2000-calorie diet.
If you follow our apple cinnamon smoothie recipe strictly, each glass will have 149 calories. When it comes to weight control, precise calorie management is a crucial factor.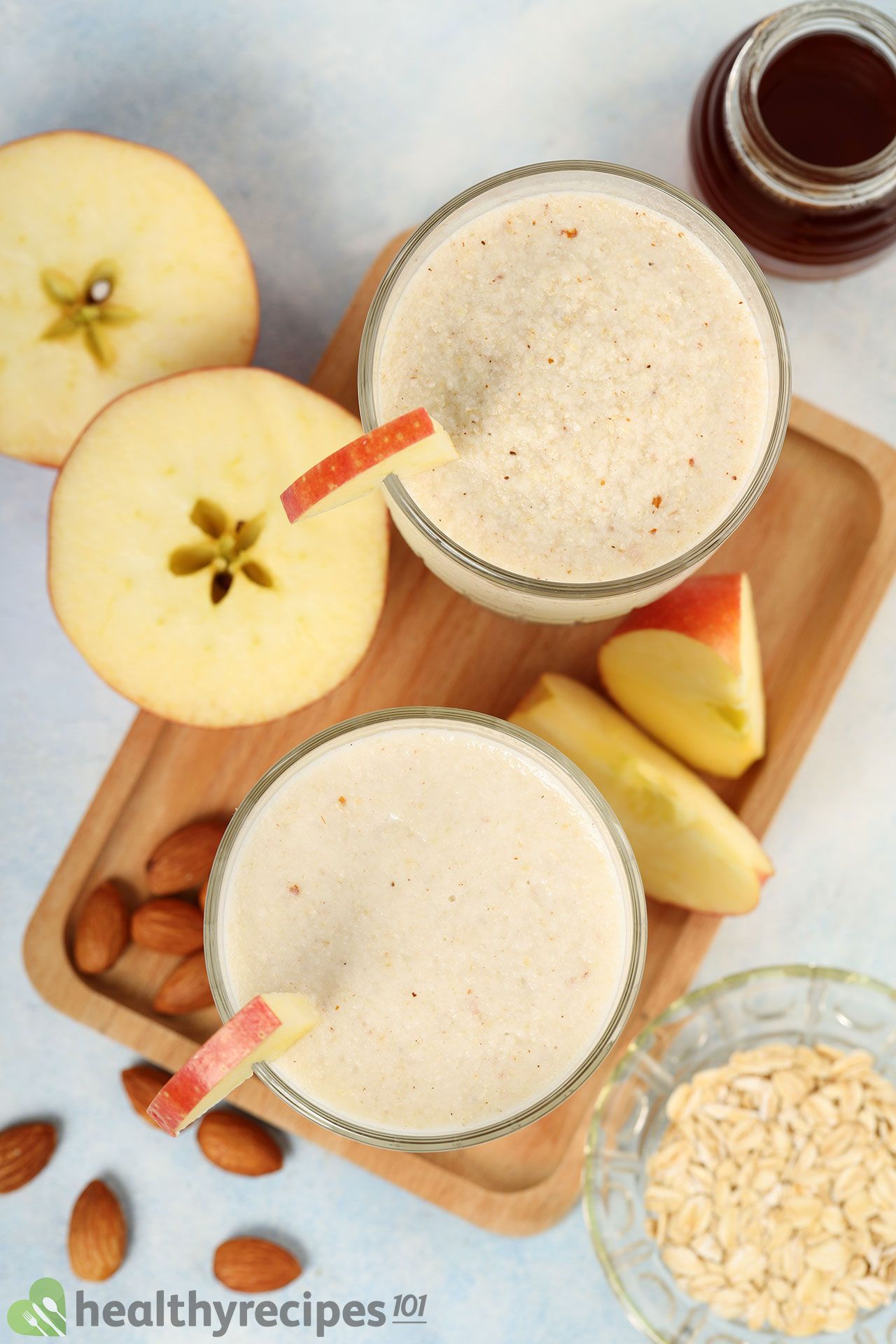 Ingredients for This Smoothie
Our apple cinnamon smoothie calls for red apples, cinnamon, vanilla extract, rolled oats, milk, honey, and ice.
We peel our apples before blending since the skin doesn't have a pleasant texture. Still, if you want to keep the skin, that's great too because it contains plenty of nutrients.
Also, we specifically go for red apples or ripe, sweet varieties because they taste sweeter. Soft apples like Fuji or Red Delicious are perfect options.
We tested two batches, one with plain rolled oats and one with rolled oats that we soaked overnight. The texture of the second batch was slightly thicker than the other, but overall we don't think soaking the oats is necessary.
If you love oats and often make oat milk yourself, it can be used for this apple cinnamon smoothie recipe. Otherwise, whole milk or other plant-based milk is fine too.
You can use either vanilla extract or vanilla seeds. We suggest using the exact because it's easier to measure and vanilla can be overwhelming when you add too much.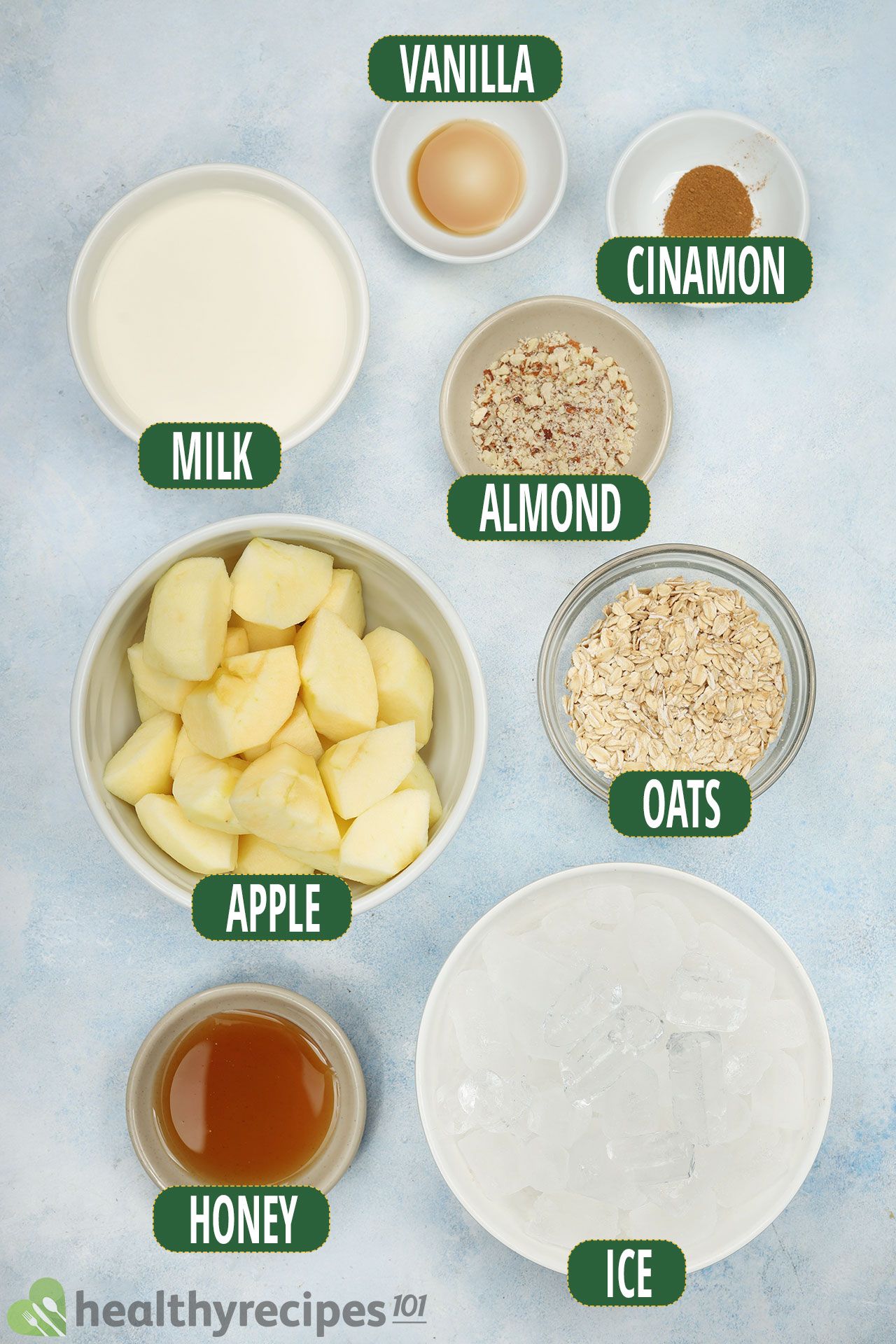 How to Make Apple Cinnamon Smoothie
Once the apple, cinnamon, vanilla, milk, honey, oats, and ice are all gathered:
Blitz the oats into a fine powder.
Add the other ingredients and blend until smooth.
Enjoy.
You can blend the almonds along with oats if you prefer a smoother texture. We love having almond chunks.
If your smoothie often turns out chunky, that's because your blender isn't powerful enough to handle hard ice. Soft ice, like ice nuggets, blends easily into fine particles. If you don't have soft ice, break yours into smaller pieces with a pestle and cheesecloth first.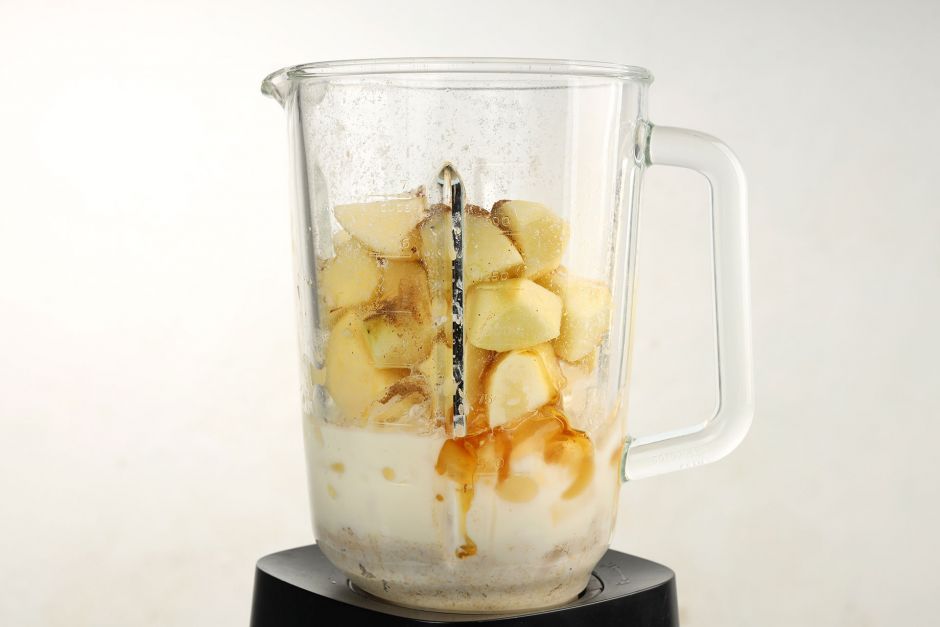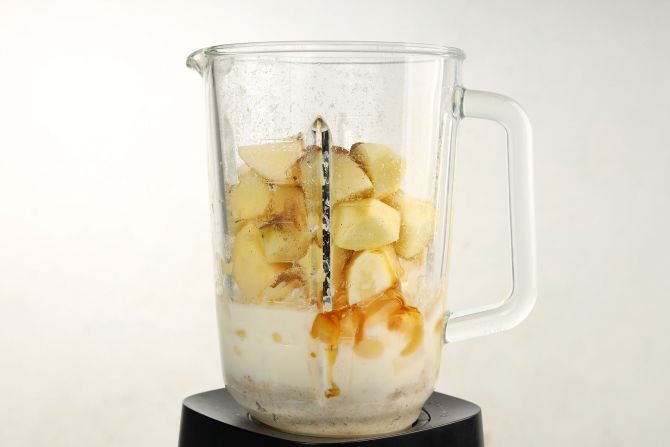 Blend ingredients.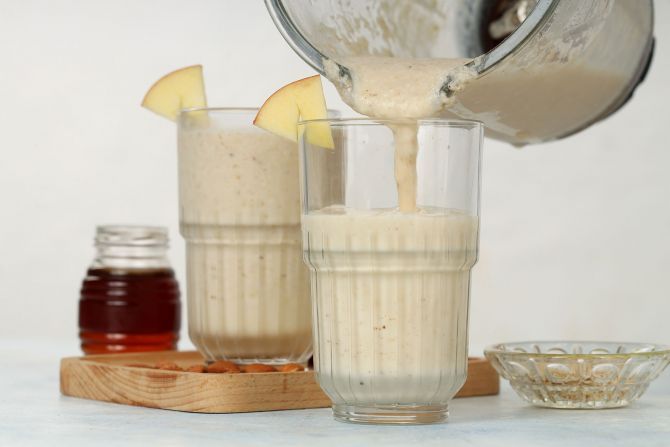 Pour into serving glasses.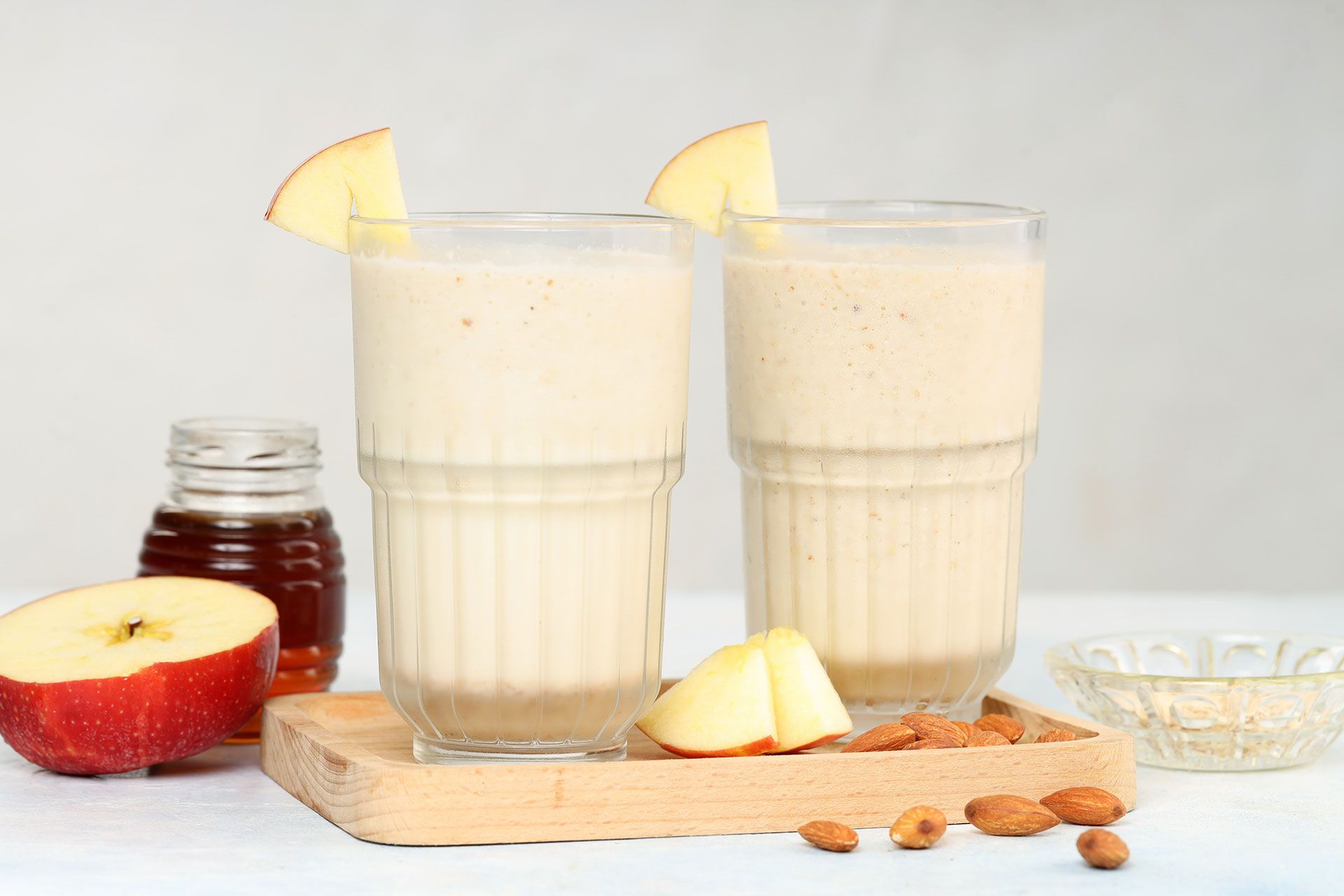 Garnish with apple triangles and serve immediately.
How Long Does Apple Cinnamon Smoothie Last?
Like most smoothies, this one should last about 2 days in the fridge or up to 3 months in the freezer. Still, we recommend drinking it all in one go, since the smoothie will get watery as it sits.
To store many servings of smoothie for longer, we suggest that you try this method:
First, blend all of the ingredients except for the ice. You'll create a concentrated fruit purée.
Divide this purée into small Ziploc bags, seal them, and stack them in the freezer. Date them so you'll know when they expire.
Whenever you want a glass of smoothie, simply take out one portion and blend it with ice. The bag can even be cleaned and reused for the next batch.
We call these frozen bags or fruit purée 'versatile popsicles'. You can eat them as-is or place them into a bowl with nuts, and bananas to make a delicious fruit bowl.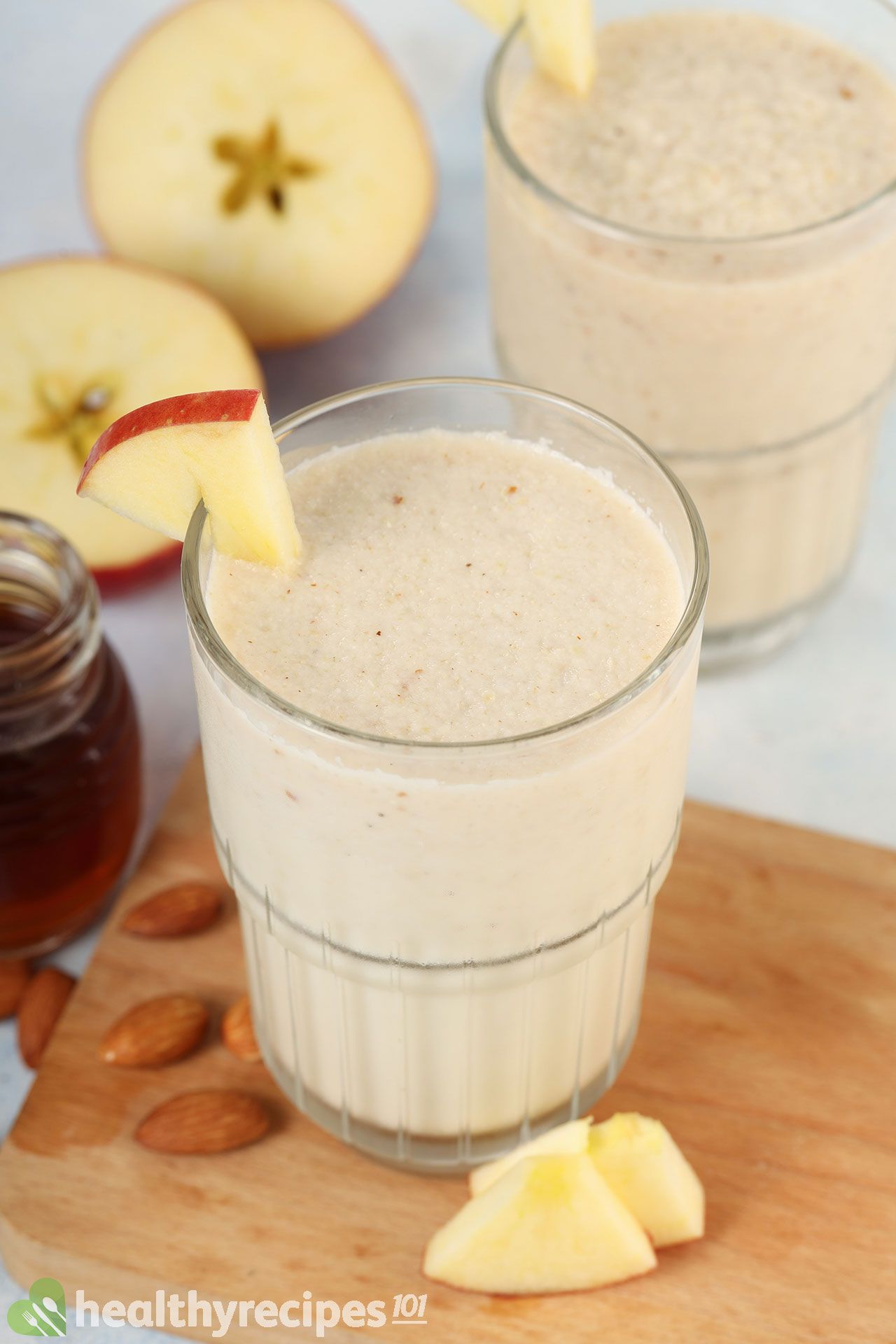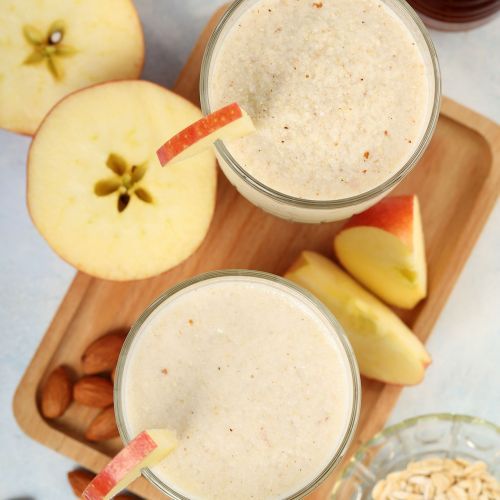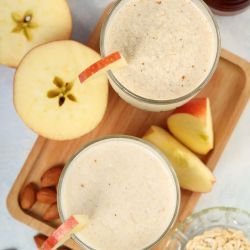 Apple Cinnamon Smoothie Recipe
This apple cinnamon smoothie recipe calls for only 7 ingredients and turns out an awesome drink. It tastes like an apple pie!
Ingredients
1/2

cup

old-fashioned rolled oats

12

oz

red apples

peeled

2

cups

ice

1

cup

whole milk

2

tbsp

honey

0.5

oz

almond

crushed

1/4

tsp

cinnamon

1/4

tsp

vanilla extract
Instructions
Add 1/2 cup rolled oats to the blender and pulse several times until they are reduced to fine crumbs. Add ice and the rest of the ingredients. Cover and blend until smooth.

Pour into serving glasses.

Garnish with apple triangles and serve immediately.
Nutrition
Nutrition Facts
Apple Cinnamon Smoothie Recipe
Amount Per Serving (1 serving)
Calories 169
Calories from Fat 45
% Daily Value*
Fat 5g8%
Cholesterol 7mg2%
Sodium 30mg1%
Potassium 252mg7%
Carbohydrates 31g10%
Protein 4g8%
Vitamin A 145IU3%
Vitamin C 4mg5%
Calcium 100mg10%
Iron 1mg6%
* Percent Daily Values are based on a 2000 calorie diet.