When it comes to avocado, the possibilities are endless. You can transform it into a dreamy dessert, a cooling beverage, or use it as the main ingredient for various dishes.
One of the most popular ways is probably to smash it into a creamy dip, often known as guacamole. However, with all the amazing culinary potential that avocado has, there are so many other ways to create and enjoy avocado dip. For all the different ingredient combinations and ideas, check out our list of avocado dip recipes.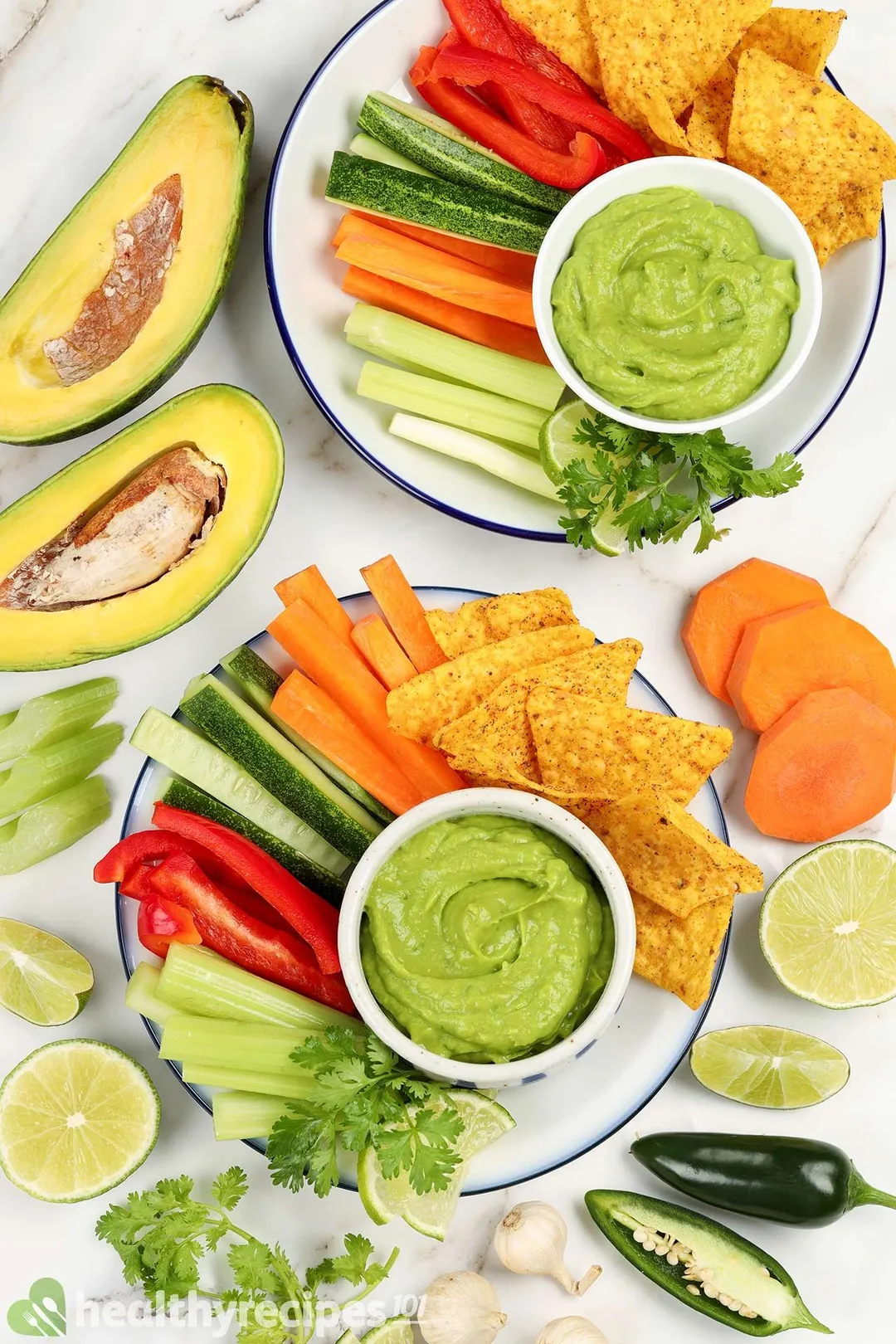 Why You'll Love These Avocado Dip Recipes
It normally takes no more than 15 minutes to assemble and whip up a creamy avocado dip. Not to mention how little effort it takes, requiring nothing more than a simple blend of ingredients.
Various Ways to Get Experimental
When you think of an avocado dip, your mind might immediately go to guacamole, but this fruit has so much more potential than that. The avocado's delicate sweetness is a perfect pairing for a wide variety of foods, giving you endless options to try out every time you fancy this dip.
Avocados come with a myriad of essential nutrients, such as fiber, folate, beta carotene, vitamins C, A, and E, and minerals like potassium, magnesium, phosphorus, and many more. Having this fruit in your diet could bring you potential health benefits like improving the digestive system, reducing the risk of heart disease, and leveling out your blood pressure.
Check Out Our Most Popular Avocado Dip Recipes
1 of 2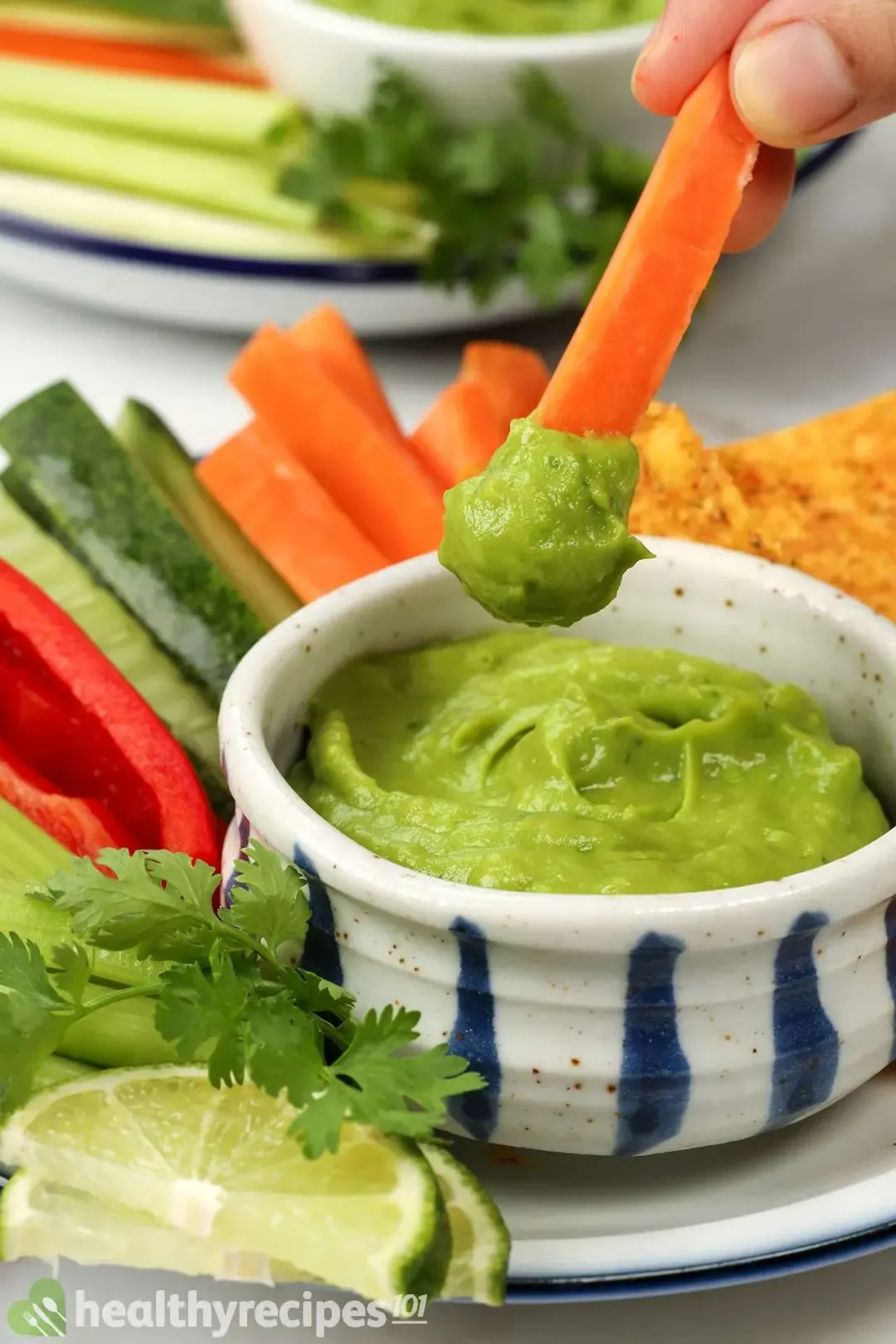 1 of 2
Avocado Dip Recipe
Our creamy avocado dip recipe makes a smoother, tangier version of classic guacamole. The dip is delicious served with vegetables.
Get the
recipe
.
2 of 2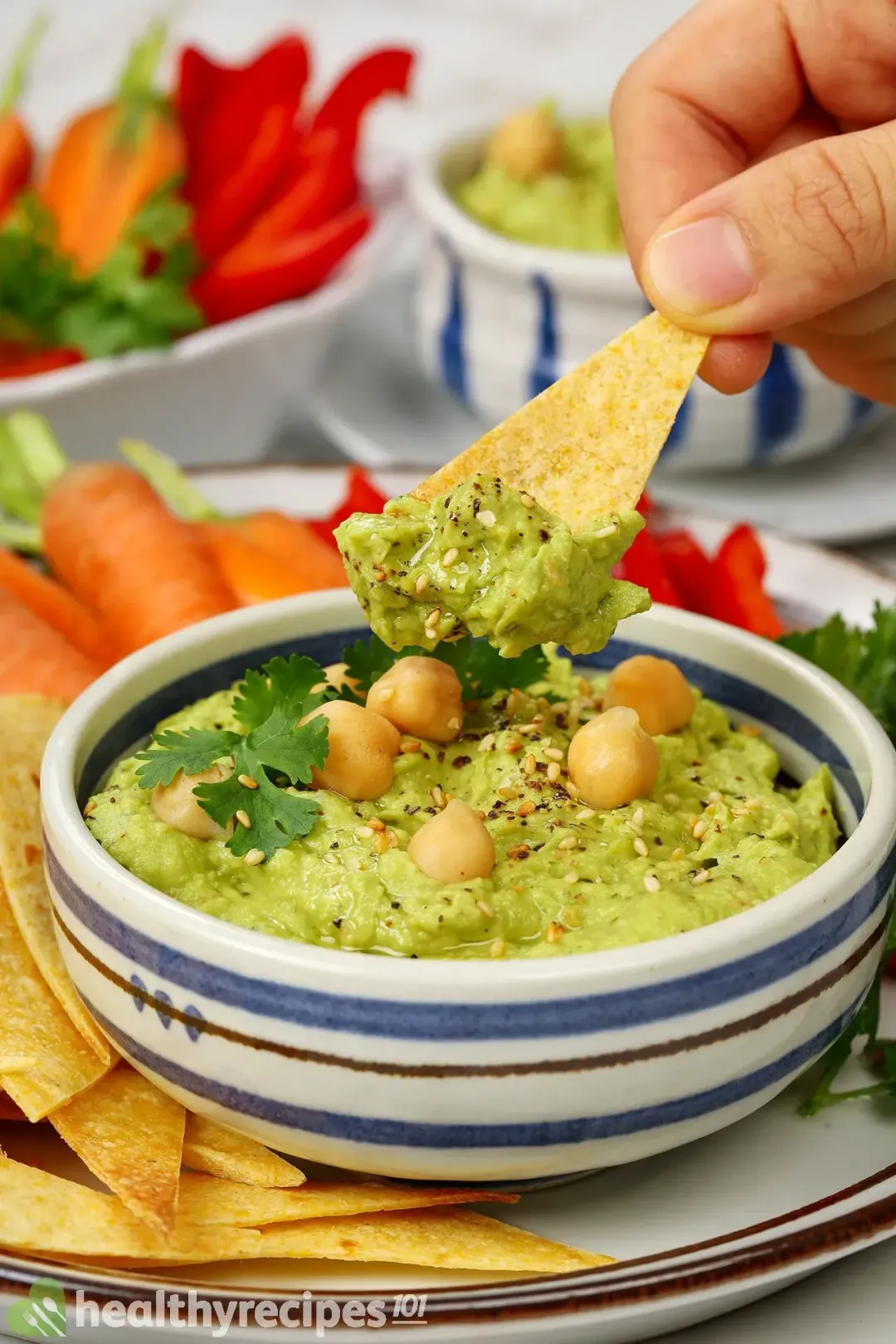 1 of 2
Avocado Hummus Recipe
This avocado hummus recipe is a delightful treat that you can whip up in no time at all. Its nutritious ingredients and flavorful spices will keep you coming back for more.
Get the
recipe
.
Whether you're making a quick on-the-go breakfast, trying out some new toasts for brunch, or scraping together a last-minute appetizer, a creamy and flavorful avocado dip is always a good choice. Give these avocado dip recipes a try to add a few new staples to your personal cookbook.
What Can I Mix Avocado With?
As mentioned above, avocado is wildly versatile, so it's no surprise there's a long list of ingredients that you can pair it with. Here are a few categories to consider if you plan on experimenting a little with this miraculous fruit:
The avocado goes incredibly well with tropical and citrusy fruits like grapefruit, mango, pineapple, lime, pomelo, kiwi, etc. Their sweet-sour flavor profile and vibrant aroma go incredibly well with the avocado's subtle sweetness, creating a harmonious mixture of elegant flavors.
As for vegetables, leafy greens with a grassy and earthy flair tend to match the avocado's nutty undertone quite nicely. Spinach, kale, arugula, and celery are some common examples. Fresh produce with a pronounced taste like tomatoes, bell peppers, garlic, artichoke, carrots, and more would also work.
With its nutty and woodsy notes, the avocado lays a perfect base for various types of nuts and legumes to be mixed in. To keep the flavor profile consistent, you can go for varieties that also carry a mild sweetness like red beans, black beans, chickpeas, hazelnut, nutmeg, peanuts, almond, pistachio, and cashew.
You can pretty much pair avocado with almost any type of protein, from mild-flavored ones like chicken, salmon, crab, and shrimp to more savory choices like turkey, beef, and bacon.
As for dairy products, blue cheese and avocado is a very popular pairing that's often seen in many dips and toasts. Additionally, you can also opt for feta cheese, goat cheese, mozzarella, cheddar, sour cream, and Greek yogurt for a sweet and tangy flavor combination, enhanced by an enriched creamy texture.
Different Ways to Eat Avocado Dip
Despite the name, there's more than one way for you to enjoy a creamy bowl of avocado dip. Here are a few of our suggestions:
Whip up an avocado dip and serve it alongside a rainbow assortment of cucumbers, carrots, celery, bell peppers, apples, pear, etc. for a quick and healthy snack to munch on or serve as an appetizer at your next party.
If you want something a little more traditional and true to the dipping spirit, go for tortilla chips, pretzels, crackers, or biscuits. Any of these make a classic finger food that will steal the show at almost any meal.
Switch out the typical mayo and ketchup for a spread of avocado dip on your sandwiches, hot dogs, and burgers. You'll be blown away by the creamy richness and marvelously soft sweetness that immediately gives the dish a refreshing new taste.
A slice of juicy and grill-marked steak glazed with vibrant green avocado dip is sure to make an unforgettable first impression. Offering more than just an appealing appearance, the dip infuses the meat with a softly nutty and buttery flavor that perfectly balances out its smoked-out taste.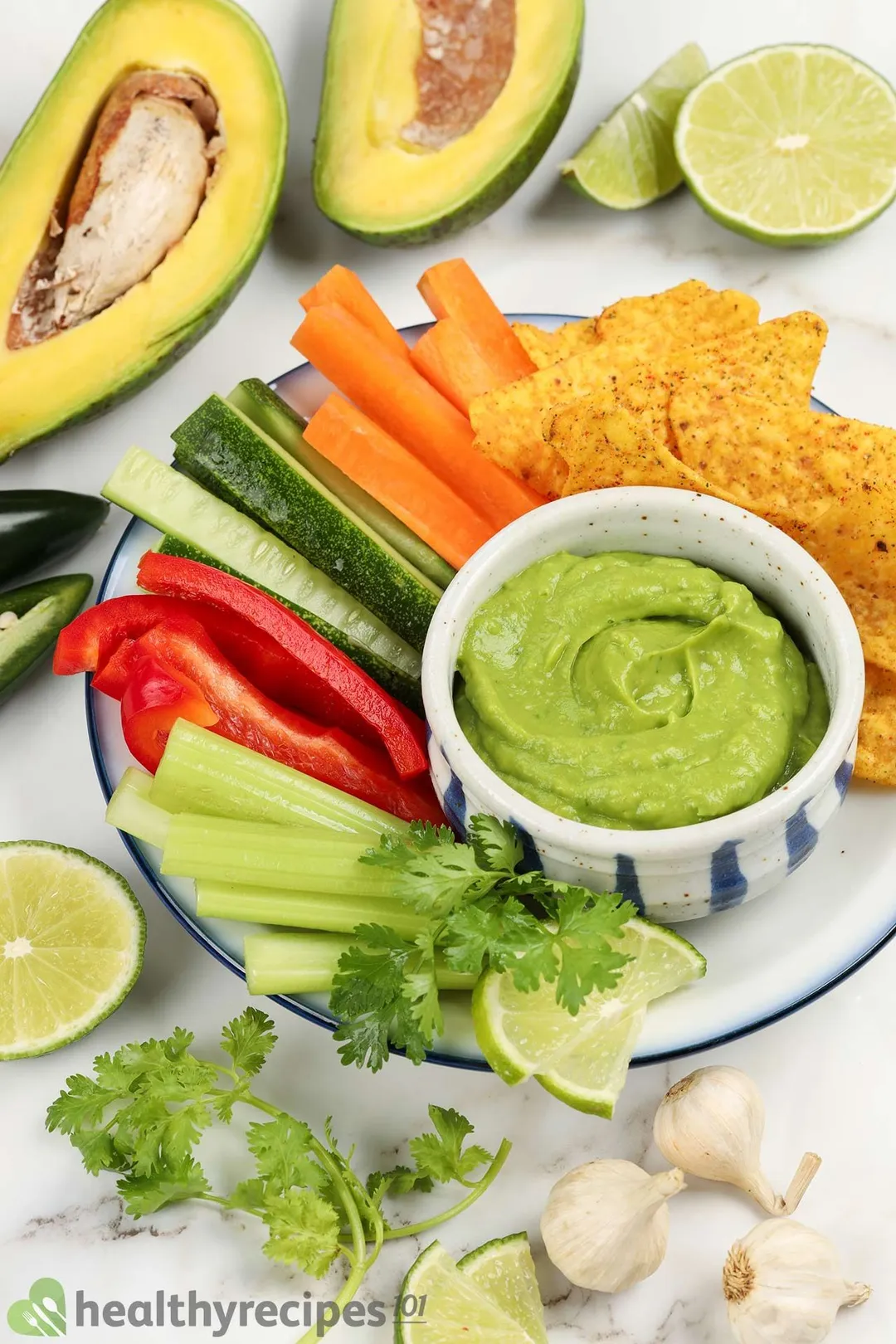 Avocado Dip Recipes
Explore all the different ways to enjoy avocados with these avocado dip recipes that you can put together in a blink of an eye.
Ingredients
Directions
Choose a recipe that you like.
Assemble all the essential ingredients.
Follow the instructions and create a delicious avocado dip recipe in less than 20 minutes!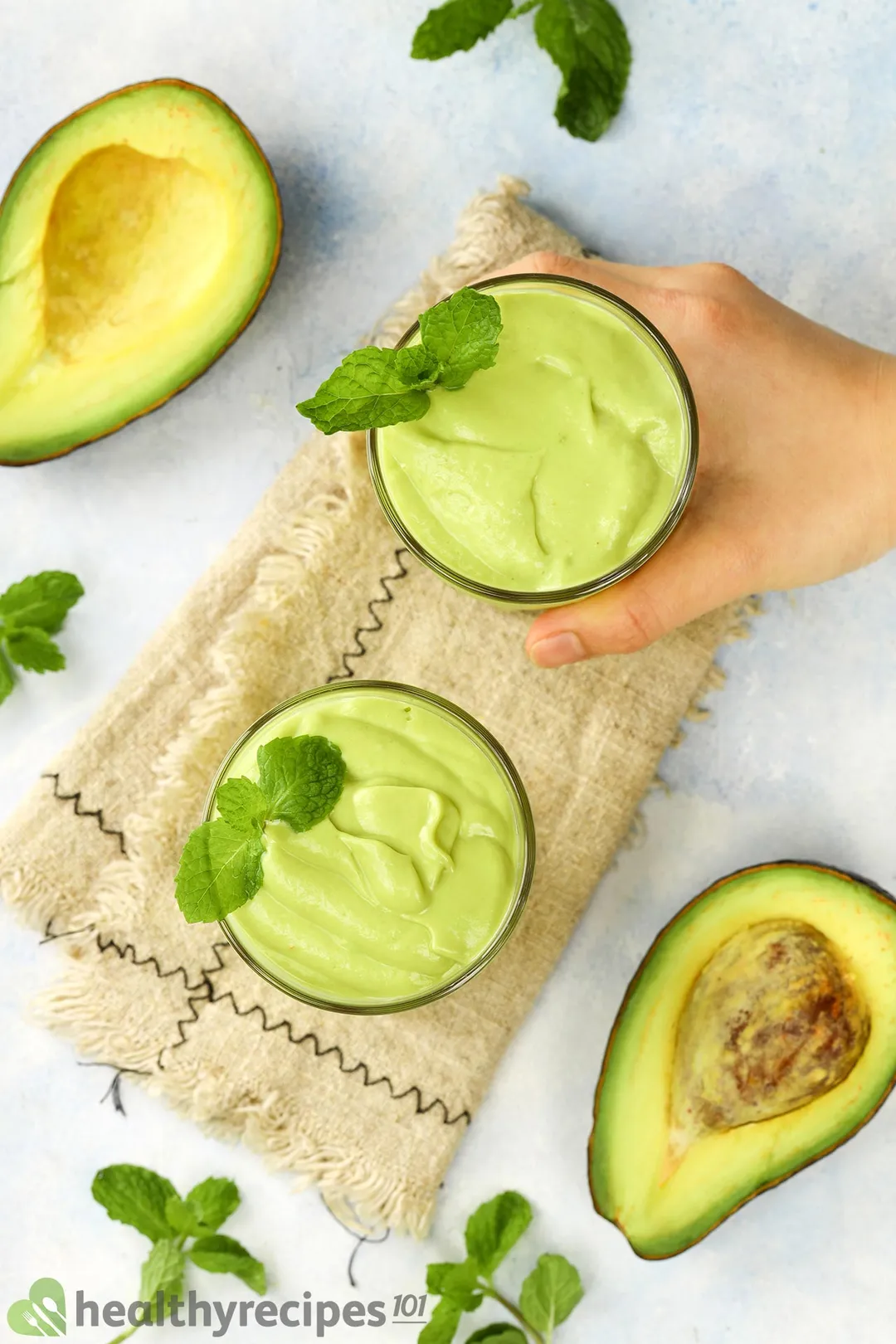 Next Recipe
Avocado Smoothie Recipes
Avocado Smoothie Recipes
Writer, Author
Luna Regina is an accomplished writer and author who dedicates her career to empowering home cooks and making cooking effortless for everyone. She is the founder of HealthyKitchen101.com and HealthyRecipes101.com, where she works with her team to develop easy, nutritious recipes and help aspiring cooks choose the right kitchen appliances.
Comments/ Reviews