This avocado hummus recipe creates a delightful treat that you can put together in a flash. The use of avocado and chickpeas make this dip an exciting and guilt-free healthy snack that you'll just keep coming back to.
Is Avocado Hummus Healthy?
This delectable dip is not only delicious but also incredibly healthy. The two main ingredients are chickpeas and avocados, which are both known to be full of nutrients and health-promoting properties. 
Chickpeas are a rich source of fiber, antioxidants, vitamins, and plant-based proteins. Consuming a moderate amount of this legume in your diet may help to manage your appetite, lower blood sugars, aid in weight management, and improve your gut health. 
Avocados are known to contain a high level of monounsaturated fat which could help manage blood sugars and lower cholesterol. Additionally, they have the potential to improve your digestive system thanks to their abundance of gut-healthy fiber. 
But that's not all, this dip's health benefits go beyond the two key foods mentioned above. All of the ingredients work together to help strengthen the immune system, reduce risk of disease, and aid in weight loss. It's an all-round great choice for those with food intolerances or allergies because it's naturally free of gluten, nuts, and dairy.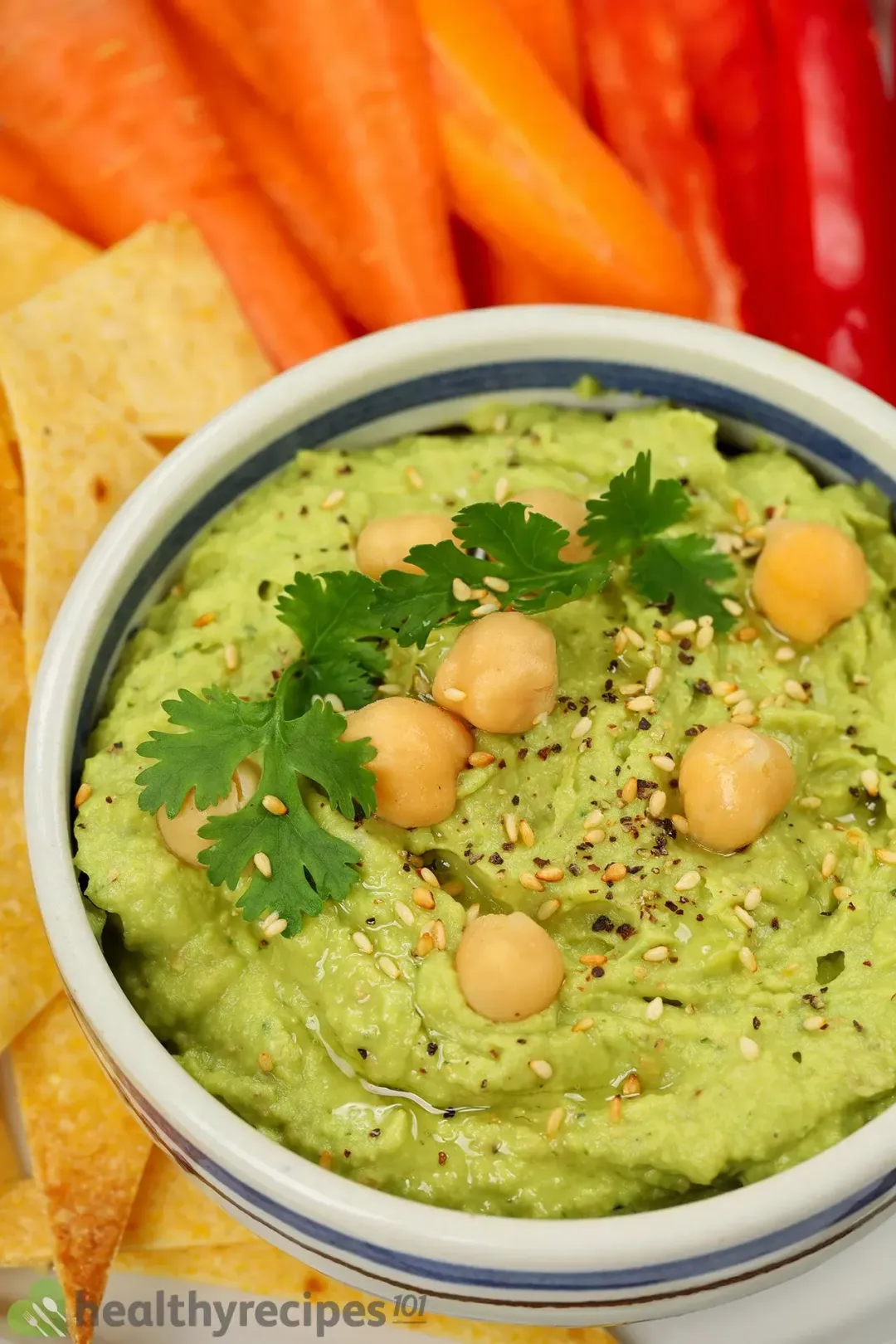 Ingredients You Will Need
To put together this avocado hummus, you will only need a handful of essential ingredients: 
Canned chickpeas: These are also known as pre-cooked chickpeas and are available at most supermarkets and grocery stores. Make sure you drain and rinse them with water to cut down on the sodium content. 
Avocados: To achieve the creamiest and smoothest texture, remember to use ripe avocados. They usually carry a buttery and slightly sweet taste that complements the other ingredients marvelously. 
Tahini sauce: This tangy Middle Eastern sauce with a nutty undertone enriches any dish it is added to, and hummus is no exception. You can make some yourself using a few kitchen staples or purchase a jar at your local food store. 
Seasonings: As chickpeas and avocados are both mild-flavored, you can play around with some aromatic spices and herbs to bring a little more excitement. Pepper, garlic, coriander, cumin, salt, and lime juice are commonly used to bring out that zesty and savory taste. 
Olive oil: The secret to the smoothness of your hummus lies in the use of olive oil. A teaspoon should be enough to keep the texture as effortlessly creamy as you'd like. 
6-inch corn tortillas: Turn them into delicious snacks by cutting them into triangle pieces and frying them in an air fryer. They make an excellent companion for this savory and filling hummus dish. 
Vegetables: Crunchy vegetables are the most healthy option for accompanying this divine dip. You can pick out anything you like, but our top picks are red bell peppers and baby carrots.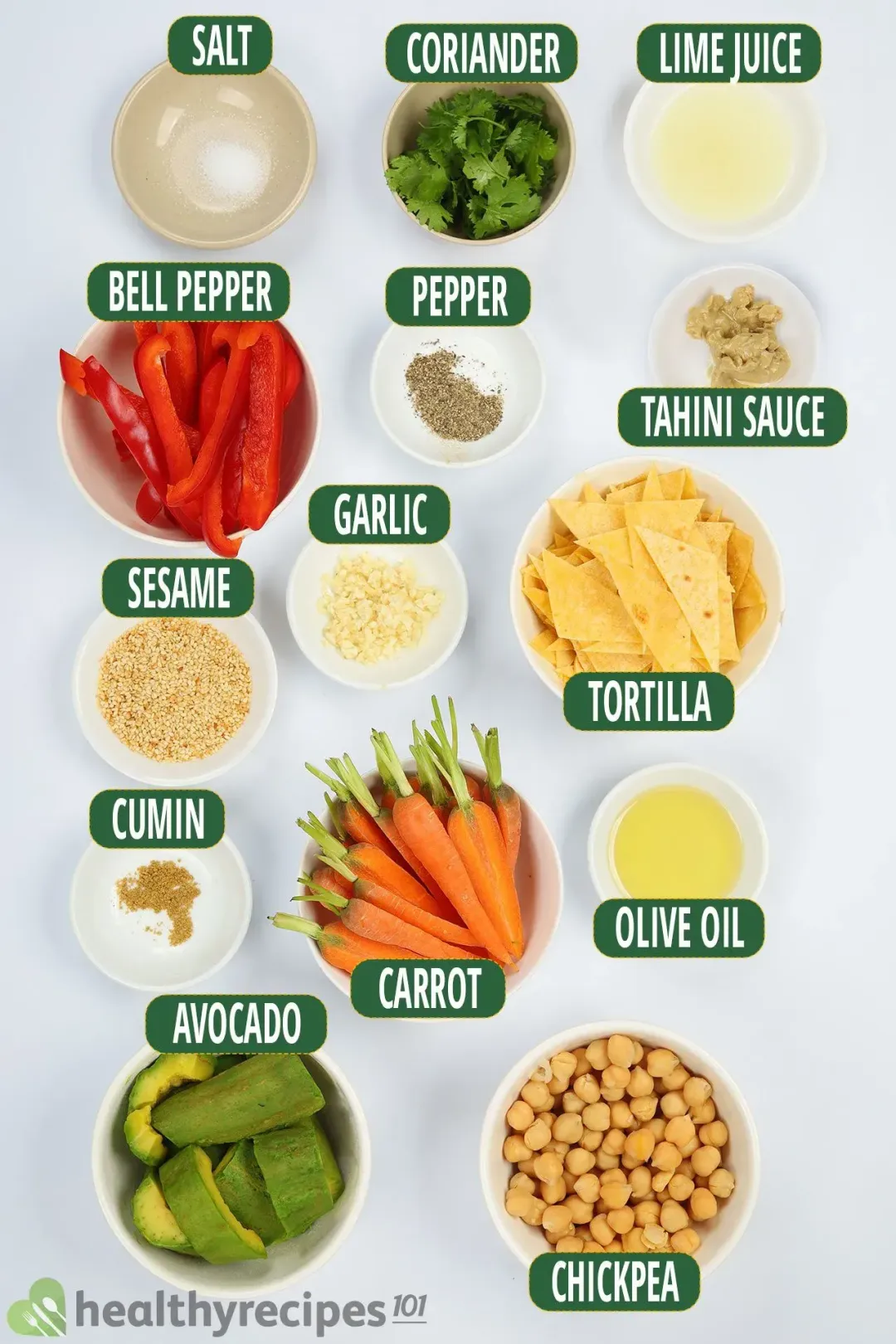 How to Pick a Good Avocado 
Avocados can be quite fickle and unpredictable, which is why it is essential to know the important tips to pick out a really good one that won't spoil easily. The most defining feature of this fruit is its exterior. The ripe ones usually have a rich and dark green or purple shade while unripe avocados will be wholly green. Those with bruises or breaks in the skin are likely to be overripe. 
Hold the fruit in your palm and squeeze gently to test out its softness. If it yields easily to the pressure, that means it's ready to eat while harder ones might take a few more days. Don't press too hard or you might risk bruising the fruit and making it mushy. 
How to Make Avocado Hummus
For your convenience, here's a quick summary of how to quickly whip up some deliciously creamy avocado hummus: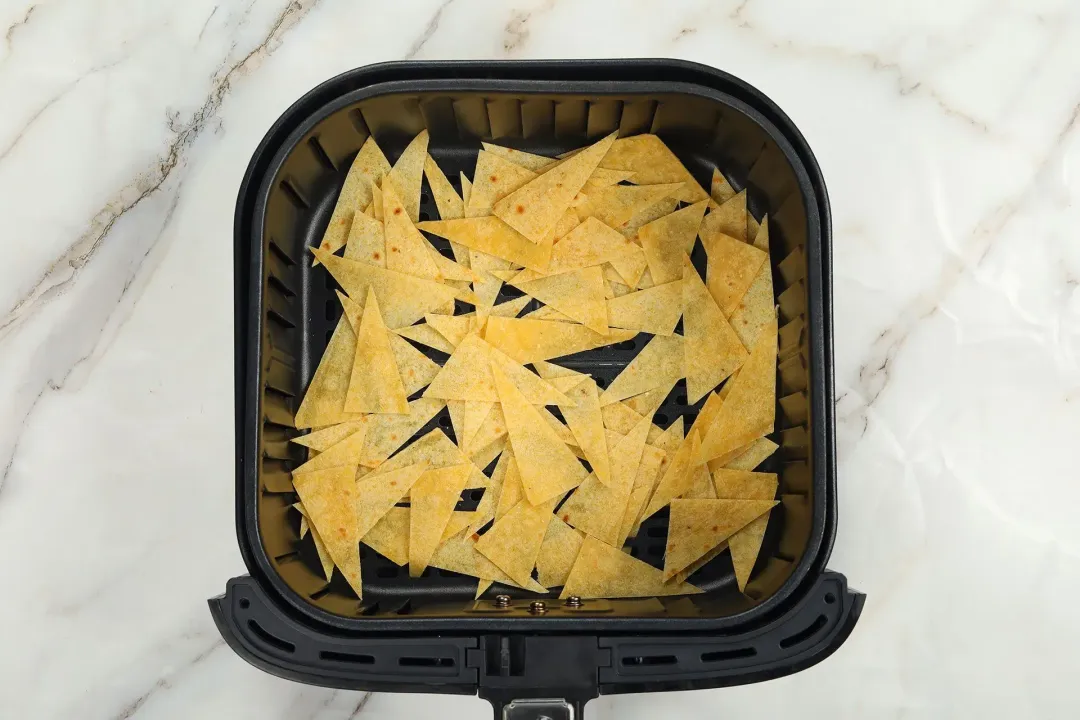 Air fry the tortillas.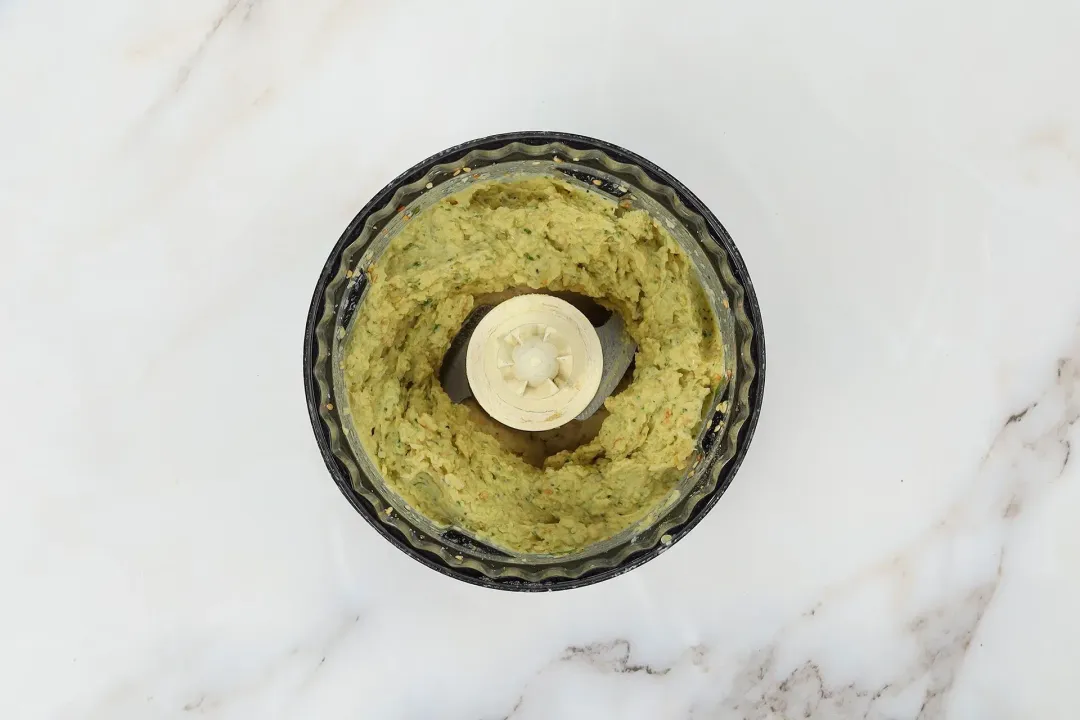 Blend the ingredients.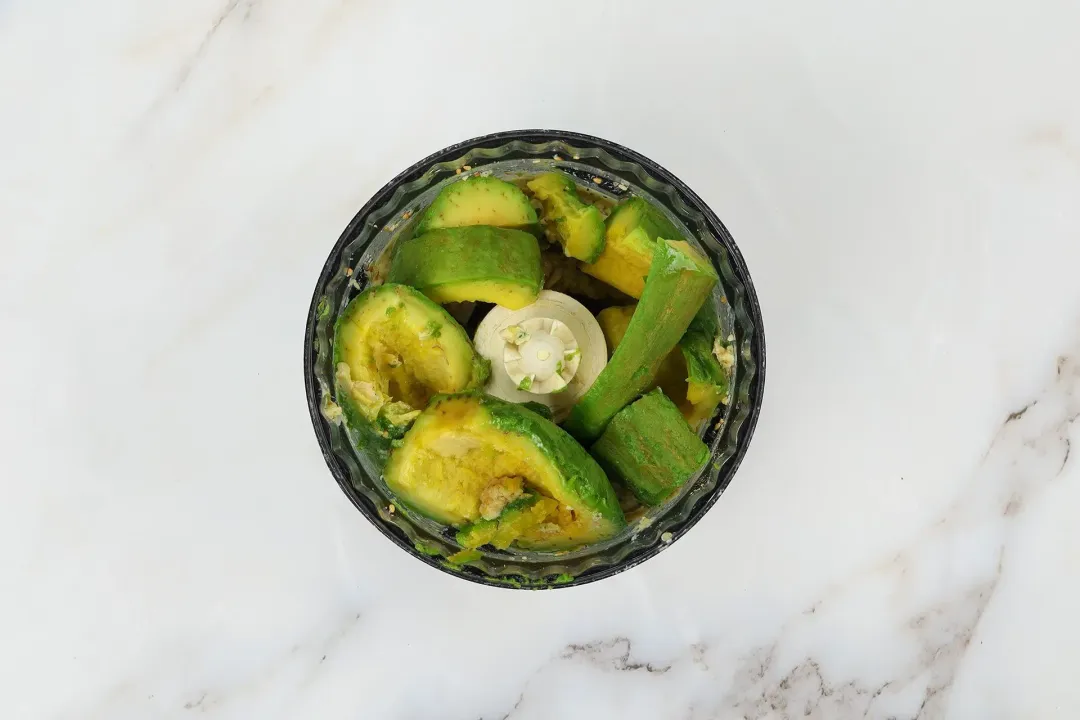 Add the avocado.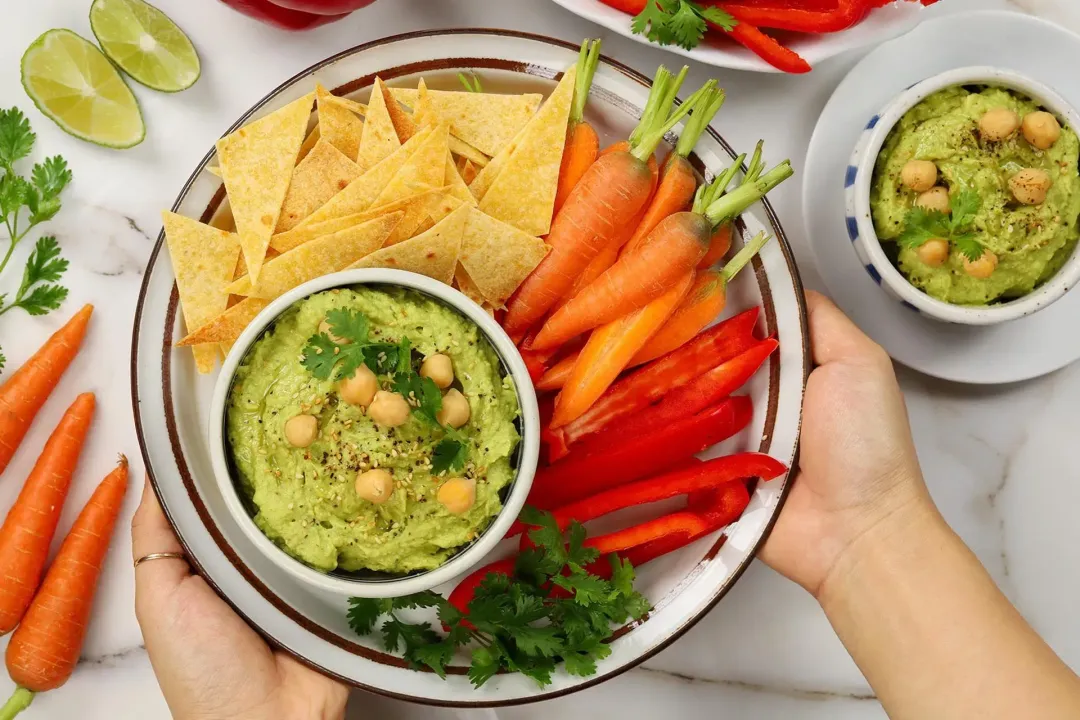 Garnish and serve.
What Do You Eat With Avocado Hummus?
Avocado hummus is astonishingly diverse and easy to serve. No matter what you like, there's guaranteed to be a way to eat this dip that you will absolutely adore:
Dip: The most common way to eat hummus is as a dip, usually with tortilla chips, pita chips, or various types of veggies for a healthier snack alternative. 
Spread: Slather avocado hummus over bread-based meals such as sandwiches, burgers, toasts, pita bread, and more, to add a little twist to your breakfasts and lunches.
Dressing & sauce: Avocado hummus is also a quick way to instantly transform your regular meals such as salad or pasta, bringing a more nutty taste and smooth texture. 
Side dish: Avocado hummus's delicate taste makes it the perfect side dish for more savory and intensely flavored mains. If you're looking for suggestions, our Baked Chicken Breast or Grilled Shrimp are marvelous choices.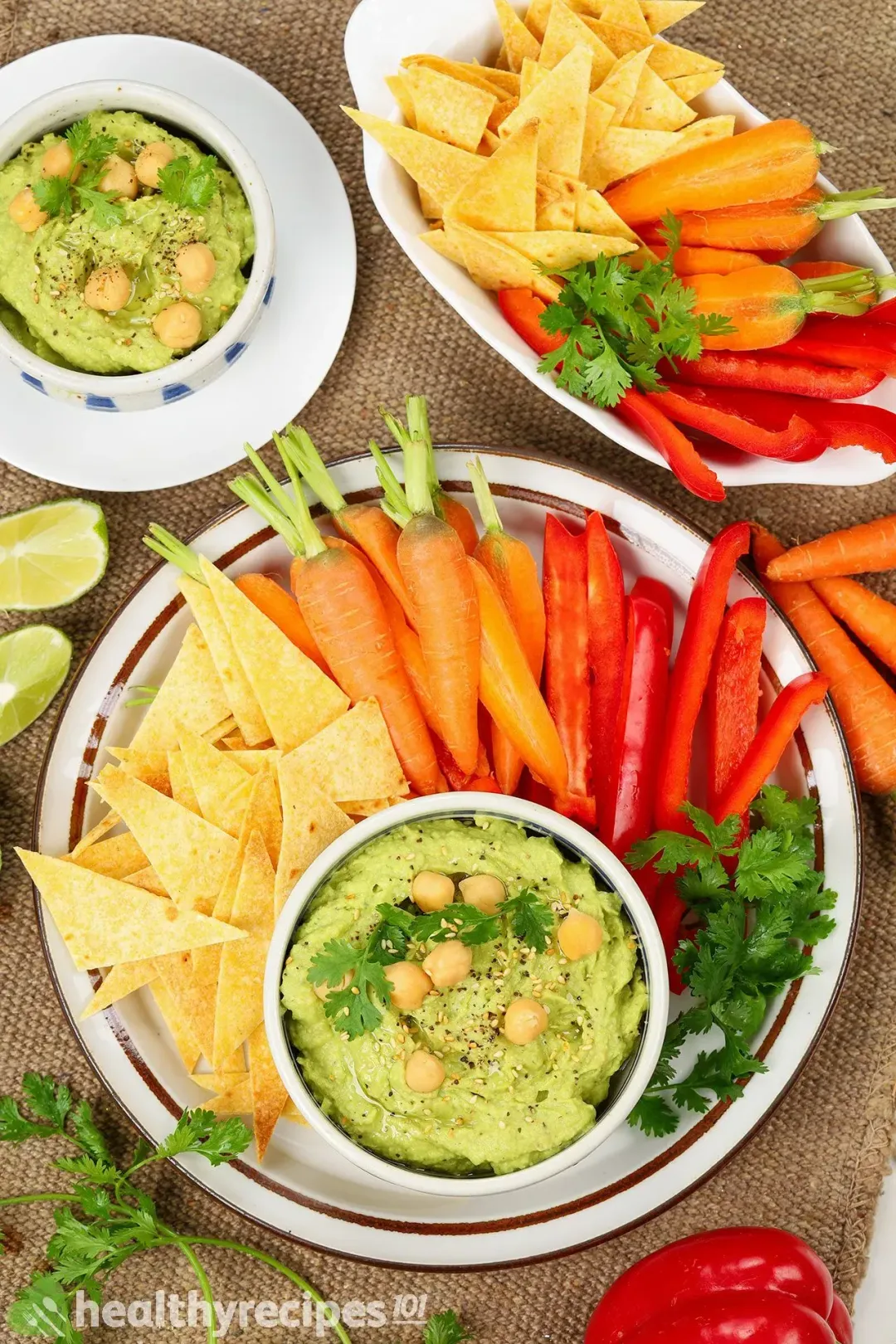 How to Store Leftovers
Avocado hummus tastes best when eaten immediately after being made, however, if you have any leftovers, you can refrigerate them for up to 3 days. Make sure you directly cover the entire surface with plastic wrap to minimize oxidation, then keep it in an airtight container.
Does Avocado Hummus Turn Brown?
Since avocado is the main ingredient, there's a possibility that your hummus will turn brown if it's exposed to air for too long. To prevent this, there are two steps you can take:
Add a little bit of extra lime juice to both brighten the taste and preserve the vibrant green a while longer.
Minimize air exposure with proper storage, and keep it in an airtight container, before which press a plastic wrap directly on the surface of the dip.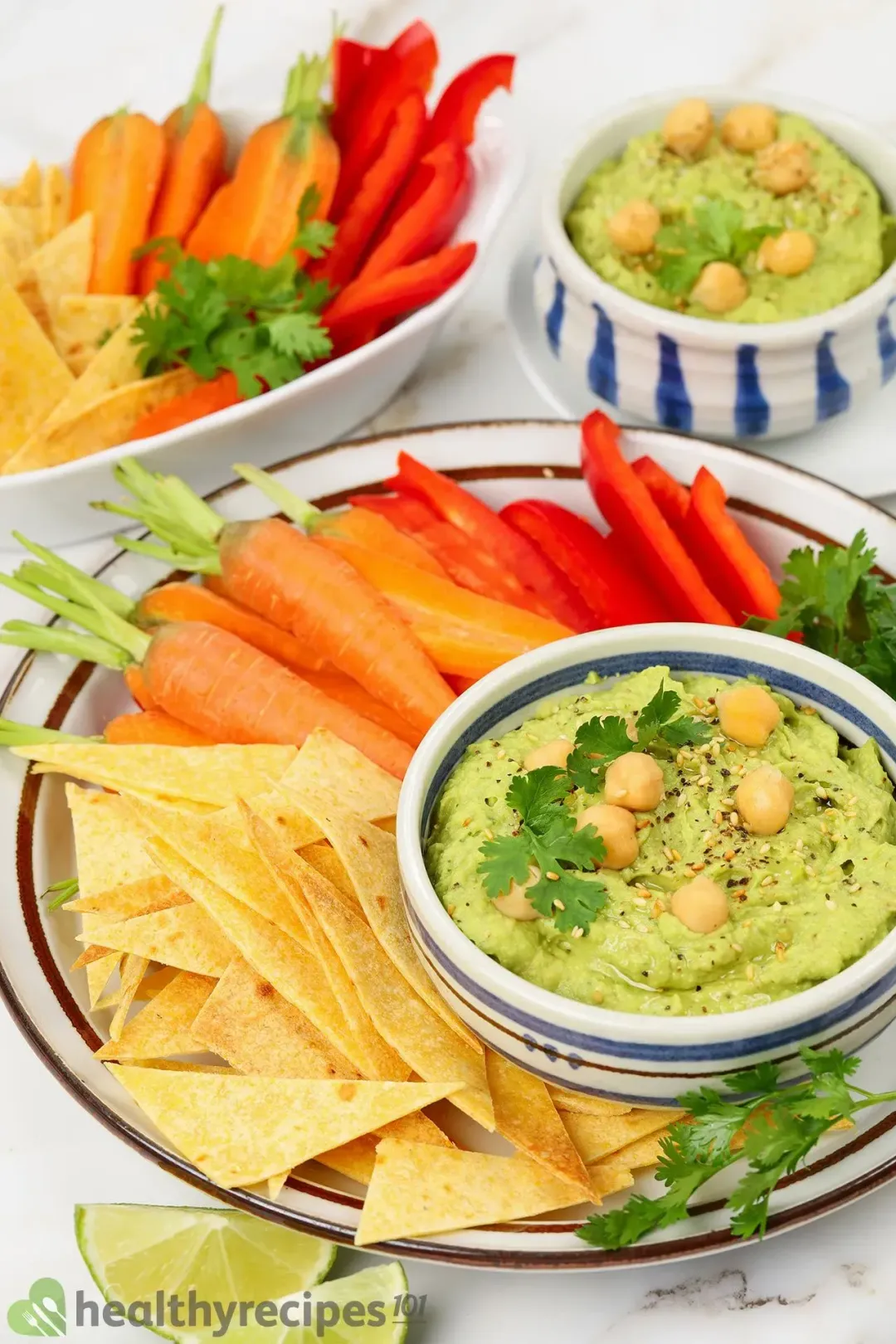 Avocado Hummus Recipe
This avocado hummus recipe is a delightful treat that you can whip up in no time at all, using nutritious ingredients and flavorful spices that will keep you coming back for more.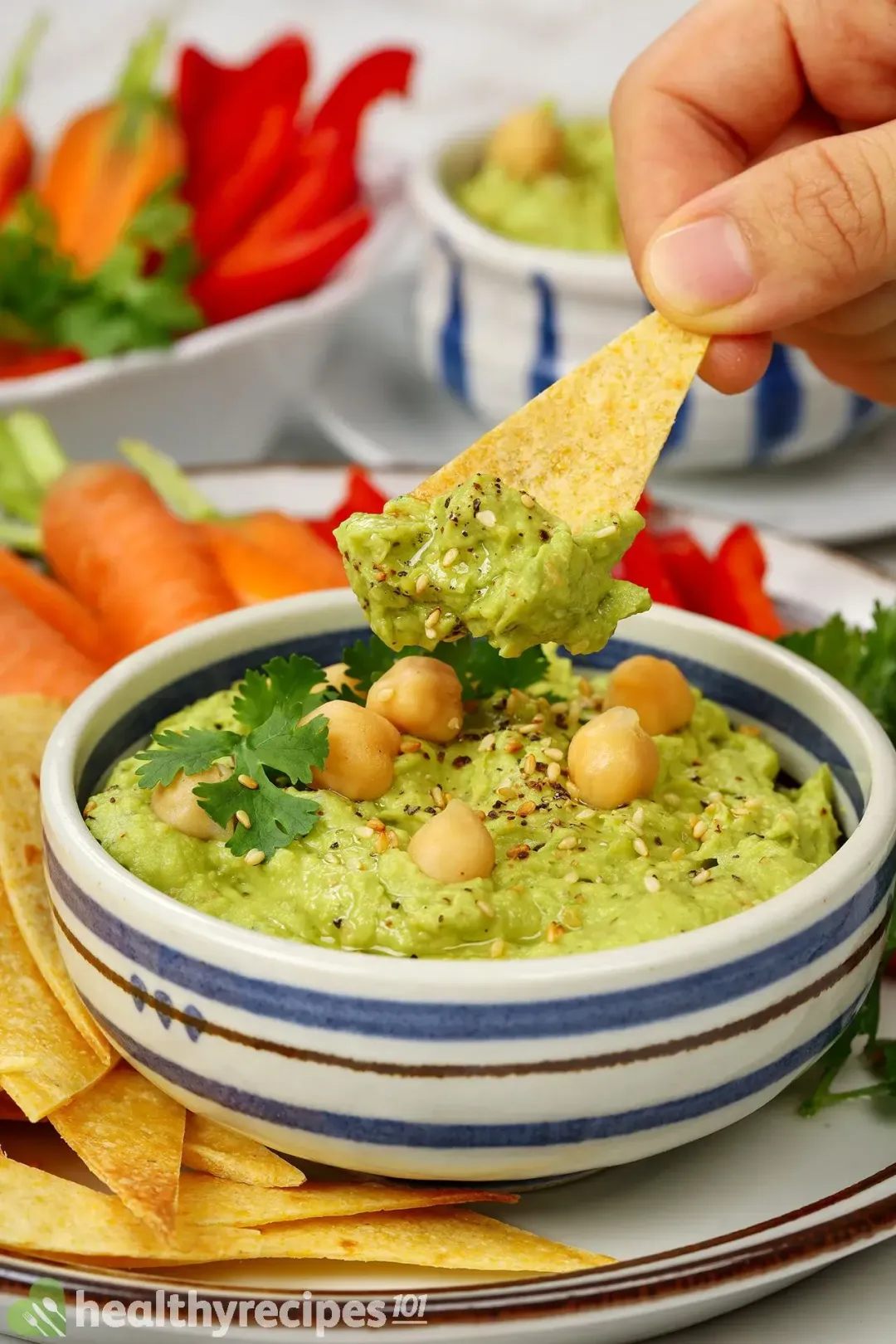 cook TIME

10 mins

prep TIME

10 mins

total TIME

20 mins
COURSE

Dip, Side Dish

CUISINE

American, Middle East

SERVINGS

servings

CALORIES

236 kcal
INGREDIENTS
6 oz

avocado flesh

(from 10 oz avocado (halved and pitted))

1/4 tsp

black pepper

(divided)

1 tbsp

white sesame seeds

4 oz

red bell pepper

(sliced)
INSTRUCTIONS
1
Air fry the tortillas: Slice each tortilla into 6 triangle-shaped pieces then put them in an air fryer for 6 minutes at 350 °F.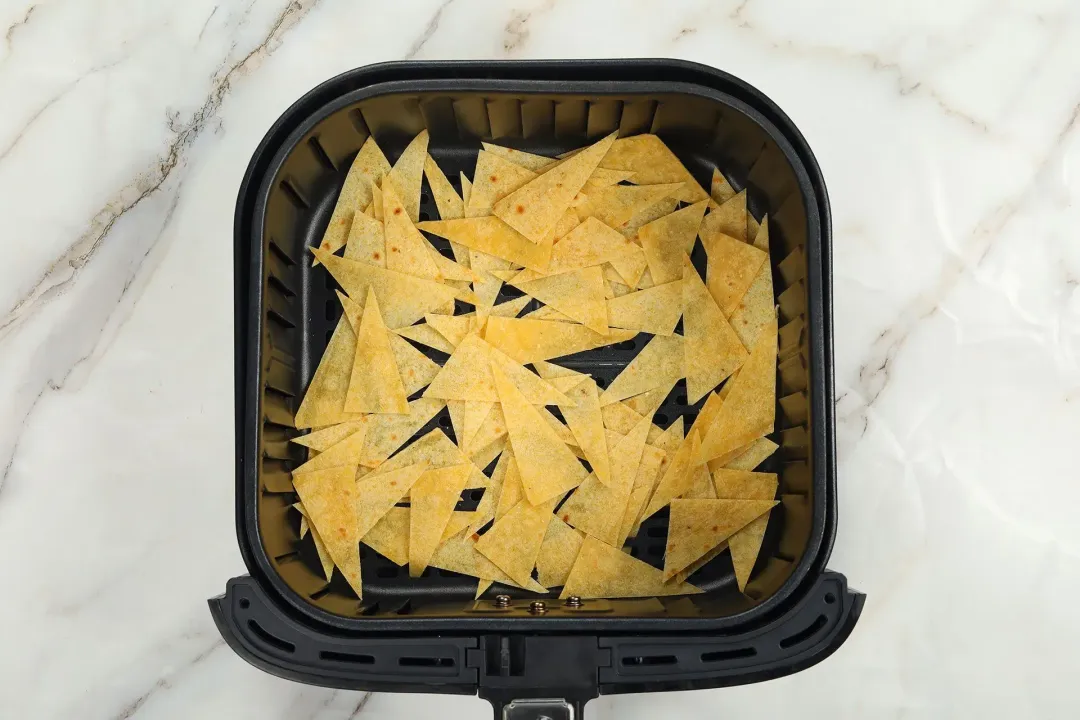 2
Blend the ingredients: Put 6 oz canned chickpeas (leave a few for decoration), 1/8 tsp pepper, 1 tbsp garlic, 1/4 cup coriander, 1/4 tsp salt, 1 1/2 tbsp lime juice, 1/2 tbsp white sesame seeds, 1/8 tsp cumin, 1 tbsp tahini sauce, and 1 tbsp olive oil into a blender or food processor, and blend until combined.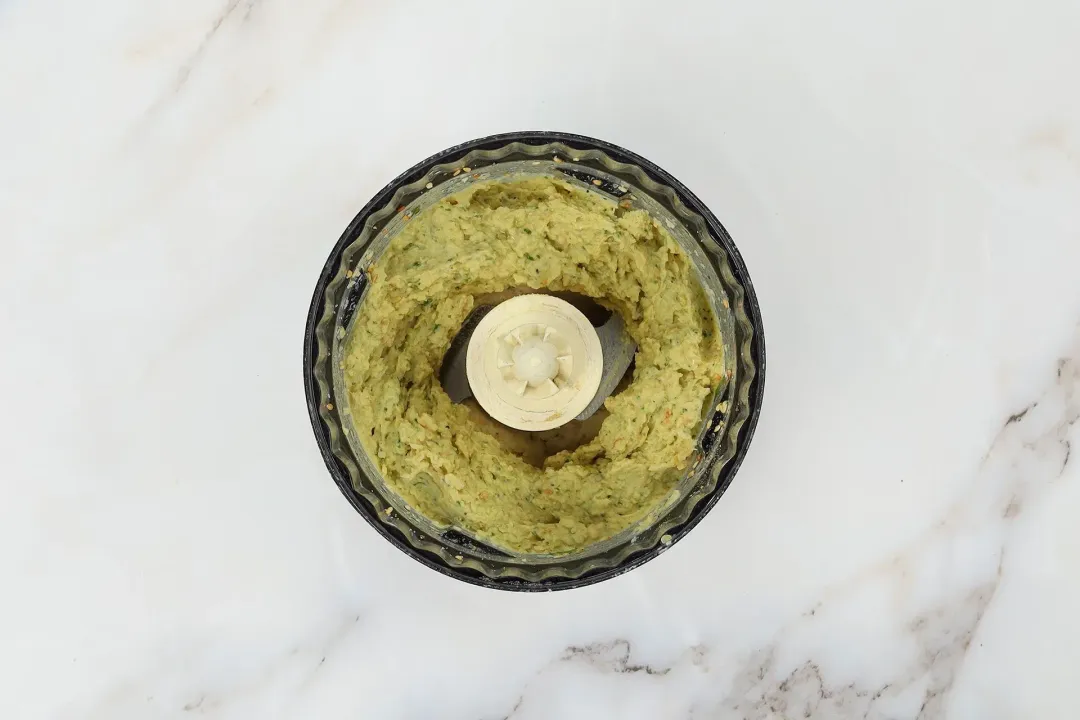 3
Add the avocado: After the mixture is blended, add 6 oz avocado and continue blending until smooth and creamy.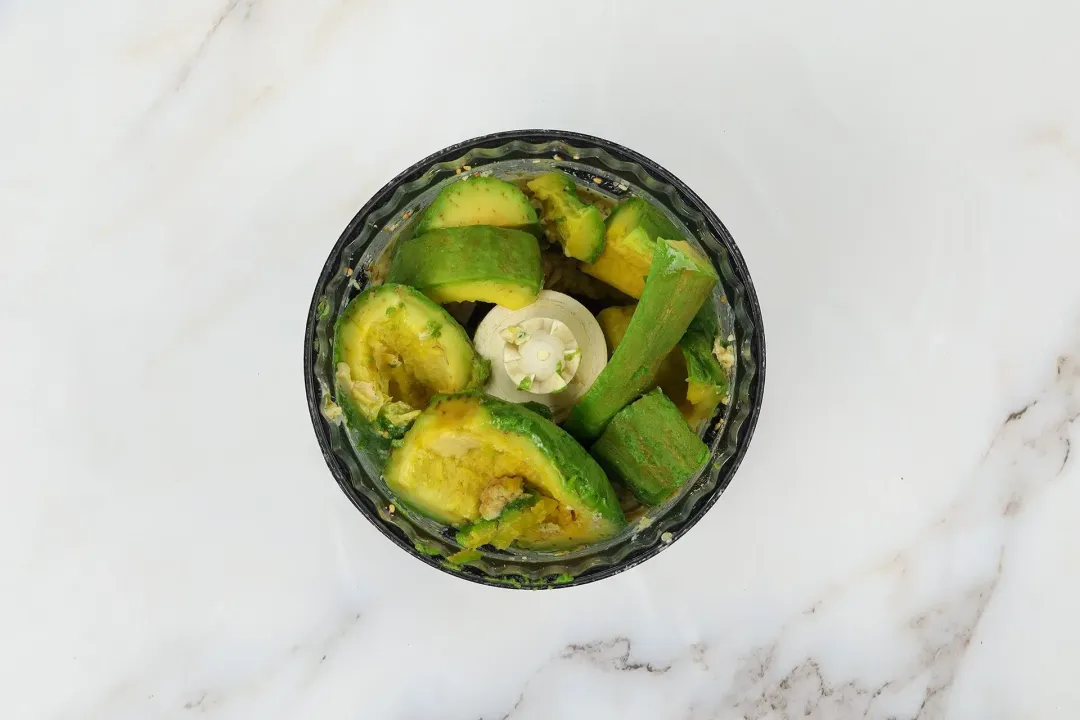 4
Garnish and serve: Put the hummus into a small bowl and sprinkle chickpeas, sesame seeds, coriander, and pepper on top. Use it to dip in the tortilla chips, baby carrots, and red bell pepper slices.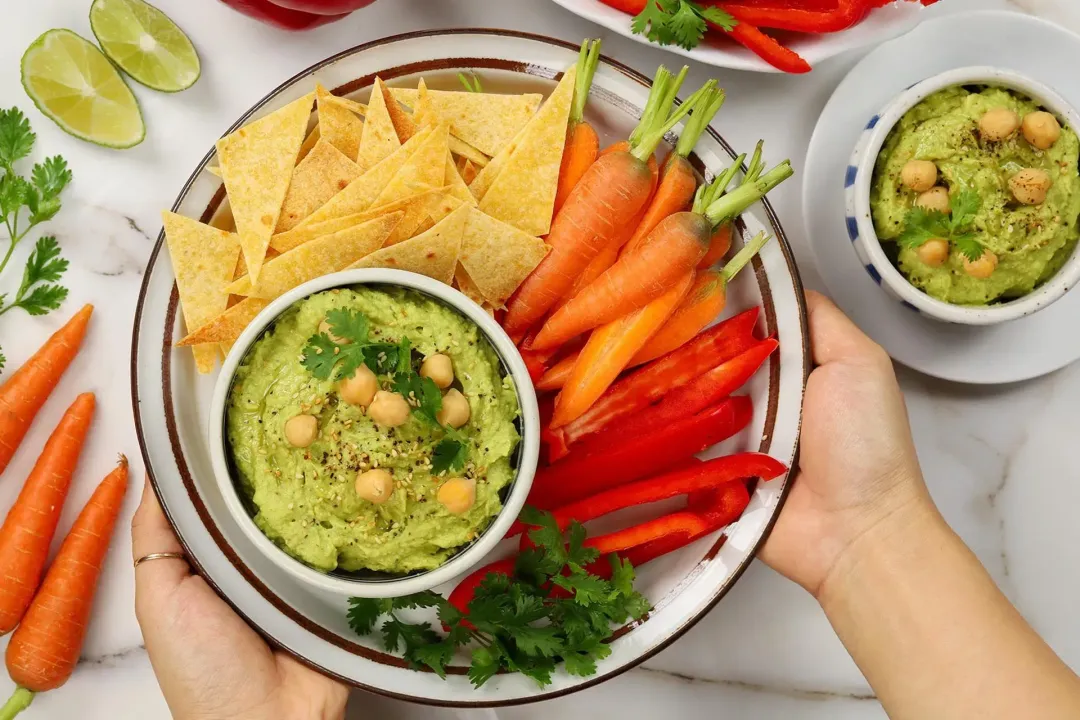 NUTRITION
Nutrition Facts
Avocado Hummus Recipe
Amount Per Serving (1 serving)
Calories 236
Calories from FDA
% Daily Value*
* Percent Daily Values are based on a 2000 calorie diet.
Keywords: avocado hummus, avocado hummus recipe, how to make avocado hummus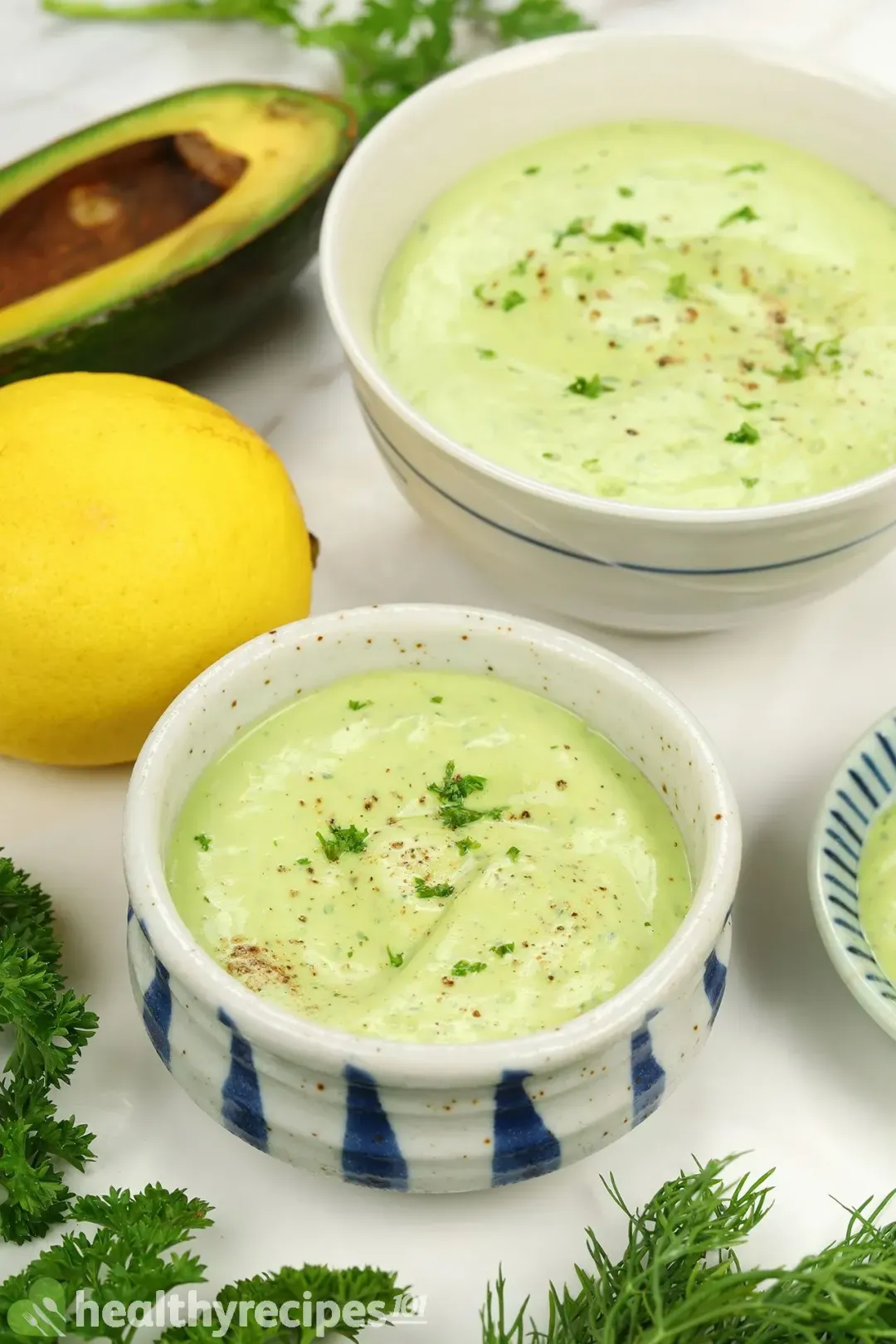 Previous Recipe
Avocado Ranch Dressing
Avocado Ranch Dressing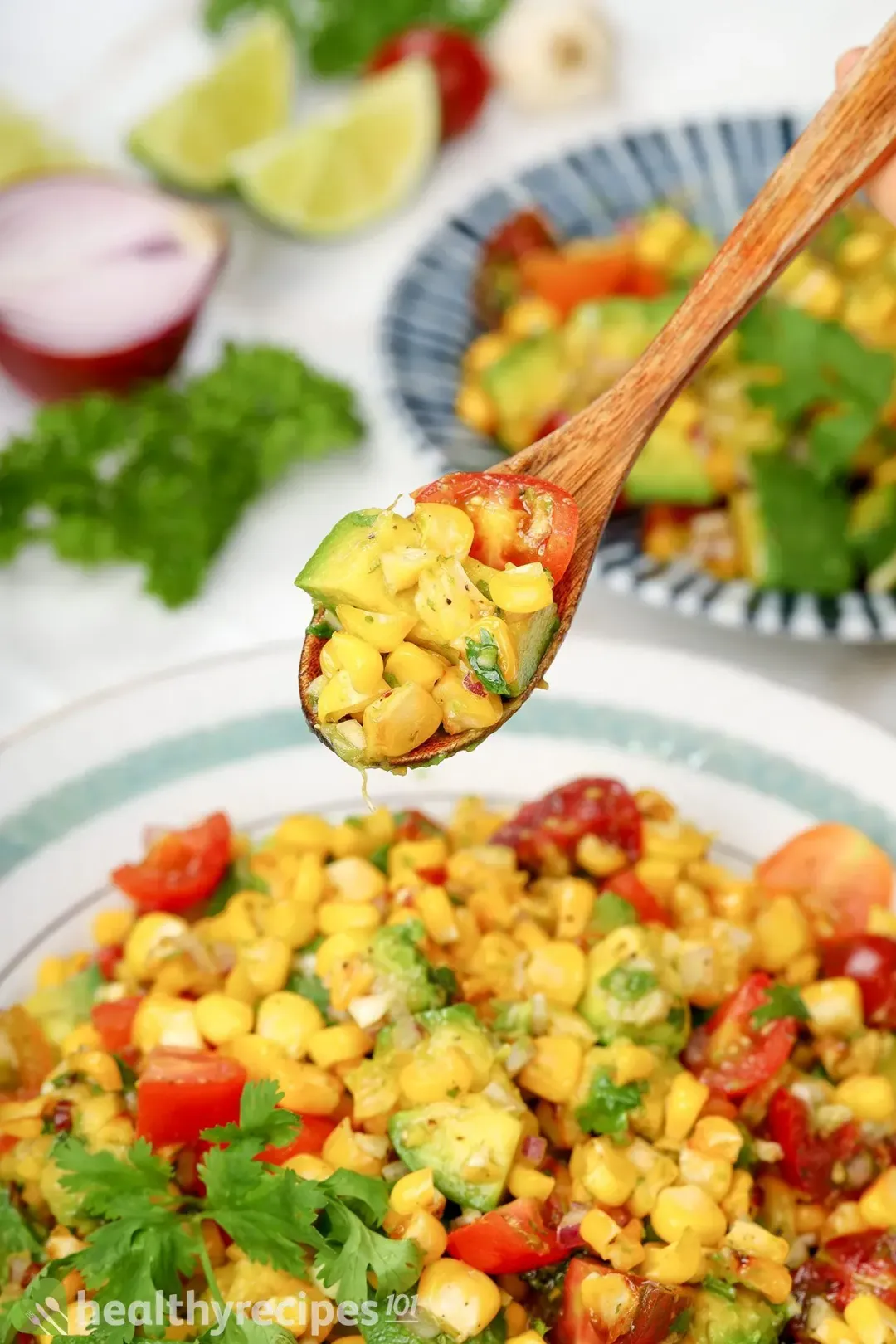 Next Recipe
Avocado Corn Salad
Avocado Corn Salad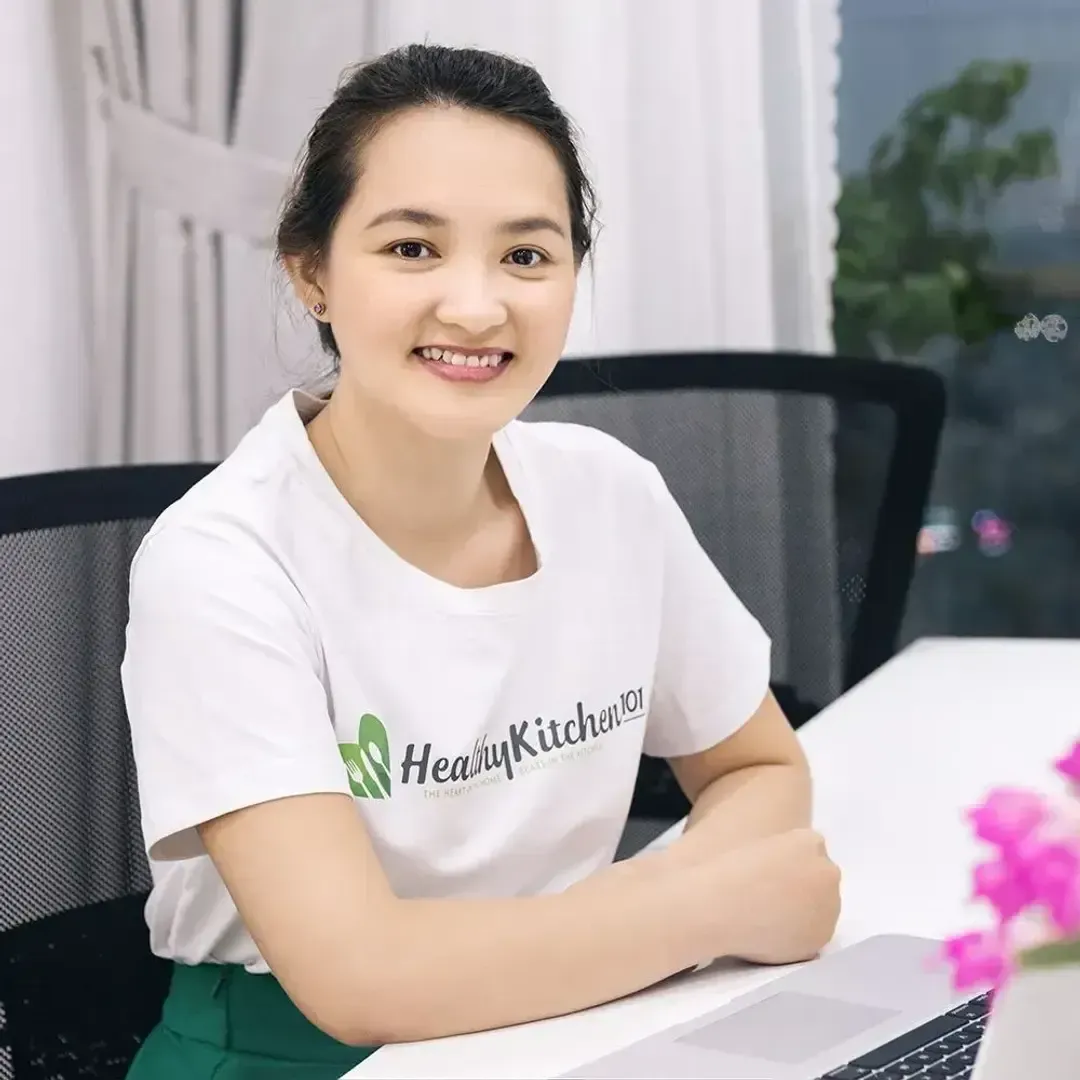 Writer, Author
Luna Regina is an accomplished writer and author who dedicates her career to empowering home cooks and making cooking effortless for everyone. She is the founder of HealthyKitchen101.com and HealthyRecipes101.com, where she works with her team to develop easy, nutritious recipes and help aspiring cooks choose the right kitchen appliances.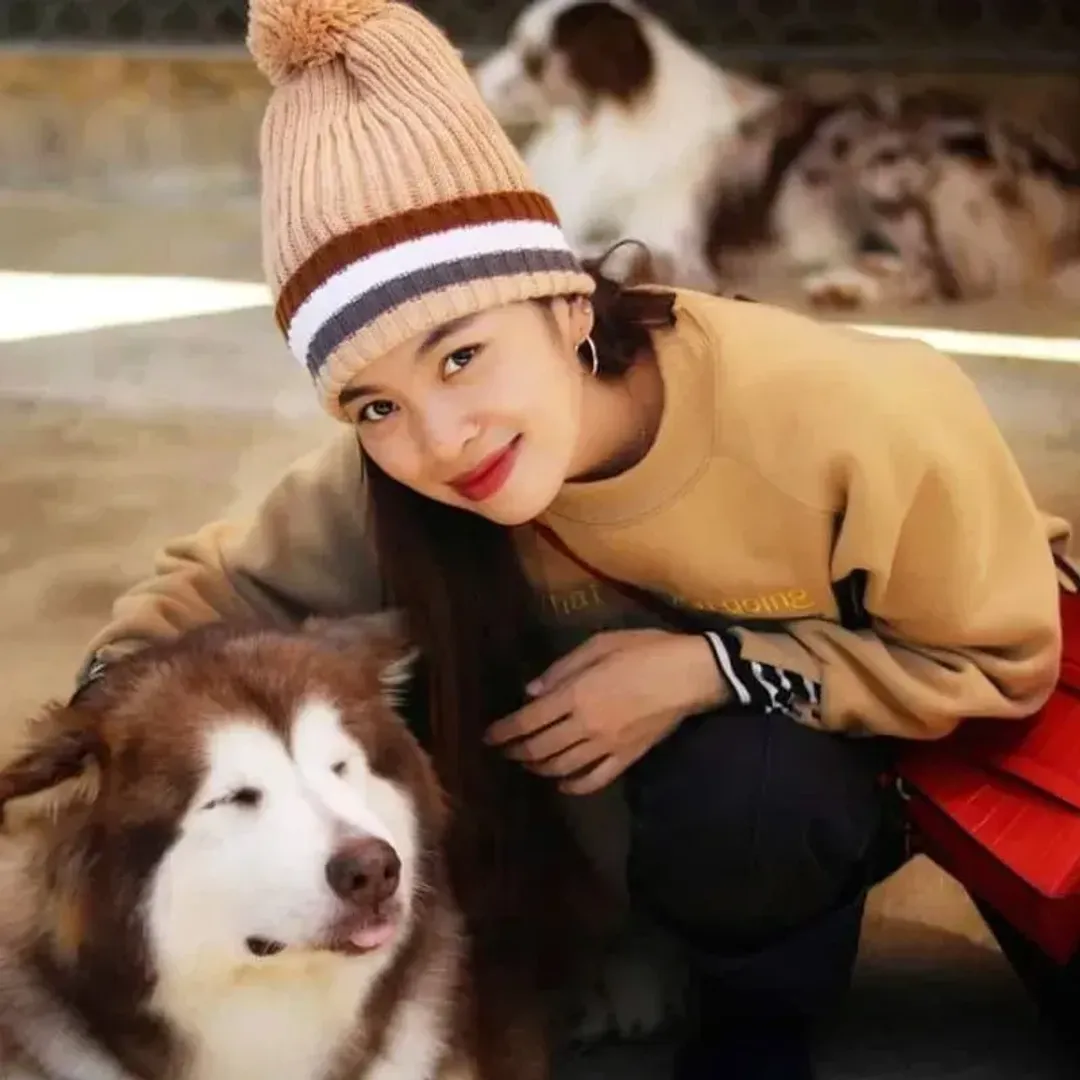 Chef, Culinary Consultant
Tuyet Pham is an award-winning Saigonese chef who believes that joy is the secret ingredient to delicious food. At Healthy Recipes 101, Tuyet personally tests and simplifies every recipe, ensuring maximum flavor with minimal effort. With a background at prestigious French restaurants P'TI Saigon and Le Corto, Tuyet knows how to make every dish exceptional.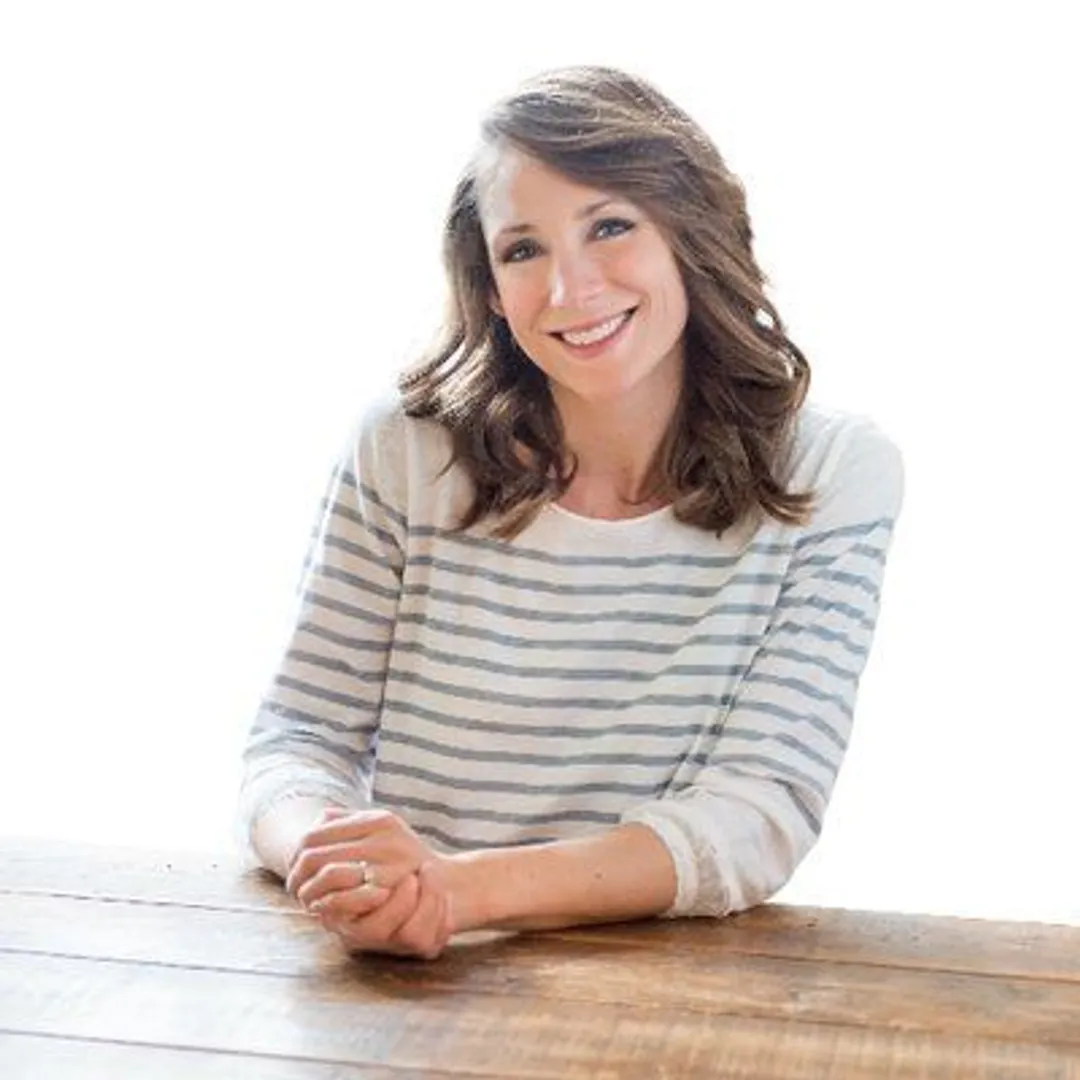 Nutrition Reviewer
Natalie is a registered dietitian nutritionist with a passion to help others live their best life through food, fitness, safer beauty and a healthy lifestyle. She has expertise with a variety of diets and diseases and believes that there is no one-size-fits-all approach for health.
Comments/ Reviews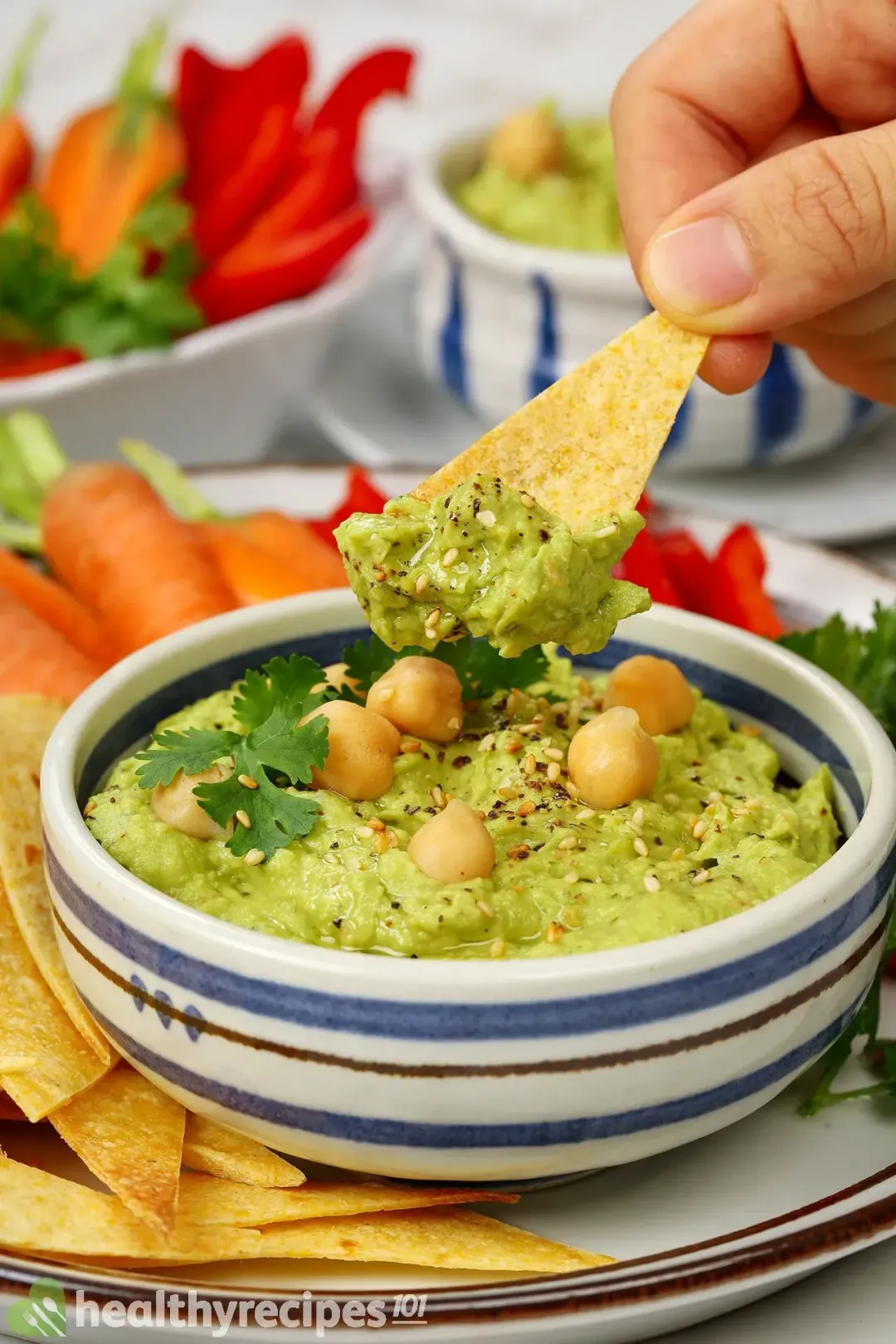 Noemi Skok

April 22, 2023 at 9:59 AM

Avocado hummus is a tasty and nutritious twist on traditional hummus.