If you're looking to make a quick bite, look no further than these avocado and egg recipes.
The simplicity of these two ingredients allows them to be a part of every meal of the day. Also, there are many ways to cook up these two ingredients, giving you lots of different options.
Are Avocados and Eggs Good Together?
Judging by the number of dishes featuring these two ingredients, it's safe to say that avocado and egg go well together. These two ingredients can be extremely different in nature, but they share a few similarities like the rich and enjoyable flavor.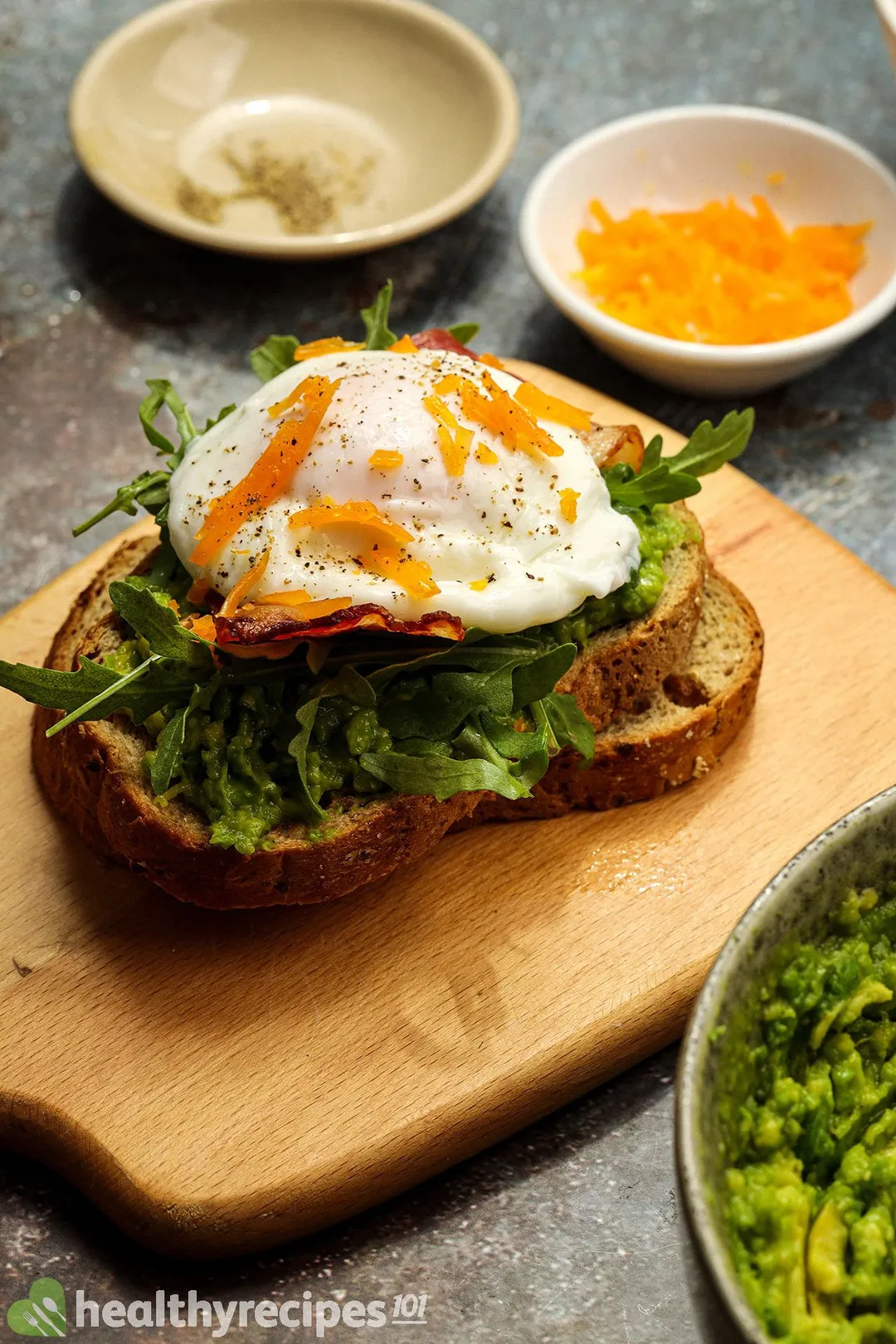 Best Avocado and Egg Recipes
Combine avocado and egg to treat yourself to a delicious meal.
1 of 2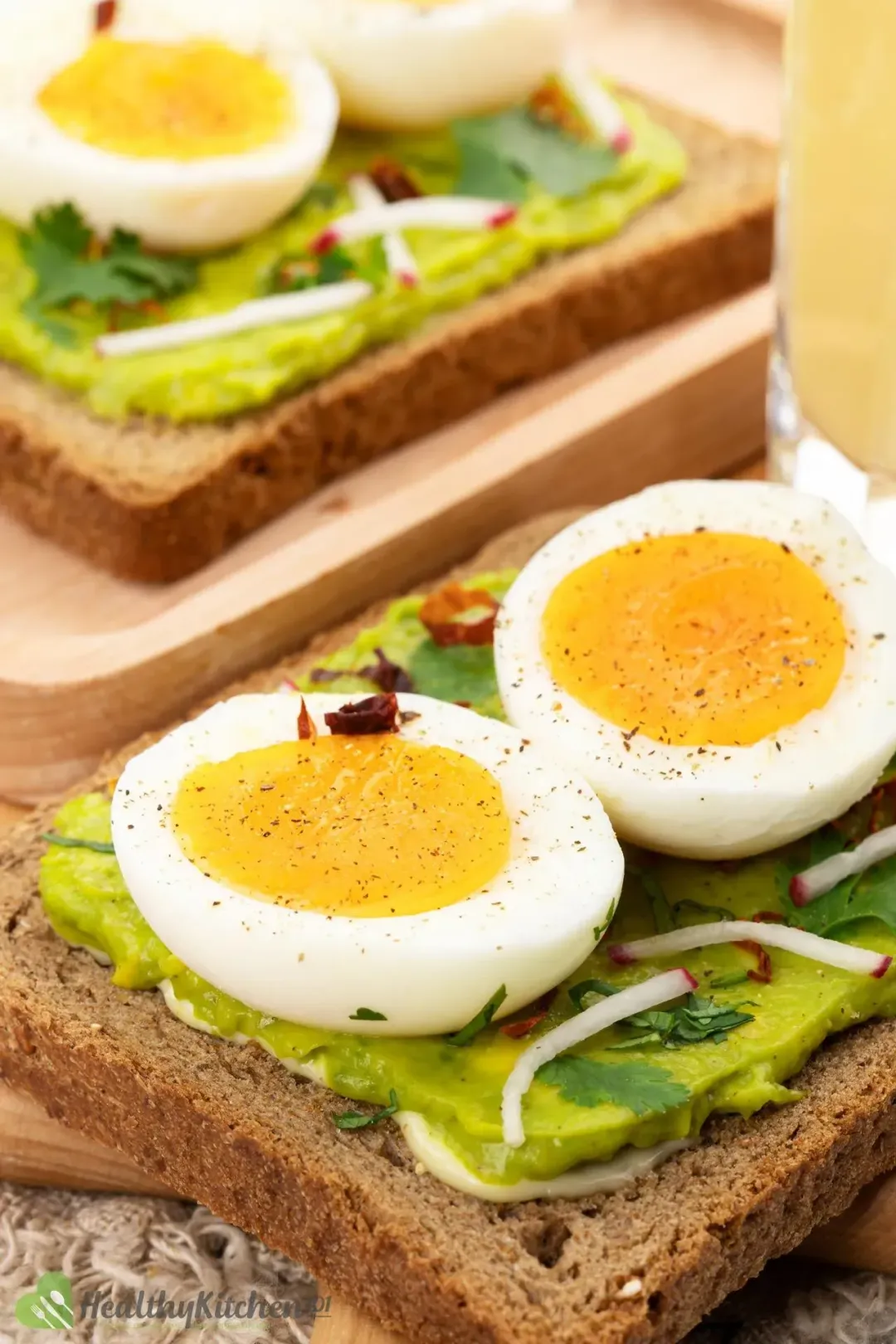 1 of 2
Avocado Toast Recipe
Avocado toast is simply avocado spread on a slice of warm, crisp toast. You can add additional toppings to turn it into a tasty breakfast.
Get the
recipe
.
2 of 2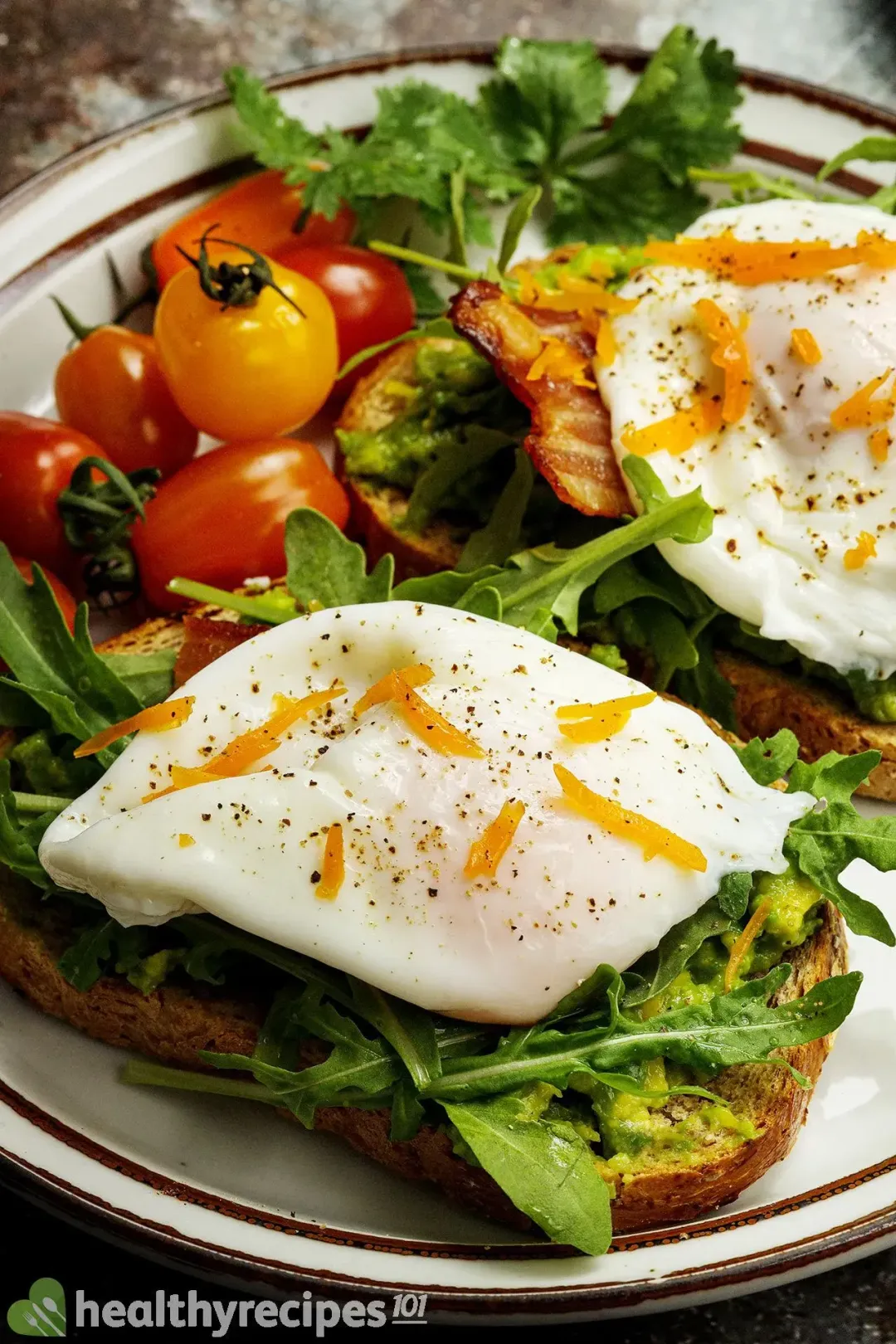 1 of 2
Smashed Avocado on Toast Recipe
Bring a twist to your breakfast dish by adding a delightful and healthy smashed avocado toast to the mix. You will be surprised to find how delicious it turns out to be.
Get the
recipe
.
Reasons to Love Avocado and Egg Recipes
Avocado and egg are very popular and accessible ingredients and you can easily incorporate them into any dish. You can make an excellent breakfast, lunch, dinner, snack, or hors d'oeuvres with this dynamic duo.
These two ingredients don't require much effort to prepare. Eggs only need a short cooking time, while avocados don't require cooking in most recipes. Also, the natural flavors of avocado and egg are enough to make a dish stand out, so seasoning is very minimal, or even optional!
The best reason to combine avocado and egg is their nutritional value. Avocado is a great source of healthy fats, fiber, and vitamins. Meanwhile, eggs provide you with their healthy fats, protein, and minerals.
How to Prepare Avocado Before Cooking
Preparation for avocado depends on the dish you're about to make.
However, before you start cutting into the fruit, we recommend rinsing it under running water to remove any dirt or impurities on the skin. Pat it dry with a kitchen towel to remove excess water.
The avocado contains a large, hard pit inside so the first step is cutting the fruit open and removing the pit. Cut the avocado lengthwise around the pit and lightly twist both halves to separate them. You can then use a spoon to pry the pit away from the flesh. You can also gently and carefully jab the edge of the knife into the pit and you should be able to take it out.
For recipes with mashed avocados, you can proceed to scoop the flesh into a bowl. If the recipe calls for sliced or cubed avocados, cut the avocado halves into quarters. From the pointy end of the avocado wedge, you should be able to easily peel and remove the skin. All that's left to do is cut the avocado into whatever shape you want.
Best Ways to Eat Avocado and Egg
We cannot talk about avocados and eggs without mentioning avocado toast. The most common variations of avocado toast mostly share three ingredients: crispy toast, mashed avocado, and an egg cooked to your preference.
Try upping your avocado toast game by switching between poached, soft or hard-boiled, scrambled, and sunny-side up eggs. Adding more vegetables or a different source of protein such as crispy bacon can also give your toast more texture and flavor.
Make sure not to overload the toast, as avocado should still be the main focus of the dish.
Removing the pit of the avocado will leave a hollow space in the flesh. Why not fill that with an egg? Simply crack an egg into the avocado and bake them together.
Make sure to use an egg that fits the avocado. You can scoop out some of the avocado flesh to make room for the egg, but the proper-sized egg will help the dish cook evenly.
Once you have tried stuffing avocados with eggs, switch their places to make avocado deviled eggs. Most of the process is the same as regular deviled eggs, but the filling mixture now has mashed avocados and yolks.
Toppings for sandwiches and burgers
Avocado and egg are both delicious complements to sandwiches or burgers. Poached, scrambled, or sunny-side-up eggs are all great options. For avocados, you can slice, mash, or incorporate them into a sauce.
Don't hesitate to experiment with this combo with multiple proteins, vegetables, and bread to make your favorite sandwich or burger.
Salad is a mix-and-match side dish that allows you to use whatever you love. You can take the easy route with hard-boiled eggs and chopped avocados in a salad, or change things up with an avocado-based dressing.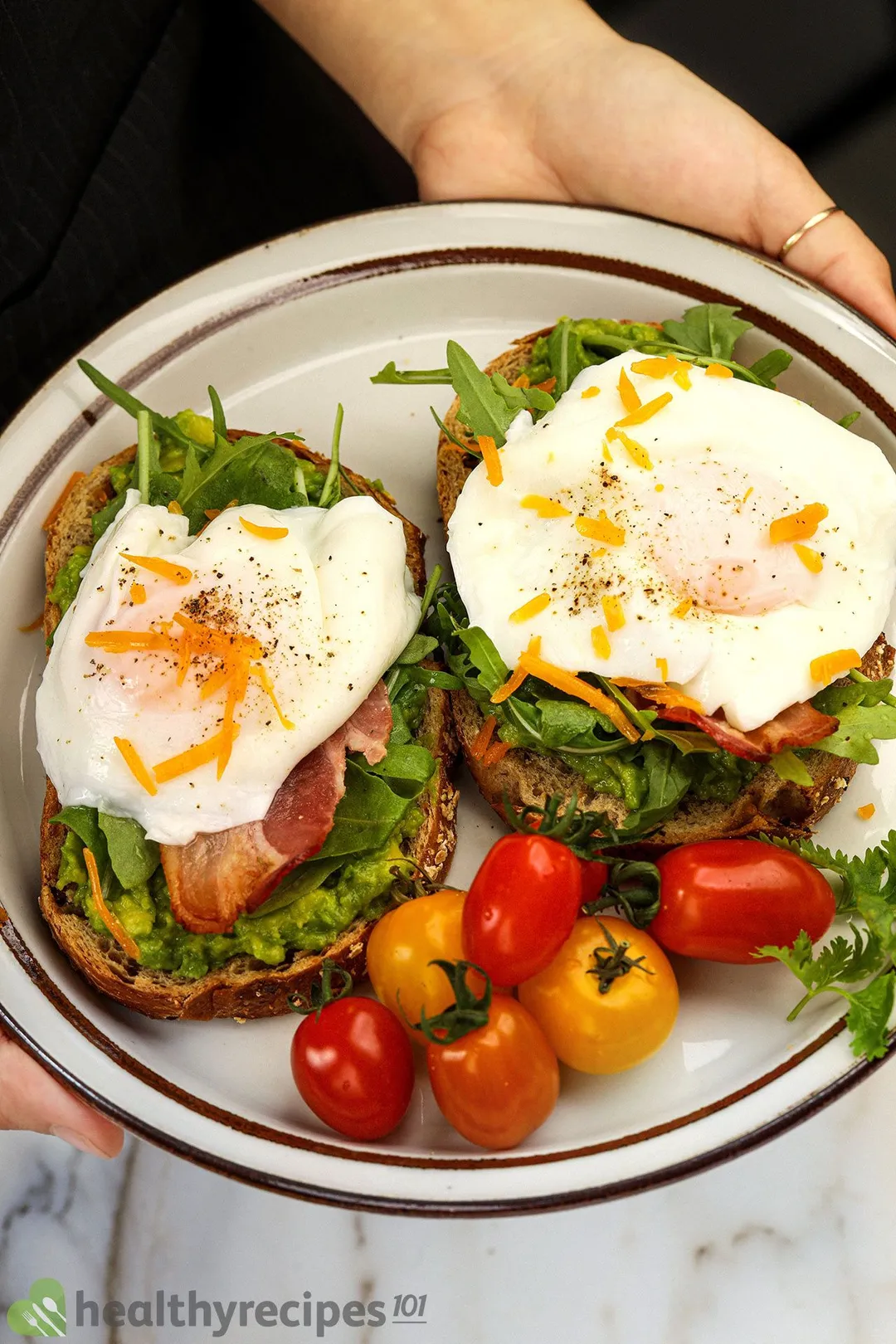 Avocado and Egg Recipes
Our favorite avocado and egg recipes bring together two popular ingredients for numerous delectable dishes for every meal.
Ingredients
Directions
Choose a recipe that you like.
Assemble all the essential ingredients.
Follow the instructions and create an avocado and eggs recipe in less than 20 minutes!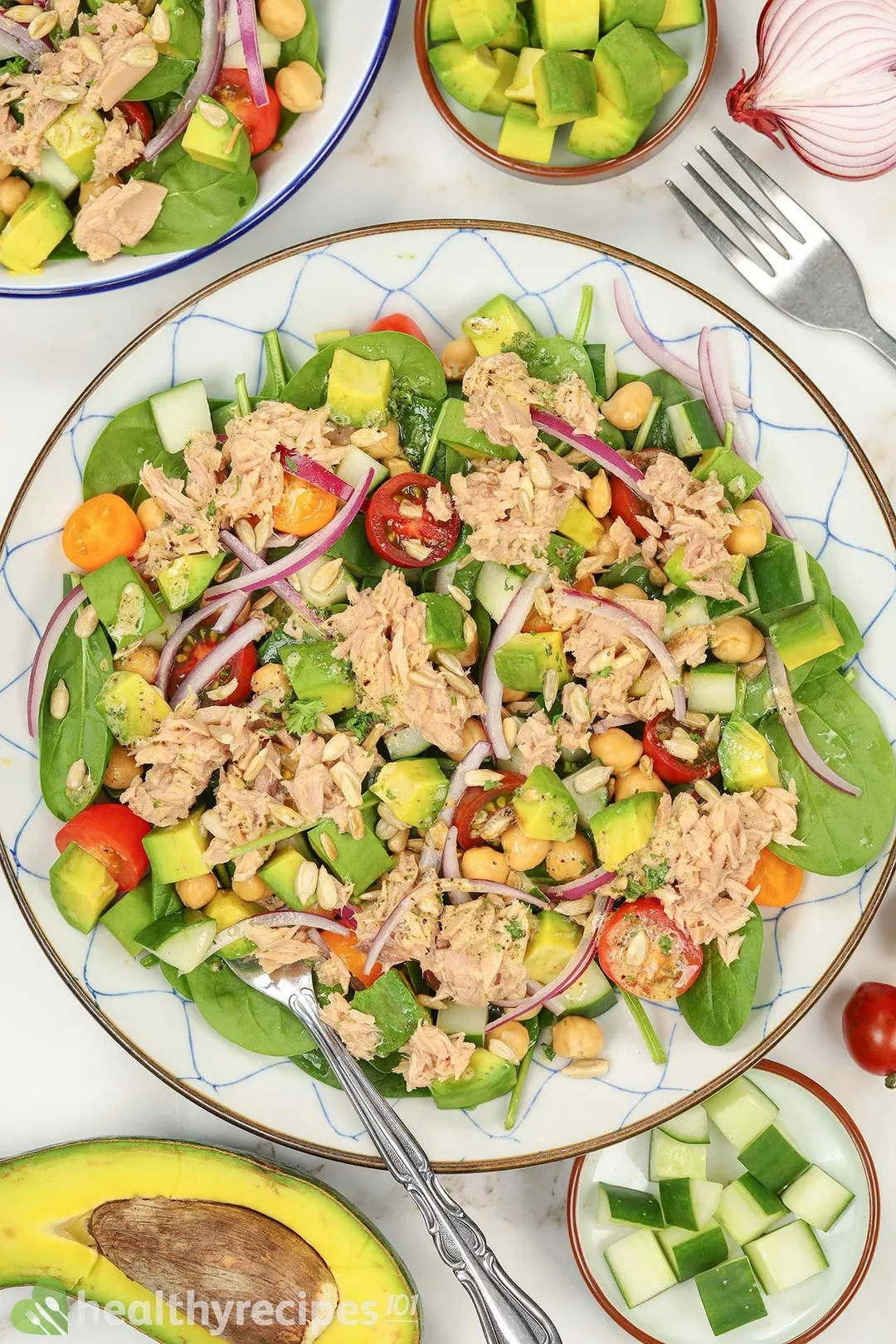 Previous Recipe
Simple Avocado Recipes
Simple Avocado Recipes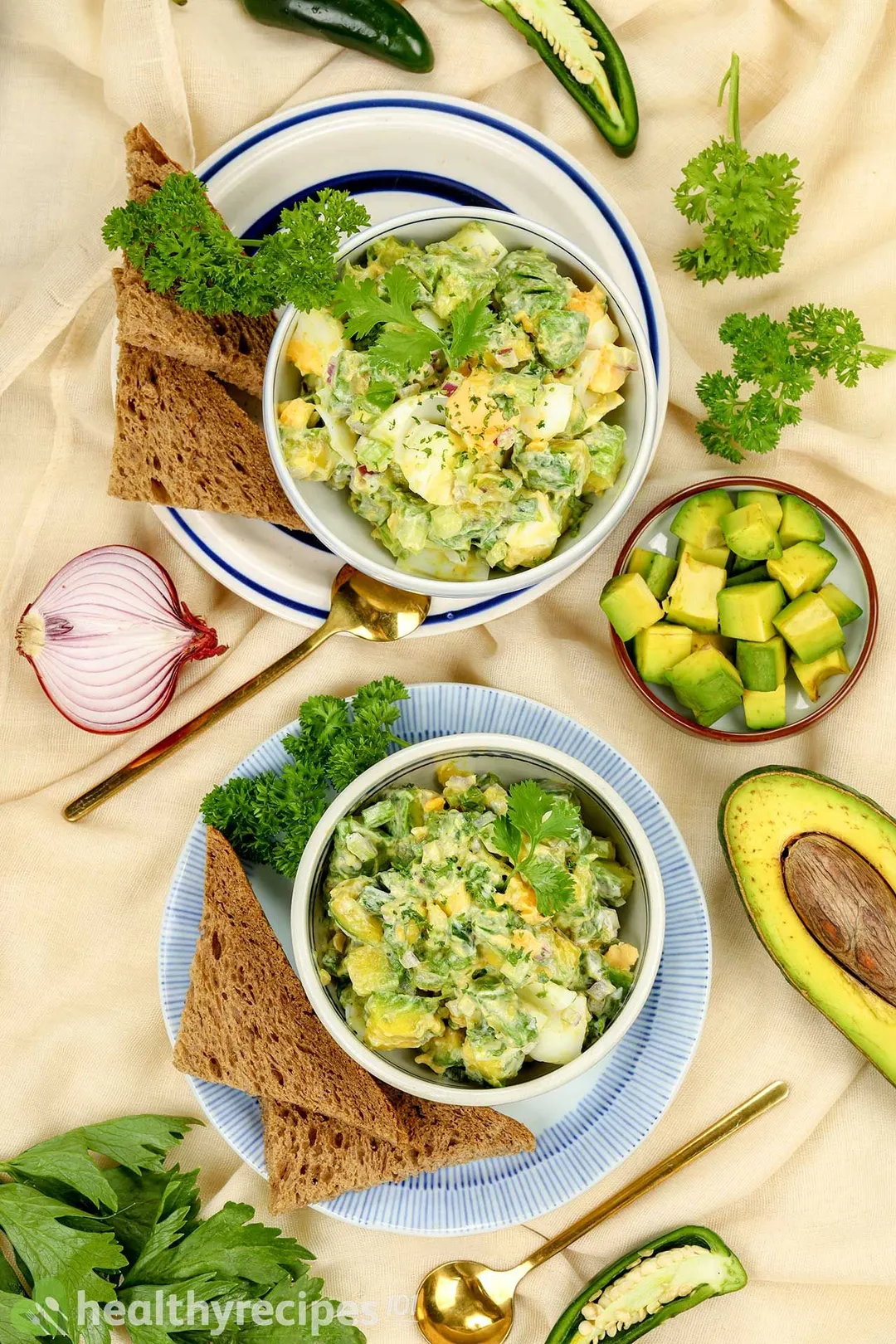 Next Recipe
Avocado Salad Recipes
Avocado Salad Recipes
Writer, Author
Luna Regina is an accomplished writer and author who dedicates her career to empowering home cooks and making cooking effortless for everyone. She is the founder of HealthyKitchen101.com and HealthyRecipes101.com, where she works with her team to develop easy, nutritious recipes and help aspiring cooks choose the right kitchen appliances.
Comments/ Reviews