If you're looking for meal planning ideas, especially for those times when you don't know what to prepare for supper, we've created some delicious yet straightforward ground beef and potato recipes. Try one of these delicious supper suggestions for a novel take on regular weeknight meals.
Collection of Ground Beef Potato Recipes
Beef and potatoes are a traditional pairing. It is rich, delicious, cozy, appropriate for a variety of events, and always a crowd-pleaser. Check out these ground beef and potato recipes for a simple evening meal that will certainly please everyone.
What to Make With Ground Beef and Potatoes
Both ground beef and potatoes have many similarities. They are both delicious, quick to prepare, adaptable, and affordable. Plus, they complement each other well!
Therefore, it is not surprising that there are several recipes that blend the two:
Casserole: It's loaded with flavors and textures, so it's difficult not to fall in love with this masterpiece. With its layers of scalloped potatoes, cream sauce, ground beef, and cheese, this dish is the stuff of culinary fantasies.
While it has a taste profile similar to a hamburger, this dish is healthier and tastier due to the use of starchy potatoes.
Skillet: This skillet of ground beef and potatoes is an excellent option for a nutritious midweek meal. The mix of ground beef, potatoes, and a variety of colorful vegetables such as kale, tomatoes, and peppers creates a tasty, wholesome, and healthy dinner. This dish is particularly perfect for utilizing leftover vegetables from your refrigerator.
Stew: You should try beef stew if you're looking for a substantial, satisfying, and comforting dinner for a chilly winter evening. Made with beef, garlic, stock, red wine, potatoes, carrots, onions, and your preferred veggies, it's the ideal recipe to satisfy your stomach and warm your soul.
Curry: If you want to give a basic combination of ground beef and potatoes an Indian twist, try making curry! The only extra ingredient required in the recipe is curry powder.
This one additional spice will completely transform the flavor. Rich, deliciously peppery, and just delectable!
What Types of Potatoes Work Best?
Beef and potatoes are a staple dinnertime combo. Potatoes vary in starch content and texture, so selecting the proper potatoes for your dish is essential to its success. 
For roasting, it is essential to choose a floury kind. Russet, long white, and Peruvian potatoes are the obvious winners. When parboiled and agitated, they form that fluffy interior and crispy exterior of our favorite roasties.
Variants with a high starch content, such as russet or Yukon gold, are excellent for adding body and structure to beef stew. Also, boiling these kinds of potatoes in your stew will thicken the broth and infuse the potatoes with the rich flavors of the stew.
For soup recipes, it's best to use waxy types, such as young potatoes, for a creamier base. If you want to enhance the sweet taste and add color to the dish, consider adding sweet potatoes.
How to Season Ground Beef
The easiest way to make sure that your ground beef is properly seasoned is to prepare and measure the amount of seasoning to use before adding it to the dish.
Another tip is to add seasonings to the ground beef after it has been cooked and drained. Adding salt to fresh ground beef extracts moisture, dries the meat, and produces steam when cooking, which prevents the meat from browning correctly.
The same holds true for other spices. The majority of the herbs and spices will drain away with the fat, leaving your ground beef underseasoned.
Once the ground beef has been cooked and drained, it may be seasoned with nearly any ingredient. Salt and pepper are the essentials and can be combined with a taco seasoning blend, Old Bay, herbes de Provence, or garam masala, among other alternatives.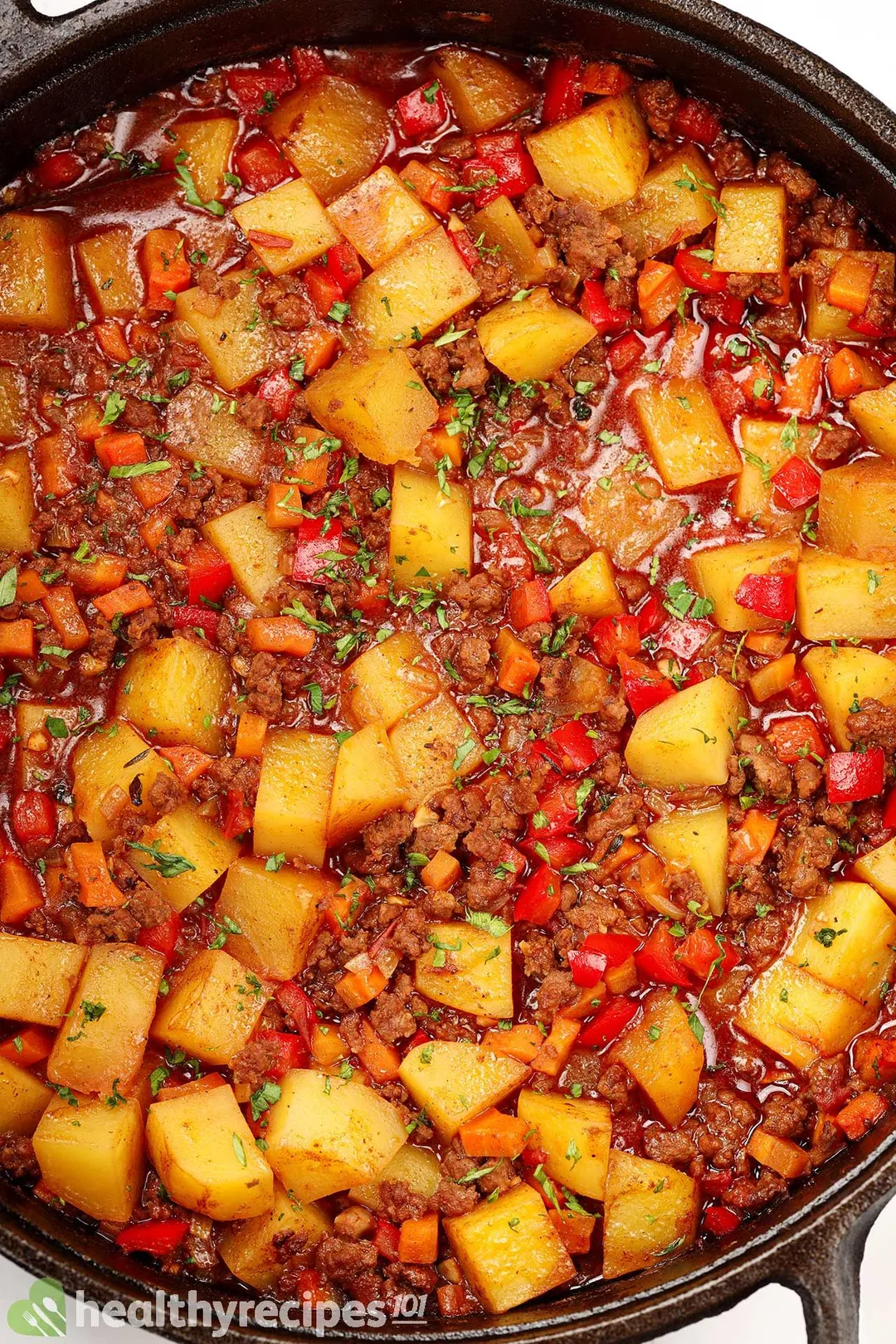 Ground Beef Potato Recipes
Last-minute preparations for dinner? These ground beef and potato recipes introduce dishes that are hearty and comforting yet easy to make.
Ingredients
Directions
Choose a recipe that you like.
Assemble all the essential ingredients.
Follow the instructions to give you incredibly tasty ground beef and potato in less than 55 minutes!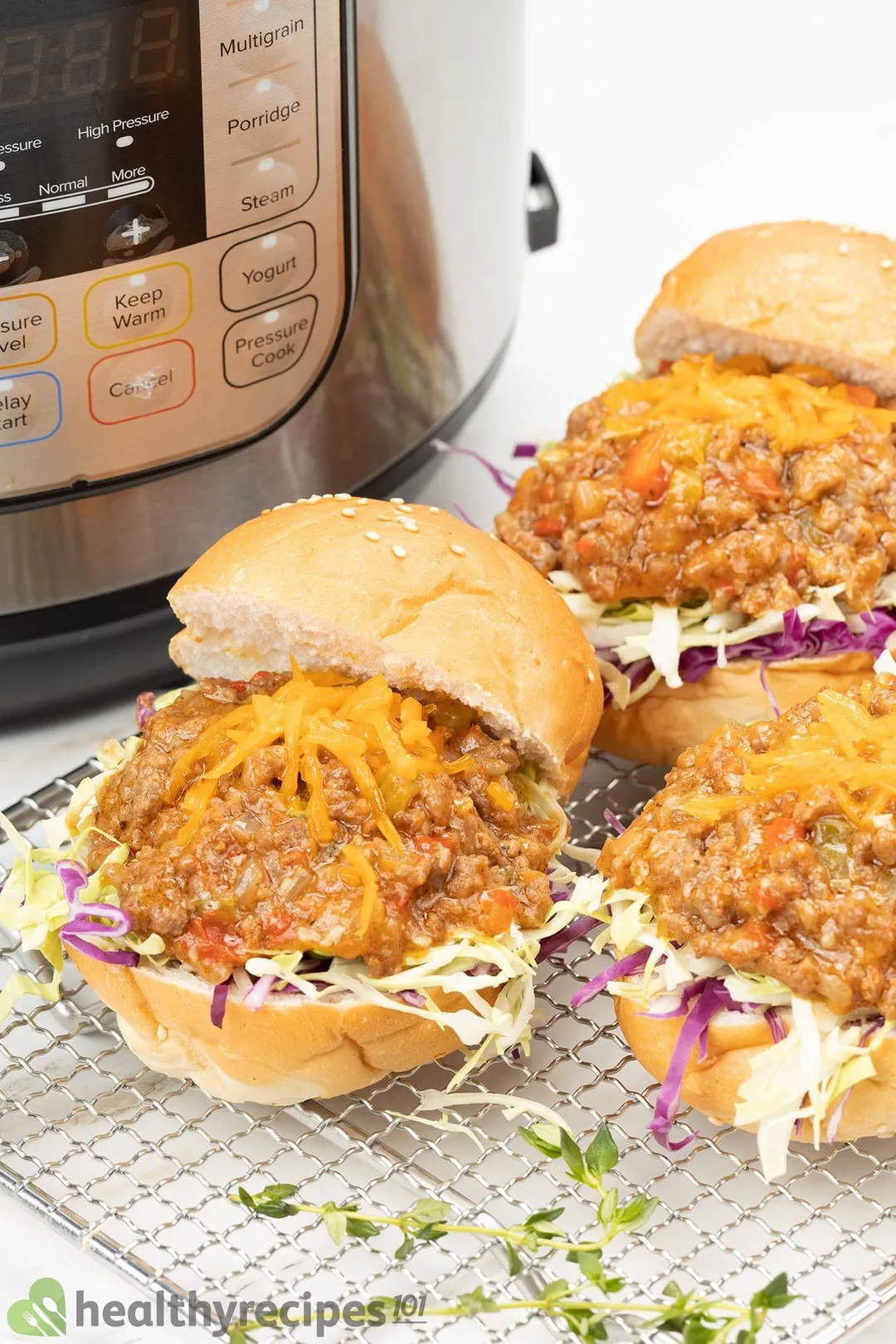 Previous Recipe
Instant Pot Ground Beef Recipes
Instant Pot Ground Beef Recipes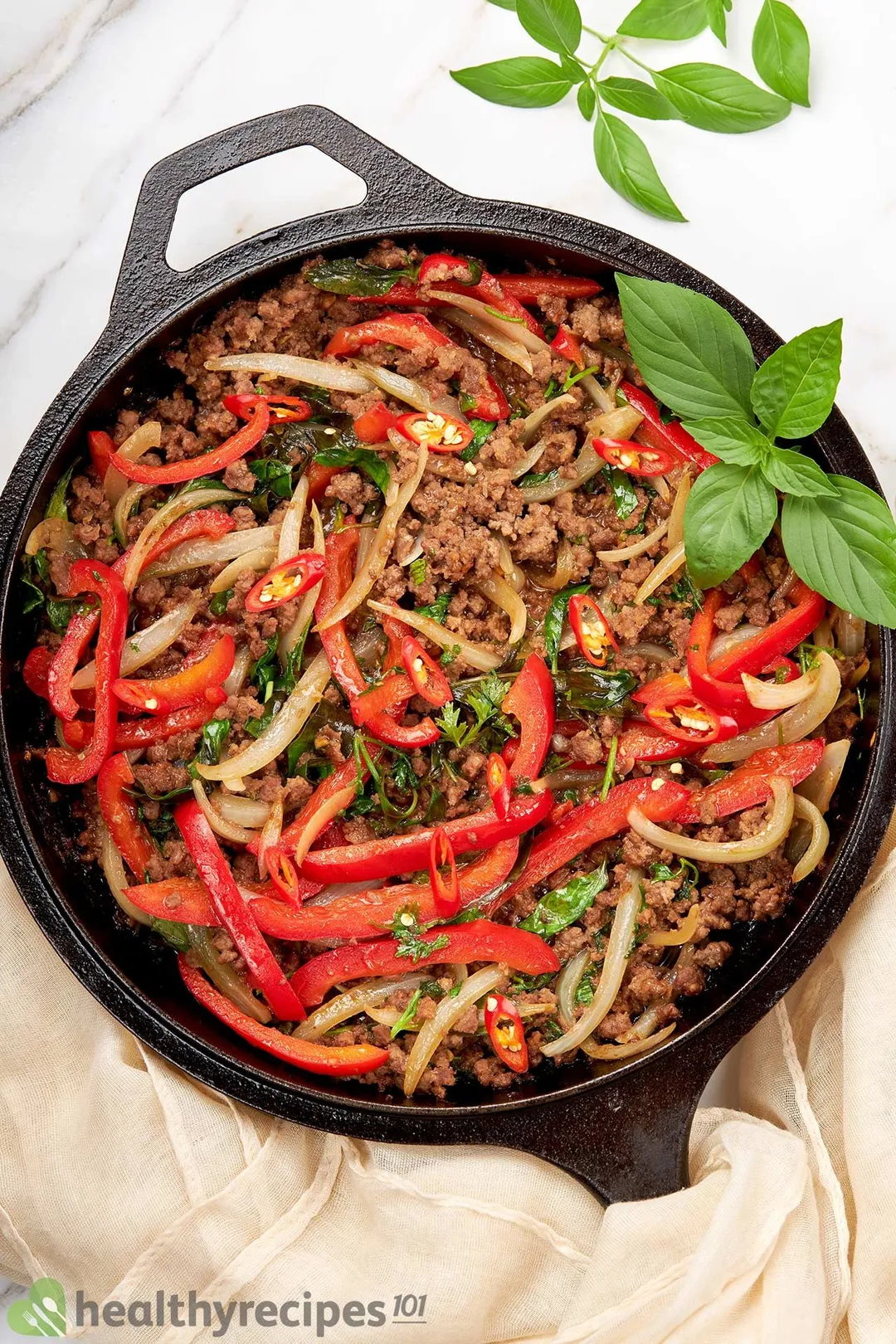 Next Recipe
Ground Beef Skillet Recipes
Ground Beef Skillet Recipes
Writer, Author
Luna Regina is an accomplished writer and author who dedicates her career to empowering home cooks and making cooking effortless for everyone. She is the founder of HealthyKitchen101.com and HealthyRecipes101.com, where she works with her team to develop easy, nutritious recipes and help aspiring cooks choose the right kitchen appliances.
Comments/ Reviews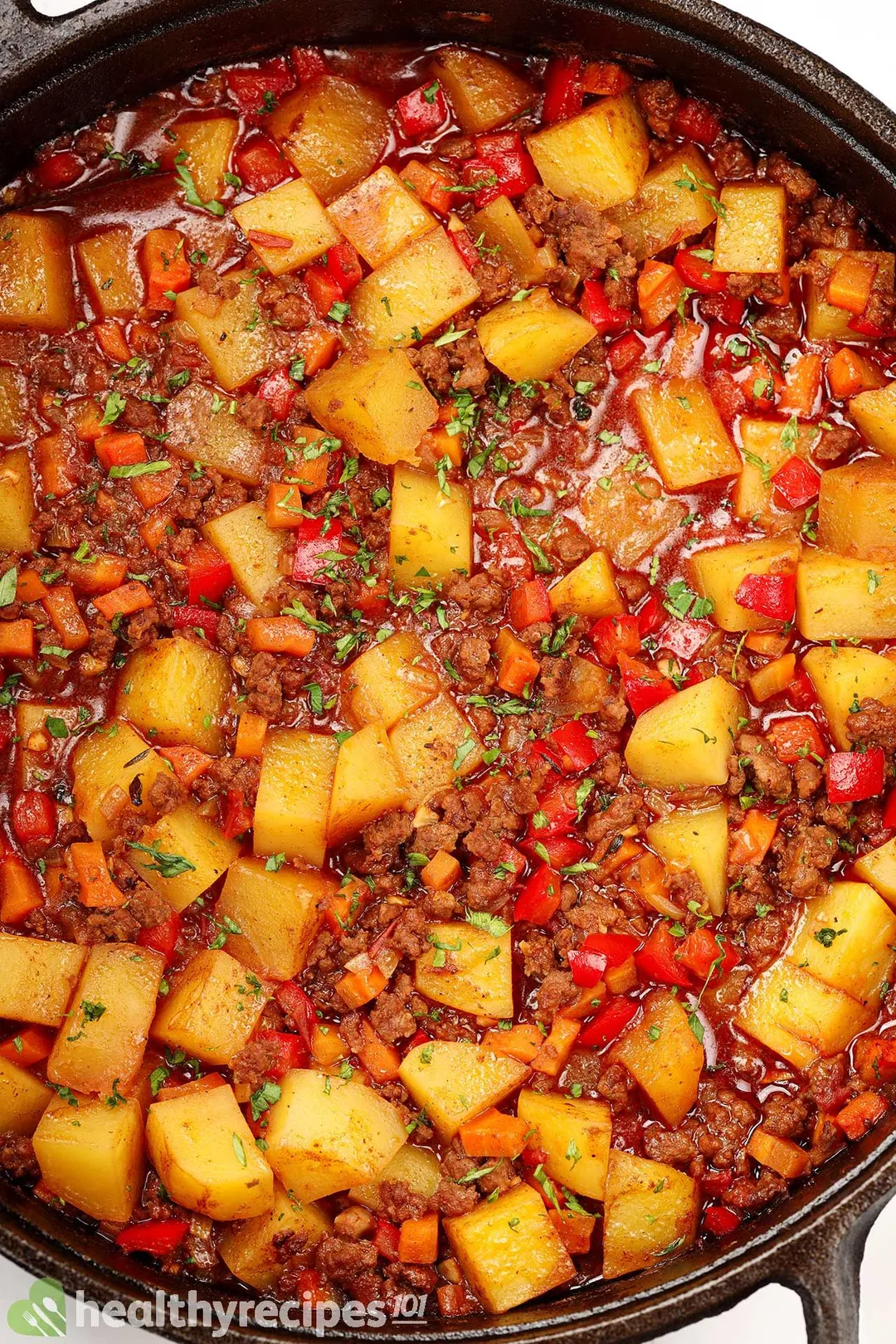 I love hamburger soup - simple and hearty mix of staple ingredients coming together to create a comforting dish that can be enjoyed either as an entree or side dish.