One vegetable that works really well with beef is the nutrient-packed cabbage. We've put together some cabbage and ground beef recipes to bring the best of both to your table.
There are plenty of exciting ways to whip up delicious meals with these two ingredients. Here we're sharing some of our favorite ones with you.
Best Cabbage and Ground Beef Recipes
Make a flavorsome meal for the entire family with this dynamic duo.
1 of 3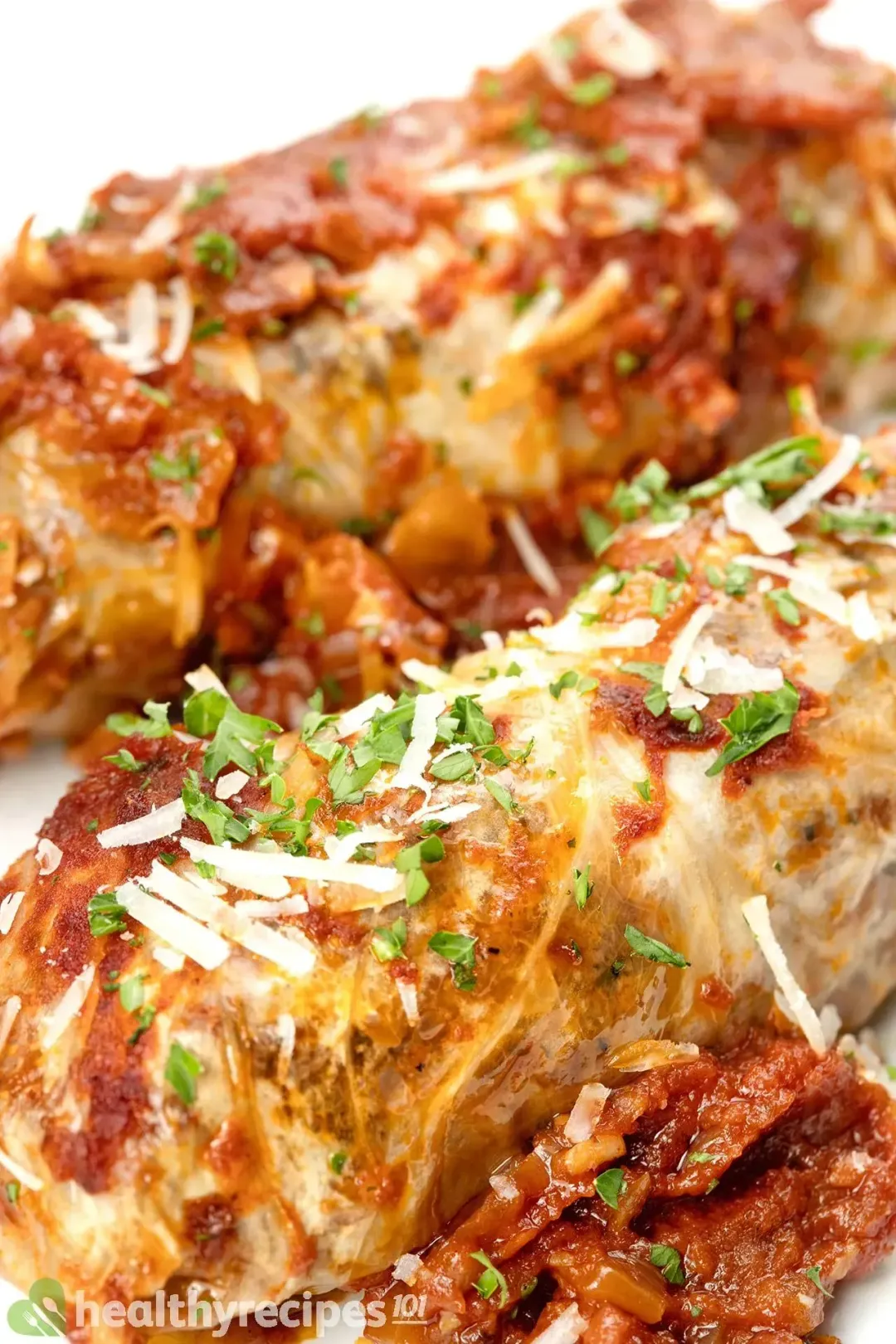 1 of 3
Cabbage Rolls Recipe
If you're looking for a no-frills, comfort food, this is where to start. These Cabbage Rolls include arborio rice to absorb the intense stock flavors and present a fulfilling dish balanced in taste.
Get the
recipe
.
2 of 3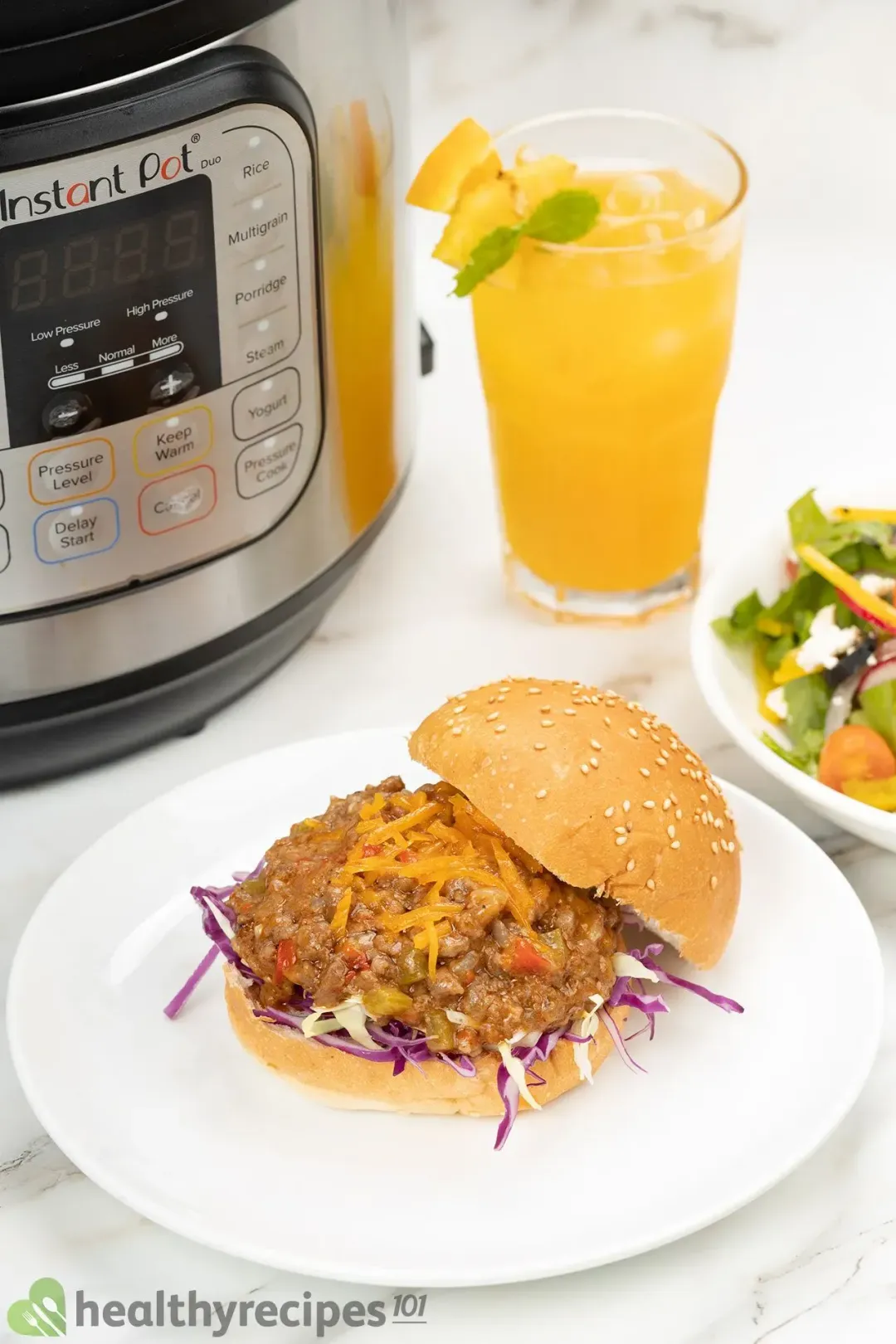 1 of 3
Instant Pot Sloppy Joes Recipe
These Sloppy Joes will knock your socks off with pleasure-prompting aromas. It doesn't help that the classic burger flavors are simmered soft in an instant pot until balmy. It's a game changer, to put it mildly.
Get the
recipe
.
3 of 3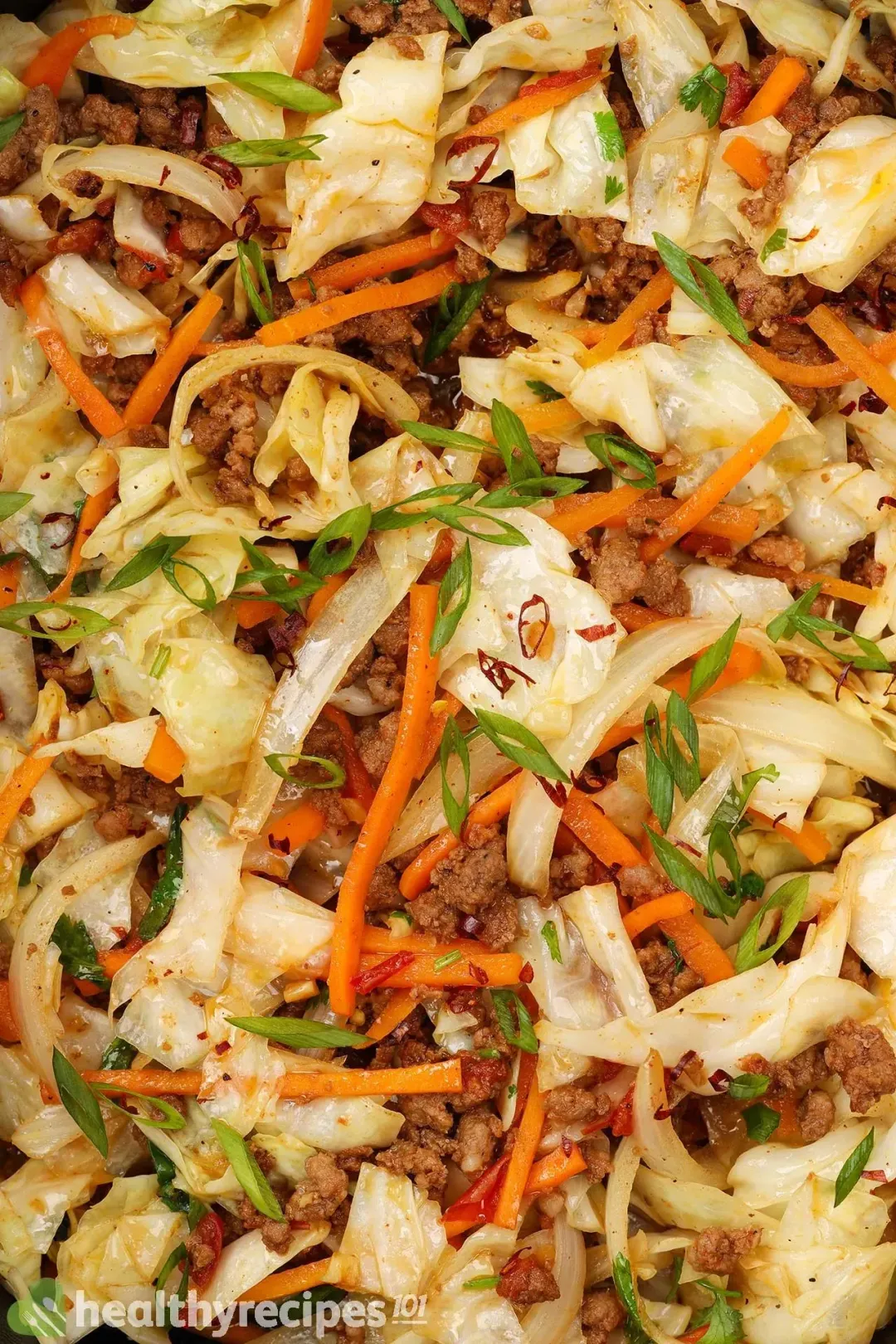 1 of 3
Ground Beef and Cabbage Recipe
This simple mix is humble yet glorious. You could be raggedy or rich, yet still want — or need — this meal with a bowl of rice at the end of a long day. After all, who doesn't love simple comfort food?
Get the
recipe
.
Reasons to Love
Both cabbage and ground beef are easy to prepare and cook. Ground beef is usually ready to cook, straight from the butcher's or grocery store. Cabbage does require some preparation, but nothing too complicated.
The flavors and textures of our star ingredients combine incredibly well and with the help of a few more additions and a dash of seasonings, you can prepare some delightful meals. Cabbage has a mildly sweet taste that perfectly complements the bold flavor of beef. 
Lastly, this combination is packed with nutrients. Green cabbage, the most common variety of this vegetable, contains fiber, vitamins, and minerals. And of course, ground beef is a great source of protein.
What to Make With
This is the quickest way to cook cabbage and ground beef. Stir-fried cabbage and ground beef meals can be made in one pan, which makes this a very convenient cooking method.
Vegetables, such as onions, carrots, and broccoli, go well with beef and cabbage. When it comes to choosing seasonings, you can keep it simple with just salt and pepper, or draw inspiration from other cuisines.
Cabbage and ground beef are more than enough for a filling meal, but you can bulk it up with rice or noodles.
Another way to combine these two ingredients is by cooking them in a soup or stew. This will allow a maximum blend of flavors to make a delicious broth. Incorporate your favorite vegetables and seasonings to make your soups and stews unique.
Soups and stews can be served on their own or as a dish at a family dinner.
Speaking of family dinners, what about a classic casserole? Add cheese to the mix to sizzle up the taste. The two ingredients, combined with a cheese of your choice, creates a delectable meal. We recommend a simple sauce so that it does not overpower the flavors of beef and cabbage.
You can try adding other ingredients, such as breadcrumbs, rice, and pasta, to make your casserole truly unique.
Aside from these three popular options, there is another fun way to cook cabbage and ground beef.
If you're into spring rolls, try experimenting with cabbage rolls. Replace the rice paper with cabbage, and make the filling with ground beef and other vegetables. Finally, bake the rolls with a flavorsome sauce or steam them to make a mouthwatering dish.
What Types of Cabbage Work Best
The most popular type of cabbage is the green one, which is also suitable for all the dishes listed above. There are various types of green cabbage, like Danish, domestic, or pointed cabbage. White cabbage is another version of green cabbage, just with a paler color.
Red cabbage is popular for its color. It is often used in salads, but you can use it in most dishes instead of green cabbage.
Savoy cabbage is smaller than green cabbage and has crinkly leaves. It is ideal for stir-fried dishes and salads.
Napa cabbage (or Chinese cabbage) has an oblong shape with crunchy stems and green and yellow leaves. These are a staple in Asian stir-fry dishes and soups.
Decide which dish you want to make, then choose the cabbage accordingly. Make sure the cabbage head is firm and tightly packed with fresh leaves.
How to Prepare Cabbage Before Cooking
Peel off the outer leaves and cut the cabbage in half or quarters. Wash the outer surface of the cabbage carefully, then separate the leaves. Rinse them to ensure that they're clean.
After washing, you can keep the leaves whole or chop them, depending on the dish you're making.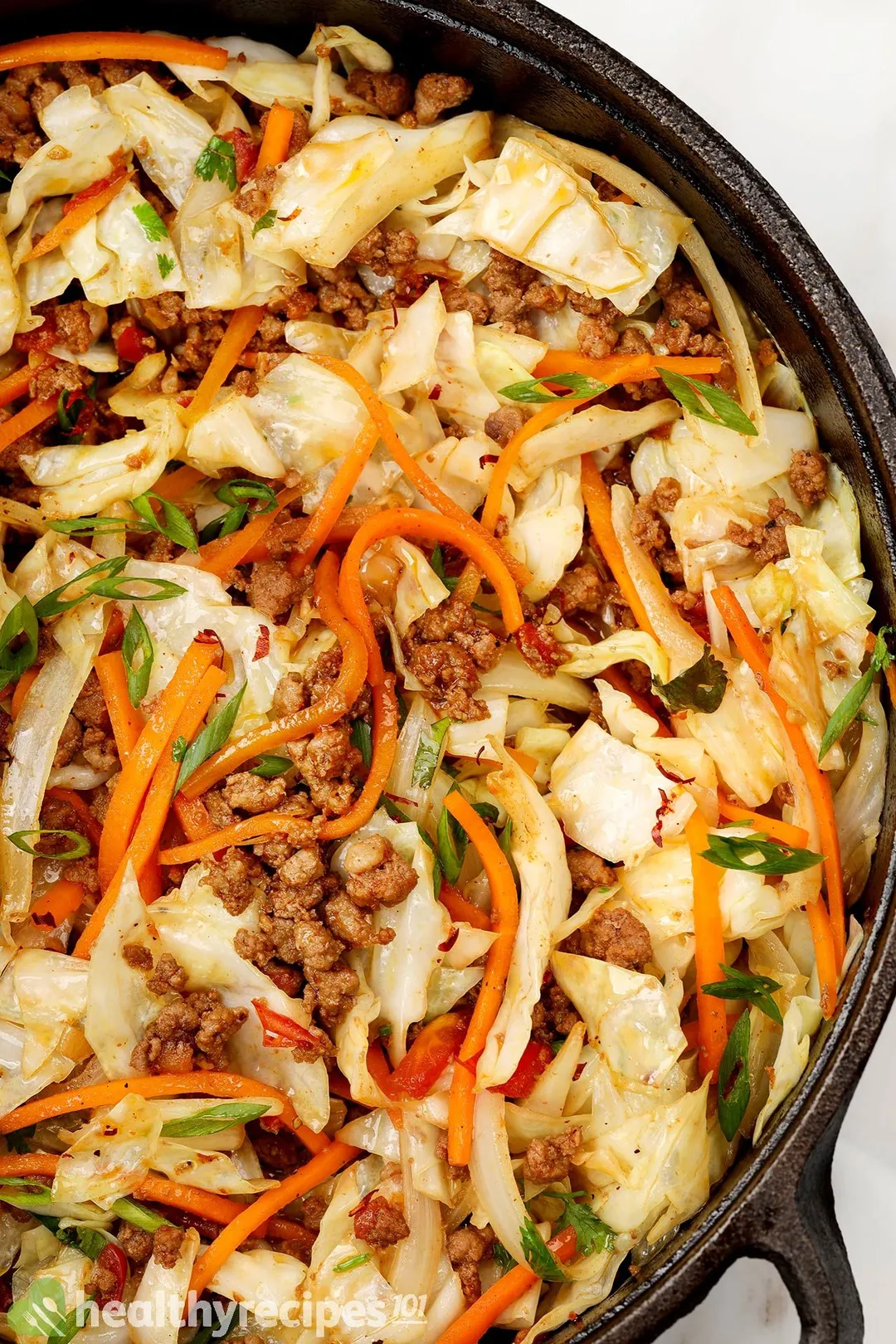 Cabbage and Ground Beef Recipes
These cabbage and ground beef recipes combine two popular, nutritious ingredients to make a variety of flavorful dishes.
Ingredients
Directions
Choose a recipe that you like.
Assemble all the essential ingredients.
Follow the instructions to give you incredibly tasty cabbage and ground beef in less than 40 minutes!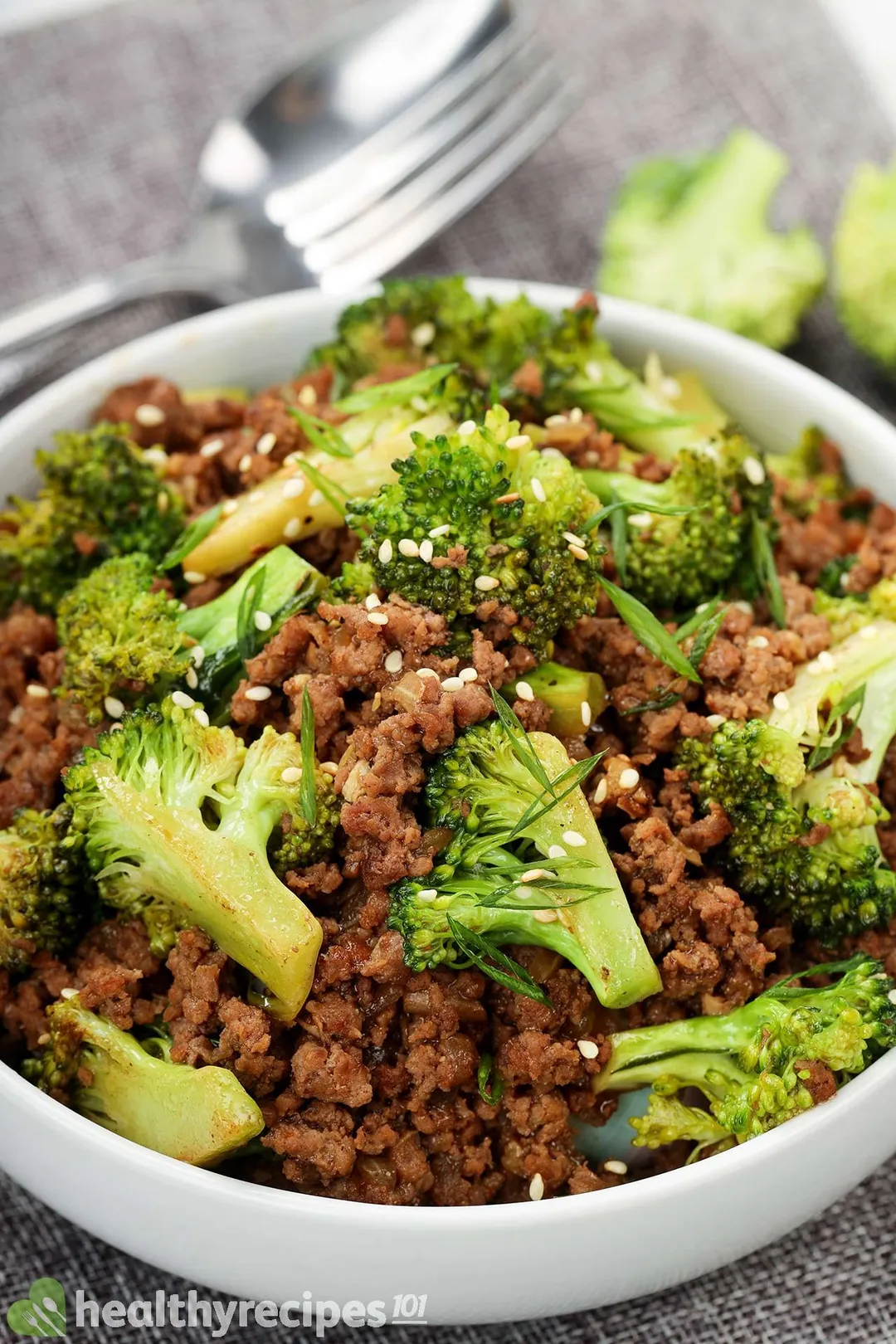 Previous Recipe
Asian Ground Beef Recipes
Asian Ground Beef Recipes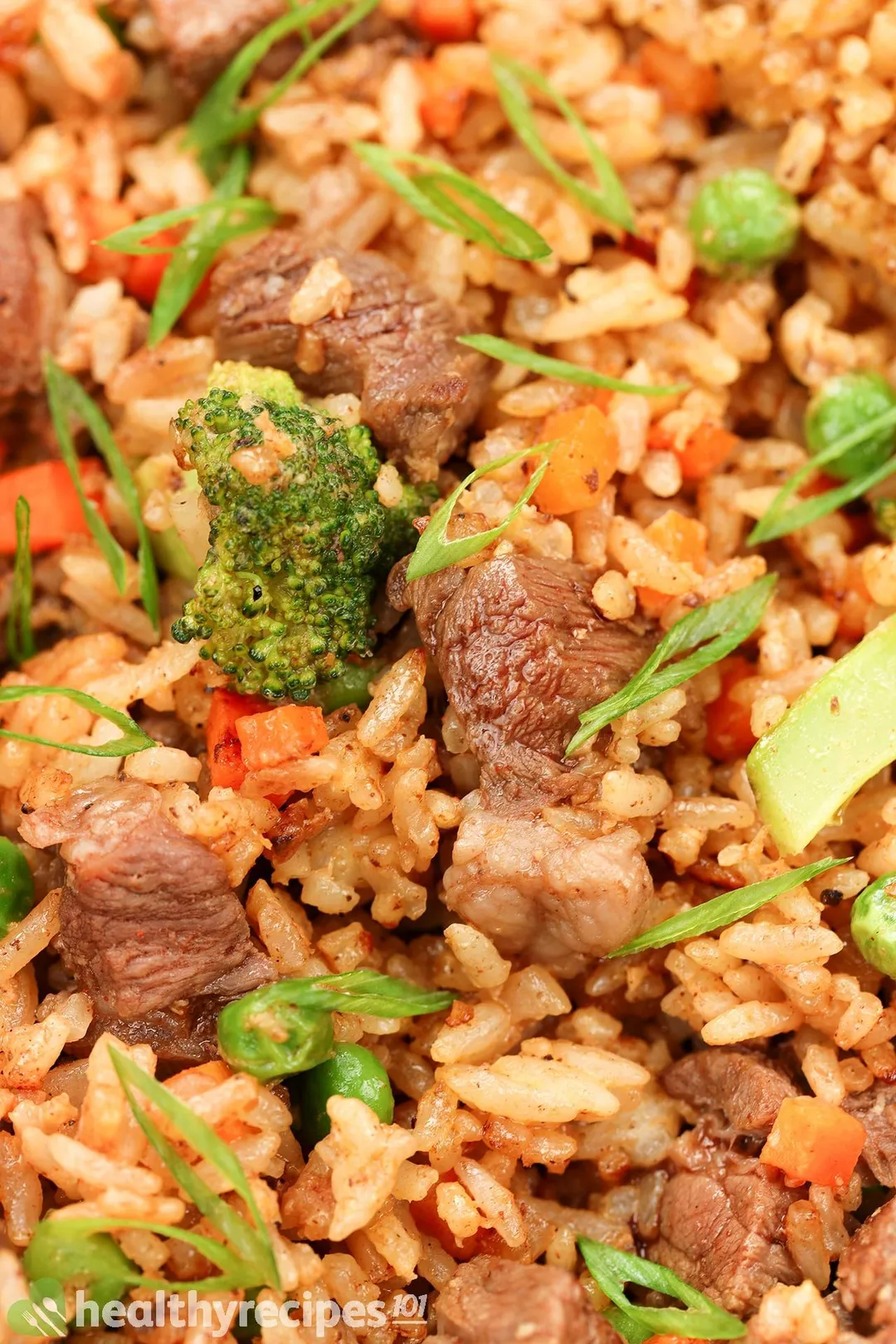 Next Recipe
Beef and Rice Recipes
Beef and Rice Recipes
Writer, Author
Luna Regina is an accomplished writer and author who dedicates her career to empowering home cooks and making cooking effortless for everyone. She is the founder of HealthyKitchen101.com and HealthyRecipes101.com, where she works with her team to develop easy, nutritious recipes and help aspiring cooks choose the right kitchen appliances.
Comments/ Reviews