With today's healthy ground beef and potatoes recipe, we'll show you how to make a delicious, comforting dish from scratch. All it takes is a few ingredients and it'll be ready in less than an hour.
Is Ground Beef and Potatoes Healthy?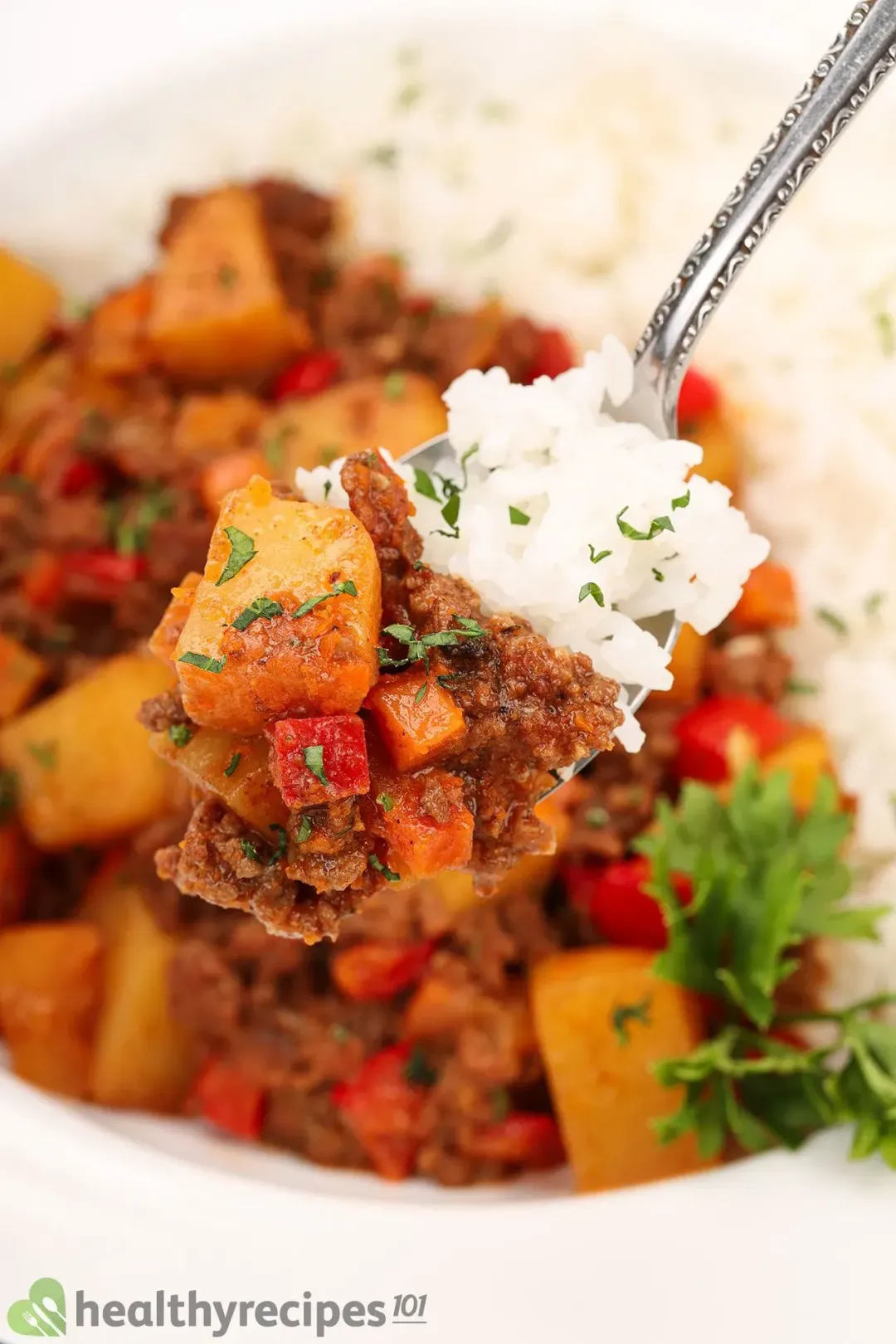 Yes, our ground beef and potatoes recipe is healthy. Here's why:
1. Best Type of Ground Beef for This Recipe
Ground beef tends to be very high in fat and calories and is often considered an unhealthy option. But that's not always true because it depends on the meat to fat ratio.
For instance, we're using 85% lean ground beef for this recipe, which provides about 243 calories in every 4 oz. If you're using 75% lean ground beef of the same amount, your calorie consumption will be increased up to 331.
Of course, you can further decrease your fat intake by using ground beef that contains 90% or more lean meat. However, the leaner the meat, the dryer, and less appetizing it tends to be.
2. Carbohydrates are Healthy, Too
This recipe contains two main sources of carbs: potatoes and rice. This means our ground beef and potatoes recipe isn't low-carb, but that doesn't mean it's any less healthy.
Potatoes and rice are relatively low in sugar and, as such, eating in moderation won't cause a sudden spike in your blood sugar level.
In fact, adding carbs to your diet is a good way to stretch your meals as it helps you stay full for longer. And when you're feeling full, you won't be craving other calorie-dense foods like chips or cakes.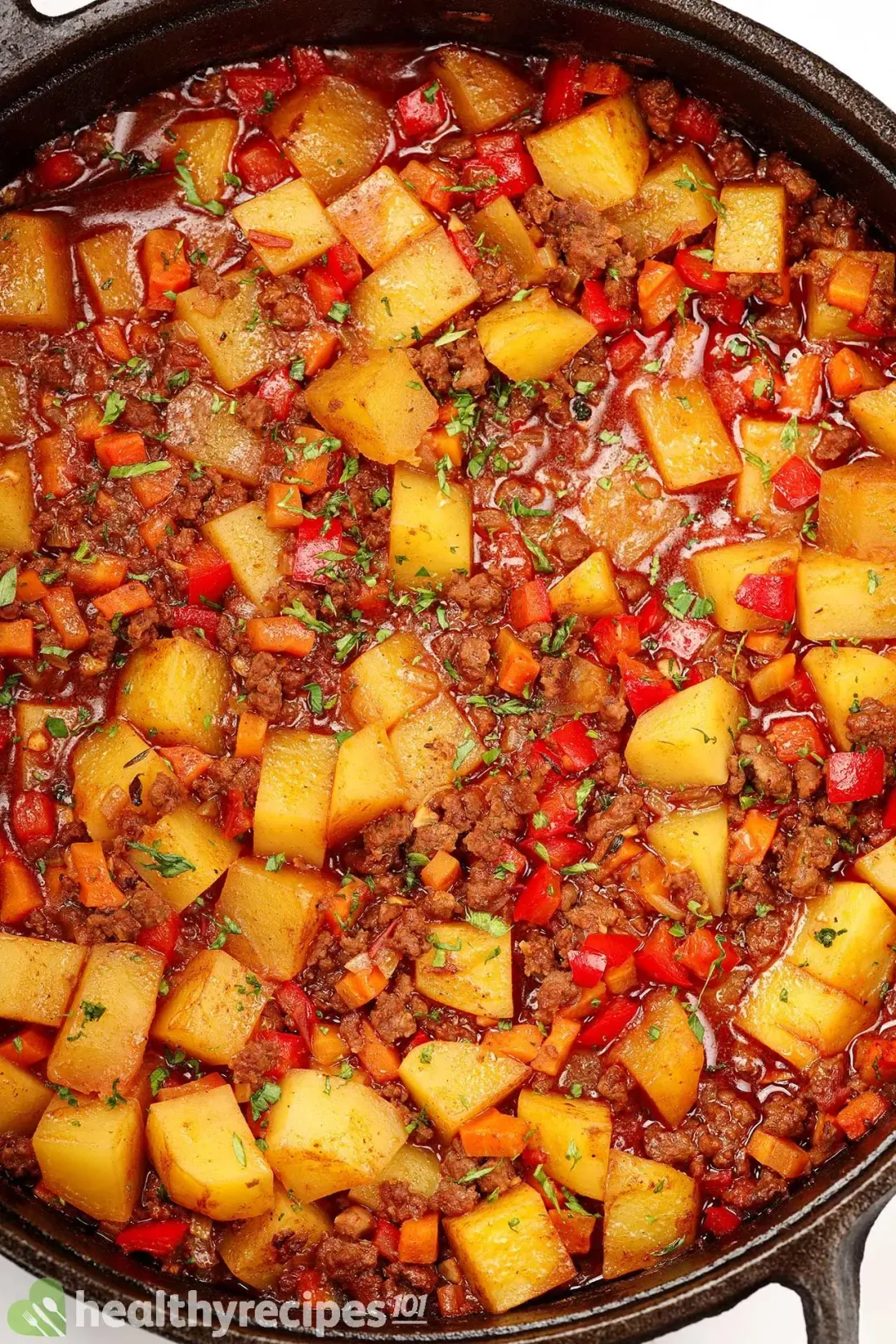 Main Ingredients for This Recipe
Here are the main ingredients for today's ground beef and potatoes recipe:
Ground beef: As mentioned, we're using 85% lean ground beef.
Aromatics: White onions and garlic.
Vegetables: Tomatoes, carrots, red bell pepper, and potatoes.
Spices and condiments: Tomato paste, paprika, garlic powder, salt, black pepper, Worcestershire sauce, Dijon mustard, and brown gravy mix.
Herbs: Dried Bay leaf, fresh thyme, and parsley.
Liquid: Unsalted chicken broth to cook the beef and potatoes.
Rice: We're serving our beef over a bowl of warm, cooked medium-grain rice.
Ground beef is a versatile ingredient that you can be creative with and try out different ways to cook it. If you're interested, check out our ground beef and broccoli recipe and our ground beef and cabbage recipe.
Types of Potatoes to Use
Here are the common types of potatoes you can use for this recipe:
Yukon gold potatoes: They're mildly sweet and absorb flavors well — perfect for today's recipe. When cooked, they become quite tender but not to the point that they'll fall apart easily.
Russet potatoes: These starchy potatoes may be the best for frying, but they're quite versatile and go well with many dishes.
French fingerlings: They may cost a few more bucks, but your money will be well-spent. They're lightly sweet and hold their shape well after cooking — perfect for boiling, baking, or slow-cooking.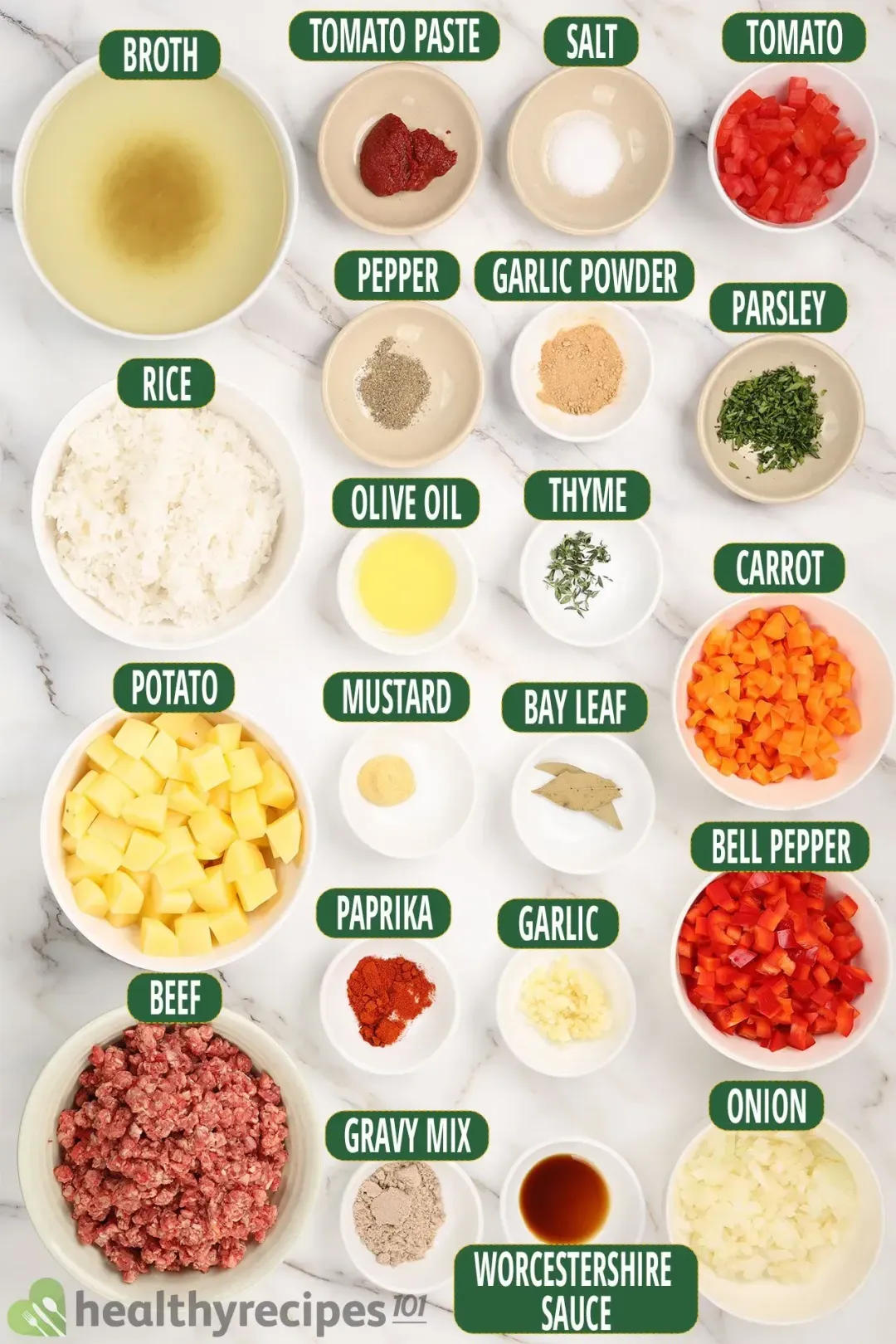 How to Make Ground Beef and Potatoes
We can't stress enough how easy our ground beef and potatoes recipe is. Here's how to cook it:
Start by sautéing onions and garlic in a cast-iron skillet.
Once the onions are translucent, add tomato paste and stir for a few seconds more. This will caramelize it slightly and reduce its sharp tanginess.
Then, briefly stir-fry the vegetables before adding the ground beef and cook for a few minutes.
At this point, add the potatoes and chicken broth. Simmer until the potatoes are tender and the beef is cooked.
There you have it: our easy ground beef and potatoes. It doesn't require any complex cooking skills to make.
Here's a quick recap of the recipe: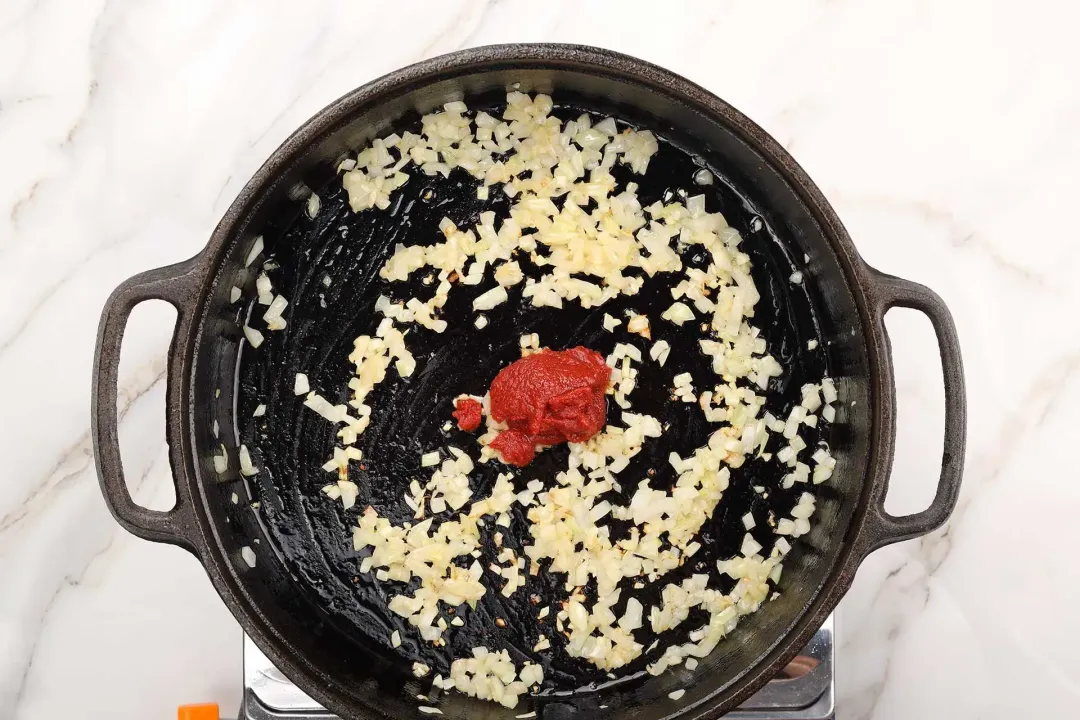 Sauté the aromatics.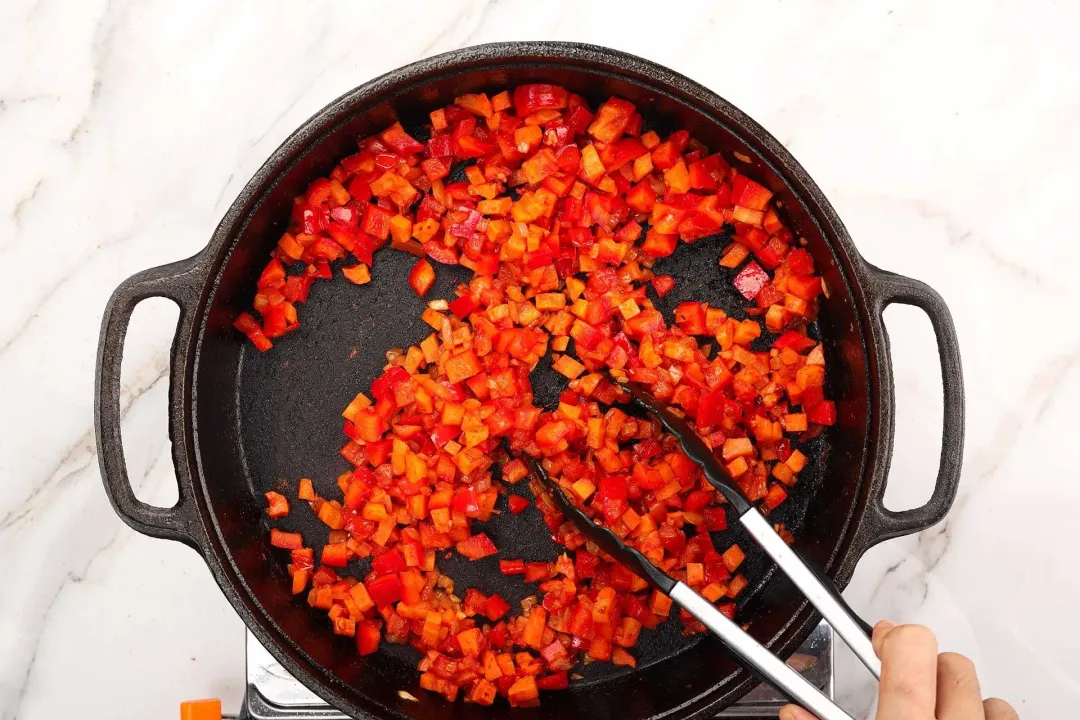 Sauté the vegetables.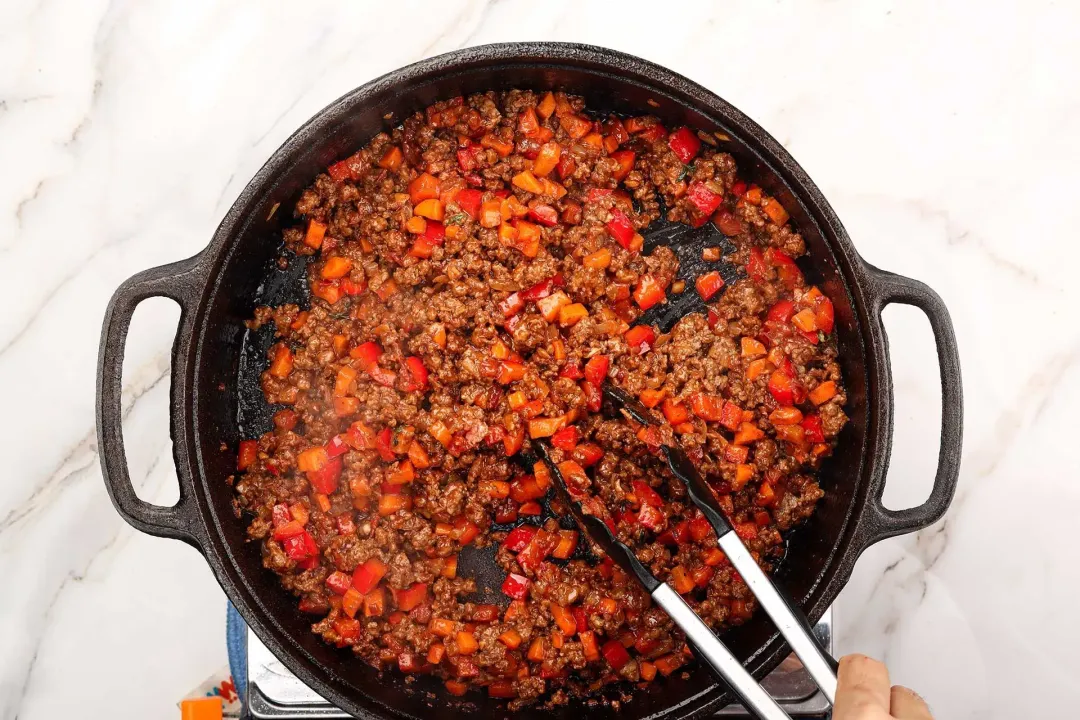 Cook the beef.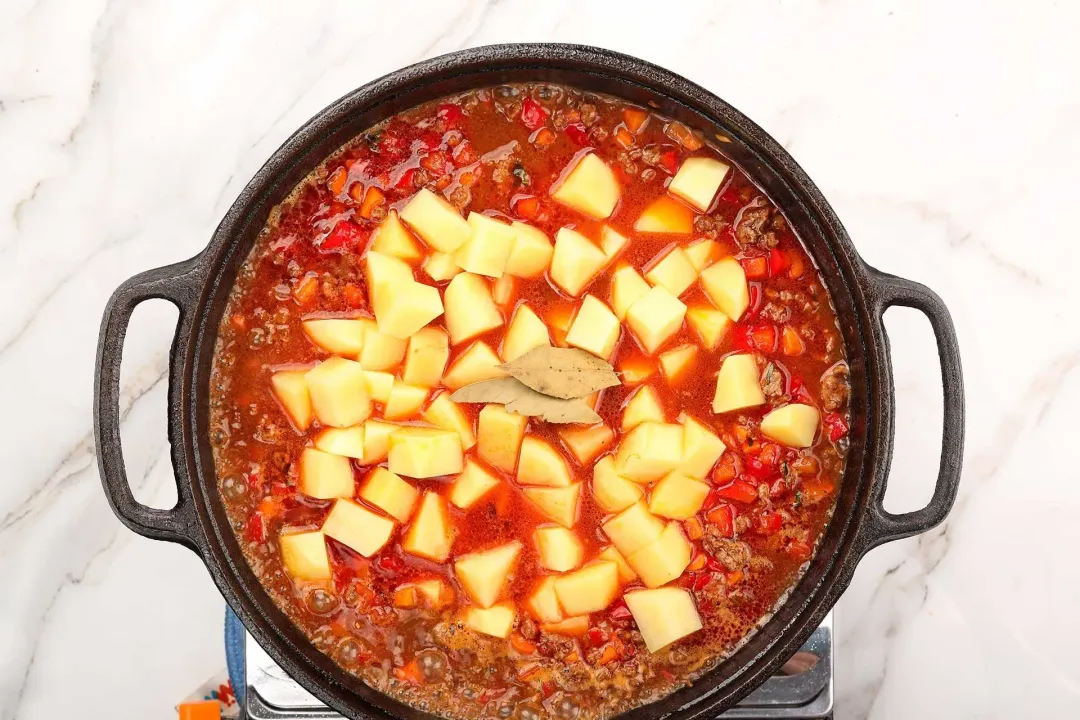 Cook the potatoes.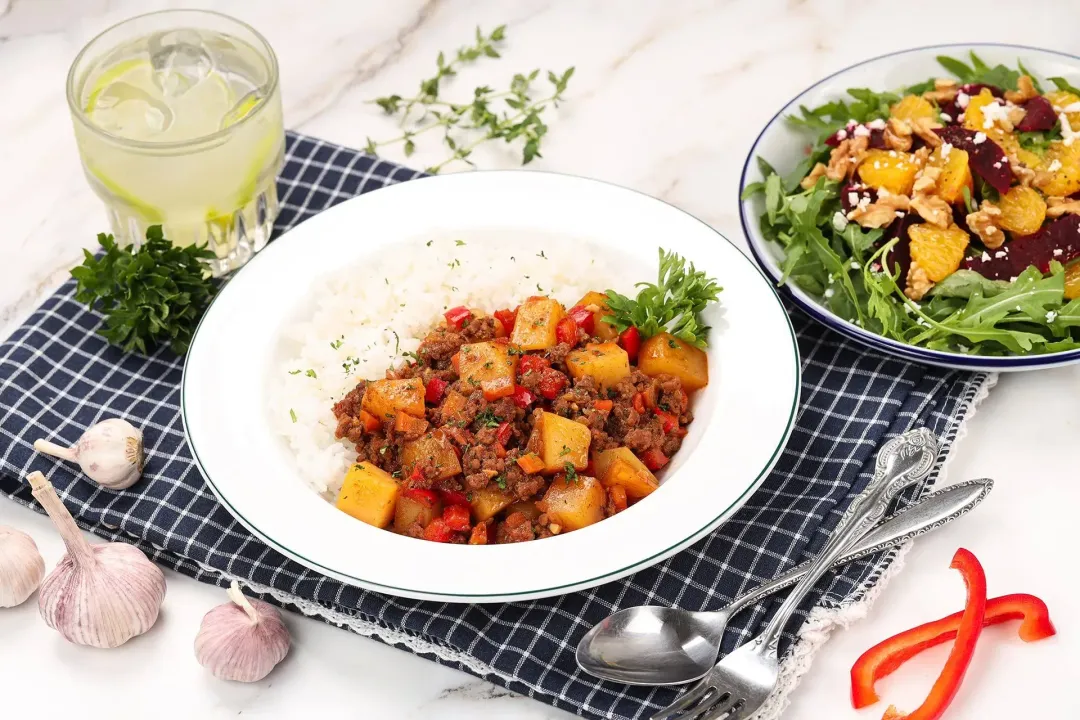 Garnish and serve.
How Long Should You Cook Ground Beef?
For this particular recipe, you will cook the ground beef twice:
First, you'll sauté it for 3 minutes to brown it slightly and break any large chunks into smaller pieces. Don't worry about undercooking it now.
Next, the beef will be simmered in chicken broth for 20 minutes. At this point, the beef should be tender and well-done.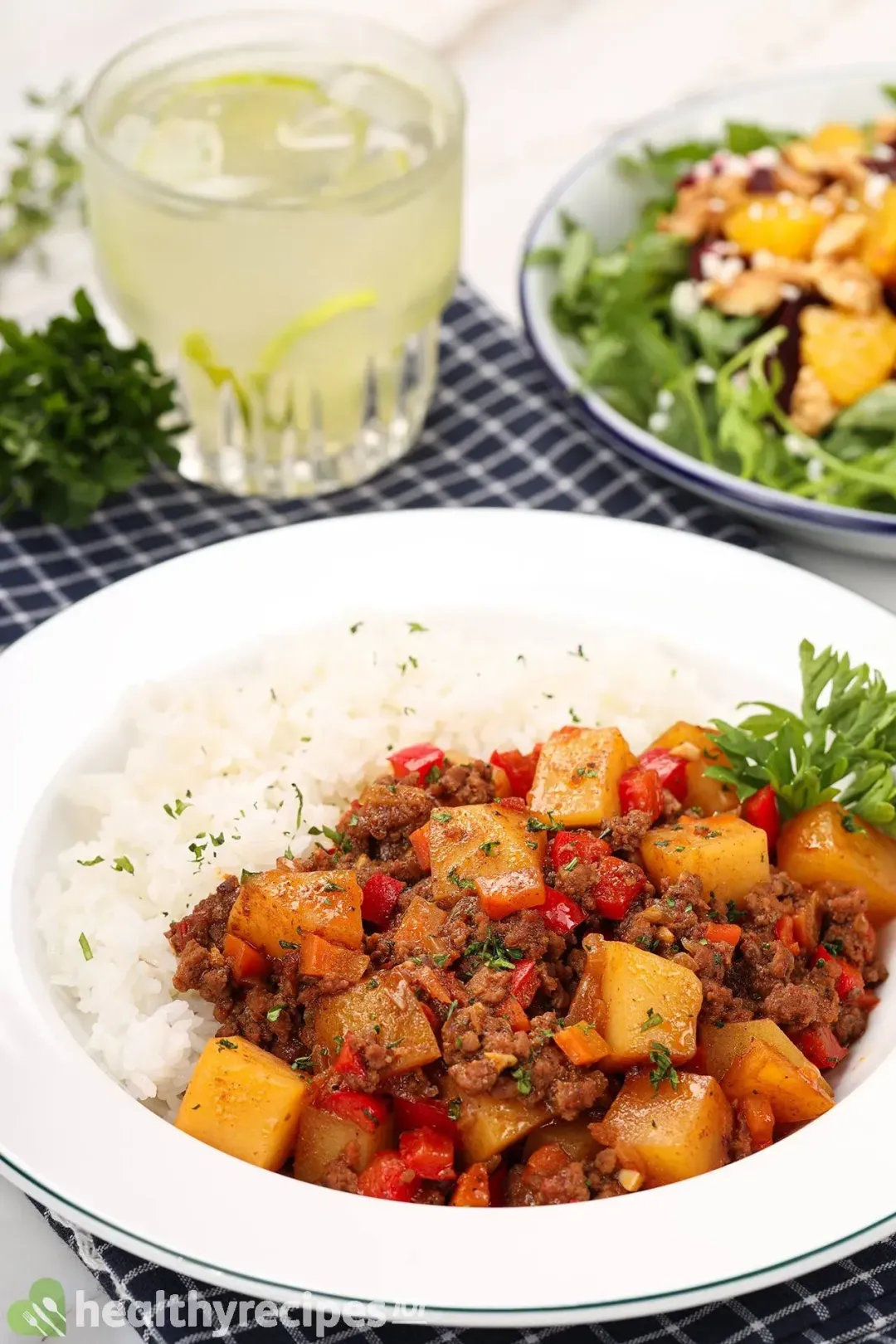 In the end, our ground beef took only 23 minutes to cook; long enough to cook the ground beef and make it safe to eat.
If you're unsure, use a thermometer and check the temperature of the meat sauce. It should have reached 160°F; if it hasn't, cook a bit longer.
How to Store and Reheat Leftover Ground Beef and Potatoes
If you have leftover ground beef, potatoes, and rice, here's what you should do:
Divide the food into serving portions and keep each one in an airtight container. It will last for a week in the fridge.
Use microwave-safe containers so that you don't have to transfer your food to a new container every time you reheat it.
Reheat the ground beef and potatoes in the microwave for about 2 minutes.
This ground beef and potatoes recipe is ideal for a whole week's meal-prep if you're a busy person.
What to Serve With Ground Beef and Potatoes
For today's meal, we recommend serving our ground beef and potatoes with a side of beet and feta cheese salad. The salad consists of tender beets, fresh orange, and peppery arugula that will surely pair well with the beef.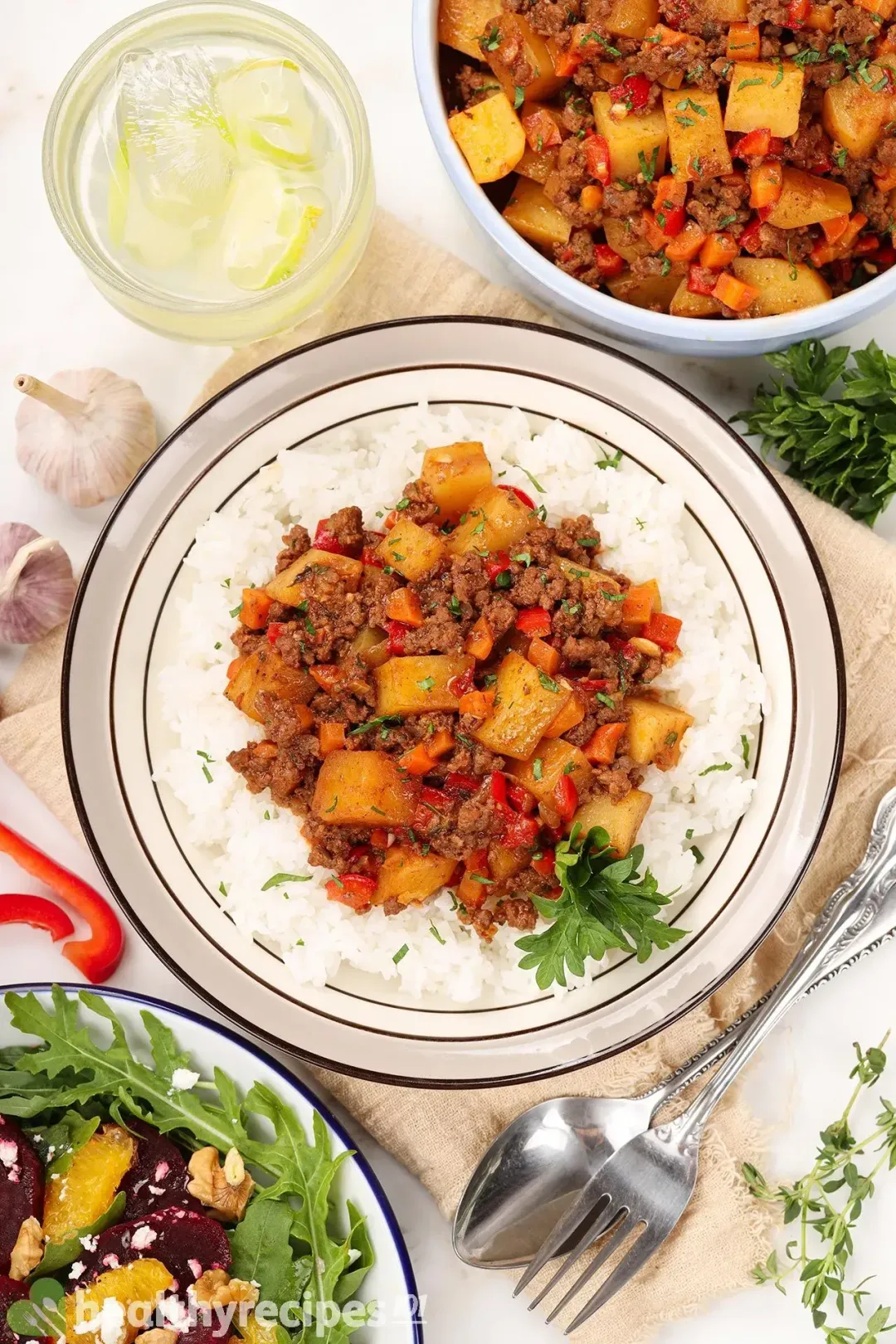 We suggest cooking the beets ahead of time as they need to cool down before they can be mixed into the salad. And while you're at it, you can throw together a low-calorie pitcher of fresh lime juice to wash down your meal.
This drink will help cleanse your palate and freshen your breath.
Ground Beef and Potatoes Recipe
This ground beef and potatoes recipe is proof that you don't need many ingredients to make a delicious, homemade meal. Let's check it out.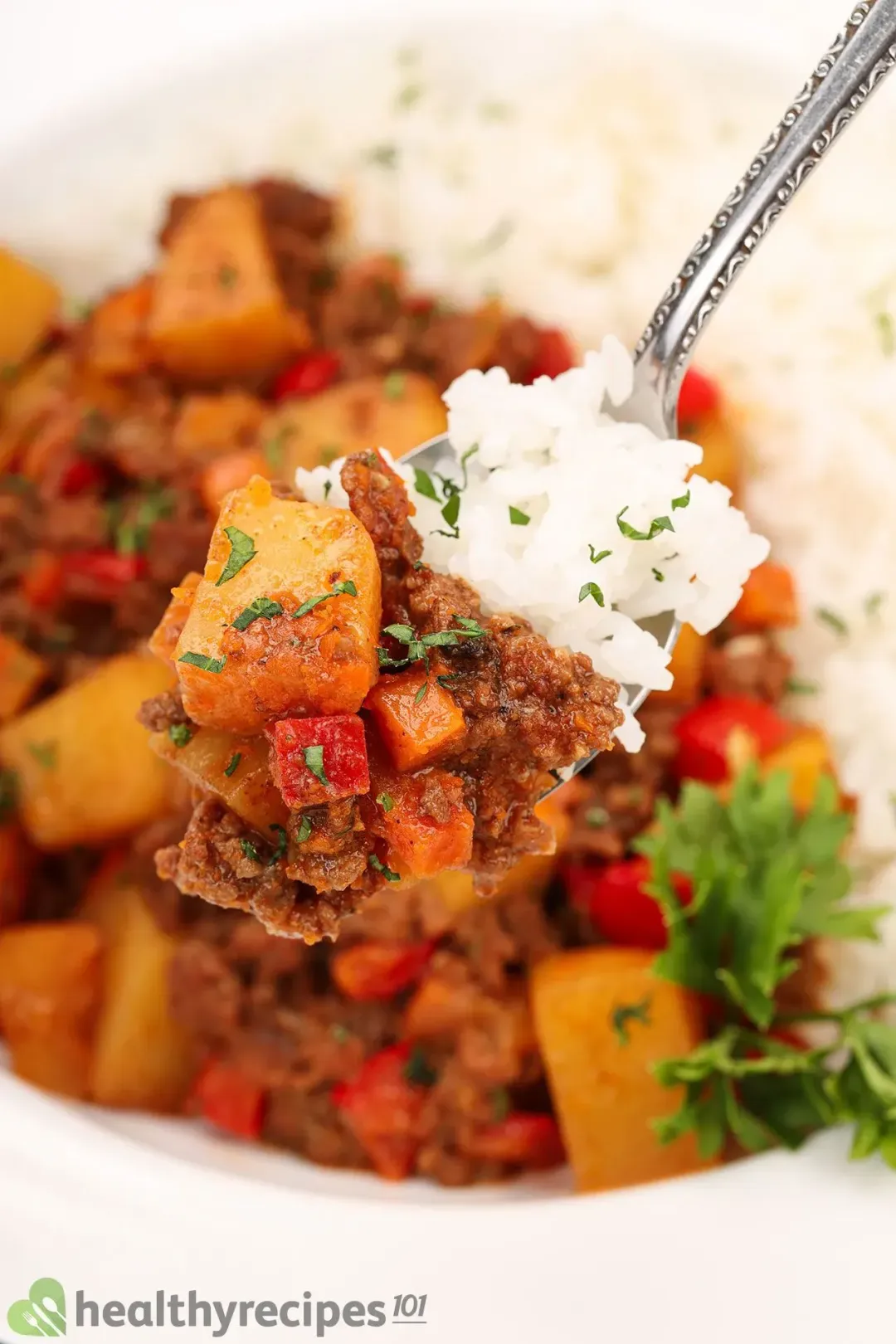 cook TIME

30 mins

prep TIME

10 mins

total TIME

40 mins
COURSE

Main Course

CUISINE

American

SERVINGS

servings

CALORIES

498 kcal
INGREDIENTS
2 oz

onions

(finely chopped)

1 tbsp

Hunt's tomato paste

1/4 cup

tomato

(deseeded, finely diced)

3 oz

carrots

(finely diced)

4 oz

red bell pepper

(deseeded, diced)

12 oz

85% lean ground beef

1 tsp

Worcestershire sauce

1 tsp

traditional Dijon mustard

1 tsp

thyme

(fresh leaves only)

2 cup

unsalted chicken broth

12 oz

potatoes

(cut into 1-inch cubes)

2 tbsp

fresh parsley

(roughly chopped)

3 cups

cooked medium-grained rice

(from 1 1/2 cups uncooked)
INSTRUCTIONS
1
Sauté the aromatics: In a cast-iron skillet, add 1 tbsp olive oil, 2 oz chopped onions, and 1 tbsp minced garlic. Cook and stir over medium heat for 2 minutes or until the onions are translucent. Add 1 tbsp tomato paste and stir constantly for 30 seconds to reduce its tartness.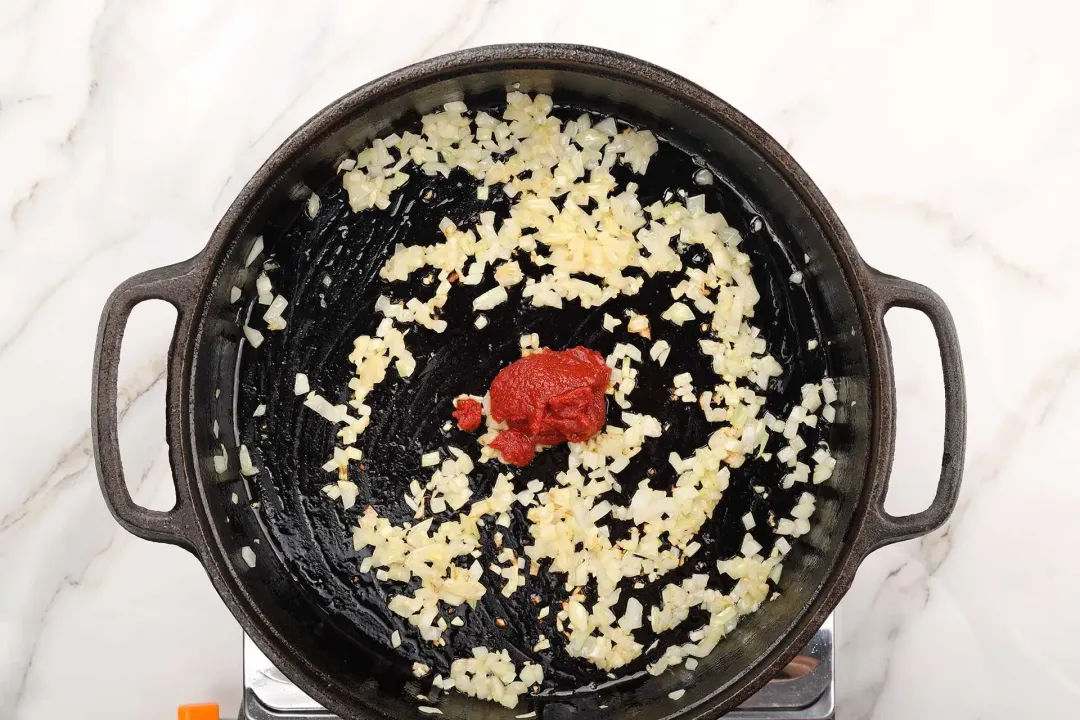 2
Sauté the vegetables: Add 1/4 cup chopped tomatoes to the same skillet and stir for 1 minute to incorporate with the tomato paste. Then, add 3 oz diced carrots and 4 oz diced red bell peppers. Cook for 2 minutes, stirring occasionally.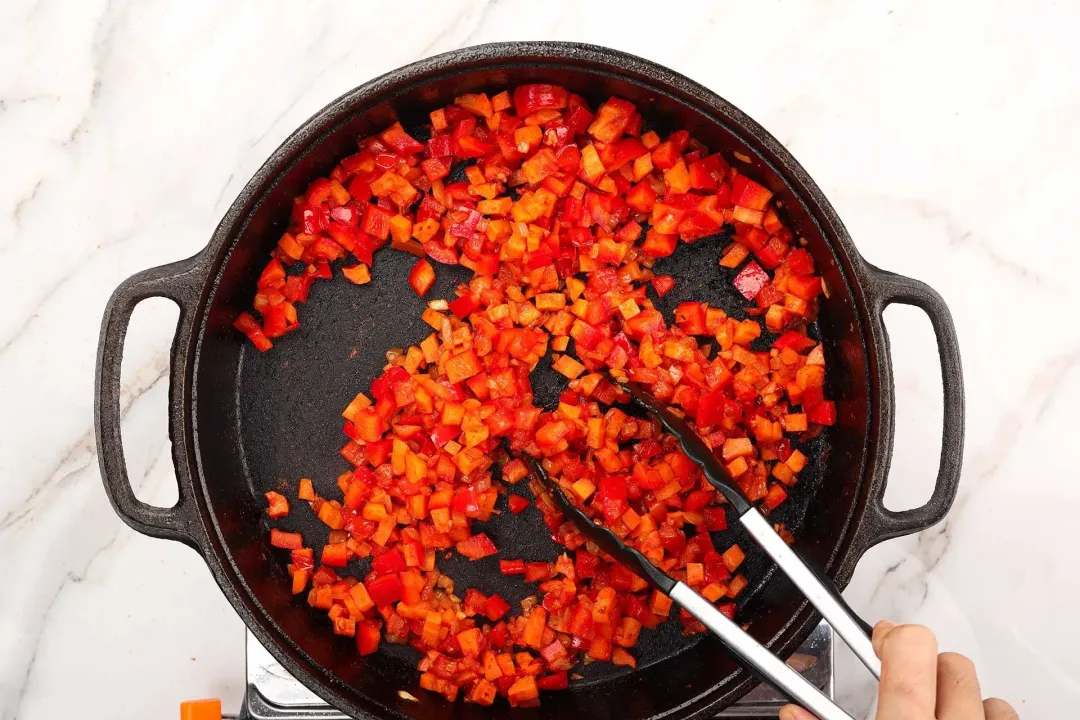 3
Cook the beef: Add 12 oz ground beef to the skillet. Stir and break up any large chunks. Add 1 tsp paprika, 1 tsp garlic powder, 1/2 tsp salt, 1/2 tsp black pepper, 1 tsp Worcestershire sauce, 1 tsp Dijon mustard, 1 tsp thyme, and 1 tbsp brown gravy mix. Mix well and cook for another 3 minutes, stirring occasionally.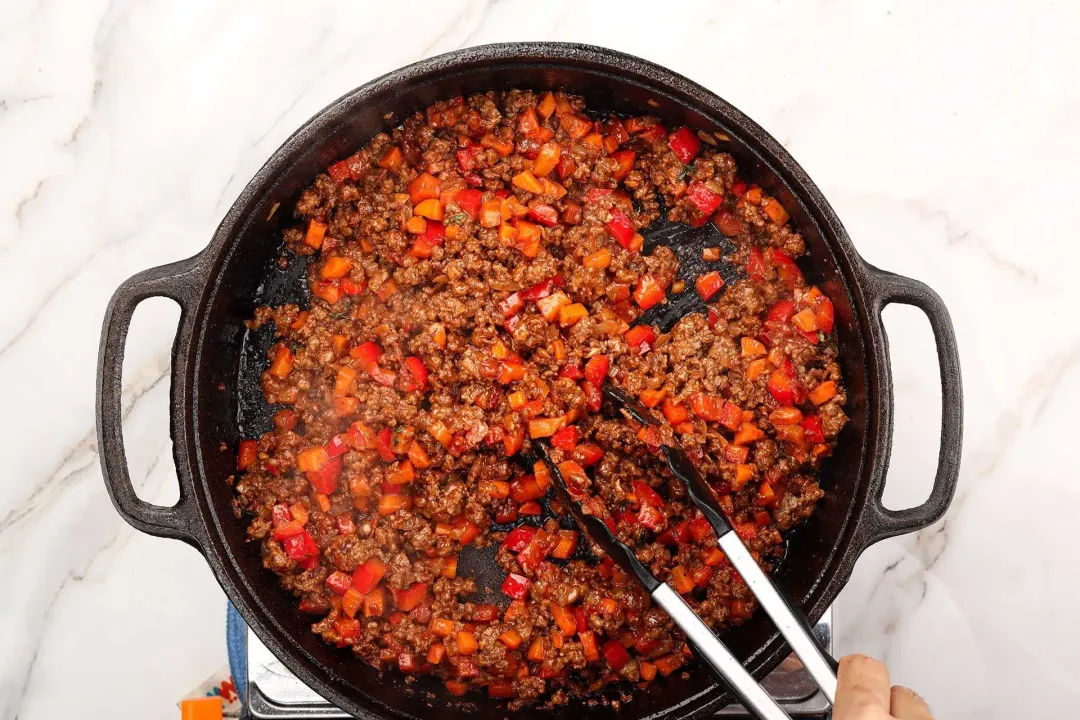 4
Cook the potatoes: Add 2 cup unsalted chicken broth, 12 oz cubed potatoes, and 1 bay leaf. Turn the heat up to high and bring to a boil for 1 minute. Then, reduce the heat to low and simmer for 20 minutes. Stir occasionally so that the potatoes are cooked evenly.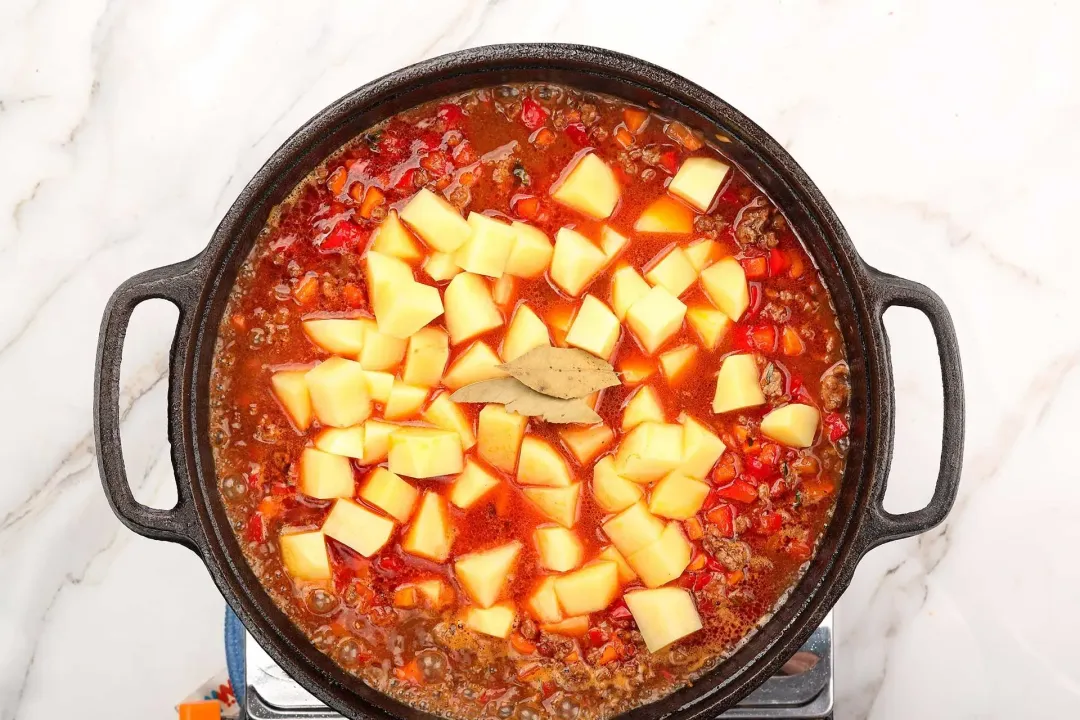 5
Garnish and serve: Once the timer rings, turn off the heat. Sprinkle 2 tbsp freshly chopped parsley on top of the beef and potatoes. Transfer to a deep dish or bowl and serve with 3/4 cup cooked rice per serving.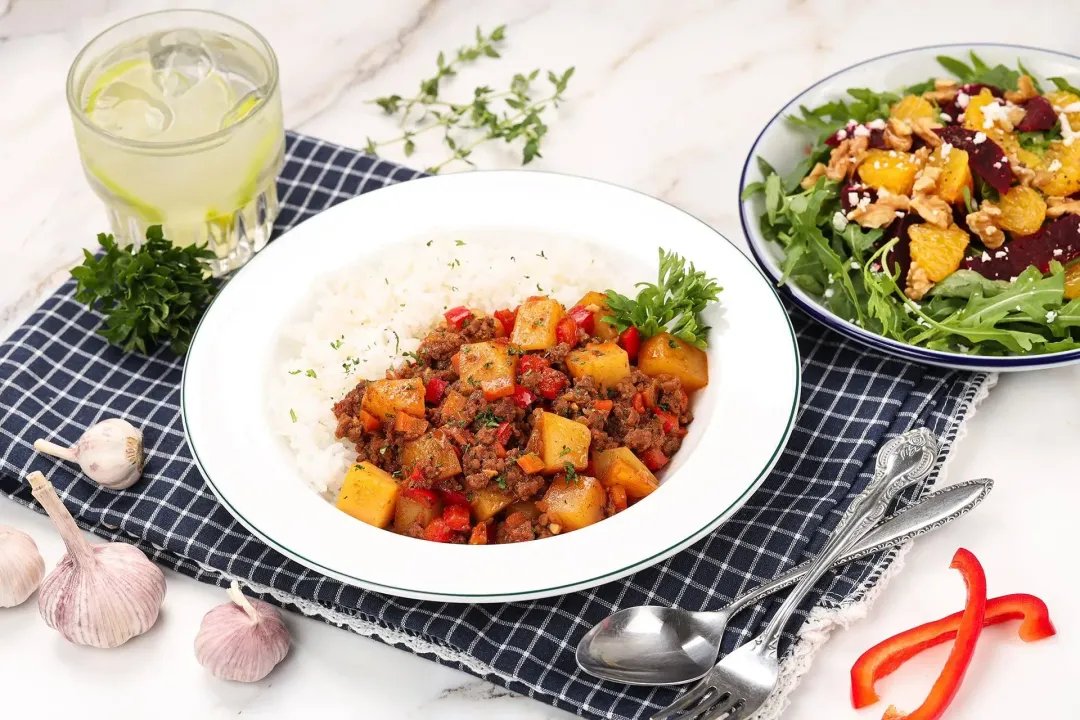 NUTRITION
Nutrition Facts
Ground Beef and Potatoes Recipe
Amount Per Serving (1 serving)
Calories 498
Calories from FDA
% Daily Value*
* Percent Daily Values are based on a 2000 calorie diet.
Keywords: ground beef and potatoes, ground beef and potatoes recipe, how to make ground beef and potatoes stir fry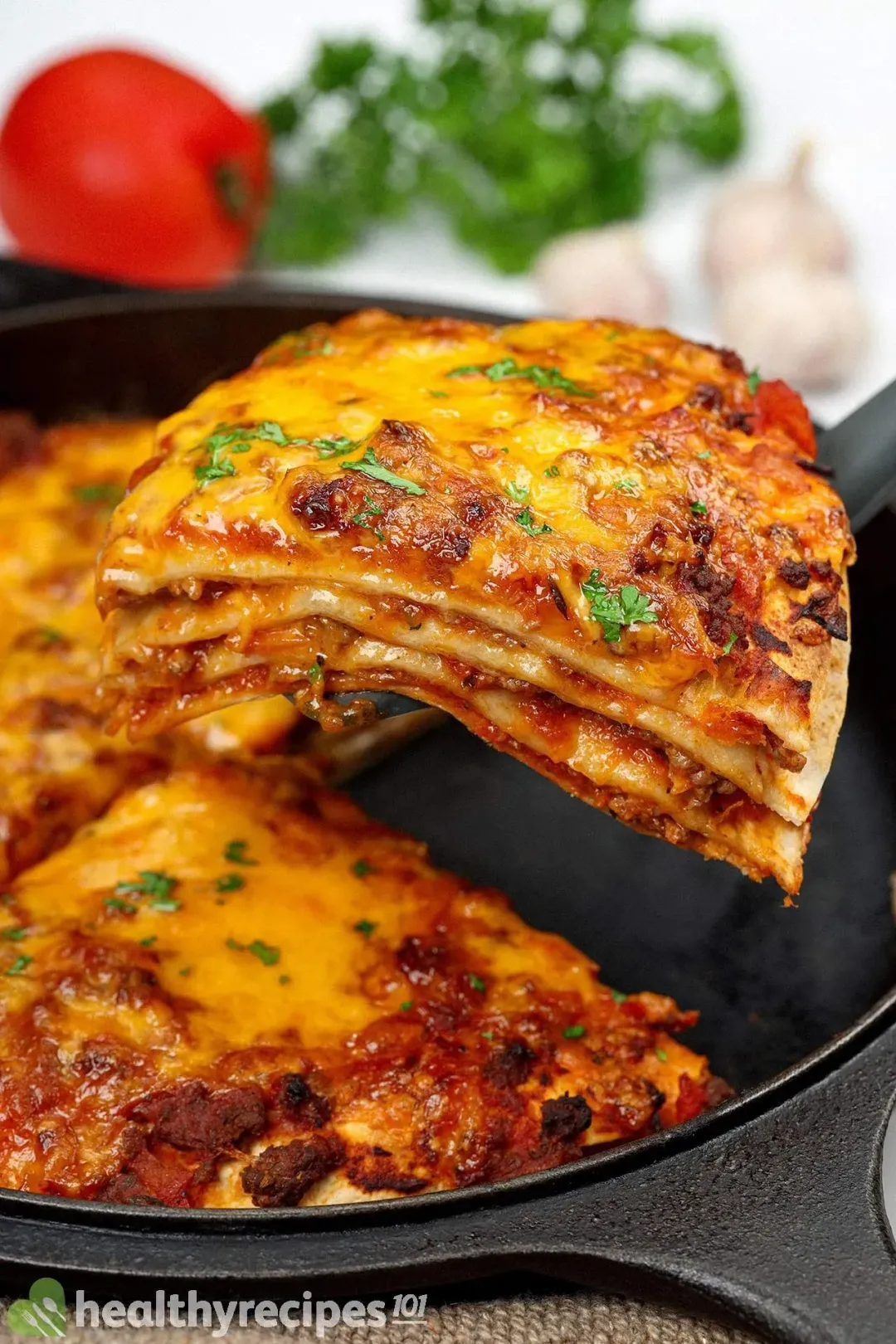 Previous Recipe
Tortilla Pie
Tortilla Pie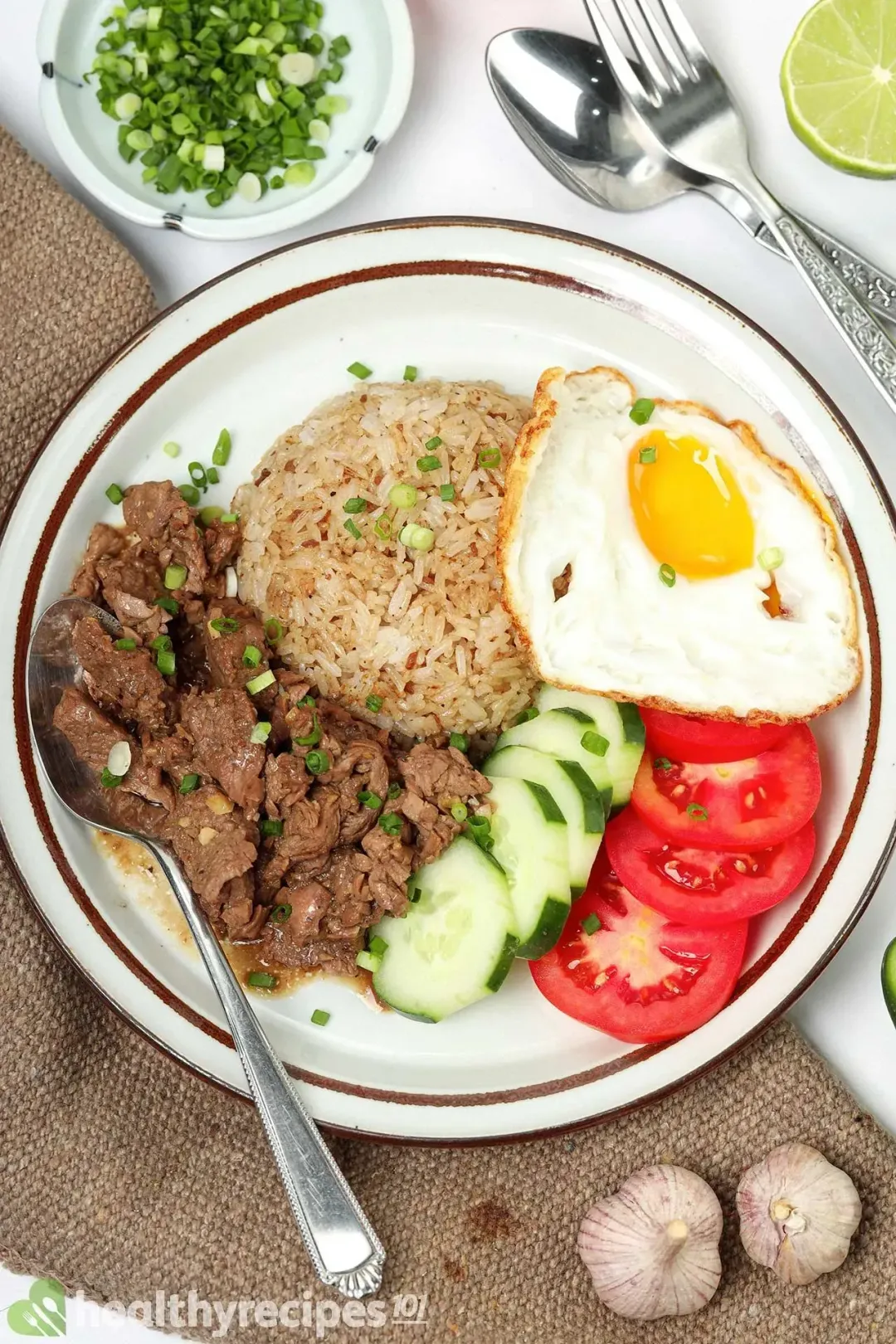 Beef Tapa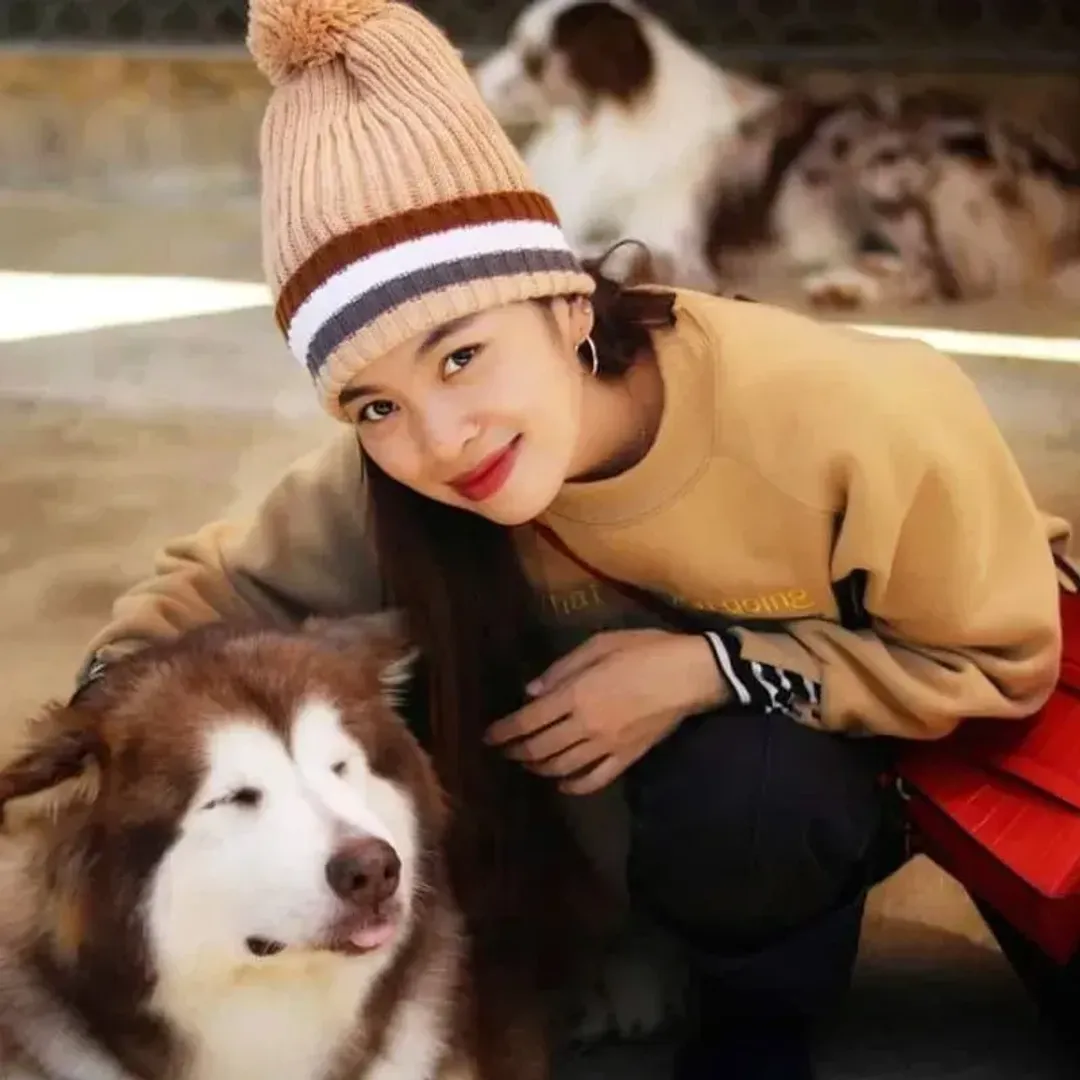 Chef, Culinary Consultant
Tuyet Pham is an award-winning Saigonese chef who believes that joy is the secret ingredient to delicious food. At Healthy Recipes 101, Tuyet personally tests and simplifies every recipe, ensuring maximum flavor with minimal effort. With a background at prestigious French restaurants P'TI Saigon and Le Corto, Tuyet knows how to make every dish exceptional.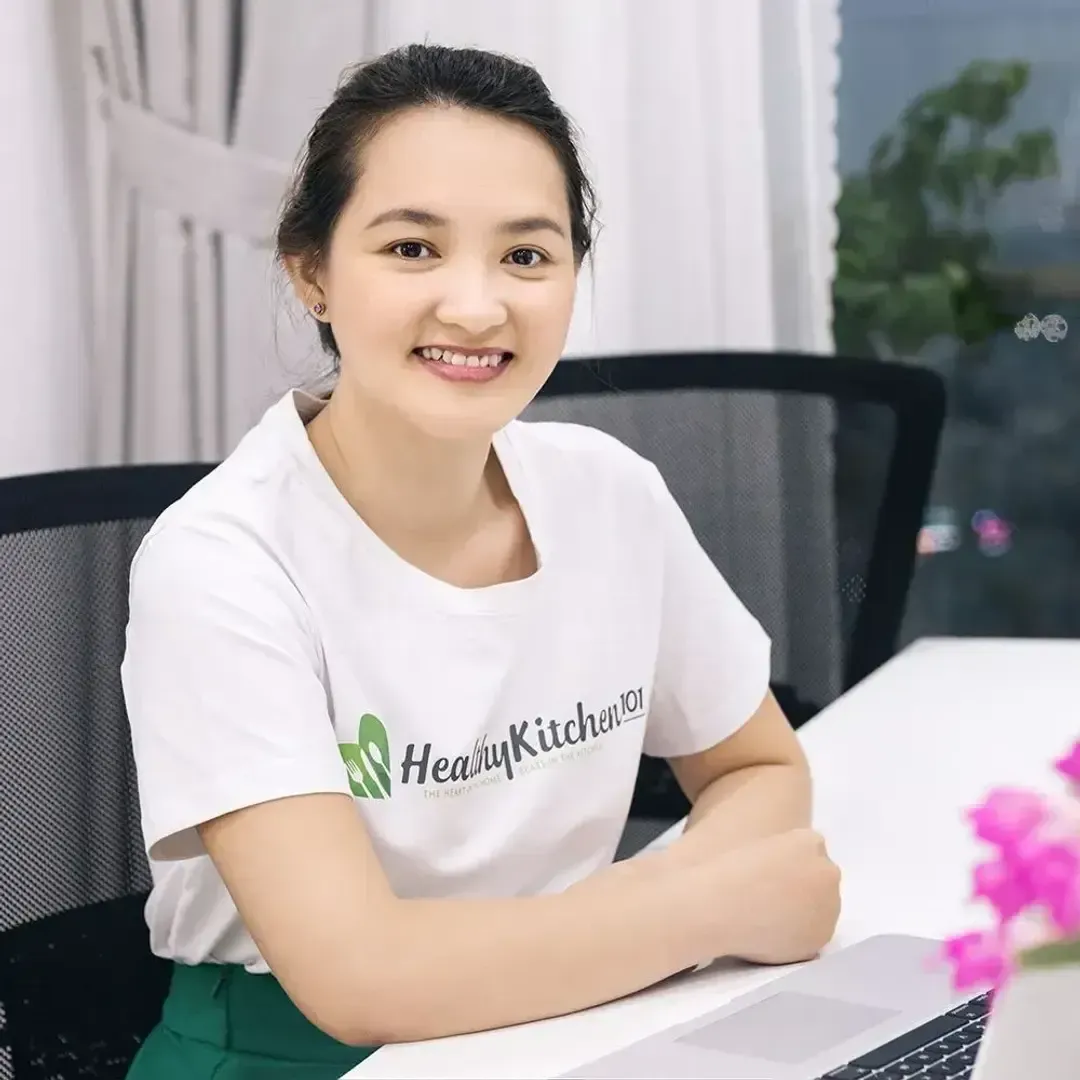 Writer, Author
Luna Regina is an accomplished writer and author who dedicates her career to empowering home cooks and making cooking effortless for everyone. She is the founder of HealthyKitchen101.com and HealthyRecipes101.com, where she works with her team to develop easy, nutritious recipes and help aspiring cooks choose the right kitchen appliances.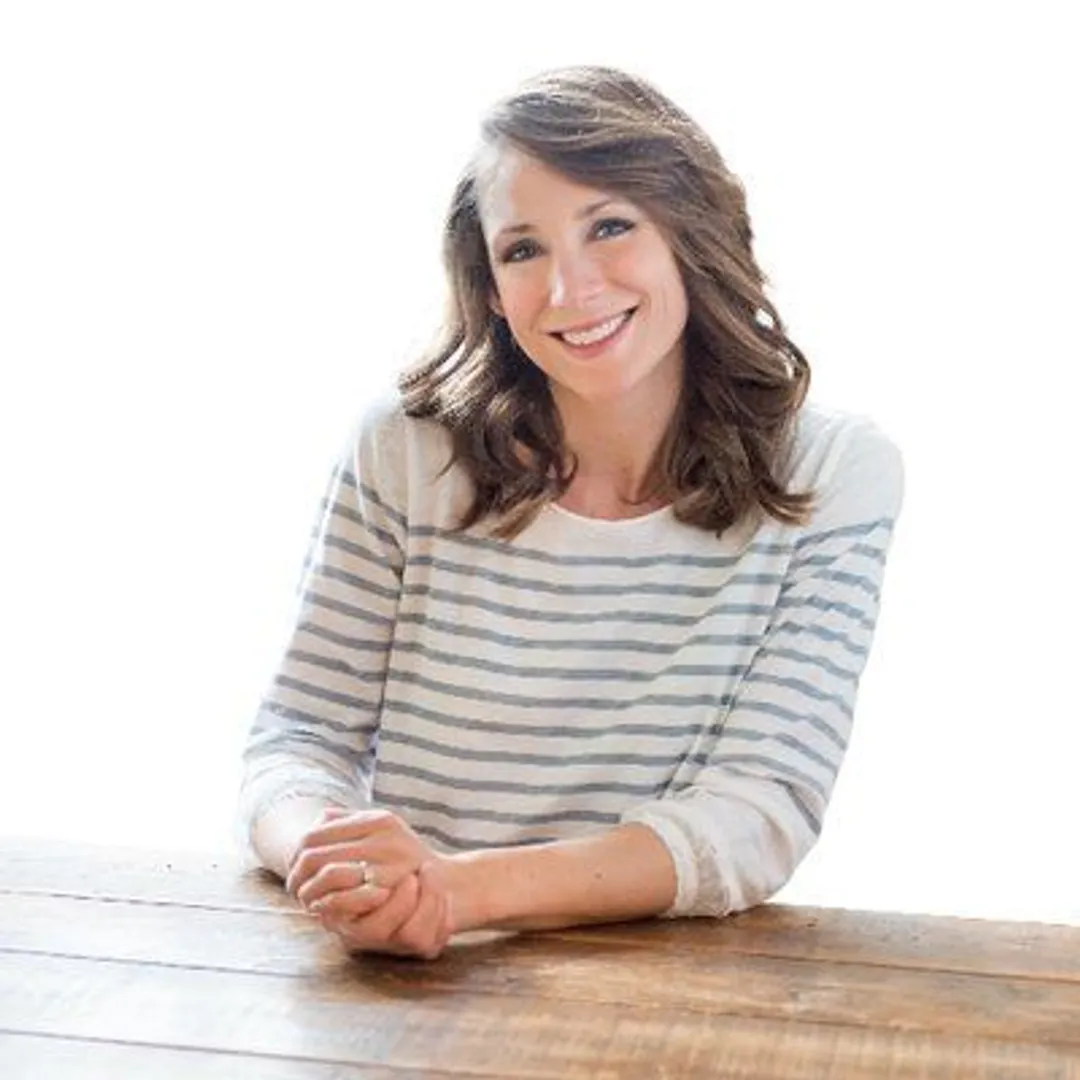 Nutrition Reviewer
Natalie is a registered dietitian nutritionist with a passion to help others live their best life through food, fitness, safer beauty and a healthy lifestyle. She has expertise with a variety of diets and diseases and believes that there is no one-size-fits-all approach for health.
Comments/ Reviews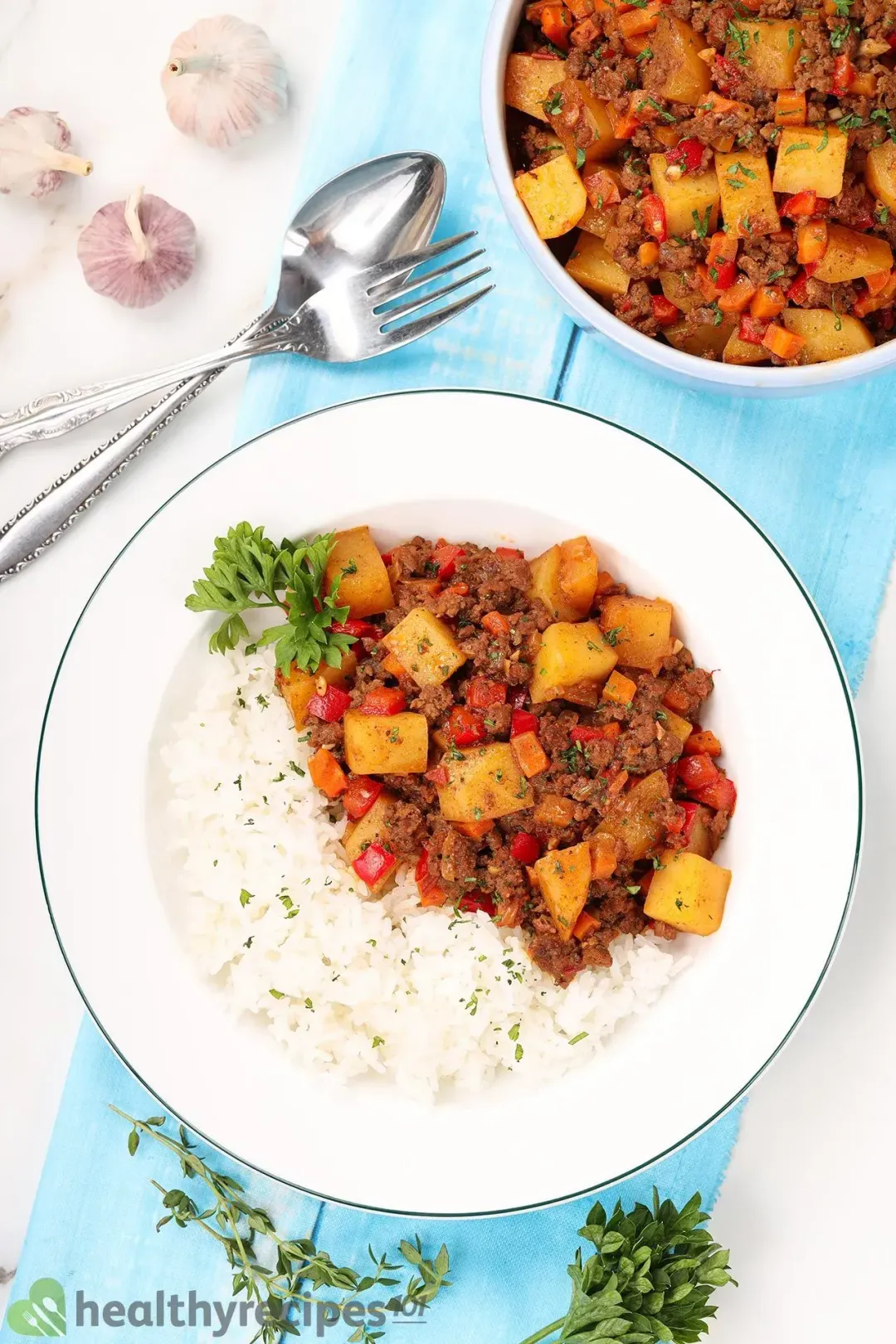 Andie Xap

March 3, 2023 at 6:09 PM

Delicious