The holiday season comes with dazzling decorations and homemade comfort food galore, and it would be a big miss not to include casserole on the list. 
This classic has all it takes to be anyone's go-to holiday dish: it's delicious, easy to make, crowd-pleasing, and comes in many variations.
We've compiled a list of chicken broccoli casserole recipes with the hope of filling your home with healthy food and a festive atmosphere.
Best Chicken Broccoli Casserole Recipes
1 of 2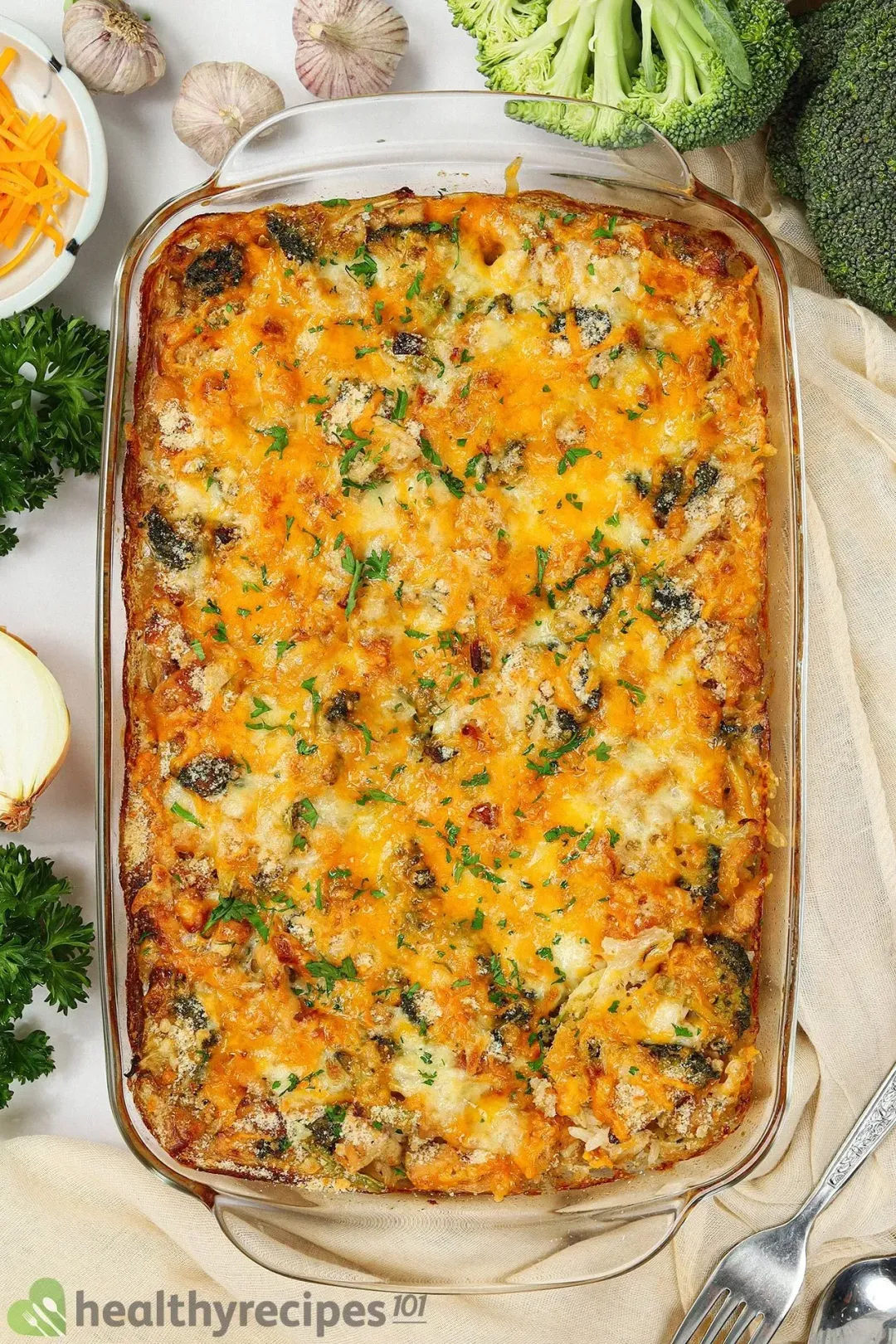 1 of 2
Chicken Broccoli Rice Casserole Recipe
This chicken broccoli rice casserole recipe will be the center of attention at any party by packing a complete meal in one baking dish.
Get the
recipe
.
2 of 2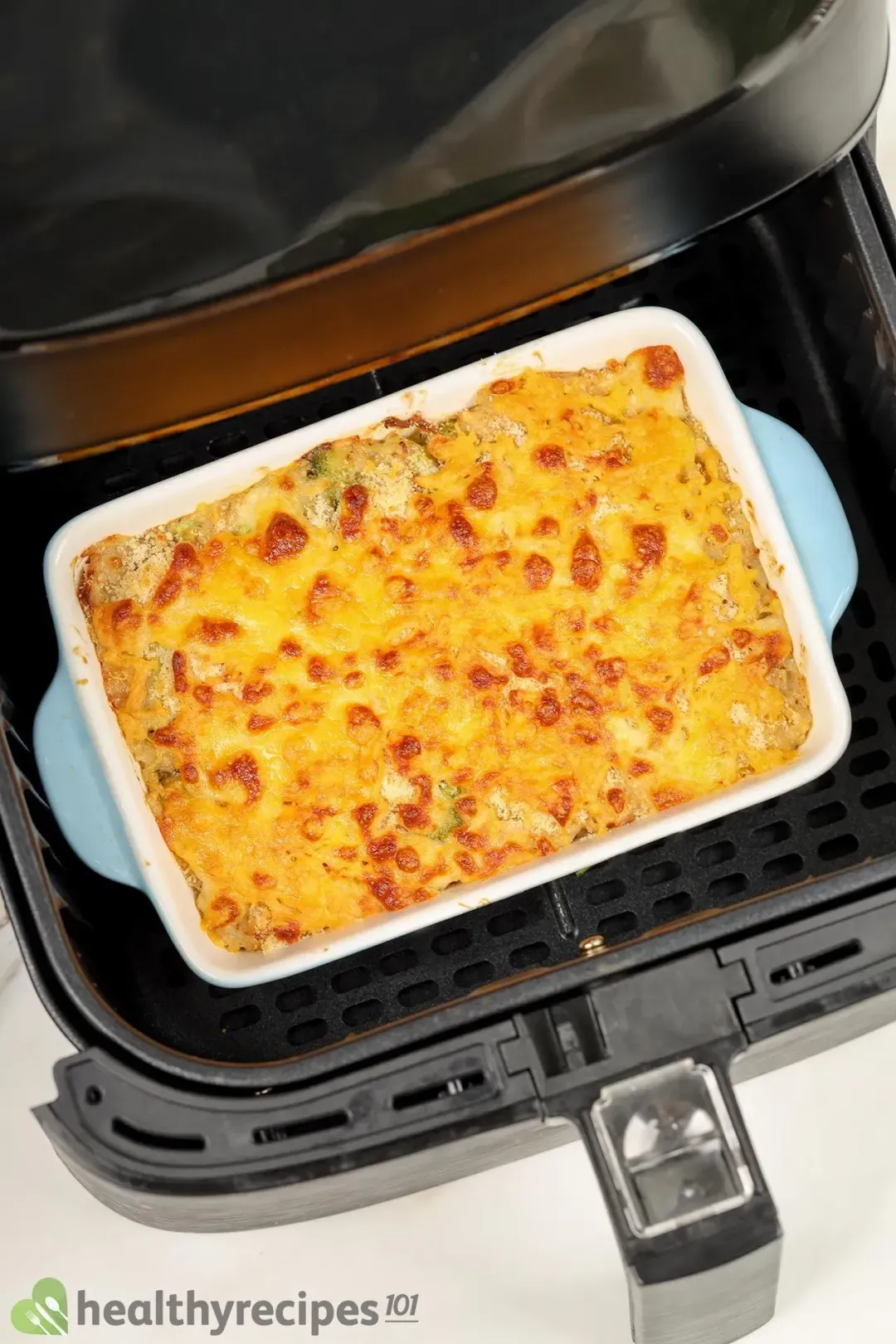 1 of 2
Air Fryer Chicken Broccoli Rice Casserole Recipe
Our time-saving air fryer chicken broccoli rice casserole recipe is perfect for a weeknight dinner and is sure to be a hit with the whole family.
Get the
recipe
.
What Are Popular Components of a Casserole?
A casserole is a one-pot hot dish that usually doesn't require much cooking skills. Simply throw all the ingredients into a baking dish and bake until the flavors melt and bind together. 
A standard casserole usually includes familiar ingredients like starch (grains), protein (chicken, ground meat, etc.), vegetables, sauce, and cheese. Hence, if you have an oven-safe baking dish and some leftover items in the fridge, you can easily cook up your own version.
However, as casserole has traveled the world and been integrated into different cuisines, there are various interpretations of this hearty dish. You can also make it vegan, keto-friendly, or even make a dessert spin-off.. 
Today's round-up shines the spotlight on two most commonly-used ingredients—chicken and broccoli and shows you how to incorporate them into casseroles.
Reasons to Love Broccoli Casserole Recipes
We love chicken broccoli casseroles, and you will too! They're incredible in every way possible, and let us explain why.
They're healthy: As the name suggested, chicken and broccoli are the main ingredients that load the casserole with nutrients. Chicken is  an impressive source of complete high-quality protein, while broccoli adds vitamins (A, C, K, etc.), minerals, and dietary fiber. With broccoli as the filling, you can even omit the carbs (pasta or white rice), and the dish will still hold its shape perfectly—cutting down the carb intake for those watching their weight.
They're budget-friendly: Whenever you're on a tight budget, you can count on chicken and broccoli casserole to give you a satisfying meal. With chicken and broccoli being so affordable and other ingredients taken straight out of your pantry, there won't be much expense to cover.
They're beginner-friendly: You don't have to be a master chef to nail a delectable chicken broccoli casserole since all you have to do is gather the ingredients and pop them in the oven. While they're baking, you can focus on other tasks and come back when the dish is ready. 
They're mess-free and stress-free: Since all the ingredients are mixed and cooked in one baking dish, you won't have piles of dirty pans, pots, and cooking tools to clean after.
Tips to Cook the Best Casserole
Anyone can make a simple casserole dish without much instruction and experience, but for a perfect one, more thoughts are needed.  Here are some tips to help you master the art of casserole-making:
Understand your bakeware: The secret behind a beautiful, golden brown, crispy exterior is choosing a shallow baking dish, around 3-4 inches deep. Besides, the material of your bakeware will affect the cooking time. Since ceramic needs more time to heat up than metal or glass, if you go with it, add a few extra minutes to the timer.
Cut all the ingredients into similar-sized chunks: The more uniform your add-ins are, the more evenly they will cook in the oven.
Partially cook the ingredients: Food varies in cooking time, so to ensure nothing comes out of the oven undercooked, partial cooking is crucial. You can sauté the ground/shredded chicken and blanch the broccoli for a few minutes before popping them in the oven. And, if your recipe calls for pasta, cook them a little under al dente as later they will continue to cook in the oven.
Drain the ingredients before baking: Extra moisture from the meat and vegetables may turn the casserole soggy and mushy. Remember to remove all the excess liquid before assembling your casserole.
Allow the dish to cool: Rest your casserole for 15-20 minutes before serving to allow the hot juices to settle and reabsorb into the dish. A perfectly-shaped and flavorful casserole is much more preferred than one falling apart instantly when placed on the dish.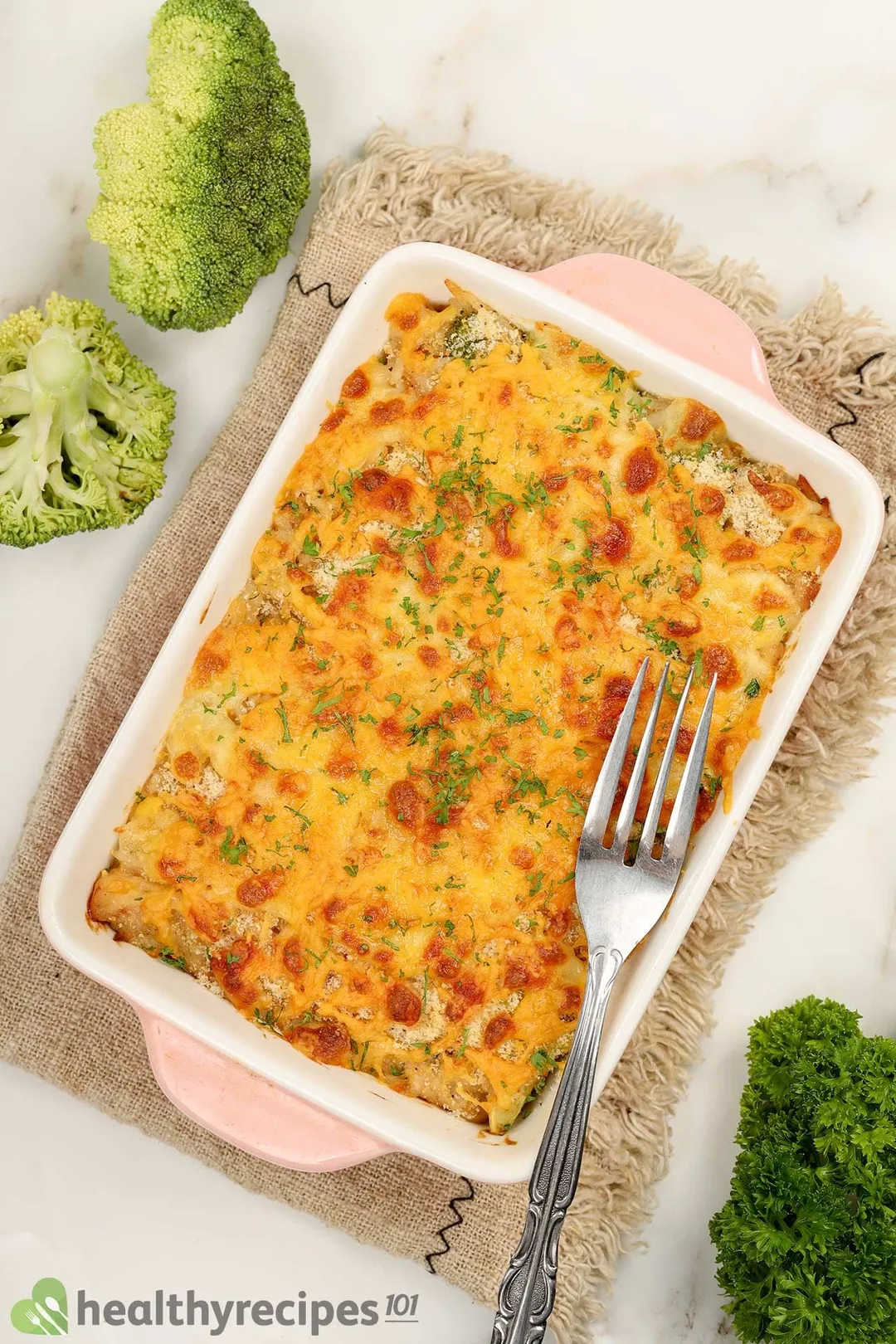 Chicken Broccoli Casserole Recipes
From simple, dump-and-bake to innovative, multiple-step dishes, our list of chicken broccoli casserole recipes have you covered for any special event.
Ingredients
Directions
Choose a recipe that you like.
Gather the ingredients.
Follow the instructions to give you incredibly tasty chicken broccoli casserole recipe in less than 45 minutes!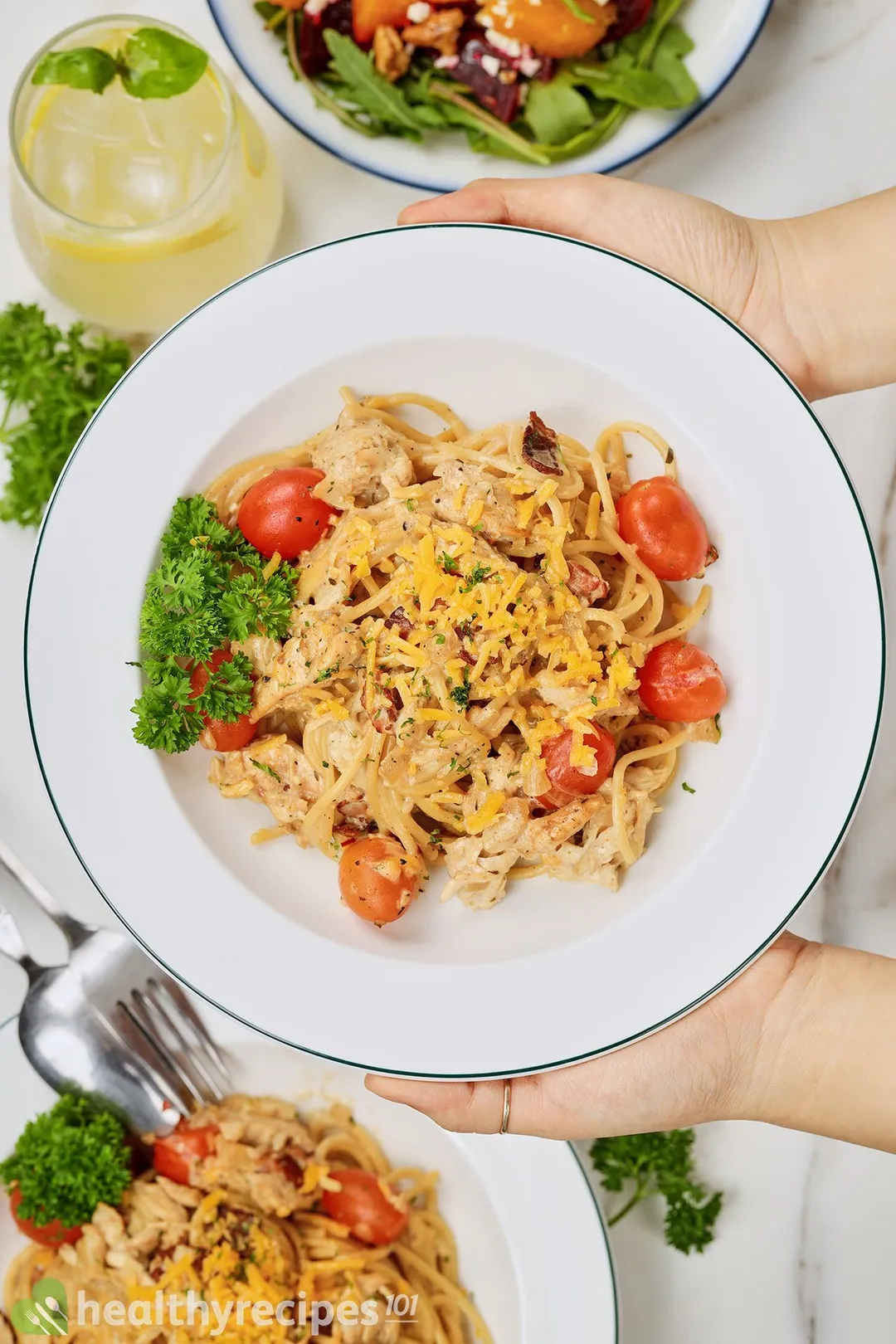 Previous Recipe
Chicken Pasta Recipes
Chicken Pasta Recipes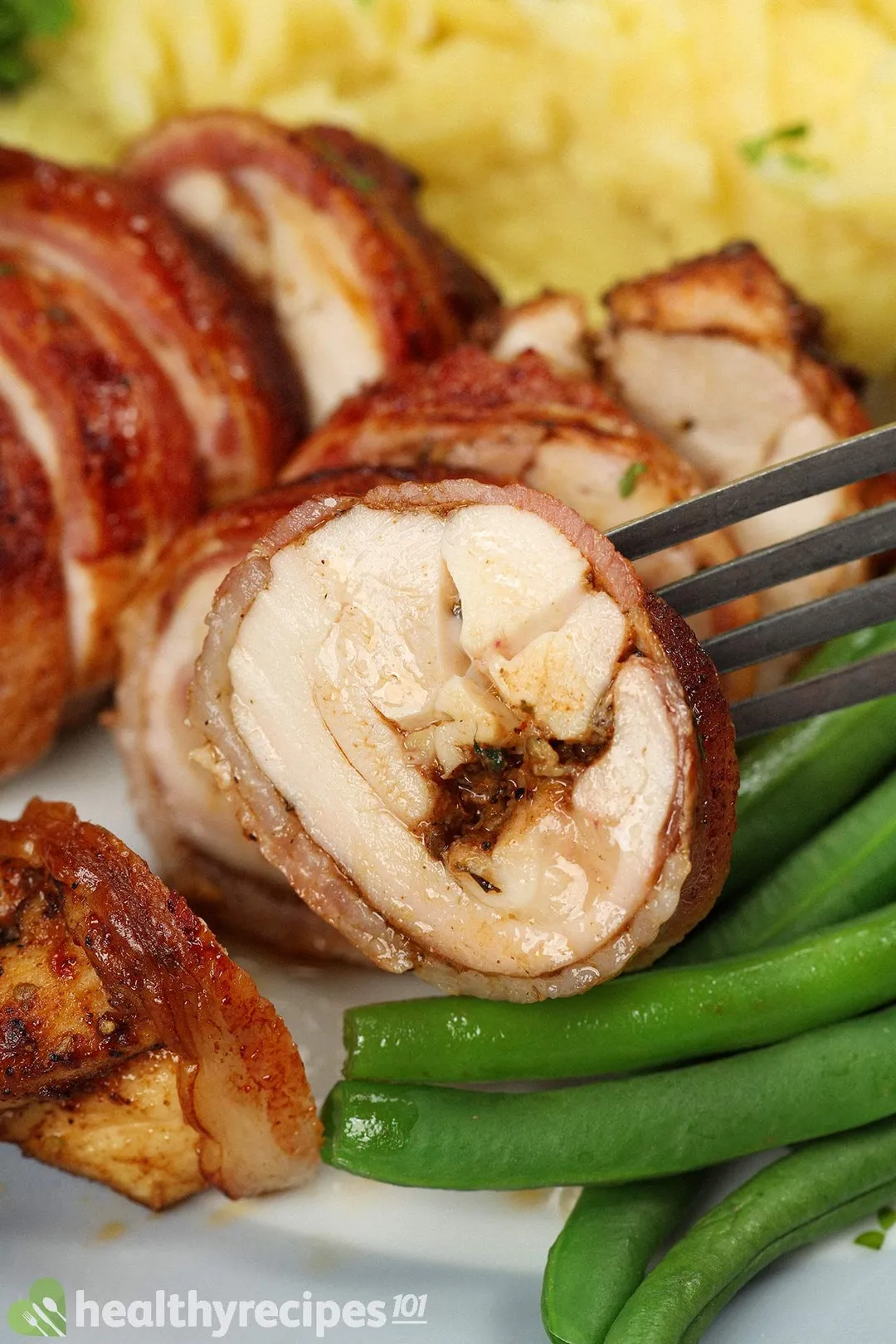 Next Recipe
Chicken Wrap Recipes
Chicken Wrap Recipes
Writer, Author
Luna Regina is an accomplished writer and author who dedicates her career to empowering home cooks and making cooking effortless for everyone. She is the founder of HealthyKitchen101.com and HealthyRecipes101.com, where she works with her team to develop easy, nutritious recipes and help aspiring cooks choose the right kitchen appliances.
Comments/ Reviews