We are delighted to share with you our collection of chicken pasta recipes—featuring a long list of easy-to-follow and delicious chicken dishes. 
Whether you're a cooking expert or a newbie home cook, we believe you will find at least one recipe that will win you over.
Best Chicken Pasta Recipes
A warm welcome to our list of top-grade chicken pasta recipes!
Reasons to Love Chicken Pasta
Our chefs say: "If you combine chicken and pasta into one dish, with the right cooking technique, you will always have good food to share." We stand by this wisdom because this nutritious combo promises endless cooking potential and plenty of room for creativity.
Let's find out what makes chicken and pasta our champion.
It's healthy: No matter what cut of chicken you choose for your recipe—drumsticks, breasts, thighs, or tenderloins—your dish is jam-packed with high-quality lean protein and other micronutrients. As for pasta, it has a considerable amount of carbohydrates, which may seem diet-inappropriate. However, moderation is the key. Thus, our chefs have carefully portioned each recipe in this round-up to ensure all ingredients stay within healthy limits.
It requires minimal cooking skills: When working with chicken and pasta, time-management skills are more crucial than cooking skills. Plus, with the help of many trusty kitchen appliances (the air-fryer and Instant Pot), a plate of al dente pasta and succulent chicken won't be far from your reach.
It's customizable: Based on your choice of add-ins and sauces, your chicken and pasta will possess varied flavors and textures—savory, creamy, spicy, or slightly tangy.
It's budget-friendly: On days when you are on a tight budget, chicken and pasta dishes will work best for you. Unlike red meat and seafood, which can be quite pricey, chicken is a more economical option. In case you have some leftover pasta and raw chicken cuts on hand, you can turn them into a tasty meal—saving you more pennies.
What Types of Pasta Can You Use?
The choice of pasta varies, depending on the dish you plan to make—an appetizer or a main course. Our chefs have listed some options that will surely be a hit with both kids and those still kids-at-heart.
Spaghetti: For those who want to stick with the classic, spaghetti will never disappoint you. Whether baked or sautéed with chicken, this thin, long pasta works wonders. 
 Rigatoni: The outer surface of this pasta has ridges, which makes it easier for the sauce to stick to it. Plus, its hollow interior gives a higher chance for the meat sauce flavors to be absorbed.
Pappardelle: The large and textured surface of Pappardelle makes it an excellent accompaniment for thicker, meatier, and more robust sauces. This Toscana-originated pasta is perfect for chicken bolognese and vegetable chicken ragu.
Conchiglie: The shell-like appearance of rotini adds an intriguing twist to your pasta dish. Besides, this unique shape allows the pasta to absorb more flavor from the sauce and the chicken. 
Macaroni: If you are a passionate fan of chicken mac and cheese, you must be familiar with this cylindrical pasta. A spoonful of this elbow-shaped pasta and ground chicken will satisfy all your cravings.
Orzo: When tossed with chicken cubes, diced vegetables, and honey olive oil dressing to form a salad, orzo pasta is incredibly appetizing.  
Conchiglie: With its short, corkscrew shape, conchiglie pasta is another great add-in for salads. The pasta's distinct form makes it easier for the dressing to cling to it, giving a punch of flavor to each bite.
Farfalle: Bowtie pasta makes your salads visually appealing and fun to eat.
What Sauces Go With Chicken Pasta?
Due to their versatility and flexibility, chicken and pasta pair well with a wide range of sauces, from the basic to the exquisite.
Marinara: This Italian staple, made of homemade tomato sauce, tomato paste, garlic, olive oil, and herbs, is our all-time favorite sauce to serve with chicken and pasta. The freshness and mild tanginess of tomatoes guarantee each bite is full of flavor.
Bolognese: This slow-cooked meat-based sauce may require a little more time simmering on your stovetop, but the result is worthwhile—Italian culinary art at its finest.
Carbonara: The carbonara sauce's flavor profile is derived mainly from the eggs and parmesan cheese—sharp, rich, and slightly tangy.
Pesto: The charm of Pesto sauce lies in the brightness of fresh basil, the nuttiness of pine nuts, and the richness of the shredded parmesan cheese.
Alfredo: Unlike carbonara, which relies on eggs to thicken the sauce consistency, Alfredo requires cooking down the butter and heavy cream. If you want to coat your pasta and chicken in a thicker and creamier sauce, give Alfredo a try.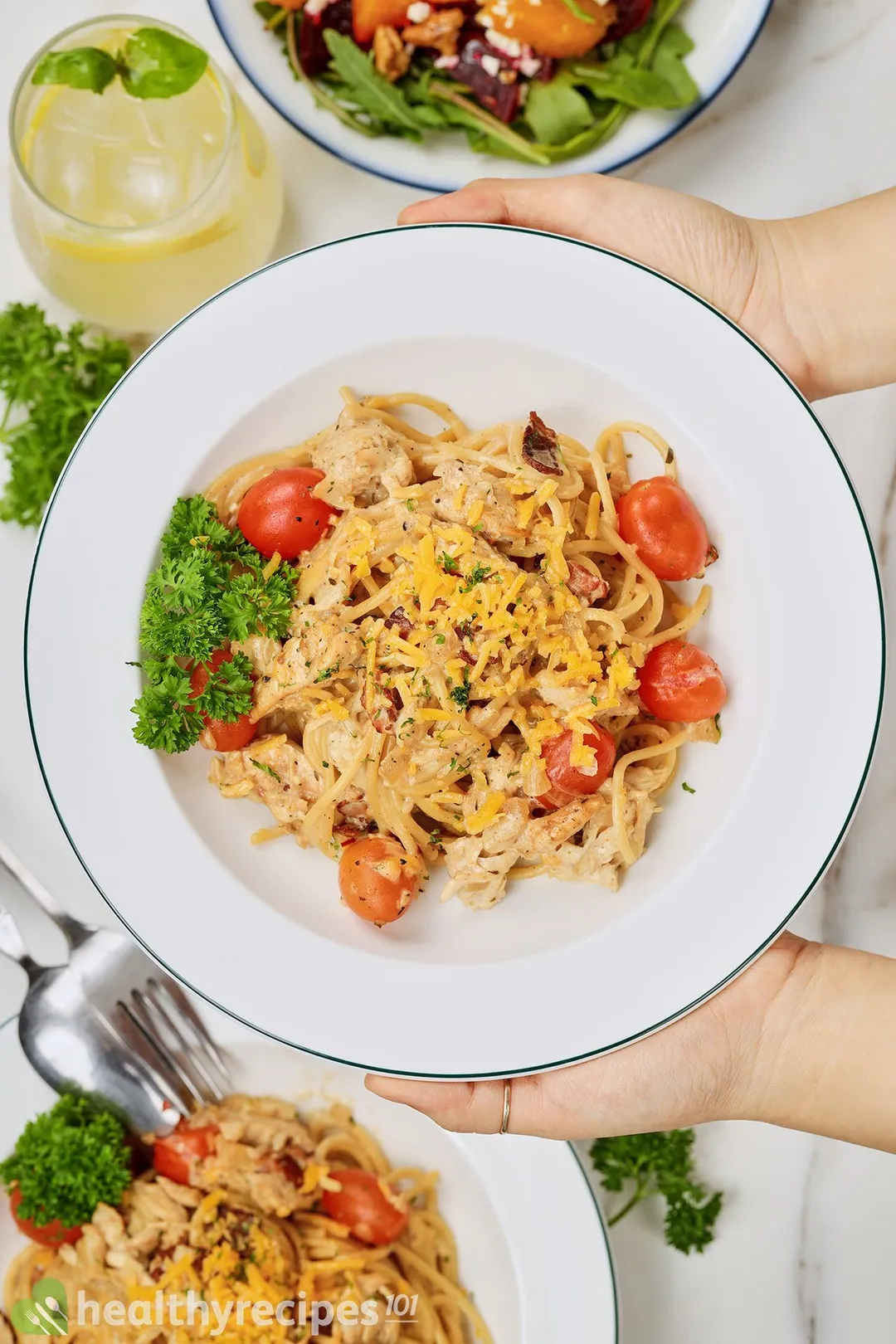 Chicken Pasta Recipes
Today's 17 chicken pasta round-up introduces a collection of sterling cooking ideas to bring a taste of Western cuisine to your kitchen.
Ingredients
Directions
Choose a recipe that you like.
Gather the ingredients.
Follow the instructions to give you incredibly tasty chicken and pasta recipe in less than 45 minutes!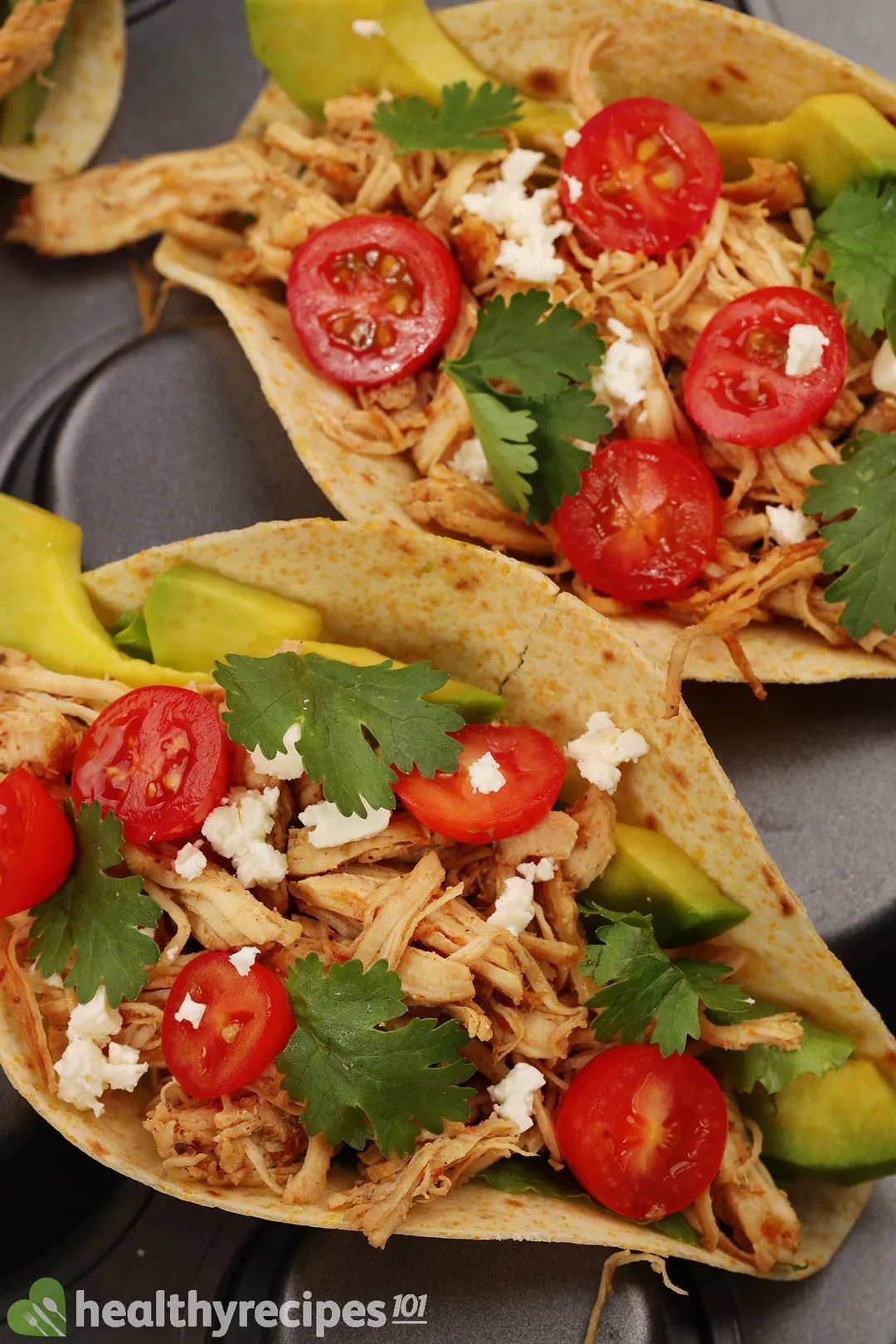 Previous Recipe
Shredded Chicken Recipes
Shredded Chicken Recipes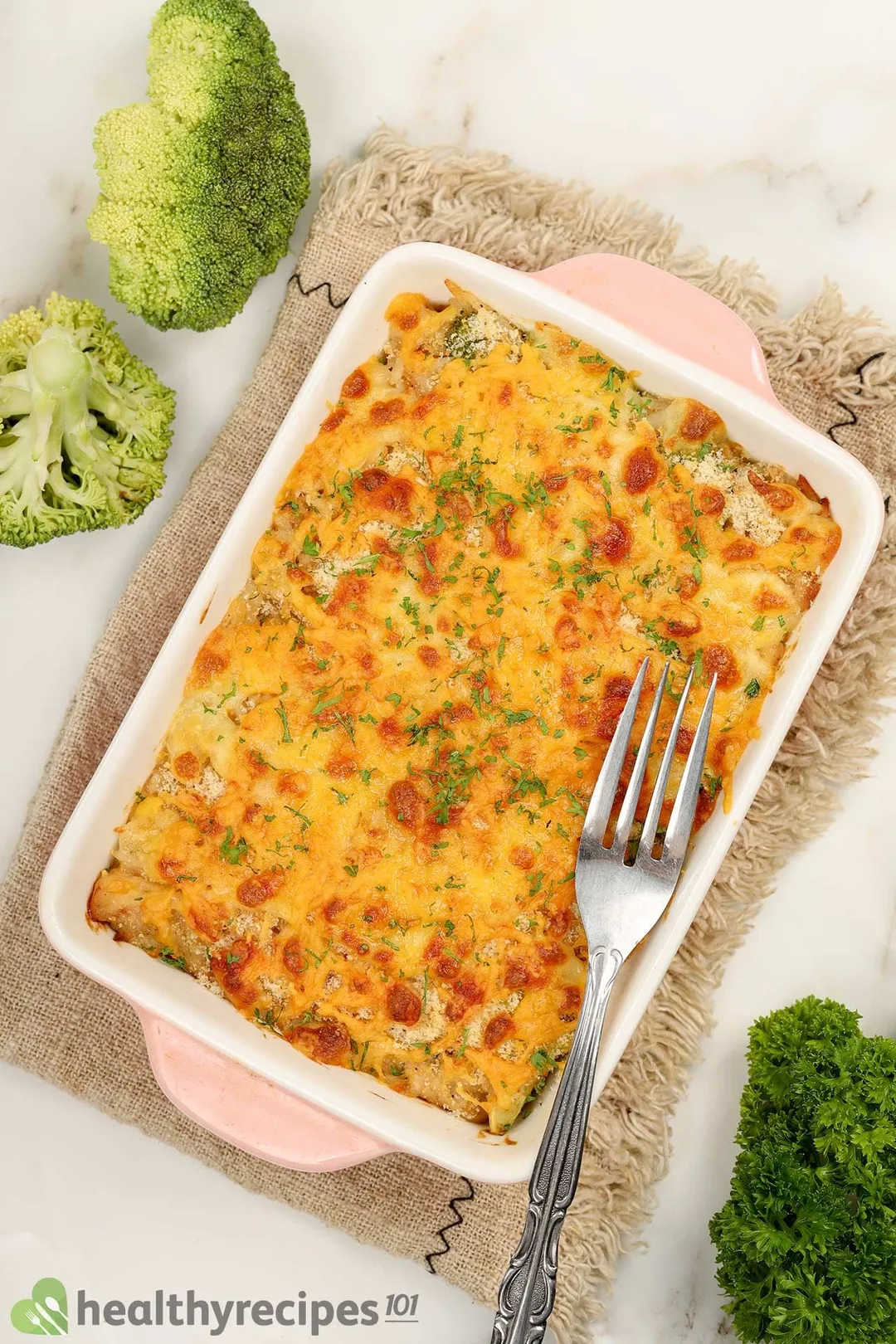 Next Recipe
Chicken Broccoli Casserole Recipes
Chicken Broccoli Casserole Recipes
Writer, Author
Luna Regina is an accomplished writer and author who dedicates her career to empowering home cooks and making cooking effortless for everyone. She is the founder of HealthyKitchen101.com and HealthyRecipes101.com, where she works with her team to develop easy, nutritious recipes and help aspiring cooks choose the right kitchen appliances.
Comments/ Reviews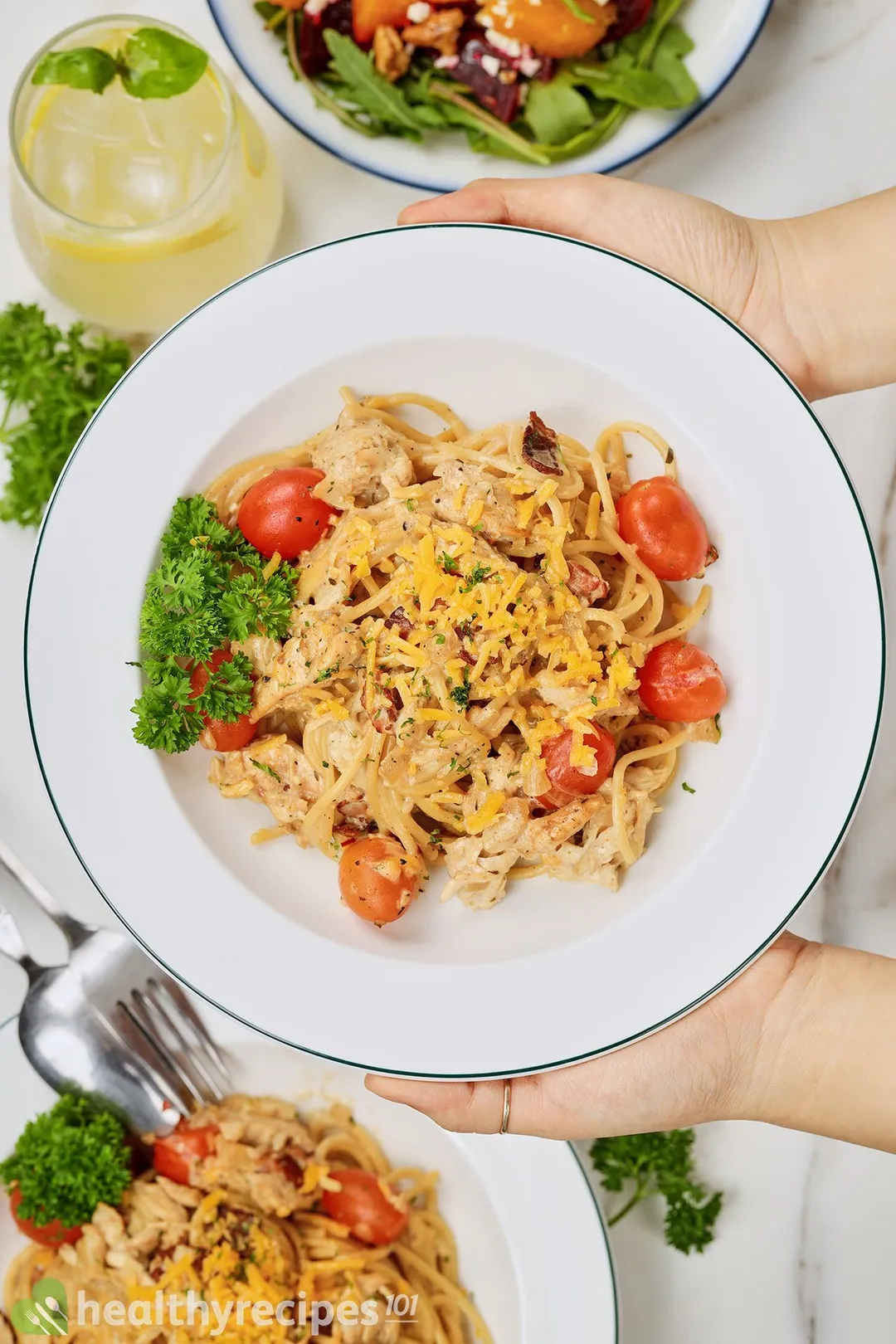 Chicken and pasta is easy to make and packed with flavor.