This cucumber pineapple smoothie recipe makes a refreshing, delicious drink out of simple ingredients. Cucumber, pineapple, coconut water, lime juice, mint leaves, sugar, and ice all come together for the perfect blend.
Is Cucumber Pineapple Smoothie Healthy?
Yes, our cucumber pineapple smoothie is a healthy drink.
This smoothie is made with chunks of pineapples, cucumbers, and coconut water. These ingredients are rich in vitamins and minerals such as vitamin C, vitamin K, some B vitamins, magnesium, potassium, manganese, copper, and many others.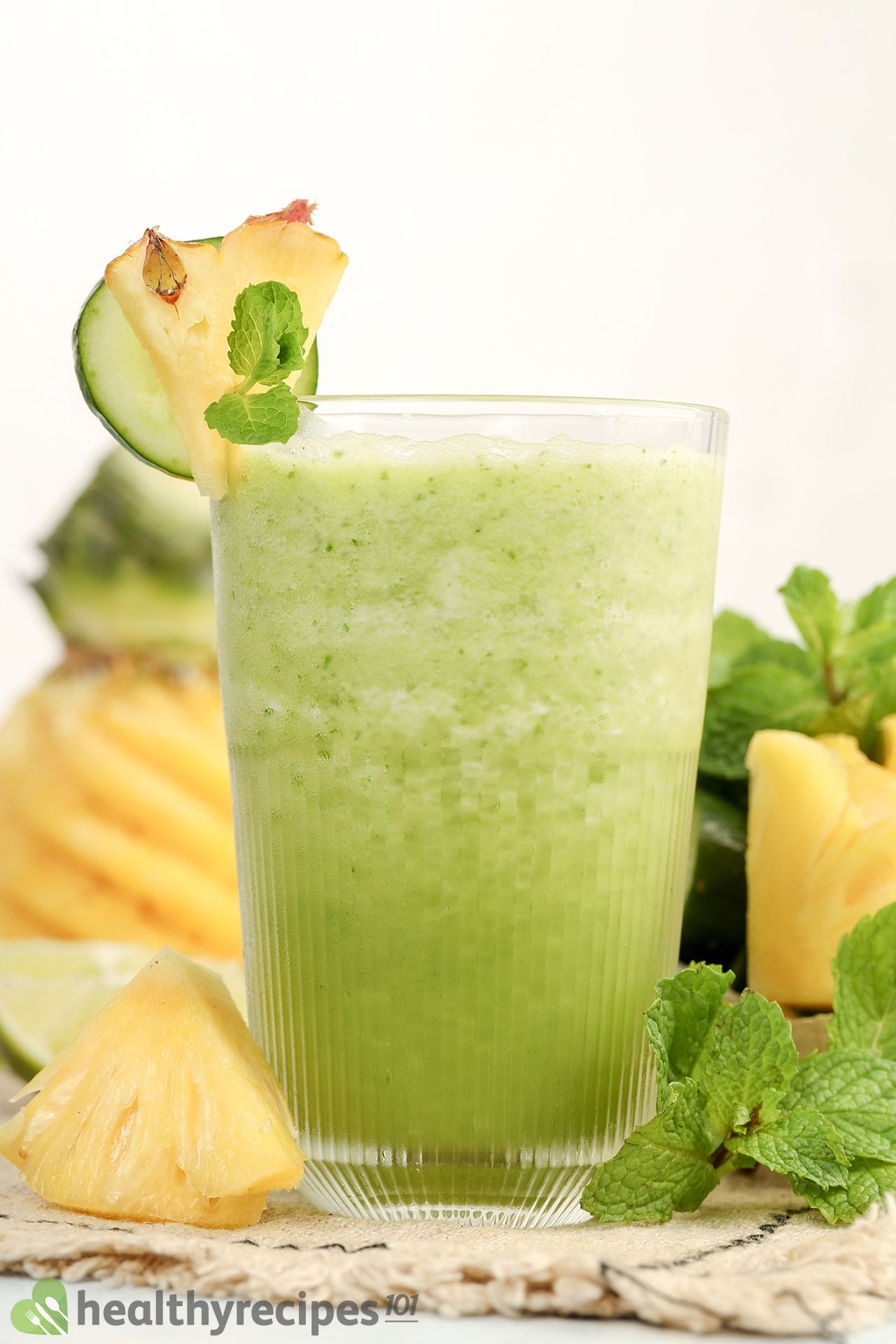 Alongside these nutrients are 89 calories within each serving. If you need something light to reach your calorie goal, low-calorie drinks like this are ideal solutions.
About 15 calories out of those 89 come from added sugar. This amounts to roughly 7.5% of the suggested upper limit for a 2000-calorie diet.
Do Pineapple and Cucumber Help You Lose Weight?
Pineapple and cucumber provide 50 calories and 15 calories, respectively, per 100 g. If your diet has lots of calorie-dense foods, substituting some of them with lower-calorie and nutrient dense foods like these fruits can promote weight loss and maintain satiety.
They don't promote weight loss in and of themselves, however. Weight loss happens when you consume fewer calories than you expend. It is also important where the calories come from, for example eating an apple is going to give you more nutritional value than a cookie even if the calories are the same. There's no "one simple trick" to it, but you can find strategies to help you eat less.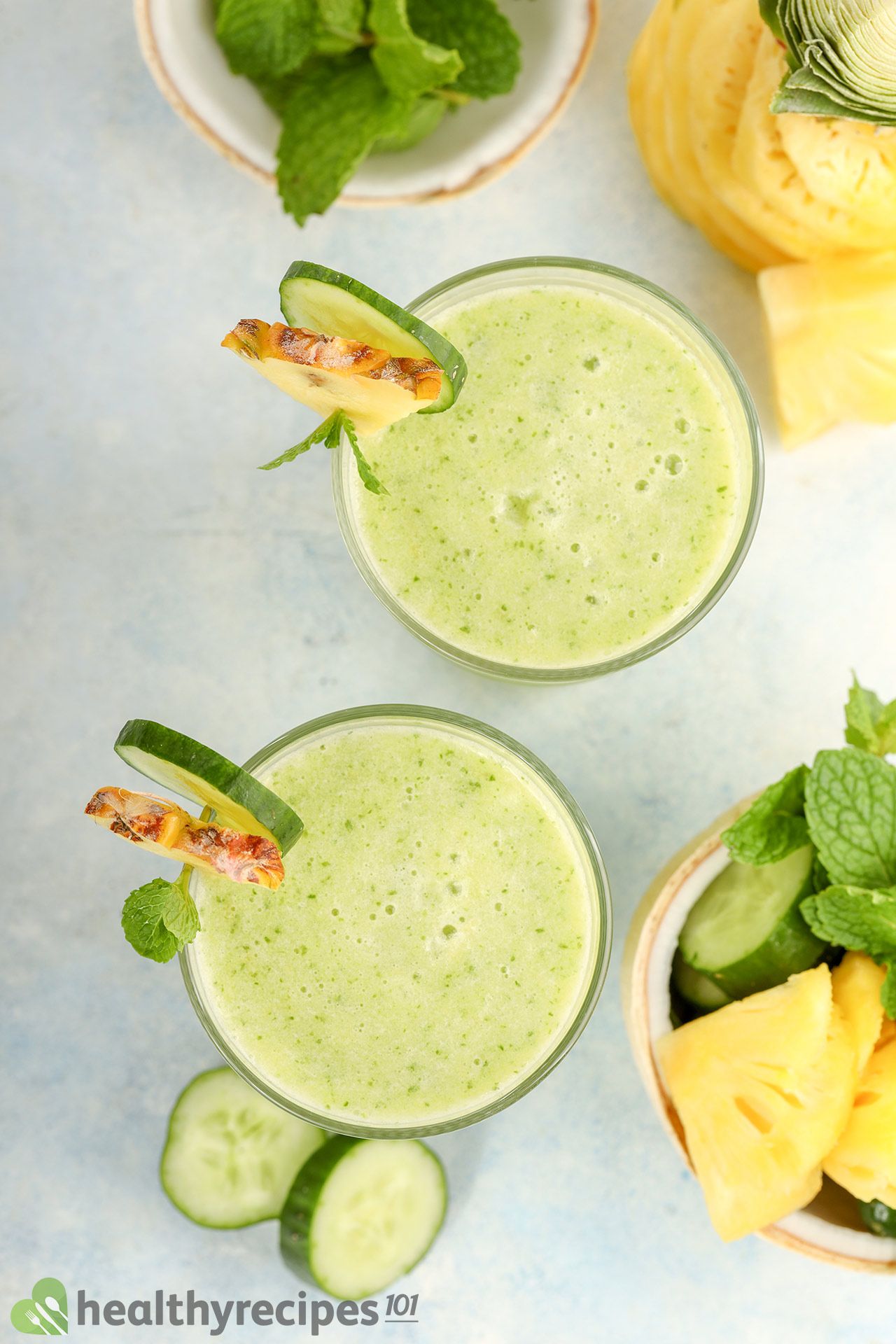 Ingredients You'll Need
This cucumber pineapple smoothie recipe calls for cucumber, pineapple, coconut water, lime juice, mint leaves, sugar, and ice.
To make the best smoothie, there are a few things you should keep in mind:
Ripe pineapples are the best choice — they're sweet and have a stronger fragrance. There are many tricks to choosing a ripe pineapple, but our favorite is to gently sniff the bottom of a pineapple. It should have a floral, sweet aroma.
For cucumbers, on the other hand, we have a different concern: some can taste bitter due to environmental factors. They're impossible to tell apart visually. Instead, give yours a taste. If it's bitter, remove the skin or choose a different one.
Since fresh coconut water can be difficult to find, you can opt for bottled coconut water instead. Be sure that it's not sweetened and isn't merely a coconut-flavored beverage. The same goes for lime juice.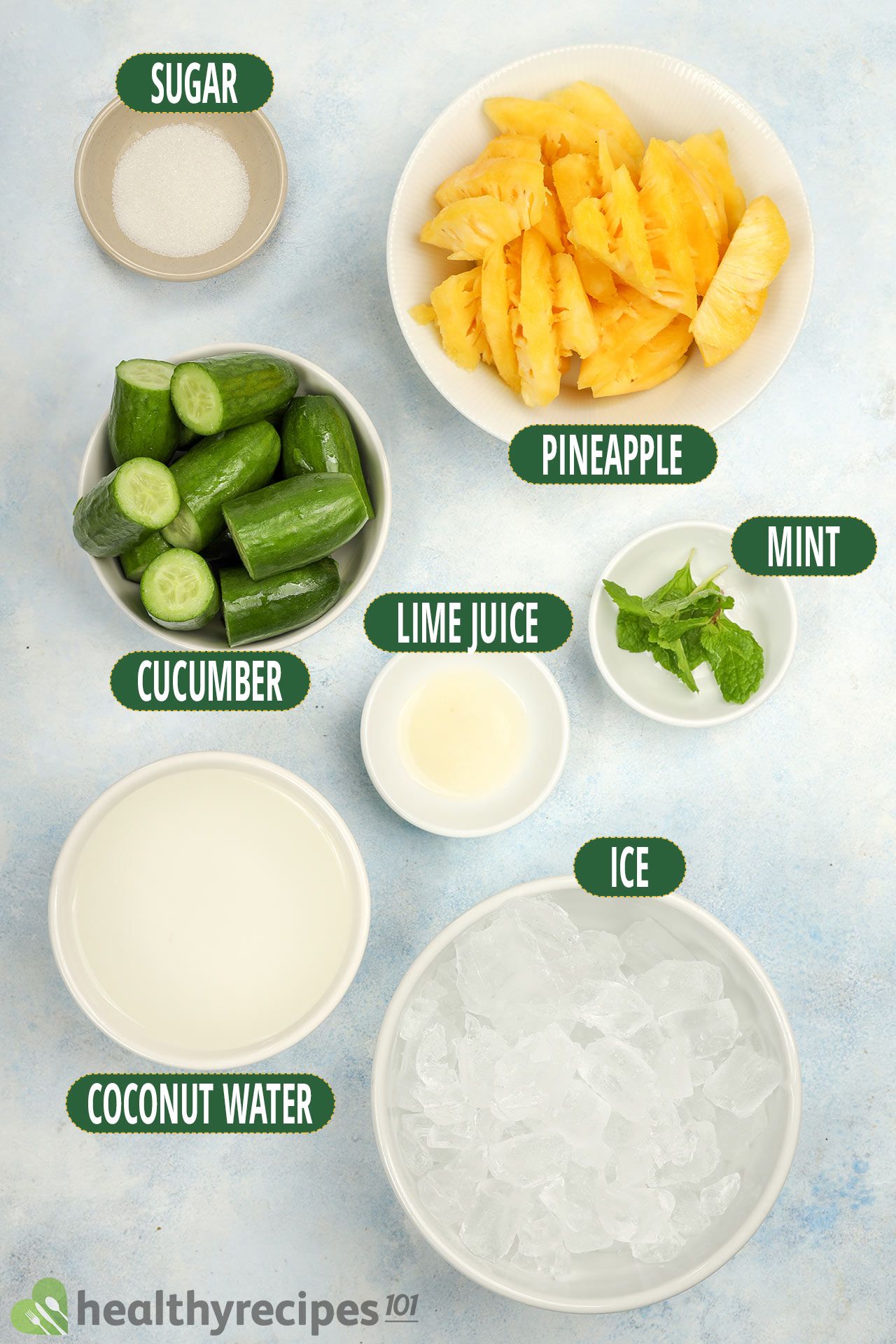 Can I Use Frozen Cucumber or Pineapple for This Smoothie?
Yes, you can. Since both cucumbers and pineapples have high water content, you might not need ice when using frozen fruits.
How to Make Cucumber Pineapple Smoothies
Once you've measured out the cucumber, pineapple, coconut water, lime juice, sugar, mint, and ice, blend them all until smooth.
The overall smoothness has to do with the motor's quality in comparison to ice quality. Strong blenders deal well with all types of ice, while weaker ones only work with soft ice, like ice nuggets.
If you can't find soft ice, you can place your ice into a bag or large cheesecloth and pound it with a mortar. Some blenders also have an ice-grinding function, which aims to break tough ice into smaller pieces. This puts less stress on the motor, and you'll have a smoother smoothie in the end.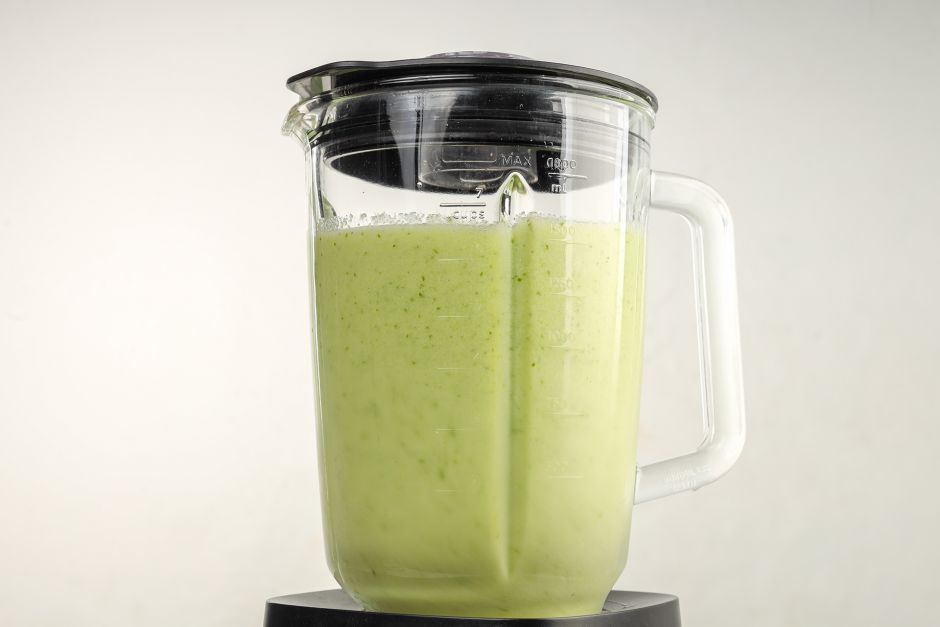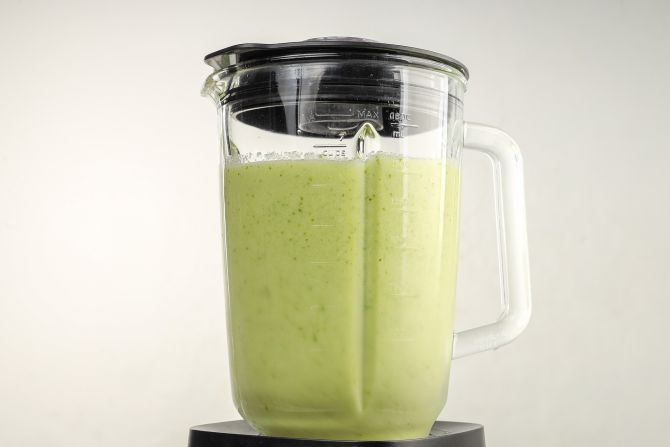 Blend ingredients.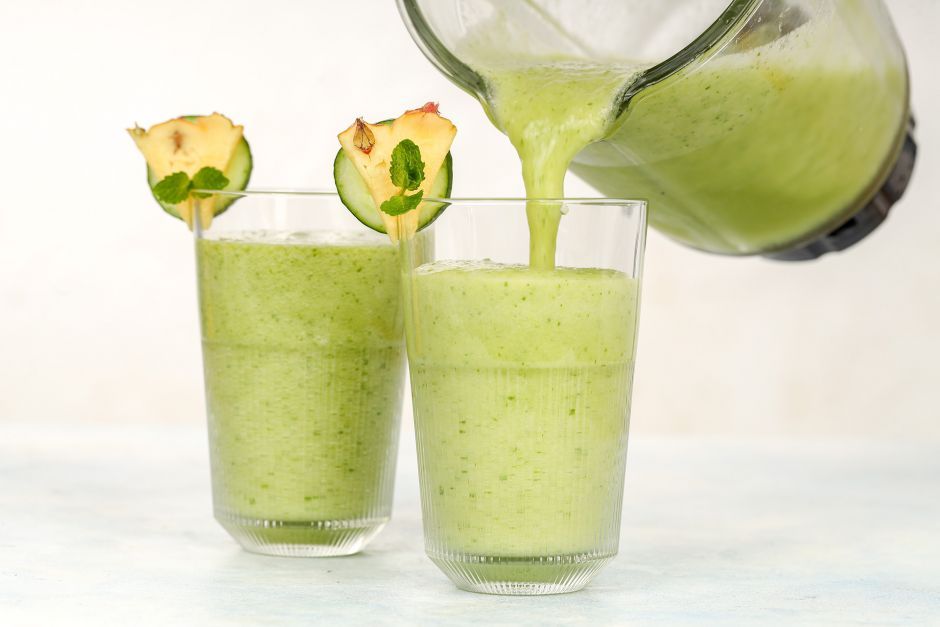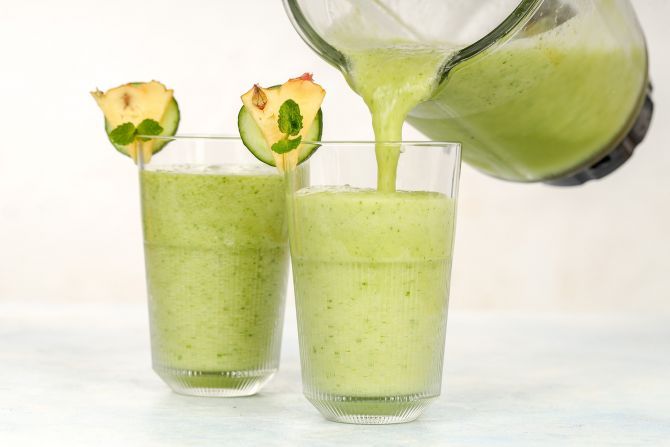 Pour into serving glasses.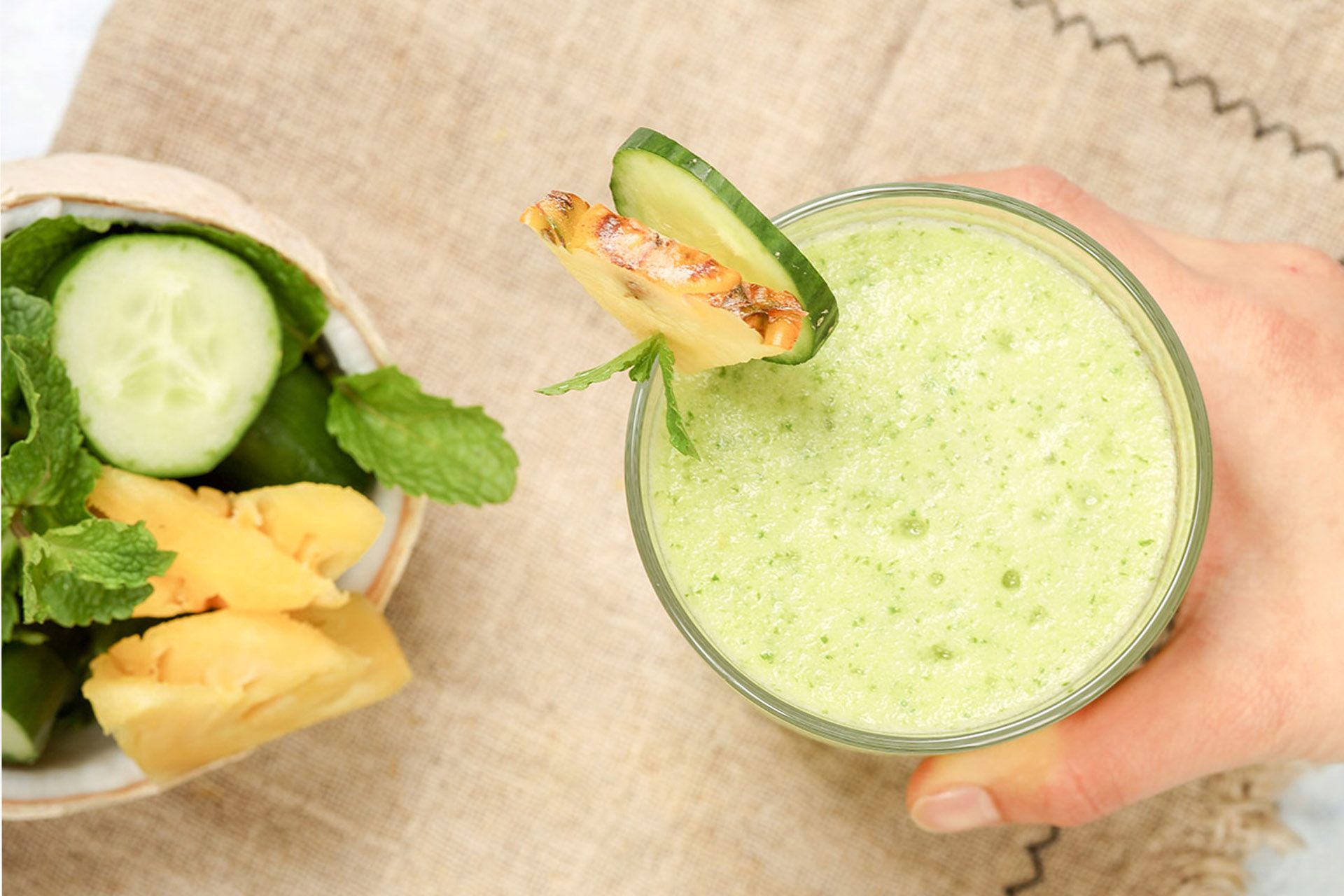 Garnish with mint leaves and serve immediately.
How Long Does This Smoothie Last?
Like most smoothies, you should drink it all at once before it gets watery and discolored. If you want to store it, we suggest you make the smoothie mix without ice.
If you want to keep it for 2 days, place that iceless mix into a large, air-tight container. Blend with ice when you intend to actually drink it.
To keep it for longer, divide it into small portions and use Ziploc bags instead of rigid containers. Bags allow for easier individual storage.
Most smoothies will self-separate into layers if they are left still. It's normal and not an indicator of spoilage. Spoiled smoothies usually have a foul smell and possibly mold.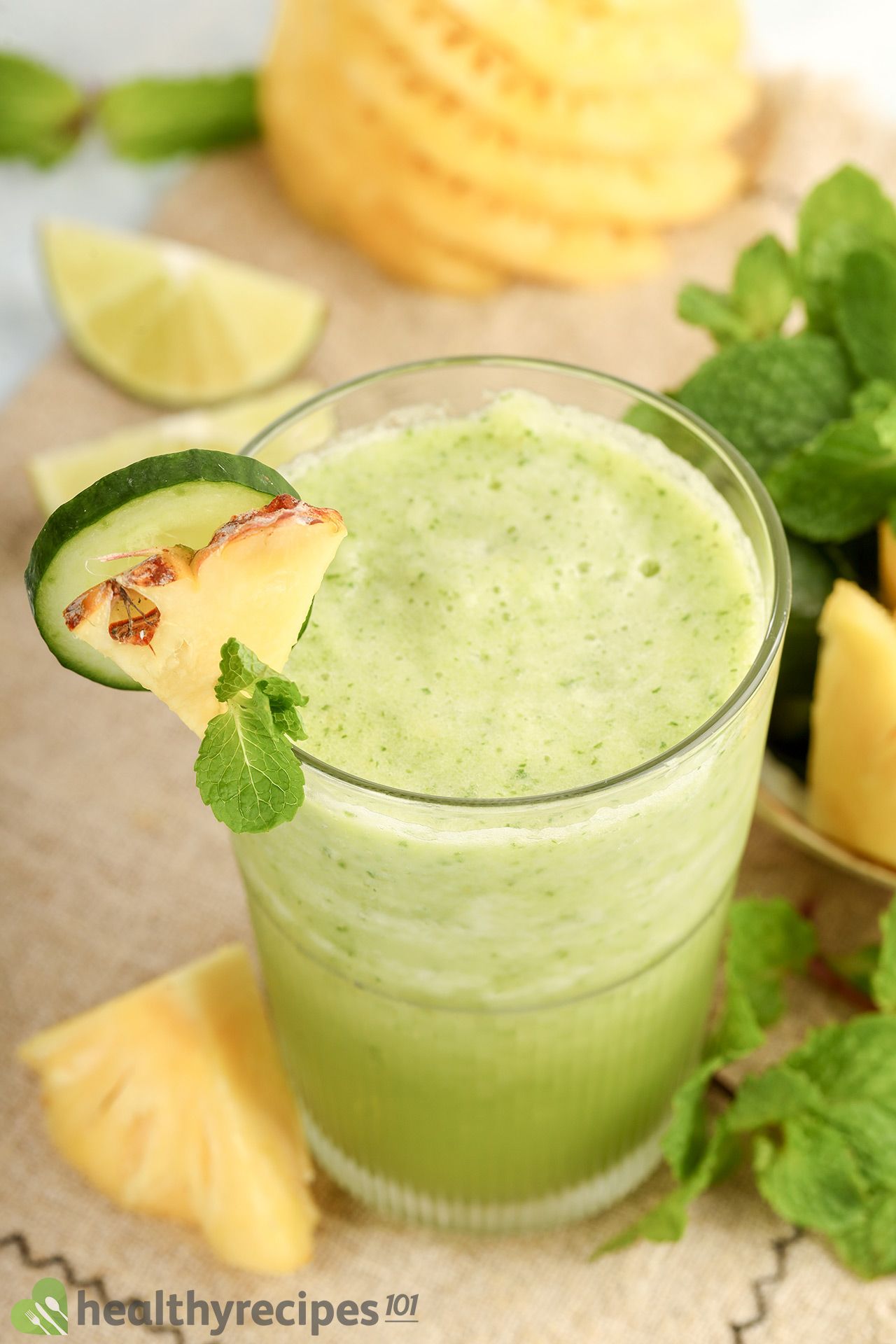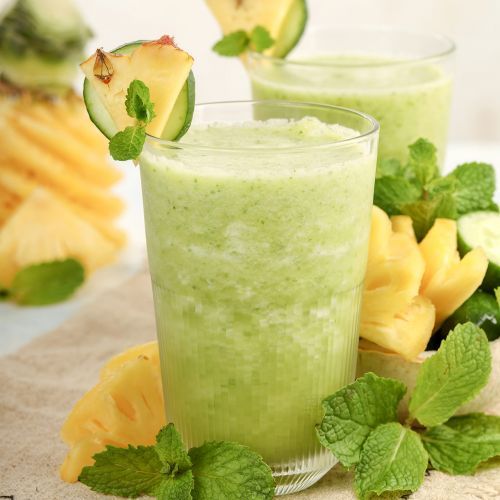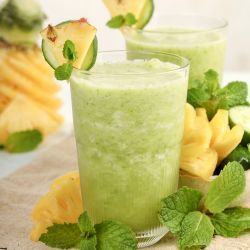 Cucumber Pineapple Smoothie Recipe
Try our cucumber pineapple smoothie recipe to add a low-calorie, tasty, nutritious drink to your repertoire. It may become your new favorite!
Ingredients
12

oz

pineapple

cut into chunks

10

oz

cucumber

(peeled if bitter), cut into chunks

1

cup

coconut water

8

mint leaves

2

cups

ice

preferably ice nuggets

1

tsp

lime juice

2

tbsp

sugar
Instructions
Place all ingredients (except the mint) in a blender, starting with the ice. Cover and blend until smooth.

Pour into serving glasses.

Garnish with mint leaves and serve immediately.
Nutrition
Nutrition Facts
Cucumber Pineapple Smoothie Recipe
Amount Per Serving (1 serving)
Calories 89
% Daily Value*
Sodium 72mg3%
Potassium 360mg10%
Carbohydrates 22g7%
Protein 1g2%
Vitamin A 209IU4%
Vitamin C 45mg55%
Calcium 45mg5%
Iron 1mg6%
* Percent Daily Values are based on a 2000 calorie diet.