This air fryer baked potato recipe takes the classic method of preparing the dish and makes it a less stressful, more enjoyable experience. The air fryer speeds up the cooking time by 10 – 20 minutes, so it may well be your next go-to method.
Can You Make a Baked Potato in an Air Fryer?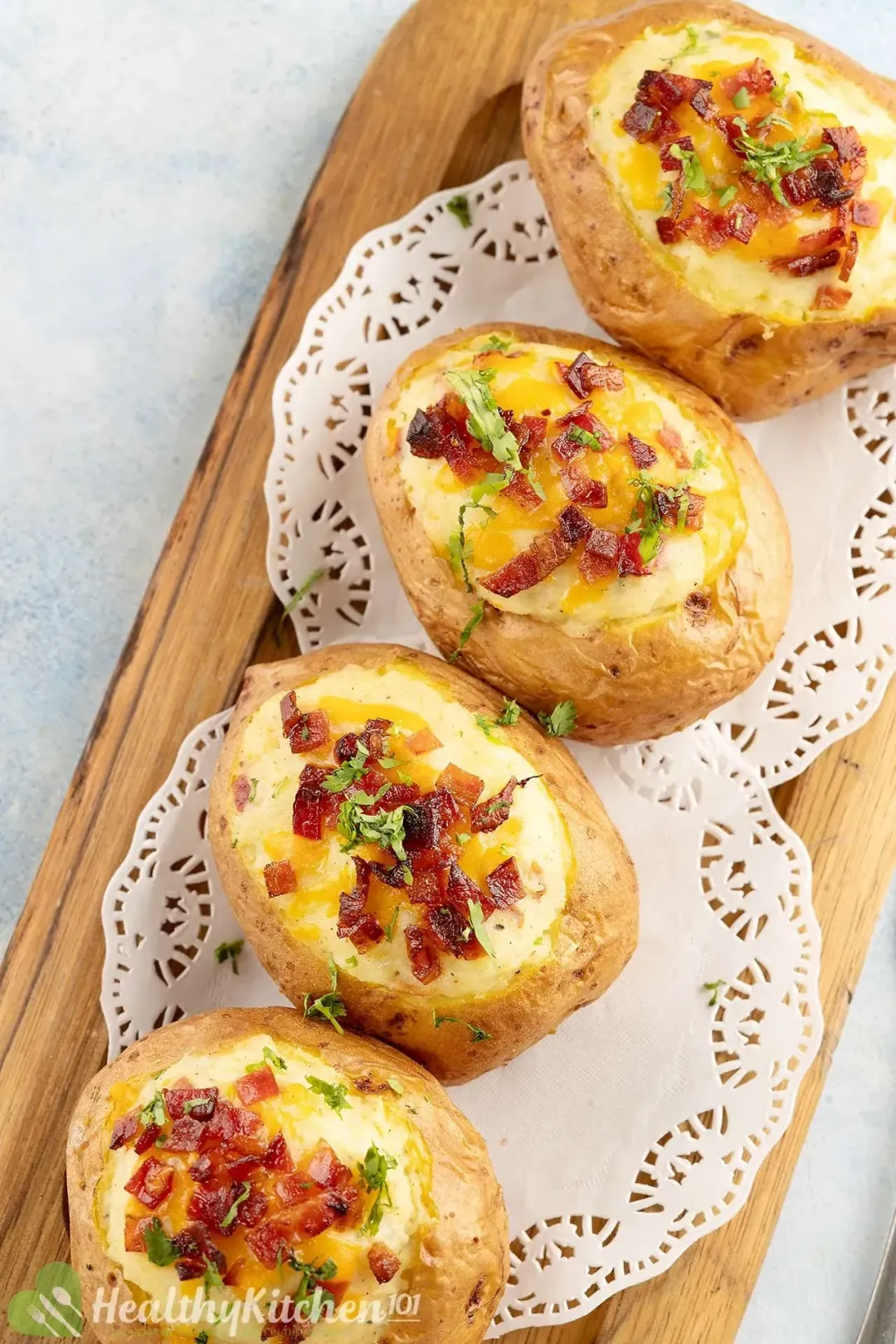 Home cooks are always on the lookout for kitchen tools that make life easier in the kitchen. Which is where the air fryer comes in, but what is it exactly?
The first thing to know is that an air fryer is not a fryer. It is quite similar to an oven in terms of cooking method. Both circulate hot air around food to cook it.
But the main difference is that the air fryer's heating coils are only located on the top and are accompanied by a large fan. Thanks to the concentrated heat source, the food is cooked quickly, evenly, and most notably, with less oil than its deep-fried counterparts.
Thus, any oven-bake dish can be cooked in an air fryer. Air fryer baked potatoes need way less time than oven-baked potatoes, but come out just as tasty.
Is Air-Fried Baked Potato Healthy?
Our air fryer baked potatoes are relatively healthy. We've carefully calculated the main nutritional content, including calories, sodium, and saturated fat, in line with the USDA Dietary Guidelines.
If you happen to be looking for another healthy way to make baked potatoes, check out our oven-baked potatoes recipe. It has a different cooking method but the same nutritional profile and deliciousness.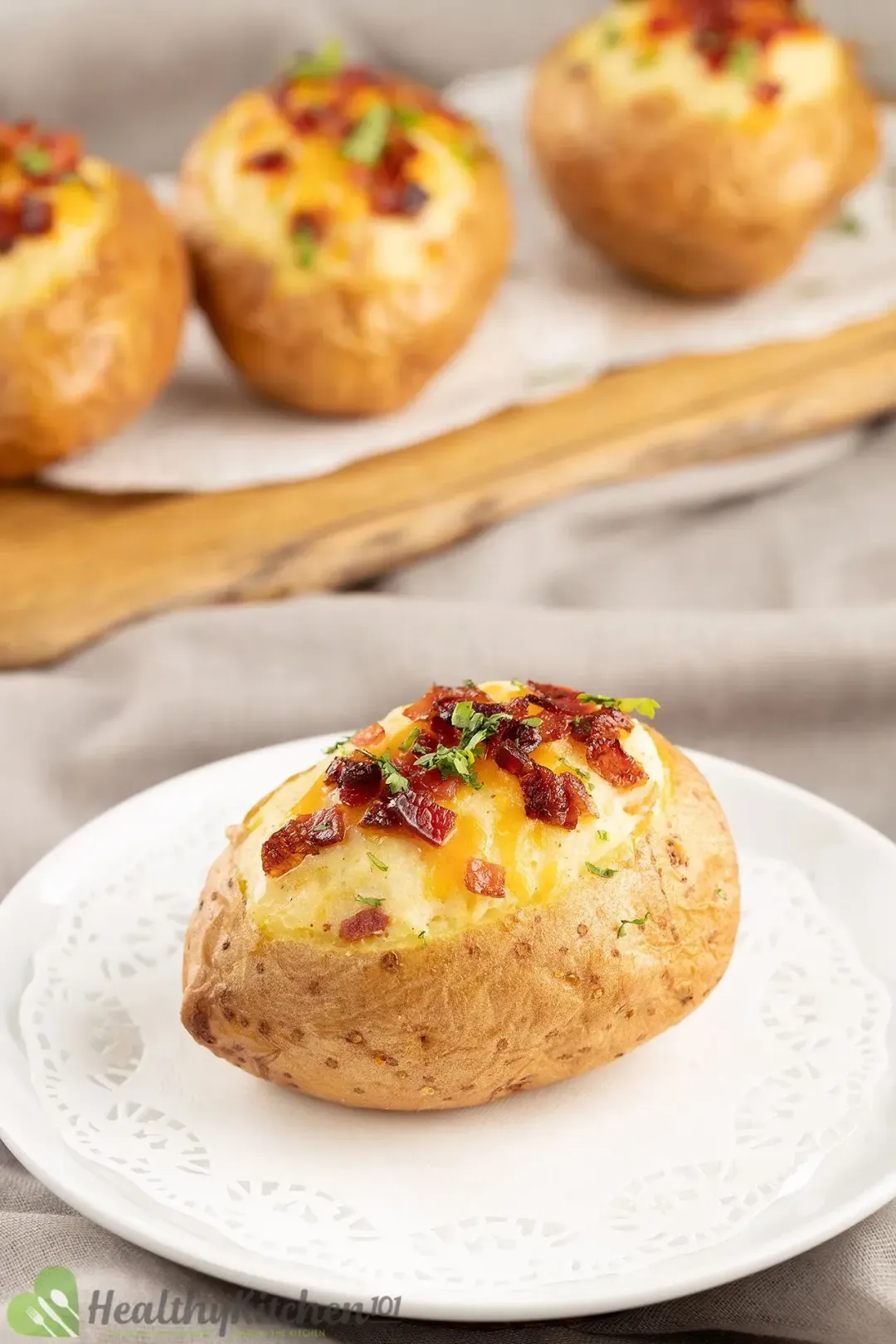 Baked Potato Toppings
With a light fluffy texture and mild taste, baked potatoes are an ideal vehicle for some additional flavor. And the good news is that the possibilities are endless.
The following are some ideas to freshen up your baked potatoes and turn this humble side dish into a whole new experience.
Broccoli: Steamed broccoli tastes extra delicious smothered in cheese and topped over baked potatoes. This is also a simple, yet tasty way to sneak some vegetables into your daily meal.
Greek Yogurt: Baked potatoes don't have to be so heavy; for a lighter version, go with Greek yogurt. A spoon of yogurt gives you all the tangy, creamy goodness you want from the dish, but with fewer calories and less fat than cheese or cream cheese.
Mushroom Gravy: Potatoes and mushroom gravy are made for each other for a simple reason — their combination is purely delicious. The creamy, plant-based sauce adds a deep earthy flavor that makes the spuds sing.
Salsa: Fresh salsa made of black beans, onion, tomatoes, chilies, and queso fresco (fresh cheese) adds a Tex-Mex flavor to your baked potatoes. Plus, you can make a bit more salsa and have it with tortilla chips as a snack throughout the week.
Eggs and Bacon: Who says baked potatoes can't be a wholesome breakfast? These elevated baked potatoes are topped with eggs and bacon before a second round in the air fryer. You can side the dish with a light salad for an extra boost of vitamins and minerals.
What Are the Best Potatoes to Use?
You can easily find different varieties of potatoes at local markets, and most of them can work pretty well for potato-based dishes like soup or salad. But if you want to choose the best variety for the ultimate baked potato, knowing their different characteristics can be helpful.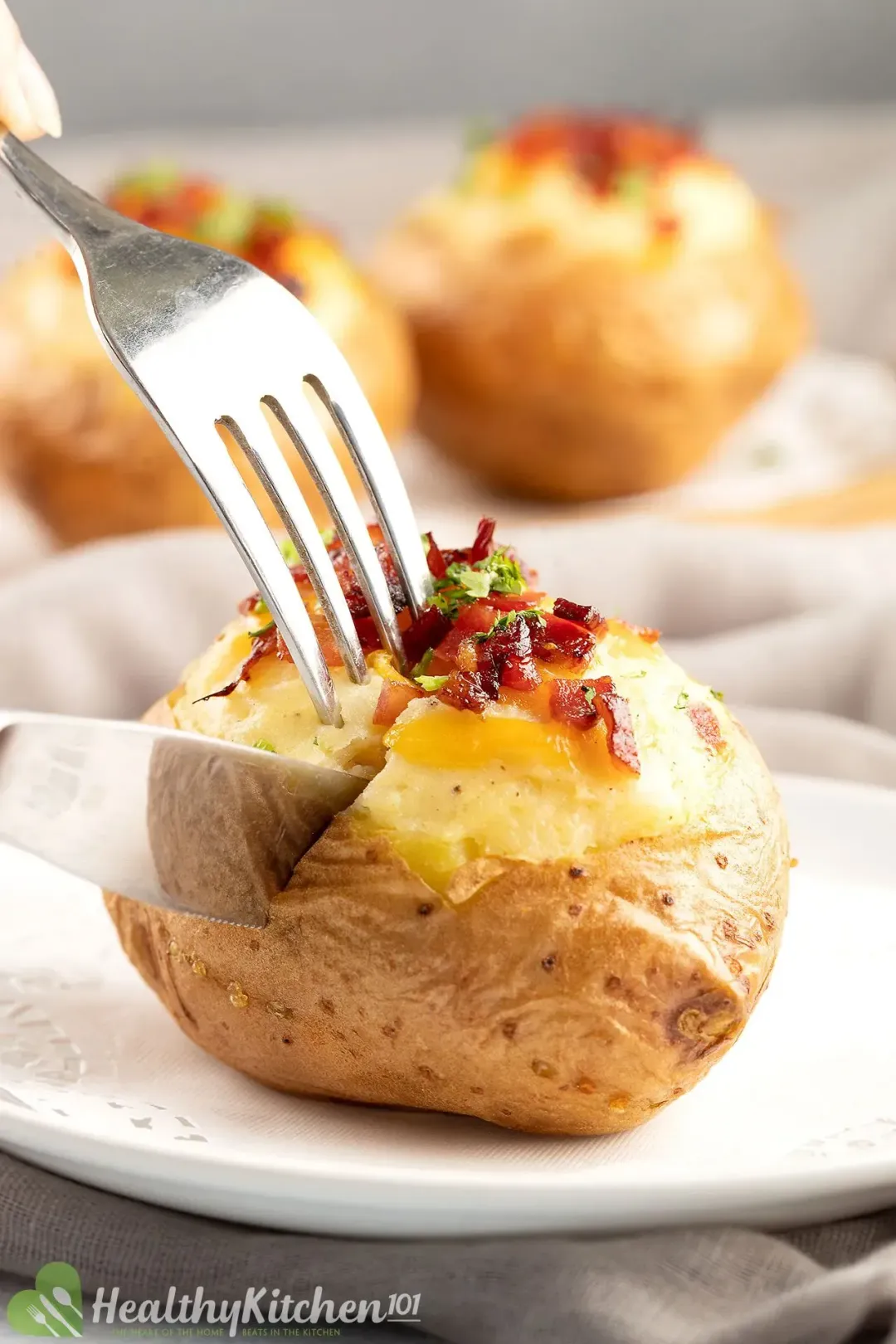 Potatoes can be classified into three categories: starchy, waxy, and all-purpose.
Starchy Potatoes: This type is fluffy and absorbent, making them ideal for fried and baked dishes. Starchy potatoes don't hold their shape well under high temperatures, and we don't recommend using them in any recipes that require a boiling process. Popular types: russet potatoes, King Edward potatoes, and sweet potatoes.
Waxy Potatoes: These often contain more sugar and moisture, so they retain their shape better when slicing and boiling. These potatoes are great for soup, mashed potatoes, and salad. Popular type: red-skinned potatoes, fingerling potatoes, and Kipfler potatoes.
All-purpose Potatoes: These varieties can come in all shapes, sizes, and colors. And as the name implies, all-purpose potatoes can be used for most recipes, including roasting, baking, and soup. Popular types: Yukon Gold potatoes, Desiree potatoes, and Creme royale potatoes.
Tips for Making the Perfect Air Fryer Baked Potato
Choose potatoes of the same size: Different sized potatoes result in different cooking times. Of course, you can always put bigger potatoes back in the air fryer for a few extra minutes, but using similar-sized potatoes is a great trick to ensure they all cook through at the same time.
Don't overcrowd your air fryer basket: Four medium potatoes would be the maximum number. This ensures that your potatoes are cooked evenly while having enough space to crisp up the skin.
Pierce potatoes before placing them in the air fryer: Steam and pressure build up inside potatoes while they cook. If the pressure gets too much, it may explode and tear open the skin. Piercing several small holes in the potatoes allows the steam to escape.
How Long Does a Baked Potato Last?
Baked potatoes should be consumed within 2 hours of being cooked. It's never safe to leave your baked potatoes at room temperature for longer than 4 hours because it could raise the risk of bacterial contamination and food poisoning.
If you happen to have some baked potatoes leftover, keep them in an airtight container or Ziplock bag and place them in the refrigerator for up to 3 – 5 days. You can quickly crisp the potatoes again by reheating them in the air fryer to be enjoyed all over again.
If you want more air fryer recipe, check out this delicious air fryer dinner ideas.
What Goes With Baked Potato
Here's a list of some tasty mains and sides that you can serve with baked potatoes for a healthy and satisfying meal.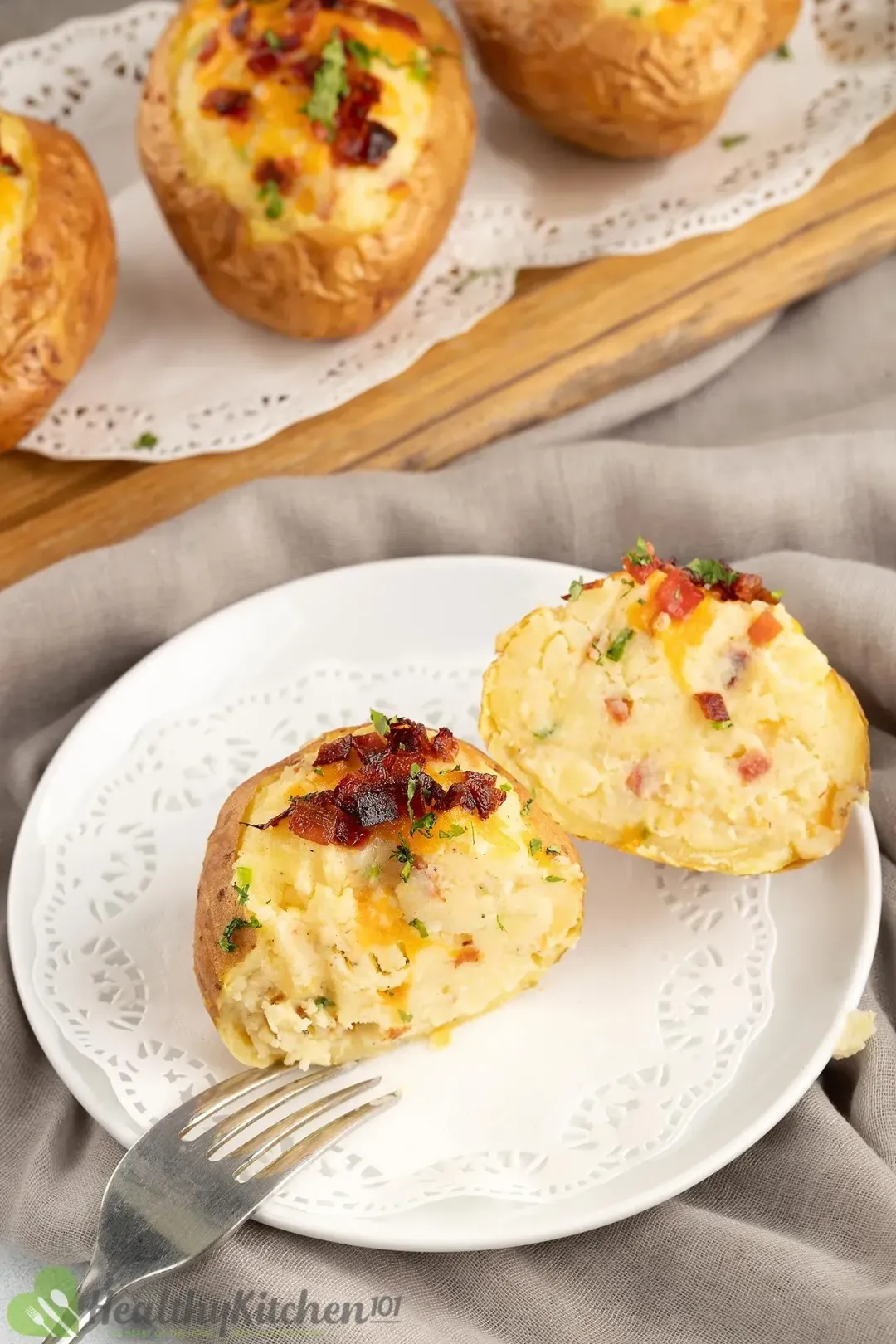 Steak: Steak is always a top choice if you're looking for hearty fare to go alongside baked potatoes. And the great thing about steak is that it is so versatile. Meat cuts such as Porterhouse or T-bone would fit this meal wonderfully.
Broccoli Soup: Soup can be paired with baked potatoes for a quick and light dinner. Plus, you can omit protein in both dishes to turn it into a meat-free meal.
Meatloaf: Potatoes go with meatloaf beautifully whether mashed or baked. You can even bake or air fry potatoes with meatloaf on the same grill. This combination is great for casual dinners with friends and is destined to be a hit for gatherings.
If you would like to see more healthy air fryer potato options, see these four recipes:
Air Fryer Baked Potato
This air fryer baked potato recipe is a take on classic oven-baked potatoes but with reduced cooking time and workload.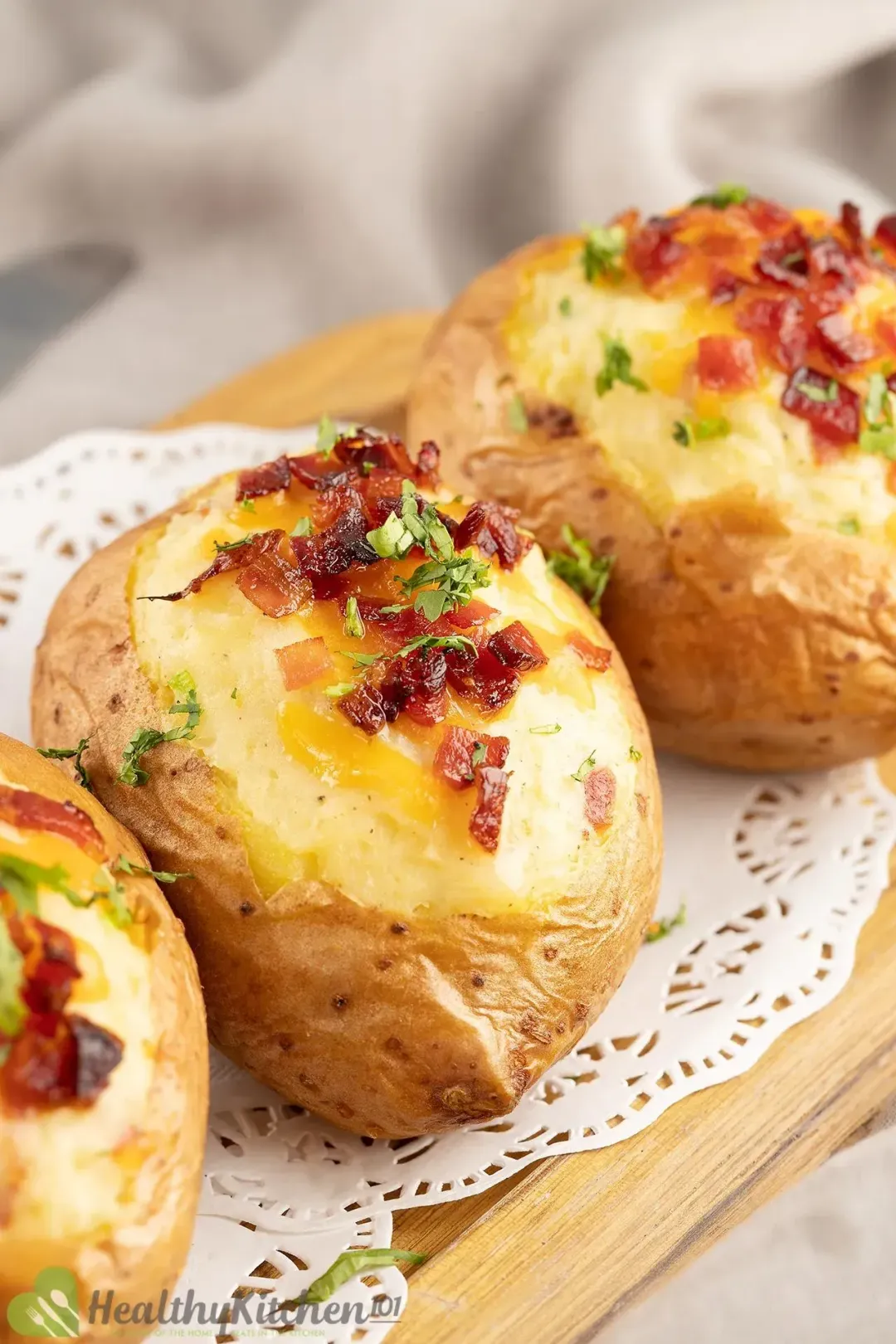 cook TIME

45 mins

prep TIME

5 mins

total TIME

50 mins
COURSE

Dinner, Lunch, Side Dish

CUISINE

American

SERVINGS

CALORIES

188 kcal
INGREDIENTS
20 oz

potatoes

(4 potatoes)

1/4 cup

plain Greek yogurt

2 tbsp

shredded cheddar cheese
INSTRUCTIONS
1
Use a fork to pierce the skin of each potato in several places. Then brush the olive oil onto the skin.
2
Place 20 oz potatoes in the basket of an air fryer and cook at 350°F for 40 minutes.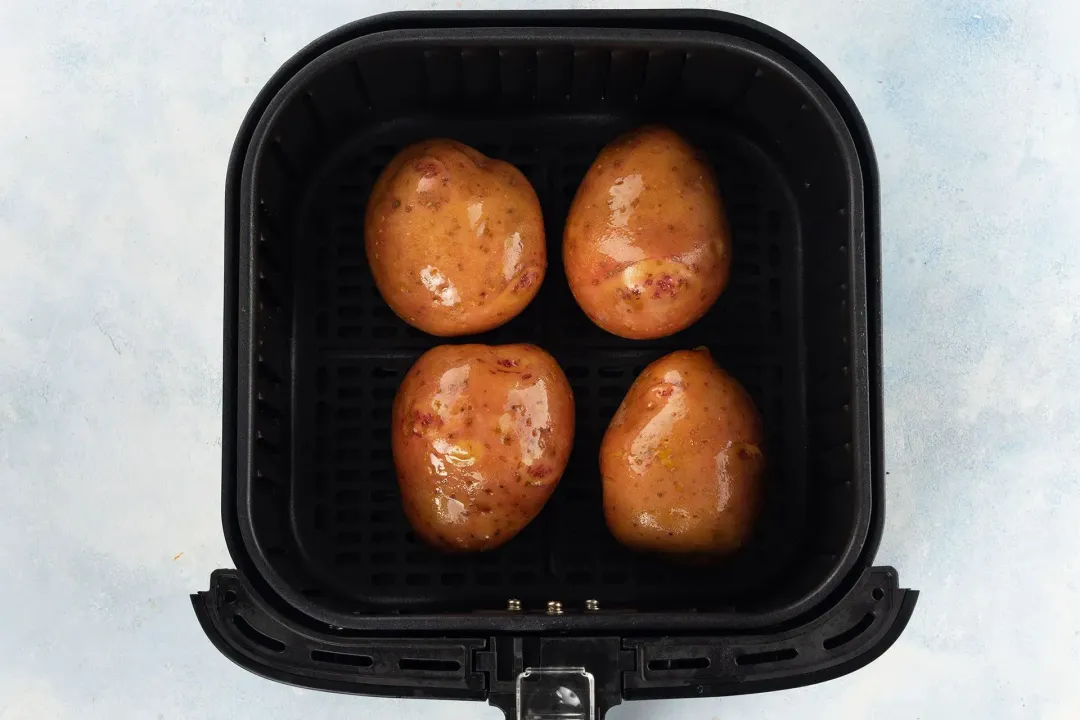 3
Remove potatoes from the basket and let them cool down. Then cut along the top of them and scoop out the flesh inside.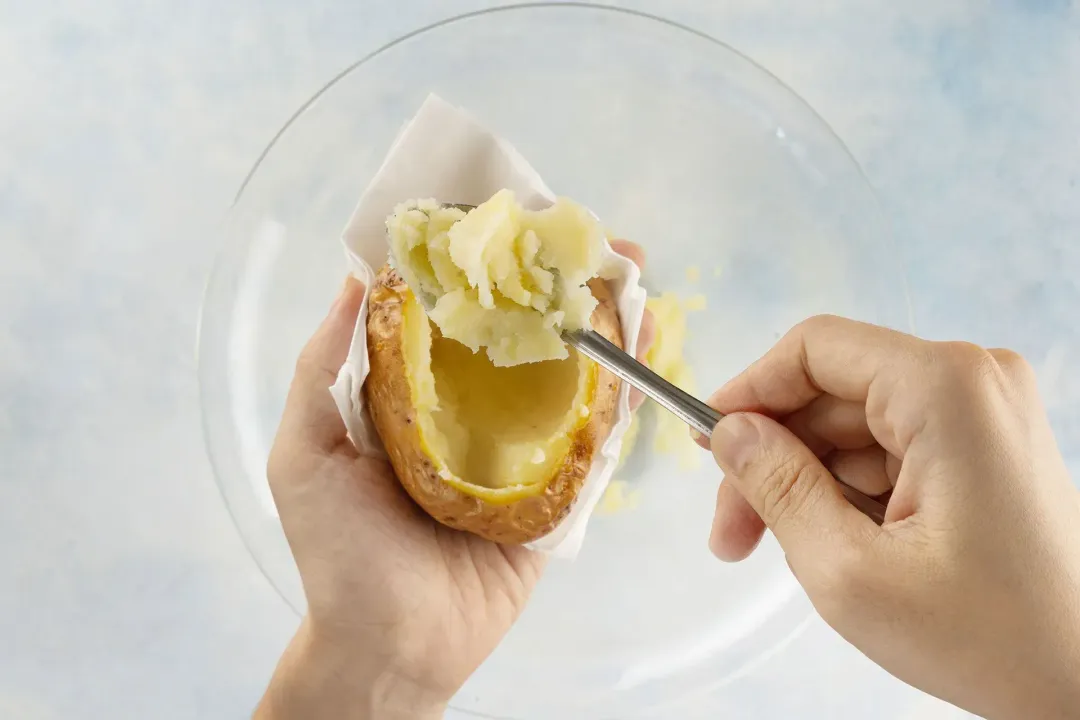 4
In a bowl, add the potato flesh, 1/4 tsp salt, 1/4 tsp pepper, 1/4 cup yogurt, 1/4 tsp thyme, 1 tbsp scallion, 1 tbsp butter, 1 tbsp cheddar cheese, and 0.5 oz bacon. Mash filling until smooth.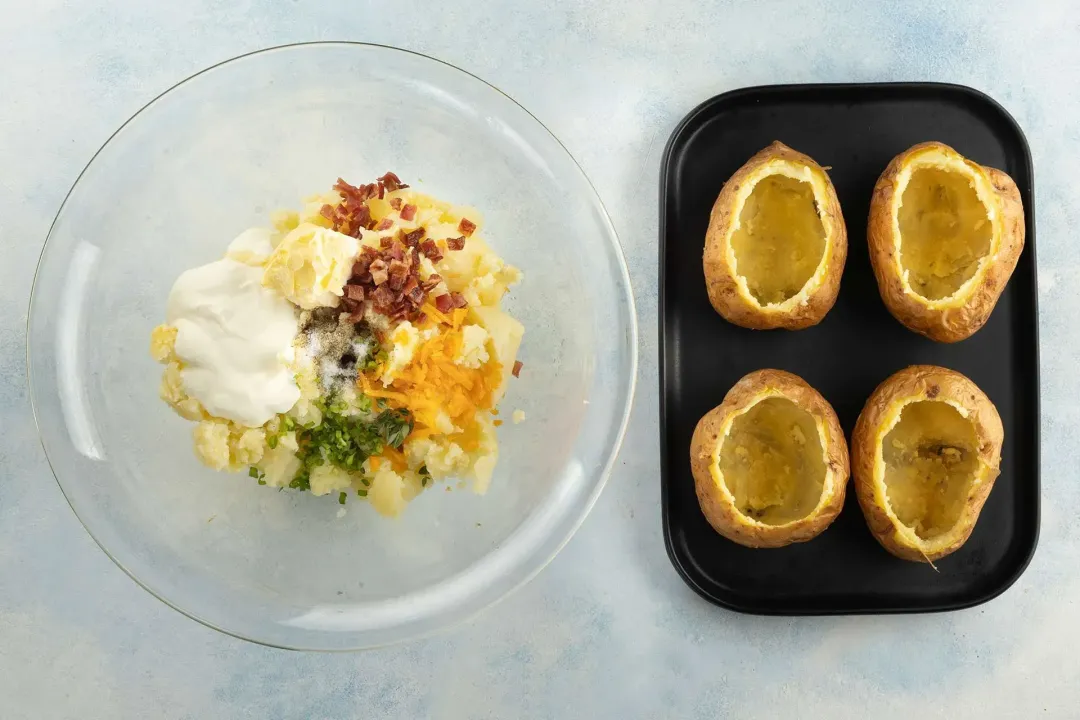 5
Spoon the filling back into the potato skin. Top the potatoes with the remaining 1 tbsp cheddar cheese and 0.25 oz bacon.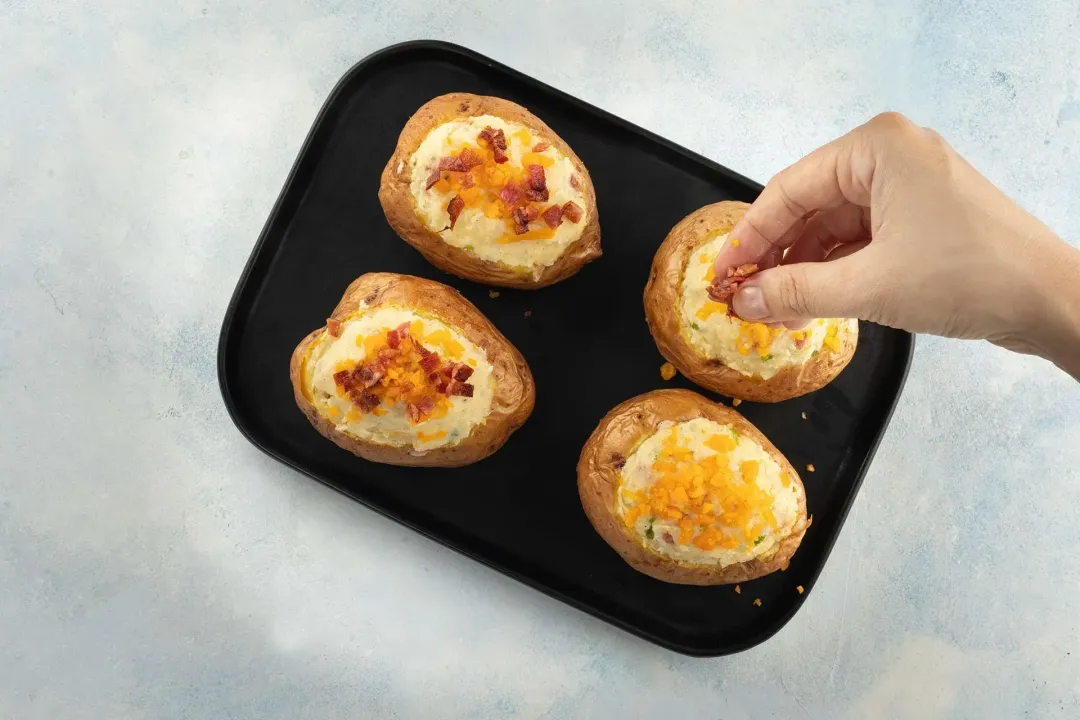 6
Return the potatoes to the air fryer and cook at 400°F for 5 minutes.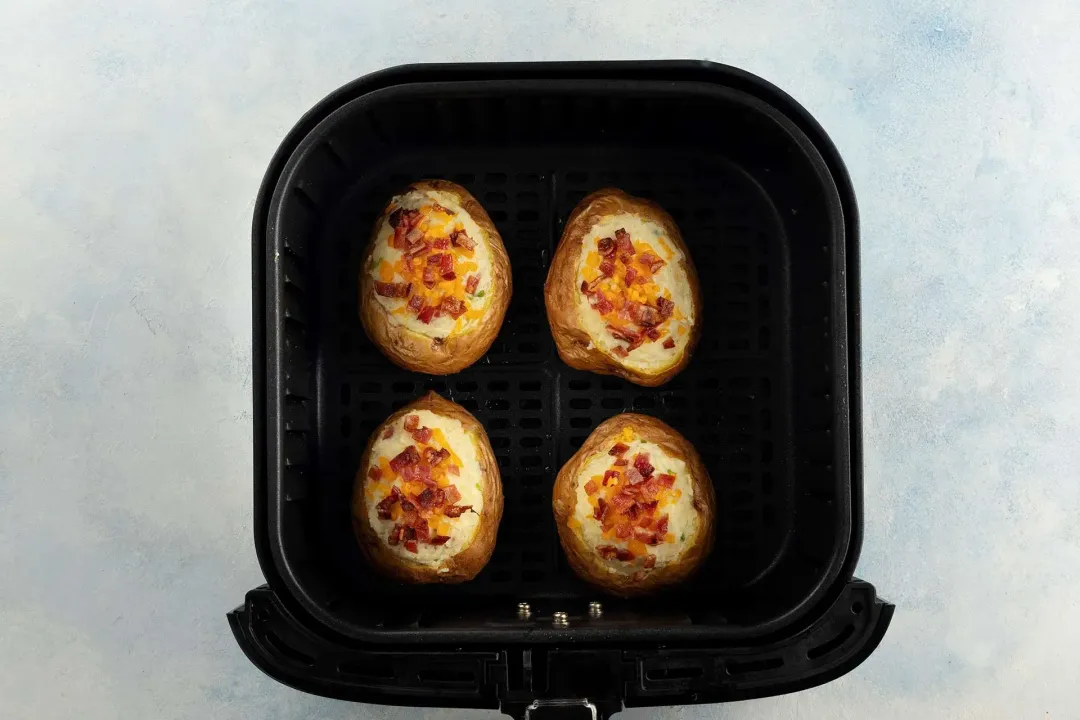 7
Remove the potatoes from the air fryer. Garnish with cilantro and serve.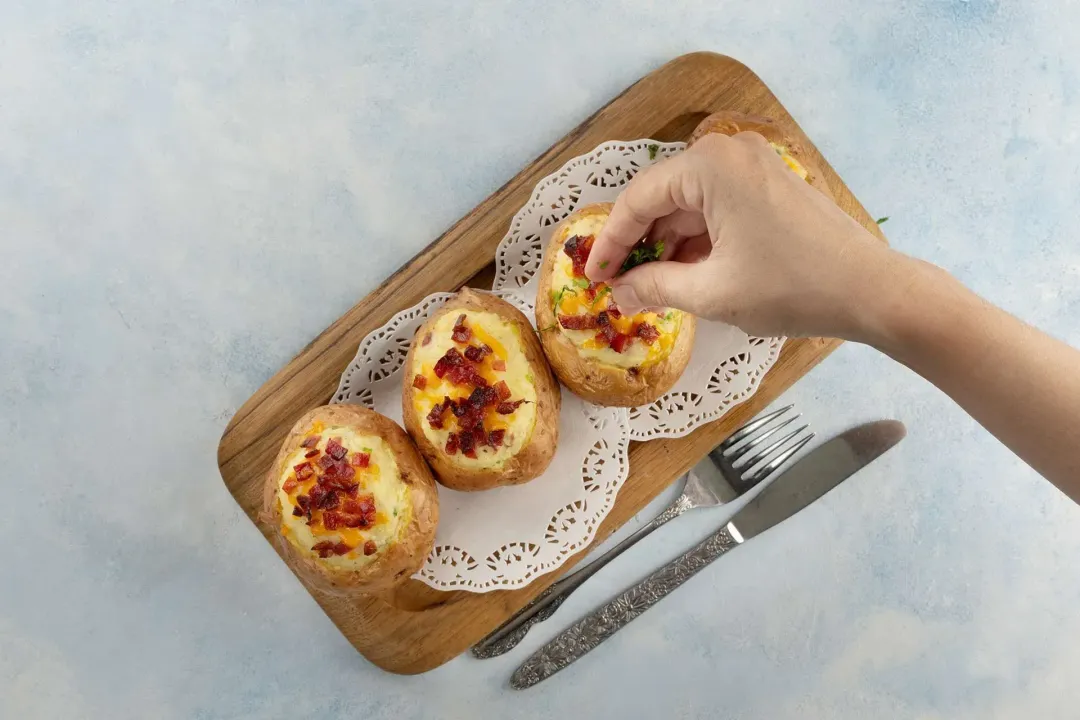 NUTRITION
Nutrition Facts
Air Fryer Baked Potato
Amount Per Serving (1 serving)
Calories 188
Calories from Fat 72
% Daily Value*
* Percent Daily Values are based on a 2000 calorie diet.
Keywords: air fryer baked potato, baked potato in air fryer, how to make a baked potato in air fryer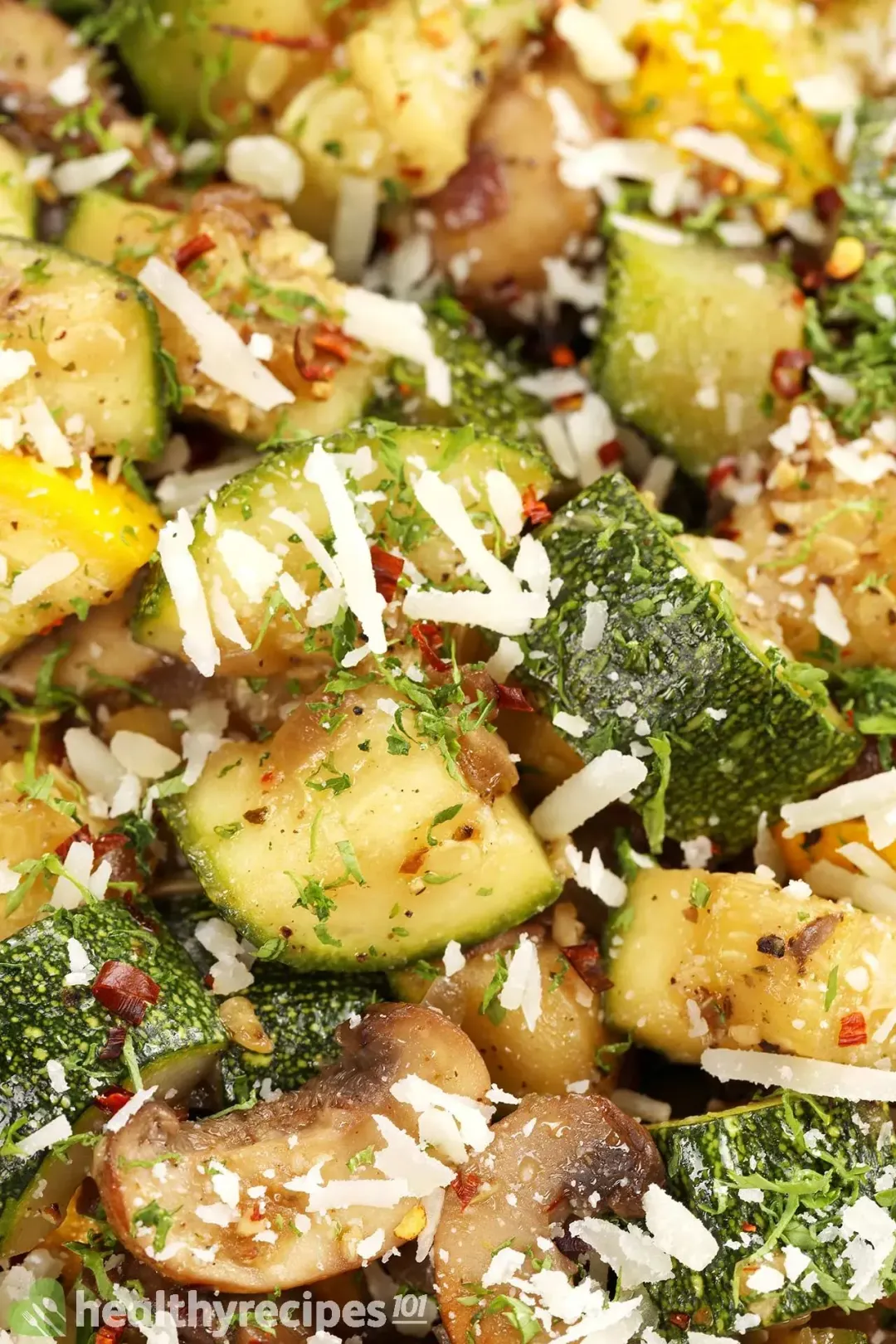 Previous Recipe
Instant Pot Zucchini
Instant Pot Zucchini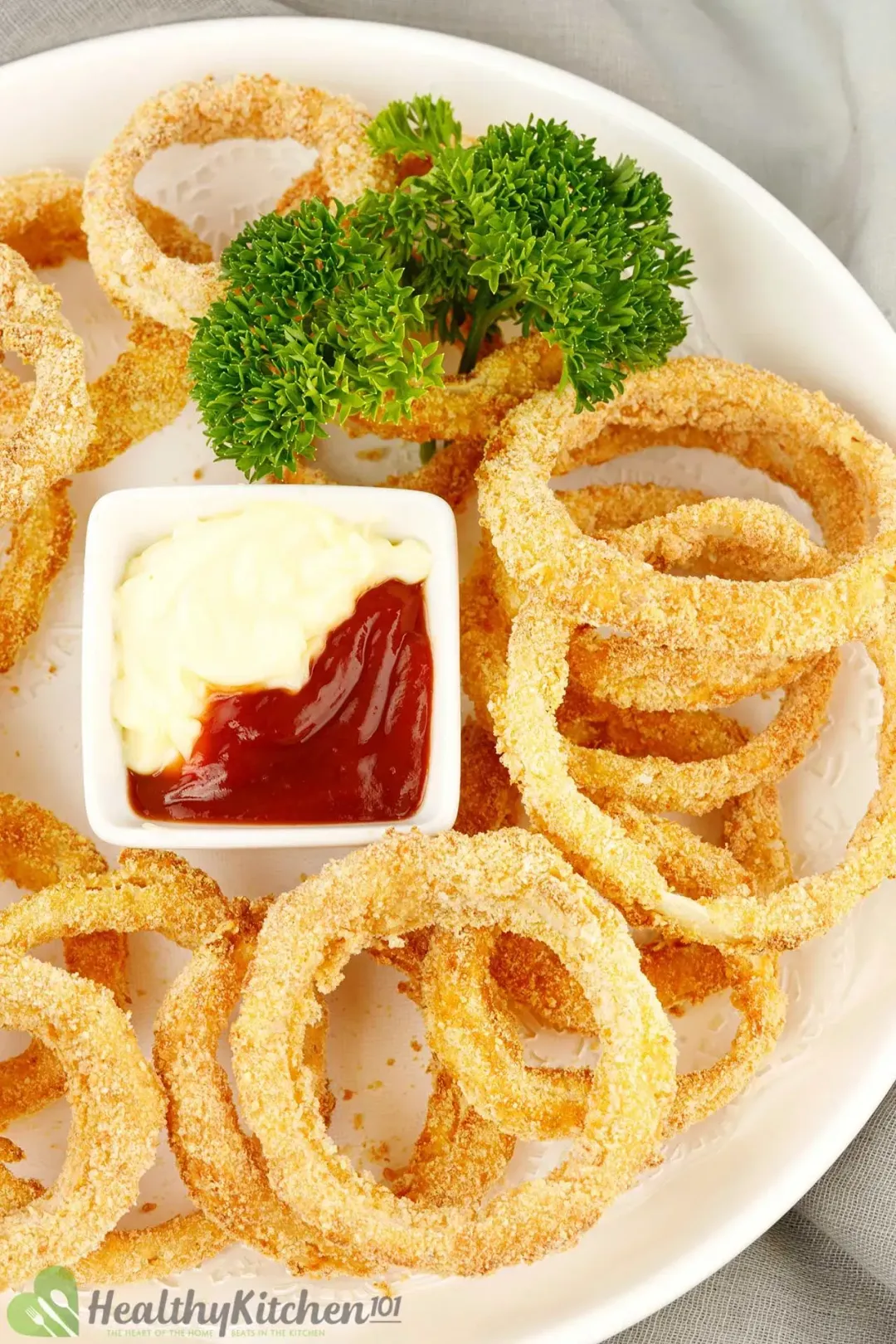 Next Recipe
Air Fryer Onion Rings
Air Fryer Onion Rings
Head Chef, Culinary Consultant
Tuyet Pham is an award-winning Saigonese chef who believes that joy is the secret ingredient to delicious food. At Healthy Recipes 101, Tuyet personally tests and simplifies every recipe, ensuring maximum flavor with minimal effort. With a background at prestigious French restaurants P'TI Saigon and Le Corto, Tuyet knows how to make every dish exceptional.
Writer, Author
Luna Regina is an accomplished writer and author who dedicates her career to empowering home cooks and making cooking effortless for everyone. She is the founder of HealthyKitchen101.com and HealthyRecipes101.com, where she works with her team to develop easy, nutritious recipes and help aspiring cooks choose the right kitchen appliances.
Nutrition Reviewer
Lizzie Streit is a Minneapolis-based dietitian and founder of It's a Veg World After All. She completed her MS in Human Nutrition from Drexel University, and is an expert in culinary nutrition, recipe development, and nutrition communications. Lizzie's philosophy is centered around making nutrition recommendations, and especially the advice to eat more vegetables, approachable and realistic. She is excited to be working with the team at Healthy Recipes 101 to ensure that their recipes are both nutritious and delicious.
Fantastic and simple to make!