In today's air fryer hash brown recipe, the crispy, golden hash browns are made from scratch and fried to perfection, creating a delicious addition to your breakfast or lunch. 
The good news is that even when you're in a rush and have no time to prepare, our hash brown patties can be made in advance to keep in the freezer and reheat nicely later.
Are Hash Browns Healthy?
Yes, our air fryer hash browns are healthy. Here's why:
Fewer in calories: Each serving of our air fryer hash browns yields only 196 calories, making this crisp treat a light side dish to pair with almost any main dish on your table.
Low in Saturated Fat: We used only half a tablespoon of oil for baking. Therefore, the finished product comes out just golden crispy without any excess oil.
Low in Sodium and No Added Sugar: Home cooking is a great way to control your salt and sugar intake. Specifically, we didn't add any sugar to the recipe and limited sodium to 291 milligrams which account for less than 13% of the USDA's Dietary Guidelines.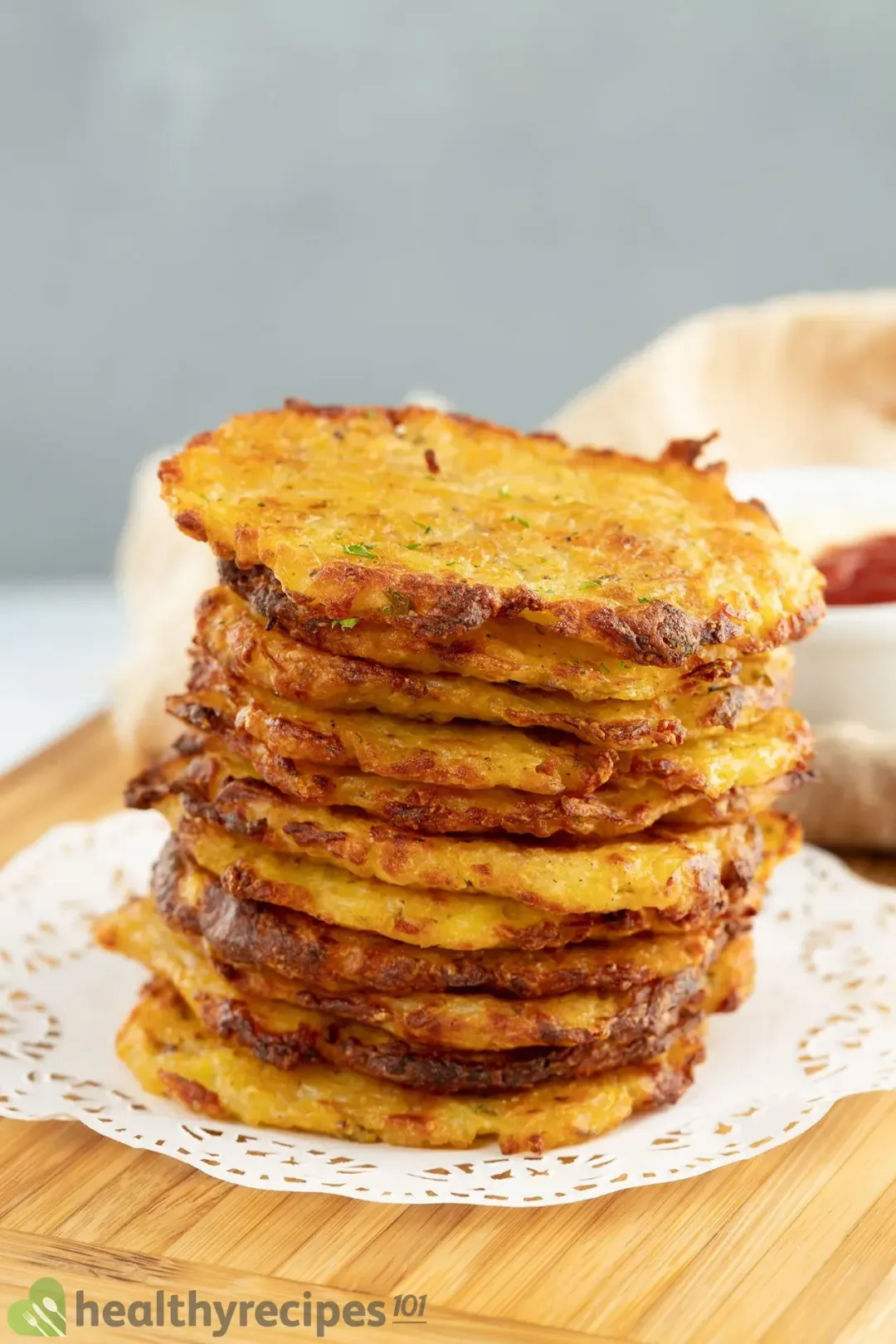 Best Types of Potatoes for Hash Browns
Generally, Yukon Golds are often considered the best type for hash browns since they hold their shape nicely after being cooked. Starchy potatoes like Russet, on the other hand, will give a better crisp.
We found that when using the parboil method (boil the raw potatoes until partially cooked through), the type of potato is less important than the cooking technique. Part of the reason is because the potatoes are already boiled before being placed in the air fryer, thus significantly reducing the moisture content.
In short, most of the available potatoes in stores, from the starchy to the all-purpose ones, will work great in this air fryer hash browns recipe as long as you parboil them in advance. Alternatively, you can ditch the potatoes entirely and pursue our Cauliflower Hash Browns Recipe. The result is just as golden and tasty.
If this dish is of interest to you, you may also find this Cheesy Hashbrown Breakfast Casserole helpful.
How to Make Hash Browns in an Air Fryer
Air fryer hash browns are a tasty side dish and easy to make. Here is a brief how-to: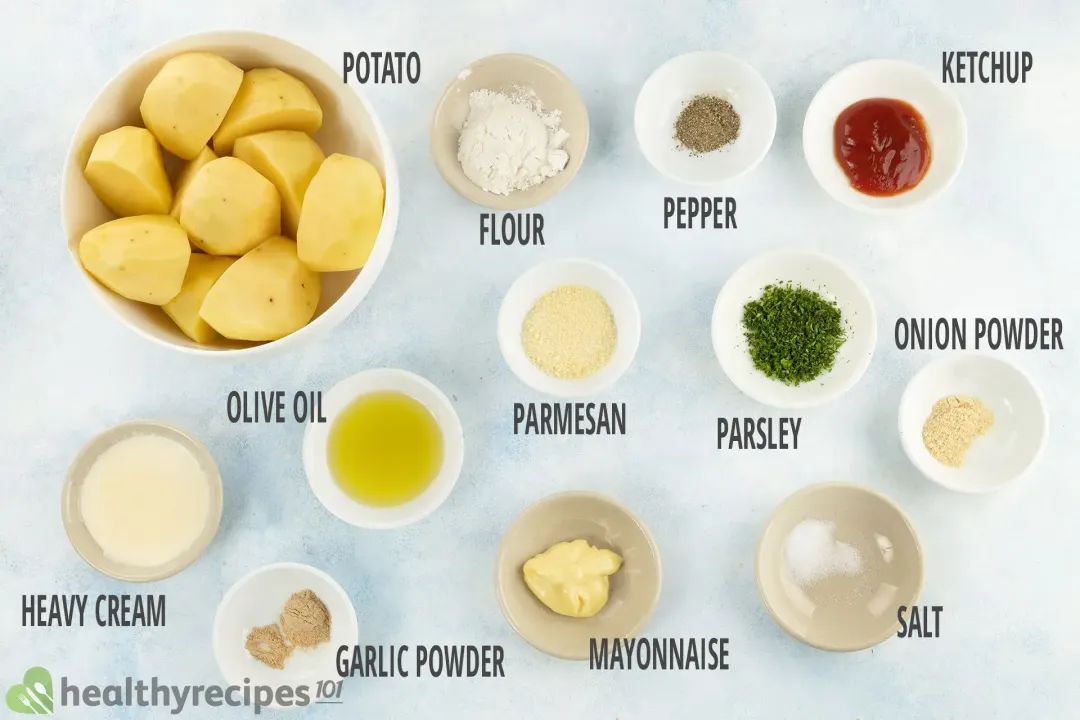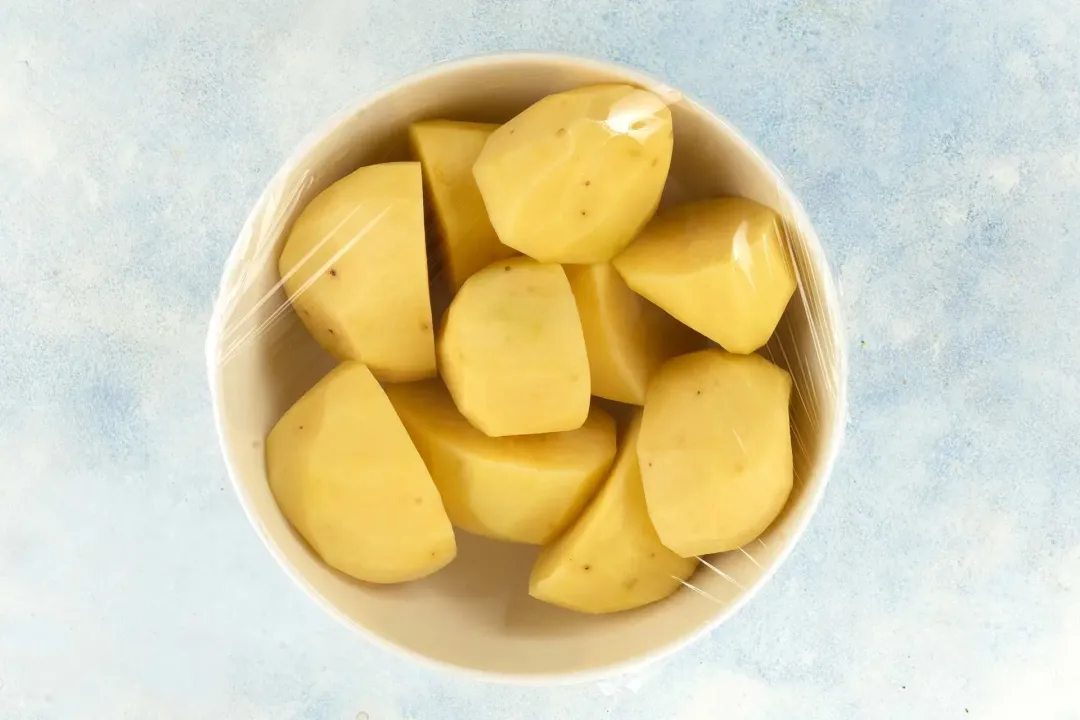 Parboil the potatoes.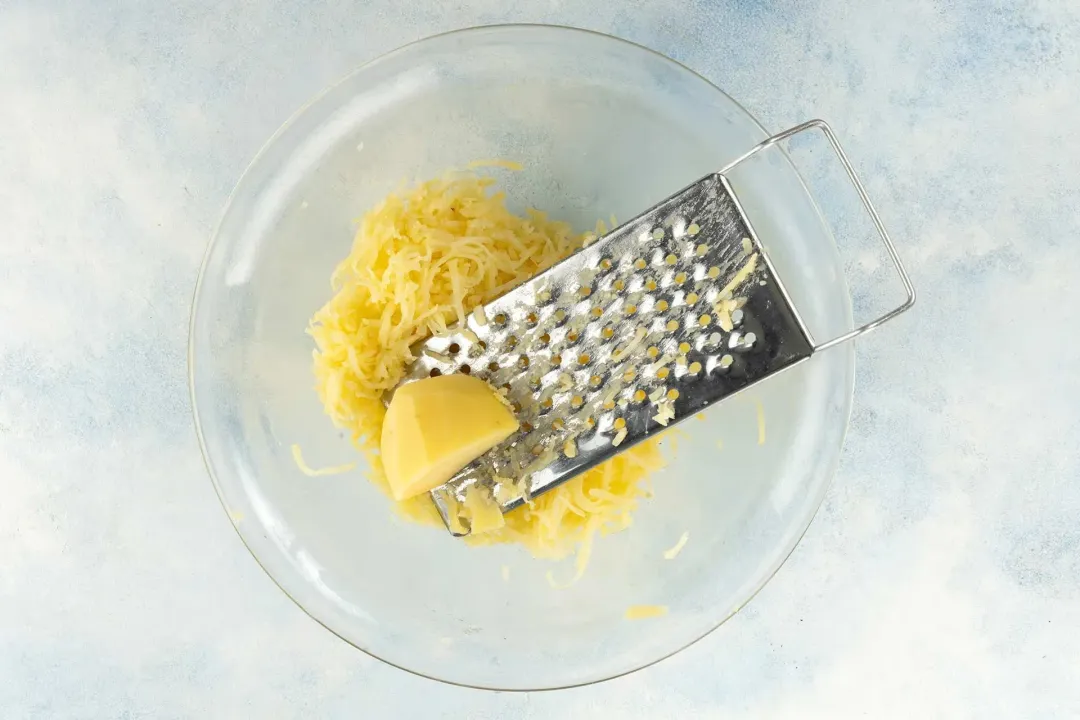 Shred the potatoes.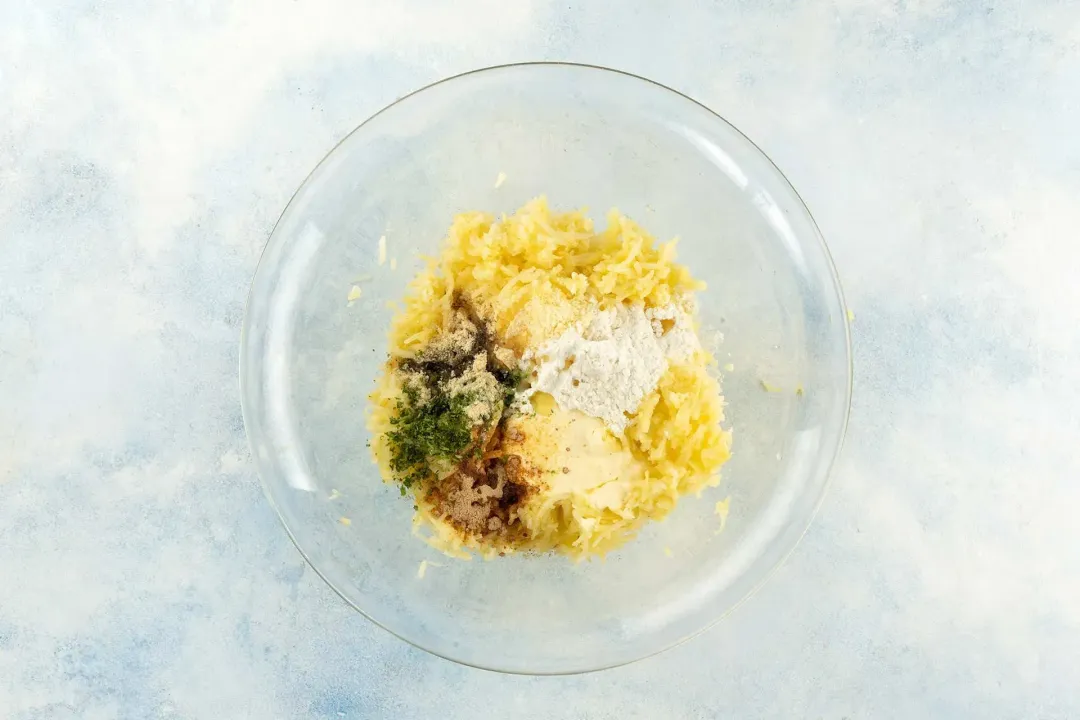 Season the potatoes.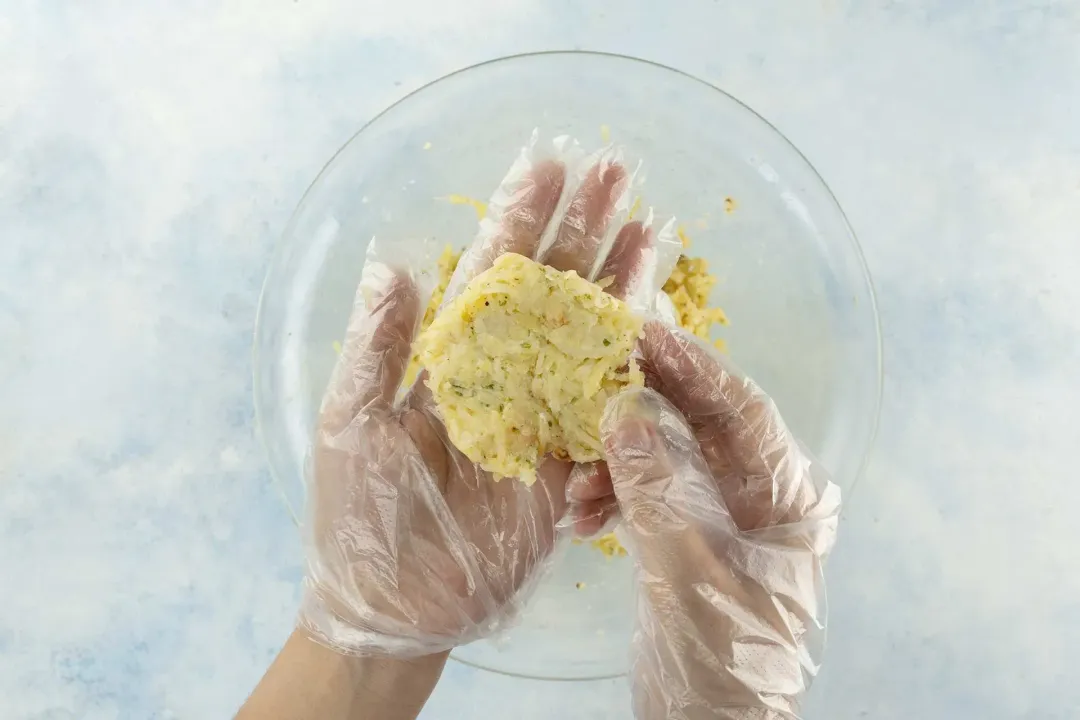 Shape the hash browns.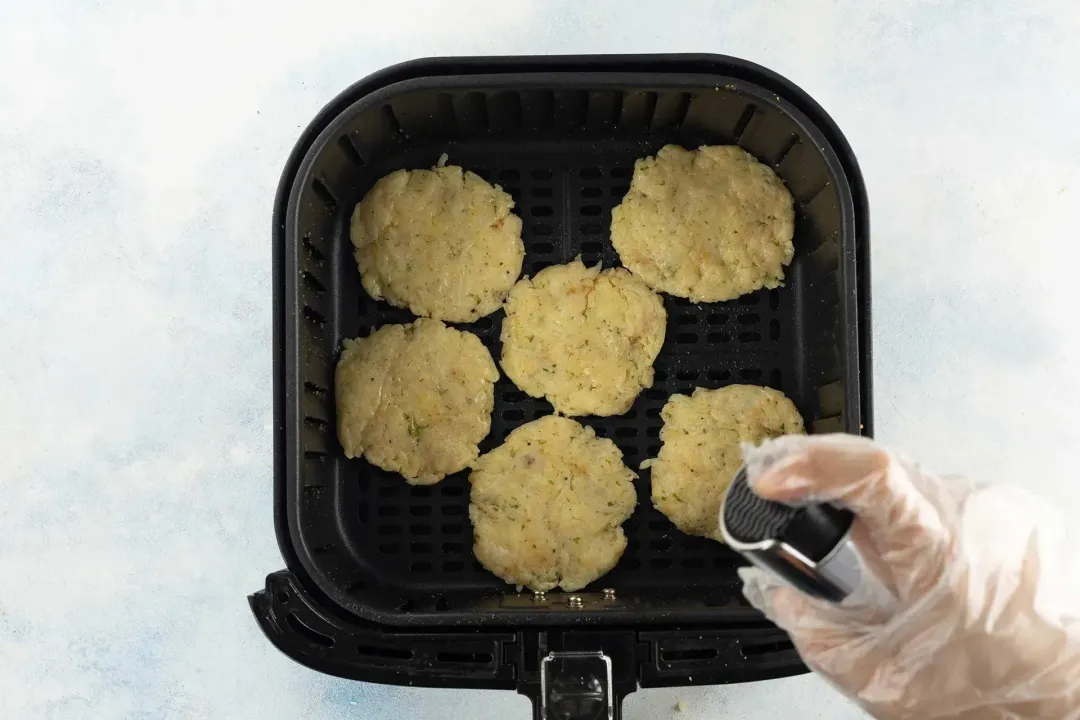 Cook the hash browns.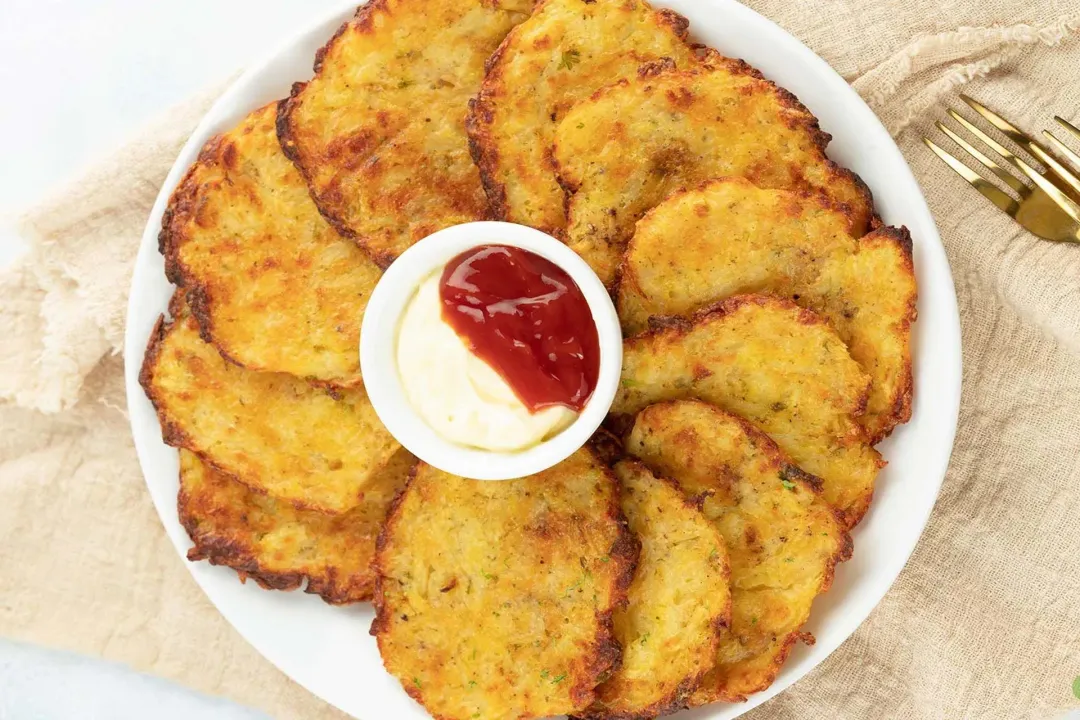 Serve.
For the detailed instructions, skip down to the recipe card at the bottom of this article.
How to Cook Frozen Hash Browns in an Air Fryer
Cooking hash browns from the frozen ingredients could save you a little preparation time, making the meals quicker and easier. All you have to do is increase the cooking time, usually for an extra 3 – 5 minutes. Once you cook the first batch, you will know the best time for creating delicious frozen hash browns in the future.
Tips for Making Air Fryer Hash Browns
1. How to Prepare Potatoes for This Recipe
You can wash and peel potatoes for up to 3 days in advance. Store the peeled spuds in the refrigerator and submerge them completely in cold water. When ready to use, drain the potatoes and dry them thoroughly before cooking.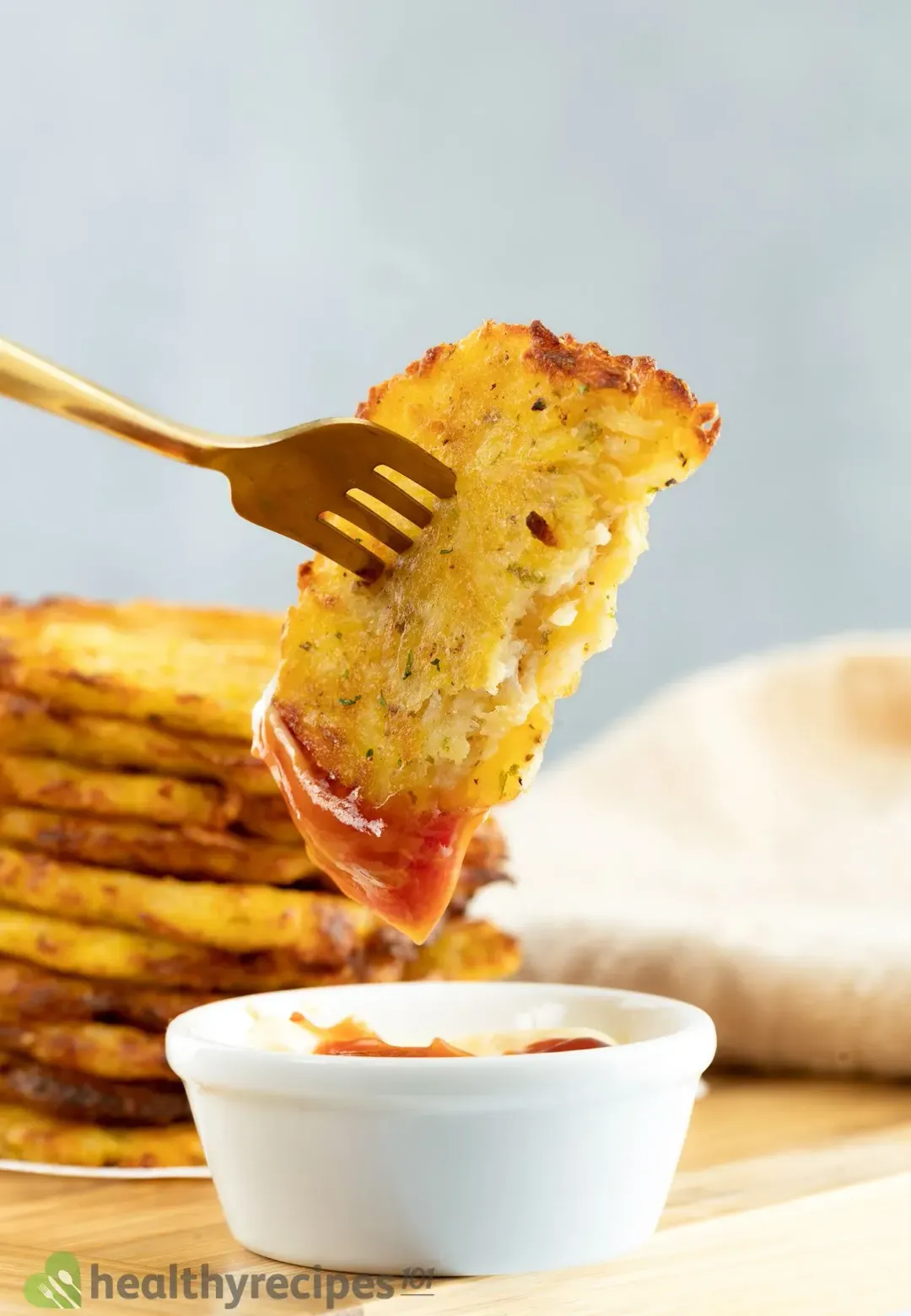 2. How to Shred Potatoes for Hash Browns
Cutting potatoes into shreds is probably the most laborious task in today's recipe. To shred the potatoes, you need a box grater, a mandoline, or a food processor.
Box grater or Mandoline: Place your grater over a dish and choose your preferred size. Then hold the potato and press it onto the grater while sliding it from the top down. The process would be the same with the mandoline.
Food Processor: The technique for shredding potatoes in the food processor is quite straightforward. Place a shredding disc in your machine, turn the processor on, and push your potatoes through with the plastic disc.
For more air fryer recipe ideas, have a look at our easy air fryer dinner roundup.
How to Store and Reheat Hash Browns
These delicious air fryer hash browns are a great companion to your breakfast, lunch, and dinner. Also, they are so easy to prepare ahead of time and store in the refrigerator. To achieve a freshly-made hash brown taste, see our storage and reheating tips below.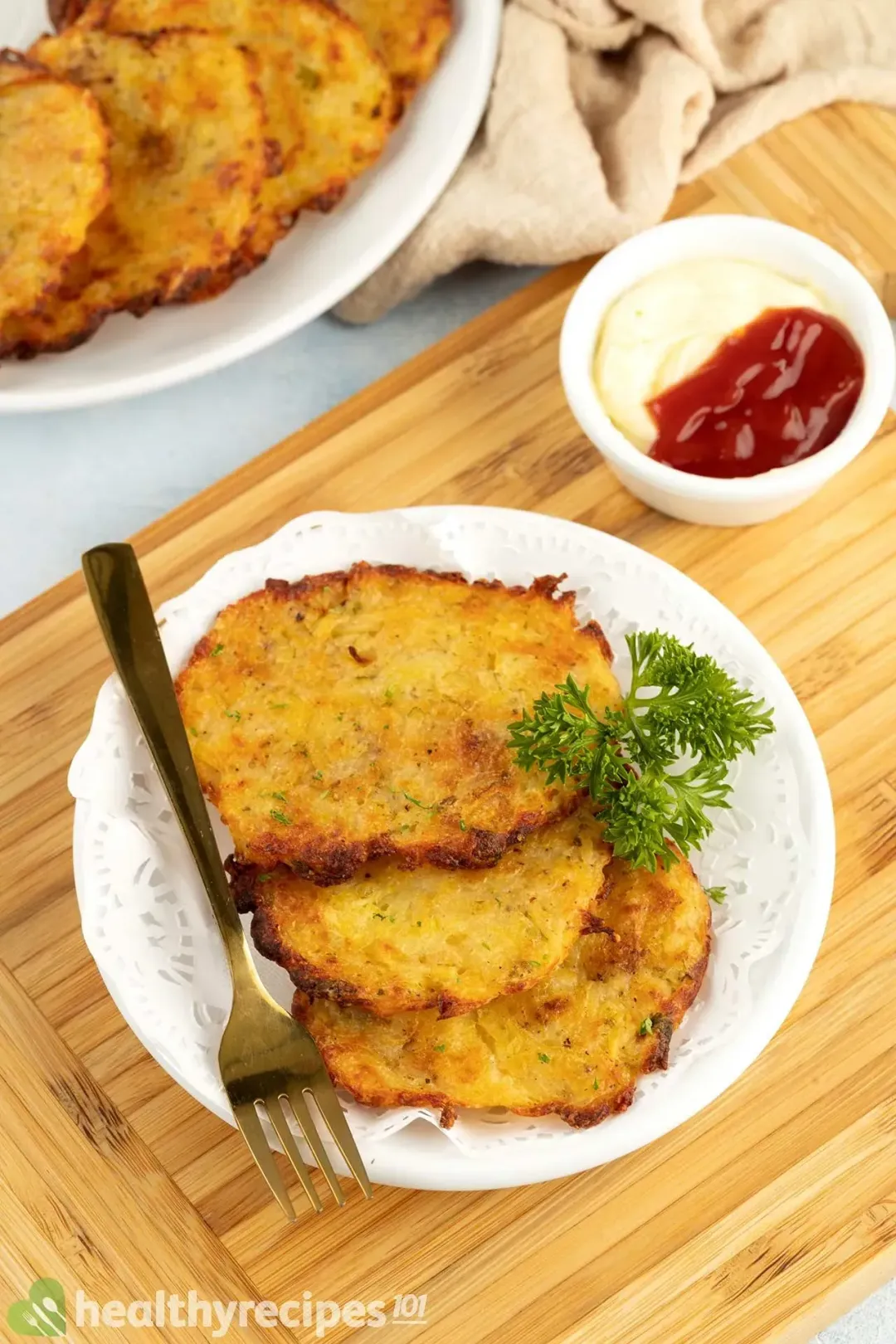 Store: When properly stored, hash browns will last 3 -5 days in the refrigerator and up to 3 – 6 months in the freezer.  Put your hash browns in an airtight container and place them in the fridge or freezer immediately. Otherwise, the bacteria will start to grow in cooked food if left out for more than 2 hours at room temperature.
Defrost: Defrosting your hash browns properly is crucial since it can help retain the taste and ensure crispy texture when reheating. Simply place your dish on the microwave plate and heat for 30 seconds. Another easy way to defrost your hash browns is to allow them to thaw in the refrigerator overnight. Just make sure that you prepare well in advance so that the frozen hash browns have enough time to defrost thoroughly.
Reheat: The best possible way to reheat the crispy hash browns is to use the oven or the air fryer at a high temperature. The process is quite simple: cover the hash browns in aluminum foil and place them in the oven or air fryer. Heat it up at 400°F for about 10 minutes until you reach the desired crispiness.
Similarly Tasty Air Fryer Potato Recipes
When it comes to making delicious meals out of potato, the possibilities are endless. We have plenty of ideas for you to get started: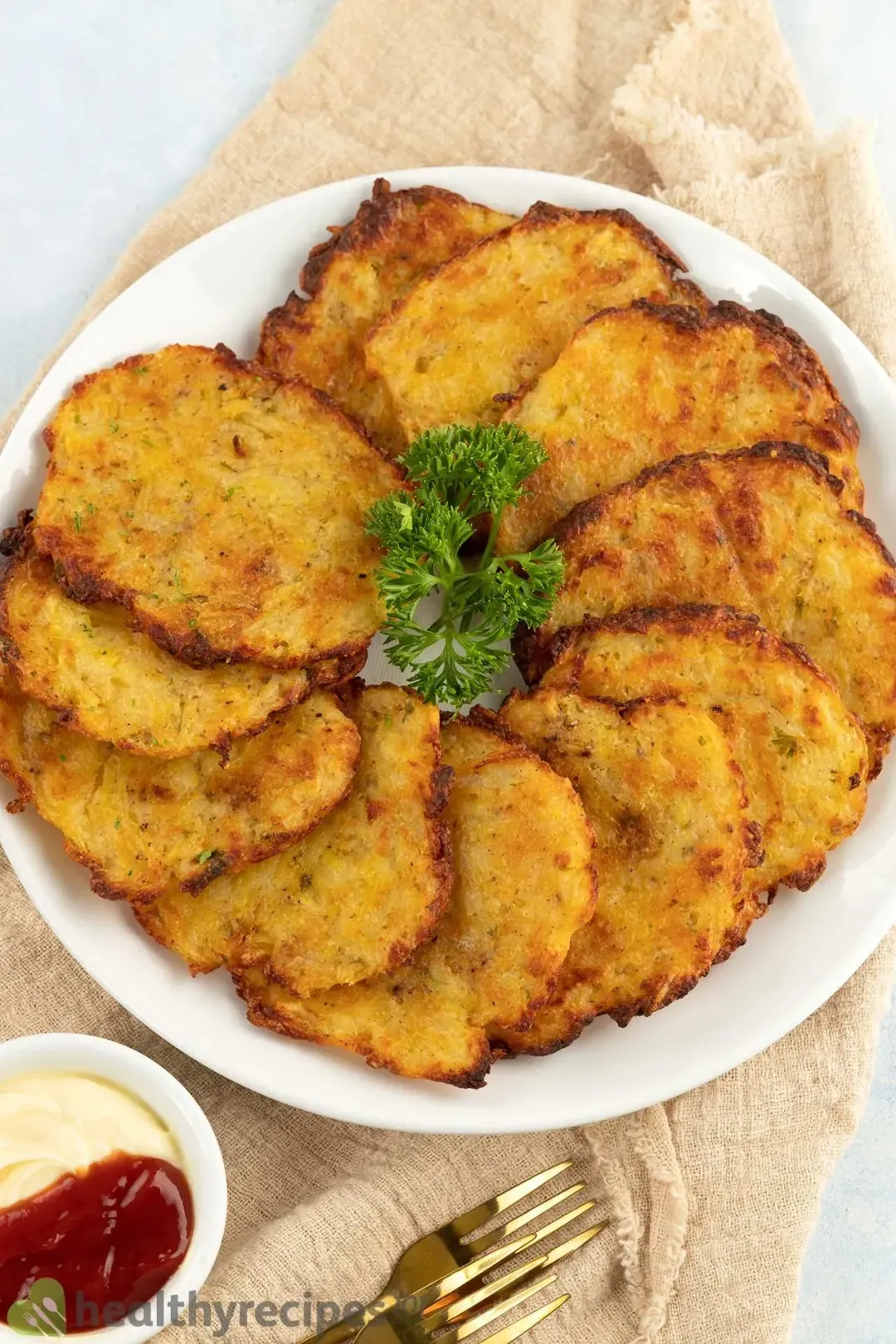 Air Fryer Hash Browns Recipe
Make this air fryer hash browns recipe with simple ingredients available in your pantry for a classic dinner side dish within 30 minutes.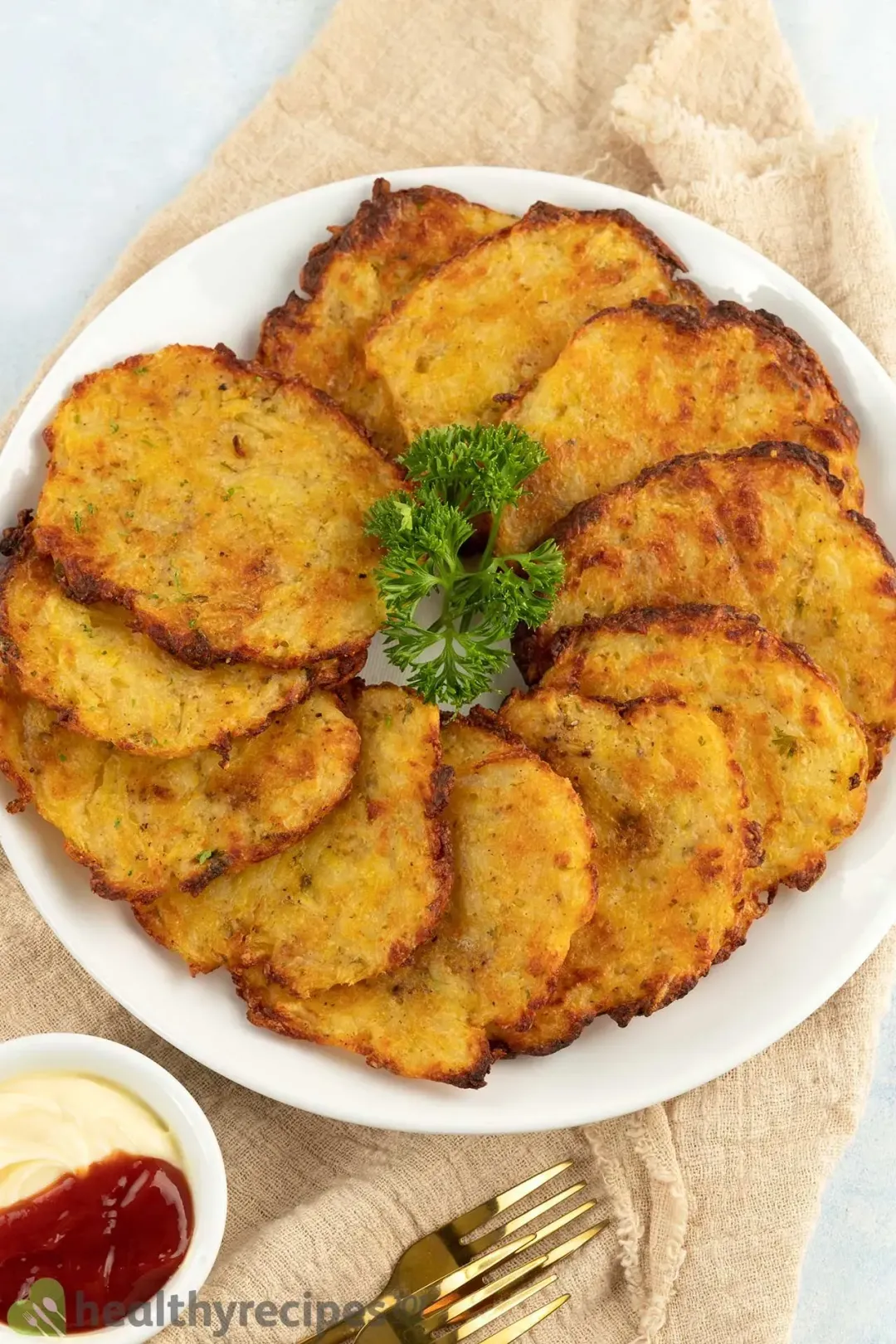 cook TIME

25 mins

prep TIME

5 mins

total TIME

30 mins
COURSE

Breakfast

CUISINE

American

SERVINGS

servings

CALORIES

196 kcal
INGREDIENTS
1 tbsp

olive oil

(divided)

1 tbsp

Japanese mayonnaise
INSTRUCTIONS
1
Parcook the potatoes: Put 16 oz potatoes into a microwavable bowl. Microwave for 7 minutes on the highest setting. Leave the potatoes covered and allow to cool for at least 5 minutes.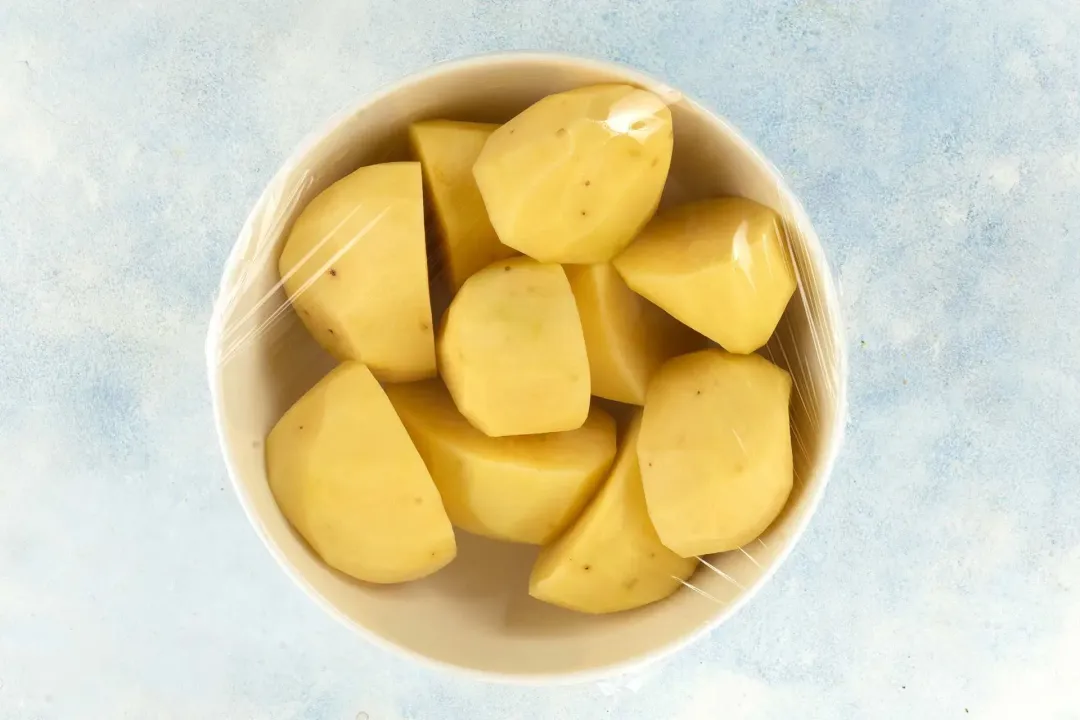 2
Shred the potatoes: Once they are cool enough to handle, shred them with the largest holes of a box grater.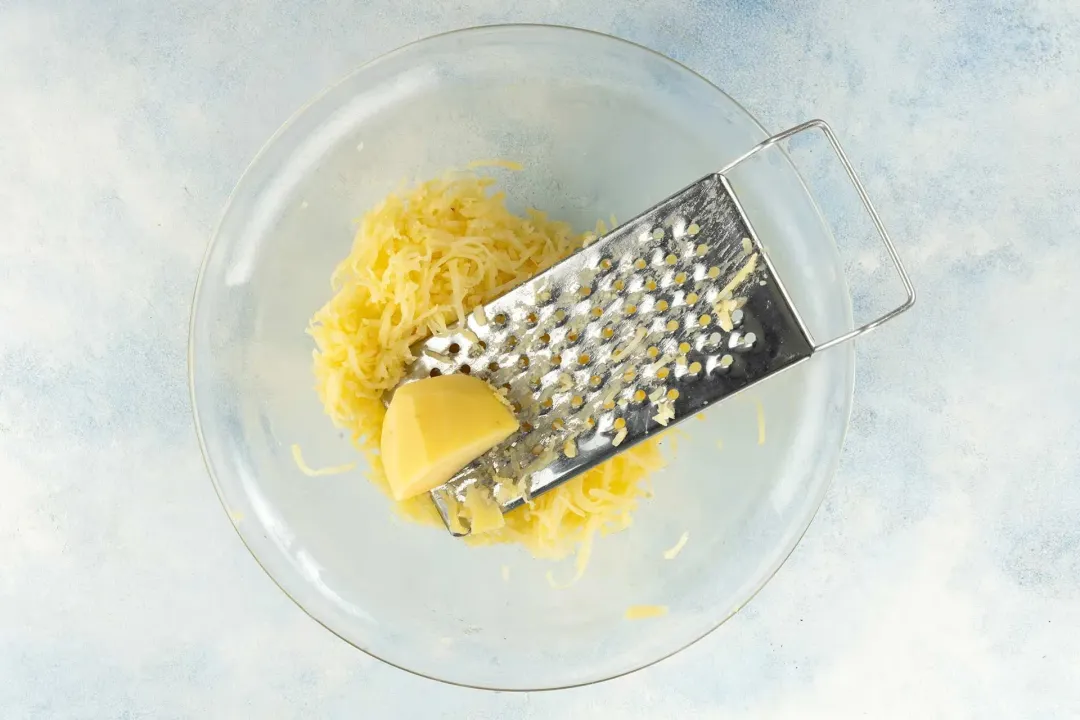 3
Season the potatoes: In a large bowl, combine the shredded potatoes, 2 tbsp flour, 1/2 tsp onion powder, 1/2 tsp garlic powder, 1/4 tsp salt, 1/4 tsp black pepper, 1 tbsp parsley, 0.5 oz Parmesan cheese, 2 tbsps heavy cream, and 1/2 tbsp olive oil.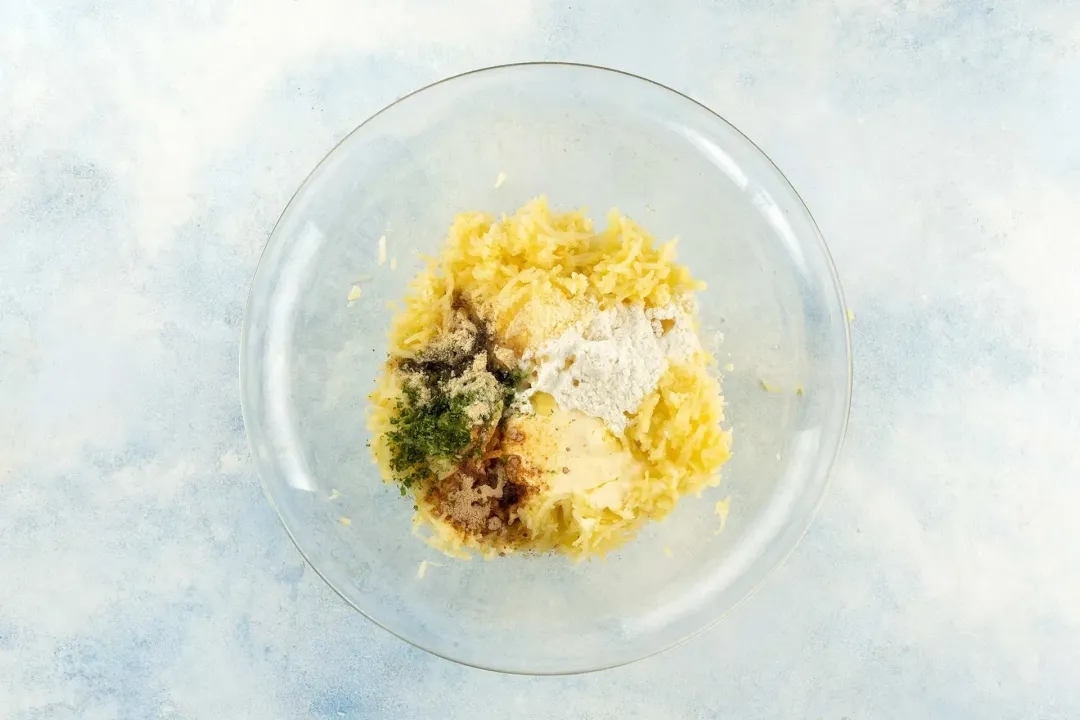 4
Shape the hash browns: Gently press in the palm of your hand into an oblong, rectangular shape.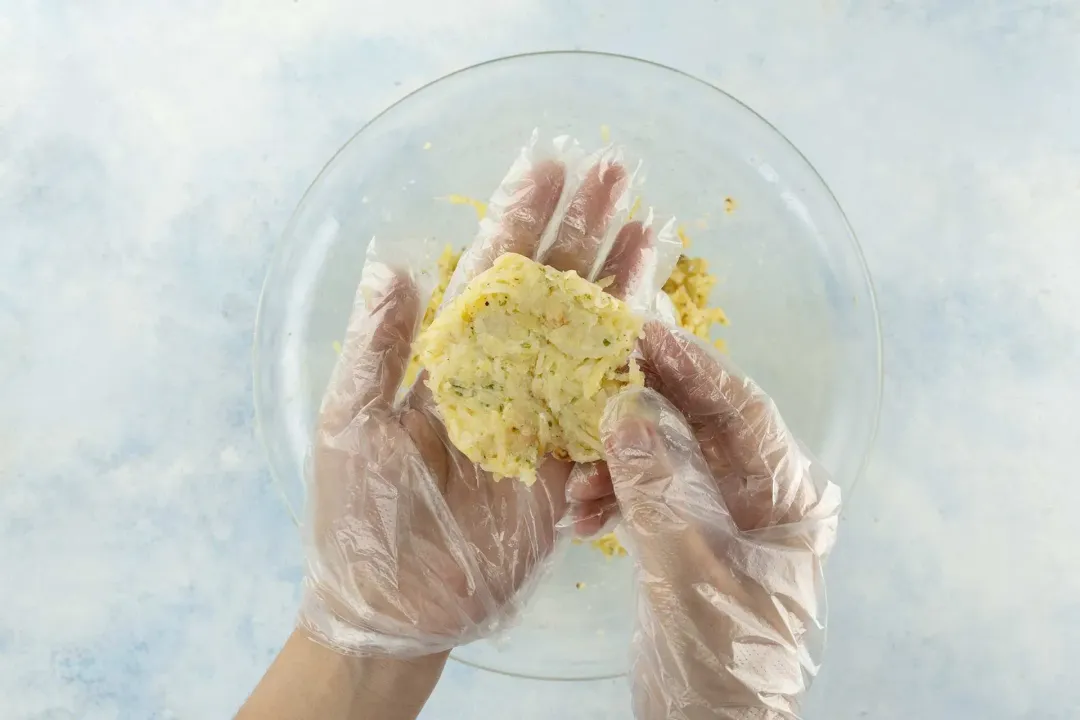 5
Cook the hash browns: Preheat the air fryer for 5 minutes at 390°F. Gently place them into the air fryer and brush the remaining 1/2 tbsp olive oil on top. Cook for 10 minutes. Flip and cook for another 5 minutes on the other side.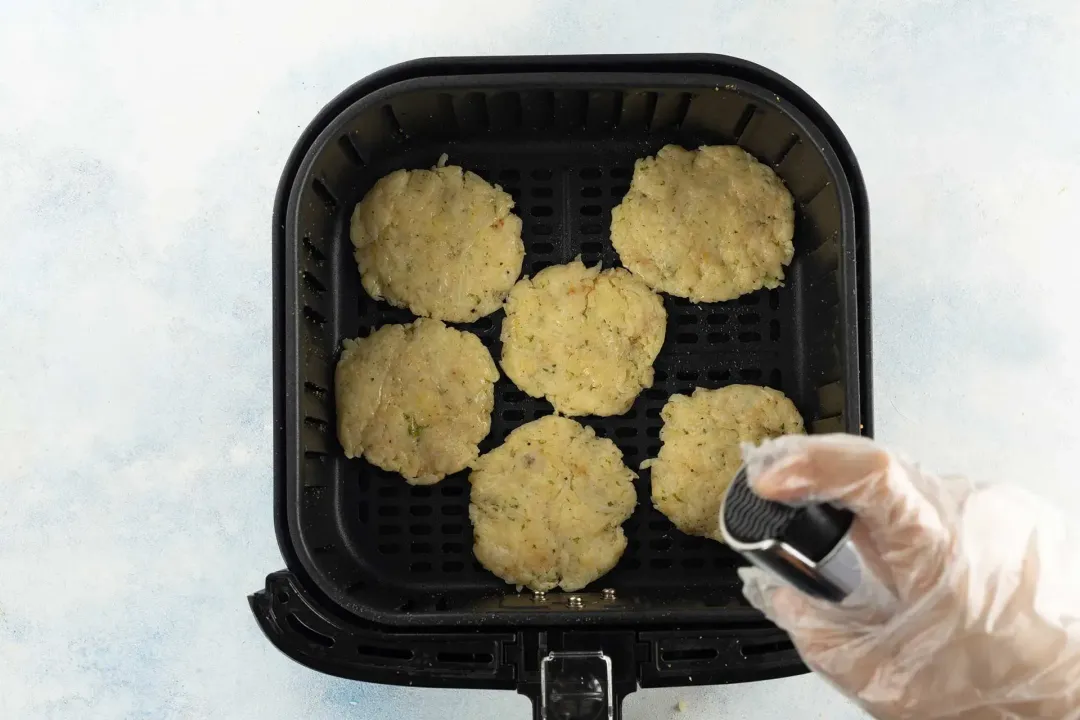 6
Serve: Transfer the hash browns into a serving dish. Put 1 tbsp Heinz ketchup and 1 tbsp mayonnaise into small sauce bowls. Serve warm.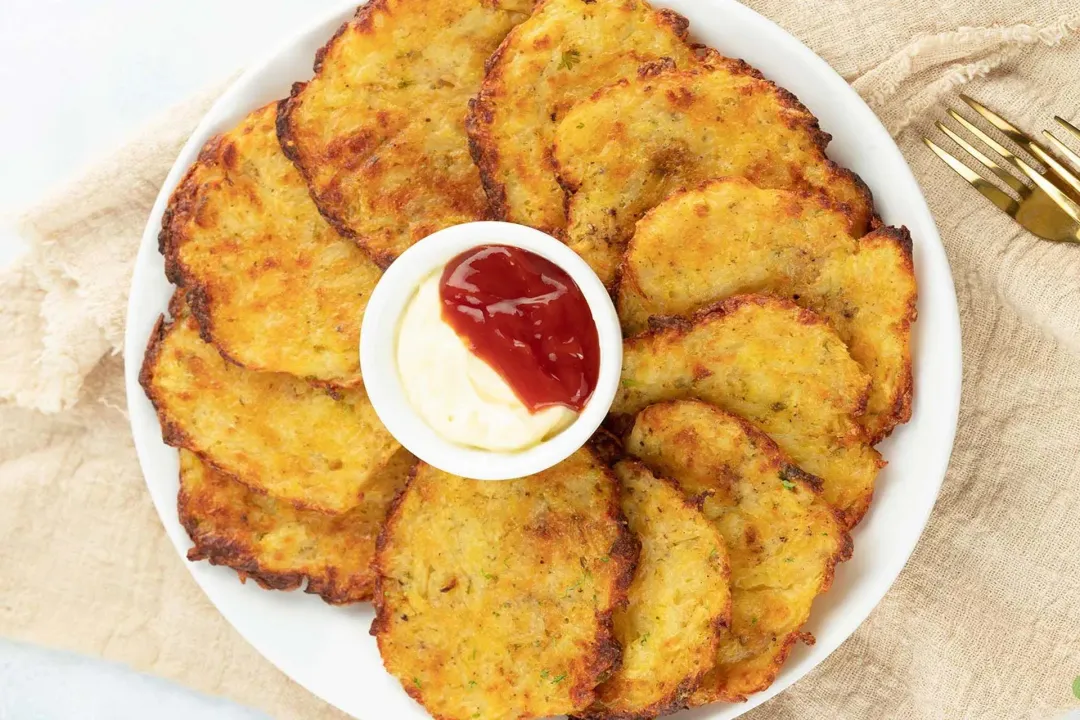 NUTRITION
Nutrition Facts
Air Fryer Hash Browns Recipe
Amount Per Serving (1 serving)
Calories 196
Calories from FDA
% Daily Value*
* Percent Daily Values are based on a 2000 calorie diet.
Keywords: air fryer hash browns, air fryer hash browns recipe, hash browns in air fryer, how to make hash browns in an air fryer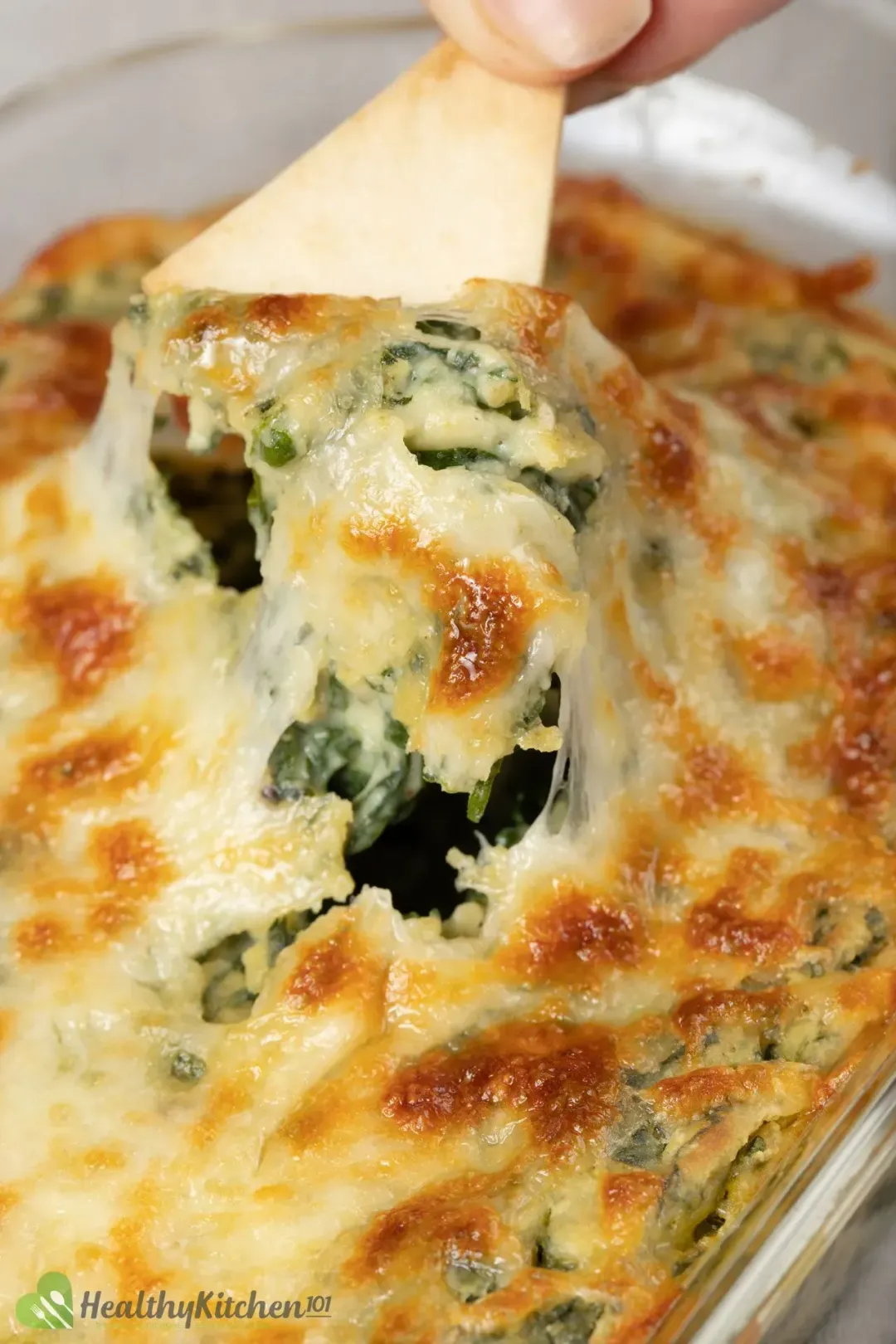 Previous Recipe
Spinach Artichoke Dip
Spinach Artichoke Dip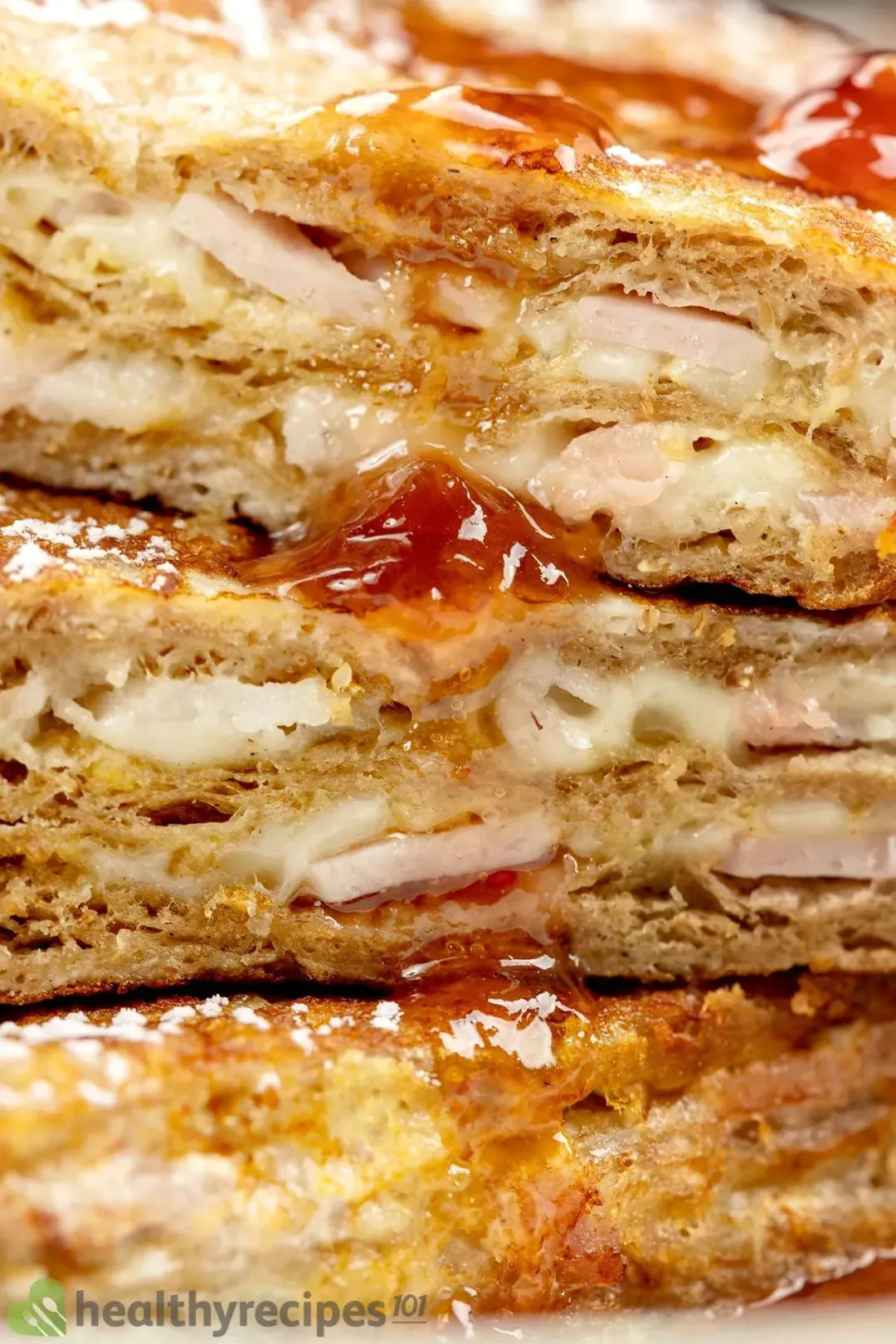 Next Recipe
Monte Cristo Sandwich
Monte Cristo Sandwich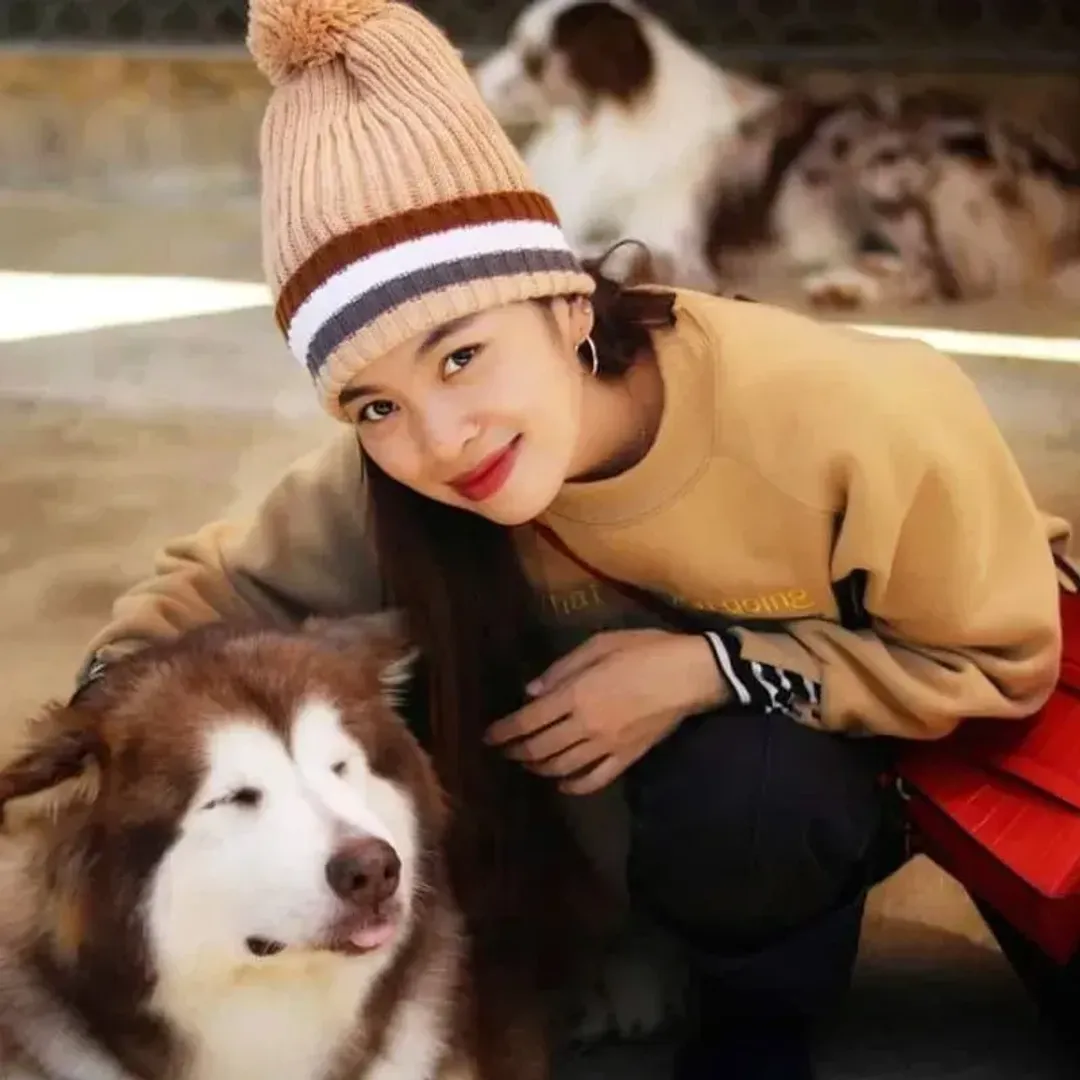 Chef, Culinary Consultant
Tuyet Pham is an award-winning Saigonese chef who believes that joy is the secret ingredient to delicious food. At Healthy Recipes 101, Tuyet personally tests and simplifies every recipe, ensuring maximum flavor with minimal effort. With a background at prestigious French restaurants P'TI Saigon and Le Corto, Tuyet knows how to make every dish exceptional.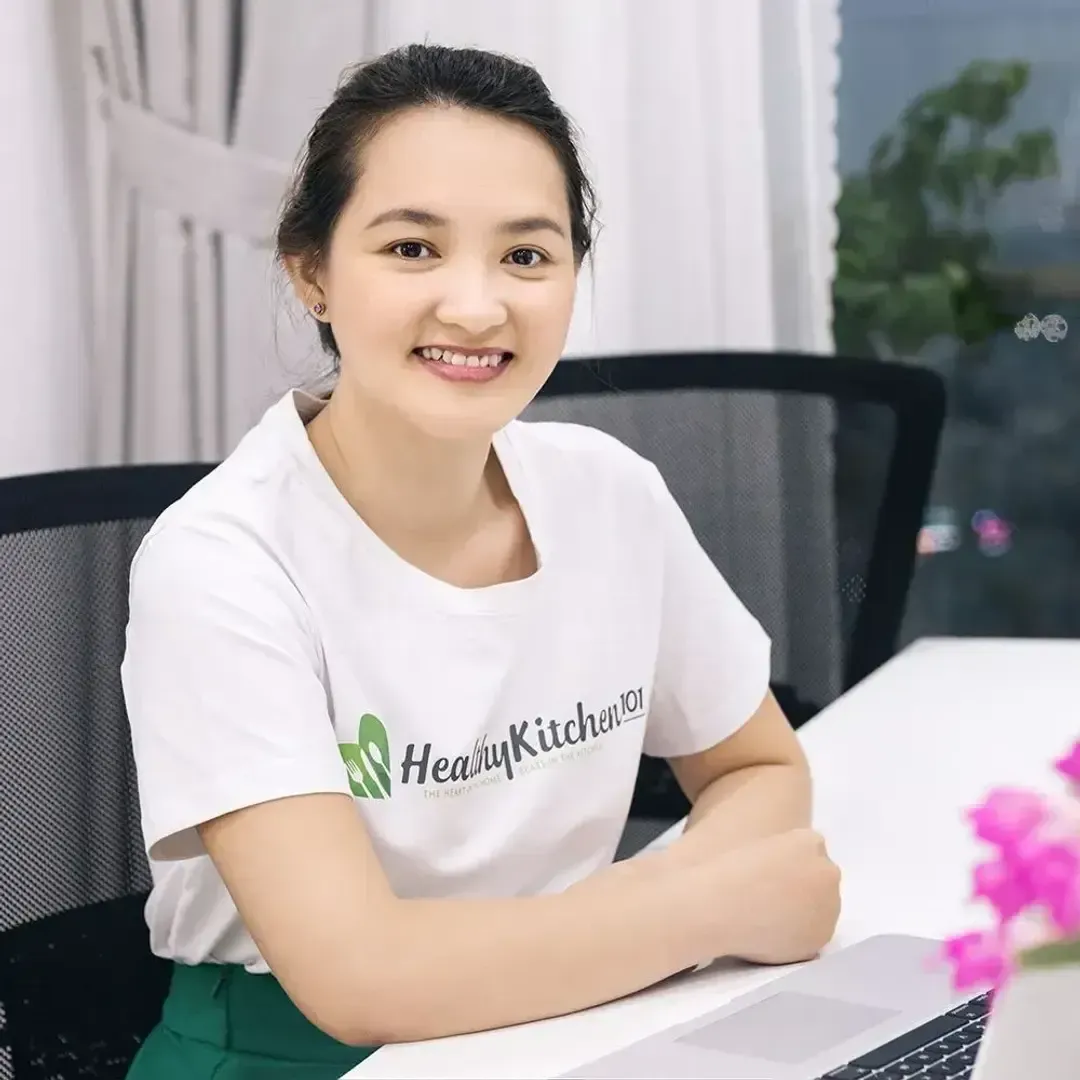 Writer, Author
Luna Regina is an accomplished writer and author who dedicates her career to empowering home cooks and making cooking effortless for everyone. She is the founder of HealthyKitchen101.com and HealthyRecipes101.com, where she works with her team to develop easy, nutritious recipes and help aspiring cooks choose the right kitchen appliances.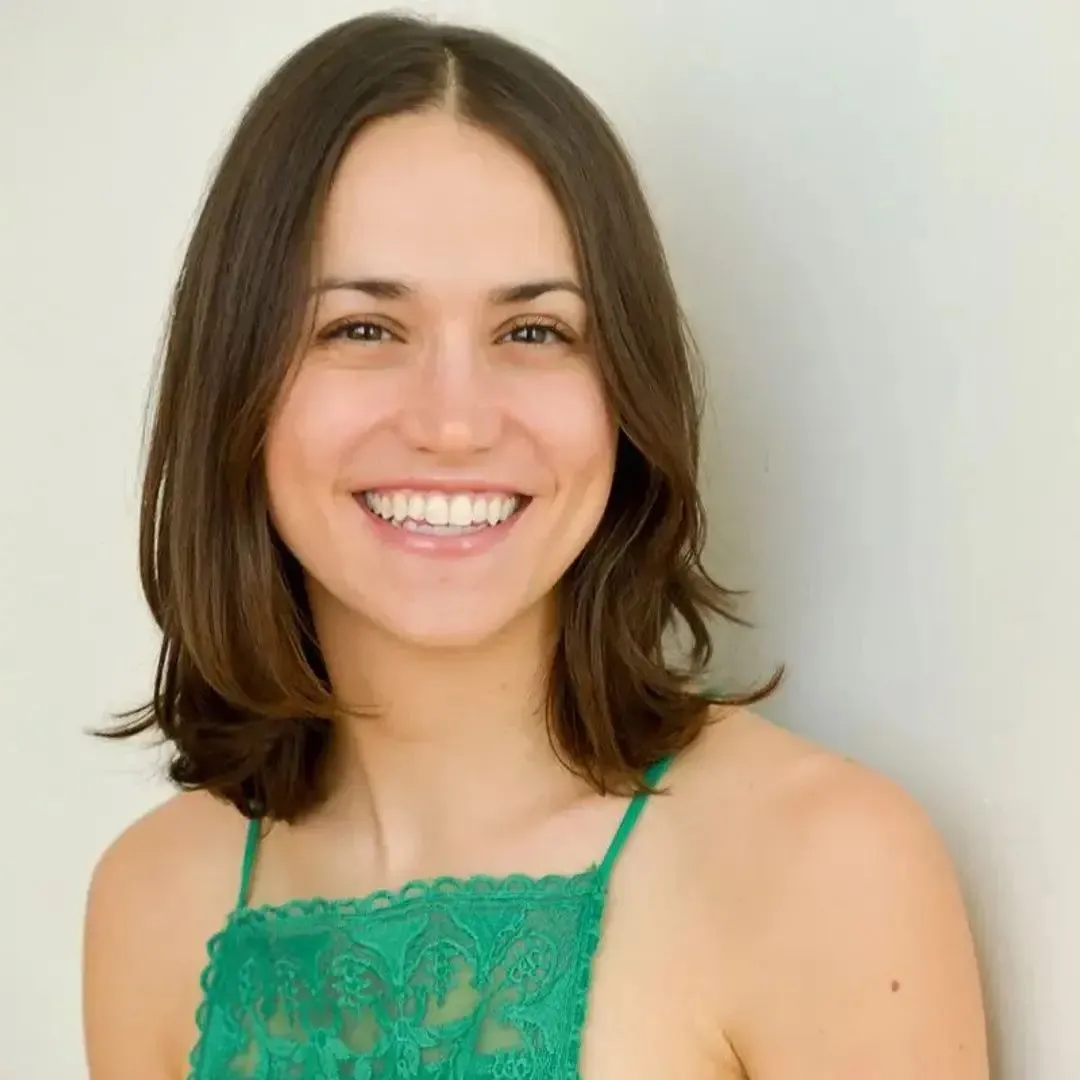 Nutrition Reviewer
Lizzie is a Minneapolis-based dietitian and founder of It's a Veg World After All. She completed her MS in Human Nutrition from Drexel University, and is an expert in culinary nutrition, recipe development, and nutrition communications.
Comments/ Reviews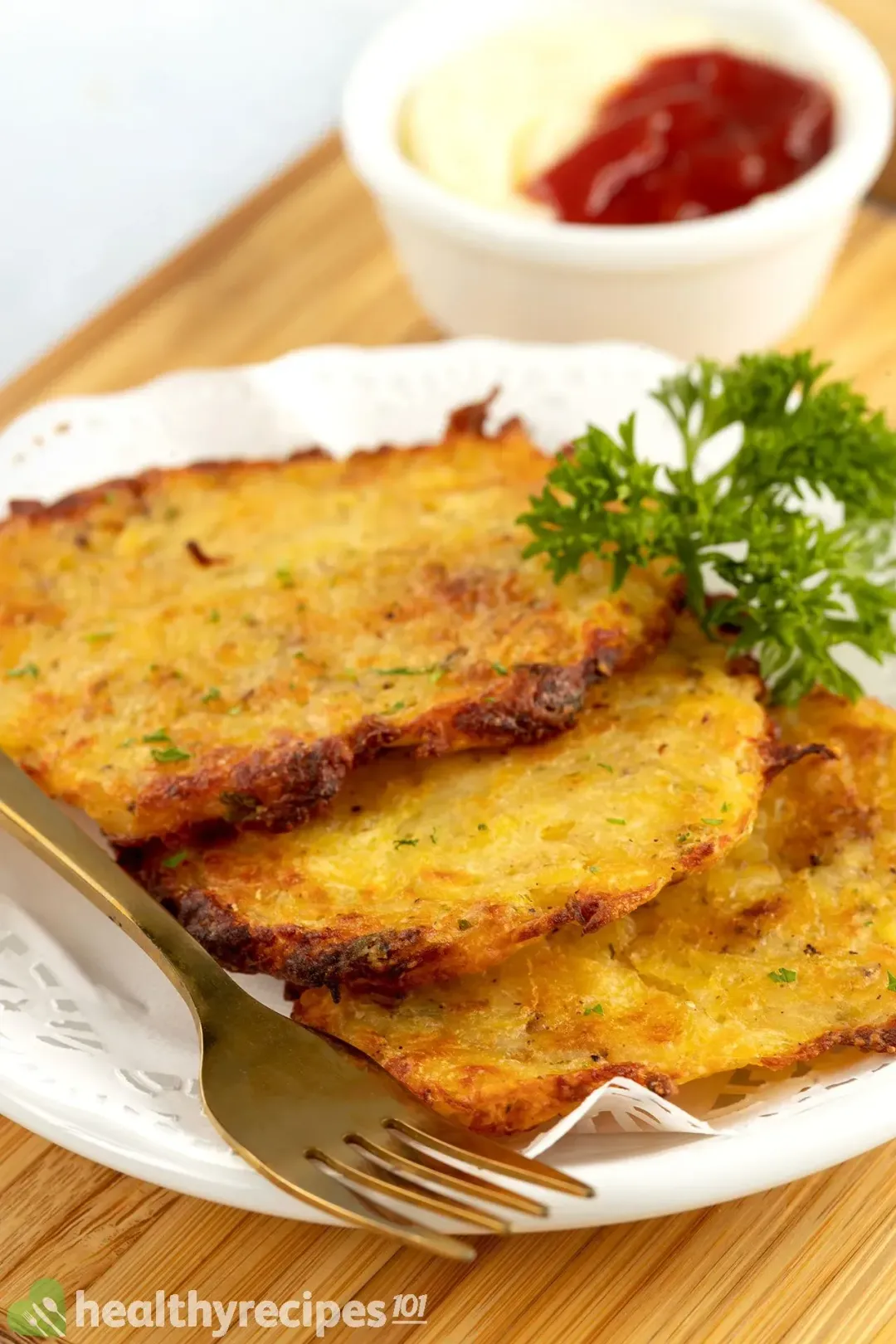 Jesse

July 7, 2022 at 11:34 PM

How many grams in 1 serving?

Luna Regina

July 8, 2022 at 1:55 AM

Hi Jesse, we don't usually calculate the servings in grams.

Kathleen Shu

February 28, 2023 at 4:10 AM

Quite easy, definitely making it again!

Lisa Anne Meredith

March 11, 2023 at 2:28 PM

Now this was absolutely delicious and they stayed together perfectly! I didn't have any heavy cream, so I used 2 tbsp of cottage cheese with 1 tbsp of skim milk and mashed that up like a heavy cream and they turned out perfectly! I baked mine in the oven on 200°C/400°F for 30 minutes on each side, sprayed with a bit of cooking spray. I also used just half the black pepper, because I don't like that much of a hot peppery taste. The smell of them cooking in the oven was AMAZING! This is exactly what I was looking for in a hash brown! Positively delicious and so easy and fun to make. Thank you so much!