Our air fryer french fries recipe will help you make crunchy fries that won't grease a finger at the next National French Fry Day (July 13) dining.
French fries have long been a classic item on restaurant menus and a favorite of many. Their only downside is the grease, which packs calories aplenty. 
That's why today, we're saving you from the guilt. Our air fryer french fries recipe makes crispy fries that have a creamy interior and use very little oil.
Plus, even if you accidentally go heavy on the oil, it'll all drip down to the bottom of the air fryer. That's why we love the machine — there's no excess oil to grease up your food.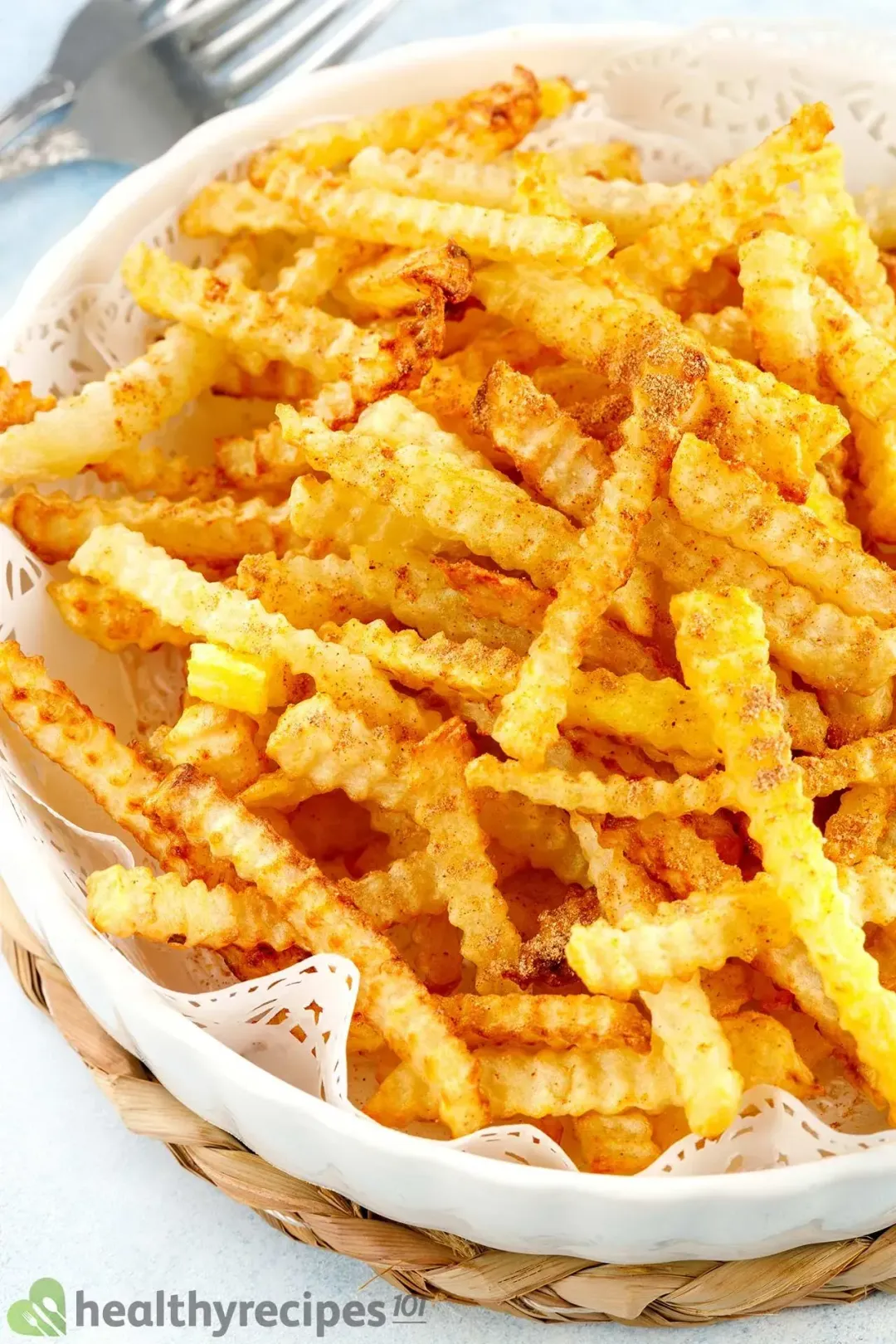 If you find health-related information fascinating, read on to see how air-fried french fries are a better option. Or, click here and you'll be taken to the ingredients and step-by-step how-to section.
Are Air Fryer French Fries Healthy?
Yes, they are healthier than the ones you find at many restaurants. With an air fryer, you can turn any deep-fried foods into a healthier alternative, for the following reasons:
1. Fewer Calories
Deep-fried foods are submerged in hot oil for a long time, so they also contain plenty of oil. Oily foods are packed with calories because each gram of fat contains up to 9 calories while carbohydrate or protein only contains 4.
Since we're using very little oil to make air-fried French fries, the crispy treat now comes with no oil. Each serving of our air fryer French fries recipe yields about 6 oz of fries, while giving just 150 calories.
2. Zero Trans Fat
Some (not all) fast food chains use hydrogenated oil to cut back on the cost of transportation and preservation. Hydrogenated oil would be an ideal fat to fry foods on an industrial scale if only it didn't contain cancer-promoting fat.
By making French fries with (just a little bit of) olive oil, you're lowering the risk of consuming trans fat to 0.
3. Little Acrylamide
Acrylamide forms when starchy foods (like fries) are cooked in hot oil, and it's not good for the body. It's found that a diet with a high acrylamide level is linked to an increased risk of cancer.
By using very little oil in the air fryer, you're consuming way less acrylamide than if you were to consume deep-fried fries.
4. Low Sat Fat, Sodium, and Added Sugar
Plus, by following our recipe, you can control your intake of saturated fat, sodium, and added sugar. These are the nutrients that the USDA recommends us to have less of in their latest dietary guidelines.
Specifically, we limit the amount of saturated fat for each serving to 0.4g, sodium to 293g, and no added sugar. This accounts for less than 1% of sat fat's DV, and 14% of sodium's DV.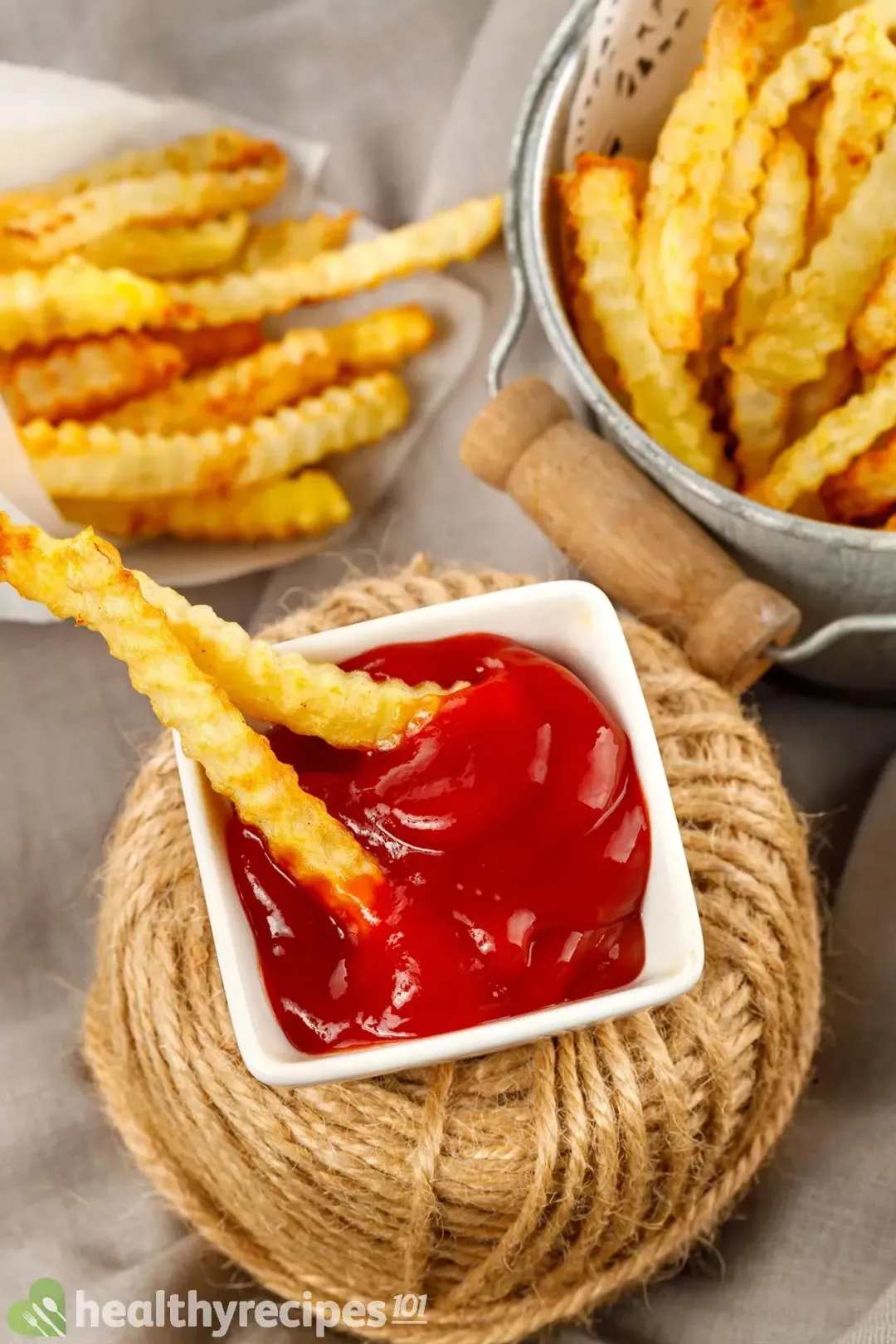 You can check out our home fries recipe. It's done using the oven, and it's super flavorful.
Are French Fries Gluten-Free? 
Unlike wheat, potatoes have no gluten, so all French fries are supposed to be gluten-free. However, this isn't always the case.
Many restaurants have more than one deep-fried item on the menu, and often, they all go in one deep fryer. Your french fries can sometimes catch bits of coating from the chicken nuggets for instance, and so, contain gluten.
Frozen fries aren't entirely gluten-free either unless otherwise stated. They can be coated with flour to enhance the texture, and hence, contain gluten.
The safest way to have gluten-free fries is by making your own. It's really easy, and you get to decide how it's seasoned.
How to Make Frozen French Fries in an Air Fryer
As far as we're concerned, the more time we spend on cooking, the less we enjoy our food. This section will show you how to make frozen fries, so you can have crisp fries in just 15 minutes whenever you want.
After cutting the potatoes into fingers, you need to soak them for about 5 minutes. This cleans off the excess starch that would make your fries less crispy otherwise.
Then, you need to partially cook the potatoes so they'll be extra tender and creamy on the inside. Do this by either boiling them, steaming them, or cooking them in the microwave.
What we did was simply add the potato fingers into a bowl, cover with cling film, and microwave for 4 minutes.
When it's all done, they're ready to be stored in the freezer and taken out whenever you want fries.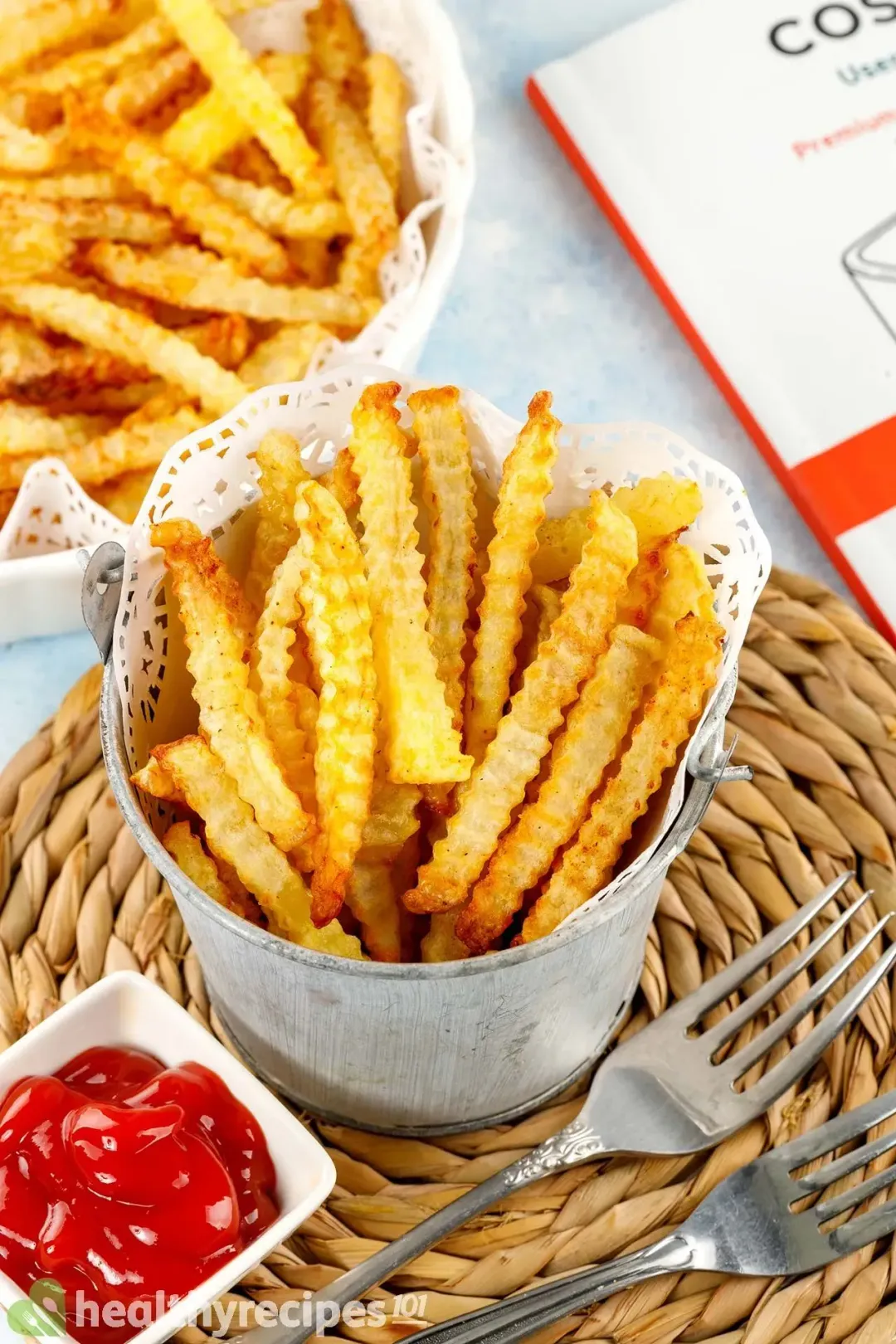 How to Make French Fries in an Air Fryer
After you've finished the steps above, the fries are ready to be cooked:
Preheat the air fryer.
Spread out the fries and spray with a little oil.
Place them in the air fryer and fry away.
Toss them with seasoning and serve with ketchup.
To cook frozen fries, simply cook them for 3 minutes longer.
For more detailed instructions with the exact timing and temperature, refer to our air fryer french fries recipe below.
Tips for Making Air Fryer French Fries
As you can tell, we don't just cut the fries and place them in the air-fryer. That is a rookie mistake.
Freshly cut fries have excess starch on the outside, which can make your fries less crispy. That's why we soaked the fries for about 5 minutes to clean off this starch, signified by the cloudy water.
Plus, we believe that to-die-for fries must have a creamy, tender interior. So, we first par-cooked the fries so they're cooked through, then fried them at high temperature so the outside turns crispy.
Check out this healthy air fryer dinner recipes compilation for more tasty air fryer ideas.
French Fries Seasoning
It's important to season your fries — it's a perk of making them yourself , after all.
We decided to go with the basics: onion and garlic powder for the savory base, and paprika for a kick. Also, a sprinkle of salt for the occasional salty bits, which makes a world of difference.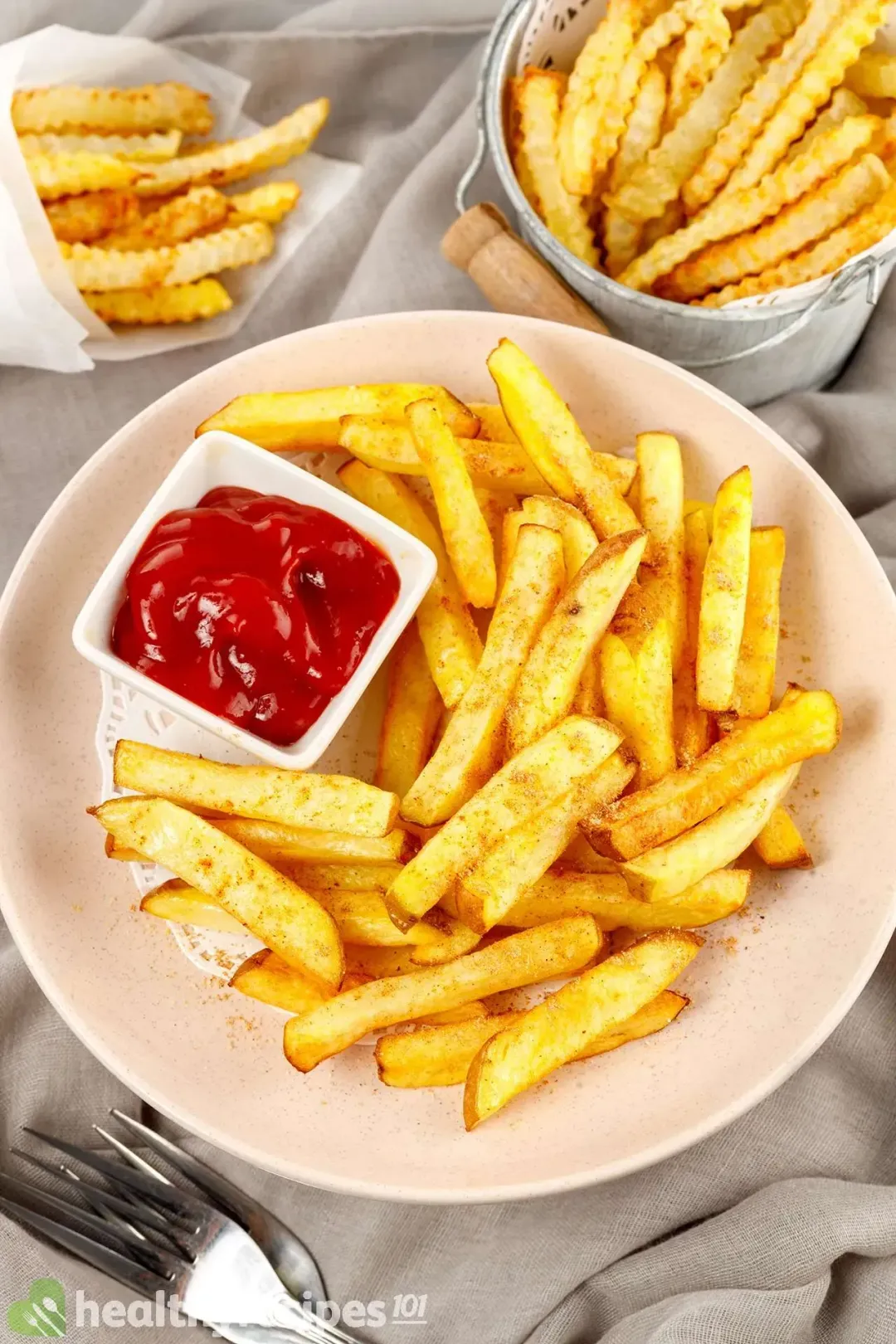 And finally, you can add your favorite dried herbs. A little freshness is exactly what French fries need.
How to Store and Reheat French Fries
We don't recommend having leftover fries, because they're rubbery when cooked too much.
You can freeze the fries after the boiling step to make frozen fries. You'll always have crisp fries in just 15 minutes.
If you're interested in other air fryer potato recipes as healthy as this one, we've got some seriously delectable ones:
Air Fryer French Fries
This air fryer french fries recipe is what you need to recreate a healthier version of the crispy treat.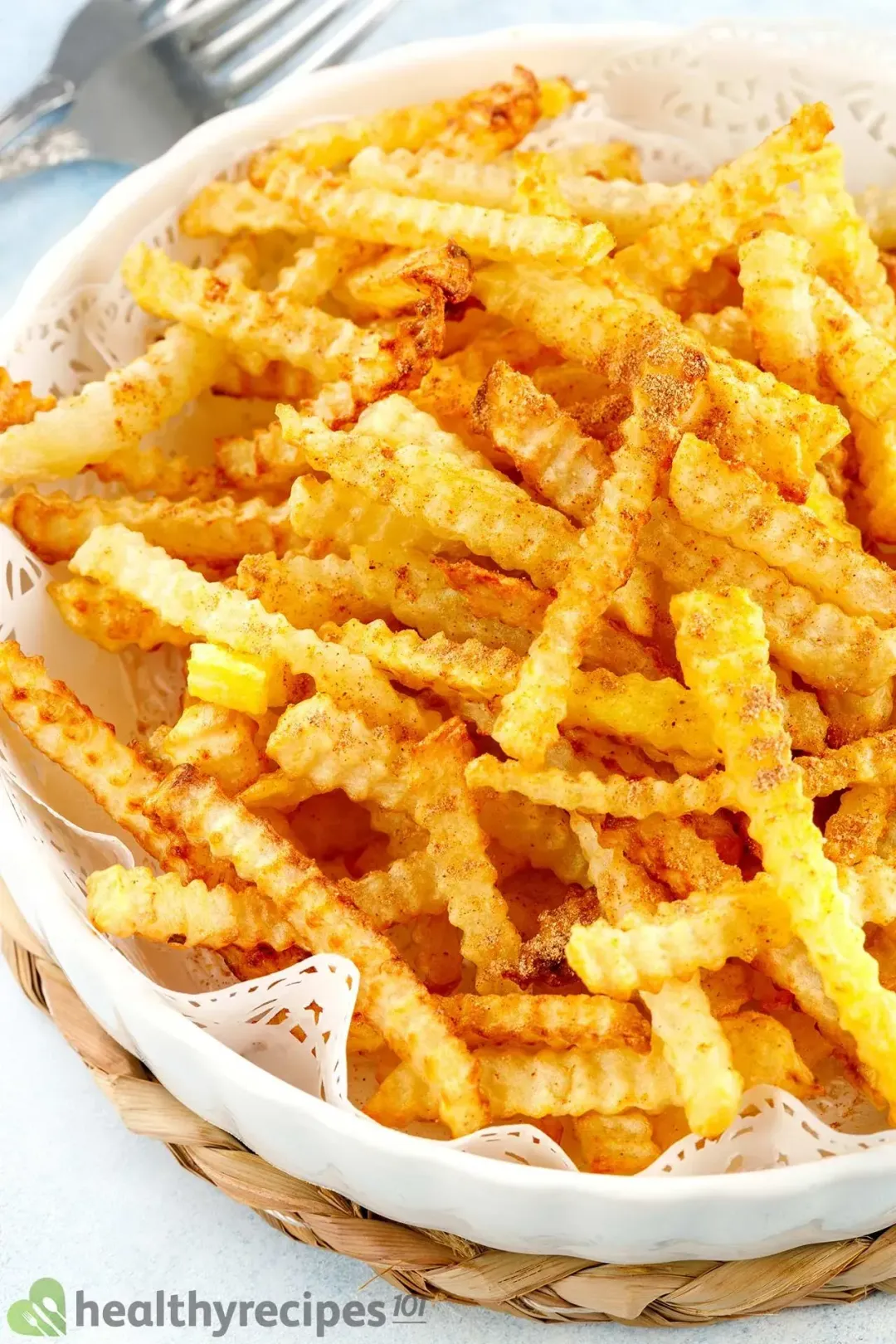 cook TIME

25 mins

prep TIME

10 mins

total TIME

35 mins
COURSE

Side Dish

CUISINE

American

SERVINGS

CALORIES

157 kcal
INGREDIENTS
24 oz

potatoes

(peeled and washed)
INSTRUCTIONS
1
Preheat the air fryer to 400°F. Cut 24 oz potatoes into fingers, about half an inch thick.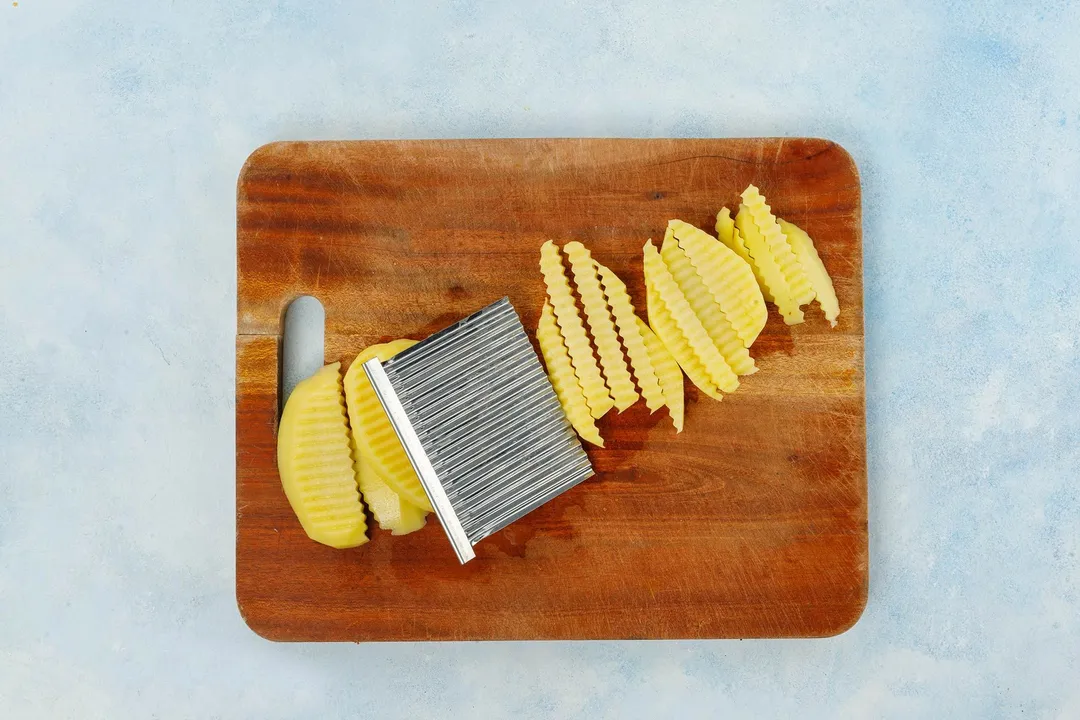 2
Soak them in water for 5 minutes to clean off the excess starch.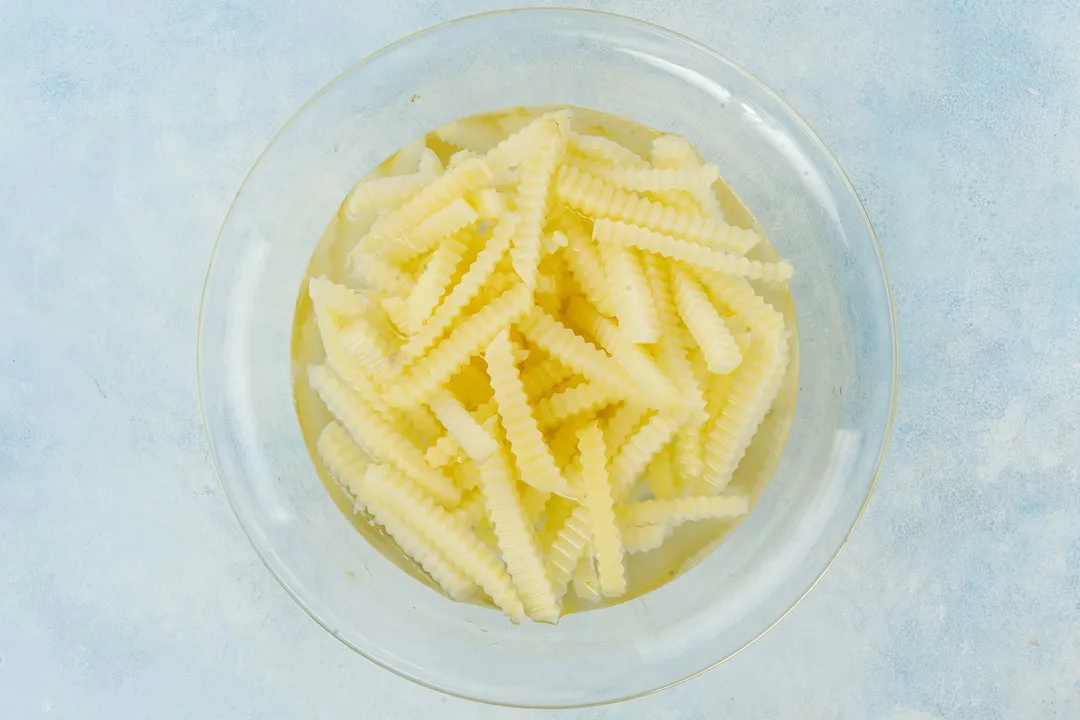 3
Place the potatoes into a bowl. Cover the top with cling wrap, and place it into the microwave. Cook for 4 minutes. Take the bowl out and carefully remove the cling wrap (it's really hot).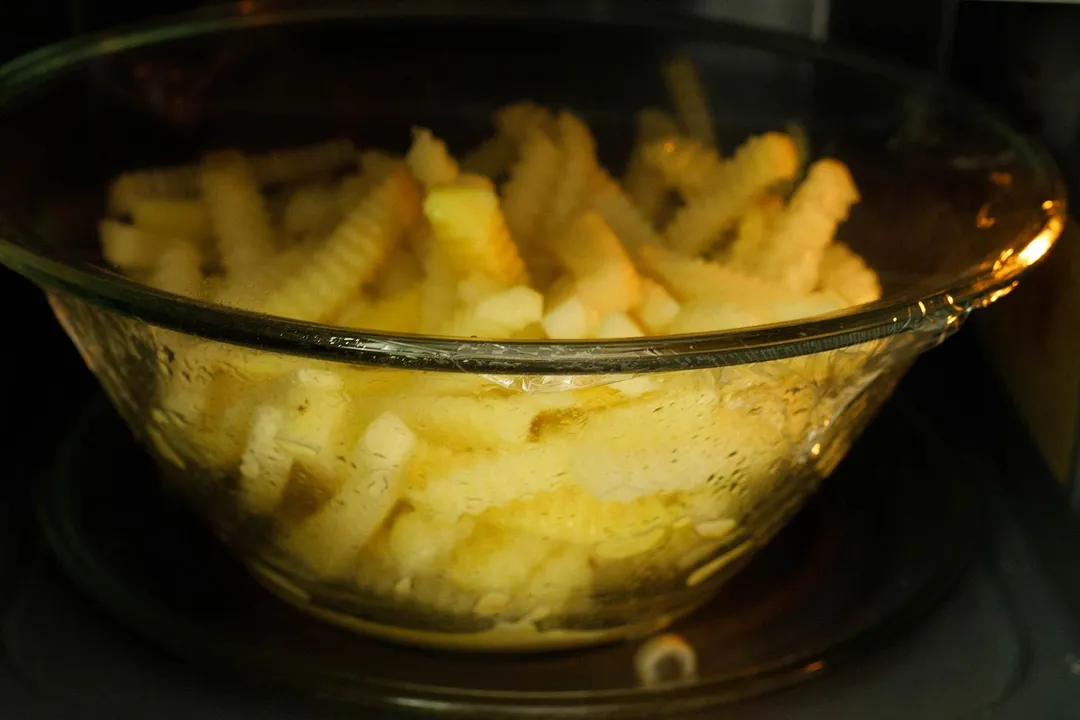 4
Add 2 tsp olive oil to the fries and gently toss to coat them evenly.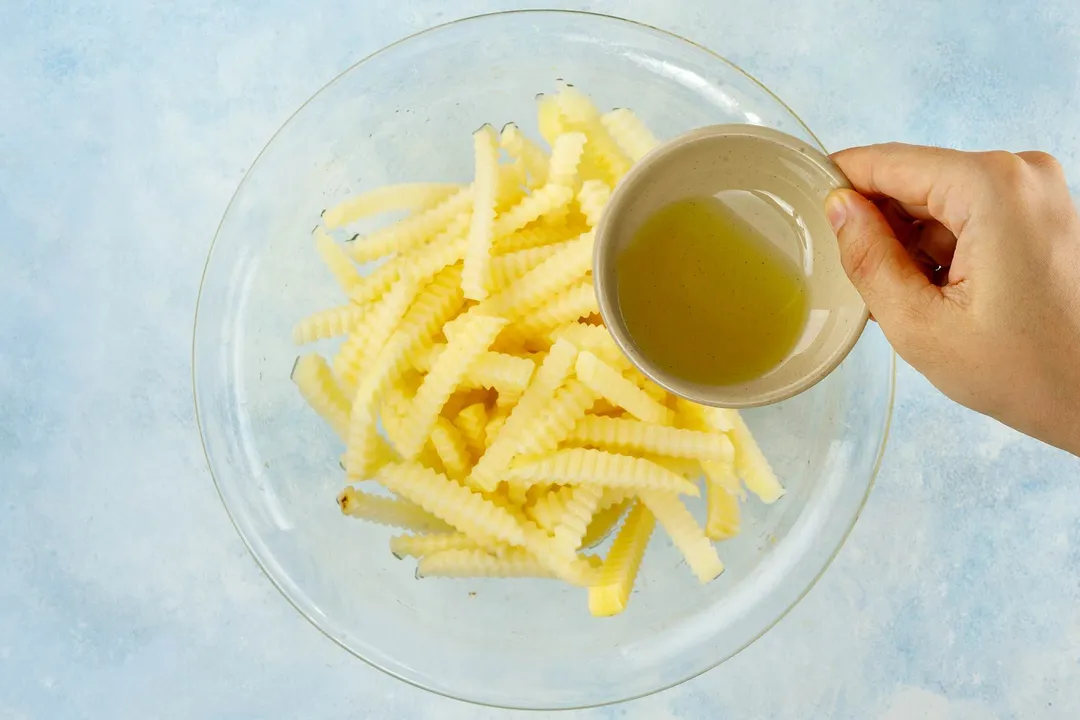 5
Open the air fryer (it should be preheated by now), and gently place the partially-cooked fries in. Spread them out in one single layer (we did two batches), and cook for 10 minutes. Open the chamber again, and flip the fries by moving them around with a pair of tongs. Cook for another 2 minutes (5 minutes for frozen fries), then take them out and place them on a cooling rack.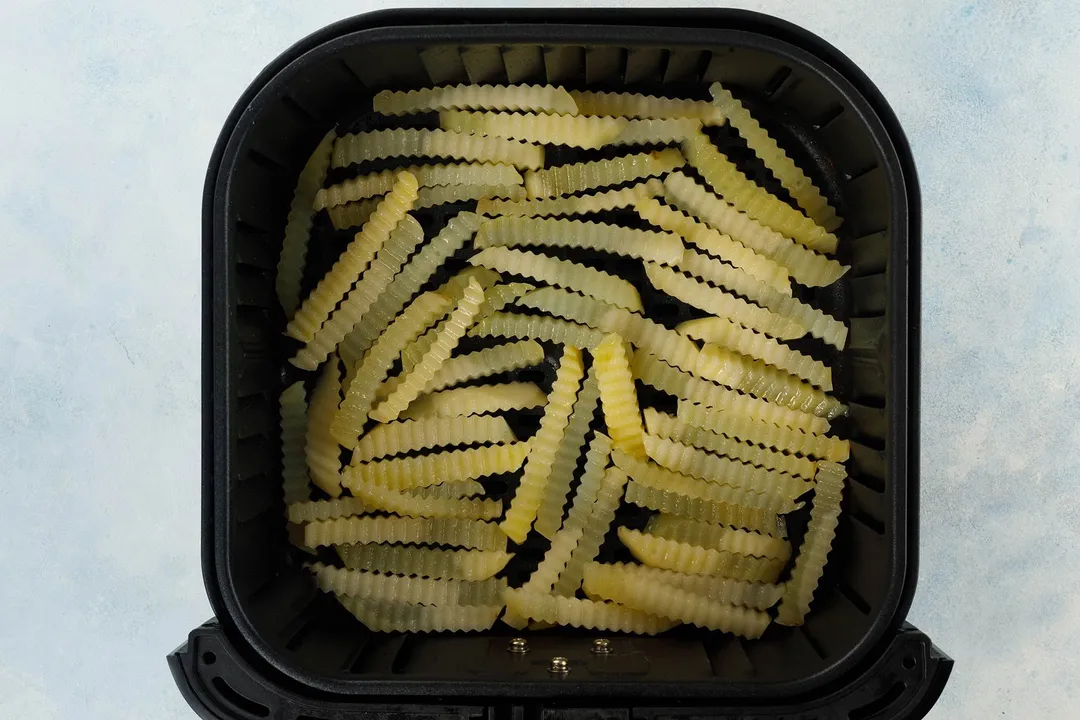 6
Do the same to the remaining batch, and when it's done, add all of the cooked fries into a bowl. Toss them with 1 tsp onion powder, 1 tsp garlic powder, 1/4 tsp paprika, and 1/4 tsp salt.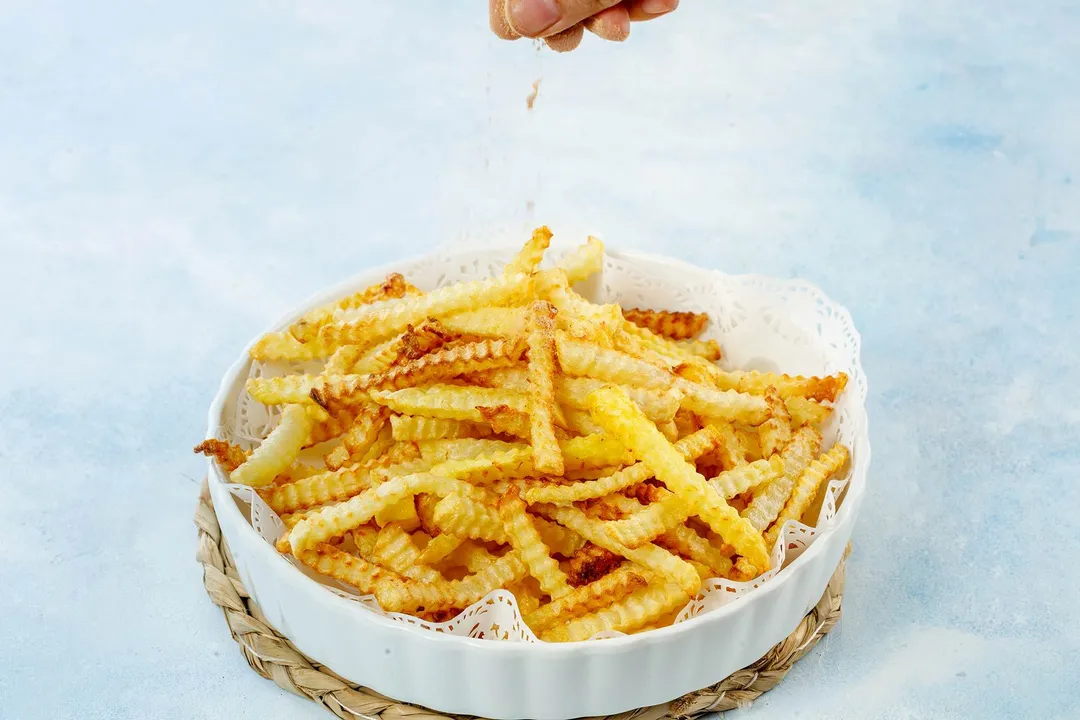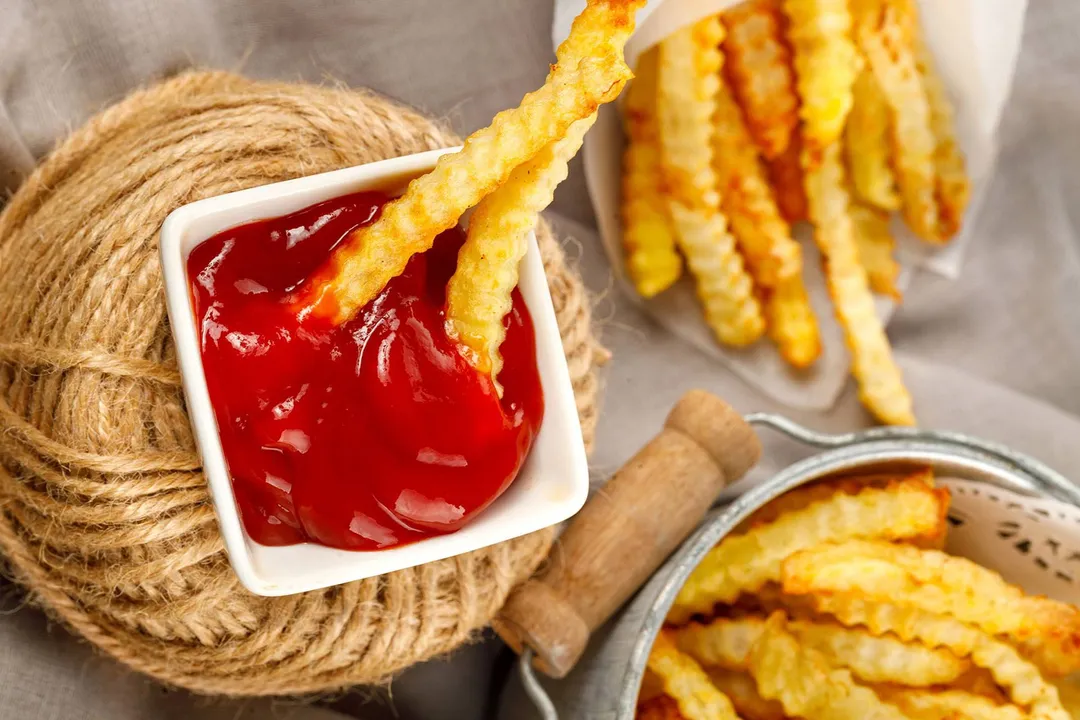 NUTRITION
Nutrition Facts
Air Fryer French Fries
Amount Per Serving (1 serving)
Calories 157
Calories from Fat 18
% Daily Value*
* Percent Daily Values are based on a 2000 calorie diet.
Keywords: air fryer french fries, french fries in air fryer, how to make french fries in an air fryer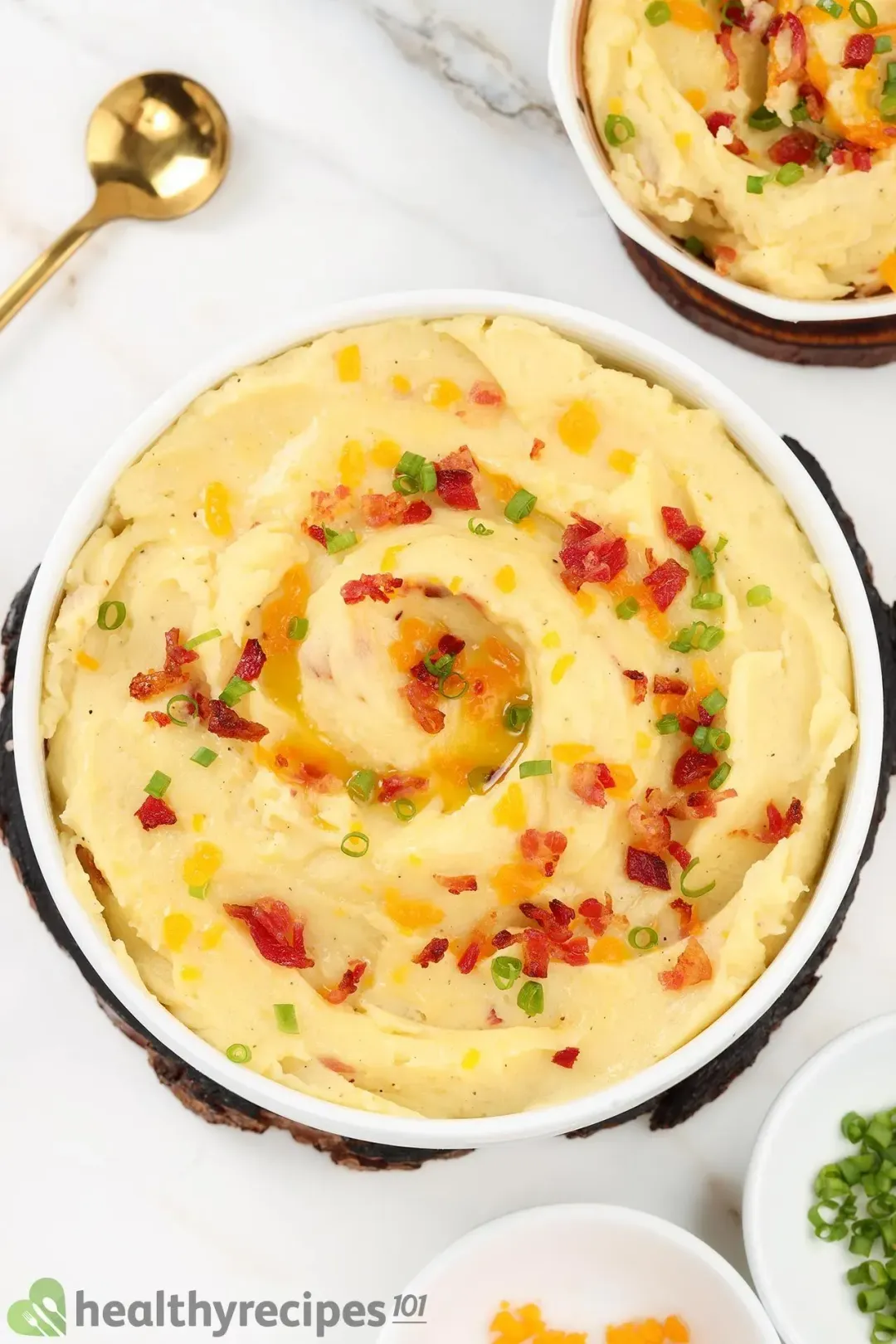 Previous Recipe
Instant Pot Mashed Potatoes
Instant Pot Mashed Potatoes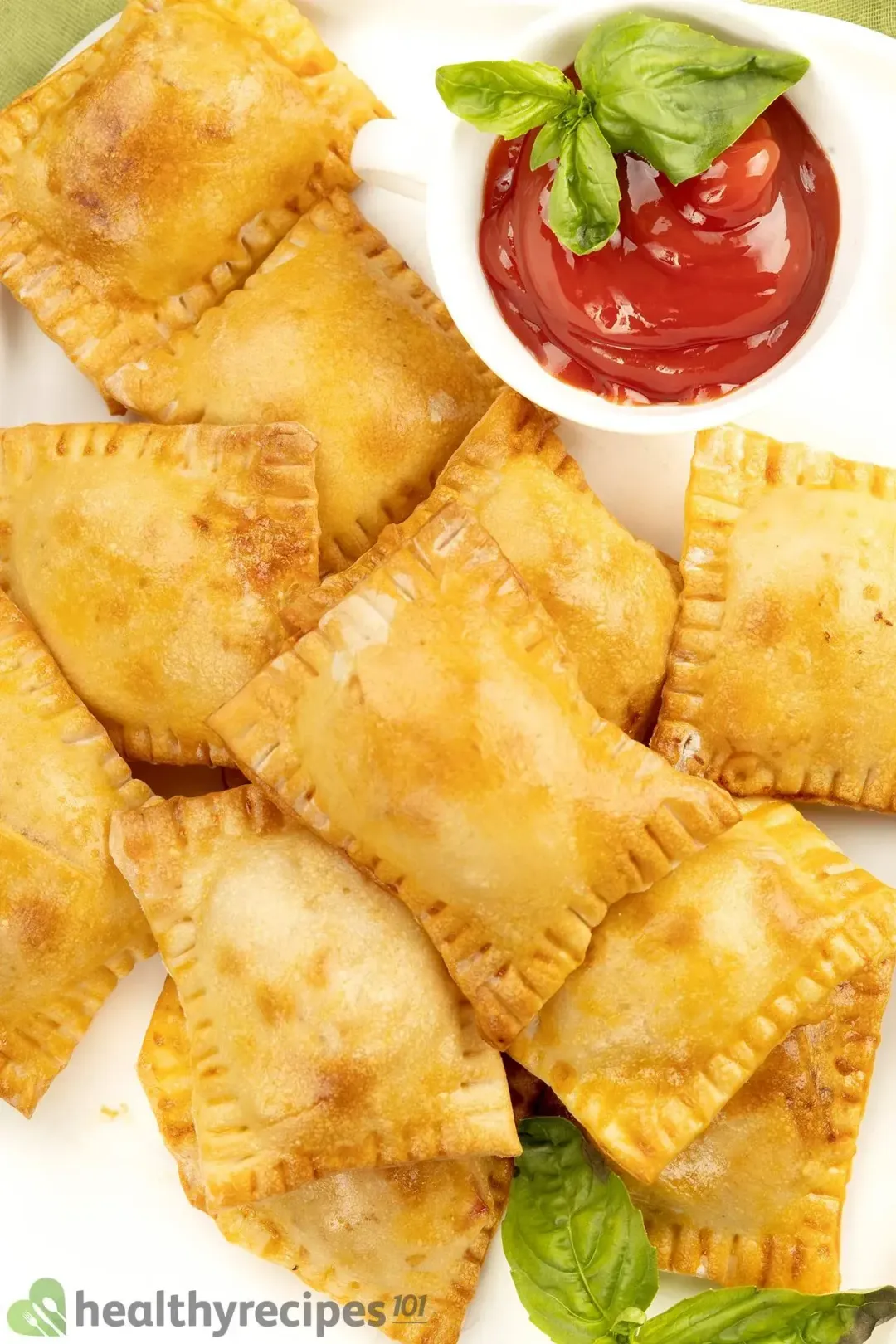 Next Recipe
Homemade Air Fryer Pizza Rolls
Homemade Air Fryer Pizza Rolls
Head Chef, Culinary Consultant
Tuyet Pham is an award-winning Saigonese chef who believes that joy is the secret ingredient to delicious food. At Healthy Recipes 101, Tuyet personally tests and simplifies every recipe, ensuring maximum flavor with minimal effort. With a background at prestigious French restaurants P'TI Saigon and Le Corto, Tuyet knows how to make every dish exceptional.
Writer, Author
Luna Regina is an accomplished writer and author who dedicates her career to empowering home cooks and making cooking effortless for everyone. She is the founder of HealthyKitchen101.com and HealthyRecipes101.com, where she works with her team to develop easy, nutritious recipes and help aspiring cooks choose the right kitchen appliances.
Nutrition Reviewer
Lizzie Streit is a Minneapolis-based dietitian and founder of It's a Veg World After All. She completed her MS in Human Nutrition from Drexel University, and is an expert in culinary nutrition, recipe development, and nutrition communications. Lizzie's philosophy is centered around making nutrition recommendations, and especially the advice to eat more vegetables, approachable and realistic. She is excited to be working with the team at Healthy Recipes 101 to ensure that their recipes are both nutritious and delicious.
Followed recipe. They are pretty good!

Crispy and delicious air fryer fries.