Our home fries recipe can help you incorporate a moderate amount of carbohydrates through a savory potato dish. There are so many things you can do with potatoes, and this is one of the most convenient.
Read on to learn the health benefits of home fries and how to prepare them. But starting from the top, let's uncover exactly what they are.
What Are Home Fries?
Traditionally, home fries are cooked potatoes served at breakfast. The "home" comes in as you can make them at home as a great, rustic comfort food.
Easy to prepare, packed with flavor, mouth-wateringly crispy on the outside, and fluffy in the middle— home fries are wonderfully versatile, and you can add all sorts to them.
Home Fries vs. Hash Browns
Hash browns and home fries include two cooking methods using one vegetable we all love; so do we really need a showdown? If we must, it's worth considering their similarities first.
Let's start with the end product for both hash browns and home fries: a fluffy potato center under a crispy golden exterior. This is the reason we love both options for a fun-textured breakfast.
They also share a similar cooking method whereby we sometimes par-cook or boil potatoes before pan-frying or roasting them.
That leaves the differences. Whereas hash browns are made from shredded potatoes, home fries are generally made from bite-size cubes or wedges of potatoes, which adds to the satisfaction you get from eating them.
Wanna try out hash browns also? We've got you covered with these Air Fryer Hash Browns Recipe, Cheesy Hashbrown Breakfast Casserole Recipe, and Cauliflower Hash Browns Recipe.
Are Home Fries Healthy?
Potatoes are, by and large, considered healthy. Different types provide various nutritional benefits.
They're great for gut health since they contain resistant starch (RS). RS is food for beneficial gut bacteria that turn it into short-chain fatty acids that may promote colon health.
It may also be worth noting that oven roasting, compared to deep-frying, results in lower fat and lower cholesterol food. It thereby decreases the risk of high cholesterol and heart health.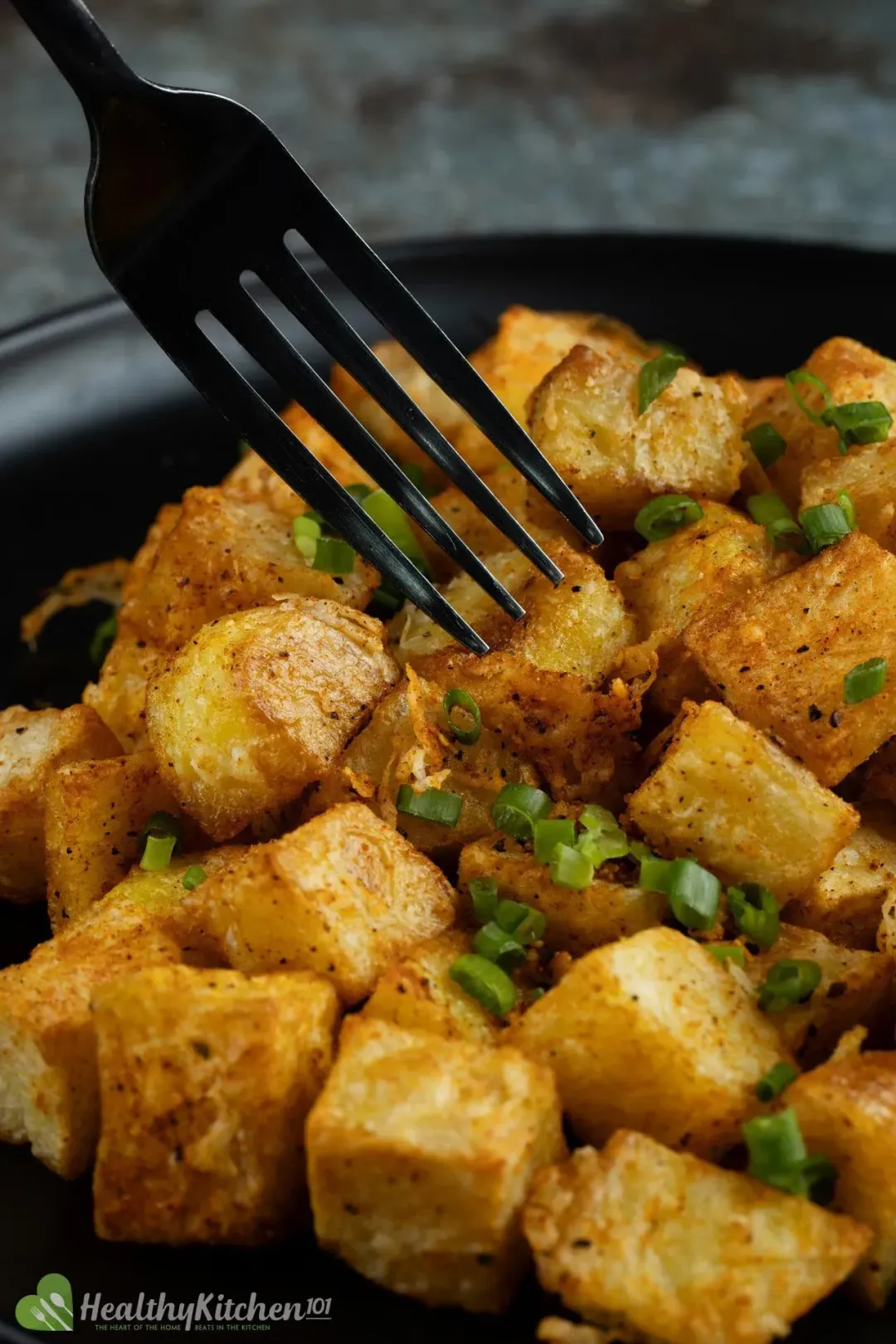 While trying to keep the nutritional figures for every dish under control, we still recommend you introduce these home fries into your diet no more than twice a week. It is possible to have too much of a good thing!
Best Potatoes for Home Fries
1. Russet Potato
The Russet potato is ideal for baking, frying, or mashing. It's a thick-skinned variety that's high in starch, giving it a fluffy center and a neat, uniform color when fried.
That and its low moisture content provide a crispy golden finish you cannot otherwise achieve with waxy potatoes. It's also another reason why fast-food restaurants like McDonald's use it religiously to achieve an even-colored presentation.
2. White Potato
The white potato has a coat that is so thin, it's almost transparent. And though it has slightly less starch than Russet, it's still considered a multi-purpose potato.
It's great for frying, baking, mashing, boiling, or roasting.
One example is Yukon Gold. These are medium-starch content potatoes you can readily substitute for Russet, even in our home fries recipe.
And if you still prefer the taste of Russet, you can make up for the white potato flavor with seasoning.
3. Seasoning
One reason the potato is a beloved vegetable is because of its versatility and taste. You can just add salt and achieve the best fried potato you've ever tasted.
Likewise, you can add a host of seasonings to enrich its pleasant taste. Our favorite combination is salt, pepper, and garlic.
These are just enough to complement its mild taste by adding a mellow pungency that doesn't dominate the flavor.
We further added cayenne pepper for a spicy kick, and onion powder to enhance that savory flavor. They are also great for added flavor depth but can be omitted if you don't like spicy dishes.
Fresh thyme and parmesan provide an herby, savory essence that effortlessly elevates any dish. With that covered, let's show you how we incorporate all these flavors into our home fries.
How to Make Home Fries
Cooking potatoes to crispy perfection can be tricky. But with a few tweaks here and there, you can attain that desired crunch.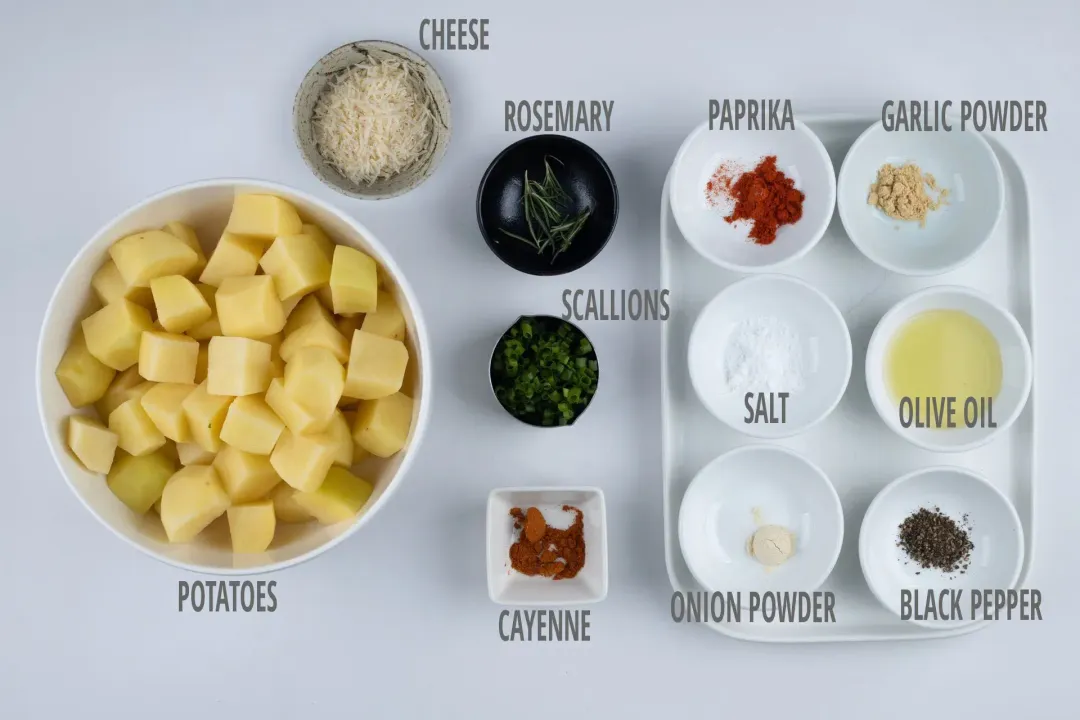 Cut the potatoes into small chunks before frying them. Then, microwave or boil them to soften slightly, and leave them to cool before adding olive oil and tossing.
Next, layer them onto a sheet pan and roast in the oven, flipping them halfway through. Remove them from the oven and sprinkle parmesan cheese before putting them back in for a final cook.
When time is up, remove them from the oven and toss with the remaining seasoning. Then, sprinkle with fresh scallions and serve immediately.
Air Fryer Home Fries
Using an air fryer takes the labor out of frying. It's so convenient: after peeling and seasoning your potatoes, you simply transfer them straight into the fryer.
Make sure the fryer has had time to heat up to 400°F before putting in the potatoes. Also, mix in all the ingredients, save for the rosemary, parmesan, and scallions.
Cook for 20 minutes, checking them after the first 10 to shake and evenly distribute the potatoes. This is also a good time to add the remaining ingredients.
At the end of the bake, the potatoes should be brown and crispy. But if not, pop them back in for an additional 5 minutes before removing and serving.
What Goes Good With Fried Potatoes?
Here are a few of our favorite options to pair with fried potatoes:
1. Onions
The rustic look of onions with potatoes doesn't do justice to the pair's taste. Together, they are the ultimate comfort food that keeps you eagerly coming back for more.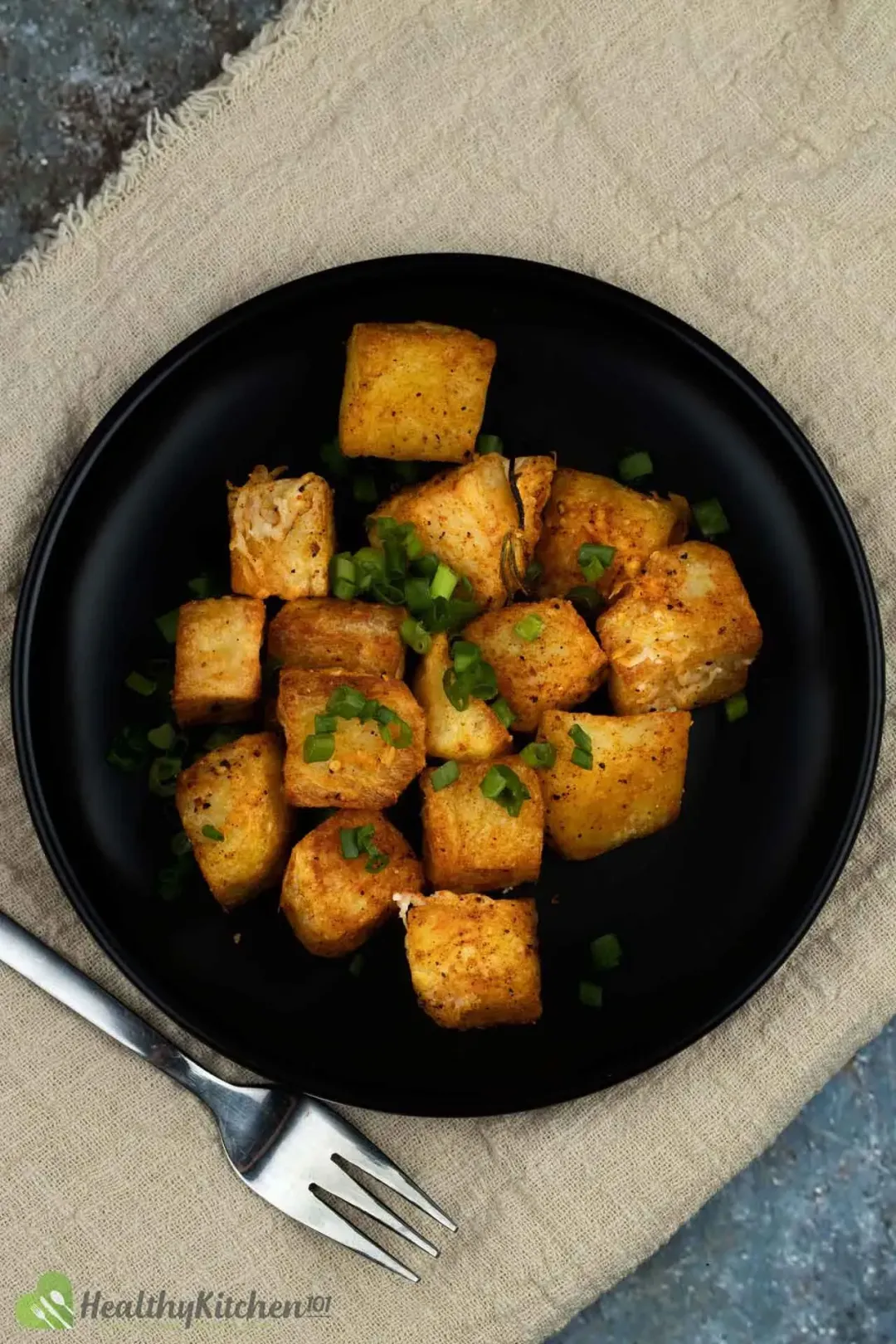 Besides being easy to prepare, the combination of salt from the fries and sweetness from the onions also works beautifully.
2. Peppers
Potatoes and peppers are always a hit. This savory duo is easy and quick to put together.
But what we cherish most is the sweet, subtle flavor the peppers release when fried. They take potatoes from simple to stylish.
Add some salt and pepper, and there you have it— a mouth-watering potato dish.
3. Eggs
You can't go wrong with eggs either.
You can bake, fry, or scramble them and enjoy their buttery flavor. Crispy home fries served alongside creamy scrambled eggs are a simple and appealing pair.
Plus, a creamy egg texture against the potatoes' crunchy layer makes breakfast hard to pass up.
4. Sausage
Sausages and potatoes is one of the best food combos. The meaty texture of sausages pairs well with potatoes' fluffy center, giving you a satisfying chew.
Sausages also seamlessly add a spicy flavor to a one-skillet dish with potatoes. You can take advantage of their saltiness and fry them together with home fries to serve a full-flavored brunch.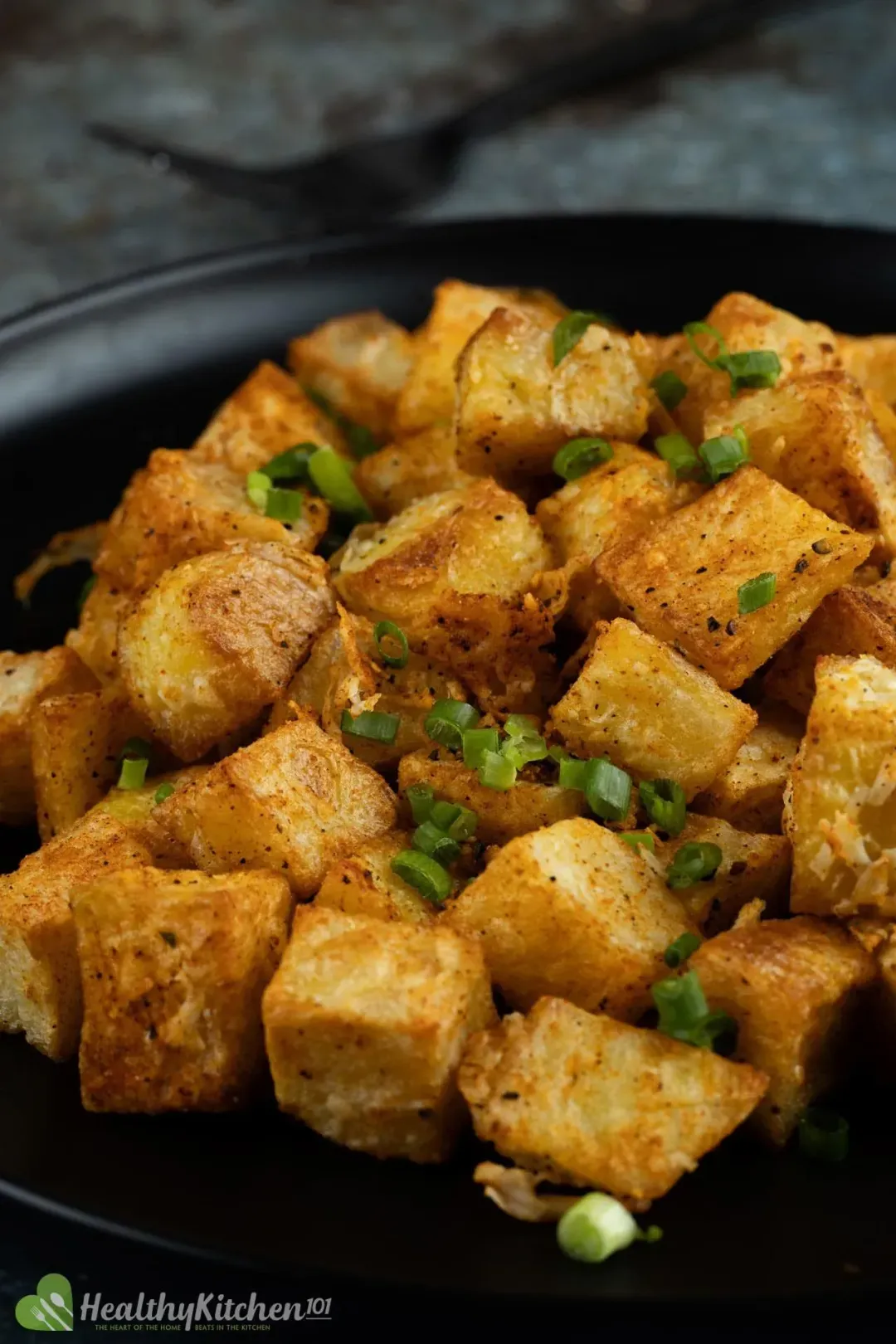 More Ways to Enjoy Potatoes
We firmly believe that when it comes to potatoes, it's never enough. Luckily, this wonderful root vegetable offers so many ways to enjoy it that you might never have to worry about being bored of it.
There is, of course, the all-time classic Mashed Potatoes that would work well with just about any main course. If you're in the mood for something fun and easy, these Air Fryer Potato Wedges, Twice Baked Potatoes, and Instant Pot Scalloped Potatoes are the stuff to go for.
For those who want to pair potatoes with proteins, there's a wide selection to choose from. Whether it's fish, poultry, or red meat, the combination will be undeniably scrumptious each time. Here are a few dishes that we highly recommend for a simple yet delicious dinner: Air Fryer Salmon and Potatoes, Chicken And Potatoes, Ground Beef and Potatoes, and Honey Mustard Sea Bass.
FAQ
1. How Many Calories Are in Home Fries?
A serving of our home fries contains roughly 250 calories per serving. It takes up a sizeable chunk of your calories— almost 13% on a 2000-calorie diet and provides essential nutrients.
These are in the form of carbs, proteins, and fats to give you energy and keep you feeling full.
You can have home fries plain as an appetizer of filler. Like our other healthy side dishes, they are versatile and appropriate at both the lunch and dinner tables.
If one serving is too much, just wrap up the remains and store them in the refrigerator for later snacking.
2. How Long Do Home Fries Last?
Home fries can last for up to 3 or 4 days in the refrigerator. To preserve their fresh flavor, use a Ziploc bag or an airtight container that minimizes air exposure.
However, if you want to store them for longer than 4 days, it's best to keep them in the freezer.
3. Can I Freeze Fried Potatoes?
Yes, you can freeze fried potatoes, including these. The Ziploc bag is perfect for transferring into a freezer, that, or any freezer-safe jar.
They will store well for up to 3 months, and when ready to use, simply defrost them.
However, they most likely will lose their crunch. So use an oven to roast them again and reintroduce that crispy home fries texture we all love.
Home Fries
These home fries are a crispy cheese-topped dish. Serve hot and enjoy them for breakfast.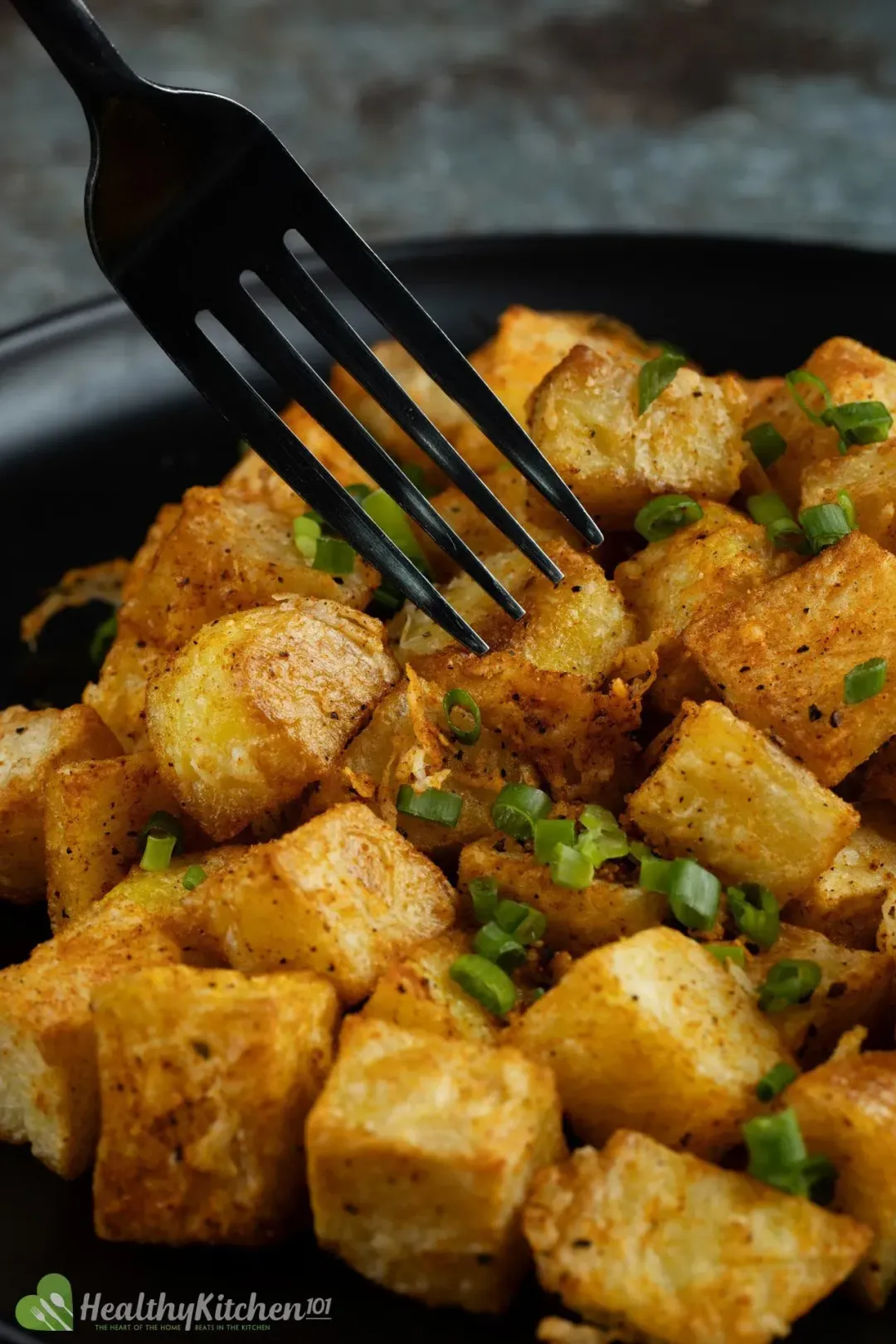 cook TIME

32 mins

prep TIME

5 mins

total TIME

44 mins

INACTIVE TIME

7 mins
COURSE

Side Dish

CUISINE

American

SERVINGS

CALORIES

249 kcal
INGREDIENTS
26 oz

russet potatoes

(peeled and diced to ½ inch)

1 oz

grated parmesan cheese

2 tbsp

scallions

(finely chopped)

1/4 tsp

ground black pepper
INSTRUCTIONS
1
Preheat the oven to 450°F. Line a sheet pan with parchment paper.
2
Peel and dice 26 oz potatoes to ½-inch cubes and transfer them into a microwave-safe bowl. Microwave for 7 minutes at medium-high temperature, then leave them to cool for another 7 minutes.
3
Add 2 1/2 tbsp olive oil to the bowl of potatoes and toss to coat evenly. Put the potatoes on the sheet pan in a single layer and roast them for 15 minutes. Flip the potato cubes over and continue roasting for another 10 minutes.
4
While the potatoes are roasting, finely chop 2 tbsp fresh scallions and place them into a small bowl.
5
Remove the potatoes from the oven and immediately sprinkle with 1 oz parmesan cheese and 1/4 tsp rosemary, making sure the cheese is on top of the potatoes. Put the potatoes back into the oven to roast for 3 minutes, then remove and transfer them into a bowl.
6
Add 1/3 tsp paprika, 1/4 tsp garlic powder, 1/4 tsp onion powder, 1/4 tsp cayenne, 1/4 tsp black pepper, and 1/4 tsp salt into a separate bowl and stir to mix well. Add the mixture to the potatoes and toss to coat evenly.
7
Sprinkle with fresh scallions and serve hot.
NUTRITION
Nutrition Facts
Home Fries
Amount Per Serving (1 serving)
Calories 249
Calories from Fat 99
% Daily Value*
* Percent Daily Values are based on a 2000 calorie diet.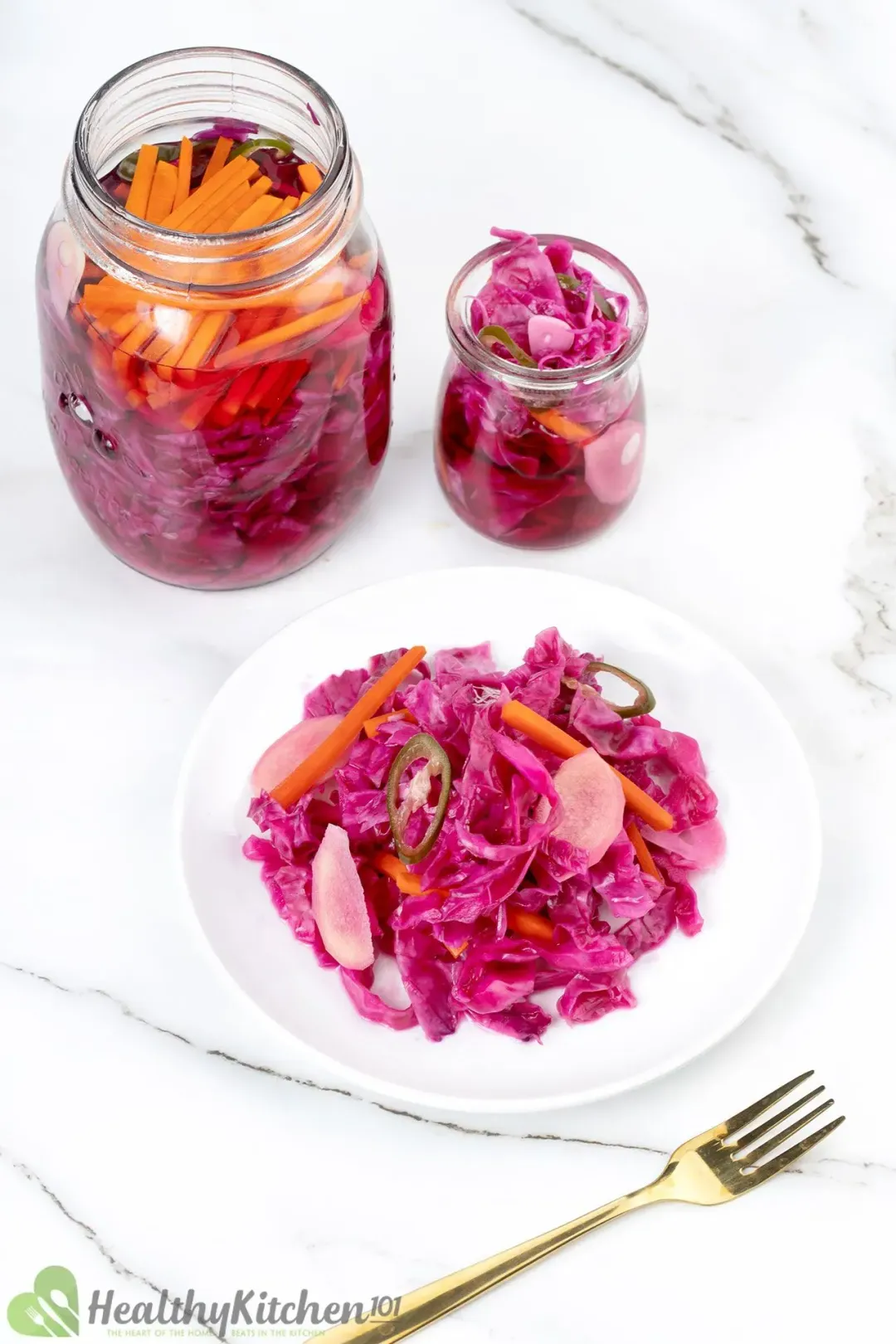 Previous Recipe
Pickled Cabbage
Pickled Cabbage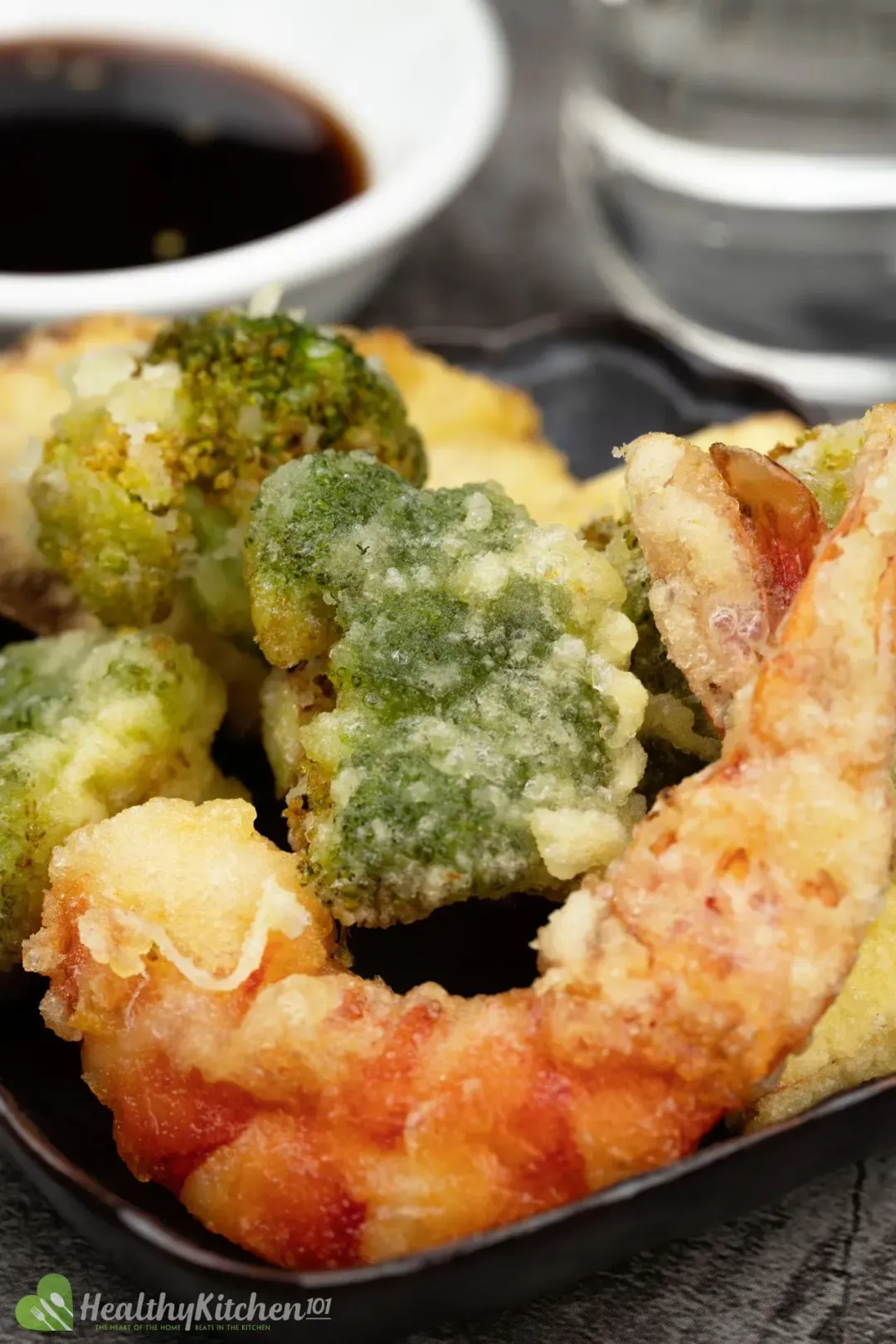 Tempura
Love this recipe, it was easy to make, and great tasting