Good news, today we're going to be recreating the well-known and much loved banana bread recipe.
We don't know about you, but banana bread instantly conjures up nostalgia. Our minds fill with memories of little butter-smeared banana bread slices full of the promise of happiness. Plus, it's the ideal recipe for National Banana Bread Day (February 23).
Soft, moist, buttery, and fluffy— this banana bread is stuffed with all the goodness you can think of. Don't wait, make it now!
Is Banana Bread Healthy?
Banana bread is an enticing choice for either breakfast, dessert, or side dish. However, we believe it isn't something you should snack on without hesitation.
With any food, it's best to always estimate your overall portion size carefully based on its nutritional content. Therefore, if you're craving banana bread, start smaller with one or two slices of it at a time.
On the same note, please rest assured that our recipe is a tried-and-true formula. The added sugar has been kept within the healthy eating pattern limit (less than 10% of calories per day).
Banana Bread: Nutrition
This banana bread recipe uses common ingredients available at food stores (and probably already in your cupboard). We've carefully tested the recipe to make sure it provides enough nutrients without going over any daily values.
1. Calories
In this banana bread recipe, one slice provides about 232 calories. Thus, a serving of two slices will do beautifully for a filling breakfast.
2. Carbs
Banana bread is a sweet treat that's fairly high in sugar.
With our recipe, you'll get 62 grams of carbohydrate, in which there are 27 grams of sugar. Based on a 2100-calorie diet, this amount of sugar still falls within the healthy limit.
3. Protein
You'll get 10 grams of protein from this banana bread, most of which comes from the walnuts and Greek yogurt.
Ingredients for Banana Bread
When you think of banana bread there's usually a lot of sugar going into the batter. But in reality, you only need to choose the right ingredients to easily stay on the healthy side.
1. Flour, Egg, Banana
For convenience, we opted for the most down-to-earth ingredient in every pastry recipe, which is all-purpose flour. There are loads of substitutions for all-purpose flour on the market— we'll go into details later in this article.
Eggs are also one of the ingredients that you cannot leave out of this recipe. They help maintain the stability and fluffy texture of the bread.
The sweetness of banana bread is owing heavily to the bananas used in the recipe. Therefore, we suggest you opt for overripe bananas— those with dark brown spots. 
Although they look yucky, they're actually the most suitable ones in this situation. The riper the banana, the better it will be.
Ripe bananas make a marvelous natural sweetener as their juice lends softness and denseness to the bread's texture. They're also easier to mash up.
2. Walnuts
Using different types of nuts can add more nutrients. Combining walnuts in the batter will bring extra flavor and texture to the slices (as well as extra nutrition).
If you're in the mood, you can also try adding chocolate chips, cinnamon chips, or toffee bits to the batter.
3. Yogurt
Greek yogurt adds more moisture to the banana bread. It's also low-fat, packed with probiotics, and a great source of protein.
4. Cinnamon
Cinnamon and banana may seem to have distinct flavors, but you'll be amazed at how well they could work together. Plus, it goes a long way in enhancing any bread batter, like in this healthy Southern cornbread recipe.
After several attempts, besides cinnamon, we decided to also add cardamom and nutmeg to the spice mix. To our taste, cardamom and nutmeg make wonderful mates for the natural sweetness of banana.
Nevertheless, as banana bread is easily adapted to personal taste, this is something you should try and decide for yourself.
5. Coconut Milk
Coconut milk adds a mesmerizing aroma to banana bread. It lends a creamy mouthfeel to the overall taste and accompanies the walnuts beautifully.
6. Baking Soda
Baking soda is a must-have ingredient in this banana bread recipe.
As sugar, butter, coconut milk, and yogurt are all acids, they need to react with baking soda. This reaction will allow the batter to leaven when exposed to heat.
Please note that the amount of baking soda should be just right. Otherwise, the redundant baking soda in the batter will result in a metallic and soapy aftertaste for the bread.
Flour for Banana Bread
For people who are following a gluten-free diet, gluten-free flour will make a better substitution for wheat flour. It can also be used in many baking recipes, so purchase a large pack for whenever you feel like baking.
1. Almond Flour
To increase the fiber, vitamin, and mineral content, you can swap all-purpose flour with whole-wheat flour or almond flour. Almond flour is nutritious and lends the bread a characteristic and nutty flavor.
Different flours can produce slightly different results so it is worth experimenting.
2. Coconut Flour
Coconut flour is gluten-free and a brilliant alternative to all-purpose flour. It's ground straight from dried coconut flesh, making it an organic ingredient that's packed with soluble fiber and healthy fats.
If coconut flour is used in baking, please note that it's denser and doesn't bind as well as all-purpose flour. Therefore, you might need to mix it with additional liquids or other types of flour.
3. Oat Flour
Made from rolled oats, oat flour is whole-grain and also gluten-free. It's rich in fiber and essential nutrients with a very mild flavor.
When used alone in baking recipes, oat flour will result in bread that's significantly dense. Depending on which flour it's mixed with, oat flour will help bring out different textures and flavors.
How Long to Bake Banana Bread
In this banana bread recipe, we baked the 6-serving loaf at 350°F for 55 minutes in total. Basically, it'll take you roughly an hour or more to prepare the batter and finish baking altogether.
For a smaller loaf of banana bread, you'll need to reduce the baking time. We can't tell the exact baking time for every loaf size, however, the mentioned toothpick method works for all cases.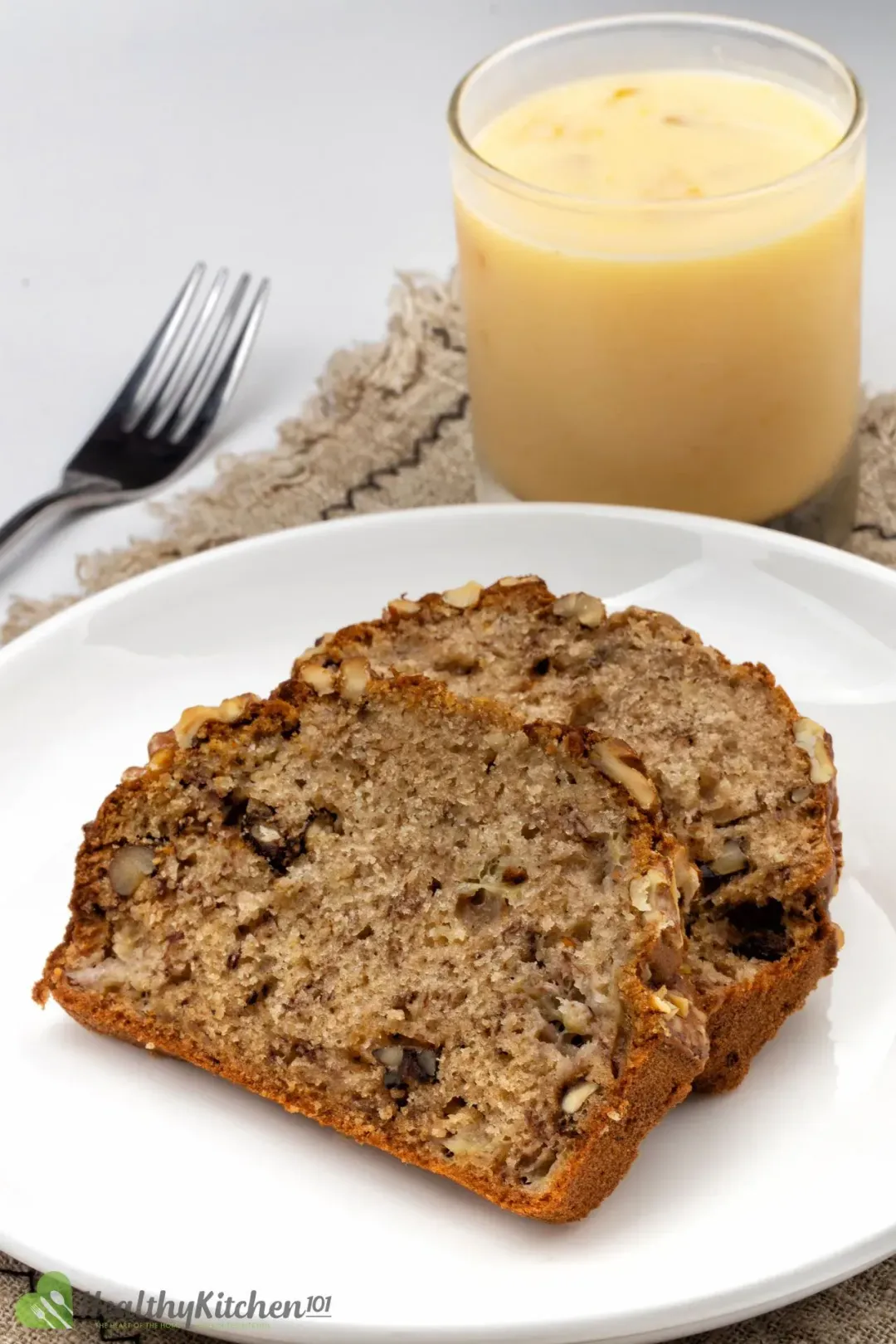 What Goes with Banana Bread?
Here we are at the topping part.
For this banana bread recipe, we went without adding any topping so you have space to get creative with it. Below are the most recommended options:
1. Chocolate
Topping the banana bread with a good lashing of chocolate drizzle might be the first thought of many people. The combination flavor is just heaven!
In this banana bread recipe, we decided to leave out the chocolate syrup as the sugar limit is met. Feel free to drizzle some if you're not following any strict dieting rules.
2. Zucchini
Sneaking zucchini into banana bread is a smart way to use zucchini, especially if you want your toddlers to consume more veggies. To do so, simply chop and slice the zucchini and combine it in the bread batter.
3. Pudding
Adding pudding to banana bread will make a remarkably different dish, compared to the traditional banana bread. This combination is mostly served for breakfast as it's so heartwarming and easy to put together.
The pudding is actually a crusty golden topping while the banana bread underneath is gooey and smooth. Together, they don't quite create a loaf but rather a casserole dish, so you'd have to treat it like a cake.
4. Pumpkin
The process of adding pumpkin to banana bread is pretty similar to zucchini. All you need to do is purée the pumpkin smooth and whisk it into the batter.
For a subtle and pleasantly tangy flavor, you might also want to add vanilla and replace sugar with honey.
5. Blueberry
As banana bread is already sweet and nutty, eating it together with fresh blueberries is an ideal choice to enjoy. You add a tart sweetness and more health benefits too.
6. Strawberry
Same as blueberries, strawberries act as a marvelous topping for banana bread (and is even more flexible in taste).
For the present case, we strongly recommend the combination of banana bread, strawberries, and lots of honey. Together, they'll make a divine and fool-proof trio.
7. Sour Cream
Sour cream is a creative choice to substitute for plain yogurt. For most cases, these two are interchangeable.
8. Cream Cheese
Cream cheese filling is easily made by whisking cream cheese into the batter just like we've done with butter. The result will be a moist and fluffy bread of your dreams.
How Long Does Banana Bread Last?
Banana bread can stay fresh on the counter within the day it's cooked. For longer storing, you'll need to put it into the fridge.
Can You Freeze Banana Bread?
Yes, of course, you can. Here's how to do it:
First, transfer banana bread onto a plate or a wire rack and allow it to cool to room temperature. Wrap the whole loaf or individual slices of it tightly in plastic wrap.
Next, put the wrapped bread into freezer-friendly bags or containers with a tight lid. Freeze them for up to 3 months for the best possible flavor and texture.
Banana bread is easily thawed in the refrigerator or at room temperature. Most people prefer freezing it in slices as they thaw quicker.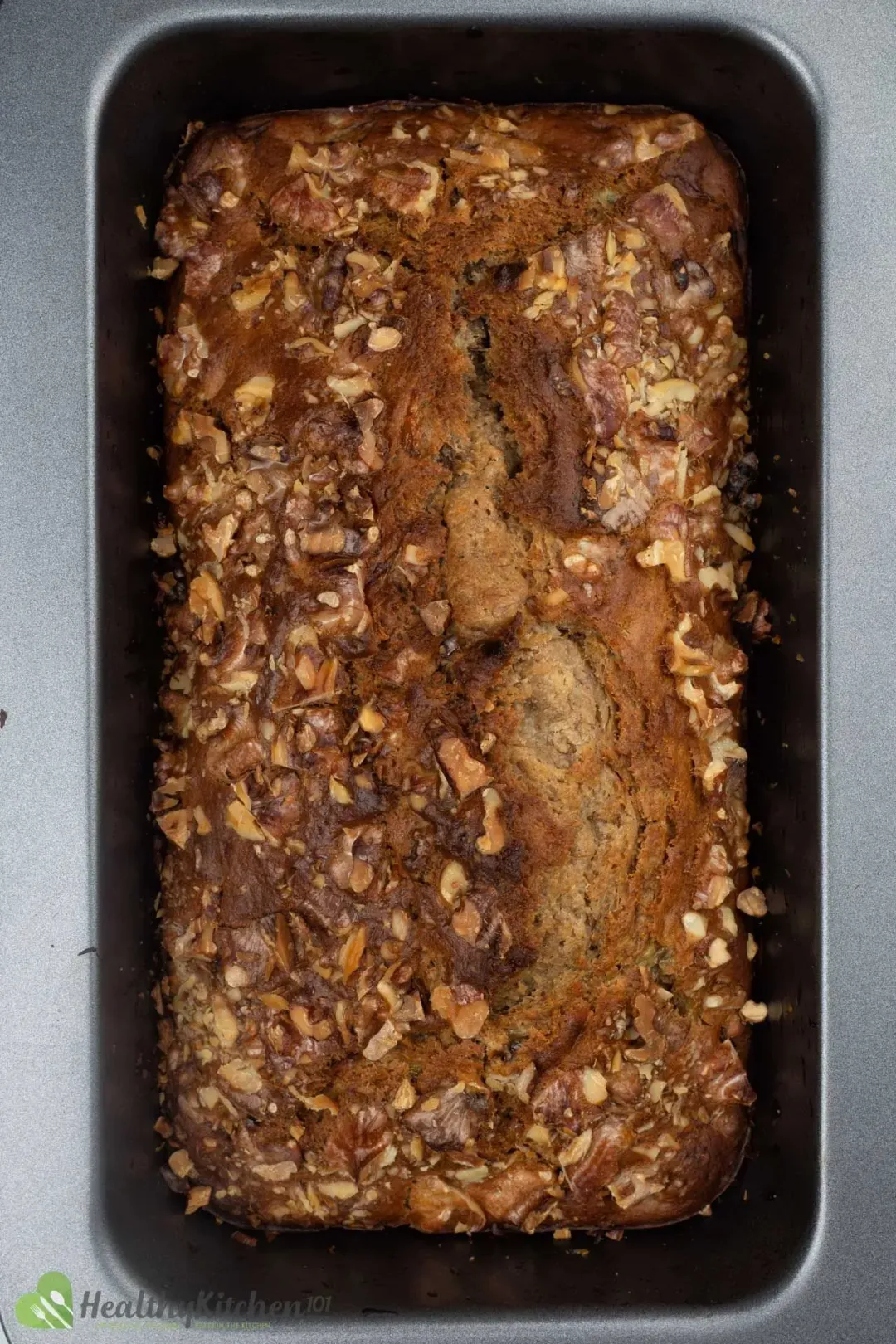 What to Serve with Banana Bread
With this banana bread recipe, we made it the simple and straightforward way. We left the bread as it is without adding any toppings so the decision of what to add is totally in your hands.
Milk And Orange Juice
After all the testing, we believe nothing would make a better pair for banana bread than milk and orange juice. A sweet-sour and refreshing drink will balance all the nuttiness and sweetness you get from the banana bread.
Don't you think so? Try it out and send us your thoughts!
Check out this article for more delicious dessert recipes.
Easy Healthy Banana Bread
This banana bread recipe is our secret to happiness. The tasty bread slices are beyond simple to make and super easy to adjust to your taste. You simply need to give it a go.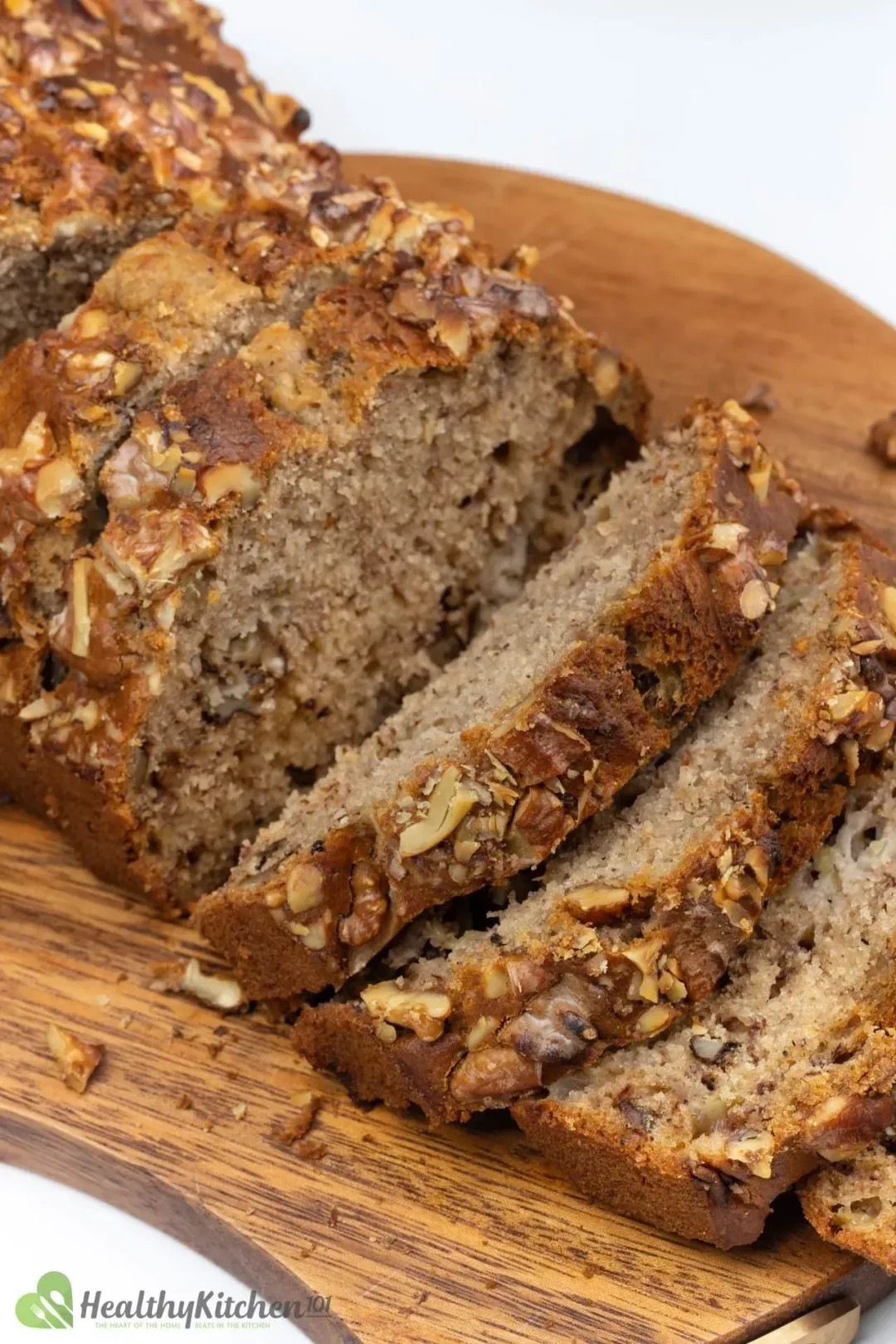 cook TIME

55 mins

prep TIME

10 mins

total TIME

1 hr 5 mins
COURSE

Breakfast, Brunch, Dessert

CUISINE

Global

SERVINGS

CALORIES

464 kcal
INGREDIENTS
16.5 oz

bananas

(medium, ripe, about 4 bananas)

1 1/2 cups

all-purpose flour

1/4 tsp

cardamom

(ground)

2 tbsp

plain Greek yogurt

1 1/2 tsp

vanilla extract
INSTRUCTIONS
1
Bake 16.5 oz bananas at 350°F for 10 minutes (until blackened). Remove and let cool.
2
In a large bowl, whisk together the dry ingredients: 1 1/2 cups all-purpose flour, 1 tsp baking powder, 1 tsp baking soda, 1/4 tsp salt, 1 tsp cinnamon, 1/4 tsp cardamom, and 1/4 tsp nutmeg.
3
Preheat the oven to 350°F. Grease the loaf pan with butter (our baking pan size is 10 x 5 x 2.5 inches).
4
In a second large bowl, cream together 3 tbsp butter, 1/2 cup sugar, and 2 tbsp coconut milk. Beat 2 eggs in one egg at a time, whisk with a hand mixer until combined.
5
Continue to add to the second bowl 2 tbsp Greek yogurt, 1 1/2 tsp vanilla extract, and 4 oz chopped walnuts. Whisk together until fully incorporated.
6
After the baked bananas have cooled down, peel and mash them until smooth, using a fork or a potato masher. Add the mashed bananas to the second bowl.
7
Pour the dry mixture (in the first bowl) into the second bowl through a sieve, mix until well combined.
8
Pour the batter into the prepared loaf pan, use a spatula to level it out. Place in the pre-heated oven.
9
After 10 minutes, remove the pan from the oven, slightly score it lengthwise on the surface using a knife. Continue to bake for 45 minutes.
10
Check if the bread is done by inserting a toothpick into the center. If it comes out clean and dry, your banana bread is ready to serve.
11
Remove your loaf from the oven. Let it sit for at least 10 minutes before turning it out. Slice it whatever way you want, drizzle with milk chocolate syrup and enjoy.
If you worry about crumbly slices, invest in a quality bread knife to make things easier. If you allow the banana bread time to cool a little after baking, this will also help the slices hold their shape.
NUTRITION
Nutrition Facts
Easy Healthy Banana Bread
Amount Per Serving (1 serving)
Calories 464
Calories from Fat 189
% Daily Value*
* Percent Daily Values are based on a 2000 calorie diet.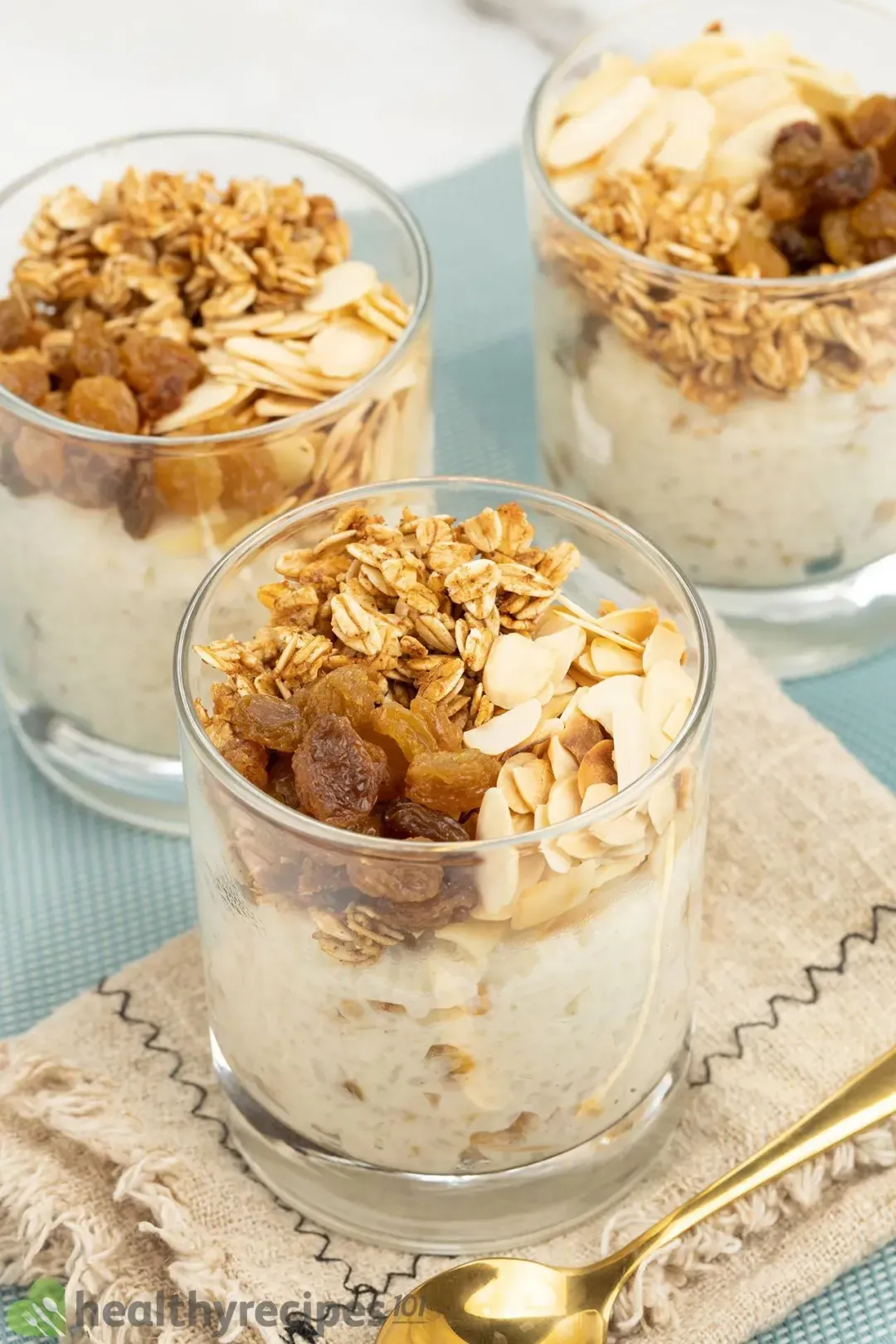 Previous Recipe
Easy Rice Pudding with Cooked Rice
Easy Rice Pudding with Cooked Rice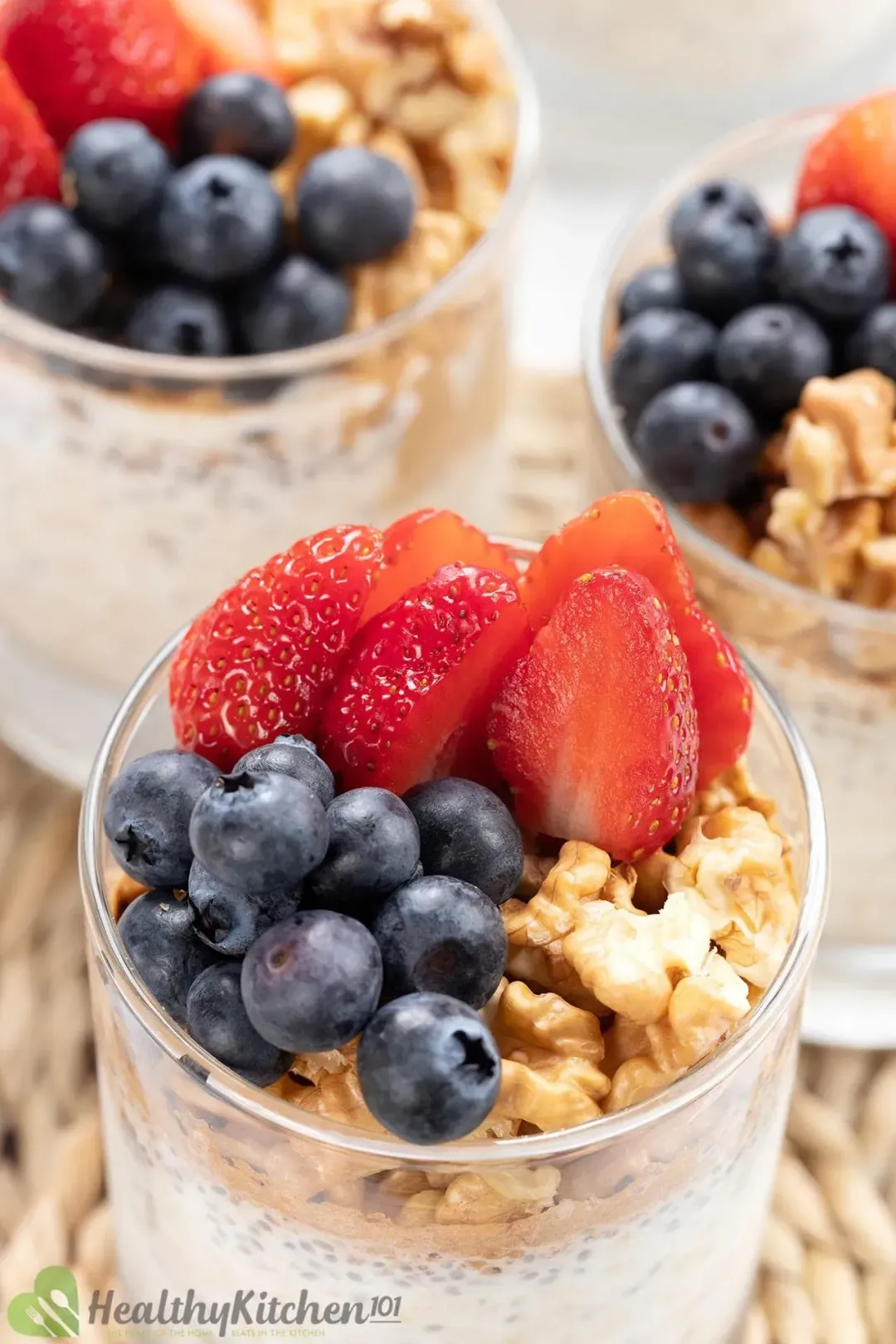 Next Recipe
Overnight Oats with Yogurt
Overnight Oats with Yogurt
Head Chef, Culinary Consultant
Tuyet Pham is an award-winning Saigonese chef who believes that joy is the secret ingredient to delicious food. At Healthy Recipes 101, Tuyet personally tests and simplifies every recipe, ensuring maximum flavor with minimal effort. With a background at prestigious French restaurants P'TI Saigon and Le Corto, Tuyet knows how to make every dish exceptional.
Writer, Author
Luna Regina is an accomplished writer and author who dedicates her career to empowering home cooks and making cooking effortless for everyone. She is the founder of HealthyKitchen101.com and HealthyRecipes101.com, where she works with her team to develop easy, nutritious recipes and help aspiring cooks choose the right kitchen appliances.
Nutrition Reviewer
Lizzie Streit is a Minneapolis-based dietitian and founder of It's a Veg World After All. She completed her MS in Human Nutrition from Drexel University, and is an expert in culinary nutrition, recipe development, and nutrition communications. Lizzie's philosophy is centered around making nutrition recommendations, and especially the advice to eat more vegetables, approachable and realistic. She is excited to be working with the team at Healthy Recipes 101 to ensure that their recipes are both nutritious and delicious.
I just want to know if cardamom is necessary? I don't have that ingredient and was wondering if that made much if a difference? I've seen other recipes and they don't call for cardamom or nutmeg. So if I onit these two ingredients, would it make a huge difference?

Hi Mary, yes, cardamom and nutmeg can be omitted from the ingredient list. We learnt that adding cardamom and nutmeg to the batter gives the bread more fragrance, but in general, the differences in flavor are not so significant. So don't worry if you don't have those two on-hand and just go for it!