This rice pudding recipe with cooked rice can help you recreate an easy breakfast filled with nuts, whole grains, and seeds to your liking. Don't get me wrong— it's still the same creamy, subtly sweet, not-too-rich dessert, but with a little twist.
So, click on the "jump to recipe" button to prepare this comforting breakfast in advance. Or, read on to learn how this rice pudding recipe deserves your time.
What Is Rice Pudding?
Rice pudding traditionally is a dessert made by simmering rice in milk, cream, and seasonings until becoming a congee. No additional thickener is required as the rice lets off starch and thickens the milk itself.
In our rice pudding, we add honey for a touch of sweetness, cinnamon for fragrance, and heaps of healthy toppings. For simplicity, we went for almonds, oats, and raisins, but you can use alternatives that fit your tastes.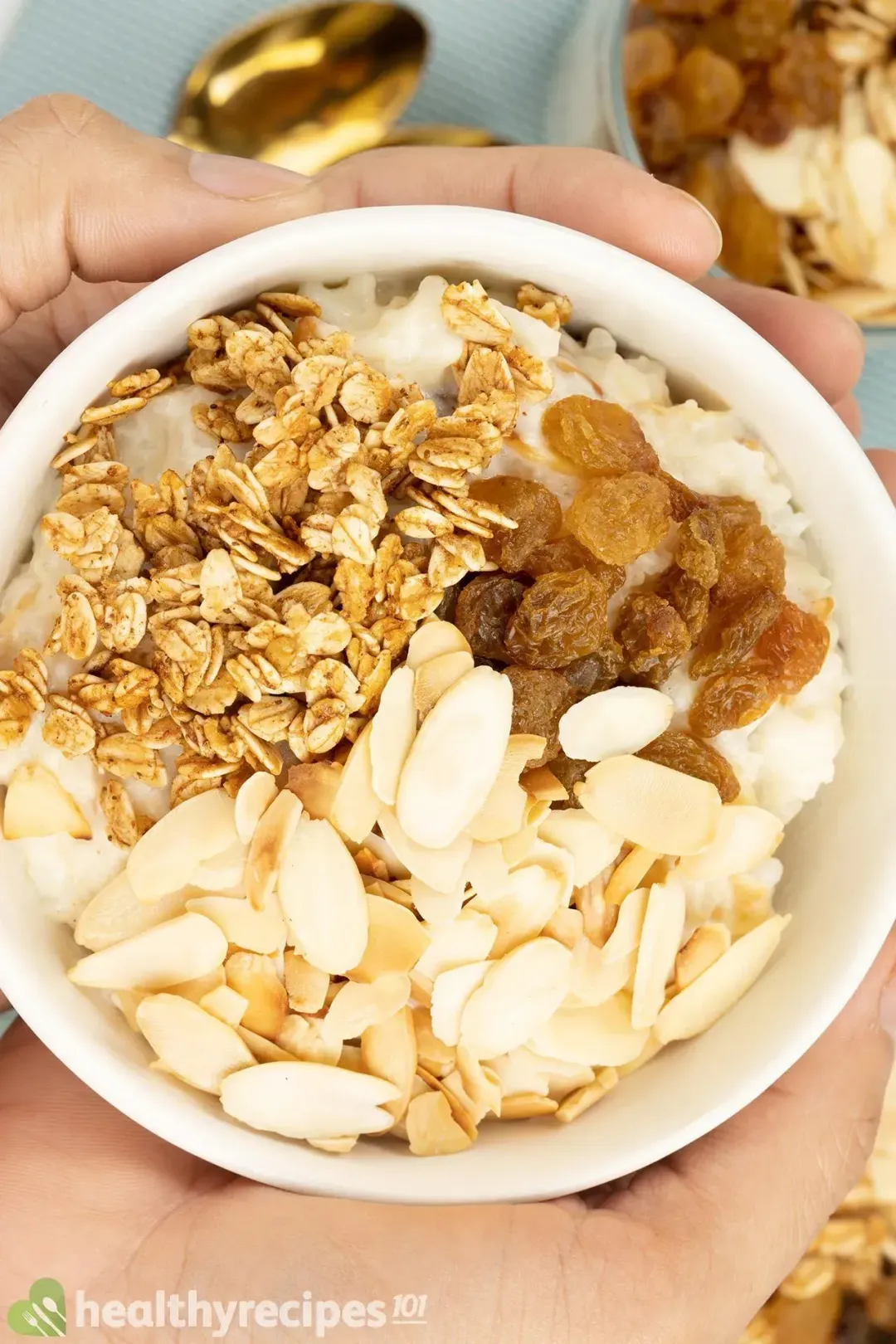 Is Rice Pudding Healthy?
Often considered sugary and extra creamy, rice pudding usually is served in small portions, like desserts. However, it's beginning to be treated as a breakfast, due to which several health concerns arise.
Acknowledging that, we made several adjustments to turn rice pudding into a healthy breakfast.
First, sugar and dairy are added in moderate amounts, so the added sugar and saturated fat contents fall within allowance.
And don't you worry about how it affects the classic flavors; it's still rich and delicately sweet.
Plus, there are toppings incorporated into the pudding and sprinkled on top as well:
Additionally, we have a bread pudding recipe that makes a sweet and delicious, yet healthy breakfast. Check it out.
The Best Rice for Rice Pudding
Shorter grains tend to give more starch, which is exactly what we want to make rice pudding. We want rice pudding to be as thick as possible, which contributes greatly to its creaminess.
So, if possible, go for short-grain rice like arborio rice.
However, we ended up choosing Jasmine rice, a medium-grain with a floral aroma. We loved the complexity of the aroma it brought and thought you should try it, too.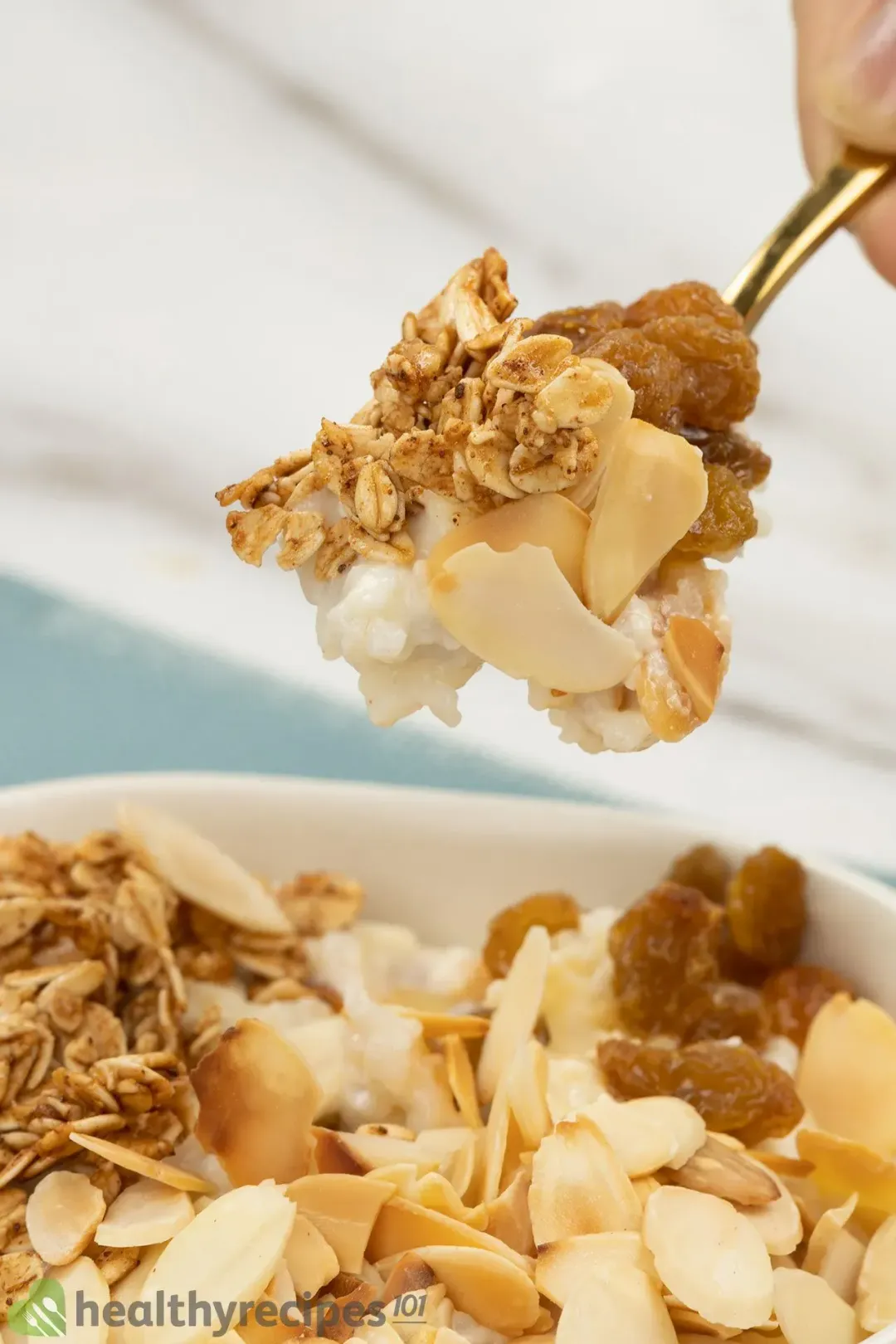 Although any rice technically works, some varieties have a relatively strong fragrance that suits savory dishes better. One of them is basmati rice, a long-grain rice with inappropriate texture and fragrance for this pudding.
Rice Pudding Ingredients
Let's have a look at the ingredients for this rice pudding recipe:
1. Cooked Rice
You might want to choose cooked rice over uncooked, otherwise this simple dish would take an eternity to finish.
Those of you who don't own a rice cooker, rinse your rice well and simmer it in water. The ratio should be one part rice to two parts water (the water may seem like a lot, but trust me, it will evaporate away).
If you do have a rice cooker, things become much easier. All it takes is 1 minute of rinsing and 30 minutes of you keeping busy with other things around the house.
The water:rice ratio should now be 1:1, measured using cups. We are aware of the finger method, but we recommend a more accurate measurement for the best result.
After cooking the rice, let's check on the other ingredients.
2. Rolled Oats, Raisins, Almonds
Did we mention caramelized oats? That's correct because, in this rice pudding recipe, we're taking oats to another level— roasted, sweet, and super crunchy.
To prepare the oats, mix them with honey (mentioned in detail later) and bake them in the oven.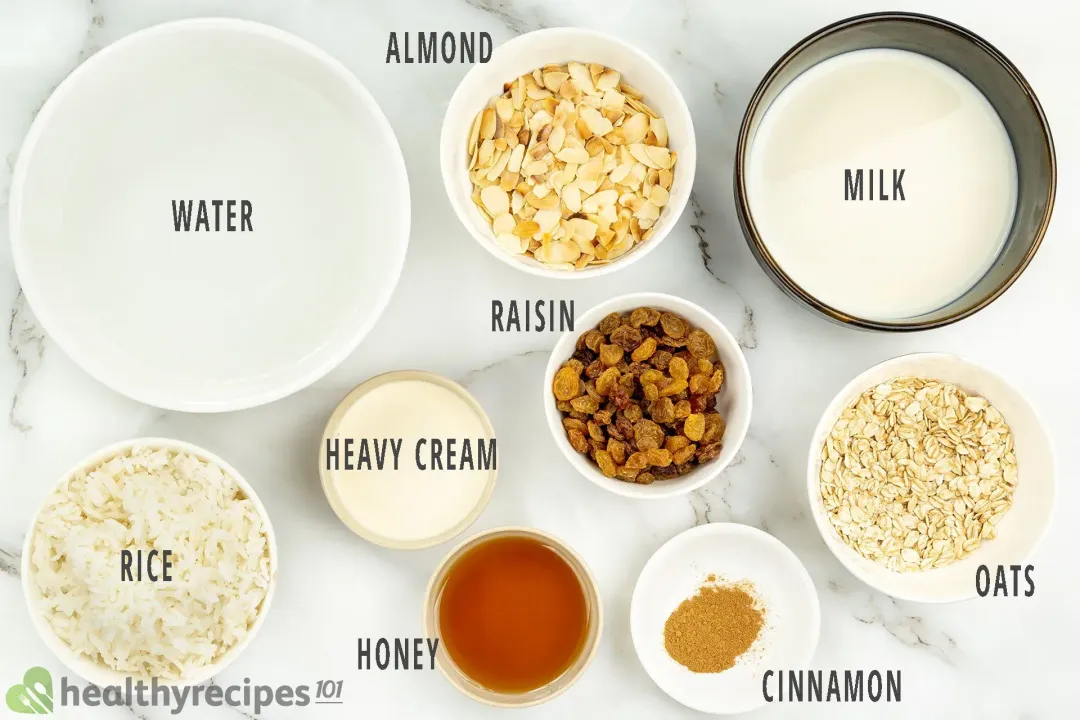 Meanwhile, you can soak the raisins so they soften, or use them as they are. We enjoyed the chewy texture, so we simply added raisins as-is to the mix.
Alternatives to raisins like dried berries are also encouraged if you have them on hand. As long as it's your preference, you're good to go.
For the almonds (or any nuts to your liking), either toast them on a pan or bake them in the oven until golden brown. They burn easily, so keep an eye on them.
3. Milk and Cream
Rice pudding wouldn't have its signature richness without milk and cream.
While other rice pudding recipes call for loads of dairy, ours has just enough to coat the rice. It's healthier, but still as delicious.
4. Cinnamon
It would be a huge miss not to put in a dash of cinnamon. It's the main fragrance of the dish, which keeps the pudding flavorful until the last spoonful.
Our first trial also included vanilla, but it was a little overwhelming as opposed to being fragrant and inviting. You can add in ¼ teaspoon of vanilla extract if that's your preference, but we left it out.
What Else Goes with Rice Pudding?
1. Coconut Milk
Does coconut milk sound foreign to you? Not to Asians, because it's what they use in daily cooking. It brings natural richness (constituting only good fats) and a unique aroma you can't find elsewhere.
To make this rice pudding, you can substitute coconut milk with regular milk, and skip the heavy cream. That's how thick it is.
You can season the pudding with cinnamon if you want, but coconut milk doesn't really need anything else. It might be overwhelming to combine these fragrant ingredients in the same dish.
2. Banana
If you prefer a sweeter rice pudding, banana slices might be just the ticket. The fruit also holds immense amounts of micronutrients, so it's really healthy to include.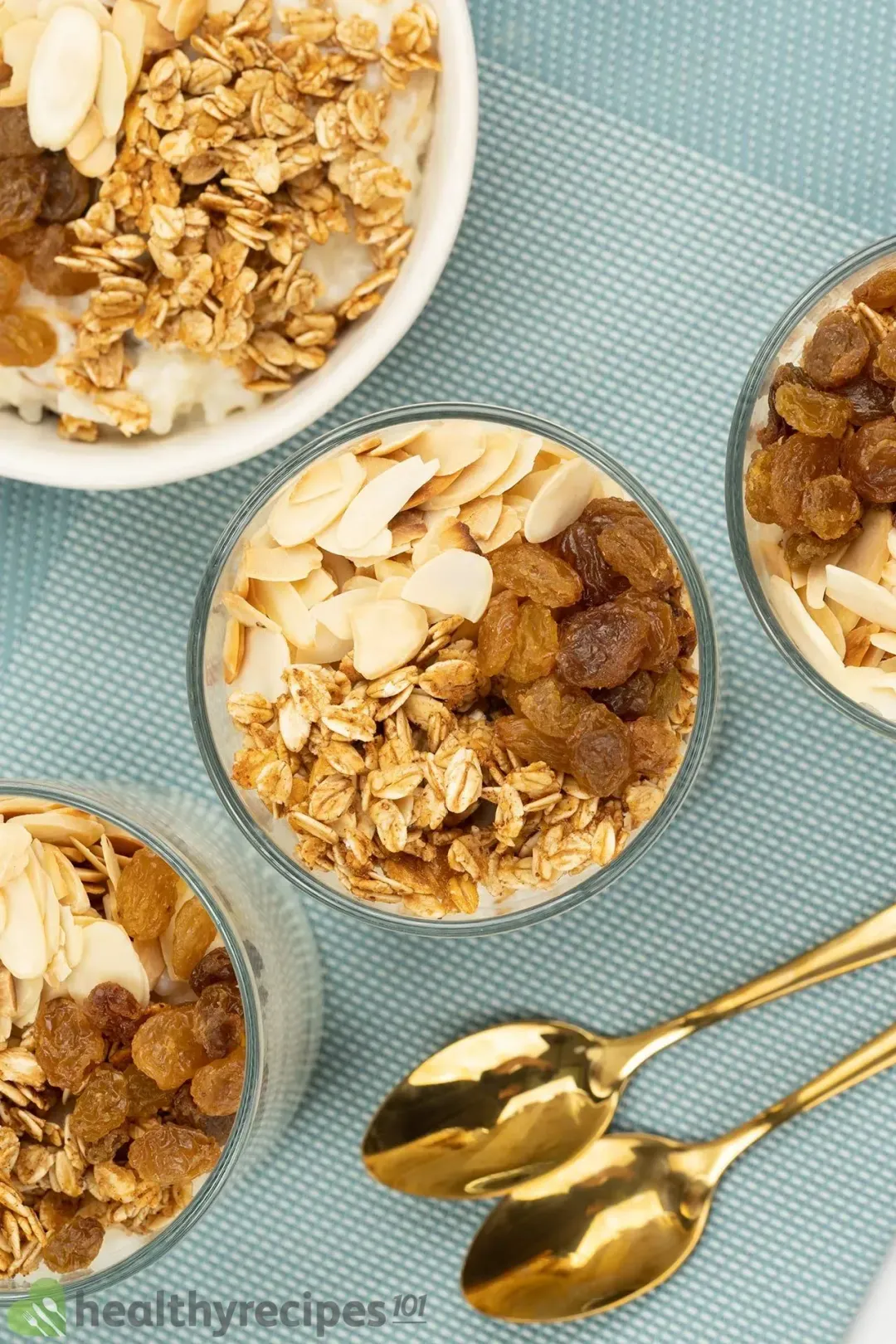 3. Pumpkin
Pumpkin puree and pumpkin spice aren't restricted only to pies and beverages— they take rice pudding to another level.
To include these two in this recipe, we'd say 2 tablespoons of puree and 1 teaspoon of spice per serving. Add more if that's what you want.
For a wider selection of dessert recipe, don't miss out this collection on the 30 dessert roundup that we've carefully sorted out for you!
FAQ
1. Can You Freeze Rice Pudding?
Yes, you can. Rice pudding freezes well and can stay good for about a month in the freezer.
You can make a big batch of rice pudding, divide it into freezer-safe containers, and enjoy it whenever you want.
Frozen rice pudding can be thawed slowly overnight in the fridge. You can also defrost it in the microwave and it'll be ready to eat in minutes.
2. How Long Does Rice Pudding Last?
If stored properly, rice pudding can last up to 3 days in the refrigerator.
After cooking the rice pudding, let it sit on the counter for about 1 hour to come to room temperature. Put the pudding into an airtight container and place it in the fridge.
Fruit or nut toppings for the pudding should be kept in a separate container. That way, you can prolong the shelf life of both the pudding and the toppings.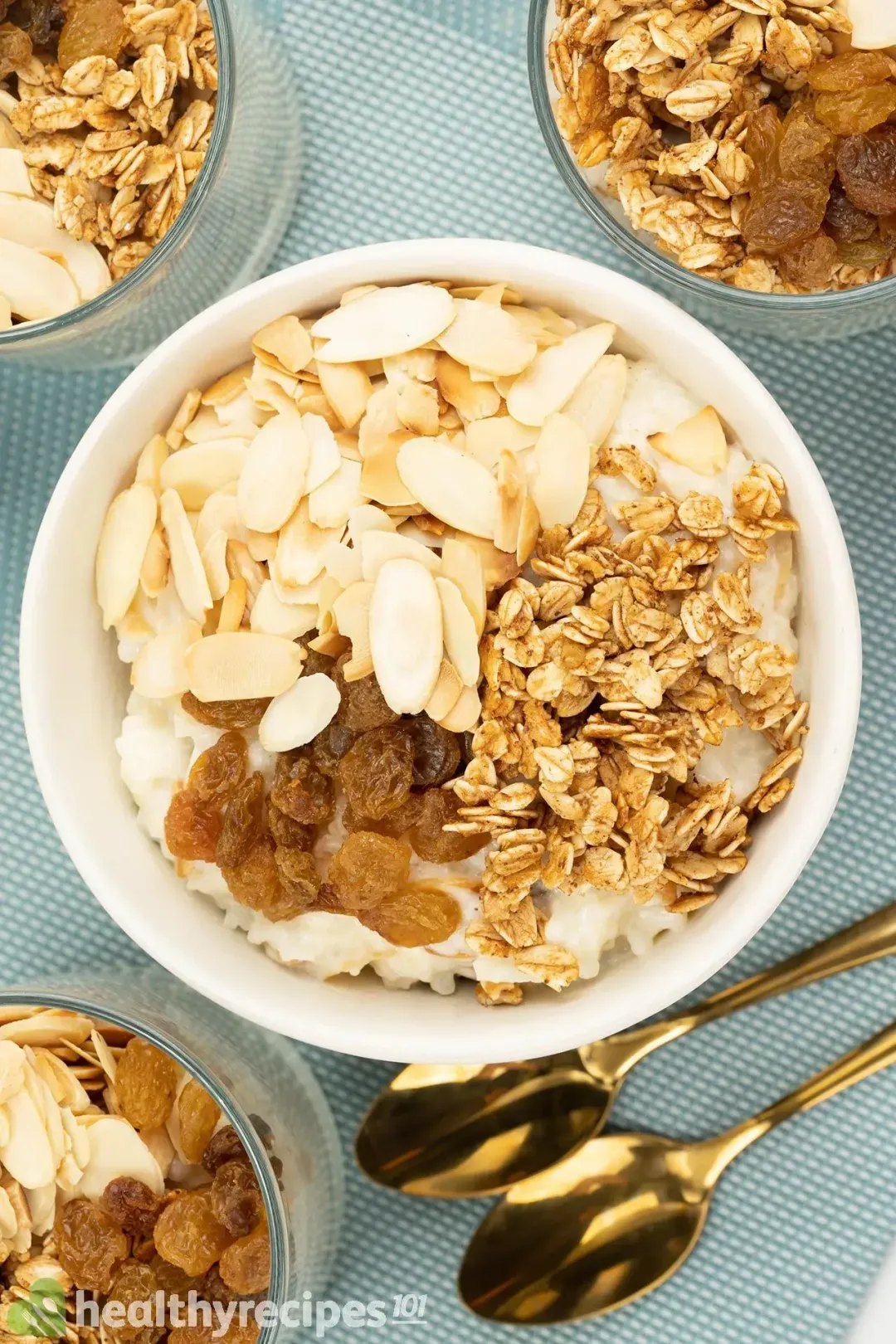 3. Can You Make Rice Pudding with Brown Rice?
Substituting white rice with brown is a brilliant choice to make your rice pudding healthier. It's packed with more vitamins and minerals, plus a little bit of fiber, too.
4. Is Rice Pudding Gluten-Free?
Rice pudding is one of very few desserts/breakfasts that contain no gluten. Although having a similar look to wheat, rice is 90% starch, only 8% protein, and none of the proteins are gluten.
If gluten is your enemy, rice is for sure the ally you can trust.
Rice Pudding
Let's dive into this healthy rice pudding recipe. It's warm, full of chewy, nutty toppings, and packed with nutrients to start your day.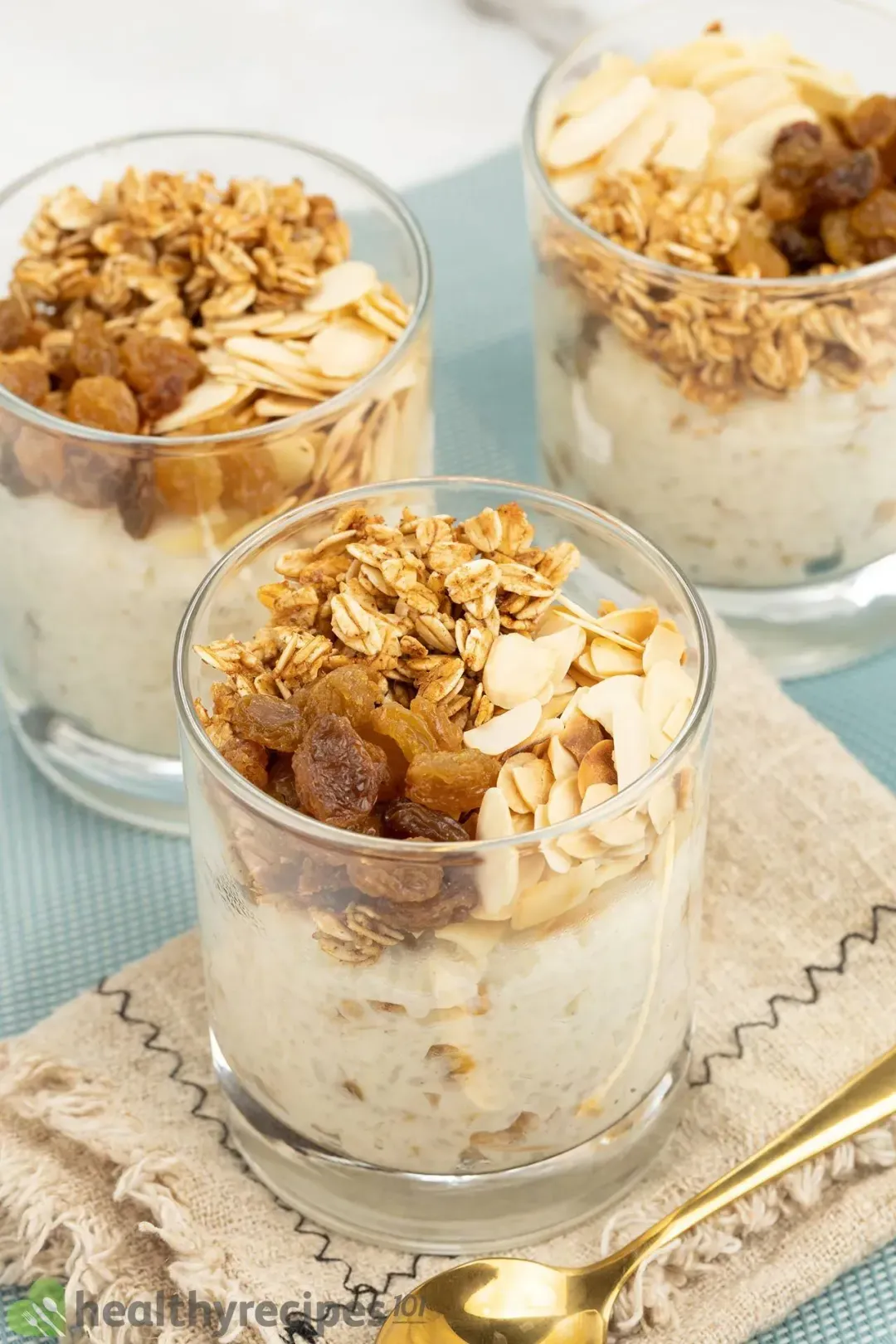 cook TIME

35 mins

prep TIME

10 mins

total TIME

45 mins
COURSE

Breakfast

CUISINE

American

SERVINGS

CALORIES

598 kcal
INGREDIENTS
8 oz

cooked medium-grain rice

4 tbsp

honey

(divided in half)

4 oz

old-fashioned rolled oats

4 oz

almonds

(sliced and toasted)
INSTRUCTIONS
1
Preheat the oven to 350°F.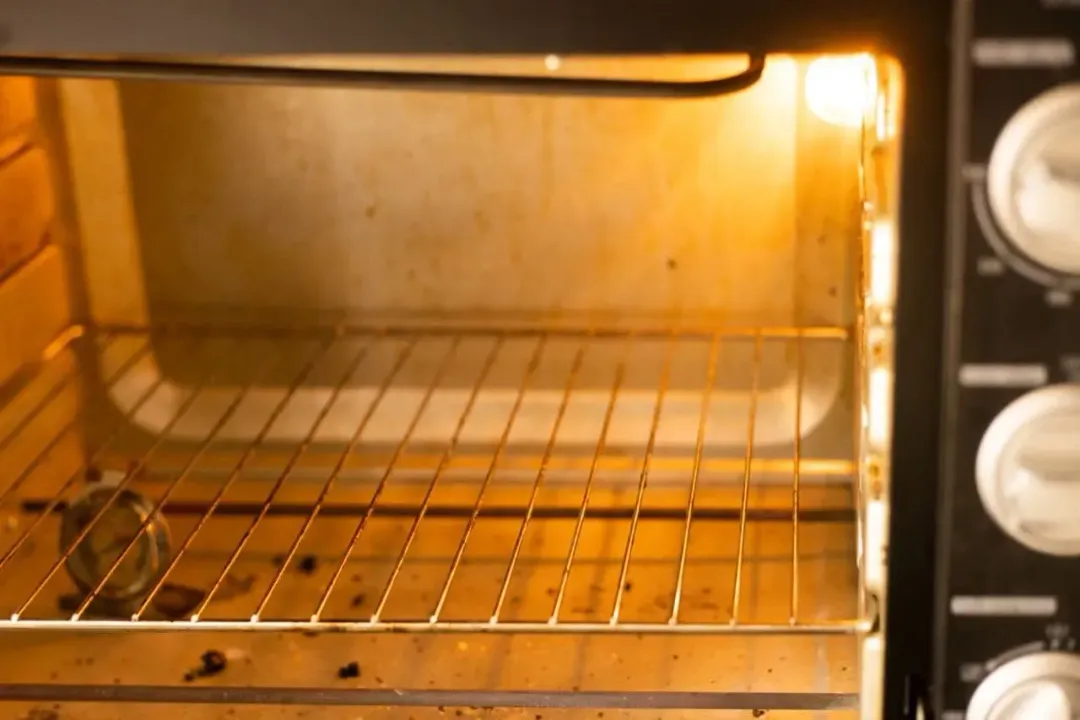 2
Measure 8 oz of cooked rice and place into a pot with 2 cups of water. Simmer for 15 minutes.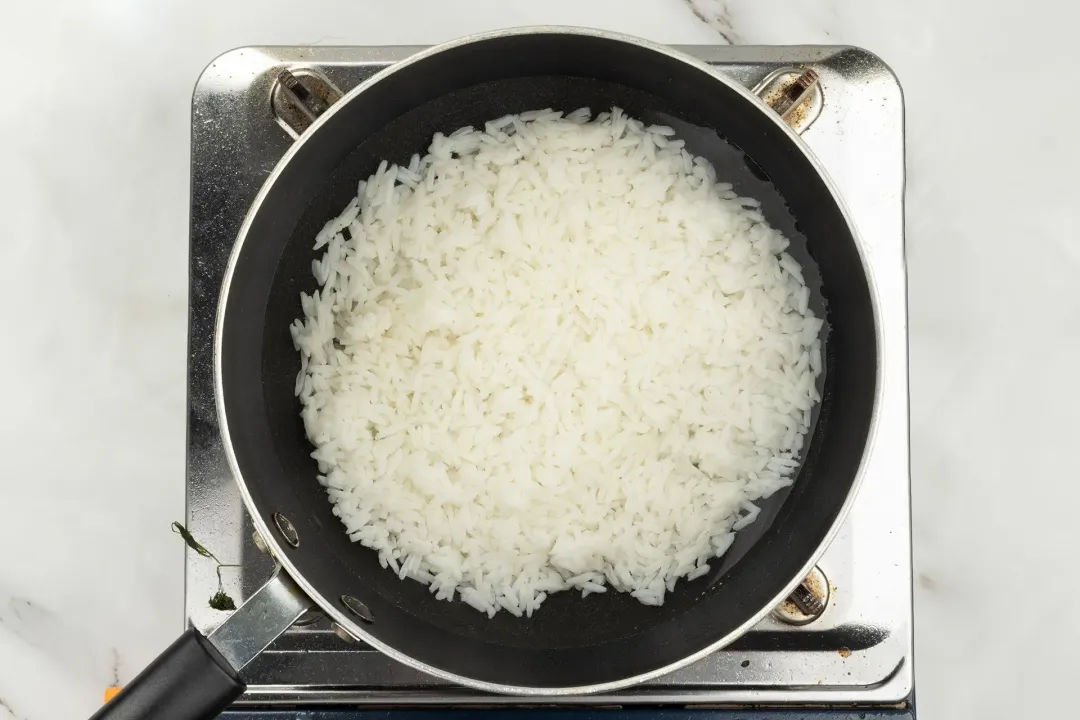 3
While that's cooking, mix 4 oz oats, 2 tbsp honey, 1/2 tsp cinnamon powder in a small bowl. Spread the mixture over a lined baking sheet and bake for 8 minutes at 350°F. Remember to take it out halfway through, mix it well, then pop it back in the oven. Set aside to cool.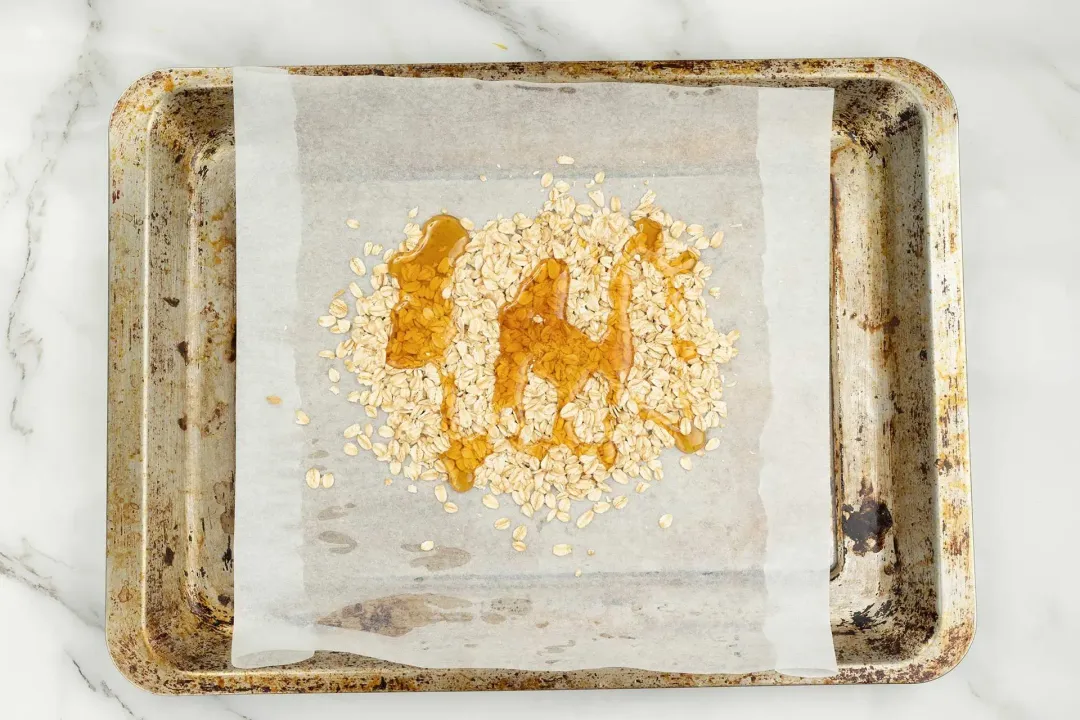 4
Return to the pot and add 1 1/2 cups whole milk. Simmer for another 20 minutes. Add 1/4 cup heavy cream and the remaining 2 tbsp honey, and stir to incorporate.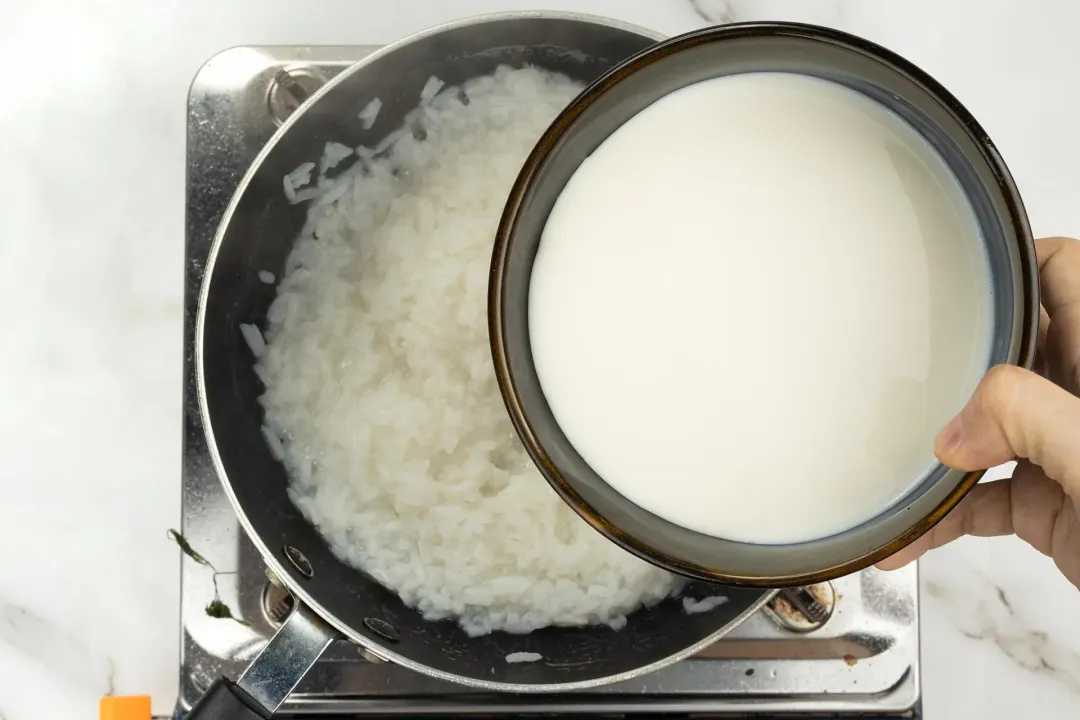 5
Divide 4 oz raisins, baked oats, and 4 oz toasted almonds in half. Mix one half with the rice pudding.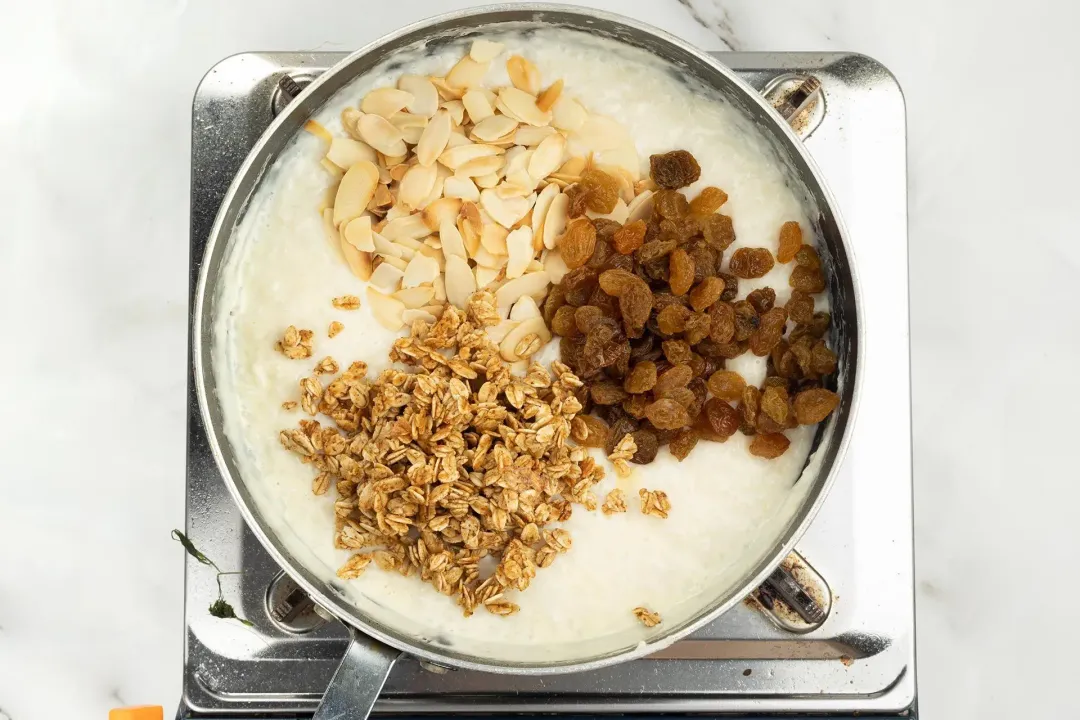 6
Scoop the rice pudding into serving bowls and sprinkle on the rest of the toppings. Serve warm.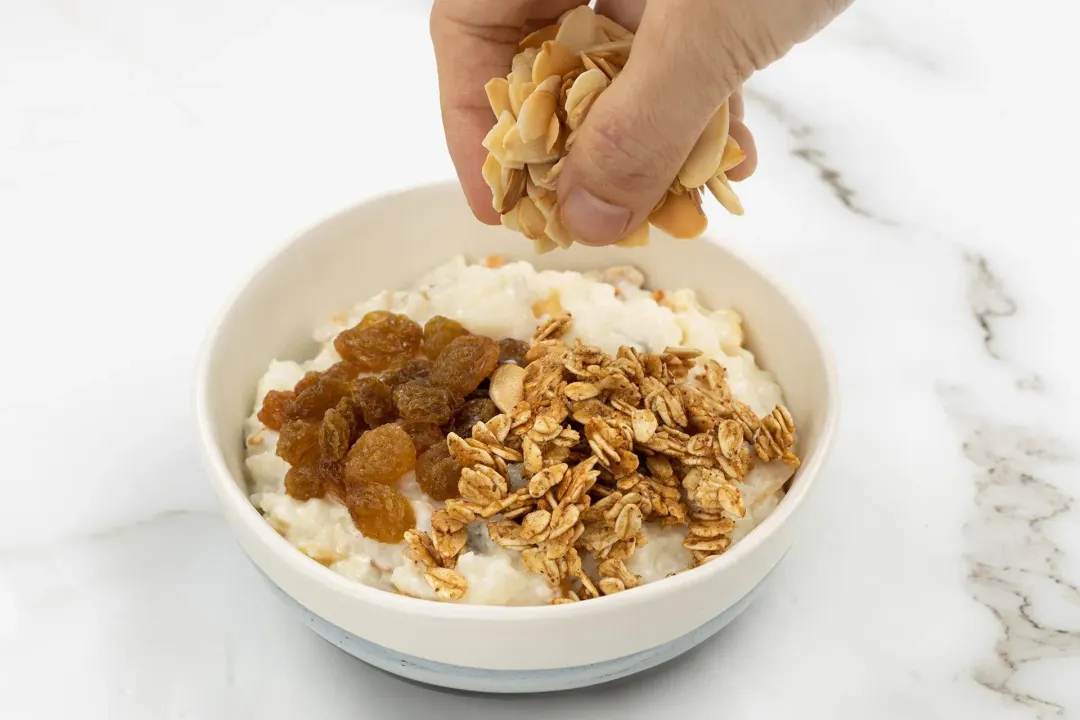 NUTRITION
Nutrition Facts
Rice Pudding
Amount Per Serving (1 serving)
Calories 598
Calories from Fat 225
% Daily Value*
* Percent Daily Values are based on a 2000 calorie diet.
Keywords: easy rice pudding, How To Make Rice Pudding, Rice Pudding, Rice Pudding Recipe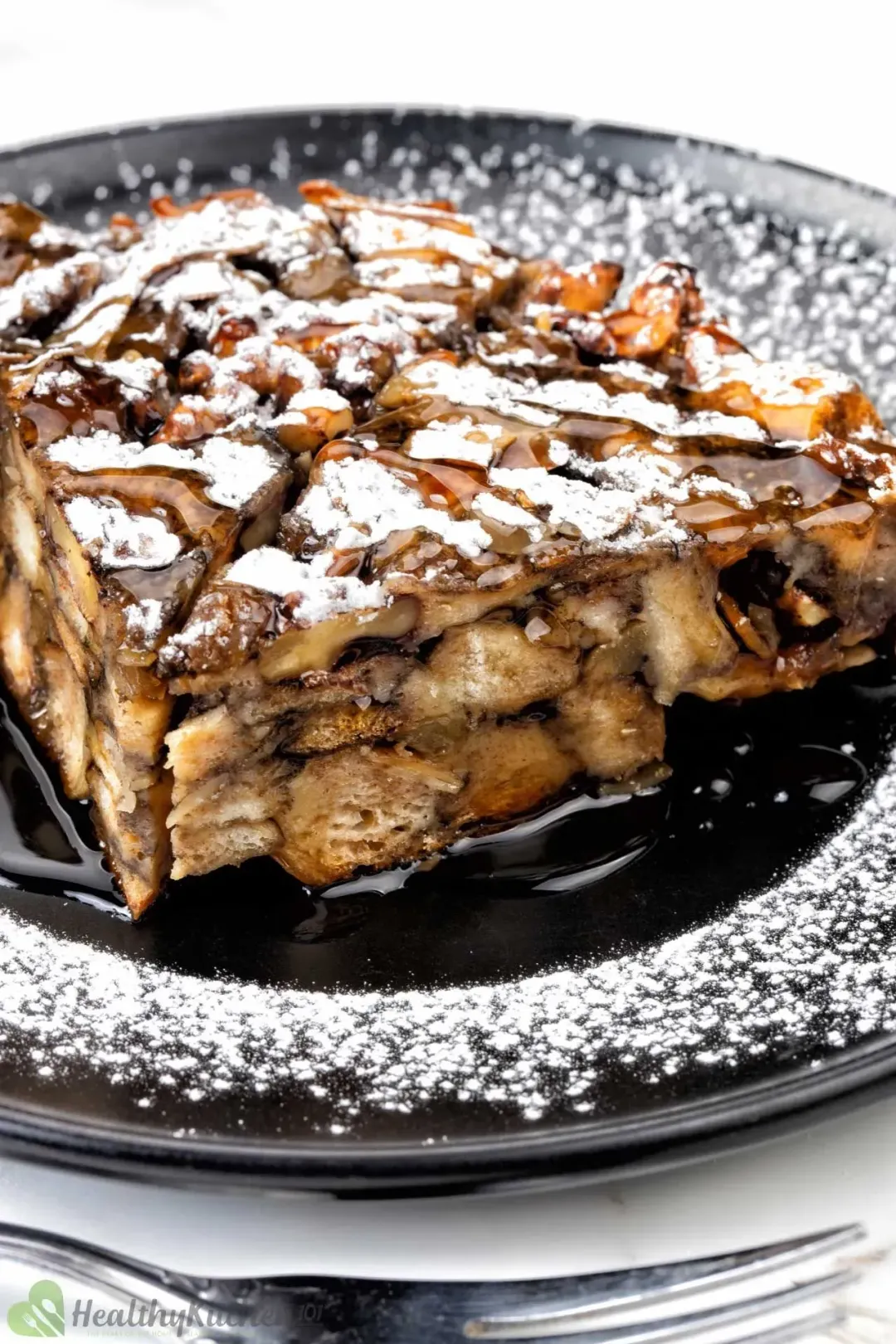 Previous Recipe
French Toast Casserole
French Toast Casserole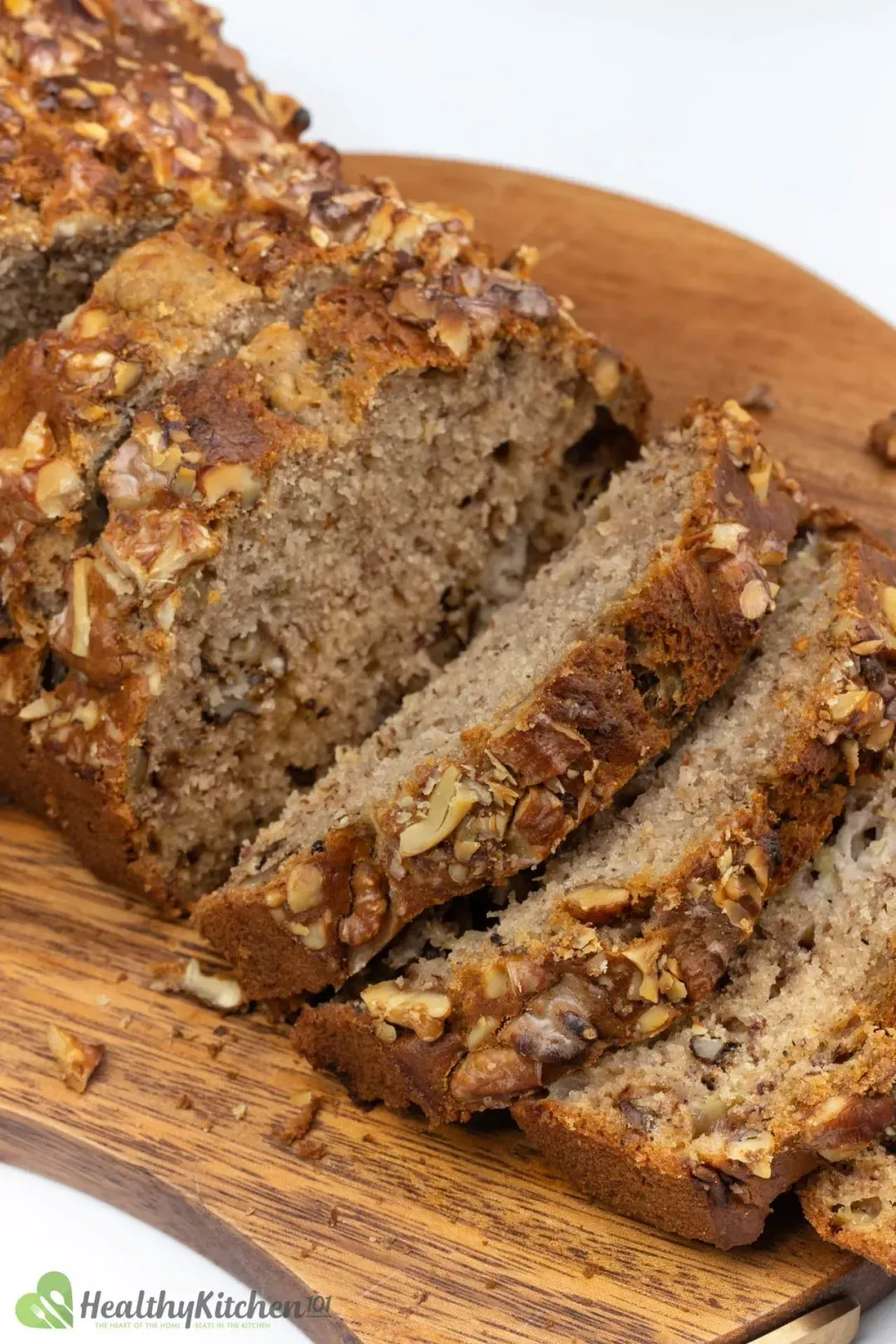 Next Recipe
Easy Healthy Banana Bread
Easy Healthy Banana Bread
Head Chef, Culinary Consultant
Tuyet Pham is an award-winning Saigonese chef who believes that joy is the secret ingredient to delicious food. At Healthy Recipes 101, Tuyet personally tests and simplifies every recipe, ensuring maximum flavor with minimal effort. With a background at prestigious French restaurants P'TI Saigon and Le Corto, Tuyet knows how to make every dish exceptional.
Writer, Author
Luna Regina is an accomplished writer and author who dedicates her career to empowering home cooks and making cooking effortless for everyone. She is the founder of HealthyKitchen101.com and HealthyRecipes101.com, where she works with her team to develop easy, nutritious recipes and help aspiring cooks choose the right kitchen appliances.
Nutrition Reviewer
Lizzie Streit is a Minneapolis-based dietitian and founder of It's a Veg World After All. She completed her MS in Human Nutrition from Drexel University, and is an expert in culinary nutrition, recipe development, and nutrition communications. Lizzie's philosophy is centered around making nutrition recommendations, and especially the advice to eat more vegetables, approachable and realistic. She is excited to be working with the team at Healthy Recipes 101 to ensure that their recipes are both nutritious and delicious.
Creamy comfort in every spoonful.

Nice Recipe! I liked this recipe a lot and my kids loved it.