Discover our overnight oats with yogurt recipe — an easy way to enjoy oats on Plain Yogurt Day (June 20th), National Oatmeal Day (October 29), or National Greek Yogurt Day (November 9th). Nuts, fruits, milk, and yogurt of your choice can be added for a nutritious boost in the morning.
What Are Overnight Oats?
Overnight oats use a no-cook method of preparing oats. Instead of cooking oats with liquid on a stove or in a microwave, you mix the oats with liquid — popular choices include milk, coconut milk, and yogurt — and let it rest in the fridge overnight.
The soaking process allows the oats to absorb fluid and slowly soften, resulting in a porridge-like treat the following day. Other mix-ins like fruits, nuts, and seasonings can be added once you're ready to eat, making overnight oats the perfect grab-and-go breakfast.
Are Overnight Oats Healthy?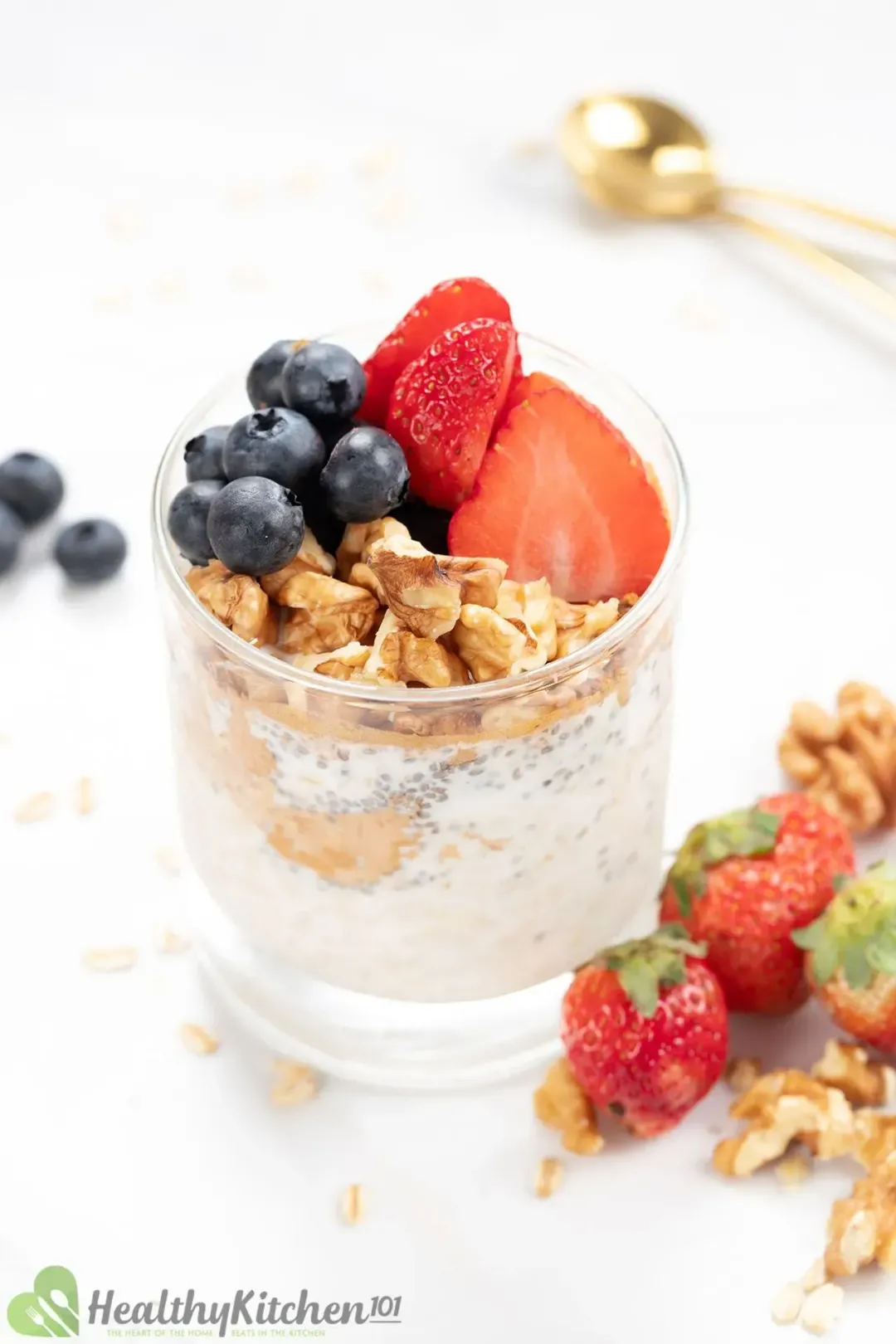 Oats are a great source of vitamins, fiber, antioxidants, and other nutrients. This nutritious grain comes with many impressive health benefits, including:
Improving cholesterol level: Many studies support the claim that oats can help to maintain a healthy level of cholesterol. The beta-glucan fiber found in oats helps reduce low-density lipoprotein cholesterol — a "bad cholesterol", but doesn't affect high-density lipoprotein cholesterol — a "good cholesterol".
Helping with weight control: Oats keep us feeling full for longer since the fiber slows down the stomach's emptying. Oats also release a hormone called peptide YY, which increases digestion efficiency and nutrient absorption after meals. In other words, consuming oats reduces calorie intake and helps with weight loss.
Rich in vitamins and minerals: Not only are oats low in calories, they also contain many nutrients like vitamin B1, B5, iron, magnesium, folate, and copper. These are essential for our body's needs and maintain the immune system.
Each serving of our recipe provides about 600 calories, with some fresh fruit and nuts included. A bowl of overnight oats makes a delicious and nutritious breakfast packed with several health benefits.
Are Oats Gluten-Free?
To be specific, the pure, uncontaminated oats are gluten-free and safe for most people with gluten intolerance. But the majority of oats available in the supermarkets have a high level of gluten. 
There are some explanations for this mysterious association between oats and gluten. Oats are often grown and harvested alongside or in rotation with other grains like wheat or barley, which pose a threat of gluten contamination.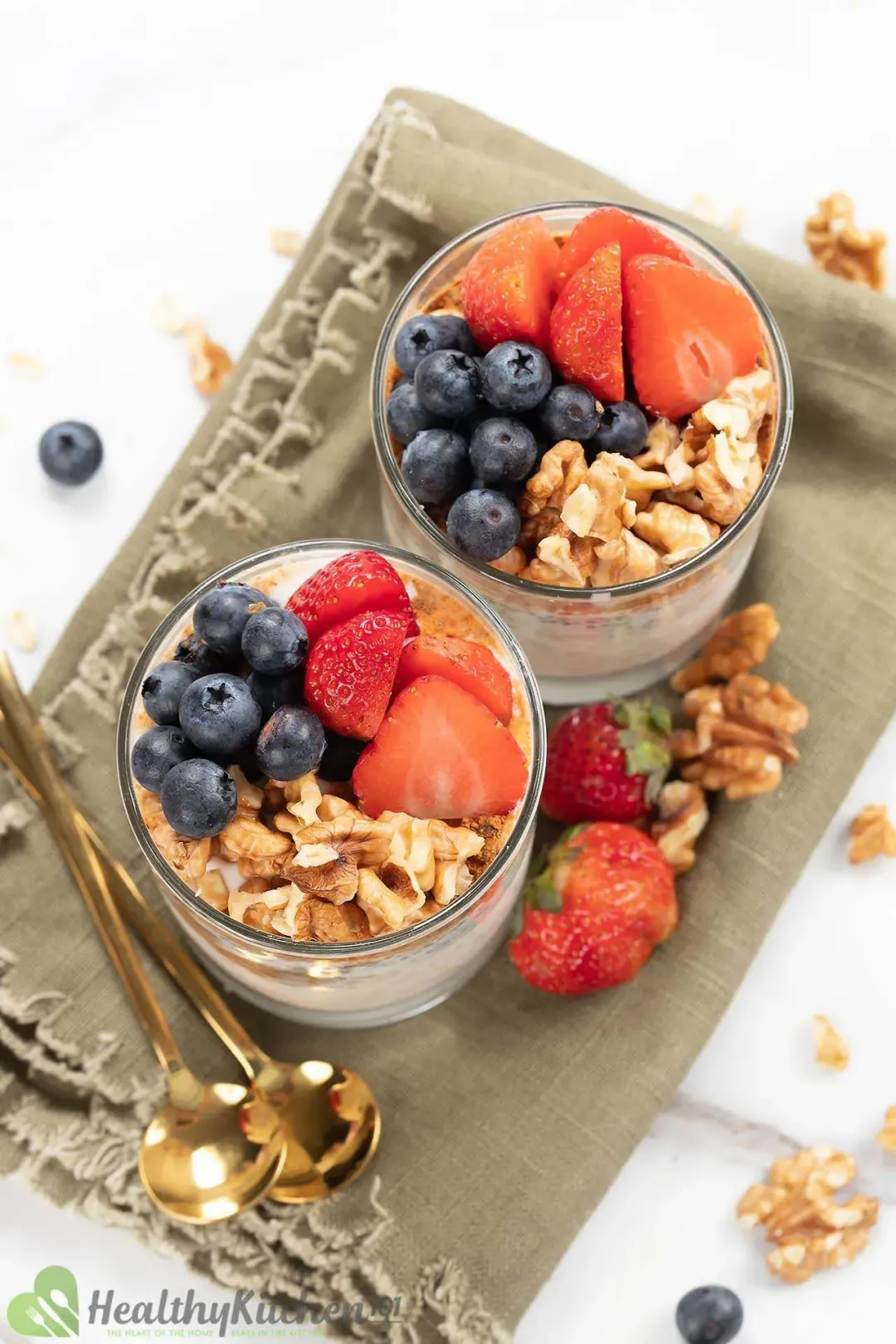 Oats can also get contaminated with gluten at some point during their production, especially since they are processed on machines shared with other grains. This isn't a significant issue for most people since a few wheat or rye seeds won't have a noticeable effect on the final product's taste and texture.
But for people with celiac disease, even a tiny amount of gluten can have a serious effect on their health. In case you have celiac disease, we advise you to read the nutrition labels carefully and only go for the gluten-free labeled product.
Types of Oats
Before preparing for this overnight oats recipe, let's get down to the basics and learn about the different kinds of oats. 
Brace yourself so you won't be surprised (and confused) at the seemingly endless variety of oats you can find through a Google search. And fear not, for we have narrowed down the choices to the ones most commonly found in your local grocery store:
Steel-cut oats: Manufacturers use whole oat groats and roughly chop them with a sharp steel blade, hence the name. This kind of oat takes the longest time to cook compared to the other types below.
Old-fashioned rolled oats: Whole oat groats are steamed and, instead of being cut with a metal blade, they are rolled and flattened into flakes, which allows them to cook faster than steel-cut oats owing to a larger surface area.
Quick or instant oats: These are quite similar to old-fashioned rolled oats, but they are rolled out even thinner and usually chopped into smaller pieces so that they take less time to cook — perfect for quick breakfast porridge.
For this overnight oats recipe, it is best to leave out steel-cut oats as they can't absorb liquid like the other two.
Now it just comes down to old-fashioned rolled oats vs. instant oats: which one should you use? Many recipes specifically call for old-fashioned — as does ours, but if you don't have them to hand, use whatever you have in your pantry. 
Or you can test the recipe with both types of oats to find out which one you prefer. If you have experimented with both, comment below and share your experience. We'd love to know how they turned out for you!
Overnight Oats Ingredients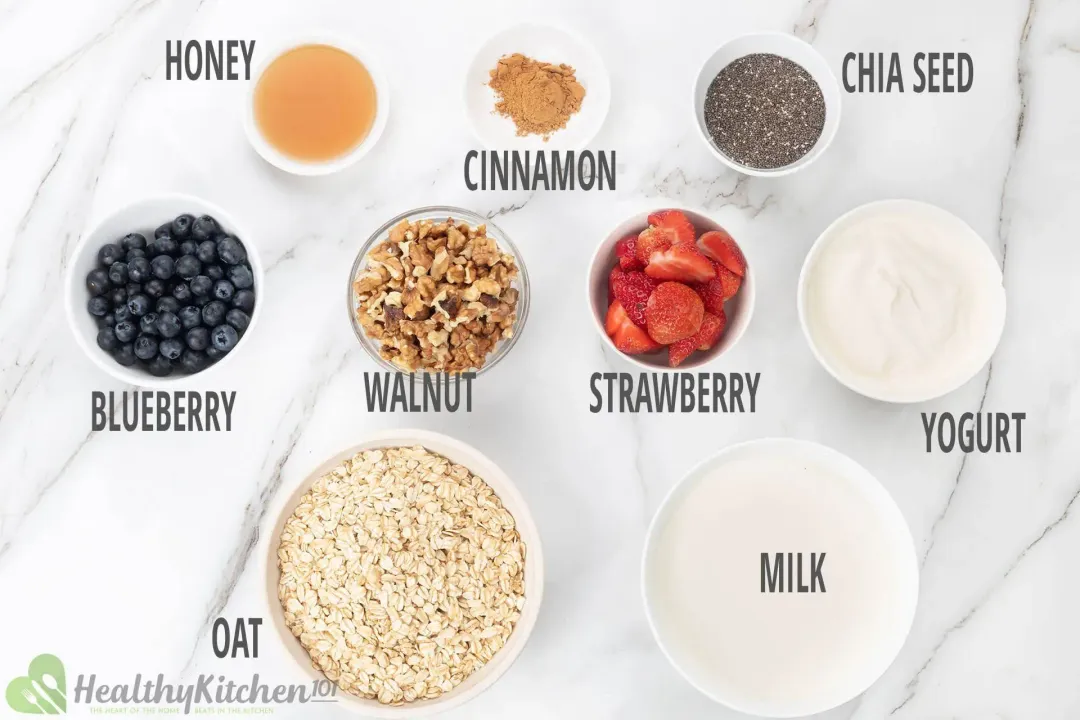 Apart from old-fashioned oats, here are the main ingredients to our overnight oats recipe:
Oats: As the name of the recipe suggests, oats are a must ingredient. We recommend using plain old-fashioned oats which offer more flavor and texture than the quick oats.
Milk: Technically, you can make the dish with water, but why not go for a more flavorful choice. The options vary from cow milk to oat or pecan milk. The amount of liquid also determines the final product's consistency. Our recipe aims to get a thick and creamy texture, but if you prefer a looser consistency, add more milk.
Greek Yogurt: Yogurt gives the oats a slight tanginess, perfectly balancing the richness of the milk with the sweetness from the honey. It also helps to make the texture creamy, boosts the protein levels, and acts as an excellent dessert base (see our yogurt and cherry red wine sauce recipe.)
Chia Seeds: Chia seeds are packed with dozens of health benefits. Plus, these seeds absorb liquid and make the oats even more creamy and tasty.
Fruit and Nuts: Topping could be the most exciting part as you can go wild with fresh fruit, dried fruit, nuts, and even seeds. The possibilities are endless, making overnight oats a versatile and easy-to-make recipe.
Alternatively, you can try our easy pudding with cooked rice for a more filling dish with cinnamon honey essence.
Tips for Making
There is no wrong way to prepare a jar of healthy overnight oats. However, if you're searching for some inspiration and tried-and-trusted tips, look no further!
The most common question when it comes to making overnight oats is how long you need to let them sit. Ideally, you would want to let them sit overnight or roughly 7-8 hours for the best result. 
Make them the night before, pop them in the fridge, and hit the sack. By the time you get up the next morning, they should have absorbed all the liquid and swollen up nicely. Perfect for a healthy on-the-go breakfast.
Be sure not to add fresh fruit and nuts to the oats from the beginning. The fruit won't be fresh anymore and the nuts will lose their crunchiness from being soaked in liquid. So add them only when you're ready to eat.
For more healthy dessert to put into your collection, check out this article.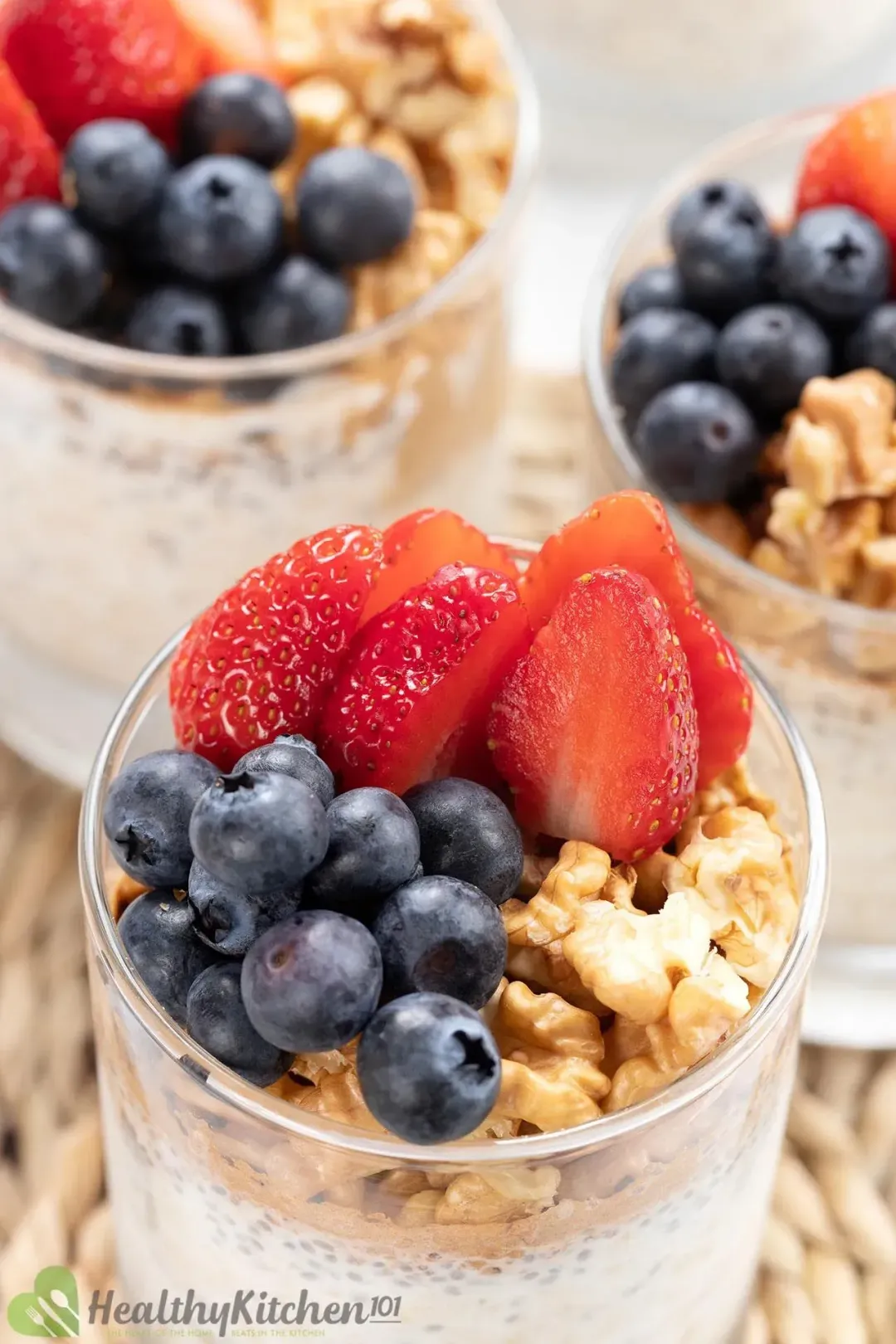 FAQ
1. How Long Do Overnight Oats Last?
They can last up to 5 days in the fridge, provided that you separate the oats and the toppings.
When you keep fresh fruit and nuts in the same container as soaked oats, they may quickly lose their freshness and spoil. It's best to keep each of them in separate containers to prolong their shelf life.
If you want to save time, make a big batch of overnight oats and divide it into serving sizes. That way, you'll have a healthy breakfast to eat throughout the week without having to cook.
2. Can You Freeze Overnight Oats?
Yes, you can freeze it if you want. Keep in mind that you should freeze only the oats, not the fresh fruit.
Frozen fruit may be the perfect option for smoothies, but they wouldn't be a great fit for frozen oats. This is because the fruit will become mushy and won't be as delicious when you thaw them.
3. Can You Microwave Overnight Oats?
Yes, you can. Again, it depends on your preference.
You can eat your cold oats straight out of the fridge or microwave them to take the chill off. It'll only take a minute for the oats to come to room temperature.
If you want warm and hearty oats for breakfast, leave the oats in the microwave for a bit longer. Set the timer for 2 minutes at a time to see if the oats are at the temperature you like.
Overnight Oats with Yogurt
This overnight oats with yogurt recipe, you can now save time and have your breakfast ahead of time. Maybe you can even stay in bed a little longer in the morning!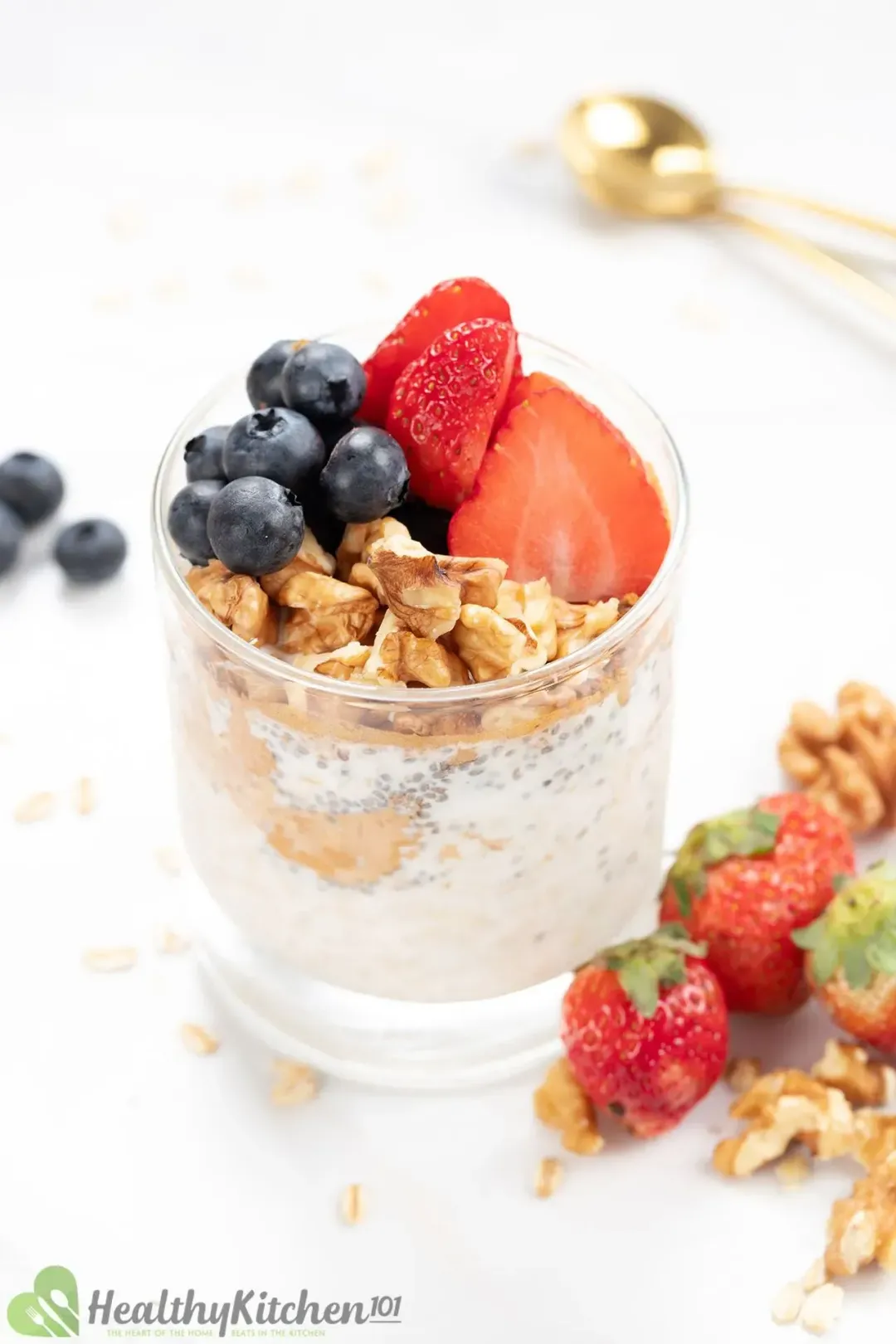 prep TIME

5 mins

total TIME

8 hr 5 mins

INACTIVE TIME

8 hr
COURSE

Breakfast, Dessert

CUISINE

American

SERVINGS

CALORIES

597 kcal
INGREDIENTS
2 cups

old-fashioned rolled oats

4 oz

fresh strawberry

(quartered, optional)

4 oz

fresh blueberries

(optional)

4 oz

walnuts

(roughly chopped, optional)
INSTRUCTIONS
1
Mix the wet ingredients: In a pitcher, add 2 cups milk, 1 cup Greek yogurt, and 2 tbsp honey. Whisk well to combine.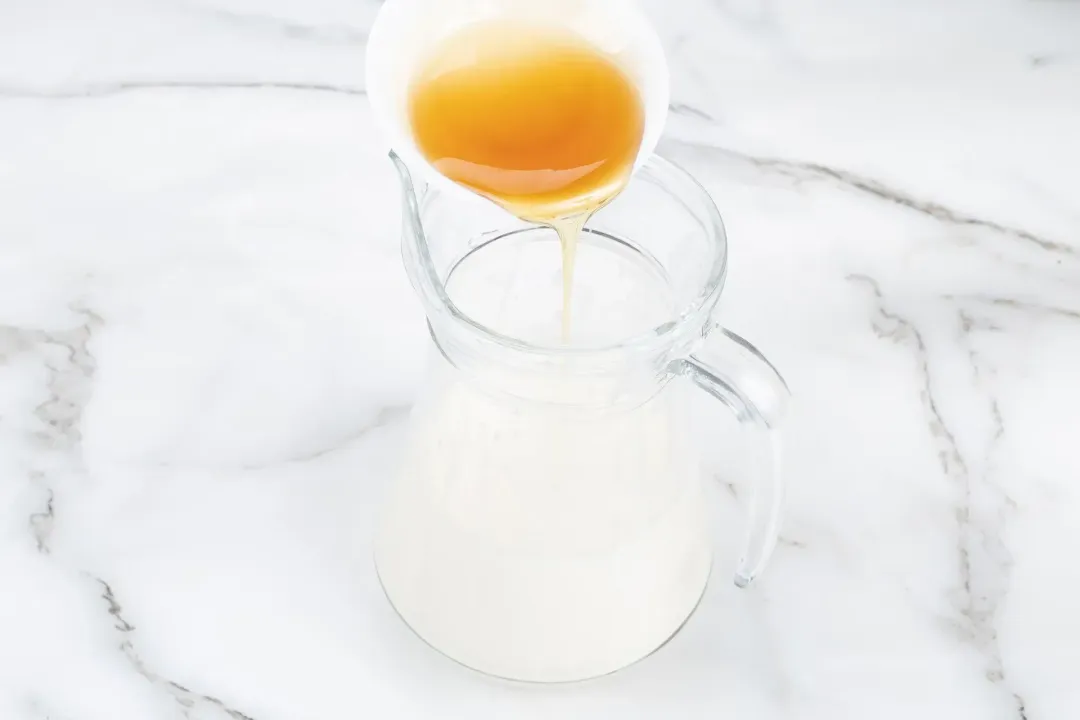 2
Arrange the containers: Divide equal amounts of 2 cups old-fashioned rolled oats, 4 tbsp chia seeds, and 2 tsp cinnamon powder into four jars or airtight containers. Add equal parts of the milk mixture and mix everything to combine.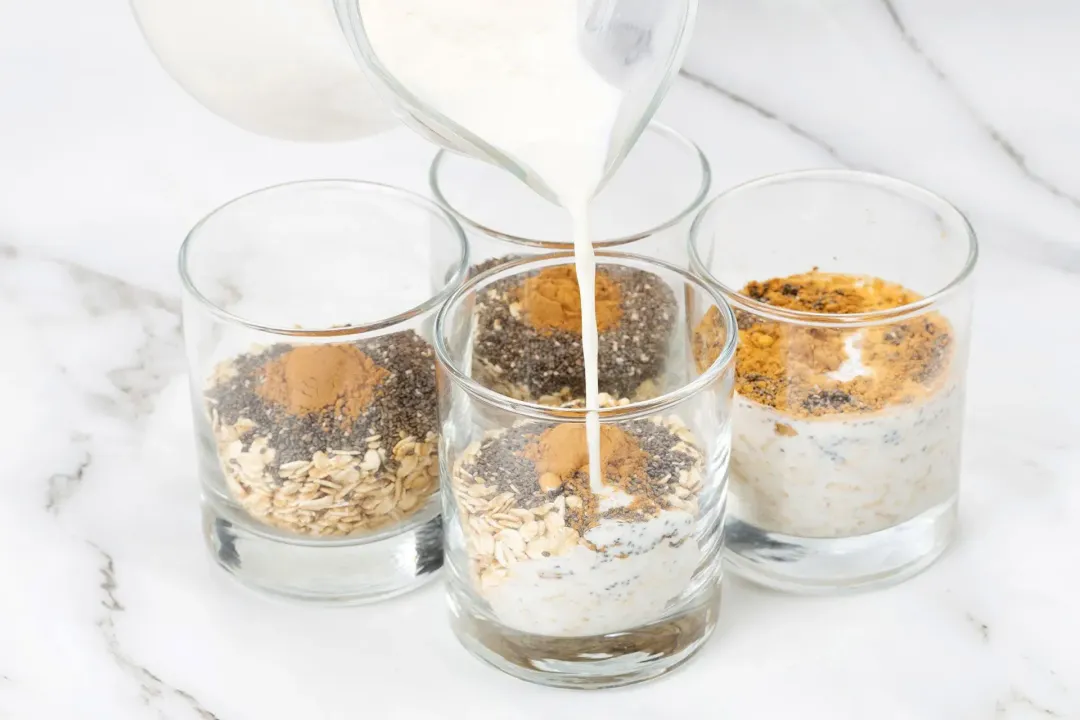 3
Refrigerate: Put the lids on and refrigerate for 8 hours (or at least 4 hours.)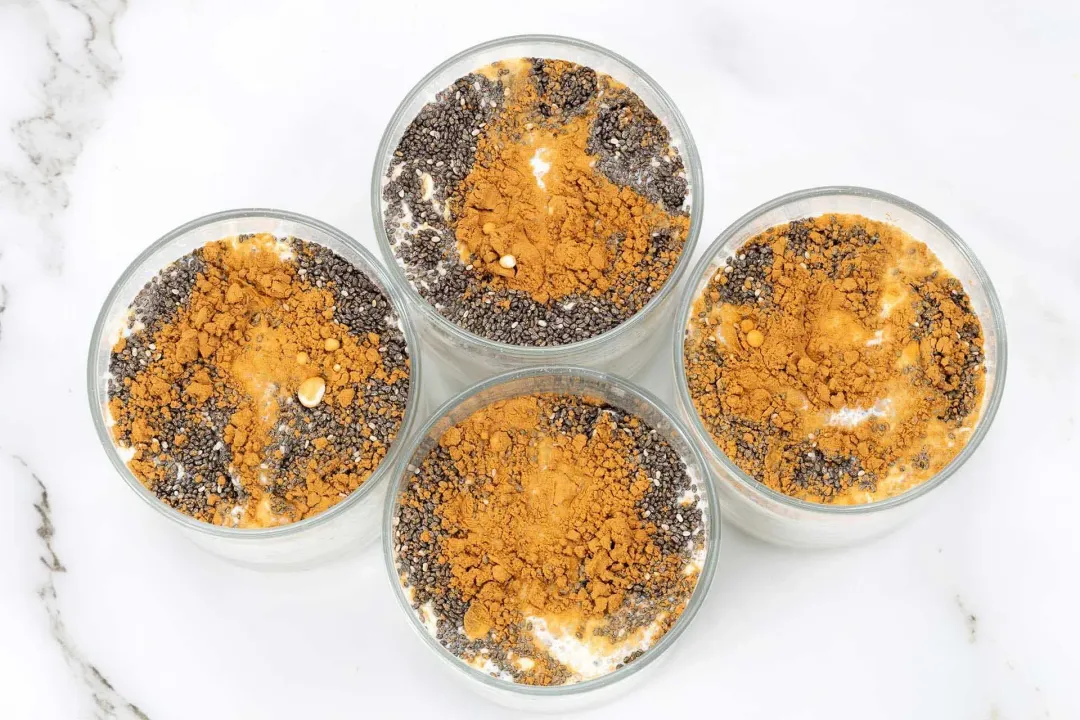 4
Serve: The next morning, add 4 oz chopped walnuts and fresh berries (4 oz strawberry, 4 oz blueberries) to serve.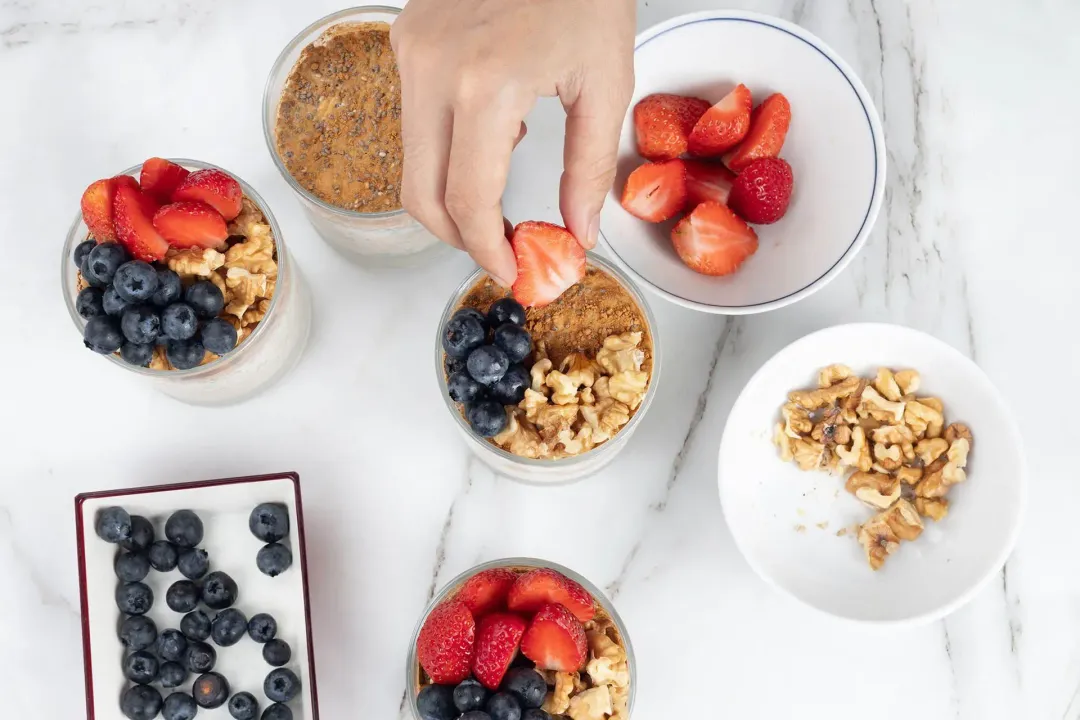 NUTRITION
Nutrition Facts
Overnight Oats with Yogurt
Amount Per Serving (1 serving)
Calories 597
Calories from Fat 297
% Daily Value*
* Percent Daily Values are based on a 2000 calorie diet.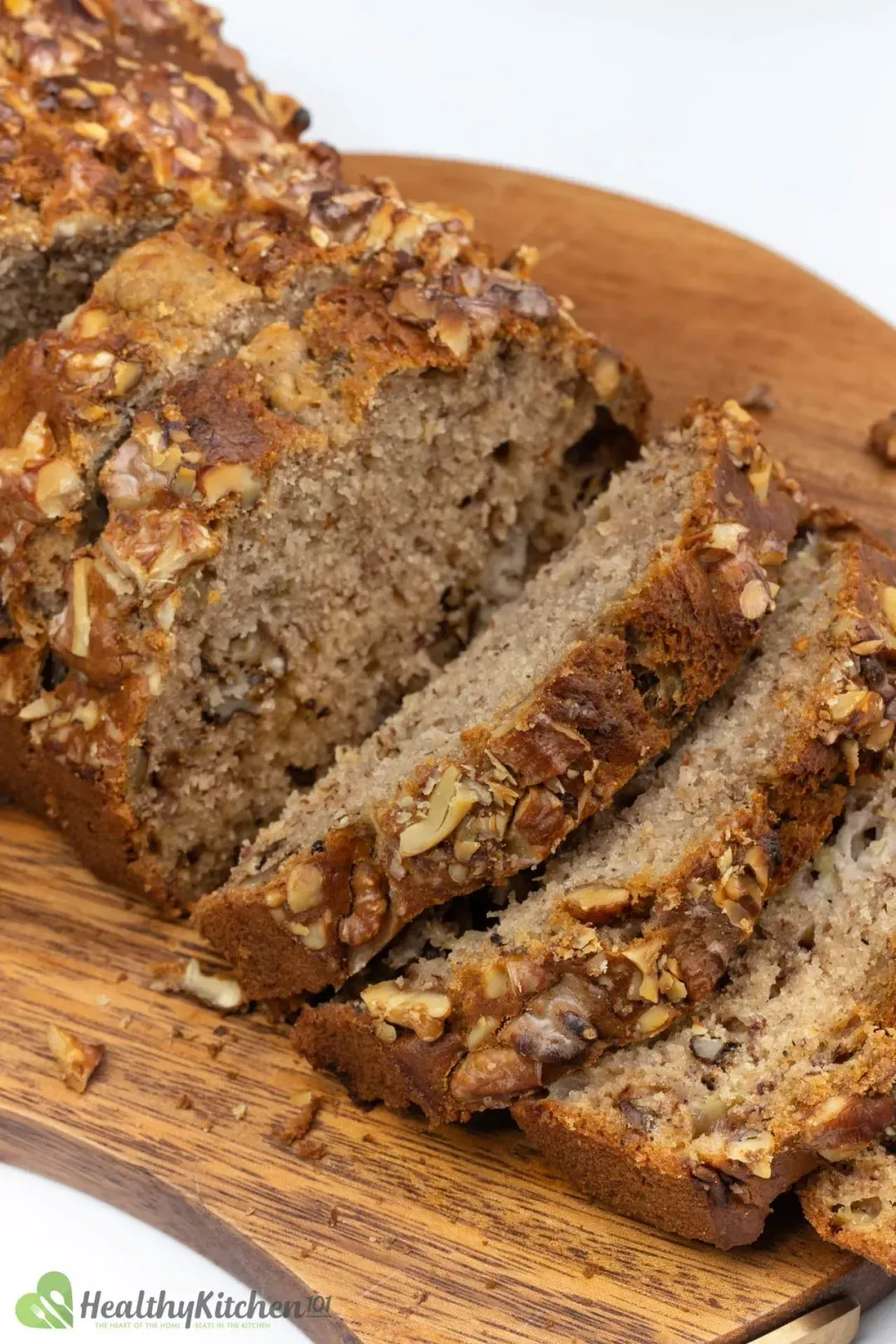 Previous Recipe
Easy Healthy Banana Bread
Easy Healthy Banana Bread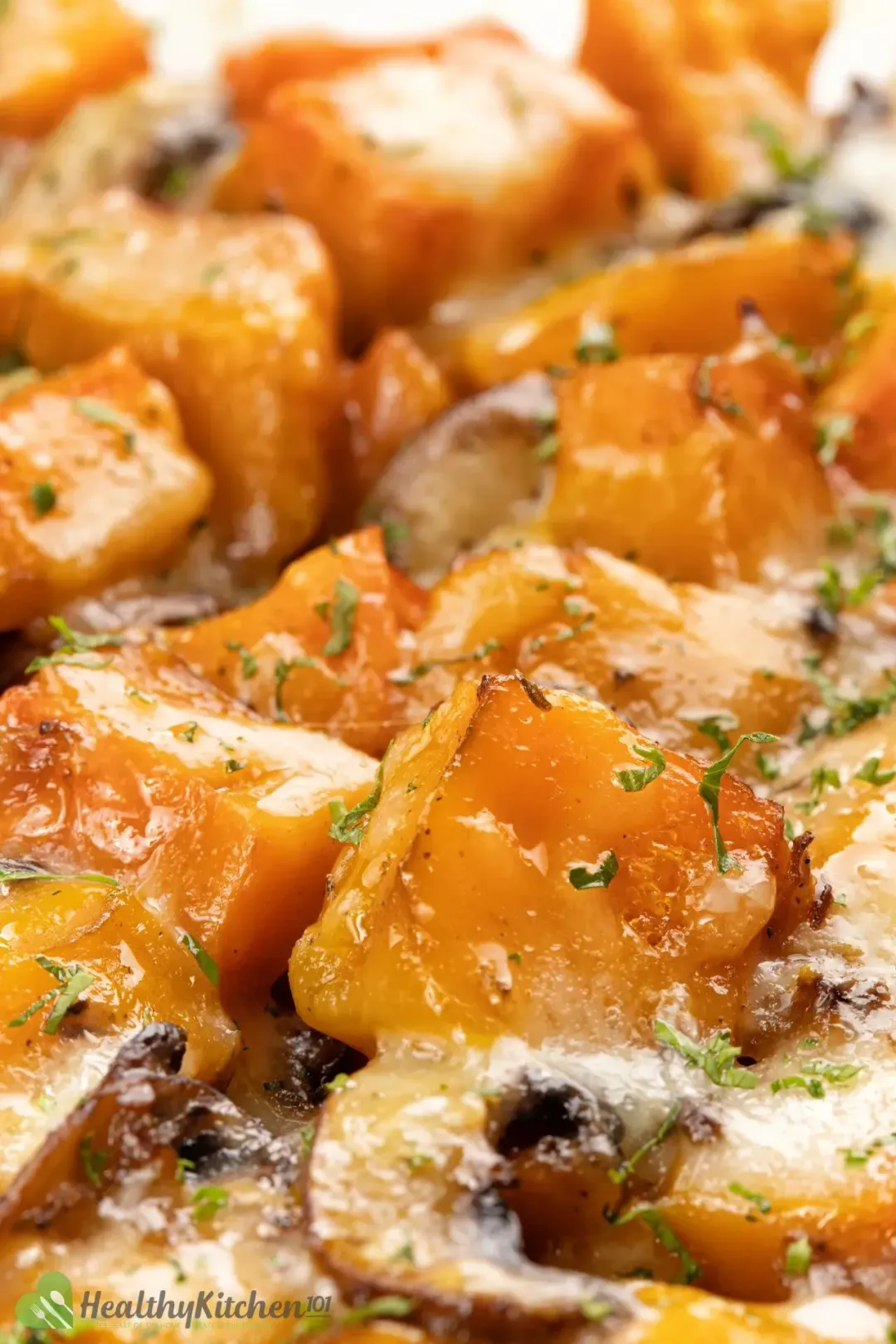 Next Recipe
Butternut Squash Casserole
Butternut Squash Casserole
Head Chef, Culinary Consultant
Tuyet Pham is an award-winning Saigonese chef who believes that joy is the secret ingredient to delicious food. At Healthy Recipes 101, Tuyet personally tests and simplifies every recipe, ensuring maximum flavor with minimal effort. With a background at prestigious French restaurants P'TI Saigon and Le Corto, Tuyet knows how to make every dish exceptional.
Writer, Author
Luna Regina is an accomplished writer and author who dedicates her career to empowering home cooks and making cooking effortless for everyone. She is the founder of HealthyKitchen101.com and HealthyRecipes101.com, where she works with her team to develop easy, nutritious recipes and help aspiring cooks choose the right kitchen appliances.
Nutrition Reviewer
Lizzie Streit is a Minneapolis-based dietitian and founder of It's a Veg World After All. She completed her MS in Human Nutrition from Drexel University, and is an expert in culinary nutrition, recipe development, and nutrition communications. Lizzie's philosophy is centered around making nutrition recommendations, and especially the advice to eat more vegetables, approachable and realistic. She is excited to be working with the team at Healthy Recipes 101 to ensure that their recipes are both nutritious and delicious.
One recipe and great topping variations to accomodate each individual taste. It looks delish!

Thank you! I can't wait to see your very own version of it!

I love this guide to oats. Bookmarking it for future reference. And wow, that looks SO delicious!

I'm happy to hear that you love it. Thanks for stopping by and have a nice day! 🙂

My hubby is the oatmeal eater in our house—and I know he'd love these overnight oats!!!

Glad to hear that, Liz! I hope he enjoys it! XD

The banana version is quite lovely looking, but the avocado one looks really interesting.

Yes! The color of the avocado just brightens everything up. And it tastes amazing too! Let me know when you give it a try. 🙂