Our chickpea patties recipe will help you incorporate canned chickpeas into your menu.
Canned chickpeas are a cheap pantry staple many people love, and it's a reliable source of vegan protein as well. We think it'd be nice to make patties out of them, much like beef patties for burgers, and boy did they turn out delicious.
Reasons to Love Chickpea Patties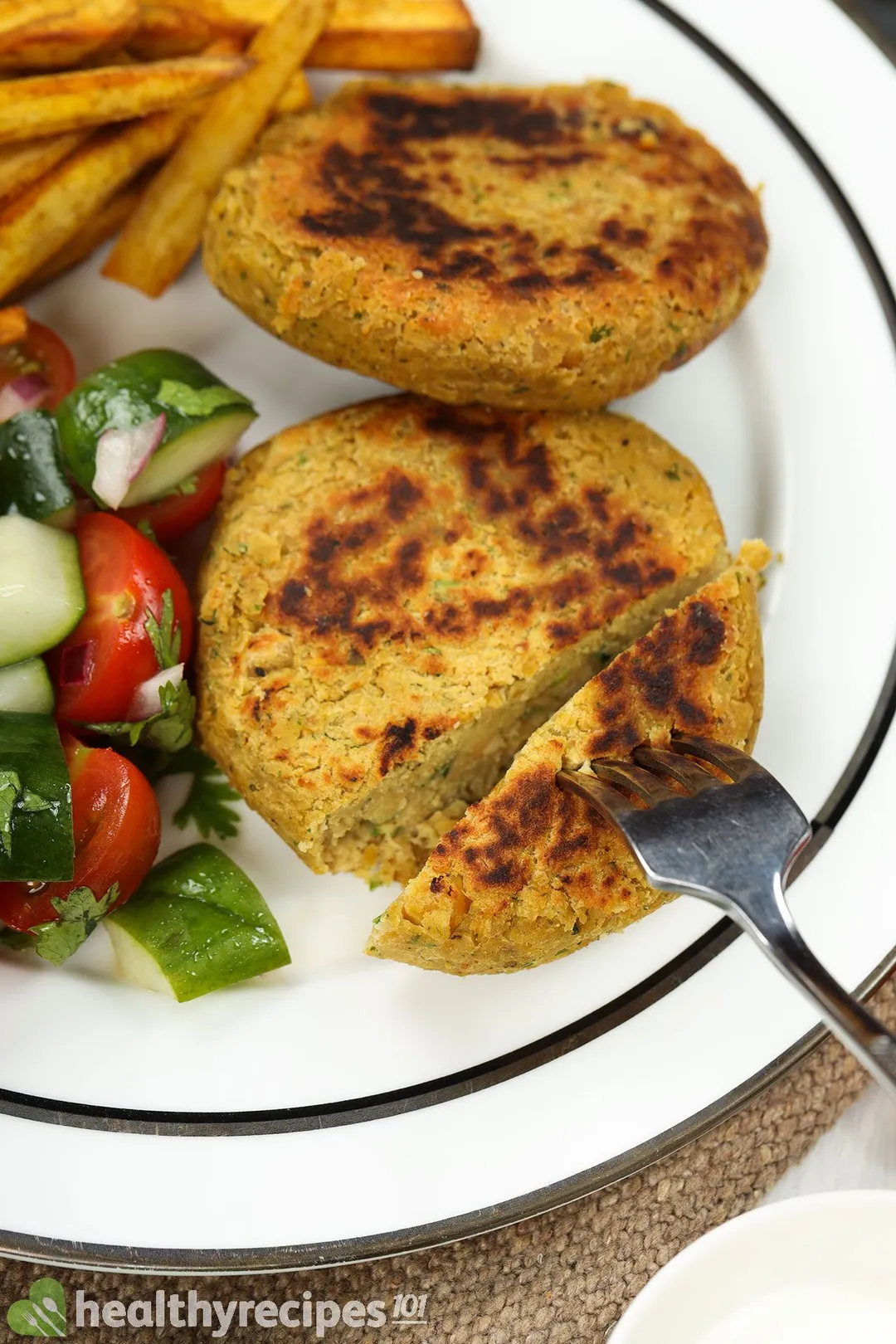 This dish is absolutely delicious. Tender on the inside with crispy edges on the outside, they make a super tasty snack that doubles as a light meal. You'll like them just as much as you like the classic versions (aka Ground Chicken Patties and Salmon Patties). We serve them with a simple salad and sweet potato fries, all providing the right sorts of texture for a satisfying meal.
It is highly customizable. Feel free to add or replace ingredients in this recipe with your favorites. Also, you can make this dish vegan by replacing just a couple of complementary ingredients.
Plus, this dish only needs a few steps and inexpensive ingredients.
Are Chickpea Patties Healthy?
Chickpea patties are a healthy option.
The lack of meat doesn't necessarily mean a lack of protein, as canned chickpeas provide you with 13.8 g of protein per serving. They are also a decent source of dietary fiber, vitamins, and minerals.
In each 464-calorie serving, this dish has 2.9 g of saturated fat and 560 mg sodium, all reasonable amounts according to our nutrition guidelines.
The complementary ingredients are also nutrient-dense. Cherry tomatoes and cucumbers are abundant in water and antioxidants, especially vitamin C. Sweet potatoes are no different, adding a generous amount of vitamin A to the dish.
Ingredients for Chickpea Patties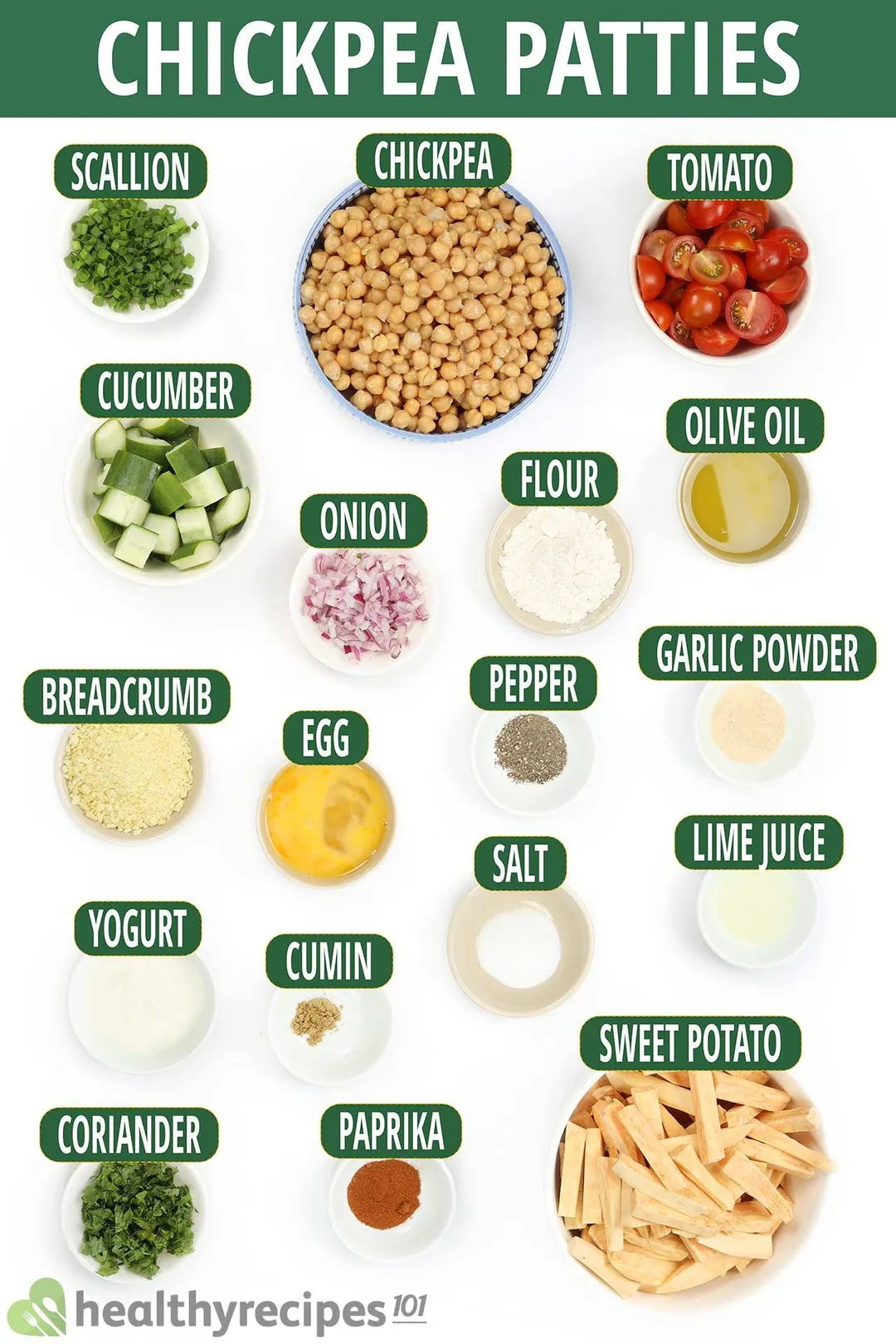 1. Patties
Chickpeas: Not only do canned chickpeas save you precious prep time, but they also bring in their nutty taste and creamy texture.
Egg and all-purpose flour: This combination helps bind the ingredients together without altering the overall flavor of the patties.
Panko breadcrumbs: They add their signature crispiness and play a role in keeping the patties from falling apart.
Scallions: They add a peppery note to the patty mixture and brighten up the dish.
Coriander: The tart and herby taste of coriander add another layer of flavor to the patties.
Seasonings: To make the chickpeas more flavorful, we season them with salt, pepper, garlic powder, and cumin.
2. Salad
Cherry tomatoes: These juicy tomatoes stand out by adding a burst of sweetness to the salad.
Cucumbers: The mild flavor and high water content make cucumber a refreshing addition to this recipe.
Red onion: It makes this salad more diverse with its pungent taste and crunchy texture.
Coriander: It adds an herby and aromatic note to the salad.
Lime juice: The acidity from lime juice brightens up the dish nicely.
3. Sweet potato fries
Sweet potato: Air-fried sweet potato fries are an alternative to classic French fries. Its slightly sweet taste and buttery texture are truly irresistible.
Seasonings: We add a hint of smokiness to sweet potatoes with paprika.
4. Sauce
Greek yogurt: The creaminess accompanied by a slightly tangy taste of Greek yogurt will make this dish more enjoyable.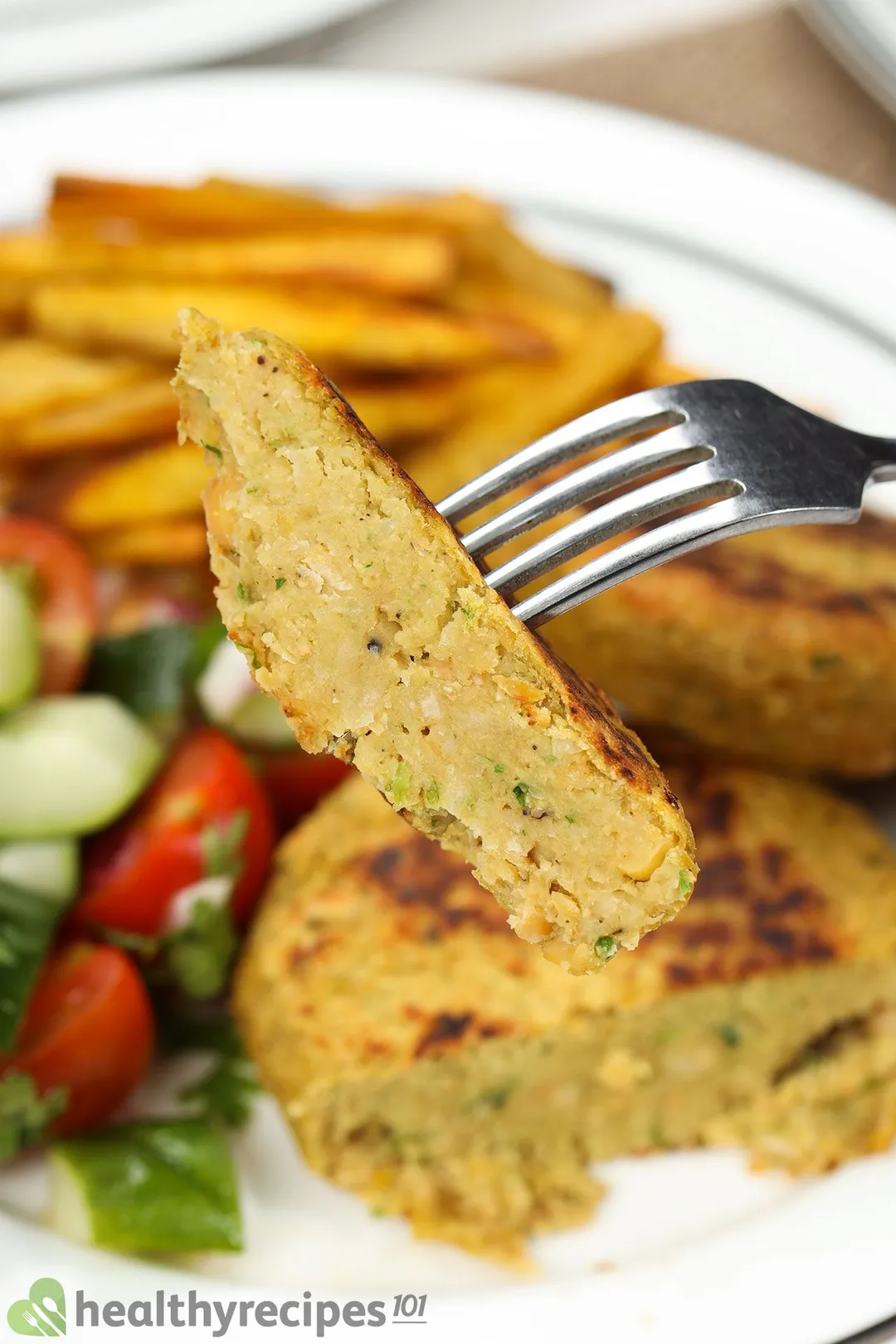 FAQ
1. Is This Recipe Vegan?
No, it's not, but you only need to replace egg and Greek yogurt to make it vegan. Check out our suggested alternatives for these two ingredients:
Egg: mashed potatoes or mixing water with tapioca starch (3:1), cornstarch (1.5:1), or chickpea flour (1:1)
Greek yogurt: You can omit it altogether, or use your favorite vegan sauces like hummus or guacamole.
2. Why Are My Chickpea Patties Falling Apart?
Eggs and flour are the binders, but when used insufficiently, the patties may fall apart. We suggest sticking closely to our measurements or using the substitutes we mentioned earlier.
Excess moisture may also be one reason. After rinsing, we recommend that you pat the chickpeas dry with paper towels before moving on to the blender. If the mixture looks wet, it helps to add some Panko breadcrumbs—they absorb moisture and also act as a binder.
3. Can I Make the Patties Without a Food Processor?
Sure you can. While using a food processor is more convenient, you can always mash the ingredients with a potato masher or a fork. Combine the ingredients with your hands, then form them into patties as usual.
How to Store and Reheat Leftovers
These chickpea patties should last for three days in the fridge and up to three months in the freezer. Transfer the leftovers to airtight containers or freezer-safe Ziploc bags.
Thaw the patties in the fridge overnight or the microwave before reheating. You can reheat them in a pan over medium-low heat or a 350 °F oven until warm.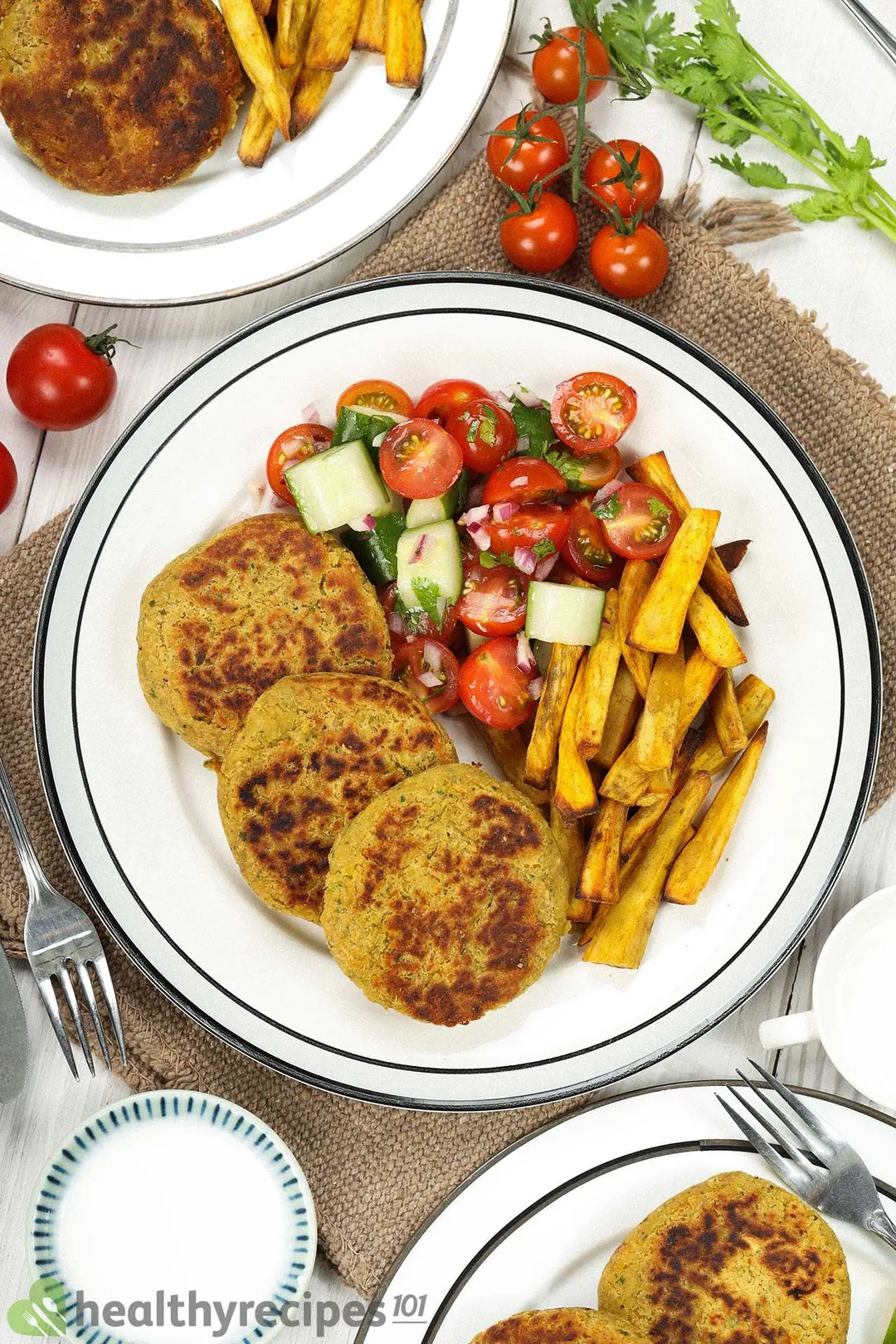 What to Serve With Chickpea Patties
Here are our favorite salads to serve with these chickpea patties:
Chickpea Patties
Our chickpea patties recipe brings together a group of pantry staples to make an absolutely delicious and fulfilling meal.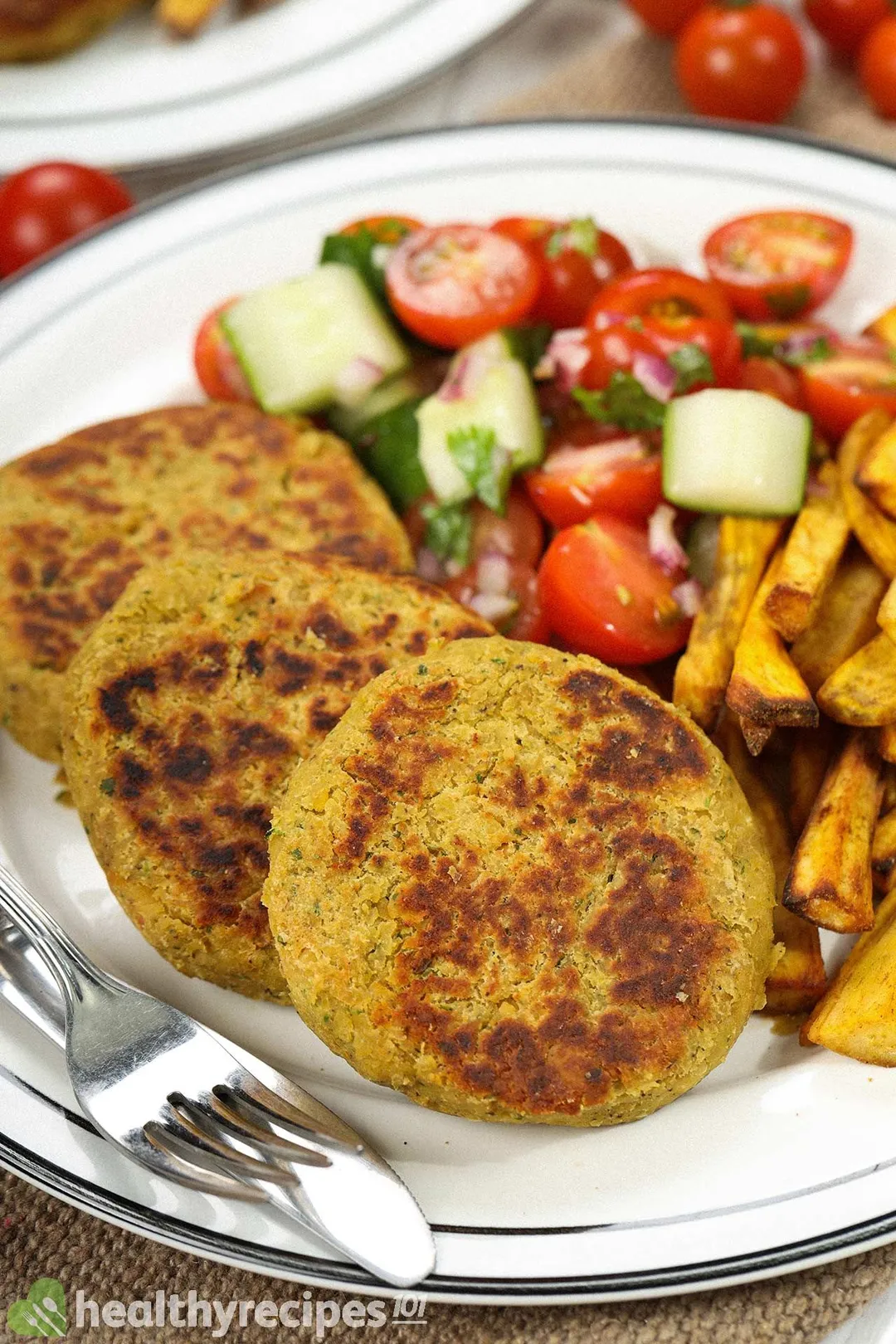 cook TIME

30 mins

prep TIME

10 mins

total TIME

40 mins
COURSE

Main Dish

CUISINE

Global

SERVINGS

CALORIES

465 kcal
INGREDIENTS
20 oz

sweet potato

(cut into 1/2-inch-wide sticks)

8 oz

cherry tomatoes

(halved)

1

medium egg

(cracked and whisked)

1/2 cup

coriander

(finely chopped)

1/4 cup

scallions

(thinly sliced)

1/4 cup

plain Panko breadcrumbs

1/2 tsp

ground black pepper

3 tbsp

plain Greek yogurt
INSTRUCTIONS
Prep:
1
Prepare the chickpeas: Drain the canned chickpeas, then rinse and pat them dry.
2
Cut the sweet potatoes: Cut off both ends of the sweet potato and peel the skin. Cut the sweet potatoes in half lengthwise, then cut the halves into 1/2-inch-thick slices. Cut the slices into 1/2-inch-wide sticks.
3
Cut the cherry tomatoes: Remove the stems, then cut them in half lengthwise.
4
Dice the cucumbers: Slice off both ends of the cucumber. Cut the cucumber in half lengthwise and scoop out the seeds. Cut into 1/4-inch-thick sticks, then cut the sticks into cubes.
5
Dice the red onion: Cut the onion in half lengthwise and peel the skin. Leaving the core intact, make vertical slices 1/4-inch apart from each other. Turn the onion half 90 degrees and grip the root. Make horizontal cuts 1/4-inch apart, then chop the onion to dice.
6
Whisk the egg: Crack the egg into a small bowl and whisk.
8
Slice the scallions: Slice off the white part of the scallions and set it aside. Bunch the green part together and slice thinly.
Cook:
1
Season the sweet potatoes: Add 1 tbsp olive oil and 1 tsp paprika to 20 oz sweet potatoes. Mix the seasoning with the sweet potatoes.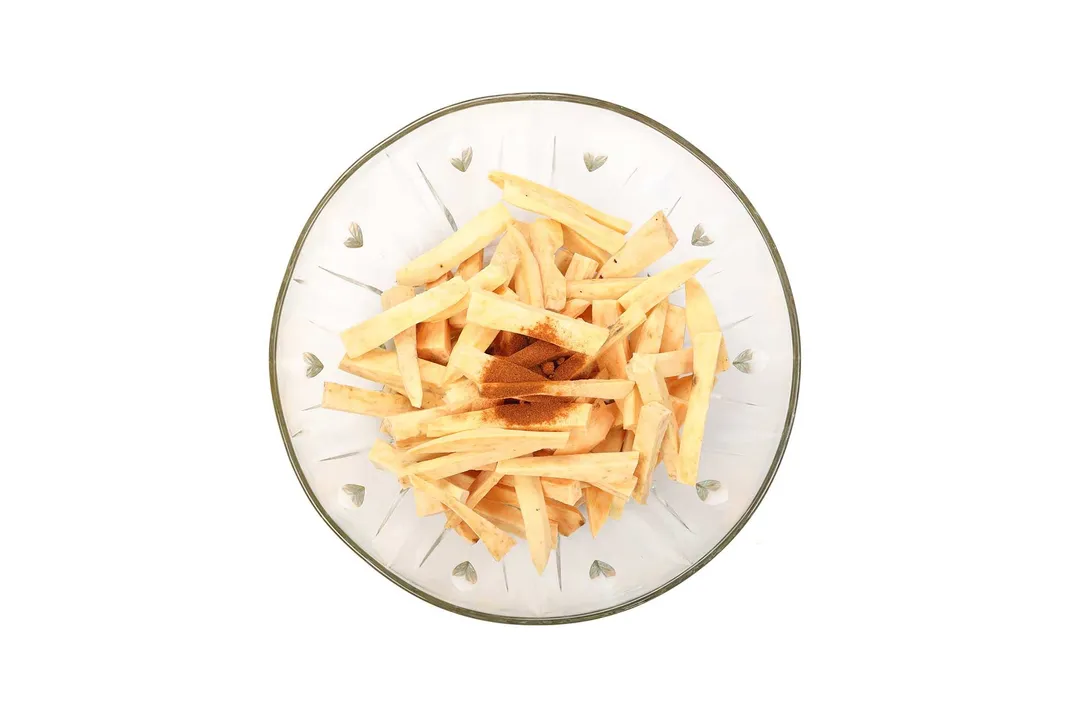 2
Air-fry the sweet potatoes: Add the seasoned sweet potato sticks to an air-fryer basket and spread them out evenly. Cook at 390 °F for 15 minutes.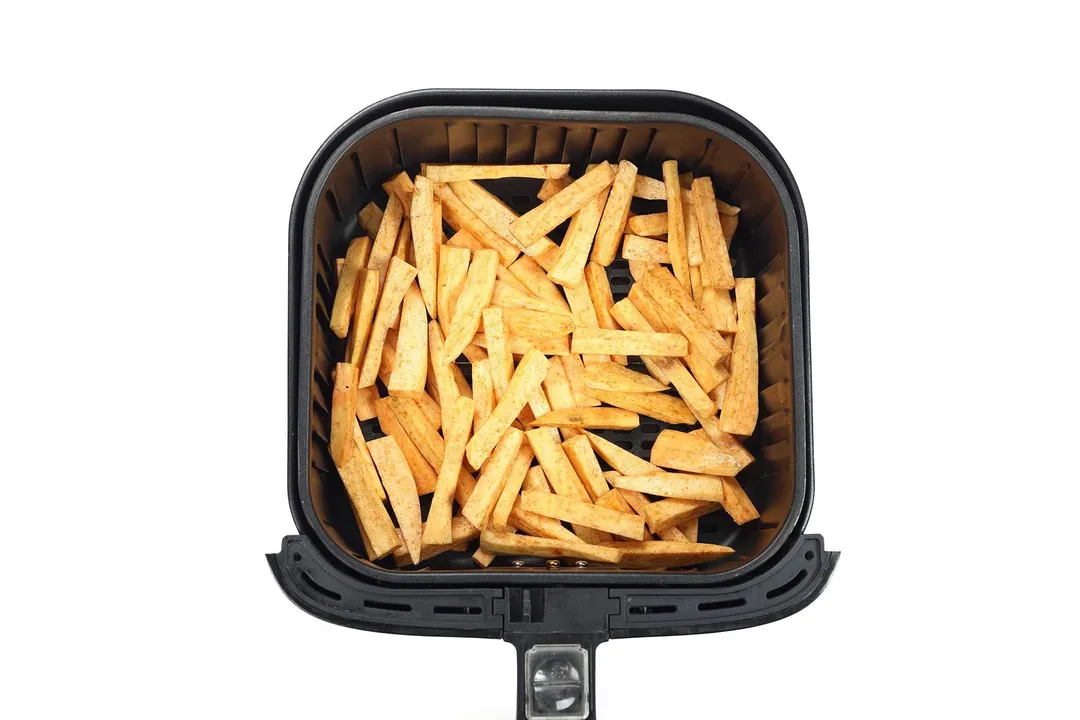 3
Make the patty mix: In a food processor, add 24 oz canned chickpeas, 1 medium egg, 2 tbsp all-purpose flour, 1/4 cup coriander, 1/4 cup scallions, 1/4 cup plain Panko breadcrumbs, 1 tsp garlic powder, 1/2 tsp salt, 1/2 tsp ground black pepper, and 1/4 tsp cumin. Blend the mixture with the food processor until smooth and thoroughly combined.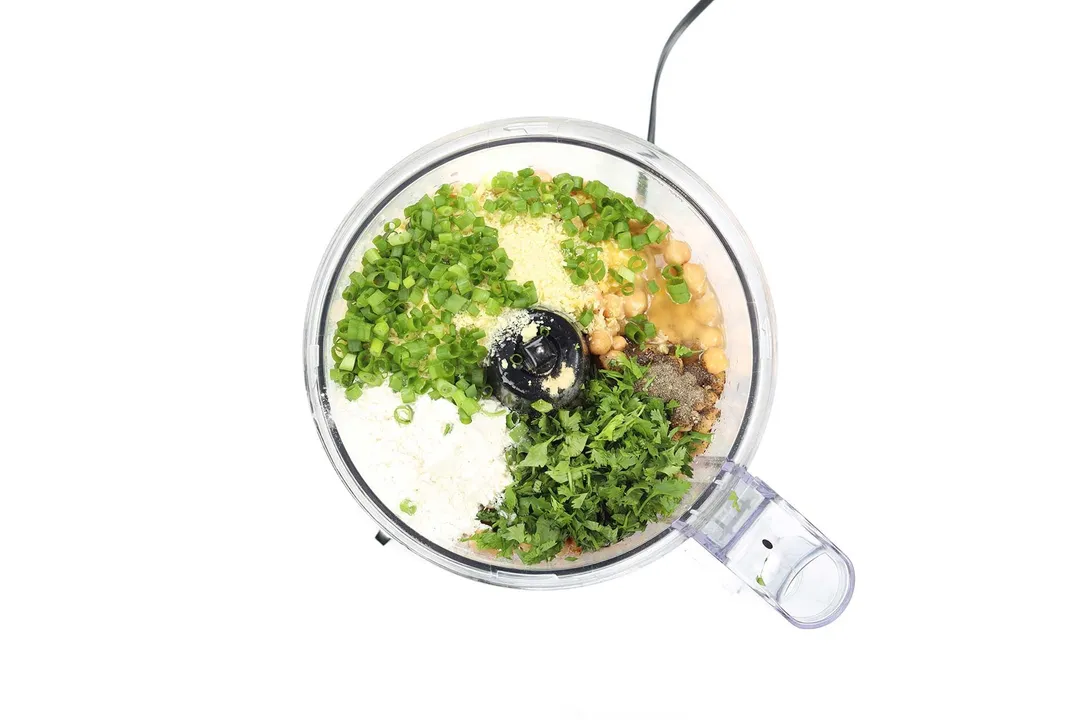 4
Form then cook the patties: Move the mixture to a separate bowl and use your hands to form equal-sized patties. Prepare a pan over low heat. When the pan's hot, add 3 tbsp olive oil. Sear the patties on both sides for 10 minutes.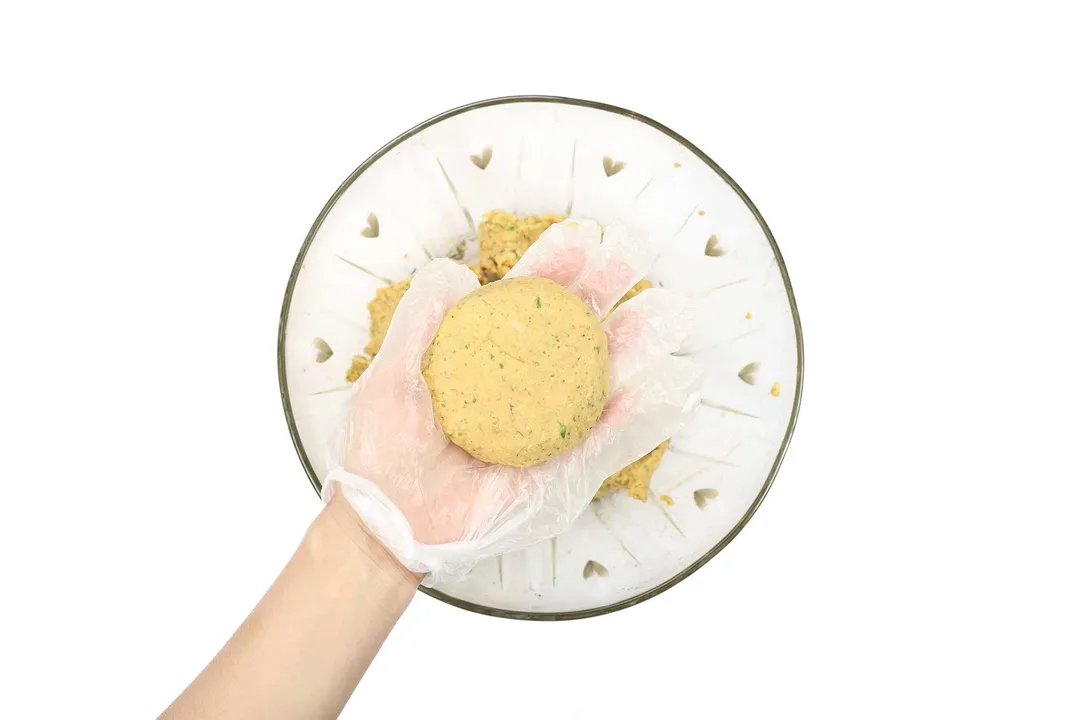 5
Mix the salad: In a different bowl, add 8 oz cherry tomatoes, 4 oz cucumbers, 1 oz red onion, 1/4 cup coriander, and 1 tbsp lime juice. Toss all the ingredients until thoroughly mixed.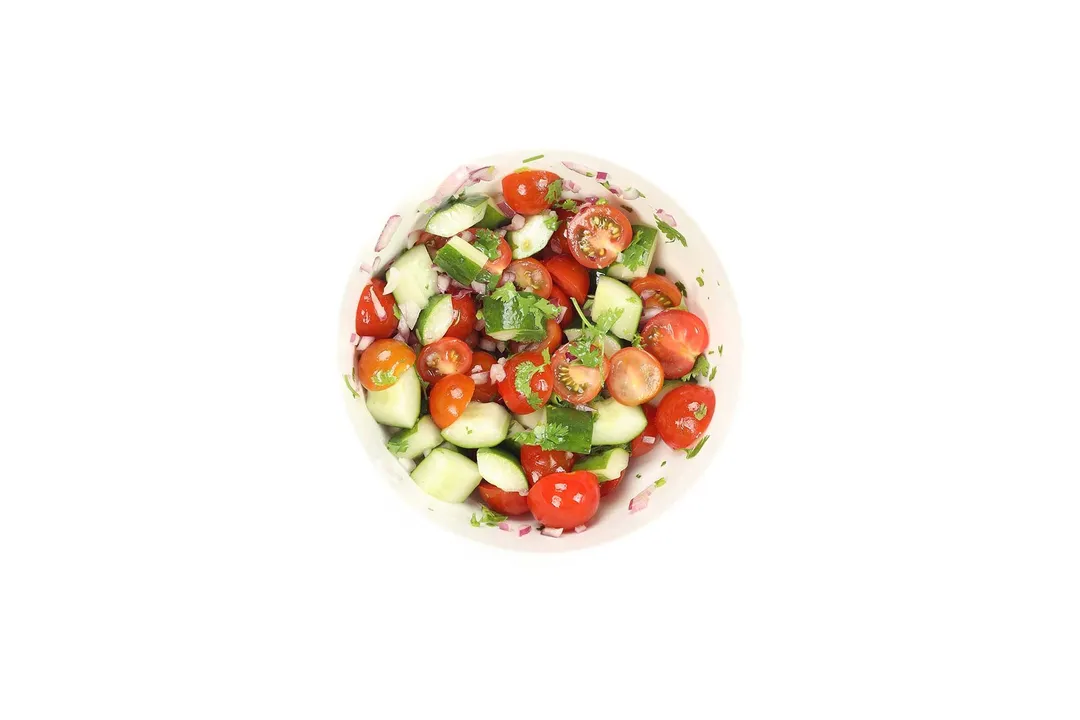 6
Serve and enjoy: Serve the chickpea patties with tomato cucumber salad, sweet potato fries, and 3 tbsp plain Greek yogurt.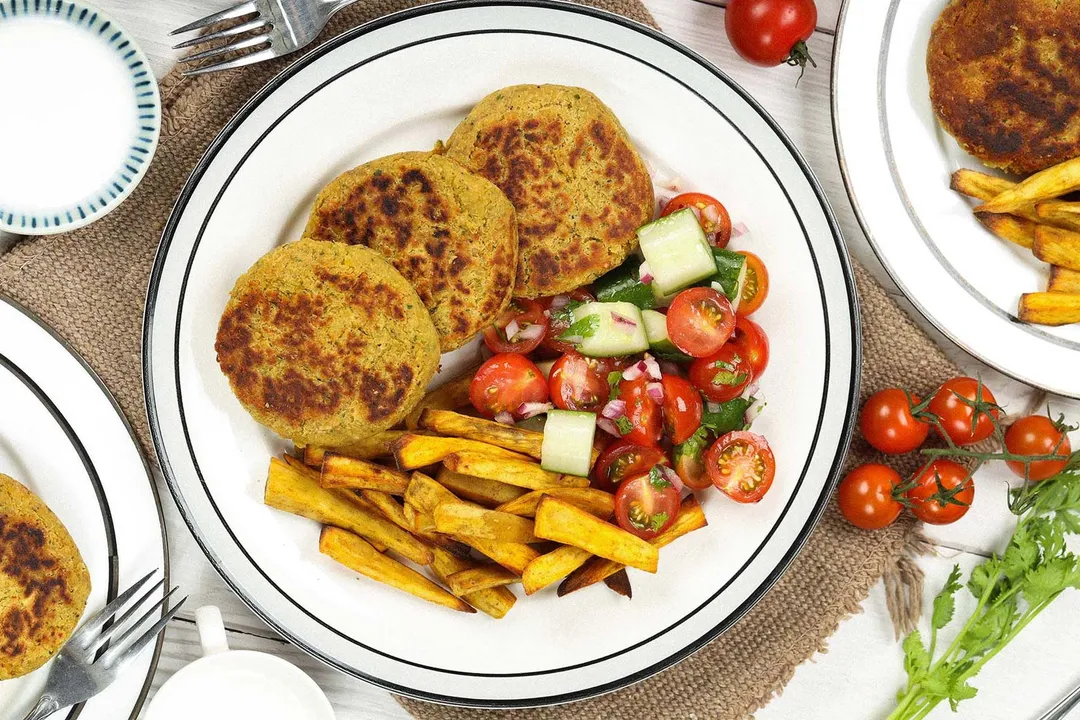 NUTRITION
Nutrition Facts
Chickpea Patties
Amount Per Serving (1 serving)
Calories 465
Calories from Fat 168
% Daily Value*
Monounsaturated Fat 10.3g
* Percent Daily Values are based on a 2000 calorie diet.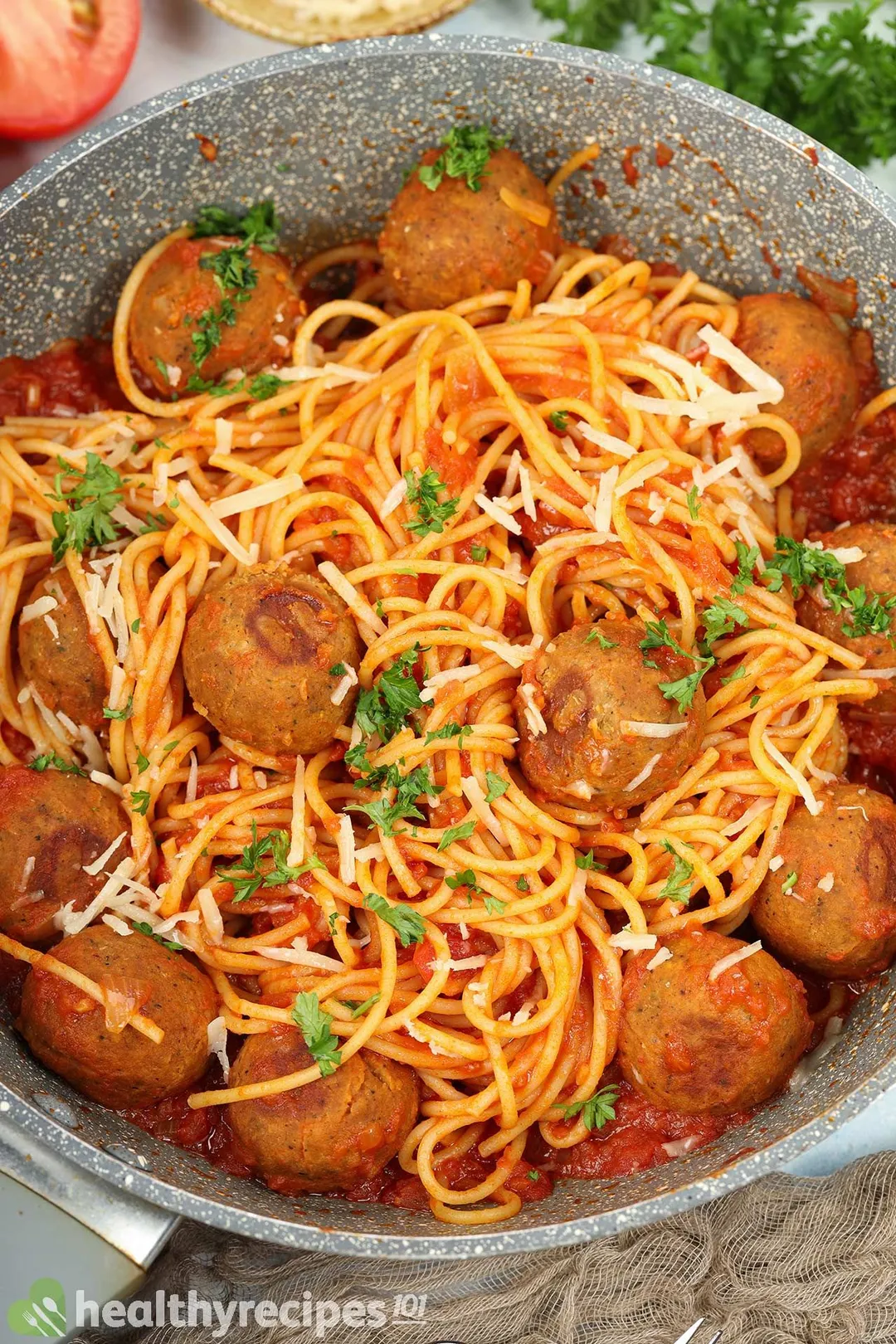 Previous Recipe
Chickpea Meatballs
Chickpea Meatballs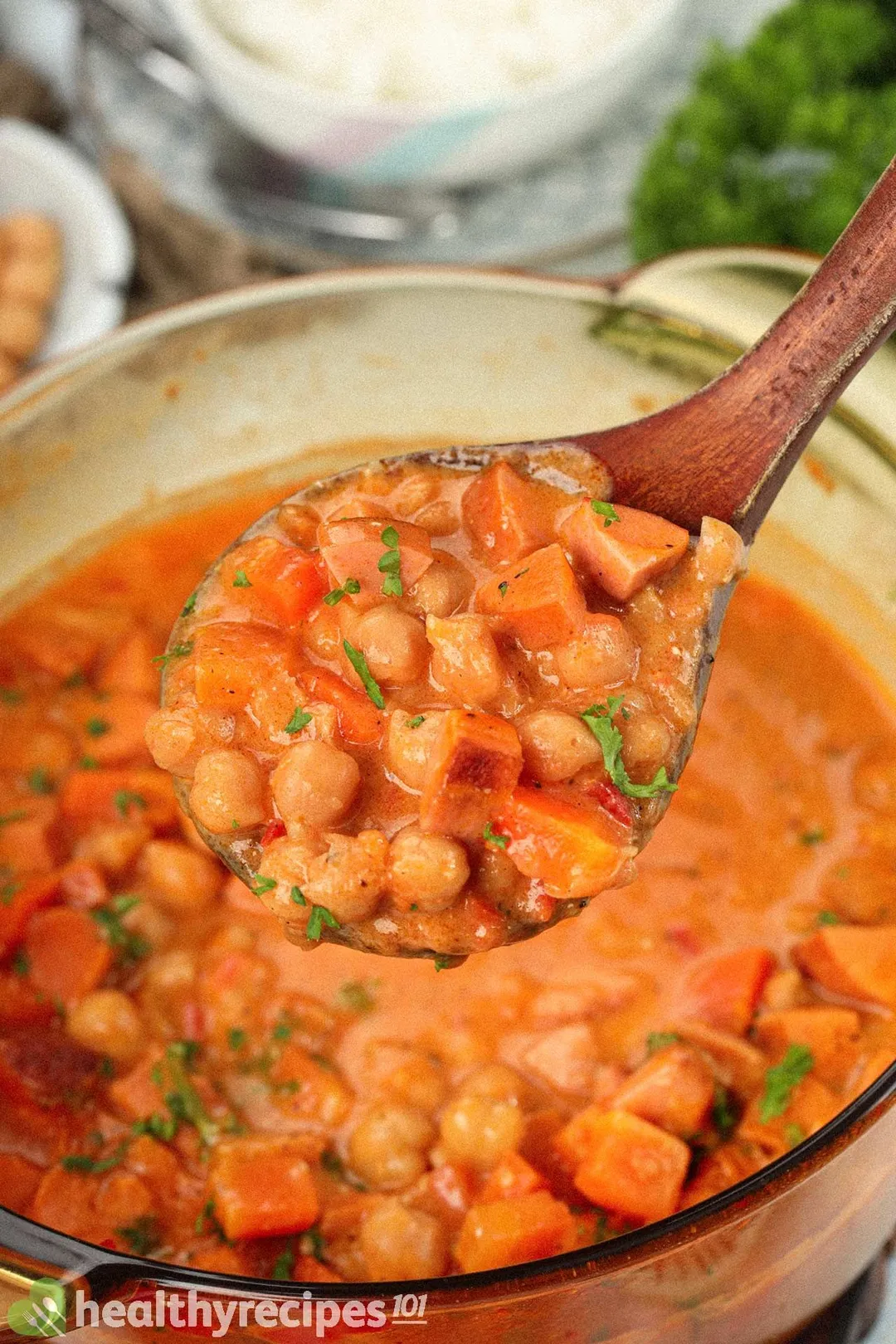 Chickpea Stew
Head Chef, Culinary Consultant
Tuyet Pham is an award-winning Saigonese chef who believes that joy is the secret ingredient to delicious food. At Healthy Recipes 101, Tuyet personally tests and simplifies every recipe, ensuring maximum flavor with minimal effort. With a background at prestigious French restaurants P'TI Saigon and Le Corto, Tuyet knows how to make every dish exceptional.
Writer, Author
Luna Regina is an accomplished writer and author who dedicates her career to empowering home cooks and making cooking effortless for everyone. She is the founder of HealthyKitchen101.com and HealthyRecipes101.com, where she works with her team to develop easy, nutritious recipes and help aspiring cooks choose the right kitchen appliances.
Delicious vegetarian patties.

This was super easy to make. Light and fresh.