Today, we're bringing you a healthier version of a well-beloved comfort food–spaghetti meatballs. In this chickpea meatballs recipe, we replace ground beef with buttery legumes for a unique change of pace.
We keep this spaghetti meatballs dish as simple as possible. The meatball is made from a flavorful blend of familiar ingredients tossed in a luscious tomato sauce and served with al dente spaghetti.
Reasons to Love Chickpea Meatballs
You may wonder if this recipe lives up to spaghetti meatballs' reputation. The answer is yes and no. This dish will not taste like the original you know and love, but rest assured that it retains its hearty and homey nature.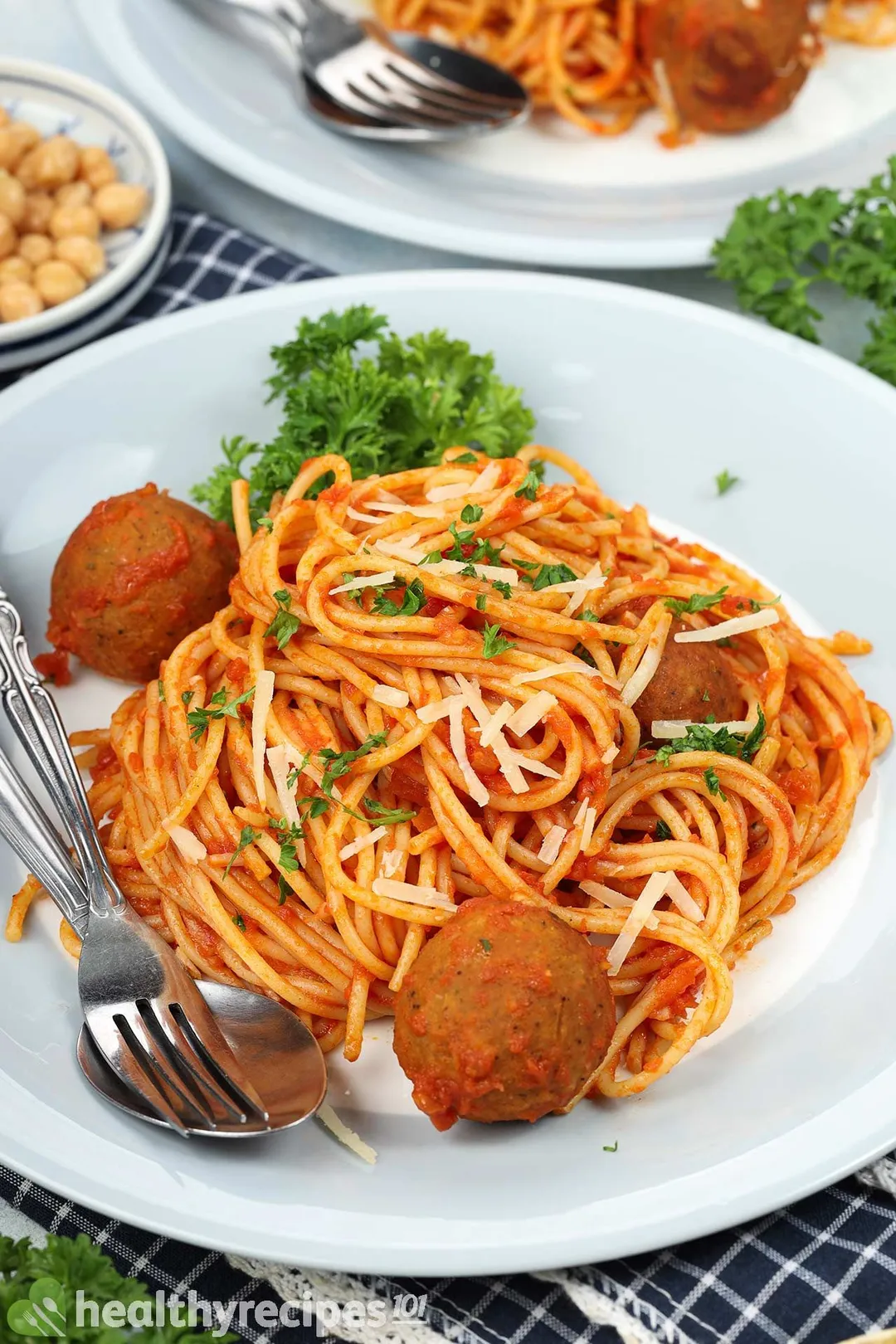 This dish balances the classic elements with a new twist from the chickpeas. The meatballs have a different but just as tasty flavor and texture. Meanwhile, tomato sauce and spaghetti maintain the famous flavor profile and appearance of the hearty Italian dish.
This recipe features pantry-ready ingredients to give you an accessible dish for any meal of the day. Thanks to its universal flavor profile, this goodness is kid-friendly and picky-proof.
And hey, if your meatball cravings still persist after trying this dish, don't forget to also check out our Meatball Soup Recipe, Spaghetti and Beef Meatballs Recipe, Albondigas Soup Recipe, and Air Fryer Chicken Meatballs Recipe.
Ingredients for Chickpea Meatballs
1. Meatballs
Chickpeas: We use canned chickpeas to save precious prepping time. And as the main ingredient, they give the meatballs a firm texture and nutty flavor.
All-purpose flour and egg: These ingredients help bind the mixture together.
Panko breadcrumbs: They add some crunch and prevent the meatballs from falling apart.
Coriander: It adds a fresh and earthy taste to the meatballs.
Seasonings: Chickpeas aren't as flavorful as beef, so we prepare a diverse seasoning mixture for these meatballs. It includes fresh garlic, garlic powder, Cajun seasoning, Dijon mustard, paprika, and black pepper.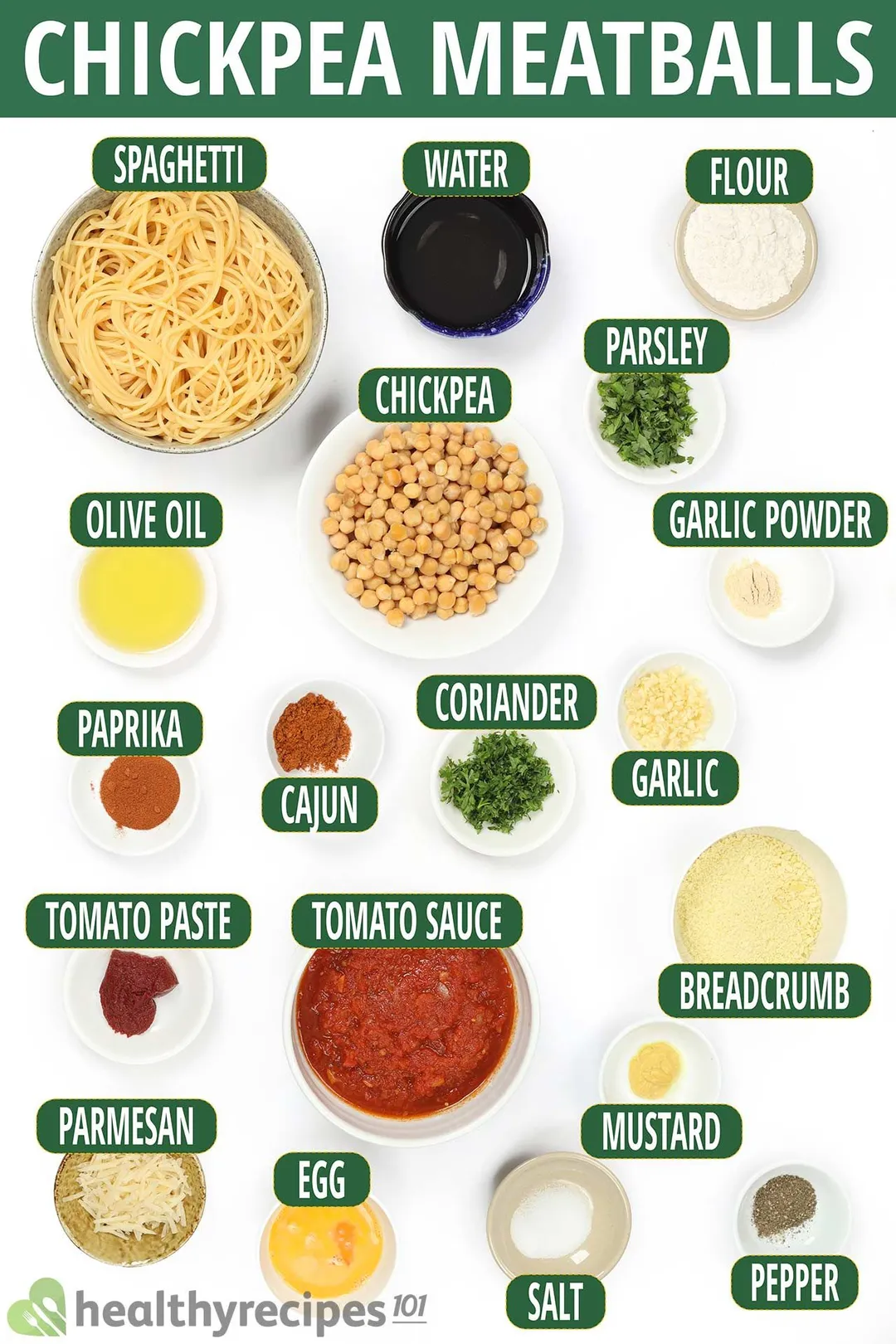 2. Sauce
Tomato paste: We start by sautéing tomato paste and flour with olive oil to give the dish a concentrated tomato-based foundation.
Homemade tomato sauce: Our homemade tomato sauce is the backbone of this sauce. The sauce recipe calls for fresh tomatoes, minced garlic, onion, tomato paste, and paprika to enhance the dish's flavor.
Water: We add some water while letting the tomato sauce simmer to prevent it from burning. You can use chicken or vegetable broth in place of water for added flavor.
Salt: We sprinkle a bit of salt in the pan as the finishing touch before adding the chickpea meatballs.
3. Pasta
You can't go wrong with spaghetti, as this long-shaped pasta makes a dynamic duo with meatballs. However, you can always use your favorites like fettuccine, penne, rigatoni, farfalle, etc.
4. Garnish
Parsley: It adds a visually satisfying color contrast and a herby taste that works harmoniously with the tomato sauce.
Cheese: Parmesan adds a distinctly sharp and fruity taste to the dish.
Are Chickpea Meatballs Healthy?
This dish is an incredible option for a healthy diet.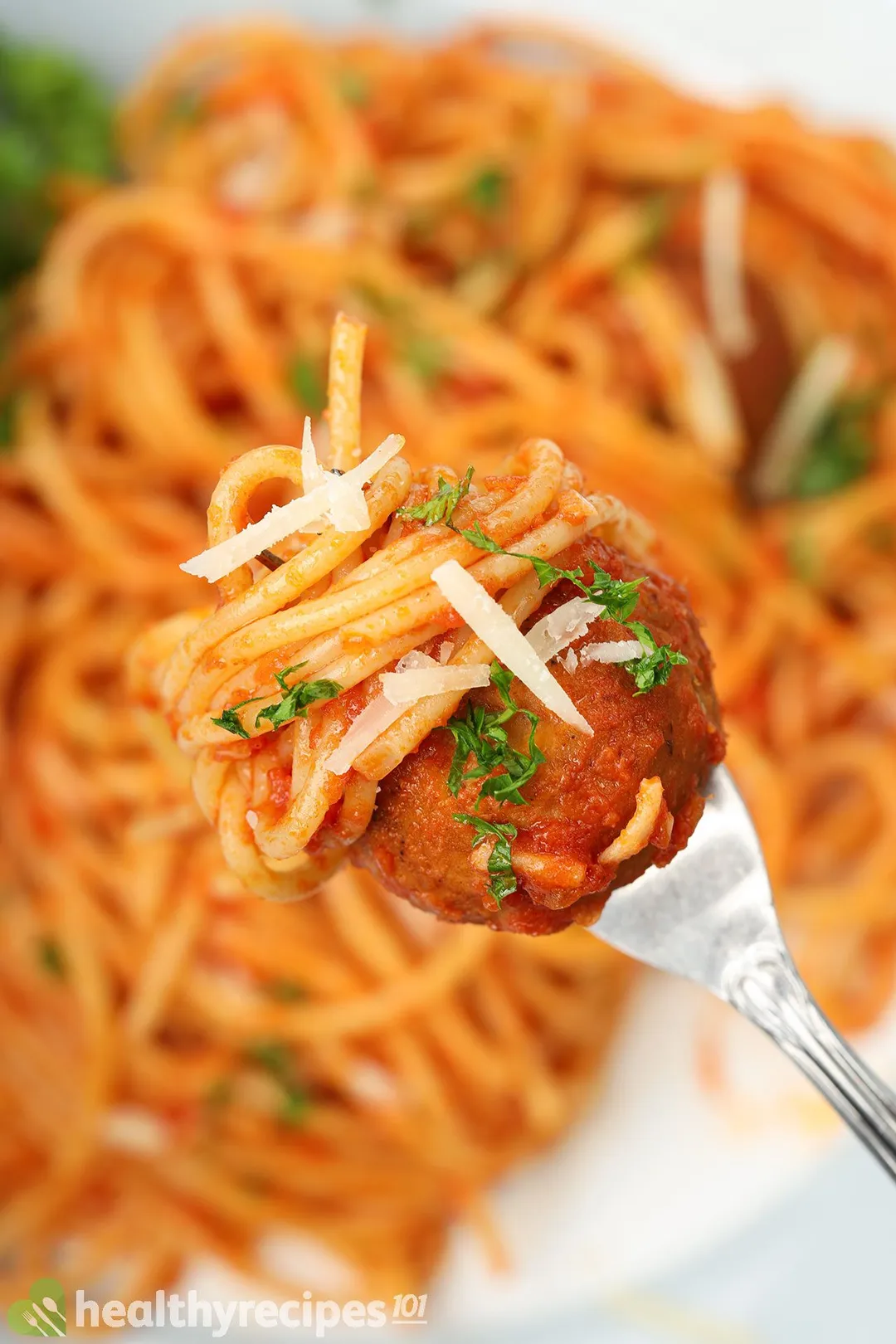 By replacing ground beef with chickpeas and air-frying the meatballs, we keep the amount of saturated fat at 3.4 g in each 478-calorie serving. This makes our chickpea meatballs a decent main course.
Using canned chickpeas comes with a slight disadvantage, higher sodium levels compared to dry chickpeas. We make sure to drain the liquid and rinse the chickpeas to reduce salt level. Also, we use seasonings moderately to ensure the amount of sodium stays at 578 mg per serving, well within the limits of our nutrition guidelines.
Chickpeas are a good source of protein, providing 15.3 g per serving. They also contain rich amounts of fiber, vitamins, and minerals.
How to Store and Reheat Leftovers
Chickpea meatballs can last for 3 days in the fridge and up to 3 months in the freezer. Make sure to store them in airtight containers or resealable bags.
You can reheat the leftovers in the oven at 325 °F for 20 minutes or air-fry at 350 °F for 8 to 10 minutes. Add some water to prevent the spaghetti from drying.
What to Serve With Chickpea Meatballs
Serve chickpea meatballs with these refreshing salads for a complete meal.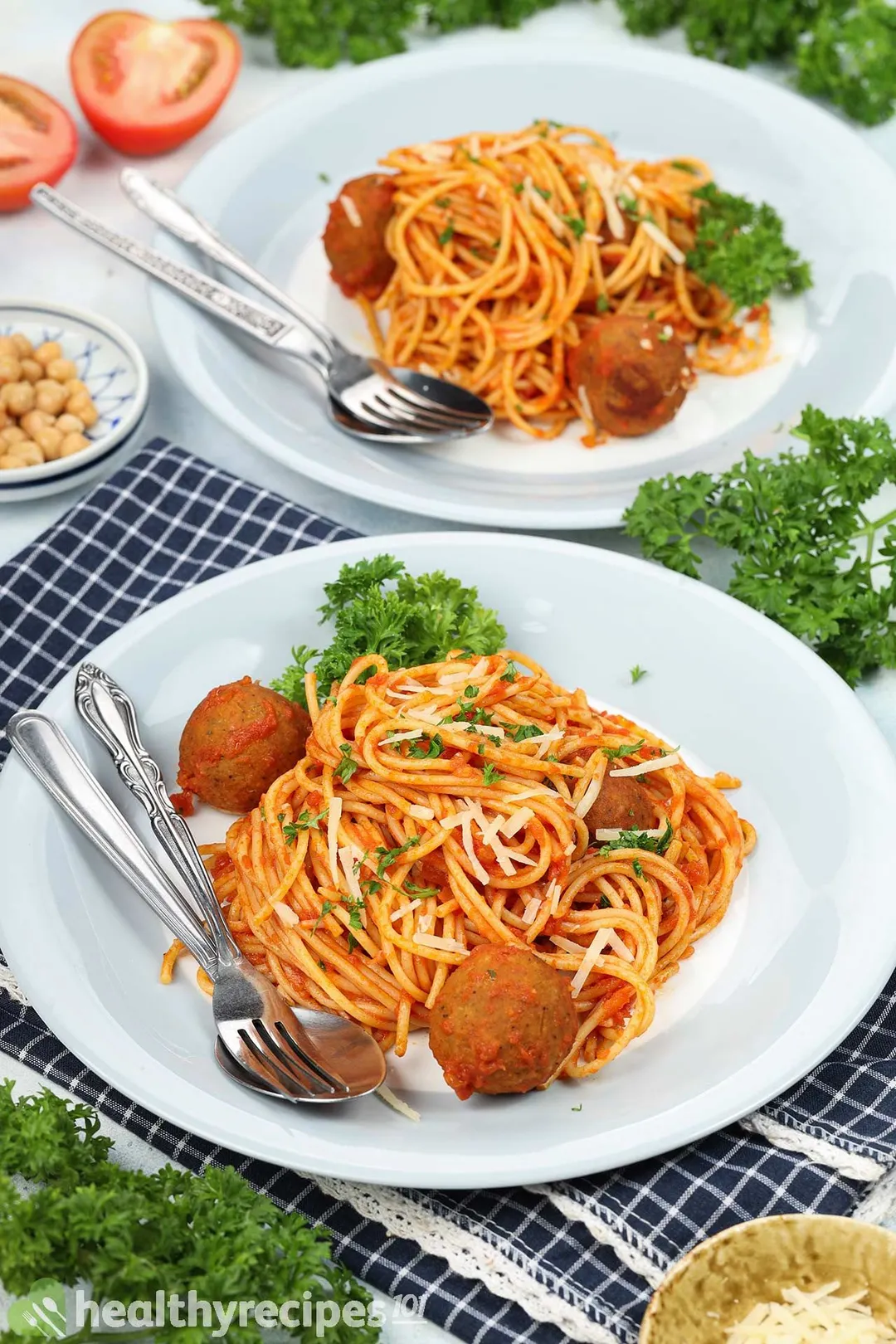 FAQ
1. Can I Make Chickpea Meatballs Vegan?
Yes, all you need to do is find vegan alternatives for eggs and cheese. We recommend using non-dairy yogurt, mashed potatoes, or cornstarch slurry for eggs. Cheese can be replaced by other toppings or omitted altogether.
2. How to Keep Vegan Meatballs From Falling Apart?
The combination of eggs, flour, and breadcrumbs helps bind the meatballs in this recipe. For vegan meatballs, we suggest using grains, breadcrumbs, and flour.
3. Can I Substitute Something for Breadcrumbs?
Sure. You can use finely chopped nuts, crackers, pretzels, cornflakes, etc.
Chickpea Meatballs
Make a brand new version of the well-beloved spaghetti meatballs with our chickpea meatballs recipe–a healthy and hearty dish with accessible ingredients.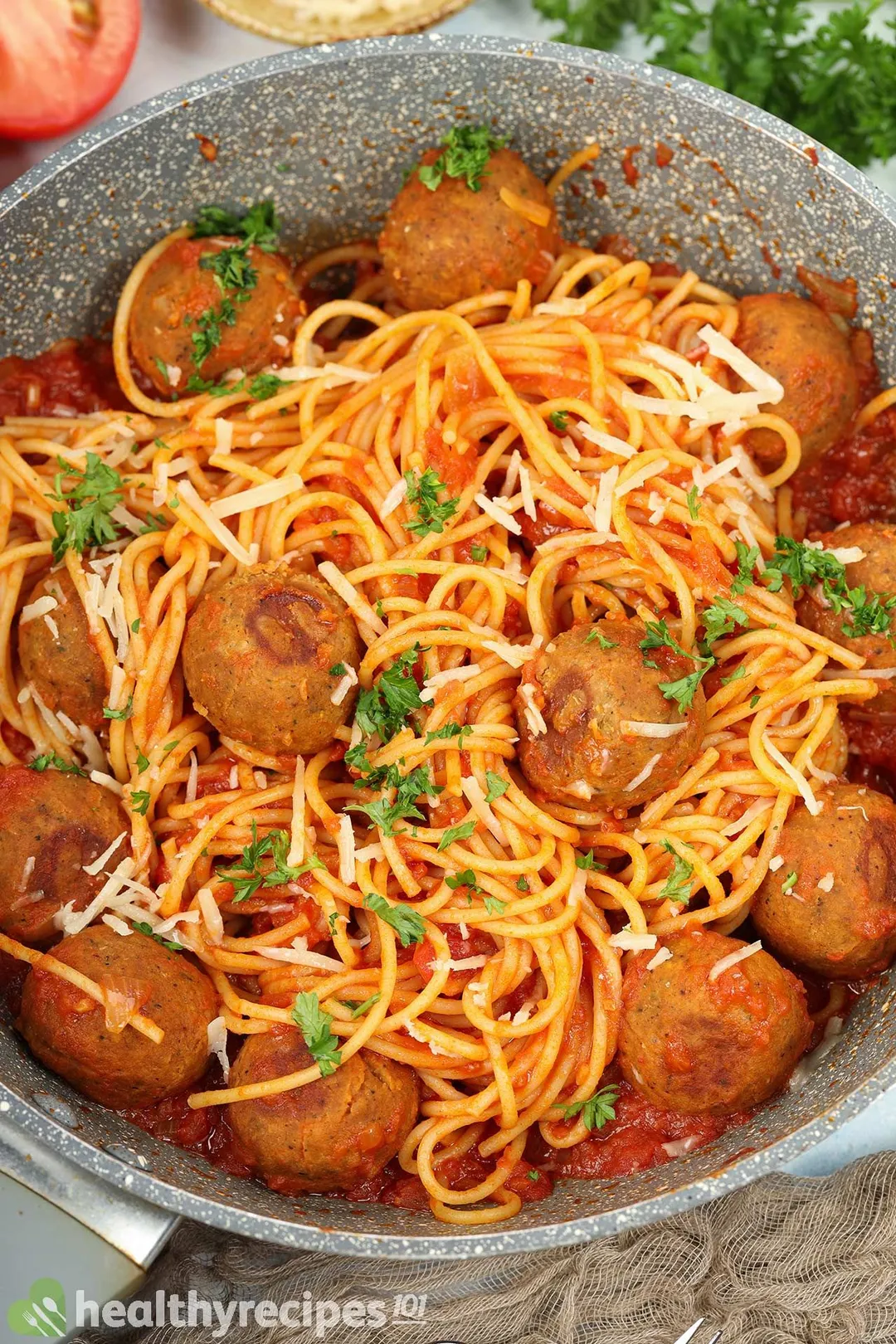 cook TIME

33 mins

prep TIME

12 mins

total TIME

45 mins
COURSE

Main Dish

CUISINE

Global

SERVINGS

CALORIES

478 kcal
INGREDIENTS
14 oz

cooked spaghetti

(from 7 oz dry)

1

medium egg

(cracked and whisked)

1/2 cup

plain Panko breadcrumbs

1/4 cup

coriander

(finely chopped)

2 1/2 tbsp

all-purpose flour

1 tsp

traditional Dijon mustard

1/2 tsp

ground black pepper

1 tbsp

Hunt's tomato paste

1 1/2 cups

homemade tomato sauce

2 tbsp

parsley

(finely chopped)

0.5 oz

grated parmesan cheese
INSTRUCTIONS
Prep:
1
Boil the spaghetti: Bring a pot of water to a boil and cook the spaghetti according to package instructions. Remove the spaghetti from the pot and drain them when done.
2
Prepare the canned chickpeas: Drain the canned chickpeas. Rinse them with water and pat them dry.
3
Whisk the egg: Crack the egg into a small bowl and whisk it thoroughly.
4
Chop the coriander: Bunch the coriander together and chop it finely.
5
Mince the garlic: Slice off the root of the cloves and peel the skin. Mince the garlic cloves with a knife or mincer.
6
Chop the parsley: Bunch parsley together and chop finely.
7
Grate the cheese: Place the grater firmly on a cutting board. Press the cheese against the surface and grind.
Cook:
1
Blend the meatball mix: Add 10 oz canned chickpeas, 1 medium egg, 1/2 cup plain Panko breadcrumbs, 1/4 cup coriander, 2 tbsp all-purpose flour, 1 tbsp garlic, 1 tsp traditional Dijon mustard, 1 tsp Cajun seasoning, 1/2 tsp garlic powder, 1/2 tsp paprika, and 1/2 tsp ground black pepper to a food processor. Blend until the mixture reaches a smooth consistency.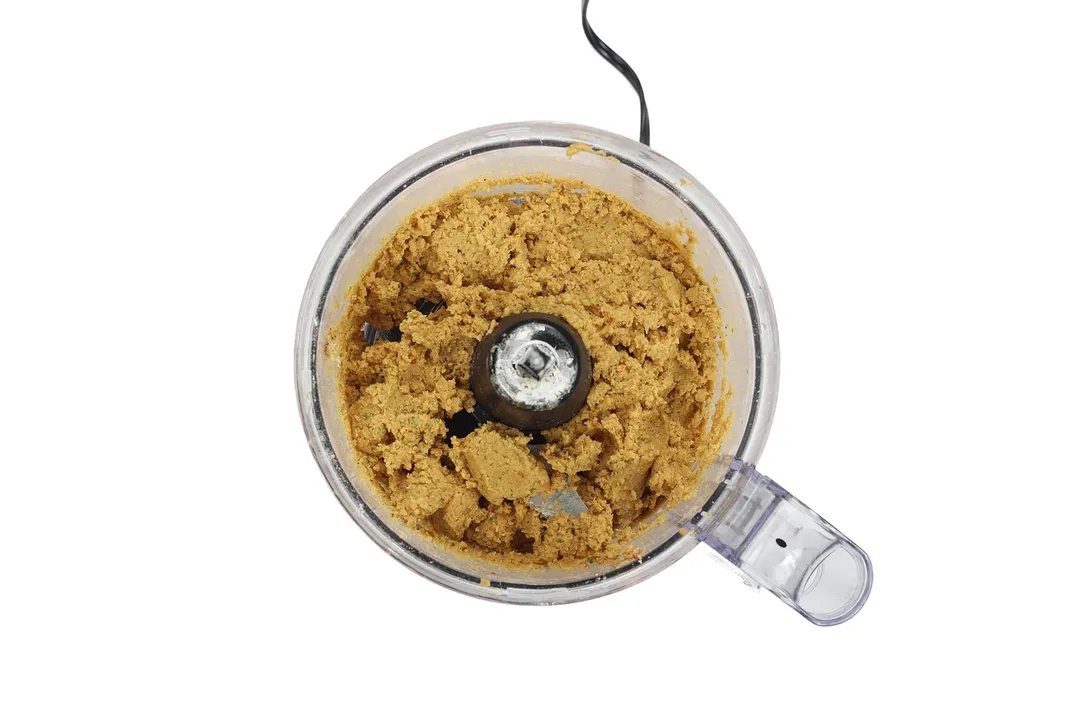 2
Form the meatballs: Form the mixture into equal-sized meatballs. Roll the meatballs with the palm of your hands to ensure that they're round.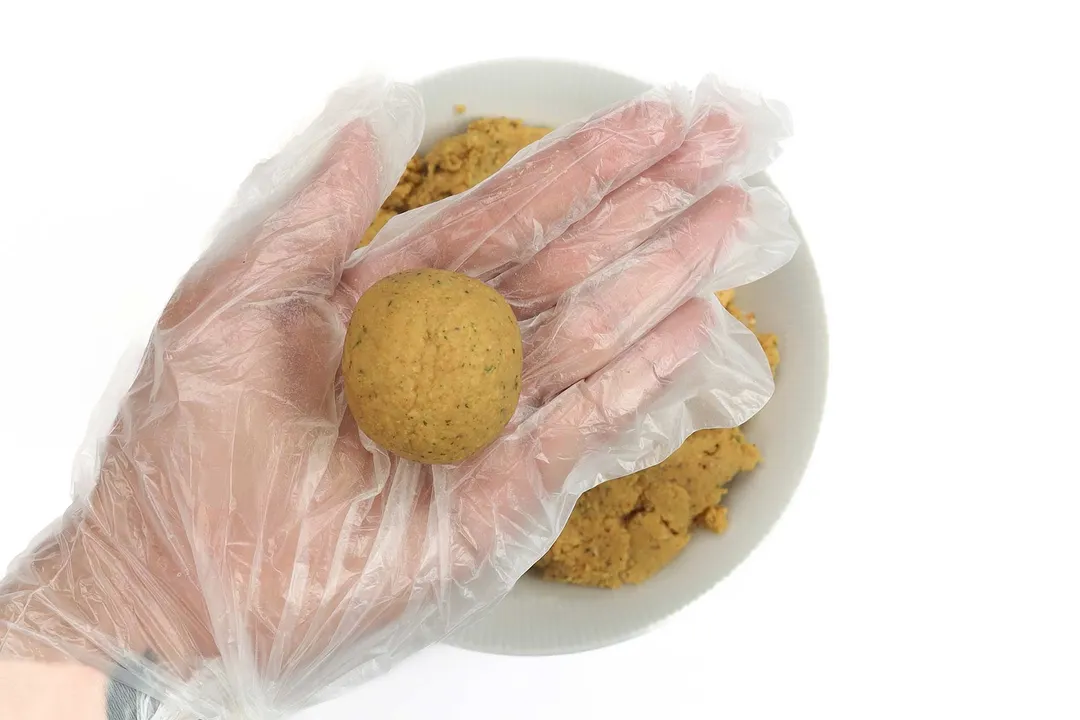 3
Air-fry the meatballs: Place the meatballs in an air-fryer basket in a single layer and leave some space between the meatballs. Brush 1 tbsp olive oil on the meatballs and cook them at 400 °F for 10 minutes. Make sure to turn them half way through if needed.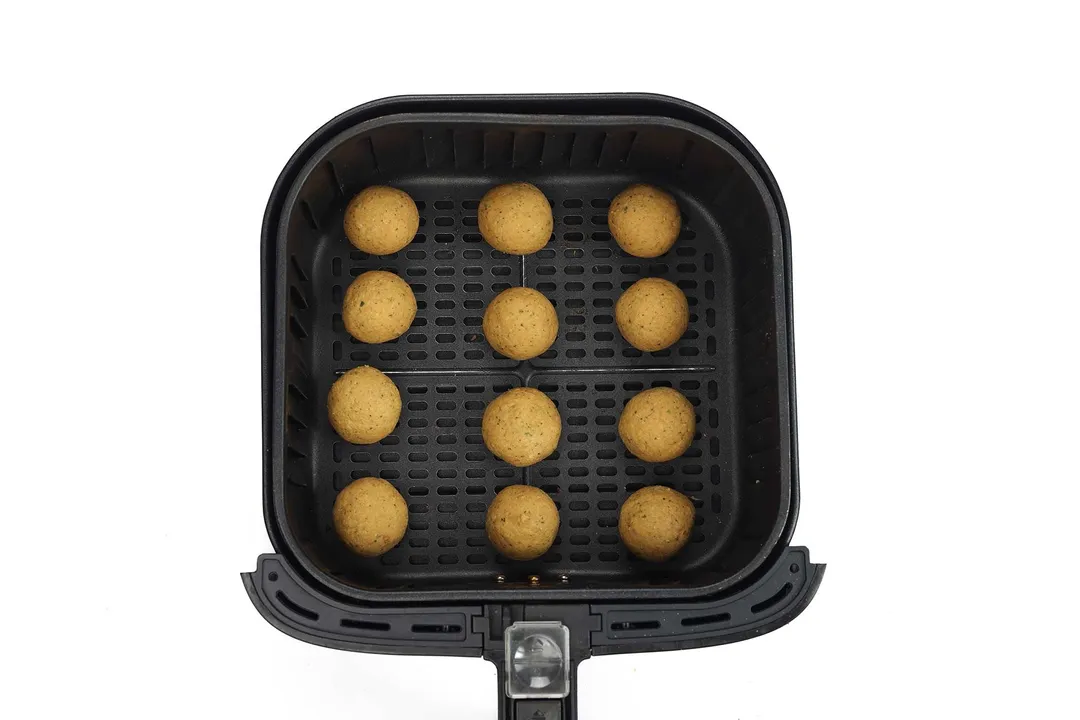 4
Start the sauce: Prepare a pan over medium heat. When the pan is hot, add 1 tbsp olive oil, 1/2 tbsp all-purpose flour, and 1 tbsp of Hunt's tomato paste. Stir for 30 seconds.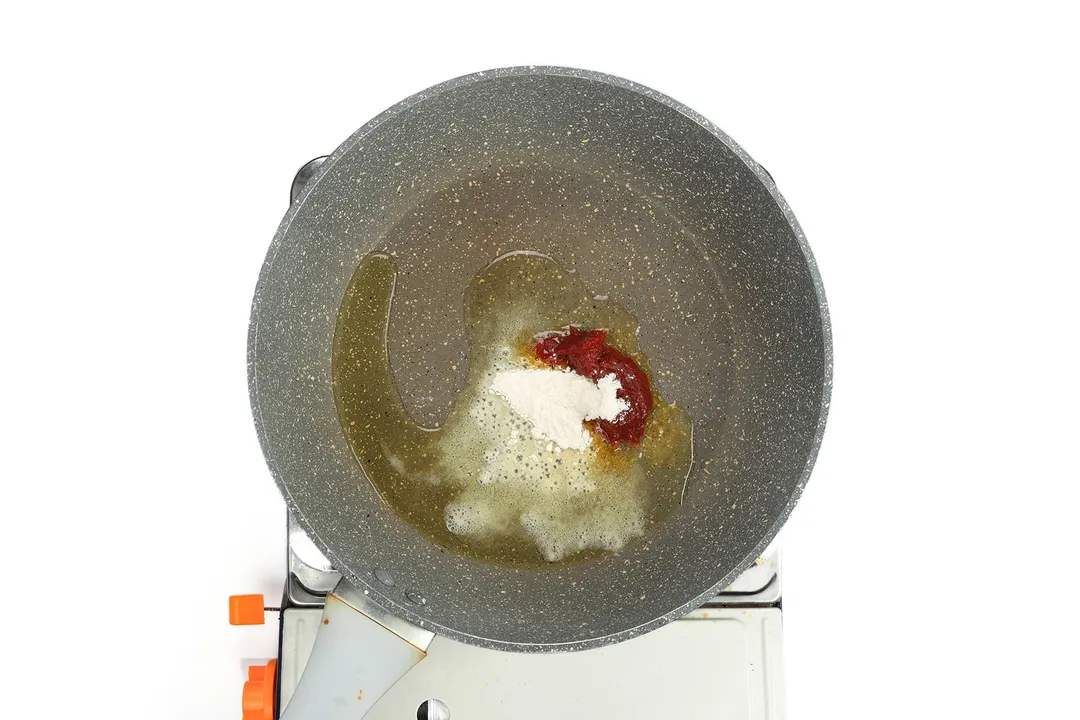 5
Add the sauce ingredients: Add 1 1/2 cups homemade tomato sauce, 1/2 cup water, and 1/2 tsp salt. Mix to combine.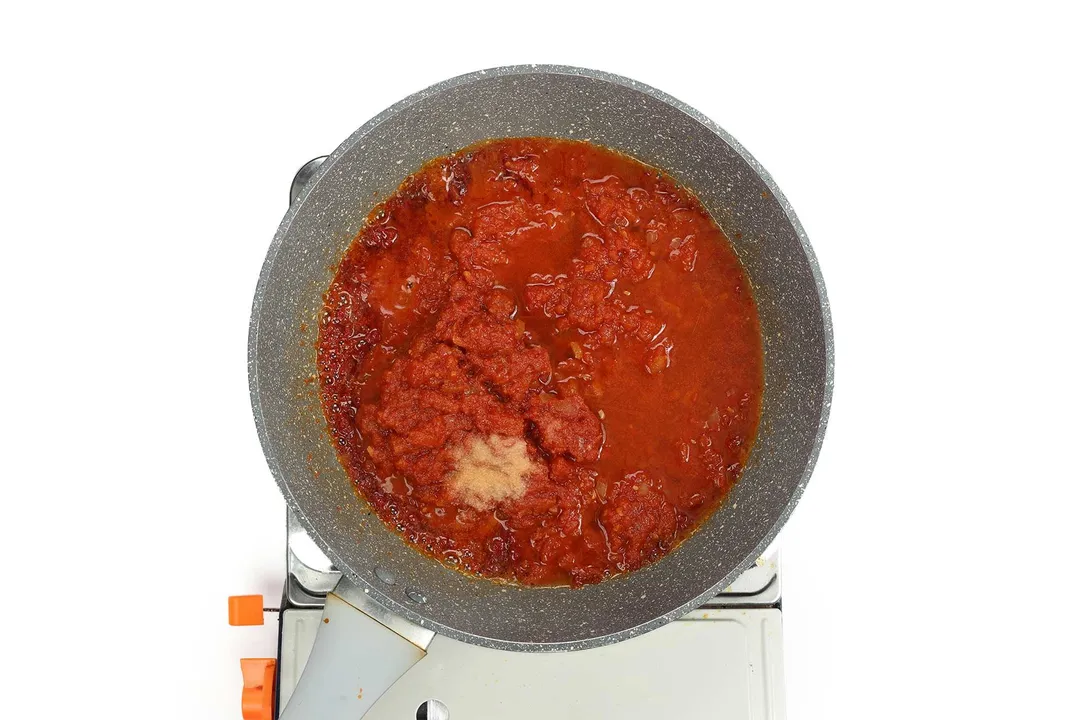 6
Toss the meatballs with the sauce: Add the chickpea meatballs to the pan and toss for 3 minutes.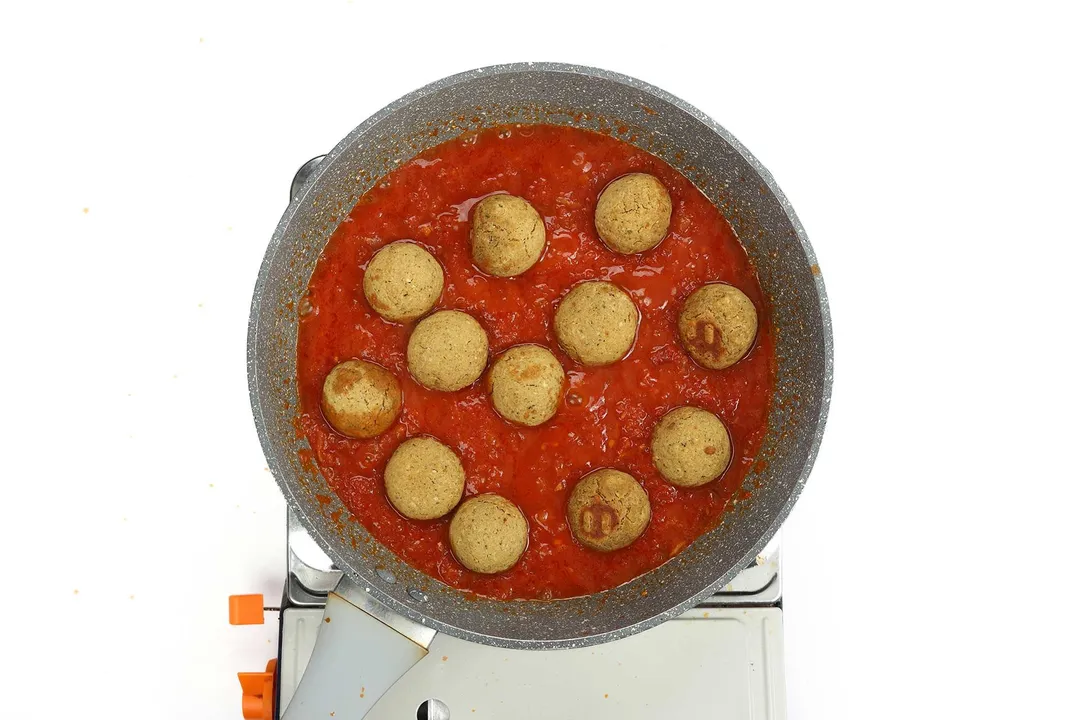 7
Stir in the spaghetti: Add 14 oz cooked spaghetti and mix for 5 minutes.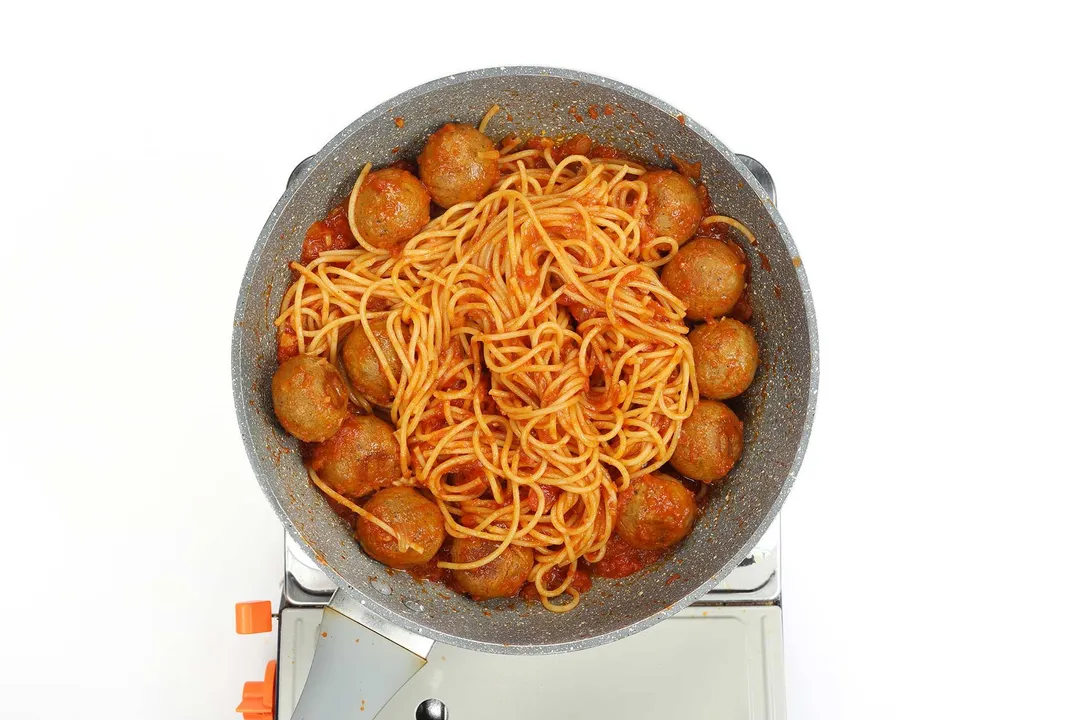 8
Garnish and serve: Sprinkle with 2 tbsp parsley and 0.5 oz grated parmesan cheese.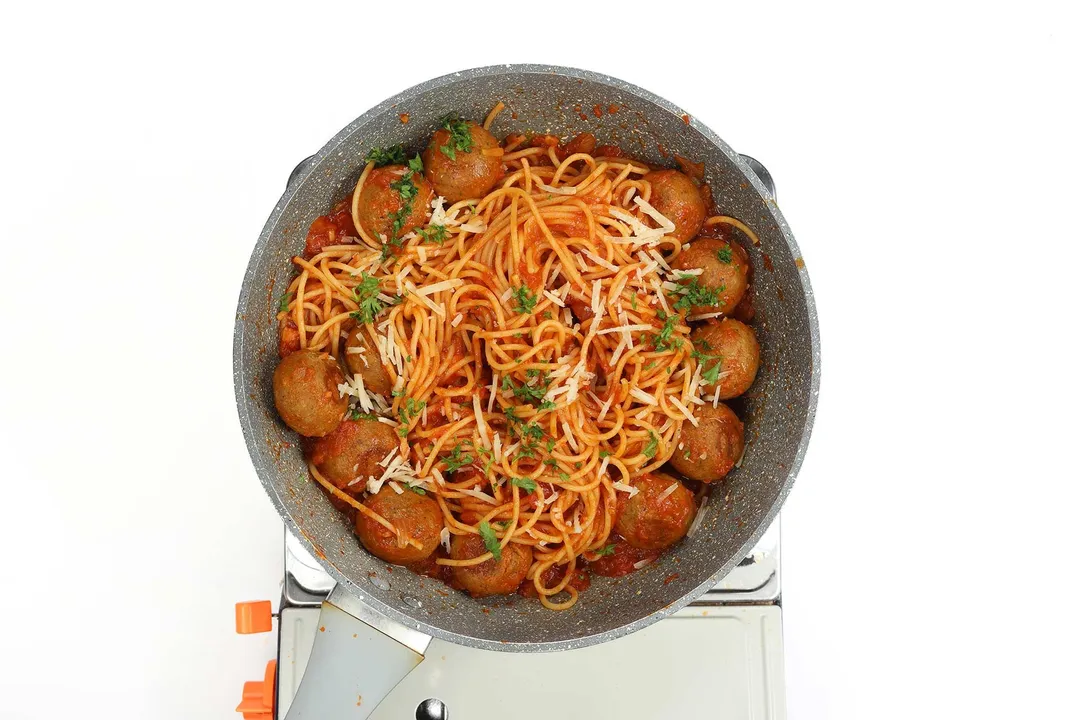 NUTRITION
Nutrition Facts
Chickpea Meatballs
Amount Per Serving (1 serving)
Calories 478
Calories from Fat 176
% Daily Value*
Monounsaturated Fat 11.5g
* Percent Daily Values are based on a 2000 calorie diet.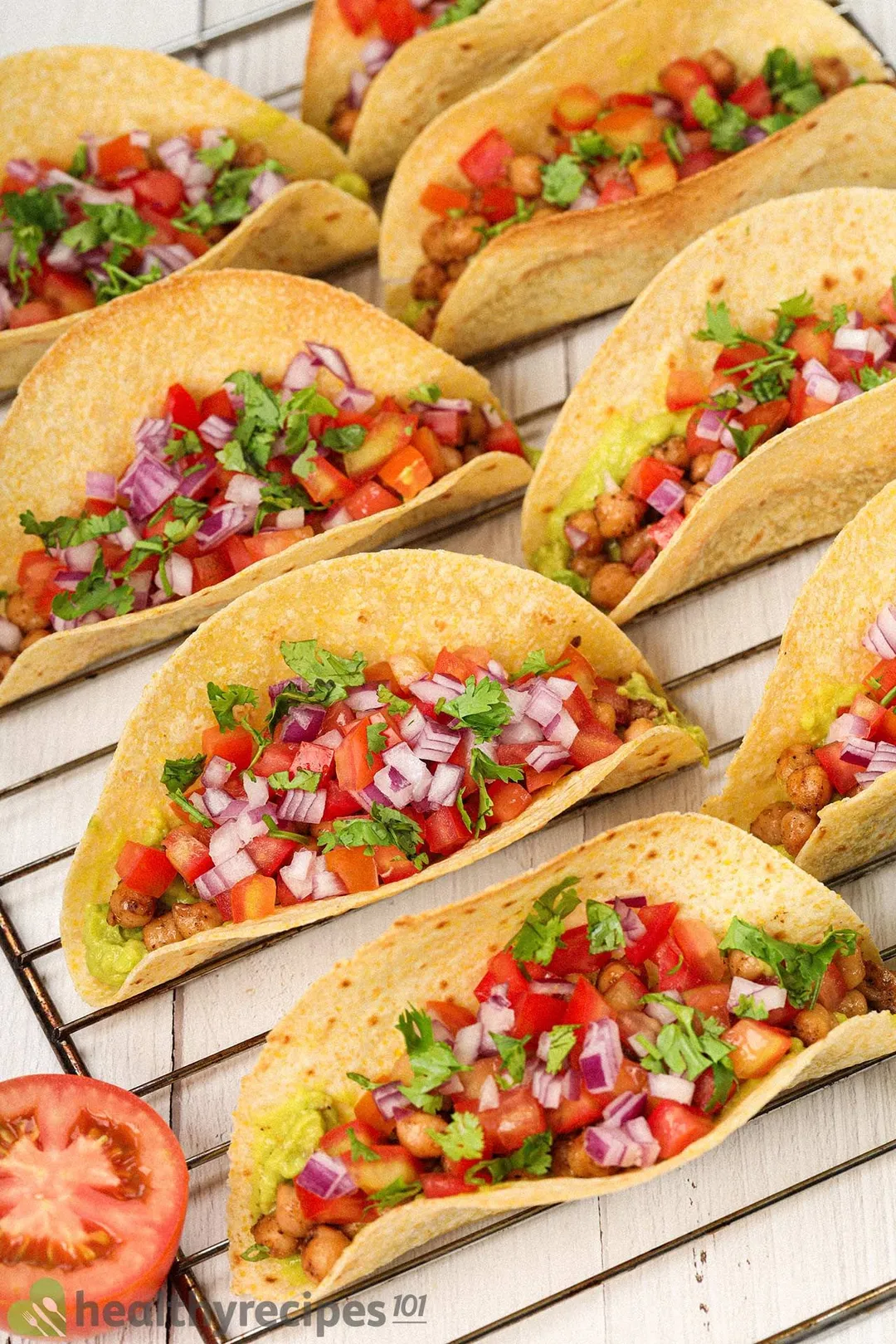 Previous Recipe
Chickpea Tacos
Chickpea Tacos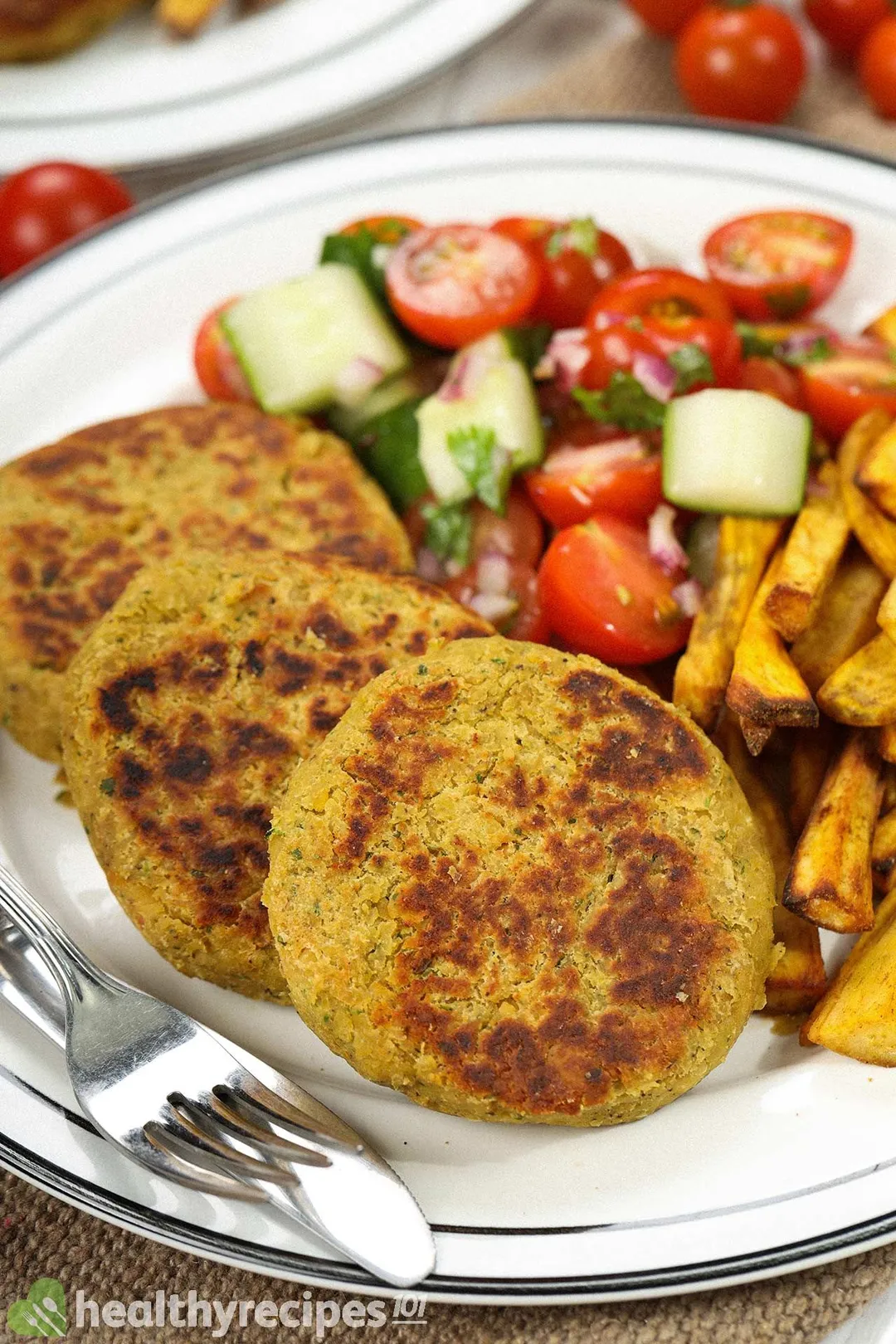 Next Recipe
Chickpea Patties
Chickpea Patties
Head Chef, Culinary Consultant
Tuyet Pham is an award-winning Saigonese chef who believes that joy is the secret ingredient to delicious food. At Healthy Recipes 101, Tuyet personally tests and simplifies every recipe, ensuring maximum flavor with minimal effort. With a background at prestigious French restaurants P'TI Saigon and Le Corto, Tuyet knows how to make every dish exceptional.
Writer, Author
Luna Regina is an accomplished writer and author who dedicates her career to empowering home cooks and making cooking effortless for everyone. She is the founder of HealthyKitchen101.com and HealthyRecipes101.com, where she works with her team to develop easy, nutritious recipes and help aspiring cooks choose the right kitchen appliances.
Absolutely delish! Thanks Luna for sharing this amazing recipe!