This Instant Pot chili recipe provides a quicker way to cook your favorite comfort food.
Filled with hearty beans, flavorful meat, and robust Mexican spices, it's easy to see how chili is a favorite of many. It's wholesome, delicious, and especially heart-warming during cold winter nights.
Chili is a lot like stews — it tastes better the longer it's cooked, and so, the best chili can take hours. Today, we'll show you how to get all those sophisticated flavors in just an hour, with the Instant Pot.
Is Our Instant Pot Chili Healthy?
When we check whether a dish is healthy, we look at its sodium, saturated fat, sugar, and calorie contents. Chili is one of those dishes that needs some adjustment.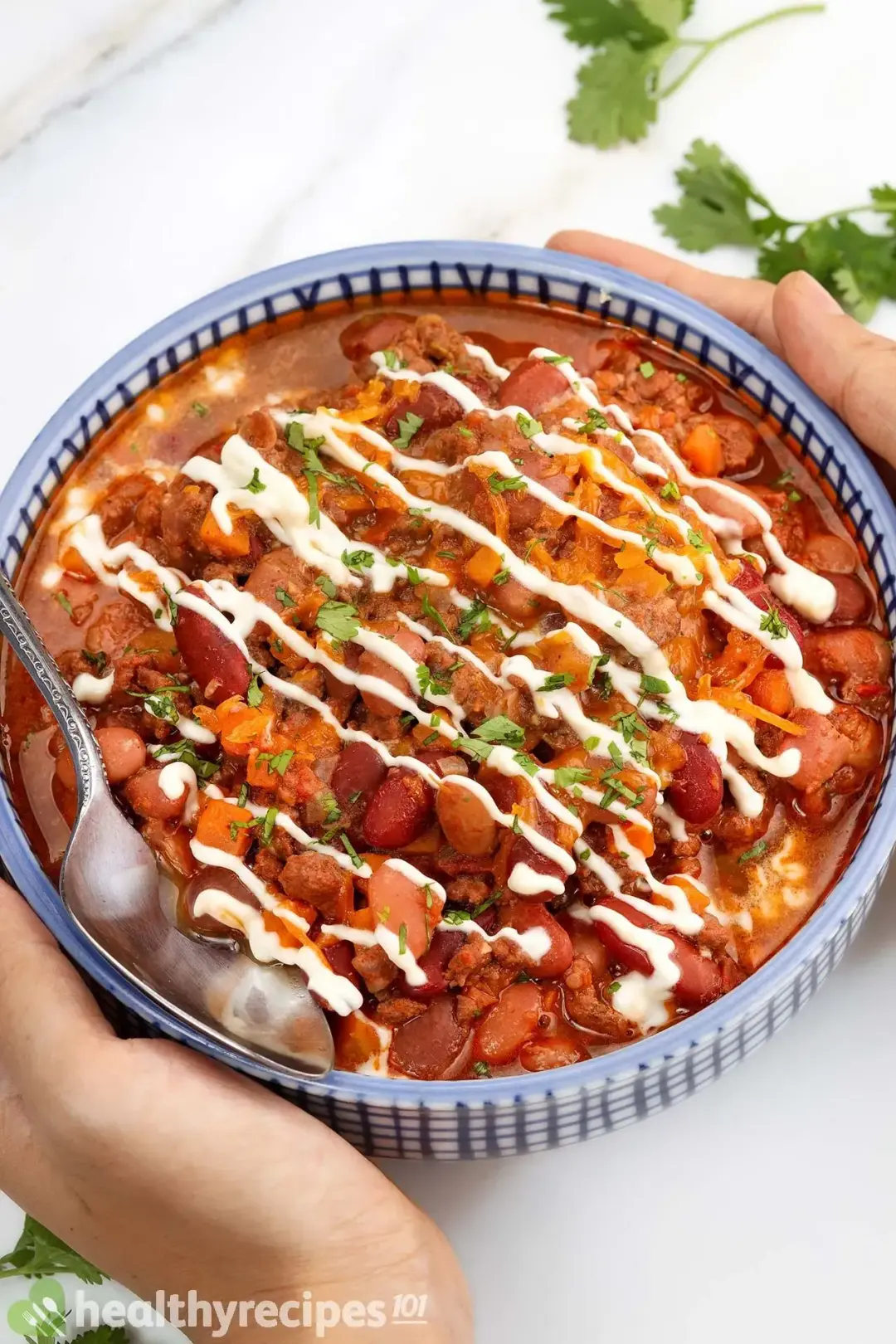 For starters, it's cooked with red meat (being beef), dairy (butter, cream), and sometimes oversalted, all contributing to excessive sodium and saturated fat intake. Plus, as the components are calorie-rich, an oversized portion will give you more calories than you need.
All of these can be prevented by following our Instant Pot chili recipe. With the right ingredients and reasonable portioning, each serving will provide you with only around 493 calories, 4.6 g saturated fats, and 546 mg sodium. These are healthy amounts that allow the other two of your three-a-day (and even some treats) to fit into your recommended daily intake just fine.
As the name suggests, this stew packs serious heat, and heat isn't for everyone. For that friend of yours who demands their food be non-spicy, tone it down by either adding fewer chilies or using substitutes. We'll discuss this in the next section.
Instant Pot Chili Ingredients
But before that, let's get to know the proteins first.
1. Proteins
Fat-free and packed with micronutrients, pinto beans and kidney beans are awesome proteins. They become tender once cooked, adding not only a delicious texture but also tons of nutrition.
Still, a chili wouldn't be a chili without ground beef, the stew's main savory component. We picked the type that is 85% lean because of its high availability, and perfect fat content that ensures the stew turns out flavorful and not greasy.
Ground beef this lean is often the animal's round, a.k.a its rear legs. This cut is tough to eat, but hey, your Instant Pot has got this.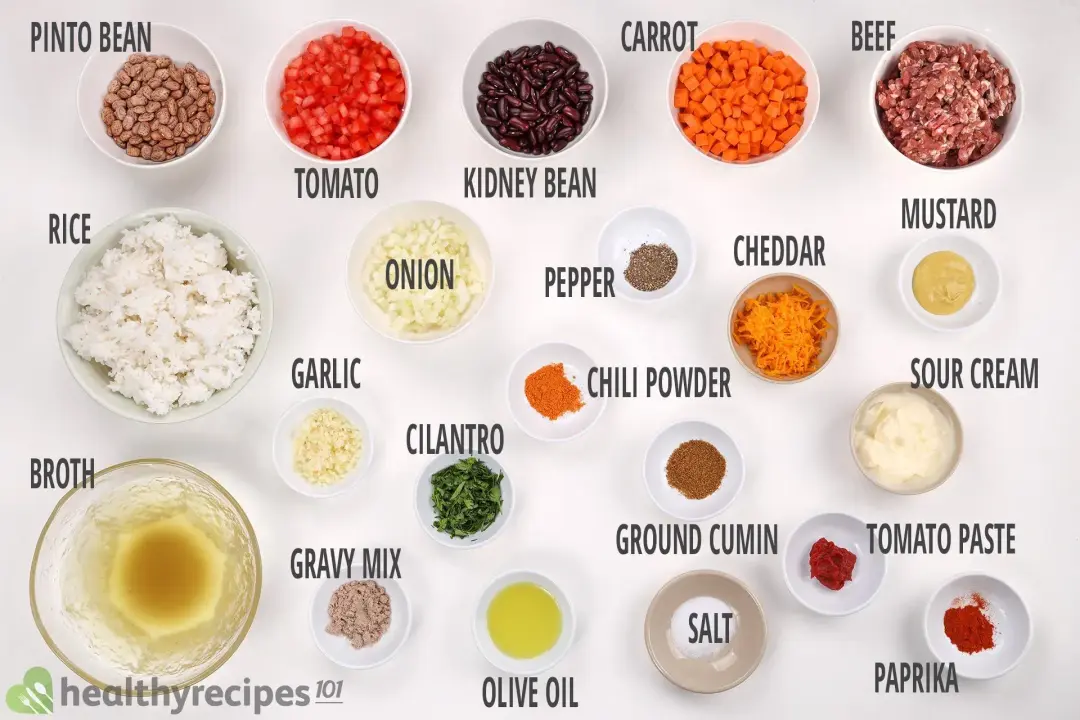 2. Veggies
Besides tomatoes, with umami and tangy flavors, we also need onions and carrots to balance them out. These two vegetables have neutral aromas that naturally fit into any stew. 
To enhance the tomato flavor, we added some tomato paste, which also gives the dish its beautiful shade of red.
3. Seasonings
This stew has no Jalapenos, as the chili powder already lends plenty of heat. To mimic the warm, earthy fragrance of peppers, we stirred in some paprika and black pepper.
You can add some fresh chilies if you prefer things extra hot, or tone it right down by using only bell peppers. About 3 or 4 ounces is fine for this Instant Pot chili recipe.
For that unforgettable Mexican aroma, we turn to cumin. It's present in almost every Mexican dish, so always have it in stock if you're a big fan of Mexican foods.
Finally, we enhanced the beef flavor with a brown gravy mix of dried and powdered stock and some mustard. We find that this wonderful condiment makes meaty dishes taste even better.
4. Toppings
Rounding out the bold flavors are some rich sour cream, freshly chopped cilantro, and a sprinkle of shredded cheddar. They not only complement the stew in terms of flavor but color as well.
How to Make Chili in Instant Pot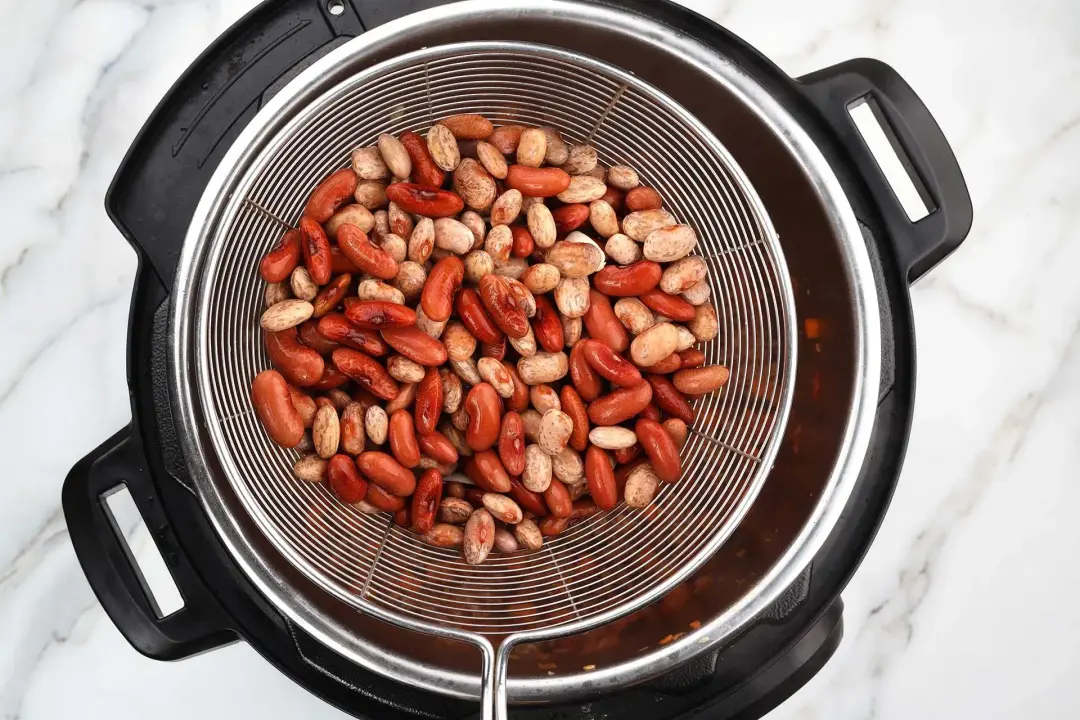 Soak the beans.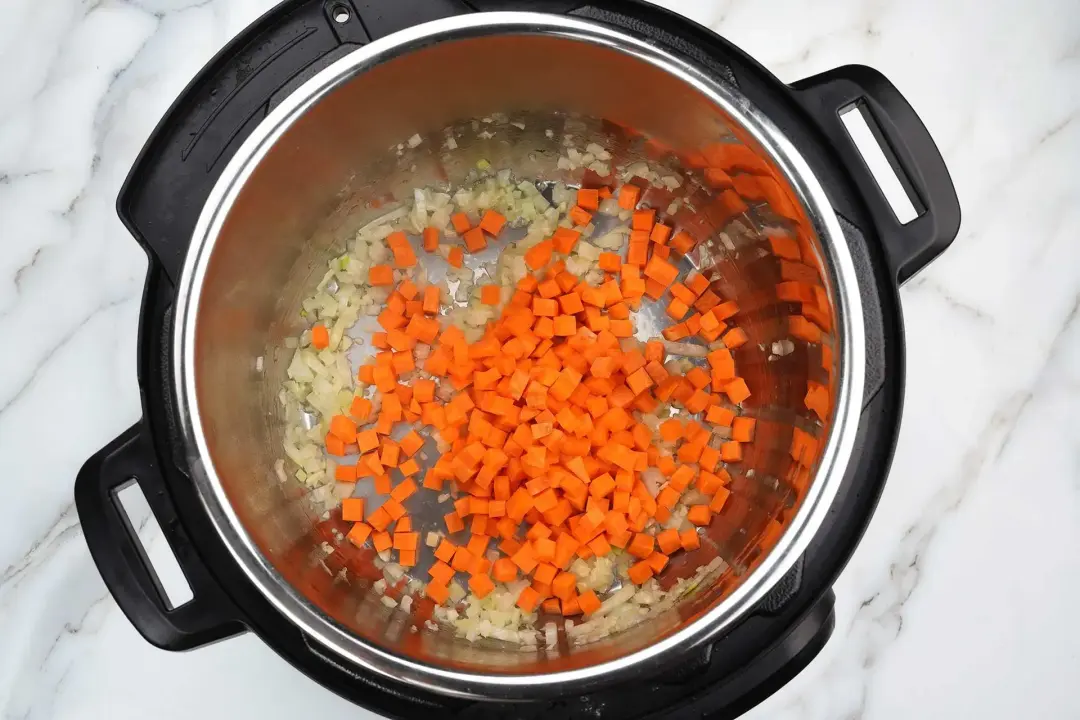 Sauté the aromatics and sweet veg.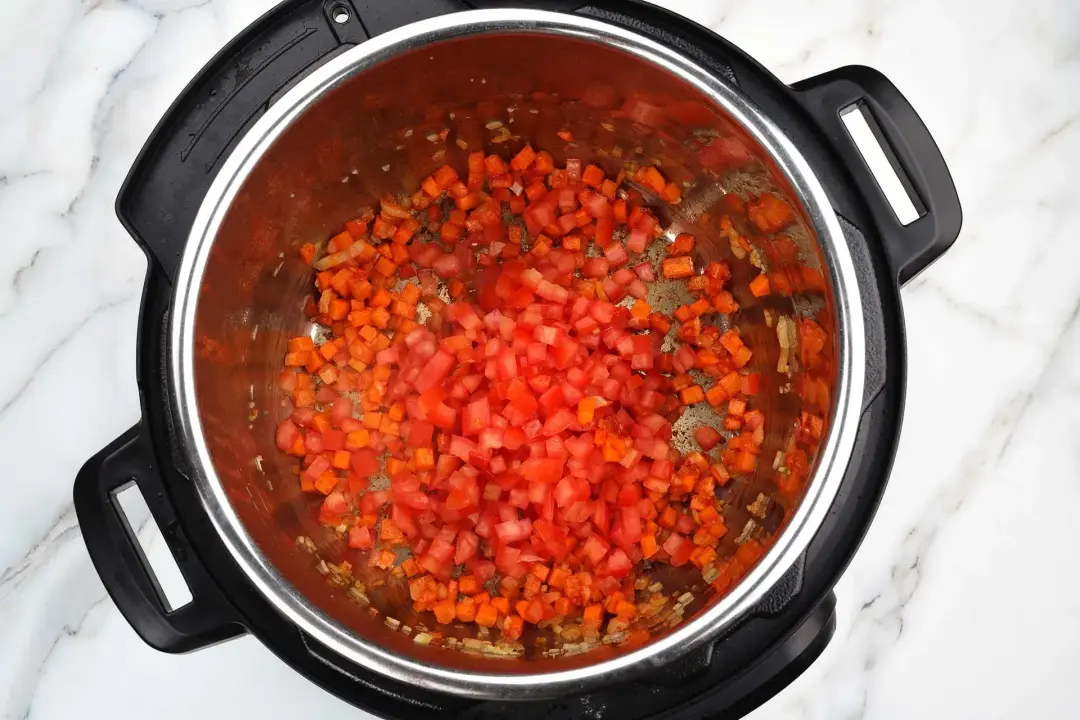 Add tomato paste and chopped tomatoes.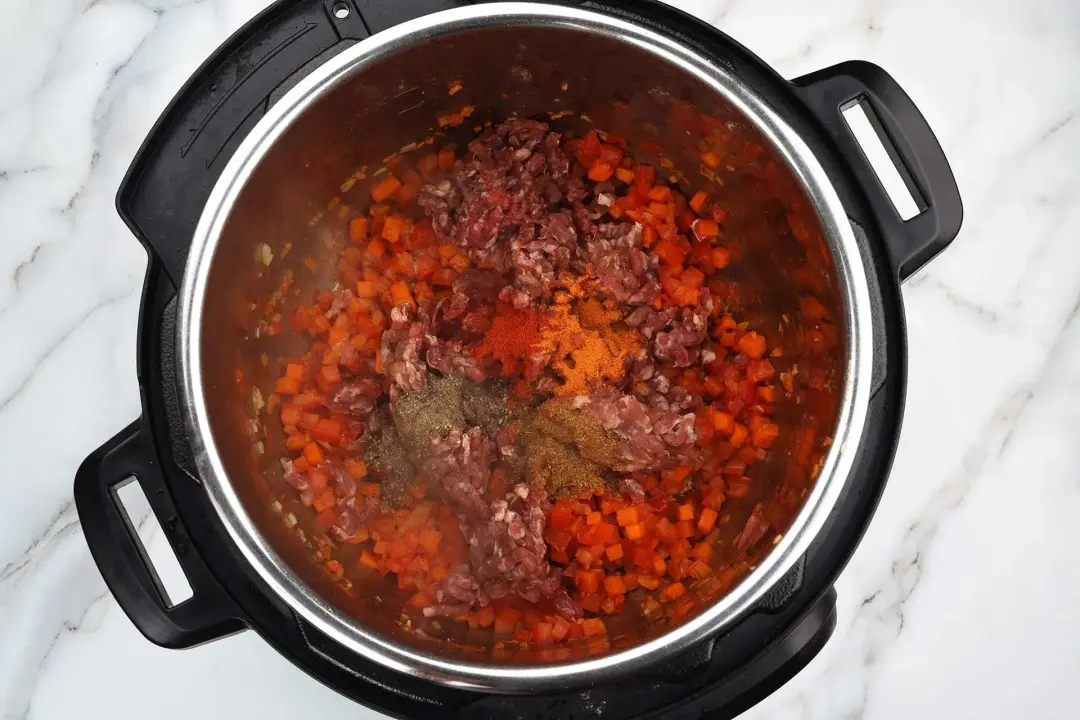 Add the beef and seasonings.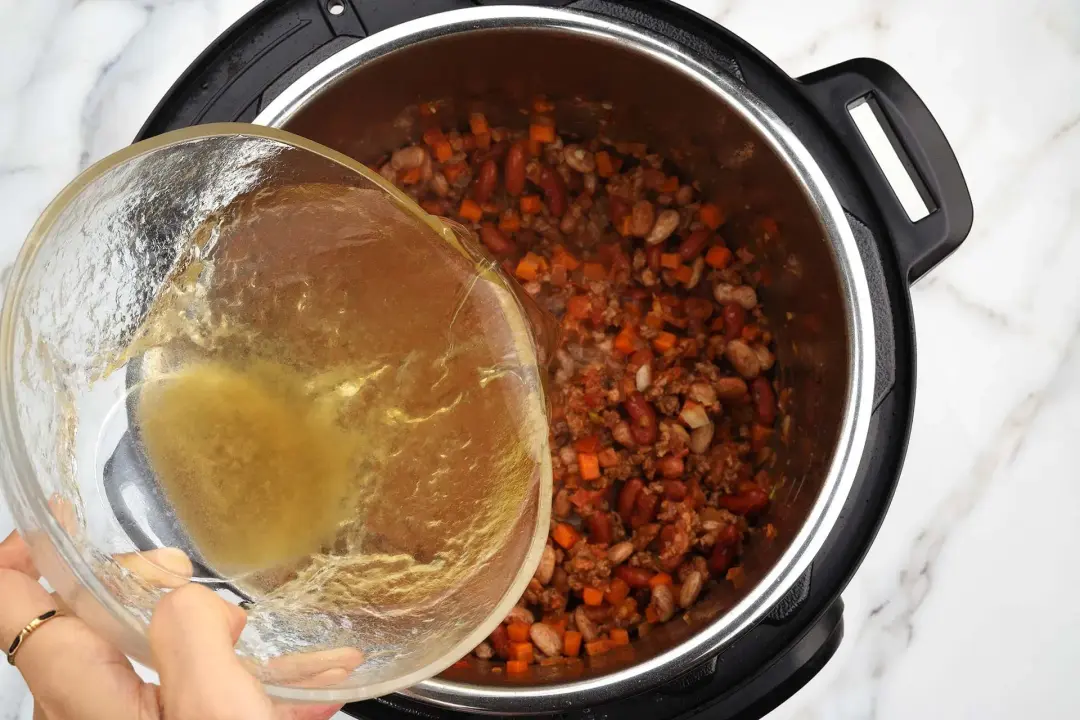 Add broth, beans, and pressure-cook.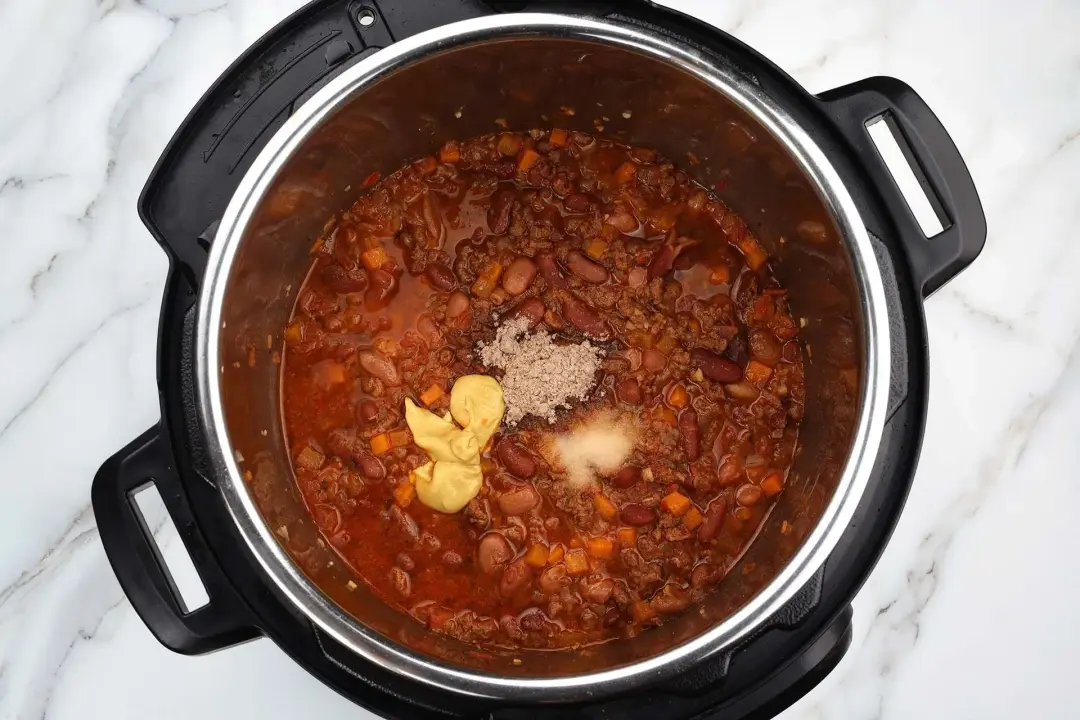 Simmer to reduce thickness; Season one more time with salty seasonings.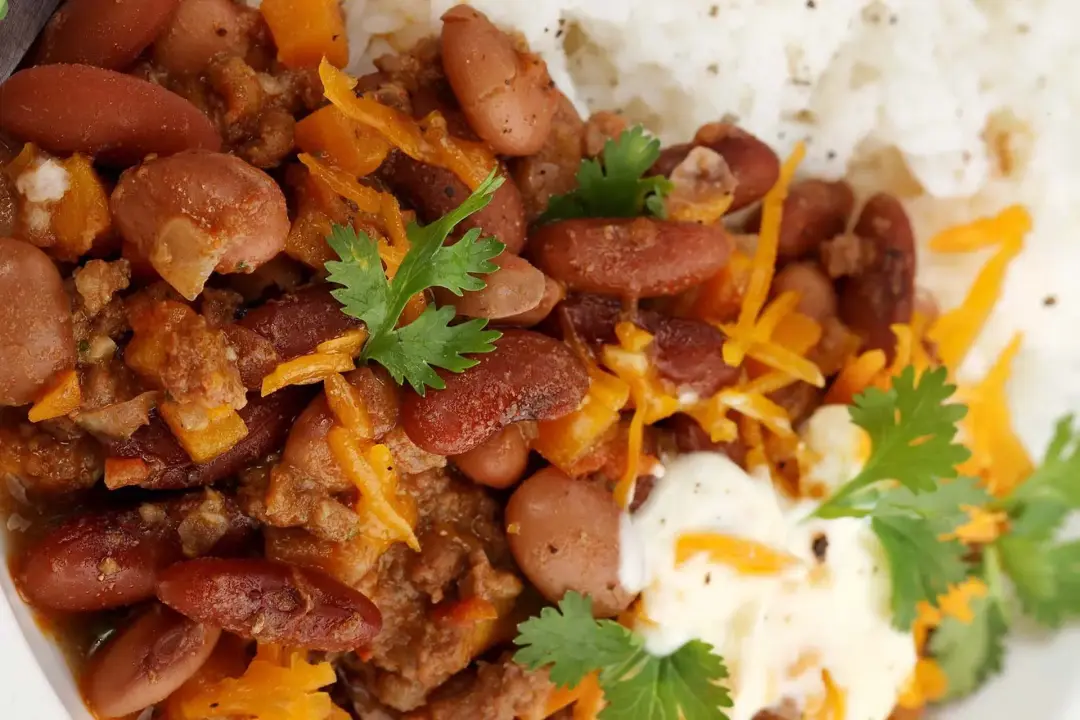 Serve with rice and toppings.
Things to keep in mind before you cook:
The beans can be soaked for 2 hours or overnight. You can use canned beans instead, but before you do rinse off the salty brine they sit in.
Be sure to have cooked rice ready when the stew's finished. We turned on our rice cooker first, then we prepped and measured the ingredients.
It's important that the tomato paste is cooked with oil, so it's beautiful, flavorful, red oil is released, making the stew look how it should. Only then should you add the chopped tomatoes.
You can add the seasonings to the stew all at once, but we think saving the salty ones to last is good practice. It allows you to taste and adjust the dish to your preference.
How to Thicken Chili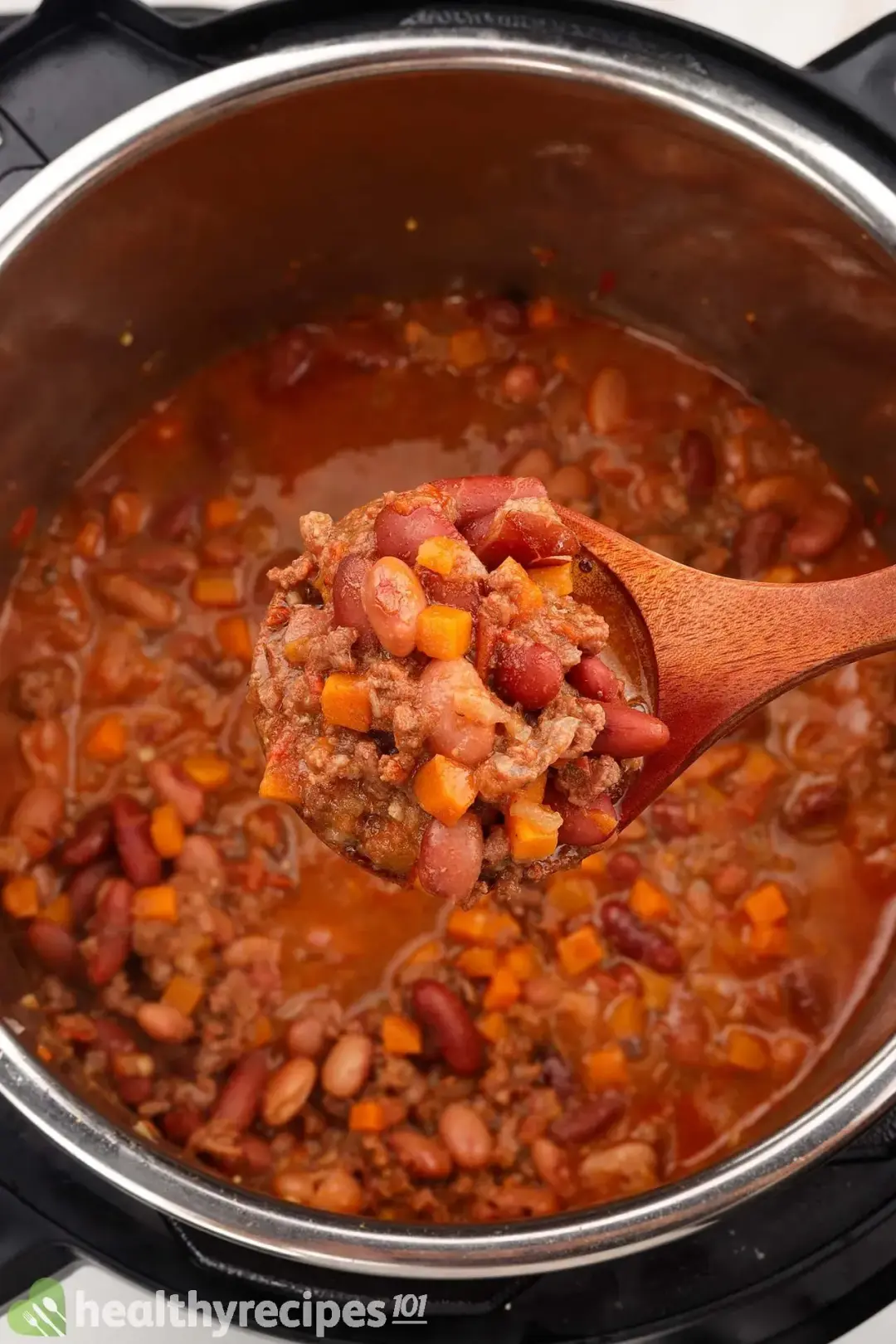 Chili is naturally thick with no need for added thickener. Still, you can stir in a cornstarch slurry of 1 part cornstarch, 1 part water until it reaches the consistency you want. Begin with a little then increase the dose gradually, because once it's added, there's no going back.
If you're gluten-intolerant, cornstarch slurry is safe. It's used in a lot of dishes.
How Long Does Chili Last in the Fridge?
When refrigerated, this meat stew lasts for only 4-5 days. We suggest that you place it in an airtight container and try to consume it within this timeframe.
To reheat, simmer the leftovers on your stovetop. As there aren't many components, everything will be heated through once it bubbles.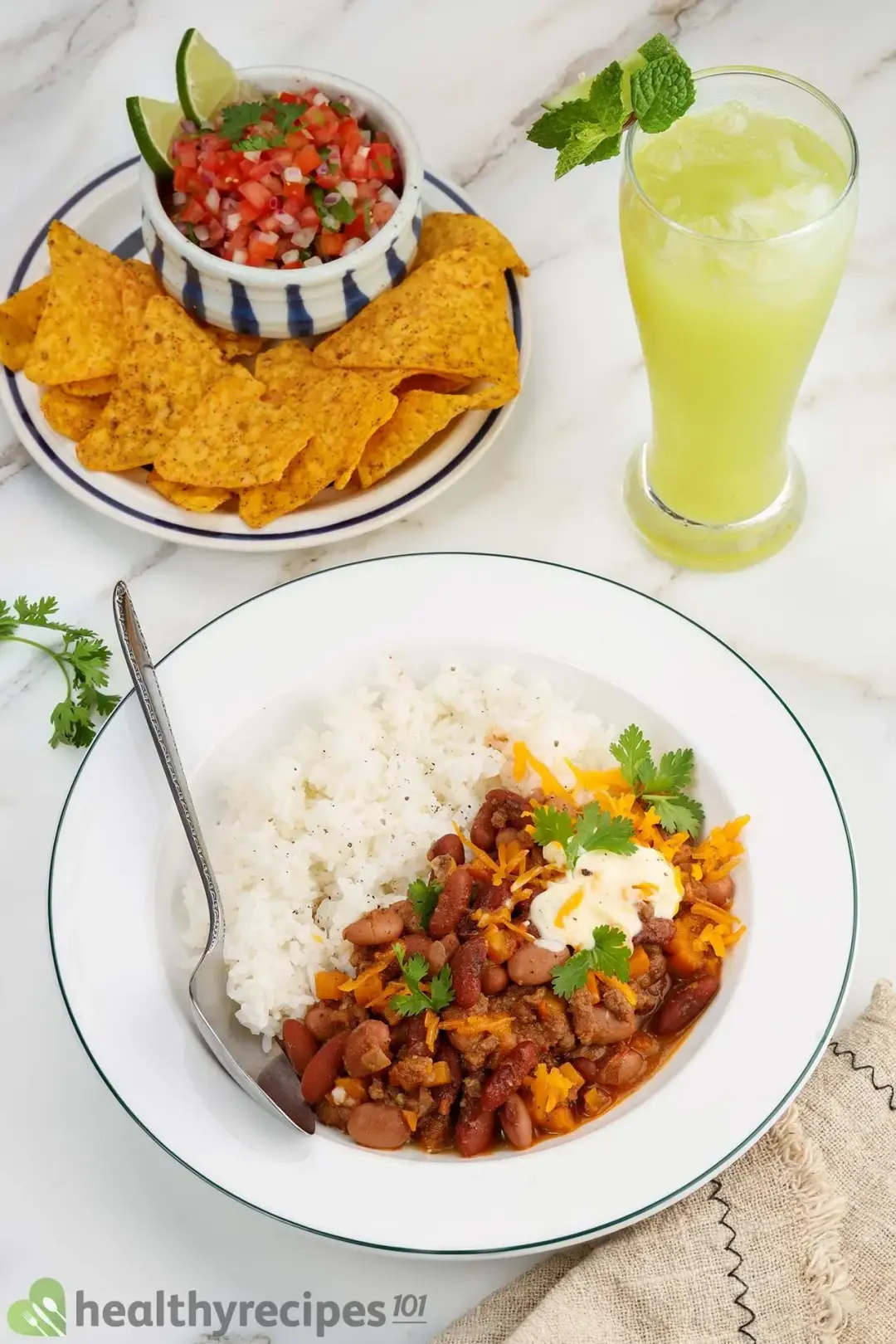 Can You Freeze Chili?
Absolutely. The components — ground meat, cooked veg, and the delicious broth all freeze and thaw well. Reheat as you do when it's refrigerated.
What to Serve With Instant Pot Chili
To cut through the stew's rich and robust flavors, we picked a Mexican salad/ condiment — Pico de Gallo. It's simple, fresh, and tangy.
We rounded the meal off with a mildly sweet and tangy beverage: cucumber lime juice. Since the meal itself is packed with flavors, a light juice makes the ideal complement.
For a wider selection of instant pot dishes, don't miss out this collection on the instant pot dinner recipes that we've carefully sorted out for you!
Instant Pot Chili Recipe
This Instant Pot chili recipe cooks a 2-hour stew in just 42 minutes. It's still packed with all the delicious flavors, a real saver when you're busy.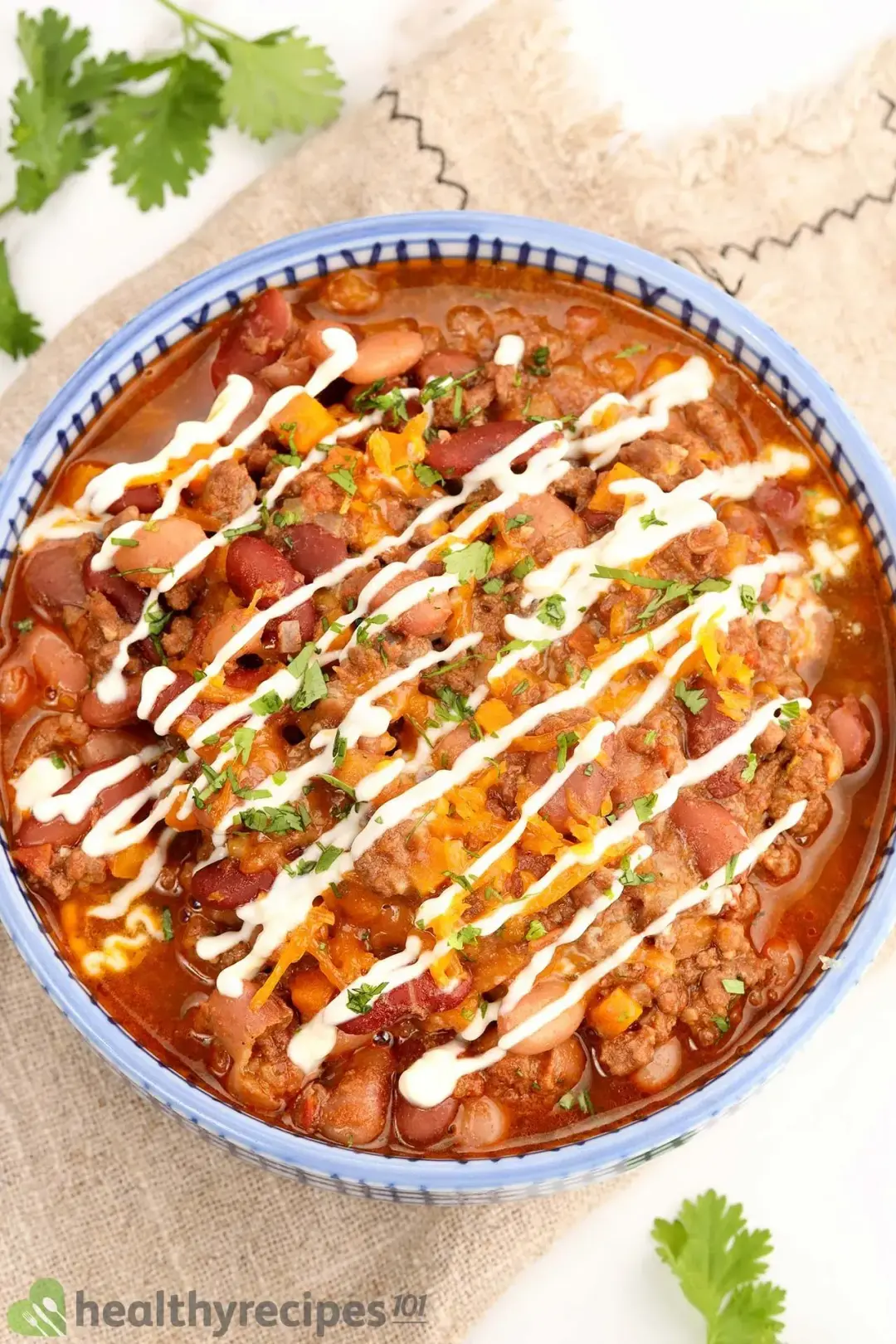 cook TIME

35 mins

prep TIME

7 mins

total TIME

2 hr 42 mins

INACTIVE TIME

2 hr
COURSE

Main Course

CUISINE

Mexican

SERVINGS

servings

CALORIES

493 kcal
INGREDIENTS
3 oz

pinto beans raw

3 oz

kidney beans raw

1 tbsp

olive oil

1 tbsp

garlic about 3 cloves, minced

2 oz

onions about half a medium, finely chopped

4 oz

carrots about 2 medium, diced

0.5 tbsp

Hunt's tomato paste

1 cup

chopped tomatoes about 2 medium

6 oz

85% lean ground beef

0.5 tsp

ground cumin

0.5 tsp

paprika

0.5 tsp

chili powder

0.5 tsp

ground black pepper

1.5 cup

unsalted chicken broth

2 tsp

traditional Dijon mustard

1 tsp

brown gravy mix

0.5 tsp

salt

2.5 cup

cooked medium-grain rice

2 tbsp

sour cream

0.5 oz

cheddar cheese shredded

2 tbsp

cilantro finely chopped
INSTRUCTIONS
1
Soak the pinto beans and kidney beans (3 oz each) in hot water for 2 hours, or overnight. Drain, rinse, and set aside.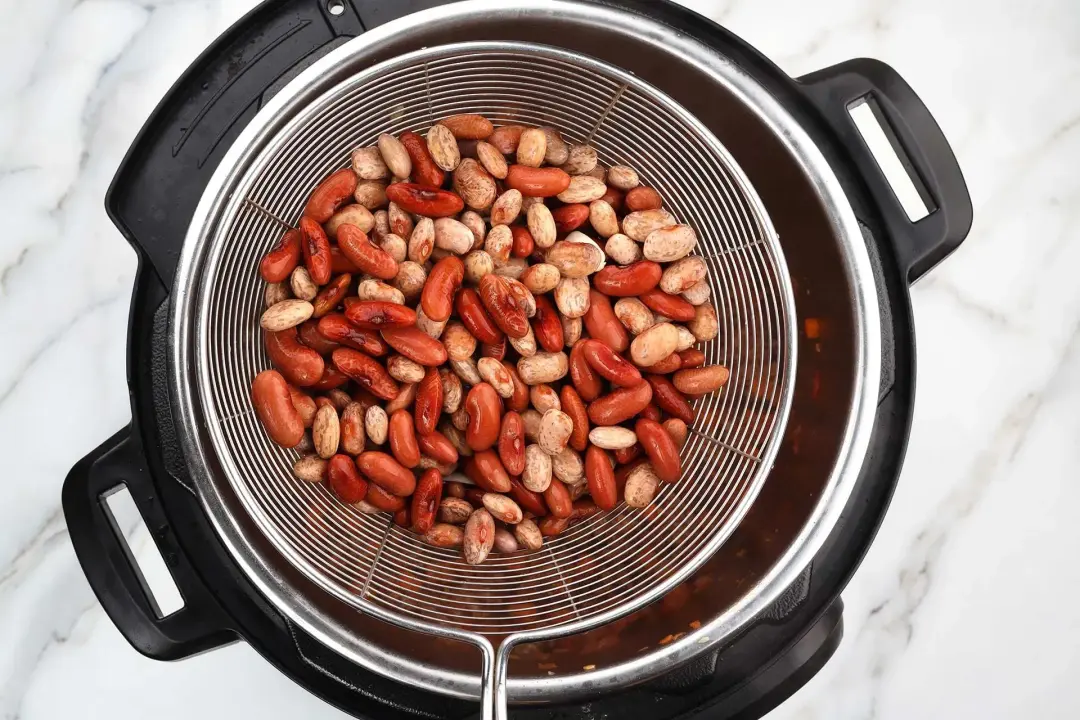 2
Select 'sauté' and heat 1 tbsp olive oil for about 1 minute. Add 1 tbsp minced garlic, 2 oz finely chopped onion, and 4 oz diced carrots, and sauté for about 3 minutes.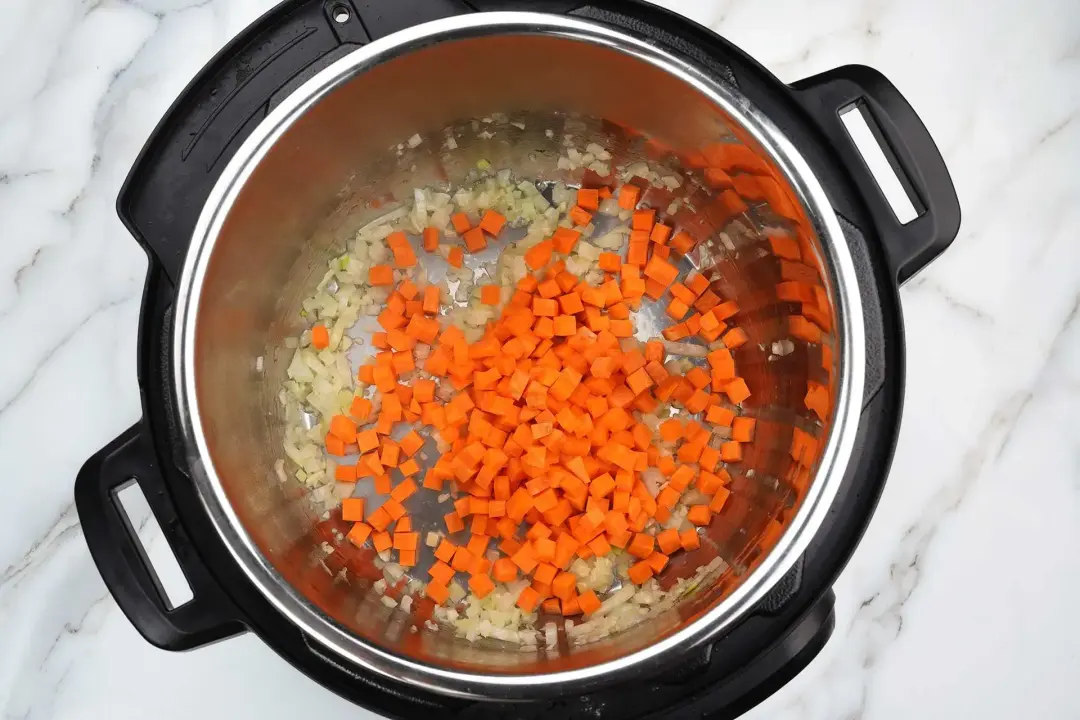 3
Stir in 1/2 tbsp tomato paste. When it's melted and coats the veg evenly, add 1 cup chopped tomatoes. Stir for another 2 minutes.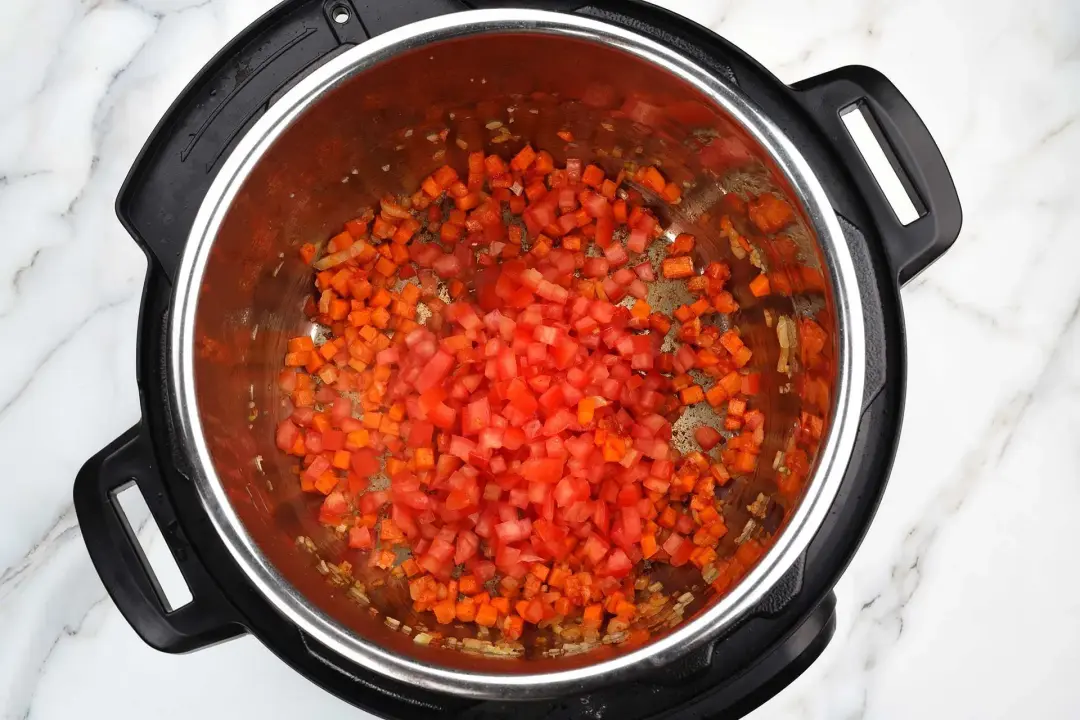 4
Add 6 oz ground beef along with the cumin, paprika, chili powder, and black pepper (1/2 tsp each). Break the meat, stir it around to cook for 2 minutes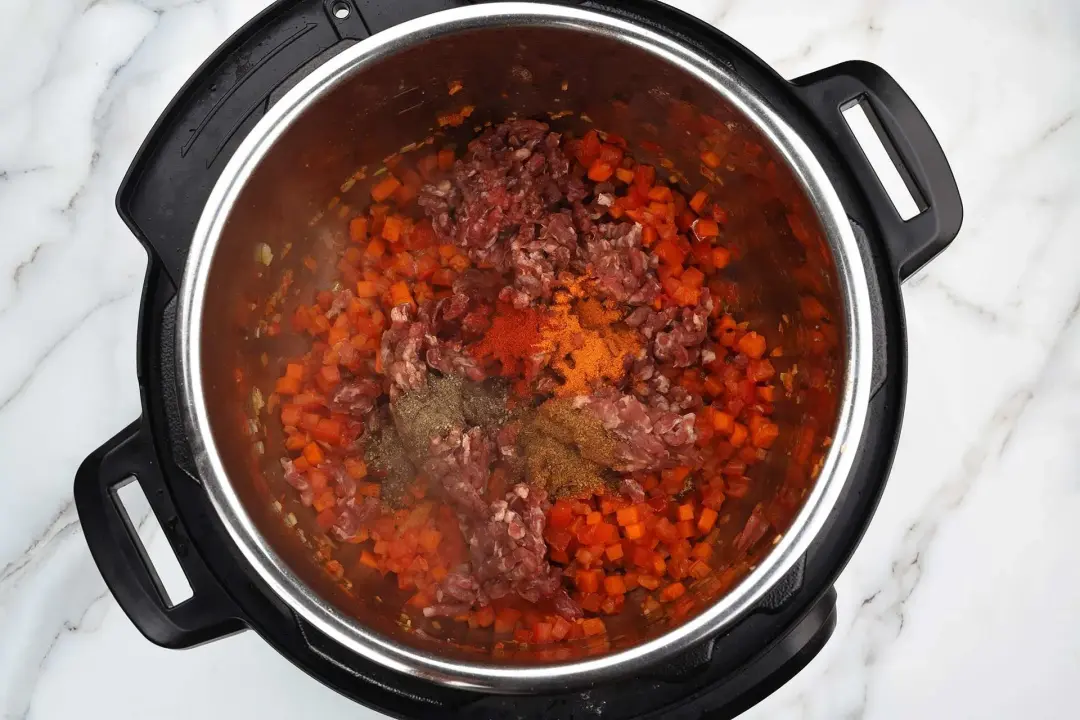 5
Add the soaked beans and 1 1/2 cup chicken broth. Close the lid, turn the steam handle to 'sealed', and select 'meat/stew'. Allow to cook for 25 minutes.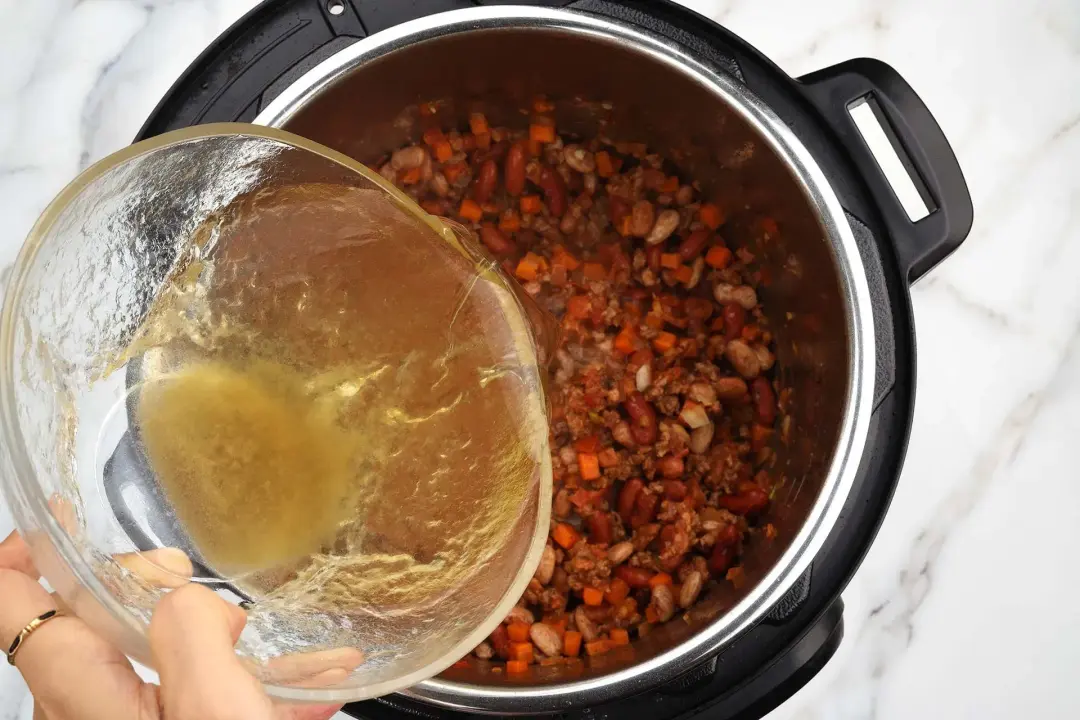 6
Place a kitchen cloth onto the steam handle and with a spoon, turn it to 'venting'. Once the steam completely escapes, carefully open the lid and select 'sauté'. Tip in 2 tsp mustard, 1 tsp gravy mix, and 1/2 tsp salt, and stir for 1 minute.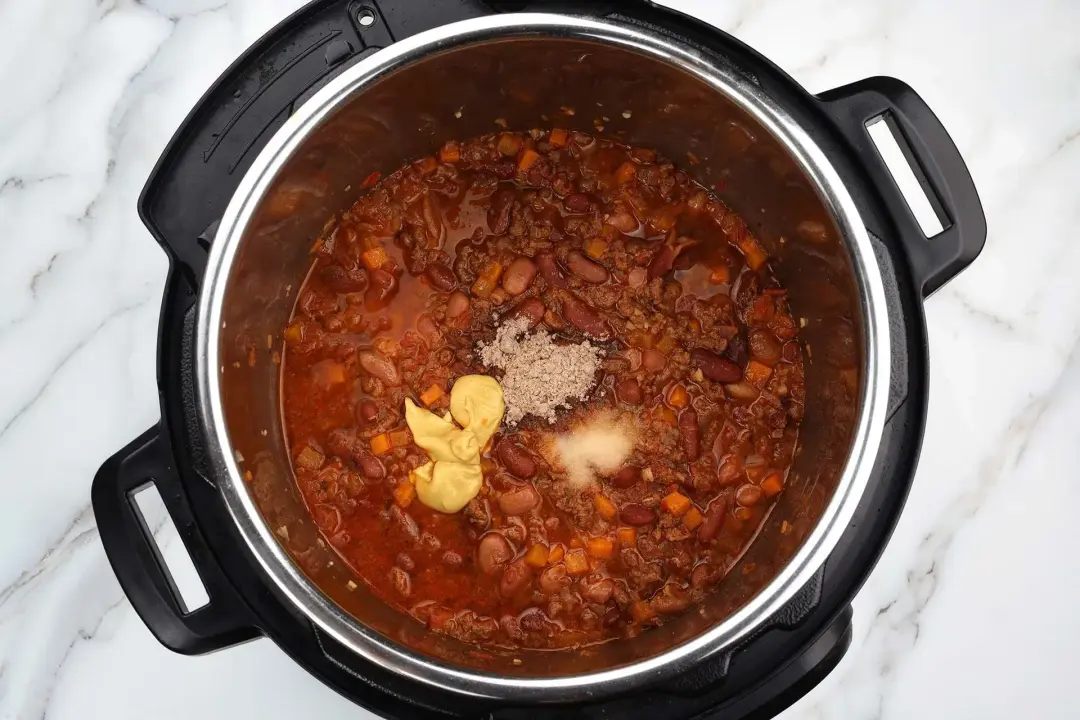 7
Turn the machine off and serve with 2 1/2 cooked rice, 2 tbsp sour cream, 0.5 oz cheddar, and 2 tbsp cilantro. Portion the rice and toppings evenly among serving dishes.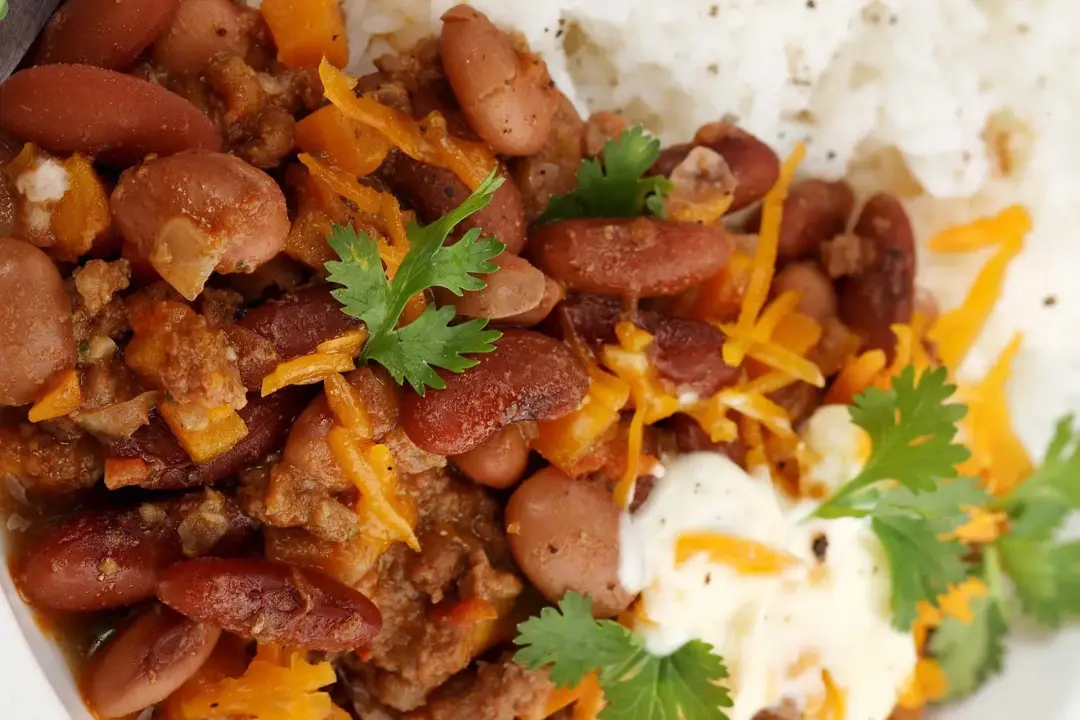 NUTRITION
Nutrition Facts
Instant Pot Chili Recipe
Amount Per Serving (1 serving)
Calories 493
Calories from FDA
% Daily Value*
* Percent Daily Values are based on a 2000 calorie diet.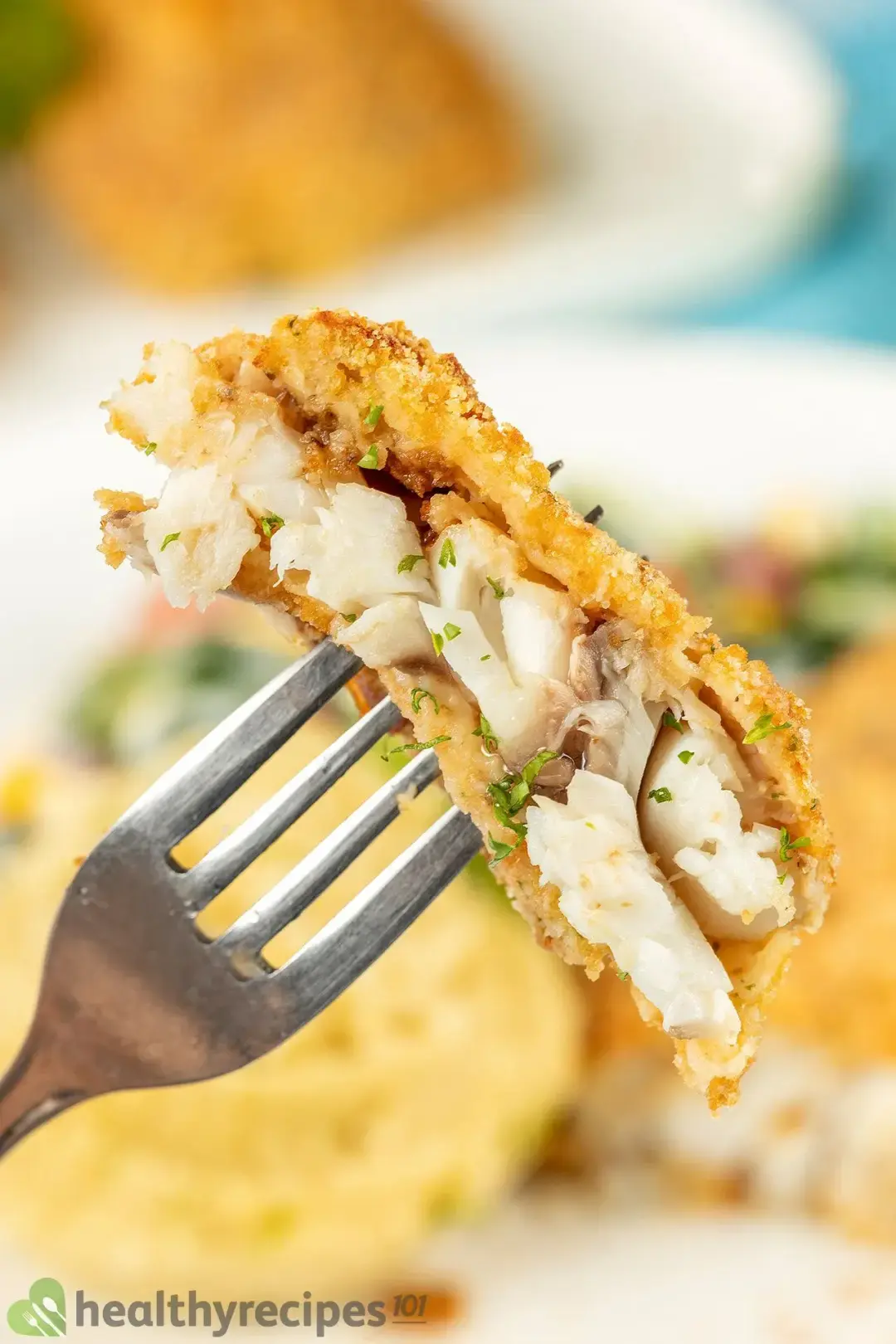 Previous Recipe
Air Fryer Tilapia
Air Fryer Tilapia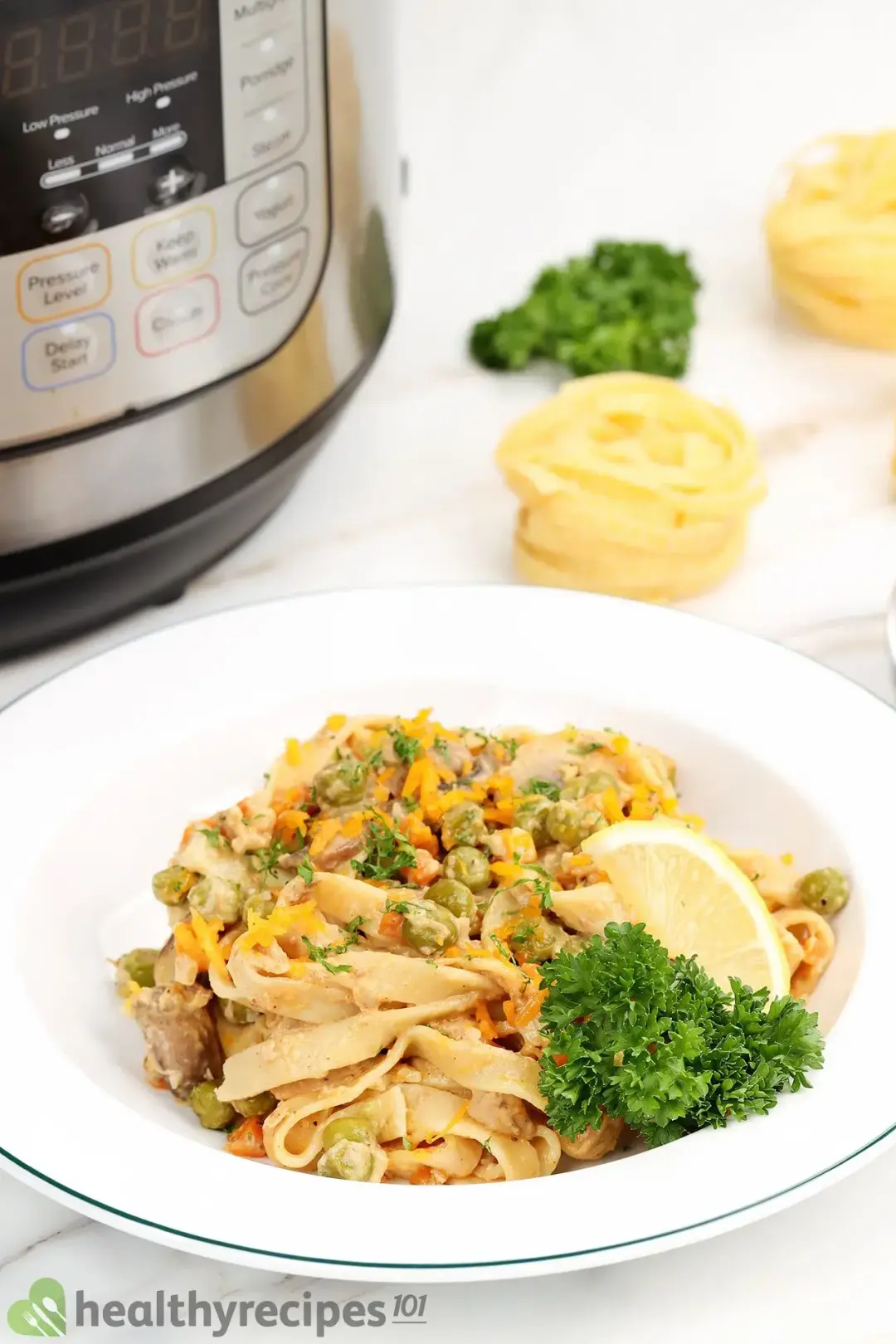 Next Recipe
Instant Pot Tuna Casserole
Instant Pot Tuna Casserole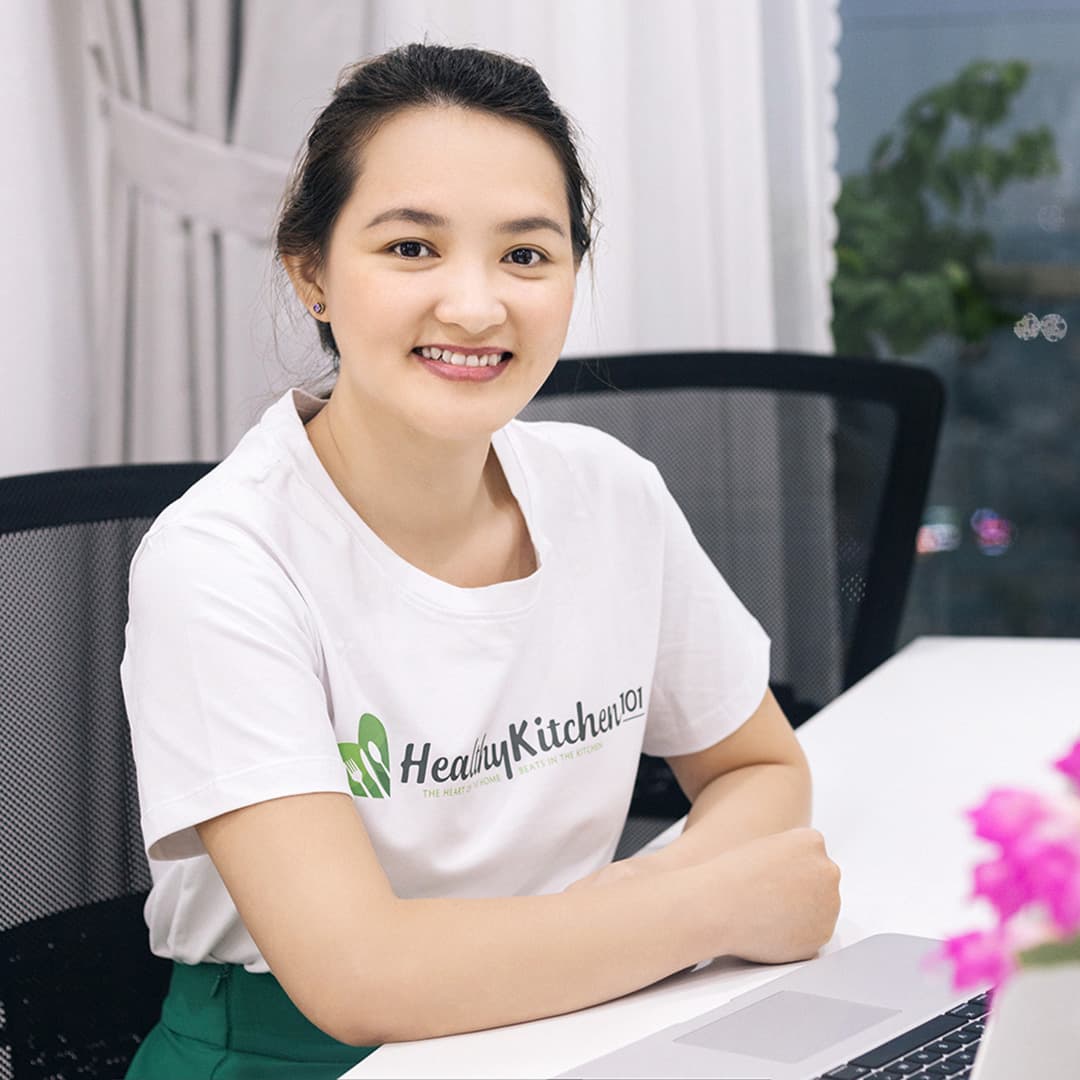 Luna Regina
A writer and entrepreneur, Luna's day doesn't start at the computer keyboard, but in the kitchen.
Half of her working hours are spent on mixing ingredients for her recipes. The other half involve working with the tech team to research and test the tools and appliances that promise to make kitchen work effortless and mess-free. From a kitchen knife or water filter to the Instant Pot, if it can help save time and effort for the home cook, Luna and her team are on it.
Luna's extracurricular pastimes include camping, travel, and photography.
Comments/ Reviews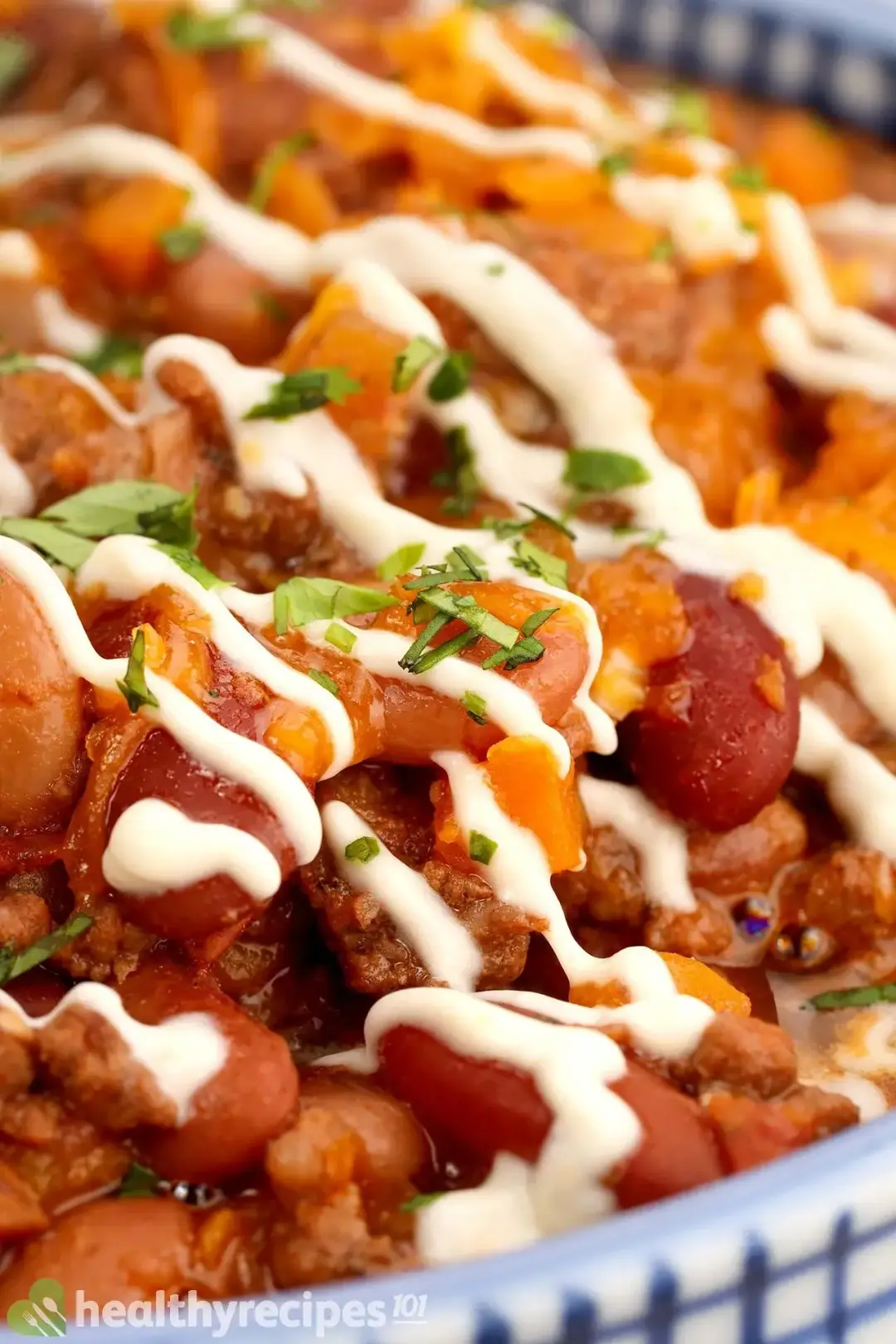 Instant Pot Chili Recipe