If you are too busy for daily cooking yet dislike buying unhealthy take-out foods, why not start your meal-prepping journey today?
Get off to a good start with our ground chicken chili recipe, featuring juicy chicken and crunchy diced vegetables simmered in a tomato-based sauce.
With no complicated skills required, preparing a hearty pot of ground chicken chili to stock up your fridge won't be a hard nut to crack.
Is This Recipe Healthy?
Our ground chicken chili is delicious and nutritious, featuring protein-dense and fibrous ingredients.
A single serving contains only 457 calories, 4.6 g of saturated fat, and 595 mg of sodium, leaving much space for an extra green salad.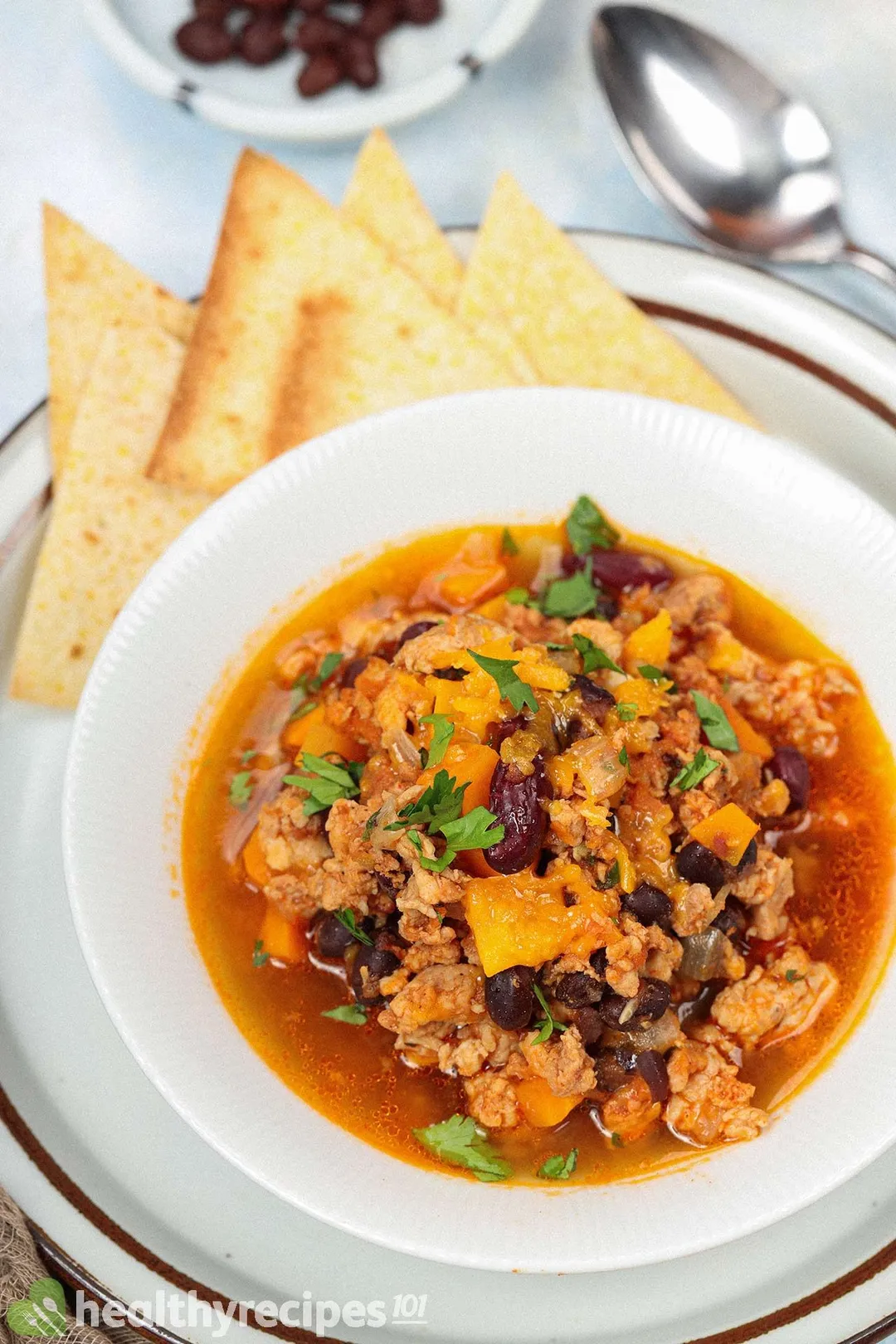 Ingredient-wise, we pair ground chicken thighs—a rich source of high-quality protein—with a rainbow of bite-sized vegetables to form an impressive nutrition profile.
Specifically, each serving will provide you with 33.4 g of lean protein, up to 67% of the recommended daily value.
Main Ingredients
Here's what you'll need:
Chicken: Instead of buying mixed ground chicken from the grocery store, we prefer grinding ours at home. Homemade ground chicken is a healthier option because it contains no harmful additives. You can adjust the fat-to-protein ratio by opting for different chicken cuts—chicken breast and tenderloin are two leaner choices than chicken thighs.
Vegetables and cheese: We kept our toppings simple with diced carrots, onions, red kidney beans, black beans, and cheddar cheese; however, you can go with whatever rocks your socks.
Broth: Unsalted chicken broth will add extra flavor to the ground chicken chili while keeping the amount of added sodium on track. 
Tomato paste and tomato sauce: Apart from enhancing the consistency, the combination of tomato paste and homemade tomato sauce offers an eye-catching visual and an umami punch.
Mustard: The distinct tanginess of traditional Dijon mustard sets it apart from the regular types.
Seasonings: We flavor ground chicken with some pantry-ready spices such as chili powder, paprika, ground cumin, salt, and black pepper.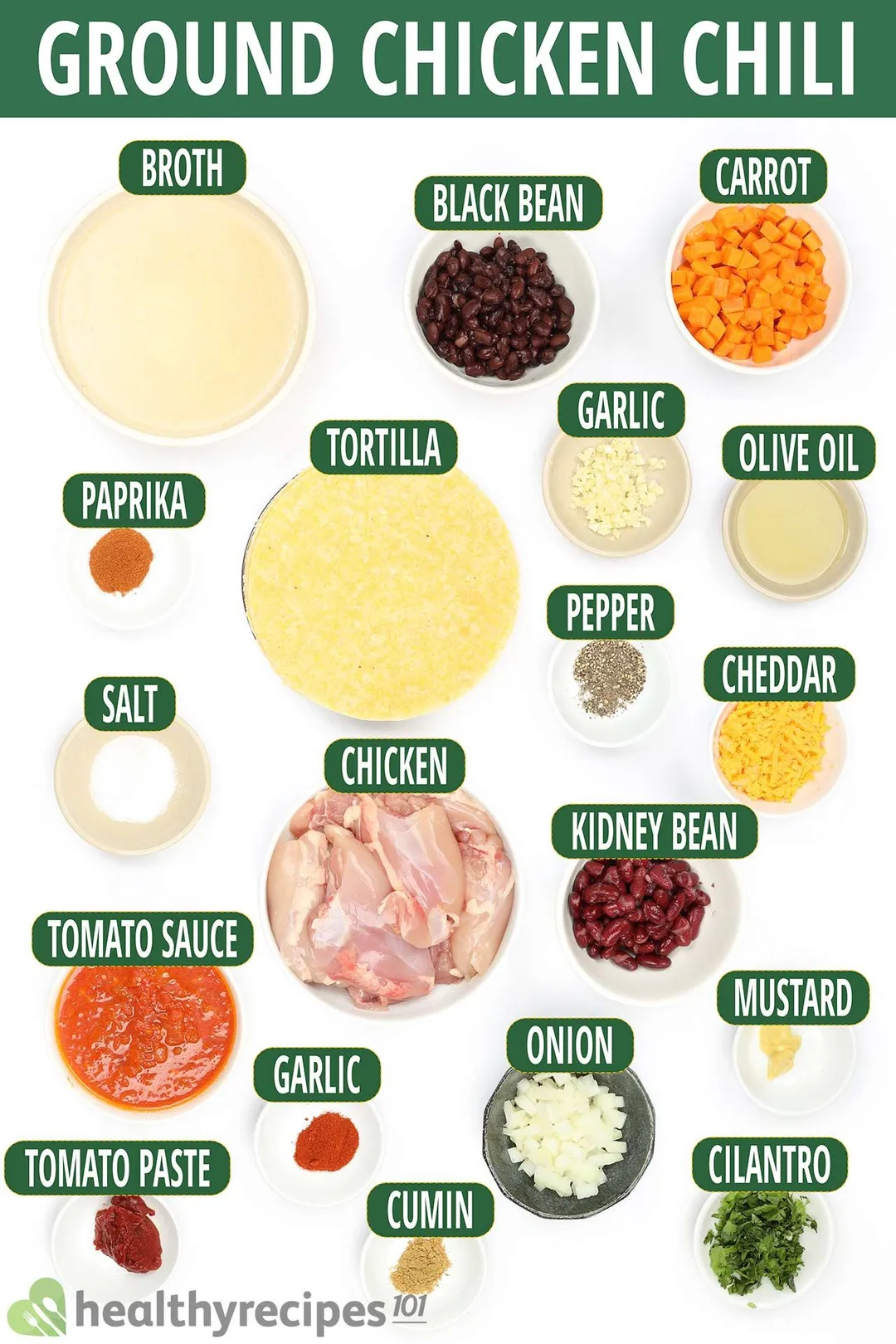 How to Thicken Chili Sauce
We all agree that a perfect ground chicken chili dish should have a thick and velvety consistency that helps bind all the toppings together.
Your chili sauce may turn out thin for two reasons: not spending enough cooking time and adding too much liquid.
Our chefs have some tips to help fix your soupy ground chicken chili.
Remove the lid and cook longer: This is the easiest way to fix your watery chili sauce without affecting its nutritional value. Simmer your ground chicken chili uncovered on low heat for 15-20 minutes to let the excess liquid evaporate. Once the sauce reaches your desired consistency, take it off the heat, and set it aside to cool.
Mash the beans: Mashed beans will release more starch content into your sauce, thus, helping enhance its texture. We suggest mashing the beans in another container and then adding them to the pot later to prevent clumping.
Make a cornstarch slurry: Mix a tablespoon of cornstarch and a tablespoon of cold water in a small mixing bowl to form a slurry. Gently pour the mixture into your chili sauce and mix well for 8-10 minutes. 
Add more vegetables: These extra toppings help soak up the leftover liquid while providing more nutrients to the dish. Some great add-ins are diced carrots, sweet potatoes, and corn kernels.
How to Store and Reheat Leftovers
1. How to Store
According to the 2-hour rule, when left uncovered at room temperature, food is prone to bacterial growth; this is also the main cause of foodborne illness.
If you desire to prolong the shelf life of your leftovers, we recommend refrigerating or freezing them.
Refrigerator storage: This method is ideal for storing a small portion of leftover ground chicken chili. Place your leftovers in an airtight container and keep them in the fridge for 3-4 days.
Freezer storage: If you prepare a big batch of ground chicken chili far ahead of time, freezing will help retain its quality for up to a few months. Let your chicken chili cool down completely, portion it into freezer-friendly bags, and freeze it for up to 3 months.
2. How to Reheat
For refrigerated leftovers, transfer them into a microwave-safe bowl and microwave at 'high' until warm.
As for frozen ground chicken chili, thaw it overnight in the fridge before reheating it in the microwave or on the stovetop.
What to Serve With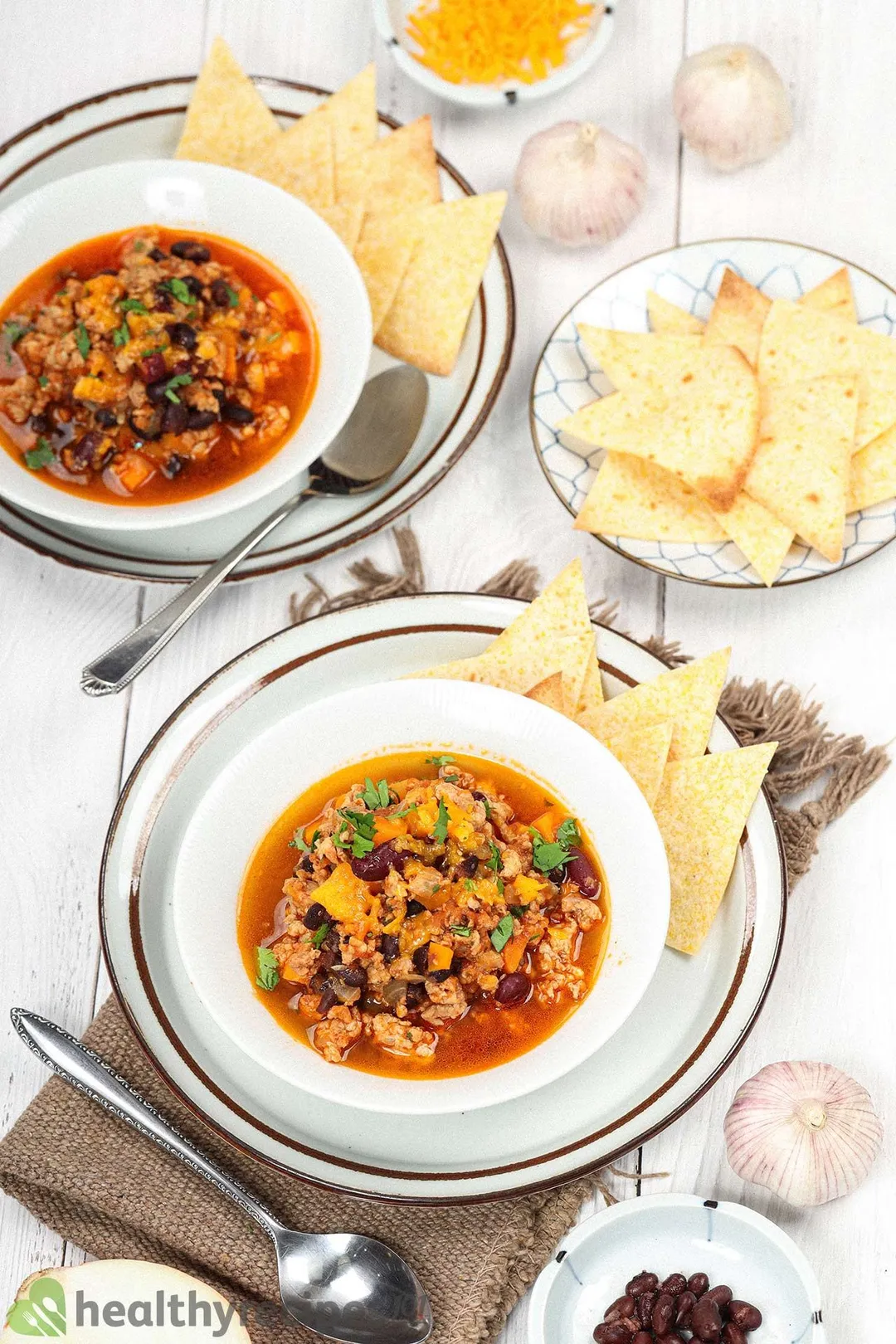 Flavorful Pots of Chicken Soup
Chicken Florentine Soup is a creamy concoction with spinach, orzo, carrots, and celery for filling and texture-rich spoonfuls. Our version is straightforward and made with basic ingredients, but it tastes like a 5-star comfort food.
Swap one-toned dinners for comfort and flavor with this hearty Chicken Enchilada Soup. We combine everyone's favorite enchilada ingredients to create a spicy, flavorful soup: chicken breasts, beans, corns, and loads of Mexican spices.
Ground Chicken Chili
Today's ground chicken chili recipe features succulent ground chicken and diced vegetables smothered in a tangy-spicy sauce, offering an instant energy boost. It tastes even better when chilled overnight in the fridge—a fantastic meal-prep option.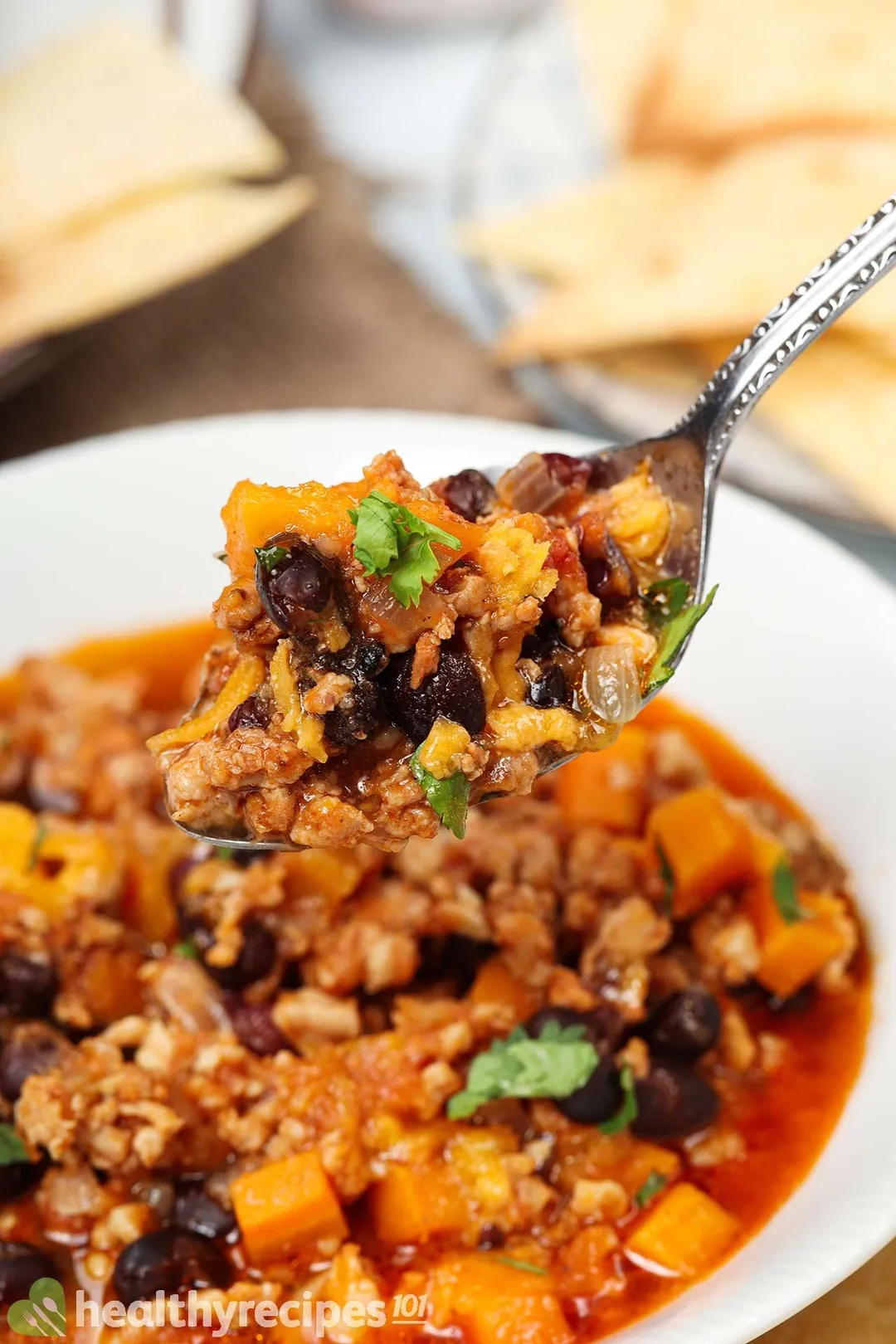 cook TIME

30 mins

prep TIME

10 mins

total TIME

40 mins
COURSE

Main Dish

CUISINE

Mexican

SERVINGS

CALORIES

457 kcal
INGREDIENTS
18 oz

skinless boneless chicken thigh

3 oz

unsalted dark red kidney beans

1 oz

cheddar cheese

(shredded)

1 cup

homemade tomato sauce

1 1/2 cups

unsalted chicken broth

1 tbsp

Hunt's tomato paste

2 tbsp

cilantro

(chopped)

1 tsp

traditional Dijon mustard
INSTRUCTIONS
Prep:
1
Place the chicken thigh skin-side down on a cutting board. Use a sharpened knife to slice under and cut along the back of the bone. Discard the bone. Pull off the skin of the chicken thighs with your hand; discard the skin. Cut the skinless, boneless chicken thighs crosswise into strips, then slice those strips into small chunks. Grind those chunks in a food processor.
2
Halve the onion and peel away the skin. Trim one end and lay the halved onion face down. Make vertical slices, 1/8 inch apart, such that you cut towards the root; leave about 1/8 inch at the end so the root stays intact. Turn the half 90 degrees and grip the root. Slice the onion horizontally, again leaving 1/8 inch at the end to keep the root intact. Slice the onion into small, even cubes. Discard the root.
3
Cut each corn tortilla into triangle-shaped pieces.
4
Finely mince the peeled garlic.
5
Roughly chop the cilantro.
Cook:
1
Sauté the aromatics: Place a large pot over medium heat, then add 2 tbsp olive oil, 1 tbsp garlic, minced, and 2 oz diced onions. Stir well for 2 minutes.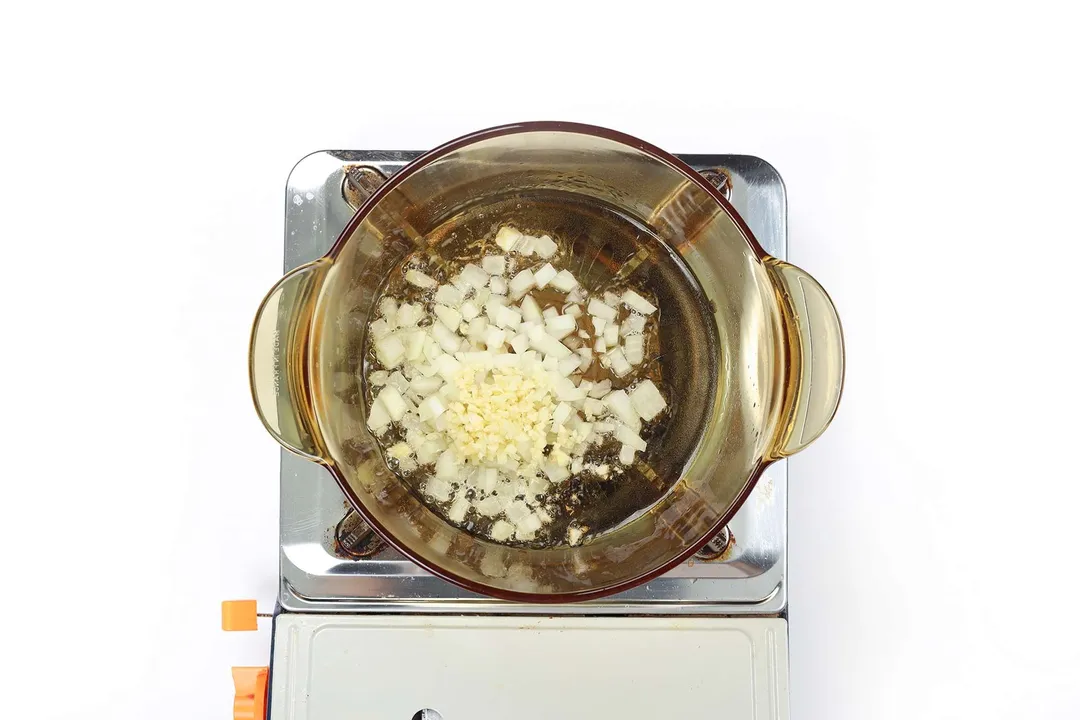 2
Add the ground chicken and seasonings: Add 18 oz ground chicken, 1/2 tsp chili powder, 1/2 tsp paprika, 1/2 tsp ground cumin, 1 tbsp Hunt's tomato paste, 1 tsp traditional Dijon mustard, 1/2 tsp salt, and 1/2 tsp black pepper to the pot. With a cooking spatula, stir the ground chicken vigorously to cook for 5 minutes.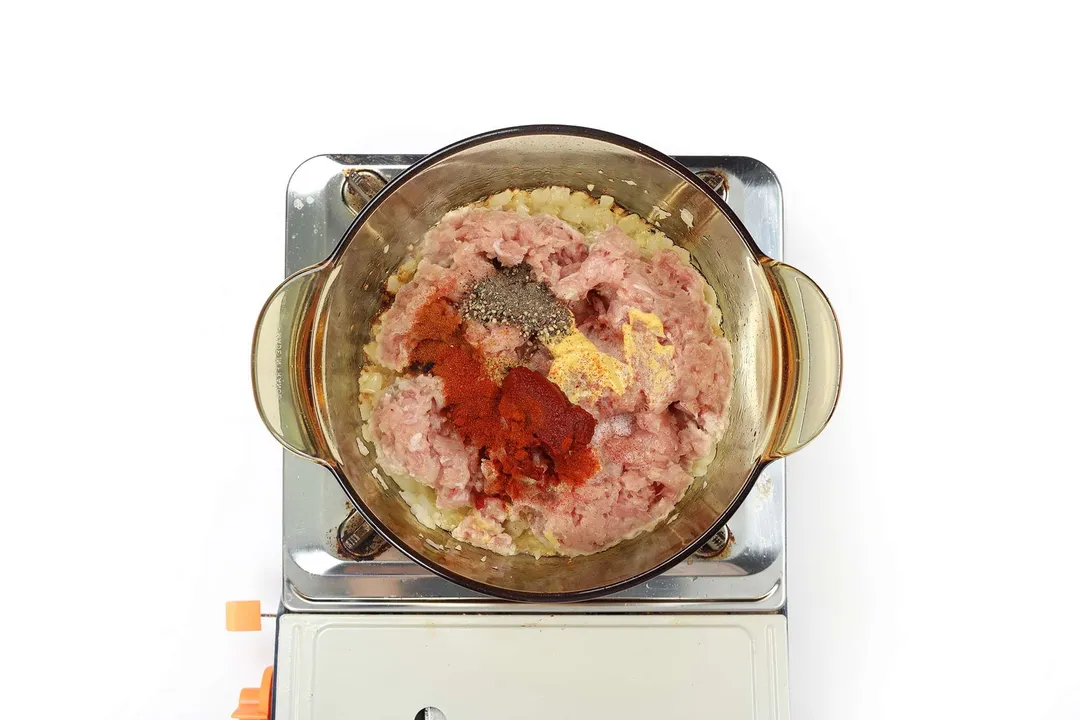 3
Add the carrots: In the same pot, add 4 oz diced carrots. Mix well for 2 minutes.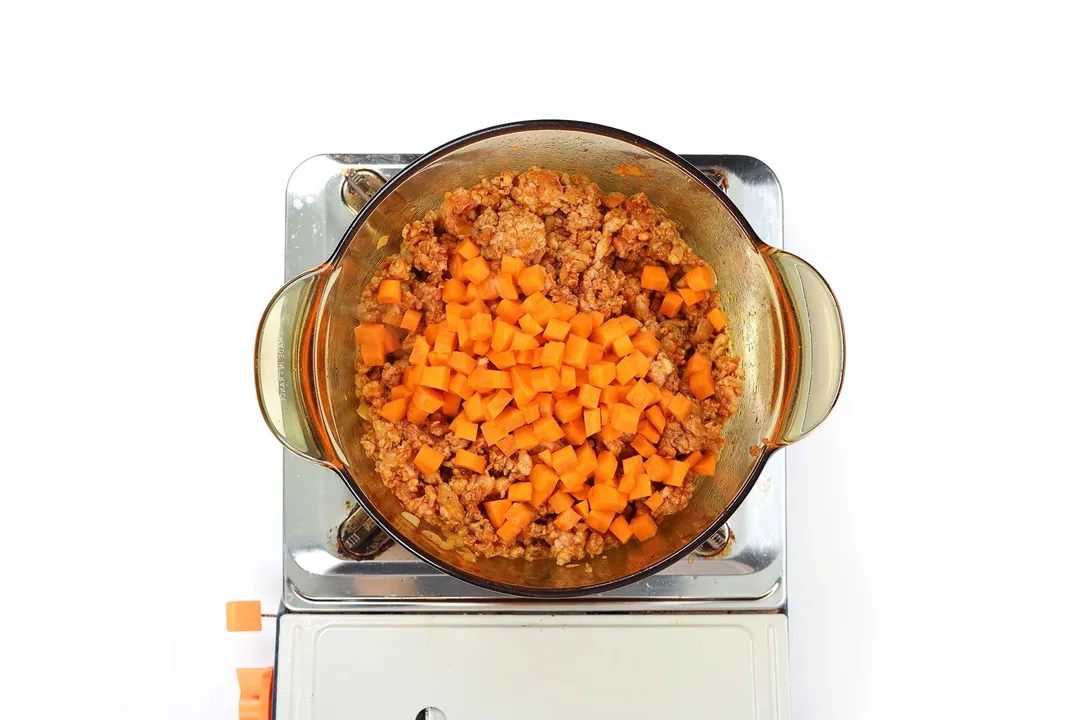 4
Add the chicken broth and tomato sauce: Pour 1 cup of homemade tomato sauce and 1 1/2 cups of unsalted chicken broth into the pot. Bring the mixture to a boil, then lower the heat, and let it simmer for 15 minutes.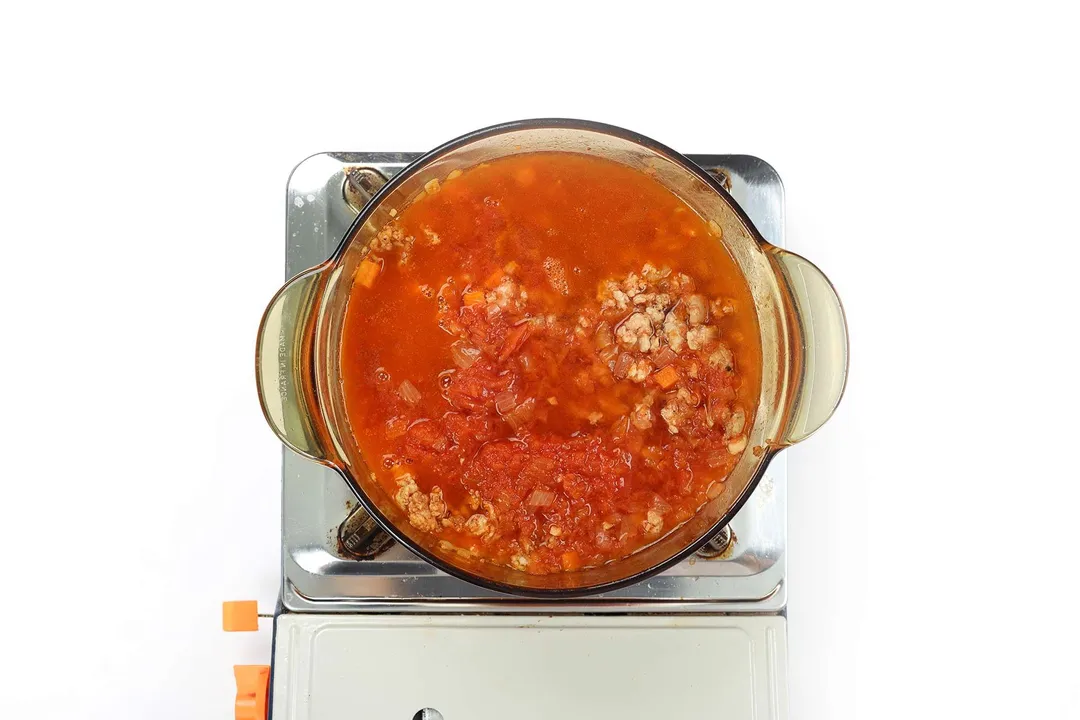 5
Add the beans: Add 3 oz unsalted dark red kidney beans and 4 oz canned black beans to the pot. Gently stir to cook for another 5 minutes.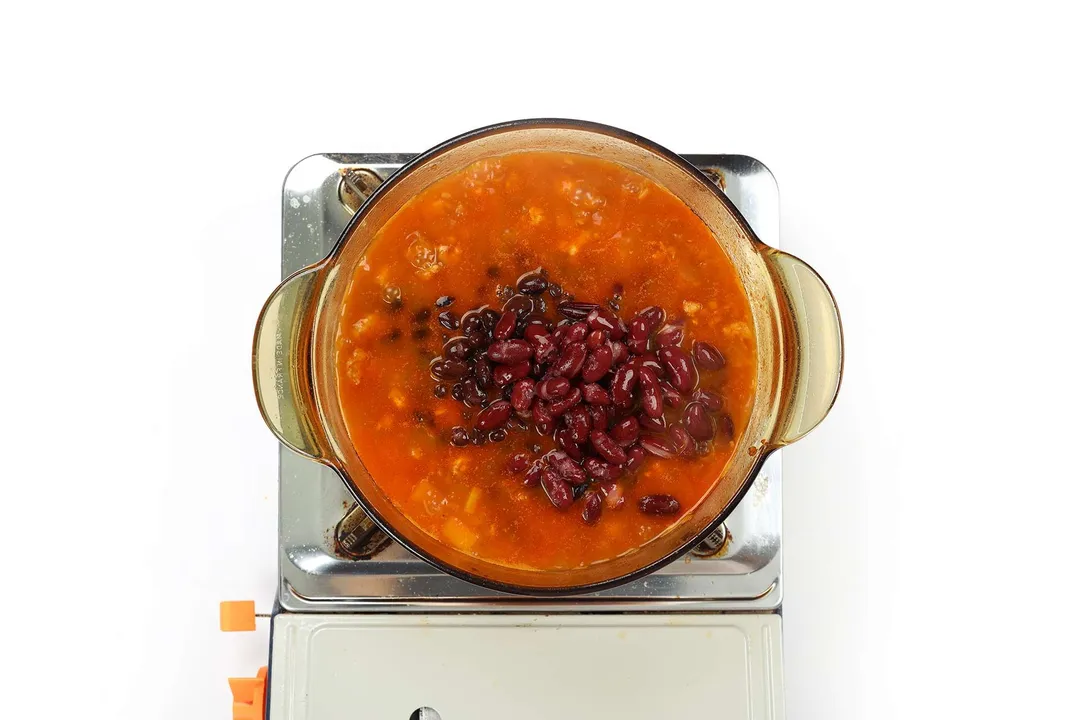 6
Add the cheese and cilantro: Remove the pot from the heat, then add 1 oz shredded cheddar cheese and 2 tbsp chopped cilantro.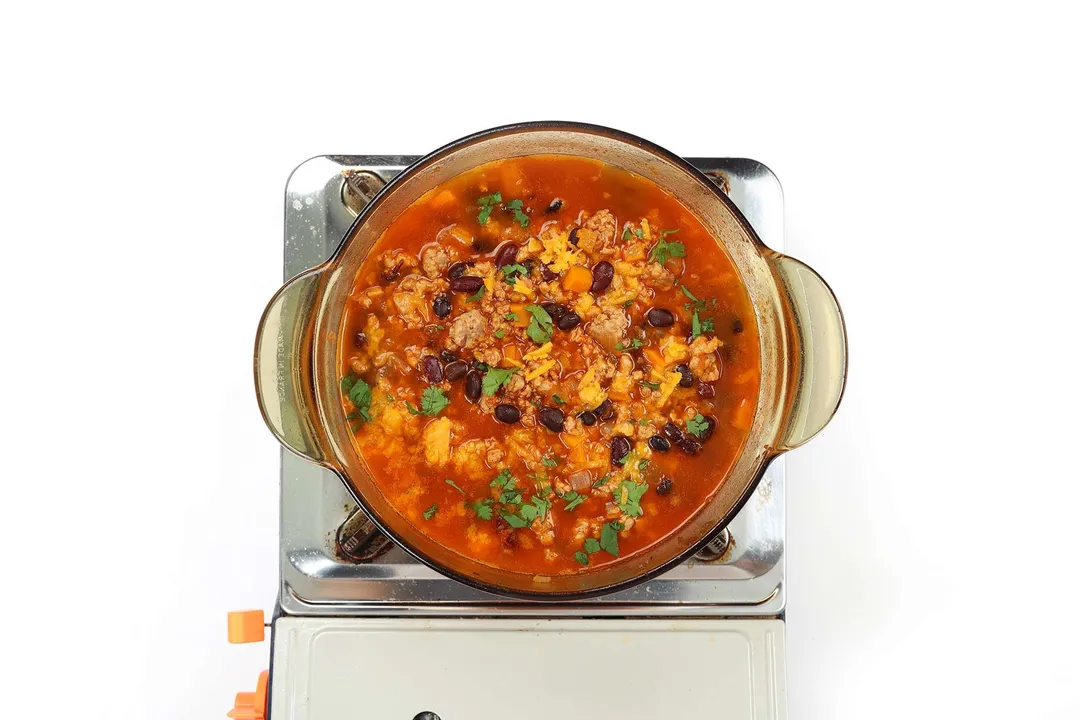 7
Bake the corn tortillas: While the ground chicken chili is cooking, cut corn tortillas and bake at 375°F for 6 minutes.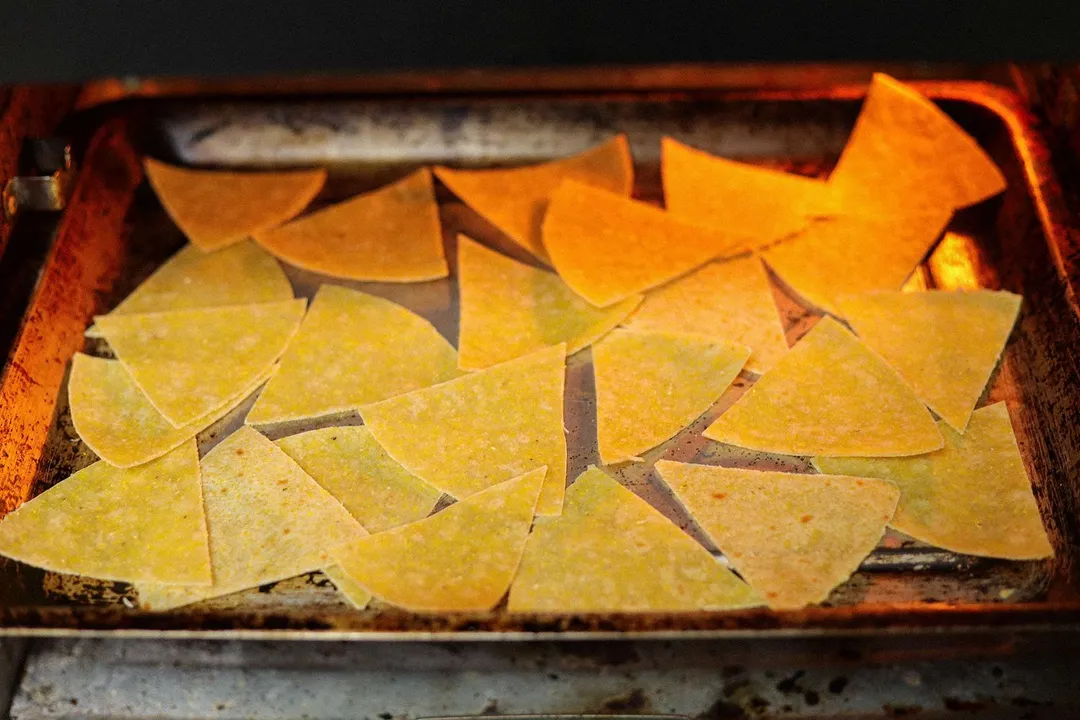 8
Serve: Transfer your desired portion into a serving bowl. Enjoy the ground chicken chili with corn tortillas.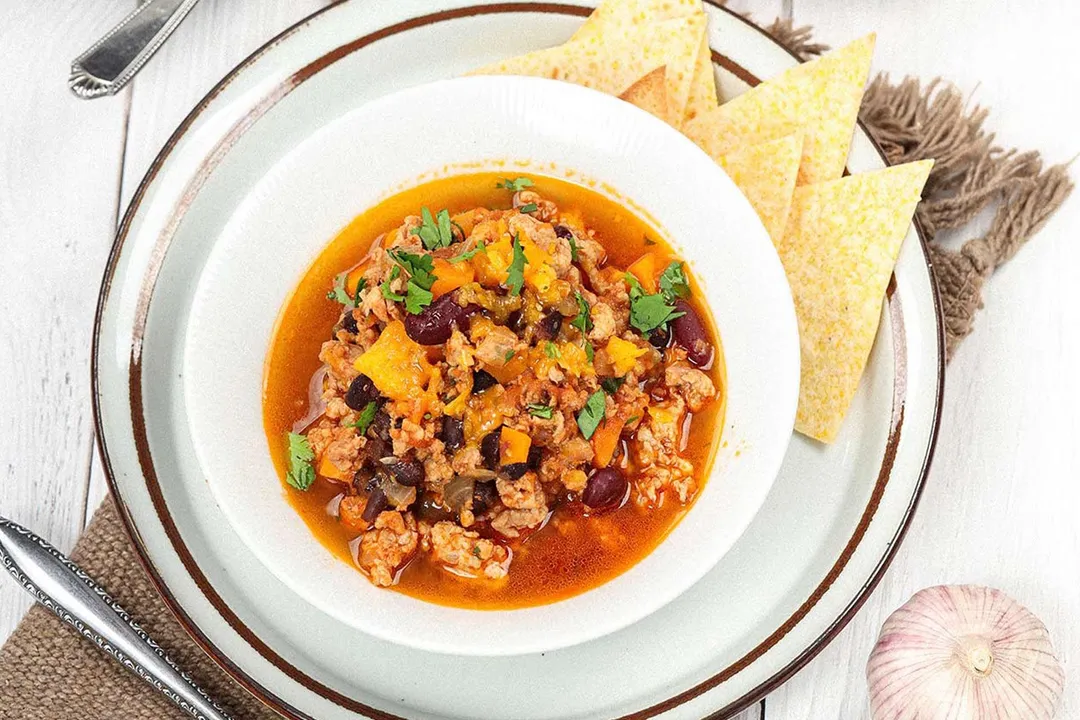 NUTRITION
Nutrition Facts
Ground Chicken Chili
Amount Per Serving (1 serving)
Calories 457
Calories from Fat 194
% Daily Value*
Monounsaturated Fat 11.2g
* Percent Daily Values are based on a 2000 calorie diet.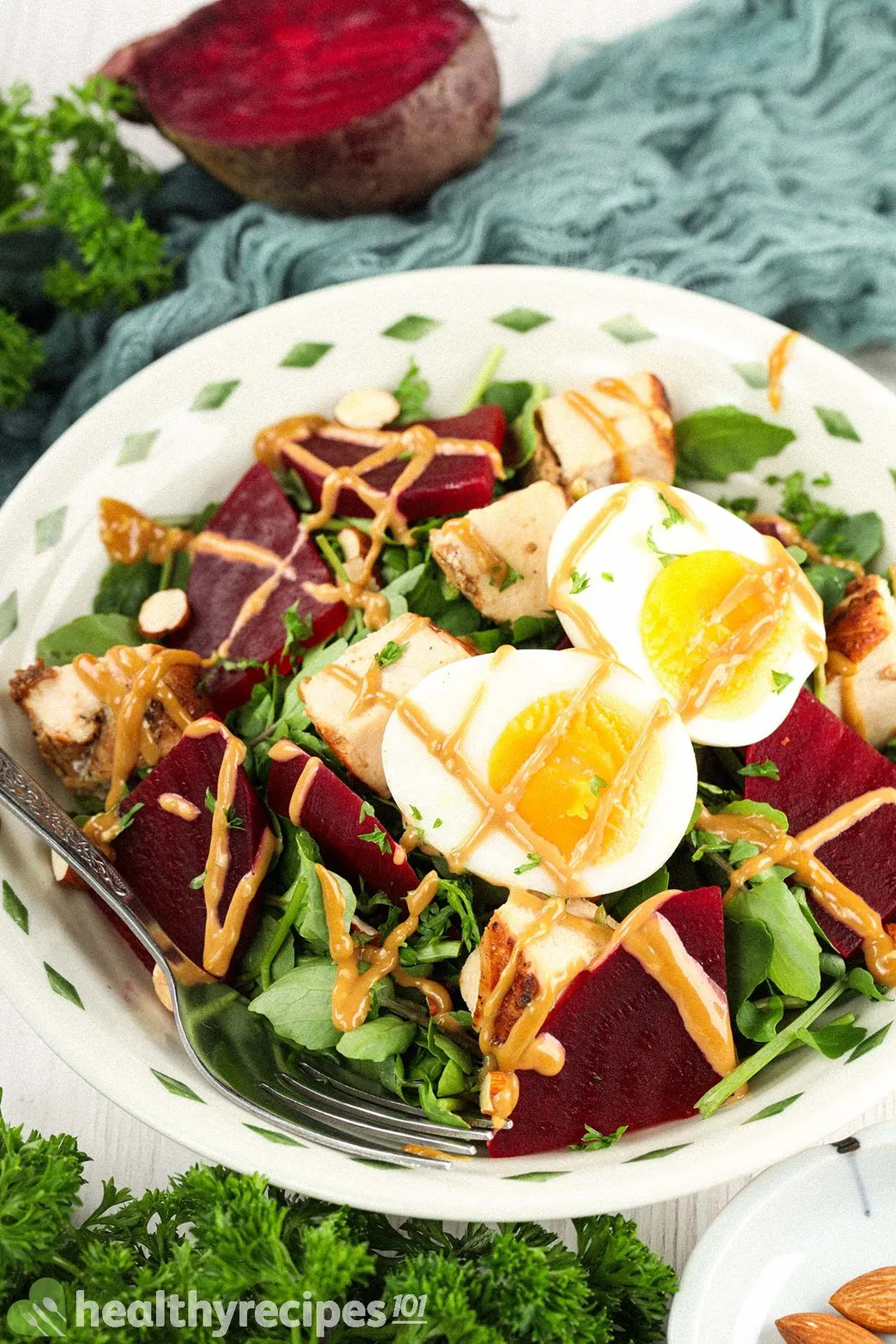 Previous Recipe
Chicken and Egg Salad
Chicken and Egg Salad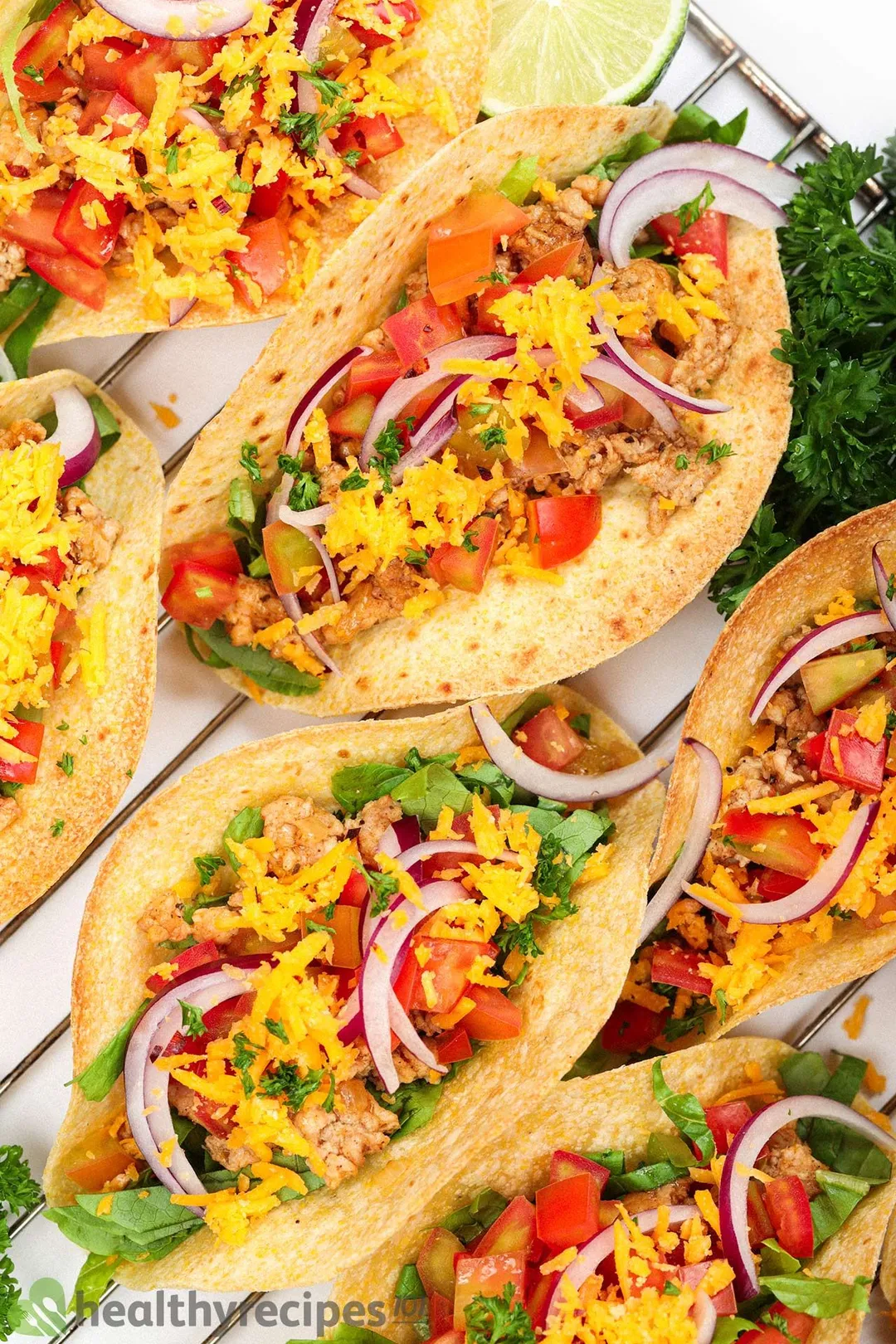 Next Recipe
Ground Chicken Tacos
Ground Chicken Tacos
Head Chef, Culinary Consultant
Tuyet Pham is an award-winning Saigonese chef who believes that joy is the secret ingredient to delicious food. At Healthy Recipes 101, Tuyet personally tests and simplifies every recipe, ensuring maximum flavor with minimal effort. With a background at prestigious French restaurants P'TI Saigon and Le Corto, Tuyet knows how to make every dish exceptional.
Writer, Author
Luna Regina is an accomplished writer and author who dedicates her career to empowering home cooks and making cooking effortless for everyone. She is the founder of HealthyKitchen101.com and HealthyRecipes101.com, where she works with her team to develop easy, nutritious recipes and help aspiring cooks choose the right kitchen appliances.
This is a healthier alternative to traditional beef chili. The recipe is easy to make and the chili is packed with protein and flavor. A must-try!