Today's air fryer tilapia recipe is the perfect choice if you're craving a light meal or brunch. Ready within 40 minutes, our air fryer tilapia is crispy on the outside while juicy and flakey on the inside.
It's easy, mess-free, and packed with flavor. With only one and a half tablespoons of oil, it still tastes as good as when deep fried.
Is Air-Fried Tilapia Healthy?
Tilapia is a broad term for freshwater fishes called cichlids, which belong to the Cichlidae family. Its flesh is firm and white and has a mild, delicate flavor.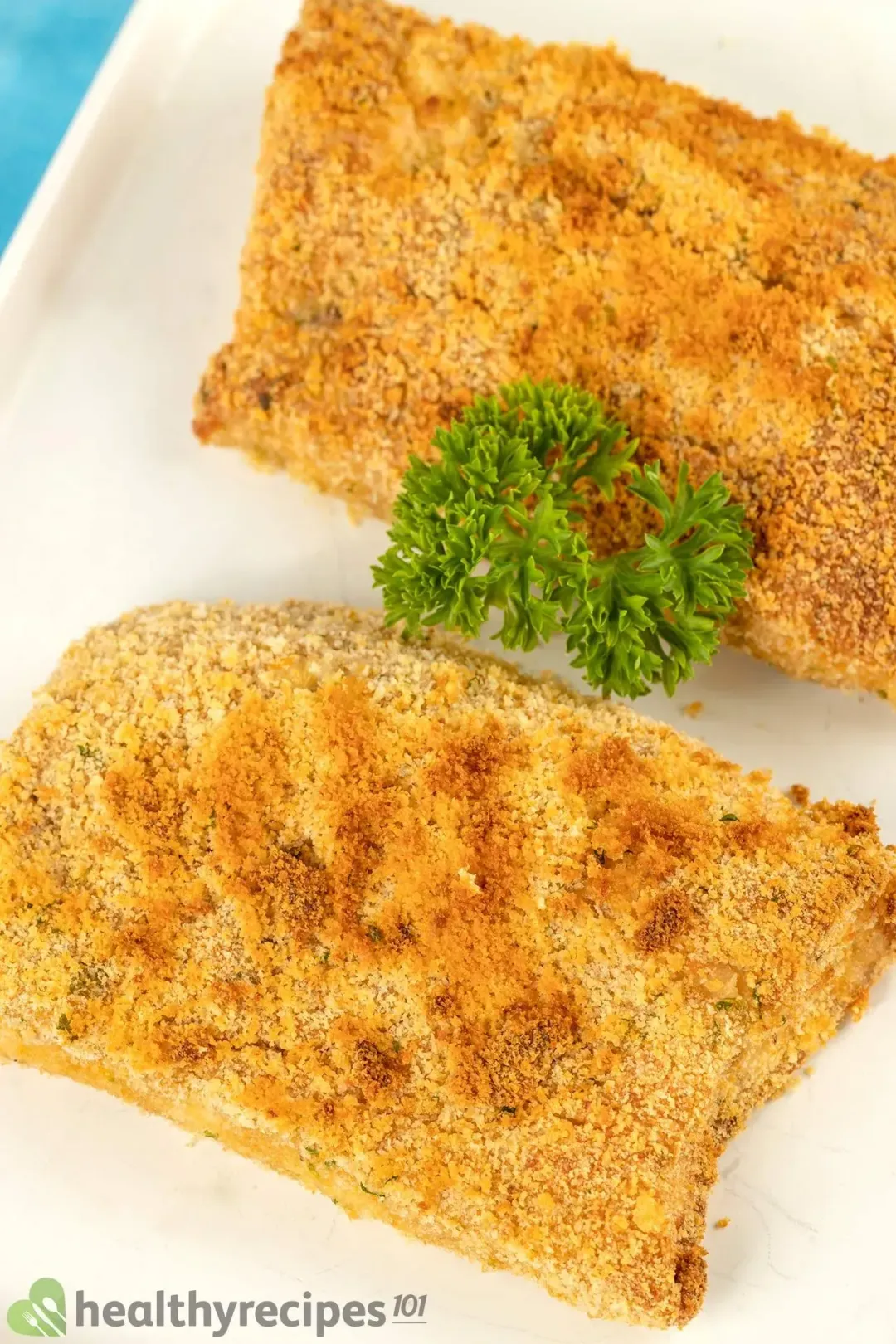 Tilapia is now the fourth-most consumed seafood in the US, along with cod, crab, and clams. It's available at most local grocery stores at a very reasonable price.
Tilapia offers the consumer a lean source of protein as well as vitamin B12, potassium, and phosphorus. Containing large amounts of omega-3 fatty acids, tilapia is also linked with reducing the risk for cardiovascular disease.
Not only is our air fryer tilapia recipe easy to prepare, but it can also be paired with any seasoning to make an assortment of dishes. It's also freezer-friendly and kid-friendly.
In our air fryer tilapia recipe, the fish is seasoned with spices, then breaded with panko to achieve a crunchy crust when frying. For this reason, this dish might not be compatible with keto and other low-carb diets.
With 485 calories, 30 grams of carbohydrate, and 23.2 grams of fat per serving, this recipe is a healthy option for fried-fish lovers. The dressing for the vegetables on the side is optional, and of course the ingredients can be adapted to taste.
Seasoning for Tilapia
As tilapia flesh has a very mild flavor, it can easily absorb strong-flavored seasonings and spices. For our air fryer tilapia recipe, we use a seasoning mix of olive oil, oregano, cayenne, ground black pepper, garlic powder, and salt.
Of course, since food is ultimately meant to be enjoyed by the consumer, we recommend experimenting with various seasoning blends to see what suits your taste best. Go for whatever your heart craves, and don't worry, you can't possibly go off the healthy track by simply tweaking the spices.
Besides our tilapia recipe, we also have an assortment of other air fryer fish recipes that might meet your need for a diverse collection of main fish dishes. Check them out!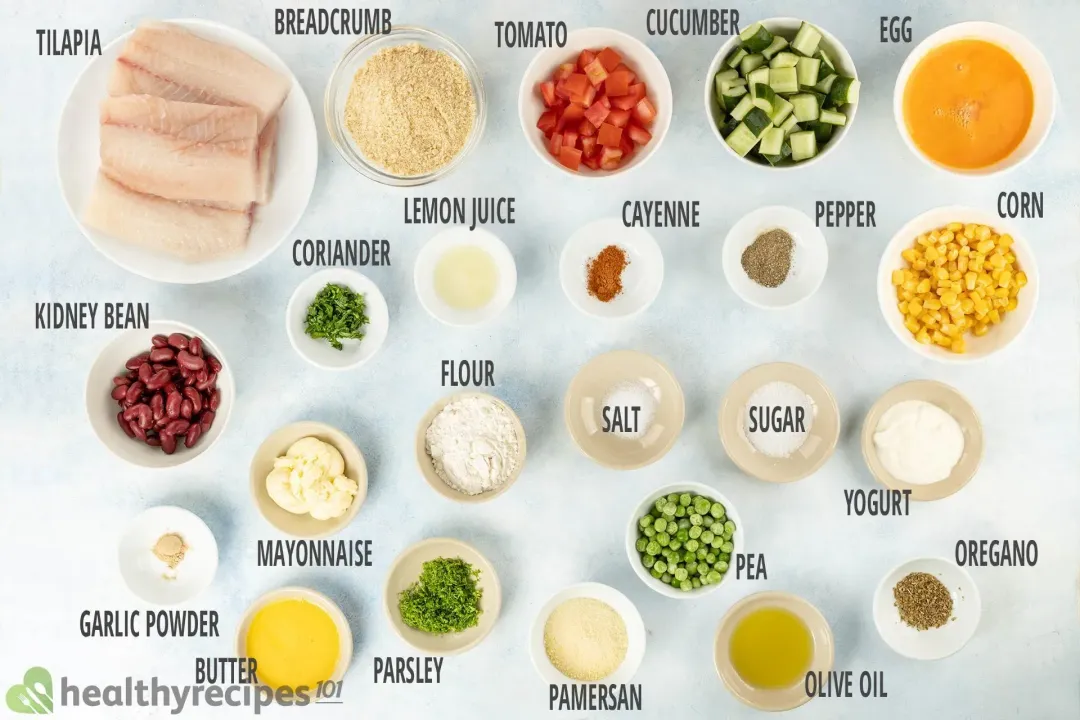 How to Make Tilapia in Air Fryer
1. Tips for Making Air Fryer Tilapia
When cooking tilapia in the air fryer, there are a few rules of thumb you'll need to follow. 
Signs that the tilapia is done
The cooking time for tilapia in the air fryer could vary depending on many factors. These include different air-fryer models, different fillet sizes and thicknesses, and the number of fillets you put into each frying batch.
There's no more accurate way to tell if tilapia is done than to check if the fish can be flaked easily with a fork. Also, the tilapia should have turned opaque from the inside out, even at its thickest part.
Our fillets were 0.2 inches thick and cooked at 360℉ for 15 minutes. While it might take longer to cook thicker fillets, you will need to check on thinner fillets more often, preferably every 5 minutes.
Don't overcrowd the basket
For the best possible results, it's important not to overpack the frying basket.
The fish fillets need space to allow the hot air to circulate around them on all sides and cook evenly. Generously spaced fillets will lead to crispier fish and a nice golden brown color.
Likewise, the fillets should be arranged in a single layer. If you can't cook them all at once, fry them two or three at a time. Or simpler, get a larger air fryer!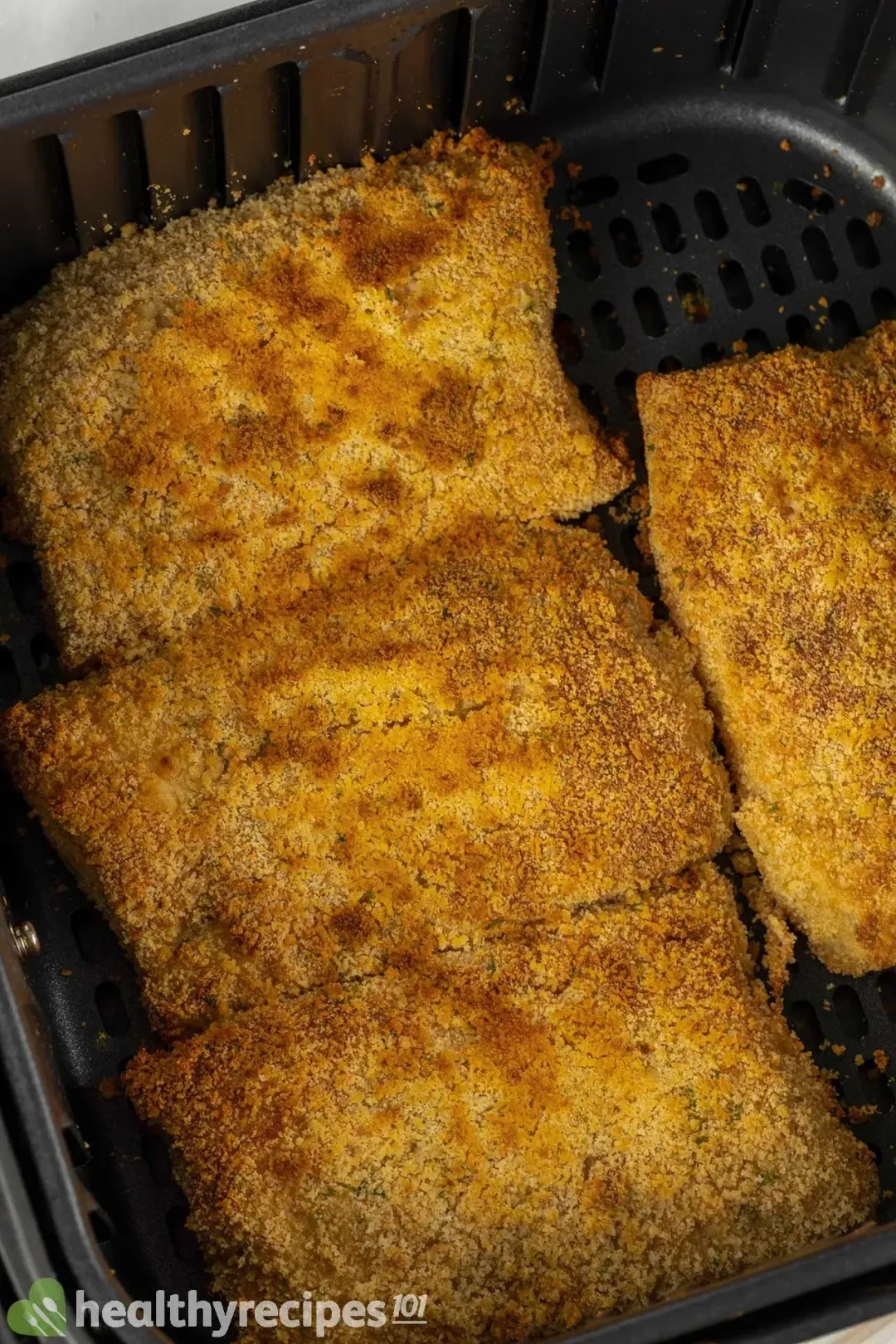 Don't shake or turn the basket mid-way
It is not necessary, if not even ill-advised, to shake the basket mid-way through frying.
The tilapia fillet can break if shaken before it's fully cooked, especially larger, thicker fillets, so it's absolutely imperative that shaking doesn't occur. Don't worry, you'll still get that gorgeous browning and without any uneven charring, so just let it cook through without turning or shaking mid-way.
A little oil coating or spraying is needed
We recommend brushing the tilapia, or spraying the basket with oil before cooking. This helps keep the seasoning intact and prevents the fish from sticking to the bottom of the basket.
High heat oils such as olive oil, grapeseed oil, avocado oil, and canola oil lend themselves well to the air fryer. A little oil will surely help produce a nicely browned crust.
Or, instead of spraying oil, you can use parchment paper to prevent sticking.
2. How to Cook Frozen Tilapia in an Air Fryer
Some people cook frozen tilapia in the air fryer to give it a deliciously flaky consistency. However, if not handled properly, this could backfire badly.
You should never pop a frozen tilapia straight into the oven; it would surely result in a dry, unevenly cooked fish. Please allow it to fully defrost by placing the whole package in the fridge overnight, and remove it the next day when you're ready to cook.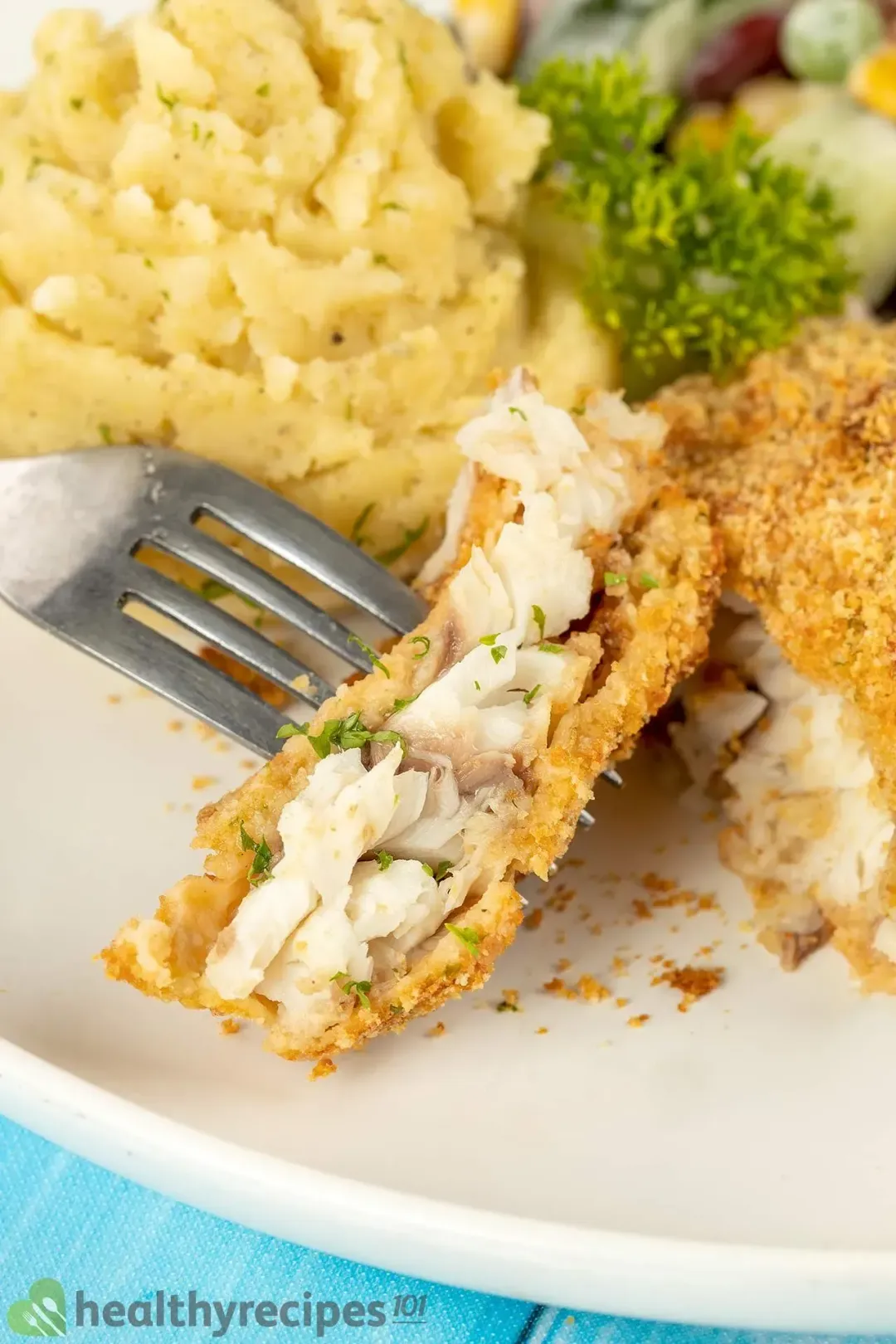 Another way to defrost tilapia is to place the frozen package in a bowl of cold water. Don't use warm or hot water as this could affect the fillet's texture before cooking.
Also, please make sure that you pat each fish fillet completely dry before seasoning and coating to avoid a soggy crust.
For more delicious and tasty air fryer recipes, check out our air fryer dinner roundup.
What to Serve with Air Fryer Tilapia
Air fryer tilapia can be easily paired with any kind of light salad and refreshing drink. If you like, you could also add a creamy dip.
1. Mashed Potatoes
Easy to make, creamy, and velvety — mashed potatoes are our first choice of side dish for air-fried tilapia. With ingredients including heavy cream, milk, butter, salt, and pepper, this fluffy and flavorsome dish really adds texture to the meal.
2. Cucumber and Lemon Juice
Cucumber and lemon juice accompanies the meal as a refreshing beverage, resetting your taste buds and overflowing with nutrients. It requires only four ingredients and three simple steps to mix up!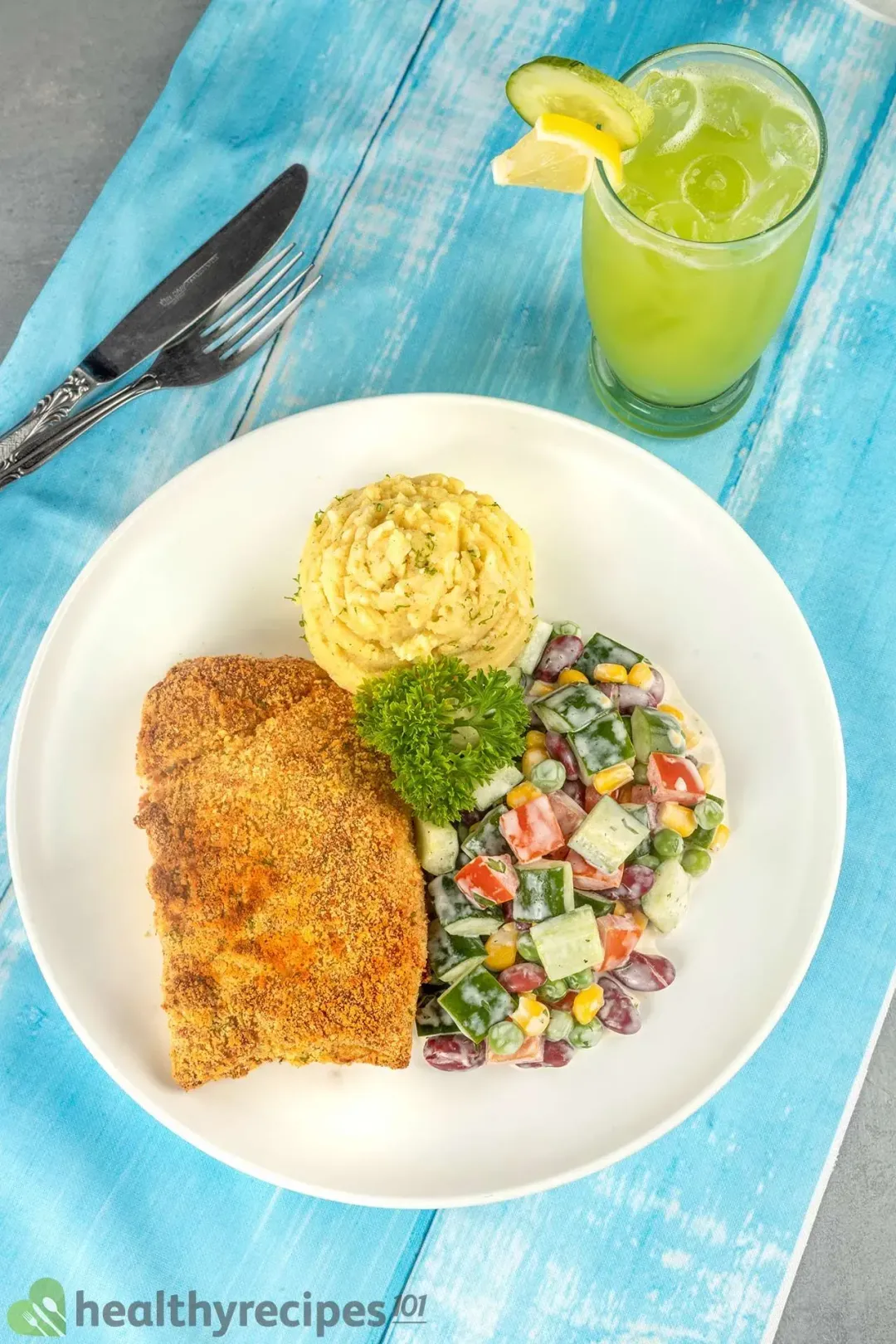 More Perfect Air Fryer Recipes to Know
If you're interested in other air fryer recipes as healthy as this one, we've got some seriously delectable ones:
Air Fryer Tilapia
Today's air fryer tilapia recipe is the perfect choice for people craving a light meal or brunch. Ready within 40 minutes, our air fryer tilapia is crispy on the outside while juicy and flakey on the inside.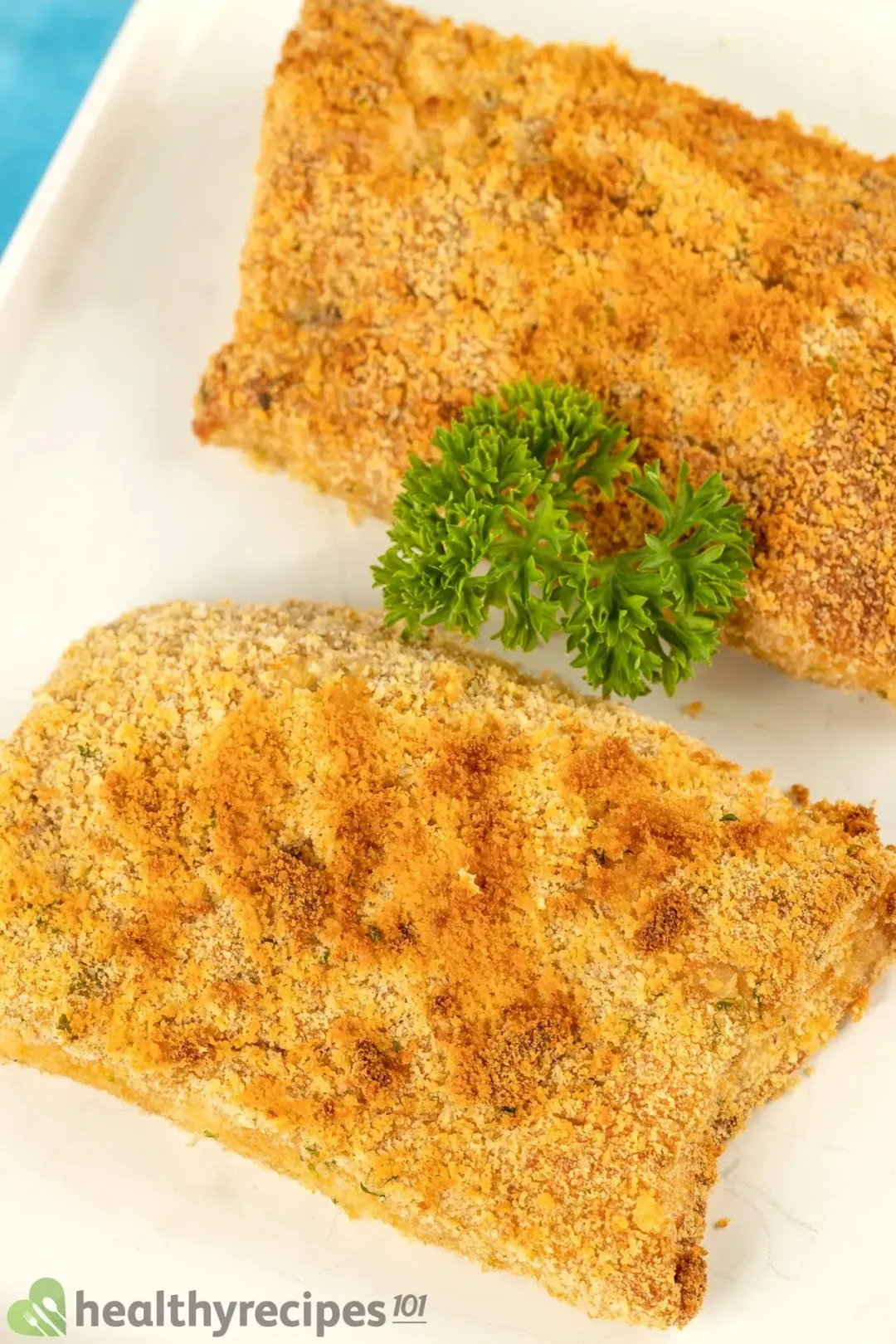 cook TIME

15 mins

prep TIME

25 mins

total TIME

40 mins
COURSE

Main Course

CUISINE

American, British

SERVINGS

CALORIES

485 kcal
INGREDIENTS
20 oz

tilapia

(yields 4 fillets)

1/2 tsp

ground black pepper

(divided)

1 cup

plain panko breadcrumbs

0.5 oz

parmesan cheese

(grated)

1 tbsp

parsley

(finely chopped)

2 tbsp

unsalted butter

(melted)

3 tbsp

Japanese mayonnaise

2 tbsp

plain Greek yogurt

1 tbsp

coriander

(finely chopped)

3 oz

unsalted dark red kidney beans

2 oz

frozen peas

(thawed)
INSTRUCTIONS
1
Season the tilapia with 1 tbsp olive oil, 1/2 tsp oregano, 1/4 tsp cayenne, 1/4 teaspoon of ground black pepper, 1/4 tsp garlic powder, and 1/4 tsp salt. Let rest.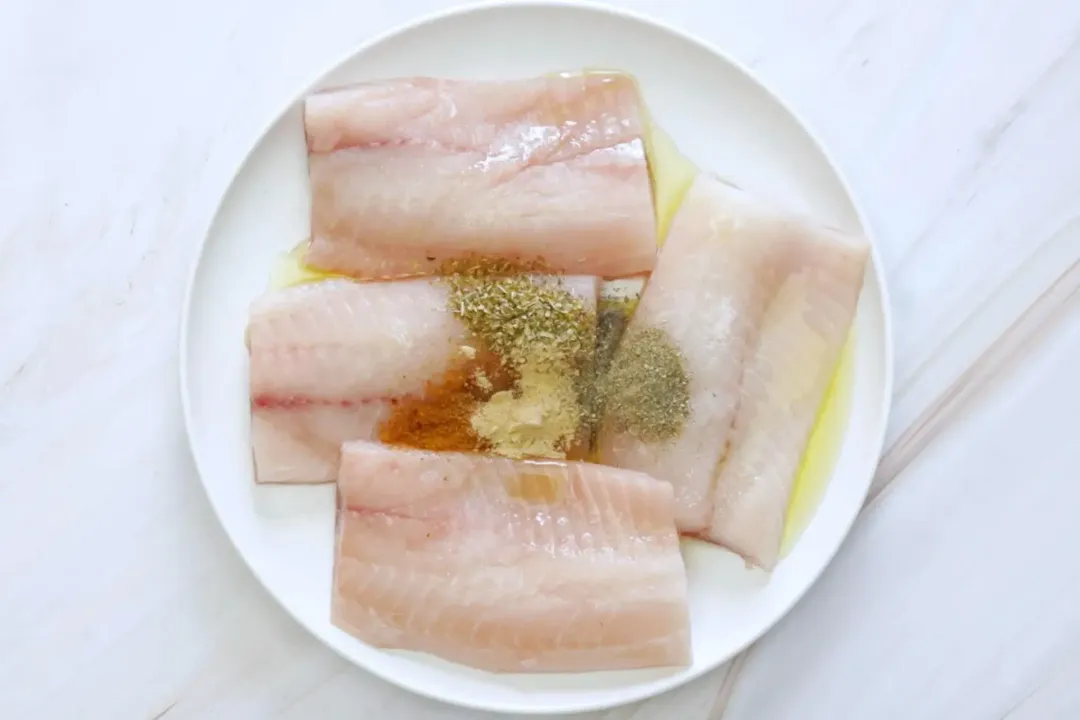 2
Make the breadcrumb mixture: In a small bowl, mix together the 1 cup panko breadcrumbs, 0.5 oz parmesan cheese, 1 tbsp parsley, and 2 tbsp unsalted butter until well combined. Set aside.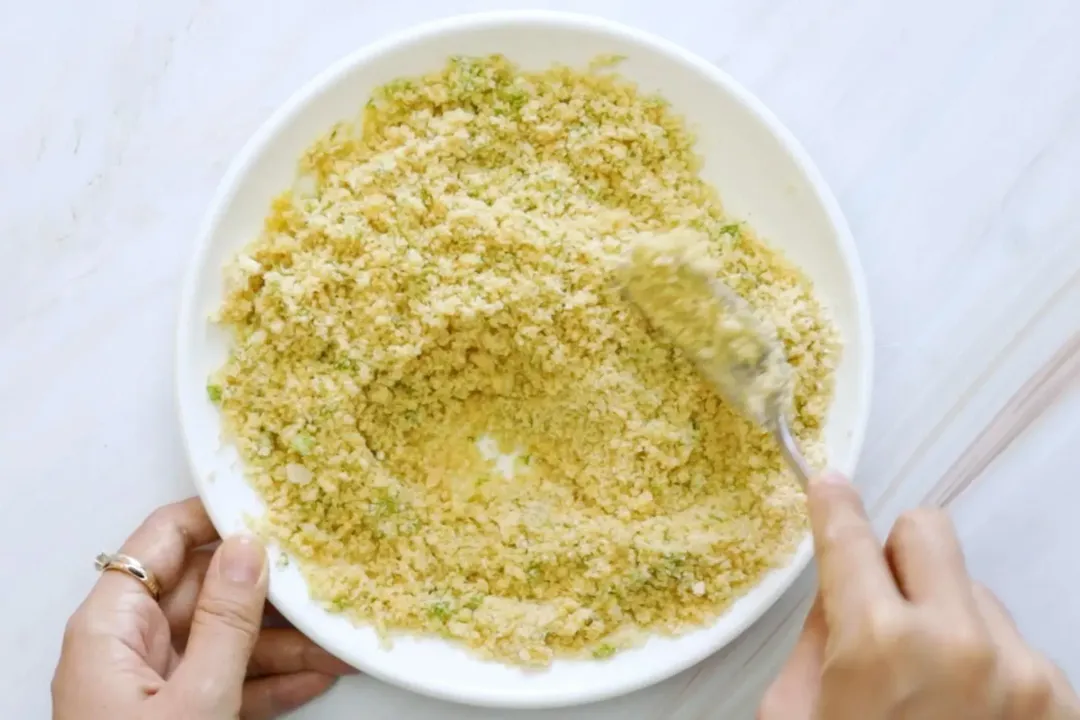 3
Preheat the air fryer to 350℉.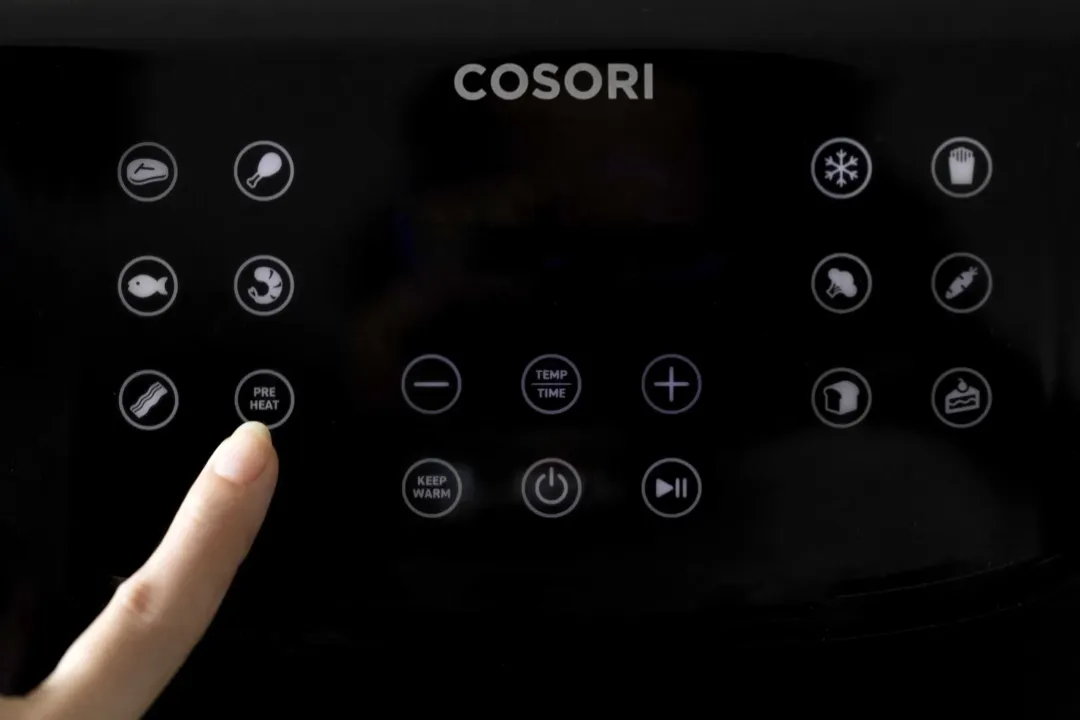 4
Prepare 3 shallow plates: the first one with 3 tbsp flour, the second with the beaten eggs (2 medium eggs), and the third with the breadcrumb mixture.
5
Flour each fish fillet and shake off any excess. Next, dip in the beaten eggs and coat evenly.
6
Transfer the fish fillet to the breadcrumb mixture. Coat evenly, tap off any excess bread crumbs and set aside on a clean plate.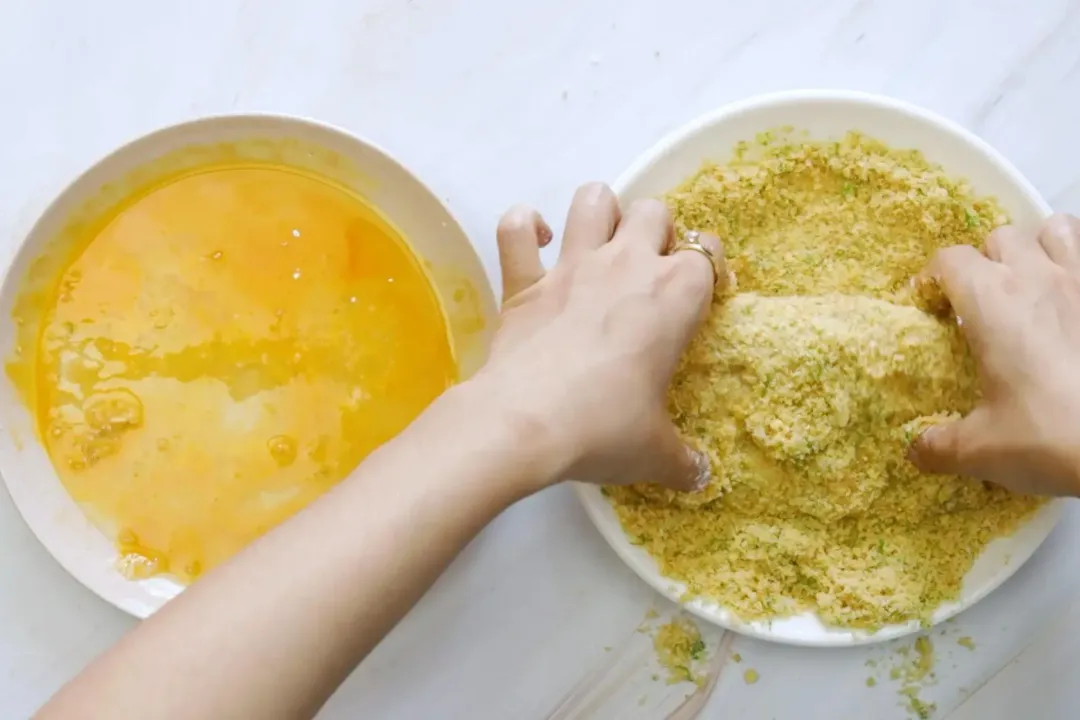 7
Repeat these coating steps with the remaining fillets.
8
Place the coated tilapia fillets in the air fryer basket in a single layer. Cook for 15 minutes.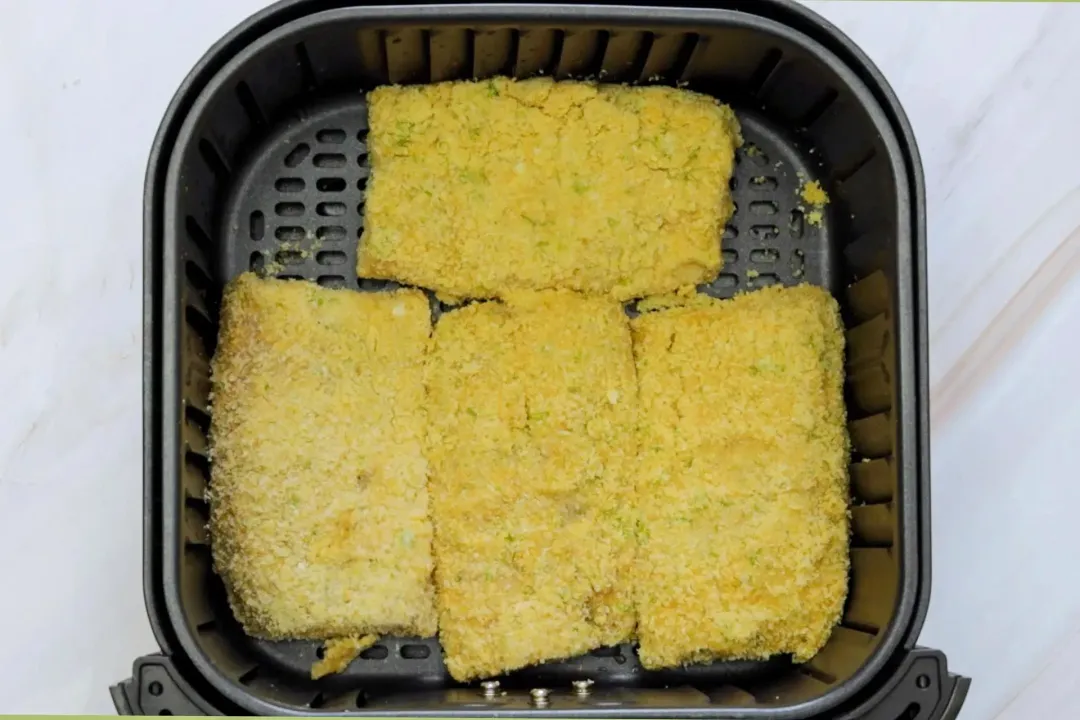 9
While waiting, make the dressing: In a small bowl whisk together the 3 tbsp Japanese mayonnaise, 2 tbsp Greek yogurt, 1 tsp sugar, 1 tbsp coriander, 2 tsp lemon juice, and 1/4 teaspoon of ground black pepper.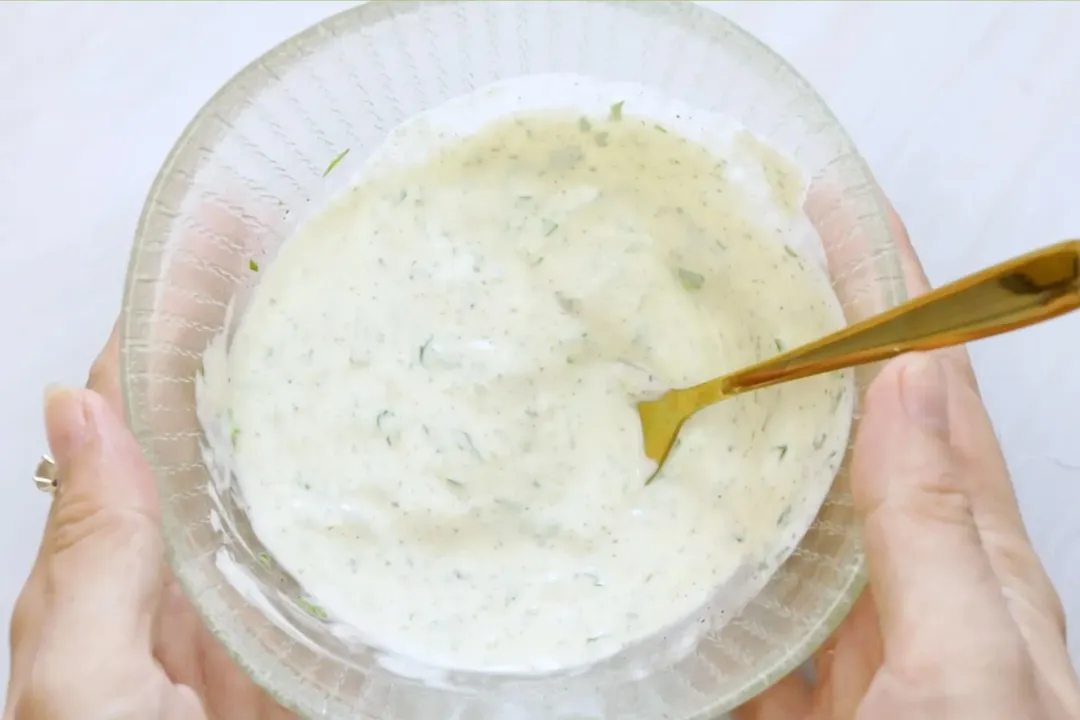 10
Toss the vegetable mix of 3 oz kidney beans, 3 oz corn, 2 oz peas, 6 oz cucumber, and 3 oz tomatoes with the dressing until evenly coated.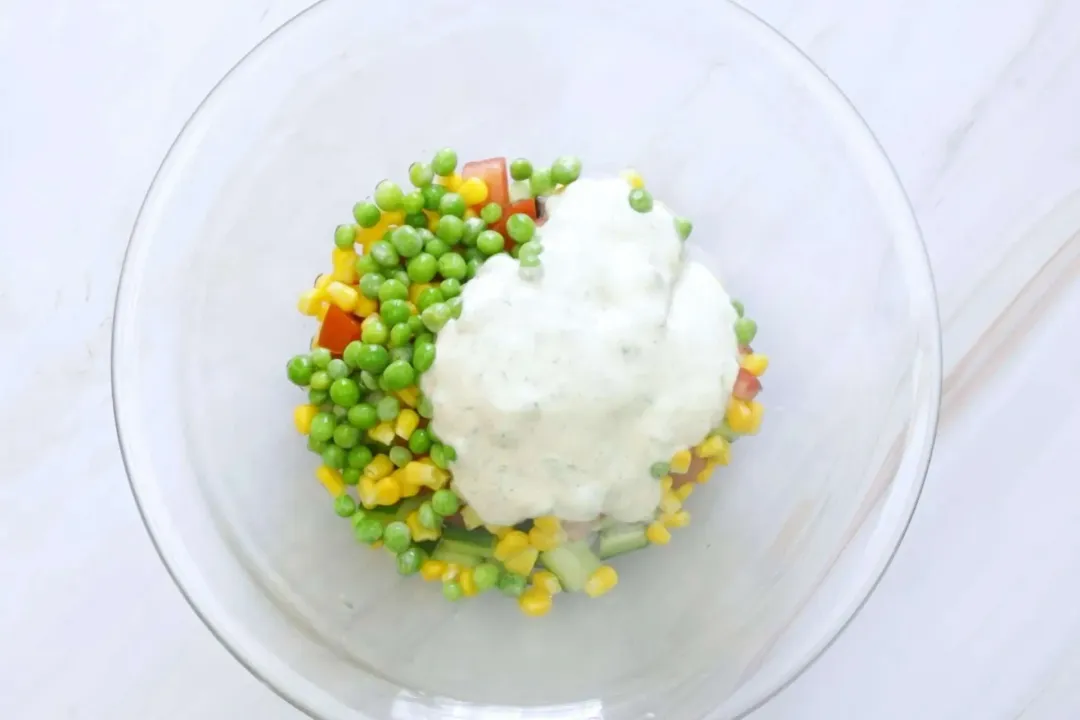 11
Remove the tilapia from the oven. Enjoy it with the vegetable mix on the side.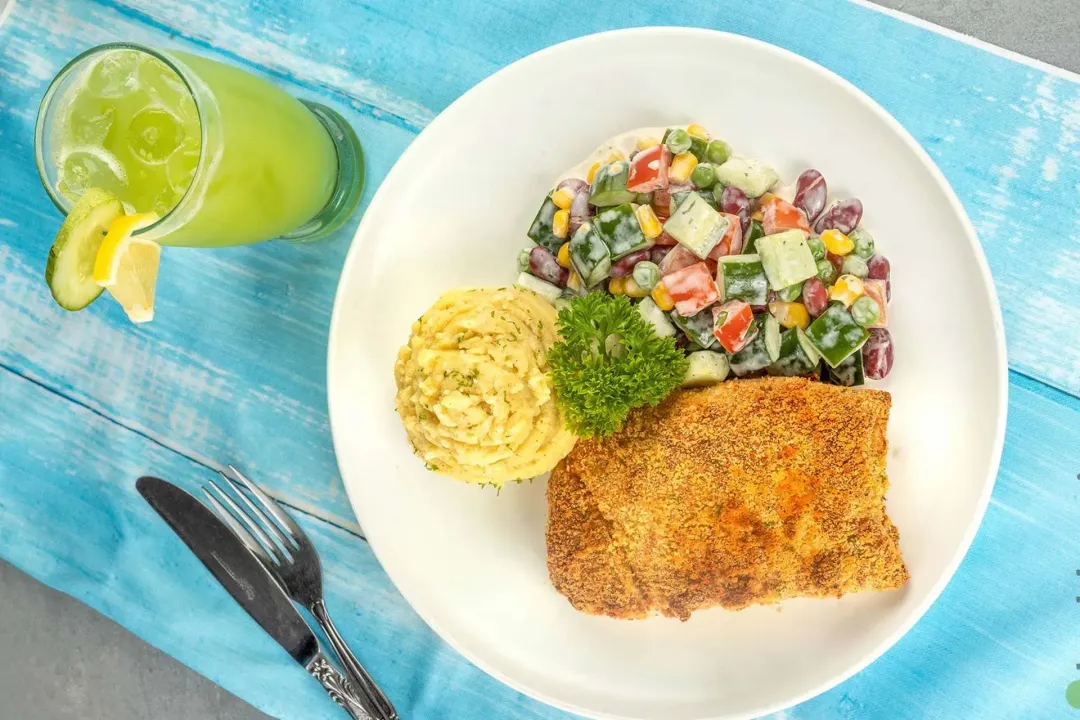 NUTRITION
Nutrition Facts
Air Fryer Tilapia
Amount Per Serving (1 serving)
Calories 485
Calories from Fat 207
% Daily Value*
* Percent Daily Values are based on a 2000 calorie diet.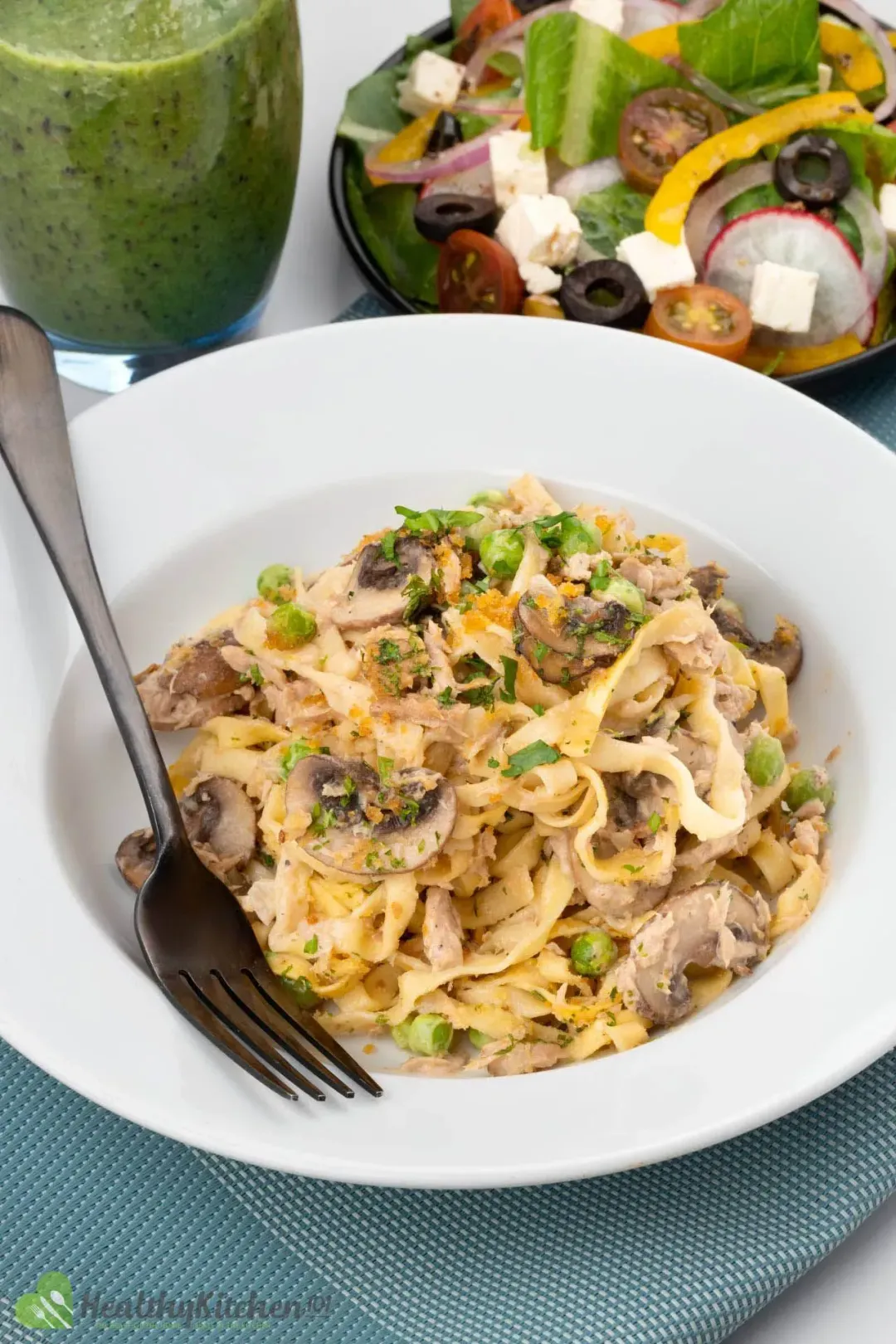 Previous Recipe
Classic Tuna Noodle Casserole
Classic Tuna Noodle Casserole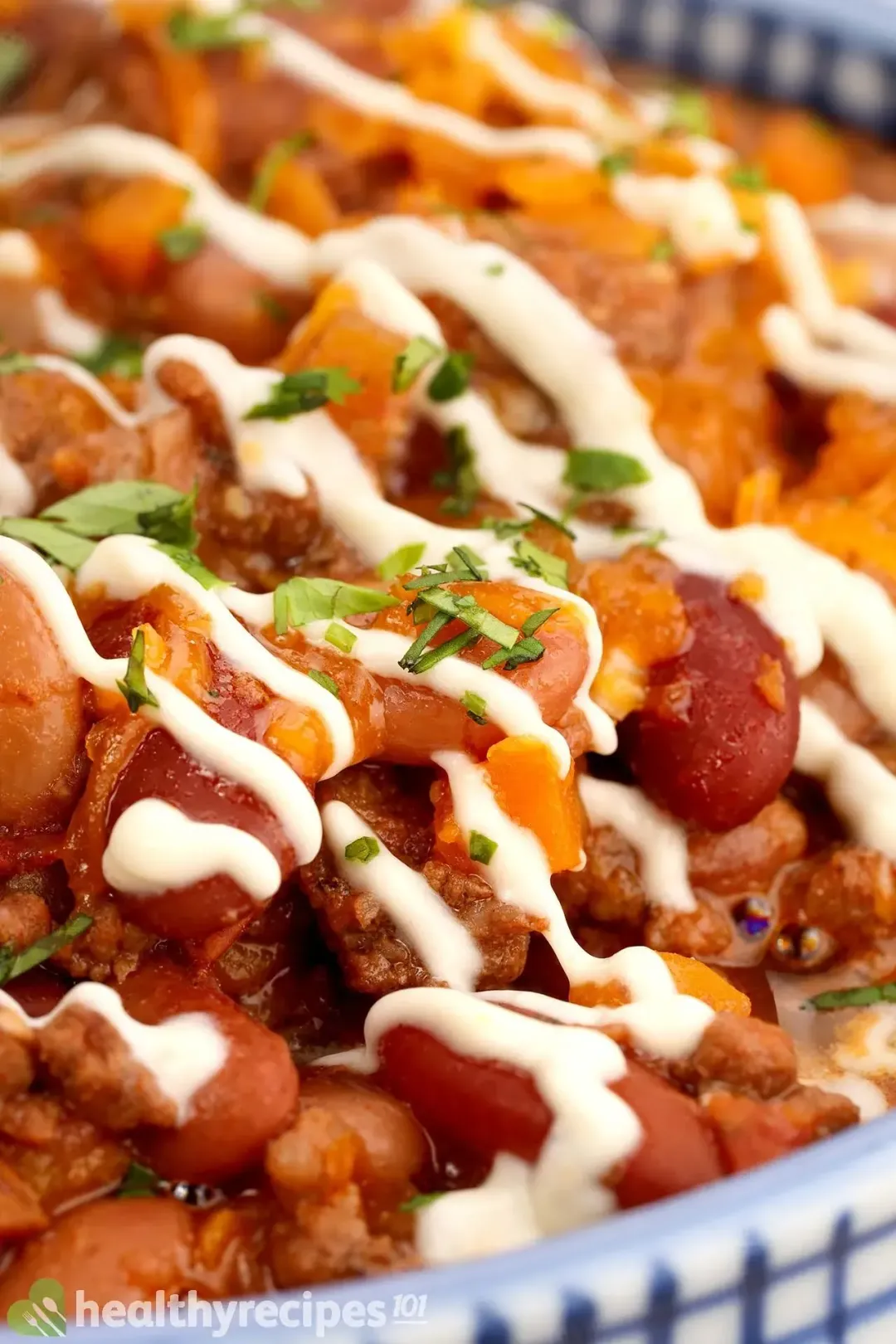 Next Recipe
Instant Pot Chili
Instant Pot Chili
Head Chef, Culinary Consultant
Tuyet Pham is an award-winning Saigonese chef who believes that joy is the secret ingredient to delicious food. At Healthy Recipes 101, Tuyet personally tests and simplifies every recipe, ensuring maximum flavor with minimal effort. With a background at prestigious French restaurants P'TI Saigon and Le Corto, Tuyet knows how to make every dish exceptional.
Writer, Author
Luna Regina is an accomplished writer and author who dedicates her career to empowering home cooks and making cooking effortless for everyone. She is the founder of HealthyKitchen101.com and HealthyRecipes101.com, where she works with her team to develop easy, nutritious recipes and help aspiring cooks choose the right kitchen appliances.
Nutrition Reviewer
Lizzie Streit is a Minneapolis-based dietitian and founder of It's a Veg World After All. She completed her MS in Human Nutrition from Drexel University, and is an expert in culinary nutrition, recipe development, and nutrition communications. Lizzie's philosophy is centered around making nutrition recommendations, and especially the advice to eat more vegetables, approachable and realistic. She is excited to be working with the team at Healthy Recipes 101 to ensure that their recipes are both nutritious and delicious.
This Air Fryer Tilapia recipe is a great option for those looking for a healthy and easy dinner option