Our Indian-style Instant Pot curry recipe will undoubtedly be a hit with your family and friends this National Curried Chicken Day (January 12). Tender chicken chunks are simmered in a hearty, creamy curry sauce that's bursting with fragrant flavors. It's a vibrant, satisfying food that is full of nutrients and packed with protein.
The recipe takes your ingredients from the fridge to your table in 45 minutes using a pressure cooker. Best of all, there is only one pot to clean up after cooking.
What Does Curry Taste Like?
Before answering the question, let's take a trip back to where this beautiful dish came from.
Curry originated in India and then spread across the world by adapting to local ingredients and cultural preferences. This allowed it to flourish with many varieties from different regions.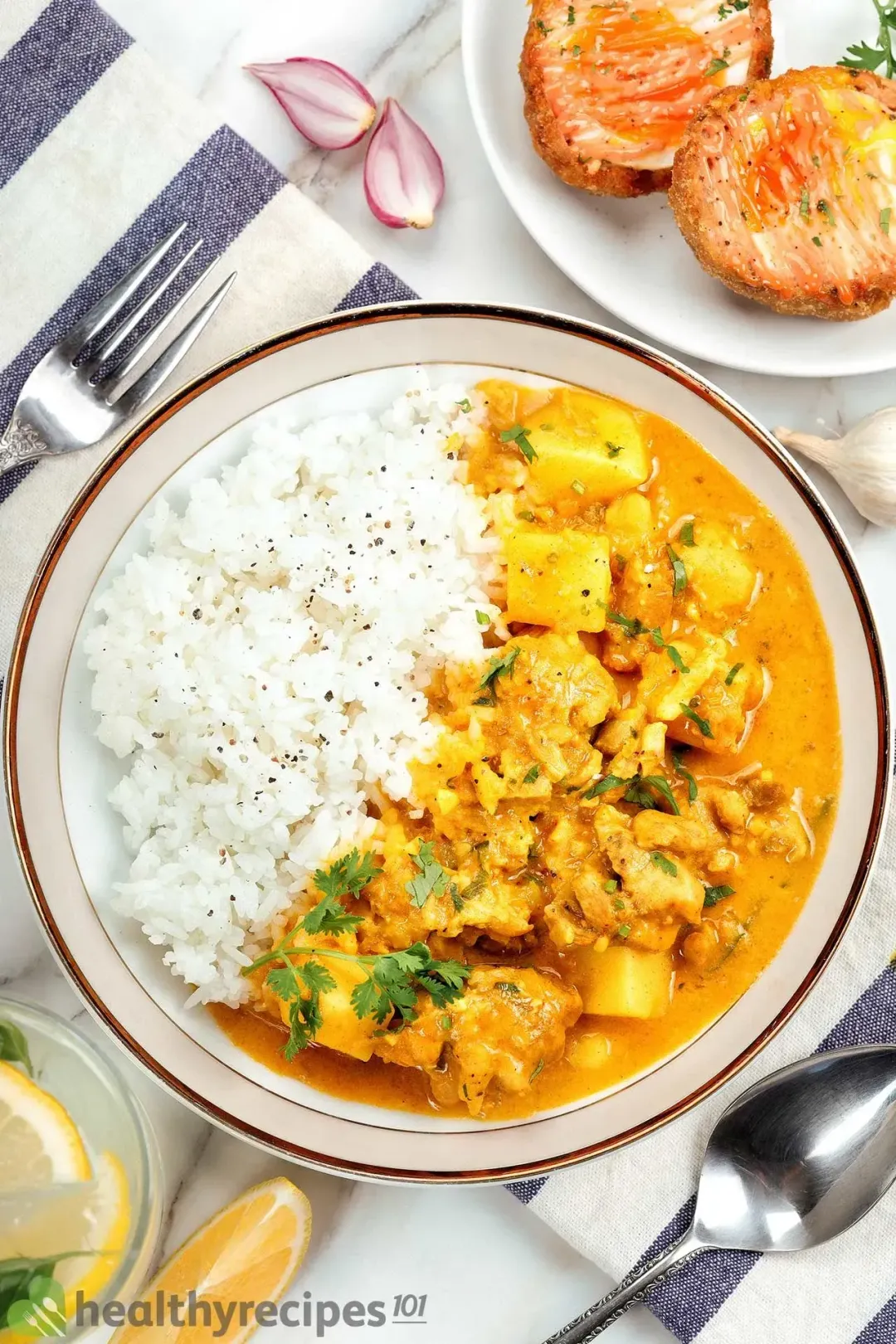 You probably adore Thai curry, which showcases the beauty of red chilies and fish sauce. Or try our egg curry; with only basic ingredients included, it's still a mouth-watering and vegetarian-friendly version of a classic curry.
As for the taste, the curry blend — the soul of the dish — is a complex combination of aromatic spices and herbs like turmeric, chili, and cumin, with many other elements according to choice. With a complex aromatic profile, curry has deep, rich, yet balanced layers that taste like heaven in your mouth.
What Is Curry Made of?
A delicious curry recipe is all about the layers of flavor and aromatics, and our Instant Pot recipe is no different. Here is what you need for our Instant Pot curry:
Chicken: The recipe calls for chicken thighs that are extra tender and juicier than the other cuts.
Curry Powder: The popular westernized Indian style blend of curry often contains turmeric — for a slight bitter taste with beautiful colors, cumin — for the earthy, nutty taste, and chili pepper — for a tender heat. If you go for a commercial blend, check the label for 'sweet' or 'hot' and pick the one that suits your level of heat.
Garlic, Ginger, and Lemongrass: We love using fresh garlic, ginger, and lemongrass for better sharper flavors. Chop them finely to release the most aroma.
Vegetables: We've added vegetables to improve the flavor and nutritional profile. Potatoes and sweet potatoes are sweet, starchy, and full of fiber.
Dairy: To enhance the creamy taste, nothing can beat classic dairy like milk or heavy cream. If you want a vegetarian curry, simply switch to coconut milk. It guarantees a similar richness and texture.
Is Our Instant Pot Curry Healthy?
One advantage of homemade cooking is that you have control over the ingredients going into the pot. We carefully tested and formulated the recipe to make this Instant Pot curry one of the healthiest versions you can find on the internet. Each serving of our curry ends up containing:
498 Calories: This is relatively low for a rich and creamy dish like chicken curry. As such, we think the curry should go with a fresh salad and juice for a 750-calorie meal, ensuring you have enough energy until the next meal.
545 mg Sodium: It's recommended to consume less than 2300 mg per day.
5.5 g Saturated Fat: The USDA's Dietary Guidelines suggest that the saturated fat should fall between 23 – 30 grams a day. For dairy-contained food, our Instant Pot curry is impressively healthy.
How to Thicken Curry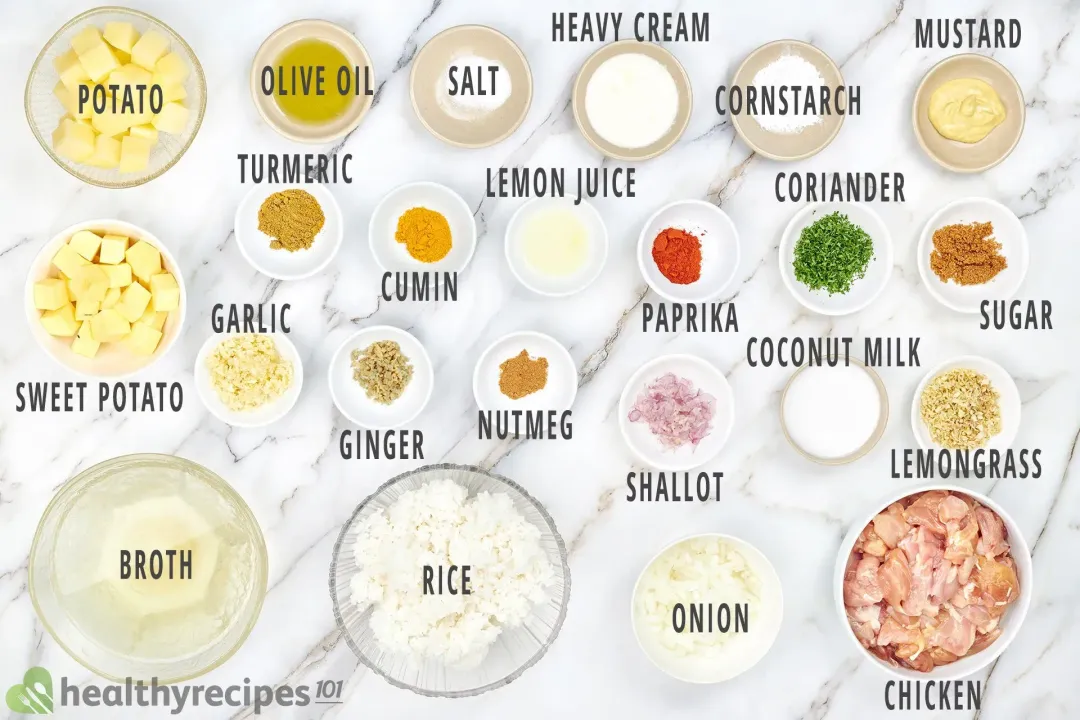 We all love the thick and creamy texture of curry; watery curry is a nightmare for any home cook. The easiest (and laziest!) way is to simmer the curry on the stove, but it can feel like a lifetime waiting for the excess liquid to reduce.
So here are three different and easy methods that you can use to get the proper consistency every time:
Cornstarch: Cornstarch mixture is a smart way to thicken any curry sauce. Whisk together a tablespoon of cornstarch with cold water in a small bowl. Then spoon it into your curry and stir well until you get the desired thickness.
Dairy: You can achieve a similar effect with dairy products like milk, heavy cream, and coconut milk. We recommend adding these ingredients at the end and with a small amount. Note that this process also makes your curry creamier.
Stir-Fried Vegetables: Fresh vegetables add extra moisture and make your curry even more watery, so go for the stir-fried ones. 
Combining new elements with the pot is a little challenging since it may ruin the curry sauce taste. Thus, it is better to use potatoes, sweet potatoes, or any vegetables that are contained in the original recipe.
Storing and Reheating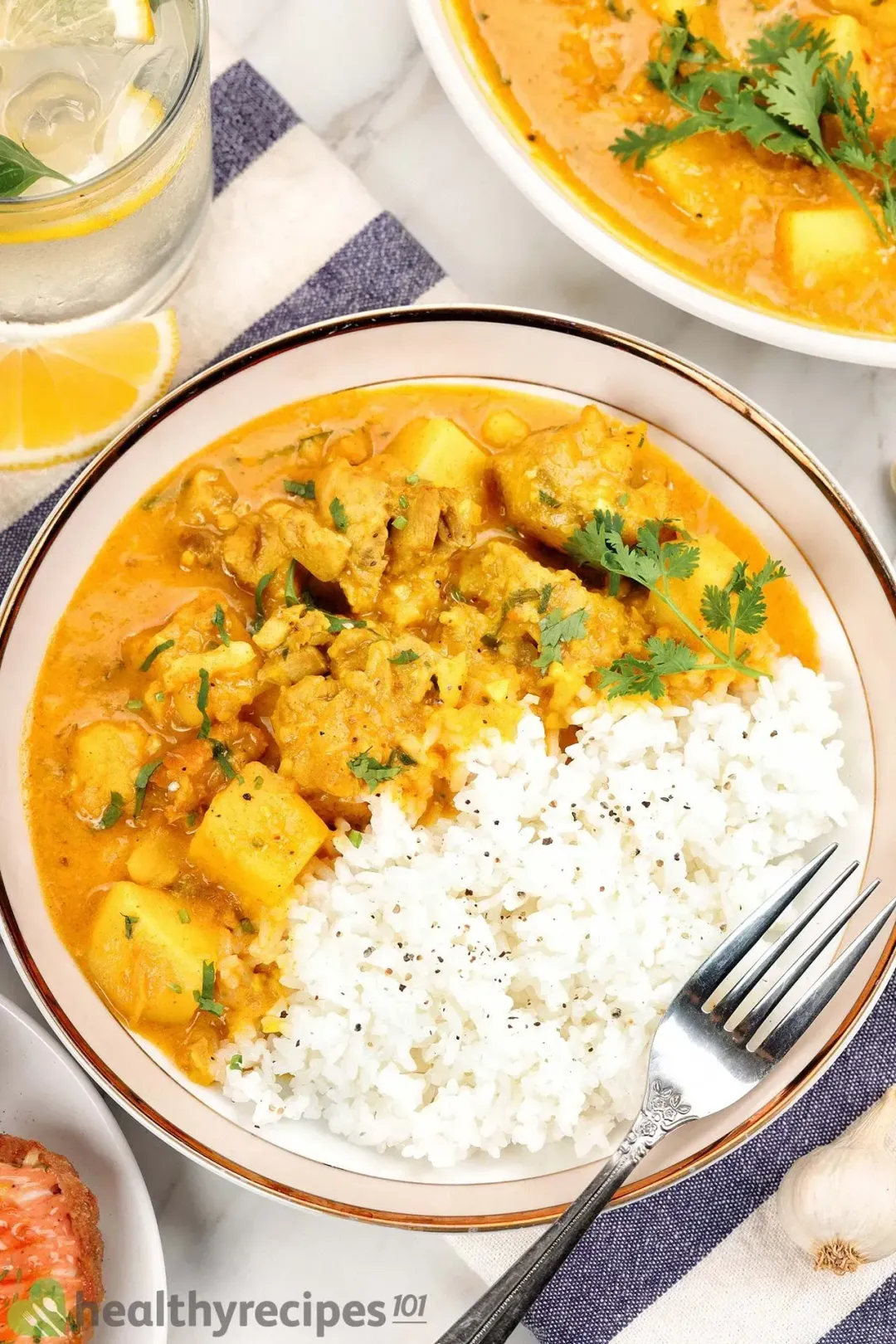 Store: We recommend keeping it in an airtight container to slow down the growth of bacteria and preserve the food's freshness. Curry can last in the fridge for approximately 2 – 3 days and up to 2 months in the freezer.
Reheat: There are several ways to reheat your chicken curry.
If reheating in the oven, we suggest setting the oven to around 320℉. Then place the curry in an oven-proof dish and cover with tin foil to avoid the curry from drying out.
If you prefer the microwave, the process should take 3 – 5 minutes at high speed. You may need to stir the dish from the center out, ensuring the dish is reheated evenly before serving it.
Side Dishes for Instant Pot Curry
Curry, satisfying and packed with flavors, is truly a soul-warming and perfect dish for dinner, especially on those winter days. But what're you going to serve it with?
That is never a tough question for us since we have a list of our favorite accompaniments, ranging from classic to less typical options:
Naan: Naan, originating from India, is an oven-baked, thick flatbread. There is nothing more satisfying than mopping up a creamy curry with a soft and fluffy naan. If you can't find this bread, look for chapati — a thinner and softer style of naan — instead. It is just as tasty as a naan.
Rice: Flatbread may be the most common side to go with a curry, but you don't always have to serve them together. In fact, rice-based dishes like biryani come with curry as standard in numerous countries. You can also flavor the rice, making it an even tastier side for your curry.
Salads: It's never a bad idea to add extra veggies and fruits to your diet. Belonging to a different cuisine, curry may give the impression that it couldn't possibly go with any Western salad.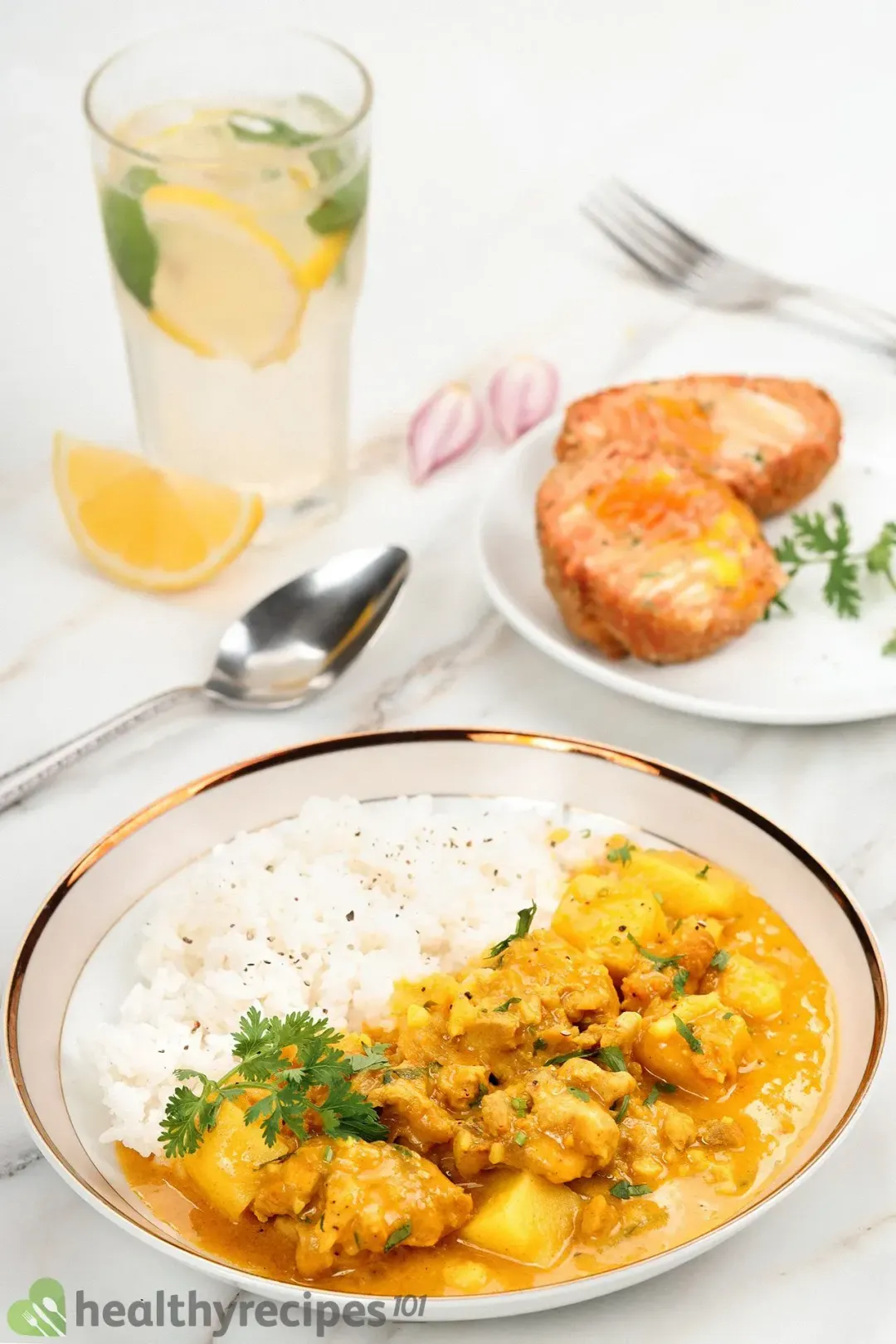 How about an Indian salad? Kachumber consists of chopped tomatoes, cucumbers, onions, cabbage, and lemon juice. This Indian-style salad is a delicious blend of flavors and textures, and the best of all, you can make it quickly with easy-to-buy ingredients.
Simple Instant Pot Recipes Thought to be impossible, but was
Guess what? You can make taco filling easily with an Instant Pot. Take this recipe of ours for instant: flavorful, tender chicken shreds cook in 15 minutes without supervision, serve inside crispy shell and vegetables made while it cooks. It's a yes on both time management and flavor.
Juicy Instant Pot Chicken Breasts—when we say "juicy," we mean it. We used the Instant Pot's rack to pressure-steam the meat after searing it to golden brown, and the result was perfect. The steam comes from the mushroom sauce simmering beneath, which collects all of the dripping meat juice. In short, there are numerous flavors.
Instant Pot Curry
If you're looking for a kick of flavors while keeping the dinner quick and hassle-free, look no further than this Instant Pot curry recipe.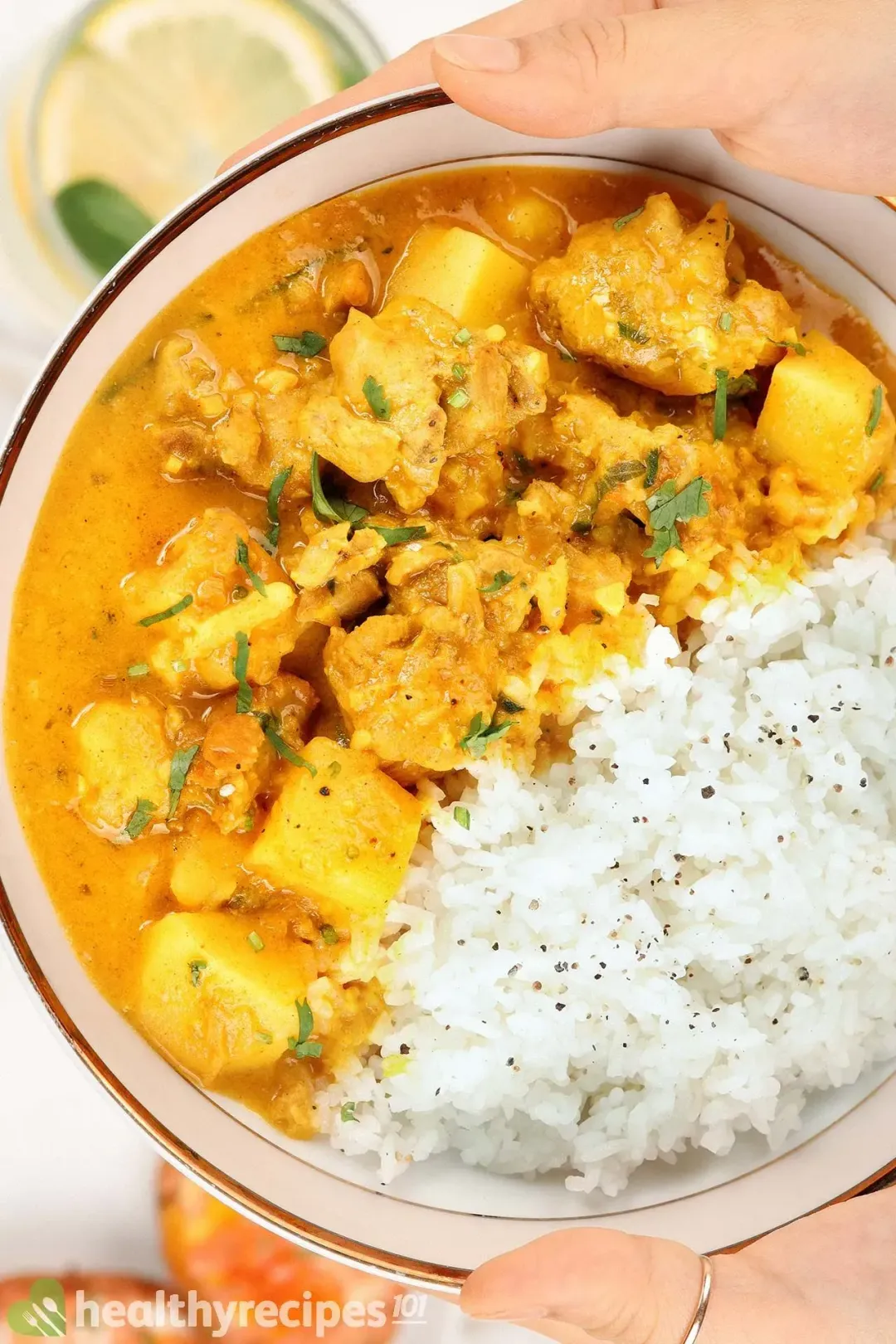 cook TIME

30 mins

prep TIME

15 mins

total TIME

45 mins
COURSE

Dinner, Lunch, Main Course

CUISINE

Indian

SERVINGS

CALORIES

498 kcal
INGREDIENTS
16 oz

skinless boneless chicken thighs

(cubed)

2 tbsp

lemon grass

(chopped)

4 oz

sweet potatoes

(cubed)

2 cups

unsalted chicken broth

(divided)

1 tbsp

traditional Dijon mustard

2 tbsp

coriander

(chopped)

3 cups

cooked medium-grain rice
INSTRUCTIONS
1
In sauté mode, add 1 tbsp olive oil to the Instant Pot. Then add 2 tbsp garlic, 1 tsp ginger, 2 tsp shallot, and 2 tbsp lemon grass and stir fry for 2 minutes.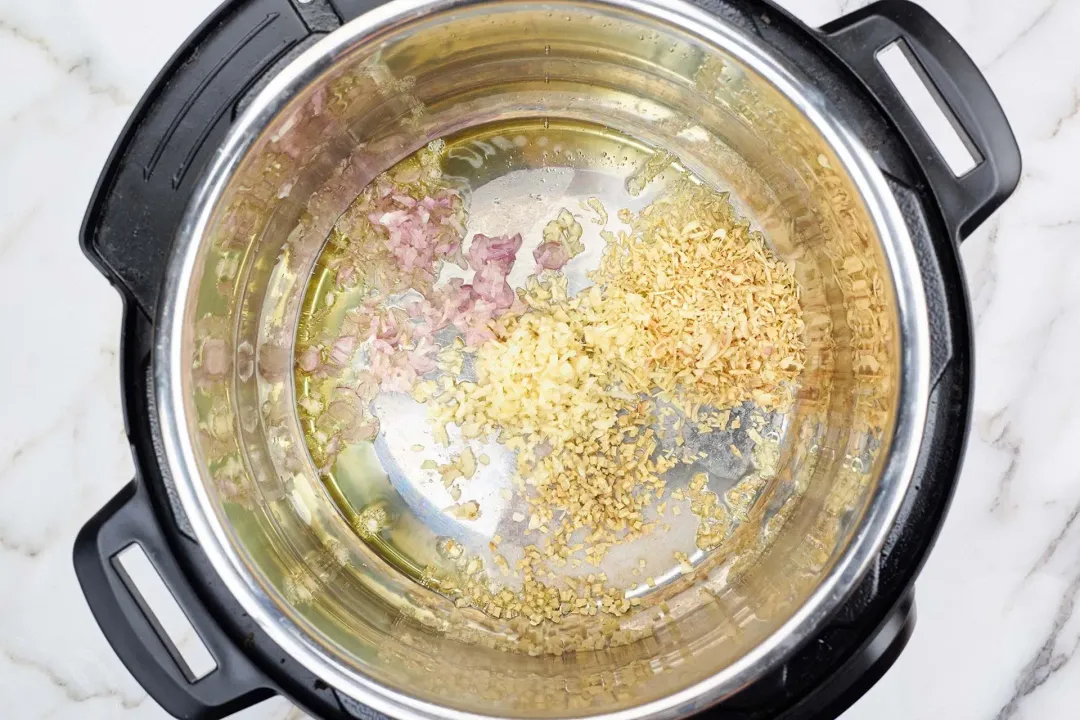 2
Add 2 oz onions and cook for another 1 minute until the onion turns golden brown.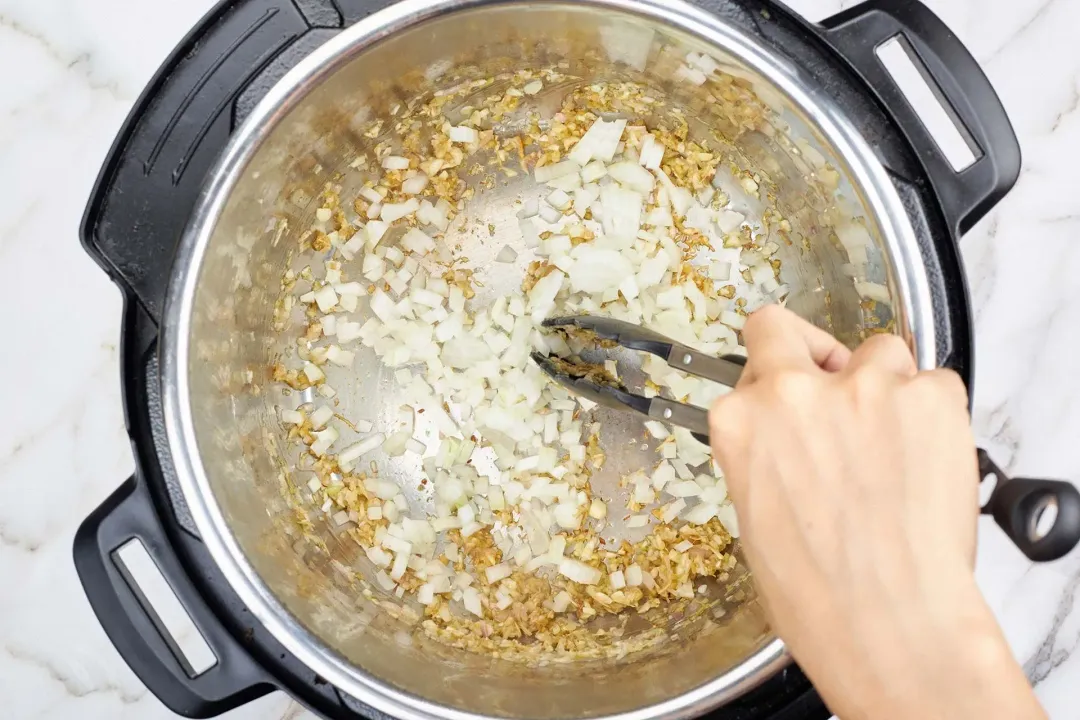 3
Add 16 oz chicken, 1/4 tsp nutmeg, 1tsp paprika, 1 tsp cumin, 1 tsp turmeric, 1/2 tsp salt, 2 tsp sugar, and 1 tbsp mustard. Sauté for about 3 minutes.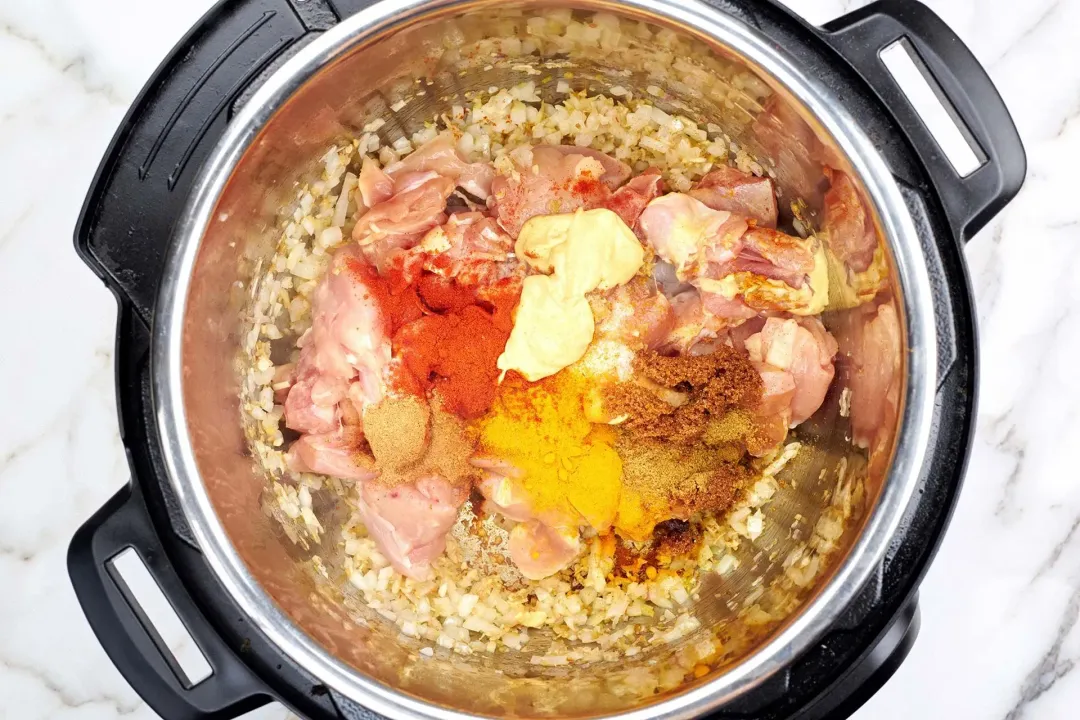 4
Add 6 oz potatoes and 4 oz sweet potatoes to the pot and let it sauté for 3 minutes.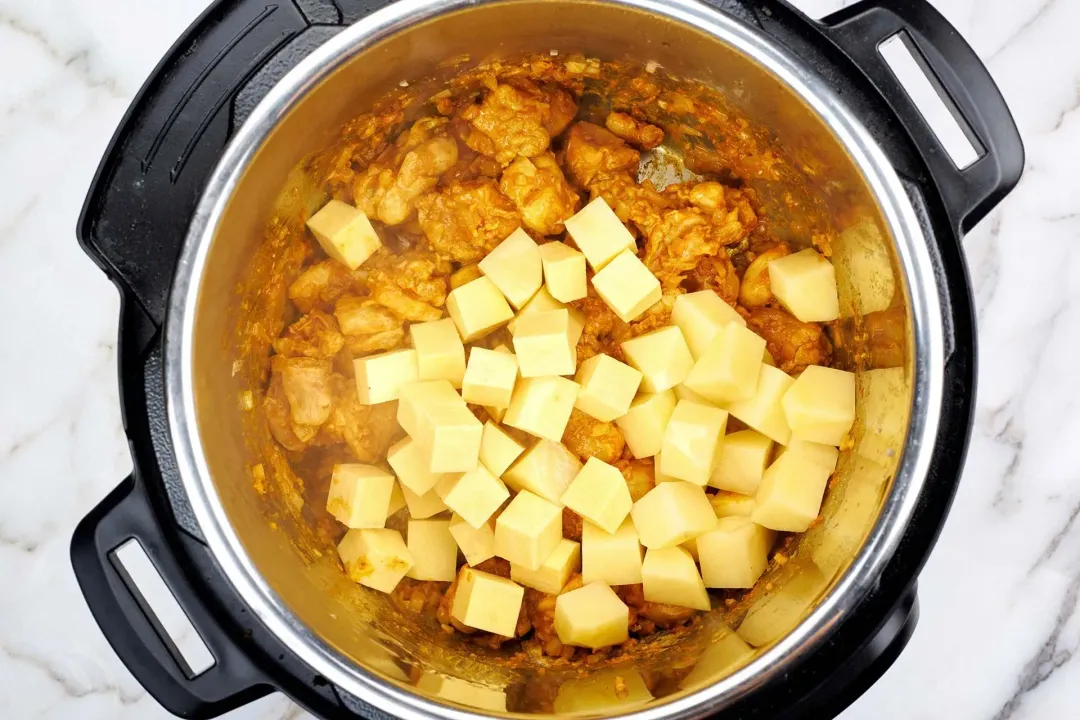 5
In a small bowl, mix together 1 tbsp cornstarch with 2 cups chicken broth. Whisk until well combined. Set aside.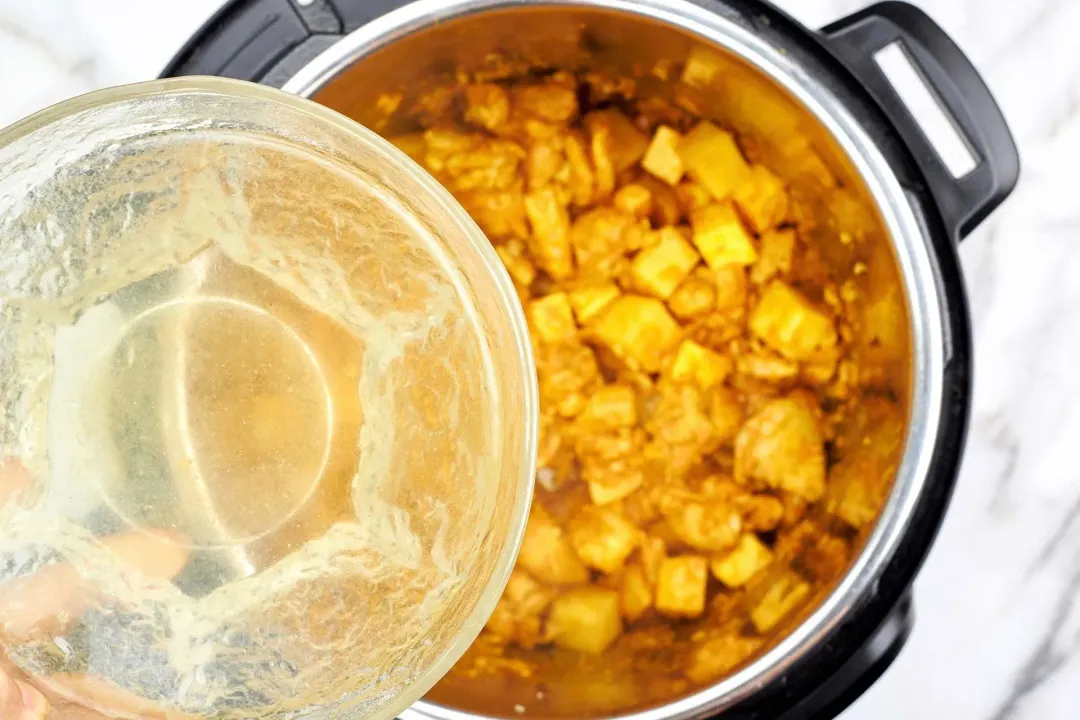 6
Add the remaining chicken broth to deglaze the Instant Pot. Close the lid and set the stew meat mode for 10 minutes.
7
Once done, let the pressure release naturally. Open the lid, stir in the cornstarch mixture, 1 tbsp heavy cream, 1/4 cup coconut milk, and 1 tbsp lemon juice.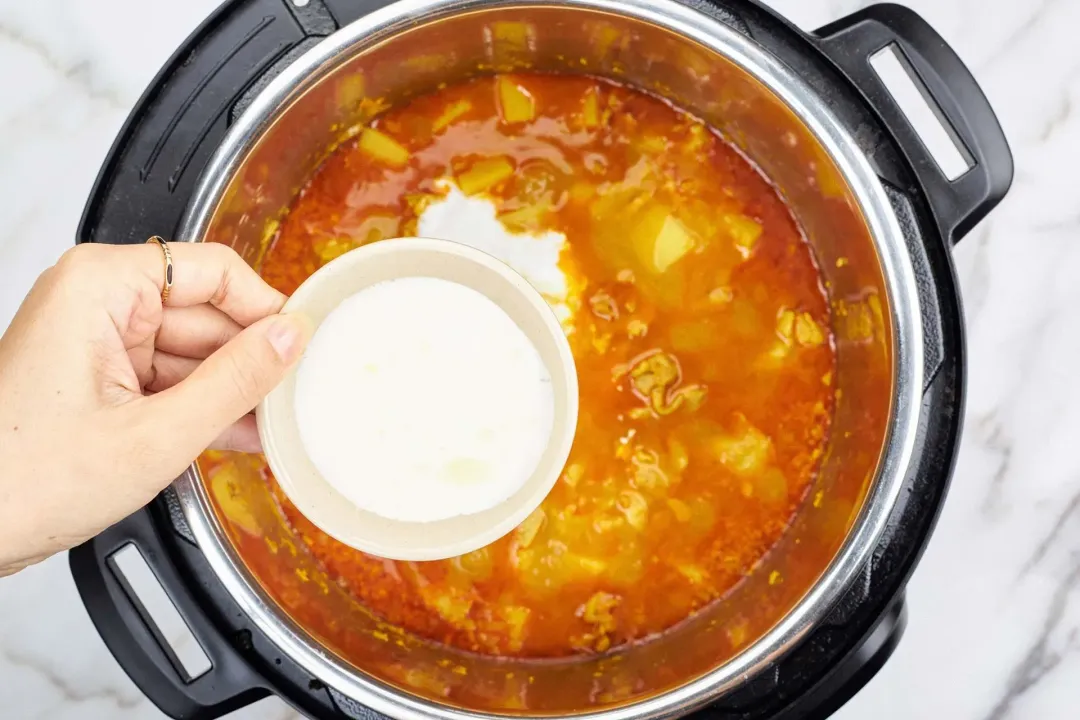 8
Switch to sauté mode and cook for 10 minutes.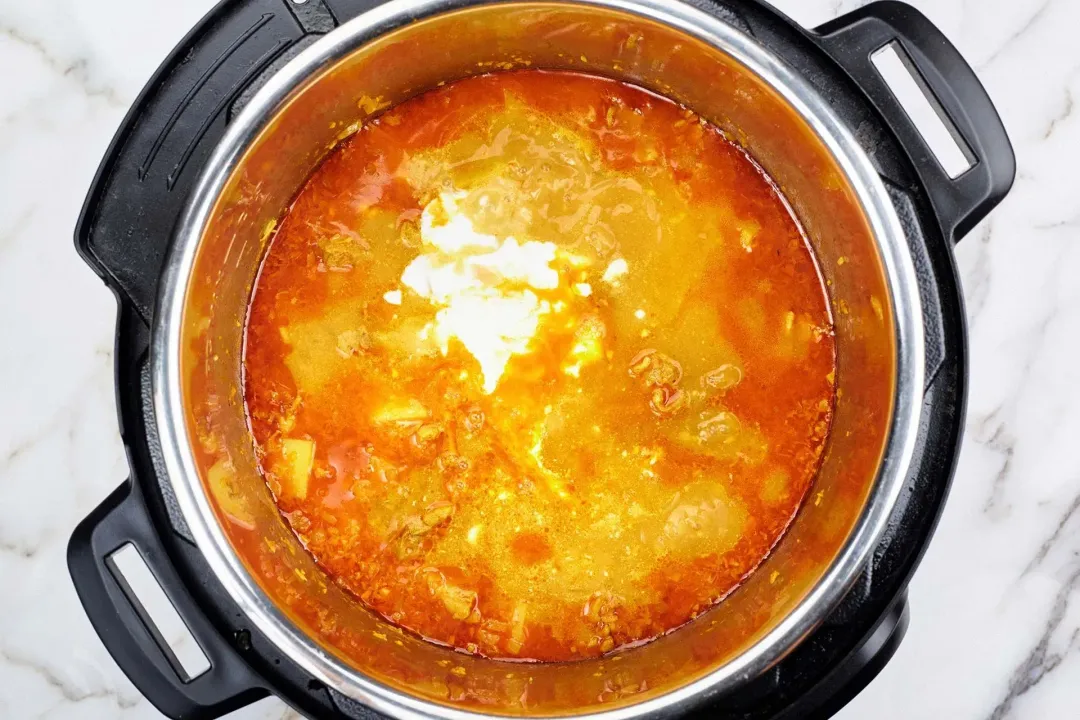 9
Garnish with 2 tbsp chopped coriander.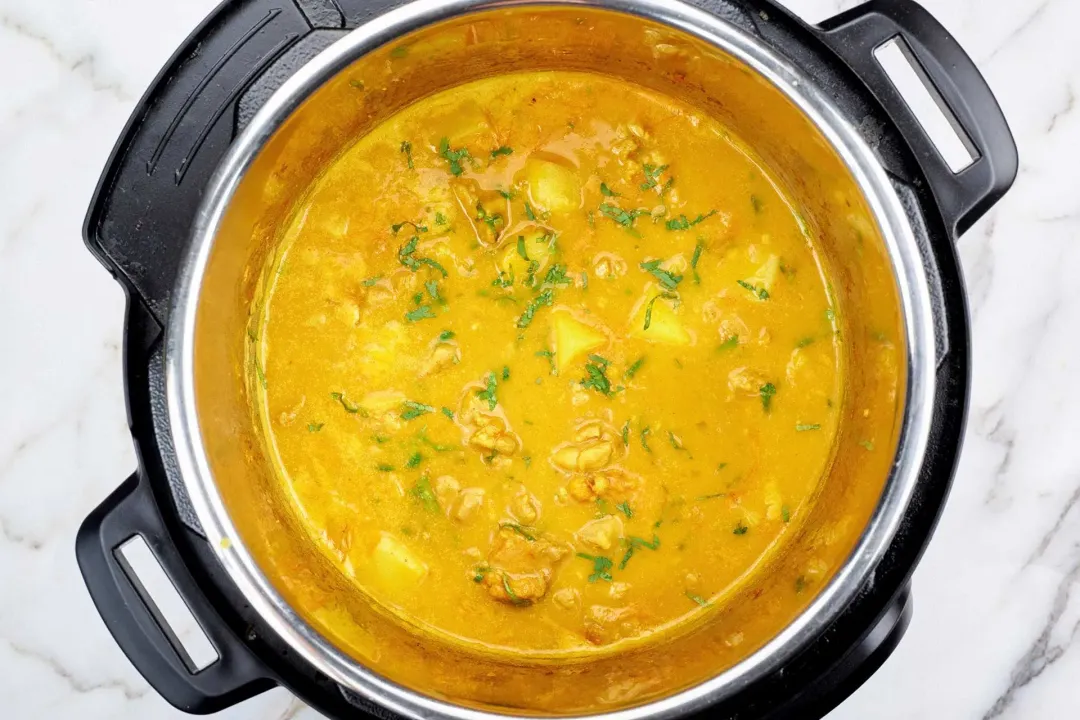 10
Enjoy the curry over steamed rice.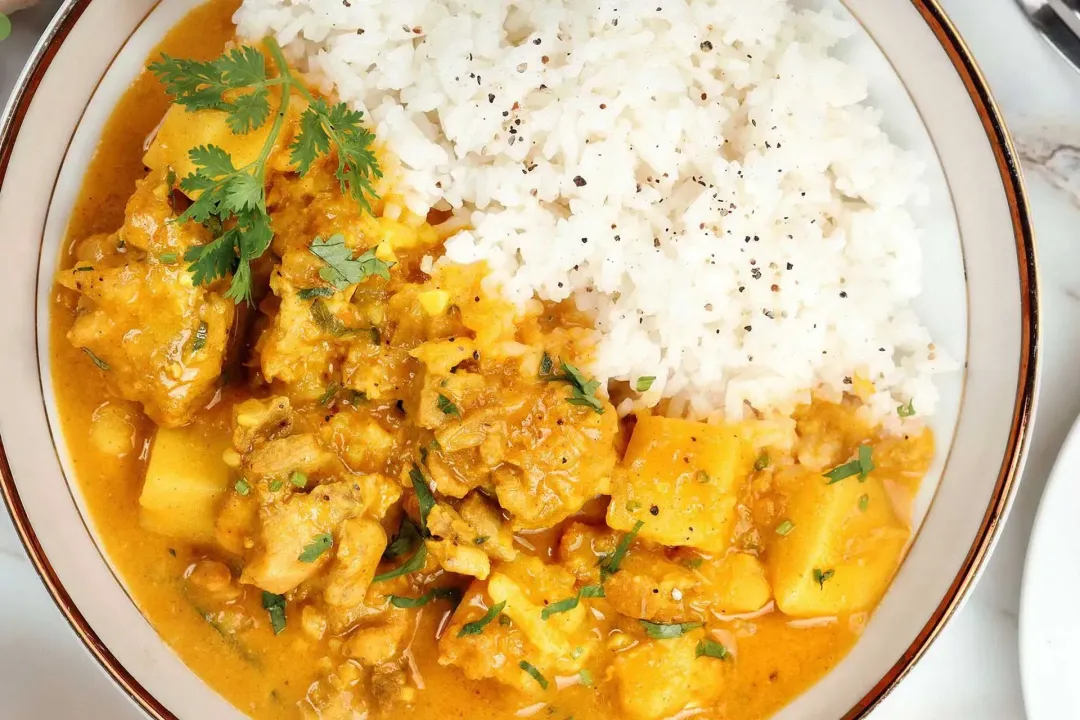 NUTRITION
Nutrition Facts
Instant Pot Curry
Amount Per Serving (1 serving)
Calories 498
Calories from Fat 117
% Daily Value*
* Percent Daily Values are based on a 2000 calorie diet.
Keywords: Chicken Curry Recipe, Instant Pot Curry, Instant Pot Curry Recipe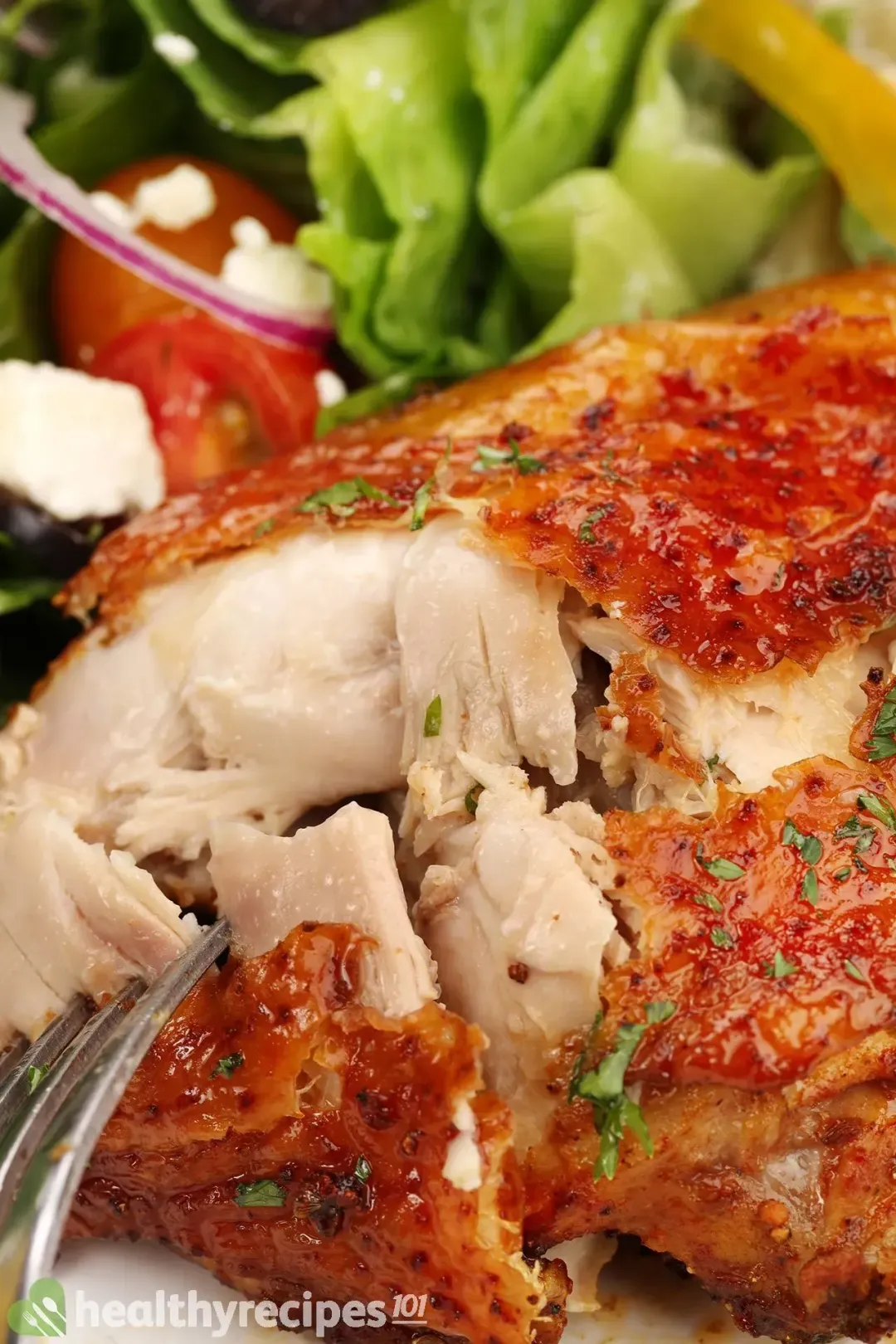 Previous Recipe
Air Fryer Chicken Thighs
Air Fryer Chicken Thighs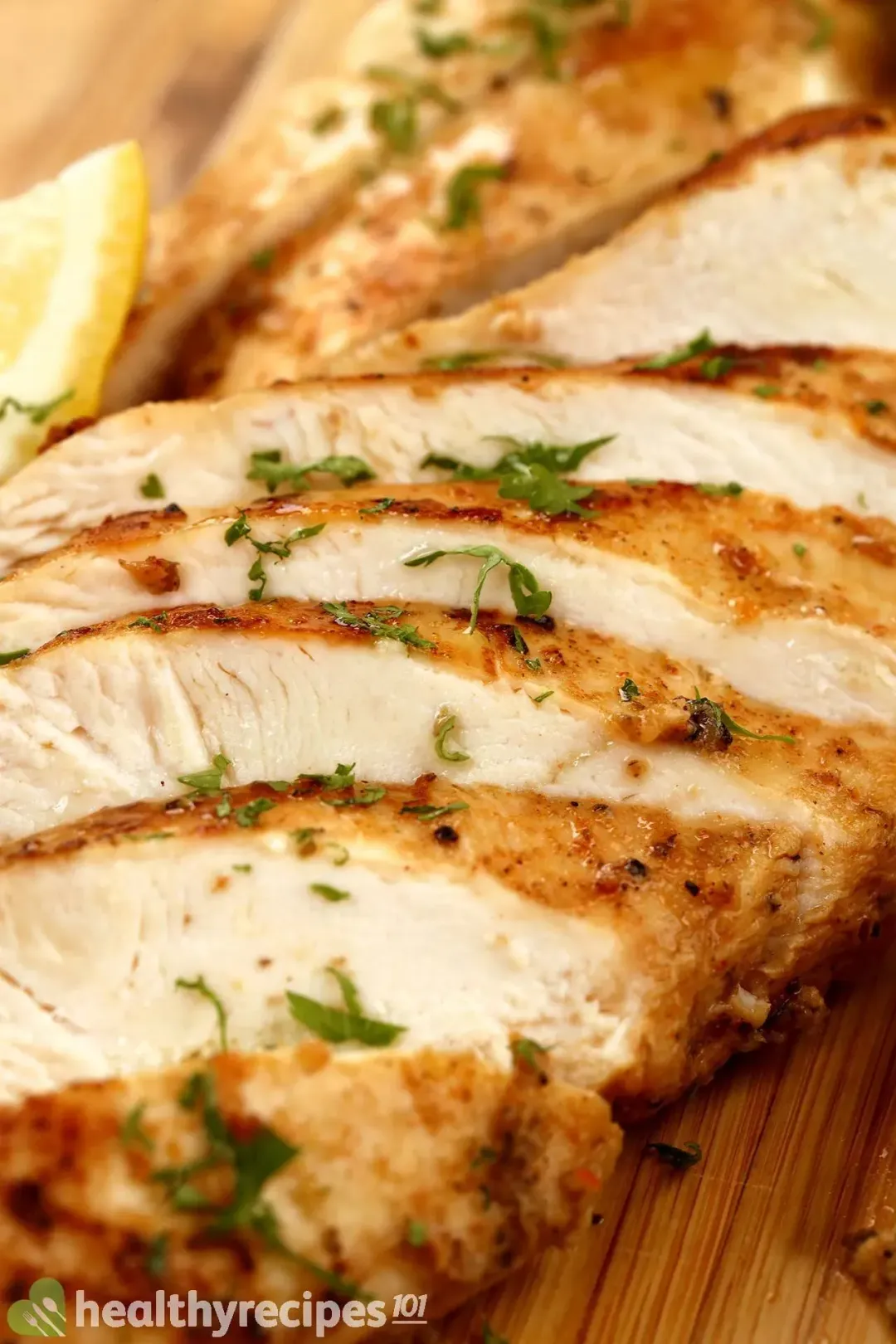 Next Recipe
Juicy Instant Pot Chicken Breasts
Juicy Instant Pot Chicken Breasts
Head Chef, Culinary Consultant
Tuyet Pham is an award-winning Saigonese chef who believes that joy is the secret ingredient to delicious food. At Healthy Recipes 101, Tuyet personally tests and simplifies every recipe, ensuring maximum flavor with minimal effort. With a background at prestigious French restaurants P'TI Saigon and Le Corto, Tuyet knows how to make every dish exceptional.
Writer, Author
Luna Regina is an accomplished writer and author who dedicates her career to empowering home cooks and making cooking effortless for everyone. She is the founder of HealthyKitchen101.com and HealthyRecipes101.com, where she works with her team to develop easy, nutritious recipes and help aspiring cooks choose the right kitchen appliances.
Nutrition Reviewer
Lizzie Streit is a Minneapolis-based dietitian and founder of It's a Veg World After All. She completed her MS in Human Nutrition from Drexel University, and is an expert in culinary nutrition, recipe development, and nutrition communications. Lizzie's philosophy is centered around making nutrition recommendations, and especially the advice to eat more vegetables, approachable and realistic. She is excited to be working with the team at Healthy Recipes 101 to ensure that their recipes are both nutritious and delicious.