This hummus recipe will help you make a luxurious dip that's just asking to be scooped up by a chip or crispy pita wedge.
The difference between a sad-looking hummus and an extra creamy, inviting one is just 20 minutes. With a few ingredients and attention to detail, you can make an instant crowd-pleaser for parties or International Hummus Day (May 13), all in the comfort of your own kitchen.
What Is Hummus?
If you've ever seen a luscious dip with a swirled top and an ivory hue, chances are it's hummus. Made of garbanzo beans/chickpeas, it has a flavor profile that is far more complex than it looks.
We serve our hummus with veggie sticks for an all-round healthy snack. But if that doesn't tickle your fancy, chips or tortilla wedges work just fine.
To make hummus, blend chickpeas with herbs, spices, garlic, olive oil, tahini paste, and water. The result should be a stiff dip with bits of chickpeas.
Hummus is quite versatile, however, so it leaves a lot of room for experimentation. Feel free to play around with different ingredients to explore more amazing flavors. We've made a version with avocado and absolutely loved it.
To make the best hummus, we don't blend everything together all at once. Instead, we add things in a specific order, and of course, at just the right moment.
The result is hummus that's as smooth as cake batter and super elastic. Don't worry, we'll guide you through the steps and share what we've found works below.
Is Hummus Healthy?
Besides the expensive texture and flavor, our hummus recipe also brings you many health benefits.
1. Protein
Hummus's main ingredient is chickpeas, which provide nearly as much protein as skin-on chicken breast. They are a great source of accessible protein to include in/for vegan and vegetarian diets.
Chickpeas are also an "almost" complete protein— they have 8 out of the 9 essential amino acids/EAAs (except for methionine). This is a good thing because the human body needs all of the EAAs to function properly.
2. Carbohydrates
Although rich in proteins, 63% of the bean's mass is actually starch.
With the carbs and proteins comes fiber, both soluble and insoluble, which take up 12% of the bean's weight. Fiber helps you digest foods slower, which allows you to be full for longer and prevents blood sugar spikes.
For this reason, chickpeas belong to a food group called "low-glycemic food", or low GI. These are foods that take longer to digest (in contrast to refined carbs/simple sugars) so keep your body on a more even keel, making them are better to consume.
3. Calories
With fiber taking up 12% of their mass, garbanzo beans have a low-calorie density. Even in small amounts, they can fill your stomach and make you feel satiated.
In total, each serving of this hummus recipe yields 250 calories. Most of the calories come from the olive oil, tahini, and chickpeas— healthy sources of proteins and fats.
Let's take a look at those and the other elements in this hummus recipe.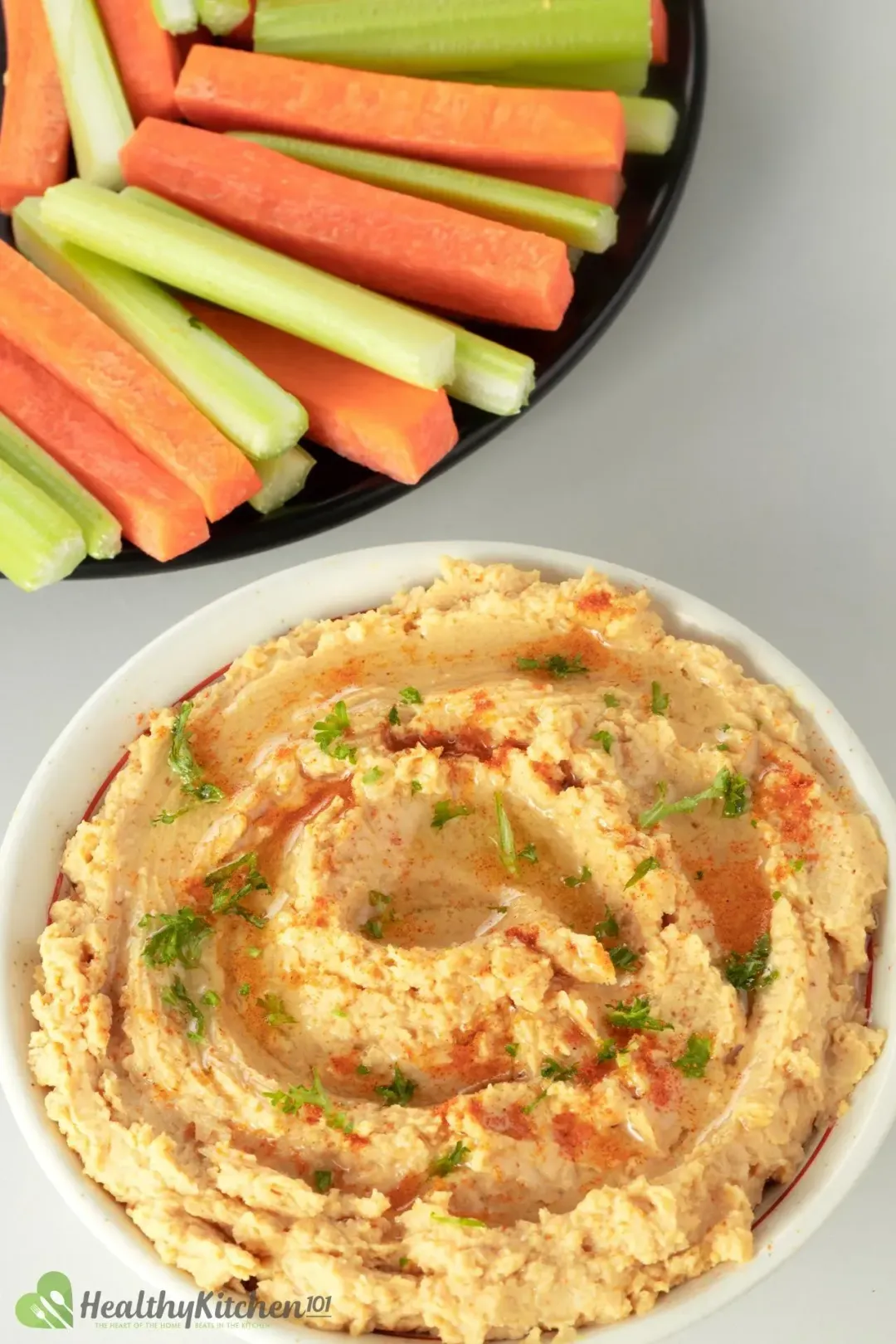 Hummus Ingredients
Let's have a look at the essential ingredients for this hummus recipe (and what to do with them!)
1. Chickpeas
To achieve a silky dip, the chickpeas need to be cooked properly.
If you've worked with chickpeas before, you'll know that they need to be soaked prior to cooking. To speed up the process, we used canned chickpeas, which are already cooked.
However, there's more to it than that: you need to take the tenderness way further than that of canned chickpeas. This can be done by boiling canned chickpeas for about 20 minutes, or until they have trouble holding their shape.
Also, cooking chickpeas like this allows you to skip the skin-removal process. A win-win all round because otherwise, you'll be spending time removing the skin of each bean, and nobody's got time for that.
2. Tahini
Tahini is made with sesame seeds that are toasted and ground up. Because the seeds are ground very finely, their oil leaks out and mixes with the powder, creating a sort of thick sauce.
Besides being used to make hummus, people also mix it with herbs, spices, and yogurt to make tahini sauce. This goes particularly well with grilled meats and vegetables.
Some say the flavor of tahini varies between different brands and a perfect hummus can't be achieved without the correct product. In theory, tahini should just be ground up sesame seeds, so unless you have fake tahini, it should taste about the same.
But since there are options and the possibility of additives, if you're unsure, you can purchase the one we used. It's linked right in the recipe card down below.
3. Garlic
Hummus can be really garlicky or just mildly aromatic, depending on your preference.
If you prefer the strong smell of garlic in your dip, add garlic cloves in along with the chickpeas. There will possibly be tiny bits of garlic to chew on.
If you want to go for a dip with milder garlic flavor, blend the cloves FIRST with lemon juice. This helps to break them down into tiny little bits, and as they are submerged in lemon juice, their fragrance is greatly diminished.
4. Lemon Juice
With just a squeeze, lemon juice makes a world of difference. Freshly-squeezed citrus juice brings brightness to the dip, which store-bought versions often don't have.
Let's look at how to combine all these delicious and fragrant elements.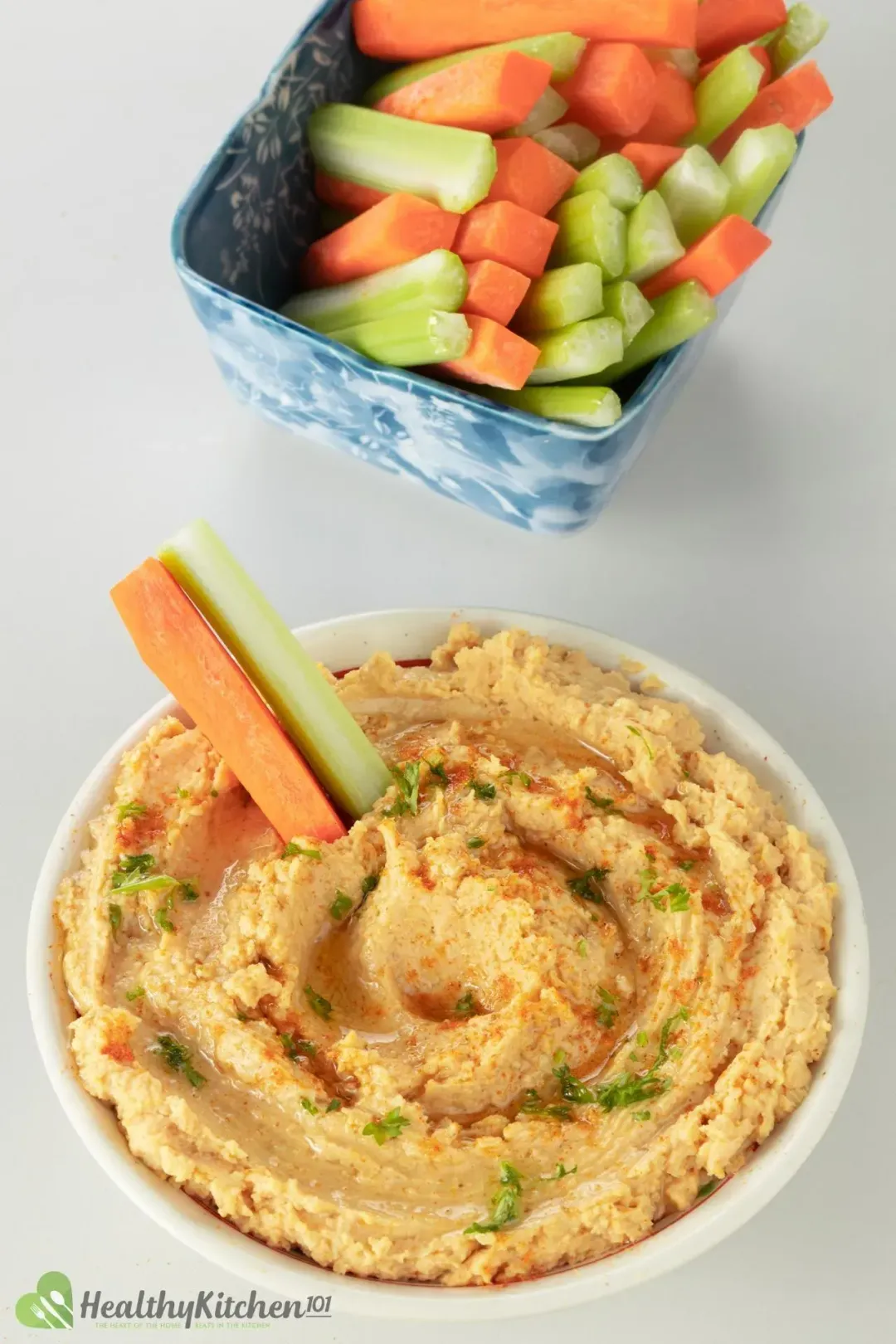 What to Eat with Hummus
So you've made your dip, but the thought of veggie sticks isn't very thrilling. If you fancy a little variety, you can try hummus in or with some of these:
1. Sandwich
To switch things up, ditch mayo and instead, spread a thick layer of hummus onto your bread before adding the fillings. It moistens up your bread, adds great flavors, and unlike mayo, you can have a lot without worrying about eating bad fats.
Here are some sandwich ideas for you:
Tuna sandwich + hummus
Egg salad sandwich + hummus
Avocado toast + hummus
Pita bread + falafel + hummus
2. Chips
Since it's still a dip, you can serve it with potato chips or pita wedges. It instantly becomes an essential component of movie marathons or game nights.
Want an easy way to make chips? Cut pita breads/corn tortillas into triangles and bake at 350°F for 5 minutes or until crisp.
3. Falafels
Instead of mayonnaise/tahini sauce, you can dip falafels in hummus and not even notice that these are all… chickpeas. It'd be a protein-rich meal that comes with a side of comfort.
Check out our falafel recipe to try out this iconic duo!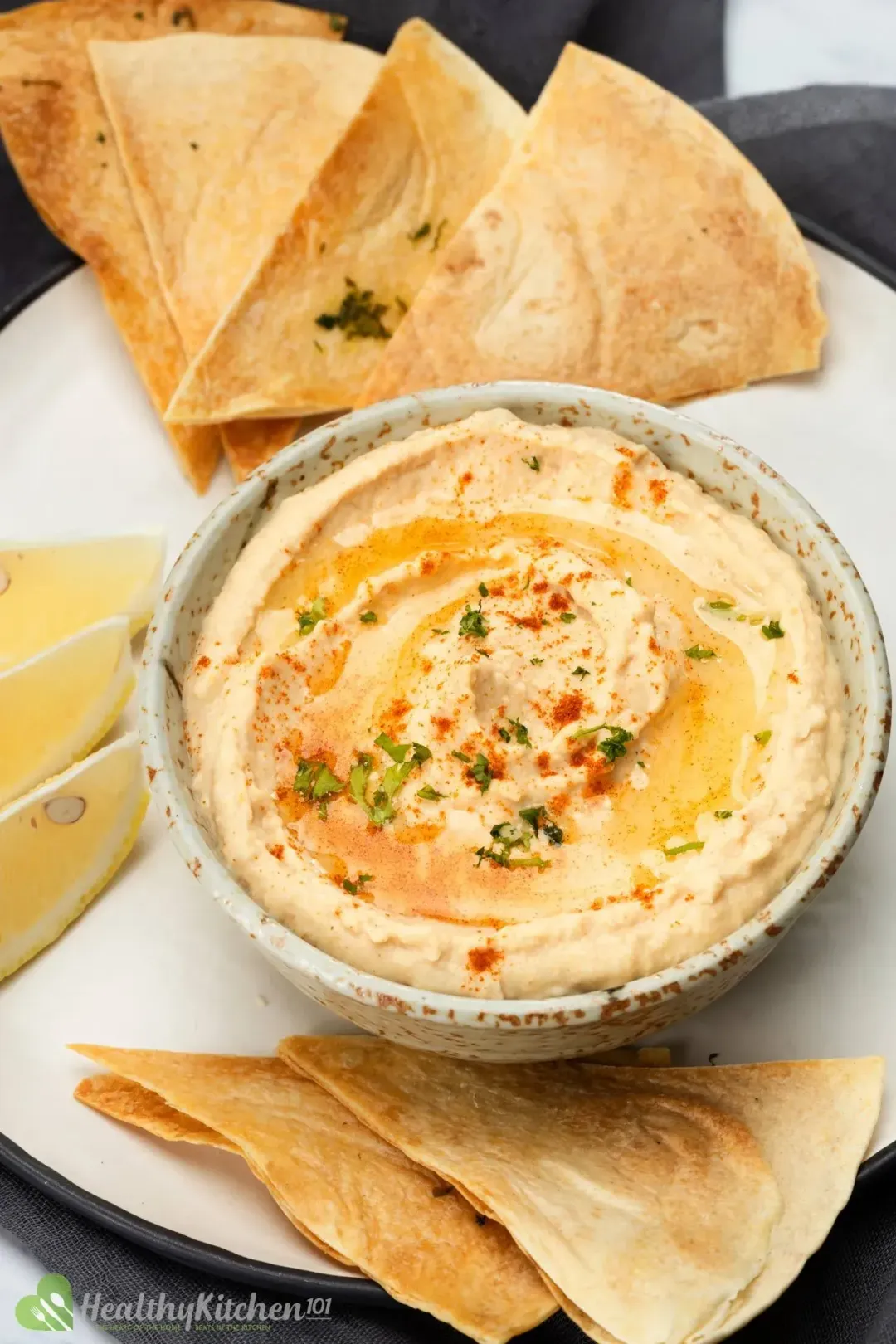 What Else Goes with Hummus
There are countless things you can add to hummus to make alternative variations, and they are all really special. Just a few suggestions include:
1. Beet
Beetroot not only gives an earthy aroma, it also transforms the classic ivory hue into a gorgeous bright magenta. It's to dye for.
You only need to use just half of a beet when making beet hummus, so peel it and slice it in half. Careful not to stain your clothes— it's hard to wash out!
Cook the beet for 10 minutes. You can place it into the pot along with the chickpeas, and simply take it out sooner.
All that's left to do is to cut the beet into chunks and blend the ingredients together. Easy right?
2. Pumpkin
You don't need fall to be around the corner for pumpkin hummus. You can't go wrong with this combination of richness and creaminess.
You'll need 2 oz of cooked pumpkin, roasted or boiled (we prefer it boiled/steamed, 'cause it's softer). Cube it, and blend it along with the other ingredients.
You can make it more aromatic by adding pumpkin spice. A little nutmeg goes well with the savory version. But if you want a sweeter dip, you can always omit the garlic and add a drizzle of maple syrup.
3. Chocolate
Chocolate and savory, garlicky dip sounds like an odd combination, because they just are. But if you take out the herbs, garlic, and inappropriate spices, chocolate hummus is a great dip for fruit wedges!
Going for this sweet take on hummus, blend overcooked garbanzo beans with cocoa powder and maple syrup. If you don't have cocoa powder, simply use dark chocolate.
The idea behind this is that the chickpeas give an odorless, smooth, luscious body while the other two give flavors. Serve this dip with apple wedges, berries, or crackers and you'll be amazed at the results.
4. Avocado
This take on the dip is the smoothest one there is and with milder flavors too. You can spread this dip on any kind of toast you have on hand to make a variation of avocado toast.
When adding avocado, you don't need to cook it in advance because avocado has a great, softer texture as-is. You can use a half, a whole, or even more to suit your liking.
Oh and throw a handful of cilantro in there. It really brightens up the dip and makes the avocado flavor shine through.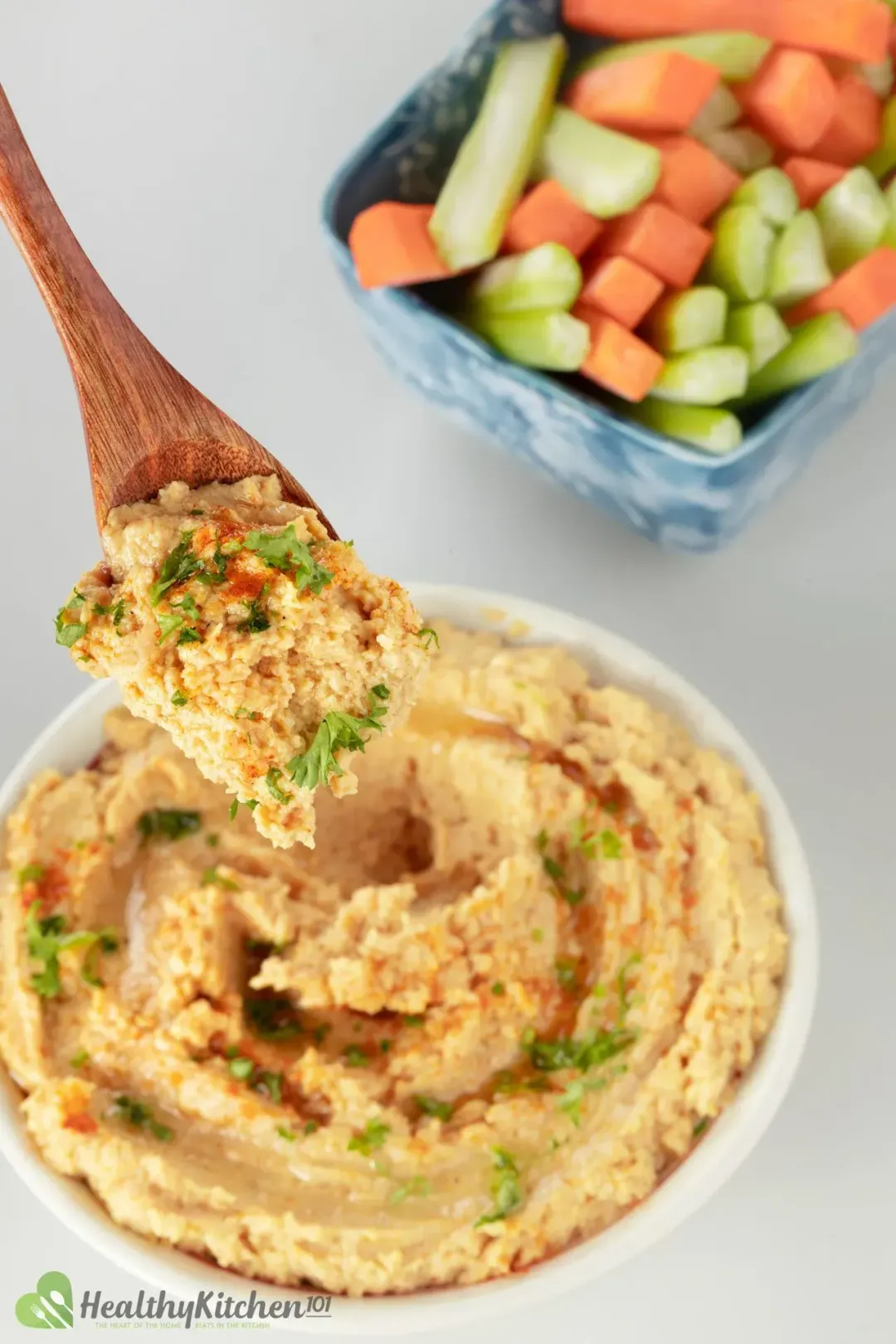 Other Middle Eastern Dishes to Try
Want to explore more Middle Eastern cuisine? Start with these utterly irresistible dishes that you can whip up in a flash:
FAQ
1. Is Hummus Keto?
With a small amount of carbs and packed with proteins as well as good fats, hummus is a good choice for anyone following a keto diet.
However, you might want to consider options other than bread and chips to go with this dip. A more appropriate choice is falafel, which is also keto-friendly thanks to its protein content.
2. Is Hummus Gluten Free?
Hummus is absolutely gluten-free too, since there's no flour in it. The veg sticks are also gluten-free.
If you want to serve hummus with bread and chips, look for GF ones.
3. How Long Does Hummus Last?
Homemade hummus should last for 3-5 days refrigerated and covered. You may find the color turning a little bit dark, but it's still edible.
4. Can You Freeze Hummus?
Hummus is also freezer-friendly and microwave-friendly. All you need to do is store it in a microwave safe container in the freezer, and you can have a good dip whenever you want within 6 months!
Do note that after you've thawed hummus, it should be consumed within 3-5 days and should not be refrozen. If you've made a lot of hummus, it should be divided into portions before freezing.
Hummus
Feeling guilty about eating various unhealthy dips? You shouldn't be. Try this hummus recipe instead. We can assure you it is one of the healthiest, tastiest dips that you will ever have!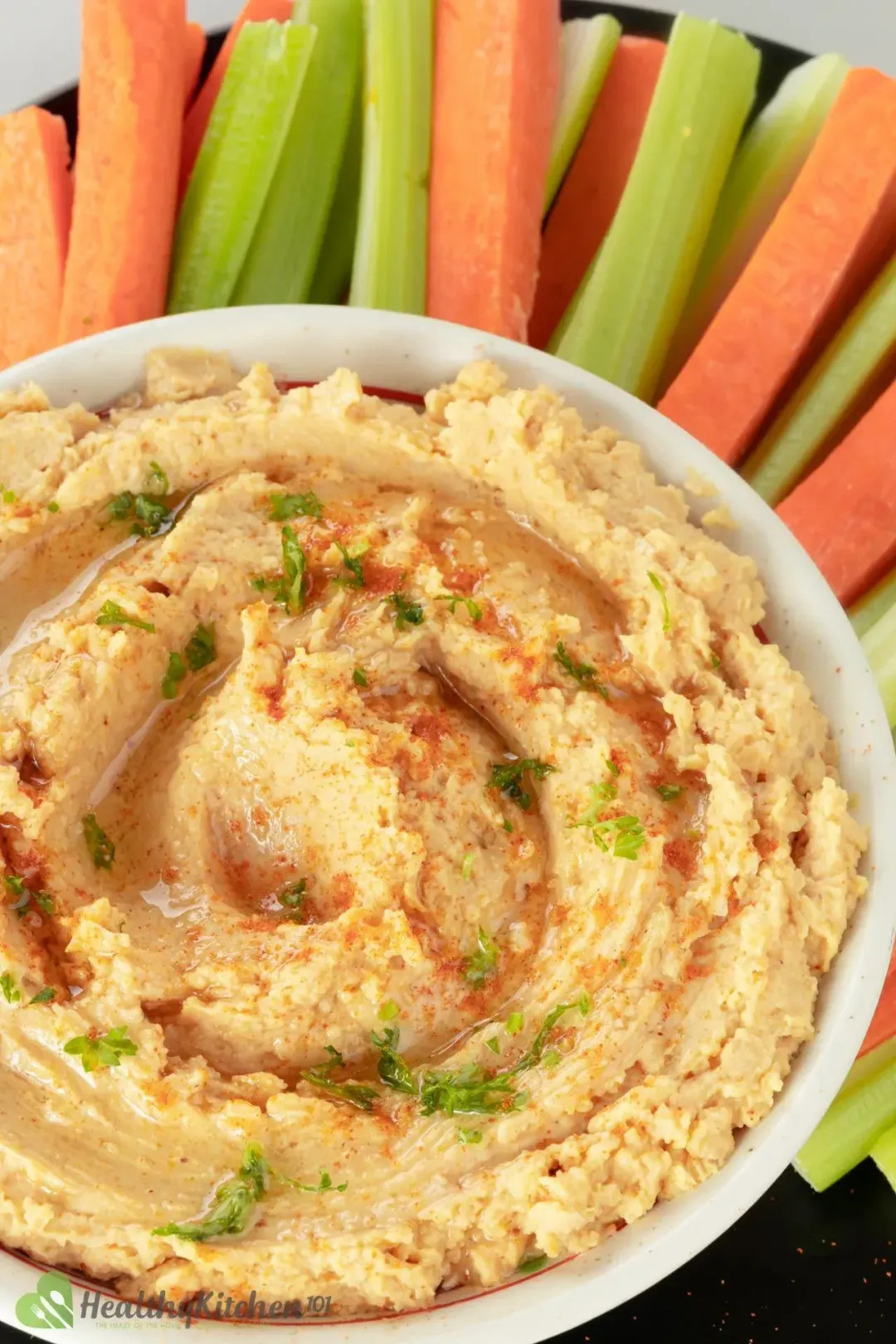 cook TIME

20 mins

prep TIME

10 mins

total TIME

30 mins
COURSE

Dip, Side Dish

CUISINE

Middle East

SERVINGS

CALORIES

248 kcal
INGREDIENTS
2 tsp

garlic

(1-2 cloves)

2 1/2 tbsp

extra-virgin olive oil

4 oz

carrot

(cut into sticks)

5 oz

celery

(cut into sticks)
INSTRUCTIONS
1
Drain 1 cup canned chickpeas and rinse them well under cold water.
2
Boil the chickpeas for 20 minutes for an extra luscious texture. They should be squishable between the thumb and index finger. Leave to cool down.
3
Add 2 tsp garlic to a food processor along with 2 tbsp lemon juice and blend for 2 minutes straight. There should be tiny particles instead of big chunks of garlic.
4
Add 1/4 cup tahini paste and 4 tbsp cold water, and blitz until smooth. It's important to use cold water, because it'll add extra smoothness to the final product.
5
Add chickpeas, 1/2 tsp cumin and 1/4 tsp salt, and blend for 5 minutes. Occasionally scrape down the sides to make sure it's lump-free.
6
Gradually add 2 1/2 tbsp olive oil while it's blending so in the end, it becomes lusciously smooth. If your food processor doesn't come with a feeding tube, add one tablespoon of oil at a time, blend, and repeat until no oil is left.
7
Sprinkle with 1/4 tsp paprika and 1 tbsp parsley for garnish. Serve with 4 oz carrots and 5 oz celery sticks.
NUTRITION
Nutrition Facts
Hummus
Amount Per Serving (1 serving)
Calories 248
Calories from Fat 162
% Daily Value*
* Percent Daily Values are based on a 2000 calorie diet.
Keywords: best hummus recipe, homemade hummus, hummus, hummus recipe, hummus recipes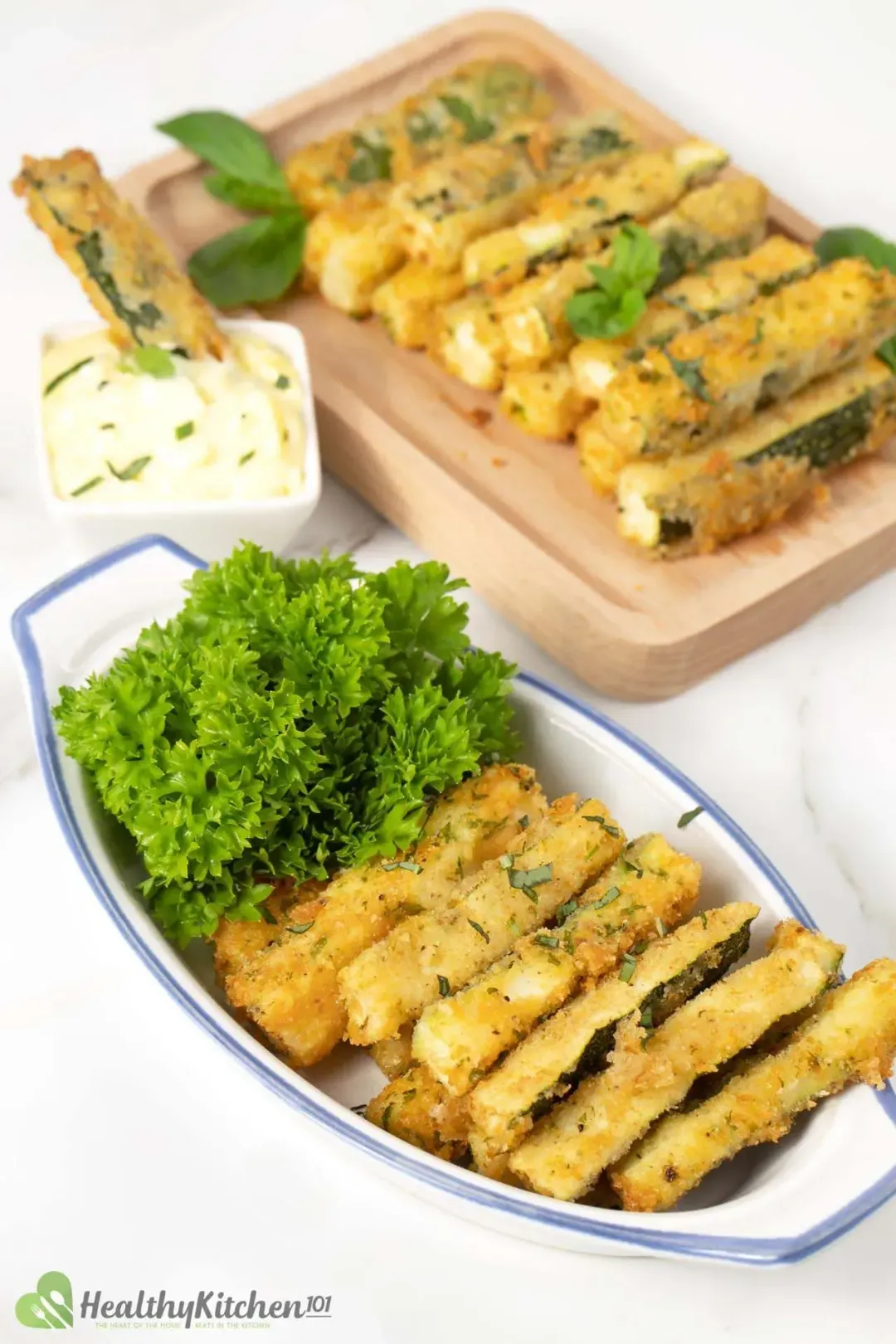 Previous Recipe
Zucchini Fries
Zucchini Fries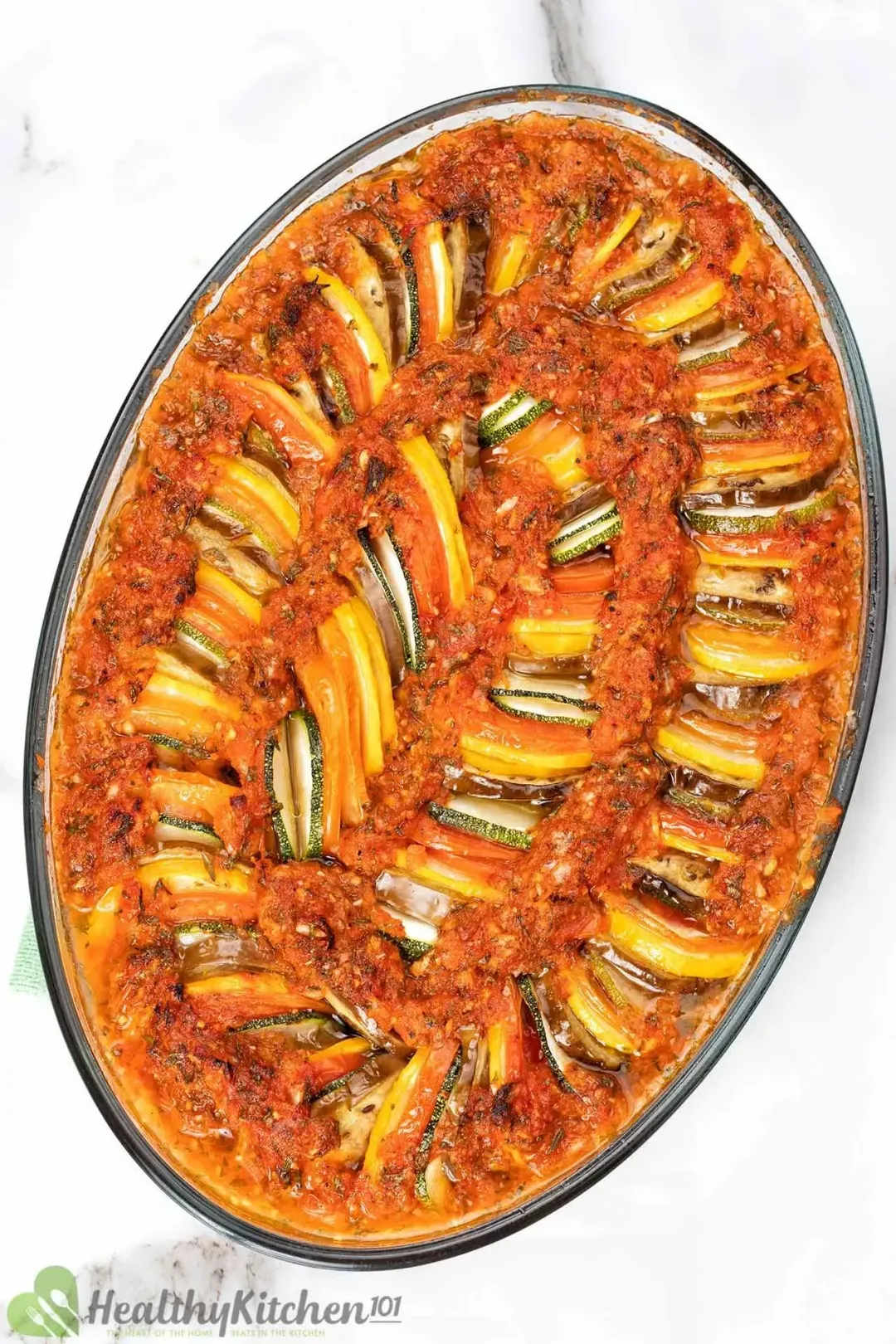 Next Recipe
Healthy Easy Ratatouille
Healthy Easy Ratatouille
Head Chef, Culinary Consultant
Tuyet Pham is an award-winning Saigonese chef who believes that joy is the secret ingredient to delicious food. At Healthy Recipes 101, Tuyet personally tests and simplifies every recipe, ensuring maximum flavor with minimal effort. With a background at prestigious French restaurants P'TI Saigon and Le Corto, Tuyet knows how to make every dish exceptional.
Writer, Author
Luna Regina is an accomplished writer and author who dedicates her career to empowering home cooks and making cooking effortless for everyone. She is the founder of HealthyKitchen101.com and HealthyRecipes101.com, where she works with her team to develop easy, nutritious recipes and help aspiring cooks choose the right kitchen appliances.
Nutrition Reviewer
Lizzie Streit is a Minneapolis-based dietitian and founder of It's a Veg World After All. She completed her MS in Human Nutrition from Drexel University, and is an expert in culinary nutrition, recipe development, and nutrition communications. Lizzie's philosophy is centered around making nutrition recommendations, and especially the advice to eat more vegetables, approachable and realistic. She is excited to be working with the team at Healthy Recipes 101 to ensure that their recipes are both nutritious and delicious.
The hummus came out so well! Absolutely packed with flavor and a great dip for chips and bread.