If your body is craving some healthy food but you're tired of the usual steamed veggie side dish, we can't think of an easier alternative than this roasted vegetables recipe.
Roasting vegetables brings out their natural sweetness, and it's these sweet and savory flavors that make them the perfect accompaniment to any main dish, especially meaty ones. 
We use readily available vegetables and basic seasoning to make the process even easier. And as an added bonus, they make great leftovers and hold up well when reheated.
Are Roasted Vegetables Healthy?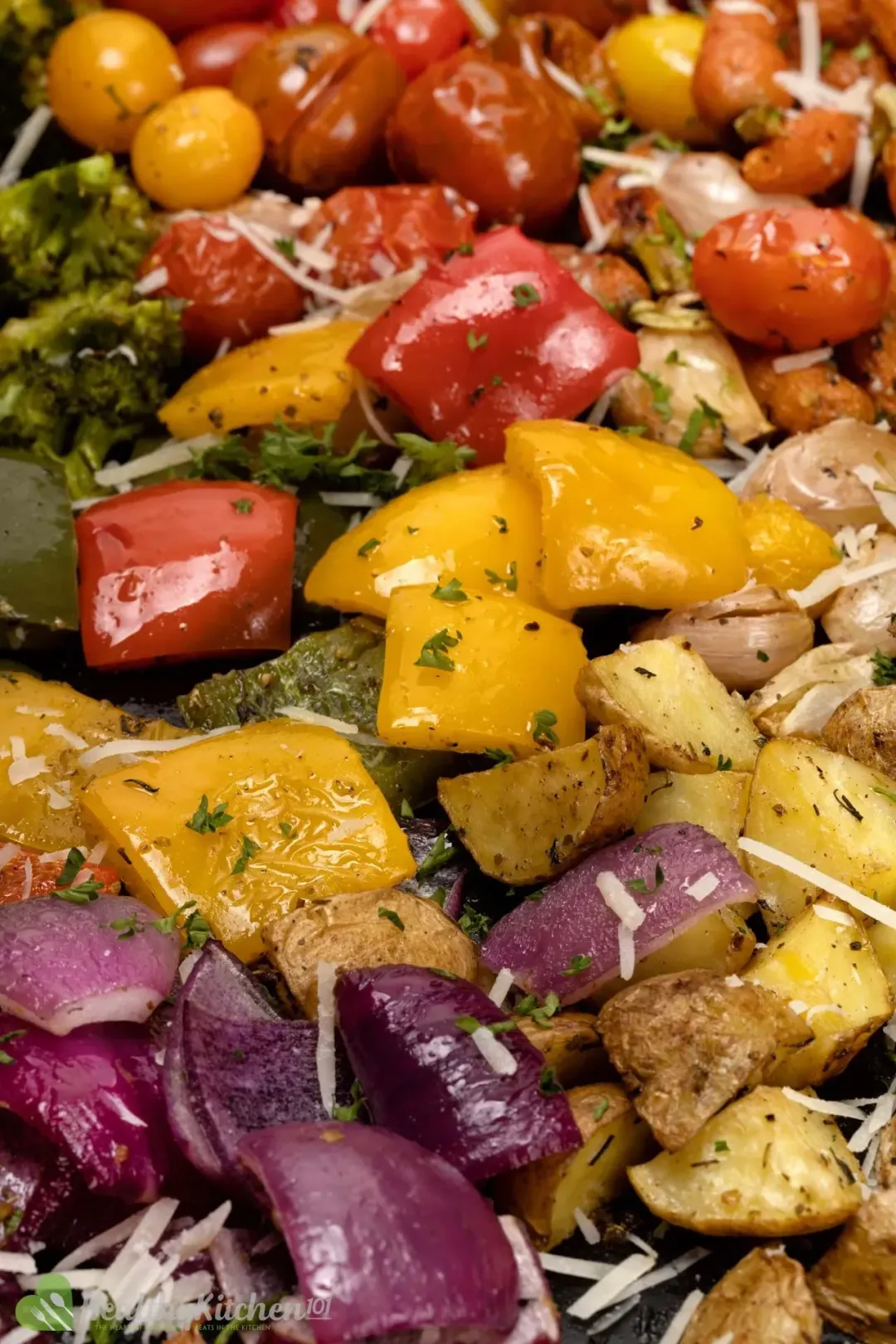 To roast vegetables you bake them with a little oil until they soften and caramelize. We all know vegetables to be healthy, but is roasting a healthy way to eat them? Nutritionally, it depends.
If you roast your vegetables to a deep golden brown color, it's possible you will decrease their nutritional content because many nutrients are sensitive to heat. Charring starchy foods such as potatoes can even lead to the formation of Acrylamide — a potential cancer-causing chemical.
But, as long as you don't over-roast your veggies, you will still get many health benefits from them. Evidence suggests that roasting vegetables may help minimize vitamin loss, especially vitamin C, compared to other methods like frying or sauteing. 
Also, roasting improves flavor and texture and can make some vegetables more palatable. It's an easy and appetizing way to incorporate more veggies into your eating plan.
Calories
Each serving of our roasted vegetables provides approximately 200 calories which makes it a great light side dish for lunch or dinner.
A How-to Guide for Delicious Roasted Vegetables
There is some debate as to what makes a perfectly roasted vegetable. However, we know of some no-fail tips and tricks for perfect roast veggies that we will share with you today.
1. Choosing the vegetables
Keep in mind that you can roast almost any vegetable. Root veggies like potatoes, parsnips, and carrots are old dependables when it comes to classic roasting. However, we find that all sorts of veggies, such as broccoli, cauliflower, beet, asparagus, and mushrooms, are well-suited to roasting too.
If you're not sure if a particular vegetable can be roasted, our recommendation is to give it a try. It might not end up being your favorite way to eat that vegetable, but it's worth the experiment to find out. We've never regretted roasting a vegetable!
2. Temperature
Typically, the ideal temperature for roasting vegetables ranges from 400-450°F. This fairly high temperature allows your vegetables to retain a crunchy texture and vivid color while crisping up in a shorter amount of time. 
If the oven temperature is too low, the vegetables will overcook before achieving the desired crisp exterior. 
3. Cooking Time
Different vegetables take different amounts of time to cook. Softer veggies like zucchini cook more quickly, while harder ones like potatoes require a longer baking time. 
Our tip is to combine those that have the same "cooking time" on the same baking sheet and roast them together. Starting with the hardest, longer-cooking vegetables first, and then adding quicker-cooking vegetables later on. The aim is to have all the vegetables finish roasting around the same time. 
General Vegetable Roasting Times:
Root vegetables and winter squash (beets, carrots, potatoes, onions, etc.): 45- 60 minutes.
Crucifers (broccoli, cauliflower, asparagus, etc.): 15-25 minutes.
Soft vegetables (bell peppers, zucchini, mushrooms, etc.): 10-20 minutes.
4. Space
You should have one single layer of vegetables with no overlapping. If vegetables are piled on top of each other on the sheet pan, they will end up steaming instead of roasting. 
To avoid overlap, use a large baking sheet or roast the vegetables on two different sheet pans.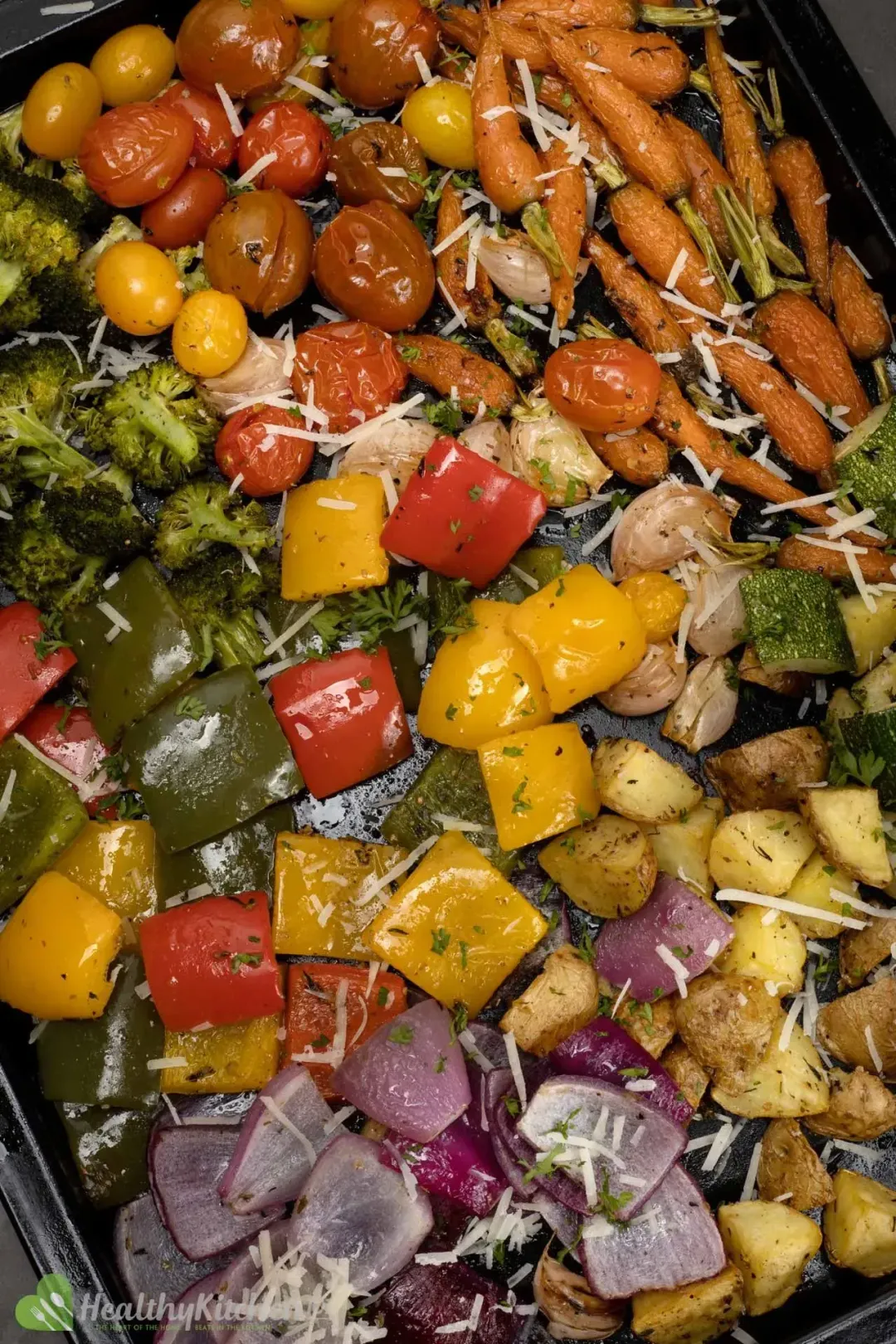 Seasoning for Roasted Vegetables
The classic seasoning blend for roasted vegetables is quite simple with some salt and olive oil. Through experimenting, we found out that freshly cracked pepper and thyme make a world a difference to the flavor profile when compared to the traditional mixture.
Pro tip: be generous, but not excessive. Add enough seasoning and toss well so that each vegetable chunk gets a light coating but is not smothered to the point of losing their natural sweetness.
1. Balsamic Vinegar
Balsamic is an Italian concentrated seasoning with a special sharp taste. After roasting vegetables, try tossing them with a little balsamic vinegar. This tangy vinegar is a great way to enhance the natural sweetness of any vegetables.
2. Rosemary
We often use dried rosemary to infuse roasted vegetables with a delicate aroma. Fresh herbs tend to lose their vibrancy when baked at high temperatures, so we suggest using them after cooking. 
With a sprinkle of rosemary, you will get all the goodness —sweet, earthy, and savory flavor— in each bite.
Sauce for Roasted Vegetables
What can make your roasted vegetables even better? A sauce to dress them or dip your veggies in.
1. Yogurt Sauce
This easy yogurt sauce is made with Greek yogurt, olive oil, garlic, and fresh mint. It adds a creamy note and lifts all the other ingredients with fresh herbs, making this yogurt sauce a game-changer for any baked dishes.
2. Tahini Sauce
The basic tahini is made by grinding sesame seeds into a smooth paste. To customize the sauce for roasted vegetables, add olive oil, garlic, and lemon juice to tahini. 
This homemade dressing offers a wonderful mix of rich, nutty flavor that turns your regular veggies into an irresistible dish.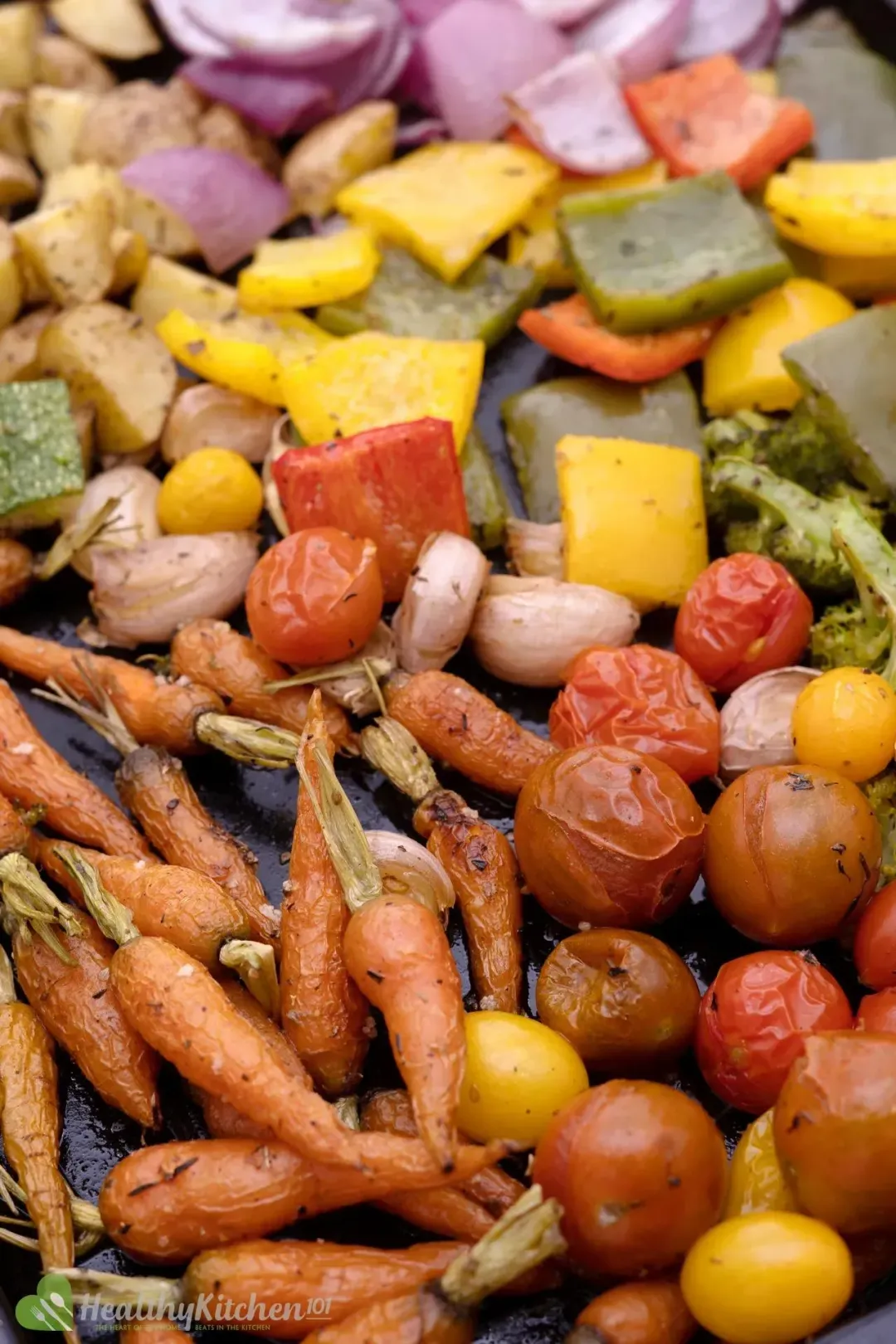 How to Roast Frozen Vegetables
There is no need to thaw the frozen vegetables before baking. They can quickly thaw during the heating process and easily achieve the crunchy texture from the frozen state.
Just remember that in comparison to their fresh counterparts, frozen veggies need a little bit longer to cook.
How Long Do Roasted Vegetables Last?
Roasted vegetables should be consumed within the first 24 hours after baking. If you store roasted veggies in the refrigerator, they can last up to 3-4 days.
Can You Freeze Roasted Vegetables?
This roasted vegetables recipe may not be the best candidate for freezing since juicy veggies like tomatoes will turn out soft and soggy when reheated. However, vegetables with a firmer texture such as carrots or potatoes are freezer-friendly.
Freezing roasted veggies isn't difficult. First, give your dish plenty of time to cool down completely at room temperature. 
Once cooled, transfer the vegetables to a glass container or a freeze-safe plastic bag, seal it up and place it in the freezer. Your frozen roasted vegetables can keep in the freezer for up to 6 months.
What to Serve With Roasted Vegetables
There are many ways to serve roasted vegetables as part of your main meal. Here are some of our suggestions of what to pair them with:
1. Chicken
Roasted chicken and vegetables are a staple for many American families and for good reason. This simple recipe requires a short amount of time in the kitchen to prepare the ingredients, and then the rest is baking time.
The result is succulent chicken with a rainbow of crunchy veggies. Add in your favorite herbs and a sprinkle of cheese, and you have a delicious one-pan dinner.
Lastly, if you line your pan with parchment paper, the clean-up is especially fast and easy.
2. Baked Penne
Penne is a short pasta tube that is popular in Italian cuisine. This pasta complements many sauces and is also great for baked dishes.
A baked penne with roasted vegetables recipe calls for an additional element — marinade sauce. Not only does it add flavor to plain cooked pasta and roasted vegetables, but the sauce also helps to pull everything together for a mouth-watering experience.
3. Pasta
You can also use roasted vegetables to top other kinds of pasta. At the same time you put your veggies in the oven, boil your pasta. 
As soon as your roasted vegetables caramelize in the oven, take them out and toss them with the freshly-cooked pasta, cheese, and fresh herbs.
You can add chicken, pork, or seafood to the recipe, however, we find that the hearty texture of veggies is a great substitution for meat. This dish can satisfy even the pickiest meat lovers.
4. Sausages
There is nothing easier than combining sausages and vegetables in the same baking dish and before you know it, you're all ready for a quick main meal. Serve the dish with some grains like rice or quinoa so that your body is provided with enough calories and energy until the next meal.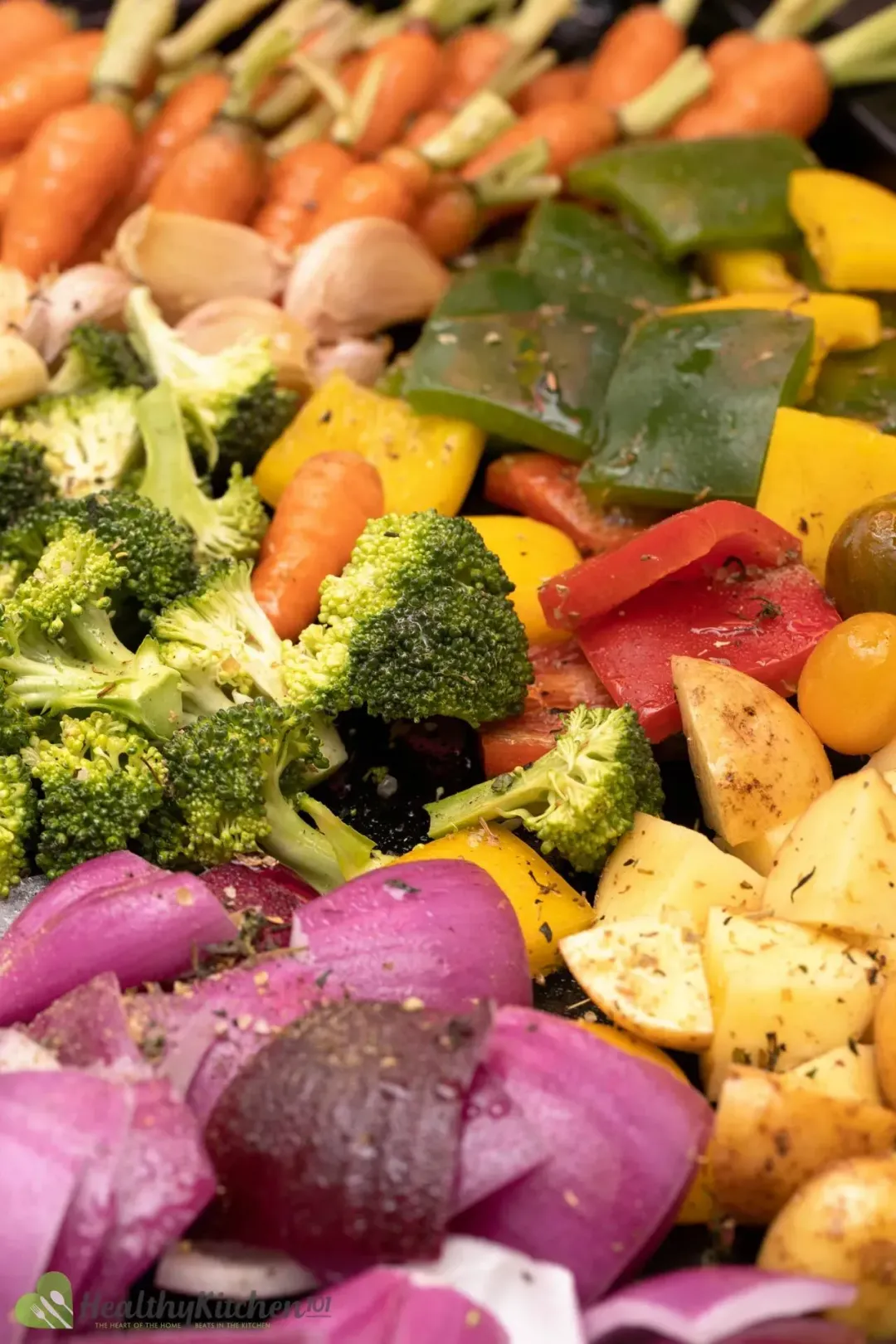 More Vegetable Recipes Right Here
Roasted Vegetables
This roasted vegetables recipe is a simple method to bring out the natural sweetness and depth of flavor in veggies. And it can be adapted to fit any veggies you have on hand.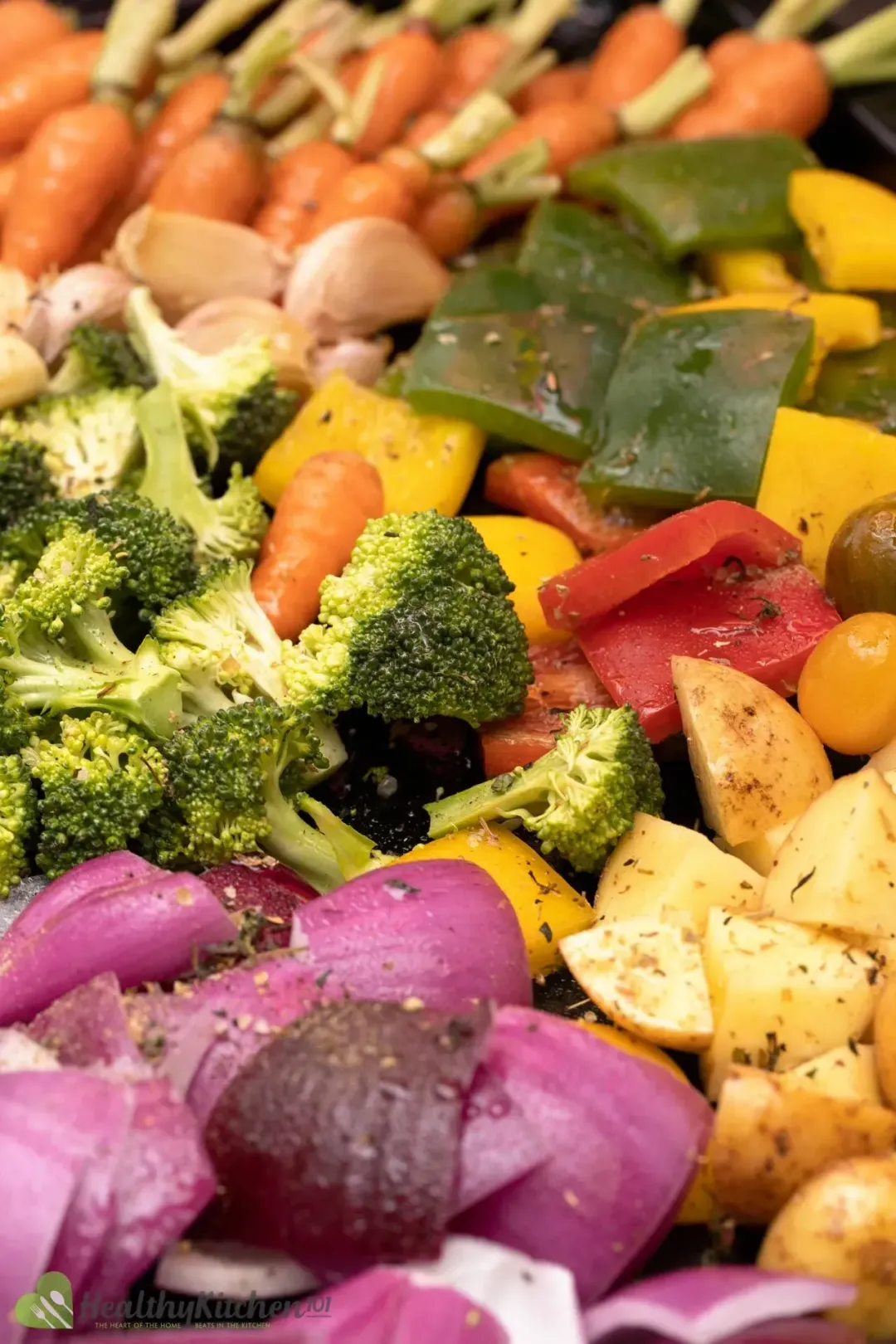 cook TIME

30 mins

prep TIME

15 mins

total TIME

45 mins
COURSE

Side Dish

CUISINE

American

SERVINGS

CALORIES

199 kcal
INGREDIENTS
6 oz

baby potatoes

(halved)

1 tsp

fresh thyme

(chopped)

1 tbsp

fresh parsley

(chopped)
INSTRUCTIONS
1
Preheat the oven to 400°F.
2
In a large bowl, add 3 tbsp olive oil, 1/4 tsp black pepper, 1 tsp fresh thyme, 1/2 tsp oregano, and 1/2 tsp salt.
3
Toss all the veggies (6 oz baby potatoes, 6 oz grape tomatoes, 6 oz bell pepper, 6 oz broccoli florets, 4 oz zucchini, 4 oz baby carrots, 4 oz red onion) lightly with the oil mixture so that they are all coated.
4
Place baby potatoes, baby carrots, and garlic cloves in a single layer on a baking sheet and roast for 10 minutes.
5
Add the remaining vegetables to the baking sheet and return to the oven until tender. Remove from the oven.
6
Sprinkle with 1 tbsp Parmesan cheese and 1 tbsp fresh parsley.
NUTRITION
Nutrition Facts
Roasted Vegetables
Amount Per Serving (1 serving)
Calories 199
Calories from Fat 99
% Daily Value*
* Percent Daily Values are based on a 2000 calorie diet.
Keywords: How to make Roasted Vegetables, Roasted Vegetables, Roasted Vegetables Recipe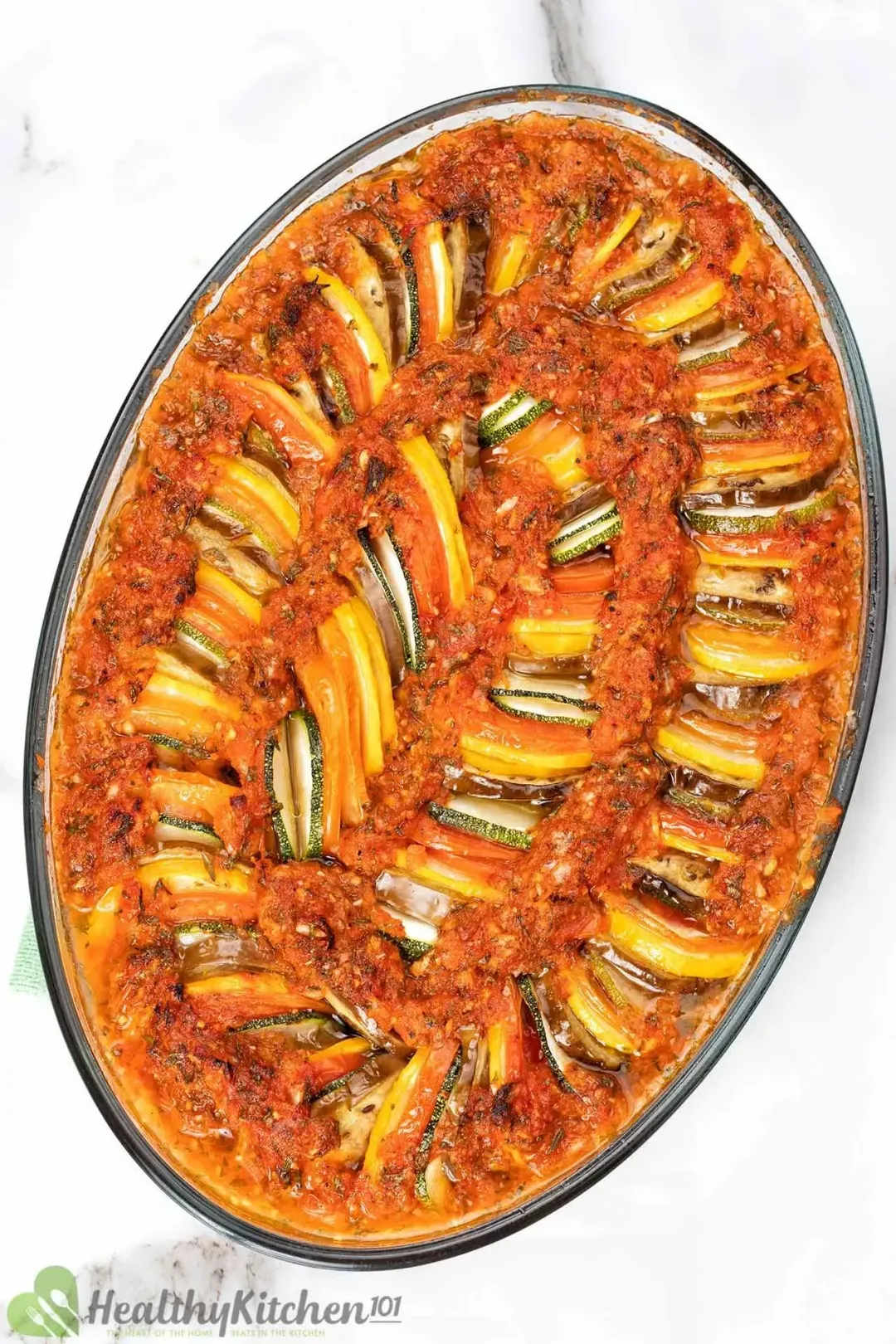 Previous Recipe
Healthy Easy Ratatouille
Healthy Easy Ratatouille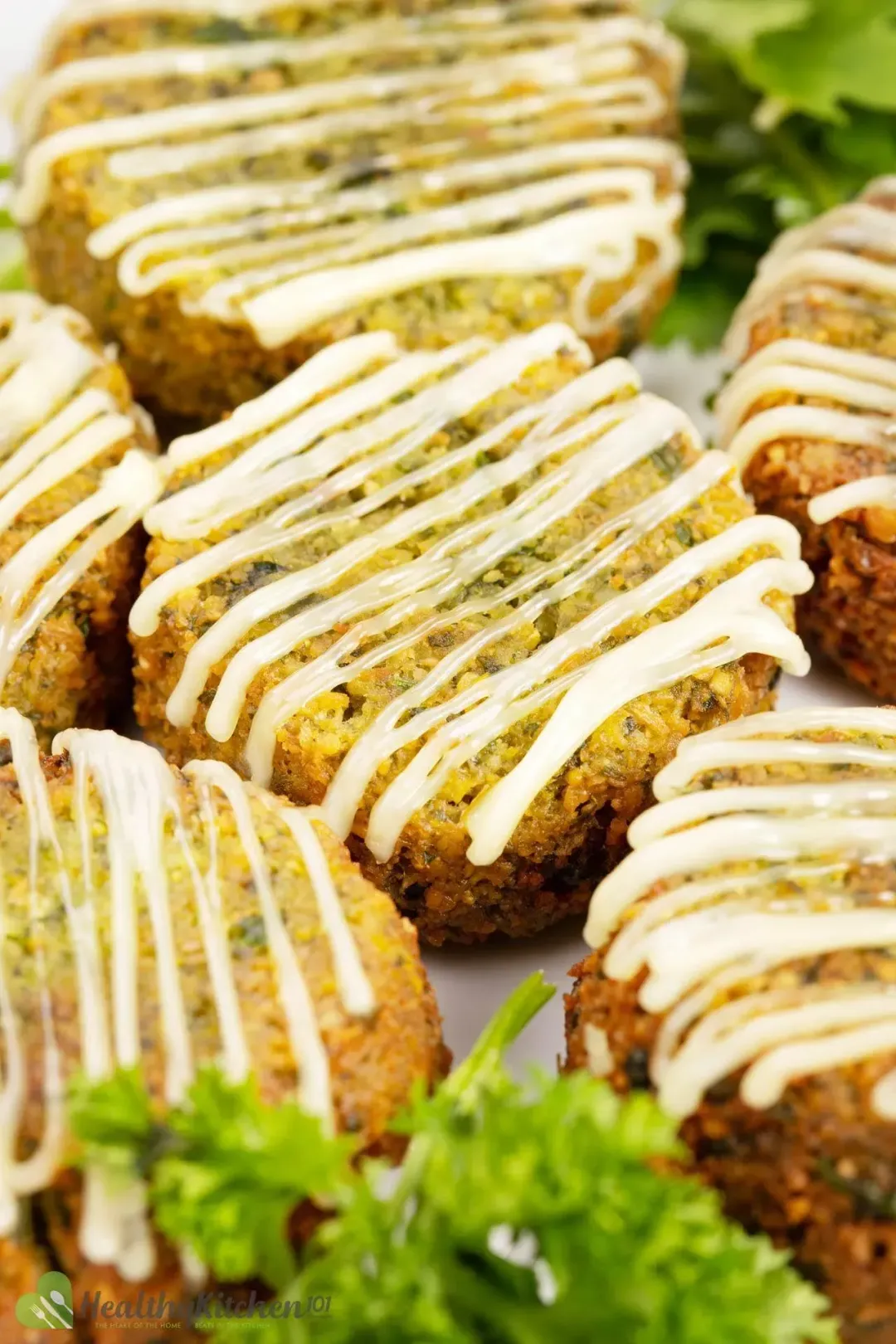 Falafel
Head Chef, Culinary Consultant
Tuyet Pham is an award-winning Saigonese chef who believes that joy is the secret ingredient to delicious food. At Healthy Recipes 101, Tuyet personally tests and simplifies every recipe, ensuring maximum flavor with minimal effort. With a background at prestigious French restaurants P'TI Saigon and Le Corto, Tuyet knows how to make every dish exceptional.
Writer, Author
Luna Regina is an accomplished writer and author who dedicates her career to empowering home cooks and making cooking effortless for everyone. She is the founder of HealthyKitchen101.com and HealthyRecipes101.com, where she works with her team to develop easy, nutritious recipes and help aspiring cooks choose the right kitchen appliances.
Nutrition Reviewer
Lizzie Streit is a Minneapolis-based dietitian and founder of It's a Veg World After All. She completed her MS in Human Nutrition from Drexel University, and is an expert in culinary nutrition, recipe development, and nutrition communications. Lizzie's philosophy is centered around making nutrition recommendations, and especially the advice to eat more vegetables, approachable and realistic. She is excited to be working with the team at Healthy Recipes 101 to ensure that their recipes are both nutritious and delicious.
Best roasted veggies ever! So easy and tasty!

I made this last night. It was very good!