If you're searching for '4th of July Drinks', we're guessing there's a big party coming up and you're the host. Or not. Some of us like to spend holidays in solitude. Well whatever the situation is, we have a lot of drinks to make your day the best day.
We've searched far and wide, and here's what we found. There are the classics, like an American flag margarita that looks cool and tastes awesome. There are the more-uniques, like an Independence Day fizz with vodka and prosecco in it. There are plenty for you to choose from, and all can be put together however you like it:
Enjoy the drink as-is. After all, it's made with the maker's intention in mind.
Add fruits, like berries, citrus peels, or sliced fruits. A really sweet drink can really use some of the fresh, tangy aroma.
Use substitutions. For instance, swap regular rum for Malibu; try fancy liqueur with flavors like 'lychee' or 'melon' for an ultra richness in aroma; add a touch of color with blue curacao, ruby pomegranate extract (grenadine). Skittles are great colors, but you'll want something that tastes better.
Without further ado, here are the drinks we've collected.
Top 19 4th of July Drinks to Go Wild on This Holiday
1. Firecracker Punch
Patriotism has never been exclusive to adults. We ran into lots of recipes, and this one gets the kids involved, too. You can always use grenadine, blue curaçao, and white rum for the classic, but for the too-young-to-drinks, the recipe is a good one.
Go to Recipe
2. Whiskey Lemonade Julep
Make two drinks, one regular lemonade and one whiskey. While the kids are having theirs believing the adults are too, take a sip of this easy, boozy drink and have some fun.
Go to Recipe
3. Piña Colada Slushie
While most drinks give us the fun time, there's something chilling, relaxing about piña coladas. When we look at one, we can't help but thinking we're on a cruise trip. This slushy brings you that exact experience, and they're super chilled, too.
Go to Recipe
4. Hawaiian Iced Tea
Remember Long Island Iced Tea? This one, I think, is done really well in that theme. That tea color is the result of light rum mixed with clear vodka, tequila, and gin. Coconut water puts 'Hawaiian' in its name, and the soda adds just the right fizzy sensation.
Go to Recipe
5. Cranberry Mint Drink
Instead of pomegranate extract, this drink takes on that beautiful color of cranberry juice. It's tangy, minty, and kid-friendly. You can always add vodka for a grown-up party pleaser.
Go to Recipe
6. Watermelon Margarita Slush
If you're looking for a stunning centerpiece, buy a gigantic watermelon (or two) and make these margaritas. With a fairly strong blender, they'll come together in no time at all.
Go to Recipe
7. Blue Hawaii Slushie
We've been having lots of slushies already, but you have to look at the color of this thing. It reminds me of a trip by the beach I've never actually gone to, and tastes like one, too. The umbrella, the bright cherries, and pineapple wedge complete the look, but if they're too much of a hassle to get, just the wedge would do fine.
Go to Recipe
8. Red, White and Blue Sangria
This one has apples cut into the shape of stars mixed with red and blue berries to represent the flag, and we think that's cute. The drink is of vodka and sparkling lemonade, leaving the work of colors to the fruits.
Go to Recipe
9. Patriotic Parfait Layer Drink
This one layers just like your typical 4th of July cocktails, but with a twist in the middle that is a creamy piña colada mix. It's alcohol-free so everyone can enjoy it, but you know, curaçao is a pretty good alcoholic sub for gatorade.
Go to Recipe
10. Firecracker Spritzer
This cocktail doesn't just taste like alcohol: it's grenadine, curaçao, and a citrus soda. A simple yet spot-on way to enjoy the holiday.
Go to Recipe
11. Frozen Red, White & Blue Moonshine Slushie
This is the last slushie on our list, and rather than a cocktail, it's a boozy slush with vibrant colors: grenadine on the bottom, curaçao, and white shaved ice on top. Of the layering drinks it's the easiest to do, since the liquids get absorbed by the ice and stay where they're put.
Go to Recipe
12. Mango Margarita Punch
Margaritas are everyone's fav, but since this holiday is kind of a big deal, make this instead. It has lime just like the regular, but is ultra thick thanks to mango pureé. You can make yours or get the pureé in bottles—we don't see any reason to be in a fuss during holidays.
Go to Recipe
13. Patriot's Punch Festive Twist
This huge drink dispenser is the ideal thing to serve at parties if we're talking dozens of people. The three layers will be stirred up and end up a purple color, but they're already good enough for pictures at the start. It surely helps to save time and effort.
Go to Recipe
14. Bacardi Pineapple Smash Blast
In this recipe it goes by the name 'yellow hammer slammer', but it's called 'smash blast' where I'm from for the same reason: it's pretty strong. We have rum, vodka, amaretto, mixed with pineapple and orange juice and garnished with bright cherries, and by the look of it we don't think anyone's having just one glass.
Go to Recipe
15. Captain America Drink
This easy drink is a treat for your little heroes. It layers Hawaiian punch with gatorade, a simple but really delicious drink.
Go to Recipe
16. Red White & Blue Jello Shots
The recipe seems completely kid-friendly, but you know what? There's vodka in the red layer.
Go to Recipe
17. Vodka and Coke
The recipe, or a 'one and one' as they call it, is just as it sounds: one part vodka and one part coke. This I had a lot, and it's too delicious for such a simple formula.
Since sugary cocktails make you go drunk faster, I suggest you use diet coke. The sweetness is there, which is safe to consume, and you can go for more rounds.
Go to Recipe
18. Root Beer Float, Anyone?
4th of July is an excuse to treat ourselves, and if you've not had ice cream for a good while, it's time you do. We don't think anyone's going to say no.
Go to Recipe
19. Gin Rickey Cocktail
Or if you're still saving the calorie fun for another party, gin rickey is the best. As the picture shows, it's just soda, lime juice, and gin. Be sure to have in the glass a wedge of lime—biting into one after each sip is a real fun experience.
Go to Recipe
Tips for Pouring the Layers
You may need a cocktail spoon to do the layerings.
As you finish with a layer, hover the spoon just so it touches the surface, and pour the next layer slowly onto its back.
Simple physics is shown here: heavier layers sink, and lighter layers float. For this matter, syrups or thicker liquids are put into the glass first, and sodas last. Milk or cream may mix into syrups, so you'll need to be very careful with these two.
It takes several tries to be perfect, and if it's not perfect, it still tastes pretty dang good.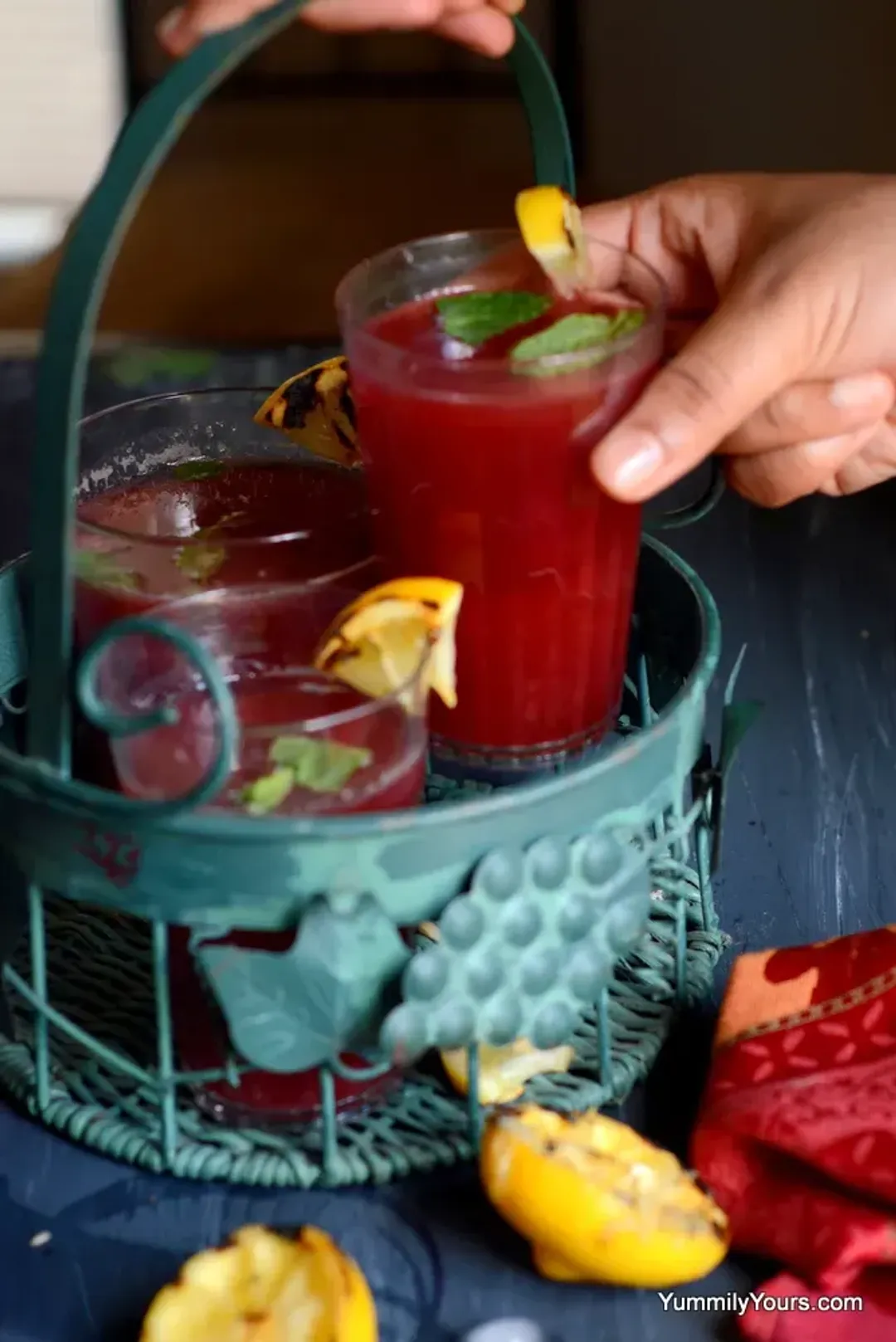 Previous Recipe
Plum Juice Recipes
Plum Juice Recipes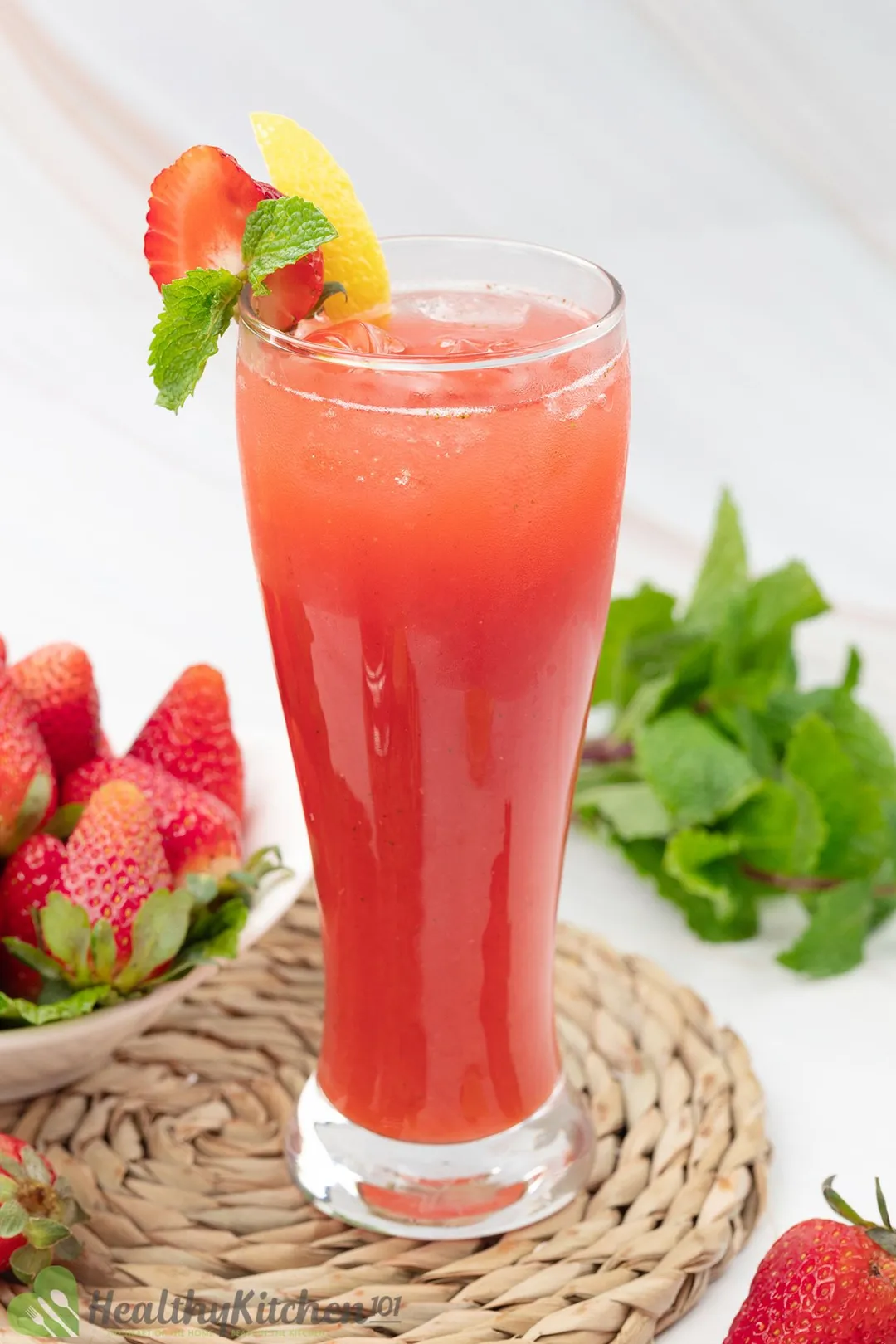 Next Recipe
Strawberry Juice Recipes
Strawberry Juice Recipes
Writer, Author
Luna Regina is an accomplished writer and author who dedicates her career to empowering home cooks and making cooking effortless for everyone. She is the founder of HealthyKitchen101.com and HealthyRecipes101.com, where she works with her team to develop easy, nutritious recipes and help aspiring cooks choose the right kitchen appliances.
Comments/ Reviews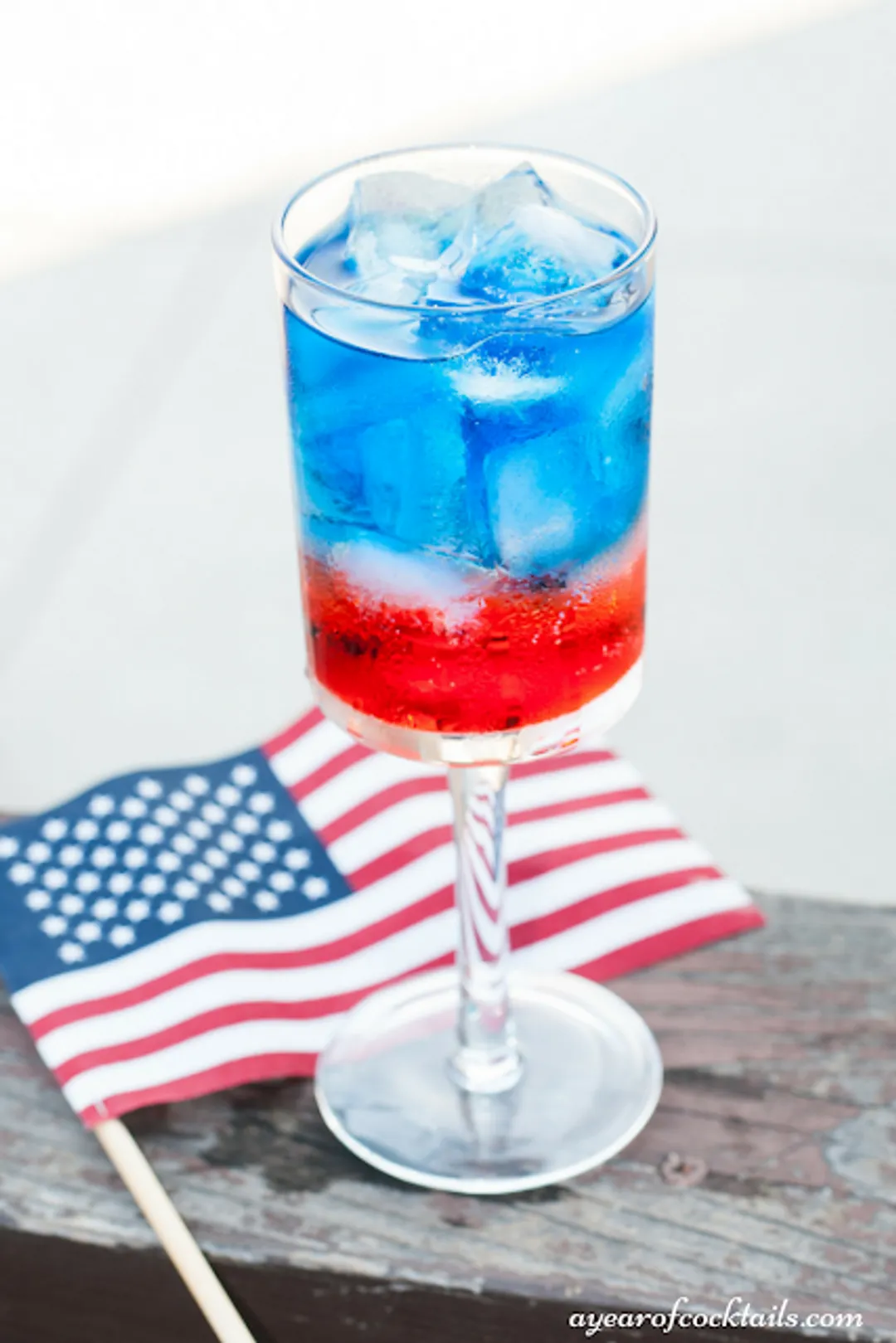 Cheers to a happy and healthy Independence Day! These recipes perfect for anyone looking to celebrate the holiday with some refreshing and patriotic beverages.