It's not often that people look up pomegranate juice recipes. After all, the fruit is made up of small berries that demand time and effort to extract their sweet flavor.
But it's all worth it. And we'll show you ways to juice pomegranates with or without a juicer to make your effort easier.
Plus, it's that time of the year again. The weather is getting warmer, and a few healthy juice recipes could bring appreciated refreshment.
It can also help to boost your immune system while giving you good skin. Read on to learn the many benefits of pomegranate juice and how to make ten delectable pomegranate drinks easily.
Pomegranate Juice Benefits
1. For Skin
Pomegranate juice could be your next best cosmetic. A 2015 study shows how a daily glass of fresh pomegranate juice improved the skin condition of healthy women.
This may be due to its rich content of vitamins C and K, which help renew and facilitate skin cell function. It also contains phenolic compounds that help protect your skin by slowing down the aging effects of UV rays.
But you may also want to keep some pomegranate juice on your dresser. The topical application of this skin-friendly juice is said to inhibit melanin synthesis to impact skin with a natural glow.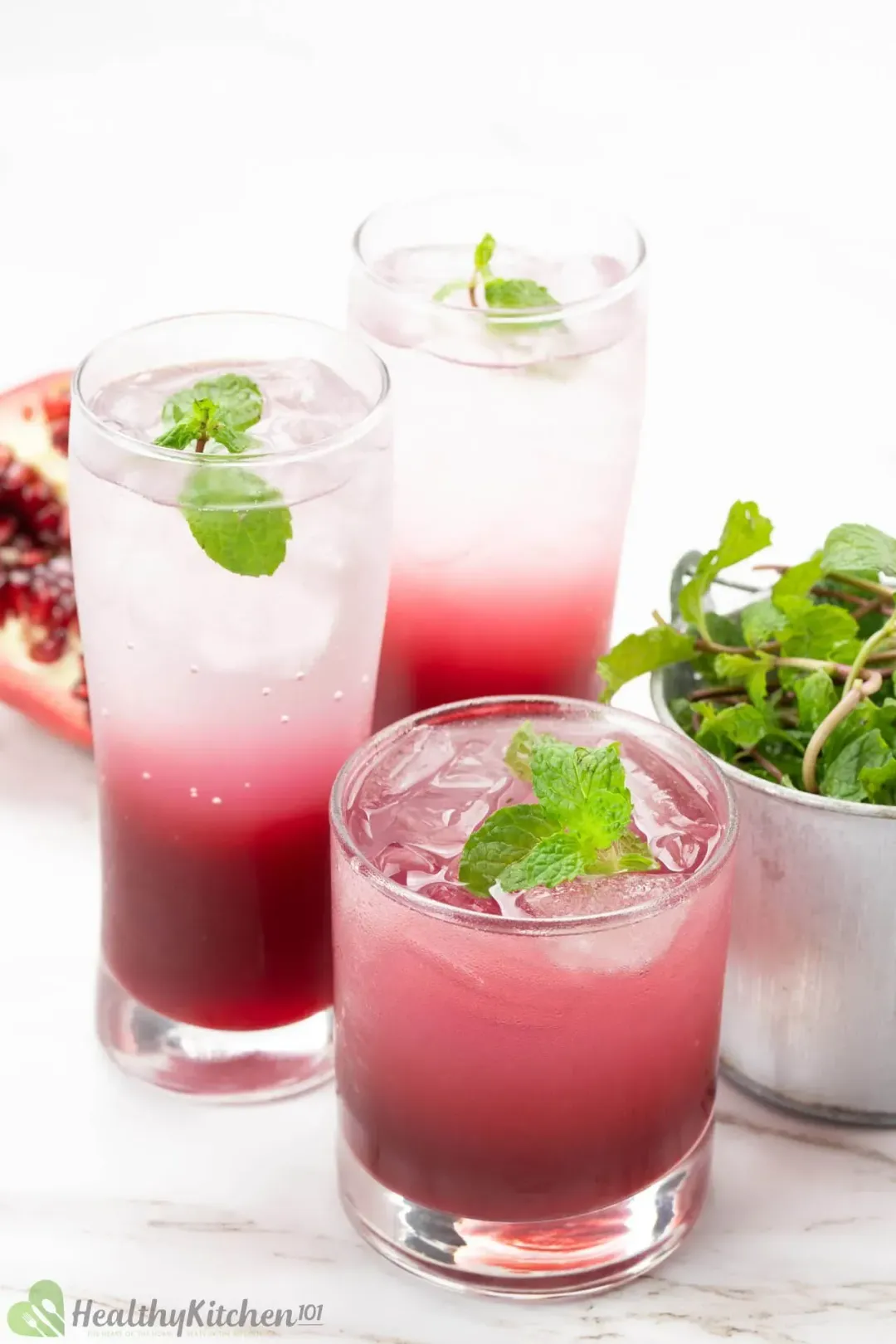 So, it nourishes both ways to make you feel and look good.
2. For Weight Loss
Weight loss is one of the most engaging topics in the nutrition world. There is an increased demand for an alternative natural drink to help fight obesity and being overweight without imposing side effects.
There's no evidence that juice will melt your fat, but it is healthier than sugar-laden beverages. Unsweetened homemade pomegranate juice will help you consume fewer calories than drinking a carbonated drink, thereby preventing weight gain.
What Is the Healthiest Pomegranate Juice to Drink?
You've heard about the health benefits of pomegranate juice, but don't know which variety is better? Don't worry; this list will take you through some of the healthiest options available.
1. POM Wonderful
This is an all-natural drink with a refreshing taste. The brand is Kosher certified, and its pomegranate juice has no added sugars or preservatives.
POM Wonderful 100% Pomegranate fruit juice is whole pressed from the rind, pith, and arils. This makes it rich in antioxidants and potassium, offering the most health benefits compared to most other brands.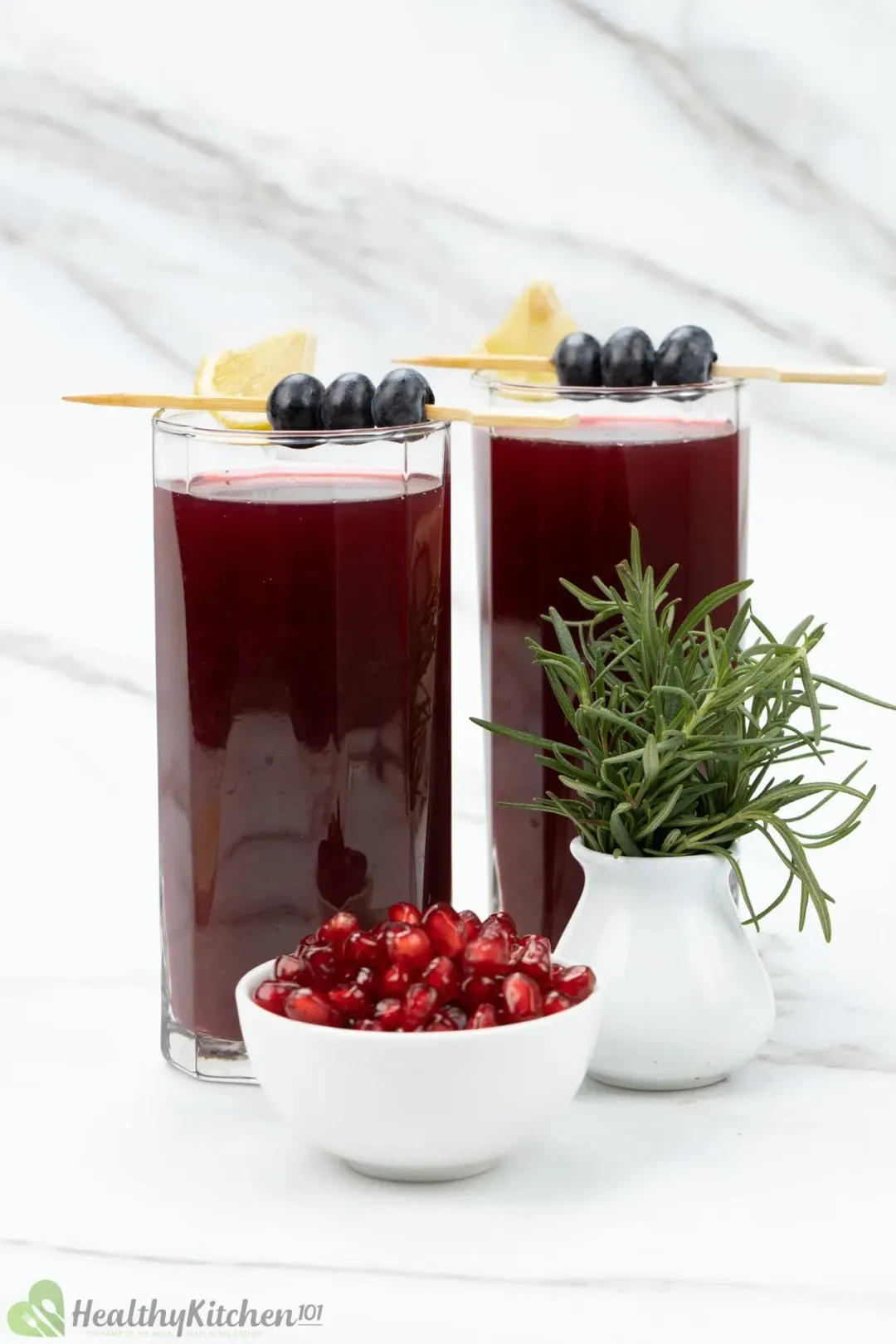 2. Blue Ribbon
Blue Ribbon is another brand that makes 100% pomegranate juice. They specialize in producing healthy organic beverages, and their pomegranate juice is among the most organic ones.
Their drinks are filled with flavor and void of artificial color, sugar, and preservatives. They're also rich in antioxidants, promising good heart functions, and are even USDA-certified as organic, making them a reliable choice.
3. Lakewood Pure
When it comes to pure concentrated pomegranate juice, no other brand comes close to the Lakewood PURE. This juice is 100% made from Pomegranate, and because of its undiluted nature, it remains rich in vitamins.
With no added sugar and preservatives, this drink models a pure taste that serves as a source of pomegranate nutrients.
4. Homemade Pomegranate Juice
Perhaps the healthiest option is homemade this juice. Even store-bought varieties labeled 100% fruit juice may contain large amounts of added sugars.
These are among the perks of preparing juice at home; you can reduce or completely omit added sugars. There are also no preservatives in homemade varieties, giving it a further advantage over store-bought juices.
But all these benefits mean nothing if you can't get pomegranate juice from the tree to the table. So let's show you how to make it.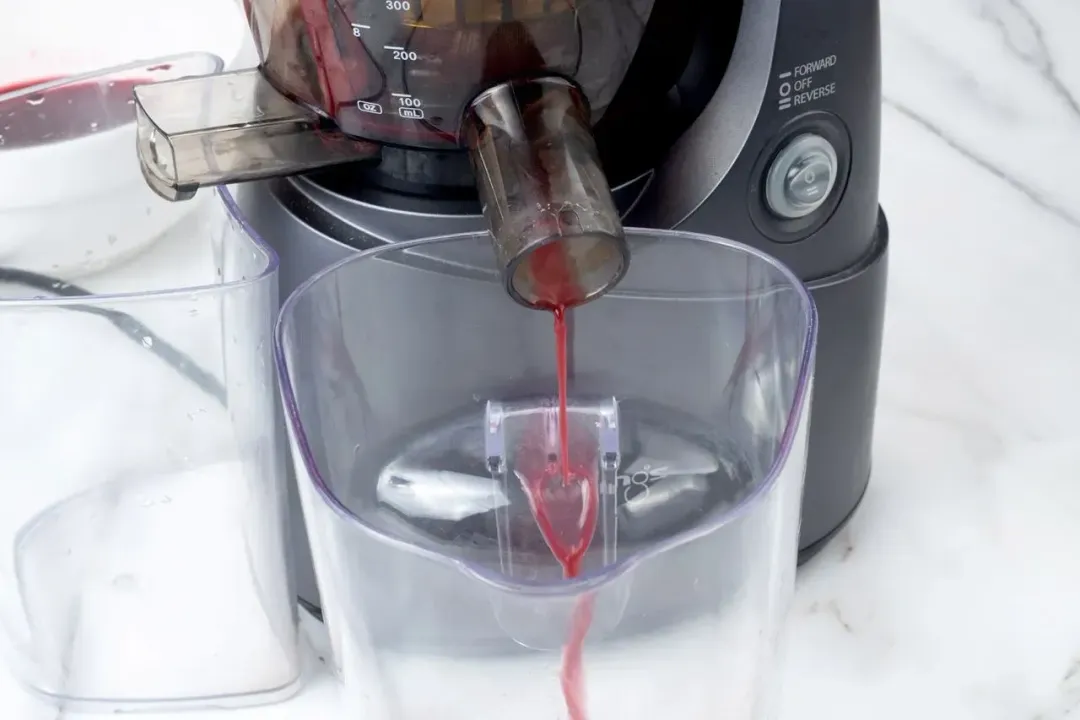 How to Make Pomegranate Juice
One of the best ways to get your daily dose of nutrients is by consuming fruits and vegetables in abundance. Many people know that eating pomegranates is healthy but are oblivious to this juice, let alone how to extract it.
1. Making with a Blender
The first step is to cut off the crown of the pomegranate fruit (at the top). Then score it or cut lightly into 4 segments and pry it open.
Inside you'll see the tiny red seed-containing fruit called arils. Extract these, making sure to remove any remainders of the white membrane.
Next, blend the arils until they turn to liquid, about 10-15 seconds. And as simple as that, you have pomegranate juice.
If you prefer a pulp-less juice, pour it through a strainer. Use a spatula to push against the pulp and extract juice much quicker.
The result is a smoother pomegranate drink. (And you can add the remaining pulp to some baked muffins or healthy granola bars!)
2. Making with a Plastic Bag and Sieve
This method is more elaborate than the previous one, but it comes in handy if you don't own a blender. To start, put the seeds in a plastic bag and press the air out of the bag before sealing it.
Using a rolling pin or bottle, gently mash the pomegranate seeds. Once extracted, transfer the juice of the crushed seeds into a nonreactive saucepan and some water to boil.
If you want to, add a pinch of salt and sugar. Then cook for 7-10 minutes, and strain the juice into a bowl.
Dispose of the seeds and solids and refrigerate to make a more refreshing juice before serving.
Whichever method you choose to make pomegranate juice, you will still get a healthy dose of pomegranate nutrients. To help you know some specific nutrients and amounts, we take a more detailed look into this juice's composition.
Pomegranate Juice Nutrition
1. Potassium
You get 11% of the Daily Value (DV) of potassium when you drink a cup (249 grams) of pomegranate juice. The same amount can be found in one extra-large banana.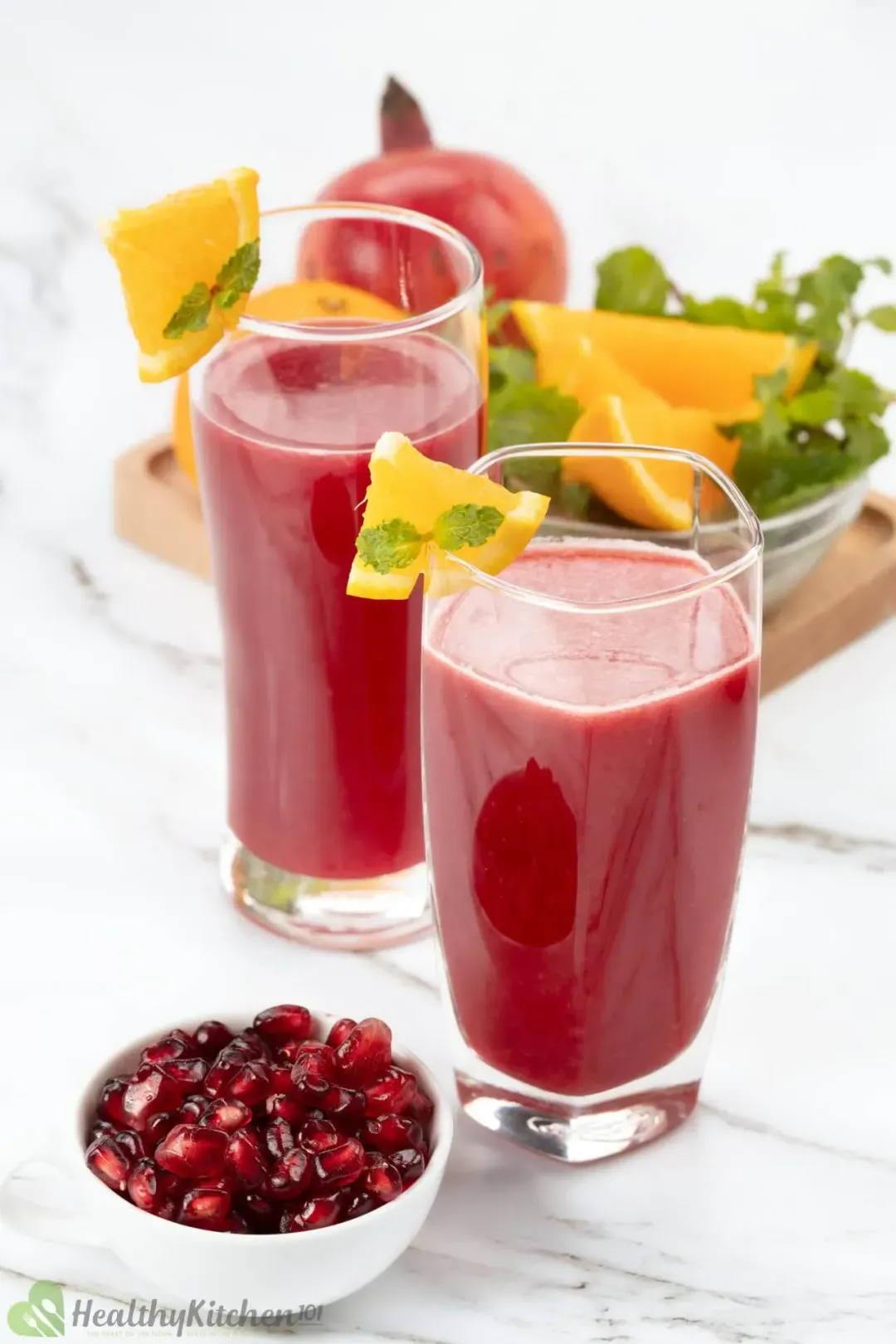 Those who suffer from high-sodium diets may benefit from eating high-potassium foods such as pomegranate juice. Potassium helps to counteract the effects of sodium to reduce blood pressure and water retention.
It can ultimately prevent conditions such as bloating, weight fluctuations, and swollen ankles.
2. Calories
A cup of this juice contains 134 calories. It has more calories than orange or watermelon juices, but pomegranate juice is relatively low-calorie when placed against carbonated drinks.
When incorporated in moderation, it is a viable option for those who practice low-calorie and weight loss diets.
3. Carbs
A standard glass of this juice contains about 32.7 grams of carbohydrates.
It might be good to note that up to 96% of these carbs are sugars. But they're natural sugars that give the body strength to carry out day-to-day activities.
4. Vitamin C
Vitamin C is a water-soluble vitamin and one of the essential antioxidants found in pomegranate fruits. It plays a crucial role in protecting our body from oxidation and diseases.
Unfortunately, juicing removes vitamin C from this juice, leaving less than 1% of the DV per serving. But you can rectify this by combining it with vitamin C-rich juices, as we demonstrate in our pomegranate juice recipes.
There's no doubt that is healthy and can enrich your diet. But as with every food and drink, consuming too much of it may have negative results.
Pomegranate Juice Side Effects
Natural pomegranate juice is safe for most people when consumed in moderation. But when consumed excessively, it can pose side effects.
1. Allergic Reactions
People allergic to pomegranate may experience some degree of itching, swelling, difficulty breathing, and a running nose. Thus they should be careful not to ingest pomegranate juice.
2. Interaction with Drugs
Pomegranate can cause undesired results in the body when ingested along with drugs.
Its juice is known to interact with blood pressure control before or after surgery. The extract may disrupt heart functions; thus, it is advised to avoid it two weeks before and after heart surgery.
Easy and Delicious Pomegranate Juice Recipes
1. Best Recipe: Pomegranate Juice Recipe (4 Servings)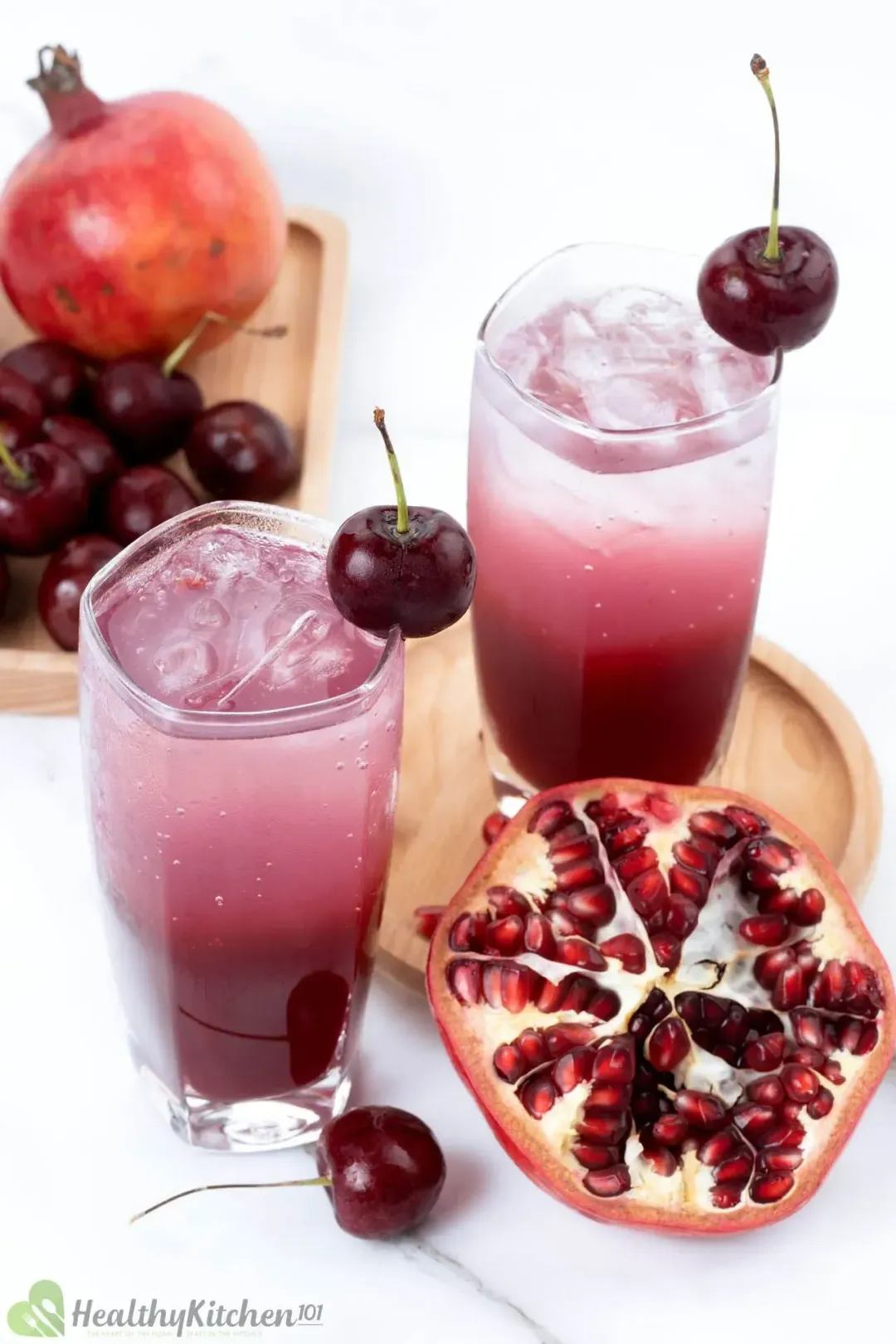 This pomegranate juice sets off an anxious appetite with a clear soda and cherry-red hue. It's backed by acidic essences of cherry and pomegranate, and a small sugar amount expertly balances its tangy flavor.
2. Pomegranate Blueberry Juice (4 Servings)
This deep purple mix of pomegranate blueberry juice is a delicious refreshment with soft hints of rosemary aroma. There's no need for any complements; you can serve it as a lone appetizer to get your tastebuds tingling.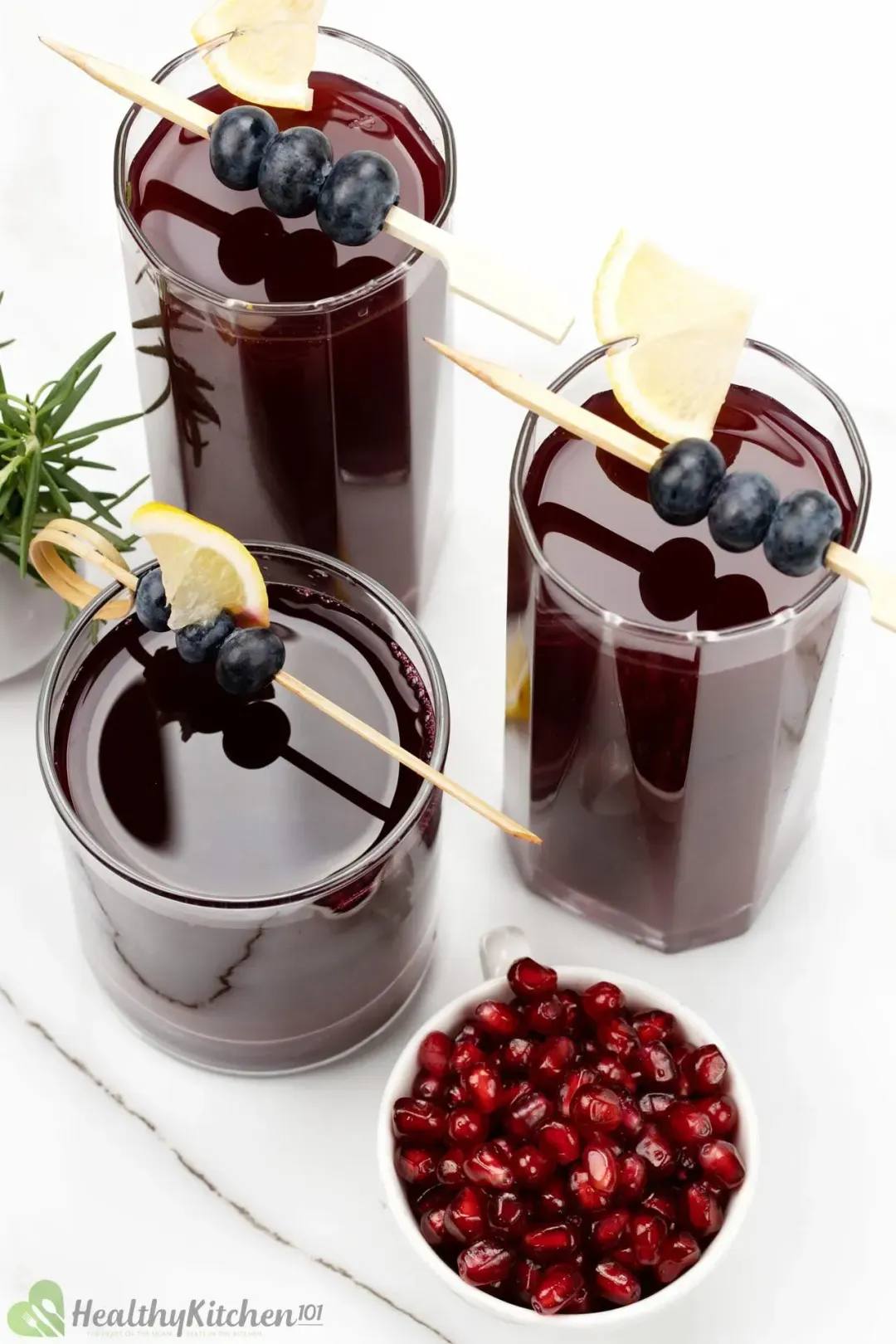 Ingredients:
12 fl oz pomegranate juice, from 16 oz pomegranate arils
9 fl oz blueberry juice, from 8 oz blueberries
1/2 cup water
1/2 tbsp lemon juice
1 1/2 tbsp sugar
1 tsp rosemary, fresh
Instructions:
Place a handful of pomegranate arils into a cheesecloth and fold over to secure. Set over a bowl and twist to wring the cheesecloth and extract the juice. Discard the solids. Repeat until all pomegranates have been juiced.
Run blueberries together with rosemary through the juicer. Collect the juice in a pitcher. Add water into the juicer to continue extracting the remaining blueberry juice from the flesh.
Pour in pomegranate juice, lemon, and sugar. Stir until sugar dissolves.
Serve.
3. Sugar Free Pomegranate Juice (4 Servings)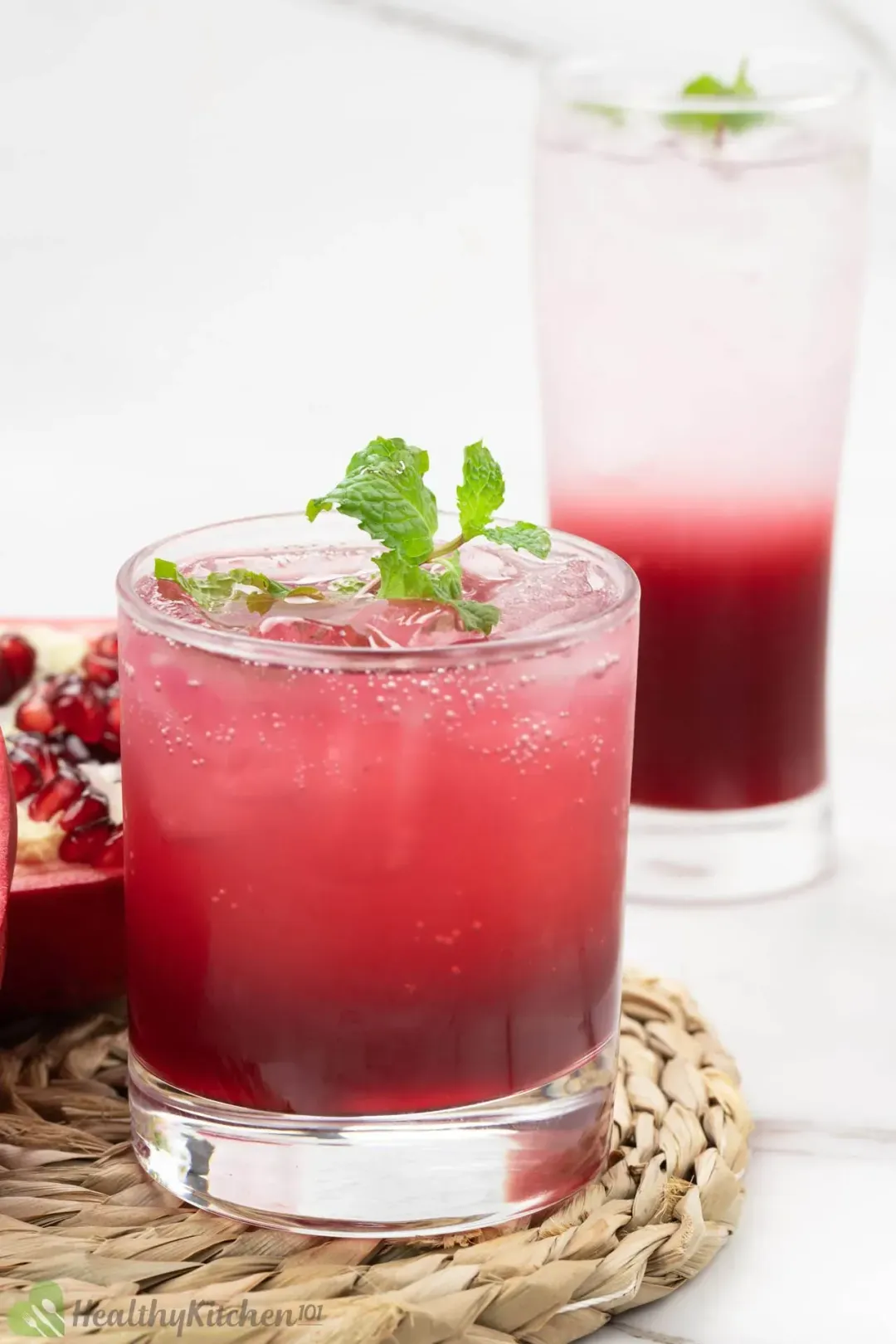 This sugar-free pomegranate juice is full of natural berry sweetness, this juice is ideal for hot days, breakfasts, or parties. Its 3-step process makes it easy and versatile, but most importantly, just simple enough to relish the fresh pomegranate flavor.
Ingredients:
12 fl oz pomegranate juice, from 16 oz pomegranate arils
1 tbsp mint leaves, fresh
1 cup club soda
Instructions:
Place a handful of pomegranate arils into a cheesecloth and fold over to secure. Set over a bowl and twist to wring the cheesecloth and extract the juice. Discard the solids. Repeat until all pomegranates have been juiced.
Fill glasses with ice. Top with soda and garnish with mint. Serve.
4. Pomegranate Juice and Vodka (4 Servings)
This vodka and pomegranate juice is a bubbly cocktail for a crowd. It makes a bold statement with its contrasting shades of crystal and scarlet and delivers matching flavors of pomegranate and vodka.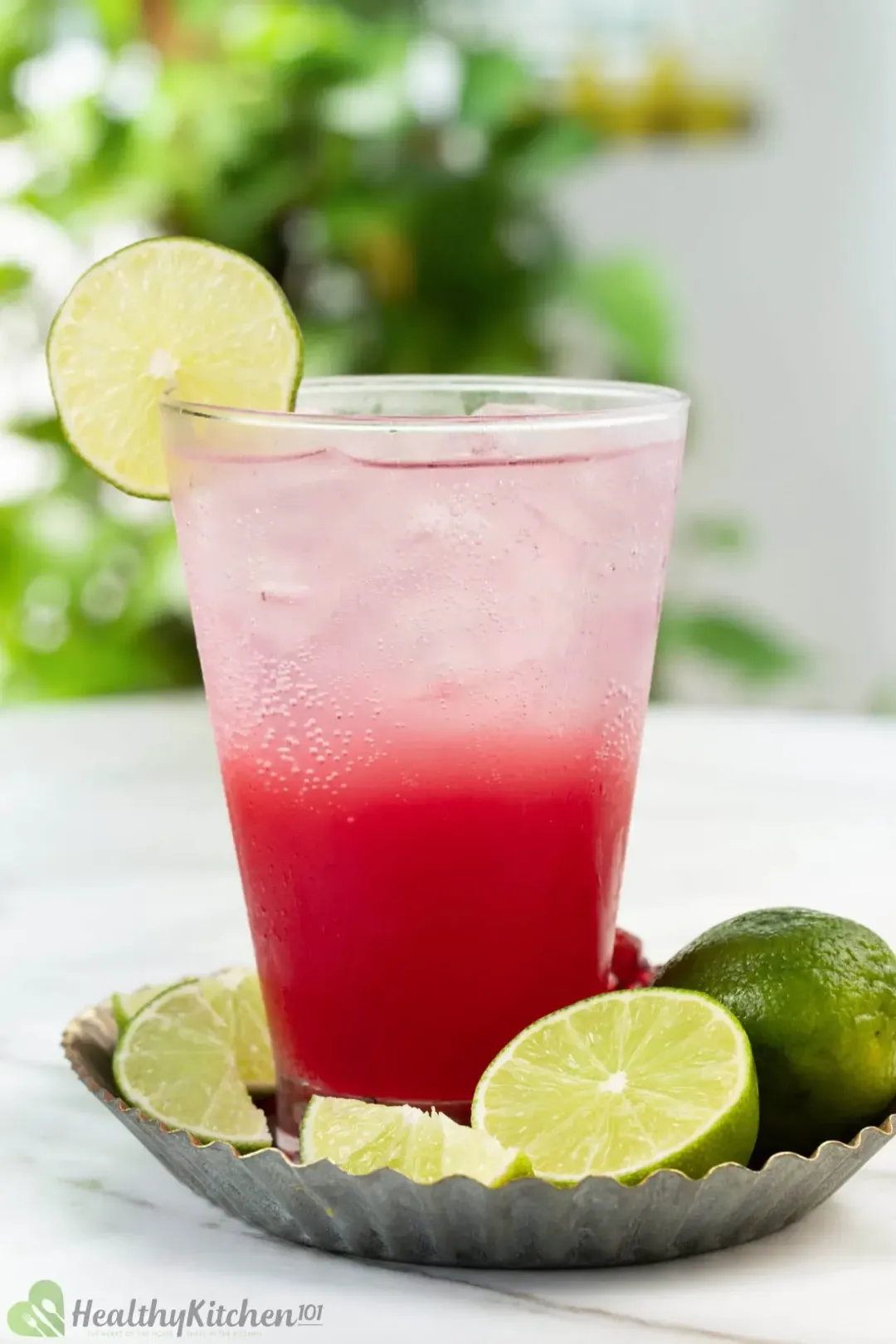 Ingredients:
8 fl oz pomegranate juice, from 10.5 oz pomegranate arils
1/2 cup vodka
1/4 cup water
3 tbsp sugar
3 tbsp lime juice, fresh
1 cup club soda
2 slices lime
1 cup ice cubes
Instructions:
Place a handful of pomegranate arils into a cheesecloth and fold over to secure. Set over a bowl and twist to wring the cheesecloth and extract the juice. Discard the solids. Repeat until all pomegranates have been juiced.
In a pitcher, mix pomegranate juice, vodka, water, lime juice, and sugar. Stir to dissolve the sugar.
Fill glasses with ice and pour in the mixture. Top with club soda and garnish with lime slices. Serve.
5. Pomegranate Orange Juice (4 Servings)
With a healthy citrus and berry theme, this pomegranate orange juice brings relief for summer days. For an even more refreshing feel, add ice and serve it cold.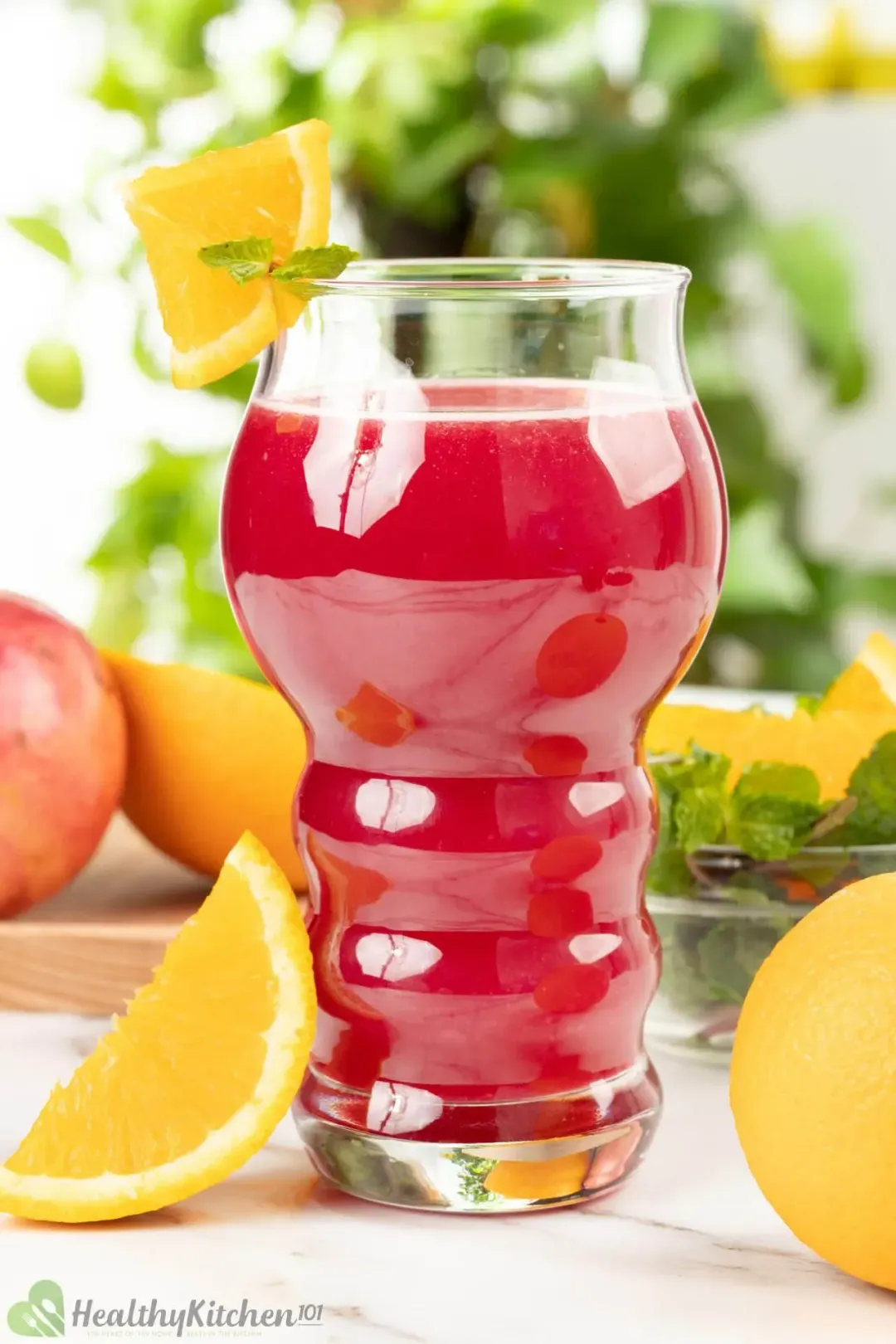 Ingredients:
9 fl oz pomegranate juice, from 12 oz pomegranate arils
4 fl oz orange juice, from 5.5 oz oranges
1 tbsp sugar
2 tbsp mint leaves, fresh
1 cup ice, optional
Instructions:
Place a handful of pomegranate arils into a cheesecloth and fold over to secure. Set over a bowl and twist to wring the cheesecloth and extract the juice. Discard the solids. Repeat until all pomegranates have been juiced.
Pour pomegranate and orange juices into a large pitcher. Stir in sugar until dissolved.
Pour mixture into glasses and garnish with mint. Serve.
6. Pomegranate Apple Juice (3 Servings)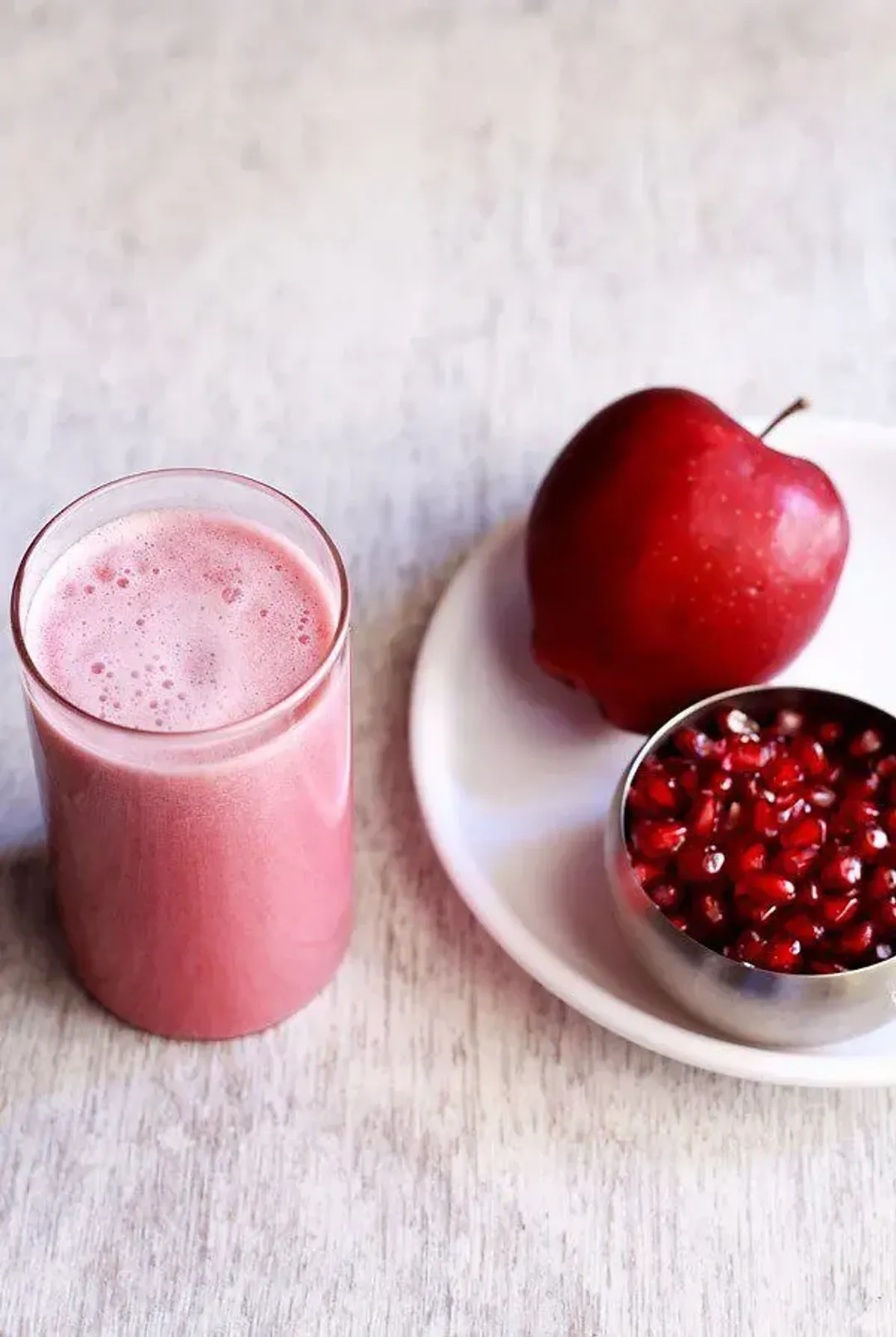 A 4-ingredient recipe that centers on sweet and tangy flavors of pomegranate and apple juices, this drink couldn't be simpler. However, the finishing touch of black salt is the twist that gives it a bold edge for a queer, refreshing drink.
Ingredients:
12 fl oz apple juice, from 16 oz apples
8 fl oz pomegranate juice, from 11 oz pomegranate arils
1/8 tsp black salt
1 1/2 cup ice cubes, optional
Instructions:
Cut the pomegranate into quarters and remove arils. Peel, core, and cut the apples into wedges.
Run apple wedges, then pomegranate arils through a juicer and collect the juice in a medium-sized pitcher.
Pour juice over ice and sprinkle with salt. Serve.
7. Pomegranate Grape Juice (1 Serving)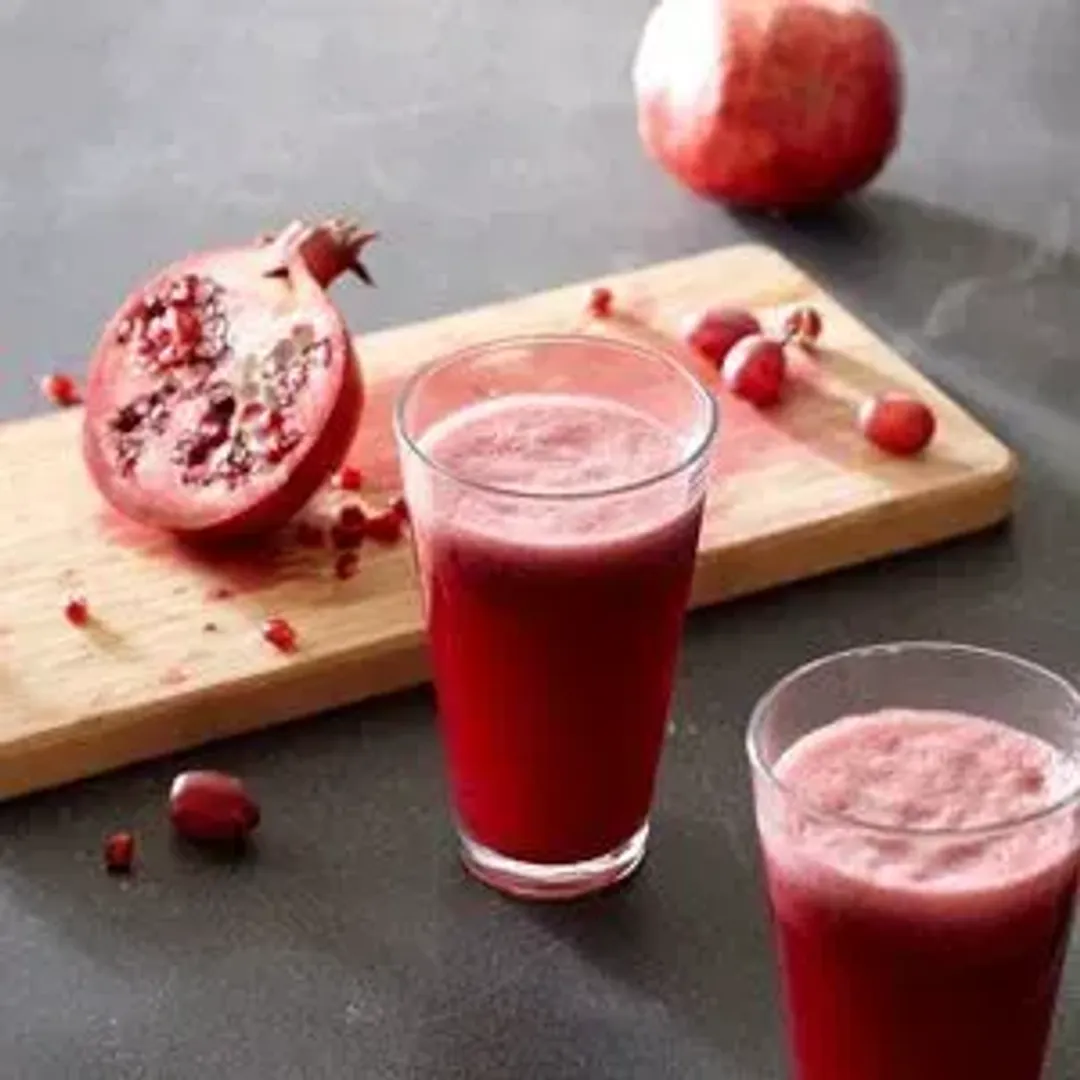 With only 2 ingredients to set the scene, this pomegranate grape juice launches wholesome flavors that carry sweet fruit essence. Use it for some occasions to complement a relaxed atmosphere.
Ingredients:
3 fl oz grape juice, from 7 oz grapes, purple
4 fl oz pomegranate juice, from 5 1/2 oz pomegranate arils
Instructions:
Cut the pomegranate into quarters and remove arils.
Run pomegranate arils, then grapes through the juicer. Collect the juice in a small pitcher and mix well.
Serve immediately.
8. Pomegranate Pineapple Lemon Juice (2 Servings)
This pomegranate pineapple lemon juice provides health benefits while naturally balancing sweet and tangy flavors. And a touch of lemon and ginger seals it with a vibrant punch.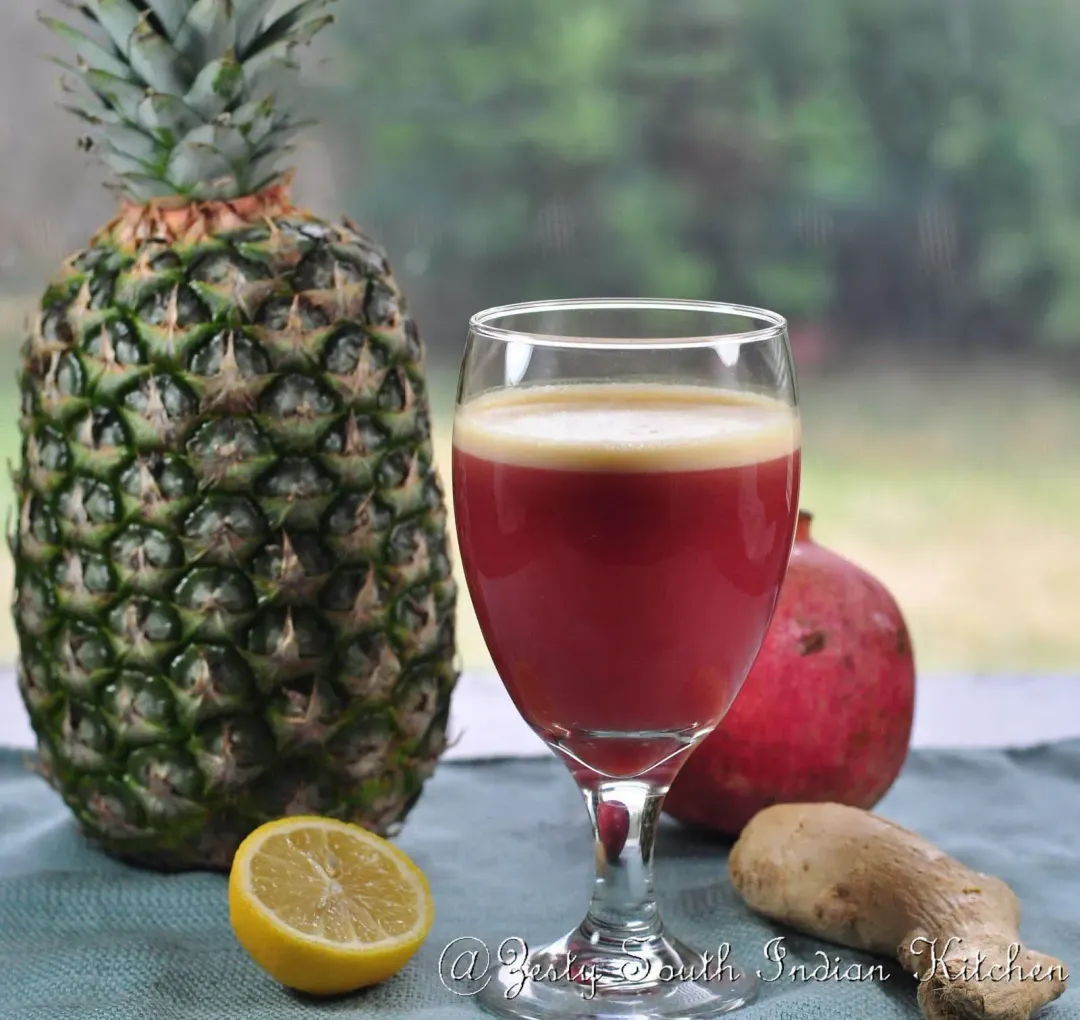 Ingredients:
4 fl oz pineapple juice, from 6 oz pineapple chunks
4 fl oz pomegranate juice, from 5 1/2 oz pomegranate arils
1 1/2 cup water
1 1/2 tbsp lemon juice
1-inch knob ginger, grated
1 cup ice cubes
Instructions:
In a blender combine pineapple chunks, water, lemon juice, and ginger. Blend to a smooth consistency, strain, and set aside.
Pour in pomegranate juice and stir to mix.
Serve over ice.
9. Gin and Pomegranate (2 Servings)
This is a lighthearted gin and pomegranate cocktail that serves bubbly soda enhanced by a berry and herbaceous aroma. Season with pomegranate arils for a light chew and lime for a zesty finish.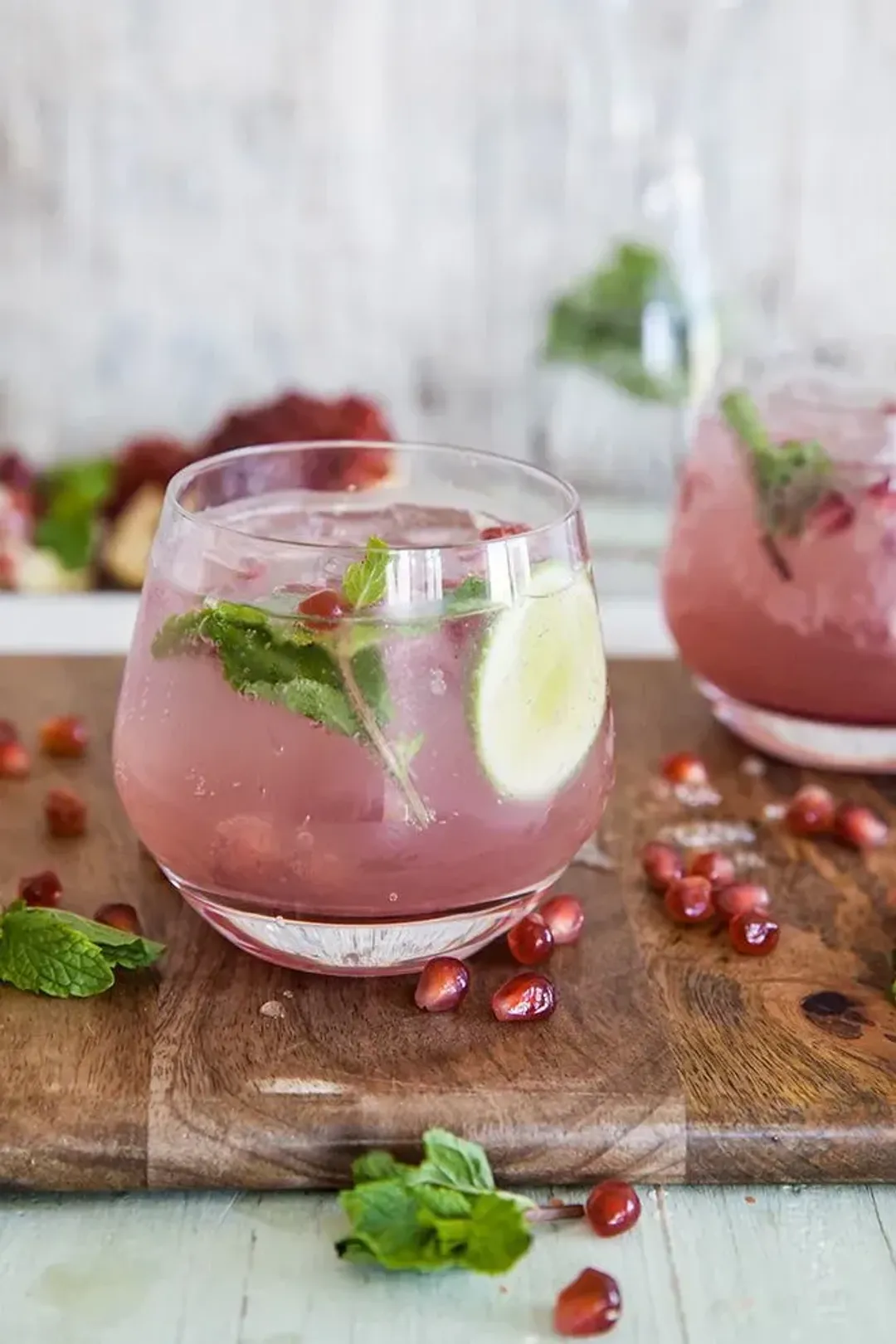 Ingredients:
1 1/2 fl oz pomegranate juice, (3 tbsp juice) from 2 oz pomegranate arils
1 fl oz gin, 2 tbsp
1 cup ice cubes
2 cups soda water
1 sliced lime
1 tbsp pomegranate arils
2 sprigs fresh mint, garnish
Instructions:
In a mixer/mason jar, add pomegranate juice, gin, and ice. Shake for 15 seconds.
Pour into glasses and top with soda water. Add lime, mint, and pomegranate arils into glasses.
Serve immediately.
10. Cranberry Pomegranate Sparkler (2 Servings)
This cranberry pomegranate sparkler is a refreshing cocktail perfect for any festivity. With or without vodka, the mix of pomegranate and cranberry simple syrup makes it a (not overly) sweet drink.
Laced with hints of tart berry, it gives wintry flavors that set you right into the holiday spirit.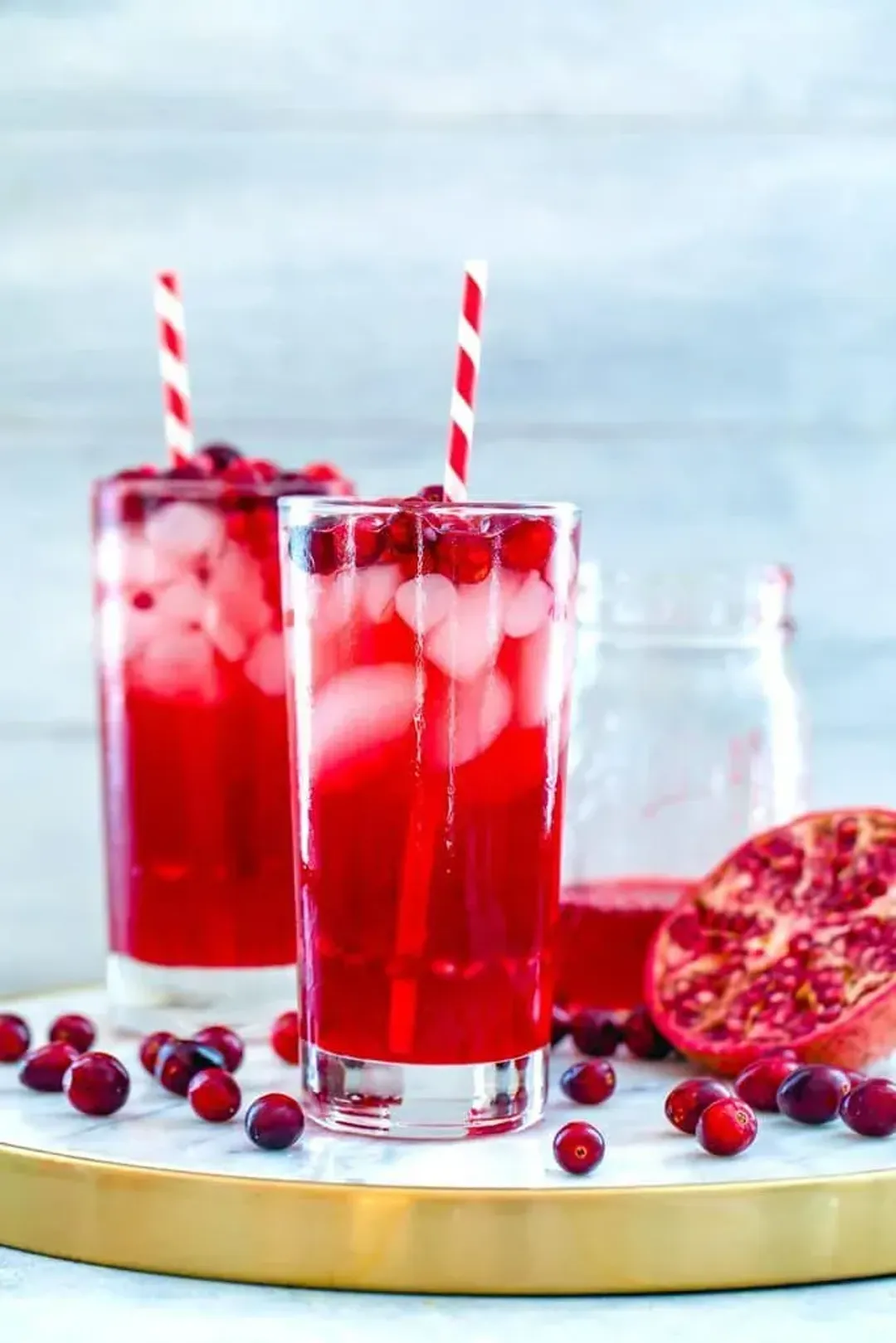 Ingredients:
Simple Syrup
1 cup cranberries, fresh
1 cup sugar
1 cup water
Cocktail
3 fl oz pomegranate juice
3 fl oz vodka
1 fl oz lemon juice, fresh
soda water
pomegranate arils, for garnish (optional)
Instructions:
In a saucepan over medium heat, cook cranberries, sugar and water until boiling.
Once boiling, lower heat to medium and cook for 10 minutes until berries are bursting. Strain juice into a bowl and leave in the refrigerator to cool.
Fill glasses with ice. Using half of each per glass, pour the vodka, pomegranate juice, and lemon juice into each glass. Pour 1 1/2 oz of the cooled simple syrup into each glass and top with soda.
Garnish with pomegranate arils. Serve.
FAQ
1. What Does It Taste Like?
The composition of this juice strikes a balance between sugars and acids. So though you'd initially expect a rush of sweet flavors, there's a tartness to balance the taste.
That and its cranberry-like taste make it pleasant to sip on.
2. Does This Juice Clean Arteries?
Artery disease occurs when a buildup of plaque narrows the artery walls and restricts proper blood flow to the heart. As a consequence, it may lead to a heart attack or cardiac death.
According to WebMD, pomegranate juice may clear clogged arteries and improve blood flow to the heart.
Its free-radical-fighting and high antioxidant properties stimulate the production of nitric oxide in the blood. This helps maintain clear blood passage in the arteries and optimal heart functions.
3. Is the Sugar in This Juice Bad for You?
Natural sugars in this juice are not harmful to your body. But consuming large amounts of the juice can pose health risks since it lacks the fiber to help control blood sugar levels.
4. Is It Good to Drink Every Day?
Yes, you can enjoy this juice every day. Daily consumption will not pose any health risks as long as you drink it in moderation.
5. How Much Pomegranate Juice Should I Drink a Day?
As a means to moderate consumption, limit your servings of pomegranate juice to one per day. Drinking larger amounts can accumulate calories void of fiber, better known as "empty" calories.
Though harmless, they may eventually lead to excess calorie intake and result in weight gain.
Make sure to follow a healthy diet while monitoring your overall calories, including those from this juice. With that said, here are ideas on how to include it in your diet using our top 10 pomegranate juice recipes.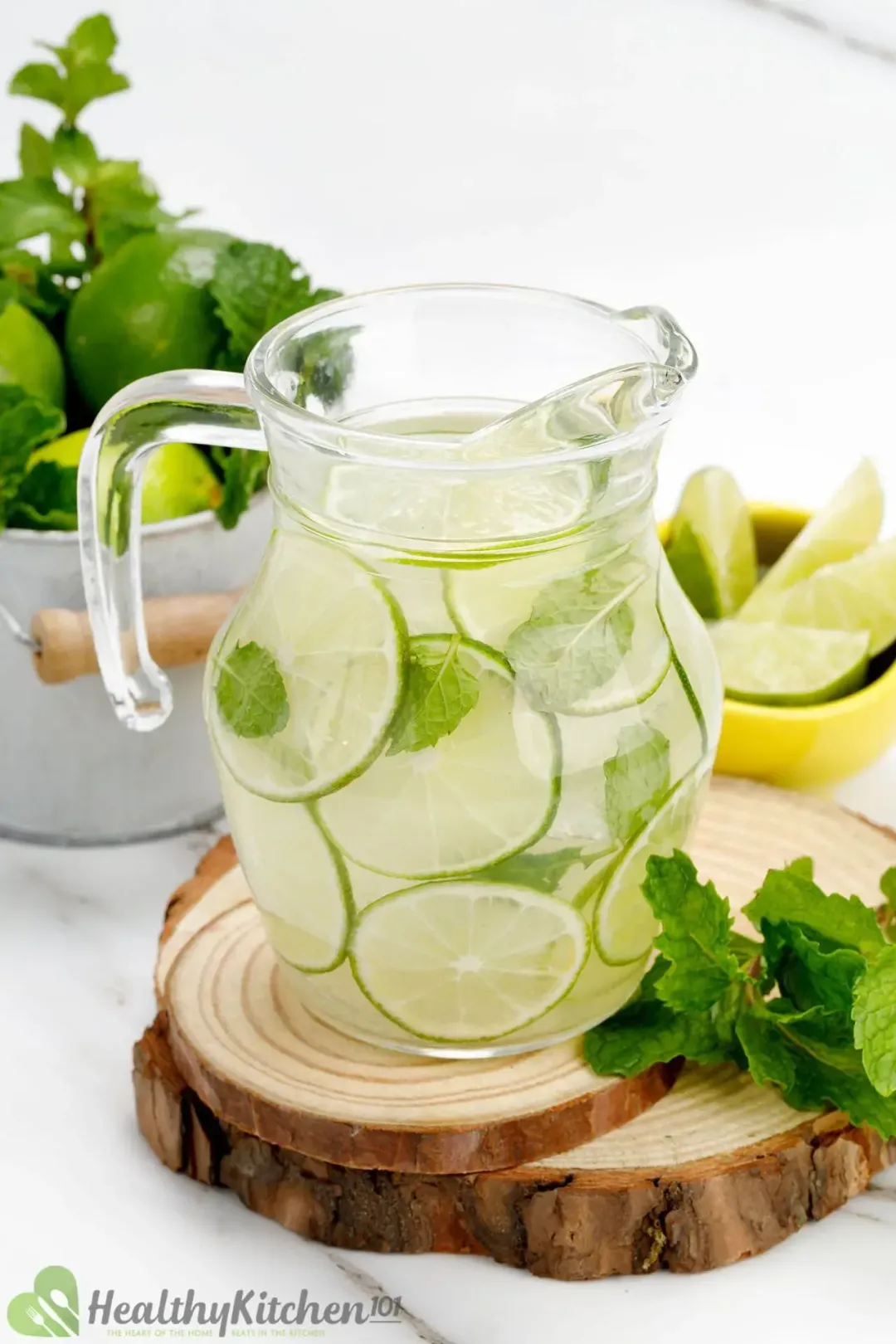 Previous Recipe
Top 10 Lime Juice Recipes
Top 10 Lime Juice Recipes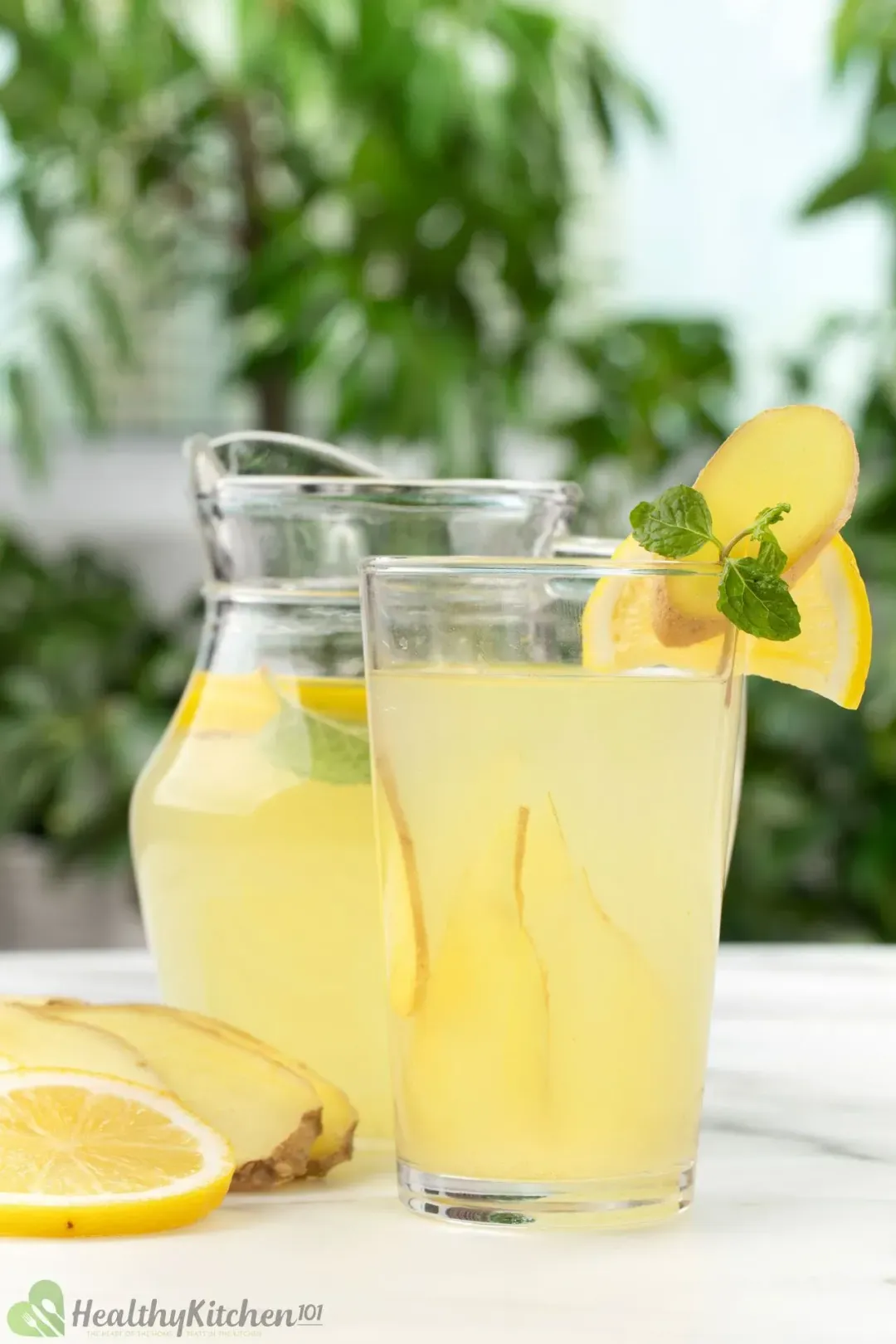 Next Recipe
Top 10 Ginger Juice Recipes
Top 10 Ginger Juice Recipes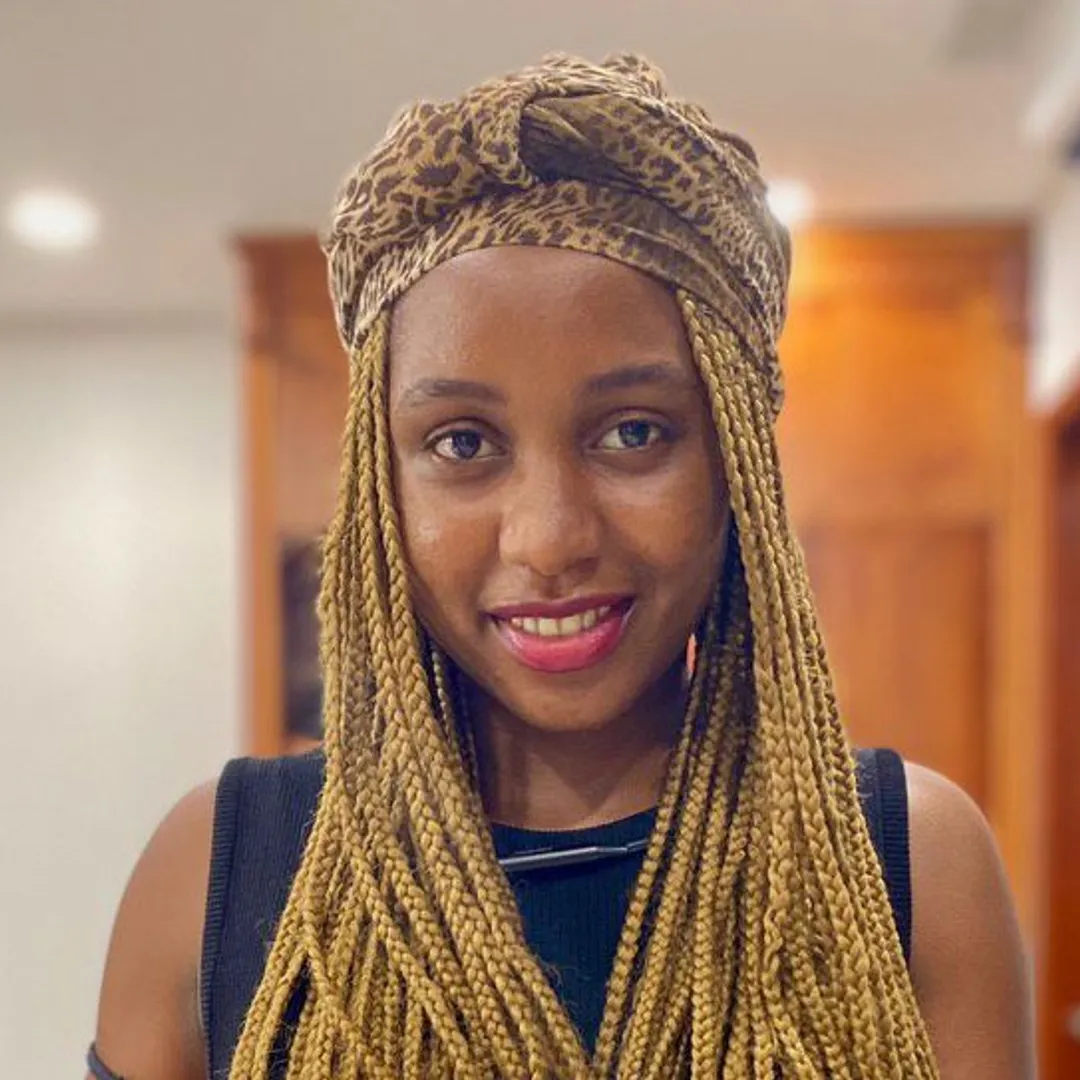 Writer, SEO Specialist
Neola Muhambi is a food and travel writer and SEO outreach specialist. Her African heritage and travels across various countries in Asia have given her a keen appreciation for cultural diversity and a sensitivity to the unique characteristics of various cuisines. Her experiences also sharpened her communication skills, which are helpful in her tasks to establish organic connections among websites.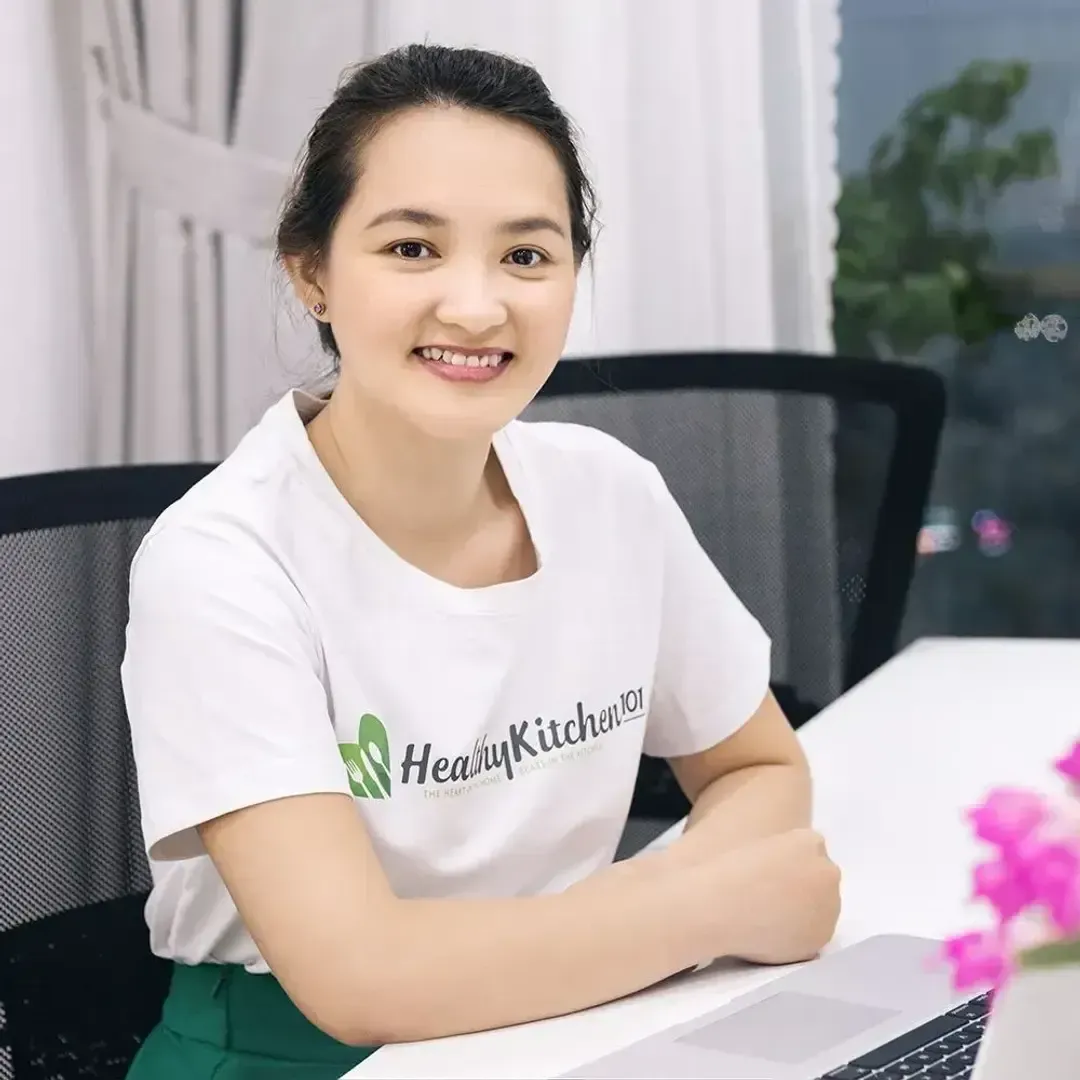 Writer, Author
Luna Regina is an accomplished writer and author who dedicates her career to empowering home cooks and making cooking effortless for everyone. She is the founder of HealthyKitchen101.com and HealthyRecipes101.com, where she works with her team to develop easy, nutritious recipes and help aspiring cooks choose the right kitchen appliances.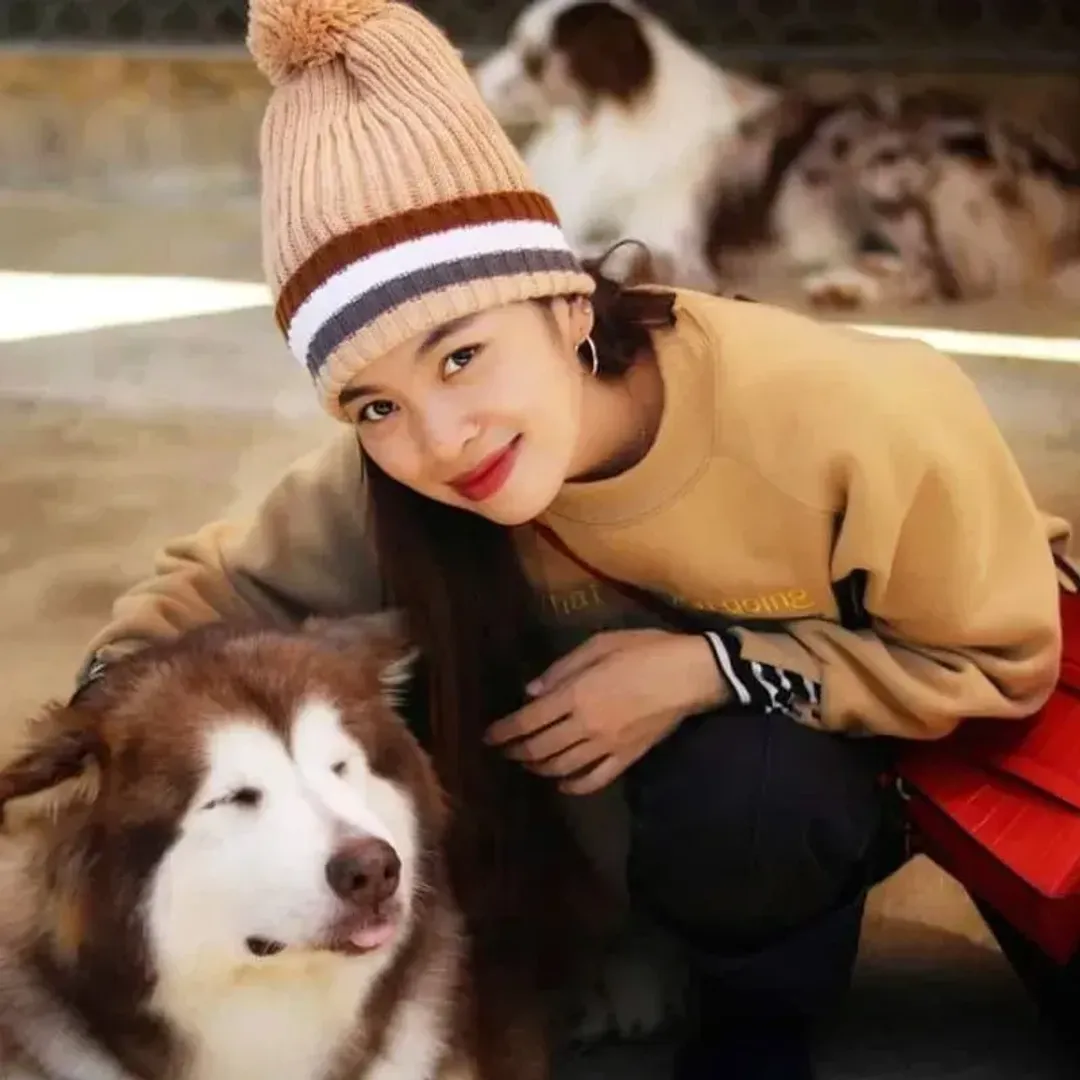 Chef, Culinary Consultant
Tuyet Pham is an award-winning Saigonese chef who believes that joy is the secret ingredient to delicious food. At Healthy Recipes 101, Tuyet personally tests and simplifies every recipe, ensuring maximum flavor with minimal effort. With a background at prestigious French restaurants P'TI Saigon and Le Corto, Tuyet knows how to make every dish exceptional.
Comments/ Reviews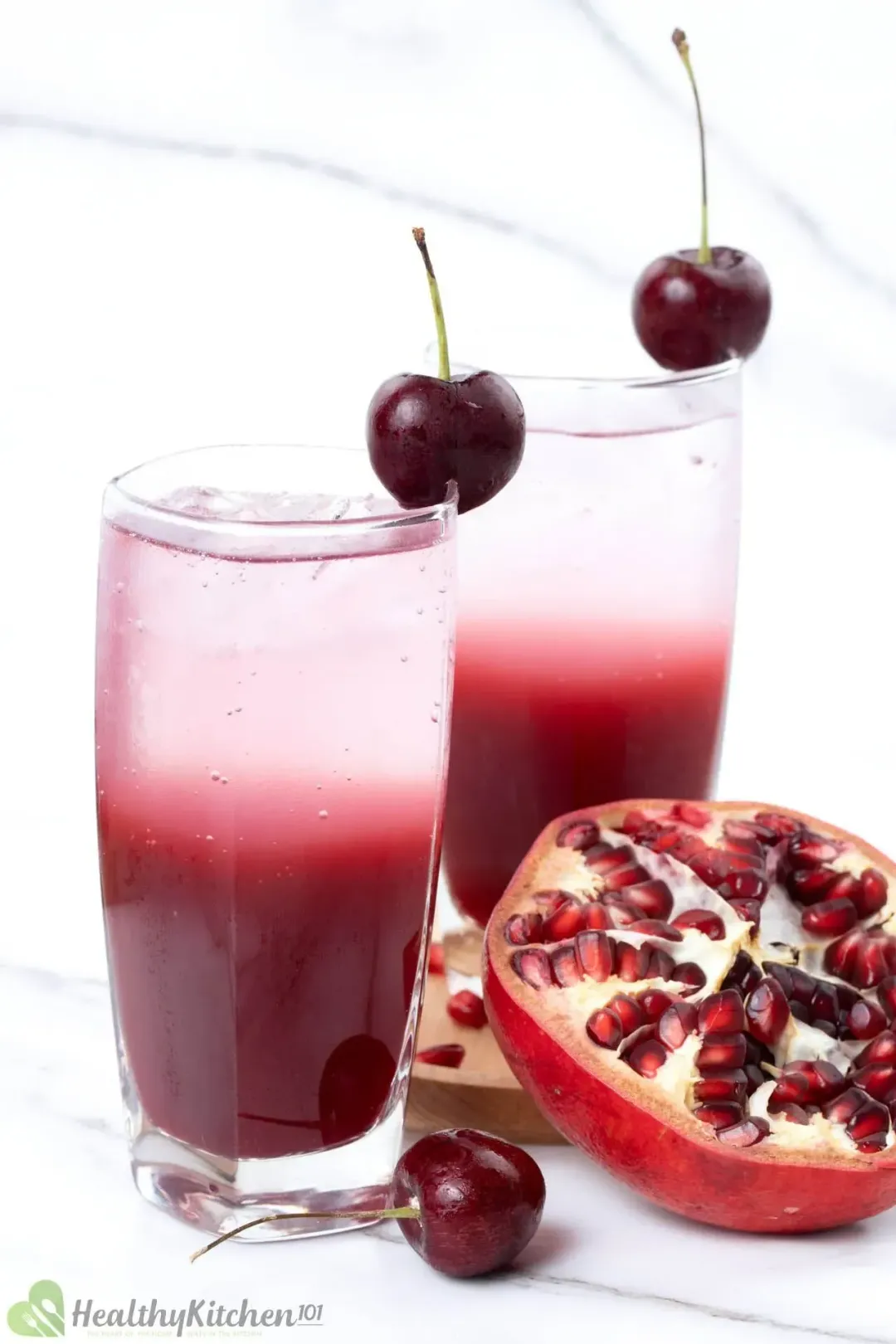 Rhonda Mul

February 17, 2023 at 2:56 AM

Fantastic, these are the best recipes for pomegranate!